Joined

Jun 6, 2019
Location
Bikes

FZ1n, VFR800
Hi all,
Months ago
i asked a question
about comprehesive insurance in the Thailand Information sub-forum.
Got valuable replies in a matter of days about insurance and rental shops, great help guys thanks again!
Disclaimer; as you can read; i'm not a native english speaker so please forgive me for my pigeon English.
Rental Bikes
We've rented our bikes from C&P in Chiang Mai and we were really happy with the service.
A few days after my post i booked four bikes (we went for 1 Africa Twin and 3 V-Strom 650's) by email.
Just to set my mind at ease i re-confirmed the bikes a few weeks before departure (which wasn't necessary).
When we arrived to collect the bikes everyting was ready, the bikes lined up, paperwork ready, you name it.
Very streamlined operation without any fuss or hassle, i didn't time it but it we were in and out within the hour.
Bikes were great as well, well maintened, well looked after and they didn't miss a beat.
The Trrip
We rode the Mae Hong Son Loop in clockwise direction (
Chiang Mai > Mae Sariang > Mae Hong Son > Pai > Chiang Mai with detours
)
Our first stop along the way was Doi Inthanon; we had high expectations but unfortunatly didn't see a thing because of thick fog.
Near the top the fog was so dense that i couldn't see the taillight of my mate's bike due to the fog.
To makes things worse it was pissing down and because of the low speed i needed to clear my visor with my gloves.
I convinced my mates to go on this trip with me, so at this point i had the feeling of "what have i done"
We reached the parking at the top of Doi Inthanon but didn't park or stop, we just went straight down again.
It was cold (14C at the top) we were soaked (it was pouring down) and couldnt see 2 meters ahead.
We continued our trip to Mae Sariang and were happy to catch some sun again so our clothes could.
The rest of the trip was great, we had a few showers now and then but with those temperatures it's actually quite nice.
When we woke up the next morning the sky were clear and the sun was out, complete opposite from the day before.
Our next destination was Mae Hong Son and after an amazing day of riding on one of the best roads i ever come across.
On our lunch stop my mates told me that they had the best riding that they ever did (amazing roads and beautiful scenery)
Since this is a forum oriented at riding motorcycles i will skip al the tourist stuff we did this trip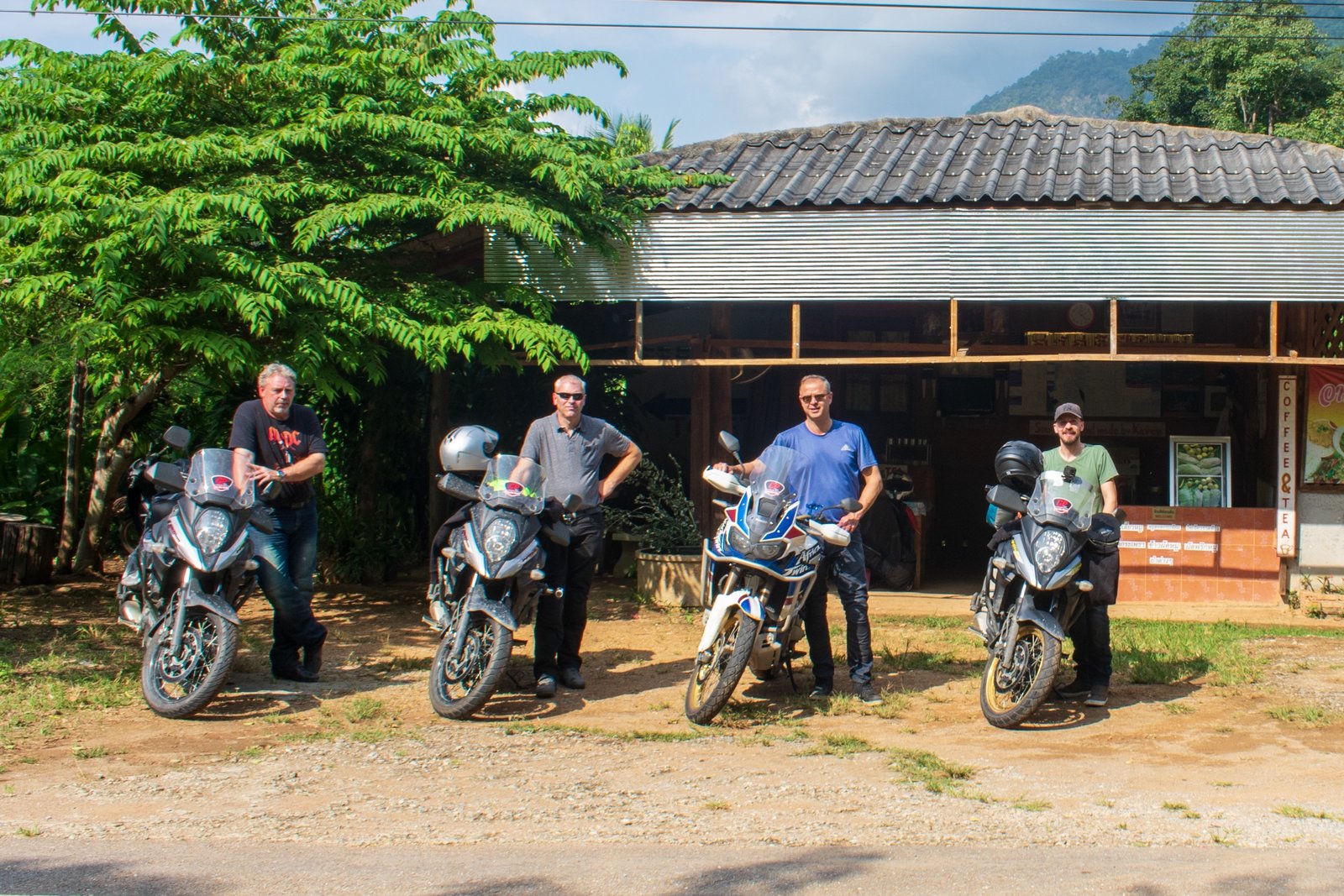 Lunch stop ~20KM's outside Mae Hong Son; I'm the little guy on the right
We continue our trip from Mae Hong Son to Pai (with a detour to Ban Rak Thai) for another day of amazing riding.
After our trip from Mae Sariang to Mae Hong son we didn't expect that things could get any better, but we were wrong.
It's difficult to find a balance in watching the amazing scenery and riding in a nice pace to carve up the corners.
Our solution was to add in extra drinking/coffee stops at amazing places and when riding enjoy the road.
Don't get me wrong, we werent racing or anything, we were simply enjoying the flow of the road
We arrived in Pai. a city that i would describe as backpacker central... o boy what a contrast to Mae Sariang and Mae Hong Son.
Totally nothing wrong with that and it's a nice change to having some nightlife after staying in MS and MHS.
On the way from Mae Hong Son to Pai one of my mates was falling a bit ill, overnight things got worse.
Because of this we changed our schedule a bit and our last day of riding was straight from Pai to Chiang Mai.
Nice trip, especially heading out of Pai but as soon as you leave the mountains the traffic get bussier.
We tried enjoying the last part of the trip but with a sick member our concern was to get home a.s.a.p safely.
We arrived safely in Chiang Mai and returned the bikes at the bike shop.
Lan and Ammy greated us and asked us about our trip.
Things learned
As we thought this would be a once in a lifetime trip i took a GoPro Hero7 Black and my DSLR with me.
The GoPro was mounted on the bike (i changed postitions a few times) the DSLR was in my luggage.
Because of that i actually never used the DSLR, it was a hassle unloading and loading the luggage all the time.
I will look into bags (like a tankbag or so) that are more accesible, but i just might leave the DSLR home next time.
The bike had a 12v lighter plug, i should have taken an lighter to usb-c cable to power the GoPro.
Now i was juggling with batteries all the time (they only last 40 minutes or so) and charging is quite a hastle.
I would have lost water proofing, but in those cases i could have disconnect the cable and then user battery power.
I took a 12" laptop with me to unload the SD card from the GoPro, it worked but it's a bit bulky.
Looking to find a better alternative, but if i can't find one the laptop will work perfectly.
Future trips
We had such an amazing time that we decided to go again this year.
I'm currently looking into trips to Thailand, (Northern-) Laos and Vietnam.
We are looking for multi-day trips preferably on tarmac or unpaved roads (no offroading).
If anybody got tips for a similar adventure like we had in November, please reply.
Final words
This was it, our first part of the Thailand trip done... The Mae Hong Son Loop.
Our second part of the Thailand trip is in Kanchanaburi, dirtbiking in the country side.
I will do a short write up on that soon...
Cheers,
Michael
Last edited: