Senior Member
Staff member
Joined

Aug 15, 2012
Bikes

KTM 950SER & EXC, BMW R90S & Dakar, MZ250, BSA B33, Norton 16H, Honda - 500 Fs & X, DRZs, XLs XRs CRFs CT110s etc
The Ulysses Club Thailand weekly ride commencing November 6th was a three-day ride, taking in Hot, Mae Chaem, the Bua Tong fields, the Mae Surin waterfall, the Nong Khiao lake, Mae Hong Son, a long-neck village (planned for Huay Pu Keng, but visited Huay Seau Thao village instead), the Su Tong Pae bridge, Fish Cave, Pai and home via the front road in time for the MotoGP on Sunday.
Departing Rider's Corner at 8:30, we re-grouped, as usual, at the PTT on the 121, just south of Suthep Rd and then picked up Alex at the Mae Hia market on the way out.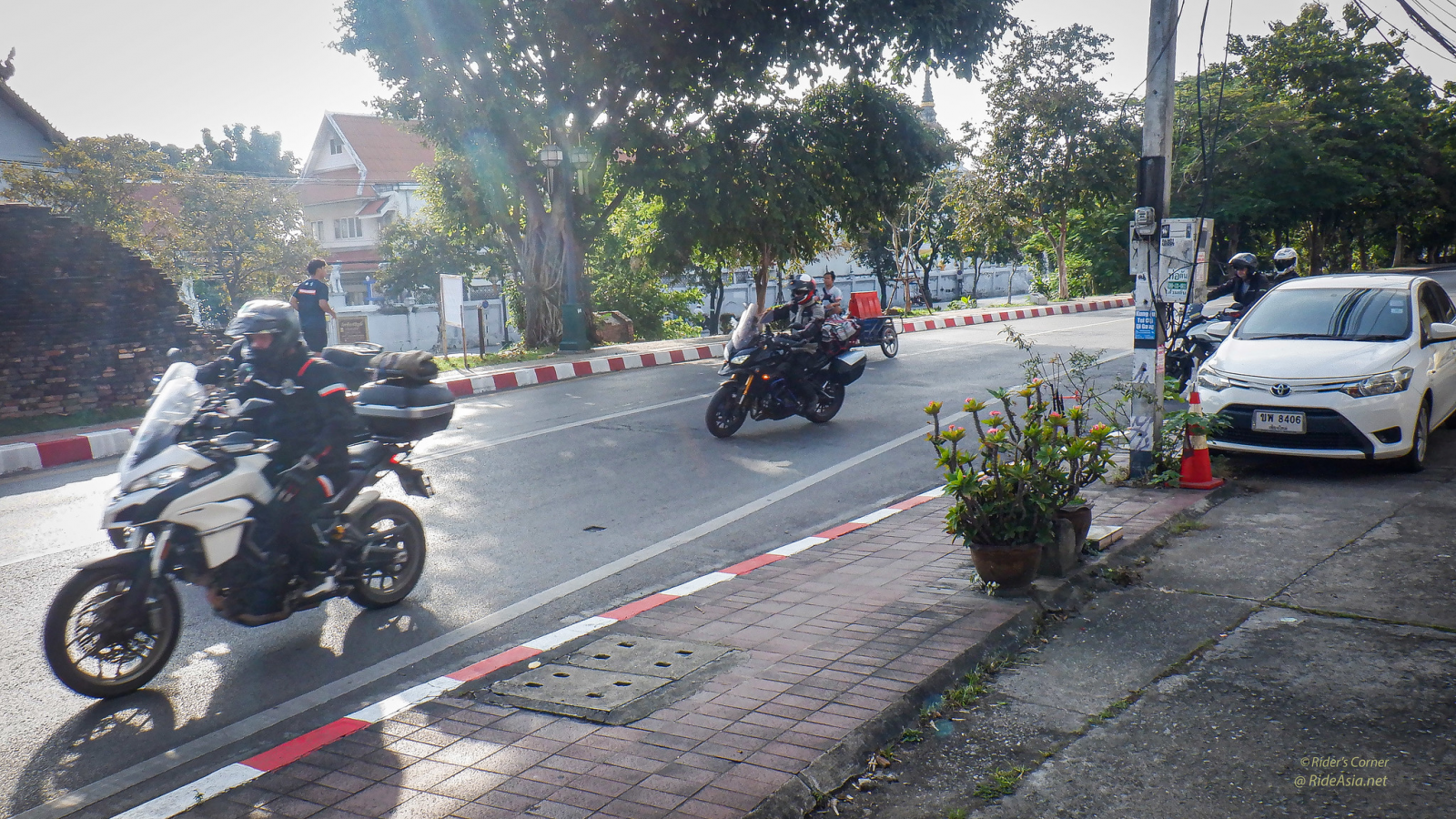 We had eight bikes, twelve riders. Christoph on the Ducati Multistrada, Ivan on the Yammie Tracer, Alex on the Ducati Monster, then on 500Xs, we had Lachie and Ow, Gordon and Mai, Deere and Aoy, Malcolm and Tum and I.
We took the longer, but faster route to Mae Chaem, where we stopped for lunch at the Mae Chaem Gate restaurant. A note on timing.... at 9:30, we were at the Doi Inthanon (1009) turnoff, at 10:30, the Mae Chaem (1088) turnoff and we were in Mae Chaem for a very early lunch. Conditions were good and we enjoyed the ride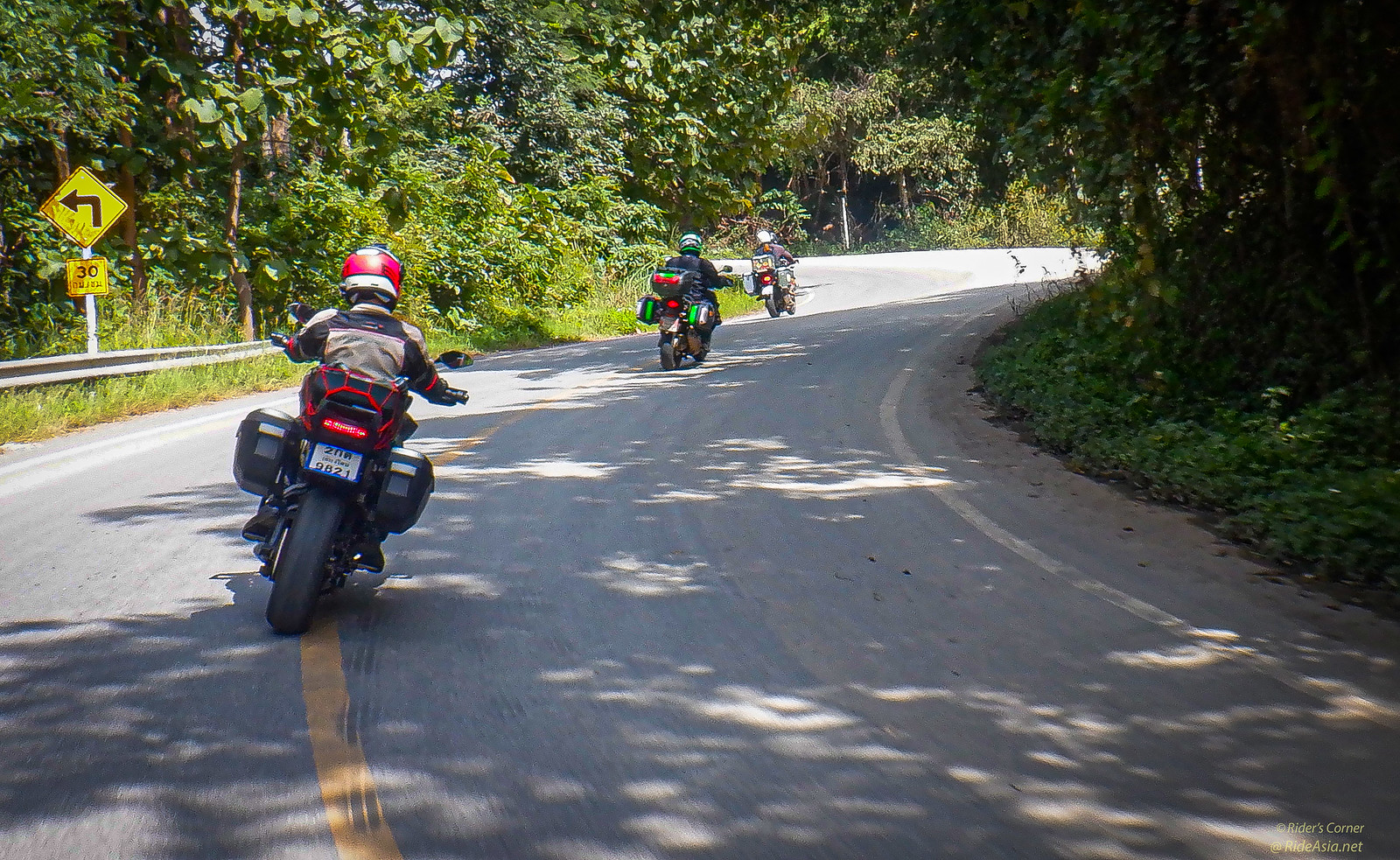 Smoky vehicles aside, that is. I think we made a wise choice on the route. Doi Inthanon was shrouded in clouds
Lunch was a leisurely affair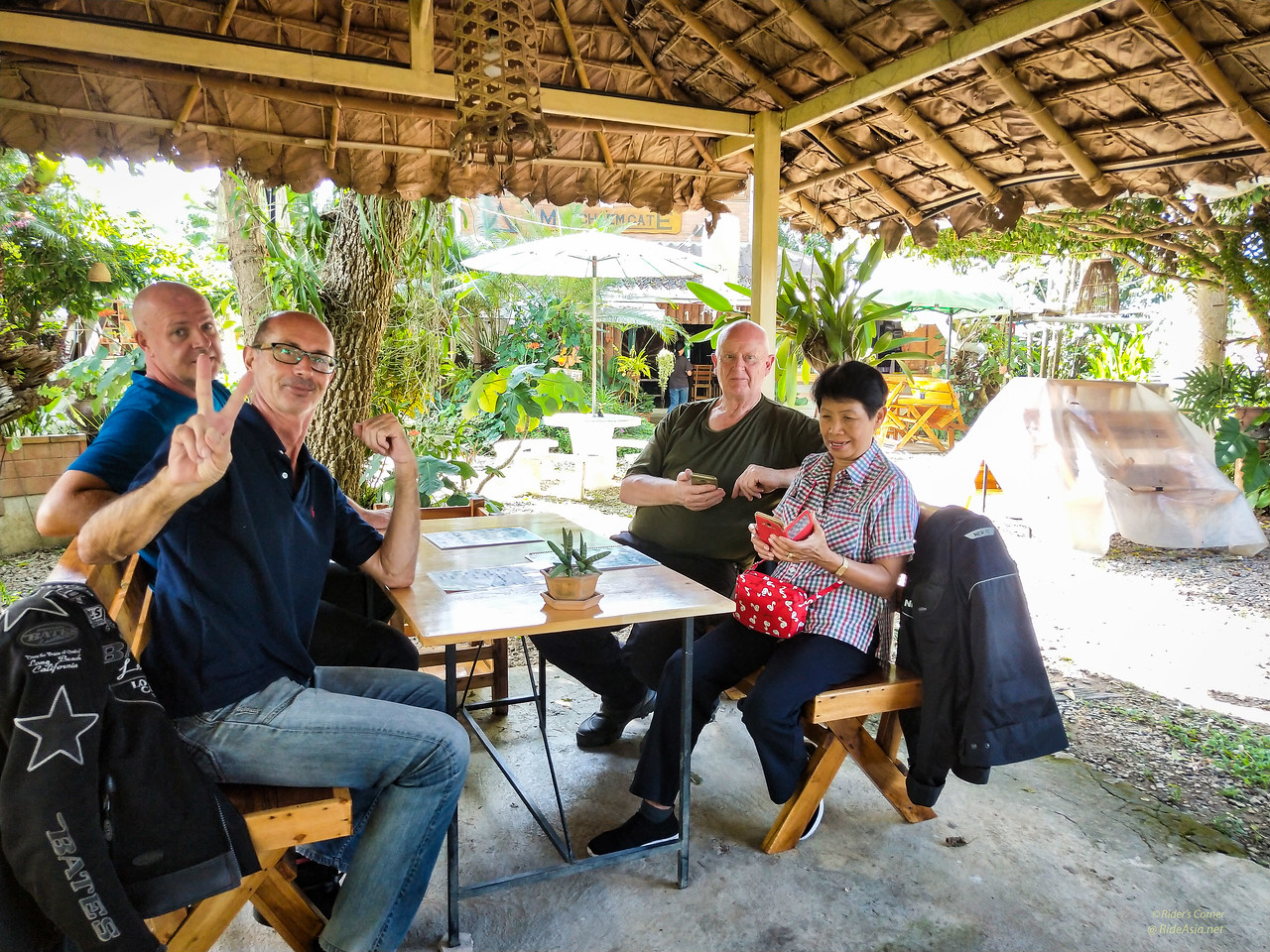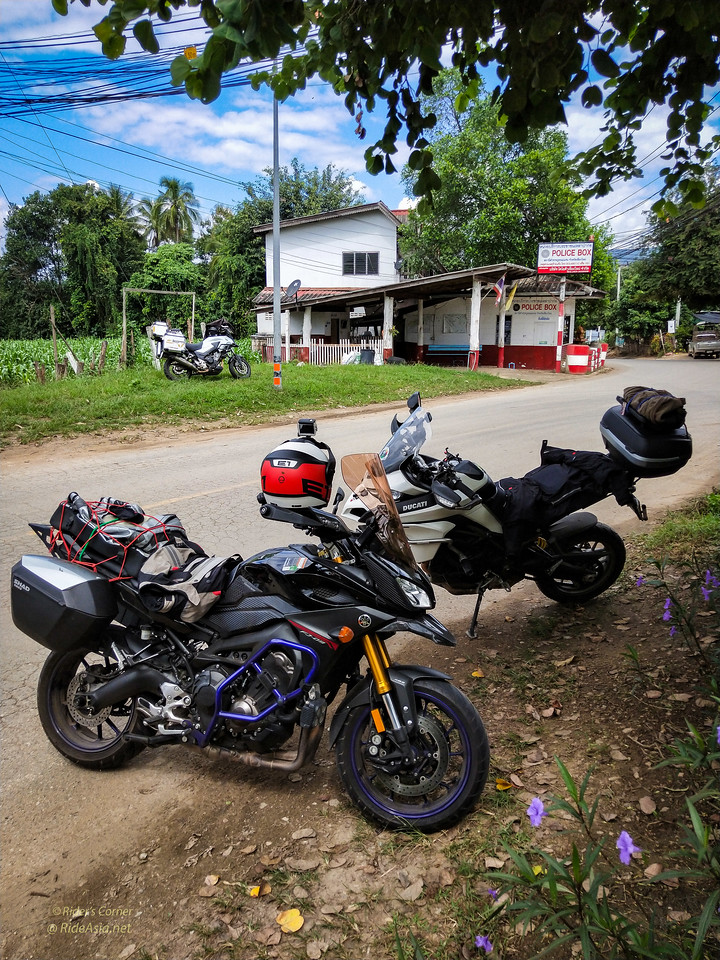 A quick stop in the hills to stretch the legs led to Deere and I being given a shot of the local hooch by the lads who were enjoying the view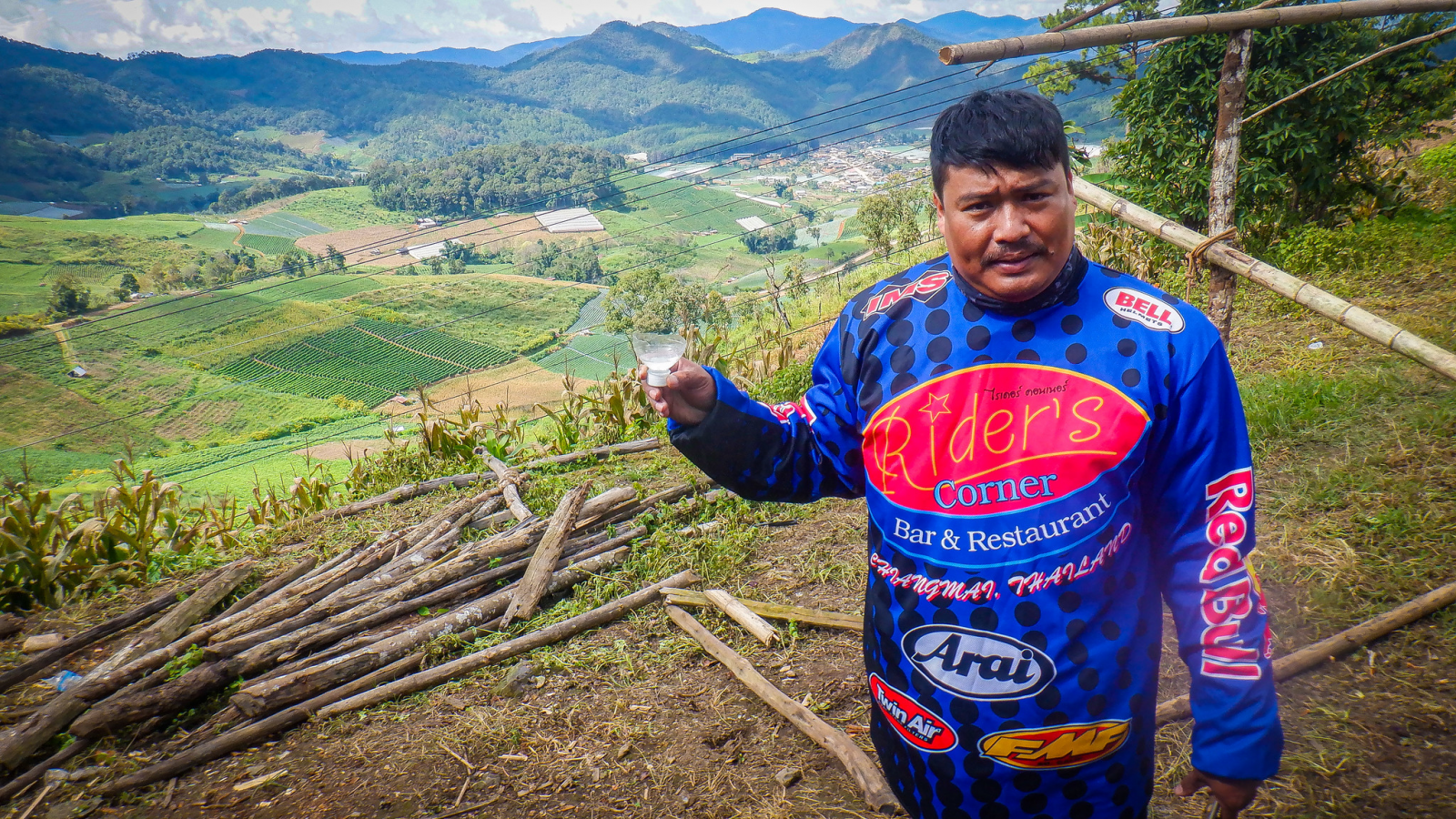 The 1263 was fairly quiet, with the dogs sleeping on the road. It's a little bit bumpy, as usual, in places, but it encouraged some spirited riding at times
Not a lot of fires yet... but they are about
So much opportunity for mulch production going to smoke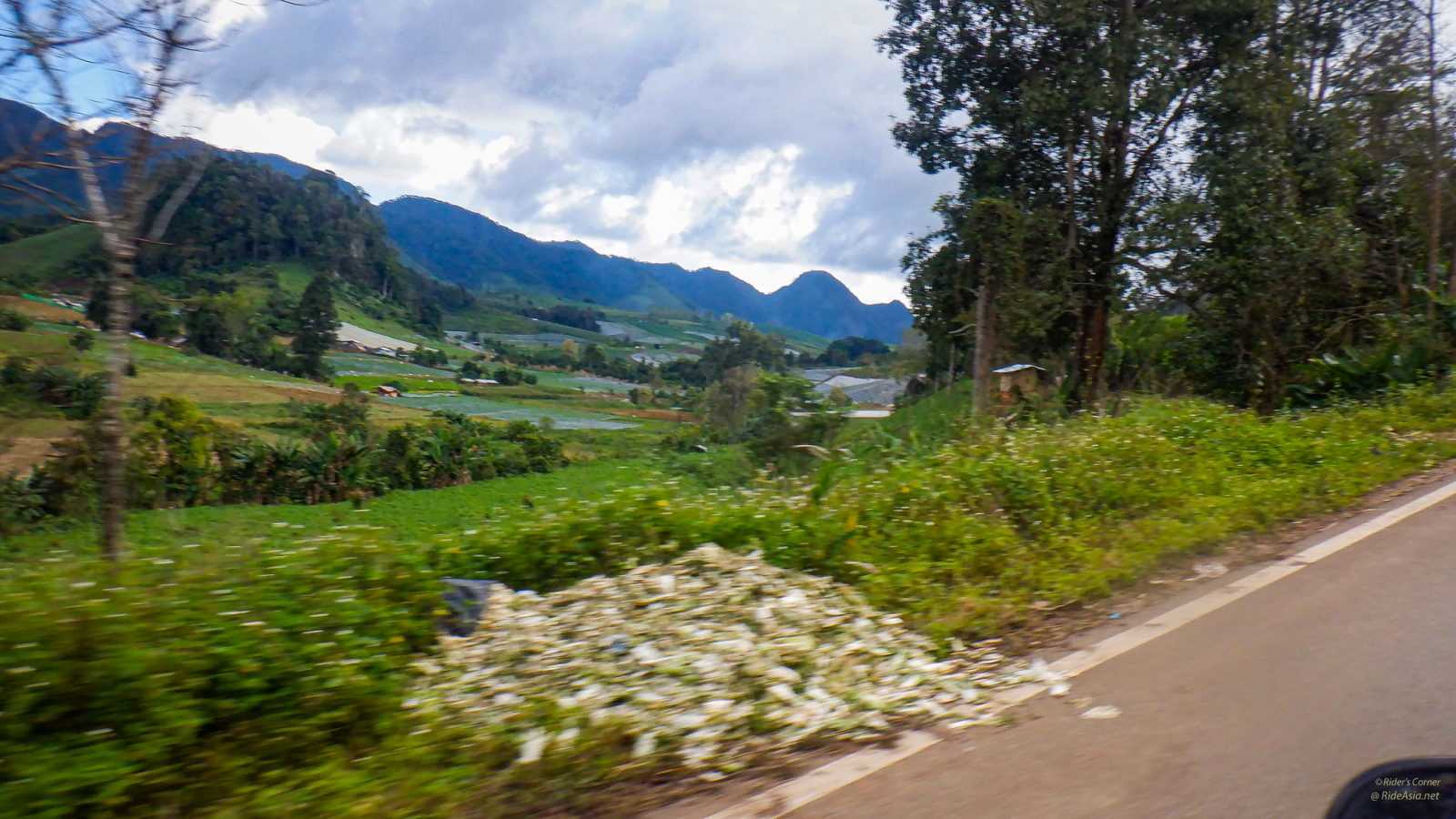 I didn't grab a waypoint for this, but its on the 4009. A fairly major effort with currently a rather dodgy looking Bailey Bridge providing the passage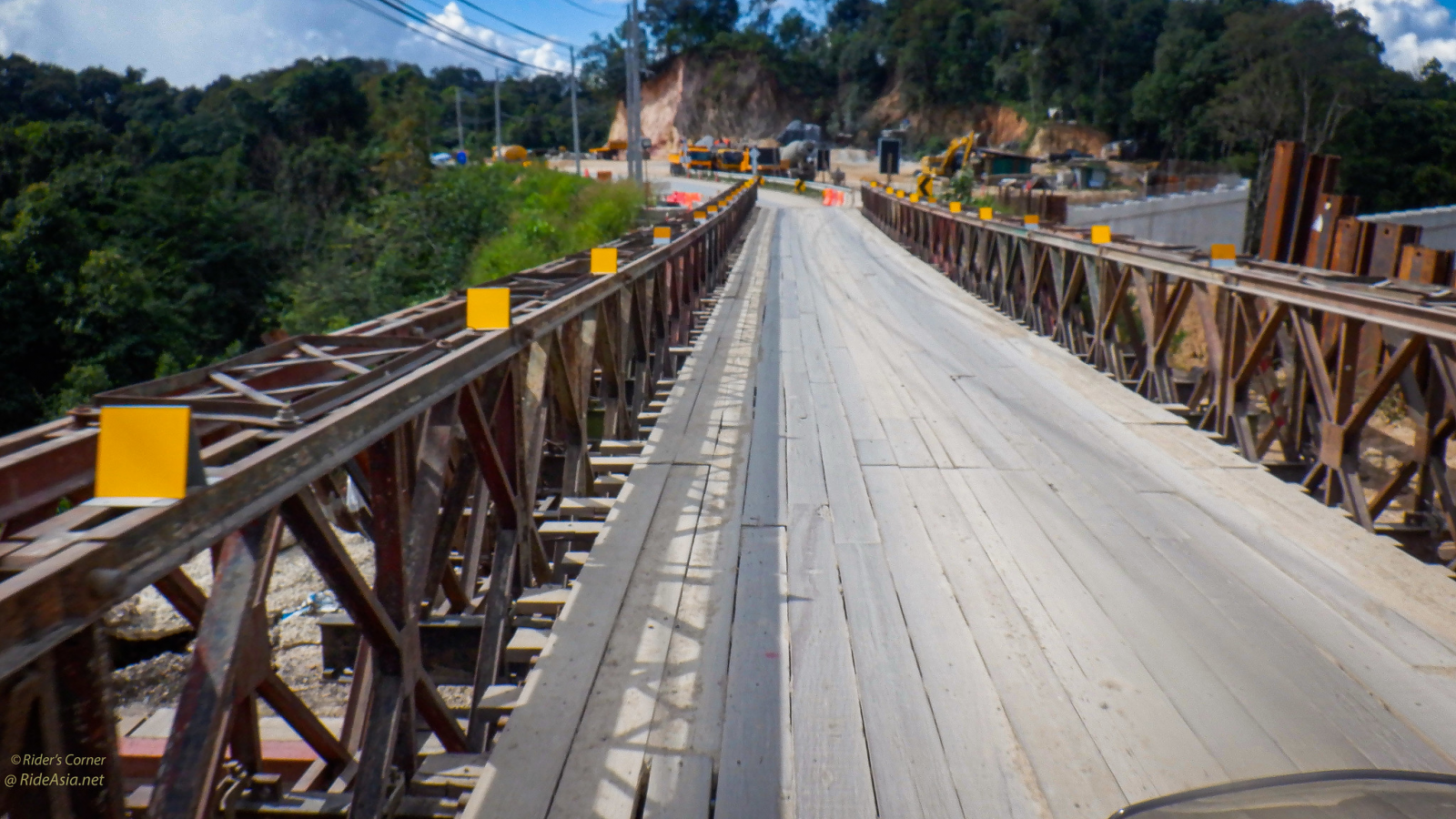 An awful lot of steel beams were poking up at odd angles there.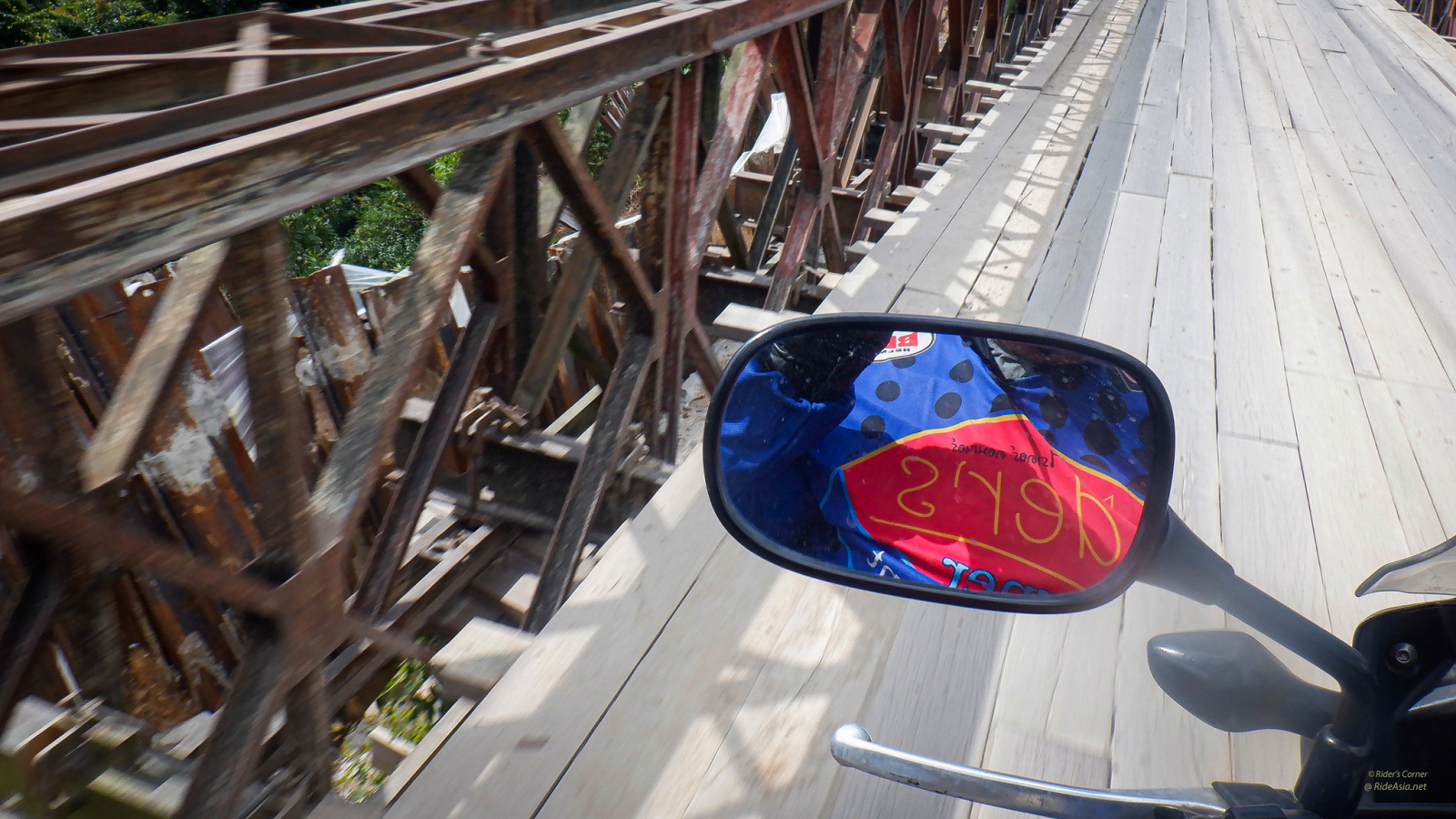 We pulled into the Bua Tong viewpoint, just ahead of a dodgy looking cloud.
Lovely fresh air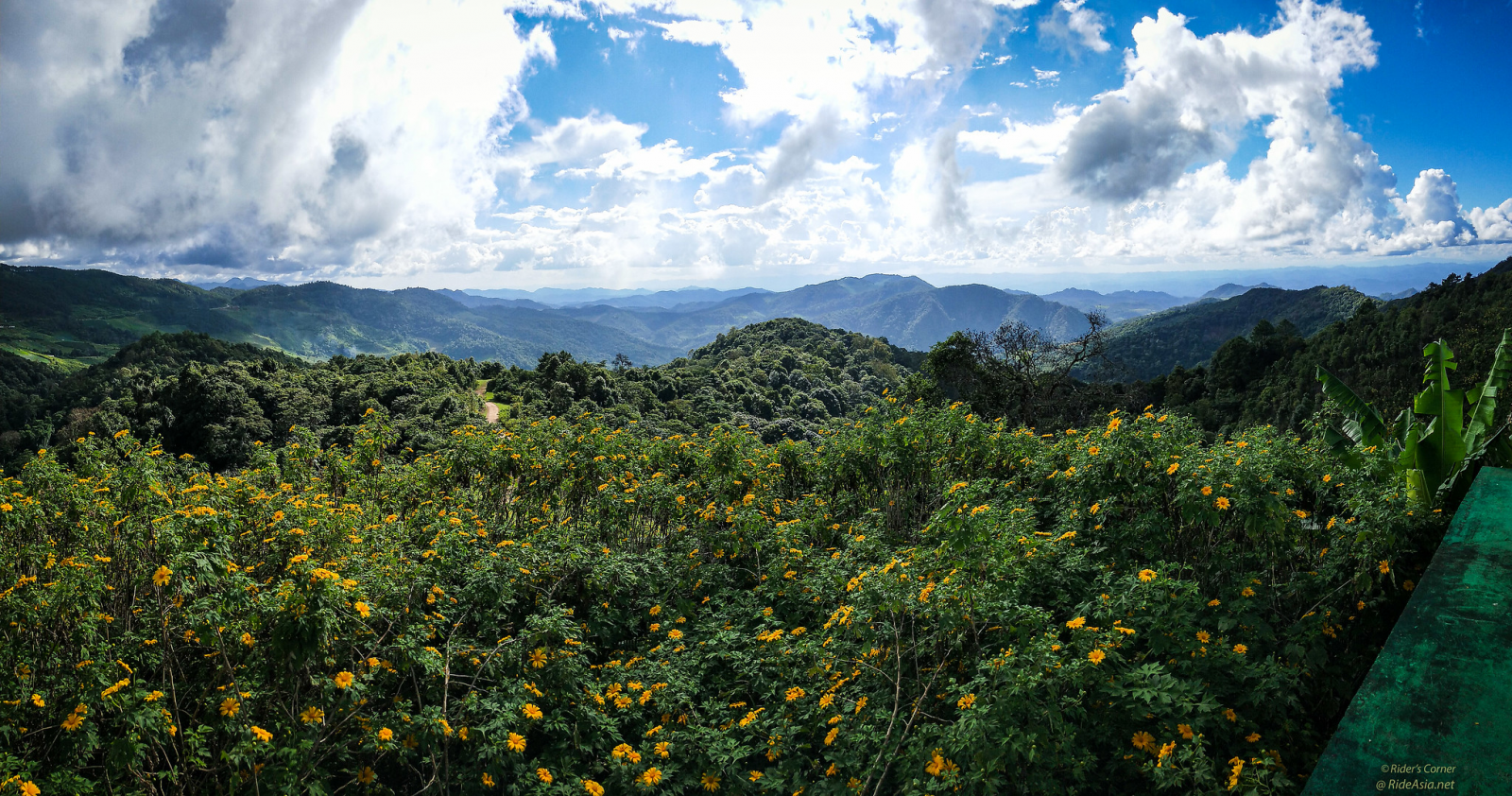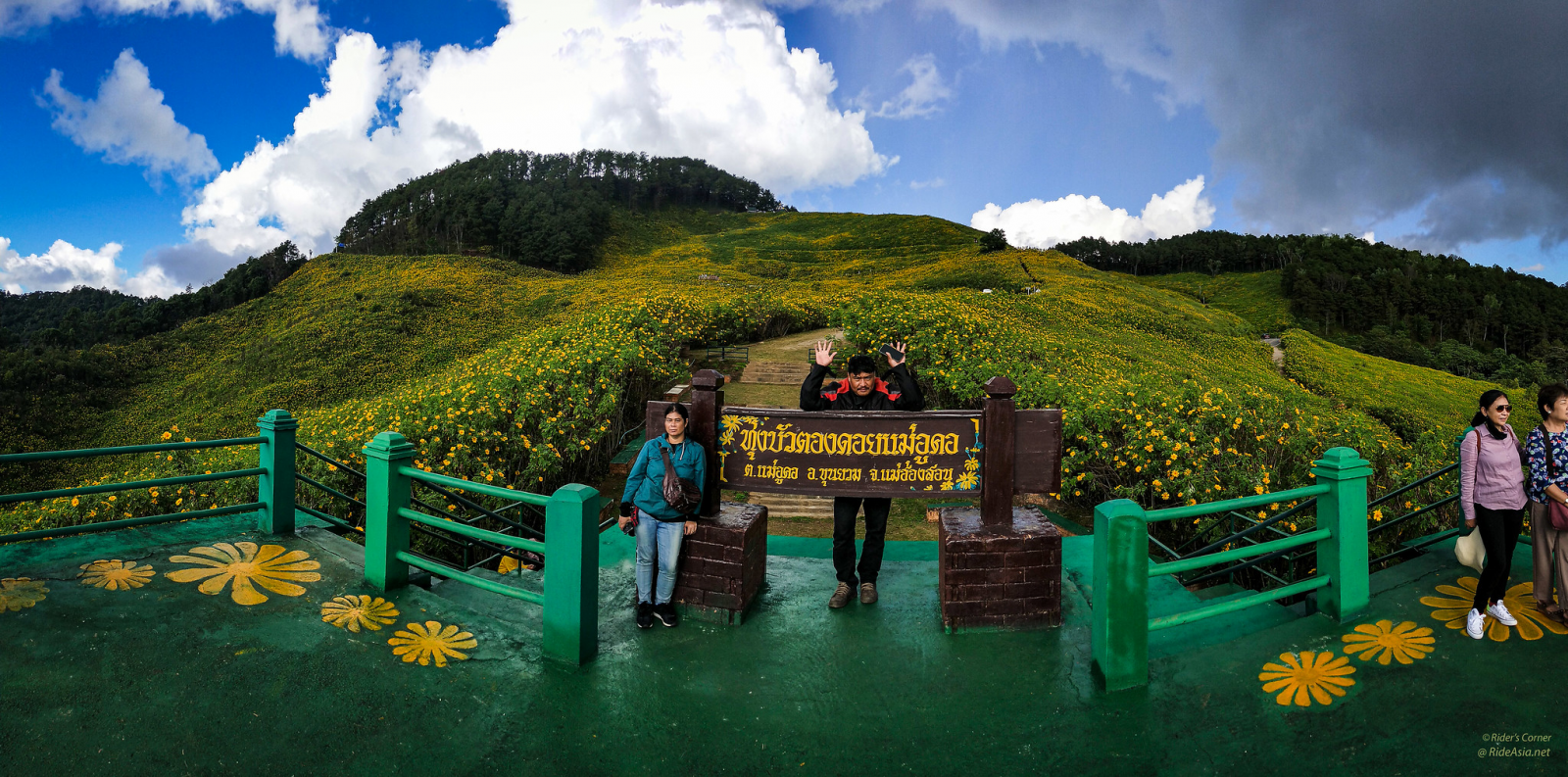 That nasty cloud decided to dump on us, but I couldn't be bothered with putting on the wet weather gear. I got wet nuts, but they were dry again by the time we made MHS.... just in case you were wondering.
So, it was off to be wallet-raped at the Mae Surin National Park. I offered my usual disapproval of pricing based on nationality. The guy in charge decided he'd make it even more disparate and waived the 40 baht fee for Thais, whilst charging farangs 200 baht. What turned out even funnier was that we went in before the sweep group, who'd waited out the rain, arrived. Deere and Aoy were charged the 40 baht each. Tum sent them back and the guy refunded them. 80 baht is 80 baht....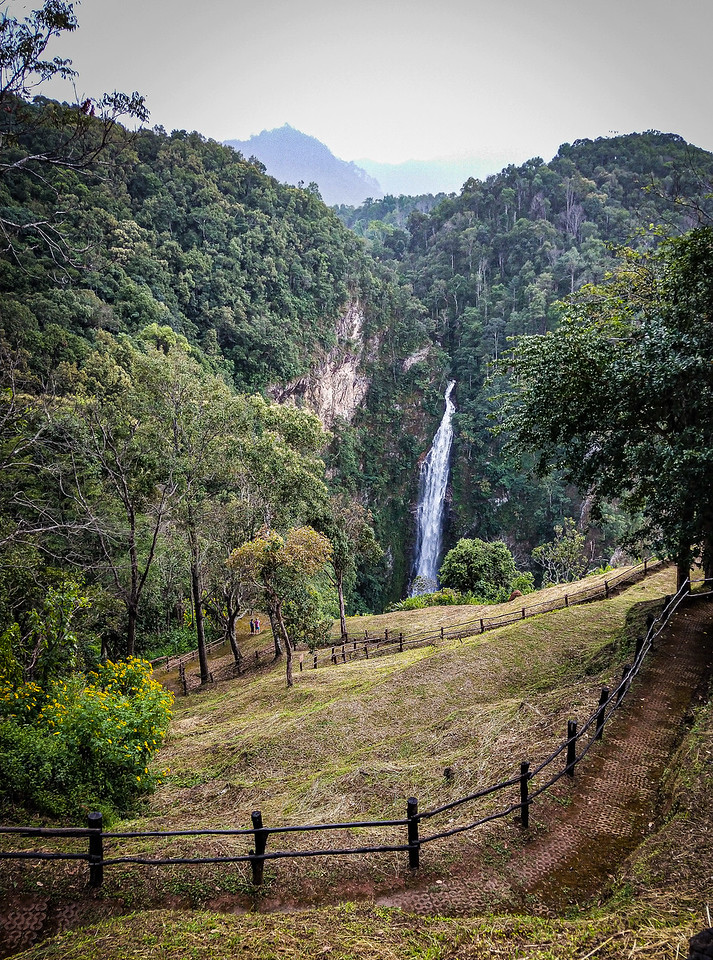 The lake was looking particularly nice, so we stopped for another short break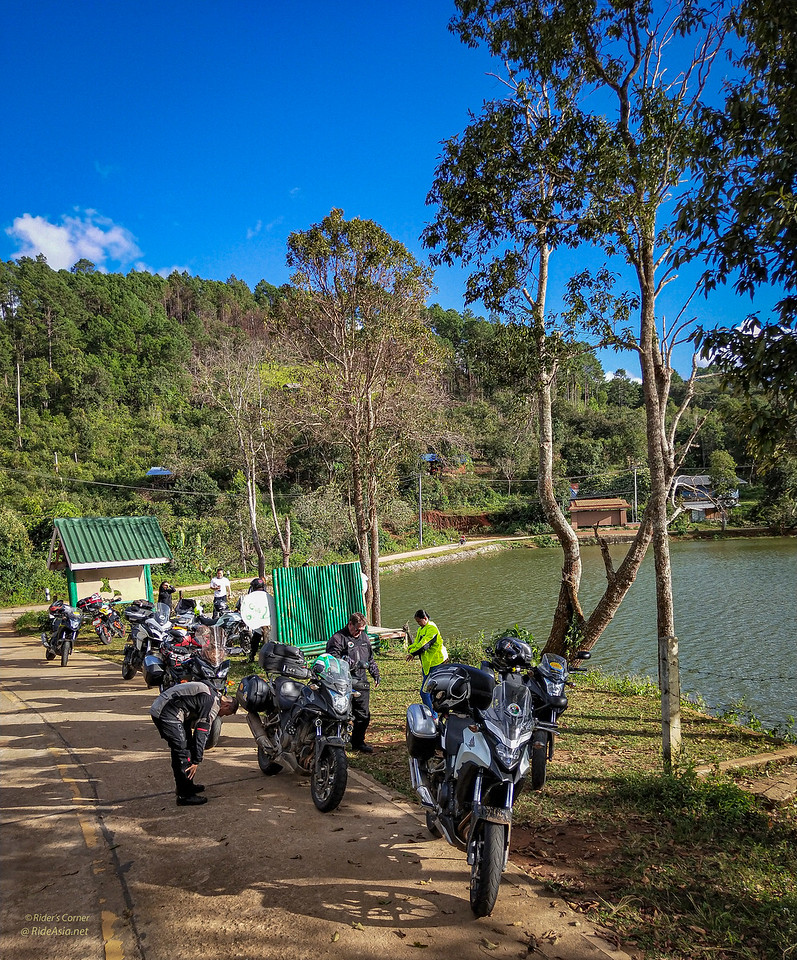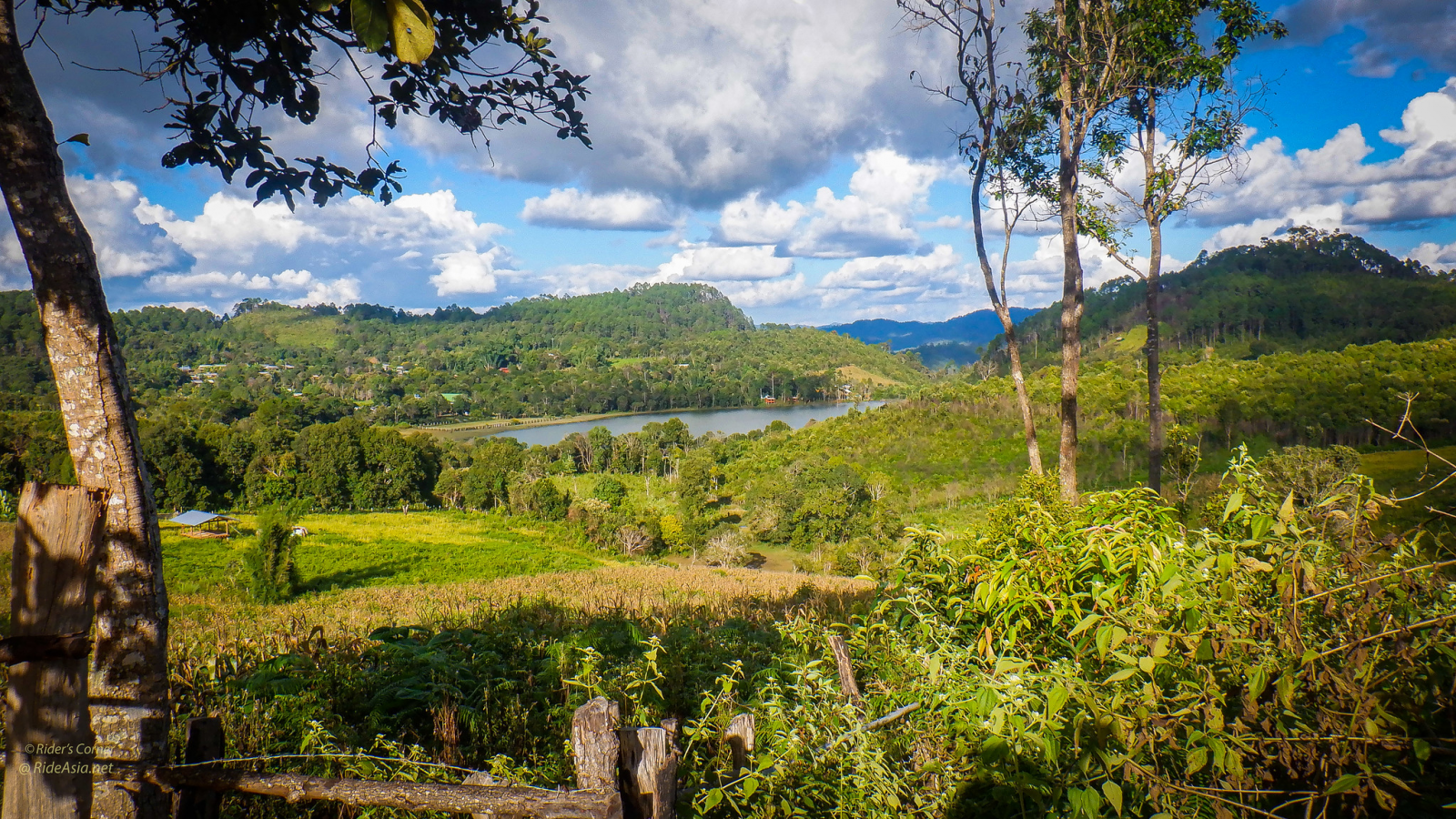 I'd flown the drone around here last time I was here - in February, with a Czech group. Much prettier this time of year. I was on a DRZ400 in February, riding solo... and it was definitely a cut above the 500X on these roads (then again, I was doing dirt then too - and riding without a pillion).
The 4009 is a fantastic road. Views are just stunning. Here's Deere capturing one of them
Fairly sure that was near here. I was riding sweep and as it turned out, I'd stopped about 100 metres before where the rest of the group were waiting
more to come