Joined

Oct 5, 2014
Location
Bikes

650 V-Strom
Myanmar…. The last frontier
I decided to do a 2-week trip to Myanmar in late February 2018, the weather is reliable at this time so it's not too hot in the low lands and not too cold in the mountains and almost no chance of rain. The plan was to rent a bike in Mandalay and see a few of the popular places such as Inle Lake, Bagan, Mt. Victoria 3,035m (highest Mountain in Chin State), then traverse the infamous road through the Chin Mountains from south to north then head back east into the lowlands and back to Mandalay. The political, cultural, religious and economic turmoil from early history to now has shaped a fascinating country that has been insulated from the outside World for decades. Myanmar has a land mass almost twice the size of Germany, the Irrawaddy River is over 2,200 kilometers long and drains more than 400,000 square kilometers of land, the highest peak is nearly 6,000 meters, it's a remarkable place that is only just starting to open up to the outside World.
The route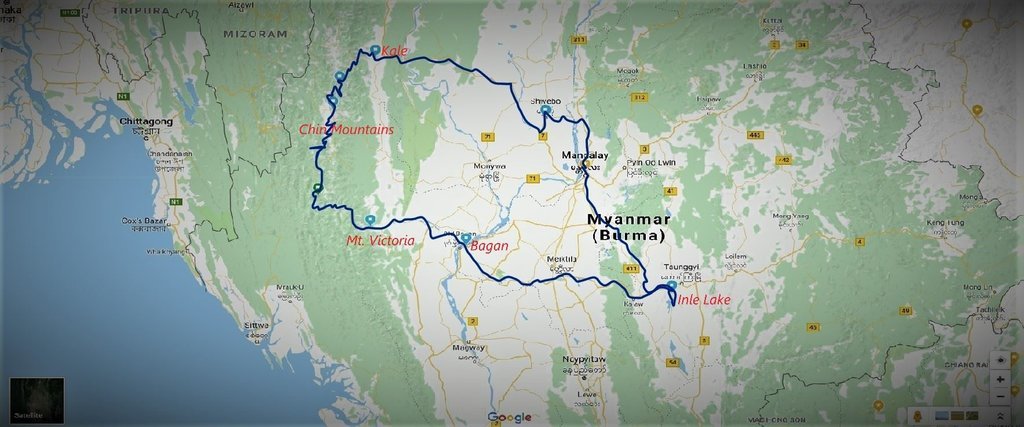 Sensational local food in some places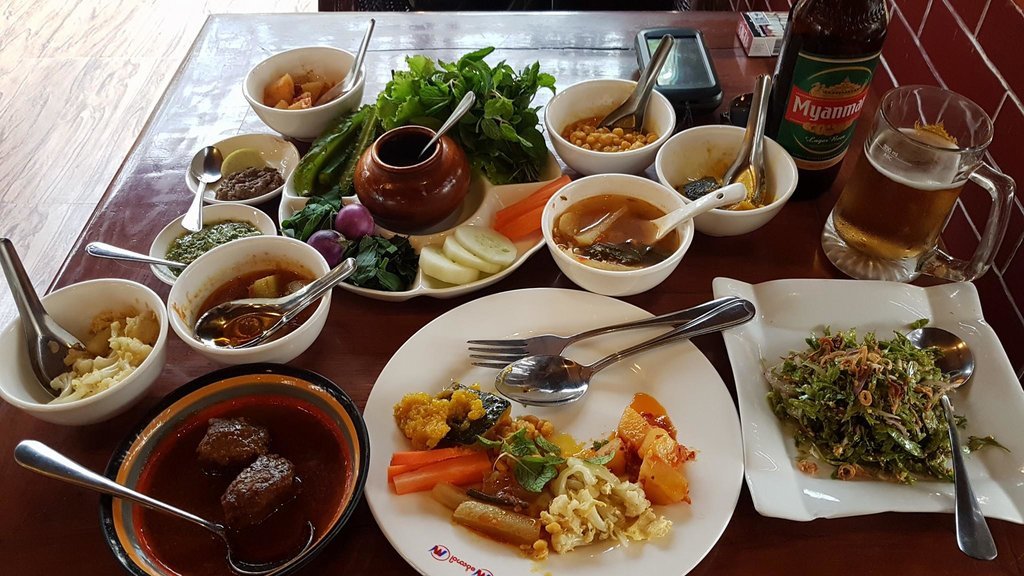 One of the nicer roads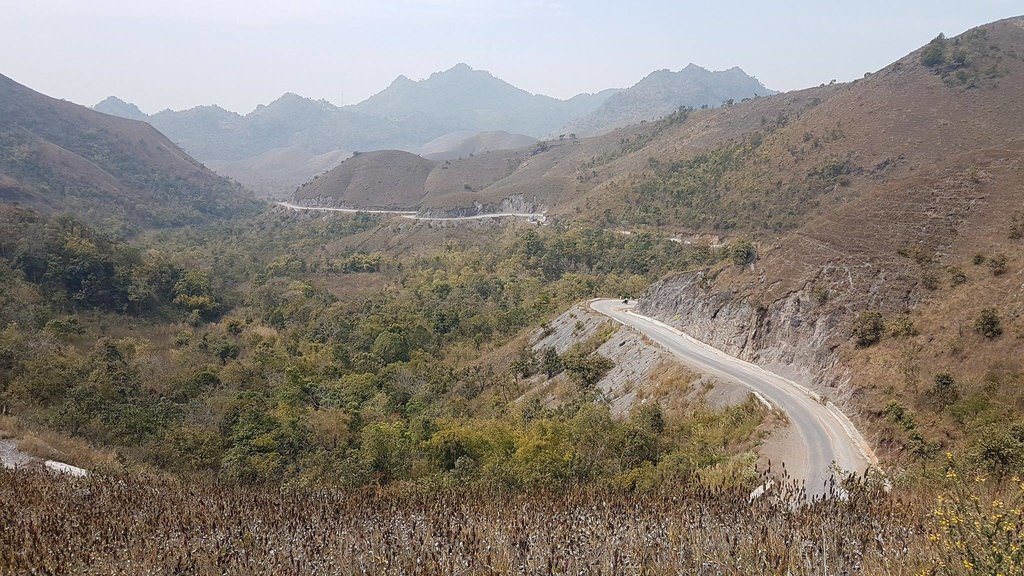 I left Mandalay early taking the shortest (260 km) route to Inle Lake over steep ranges, plateaus and jagged Karst peaks above 1,300 mt making for cool and spectacular riding. 80 km of this was unsealed, rough and dusty making for hard going at times but enjoyable none the less. Seeing the hill tribe people (mostly women and children) breaking rocks with a sledgehammer and laying them as road base like a parquetry floor makes you think long and hard about whether you've really had a tough day.
Lots of road works in some rugged country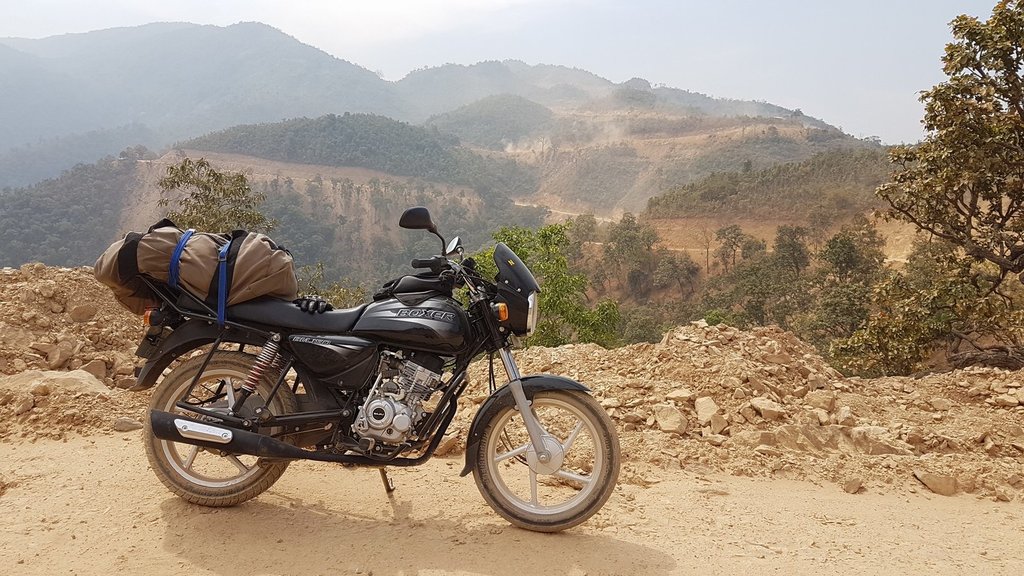 Beautiful scenery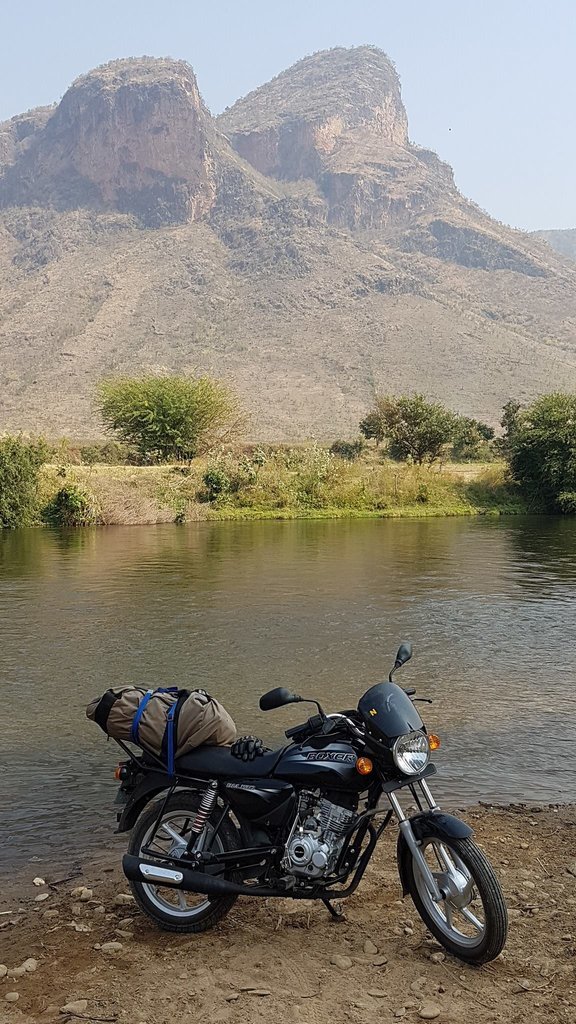 A few side tracks took me to some locally interesting places one of which was a sapphire blue pool on a beautiful rain forest creek.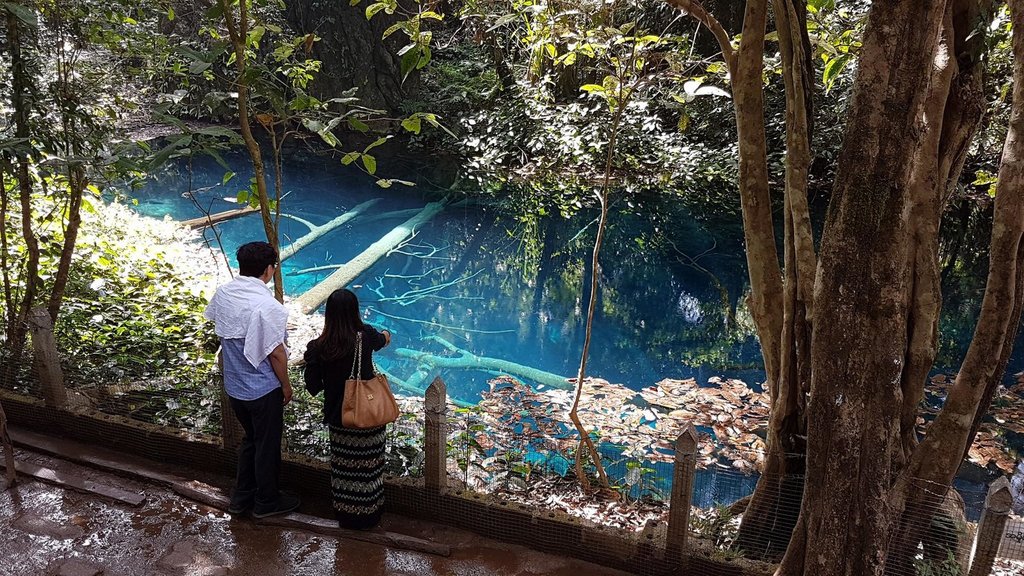 After slowly losing altitude through rugged Karst valleys I eventually arrived in the low lands and Nyaungshwe on the delta of Inle Lake. Time to get a room, a shower, a meal and plan for tomorrow.
Tradition fishing Inle Lake
Inle Lake to Kalaw, Meiktila, Mt. Poppa and finally Bagan a long day (12 hours 360 klm's) coming out of the mountains and across the central flat lands on sealed but pretty bad roads. Inle Lake is a bit of a waste of time unless you spend a small fortune on boat tours, hot air balloon flights and fancy restaurants, it's basically just another tourist trap. Kalaw is a pretty mountain village high on a plateau but there's not much there except western style cafe's and accommodation. However, the scenery along the roads connecting these places was pretty interesting, steep, mountainous and rugged for most of the way. But after hitting the flat lands it's reminiscent of the Australian outback, flat, hot and dry. There were a few lakes and rivers and Meiktila a bizarre city that would pass as an Asian copy of a 70's era Soviet town, worth exploring next time. Mt. Poppa was interesting with a monastery perched on top of a huge ancient volcanic plug but damned if I was going to climb up there with my buggered leg. There were no hotels for foreigners around Mt. Poppa so I had to ride on in the dark to Bagan where I'm now enjoying a cold beer and a chicken salad.
Foreigners can only stay at hotels registered/authorised by Myanmar immigration, the hotels have to report the foreigners details to immigration immediately on checking in to the hotel. Any shenanigans outside of these requirements can get you/them in serious trouble.
Mt. Poppa and summit Buddhist Temple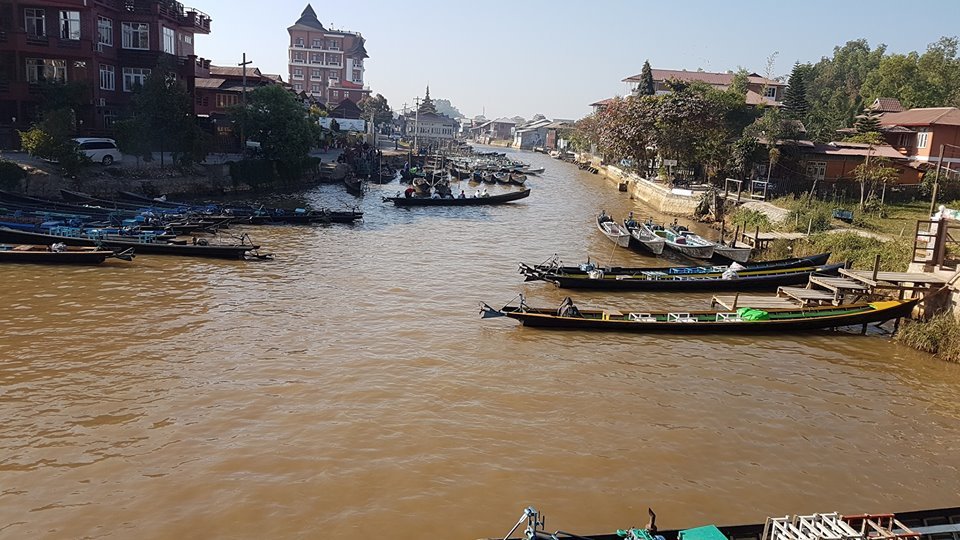 Meiktila a bizarre city that would pass as an Asian copy of a 70's era Soviet town
A 3 in 1 coffee on the Irrawaddy River Bagan, it's a massive river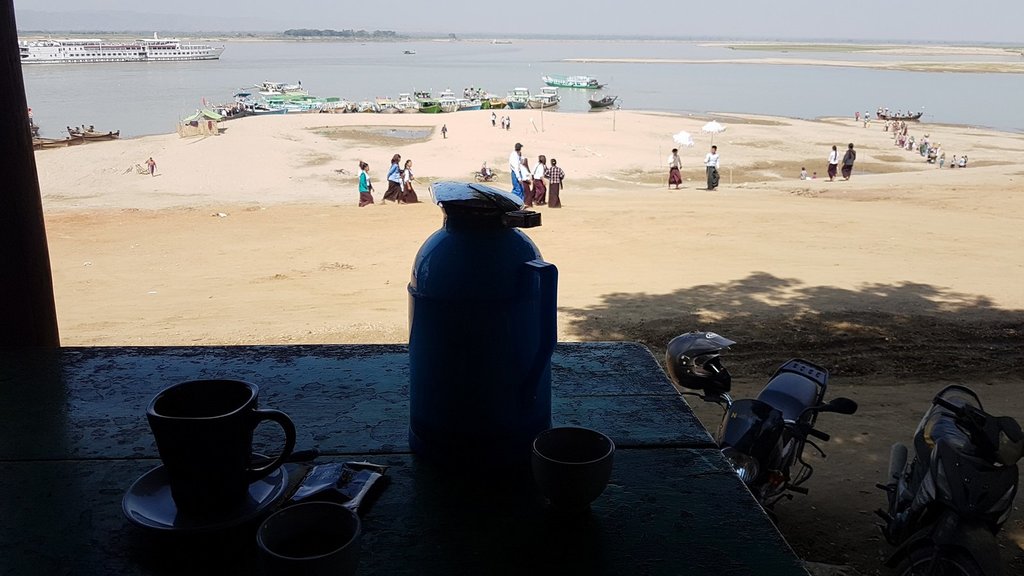 One of Bagan's many ancient temples. If you're prepared to do a bit of single track exploring you can find some outstanding untouched temples that are still relatively true to their original construction from 800 years ago.
Inside the old temples. Many of these temples are still maintained and used for daily worship.
Some of the temples are abandoned and untouched providing a real historical treat where you can wander at will, but beware of bee and wasp nests and the occasional snake, namely Cobras.
One of Bagan's many ancient temples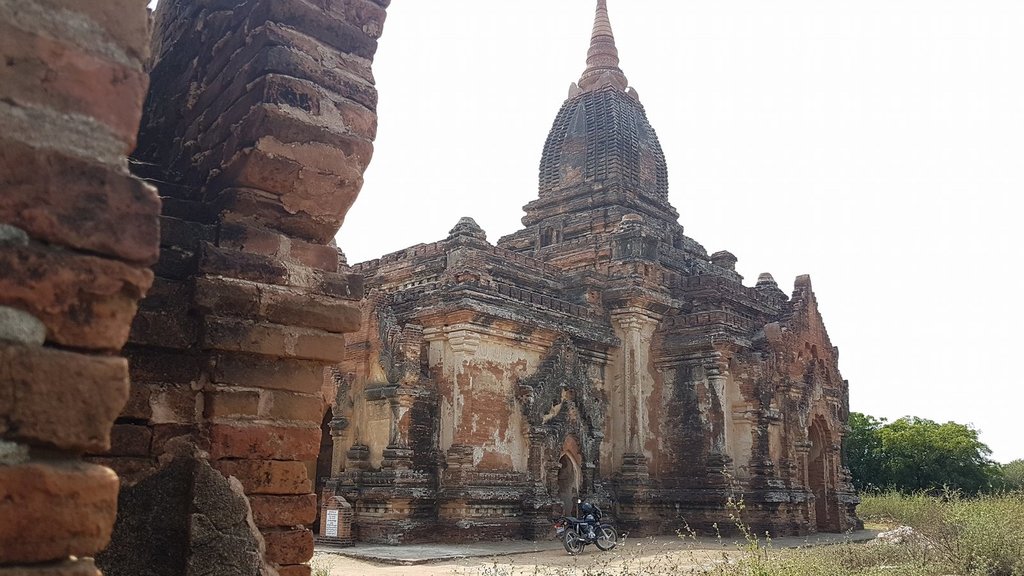 It won't be long and these temples will be off limits to visitors which will be a real shame, one of the highlights was being able to roam around at will enjoying and appreciating these places all to myself away from the forced tourist routes.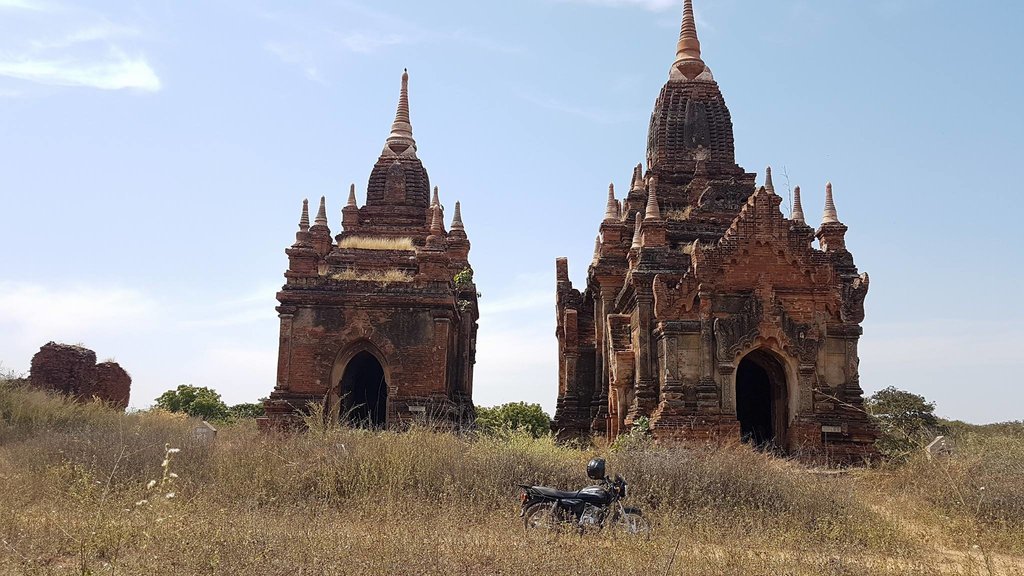 So.... Bagan, is it worth it? YES!
But I have a bias towards history and historical architecture. Tip of the day, don't go to the popular/fancy temples, don't go at sun rise or when it's cool, do the opposite to what everyone else does.With around 4,000 temples and Pagodas ranging from 700 to 900 years old, all packed into roughly 40 square klm's how do you find something most others haven't? Having a bike enables you to head off cross country to where most tourists don't go and that's where you find the gems (& flat tyres lol). Southeast Asian history truly is fascinating, Angkor Wat in Cambodia, Mi Son in Vietnam, Plain of Jars in Laos and Bagan in Myanmar all portray a long complex social, political and religious history (often brutal) but always beautifully etched in stone structures, monuments and temples for posterity.
Irrawaddy River at Bagan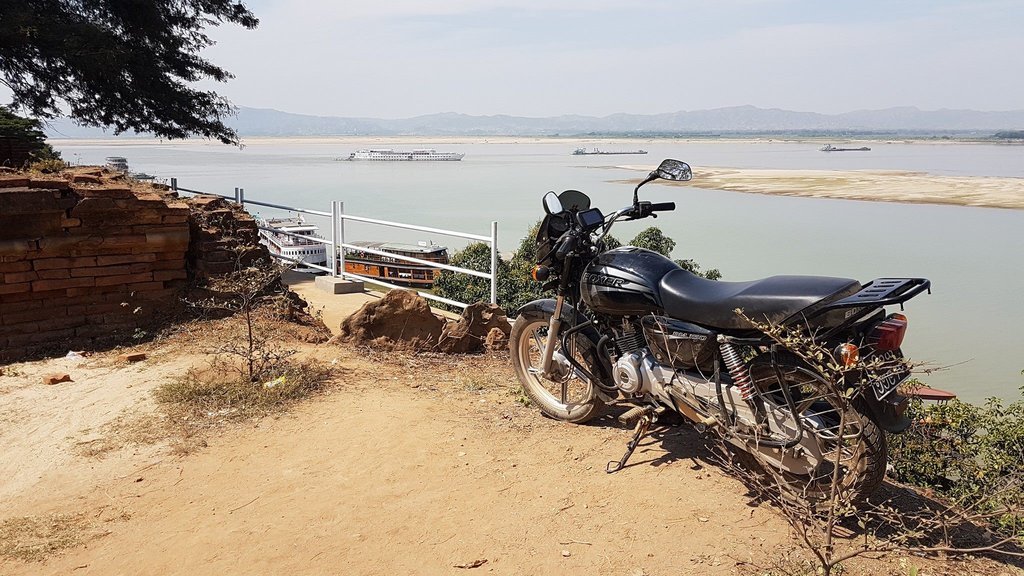 This is one of the narrowest points of the Irrawaddy River and yet the bridge is nearly 2 km long. As I pulled over to get this photo a military convoy of 6 blacked out pick up trucks loaded with special forces all "tooled up" ready for action and one armoured car in the middle went past. All of the locals pulled up onto the walkway and some even crouched in fear as the convoy went past. The military still poses a very real threat and commands compliance. Google Maps
Mt. Victoria 3,030m, highest mountain in Chin State and just 8 degrees. Technically you are not allowed to ride the last 2km to the top but I am unable to walk that far with my gammy leg so I was naughty and rode past the barricade to the top, I'd come to far to miss out on the summit. They even get a sprinkle of snow here in winter and the winds were bitter cold but well worth coming up as the views were spectacular.
In to the Chin mountains we go, from Mt. Victoria onward it is pretty wild country rarely visited by foreigners. The Chin mountain people were instrumental in defeating the Japanese in Burma in WWII. They were trained and equipped by the British and Australians and had a fierce reputation as warriors, even today Chin State exists almost as an independent state, but that will all change as the roads are improved, bridges are built and utilities arrive.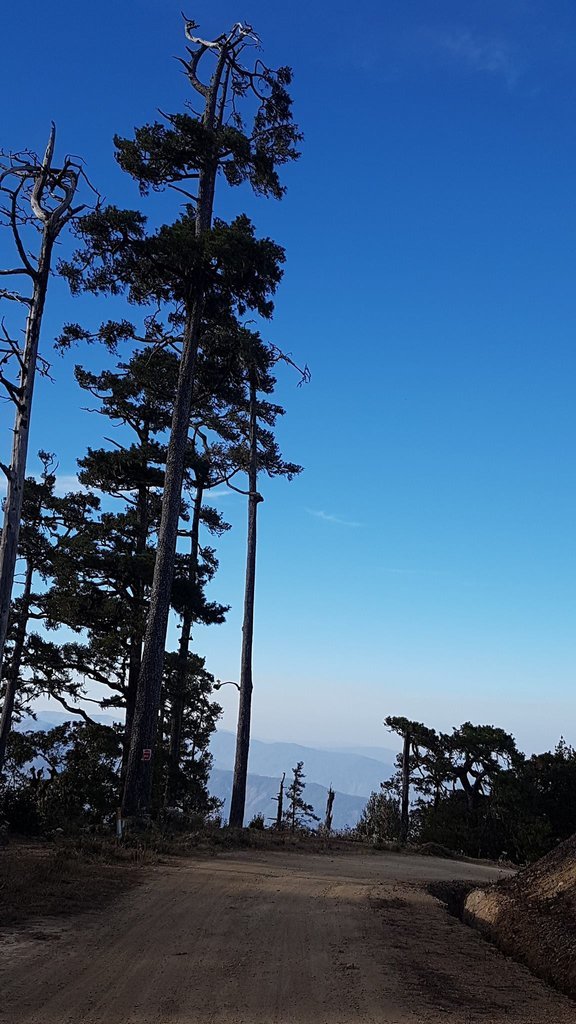 A long day in the saddle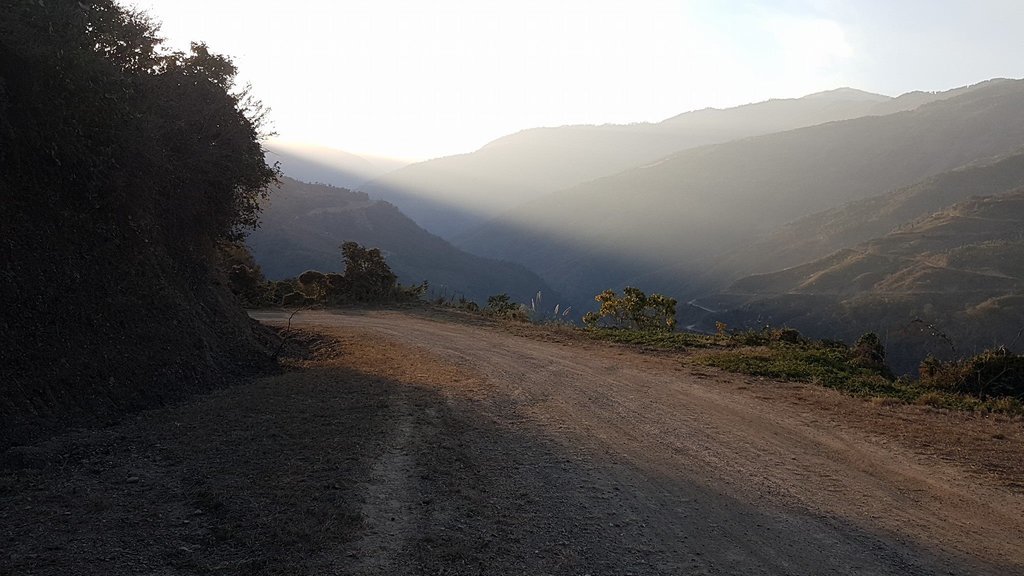 Home sweet home for someone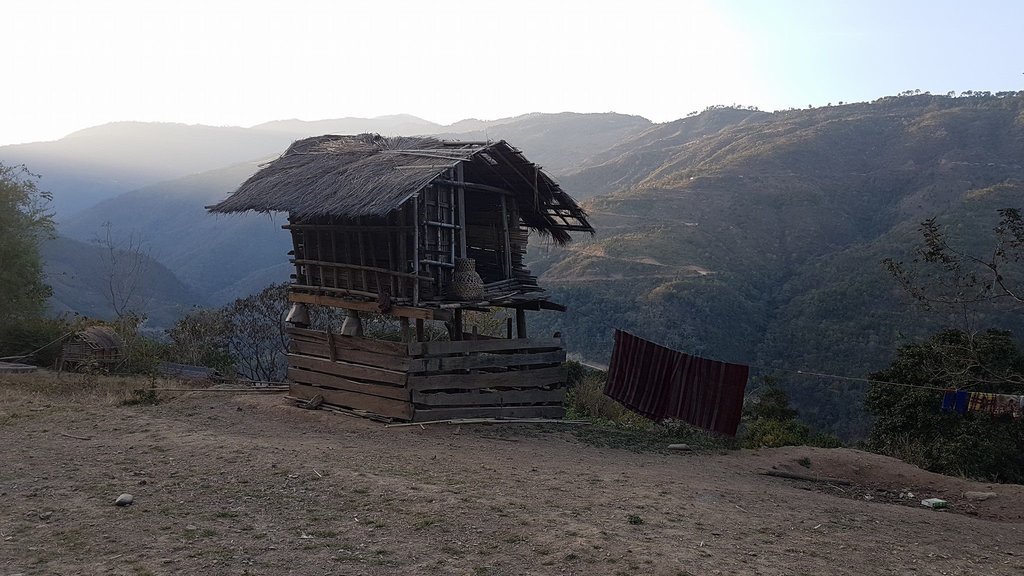 Hard going in the Chin Mountains
So many valleys, so many ridges and so many ranges, but never boring.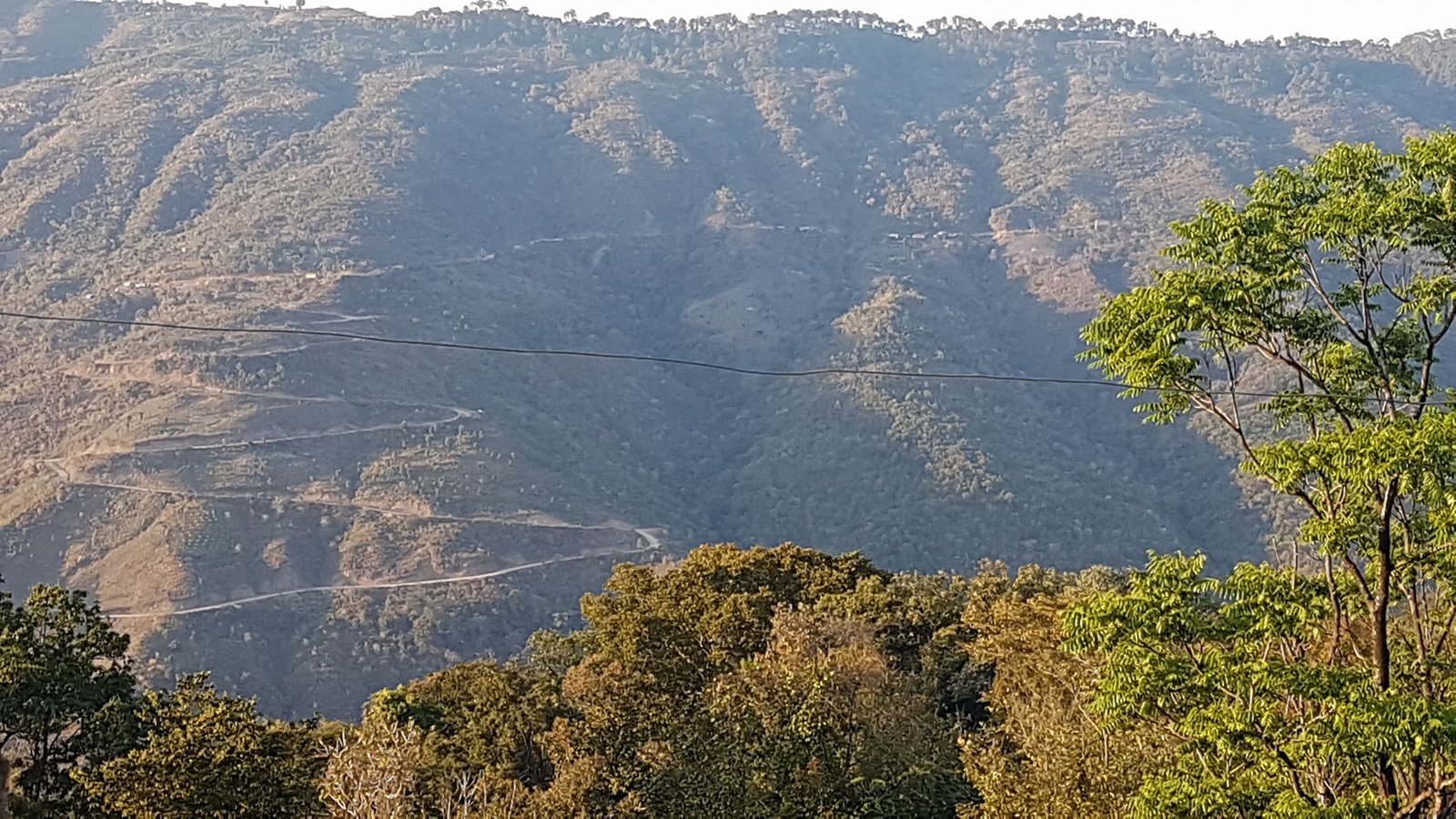 Day 5 and I'm in Matupi in the middle of the Chin Mountains where you have to buy beer through a hole in the chicken wire of a back door to an obscure hut down near the pigs and rubble. And now I have to drink it away from prying eyes lol. Apparently, it's frowned upon to drink alcohol here because they are devout conservative Christians, but they can frown away coz there's a lot of dust to wash down after today. The intention was to go from Mindat to Rezua about 248 klm's. It took 7 hours to do 132 klm's through some magnificent scenery mostly above 2,000 meters but on some of the most horrendous roads I've ever ridden on. Rock falls, earth moving equipment, drilling/blasting crews, construction vehicles all oblivious to your existence trying to abbreviate your life. Luckily I found a new hotel in Matupi that accepts foreigners, great rooms, good staff, good price and ABC Extra Stout through the chicken wire nearby, can it get any better?
It happened to be National Chin Day today so I decided to stay in Matupi one more day. I was told about a waterfall which was 30 klms of dirt road, 20 klm's single track and 5 klm's of walking through the jungle return, so I thought why not. It was definitely worth it. There was no one around and while quietly sitting at the falls a troop of monkeys came down the cliff face to raid the wild bee hives for honey, what a sight. In the evening the hotel owner invited me to the festivities in the village, all I can say is "you had to be there". Each village put on a display of traditional dress & dance which was quite an experience.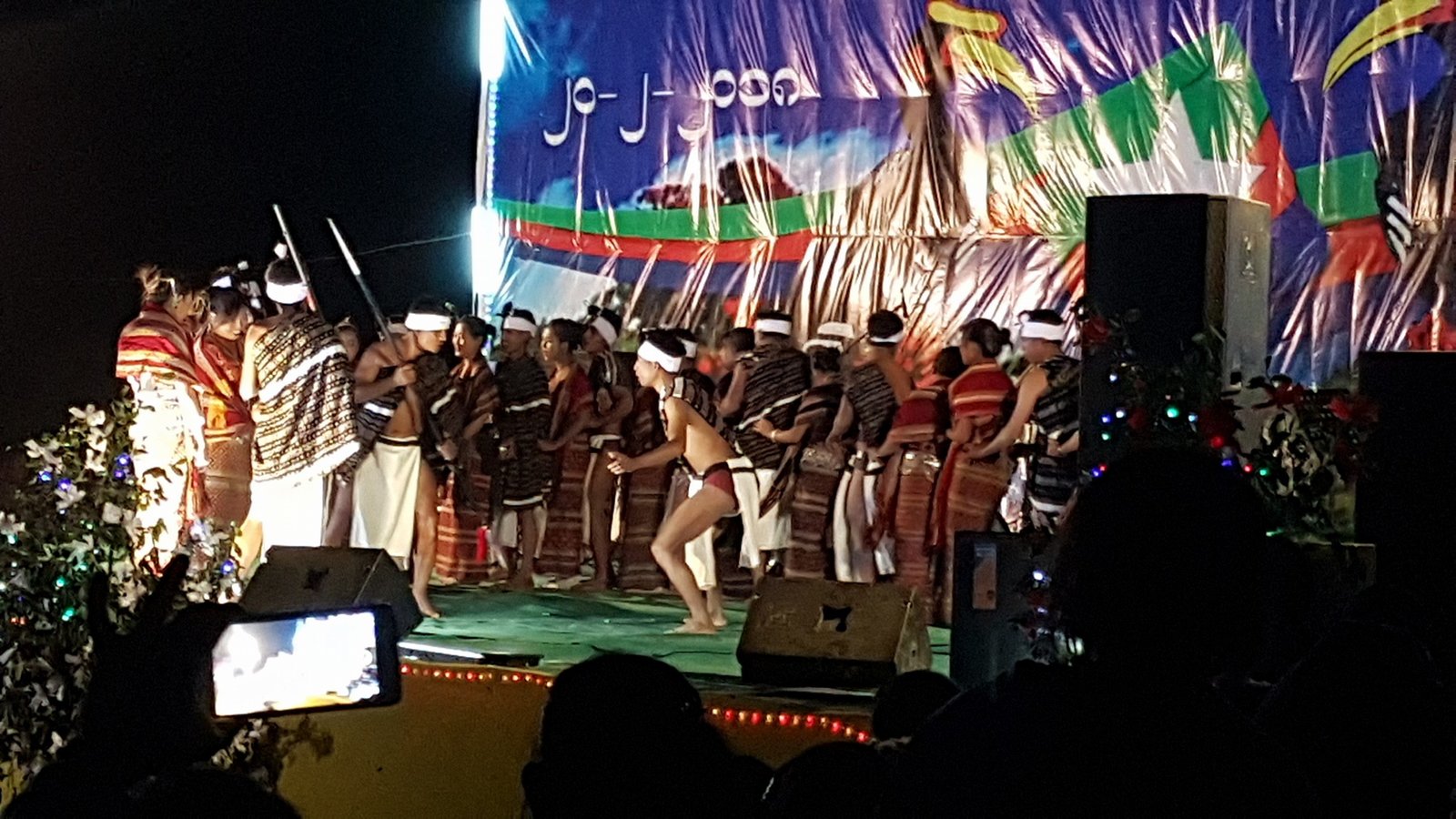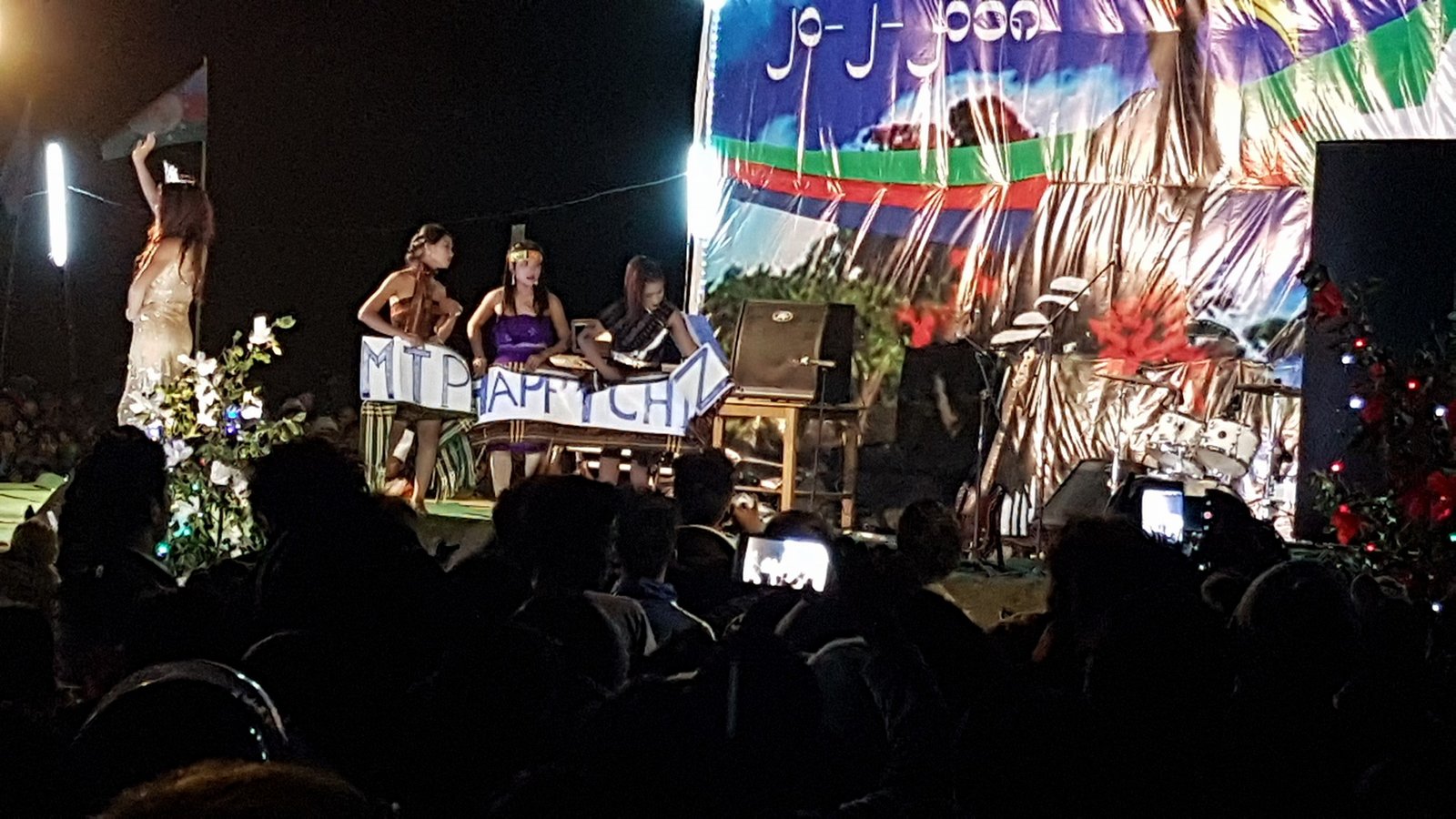 Wooden suspension bridge to a secret waterfall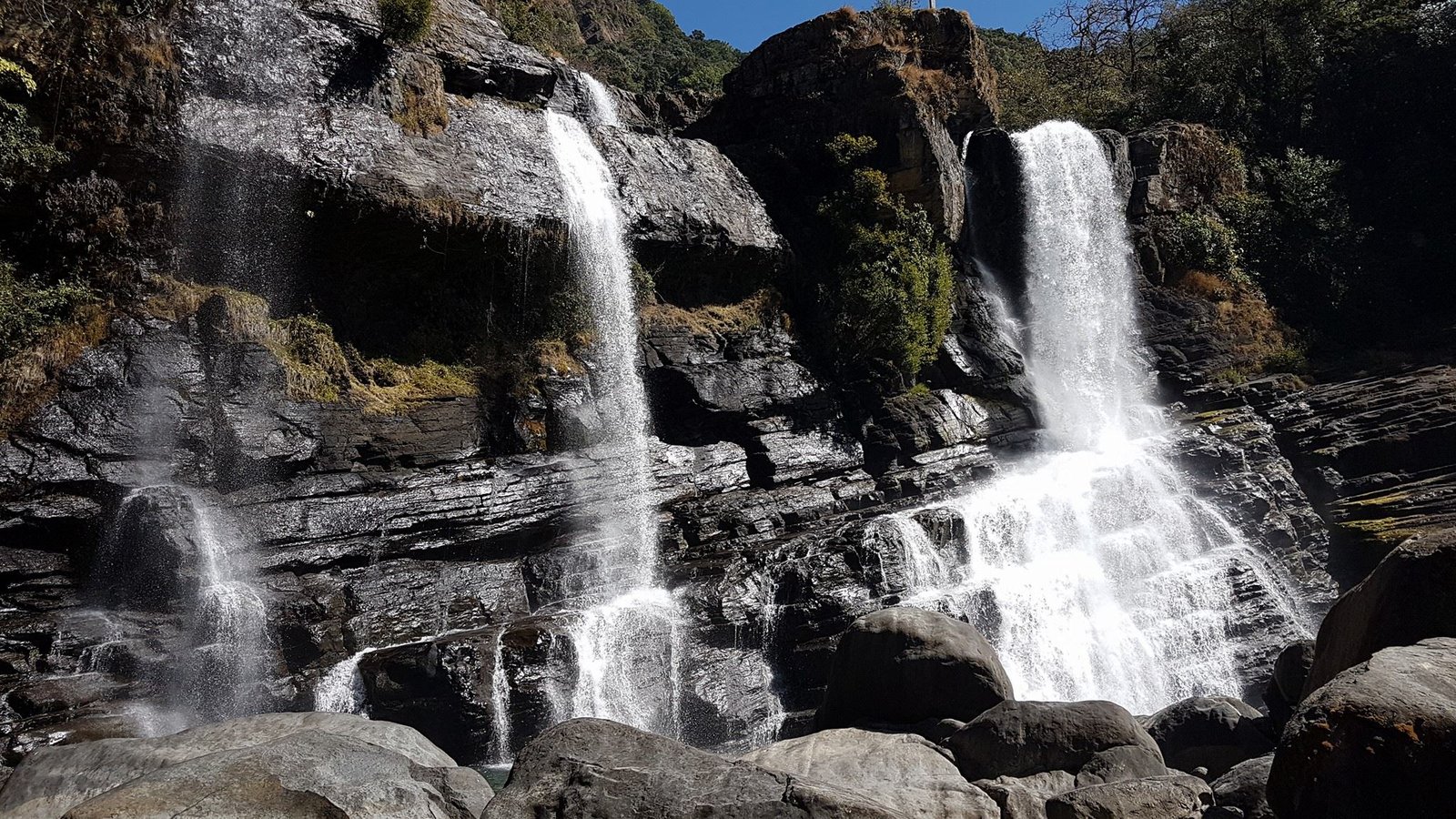 The next day was epic, it took 13 hours to do 278 klm's on utterly brutal roads. The plan was from Matupi to Rezua about 125 klm's and that was tough enough albeit through some beautiful scenery. But I couldn't find accommodation in Rezua and after asking quite a few people I couldn't even find someone who spoke English, very unusual as most Burmese speak and understand even a little English. Rezua was probably the dirtiest and poorest village I've seen yet with some obvious security issues too. So I made the decision to ride on to Hakha another 146 klm's knowing I would probably arrive on dark. However, the road became worse and there were long delays at major rock falls that were being cleared. That meant riding until 10pm (these roads are brutal x10 at night) where I found a nice guesthouse in Hakha just before it closed, I was totally exhausted, covered in dust, frozen to the bone and hadn't eaten since 7am but luckily pulled off a great day that certainly tested my metal. I managed to snap a few hurried photos of the amazing scenery along the way, the Chin Mountains truly are rugged and spectacular.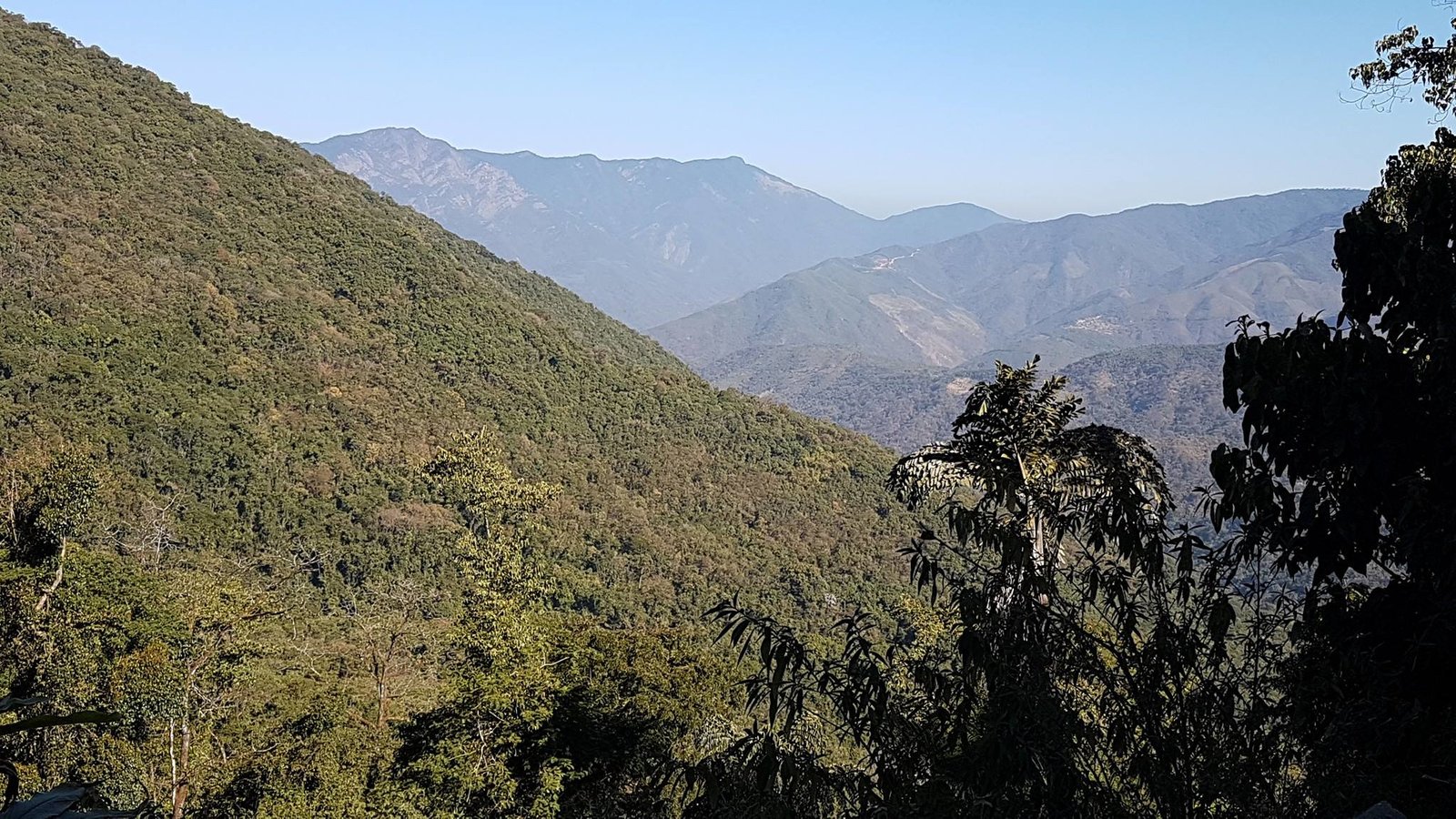 More road works, rock falls and delays.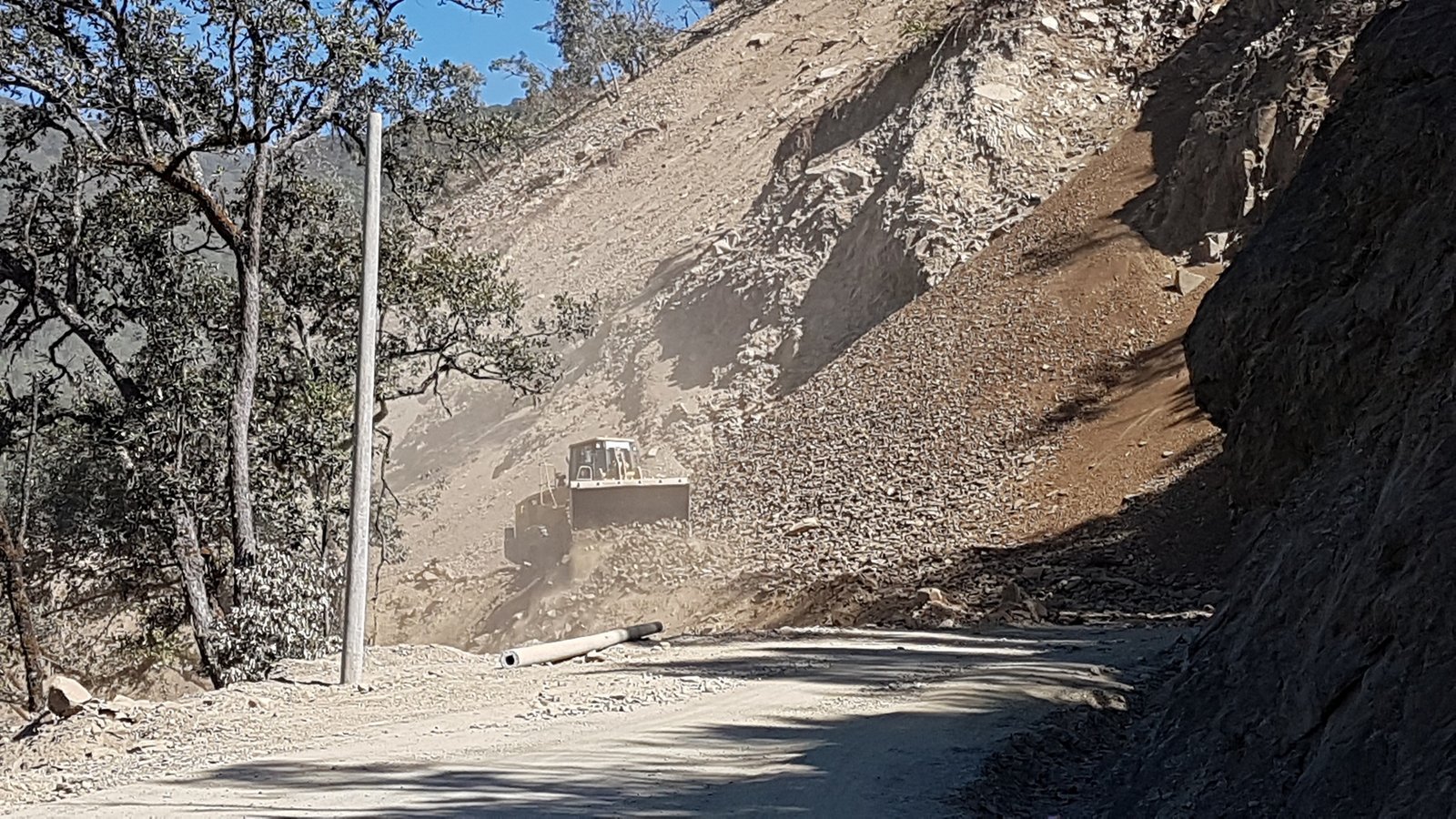 The only green oasis for most of the trip, a beautiful rain forest pocket on a pretty creek.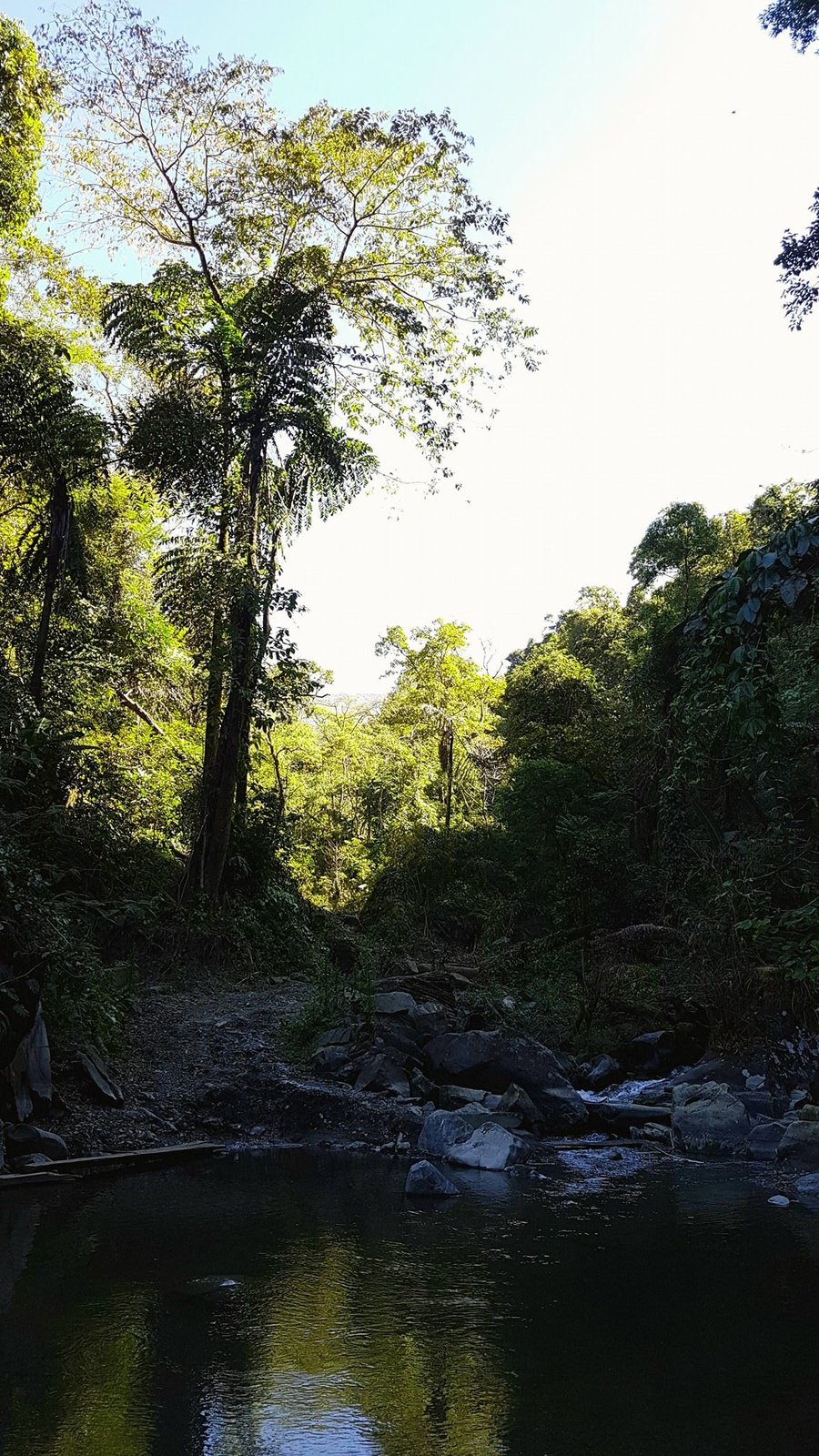 Well the last 4 days have been just as challenging as all the others. From Hakha it was a relatively short ride of 70 klm's to Falam, the only village with foreigner accommodation for over 200 klm's. Falam was "interesting", different to the Chin Mountains I'd experienced so far, it was a dirty, dusty, cold and unwelcoming where people stared at the foreigner more out of distrust than interest. The guest house owner tried to charge me $30US for a horrible bed in an even more horrible room with construction work on 3 sides, noise, dust, a share squat toilet, no hot water, a share bucket to wash like a monkey, no breakfast, no TV/wifi/fridge etc. After much negotiations I got him down to $20US. It was the second worst night's sleep I'd had on the whole trip, the worst was yet to come! I was up at 5am after a fitful sleep, washed, packed and rode to the "Cafè" next door at 6am where the cafè owner made eggs on toast and mud coffee, things were looking up. From Falam I was heading about 150 klm's to one of the more remote borders of Burma and India, one of the goals of the trip. But there were no guarantees of accommodation at the border so there was a time and distance cut off point to be able to back track a little and continue on to Kale which was another 160 klm's. The first 10 klm's were stunning and tough as hell as the road plummeted off the mountains for well over 1,000 vertical meters crossing the Manipur River and climbed well over 1,500 vertical meters on the other side. Most of the first 4 hours after that was above 2,000 mtrs with numerous road works, delays from rock falls and construction, average speed was barely 20 klm's p/h but always breathtaking scenery. I was only 40 klm's short of reaching the border when I had to make a decision, the road was shocking, the wind was gail force whipping up clouds of dust and dirt and I was borderline with time and fuel. To get to the border and back to where I was would be at least 3 or 4 hours. Sadly, I had to turn back retracing the last 2 hours then take another road for the long fall out of the Chin Mountains to Kale, where there was a Black Shield Stout waiting for me.
The infamous $20US room, just awful, the only place to stay for over a hundred km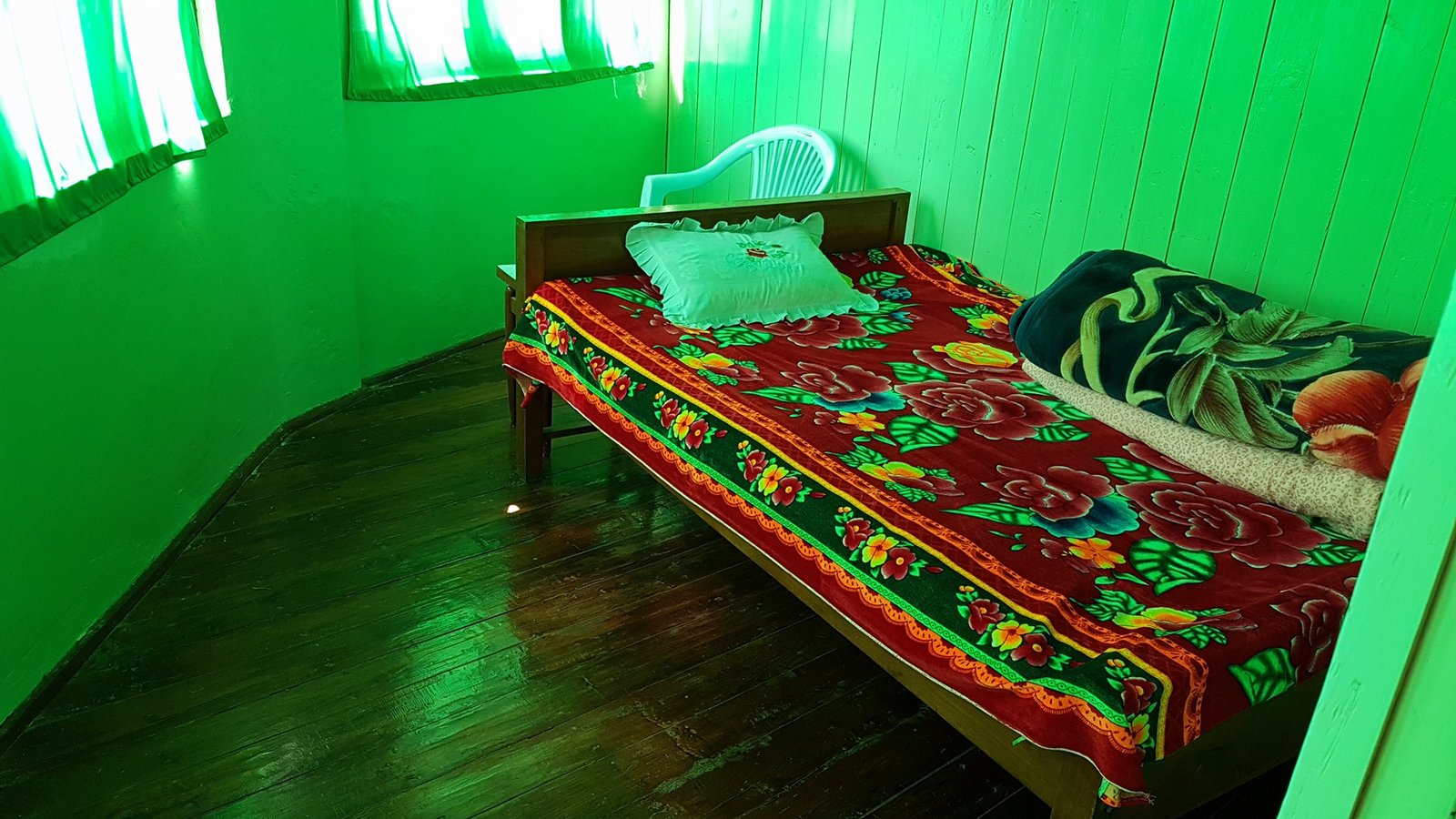 A full blown Falam breakfast, I might survive yet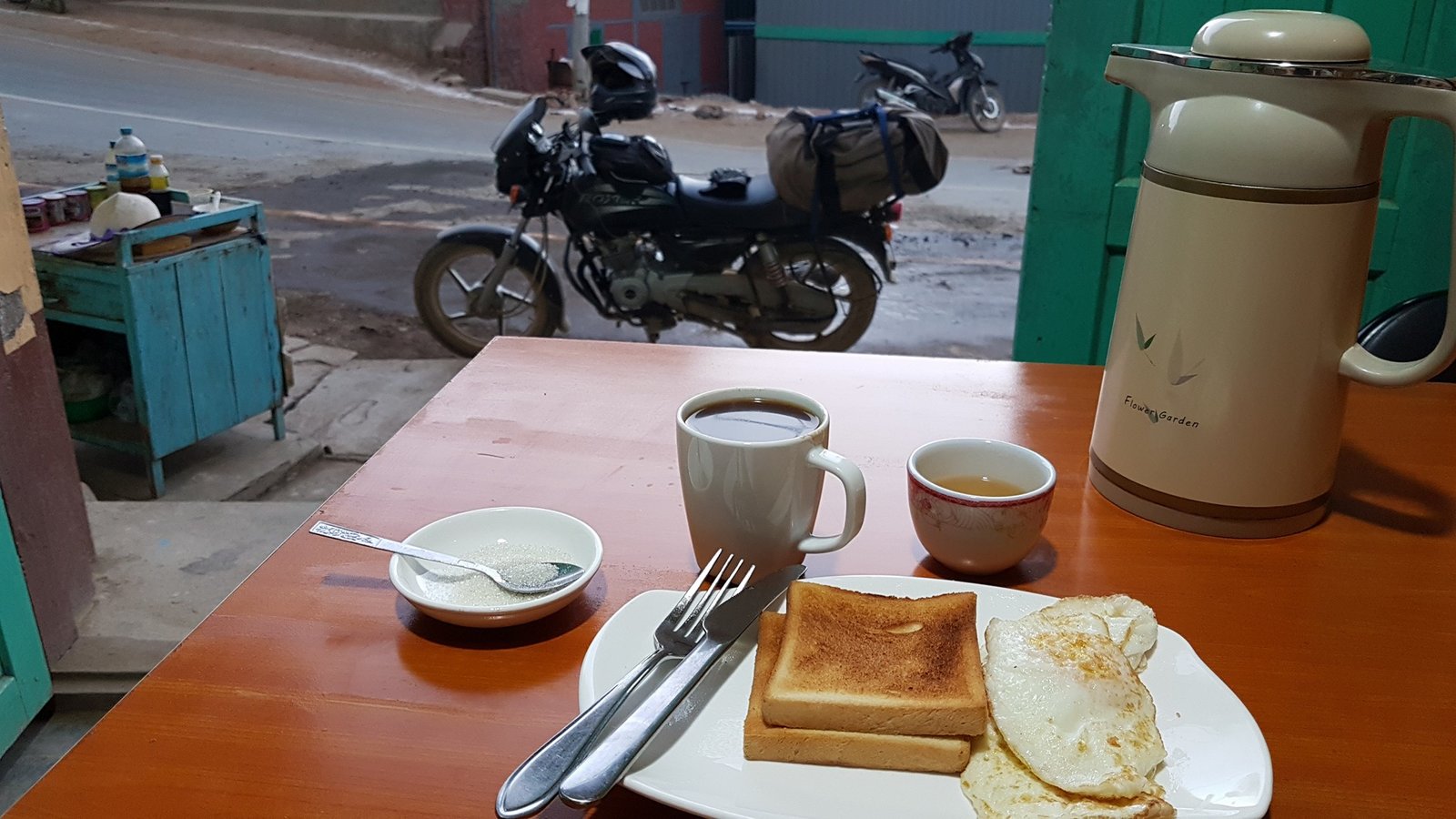 Down the range, across the Manipur River and back up the range again, it was nearly 3 hours just to do this section alone.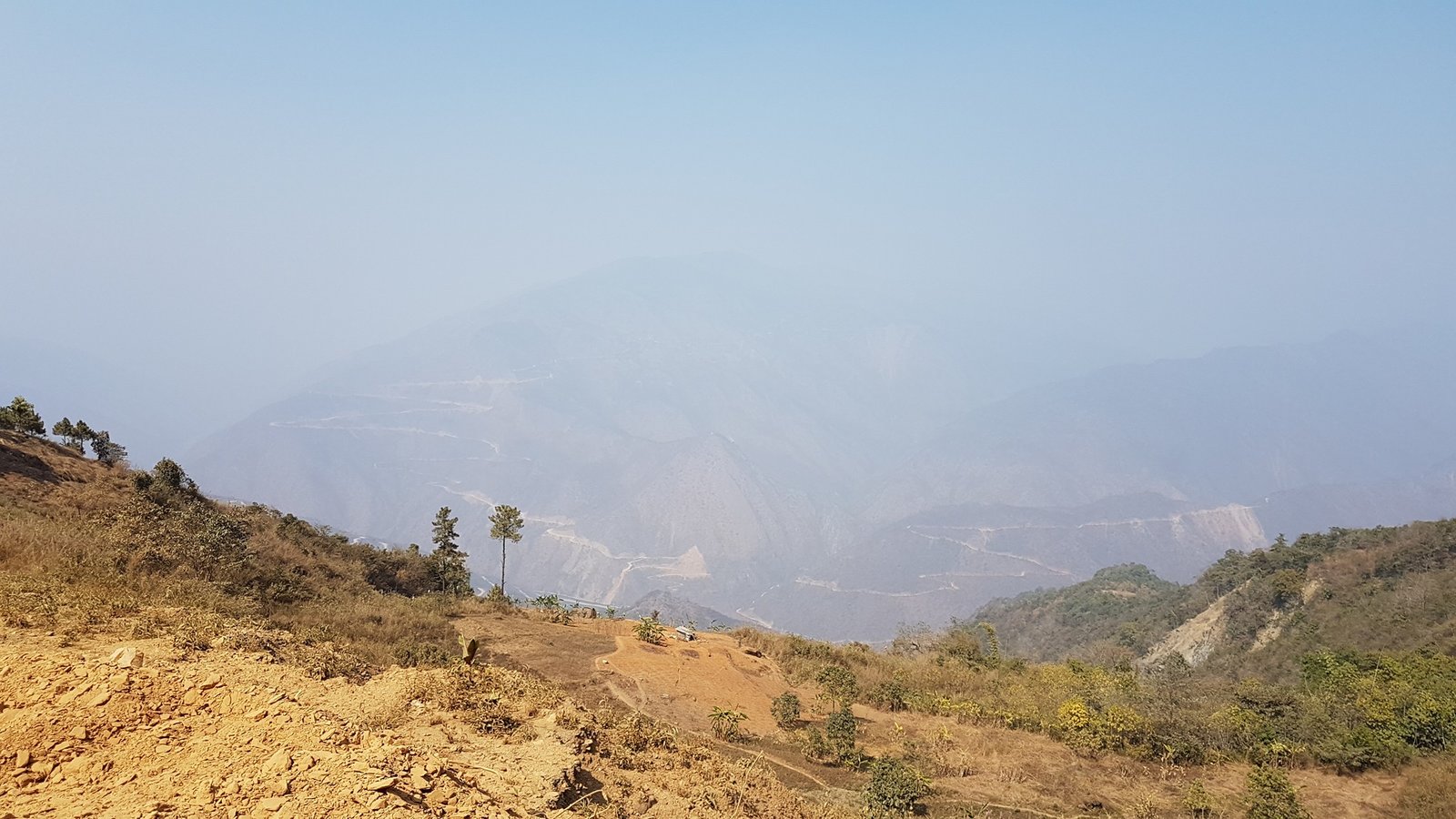 The Manipur River
Range after range after range.....
The Timit River cutting it's path through the mountains.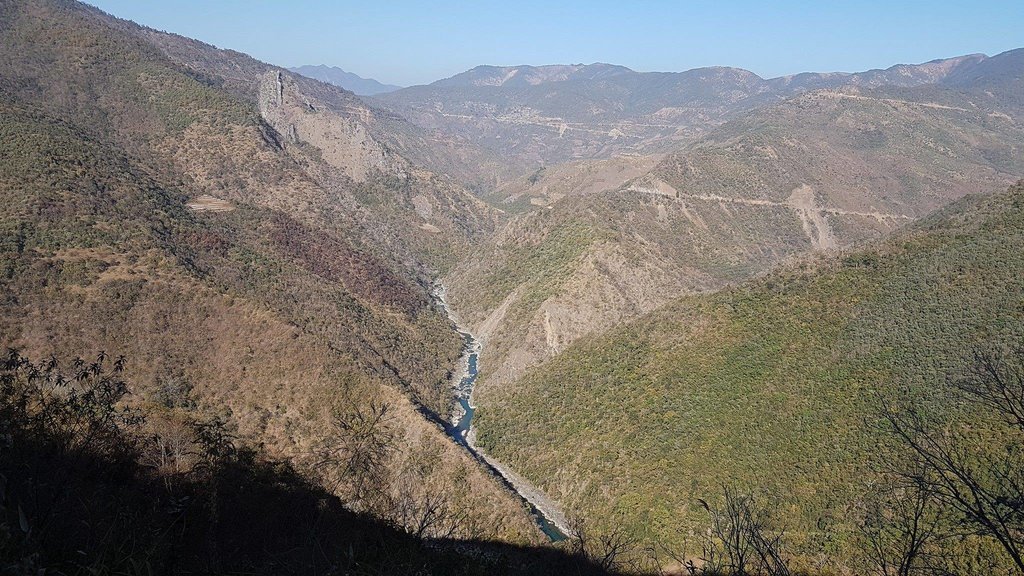 The road to India, the furthest range is India but I was just not able to go any further with time and fuel constraints.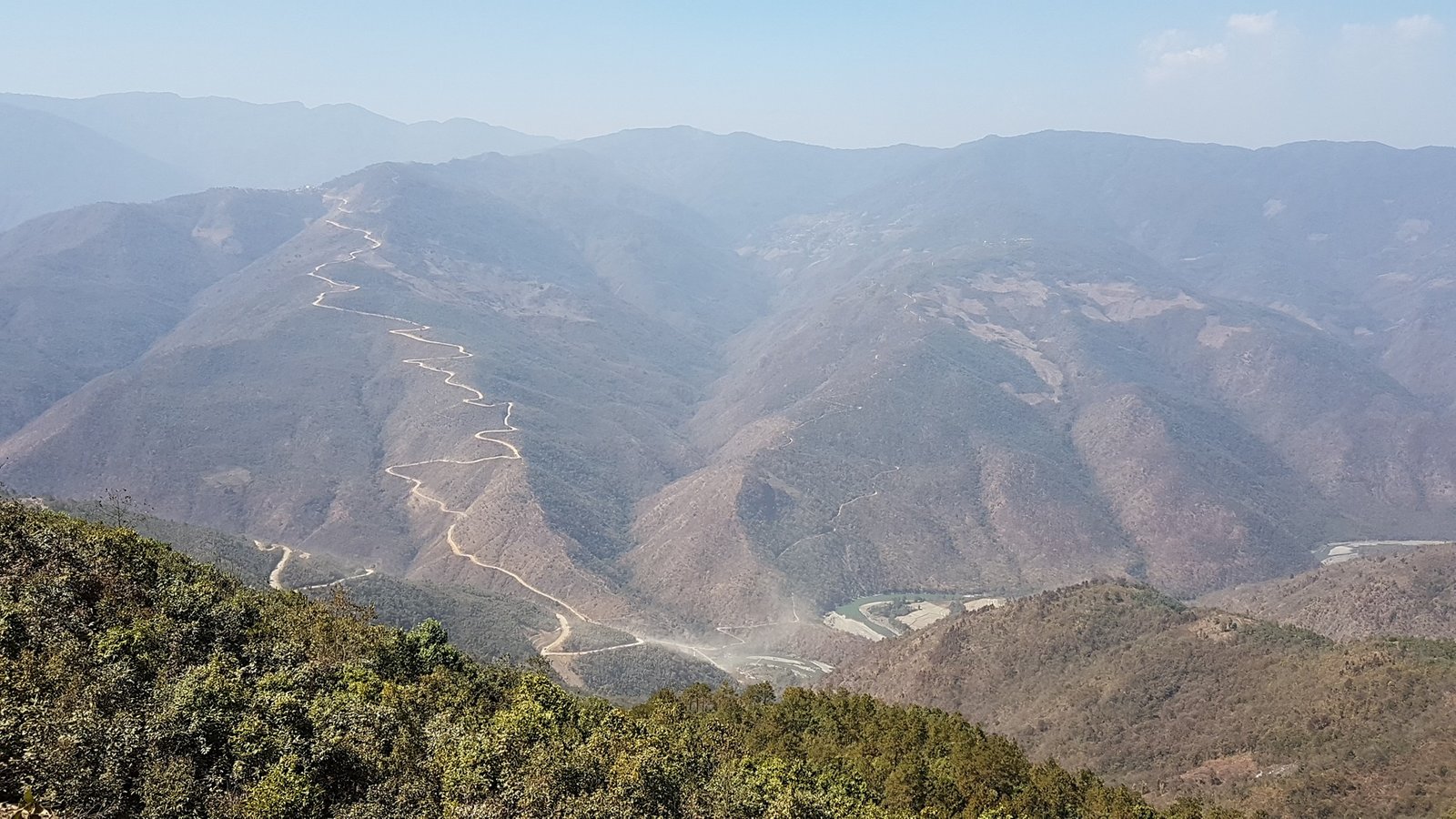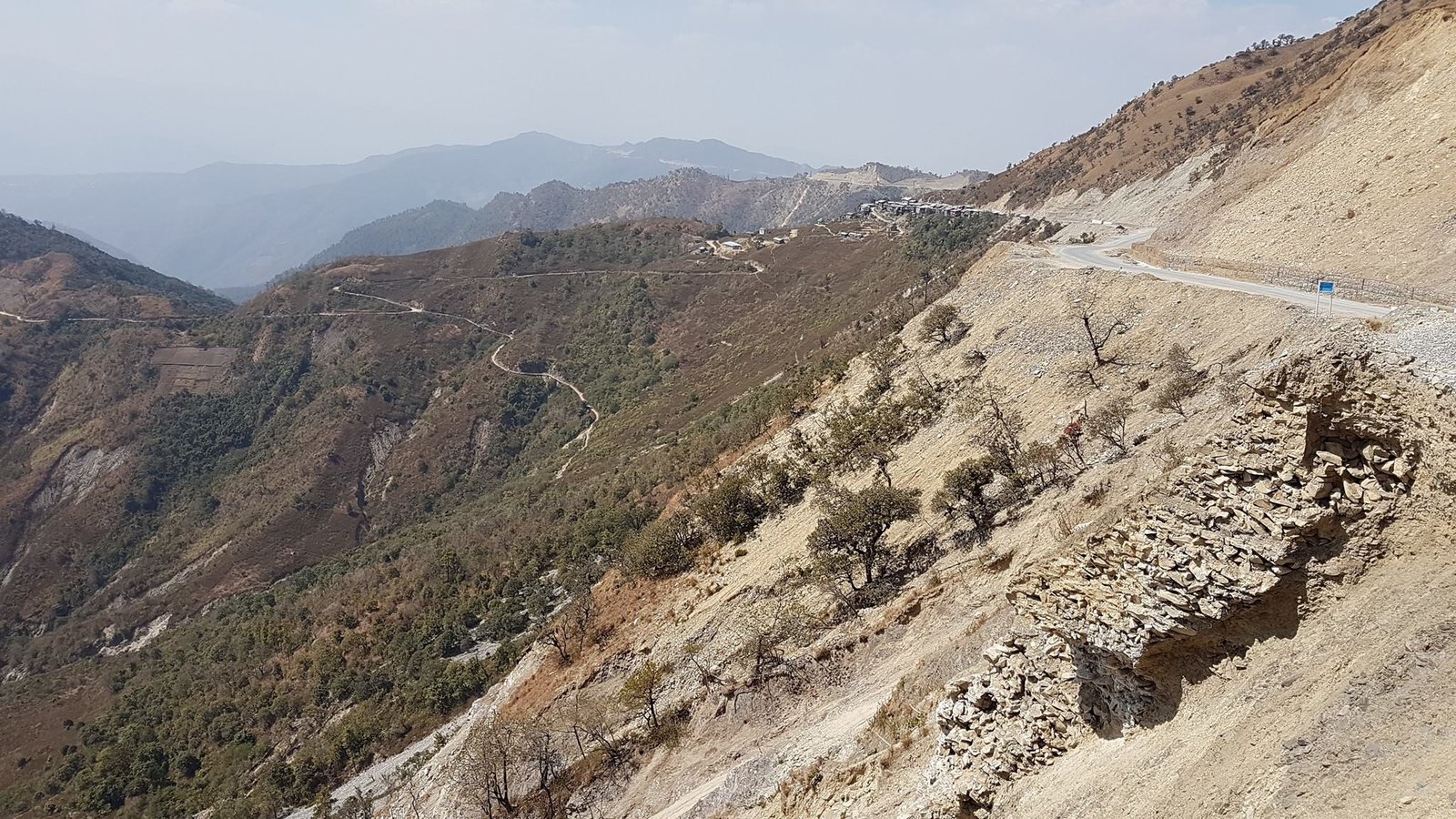 And an amazing bit of sealed road for 3 km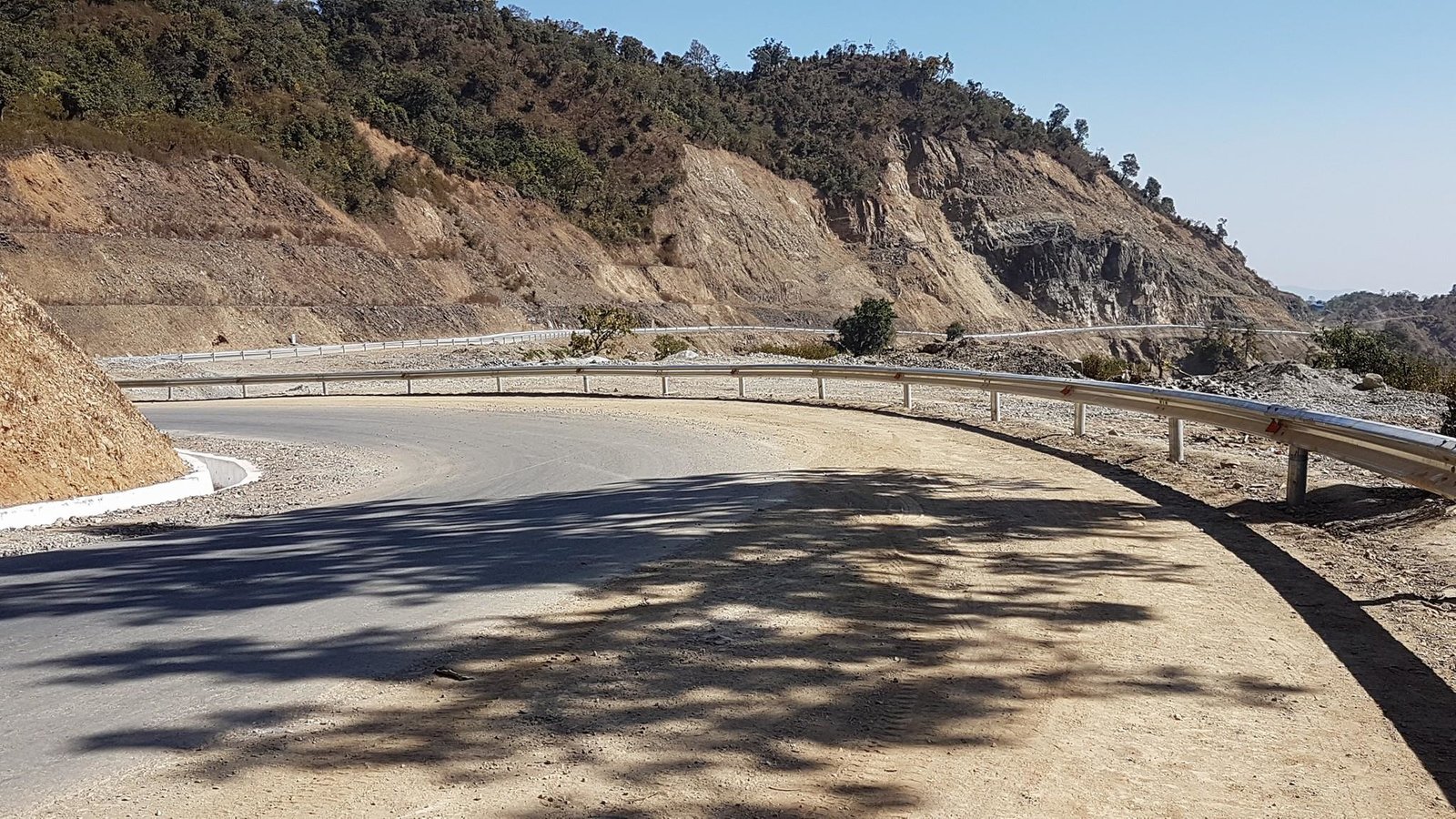 2,200m altitude across a barren landscape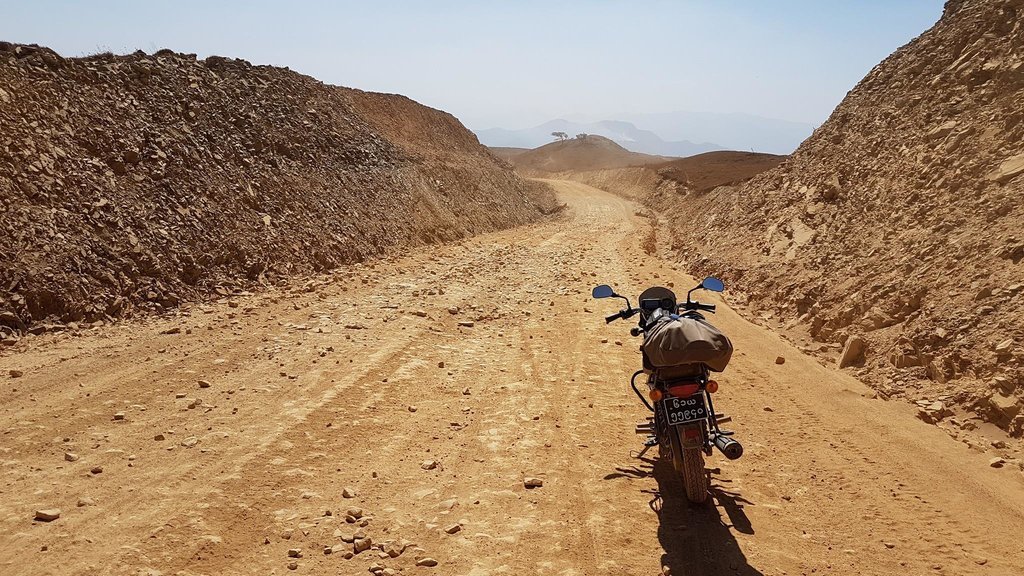 Finally falling out of the Chin Mountains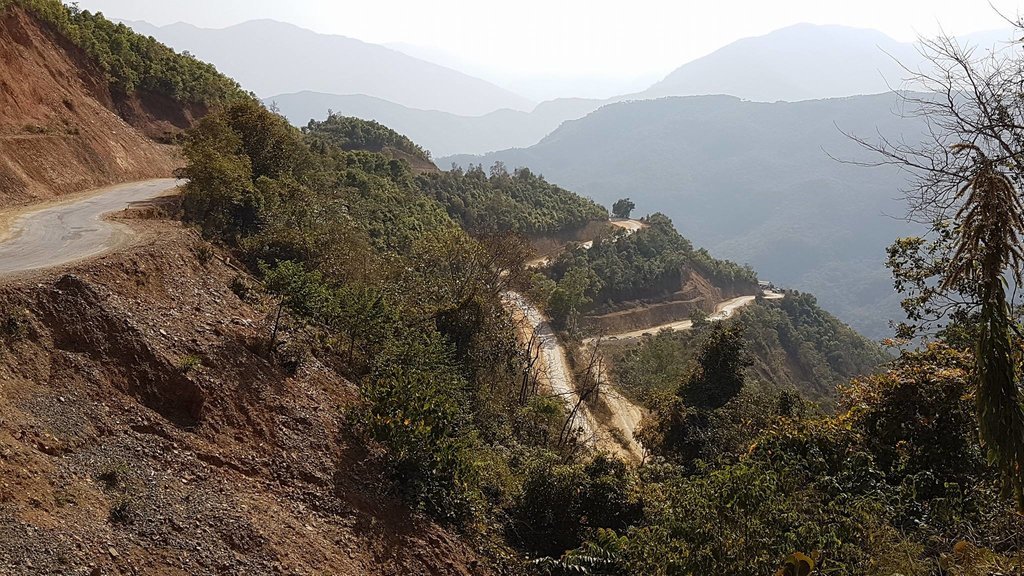 I need a stout to wash down this dust

Ohhhhhhh yes!
What a ride, what an adventure, after about 700 klm's I'm finally out of the Chin Mountains.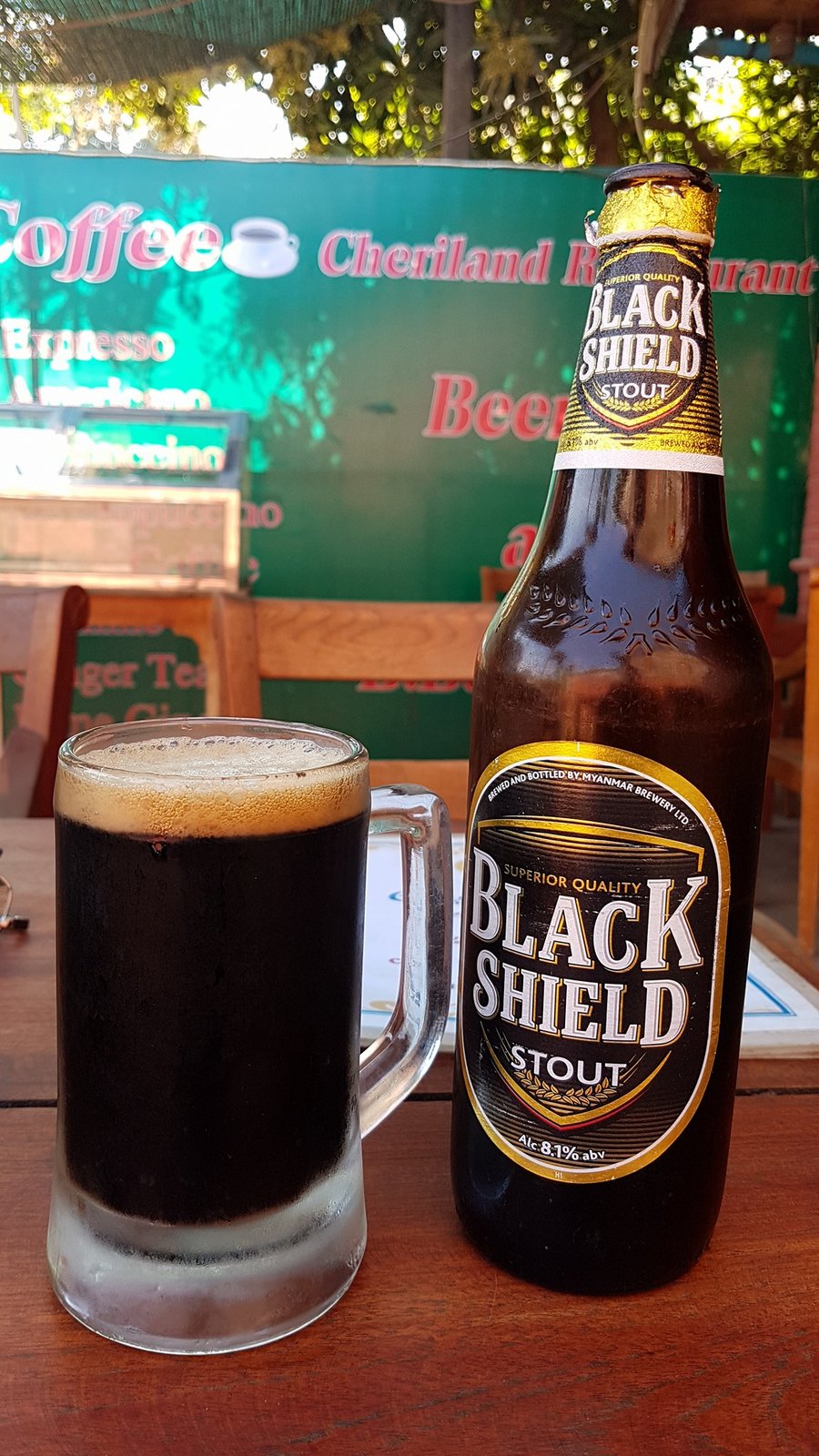 Love it..... a menu to die for. I've gone for the safest option, "fried chicken eggs" but I'm torn between the "rich and wide expanse" and the "chicken fried rat" lol
I found a nice hotel at Kale where I enjoyed a decent meal, a long hot shower and a good night sleep. But it was another 6am start with 330 klm's to get to Shwebo. The first 50 klm's were fantastic on an old rural road following the course of a picturesque river through villages time forgot. but just when you think the road would be good for the rest of the trip it deteriorated badly and I only managed 80 klm's in the next 4 hours. It was slow going on relentless bone jarring boulders mixed in with bull dust through some of the most forsaken country I've ever seen. A parched, withered, flat landscape flanked by a desperate sandstone ridge line that looked exactly the same for nearly 100 klm's. It wasn't until I stopped in the shade of a Teak tree for a smoke and a drink of water that I had a glimpse of the beauty of this place, the smell of smoke from someone's cooking fire nearby, the call of unfamiliar birds, the shimmering heat in the distance, the rustle of the teak leaves as a cool breeze blows the heat away just for a moment. In reflection, It's these moments that somehow crystallise the spirit of the whole trip, but I was suddenly jolted out of my introspective thoughts by two old Burmese gentleman who pulled up on an antique scooter to see if I was ok. After assuring them I was ok they requested 2 cigarettes for their intended good will, which I gladly handed over. After much holding up of lighted cigarettes, nodding, smiling and gesturing it was time for all of us to keep pushing on. The road slowly improved over the next 40 klm's as I came into a broad valley then it wound a tortuous path through a jumble of broken sandstone mountains for another 40 klm's until finally flattening out into the central heartlands of Burma. Over the next 100 klm's I went through a number of villages with festivals and parades going on in the streets. Brahman cattle all dressed in red baubles and glitter pulling ox carts that looked like gold chariots carrying young boys and girls dressed like princes and princesses. The local ladies and men dressed in their finest traditional clothes all lining the streets to celebrate each chariot as they went past. Sadly I had to keep riding to make Shwebo before dark and the next 30 klm's was a twilight ride in the cool to the first Black Shield Stout sign I saw. While enjoying my well-earned drink and scouting for a guest house on my phone I ordered some food but it would take a little while as there was an altercation between the BBQ cook and the waiter. The BBQ cook was going to win because he had the meat cleaver and fully intended to use it, luckily the waiter was hurried away by concerned staff allowing the cook to get on with my dinner but this town and this venue didn't quite seem that welcoming. After dinner I went to the first guest house but they flatly refused foreigners and were not willing to help me at all. Through my persistence, they eventually gave me directions to a hotel that accepted foreigners. This hotel (with razor wire on the perimeter) charged me $35US non-negotiable then stuck me in not much more than a store room under the stairs. I stormed out to the front desk and demanded a proper room, there was a few chuckles and exchanges between staff until I was led to the roof top to a room they clearly don't normally let out. I was too tired, to argue any more, it had a bed and a shower, so I expressed my dissatisfaction and took the room. This was the worst night for the whole trip, dogs barking and fighting all night, people yelling in the streets, the water pressure tank next to my room switching on and off every 5 seconds, every bus & truck going past a Buddha shrine nearby blowing their super load air horns, it was pretty shit. After 8 hours of 50/50 sleep/awake I got up and left at 6am. It was a good choice, hardly any traffic, nice and cool and only 110 klm's to Mandalay where I found a real hotel for the same money, a hotel with great rooms, wifi, cable tv, sensational food and exceptional staff, they even washed my bike on the sly. So as I sit here on the roof top of the hotel having a free happy hour rum sour cocktail my mind is already turning to the next big adventure ride in one months' time.
Nothing inspires confidence in your neighbourhood like razor wire on the hotel perimeter fence lol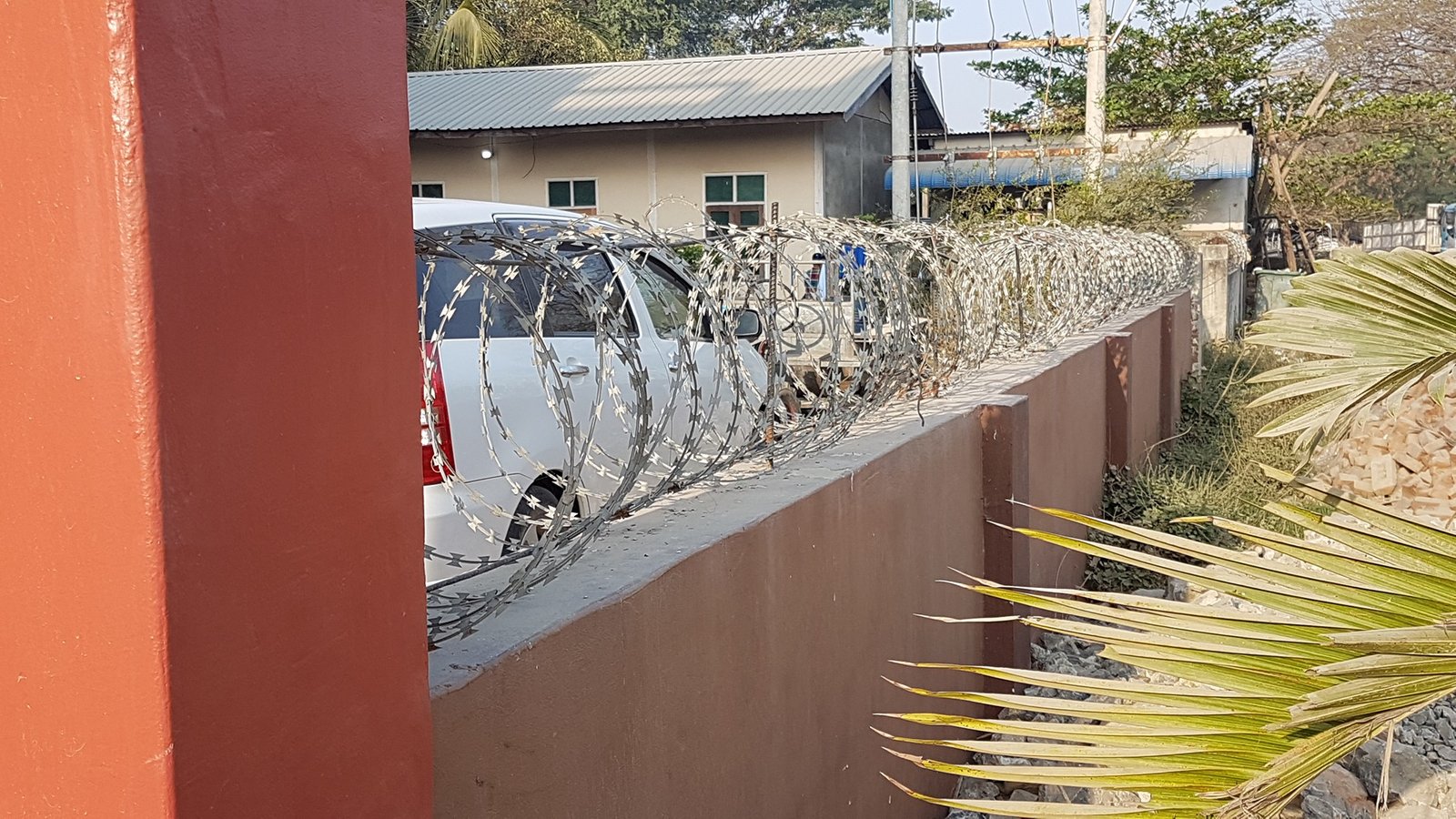 Laundry day.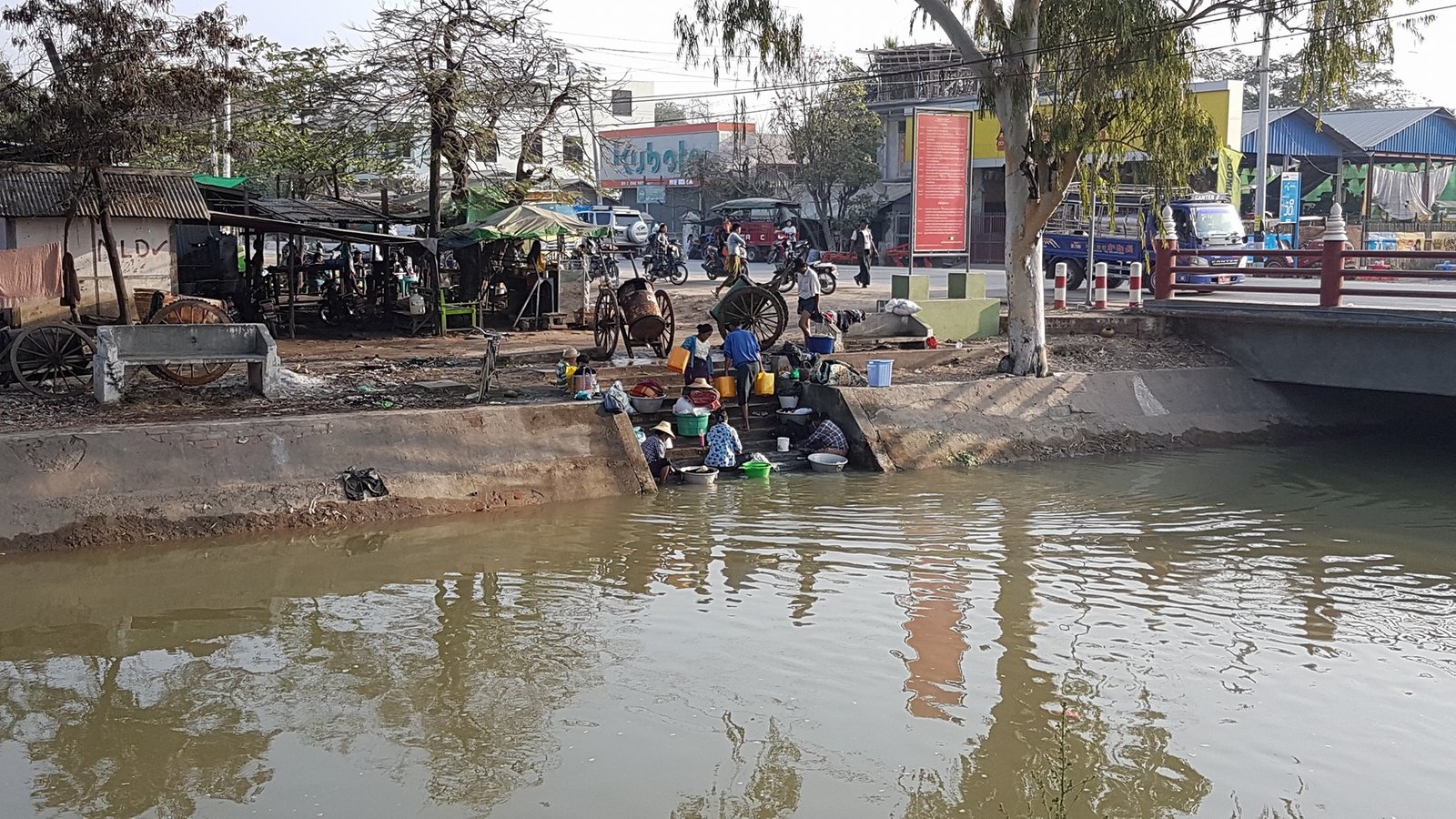 Following the Manipur River on the India Myanmar friendship road.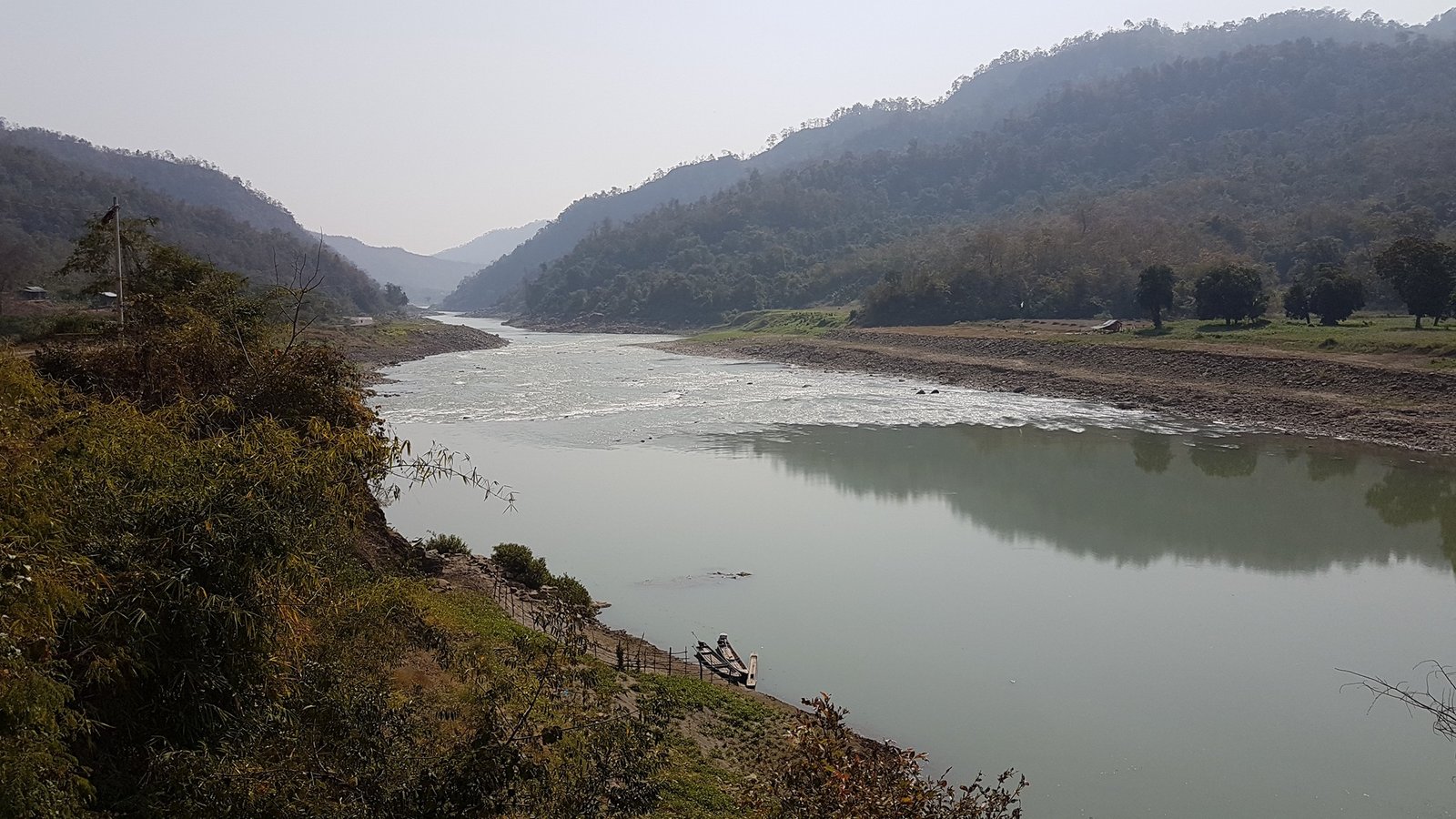 Sunflower fields
Staple mode of transport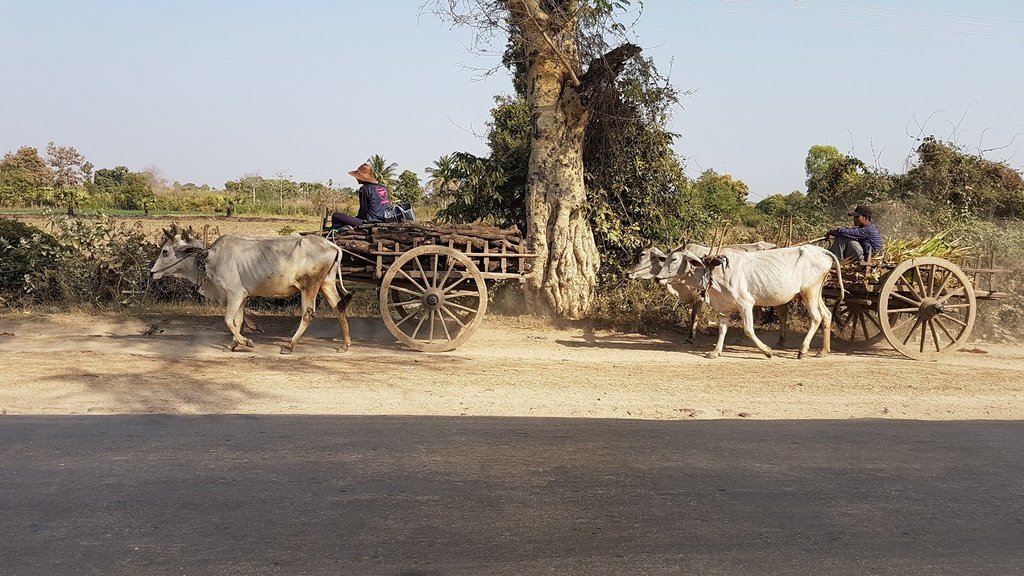 Local festivities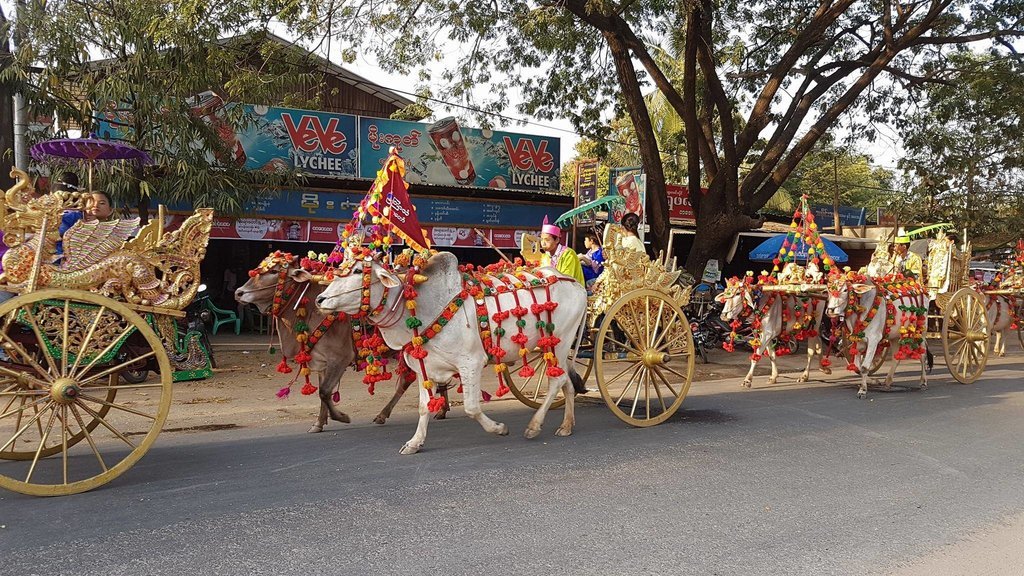 A day out on the tourist trail in Mandalay, very unlike me but some good photo opportunities. U Bein Bridge, the longest and oldest wooden (Teak) bridge in the World, built in 1850 & 1.2 klm's long. Managed a few candid photos of fisherman cast netting, a couple of young ladies from a nearby wedding who threw themselves in front of my camera, a monk coming from a bizarre pagoda and all the Teak boats waiting for customers. Apparently no visit to Mandalay is complete without visiting Maha Muni Pagoda (A pilgrimage for all Burmese) and seeing the 3 meter high, gold encrusted, oldest Buddha in Myanmar, I need another Black Shield Stout after that.
U Bein Bridge, the longest and oldest wooden (Teak) bridge in the World, built in 1850 & 1.2 klm long in Mandalay
Pretty boats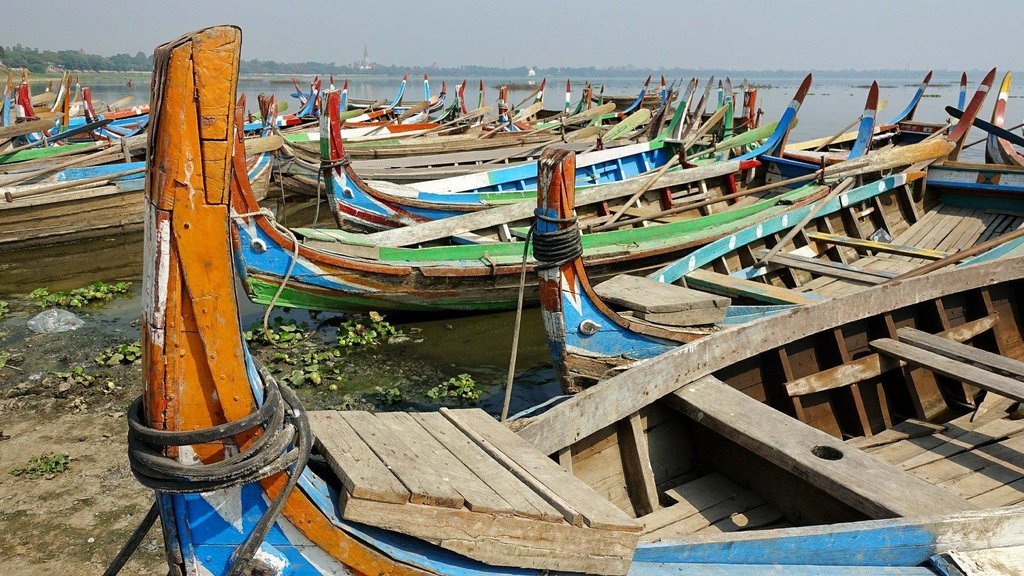 A unique temple that is surrounded by water in the wet season
Picture perfect rice field
Visa –
You need to apply on line to be approved for an 'E' visa, there is no tourist visa on arrival.
https://www.myanmarvisagov.org.in/
is the agency I went through which were fast, similar price to others ($130US) and are government approved. There are different conditions for different countries. The process of being approved takes about 3 days, they will issue you a printable version of your 'E' Visa via email which you take with you to immigration on arrival in Myanmar, immigration will then stamp you in as a tourist for 28 days.
Currency –
Myanmar Kyat or $US at popular tourist areas.
Group members –
just me, a solo ride, you don't need a guide riding solo, if there are more than 3 riders the authorities, consider it a "group" and you will need a guide. Mandalay Bike Rentals can organise a guide for you at the cost of around $85US p/day, or a pickup truck and guide for around $160US p/day, that covers the guides food, fuel and accommodation.
Start finish point –
Mandalay, duration 2 weeks
Bike rental –
Mandalay bike rentals (Zach Benoy) Boxer 150cc Indian made 20,000 Myanmar Kyat p/day ($15US)
Total klm's traveled –
2,460
Total cost –
980,000 Kyat, ($750US) includes fuel, food, accomm bike rental. Excludes airfare and insurance.
Roads –
Brutal! The trip through the Chin Mountains was on formed but unsealed roads, these roads were potholed, had bull dust mixed with rocks, were very steep in places and had a lot of road works and rock falls that reduced travel time down to 20 klm's p/h, plus the dust was horrendous. The sealed sections varied from reasonable to a patchwork of potholes and bitumen. Driving or riding in Myanmar is on the right-hand side of the road. Most drivers and riders were reasonably conscious and considerate road users but like all of Asia "might has right of way", if it's bigger than you the only road laws that apply are you get out of their way.
Accommodation –
The average price for hotels and guest houses was 13,000 to 50,000 Kyat p/night ($10 to $35US). At popular tourist destinations the standard was generally very good however, in more remote areas it can be expensive $35US with nothing but a single bed in a small room, a share bathroom with no hot water and a squat toilet. You can only stay in hotels and guest houses that are registered with immigration to accommodate foreigners. This poses a few challenges for more remote areas considering the distances you may have to cover to find available accommodation. When you check in to a hotel or guest house they must report your whereabouts to immigration immediately, big brother is still in charge.
Food -
A good standard at popular tourist destinations, Burmese national dishes are well worth trying and if prepared/cooked properly it can be a sensational experience. However, once you get away from the tourist areas it can be daunting finding food other than dodgy soups and snacks made from chicken's feet/heads and offal. Fresh coffee is almost nonexistent except in a few fancy hotels and cafes, instant (3 in 1) is common everywhere else.
People, culture & customs –
Most people speak/understand English even a little and most people I met were genuinely nice caring people, some who are confident with their English will strike up a conversation to find out about you, where you're from, what you think of Myanmar, where you are going etc. However, like all places there are some shady characters who either don't like foreigners because (at the time) there was a lot of bad Western Media coverage of the Rohingya crisis and/or they see foreigners as rich and privileged imperialists and an easy target. Either way, I enjoyed 95% of the people I met and never really felt unsafe. Some areas are restricted or "no go" zones for foreigners due to political/religious/social unrest. This is constantly changing so you need to research this at the time of going. Zach from Mandalay bike rentals will give you as much current info as possible.
Highlights of the trip –
Bagan, Mt. Victoria, Chin National Day, Chin Mountains.
Was it a good trip and would I go again?
Very few foreigners (in recent times) have been to some of the areas I went to which made it a unique and memorable experience. The roads, food and accommodation in some of the remote areas were very challenging so always carry some basic supplies. The people, culture, history and geography were fascinating and different to the rest of Southeast Asia, all of this made it one of the best adventure riding trips I've done. I hope to go back again to explore even more remote and mountainous regions in the far north of Myanmar.
• Highly recommended –
• Mandalay Bike Rentals, Zach Benoy
http://www.mandalaymotorbike.com/
• Yuan Sheng Hotel Mandalay
*** YUAN SHENG HOTEL, MANDALAY ***
Last edited: