Having spent an amazing month riding in Northern Thailand, it was next on to Myanmar for a full two week excursion into some of the country's less visited places.
Landing in Mandalay on January 2nd, 2019 I spent the first couple of days sightseeing locally and familiarizing myself with the Indian made TVS Max 125cc which I rented from Zach Benoy at Mandalaymotorbike.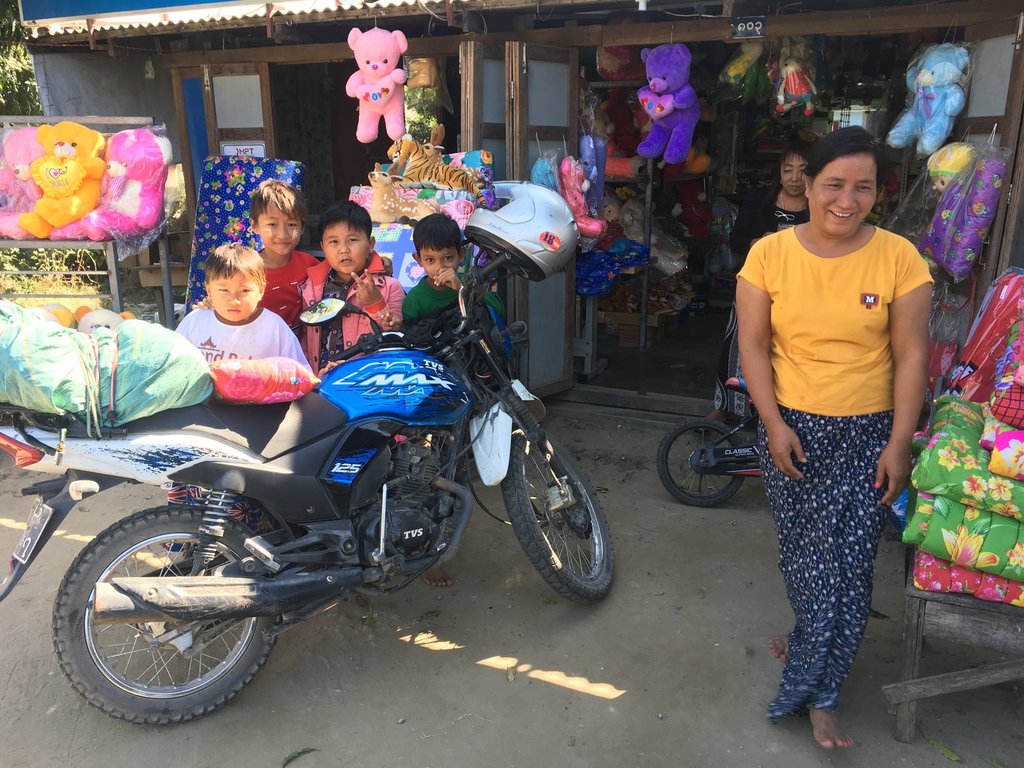 The route was essentially a grand circle loop encompassing a portion of the country west and south of Mandalay, primarily focused on the Chin State region. From previous trip reports I had read on this aspect of Myanmar, I found myself being inspired by and drawn to the regions remoteness and high mountains, which spoke of adventure and challenge in an environment almost exclusively devoid of tourists.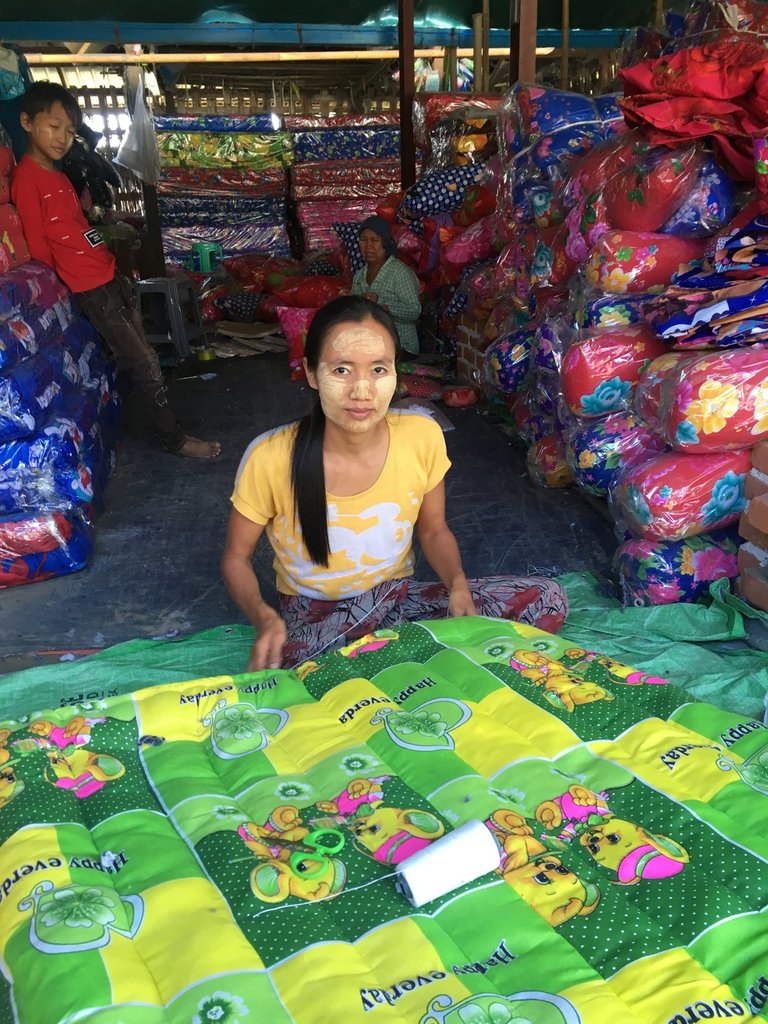 Prior consultation with Zach had generously armed me with advice on possible routes and places where I might find accommodation along the way. There can be a distinct lack of options for places to stay that accept foreign visitors in the smaller mountain towns. Hotels and guest houses have to be officially Government sanctioned to permit non-Burmese to stay and I was turned away from several on this account throughout the course of the trip.
5th January - Mandalay to Monywa.
Finally loaded up, I got a late morning start out of Mandalay and settled on Monywa as my first evenings port of call. It was important to me to make this about the journey and not the destination, which meant considering the distances between towns. Let's face it, these bikes were never intended for long distance travel anyway and they are hard as hell on the butt. So creating realistic goals and building in plenty of time to be able to stop and see the sunflowers was an important factor for enjoyment. Generally I like to say 200km per day is an acceptable upper end ride, partly because of comfort issues and also limited by available daylight hours.
In this part of the world, travel can be very slow going and time and distance measurements offered up by Google are often highly unrealistic. Riding at night is another thing I'm generally not prepared to do unless absolutely necessary. Here, the usual road dangers are all magnified and it's just not worth the elevated risks.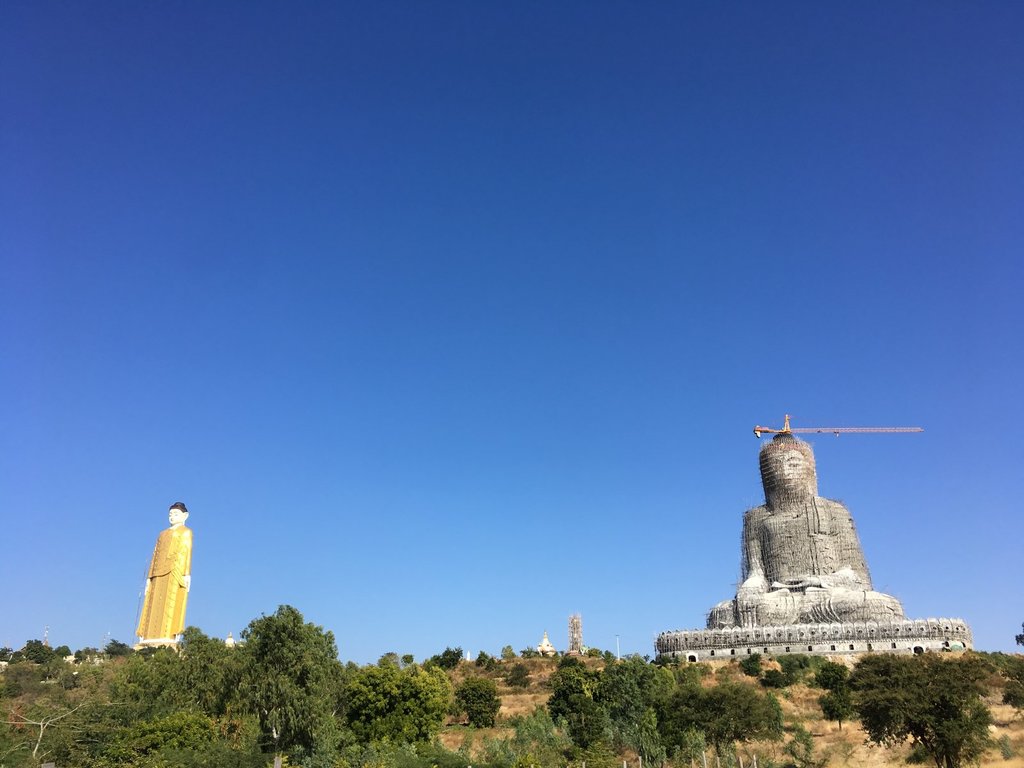 12km east of Monywa there is an amazing complex of Buddhist monuments and temples where I passed several hours and enjoyed sweeping panoramic sunset views out over the flat farmlands that filled this fertile valley area, nourished by the Chindwin River.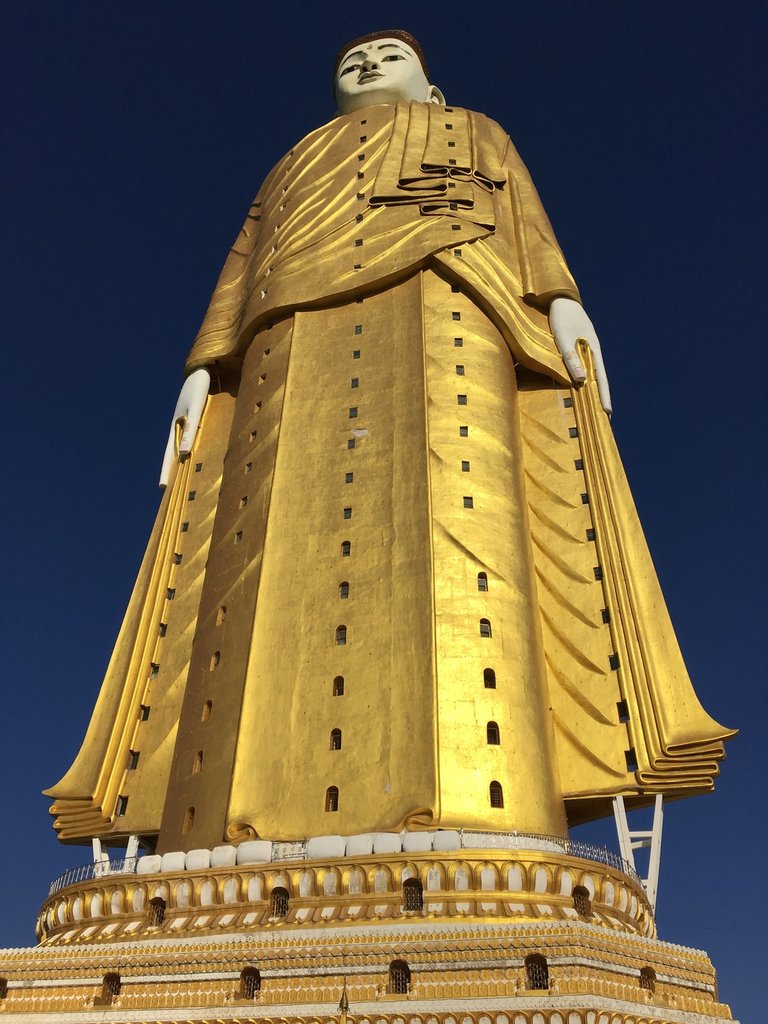 A 130m high standing Buddha gazes out over the landscape, while below is another massive reclining Buddha 100m long.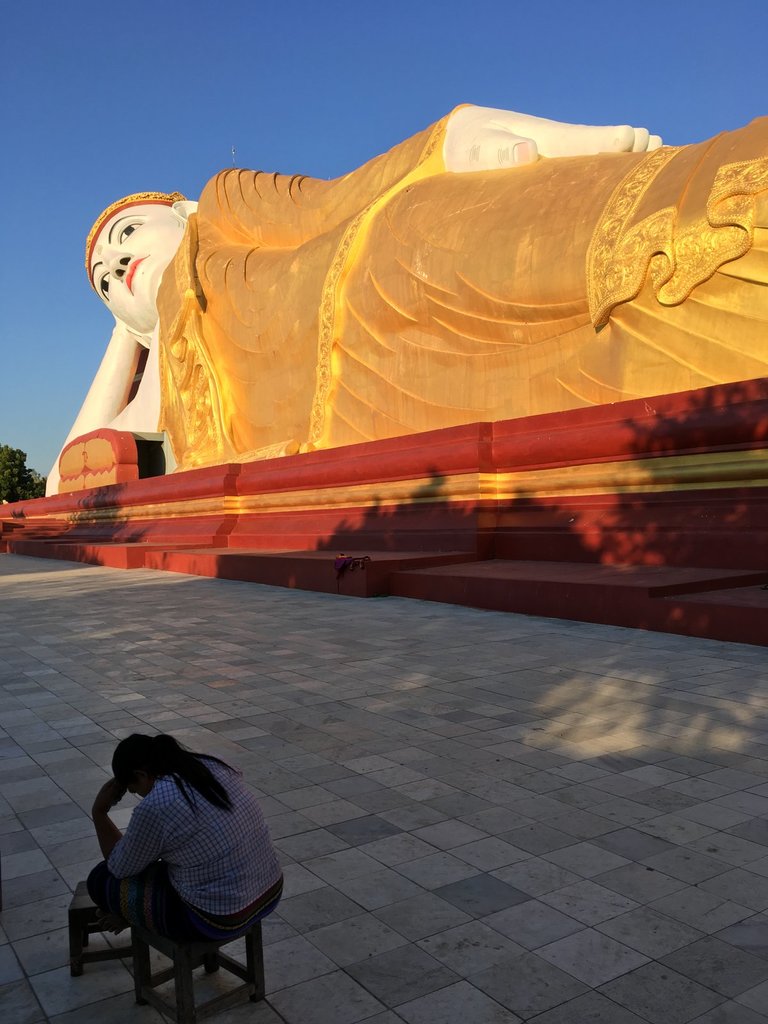 The sheer scale of these monuments was simply impressive and a third seated buddha of similar size was under construction.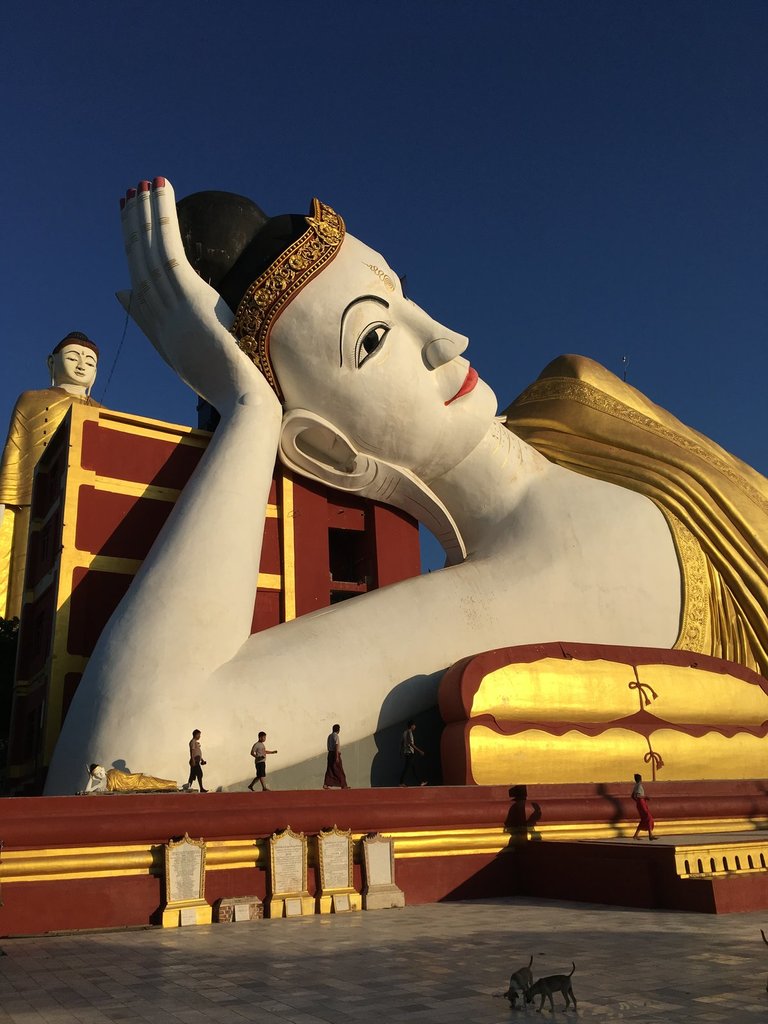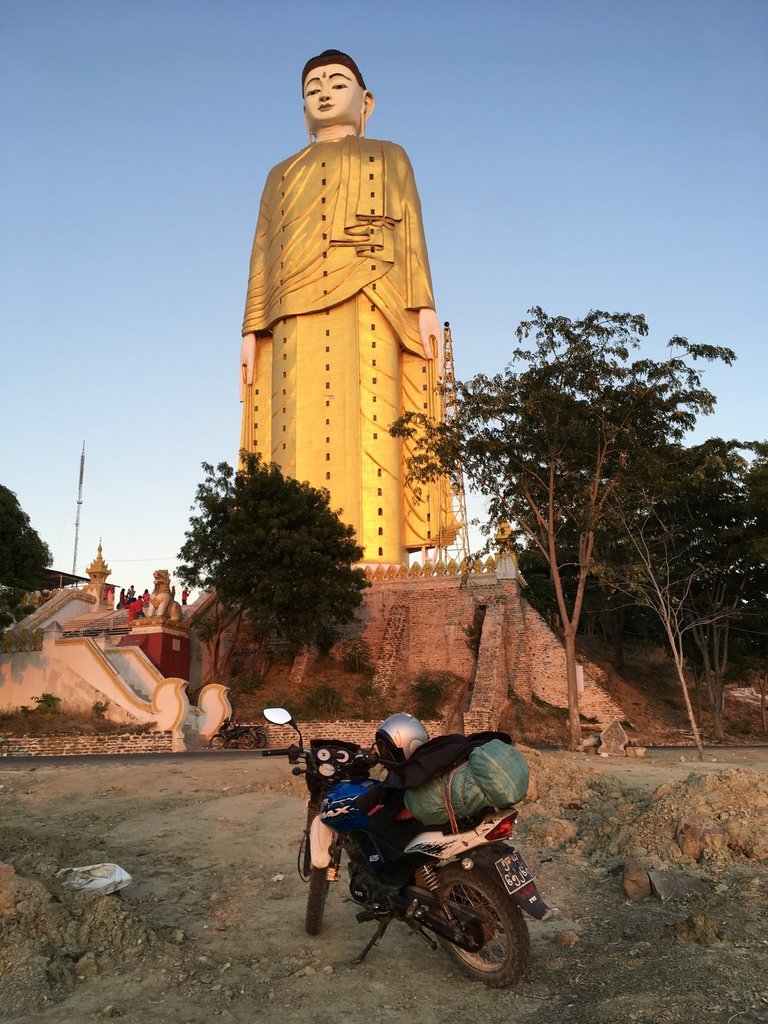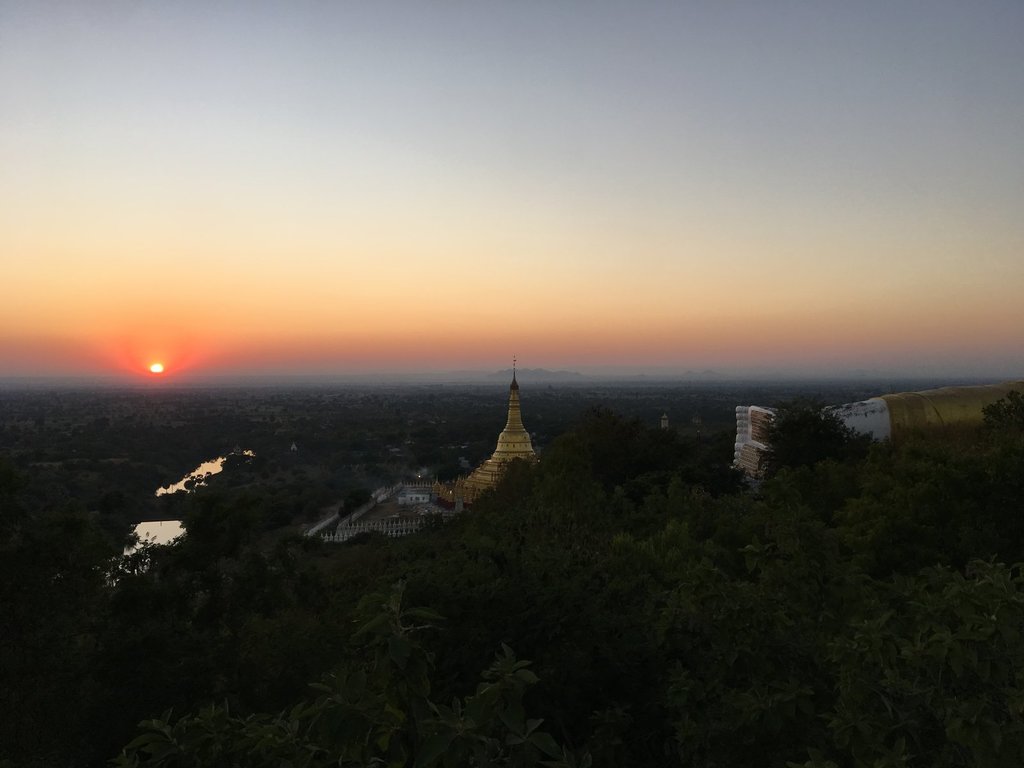 All of these monuments had interior spaces that were lavishly decorated with colorful murals depicting the life of the Buddha and in the case of the standing Buddha, it was comprised of thirty one floors accessed by climbing up interior wooden staircases. At the top floor you are essentially looking out of the Buddhas eyes!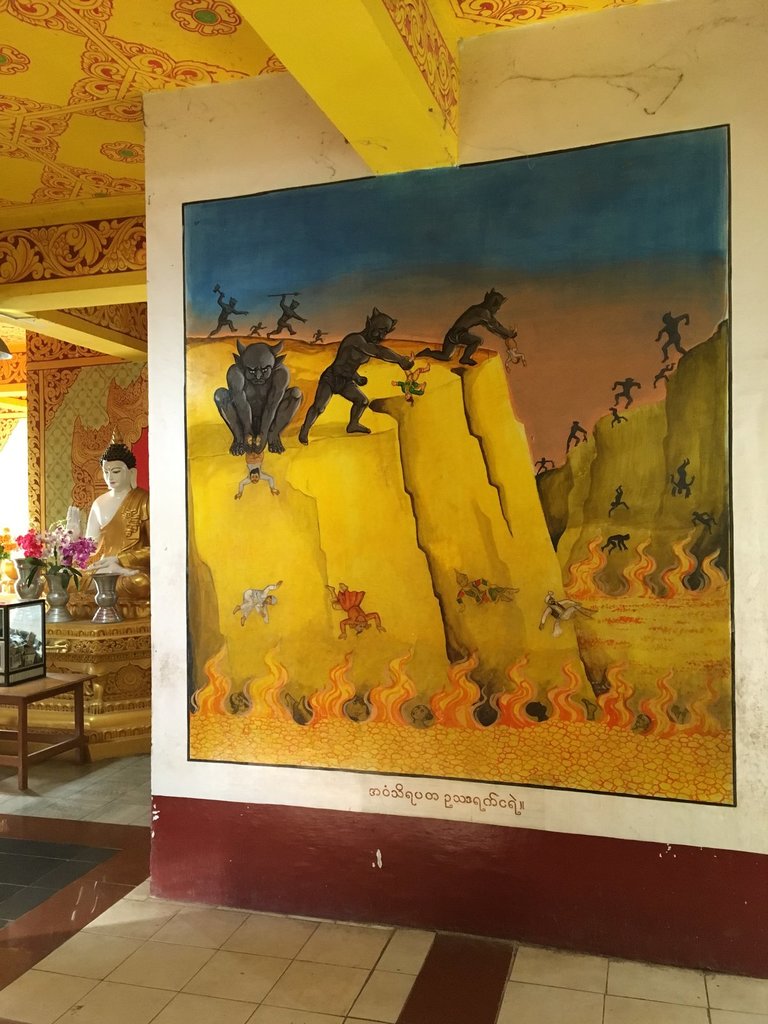 Inside one of the floors of the standing Buddha
Monywa was one of the towns I found difficulty locating accommodation that permitted foreigners, but finally settled into Hotel Ba Thaung and it was very good with Wifi and great breakfast included.
6th January - Monywa to Pale via Po Win Duang Caves.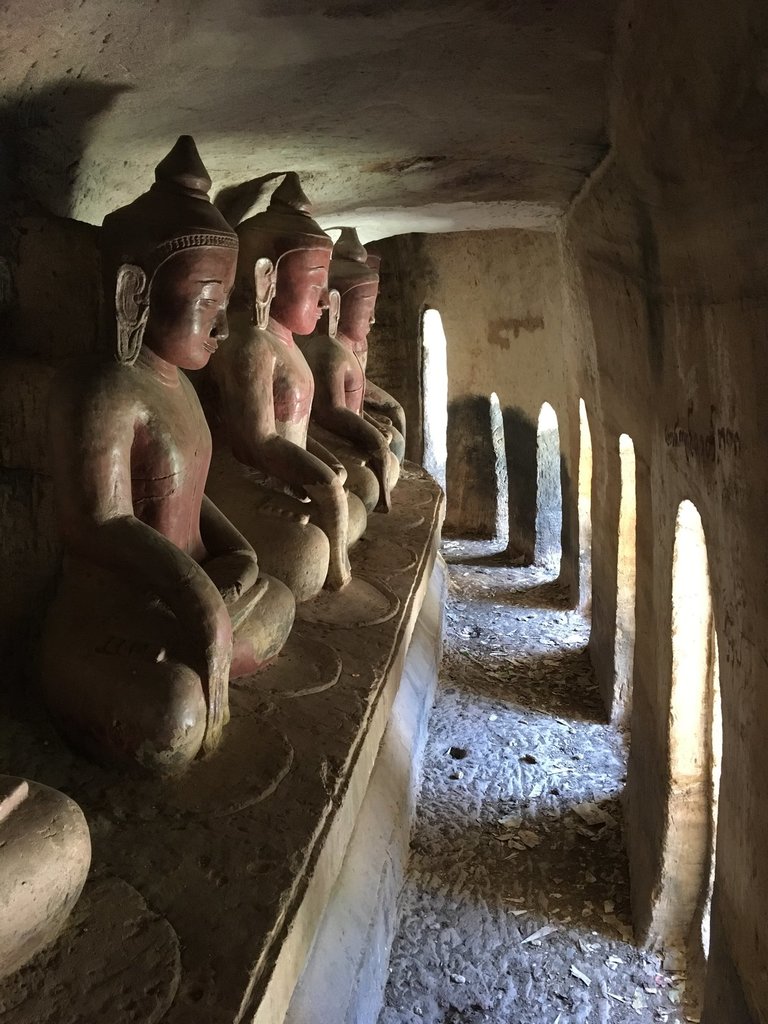 From Monywa it was on to Pale via the very interesting archaeological site called Po Win Duang Caves.
Here, on the scrub covered hillsides are a series of temples and 'caves' which house numerous statues of Buddha. The interiors of these excavated spaces boast some very nice frescoes, many still quite vivid.
The 1000 year old monuments are in varying states of preservation, but lack any obvious practical archaeological oversight. You are free to roam unchecked.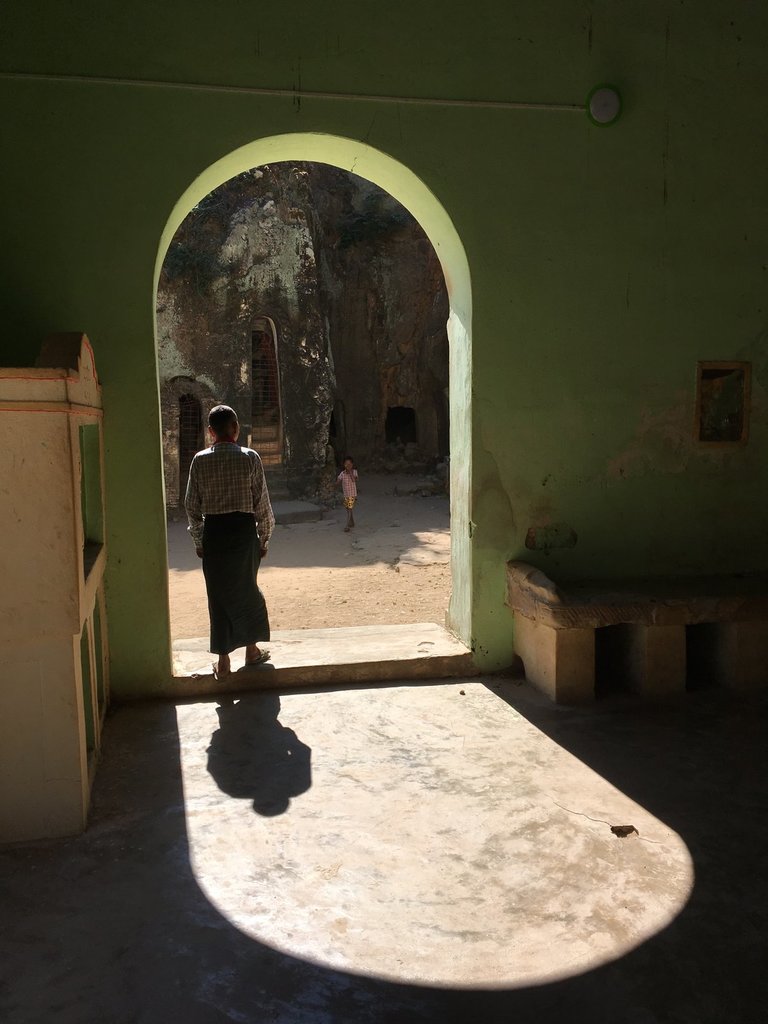 Troupes of monkeys make their home here too and are kept adequately fed by locals and visitors alike. Trash is an obvious visual irritant, but that's a problem that is recurrent throughout Myanmar (exception being the new Myanmar Capital of Naypyitaw, which is one of the weirdest places I have ever visited - never to return!)
Po Win Duang Caves were reminiscent of Petra in Jordan though on a much less grand scale. Huge rocks and hillsides were carved into directly creating niches and rooms, excavating material and sculpting the statues as they burrowed back.
The actual openings and access ways into these spaces are often small and restrictive and obviously the Buddha statues are much too big to have been brought in after the fact. The walls and ceilings are adorned with pictographs and an extensive array of symbology. Some of these reclining Buddha's are fairly sizable.
Back out on the open empty country roads with no lane markings, tree lined and shaded. It was so enjoyable just leisurely riding along in an unhurried fashion, soaking up the visuals of productive farmland with abundant fields of sunflowers and tall palm trees.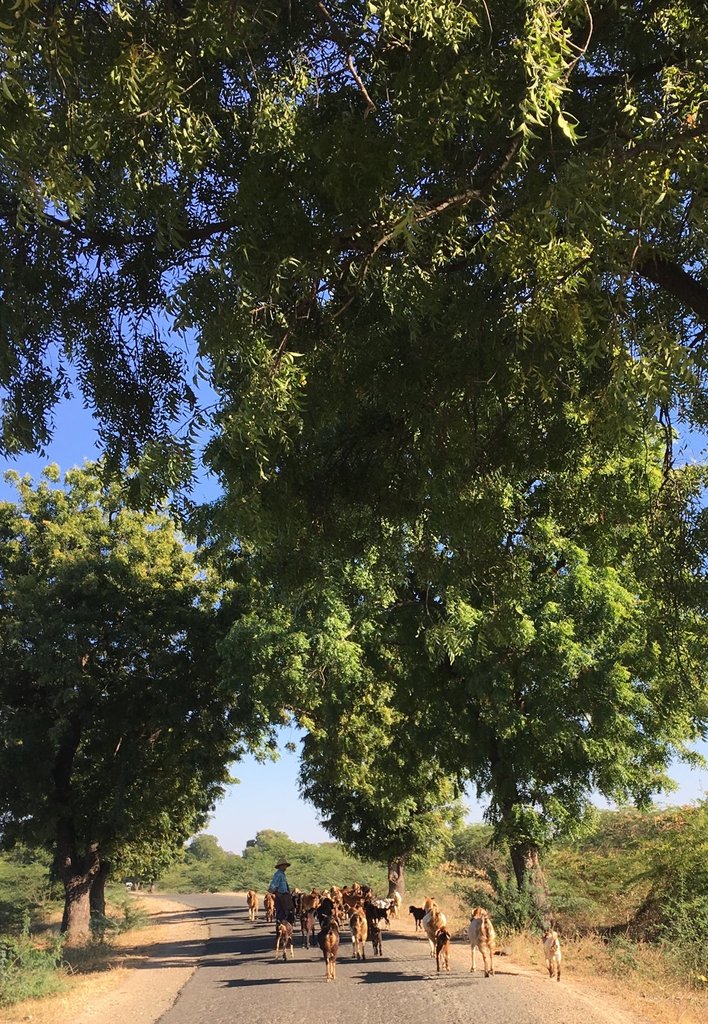 Pale has only one hotel in town for foreigners and it's somewhat unremarkable. No wifi. Prepare to have a visit from the local immigration officer who scrutinized my passport and supporting documents.
7th January - Pale to Gangaw
Alle's of big canopied trees shade the country roads. Oxen pull carts filled with wood, bamboo and rice. The rural scene is quiet on the mind and easy on the eyes and I hadn't seen another foreign tourist since leaving Mandalay.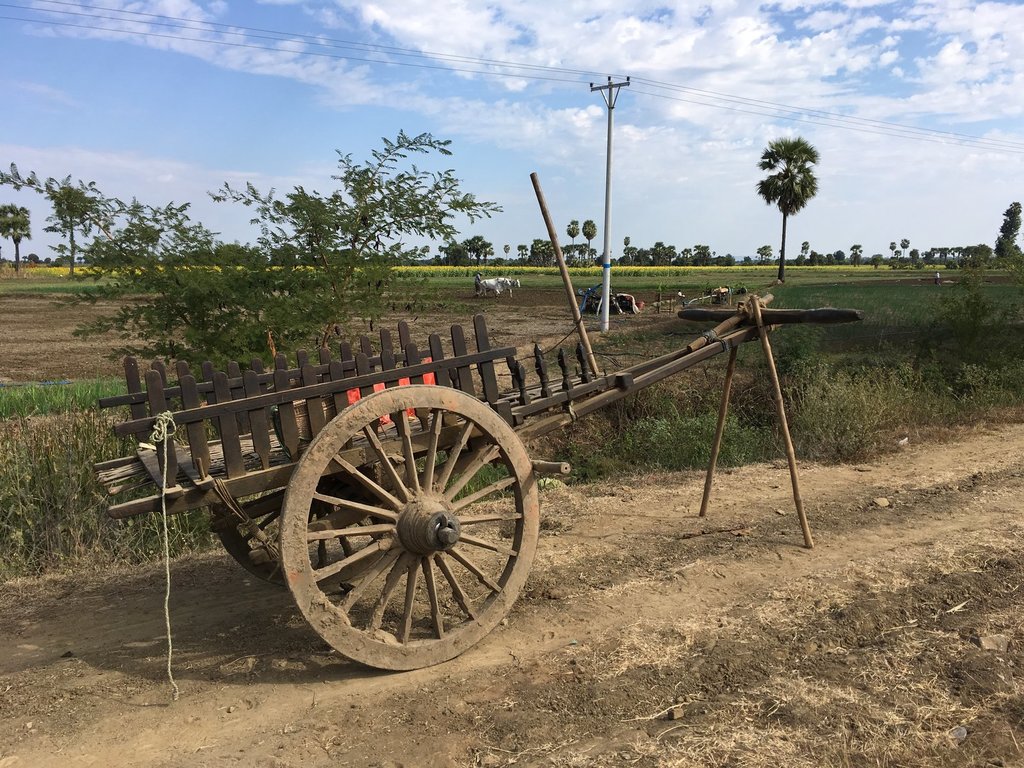 Midway to Gangaw is the small town of Kyaw where I stopped for lunch on the outskirts of town at a small roadside restaurant. Due to the bright yellow furniture and interior I named it 'yellow submarine' and I have to say it was some of the best food I had in all of Myanmar.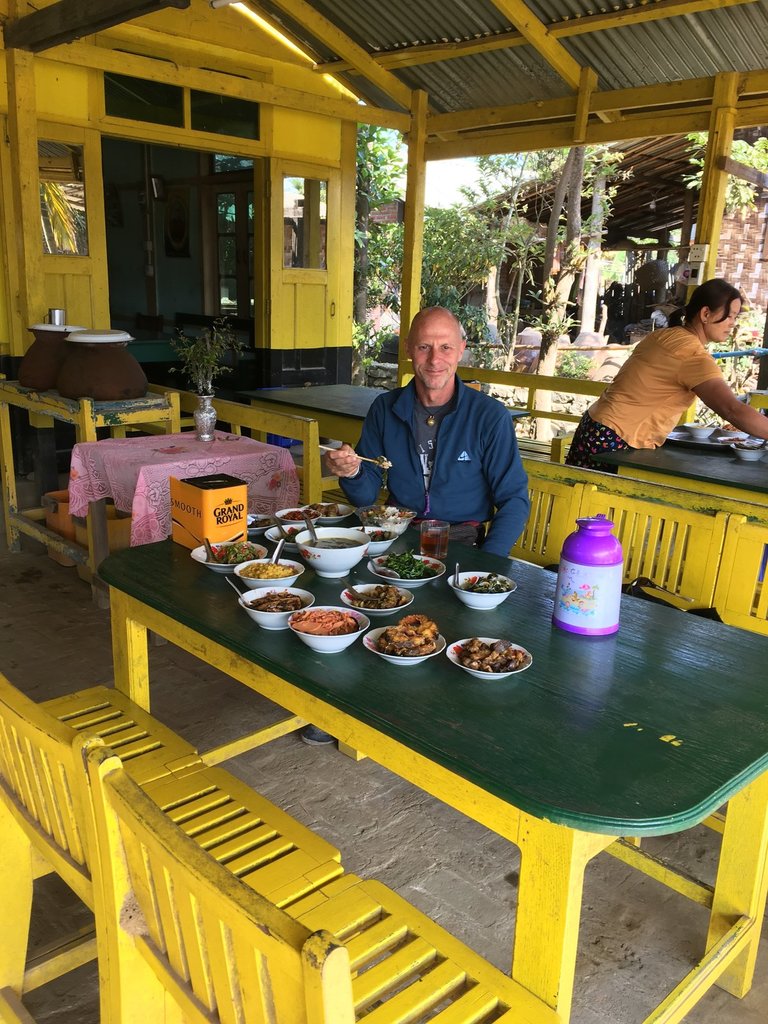 'Yellow Submarine'
Fields of sunflowers create a patchwork of vivid color contrasted by the various shades of green, everything from young rice shoots, to palm trees.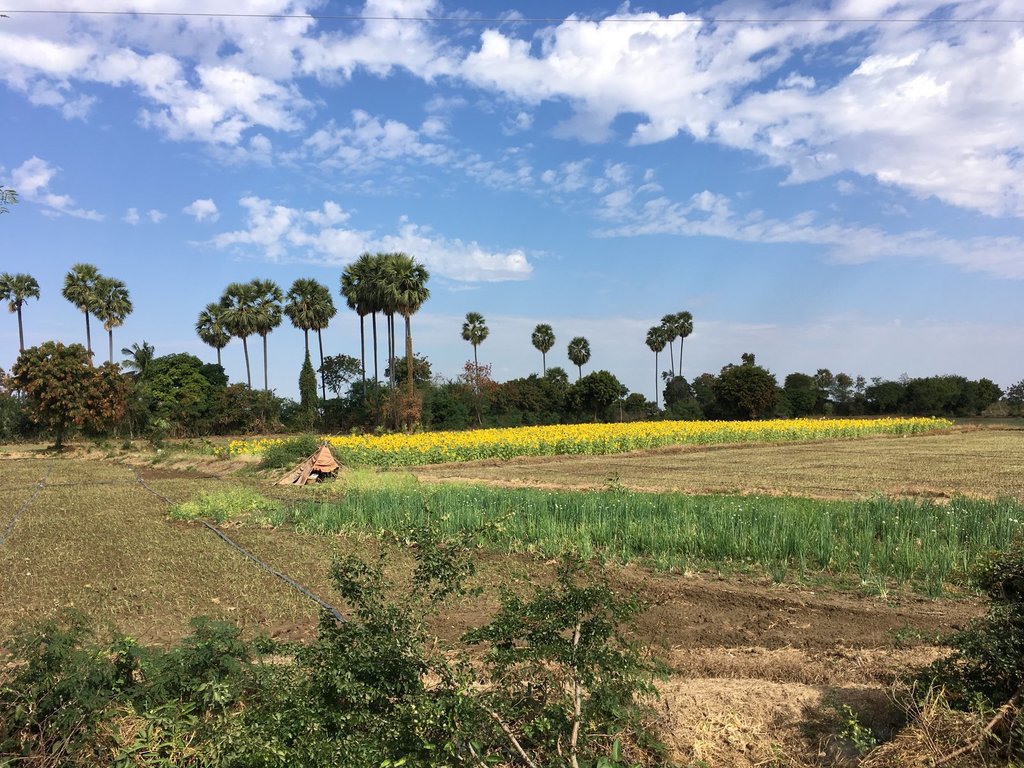 The flat lands have been ostensibly cleared of natural cover and planted with food staple crops and production trees. Granted it is the dry season, but here it's fairly dusty and arid and I got the strong sense that the land has been over used and felt a bit tired. By comparison, natural forests always feel alive, ecologically diverse and energized. Perhaps to prove me wrong, that evening it rained heavily, infusing life back into the land.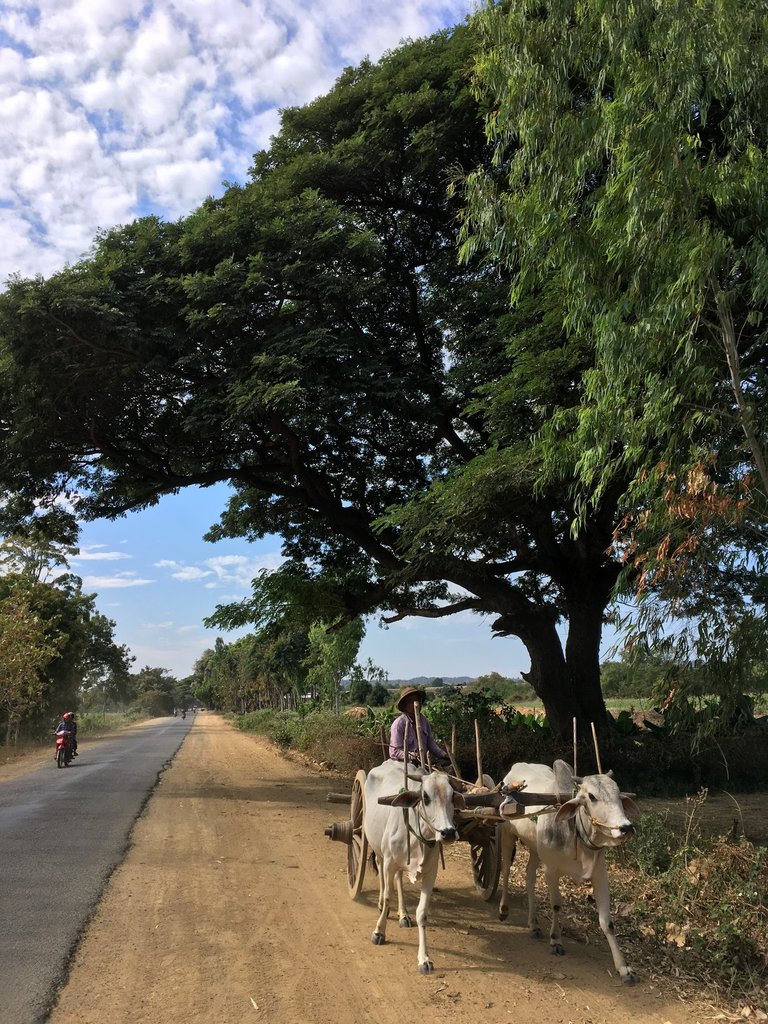 I stayed at the Gangaw Hotel and highly recommend it for amenities and service. It does have Wifi and includes a buffet breakfast.
8th January - Gangaw to Kalay
It took until almost mid day for the sun to finally burn off the mist that hung heavy in the valley after a hard nights rain. The morning's ride was cold and somewhat damp and I was very happy to finally feel the warmth of midday sunshine.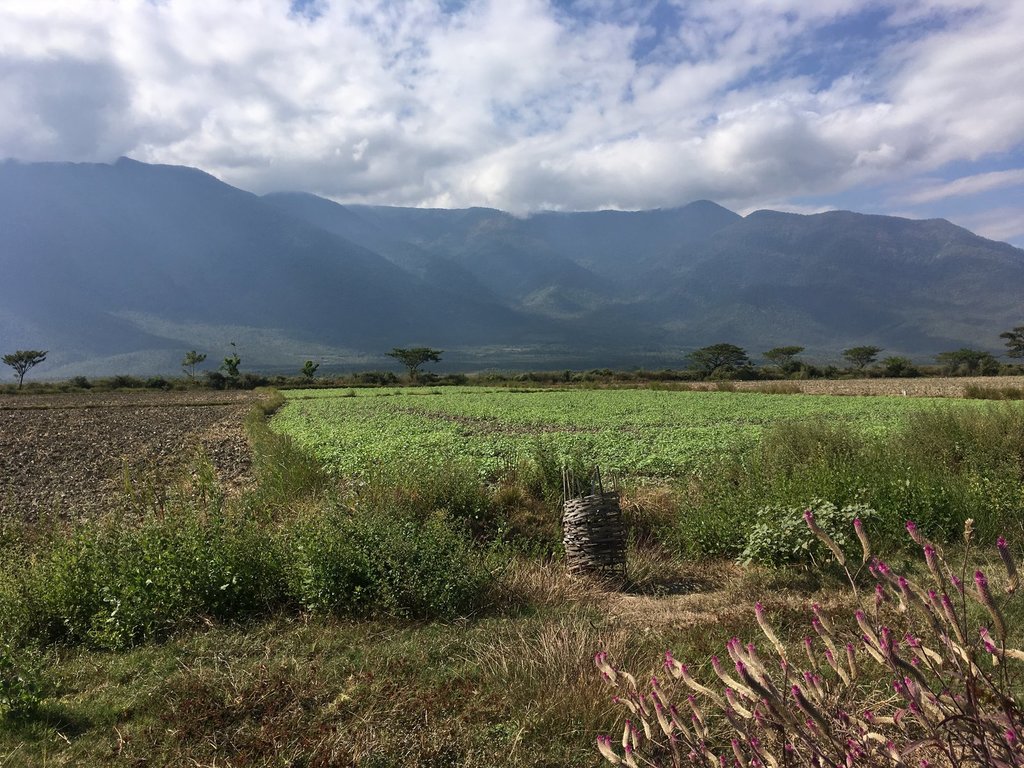 As highway 1 took a brief westward course, I was given an opportunity to see the great Chin mountain range looming large and ominous. The next few days would be spent weaving through high mountain roads in what is some of Myanmar's most remote and wild country. With every foot of elevation gain, temperatures would surely fall and I just hoped that I was adequately equipped to deal with these variants.
Hopefully the weather system that had brought yesterday's rains that were spawned by a cyclone in the Gulf of Thailand, would clear out definitively allowing the sun to warm the land.
The broad valley that runs from Gangaw all the way up past Kalay for some 200km, is on average 20km wide and given over entirely to agriculture, whether that be sunflowers, dragon fruit, vegetables or teak tree plantations. At only 100m in elevation, the Chin foothills rise up sharply out from the western edge of the valley to ten times this elevation. The further west one travels the bigger the mountains get, doubling in size. So this promised to be a formidable objective with many steep switchbacks and road conditions that I had been told were less than favorable.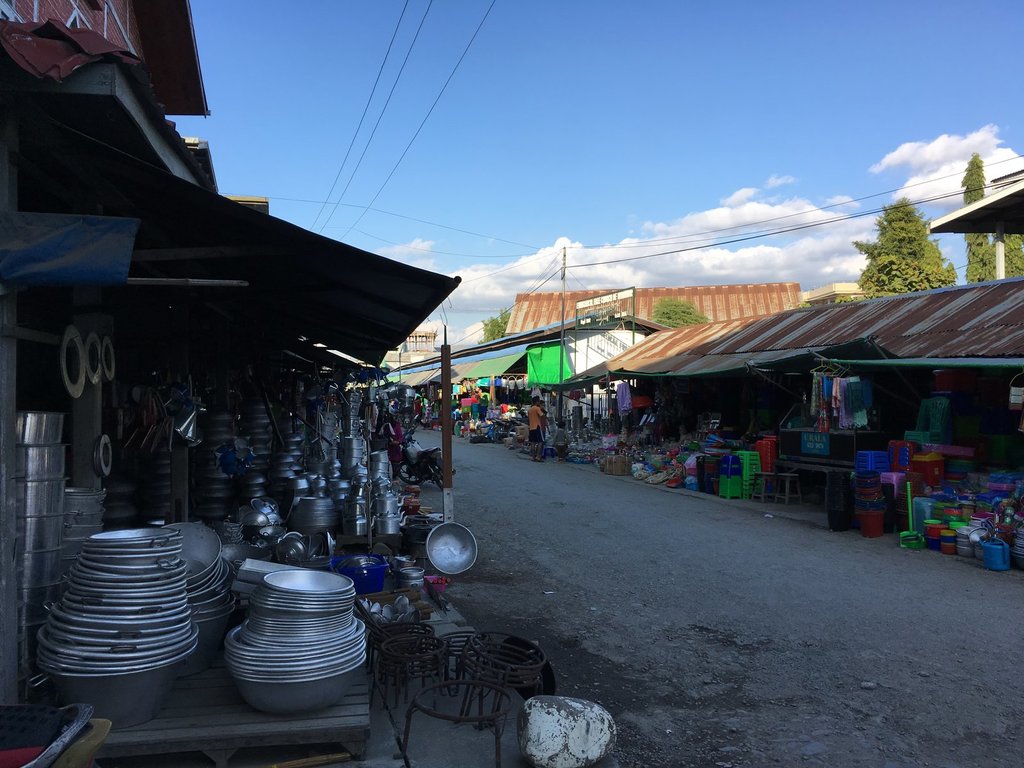 As you enter the outskirts of Kalay, the road is flanked by huge ancient trees with vast shading canopies that have a very noticeable cooling effect on the ambient temperature. This was refreshing in more ways than one. From what I had seen to date in Myanmar, there was no regard for good arborist practices and many trees suffer from being hacked at indiscriminately.
Kalay is a big trading town where goods crossing over from India make their first big stop in Myanmar. It's a bustling place and clearly a known destination for a small percentage of foreign visitors that are prepared to venture this far west.
Hotel GBH was my nights resting place and it is a very clean, well appointed hotel that is more affordable than most.
9th January - Kalay to Tedim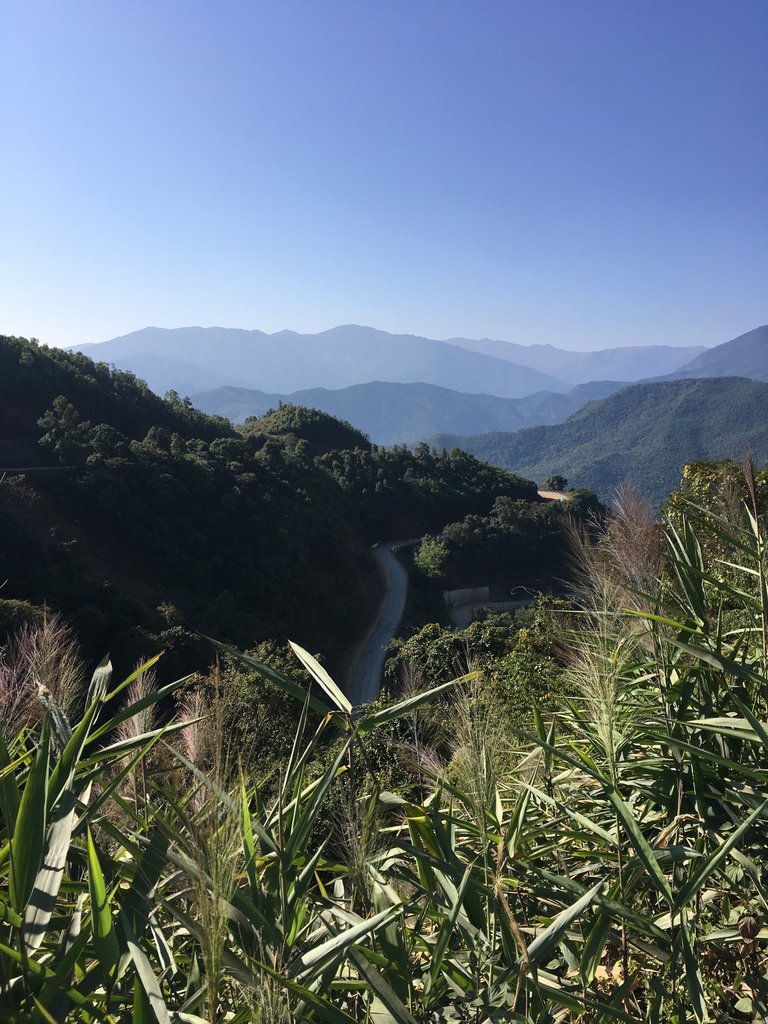 The road started out nicely paved and I had high hopes of a smooth ride the whole way through to Tedim. 15km or so out of Kalay signs of deterioration began and it only got worse as I progressed up the mountain. Slowed to a top speed of 30km, I was still traveling twice as fast as the trucks and mini vans that were often slowed to a crawl.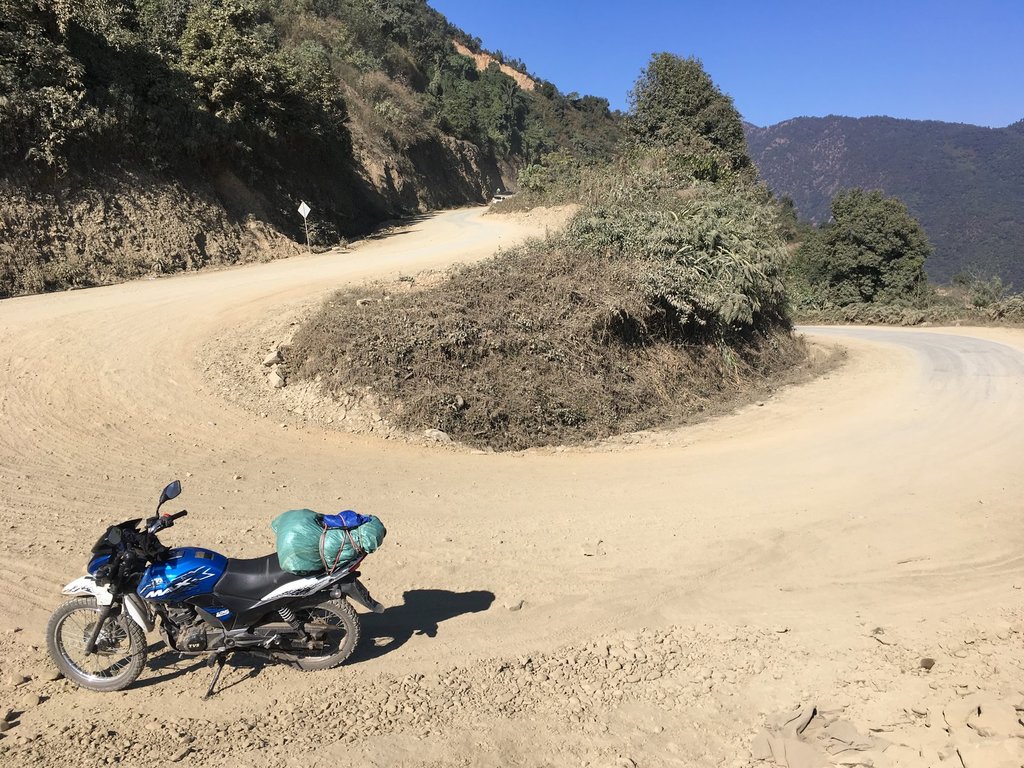 They kicked up plumes of dust that hung in the still air and chocked the roadway. Passing them was always a bit of a battle but the reward was a brief interlude from dust and a clear view ahead before coming across the next vehicle where the dance was repeated.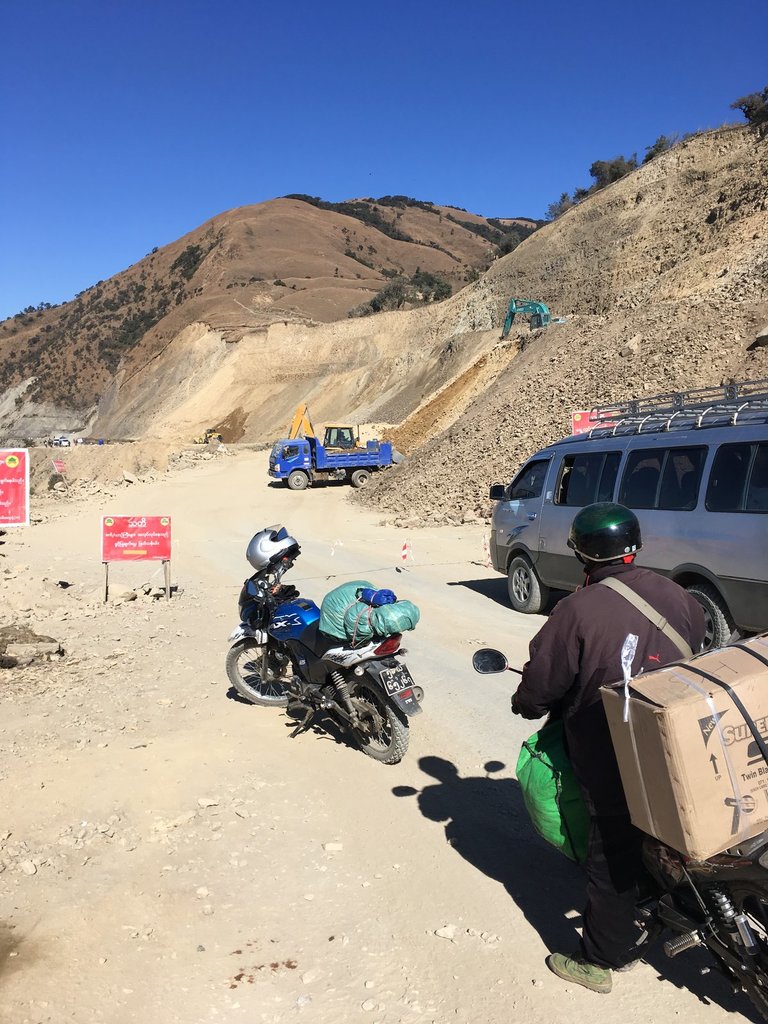 At one point in the journey I came to the road blockage due to a landslide that was being cleared by maintenance crews. Due to limited resources this was a fairly slow process and a backlog of traffic mounted each side of the blockage. Nothing to do but relax and enjoy the amazing mountain scenery.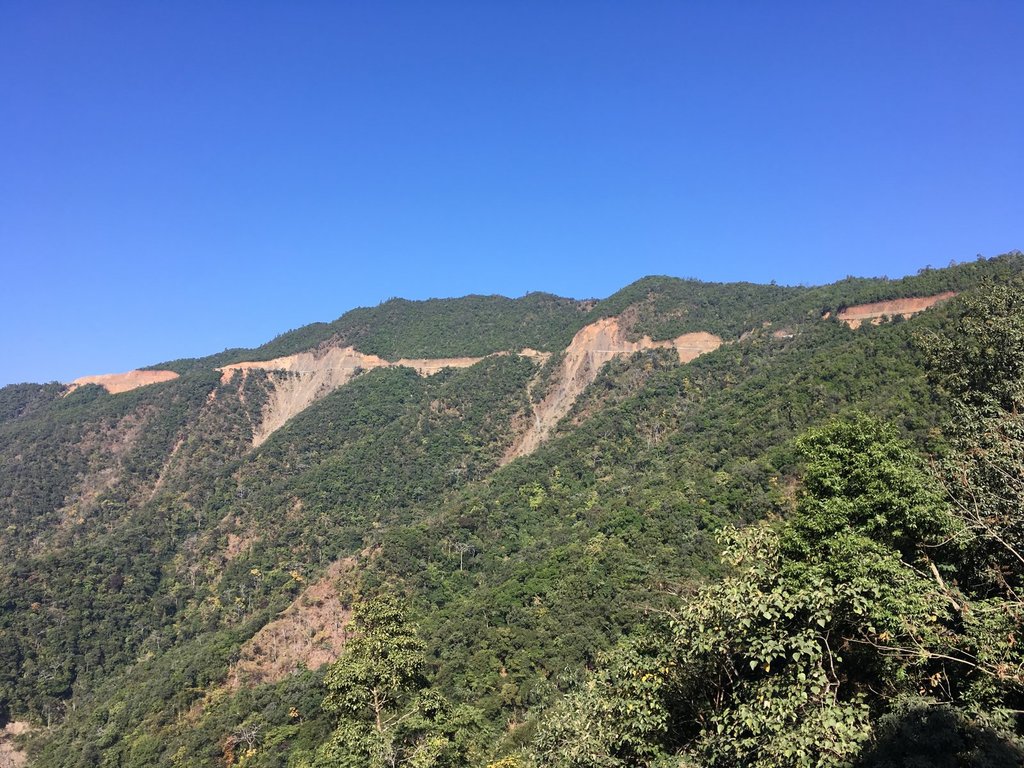 All along the road were signs of constant repair and ongoing maintenance. Makeshift tarp tents housed workers and their families and piles of varying sized rocks were staged along the roadside. I rode across new sections of road being laid which involved hand setting fist sized or lager rocks to create a level and tightly packed base layer before smaller stones were used for in-fill.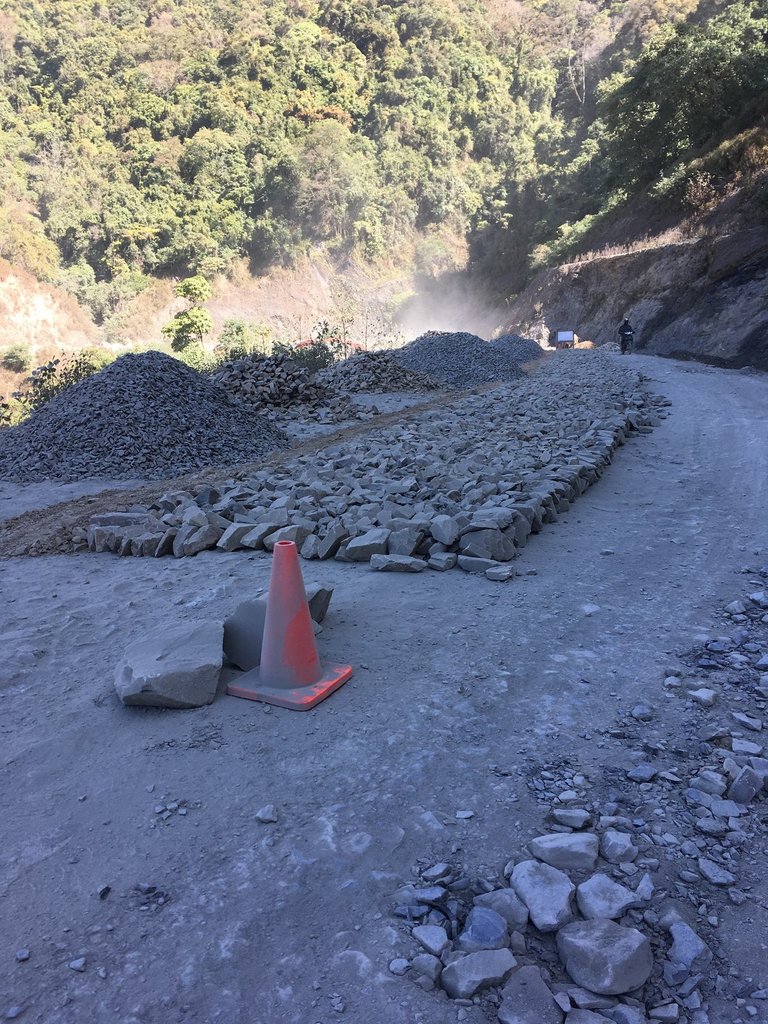 I assumed the tarmac layer would naturally be laid after all this laborious and time consuming hand work had been completed - but clearly results proved this top coat has a very short lifespan from all the wear and tear of heavily loaded trucks and buses - then it's back to riding over heavily knobbled surfaces and fine dust.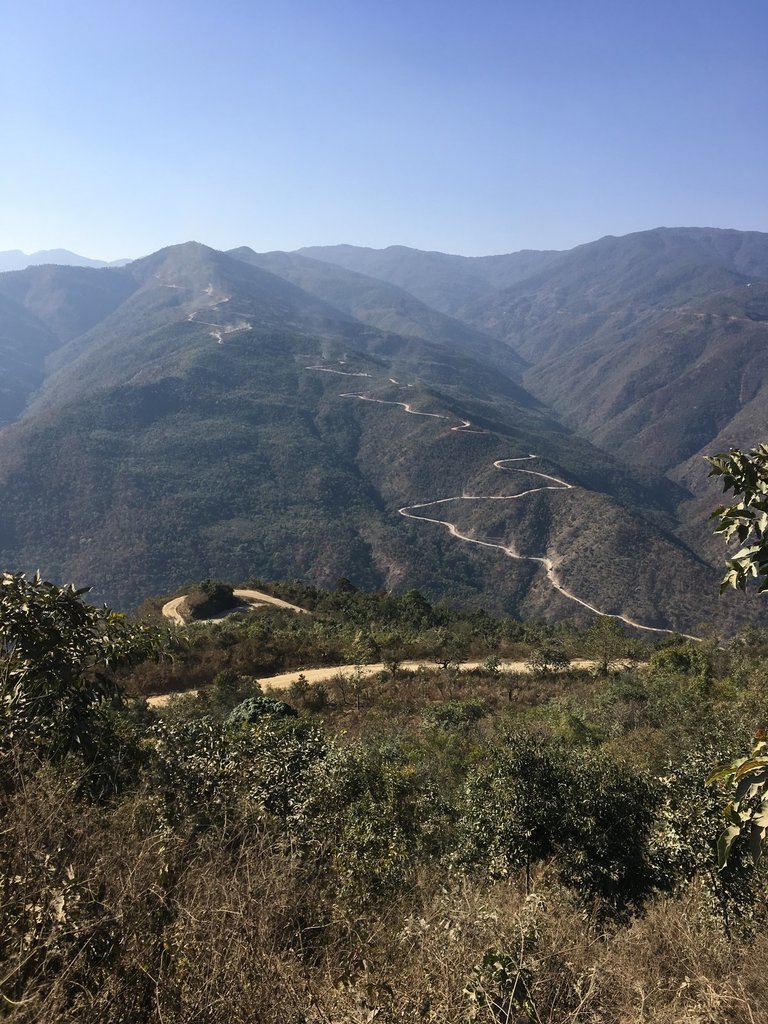 The initial road section leaving Tedim heading for Rihkhawdar
It was a 3 hour journey to Tedim and I settled in to the Ciimnuai Guesthouse which is a very simple, no frills place but beautifully perched with panoramic views of the mountains. It does have Wifi. A delightful establishment where the owners are very friendly and welcoming.
Ciimnuai Guest House
If you're hungry try, a great local restaurant called 'Asian Restaurant' on the main road through town, run by Kye. He is a really nice guy and a reservoir of local knowledge.
Dust hangs in the air long after the vehicles pass
There was plenty of free time that afternoon, so I took a run down to the Manipur River both in the direction Rikhawdar (road in bad condition and excessively dusty) and also a late afternoon ride down in the direction of Falam to the India / Myanmar friendship bridge.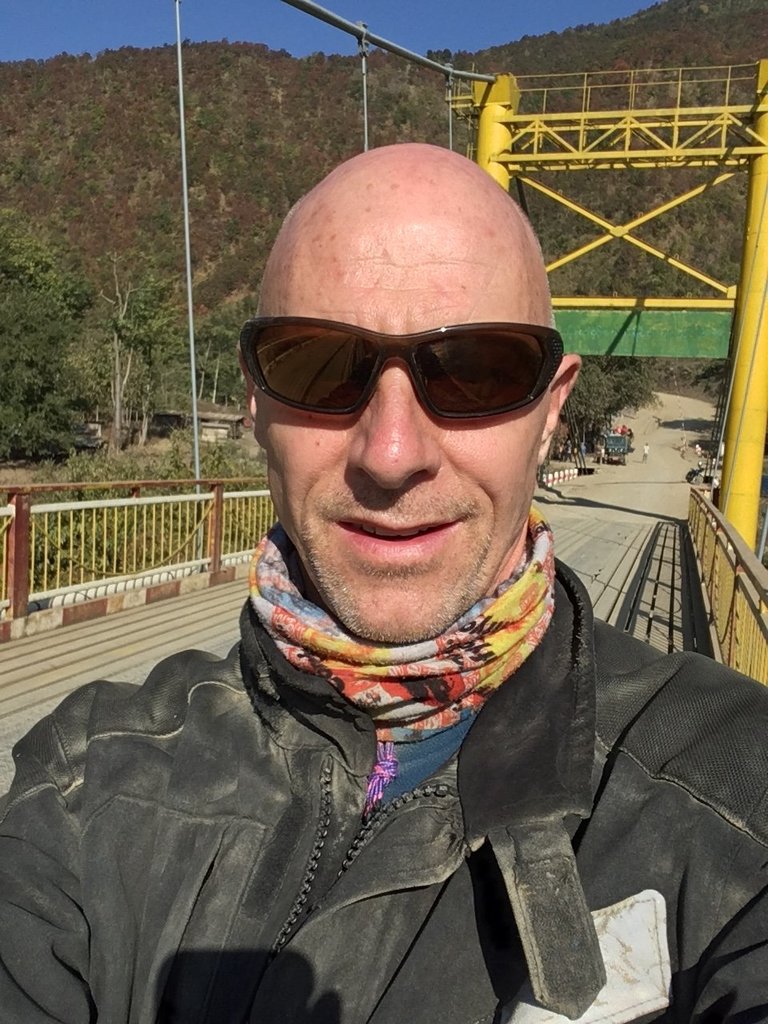 Much of Chin State is Christian and nowhere in this area did I see the distinct Buddhist pagodas and temples which populate most of Myanmar. Tedim is a real mountain town, reminiscent of so many towns I've been through in Nepal. Its buildings have colorfully painted exteriors and there's nothing over two stories tall except the main square tower across from my guesthouse.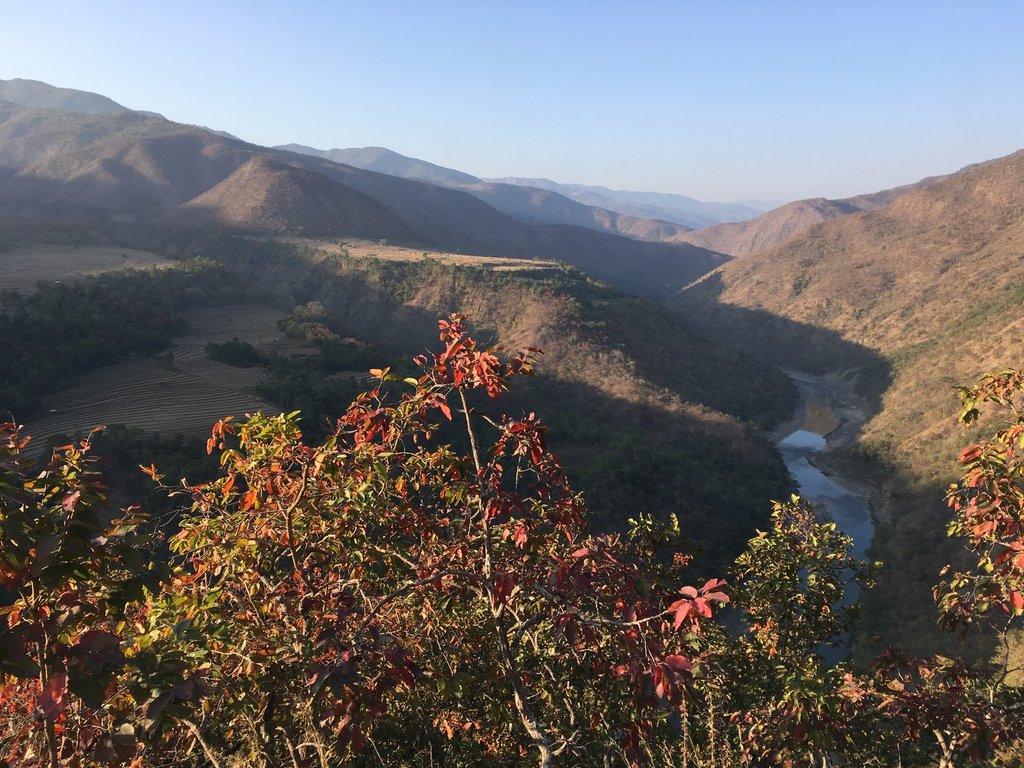 10th January - Tedim to Rihkhawdar (on the Indian border).
The older gentleman who ran Ciimnuai guesthouse told me much had changed here since he was a boy. The hillsides then were covered with forest, there was no running water or electricity. Now there's water and illumination but no forest. When asked whether he liked the changes he simply shook his head. He pointed to a few trees he had planted along the property line, in a small gesture of restoration, but one he knew would not bring back the hornbill which used to inhabit these once forested hillsides and appears as the logo on his business card.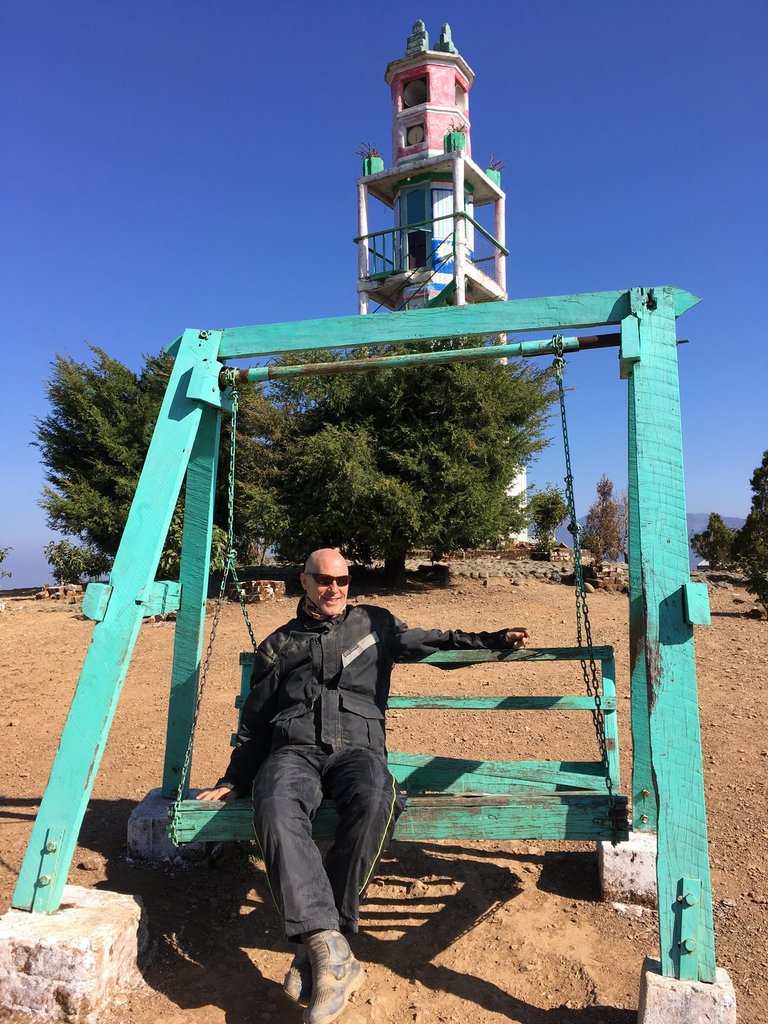 Relaxing in beautiful Siang Sawn Village on the outskirts of Tedim
Dust and housekeeping - it's hard enough just passing through some of these places and dealing with the plumes of dust that are constantly swirling around. But to live your entire life with these conditions must have a seriously wearing effect on the lungs of residents to say the very least. I observed store keepers and home owners alike constantly out there with grass brooms corralling the dust bunnies. A cleaning nightmare for those villagers who live and work at the roadside.
Typical dwelling with garden in Siang Sawn Village
Leaving Tedim, the steep twisting road that drops to the Manipur River and up the other side is merciless and evidenced how demanding it is on vehicles.
I passed five or six big trucks that were broken down and either temporarily abandoned or their drivers camped out alongside awaiting assistance or parts. It's hell on brakes and tires!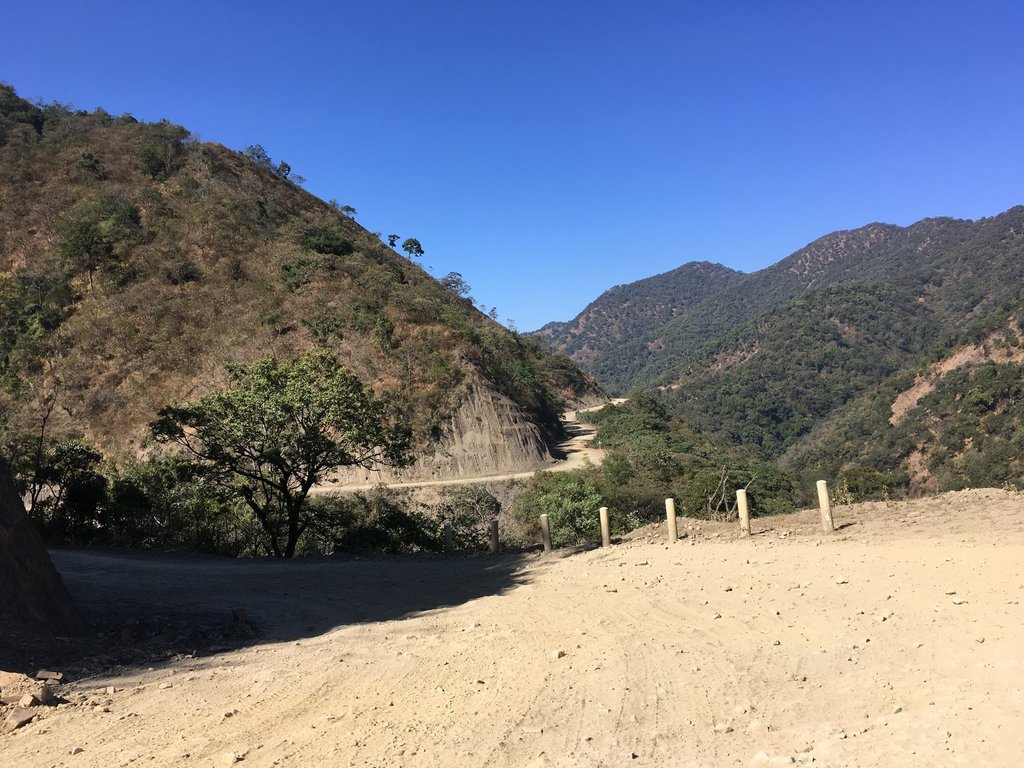 The dire nature of the road frequently slowed me to 10 km an hour in really harsh rocky sections, then in other parts I was able to pick up some speed and travel along in third gear perfectly well.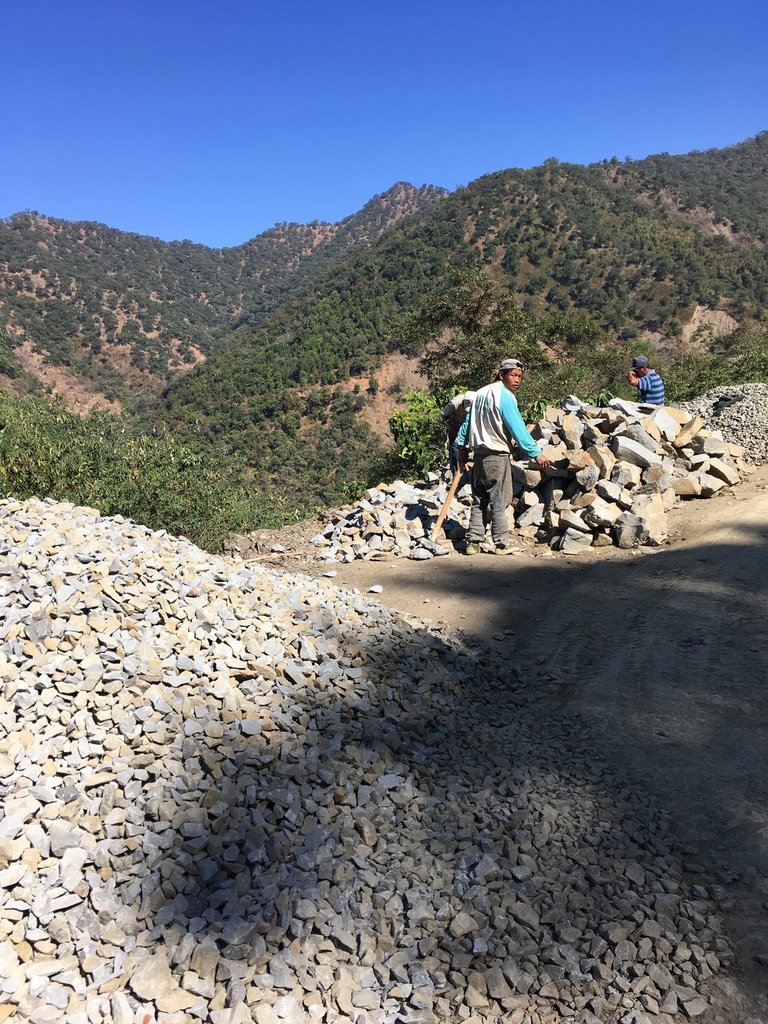 On entering the main valley system that feeds Rihkhawdar and it's all downhill for miles - steep in many sections, really rocky, like a boulder field in places and thick bull dust. Hard going, both on bike and rider, an intestinal juggling act and tiring on the wrists and forearms from the constant leaning into the handlebars. This section demanded my complete attention and it most certainly was not a pleasure ride in the mountains. It was not fun or particularly enjoyable, due to the dust and being on such an ill suited bike for such terrain. But it was the only road leading into these parts and I would not have made it otherwise. I arrived very dusty and tired but happy to have emerged unscathed.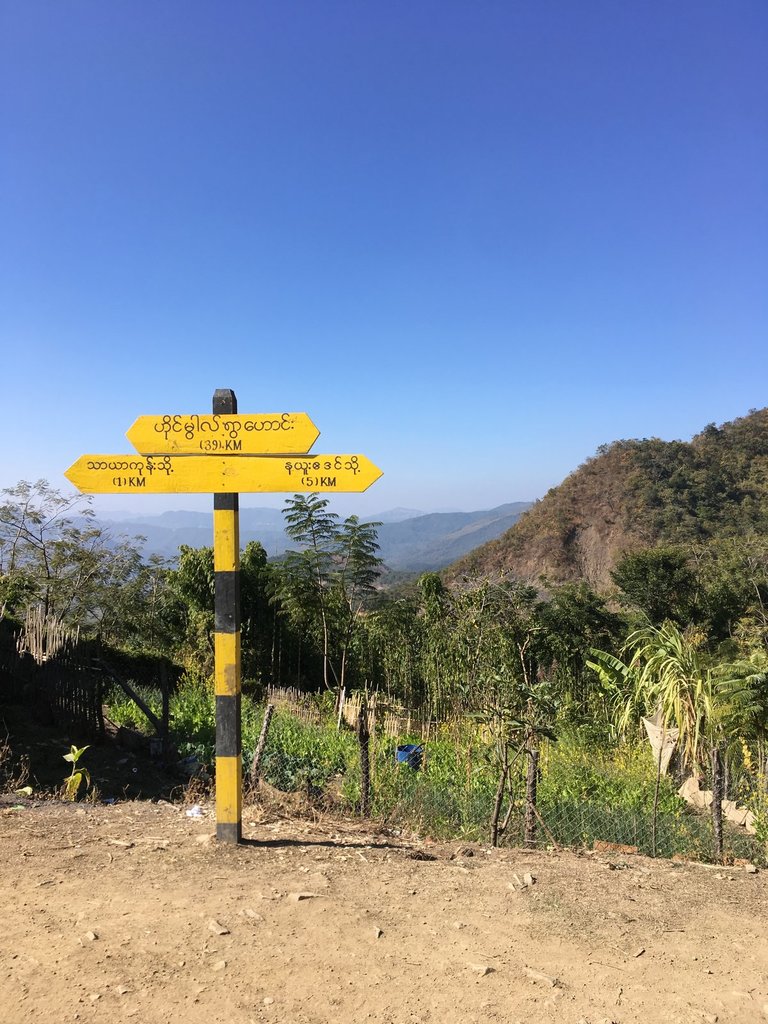 In Rihk, I convinced immigration officers to let me walk across the bridge into India and back without 'officially' leaving Myanmar.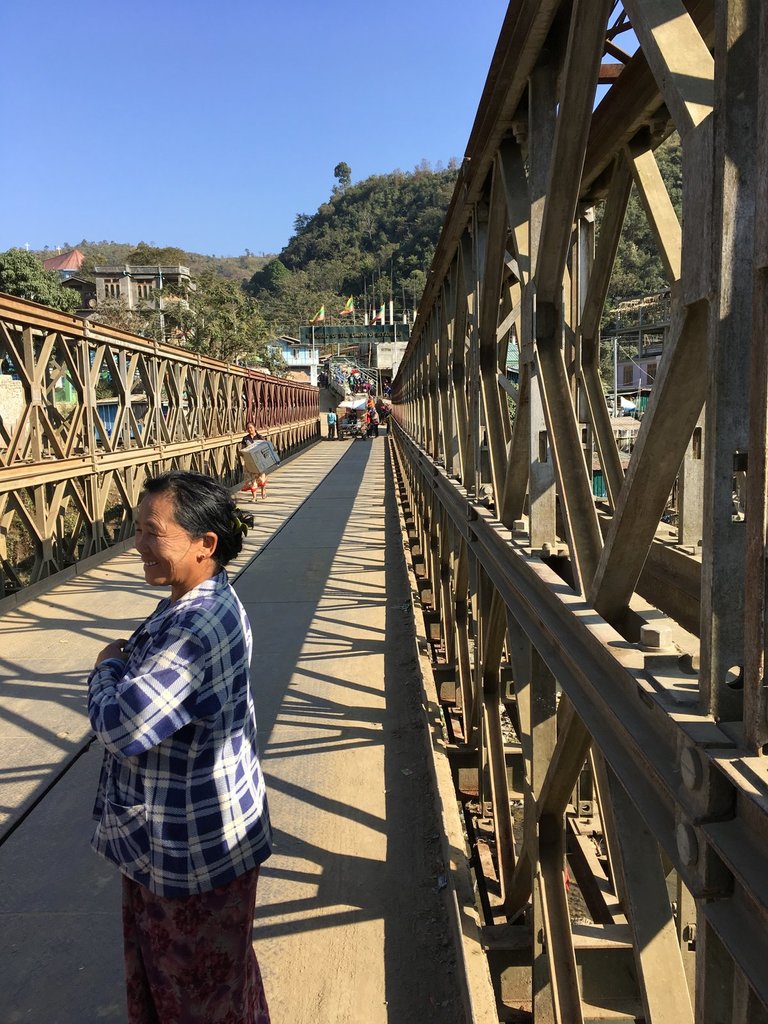 Took my photo with an armed guard on the Indian side then crossed back into Burma.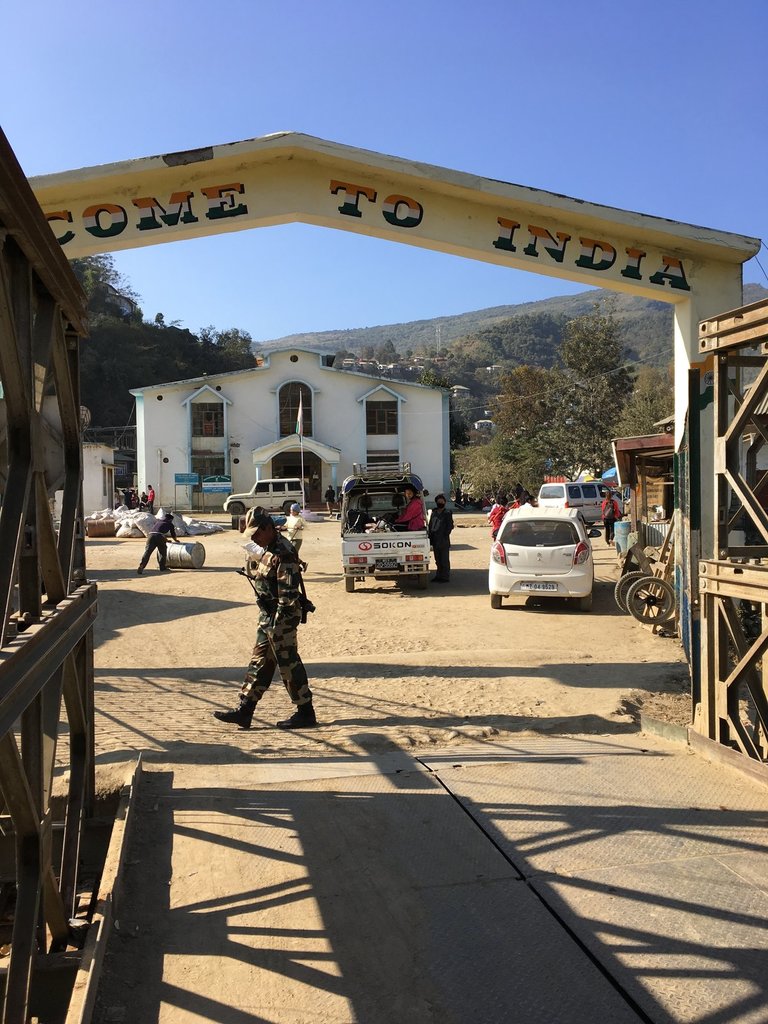 The lake a few miles south of town which I had hoped to stay at only had Government bungalows and were not being rented out to tourists. Shame because it was certainly a nice, sedate location with pleasant views. Instead I found myself back in town at a second rate dive hotel (the only I could find) but at least it was a bed for the night. No WiFi.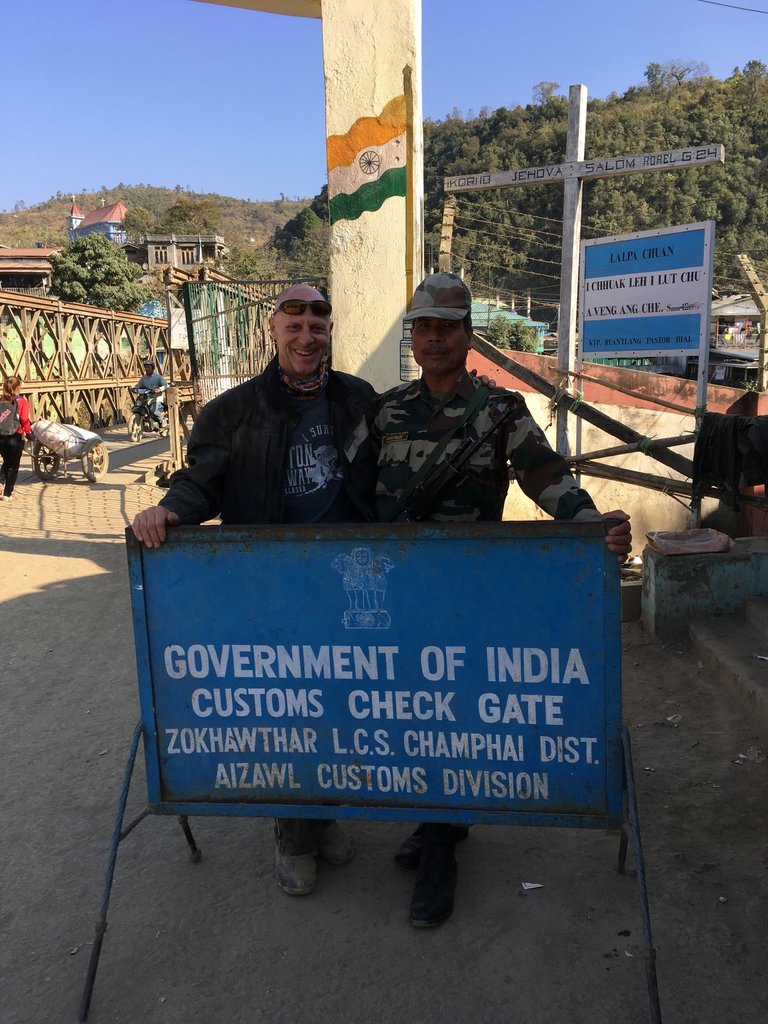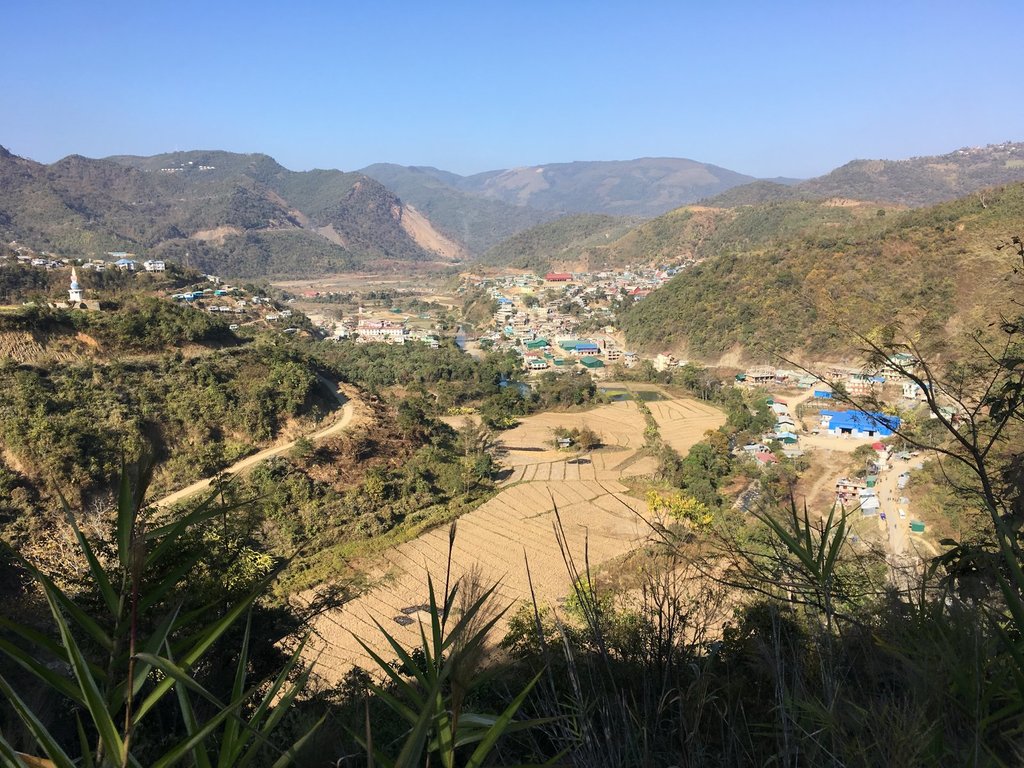 Rihkhawdar
11th January - Rihkhawdar to Hakha
If the road from Tedim to Rihkhawdar was hell, the next leg from Rihk to Falam seemed like a little slice of heaven by comparison.
Though still a dirt and gravel road it's in far superior condition to anything I had experienced the day before. (Google maps shows a secondary road heading south that directly links Rihkhawdar to Hakha, but this is incorrect). The road actually swings in to Falam before heading south to Hakha, which is the main township in Chin State.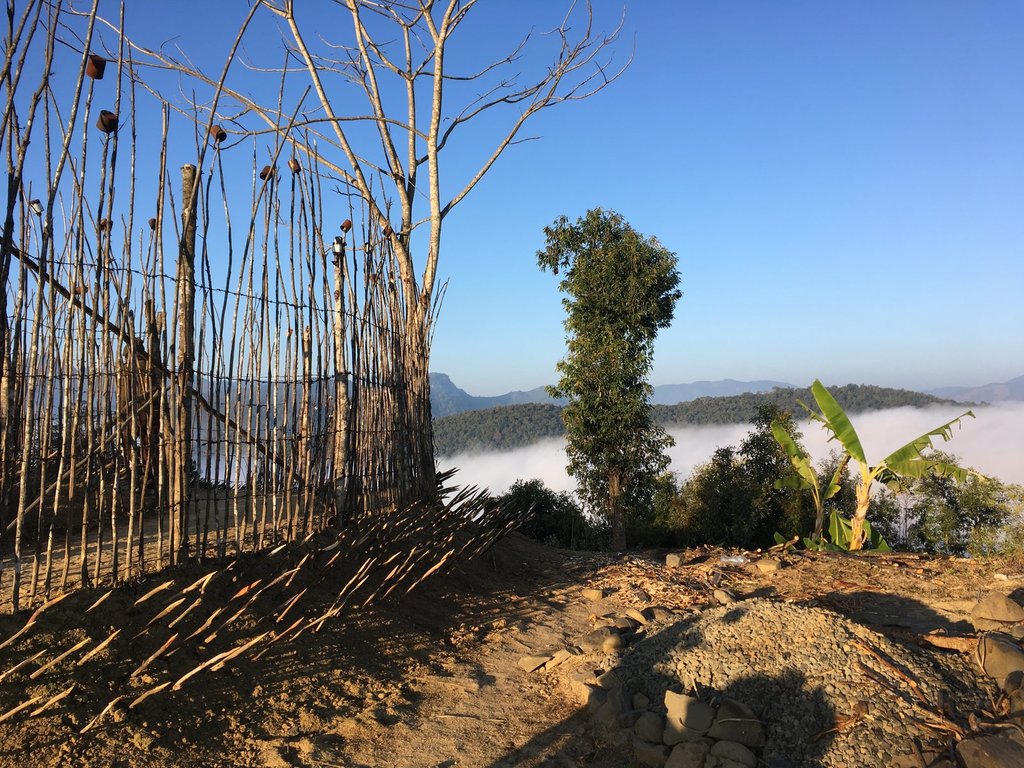 Hilltop Army compound south of Rihkhawdar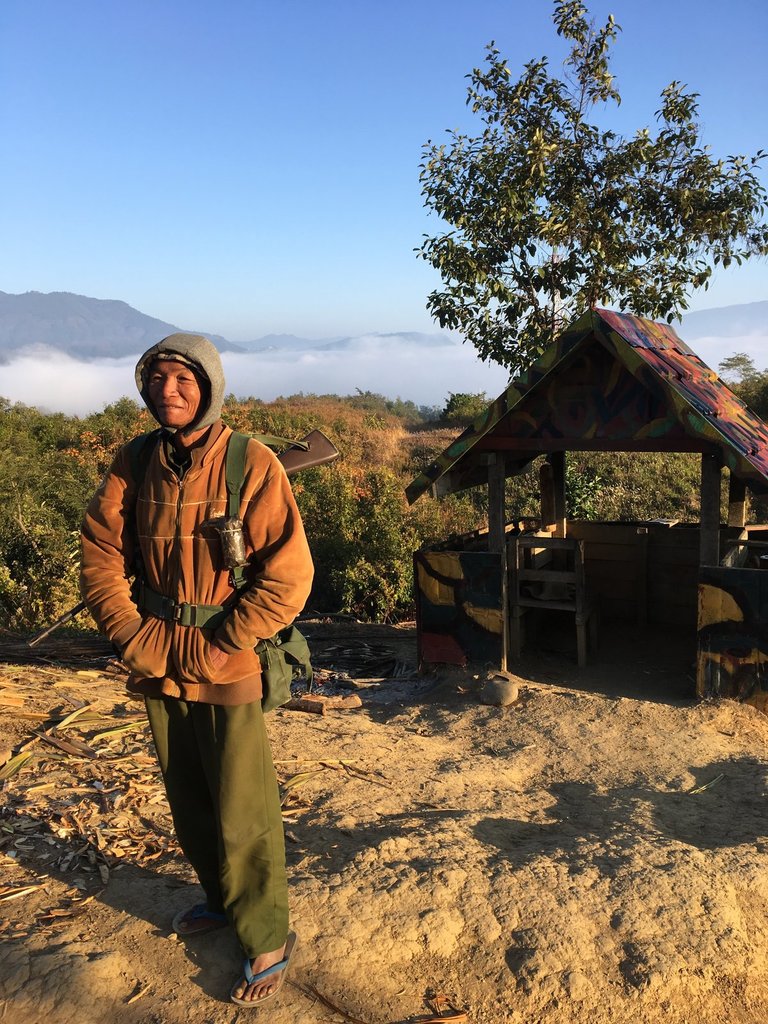 Here, there are not as many steep inclines, as the road contours its way southeast at fairly high elevations. With the early morning start I gave myself, it put me high in the mountains while the mists still hung heavy in the valleys below and it felt like floating on clouds. Views from up here we're just spectacular.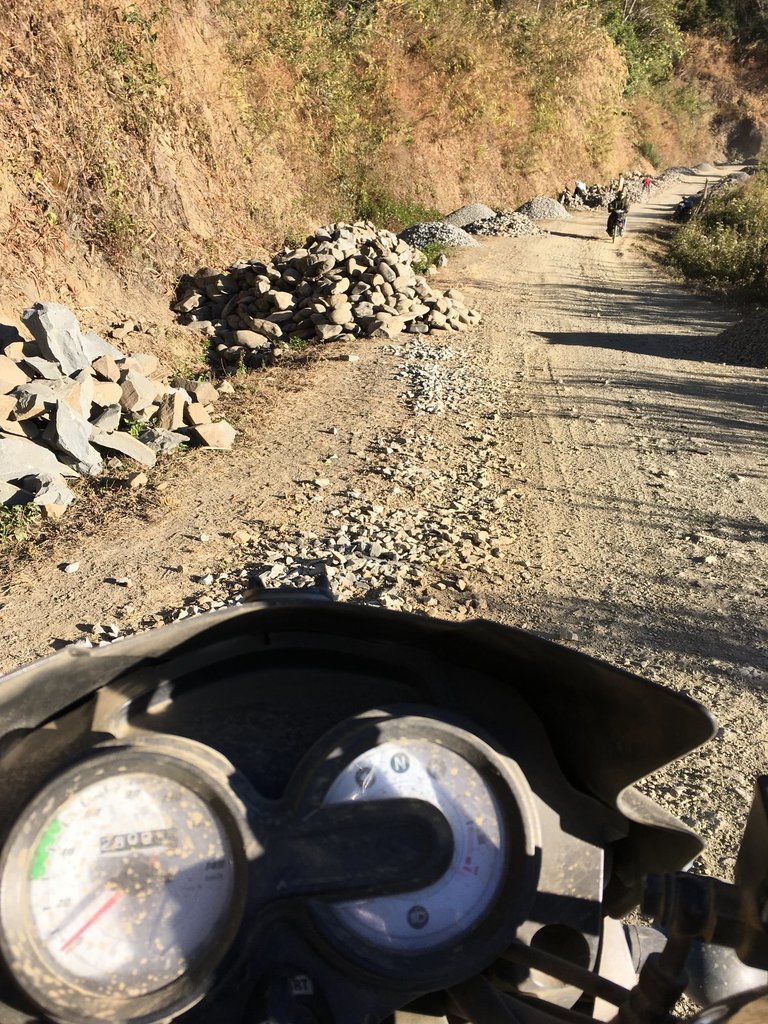 I passed several villages along the way that were clearly involved in the singular process of breaking rocks by hand. And though these villages are often situated on prized real estate with heavenly views, the price to pay for it is the hellish task of spending your days breaking rocks.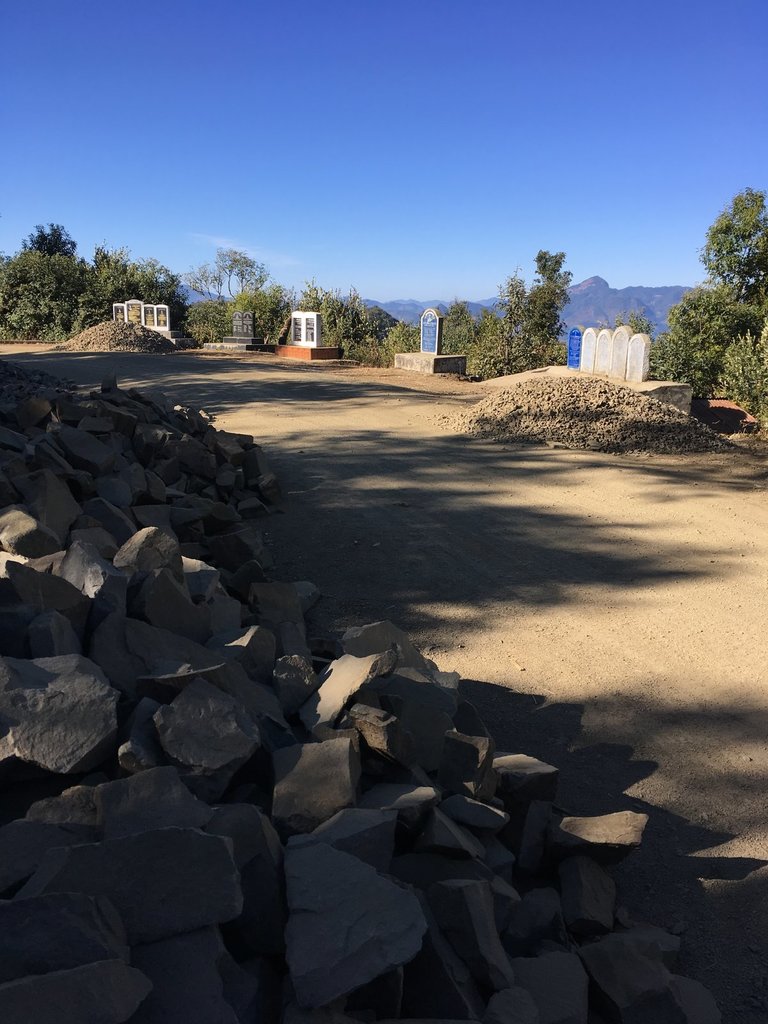 Truck loads of river rock are piled alongside the road with sufficient space in between each pile that a new pile can be created of the broken down material. This laborious and ardious process is done by both men and women alike using sledgehammers and the resulting piles are graded according to the size of the chunks of stone.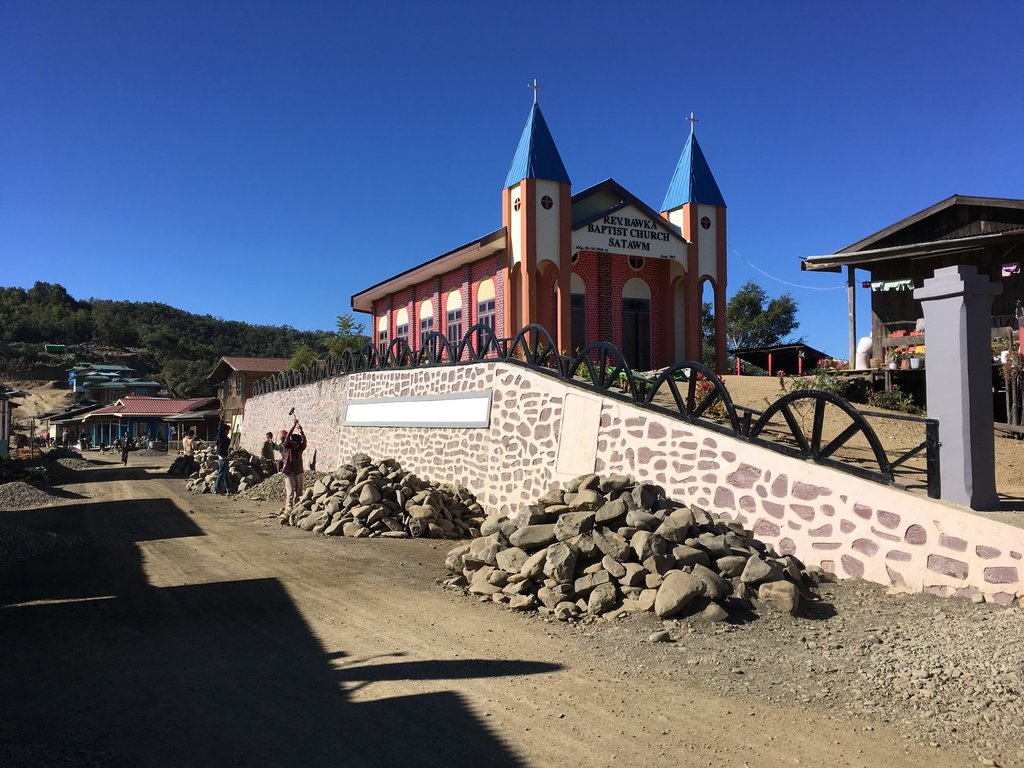 Also, alongside the road in numerous places are grave headstones. If I put two and two together I might postulate that those people died right there, slumped over their sledgehammers and rock piles!
Entire villages are employed in rock breaking (save for the priest that is!). Though I learned it is not a duty that's expected to last an entire life span thankfully.
Stopping to buy bananas from this lady, the pig sauntered over and laid down at her feet!
People are paid by the pile of rock that they break down. Each pile can normally take about four hours to break to the next subsequent sized chunks and for that work they are paid 10,000 Khat ($6.50).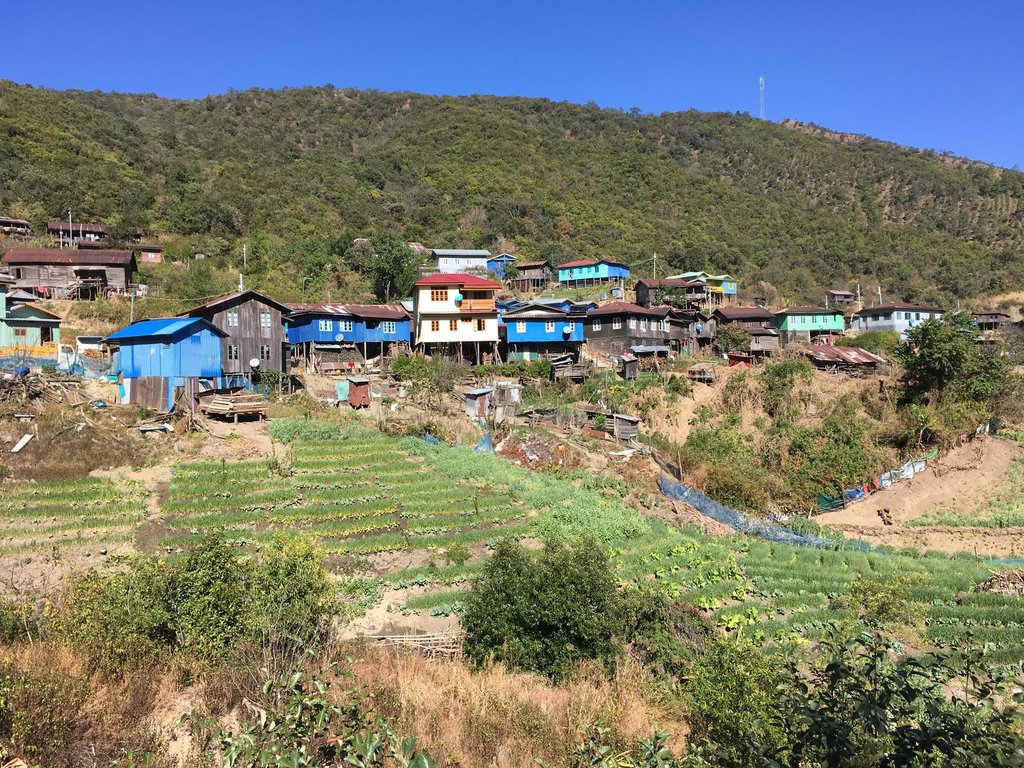 Typical colorful Chin mountain village
The Chin Mountains are not exactly the wild, remote area that I had come to expect from accounts. Instead I found a landscape that was both beautiful and saddening at the same time. There seems to be very, very few places left in these mountains that hasn't suffered the effects of man's intrusions.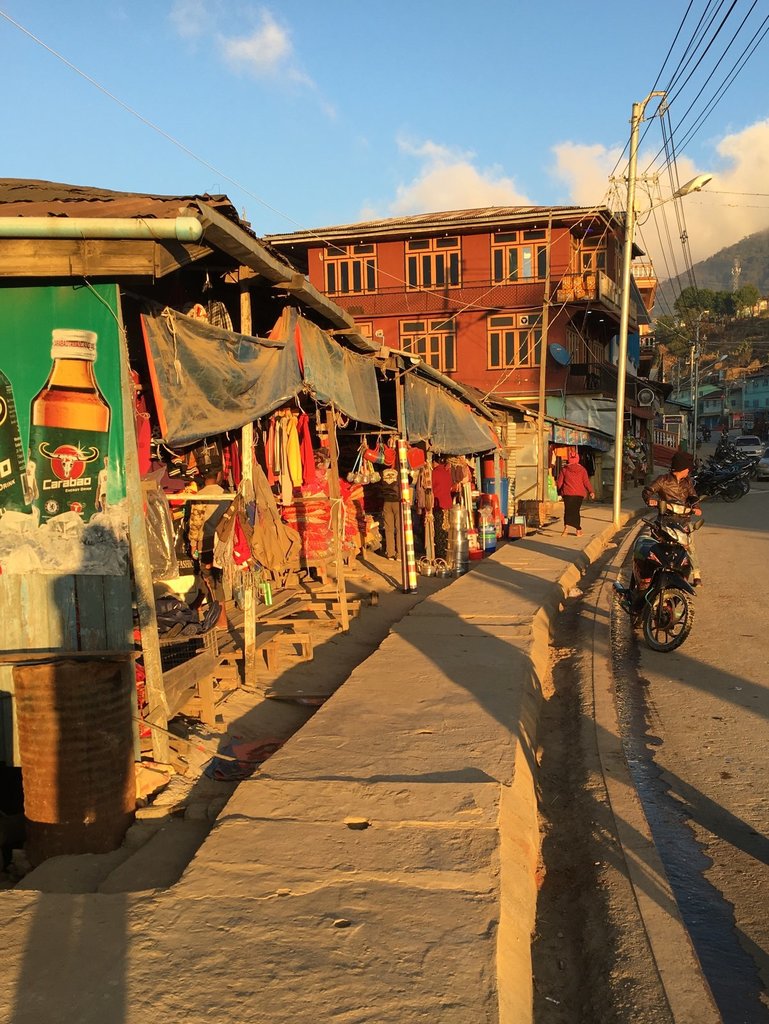 Hakha
On some of the more super steep slopes the wild forest remains intact, but these hold outs are few and far between. I see a vast mountain range that used to be the home to many creatures that are now either extinct, critically endangered, threatened or in serious decline.
The hillsides have been clear cut and denuded in a majority of areas and agriculture has replaced the forest. There also seems to be vast swaths of land that formerly had big beautiful trees and now is nothing more than grassland and weeds.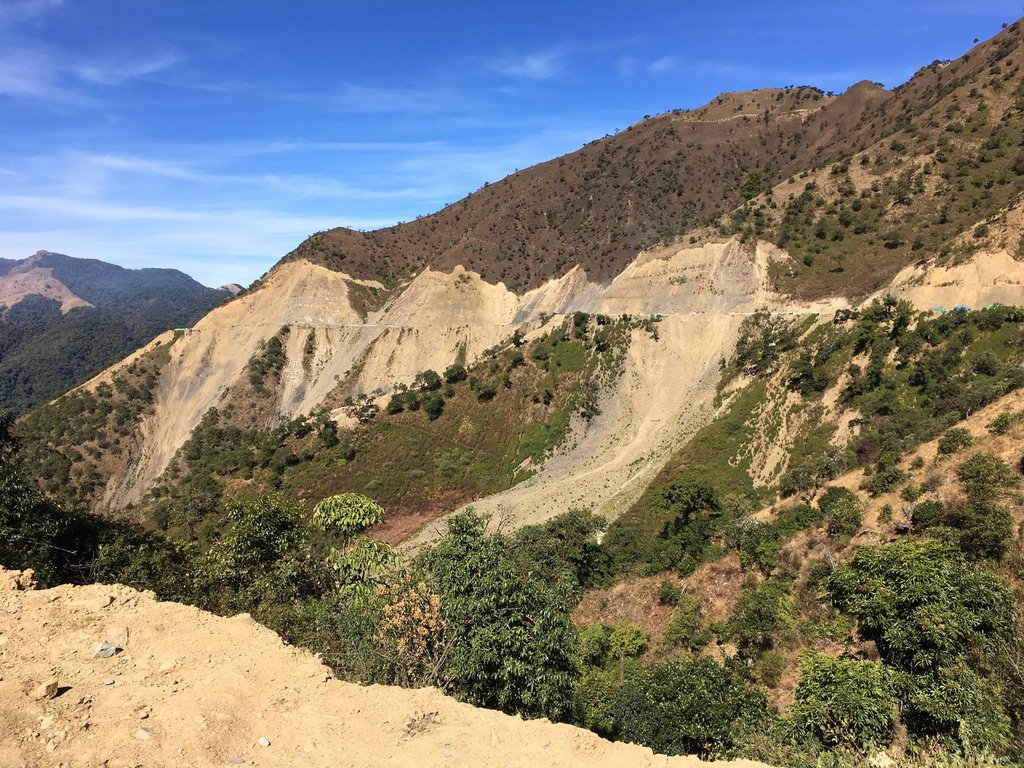 Non-surgical road building in Myanmar
Roads are becoming a much more common feature of the mountain landscape with every small village wanting to be 'connected'. From a distance the roads resemble huge gashes on the face of the mountainsides. Where frequent landslides are evident they resemble open wounds that are seeping.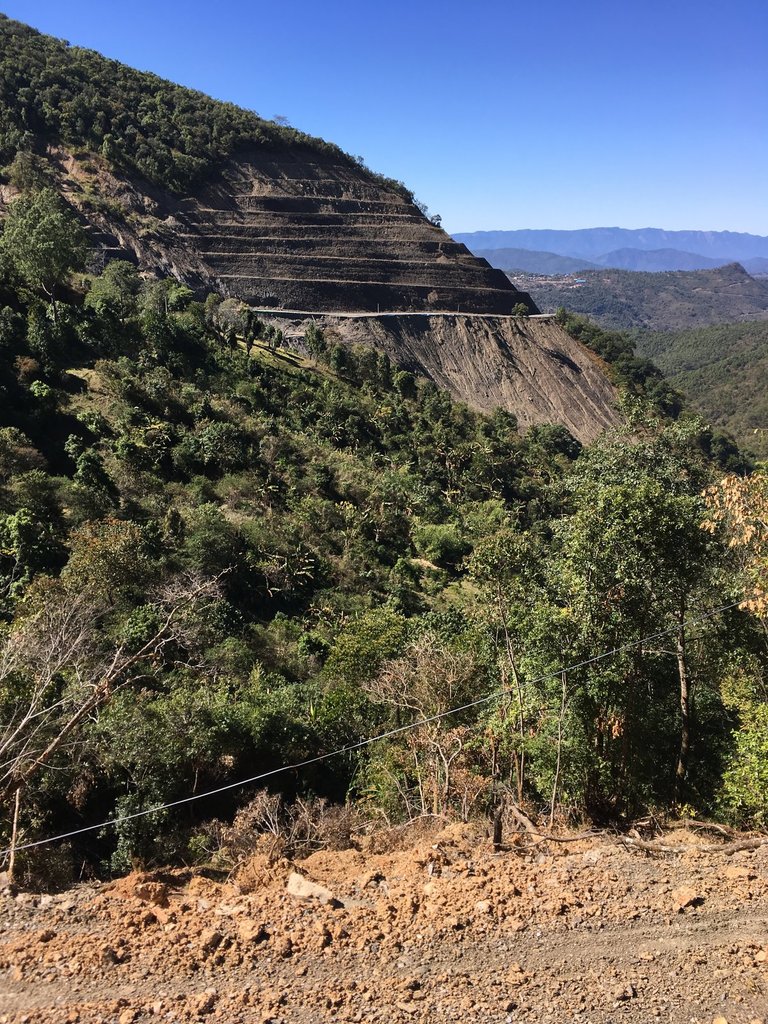 The land no longer looks healthy, vibrant and fresh, instead it has a tiredness and shows signs of submission to an all dominating human hand.
I stayed at the simple but comfortable Cherry Guesthouse. No wifi. A long days ride but on some of the more forgiving Chin Mountain roads.
Cozy little room at the Cherry Guest House, Hakha
12th - Hakha to Matupi
10 hour ride on unrelenting, bad roads. This was undoubtedly the hardest single days ride of my life and I was happy to have made it through without issue.
I pulled over here to warm my frozen hands by the fire
Frost on ground when I left at 7am. I was on the shaded western slopes for what seemed like an eternity and it was a long cold morning ride over atrocious roads. It took 5 hours to go the first 100km. I just kept thinking how different this ride would have been on my DRZ400S!
Piles of rocks lined the roadside for what seemed to me at the time like the entire route, with many villages employed as rock breaker's. In between the villages, temporary makeshift dwellings were erected from wood and tarps for the stone crews.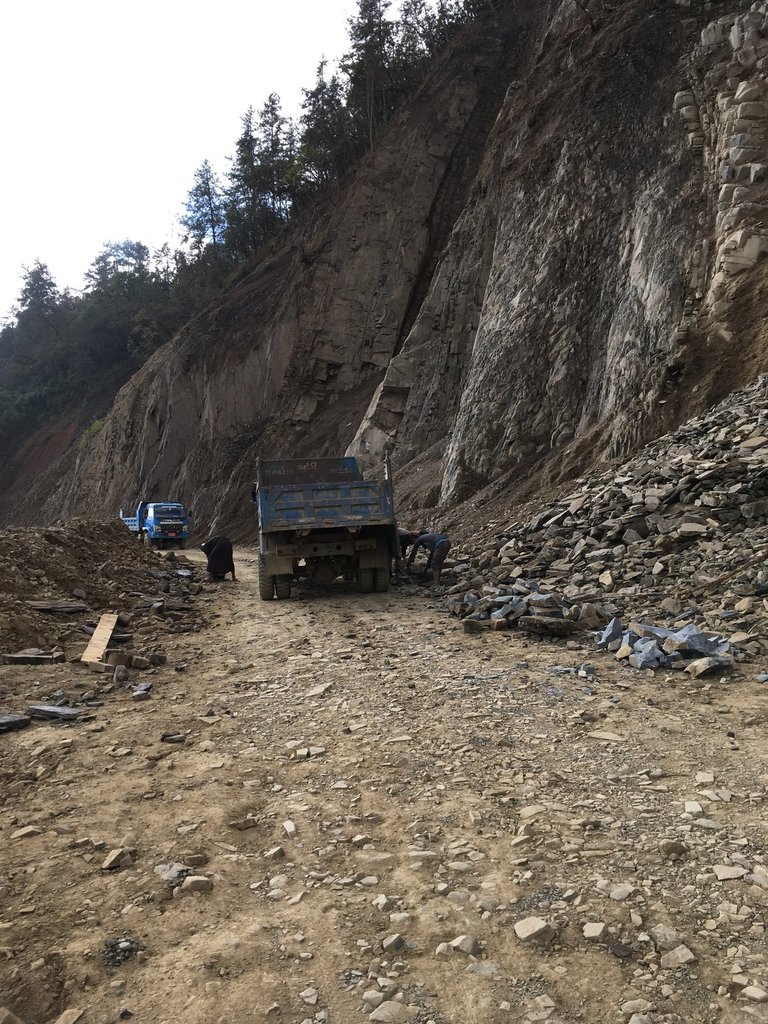 Villagers and work crews alike hack wood from the forest and use it to cook with and make fires for heating barrels of tar. The empty barrels are typically filled with stone and used as ballast in the retaining walls at the roadside.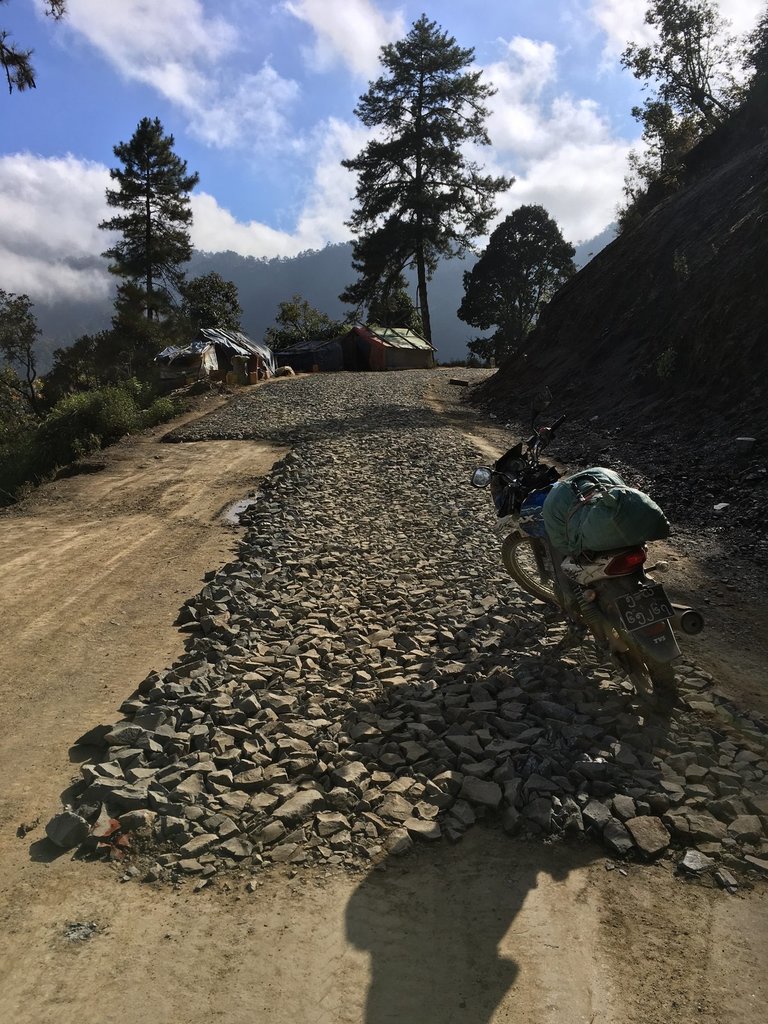 Riding the rock gardens and avoiding workers and equipment was just part of everyday riding here
What a goddamn mess they're making of the mountainsides!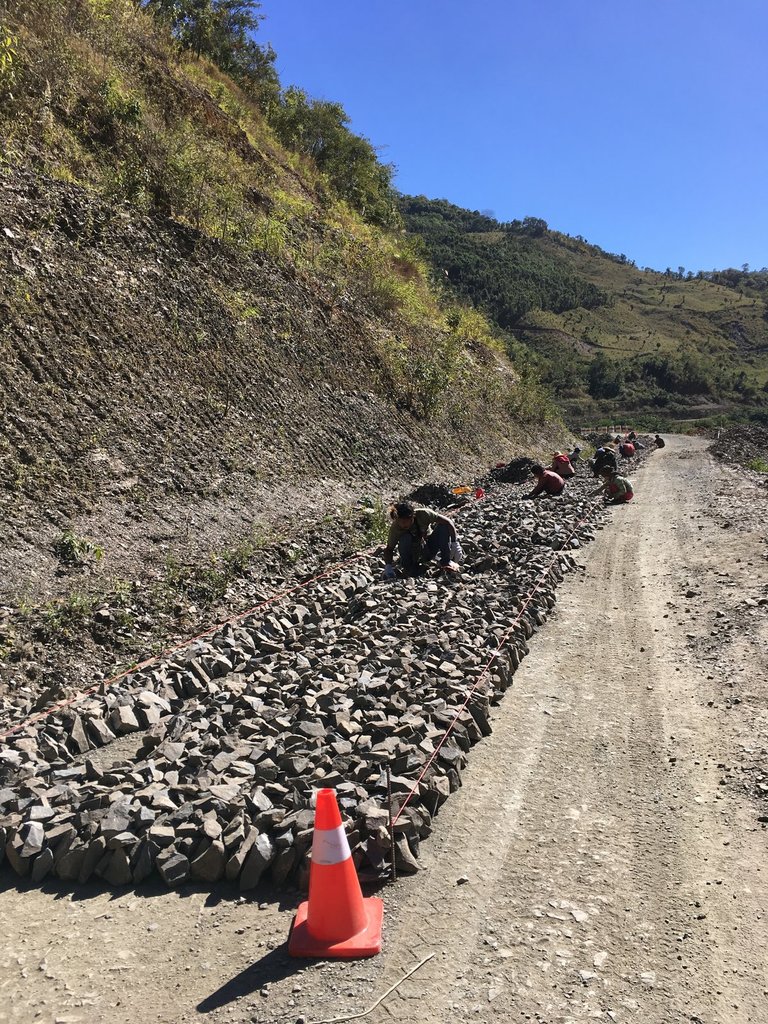 Side notes: Gasoline is everywhere, so never have to worry about running short on fuel. The same is true of beer. Online maps of this mountainous region are incomplete and sometimes simply incorrect. WiFi is not available so having cellular data is a must.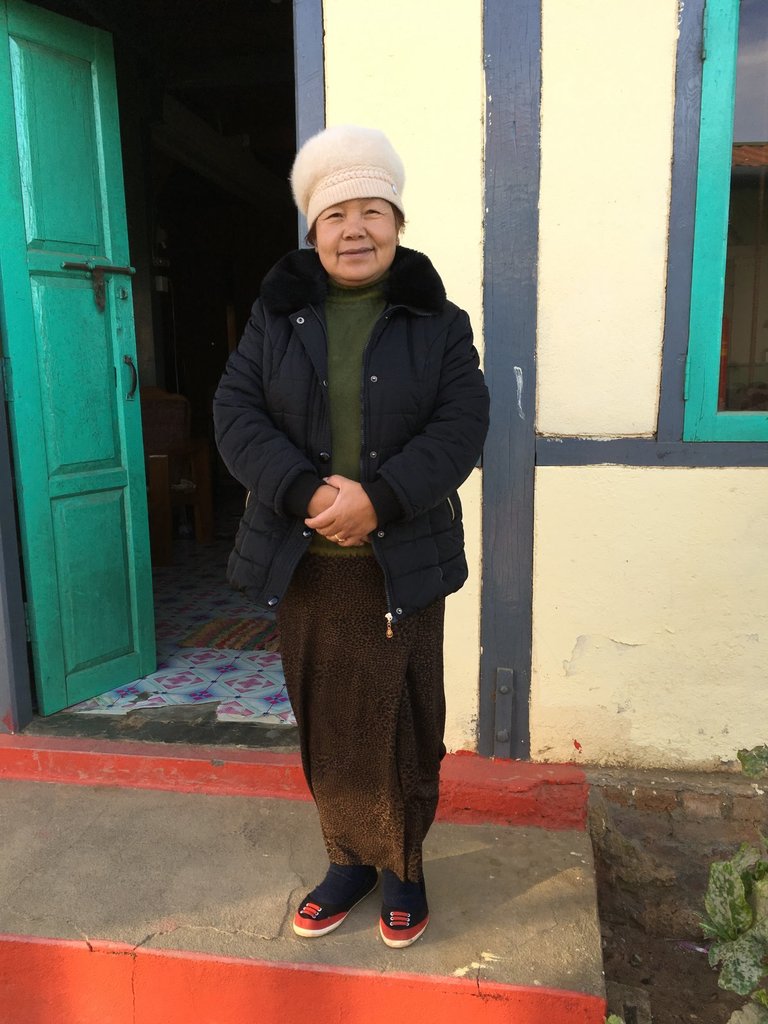 Owner of Hermon Guesthouse, Matupi
13th - Matupi to Kanpetlet.
Today I realized that much of the rock alongside the roadway is actually coming from the exposed terraced slopes above the road. Hollowed out cavities, ostensibly acting as small localized quarries are constantly being mined, never allowing vegetation to take root and act as a binder. Next seasons landslide waiting to happen.
At every turn in the road there is impending trouble - high probability of rocks in the road, a muddy wet track, moundings of loose granular rock dust - any one of a multitude of things that could buck you.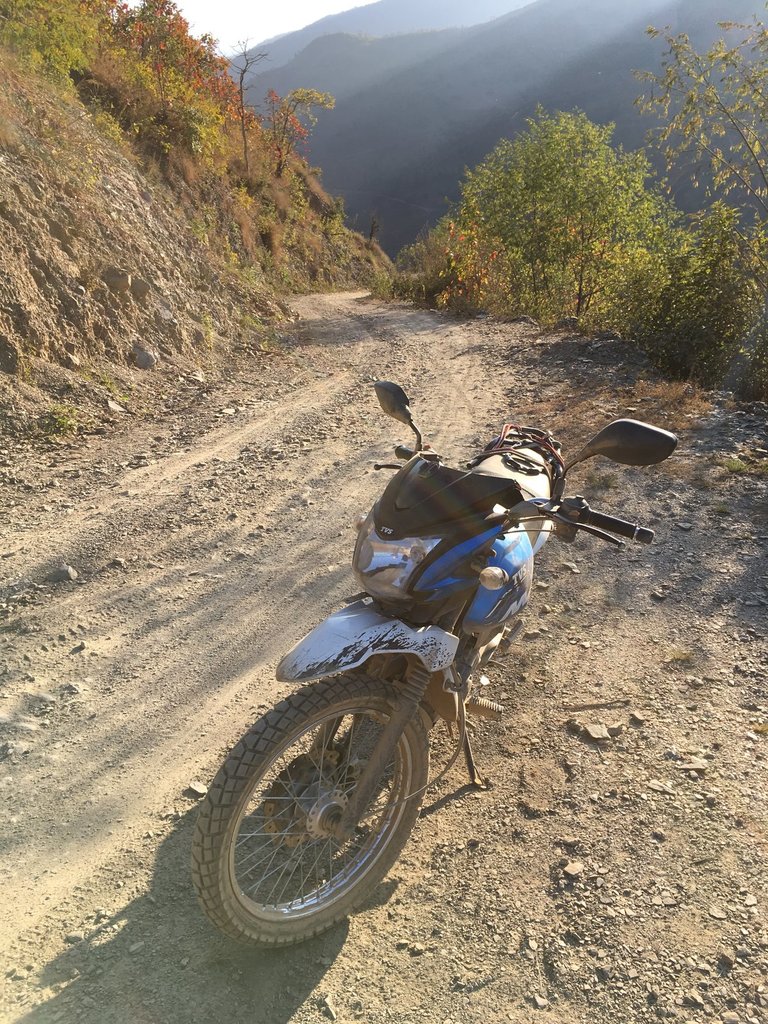 One cannot just look through corners and expect to cruise through. You must concentrate very carefully through all turns. Rockfall is an ever present and real danger. Landslides are a reality. Villages are either paved or in the process of laying another 6" layer of rock! 90 percent of the Chin Mountains are unpaved / unimproved. And these are National Highways we're talking about!
I still cannot fathom what is incentivizing these road building projects? Roads requiring monumental labor for what end? At this rate it will take 50 years to potentially complete, even if there weren't continued seasonal upsets in the form of rockfall, landslides and resource depletion. In that 50 years there will no longer be wood in the forest to burn, nor fuel for their stoves and tar heating processes!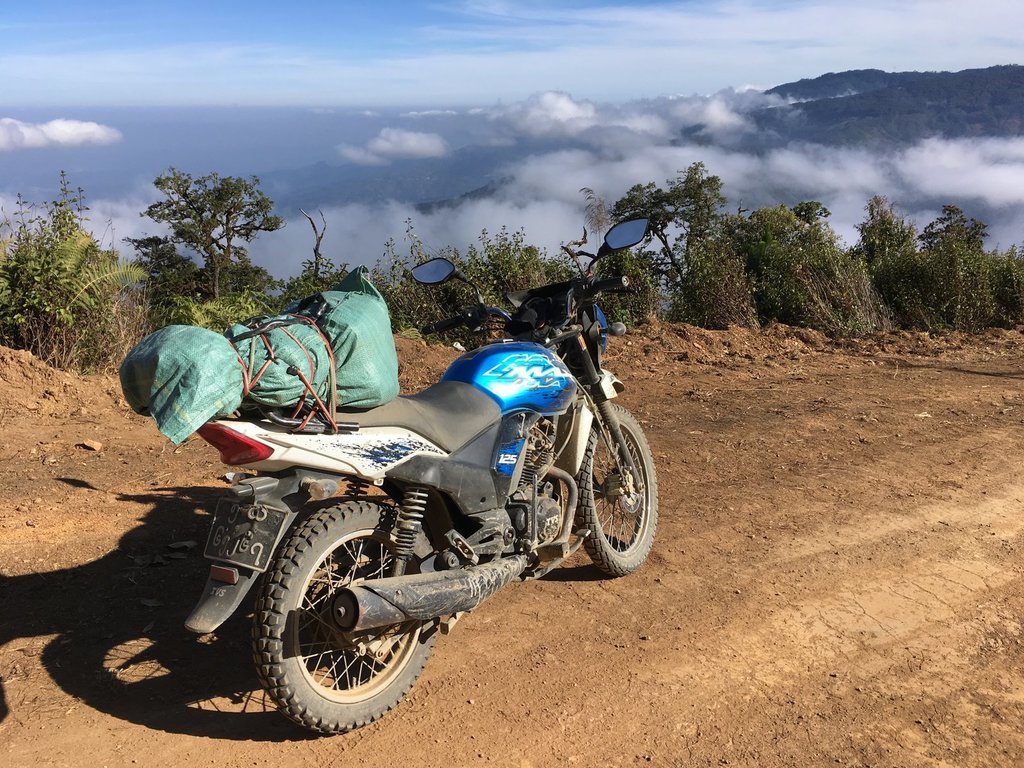 A good portion of today's ride felt like being in a rock quarry. Windy, exposed ridgelines with no trees to provide shelter and act as a wind break.
Tea served in thermos flasks can be found on every roadside restaurant table and its ostensibly free. The majority of eating establishments in small Chin Towns feature one dish only. It may be rice or noodle based, vegetable and often chicken or pork accompanied by a broth soup - you will not go hungry, though these towns are usually closed for business by 6pm. Most guesthouses do not offer food.
Last 40km into Kanpetlet was on paved road and a significant portion of the terrain from Mindat to Kanpetlet was through 'protected' National Park. Here a good chunk of the old forest remains intact and is just stunning. Many of the trees remind me of characters you might find in a Dr.Seuss book - all twisted and contorted and covered in moss and lichens with huge deep leaf green canopies.
On arriving in Kanpetlet, I checked in with the local police for assistance in finding an appropriate hotel for a foreigner. I was then shuttled back-and-forth through the village in search of something that was appropriate and within my budget. I finally settled on a wonderful place called the Mountain View Hill Resort. Being a solo traveler seems to have its advantages. The lovely couple who run the resort were kind enough to reduce their nightly rate for my stay. Tin, who managed the resort was also an officer with the Forestry Department and a Nature and Wildlife specialist who just happened to speak very good English. Finally, I had someone with whom I could speak to and converse about some of the things I had witnessed and experienced over the last week's journey through the Chin Mountains.
Tin was more than happy to openly and frankly answer all my probing questions, most of which related to exploring why the roads were being built and why the forest was disappearing so rapidly. What a wonderful exchange we had and he was equally as concerned and dismayed at the alarming rate of natural resource degradation.
And to top things off, dinner that evening was sumptuous, as was breakfast the next morning. In all, my stay at Mountain View Hill Resort was exceptionally positive and memorable.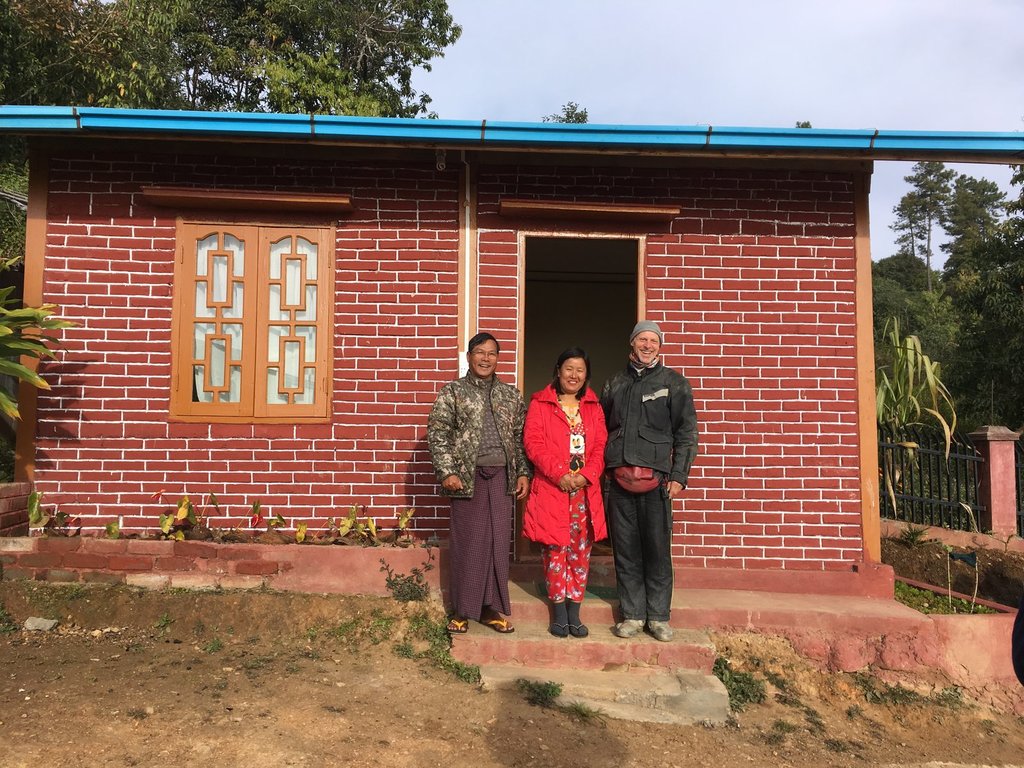 14th - Kanpetlet to Magway
How nice it was today to leave Kanpetlet well fed and coffee'd up, in fine spirits and accompanied by beautiful weather. It was literally all downhill from here on good tarmac roads, which were a joy to ride after the last weeks very trying conditions.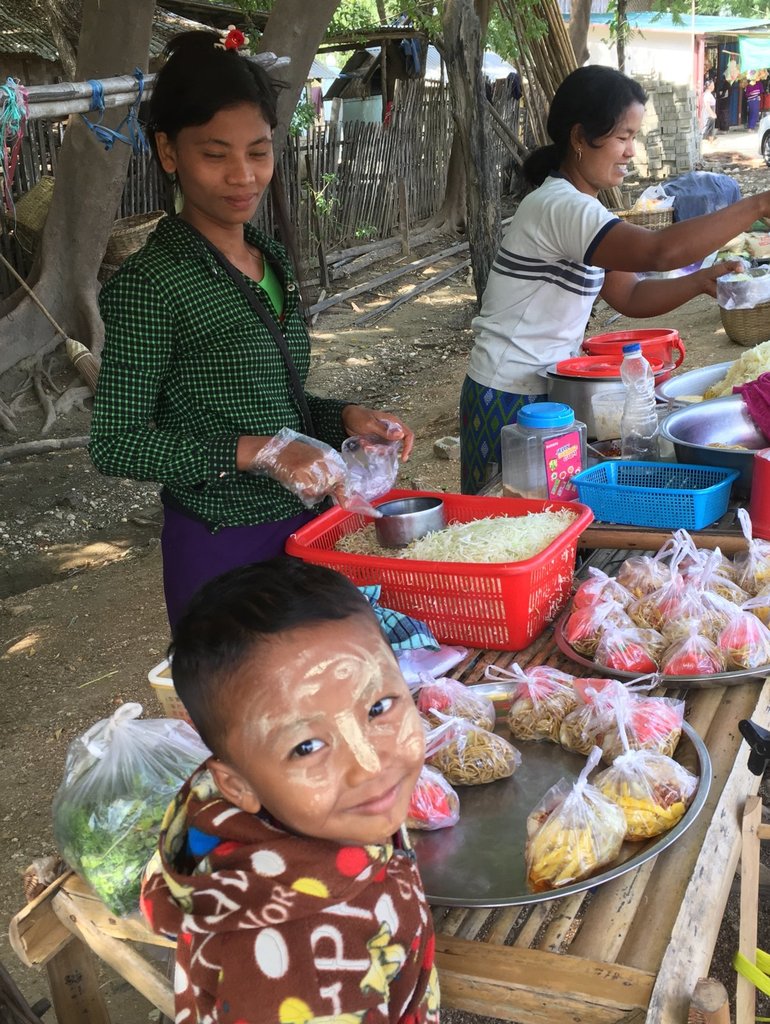 Roadside food vendors and lots of smiling faces
Entering the lowlands and flat plains that led to Chauk, I felt a sense of relief and euphoria. I had survived the rigors of the Chin Mountains and was now enjoying warm air flowing through my helmet on empty country roads that flowed effortlessly through the gentle land.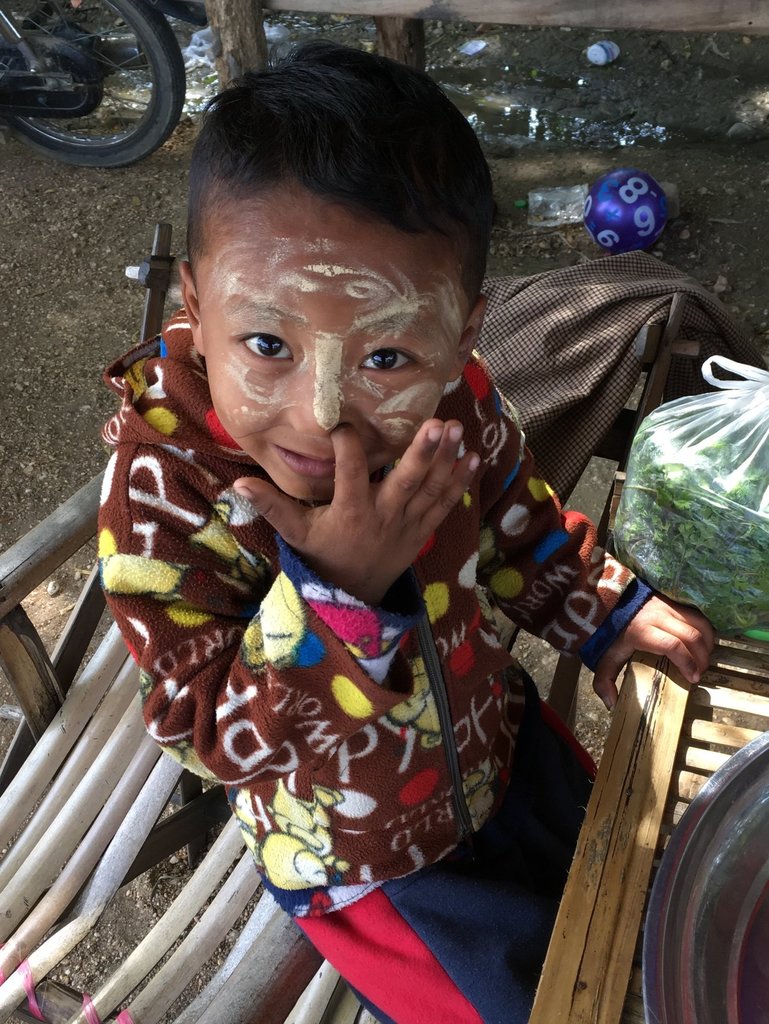 I stopped at a roadside stand in the middle of nowhere in need of a brief refrain from being saddled bound and perhaps a cup of sweet tea.
The father and son who ran this small family business spoke not a lick of English and of course I speak no Burmese either, so communication was very difficult and challenging at first. I was about to give up and leave when I decided to just go with the flow, sit down and have a cup of tea.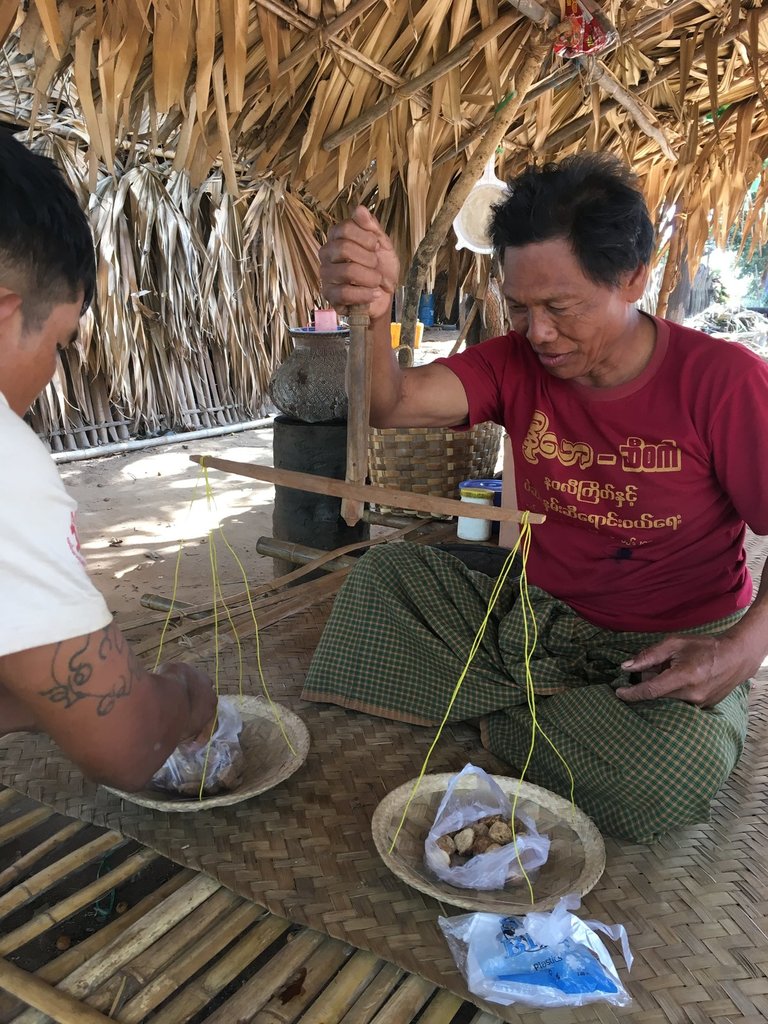 Initially, they kept proffering all sorts of prepackaged food products on me, of which I had no interest having just eaten lunch a short while ago. But slowly things unfolded in a very organic way and we became more comfortable with one another.
On showing an interest in their small farming operation, both men really warmed to me.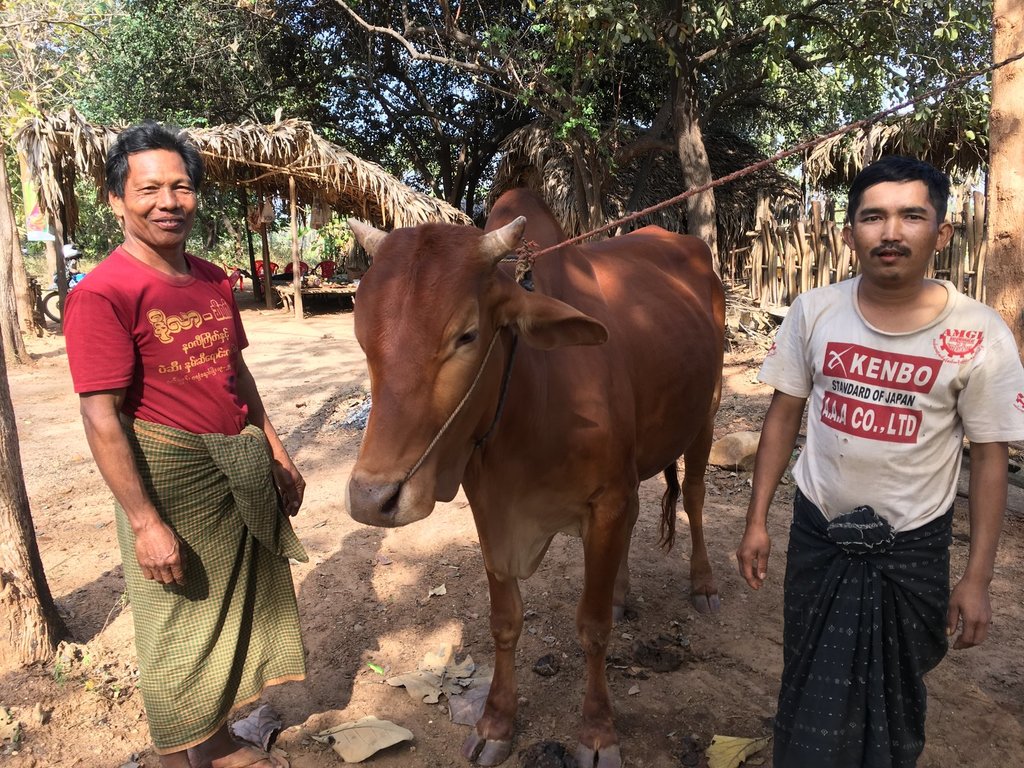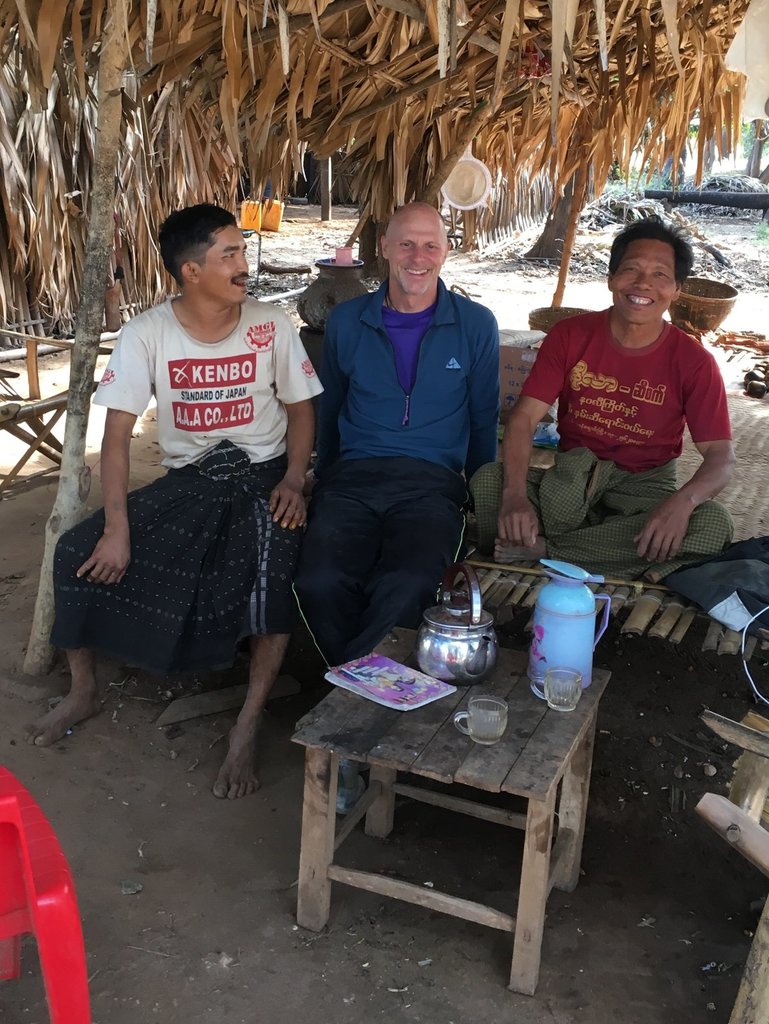 I got a tour of the place, saw how things were produced, met the cows, bought some of their sweet berry products. I probably passed an hour with these guys and thoroughly enjoyed the limited dialog and game of charades.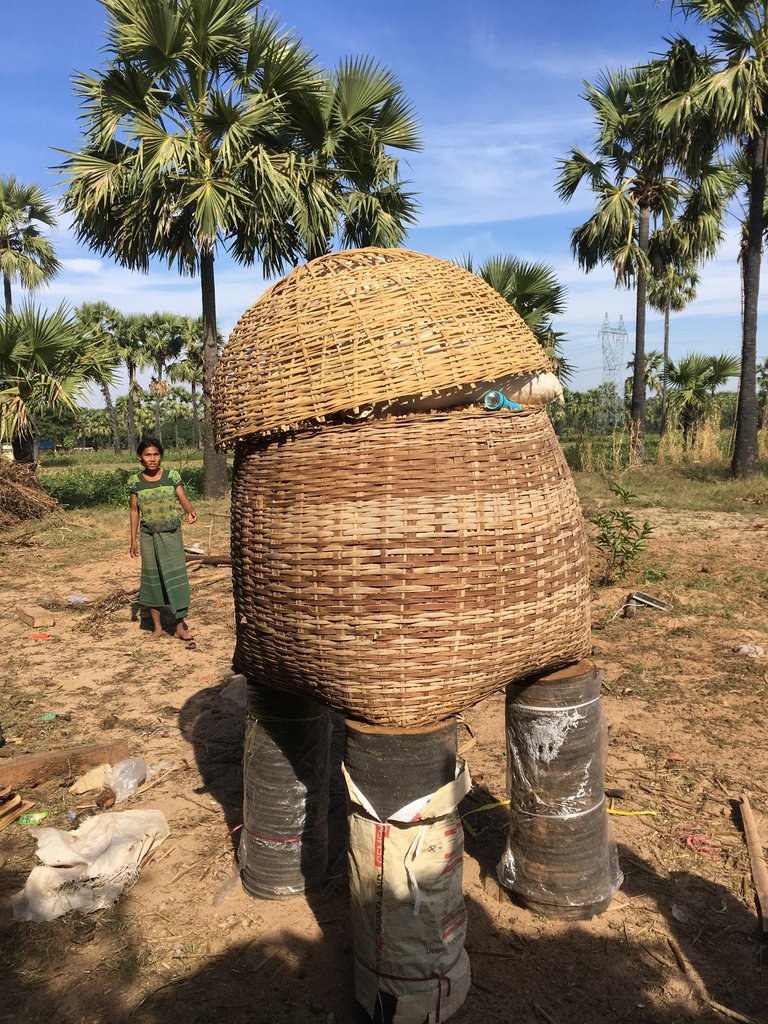 Warehousing peanuts
Riding through a vast swath of land between Chauk and Magway that clearly had been deforested in the past was now replanted with young trees as far as the eye could see. Clearly some entity is taking the initiative and I was really happy to see this transformation and re-vitalization of the land. There is hope!
Bubbling mud pools, Magway
Magway is situated on the banks of the Irrawaddy River and boasts a couple of large, impressive pagodas. Accommodation is readily available.
Once out of the mountains WiFi returns as a staple offering in hotels and guest houses.
15th - Magway to Naypyitaw.
What a wonderful route this is through bucolic farmland and rolling Hills all the way through to Naypyidaw.
From Magway the road follows a due easterly direction through the small intersection of Myothit and straight on. The first half of this journey is through some very productive agricultural lands, where ox-drawn carts are predominantly the mode of transport and otherwise traffic is minimal. The good roads and lack of traffic make this an attractive alternative route to the main highway and a wonderful and enjoyable motorcycle ride for a warm day. As you enter the rolling hills where the road takes on a southerly course, it's bamboo and teak plantations that dominate the vistas.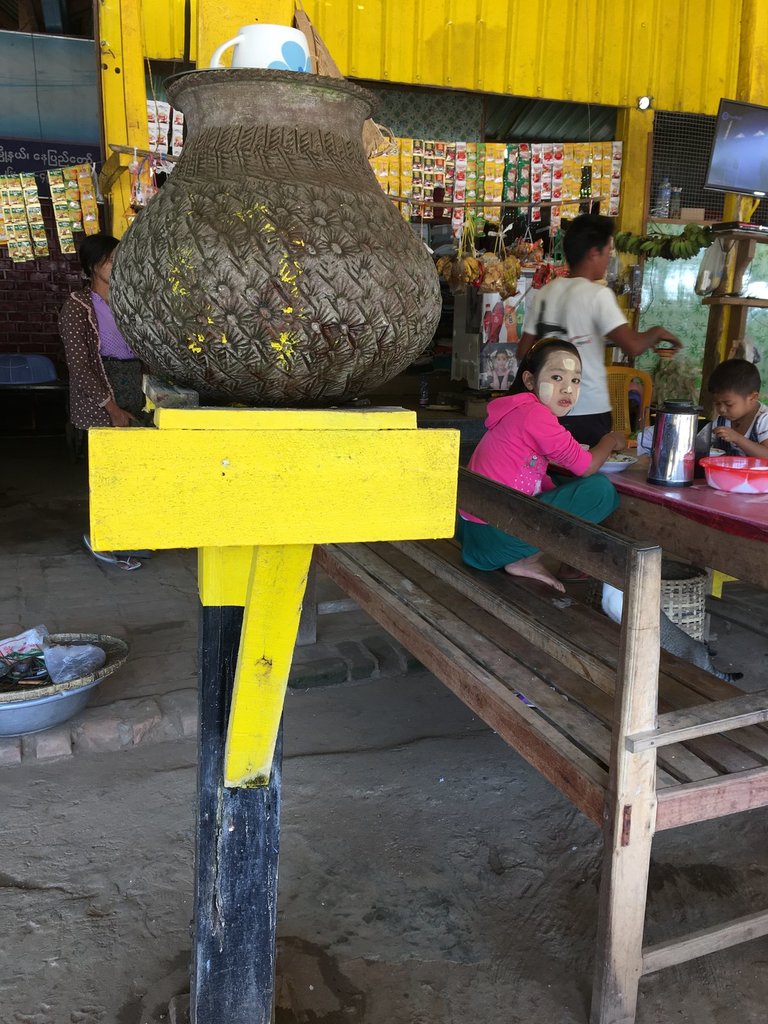 Lunch stop
Naypyidaw is like a ghostly movie set. It gives you the sense that something's not quite right and anyone who is there is a complicit component of the plot, dutifully playing their part.
Nothing in the layout and character of Naypyidaw spoke of things Burmese.
Perfectly manicured grass on median strips, watering trucks out and about. Roads in pristine condition. Not a drop of litter anywhere. Trees and shrubs well tended, no hacking of branches or fallen debris, not so much as a leaf on the ground.
There were no animals in the streets, no dogs roaming around, chickens scratching in the dirt, people sitting at the roadside, vendors selling food, dust in the air, sidewalks in disrepair. It has tried very hard to replicate a more Western style city and it feels sterile.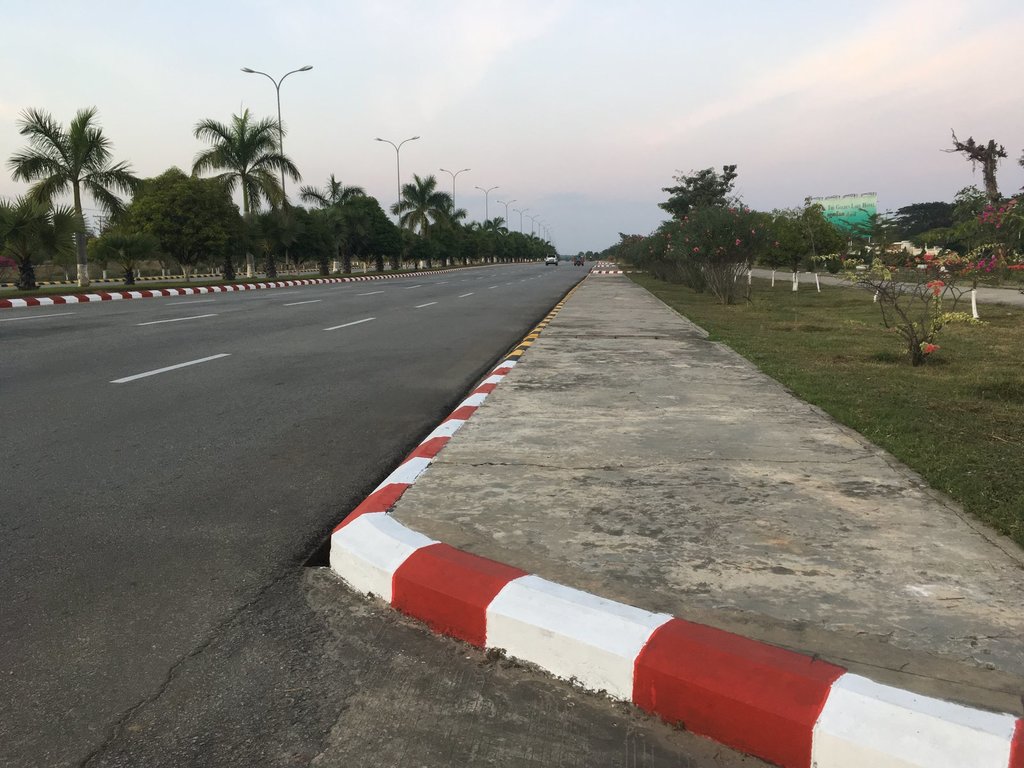 The only people you see around are police guards at sentry stations at major junctions and the occasional person sweeping the street (of nothing much because it's already clean). The main street that leads past the Parliament building and government offices (of which you cannot go anywhere near) is 8 lanes wide in both directions with no median strip separating the two. It's wide enough and sufficiently unused to land a 747 unannounced without causing collateral damage!
I believe this gargantuan roadway was probably created more as a staging area for parades of military prowess than to ease concerns of traffic congestion!
Though the town appears almost empty, with its sprawling boulevards, wide sidewalks and manicured trees and green spaces, I felt very uneasy and vulnerable, as if my every move was being monitored. After all, I didn't see another westerner the entire time I tooled around town and my presence must have been somewhat obvious.
Tree's seemed to be strategically utilized as visual screens or barriers, masking what lay behind, to which you were forbidden entry.
The hotel that I stayed at sits adjacent to one of these wide boulevards along with what seems like hundreds of other huge hotel developments either side of the road. No obvious signs of a robust tourist trade existed and clearly the majority of these expensive investments were not busy at all. I think I may have been the only customer staying at the hotel.
The Market was the only thing that seemed real in Naypyidaw. It's an active focal point in the otherwise sterile city, an anchor of normal everyday Burmese life.
If it weren't for the fact that I arrived here around 2 PM and did not have sufficient time to make it to my next destination before dark, I would never have elected to remain here. That said I enjoyed the amenities of a nice spacious and clean room with hot water and Internet.
16th - Naypyidaw to Loikaw
Once out of Naypyitaw I could relax once more and enjoy the route's incredible scenery. It takes you high up into the forested mountains, peers down into the Lake Pekon Valley area and offers some fun riding down the twisty sealed roads into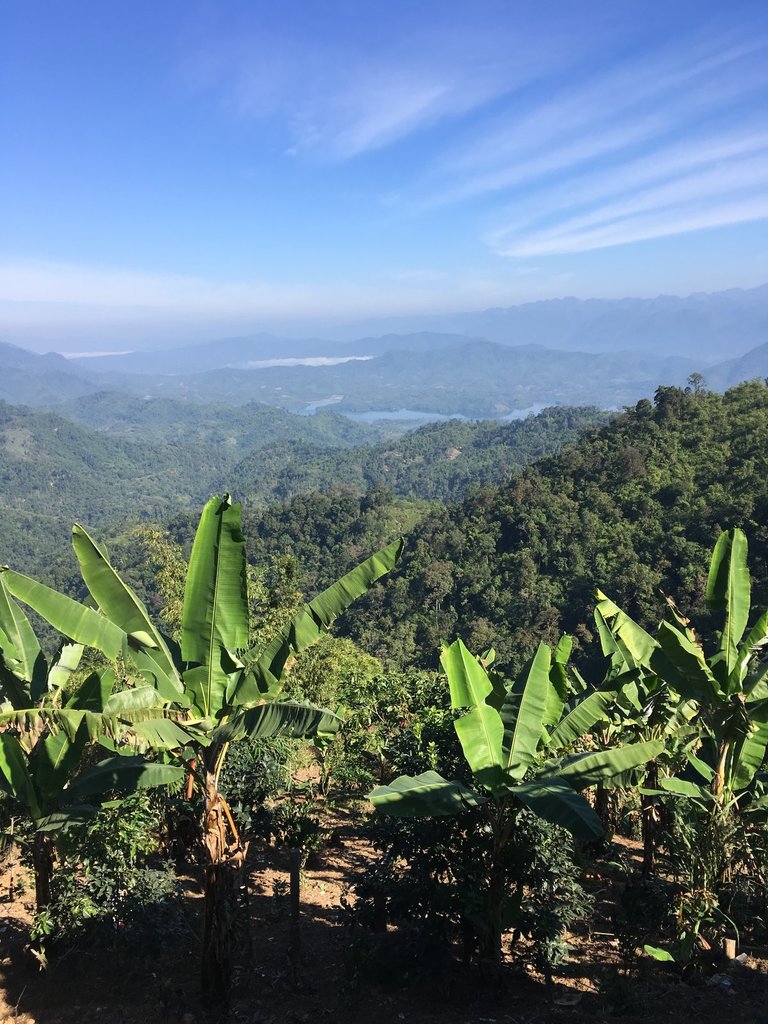 Lake Pekon in the background
This was a very enjoyable ride and Loikaw city has abundant accommodation (though nothing to be found under $35 per night and definitely the most expensive place I stayed in all Myanmar). It's a popular tourist destination for locals and foreigners alike and an auspicious Buddhist pilgrimage site.
Chilli's drying in the sun
Loikaw
Several impressive temple pagodas are perilously perched on top of rugged limestone karst formations that rise abruptly from the cityscape and are undoubtedly the main attraction.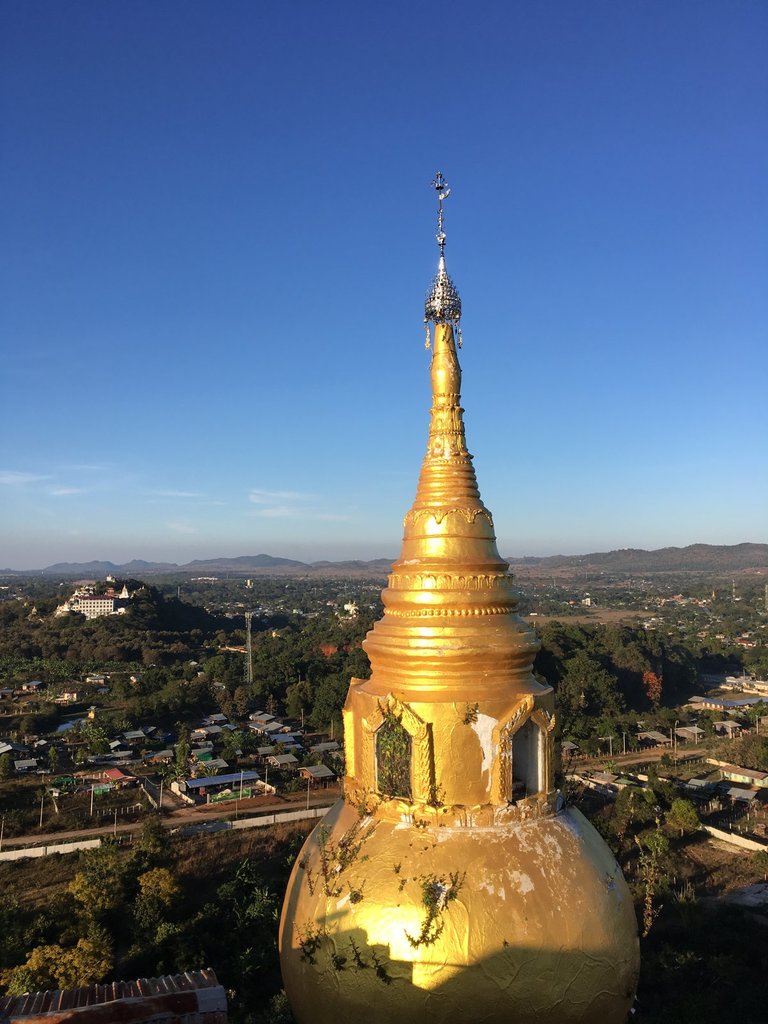 Loikaw cityscape
Main city temple perilously perched on a huge rock outcropping
17th - Loikaw to Pindaya
The day is cool but beautiful. Clear blue sky's overhead and an air of optimism. I take a series of backroads avoiding the highway and follow a route through beautiful flat farmland on the eastern flanks of Lake Pekon.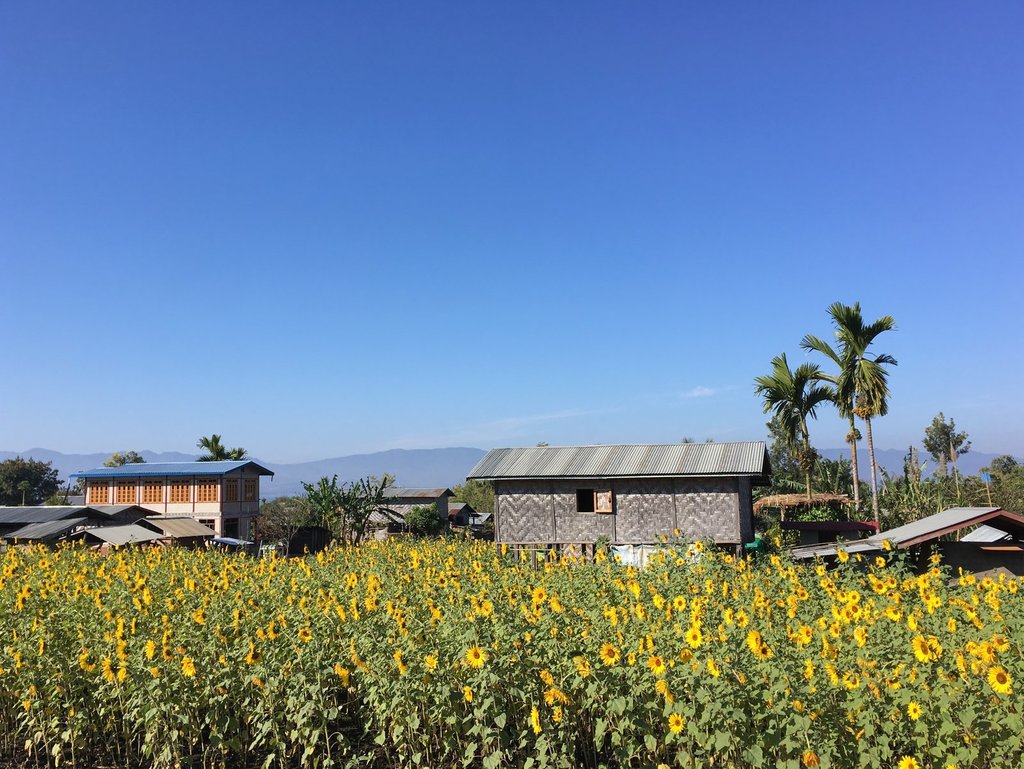 Small villages are interspersed between fields of corn that has been harvested and the standing plants now showed signs of seasonal wither, awaiting removal by hand. Only stubble remained where the rice had once stood in what was now dry paddies. Bright yellow fields of sunflowers added splashes of vivid color and complimented the intense red ochre earth.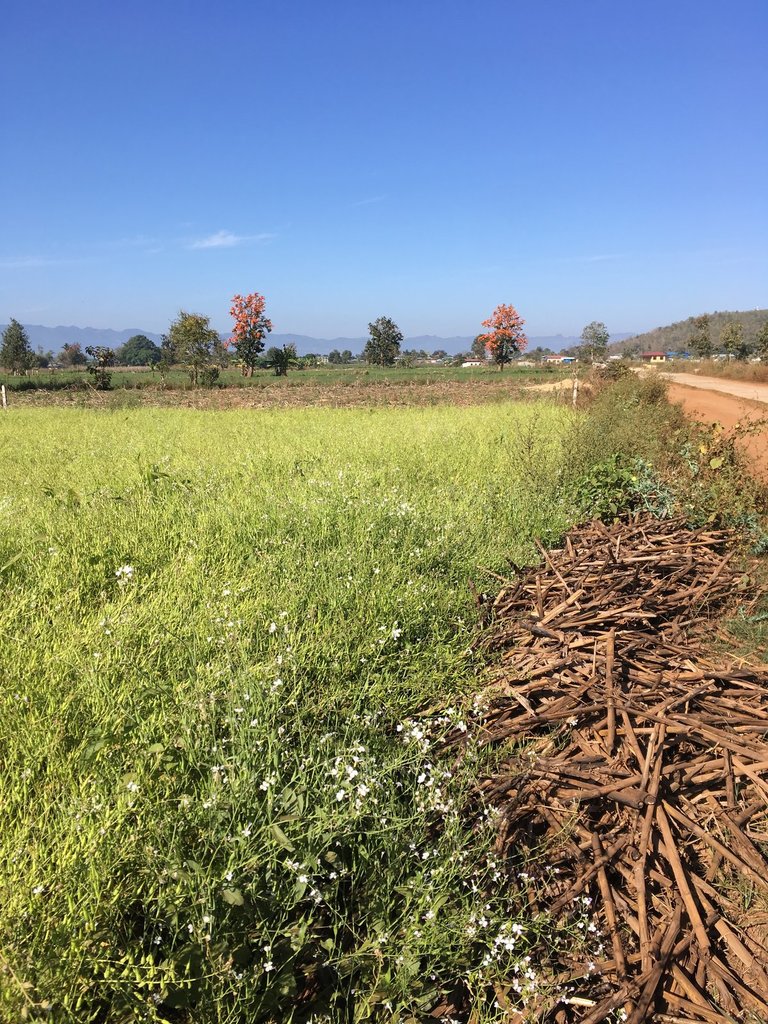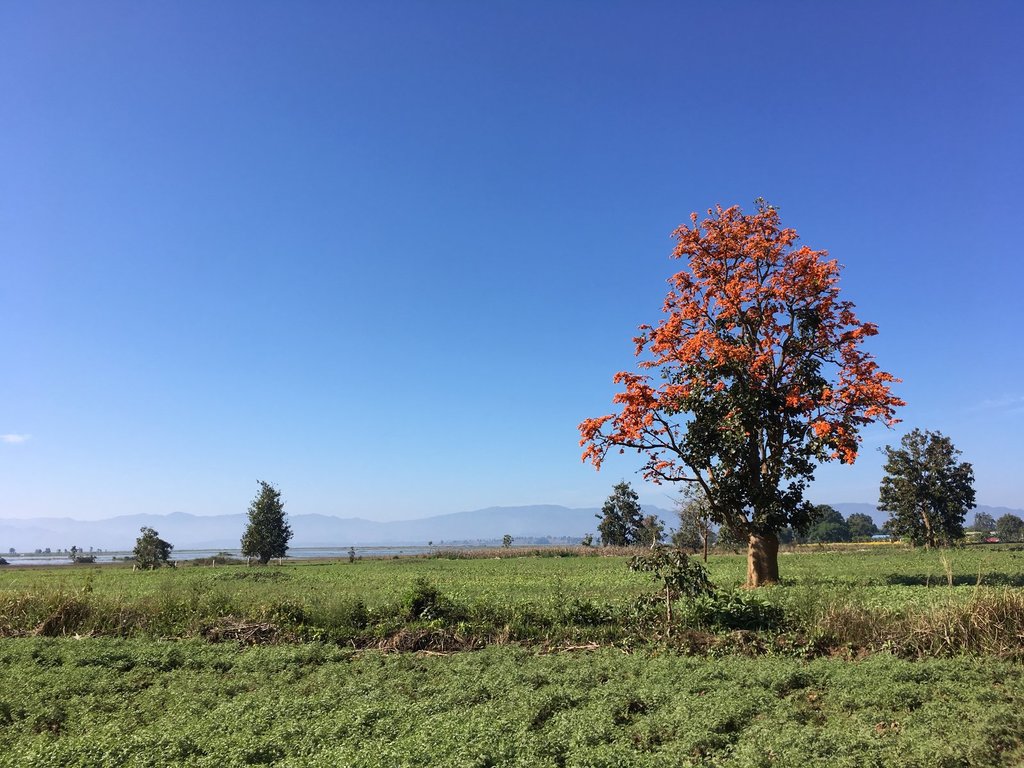 One small village sported a large open green space with well tended grass and football goal posts either end. Next to this was a church painted coral pink.
Abundant corn is harvested by hand using machetes, separating the ears from the stalks which are bagged for market, while the remaining plant gets mulched down, leaving large piles of compostable debris.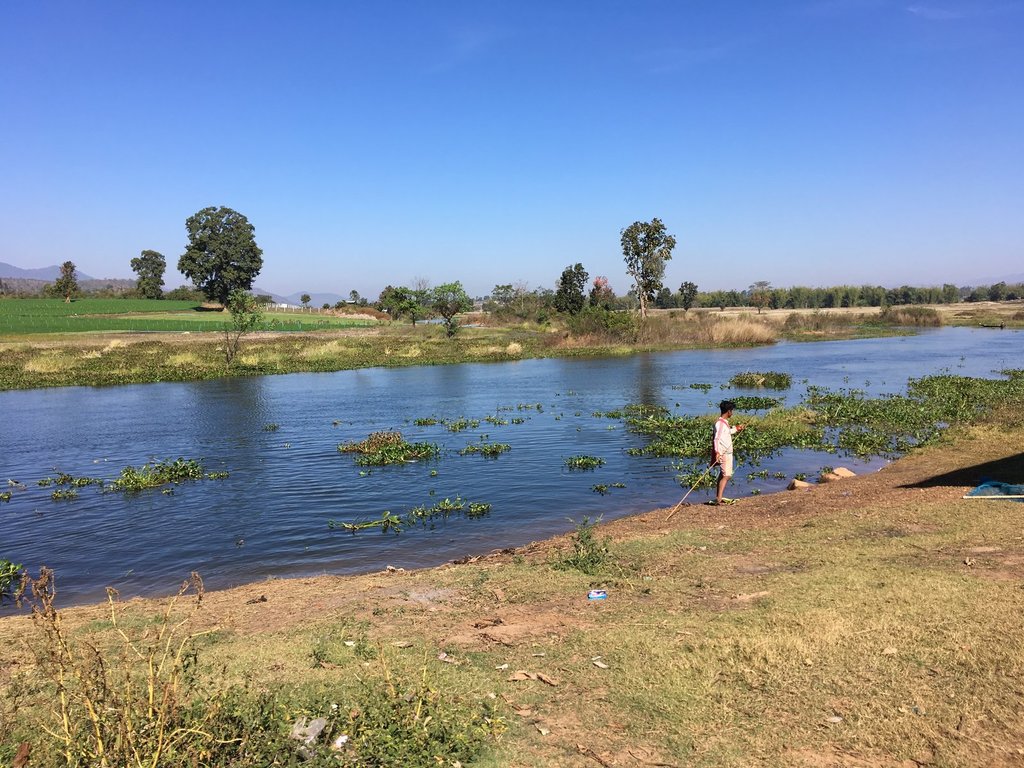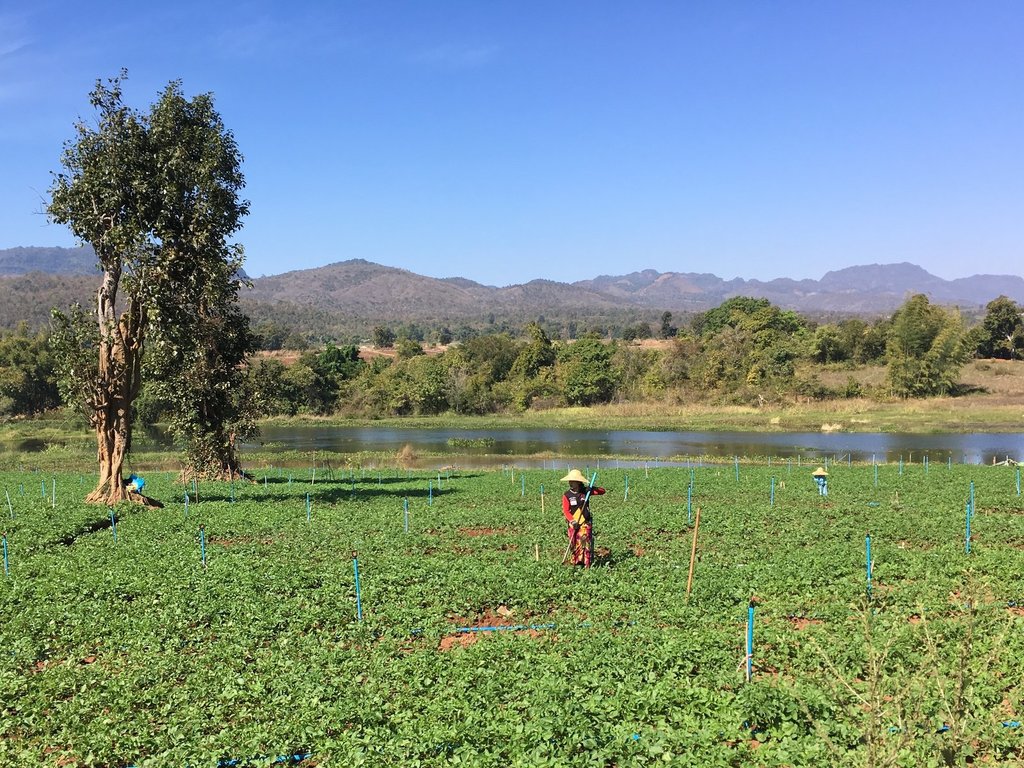 The lake and waterways off to my left are utilized by boat traffic probably for transportation of goods and people between villages. The farmland adjacent to the water is exceptionally productive and grown here are home tomato, scallions, eggplant, bright yellow and white mustard plants, carrots, garlic, chili peppers and cabbage to name a few that I could identify from the saddle.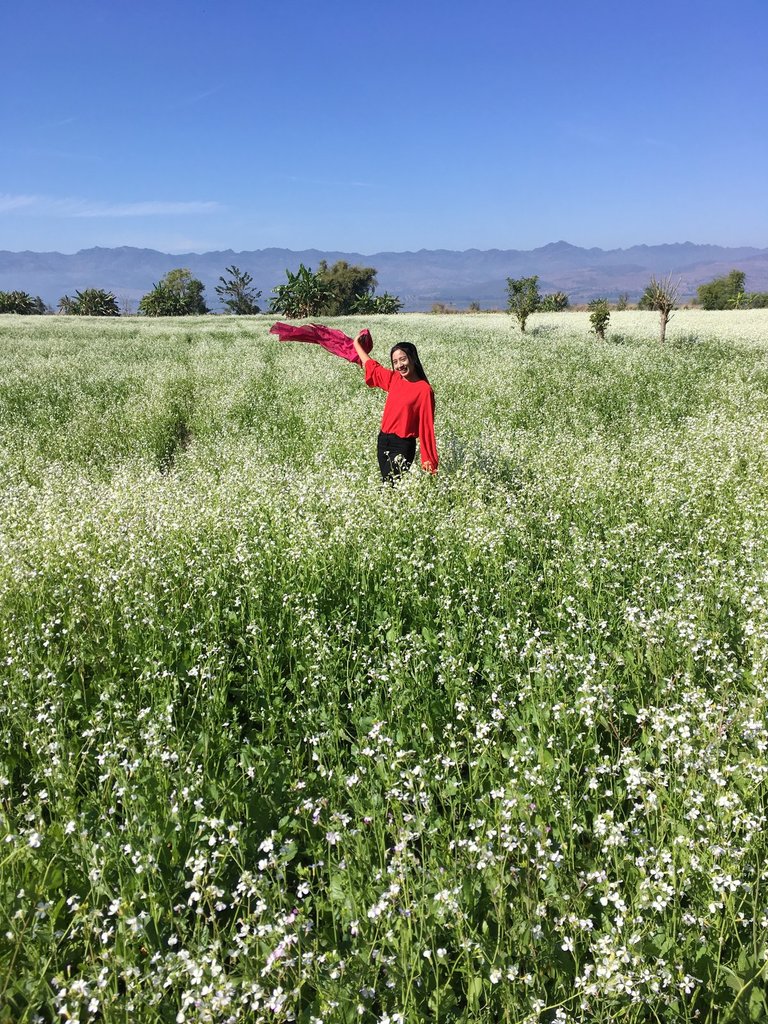 Banana plantations, bamboo groves and fields of sugarcane begin to proliferate the closer one gets to Lake Inle. The road turned to dirt and gravel for probably a 20 km stretch but otherwise it's a super backcountry alternate route up to Inle Lake from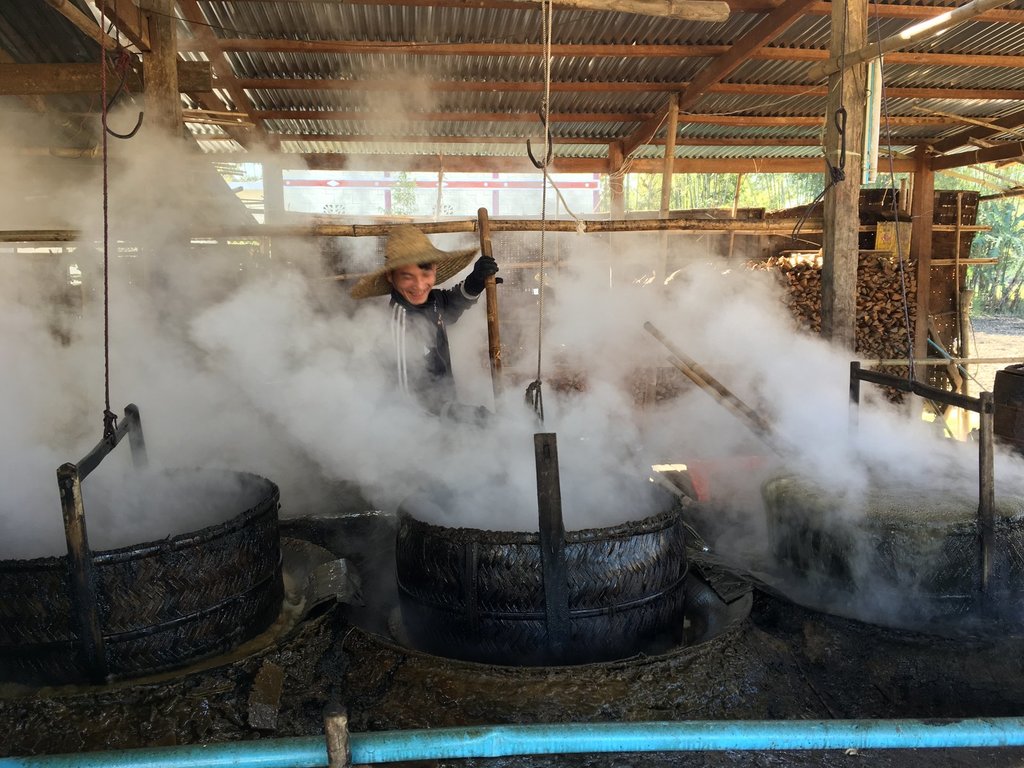 I stopped at a sugar cane reducing facility where they would crush the cane and extract the juice and run it through a series of fats to reduce the sugars. The crushed canes are then used as fuel for the fires that heat the vats. The final reduced product is spread out and cooled into layers of product that are about half a centimeter thick then scored and stacked in blocks. The resultant solid sugar blocks are absolutely delicious. There are many of these sugar reducing facilities along the south end of Inle which unfortunately put out a lot of black carbon into the air and there's a distinct smog layer that can be seen from a distance.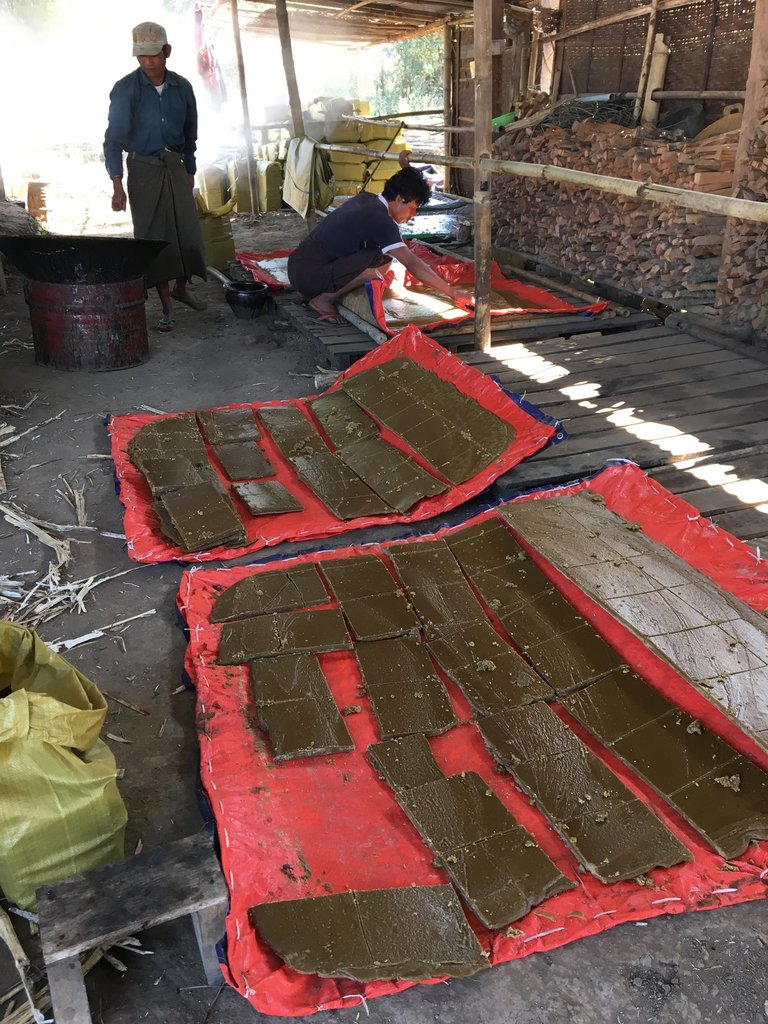 Continuing on past Lake Inle which is nothing more than a highly commercialized and heavily touristed. It's hard to see the actual lake from the road as most of the viewable areas are walled off from sight by high end hotel developments.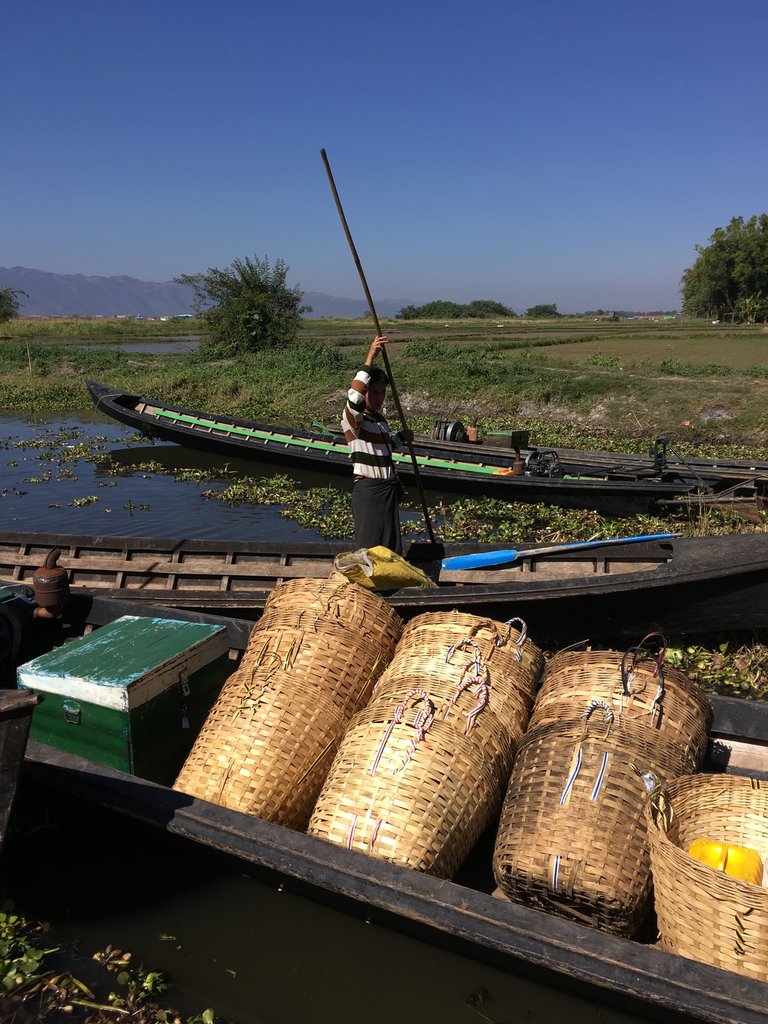 The new highway into the north end of Inle Lake is exceptionally pristine and emphasizes the focus on tourism and customer satisfaction. No high roller likes sitting in a tour bus on a bumpy country road!
Clearly there's money and resources available for pet government projects, but I have also seen aspects of life here in Myanmar and conditions that are far removed from the impressionable eyes of most visitors. Myanmar is definitely a land of contrasts, but I have to say it's full of some of the nicest people you will ever meet and that warms the heart and gives you hope.
18th - Pindaya to Mandalay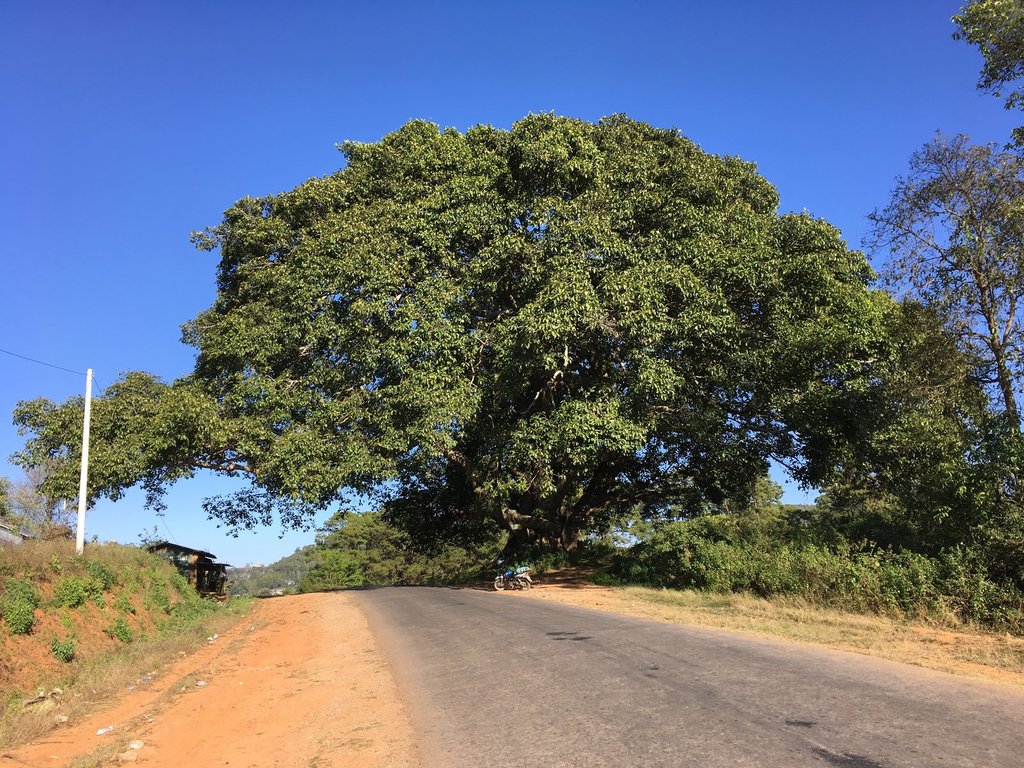 Huge tree in route to Pindaya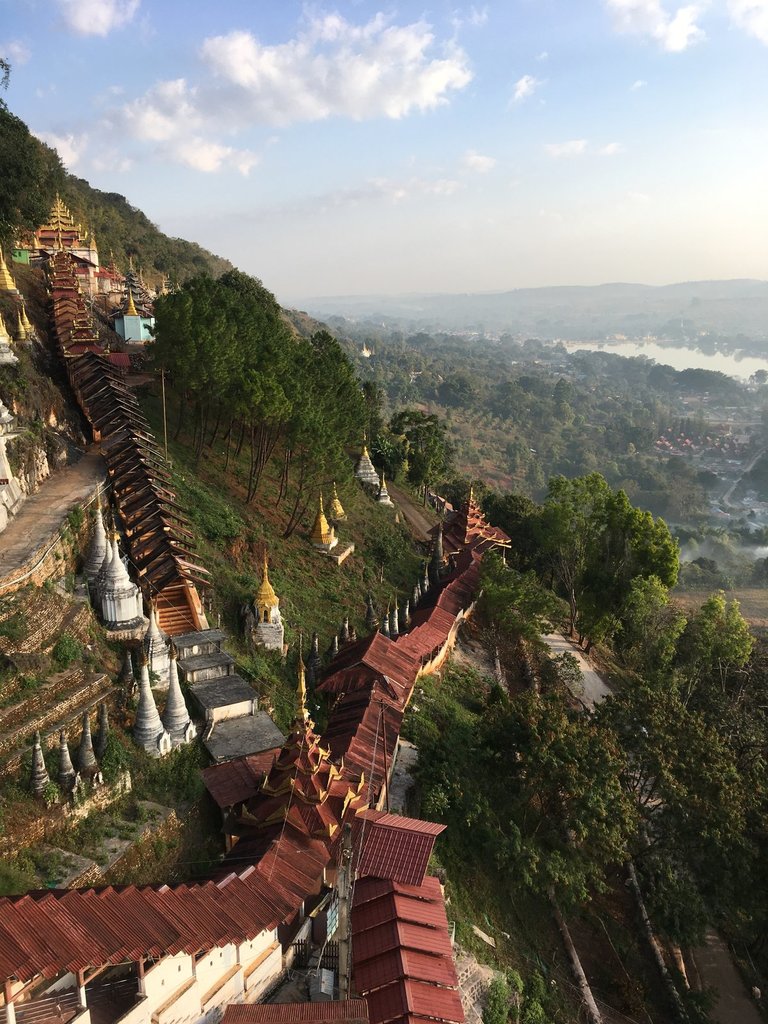 Covered walkway approach to Pindaya Cave
Pindaya is a couple of hours ride north of Inle, through some gorgeous countryside and very enjoyable roads. It's an exceptional place in many ways and one of the highlights of this journey.
Sunrise and breakfast at Mountain View
I stayed at Mountain View Guest house, a wonderful family operated business that treated me like family.
Not only was the hospitality great, the food too was exceptional. The picture frame window in the spacious dining room looked directly out on to Pindaya Cave also known as the 'Golden Cave' for the nearly 9000 golden Buddha statues inside. It's easy to become overwhelmed and a little jaded after a while by the sheer volume of Buddhist temples, pagodas and religious sites in Myanmar, but this one is truly captivating. The 2 million year old cave was discovered in the 16th century and has been a site of pilgrimage and homage ever since.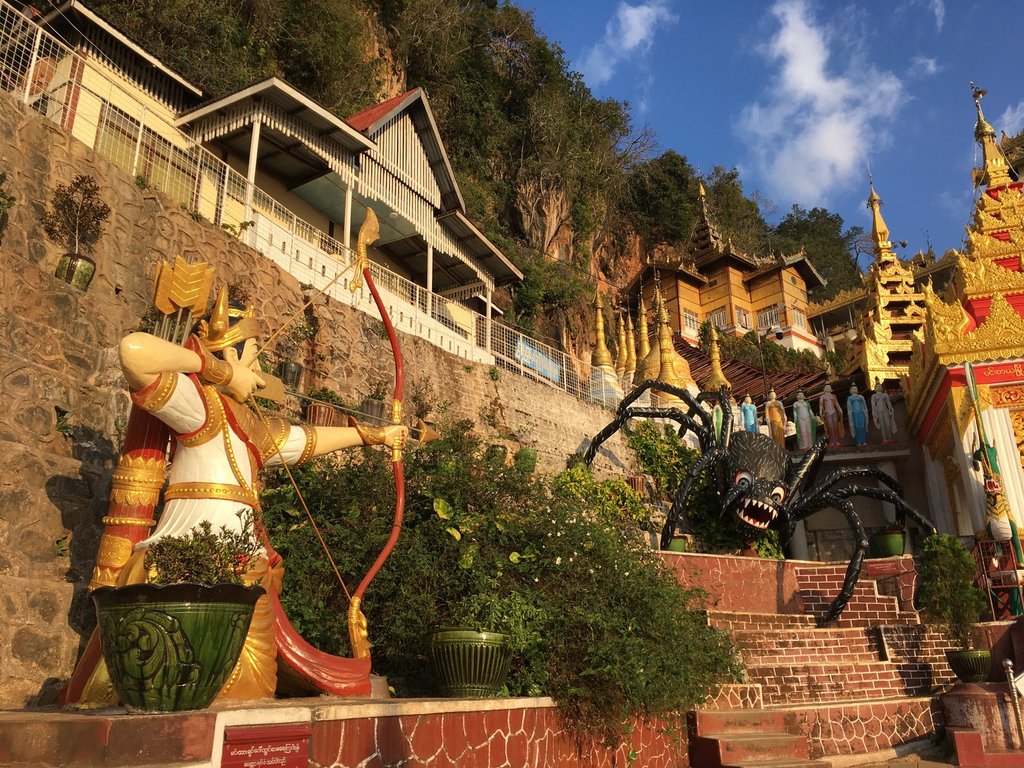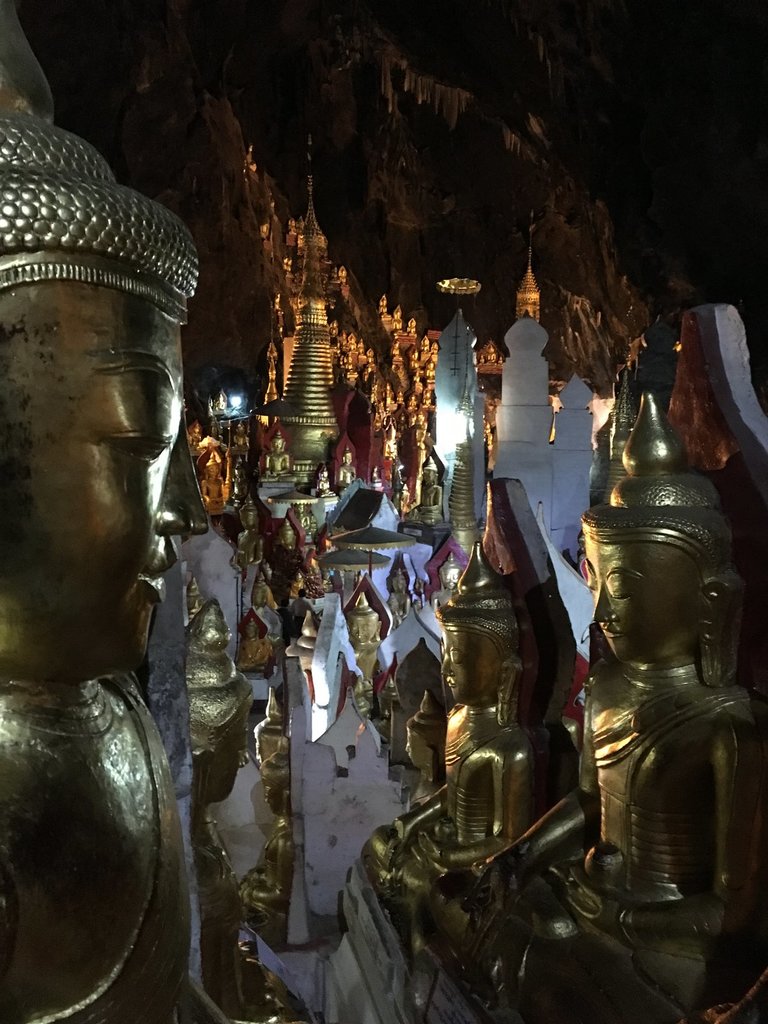 Inside Pindaya Cave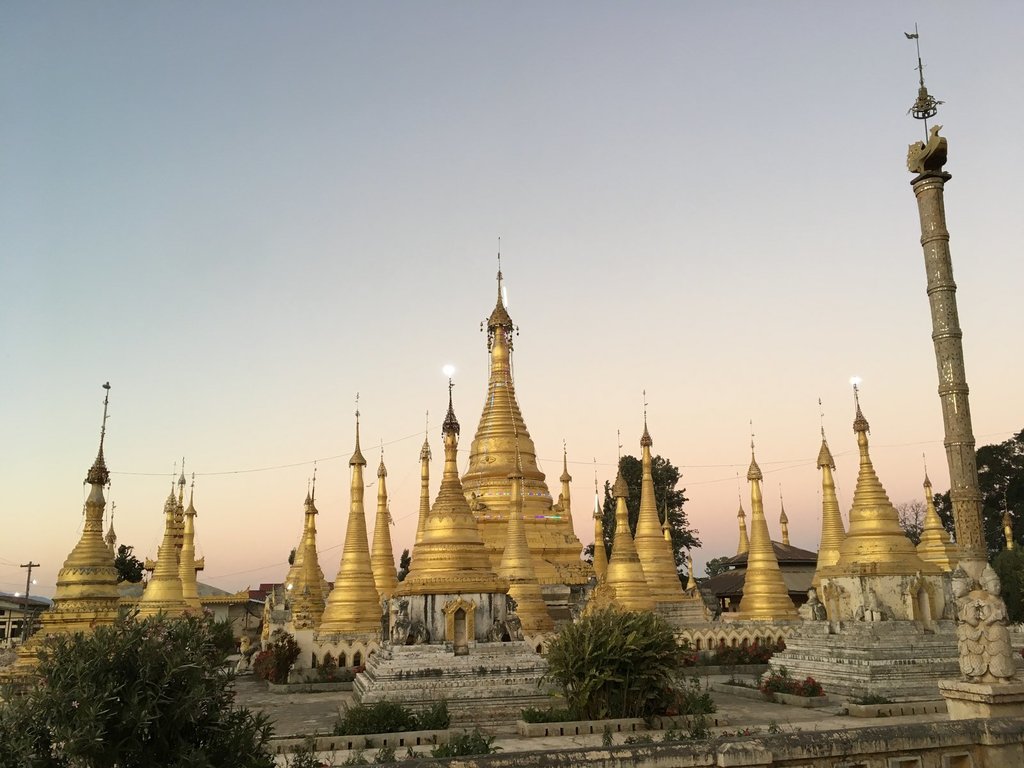 Main temple complex next to the lake in Pindaya
Pindaya is also renowned for its preservation of heritage trees. Next to the lake around which the town is centered is a large open park area that is filled with some of the biggest and most impressive banyan trees I have ever seen. It's simply a stunning place, shaded and cool yet spacious, a natural cathedral.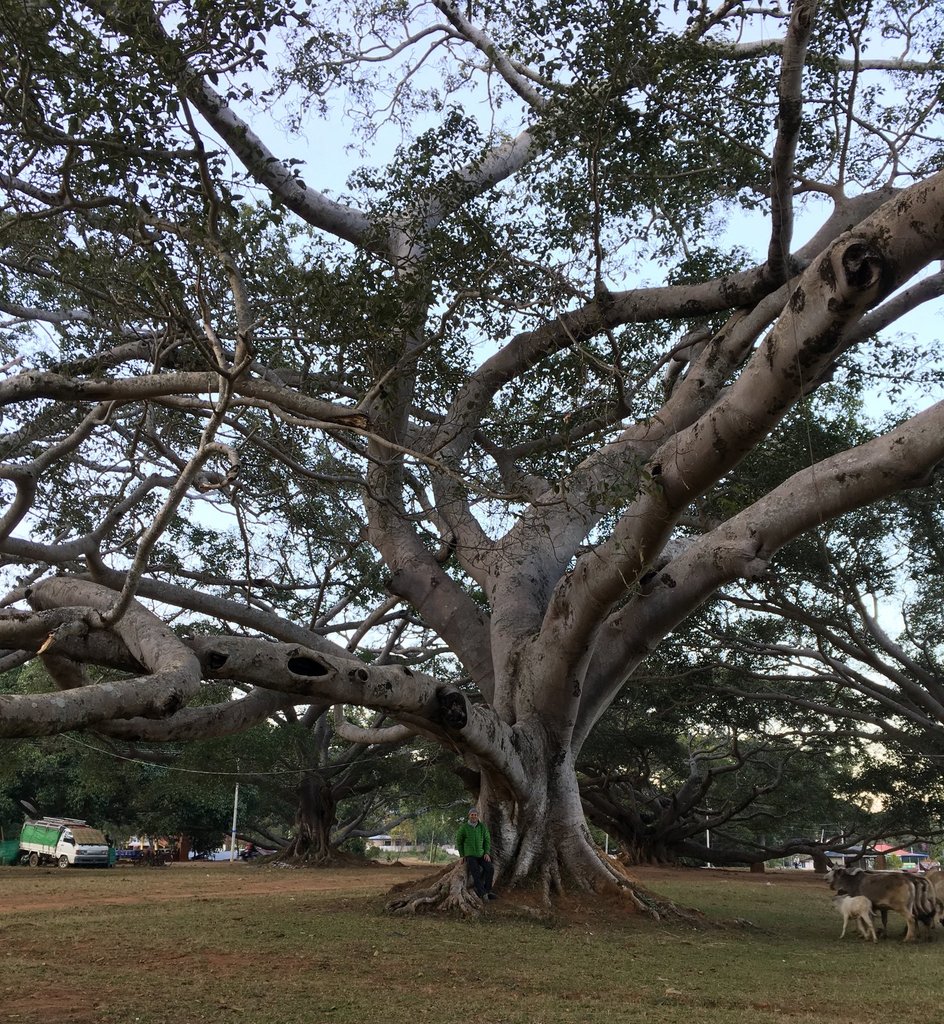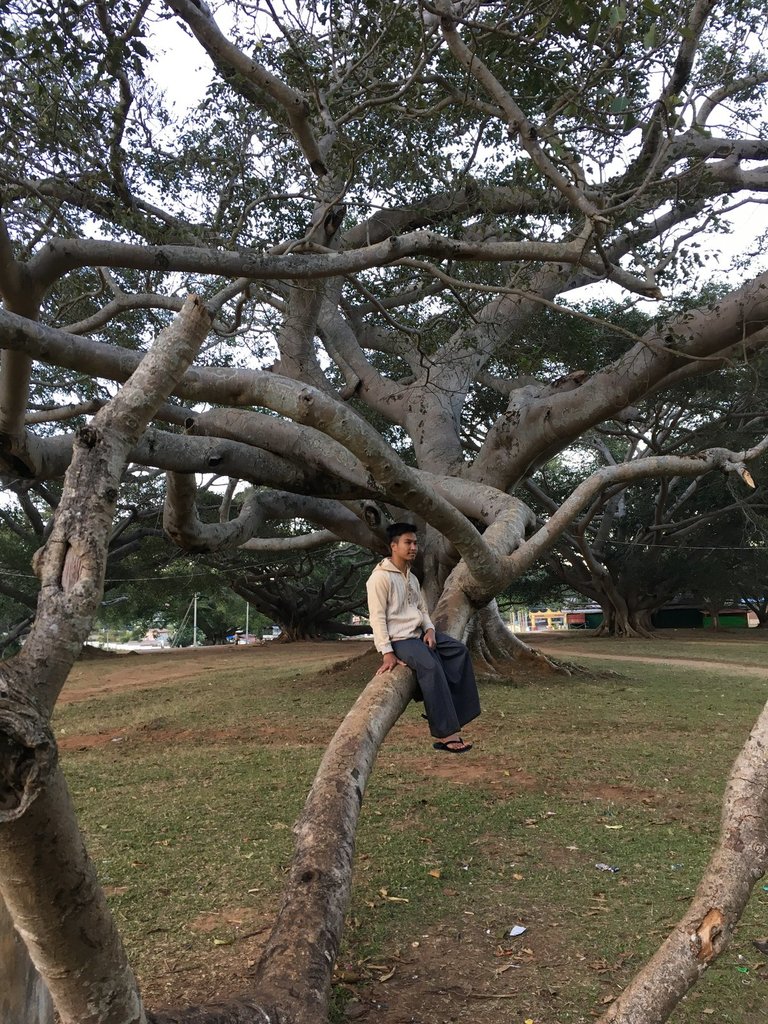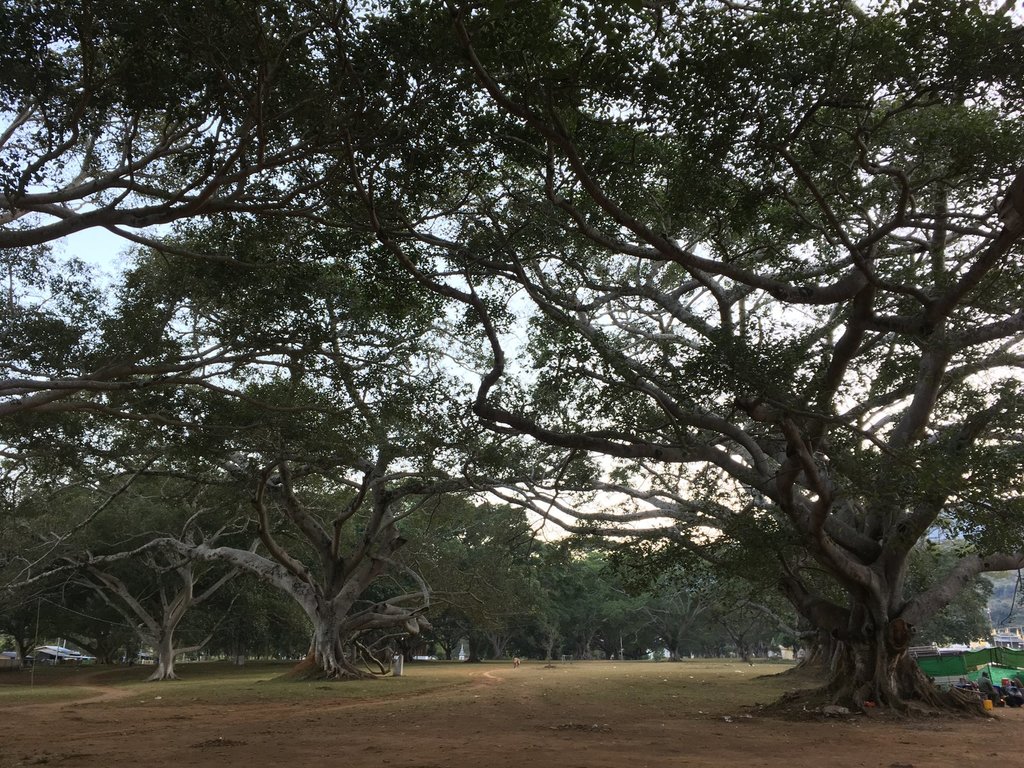 The ride back to Mandalay was a little bit of everything the trip to date had offered along the 2,600 km route I travelled. Glorious countryside and verdant farmland, glittering pagodas and temples, winding roads that were made for motorcycles, mountain passes with steep treacherous gravel sections, pollution and congestion as the big city drew nearer.
It was an amazing ride, an emotional roller coaster at times, tough as hell in places and blissful in others. I made it out unscathed and the motorcycle, as much as I bitched about it along the way, did not fail - for that I'm eternally thankful, as breaking down in some of those out of the way places could have posed a bigger set of problems!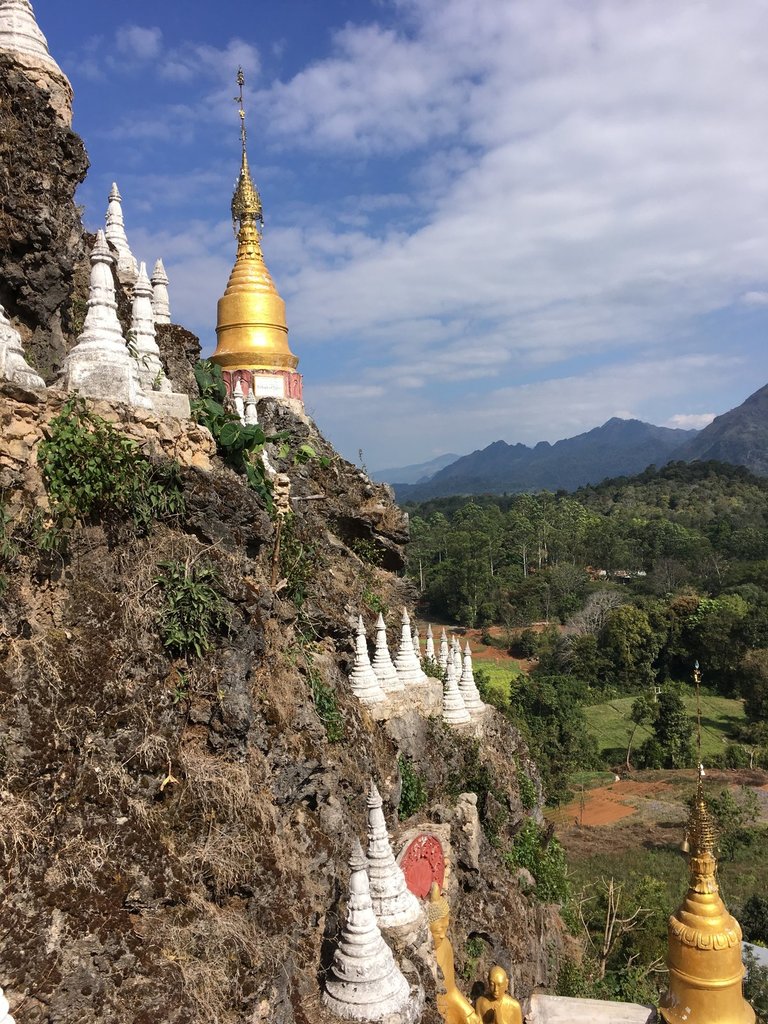 Hopefully in time Myanma'rs political and ethnic struggles will cease and the presently off limit areas (of which are numerous) will be once again open for exploration. I hope to return and see much more of this incredible country.
My total two week trip cost $470 US. That included accommodation, bike rental and everyday expenses. That's a little under $35 per day, though I will say I'm a very budget conscious traveler, always eat local foods and seek very affordable places to stay. You could certainly spend more, but might be hard pressed to do things for much less! Happy trails,
Mingalabar!
Last edited: