Joined

Jan 11, 2011
Location
Bikes

2007 KTM 990 Adventure Suzuki DRZ 400
This is an article I wrote a while back about temporary importing a foreign registered motor bike through Bangkok airport, be careful! I wouldn't do it again. Read On:
Temp Importing a foreign reg mbike into BKK airport
Temporary Importing a foreign registered motorcycle into Thailand through Suvarnabhumi Airport, Bangkok, completed this week
Executive Summary
1. Total airfreight cost from Los Angeles,CA, USA to Bangkok airport, 44,200 Baht (the oversized crate box made the total 66,000bht- if the crate was tight on the bike it would have been cheaper).
2. You MUST be in Thailand on a Tourist TR Thai visa to be able to complete the temporary importation through Bangkok Airport (not so for drive-in border crossings)
3. Highly advise using an agent, would be incredibly hard without one
4. It is an all day process to get the temporary import processed
5. Bring some gasoline to the airport, say 4 litres
6. The bike must be registered in your name in a foreign country
Report on the temporary import
I've just completed temporary importing a new Harley Davison 48 (1200 sportster line), which I registered in the USA, in my name, 2 weeks before airfreighting it to Suvarnabhumi Airport, Bangkok.
I used the Thai shipping agent i normally use, Nithipat, who works for Fair and Easy shipping agents in bangkok (his email is:
nithipat@fairandeasy.co.th
). I highly recommend using an agent, if there's a problem your bike could get confiscated (ask Wes about this!).
There is only 1 senior Thai customs inspector that can sign off on your bike being temp. imported at the airport, she is a lady about 55 years old. If she's away or off sick nothing can get processed until she's back, they're not telling you a line if you hear this. She is a very tough lady, you will not win arguing and raising your voice, you will be shut down.
I have temporary imported my KTM into Thailand numerous times, using a Non- "O" , Non Res., Thai immigration visa in my passport at various land border crossings into Thailand, it never crossed my mind that this would be a problem temp. importing at the airport.
My agent had a meeting with this lady senior Thai customs inspector and she said that there was no way she was going to issue a temporary import for me for this bike as the temp. import was designed for tourists enjoying a short bike tour in Thailand and to qualify for this you should have a tourist visa in your passport, not a visa that allows you to reside in Thaiand. He argued with her a little, talking about we were going to Laos etc....., this only made her more angry so he backed off. i then met with her and she explained the same thing, now i was getting worried that i might be getting the bike confiscated. One note here, you have 48 hours from the bike being cleared into the bonded free zone, to trans-ship the bike, after that it cannot leave Thailand. I then asked her if I came back with a tourist visa would she process the temp. import she said yes.
I quickly drove to the Thai immigration office in Changwattana rd, explained everything, they said fly to a Thai embassy outside thailand and change visa status to "tourist TR". With this knowledge, I drove down to Bangkok airport, jumped on the leaving flight to Phnom Phen, I called my friend Robert who knows Phn Phn well and he arranged a hotel and a car to pick me up from the airport. Next morning off to the Thai Emb in Phn Phn, explained everything, lady took my passport and 6pm i had a tourist TR visa. 8pm, flight back to bangkok, stayed in a hotel, then off to battle at Customs again the next morning.
It took all the next day to get the temp import finished, one problem was that the immigration officer hadnt written "TR" on the entry stamp in my passport, so they had to check the visa on the arrival card, no big deal.
Once the Thai customs lady had signed off on the temp import, we got our passes for the free zone, got the harley palet, unpacked everything, connected the battery, put some fuel in it and we were all done.
Now having temporary imported bikes both by ship and air, I highly recommend sea freight. By air was 50X more stressful, people not friendly, looking to trip you up.
One interesting point is that they didnt cancel my Non-O visa or re-entry stamp, so it seems when I come back in through Laos, I'll still be able to use it, so all a big waste of time changing to TR really.
Getting it out of the crate at the airport in Bangkok
View attachment 9695
View attachment 9696
View attachment 9697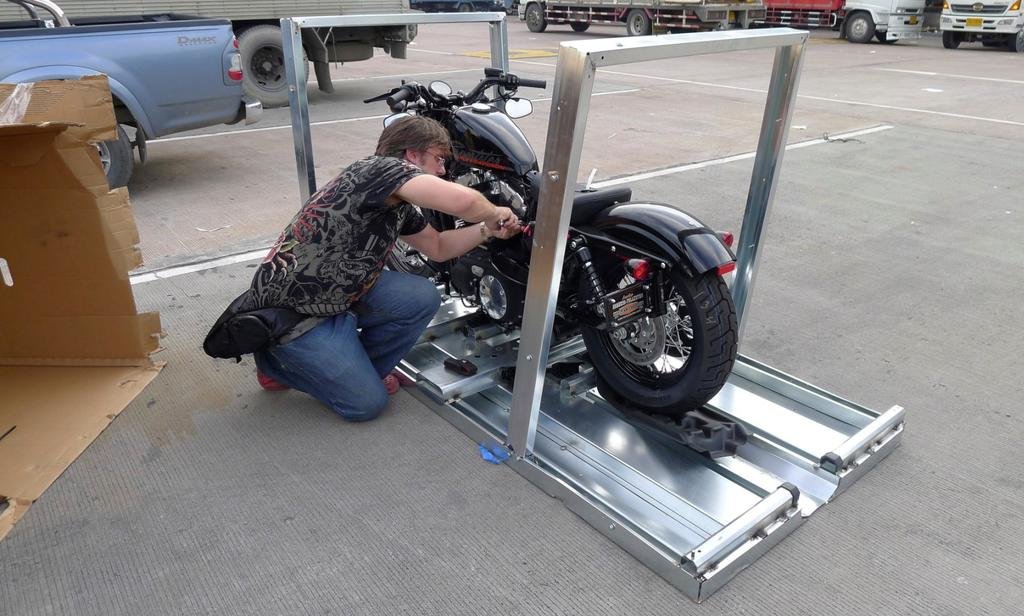 Finally free in Thailand
View attachment 9698