Joined

May 25, 2019
Location
Bikes

Honda Africa Twin, Honda CRF250L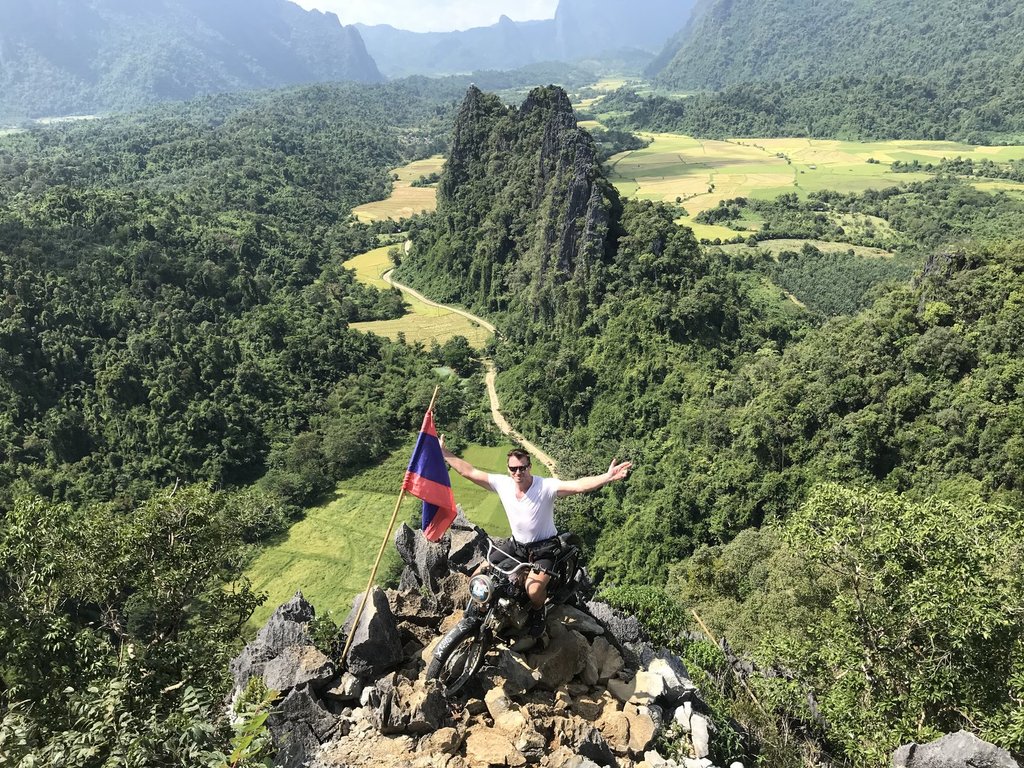 This report is from an 8 day trip in October 2019 starting and finishing in Luang Prabang. The main stopovers on the route are as follows:
Luang Prbang
Phonsavan
Long Cheng
Some village in the middle of nowhere
Vang Vieng
Luang Prabang
My mate Hal from Sydney (by way of Germany) decided to finally do a motorcycle trip in Asia. It had been on the cards for a while but the time had finally come to jump in the deep end. My Irish mate from Chiang Mai, Mark (aka Mango) was also in the region and joined in for a few sections too. So we had a good bunch of lads ready to roll on a cool adventure trip.
Just to keep things interesting, this was Hal's very first time riding a manual motorcycle. Although he is a seasoned veteran of South East Asia, his two wheeled experience was limited to scooter rides around Phuket in Thailand. So it was going to be a baptism of fire, especially seeing as we were going to be covering quite a few kms on unpaved roads.
We all met up in Luang Prabang and prepared to hit the road.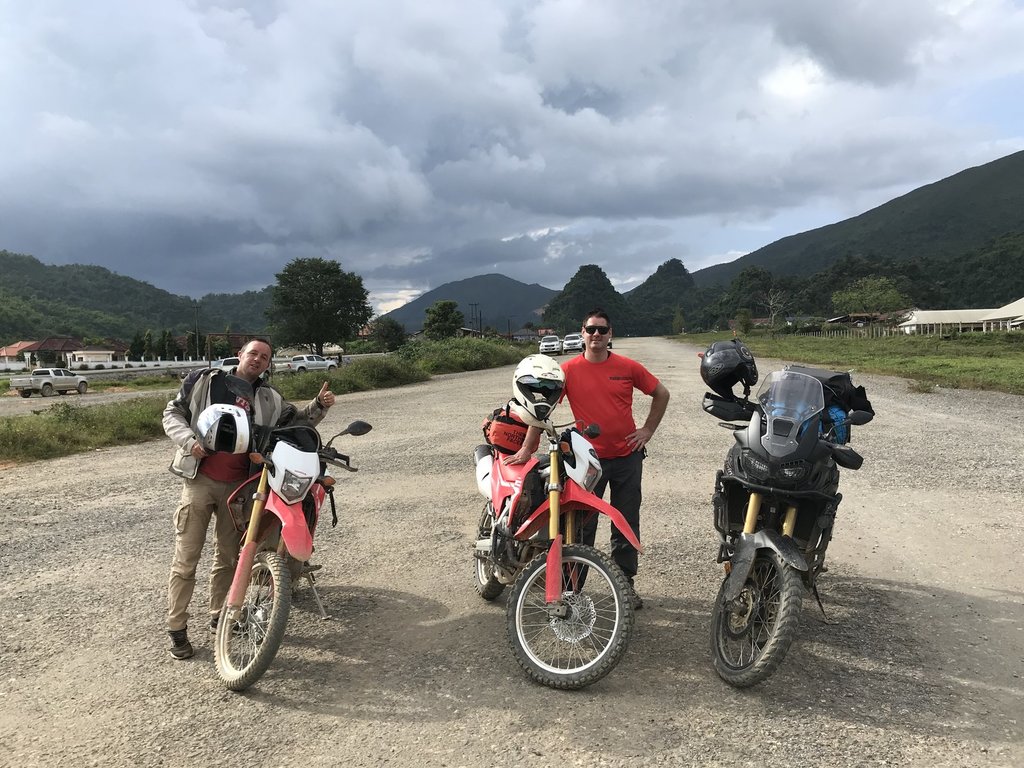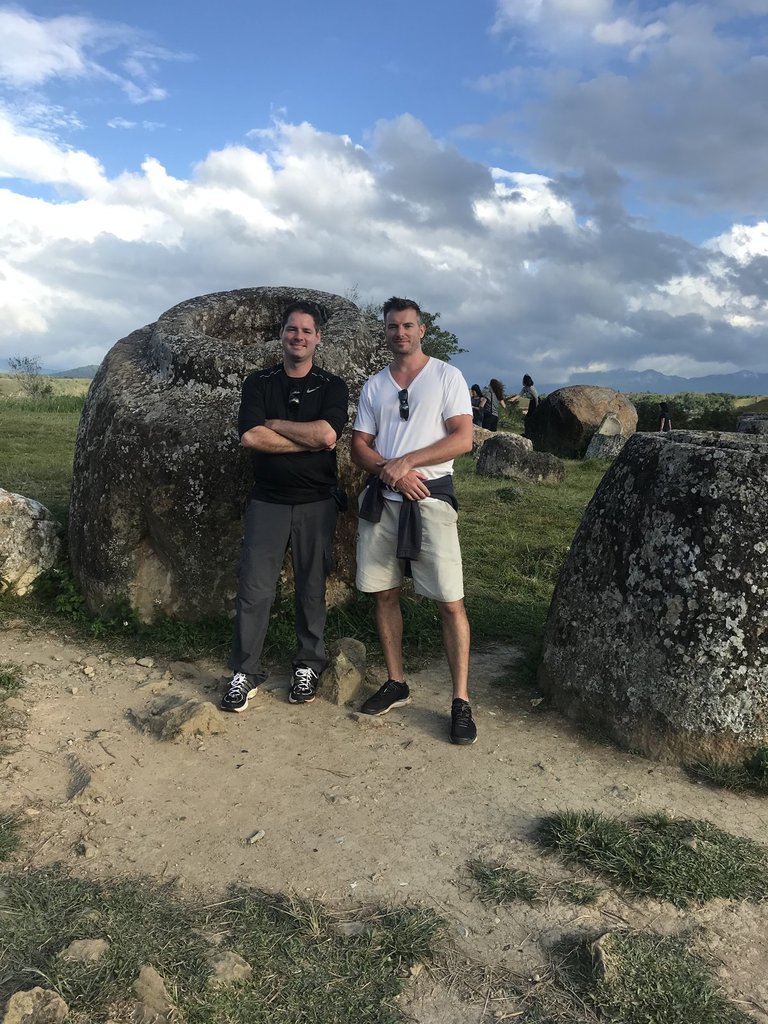 We stayed at this fine establishment in Luang Prabang. It was actually my last time staying in this joint. There's a much nicer newer place just across the road.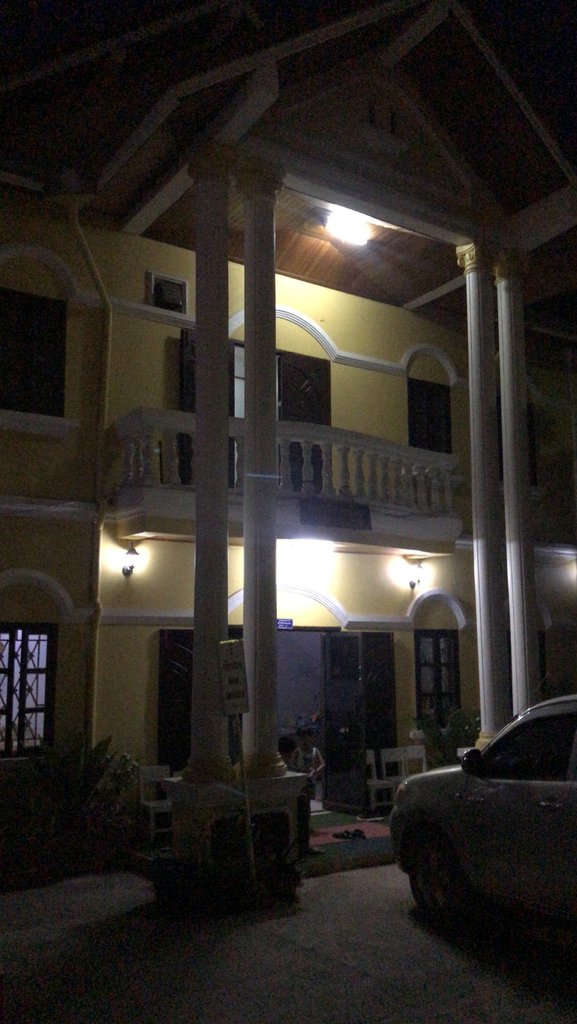 Obviously a lot of beer Lao was in order for Hal's first night in Laos. So the night progressed onto Dao Fah, Luang Prabang's premier thumping music venue.
The next day
A bit of sightseeing around LPB. Hal needed some mandatory temple photos to ensure a pristine social media profile.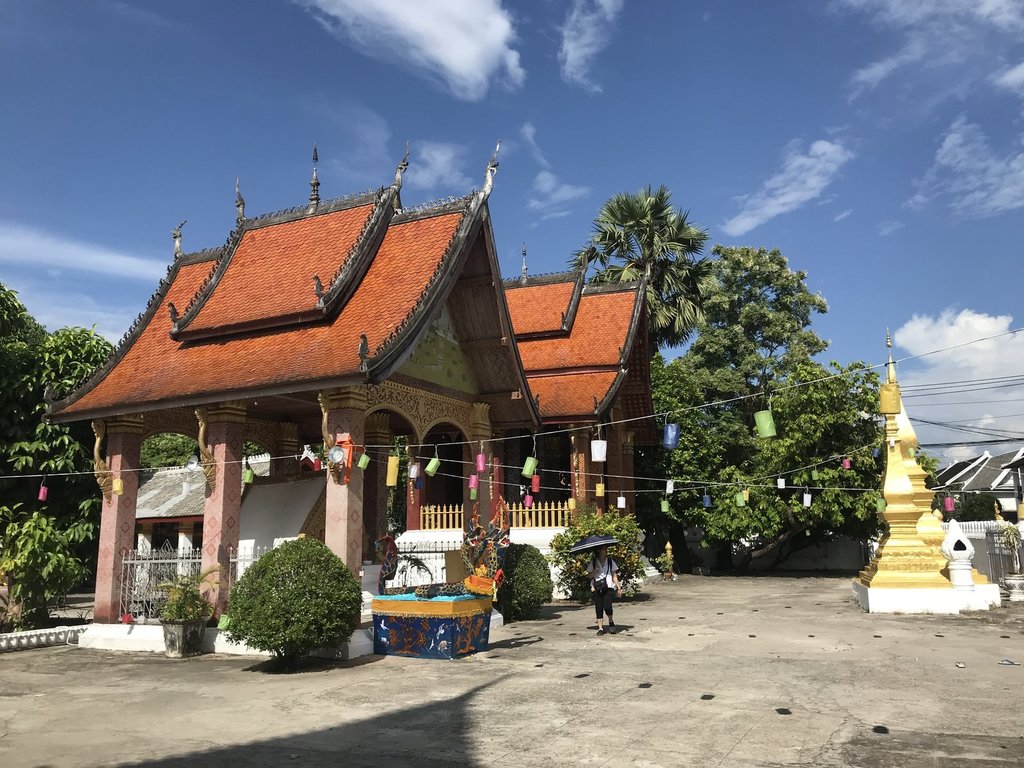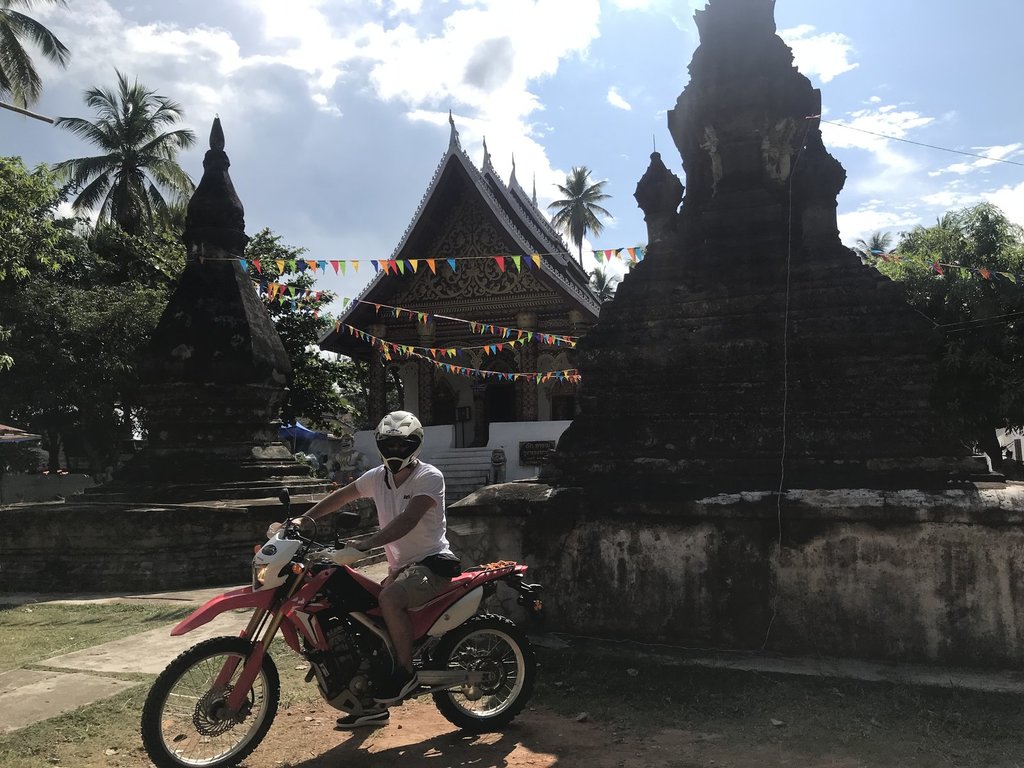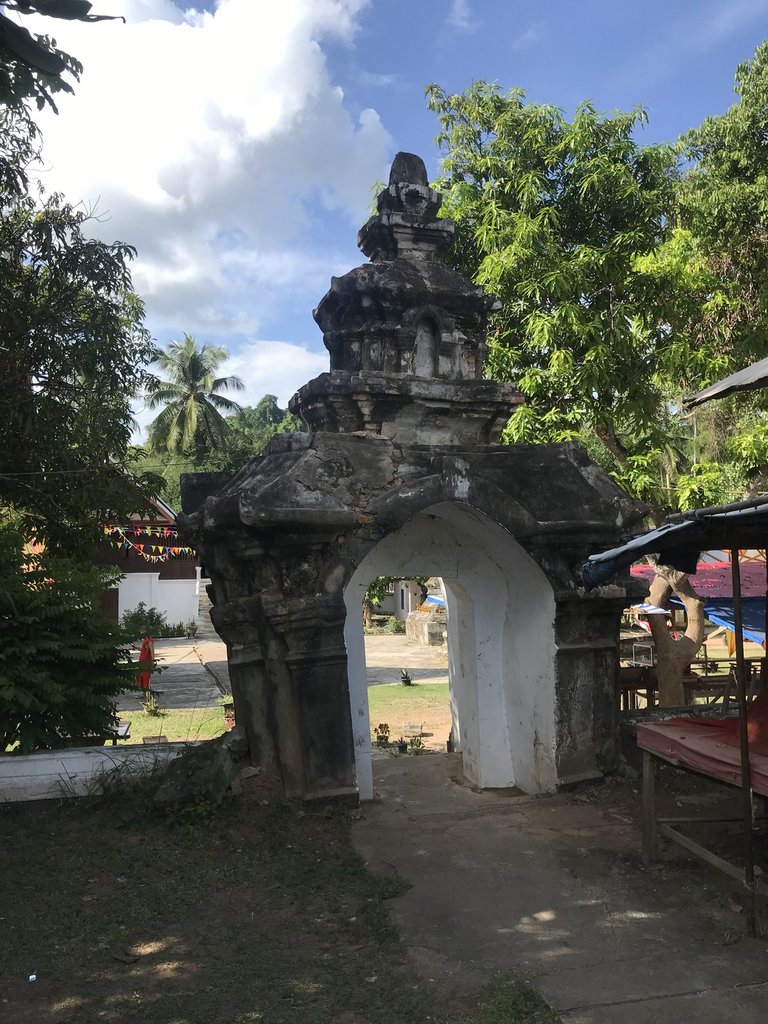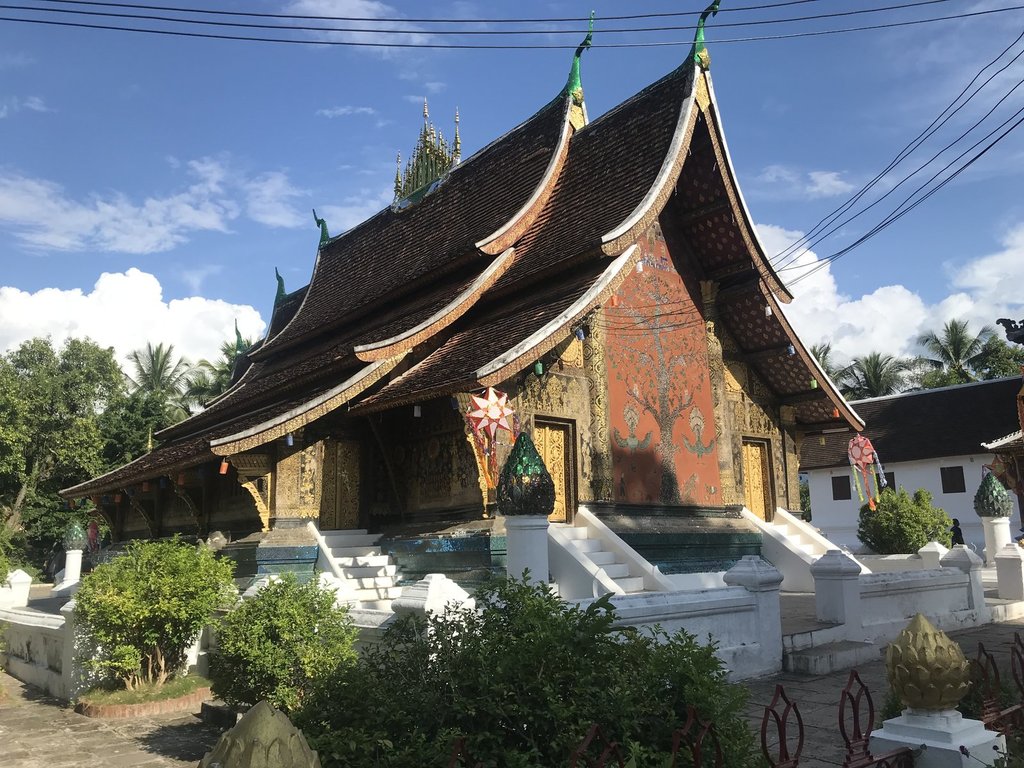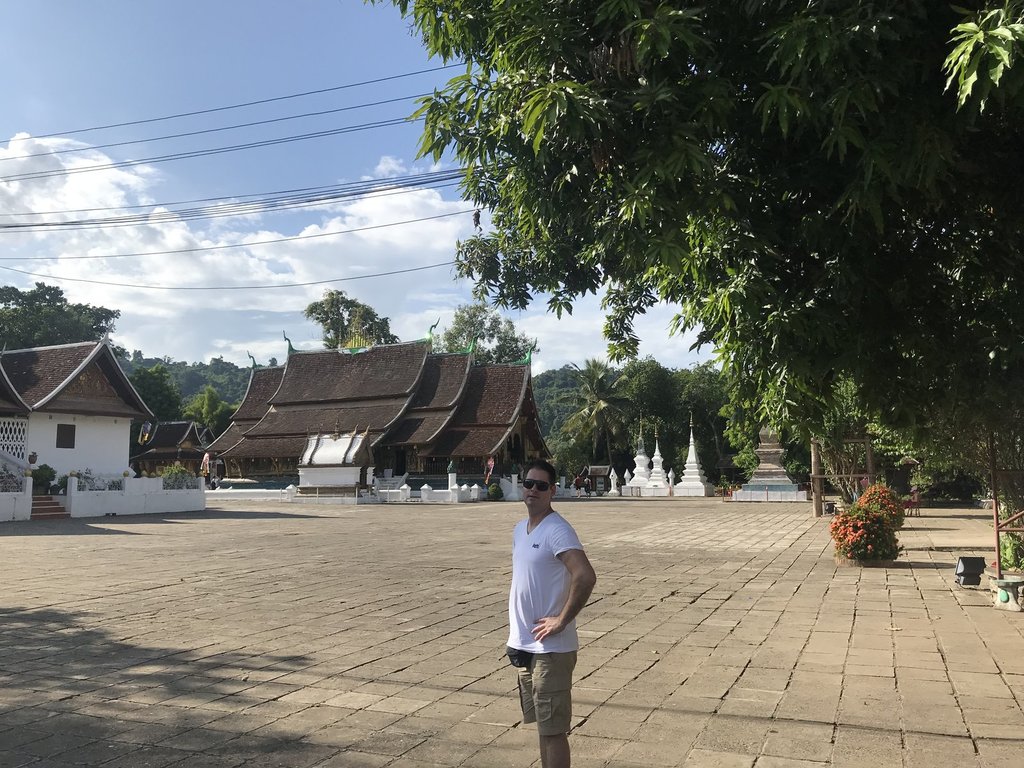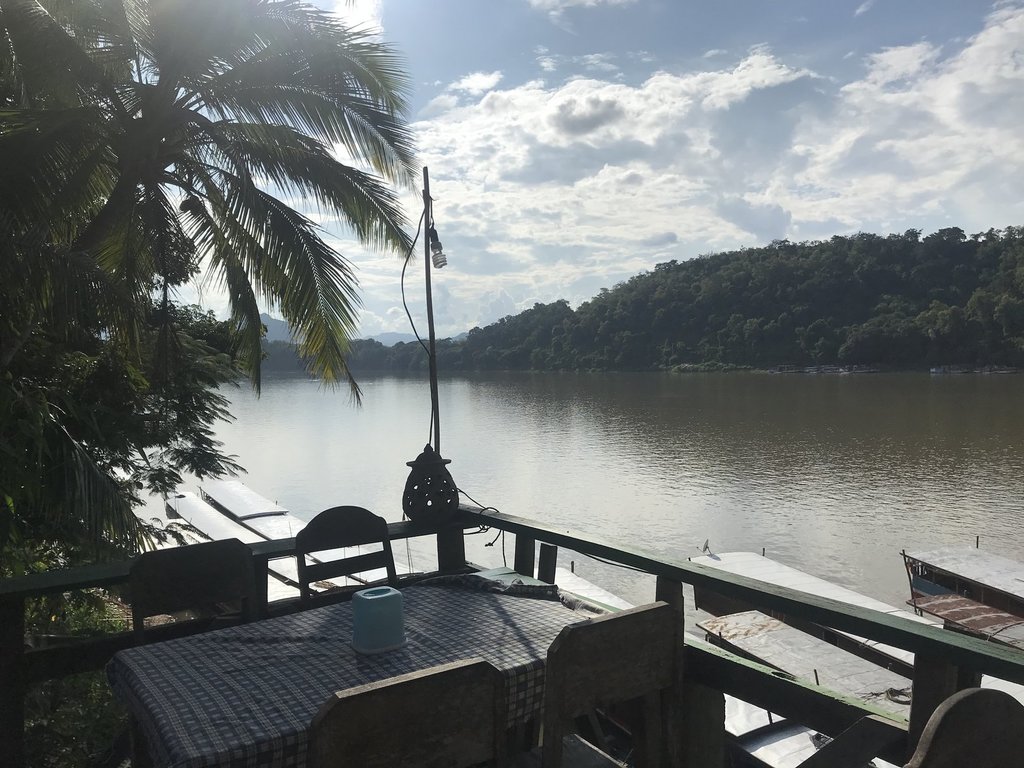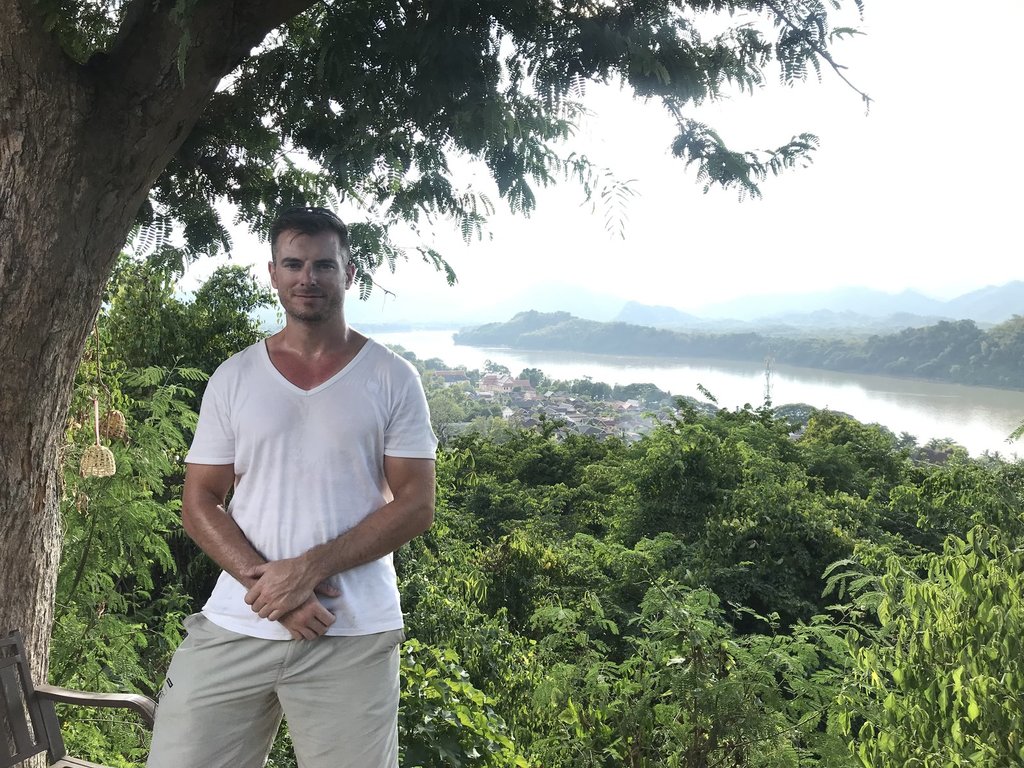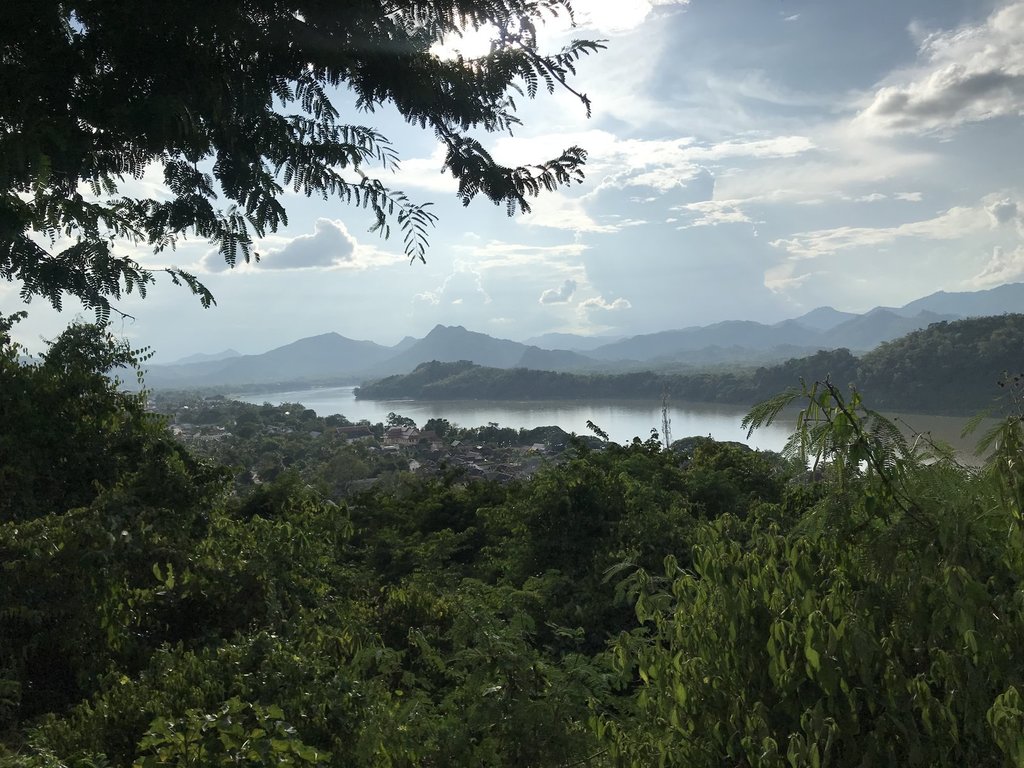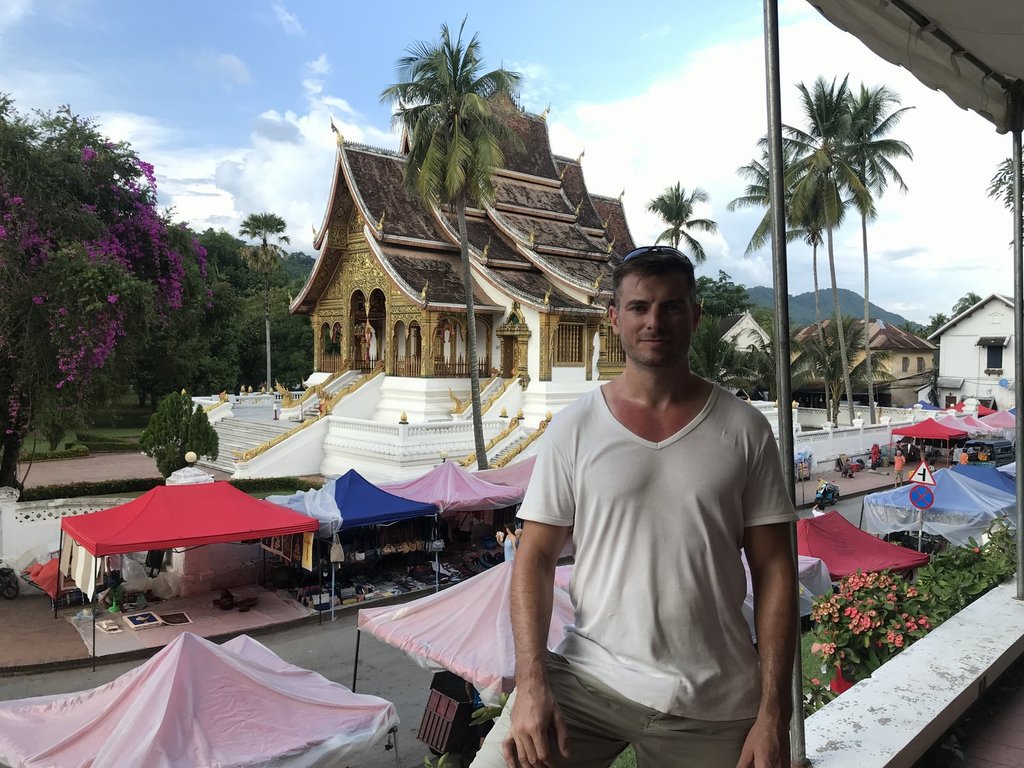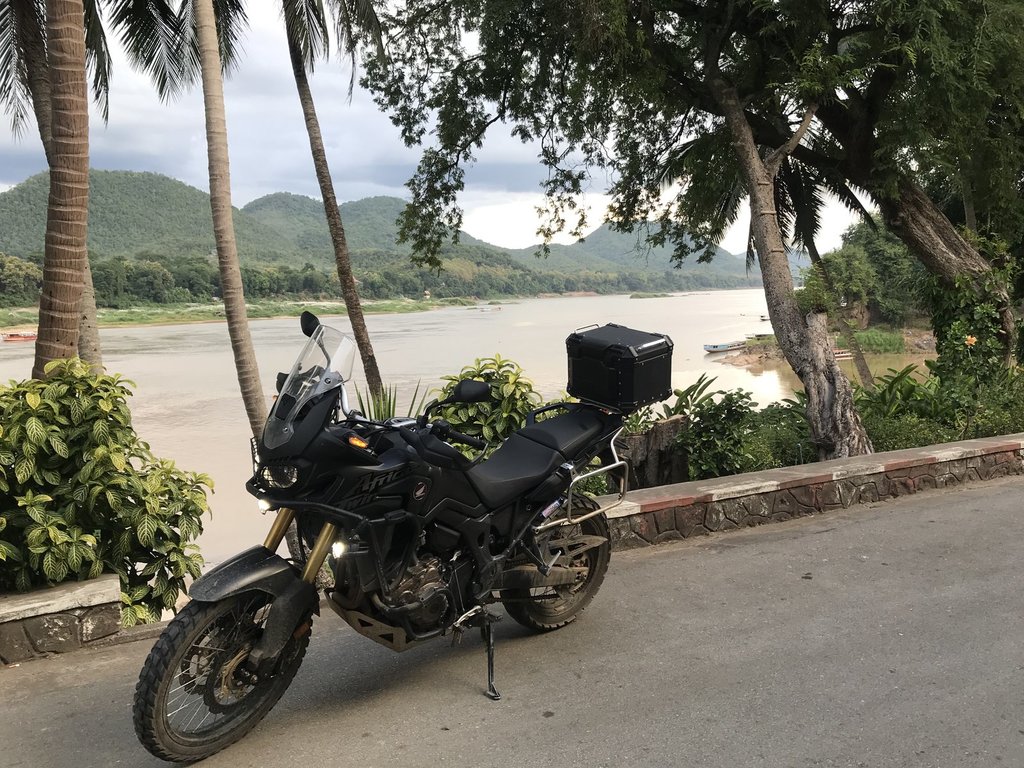 Luang Prabang to Phonsavan
We set off for Phonsavan.
Some interesting traffic accidents along the way. Not sure how these lads managed to get tangled like this. Blocked the road for hours while it was waiting to be cleared. Thankfully we were able to just scoot around it on the bikes.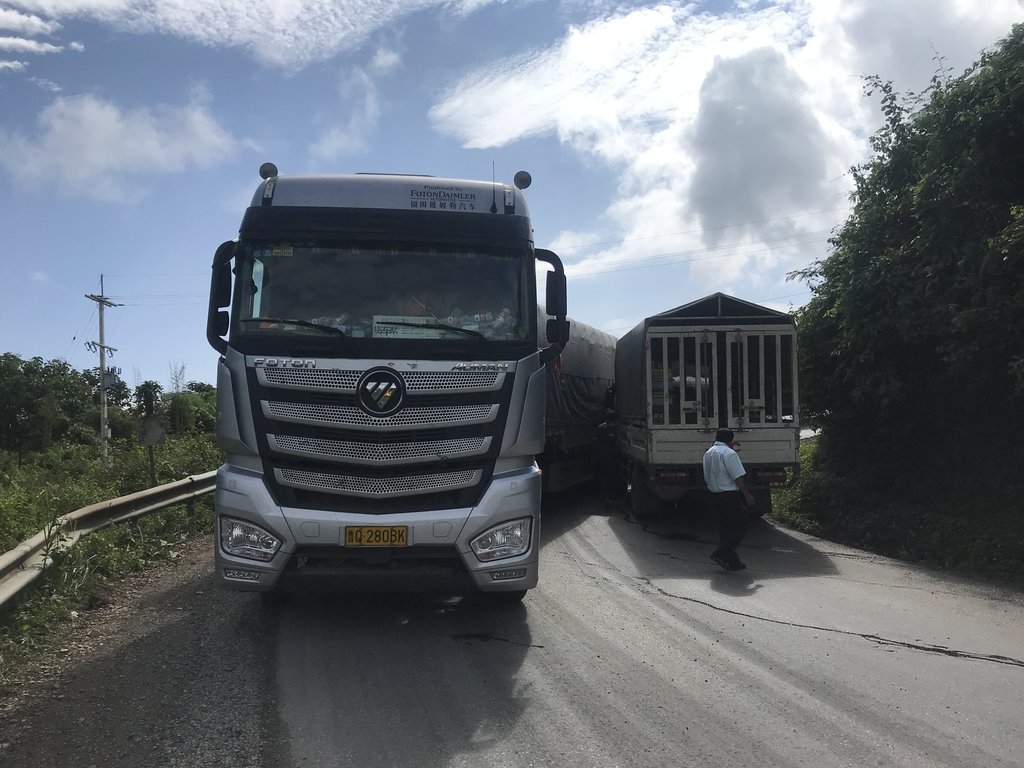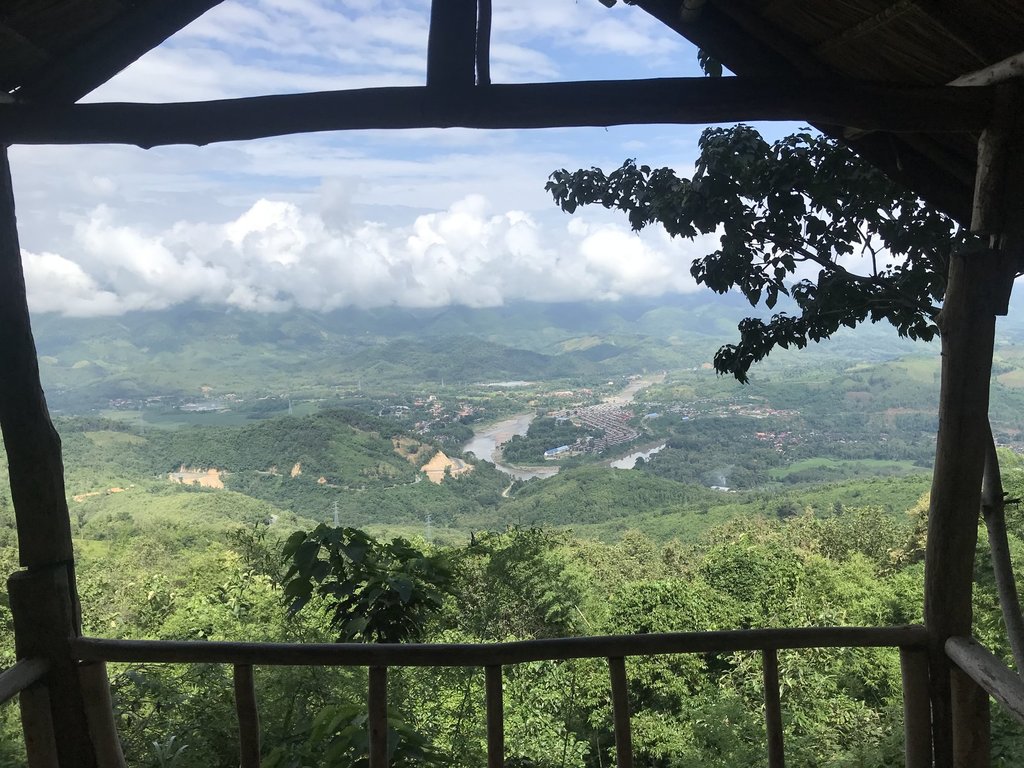 After the turnoff from the 13 to the road to phonsavan, near Phu Koun, there are some cool viewpoints.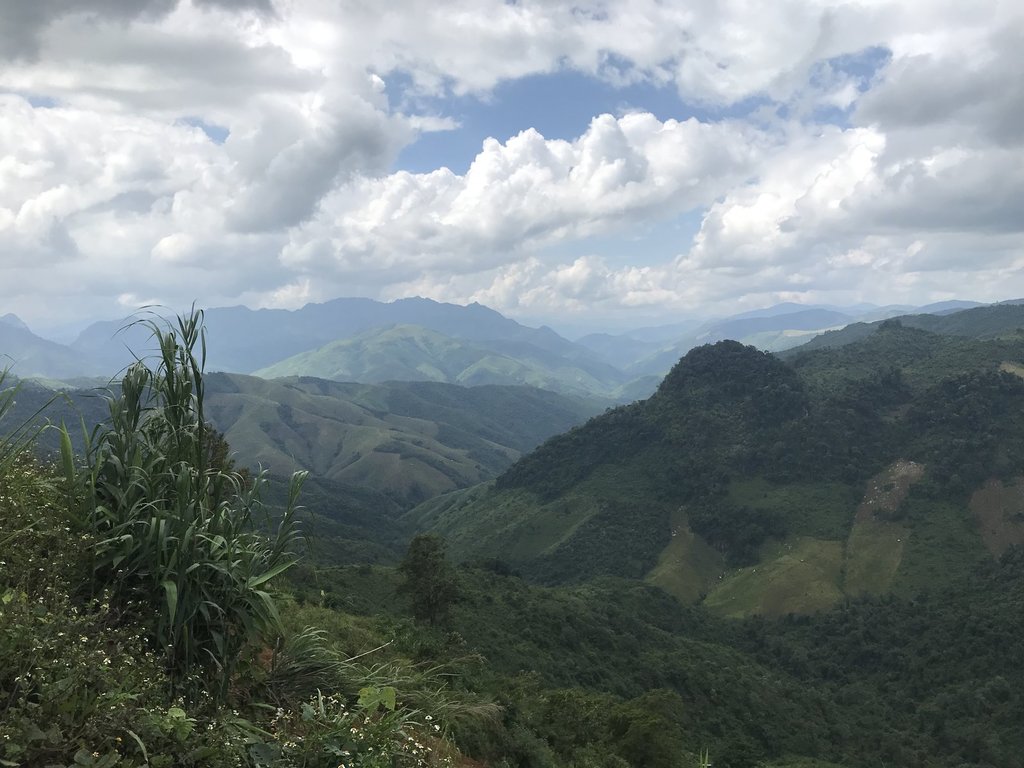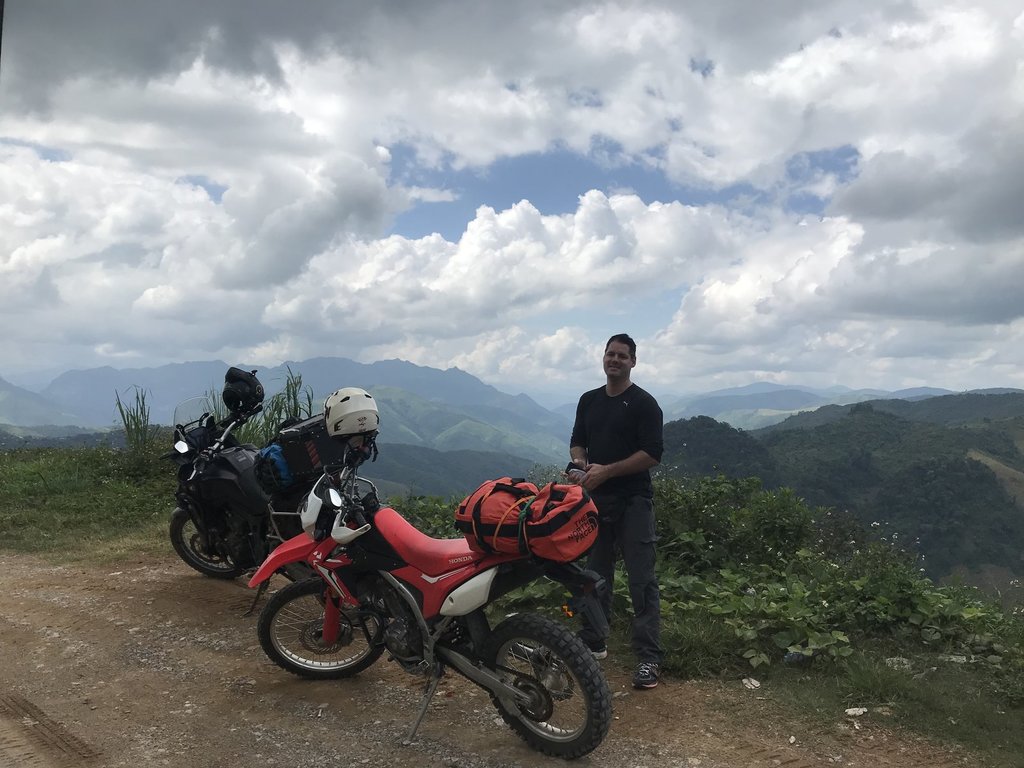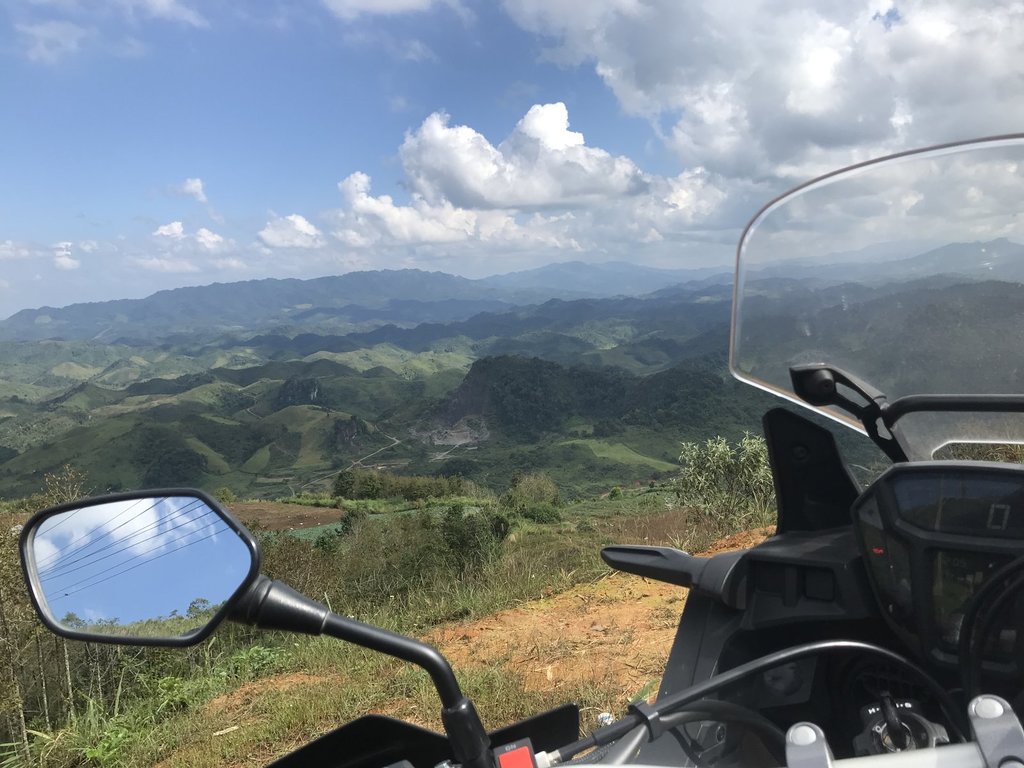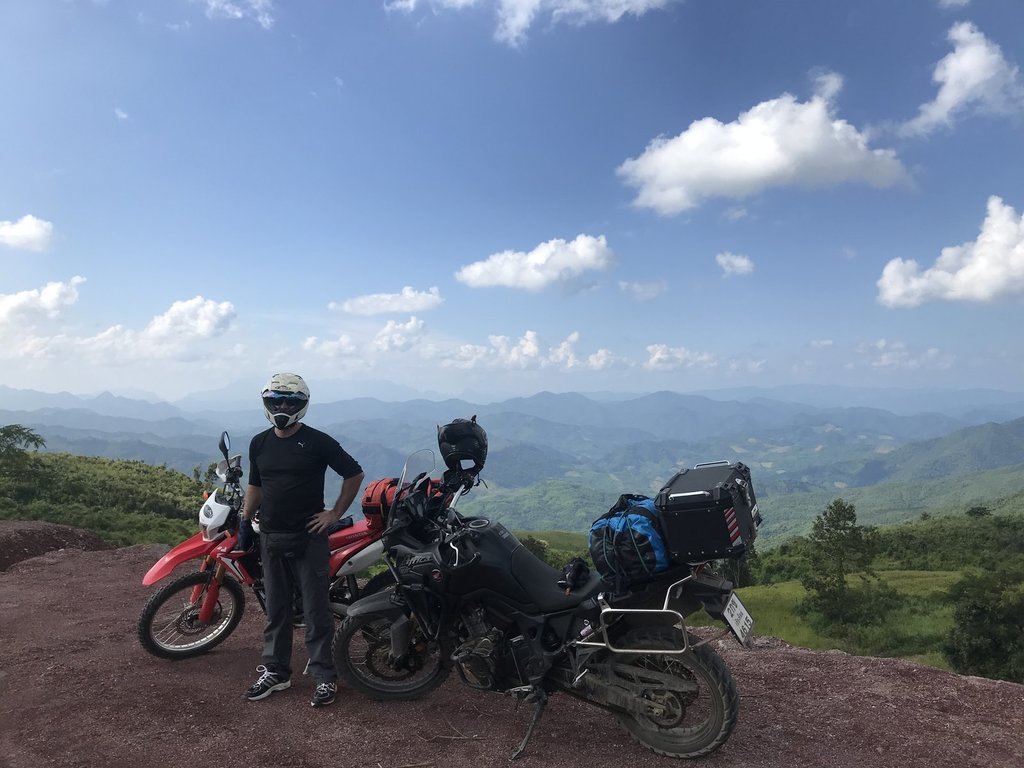 After a long ride of twists, turns and steep inclines, the road eventually flattens out as we hit the plains coming into Phonsavan. We got into Phonsavan on time for sun downers. We were staying 2 nights so we decided to head out to the local nightclub. No early morning required as we were just going to see the plain of jars.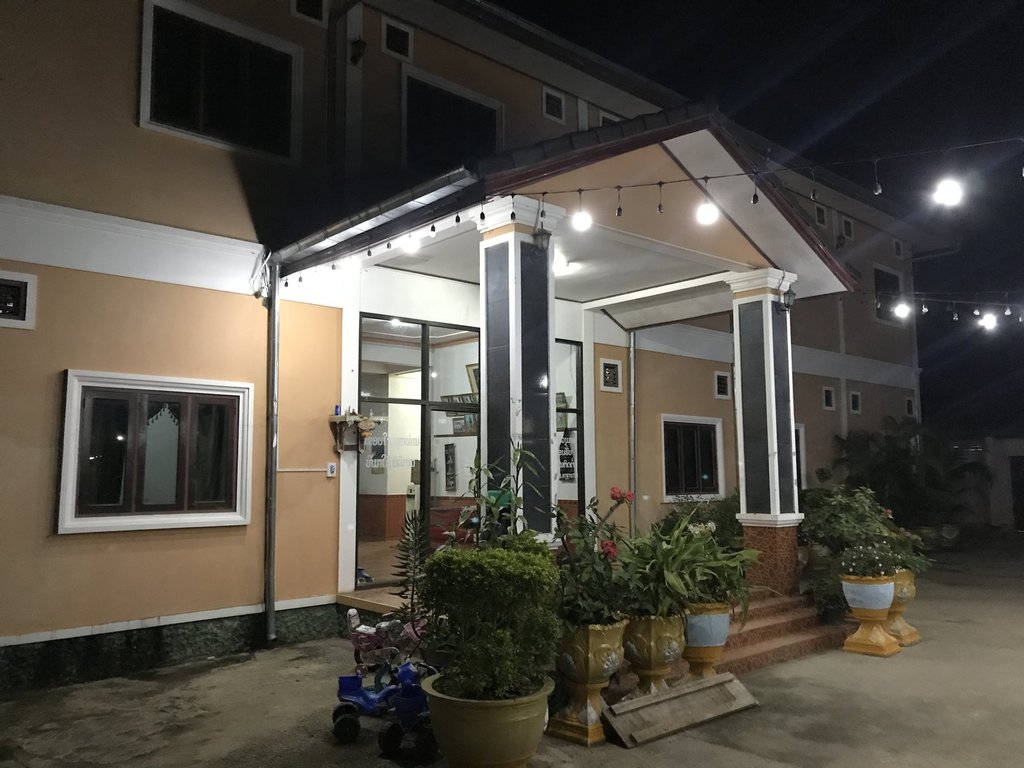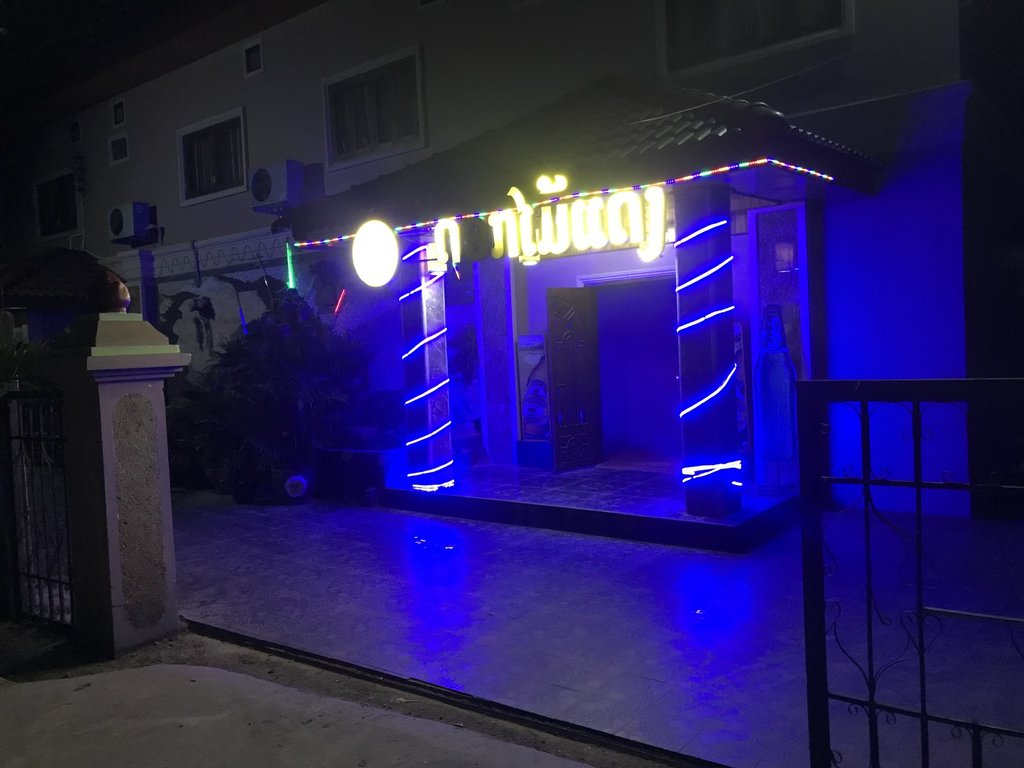 Checking out the Pain of Jars
We headed off for the plain of jars sites.
We started by going to sites 2 and 3 first ,then back to site 1.
This trail is a cool way to link up sites 1 (which we initially skipped past) and sites 2 & 3 by staying off the road. It was a good chance for Hal to practice some off road skills, that he would be needing over the coming days.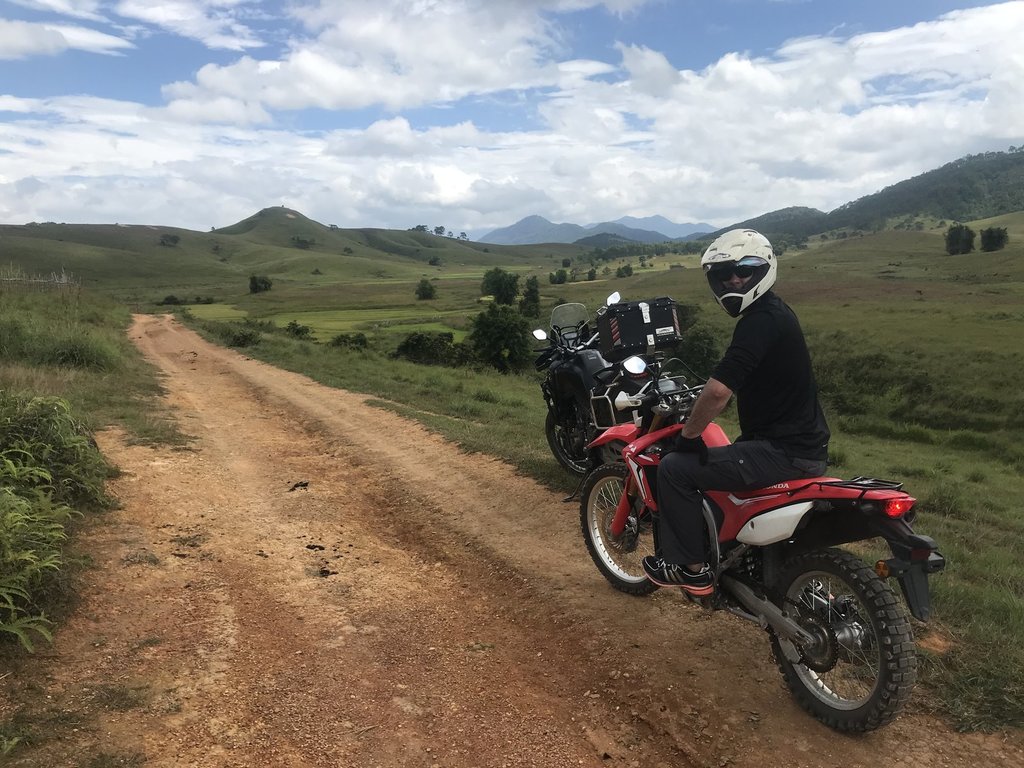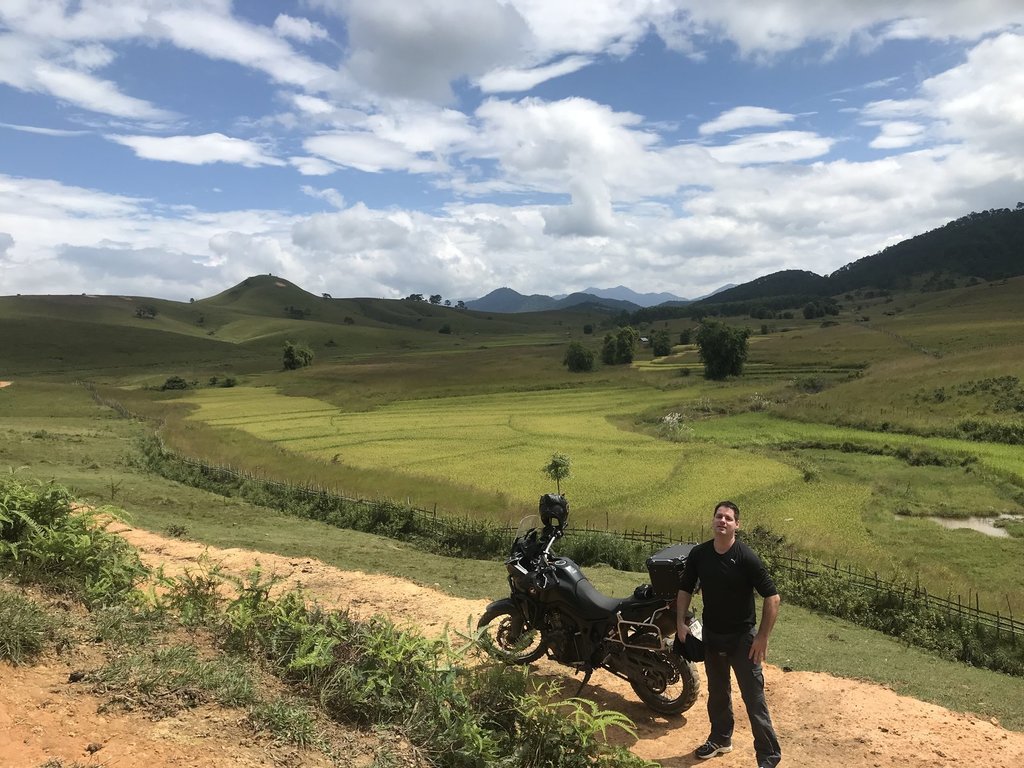 Beautiful rolling hills through the plains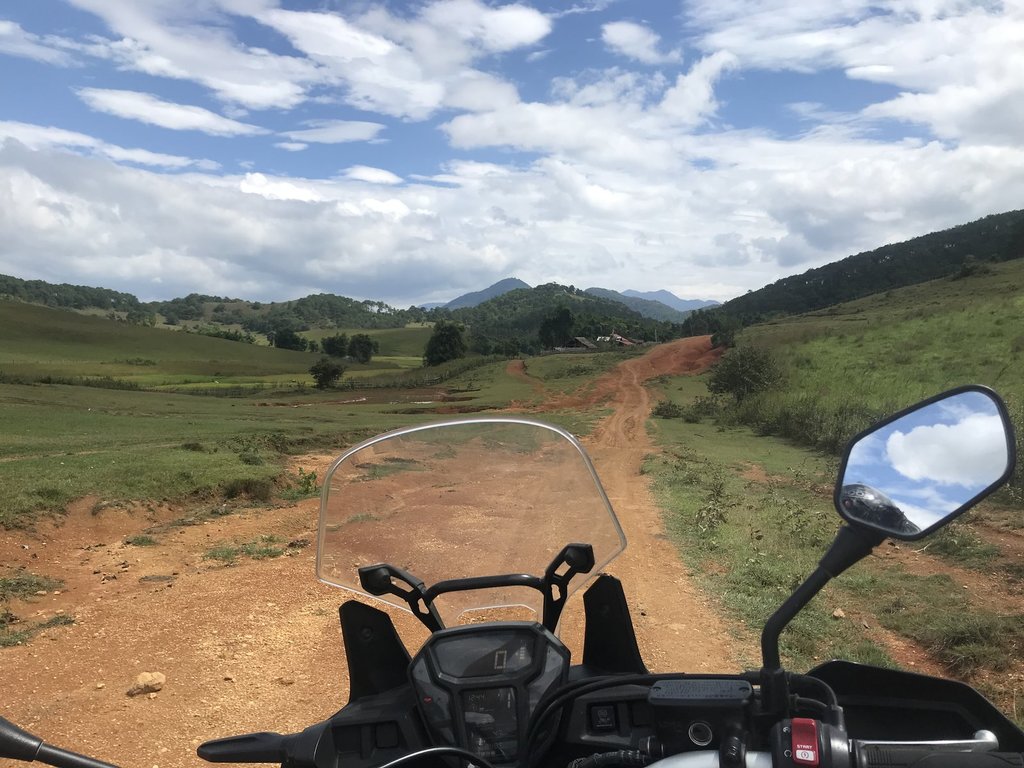 Said hello to a few locals along the way.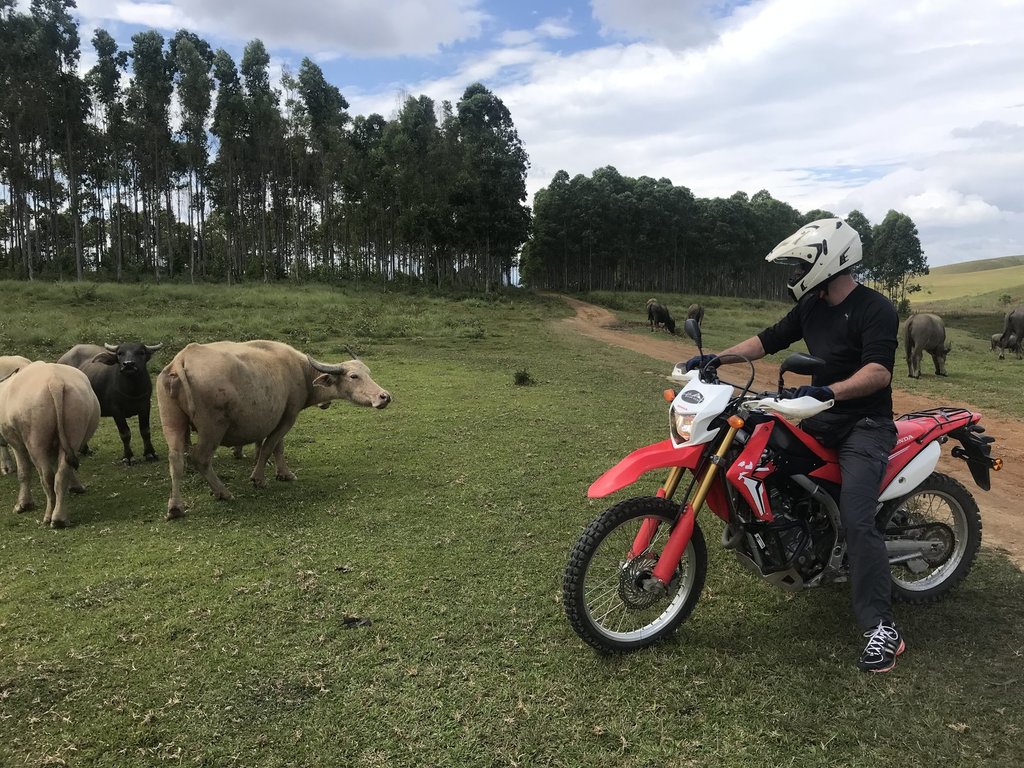 These trails were nice and dry and very good fun.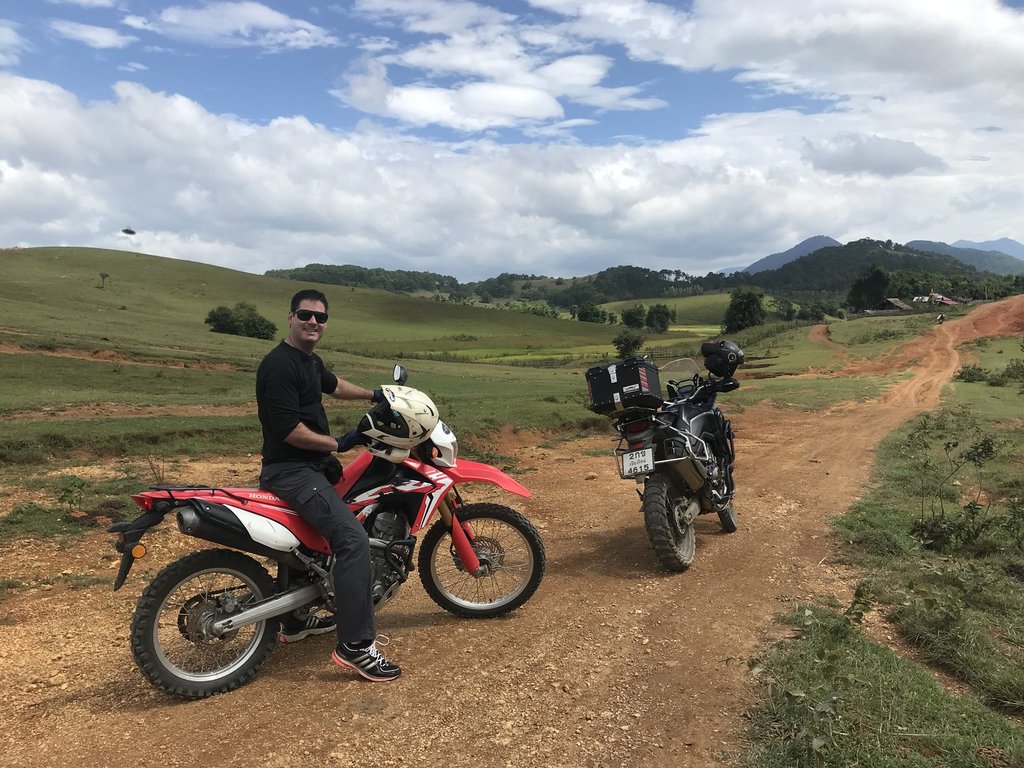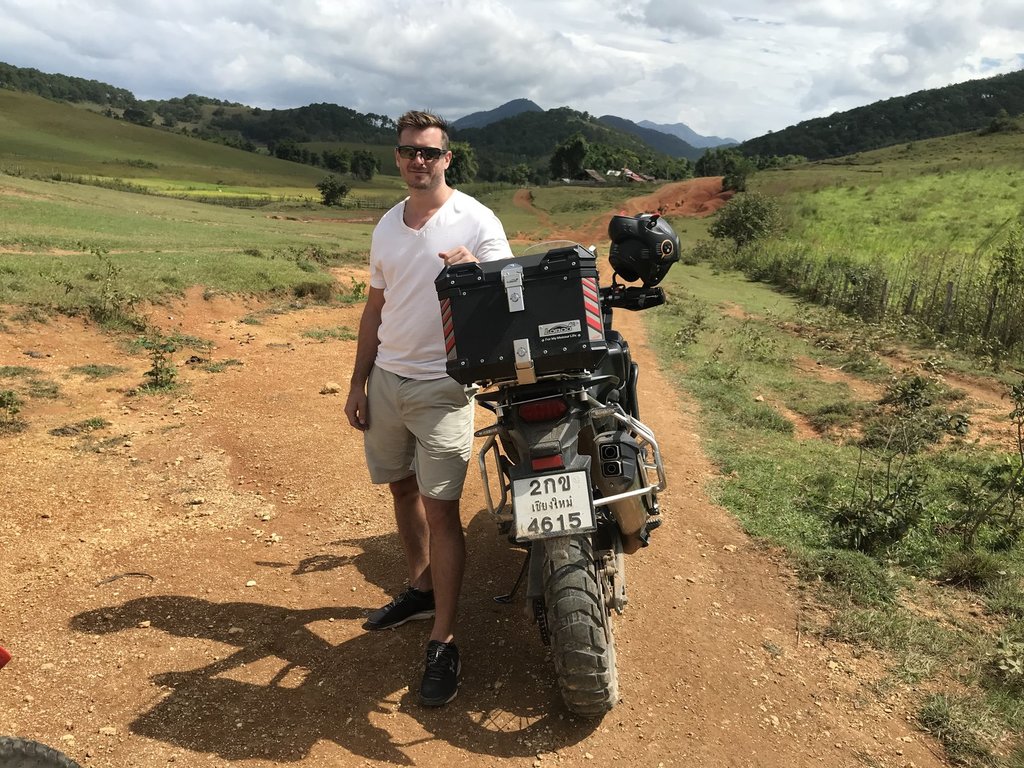 The plain of Jars site 2 and 3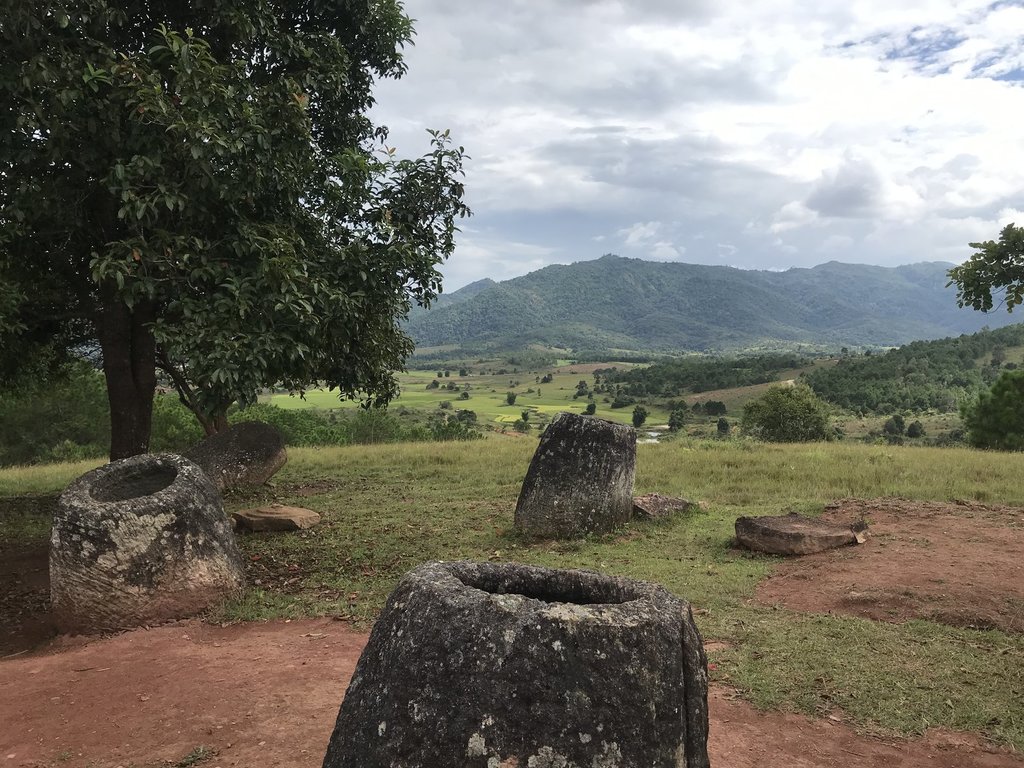 A few remains of the war scattered all around.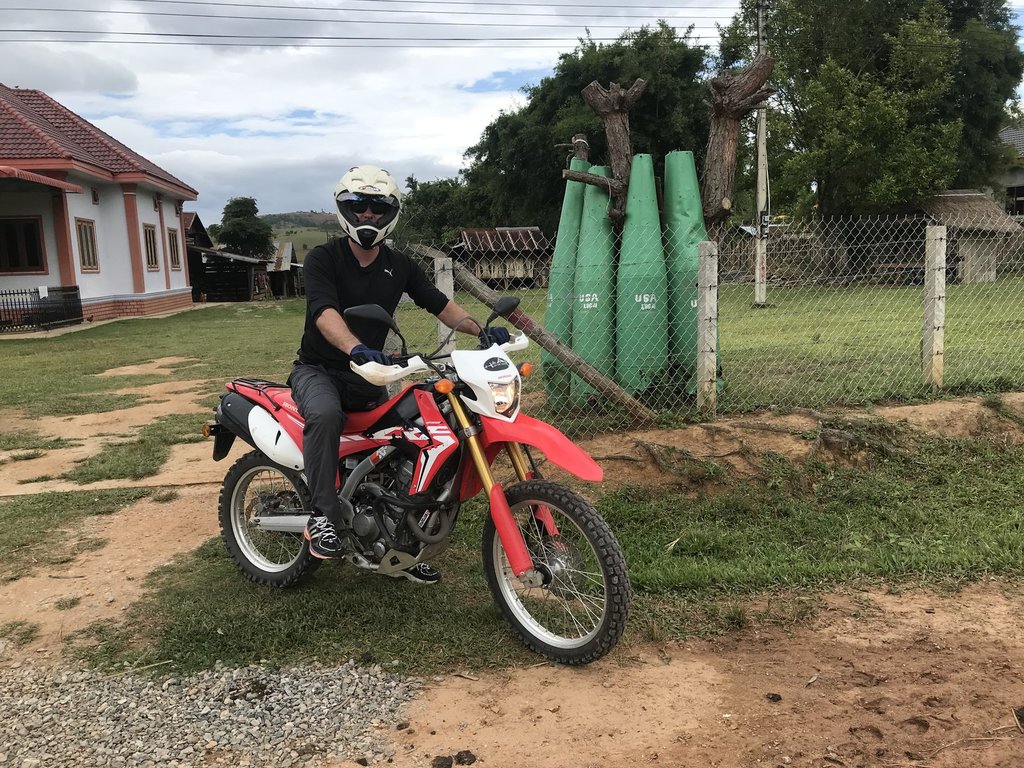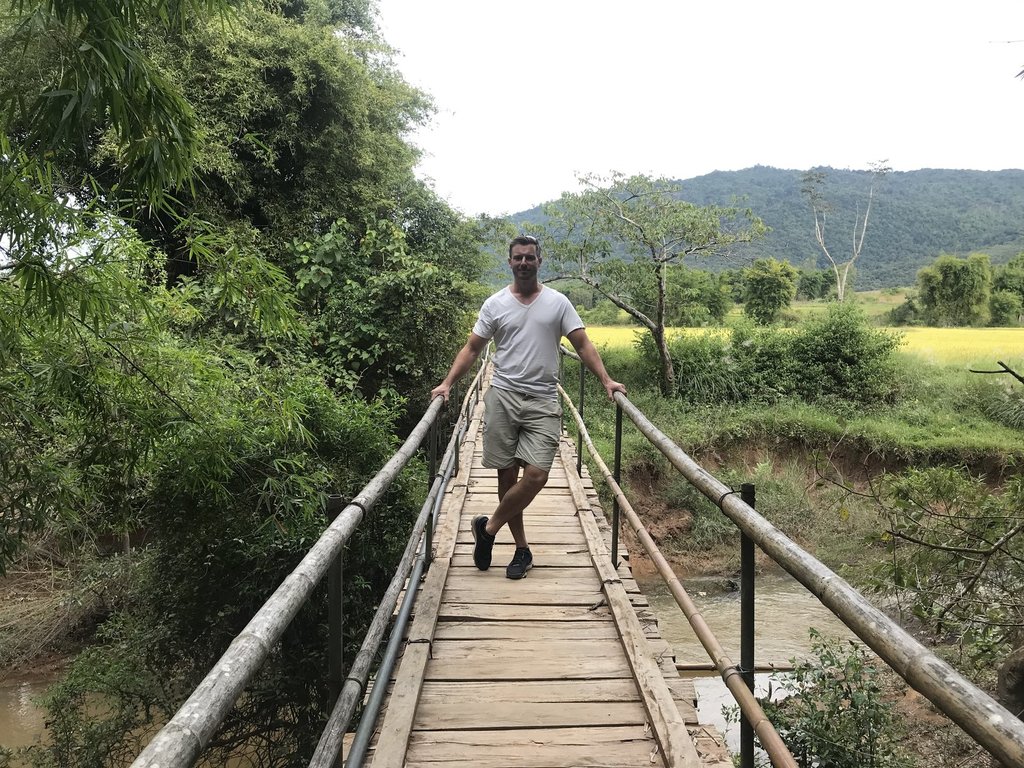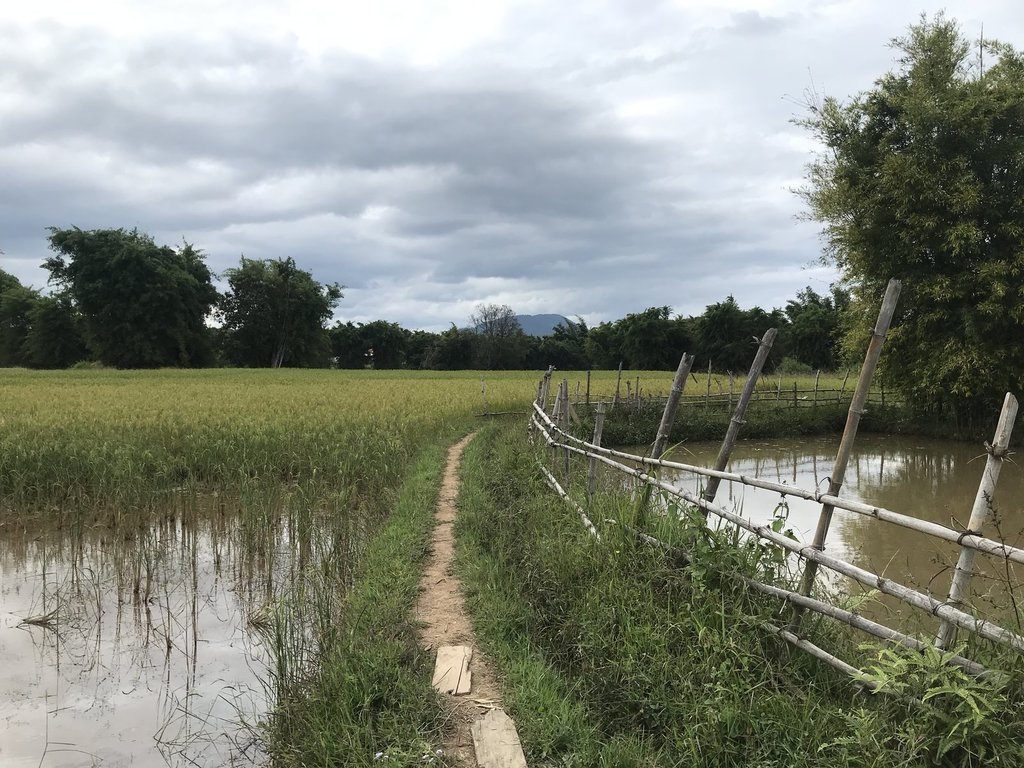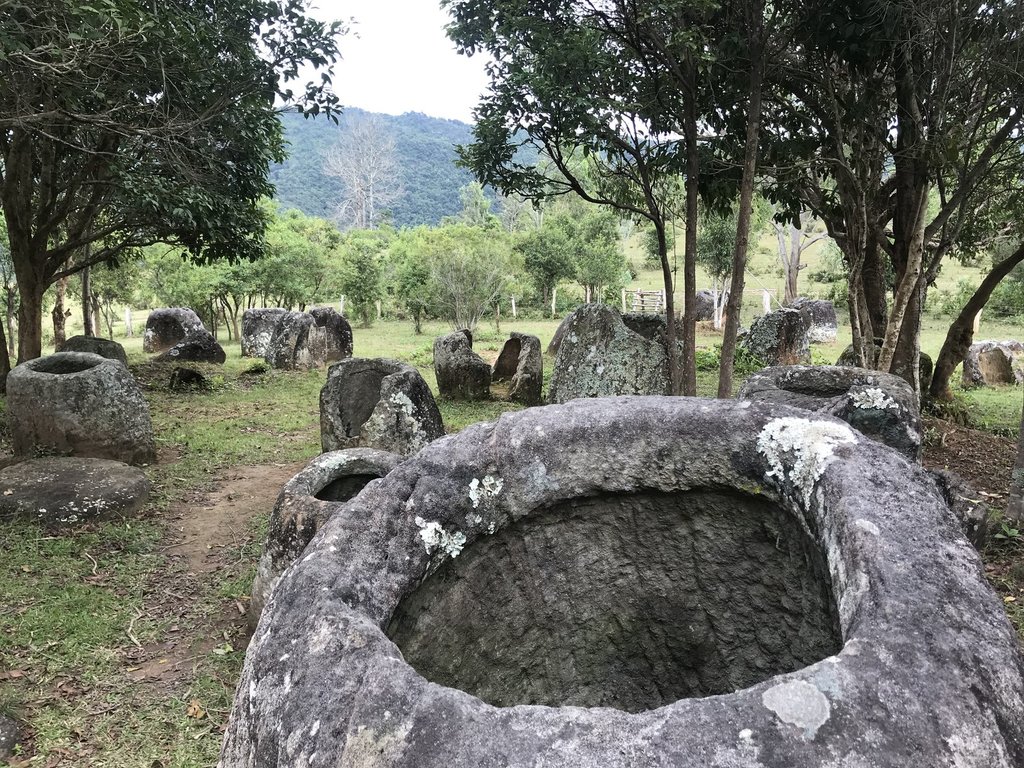 Stopped for a few quick pics at the old tank.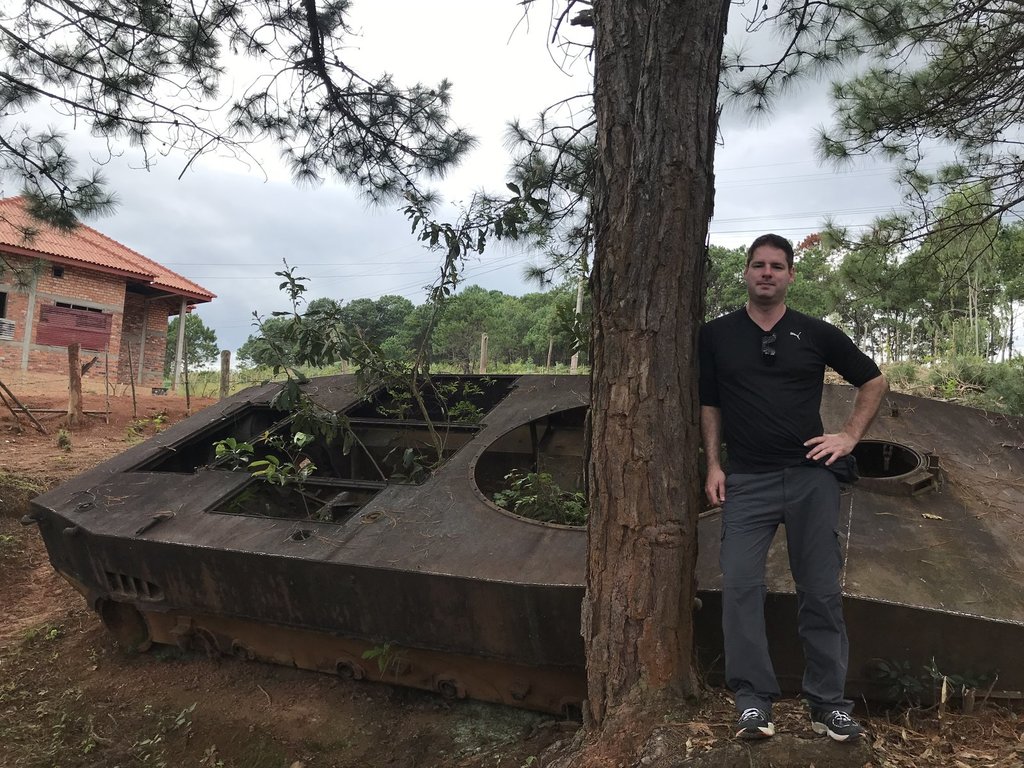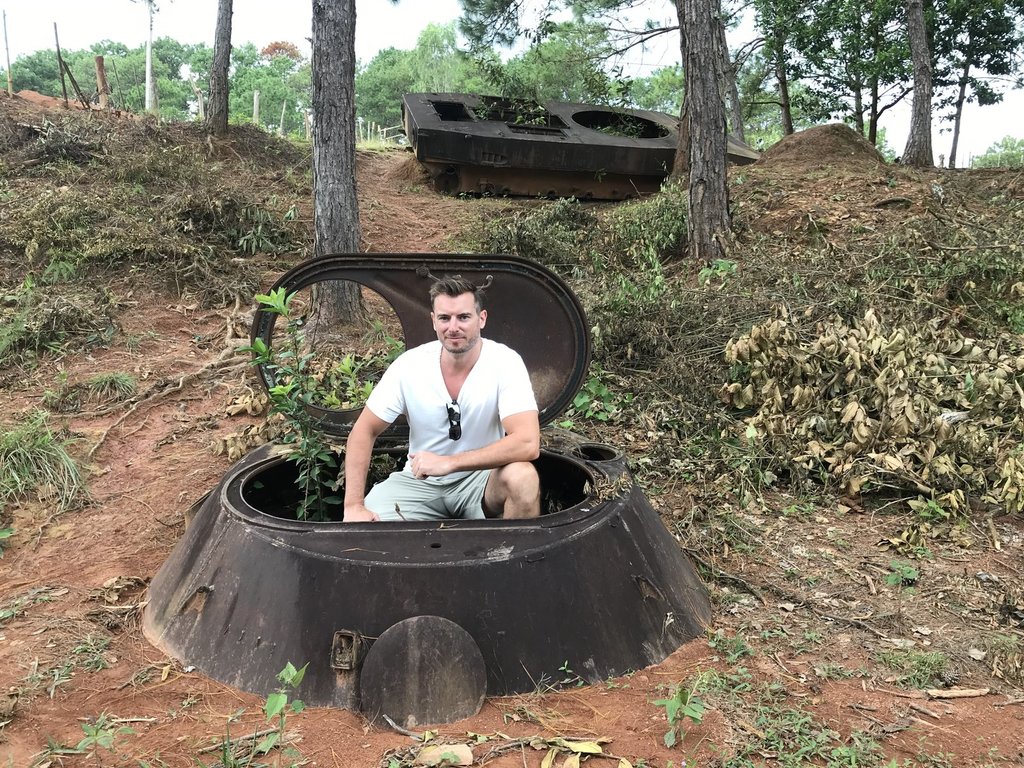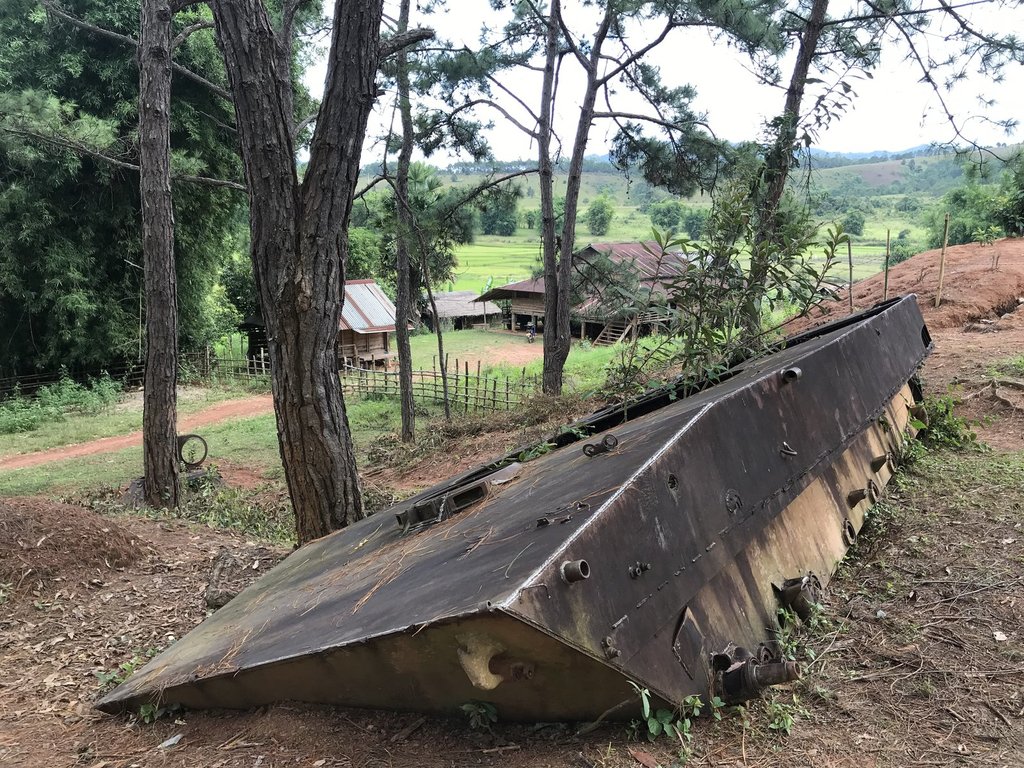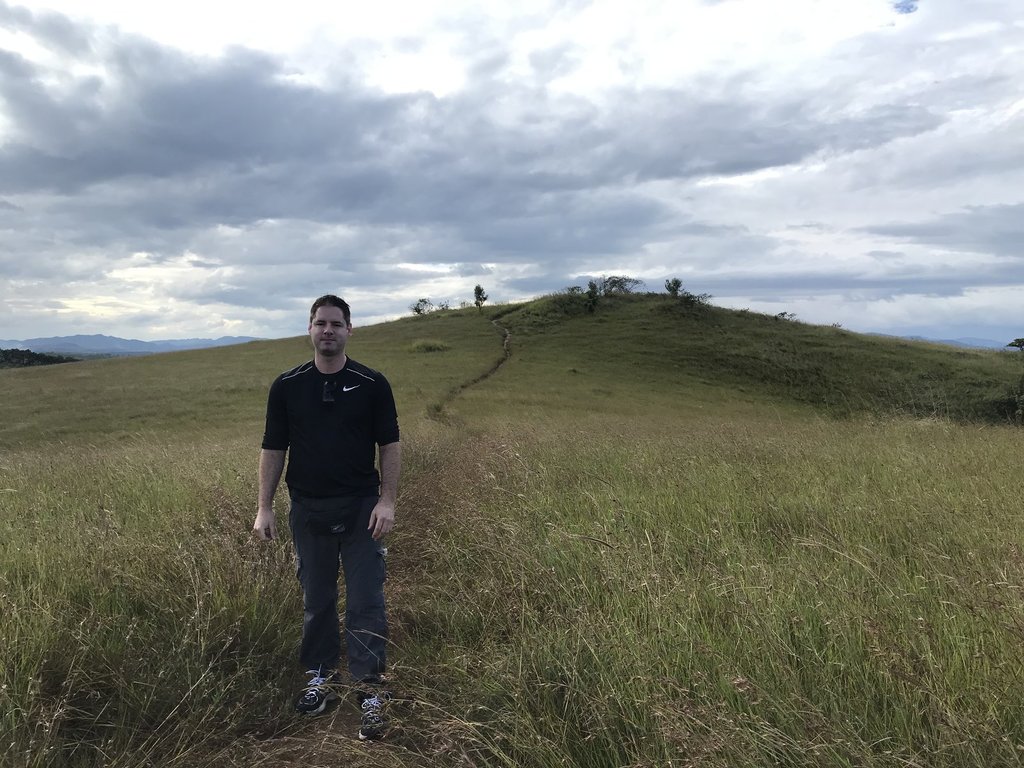 Plain of jars site 1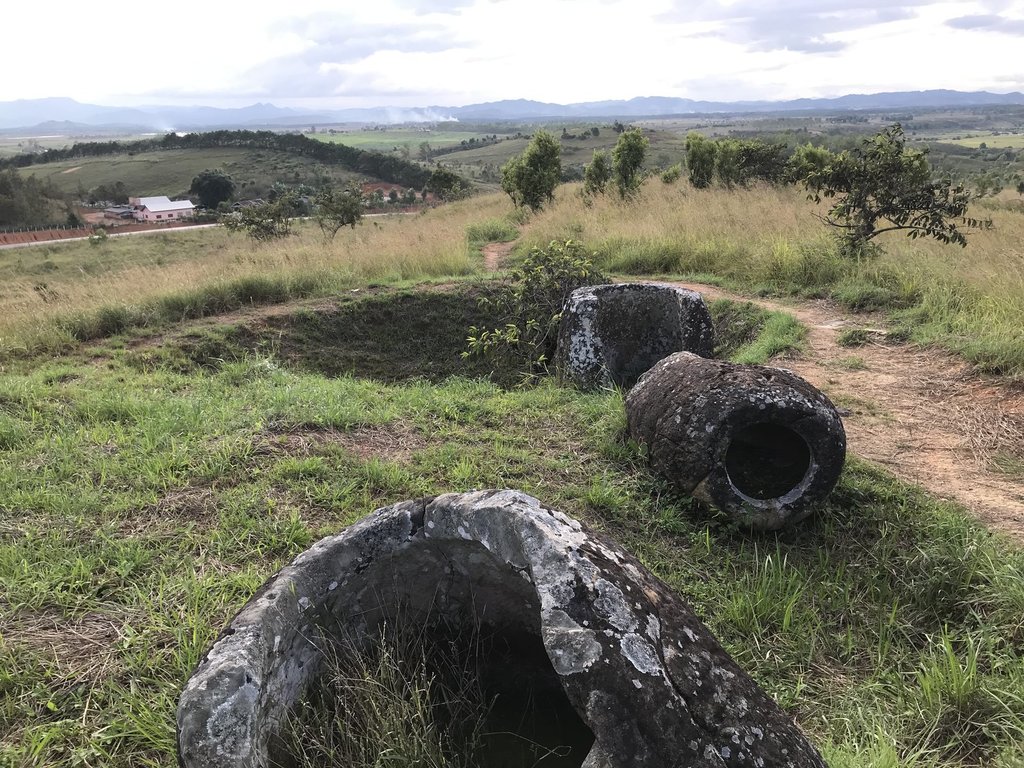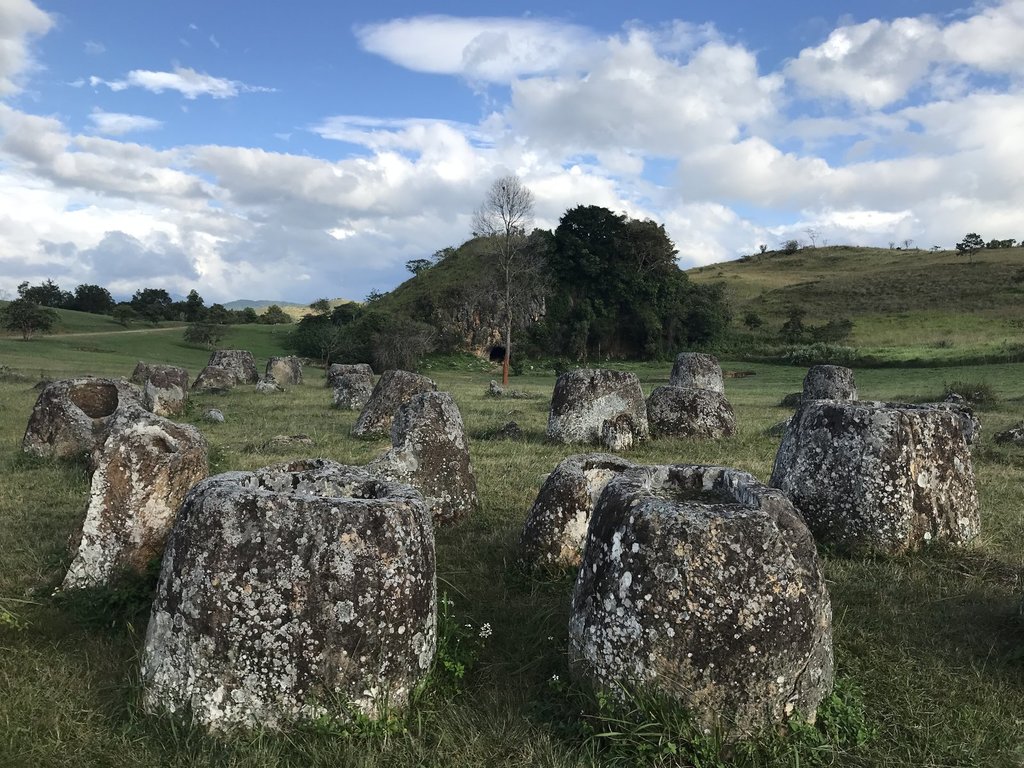 A gigantic bomb crater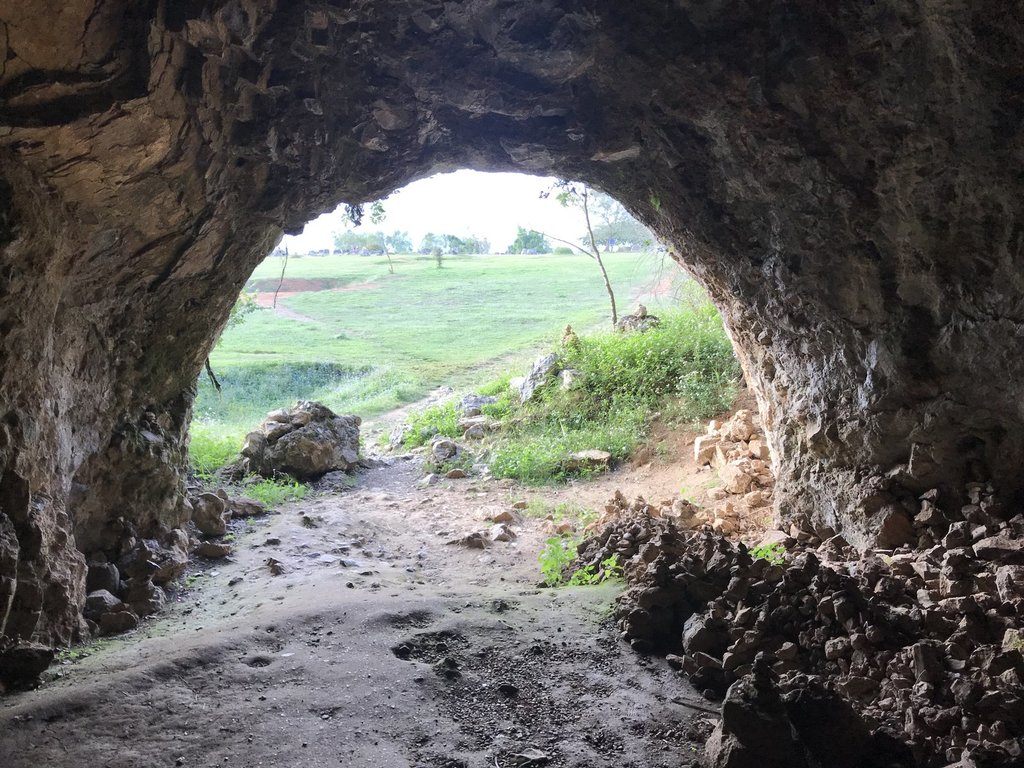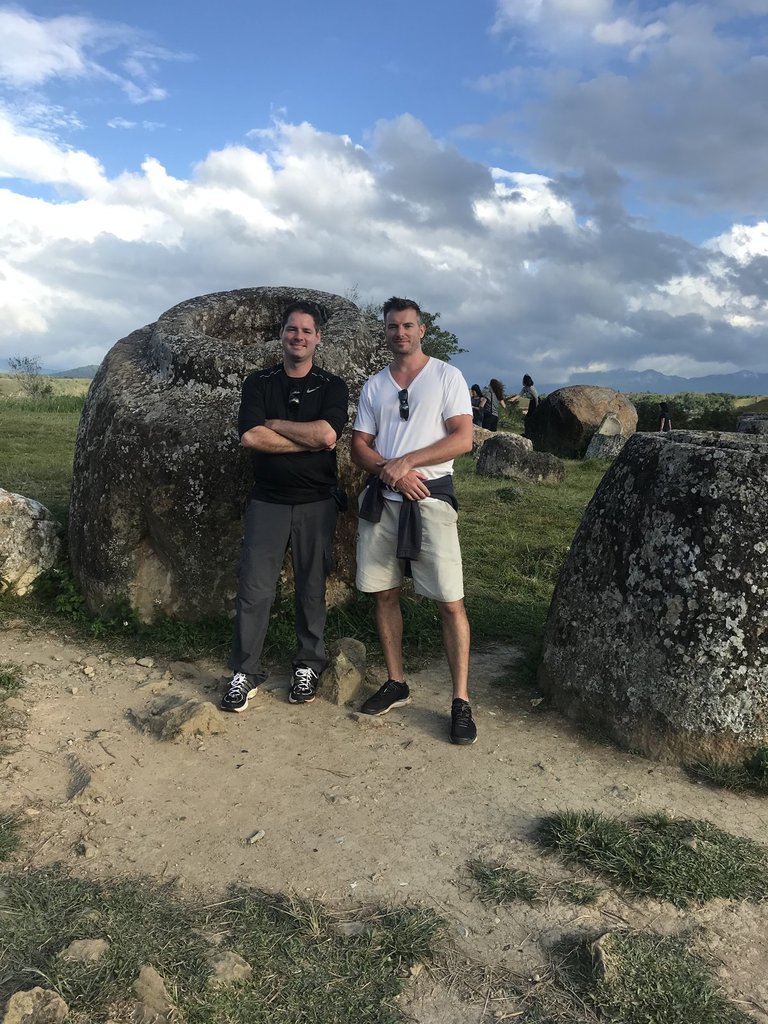 The museum at the plain of jars site 1 displays many of the munitions dropped during the war period.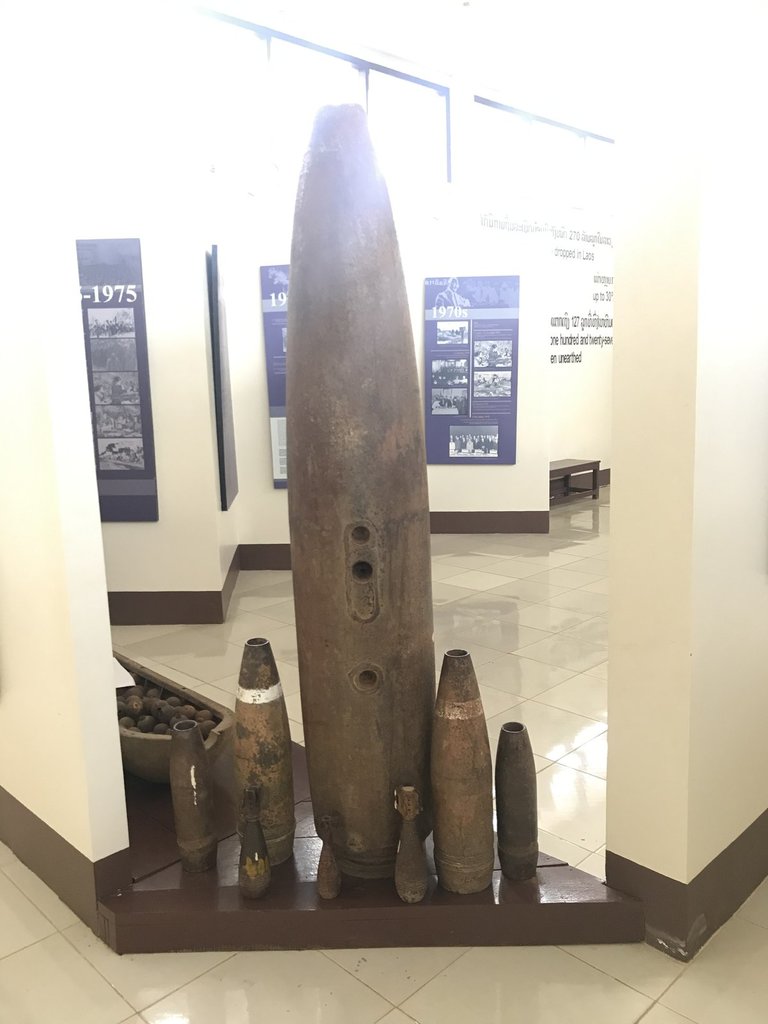 Phonsavan to Long Cheng
Today we headed to Long Cheng.
Mark was going to join us for this section of the ride. We regrouped the night before to plan our next few days at Cranky T's. What was supposed to be a few quiet drinks turned into a fairly solid drinking session.
Thankfully the ride into LC isn't actually that far and the unpaved road is in pretty decent condition. So no drams's. We were on the road by about midday.
The road from Phonsavan to LC is really nice with epic mountain scenery the whole way.
By the time we got there Hal was well into the stride of the off road riding.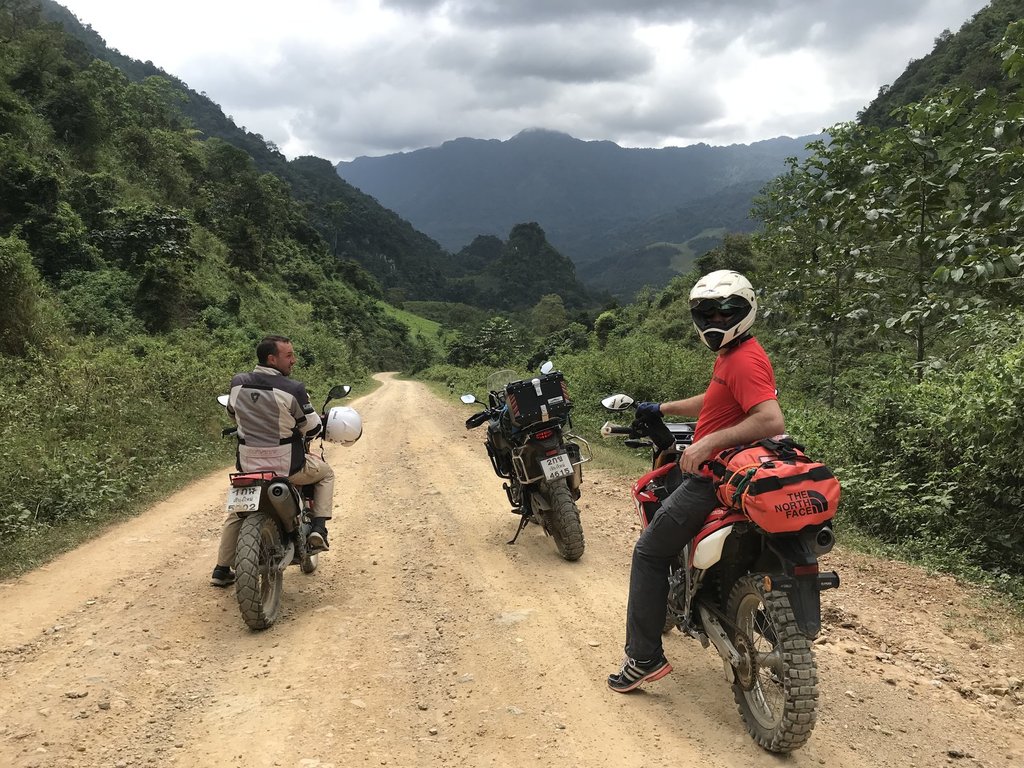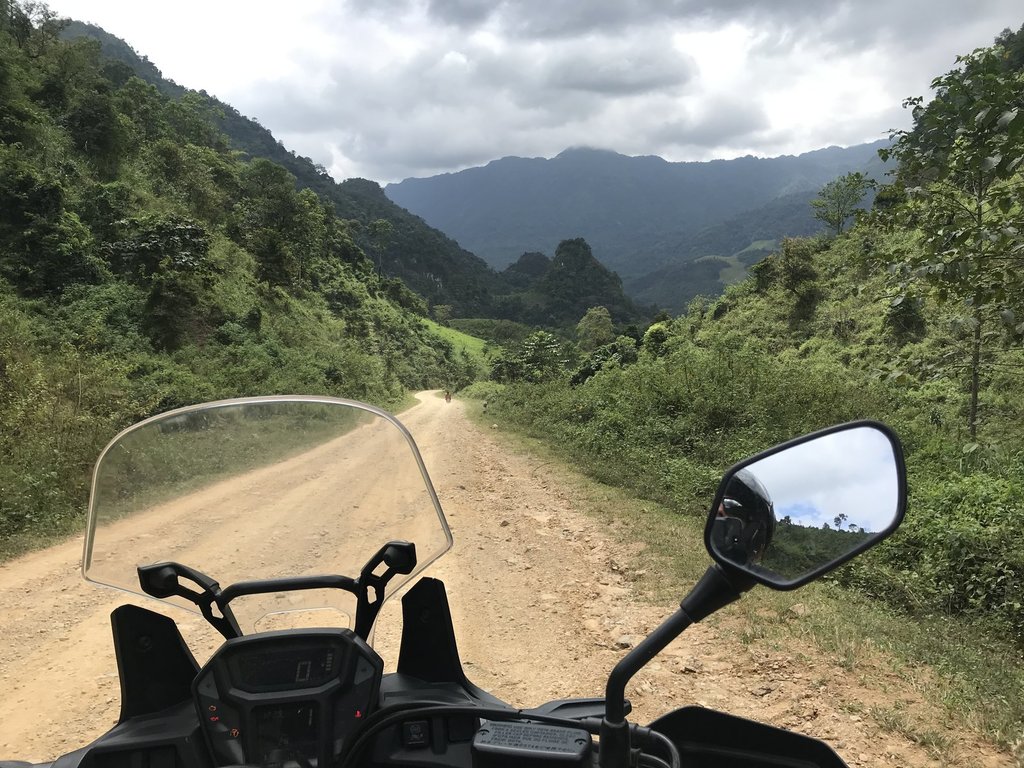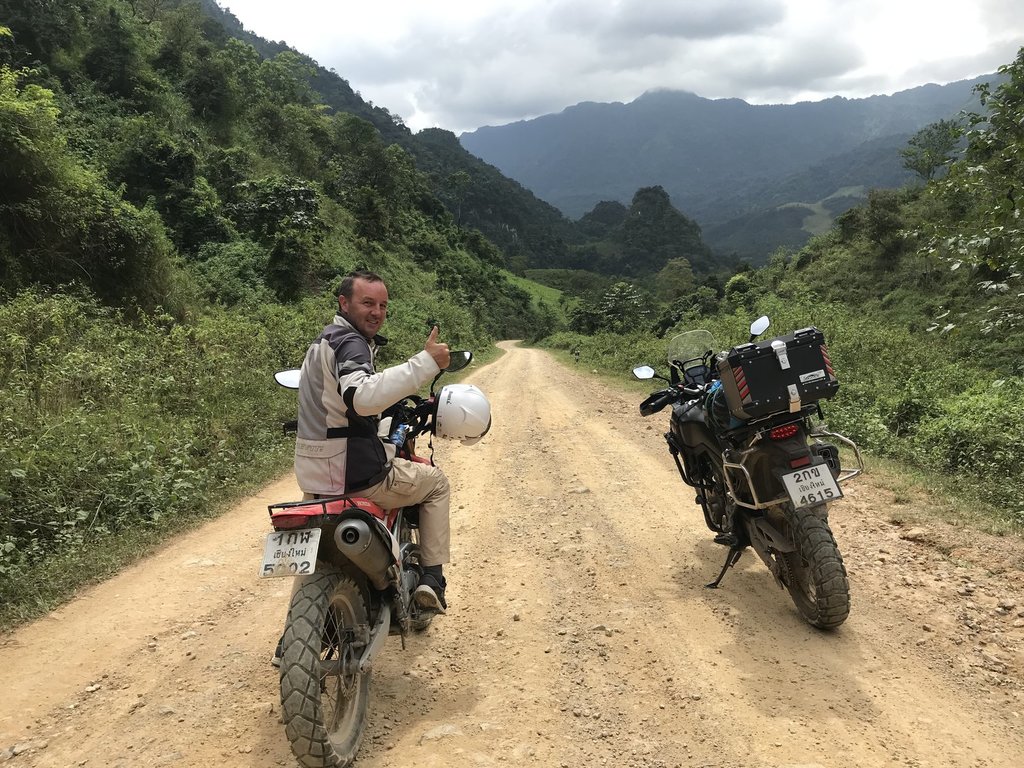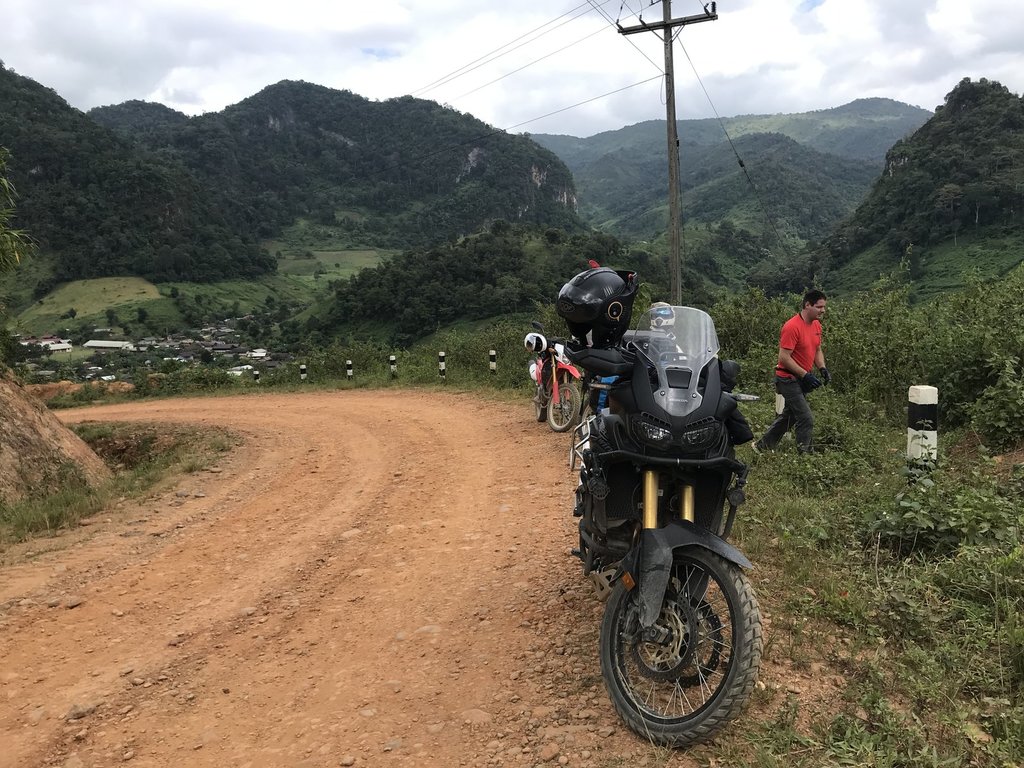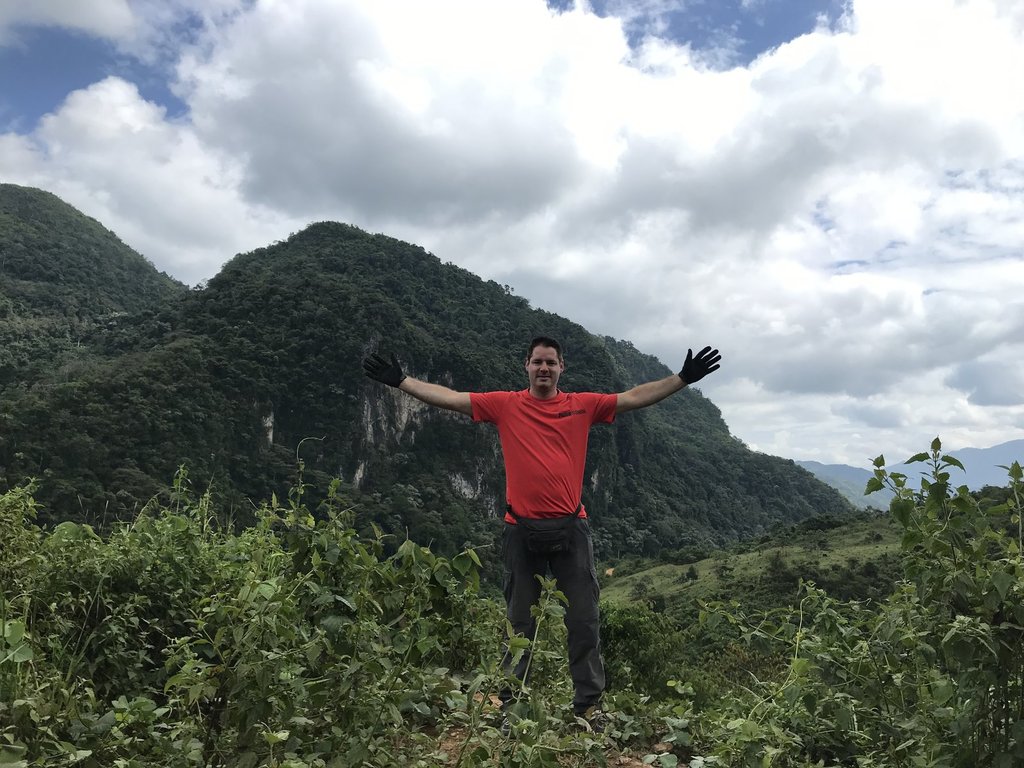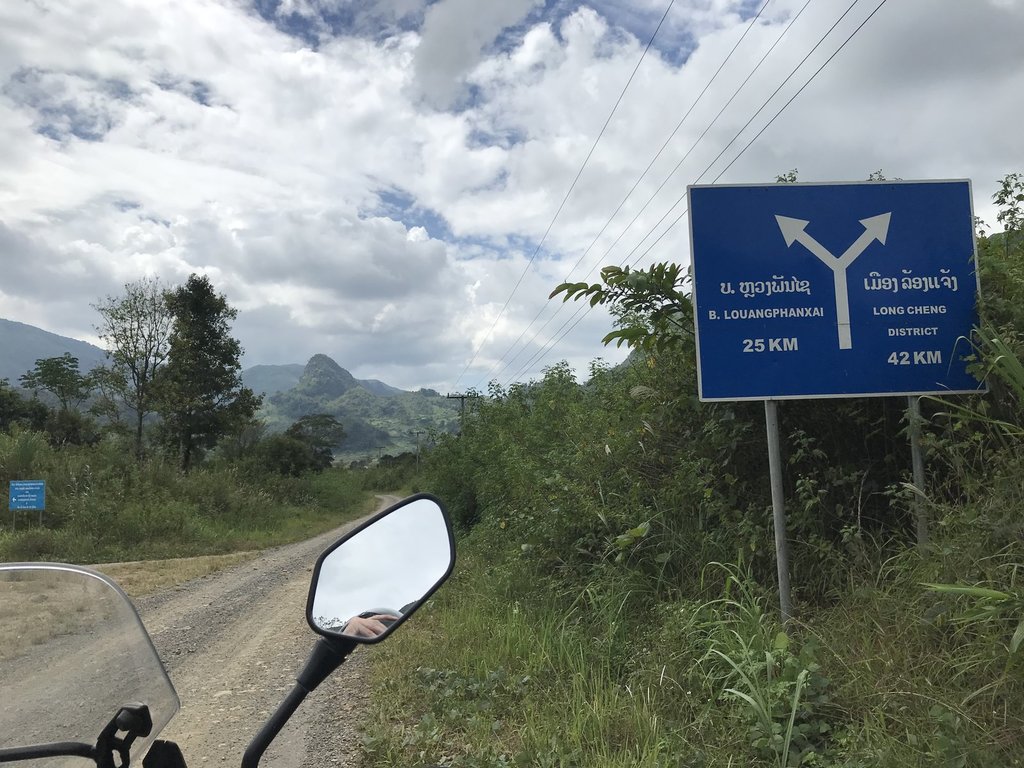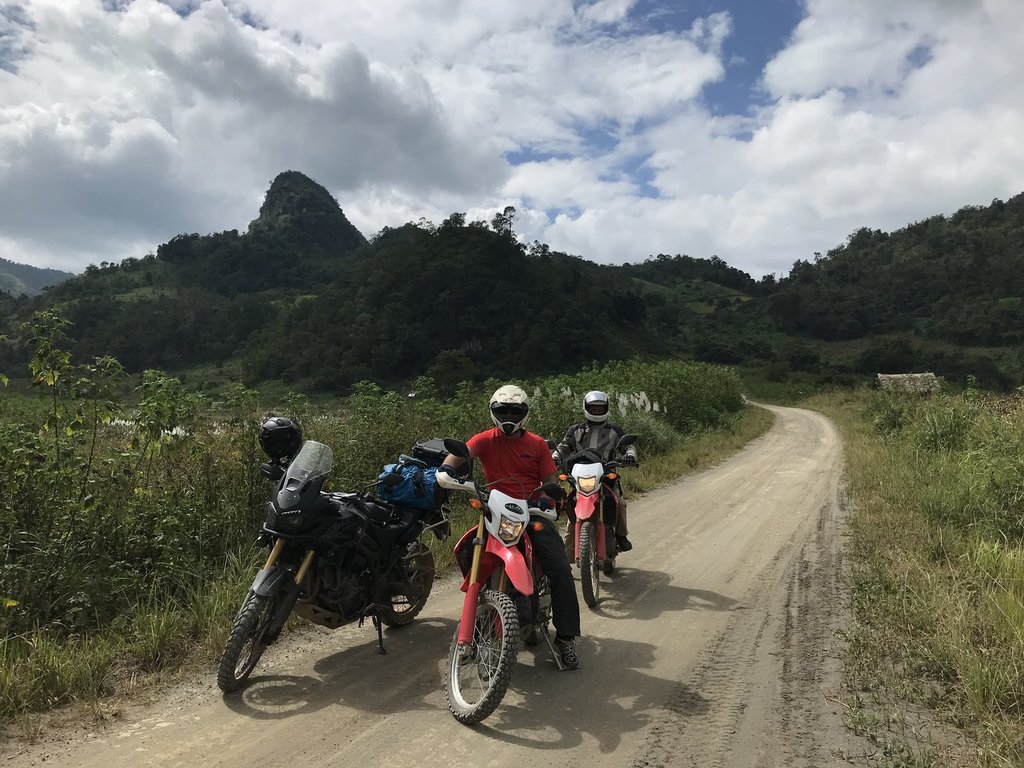 The view over Sam Thong LS20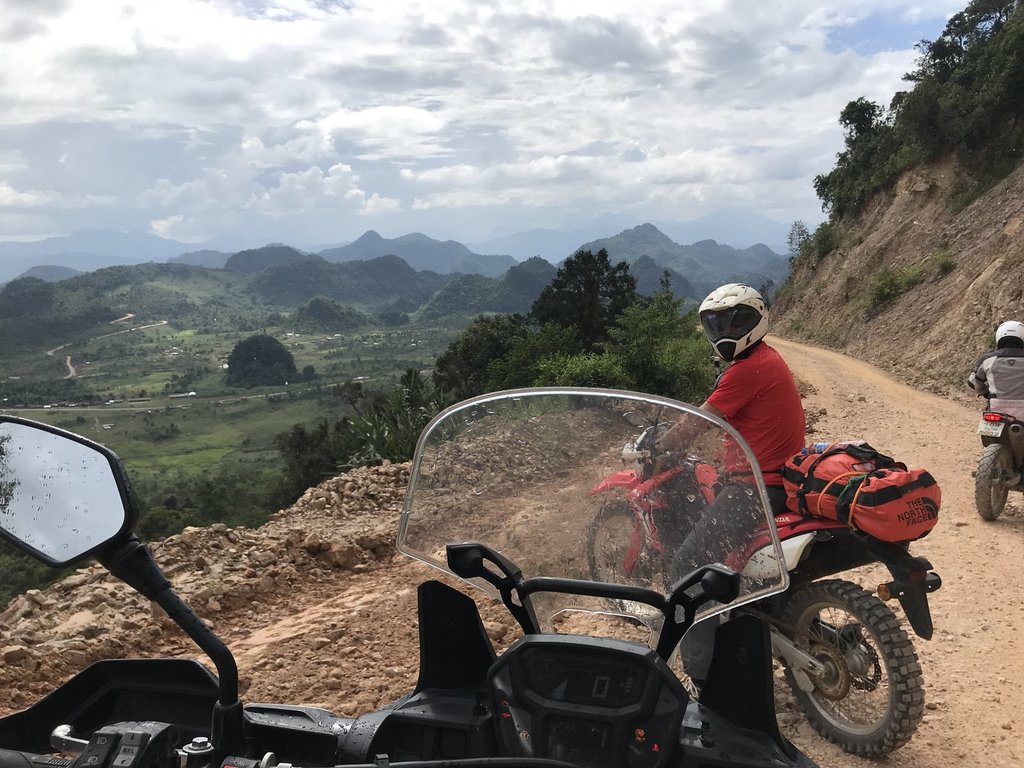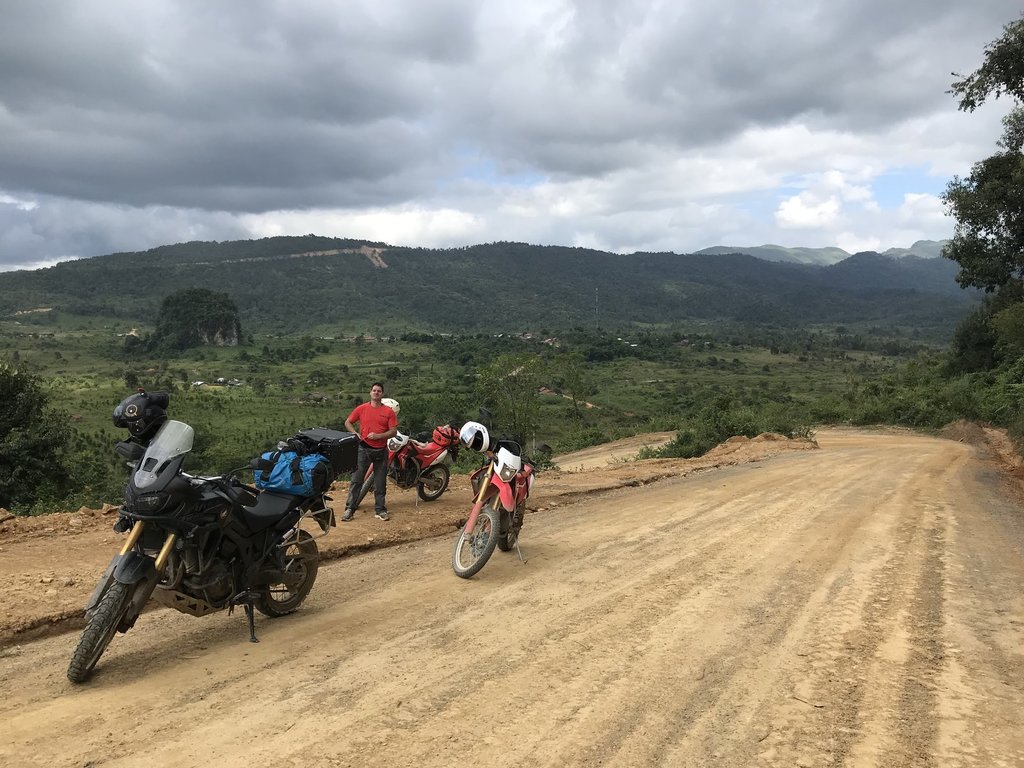 The view of Long Cheng from the approach from the Phonsavan. Its a spectacular site and no surprise that such a location was chosen for what was supposedly once the worlds most secret airbase.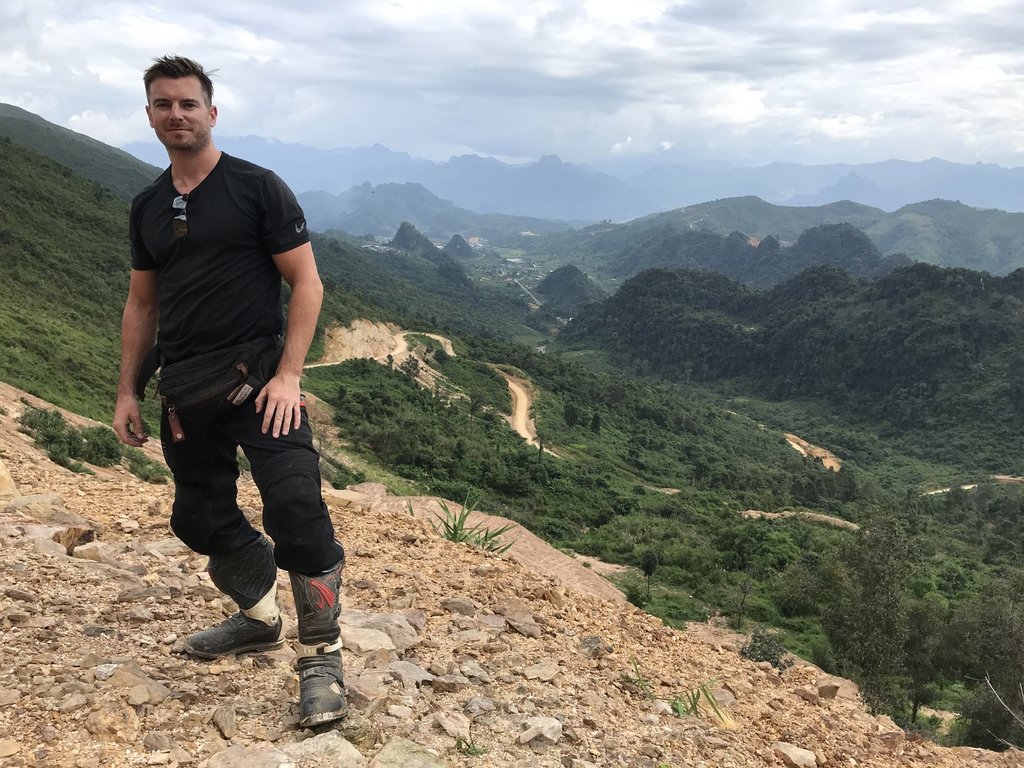 A few rough parches on the road that hadn't been finished on the road.
At this stage Hal was now a seasoned off road rider (approximately 1 days worth of experience in total) so this big mud puddle was no issue for him. I even made a video in expectation of him taking a mud bath, but alas, it was not to be. He made it through without so much a a spatter of mud.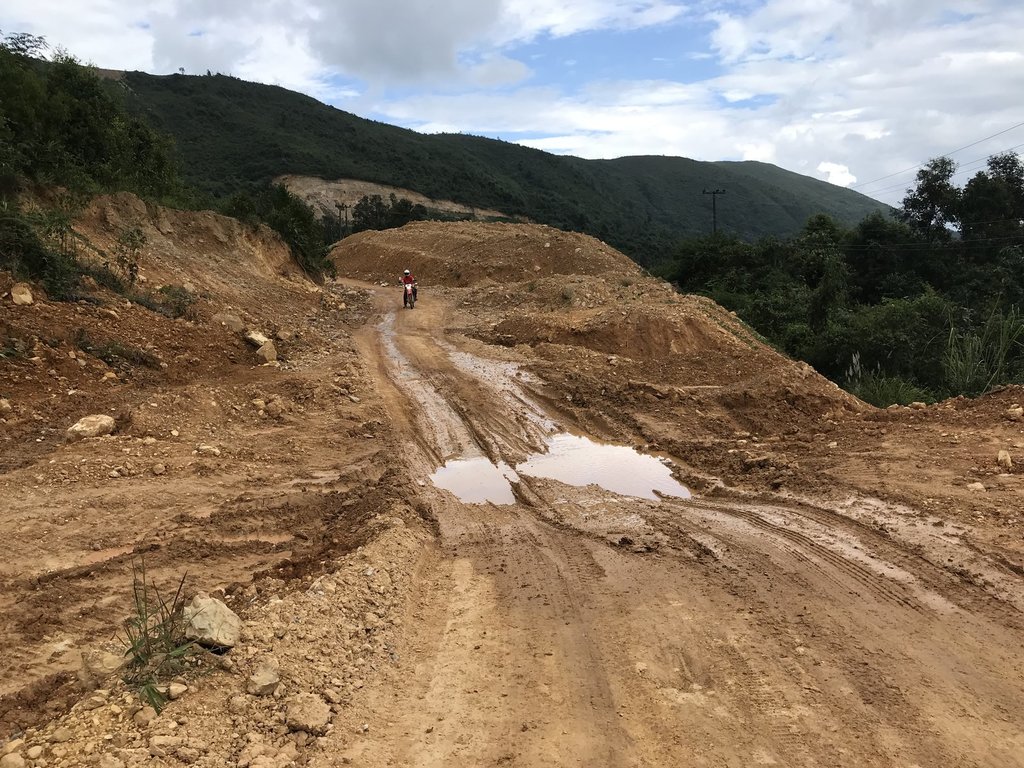 The lads on the runway. LS20a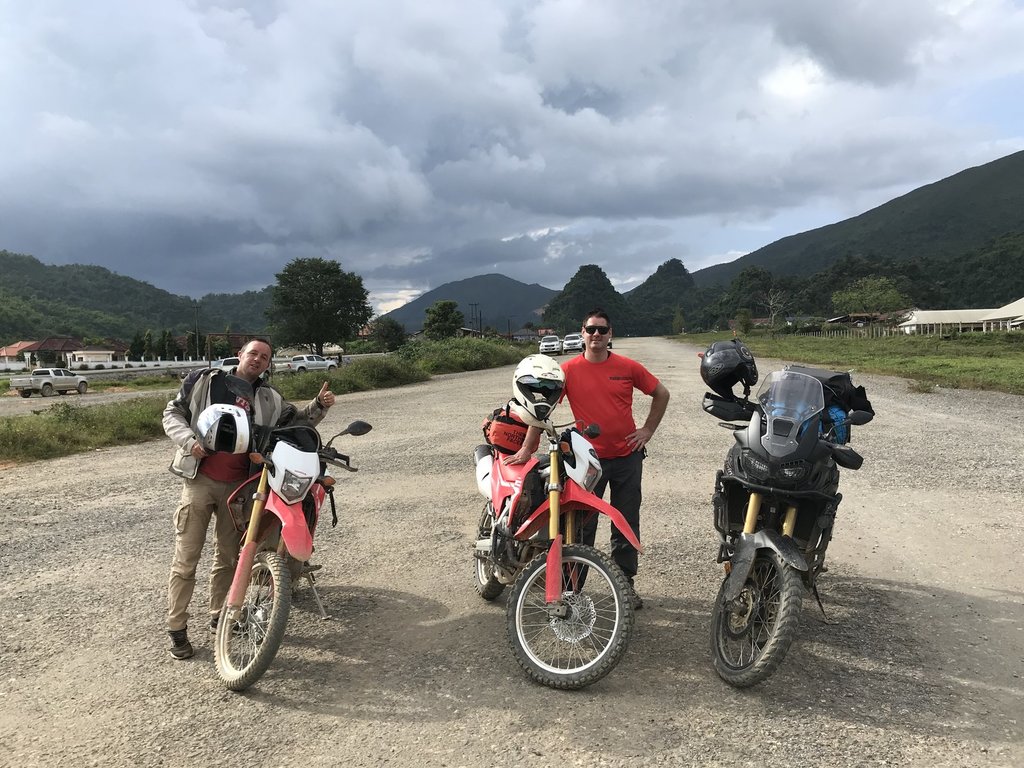 The infamous runway at Long Cheng.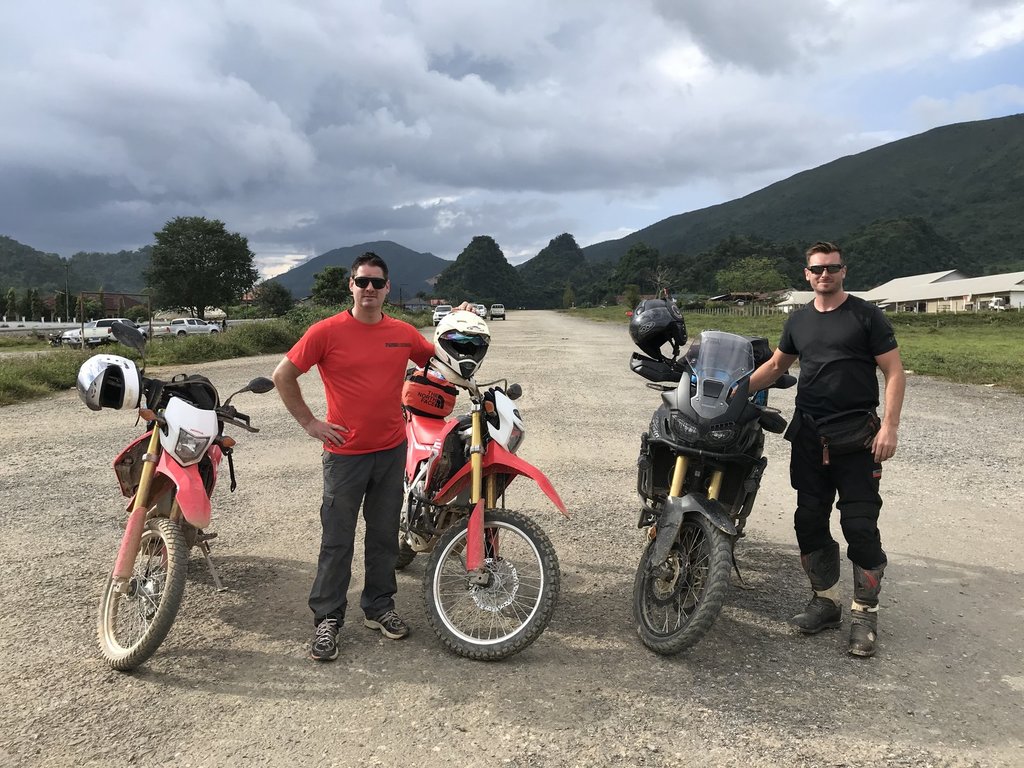 We made it in plenty of time for lunch. Pho is the main thing on the menu here.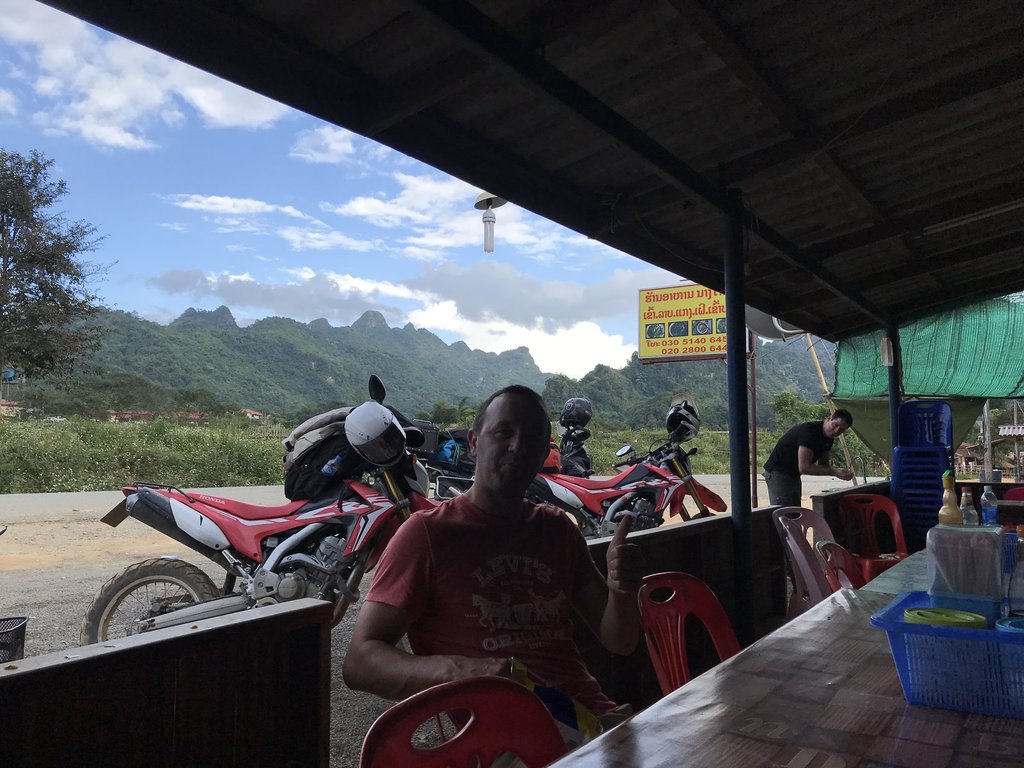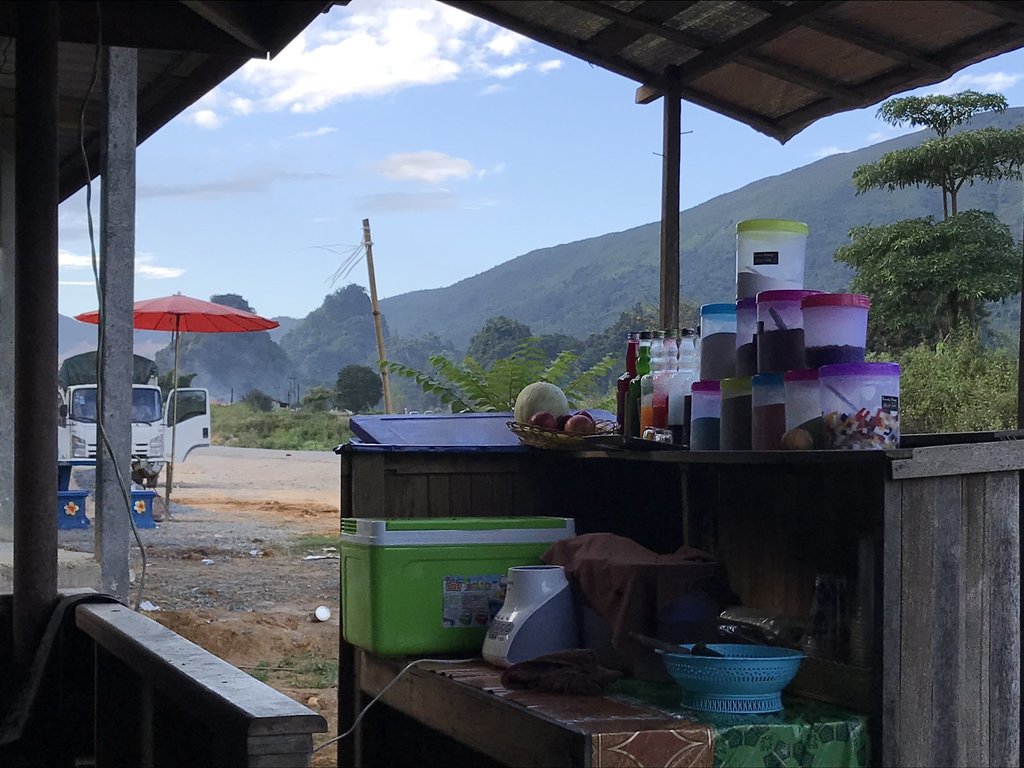 The bikes parked up outside Saysamone's guesthouse. The perfect spot to kick the night off with a few beer Lao.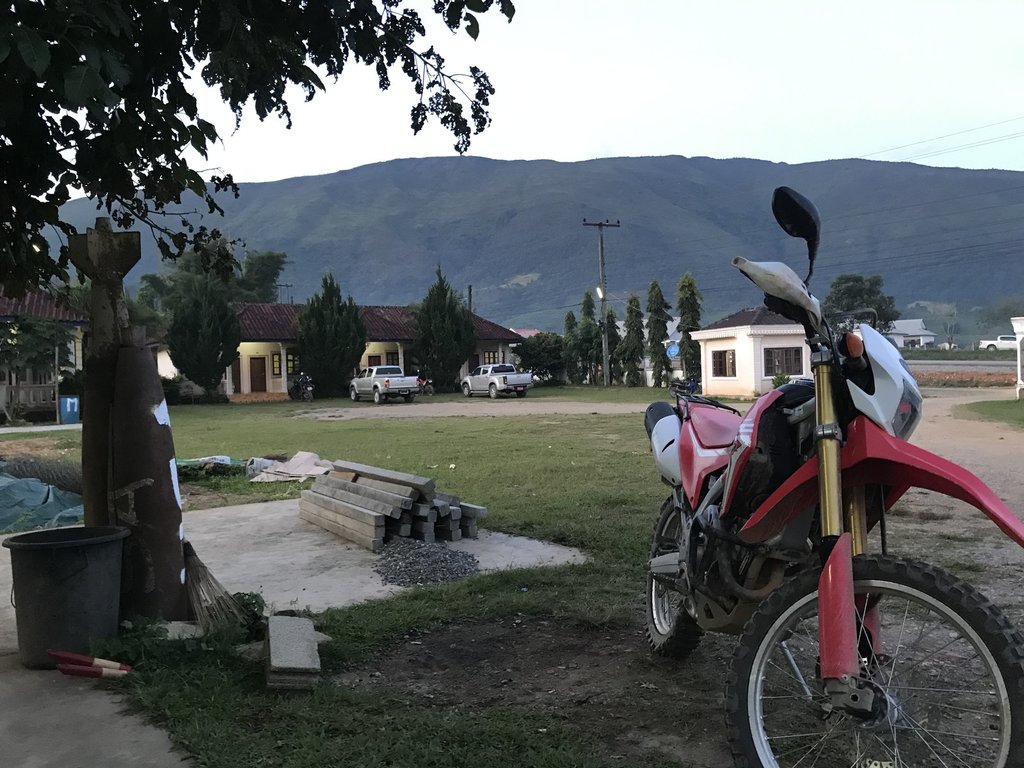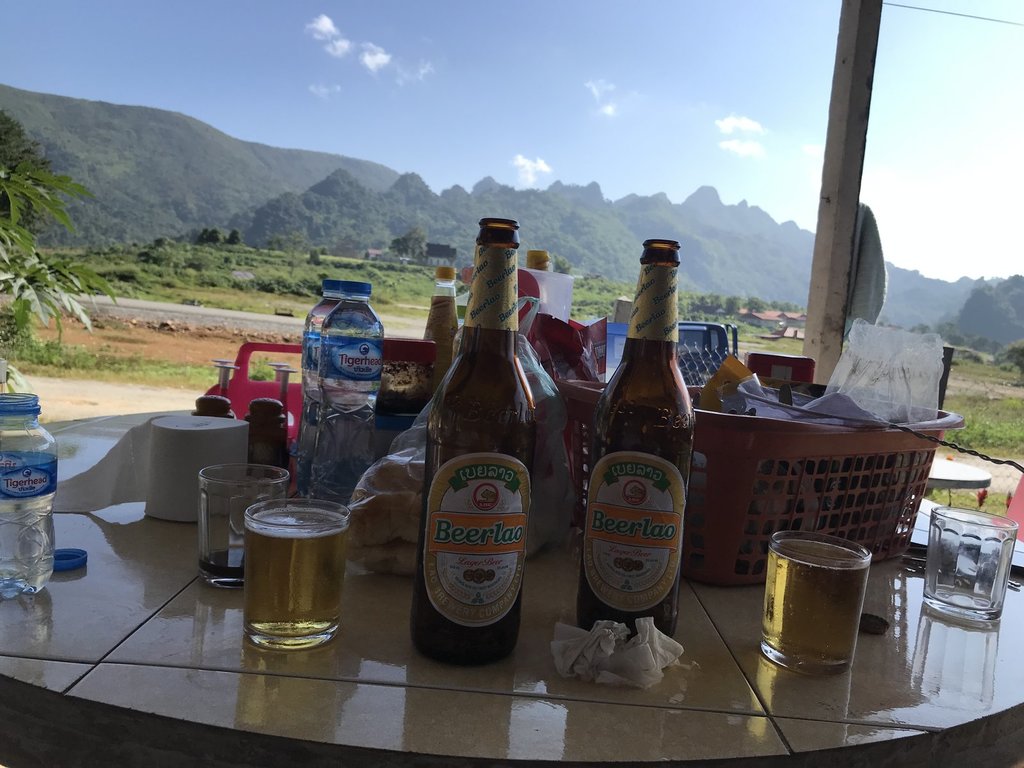 Long Cheng to Vang Vieng.... part 1
The next morning, we enjoyed a traditional Lao breakfast with Mr Saysamone who is the owner of the guesthouse.
He insisted that we drink a few bottles of Beer Lao at about 8am before we set off on our journey to Vang Vieng.
Needless to say, the 8am departure time went completely out the window.
After a feed of Beer Lao, and a few more pics out on the runway, we finally got on our way. Probably more like midday by the time we really pulled out of there.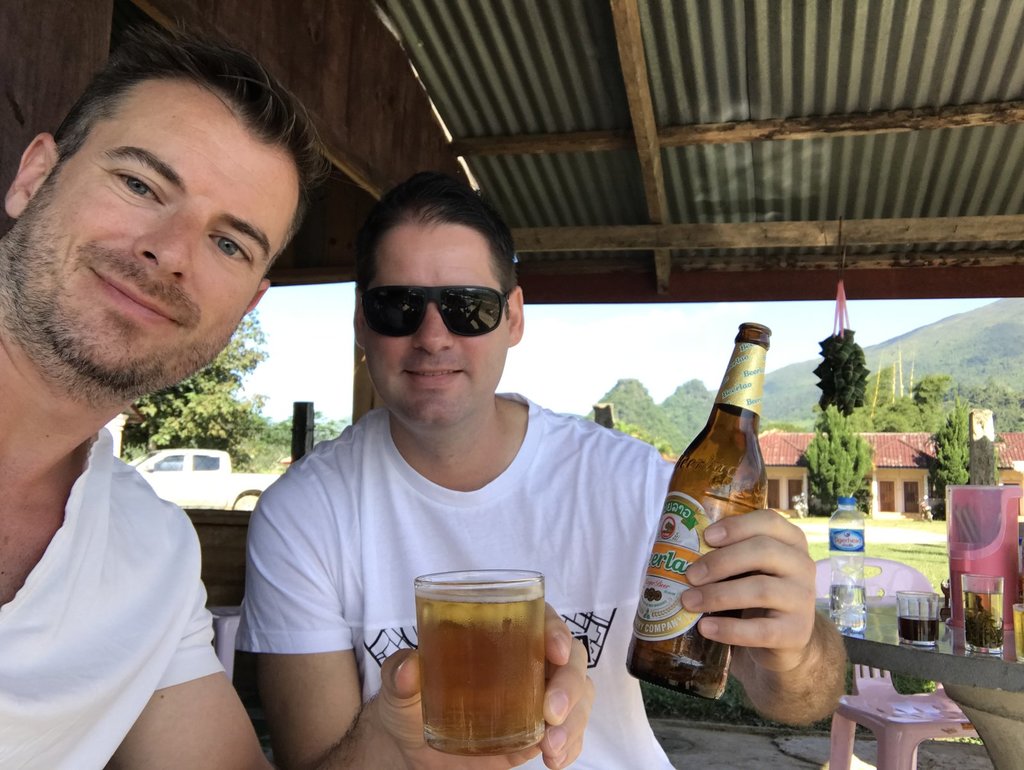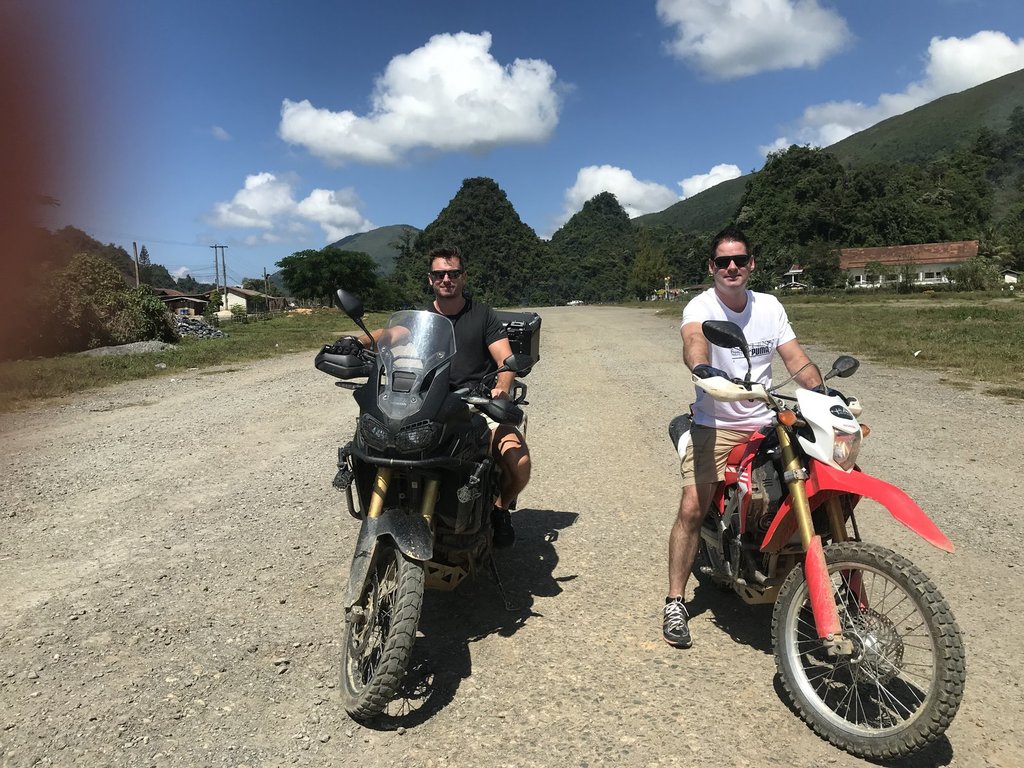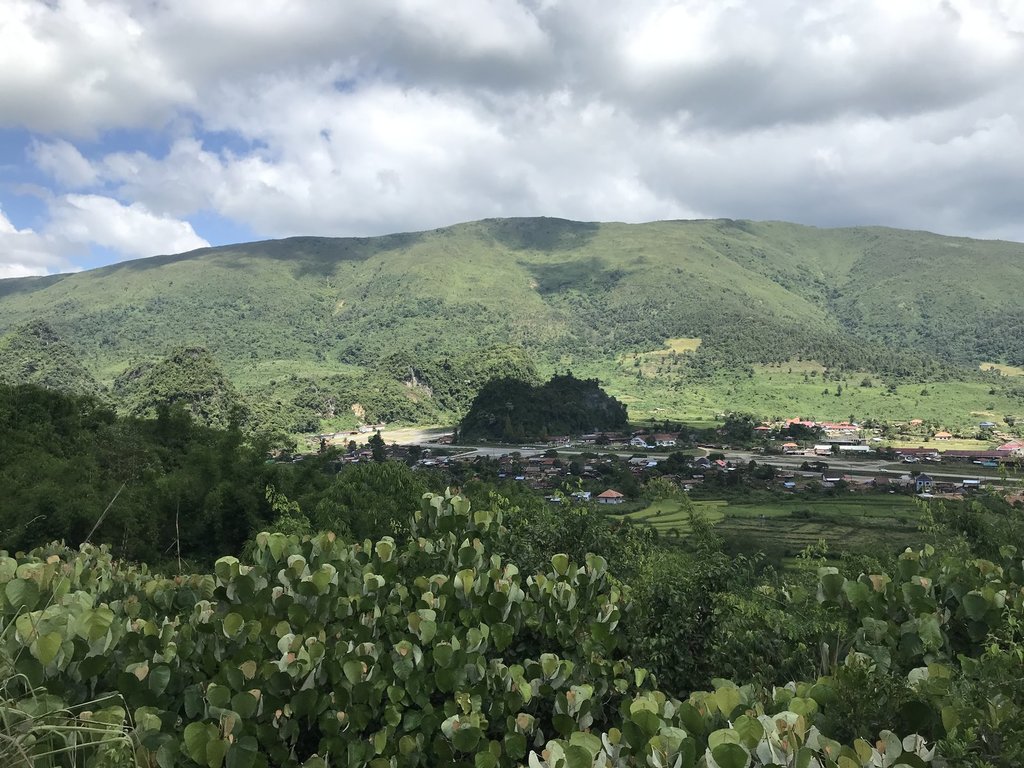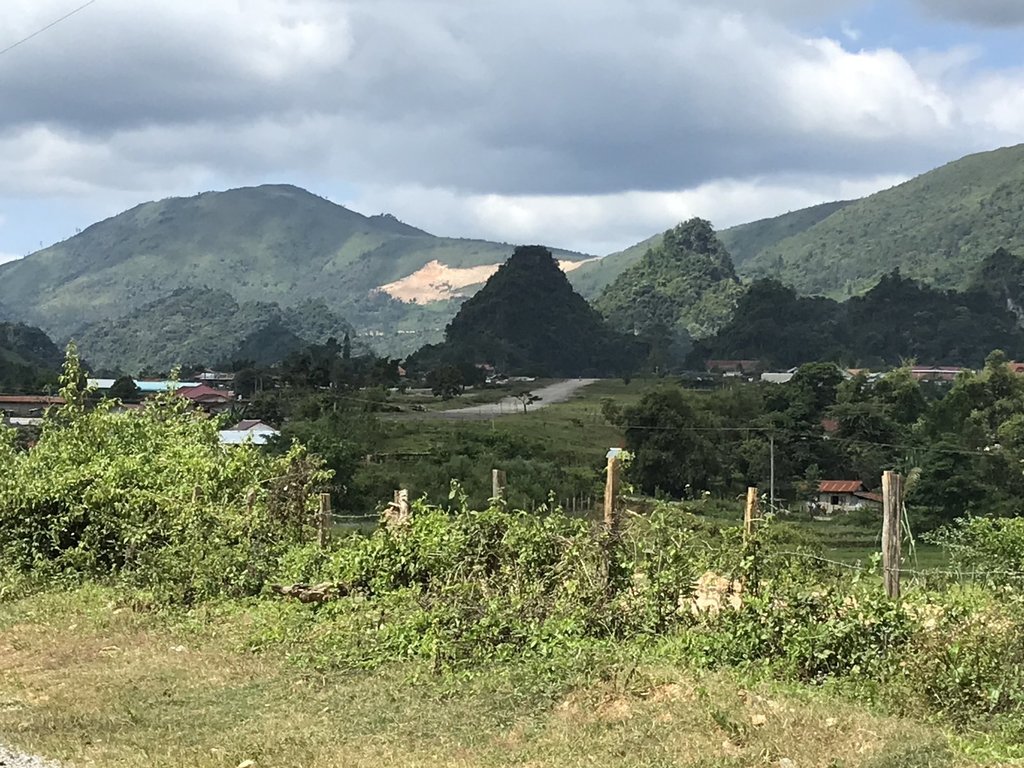 The road to the south of Long Cheng has been recently paved. So it was pretty plain sailing until the turnoff to Vang Vieng.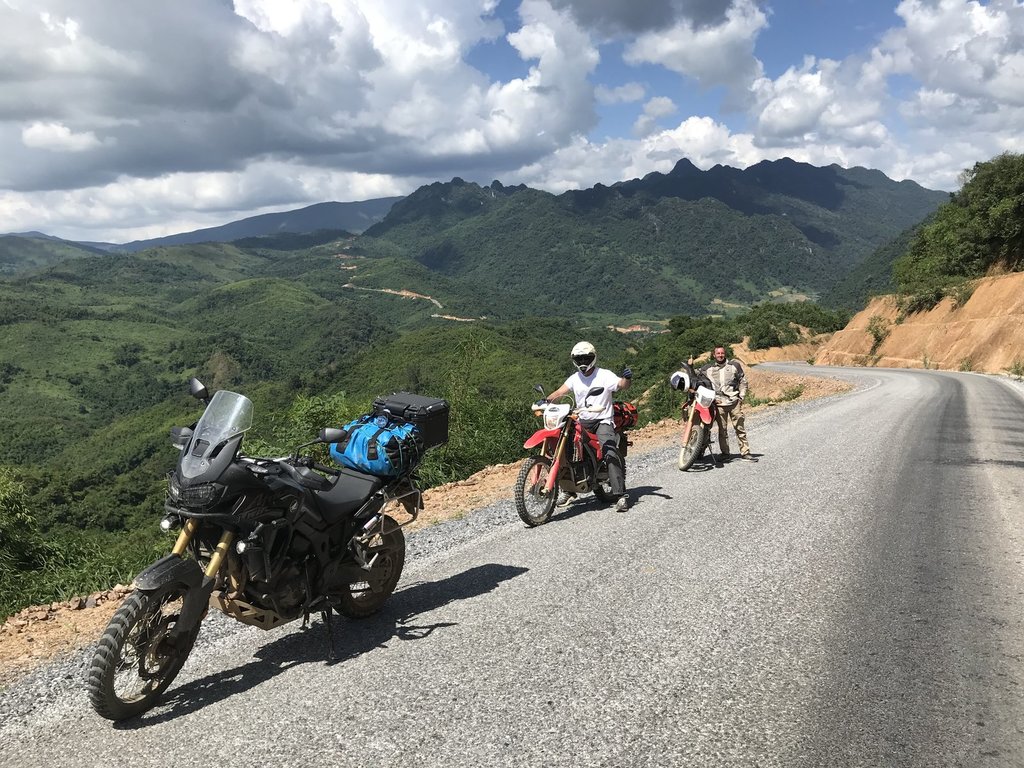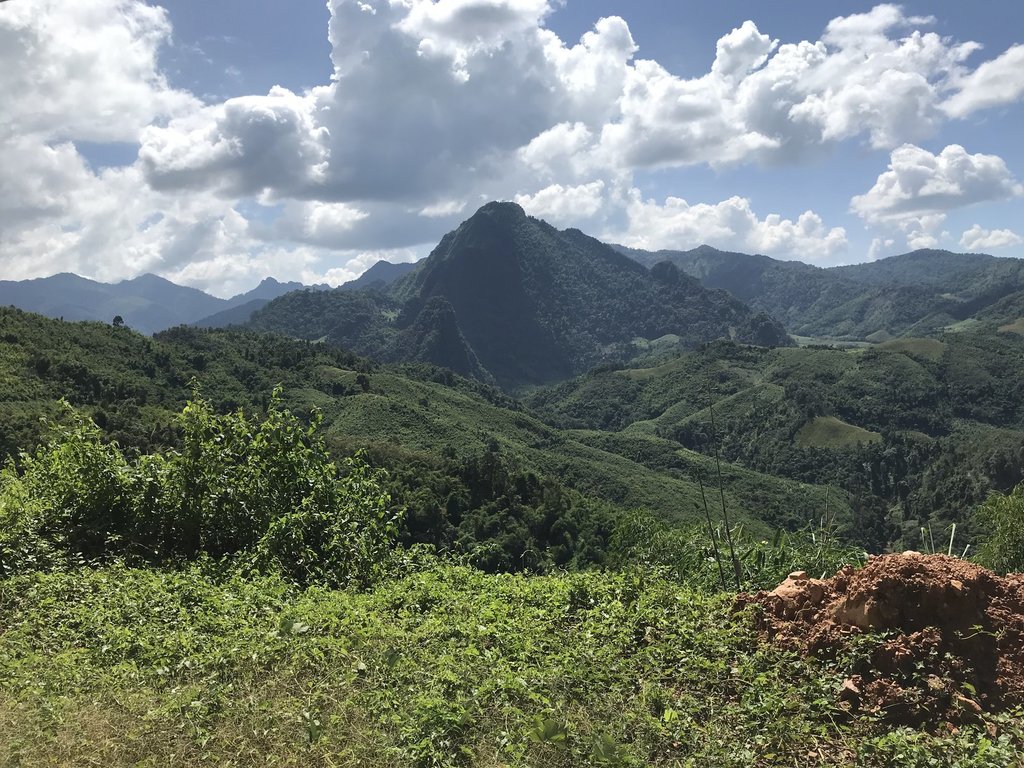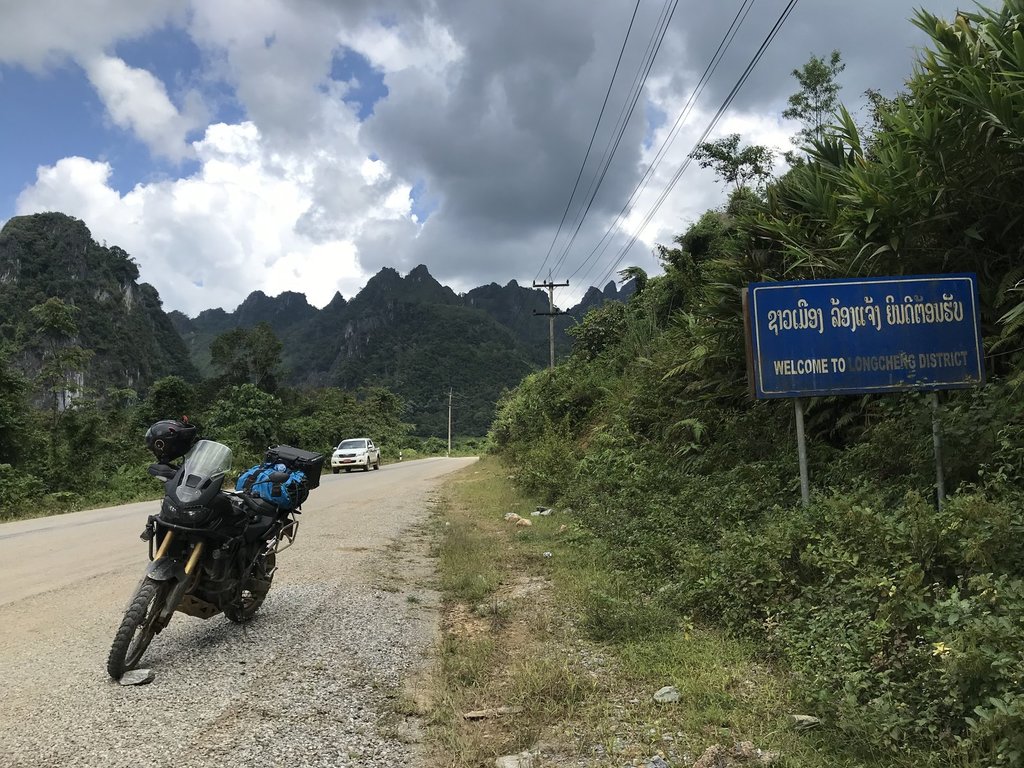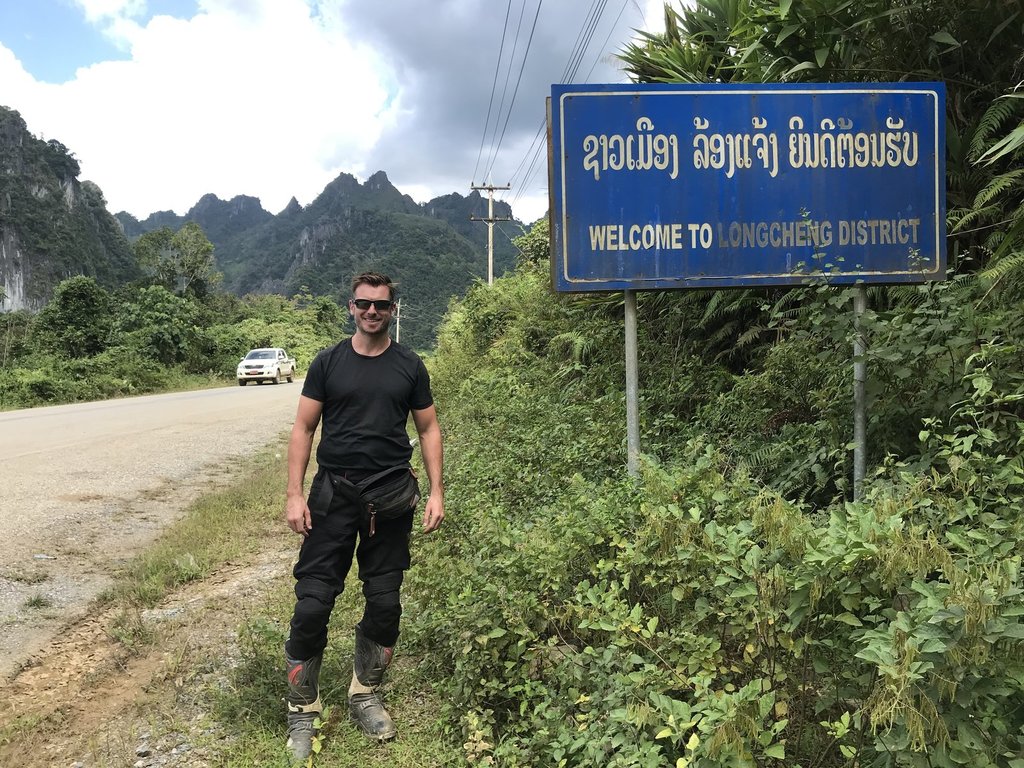 Mark pushed on and myself and Hal decided to stop for pictures and have a break at this fine restaurant located at the turnoff to Vang Vieng.
It started to piss down rain, so we decided to stay dry for about an hour.
A few locals stopped by for a chat. There was an interesting array of products and services available from this humble shack.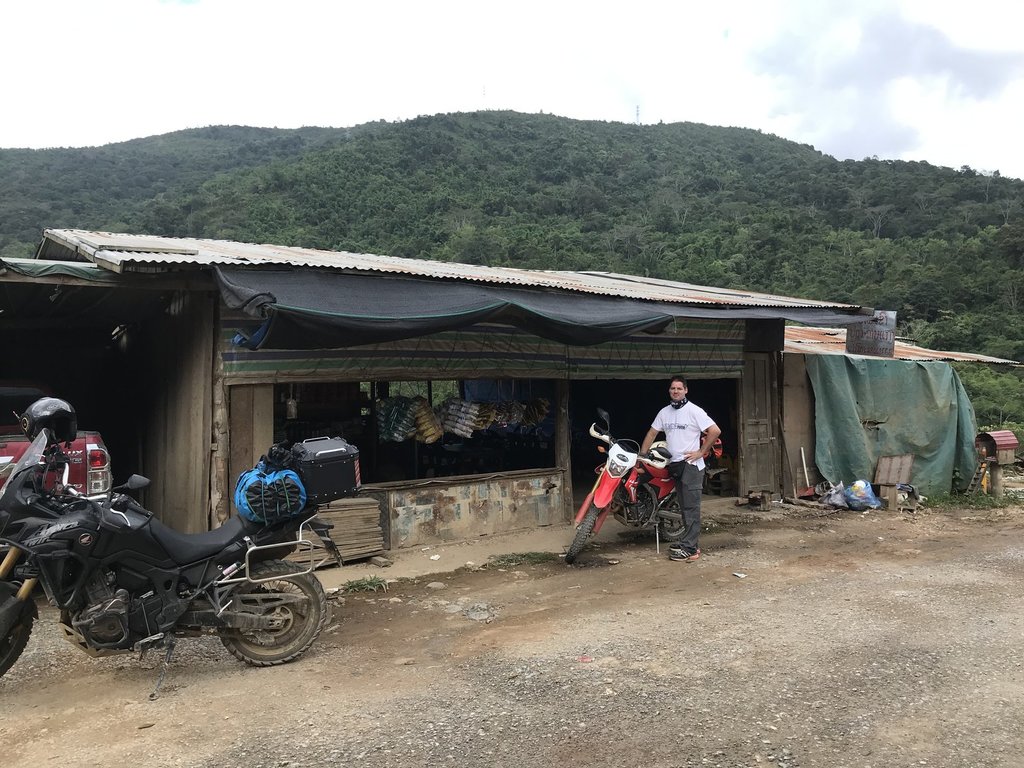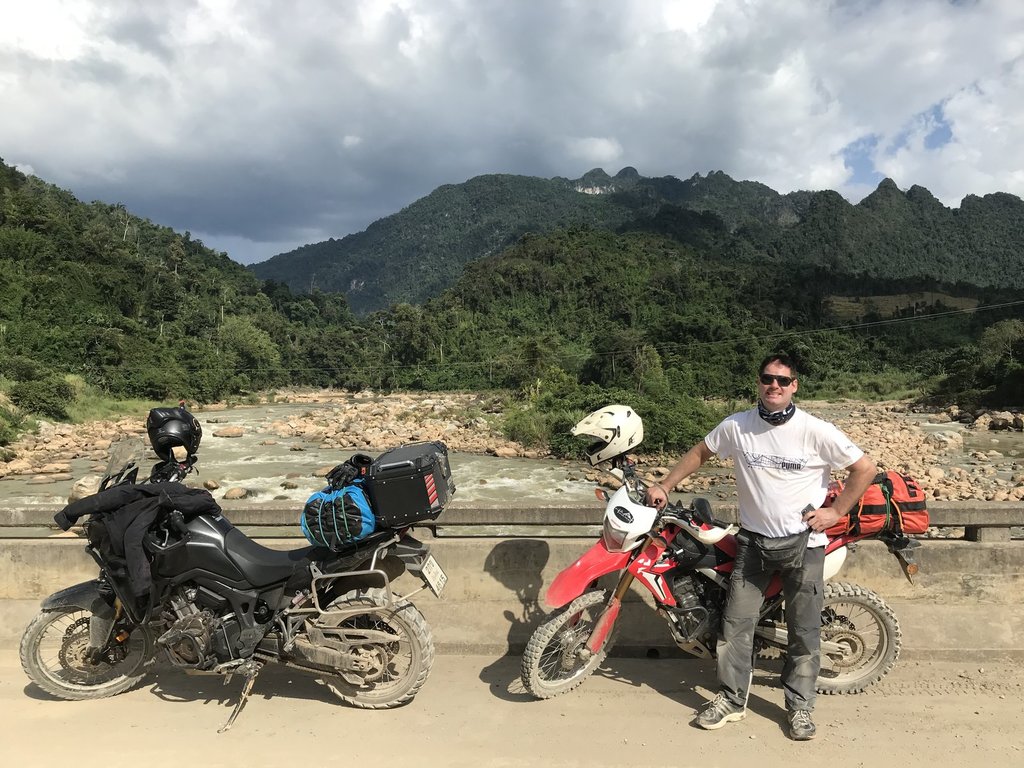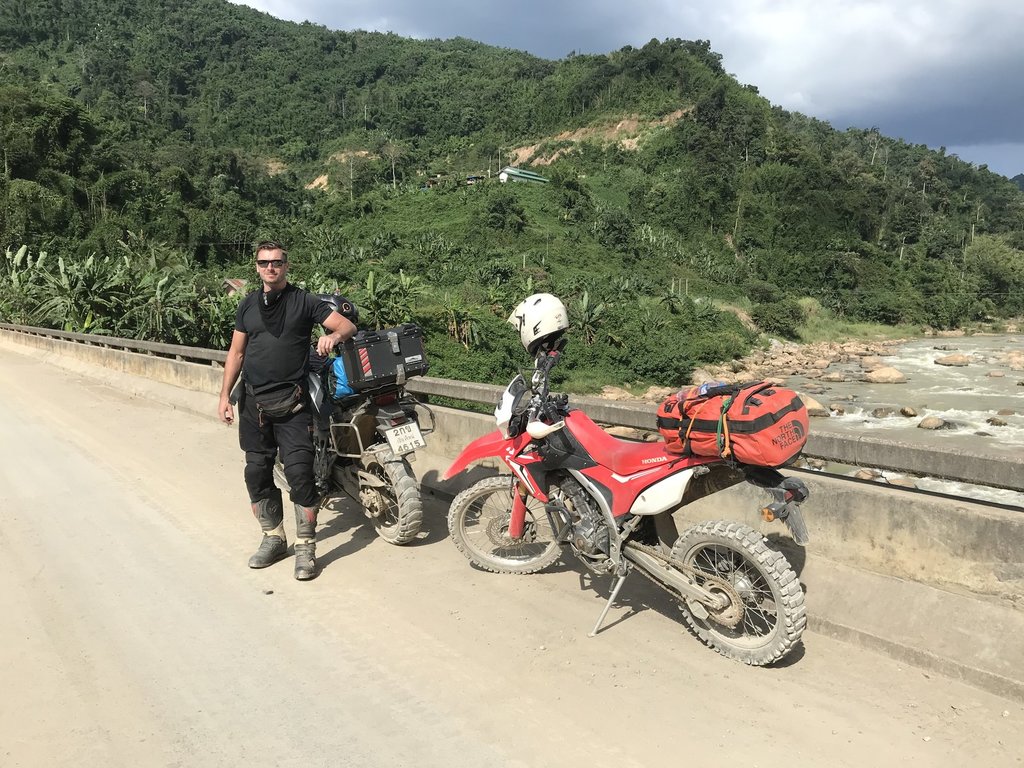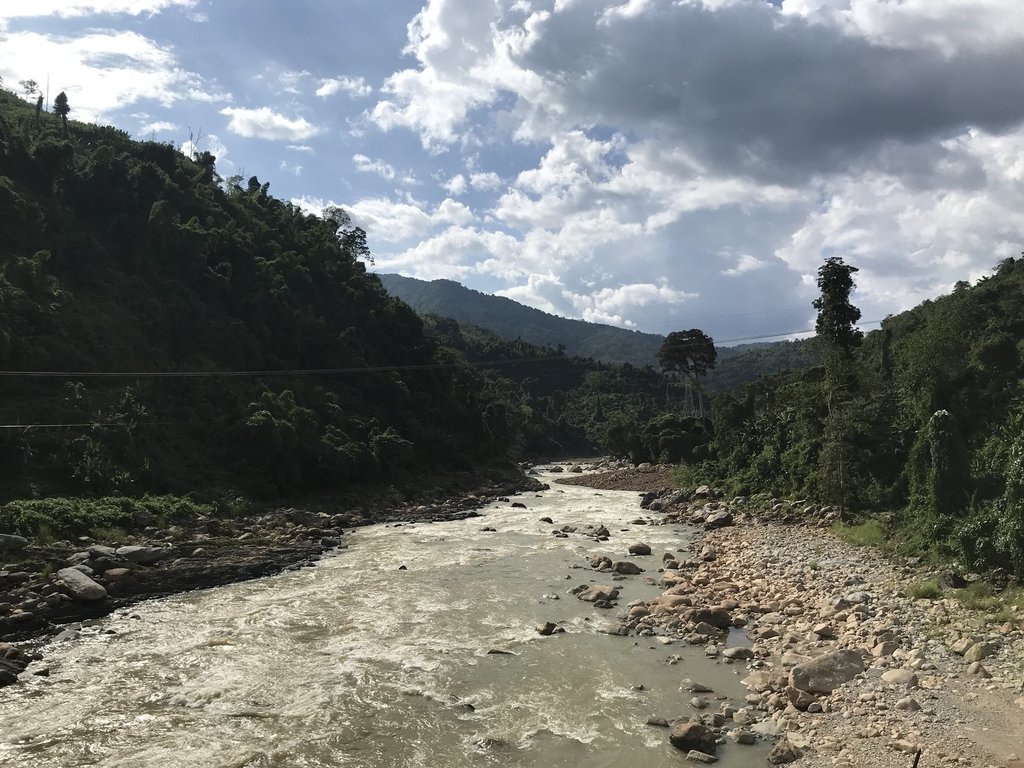 The road to Vang Vieng is rough as guts. Rocky and dusty. Thankfully the rain kept most of the dust down and there were no trucks today.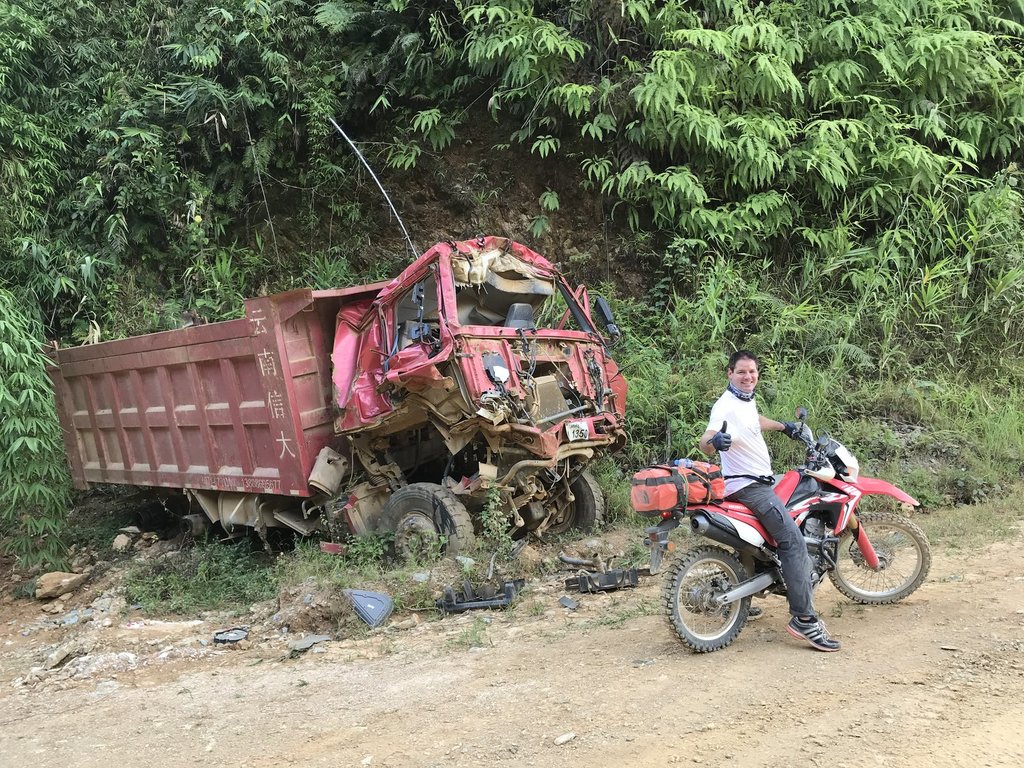 The remains of an ill fated truck that probably overcooked the corner and crashed head on into something else.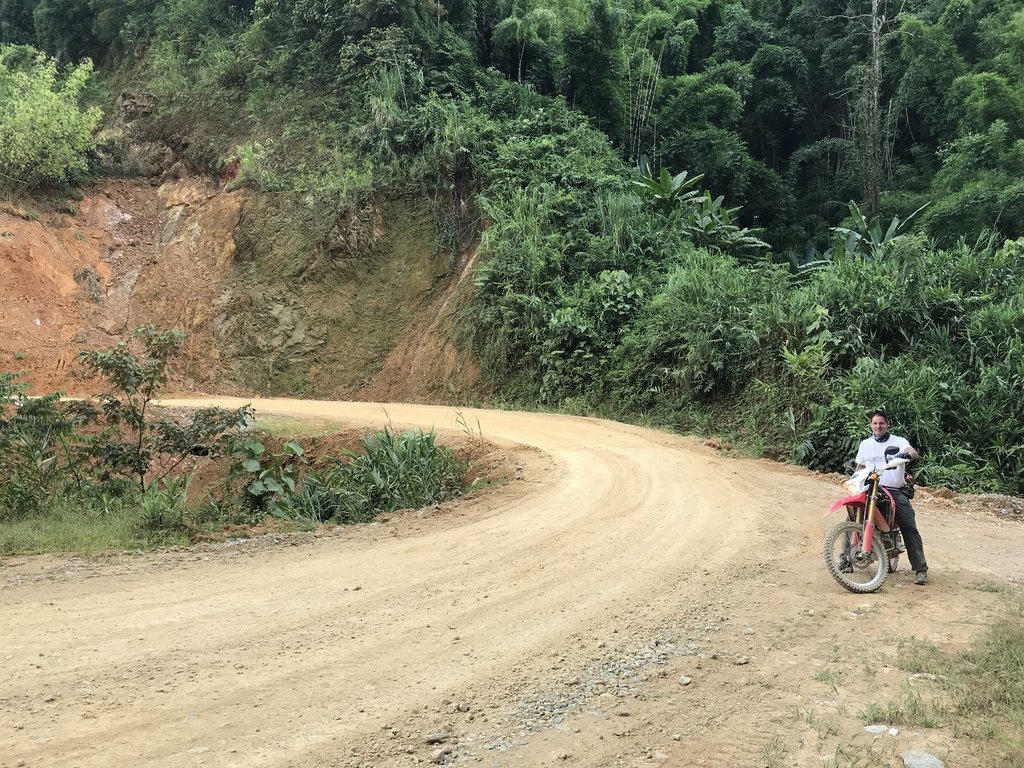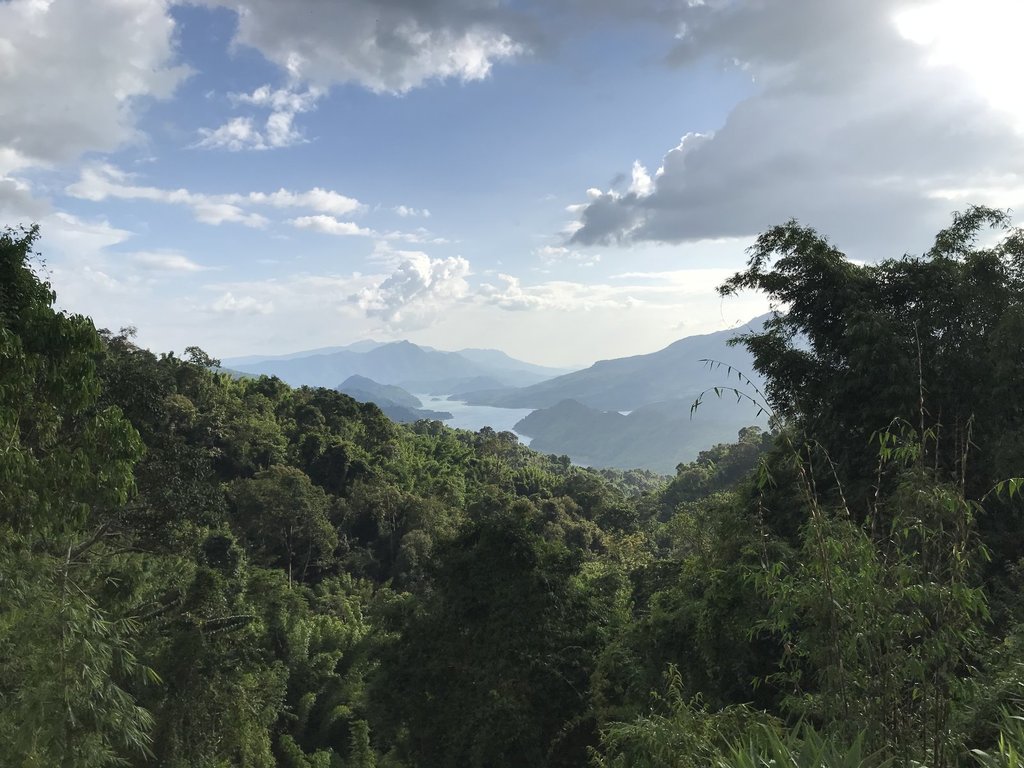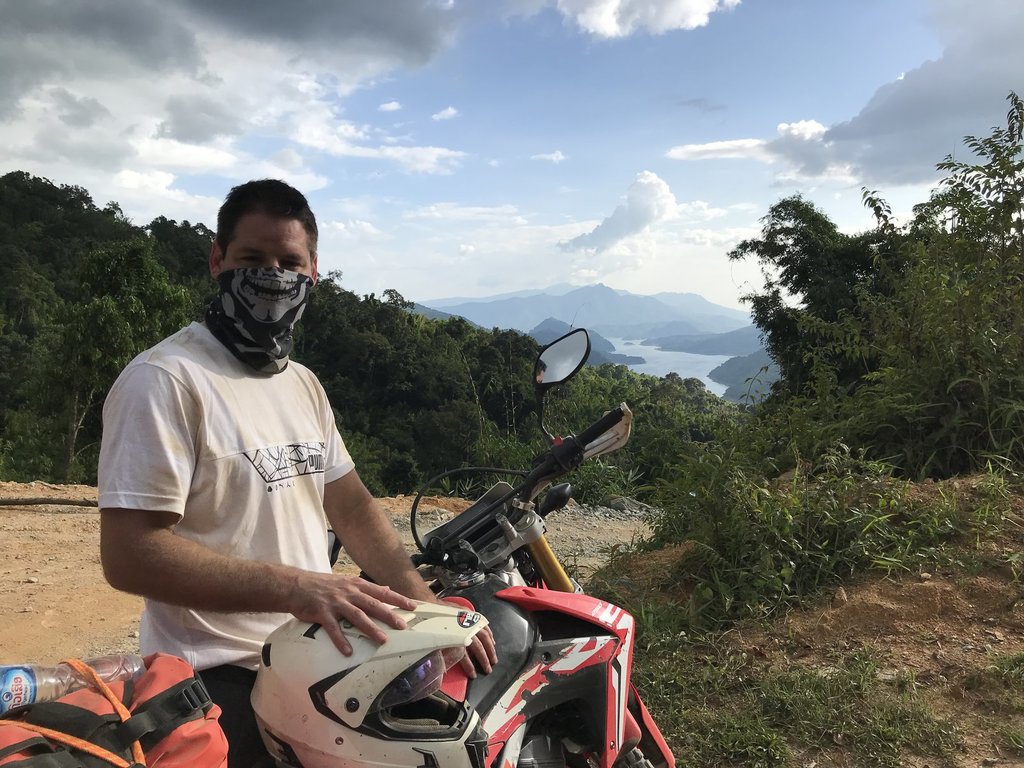 Views out over the Nam Ngeun resevoir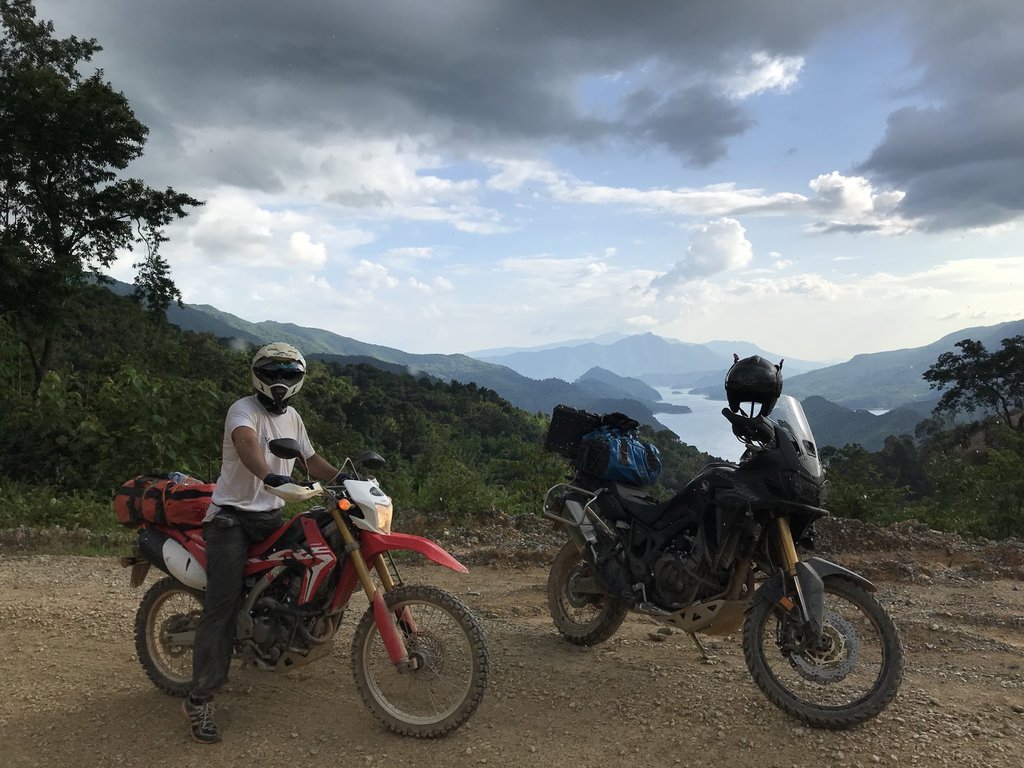 Well the delayed start due to the beer Lao breakfast, coupled with the break to get out of the rain, meant that we were well behind schedule.
It then started to piss down again and it was getting dark...
Even though Hal's off road riding skills were by now nearing veteran standard; we decided that it would be best not to push our luck by tackling the rocky wet road in the dark. We spotted a guest house in a village along the way, so decided to call it a day there. They were quite surprised to see a couple of Falangs. Thankfully the guesthouse was actually ok, and we got some nice Pho noodles nearby too.
The next morning was absolutely beautiful . We waited until the mist cleared and then headed off towards Vang Vieng.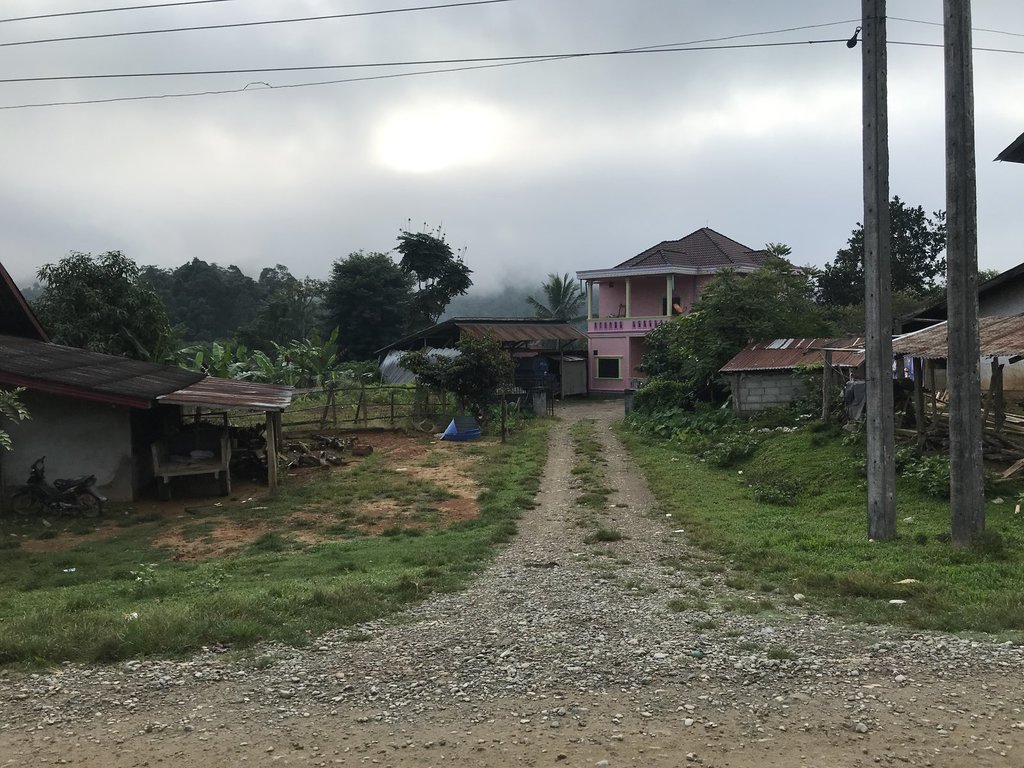 My guesthouse expectations were rock bottom; however, surprisingly this guesthouse was pretty ok given where we were.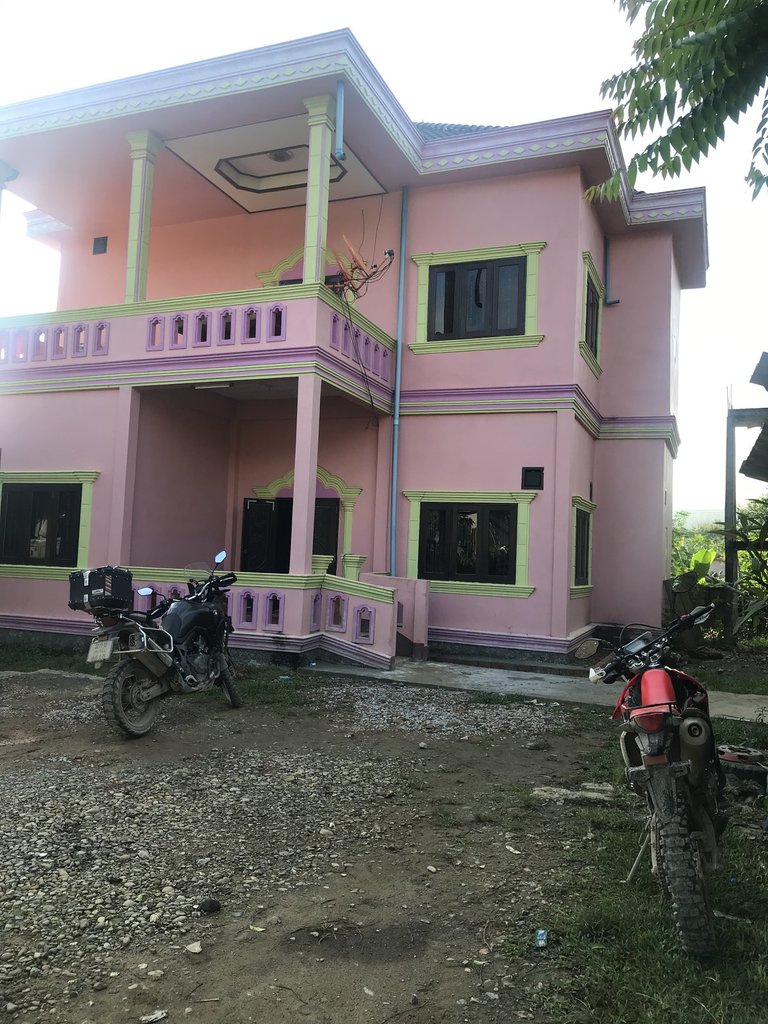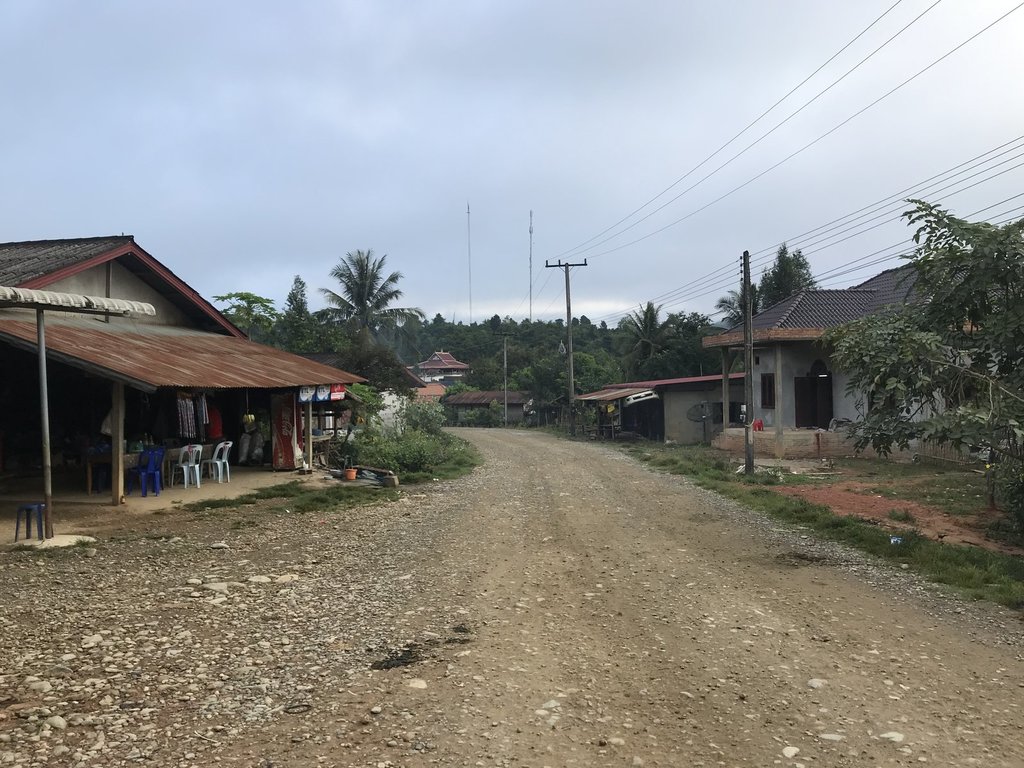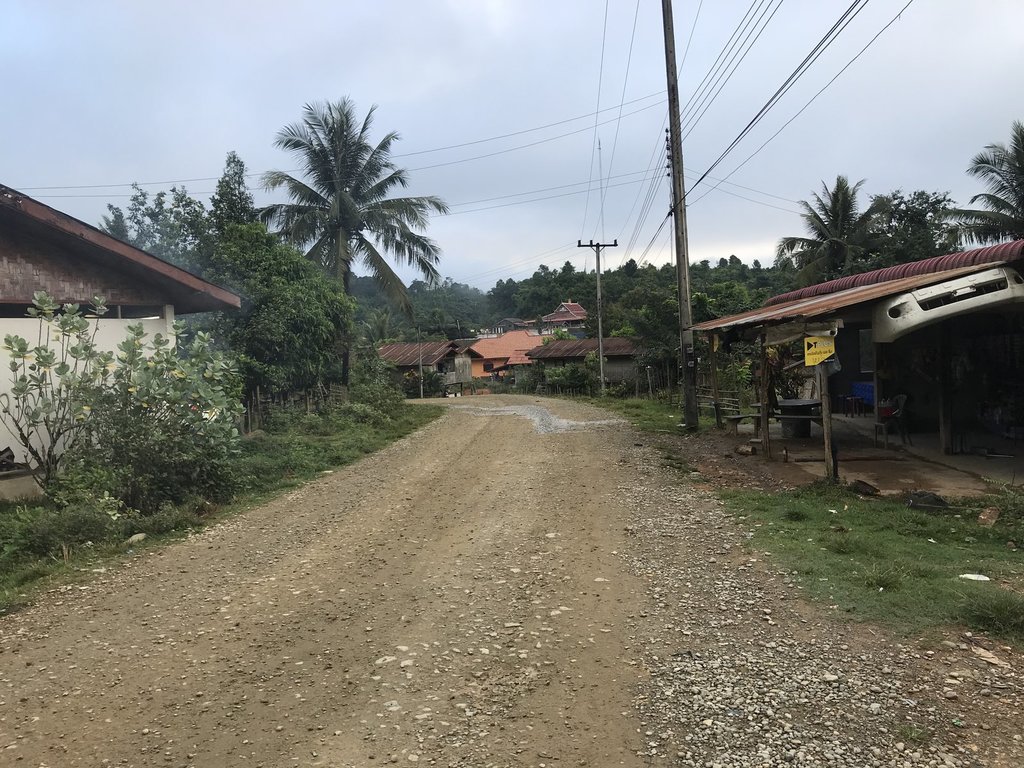 Actually quite a nice little village nestled in a valley surrounded by rice fields and mountains.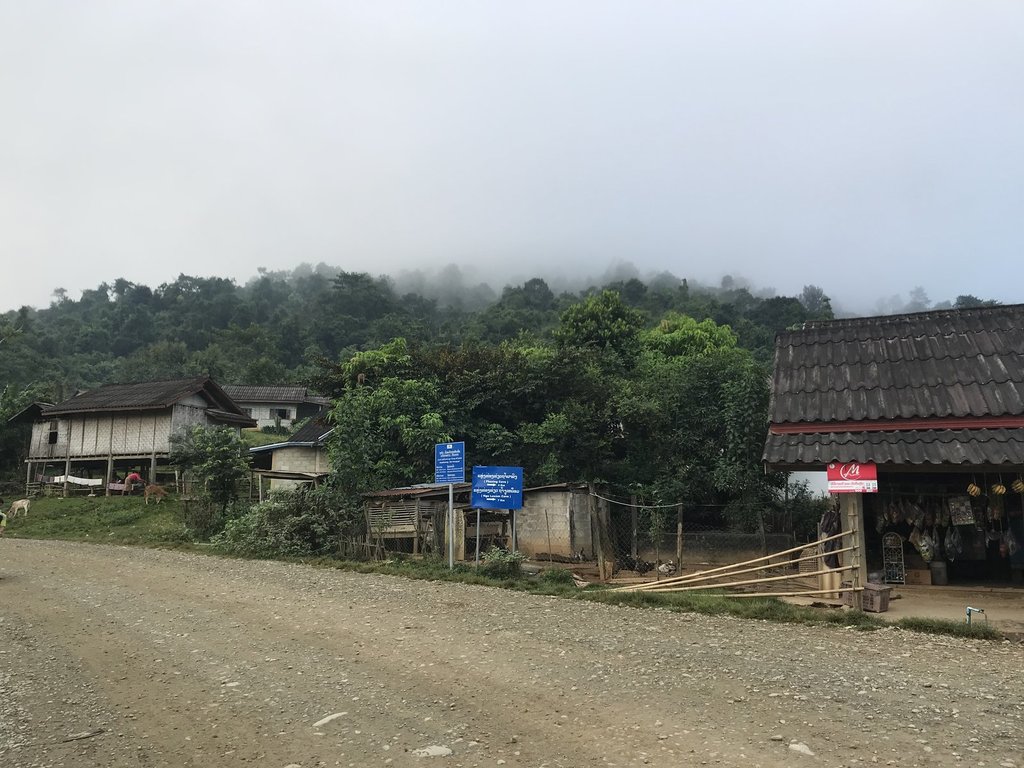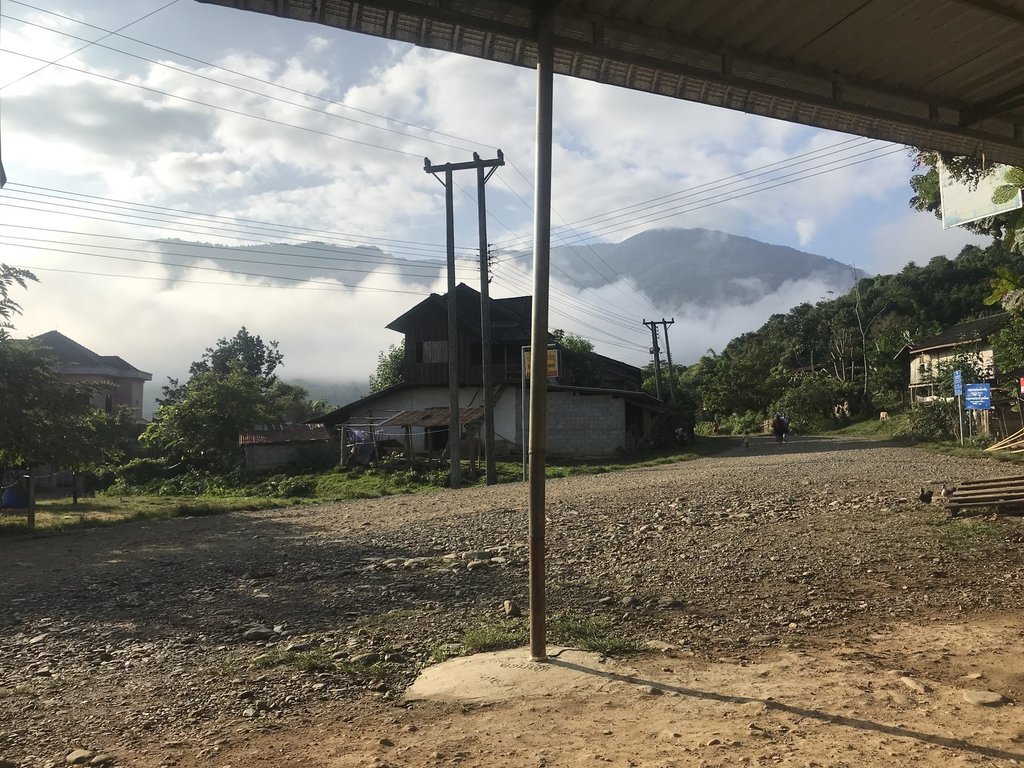 Completing the journey to Vang Vieng
It didn't take too long to get to Vang Vieng. So we rolled up to the usual spot that I stay. It's called Central Hotel, or Central Backpackers, even though it's not really a backpacker place. It's bang smack in the middle of the town. 150K kip for a huge room and great views from the balcony.
Vang Vieng is a cool place to hang out, so we planned on staying 2 nights here.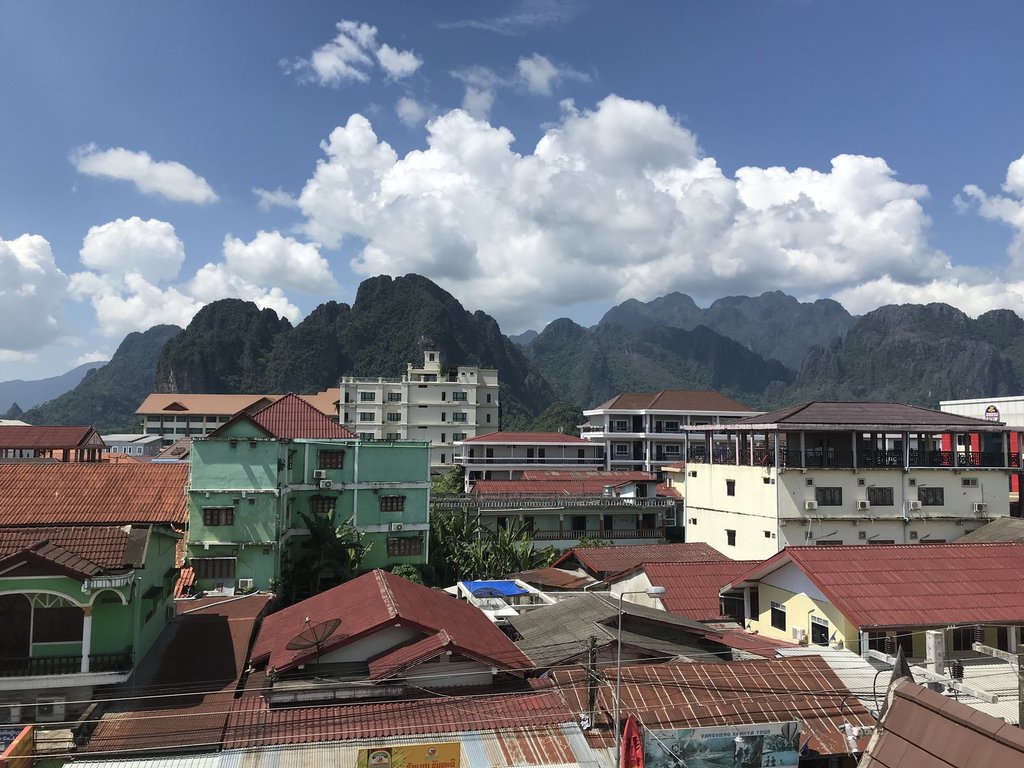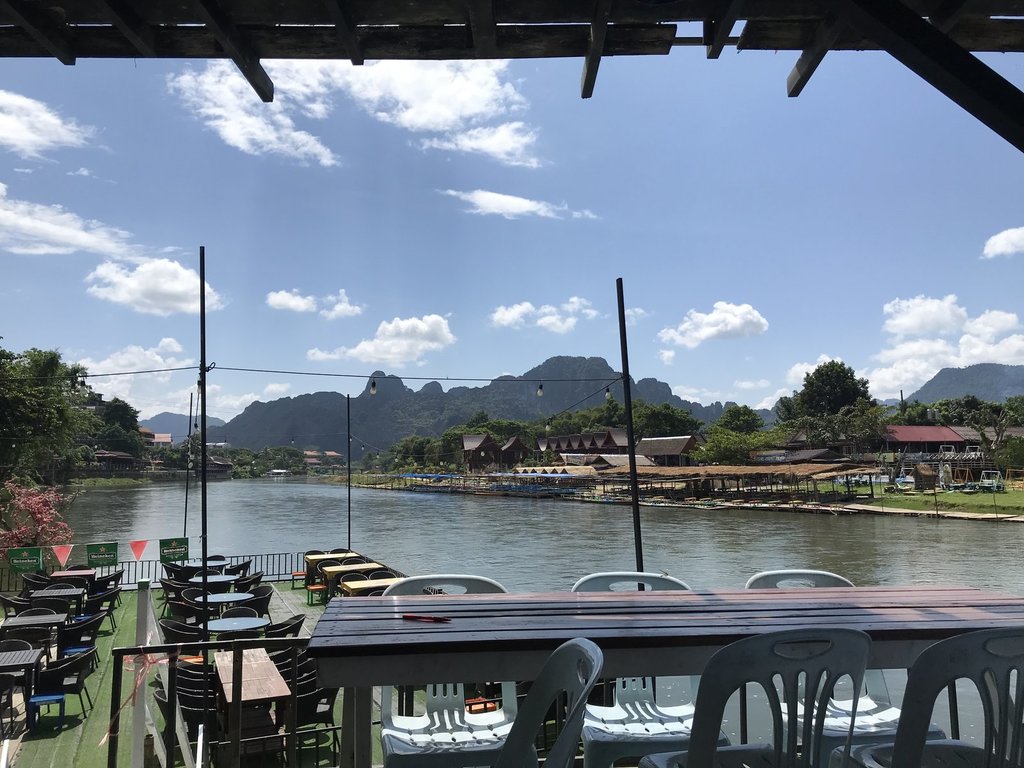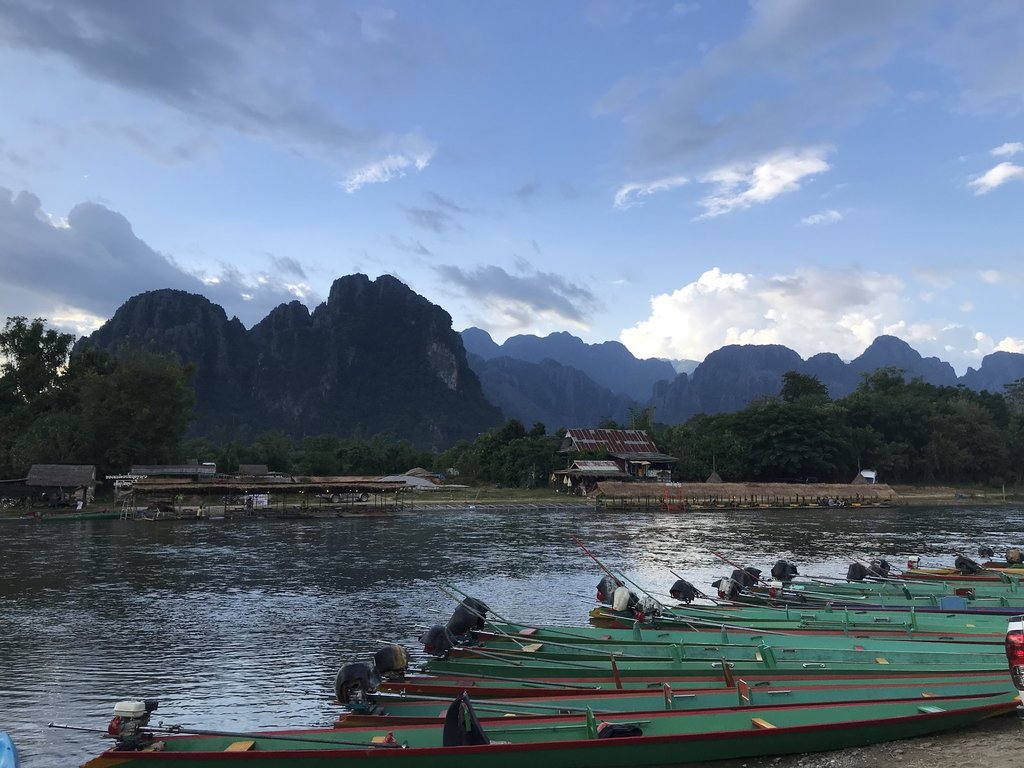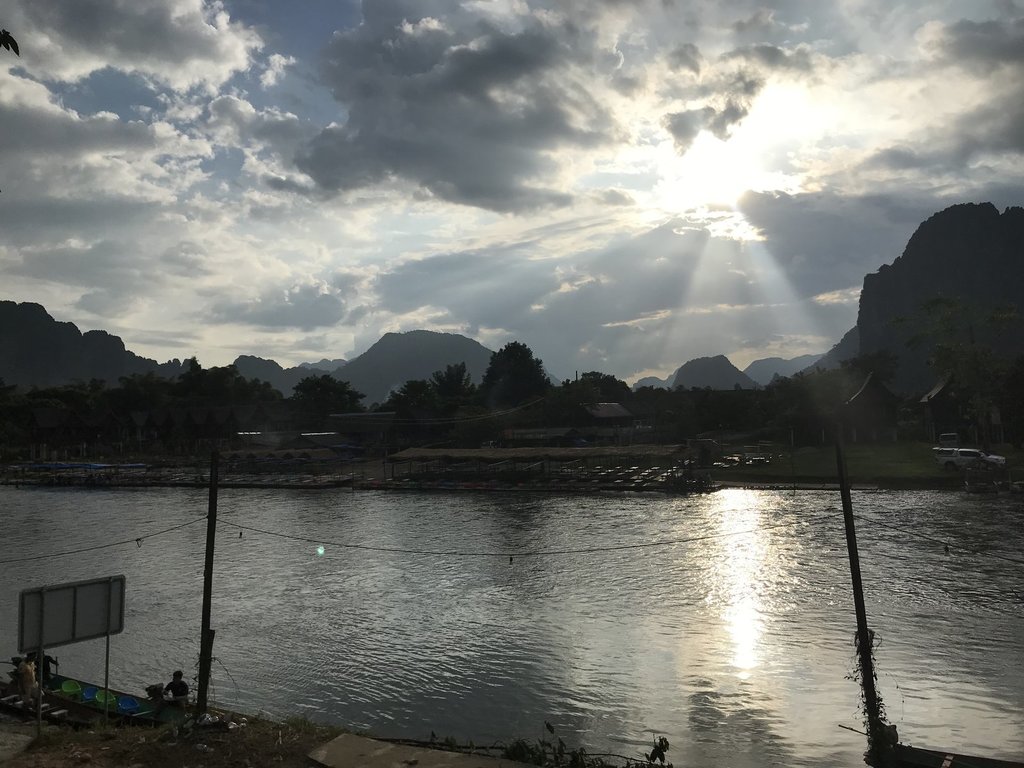 A great riverside restaurant is the perfect place for sun downer beers.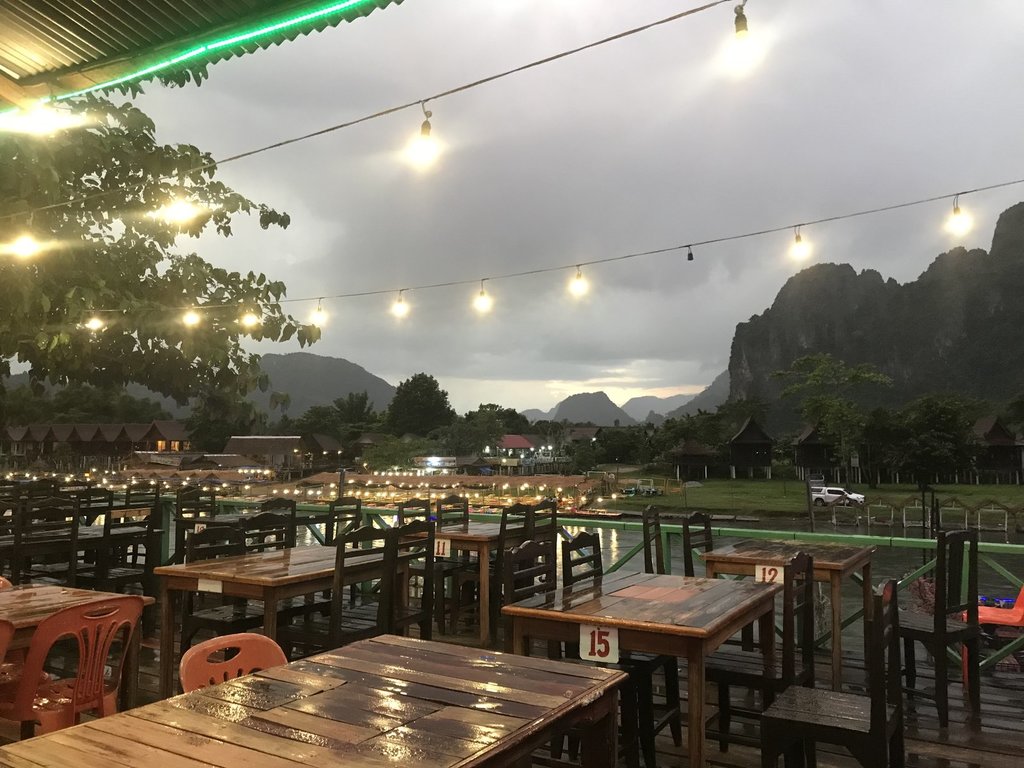 Around Vang Vieng
The next morning, we got breakfast at the fancy Luang Prabang Bakery in the town. Great spot, but big prices by Lao standards.
We then headed off to check out the far side of the river towards the viewpoints and the rock pools.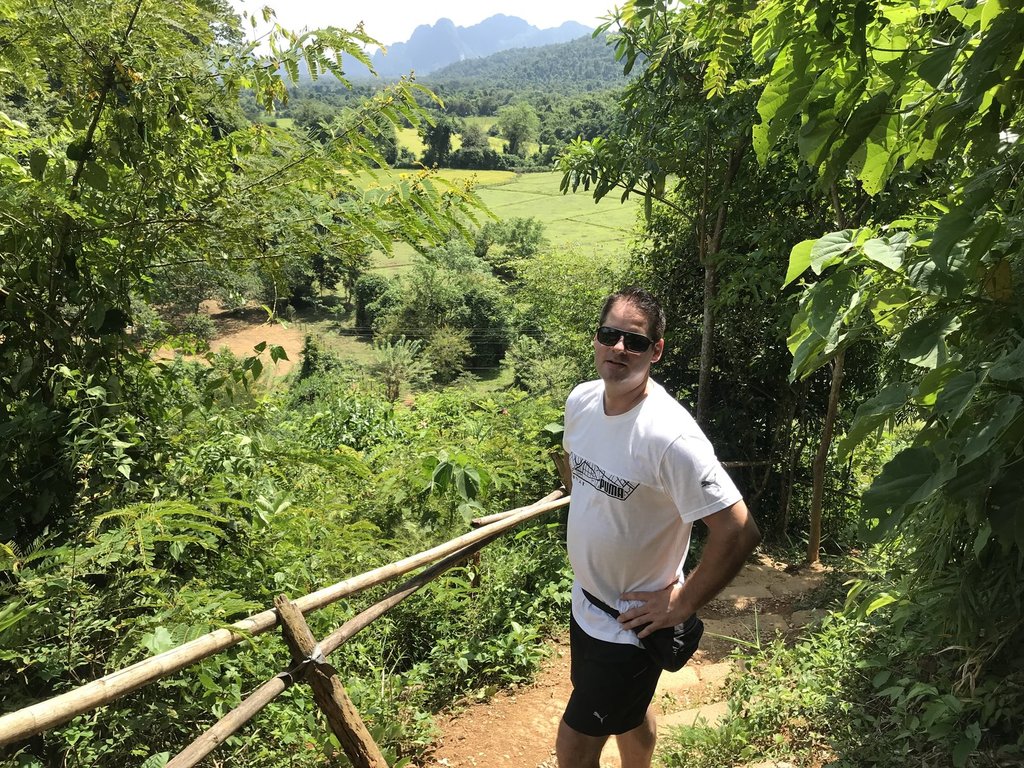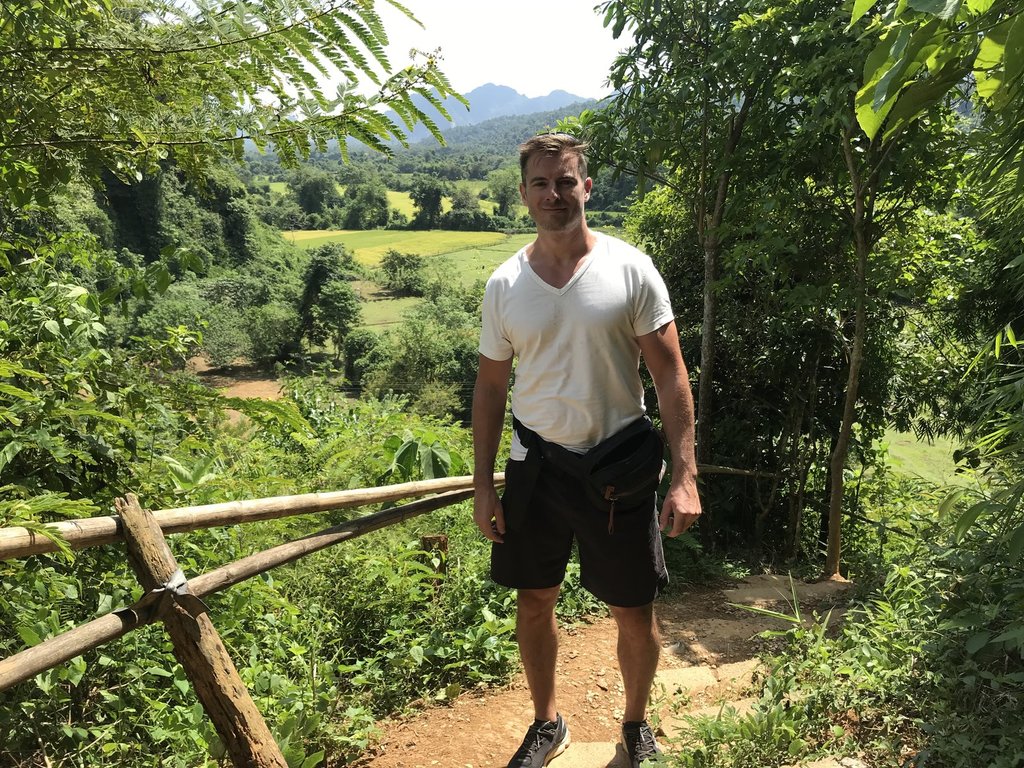 This is the Nam Xai viewpoint and is well work the hike. It takes about 20 minutes to climb up depending on your fitness levels.
Hal had a blossoming athletic career back in his day, but now about 20 years out of prime meant that the poor lad was huffing and puffing that whole climb. This necessitated a few breaks on the way up which obviously I didn't let him forget about either haha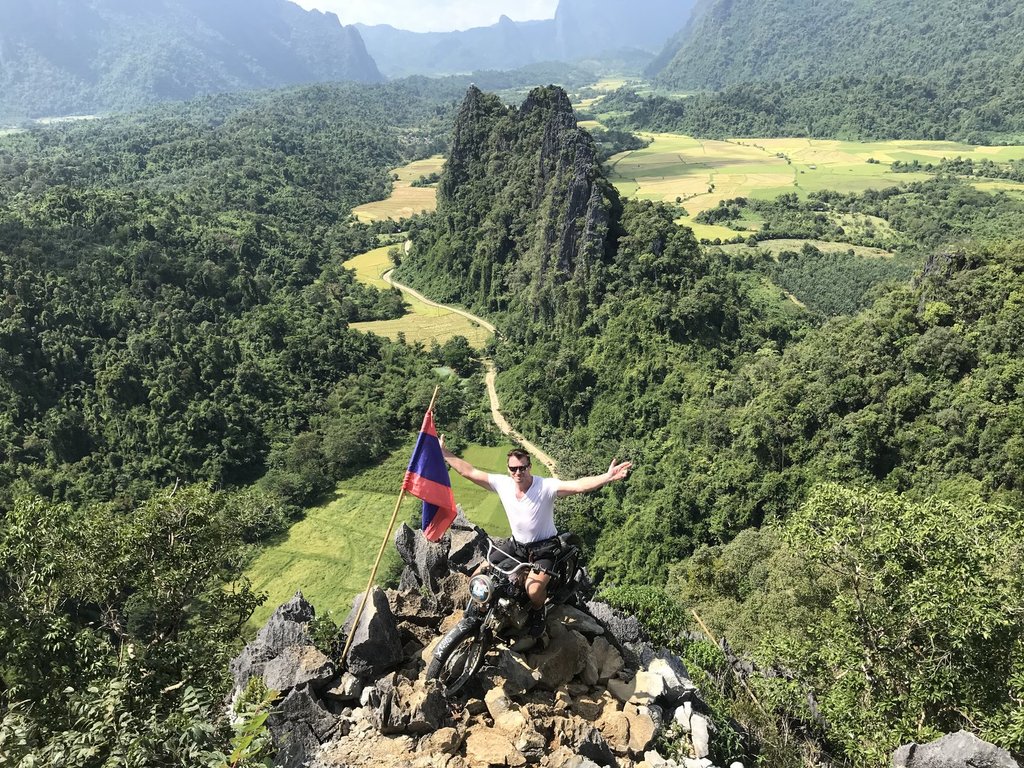 Color coordinated today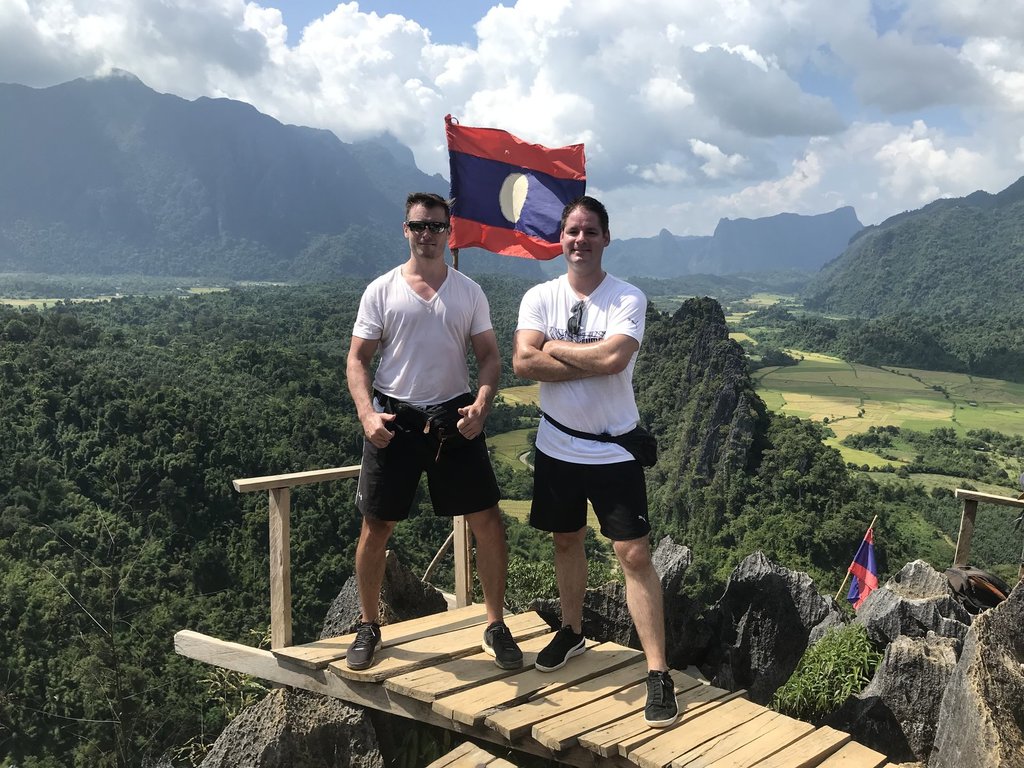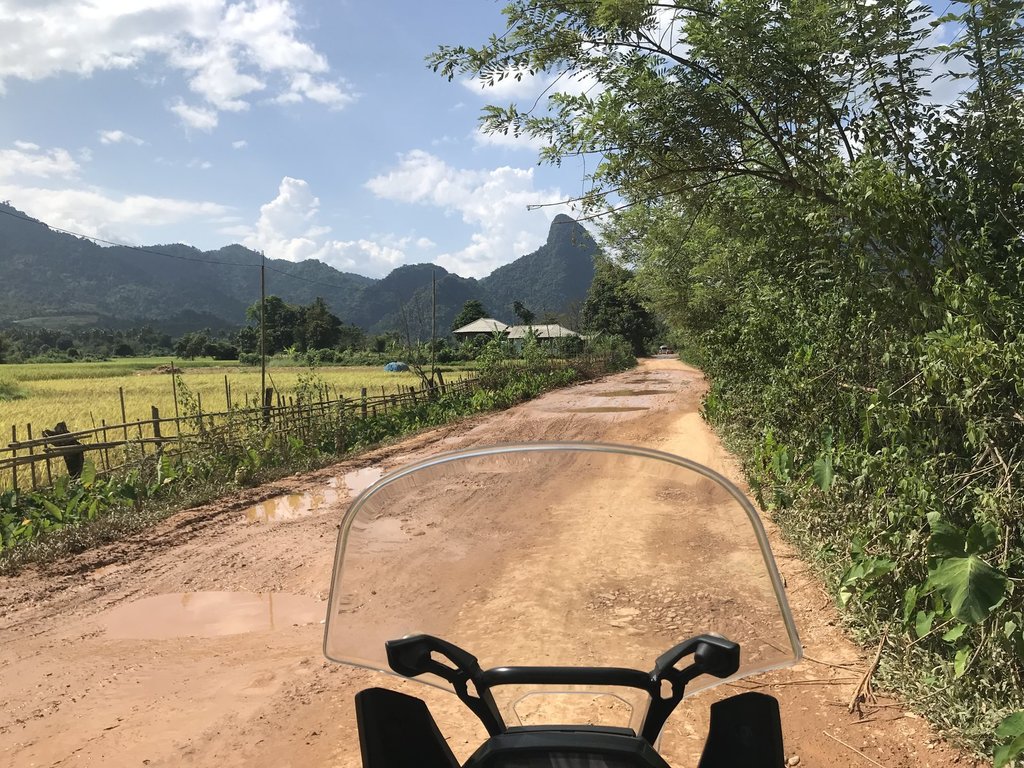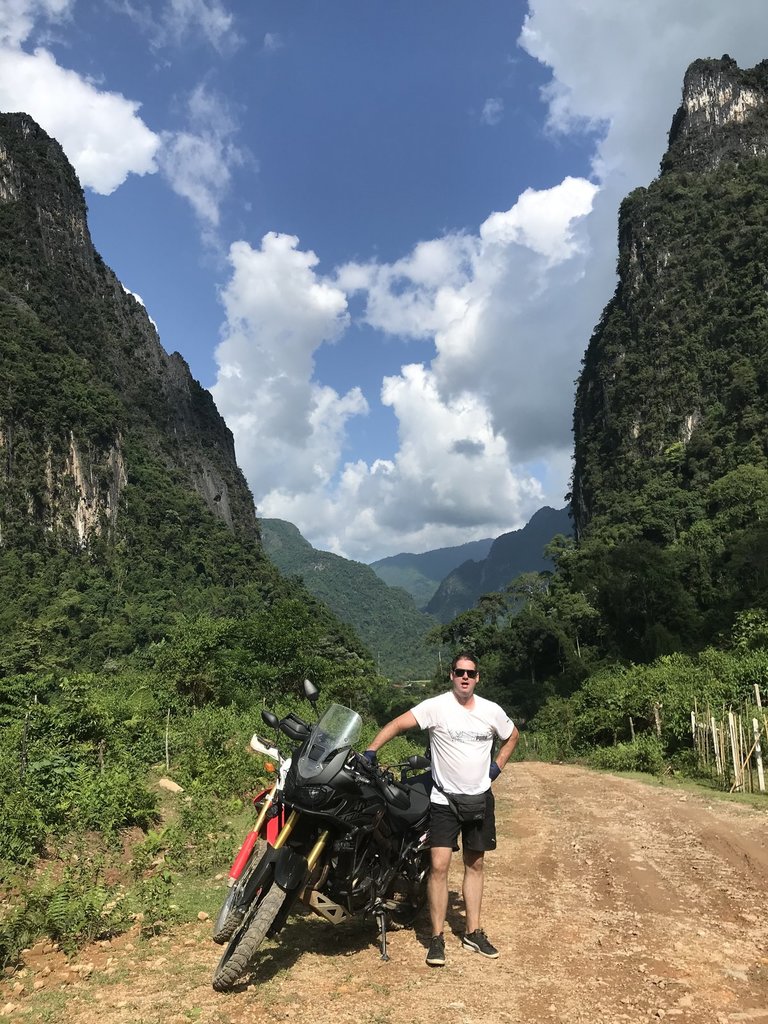 Lovely rolling green countryside during October. It makes a cool contrast to the huge limestone karsts rising up into the sky.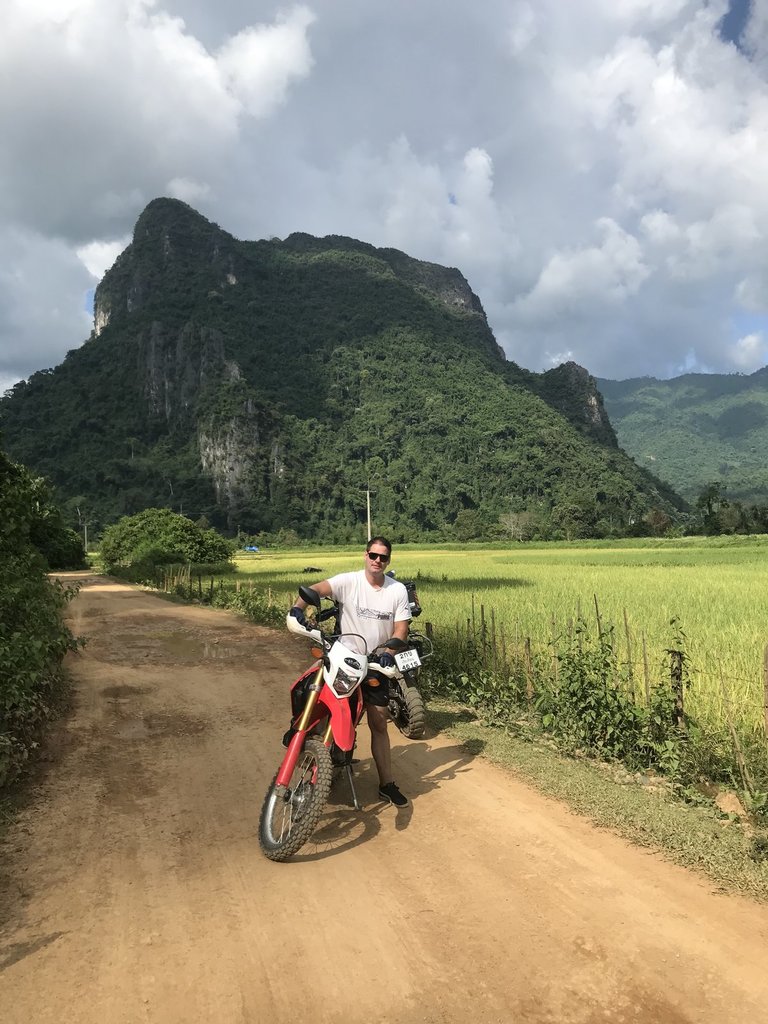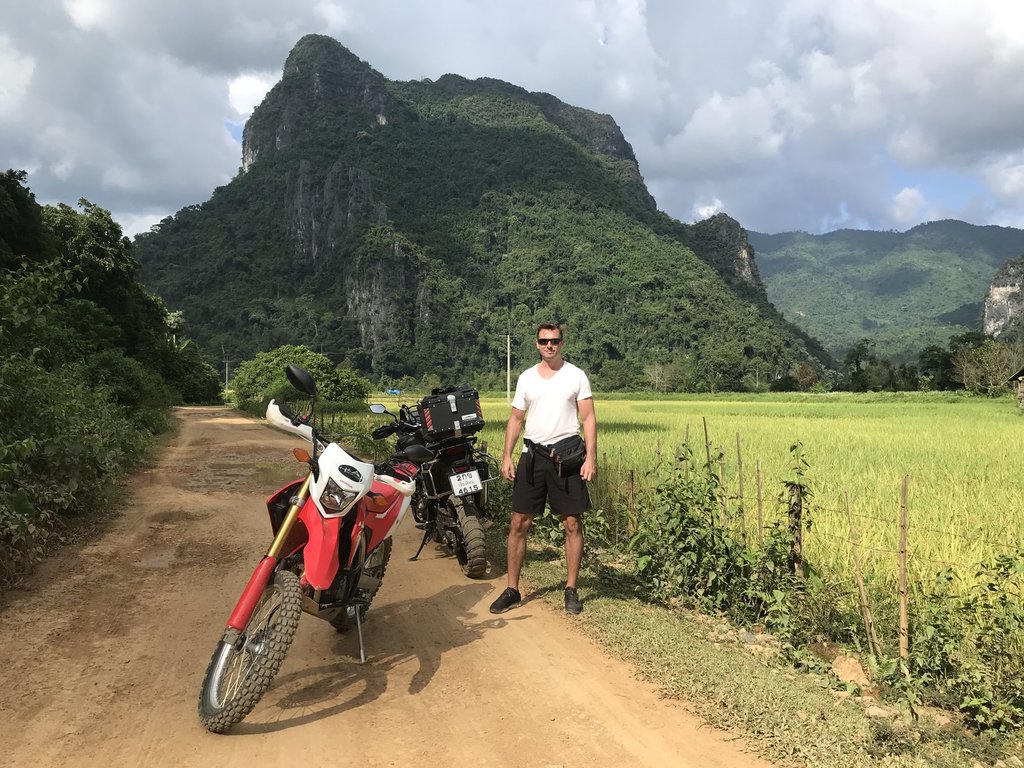 We decided to wrap up the day in one of the many Lao restaurants behind the runway. Its kind of strange that no foreigners really go to these restaurants despite the fact that they are relatively close by to the main area.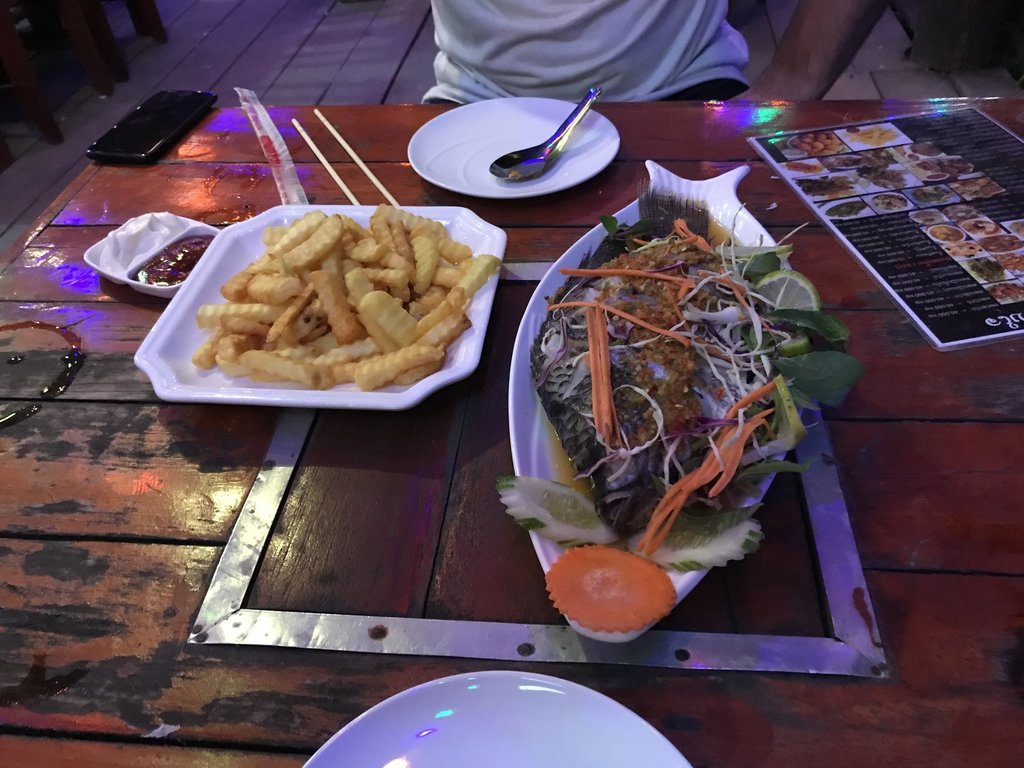 Vang Vieng to Luang Prabang
We left Vang Vieng heading back to Luang Prabang. This ride has some of the coolest mountain roads along the way with spectacular scenery.
We went via the Kasi Bypass route.
Quick stop an an old LS site. The old runway offers cool views of Phu Koun in the distance.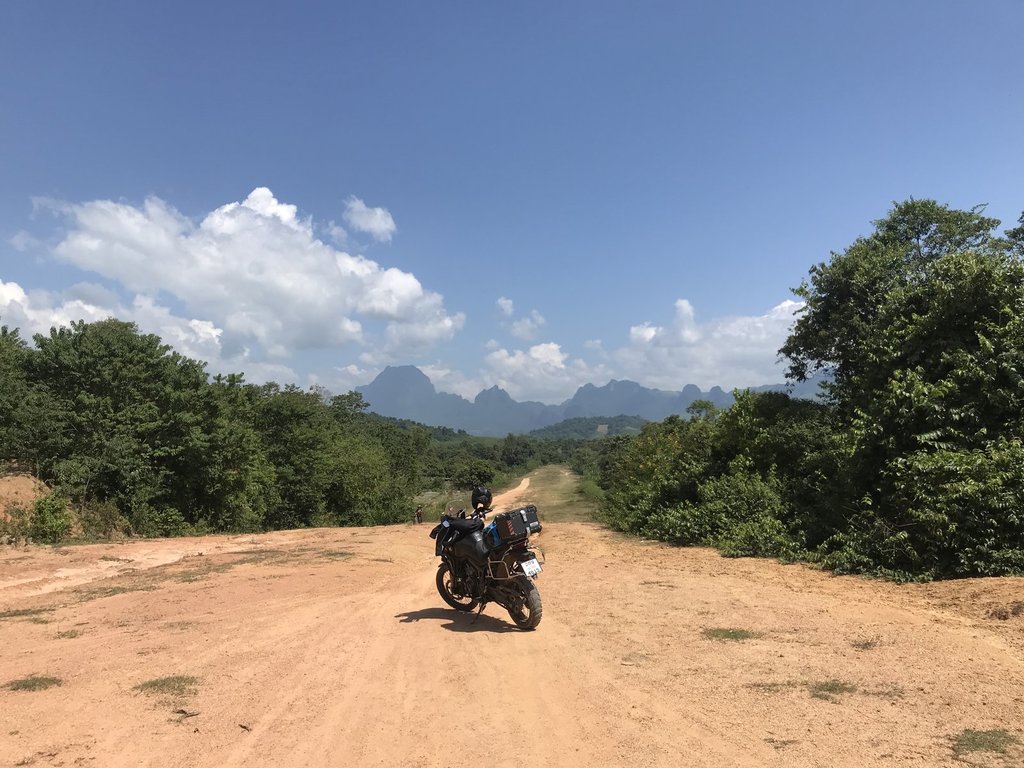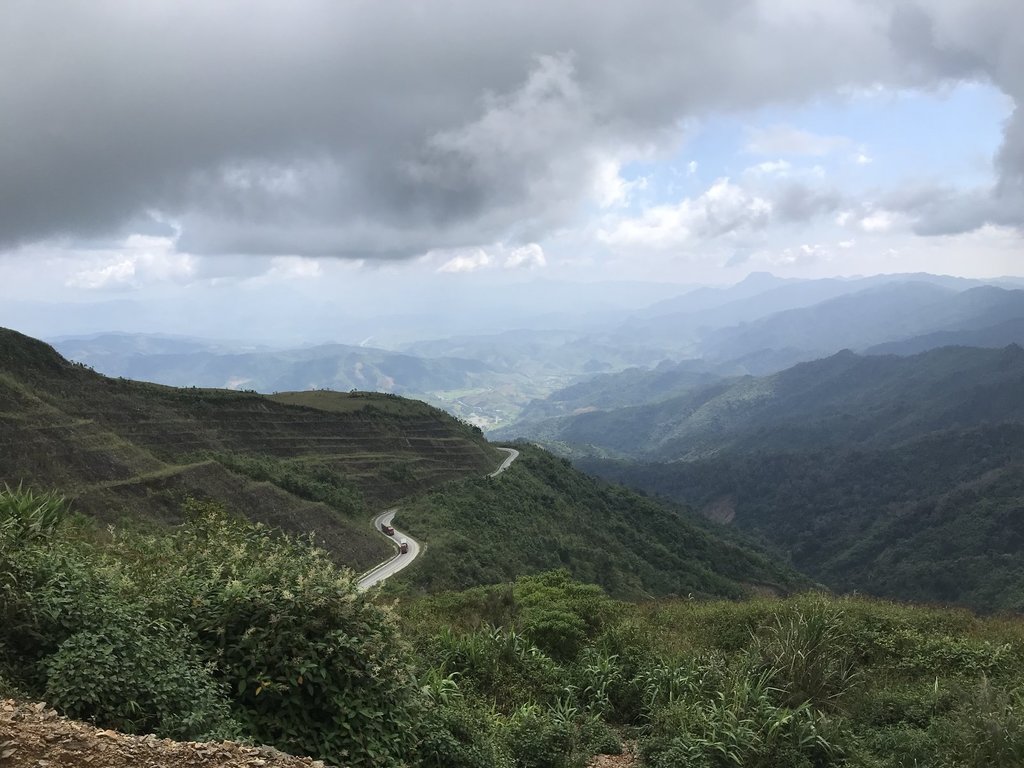 The ever treacherous Kasi bypass. This section of the road is always falling away.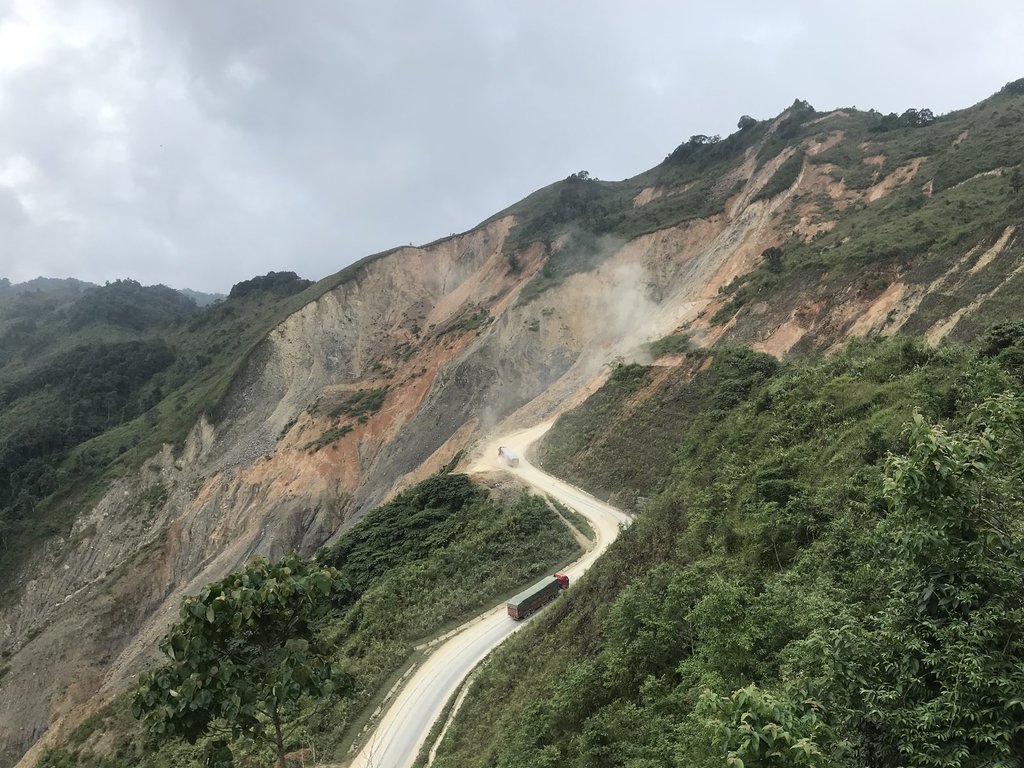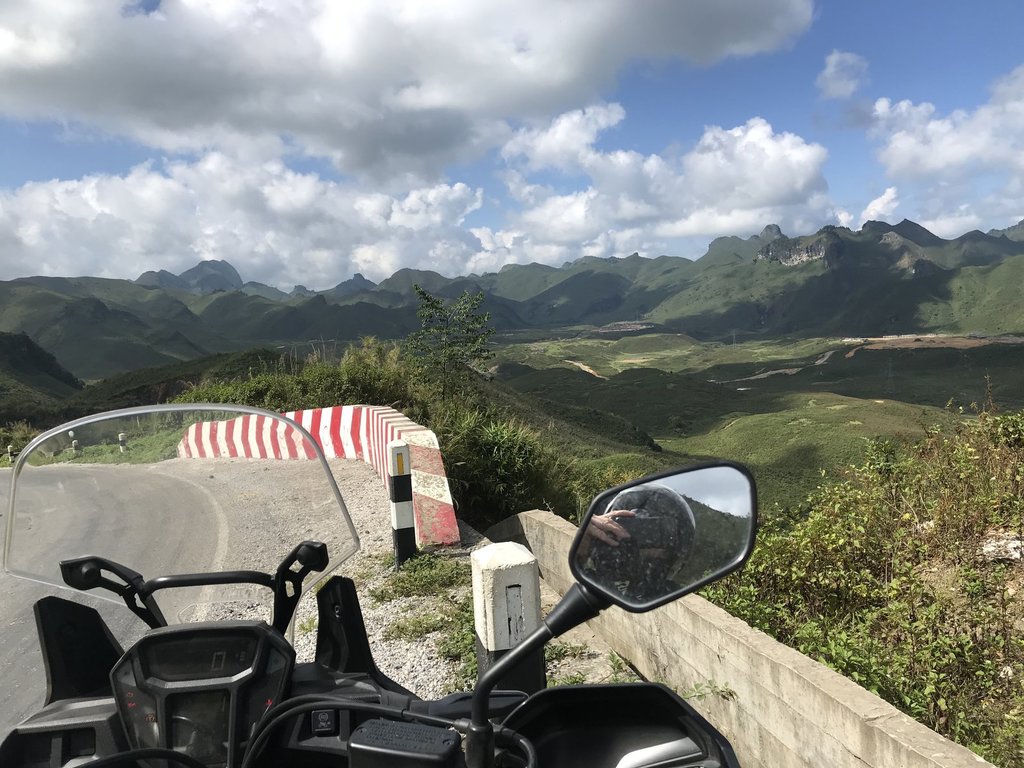 We were making good time ,so decided to take the scenic route back to Luang Prabang. There is a trail along the Mekong that is good fun and has cool views. Also no traffic, so we had the trail to ourselves.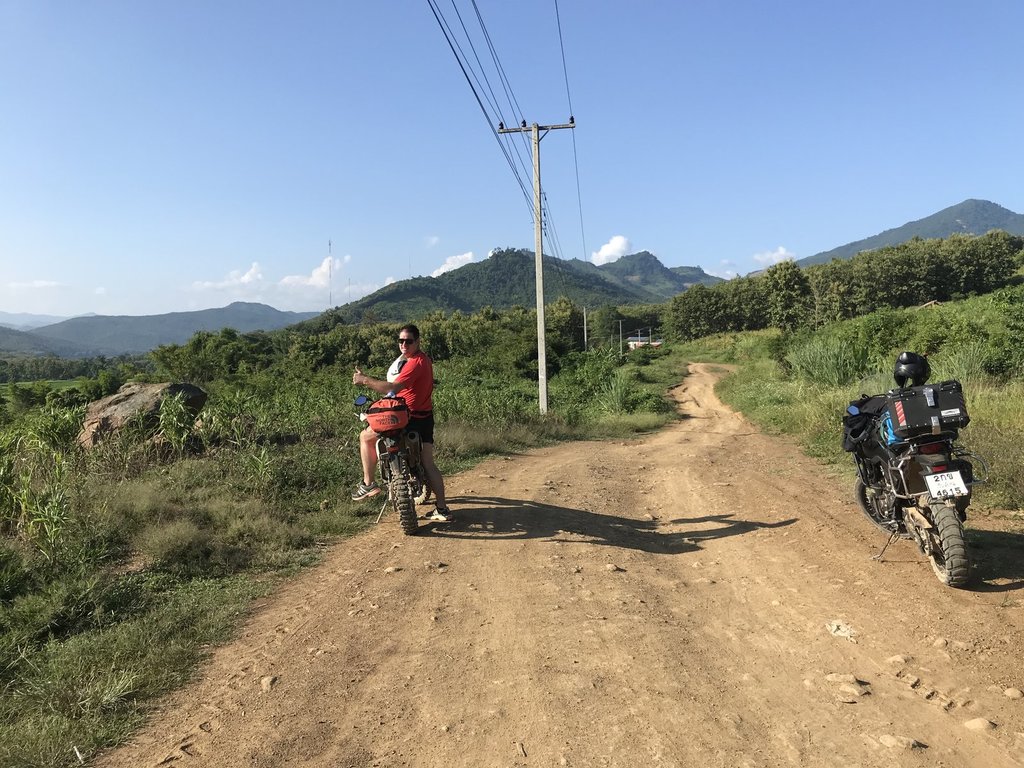 Hal's off road riding skills were so well honed at this stage that he felt it was appropriate to keep protective wear at just some sunscreen.
(in fairness we were taking it very easy)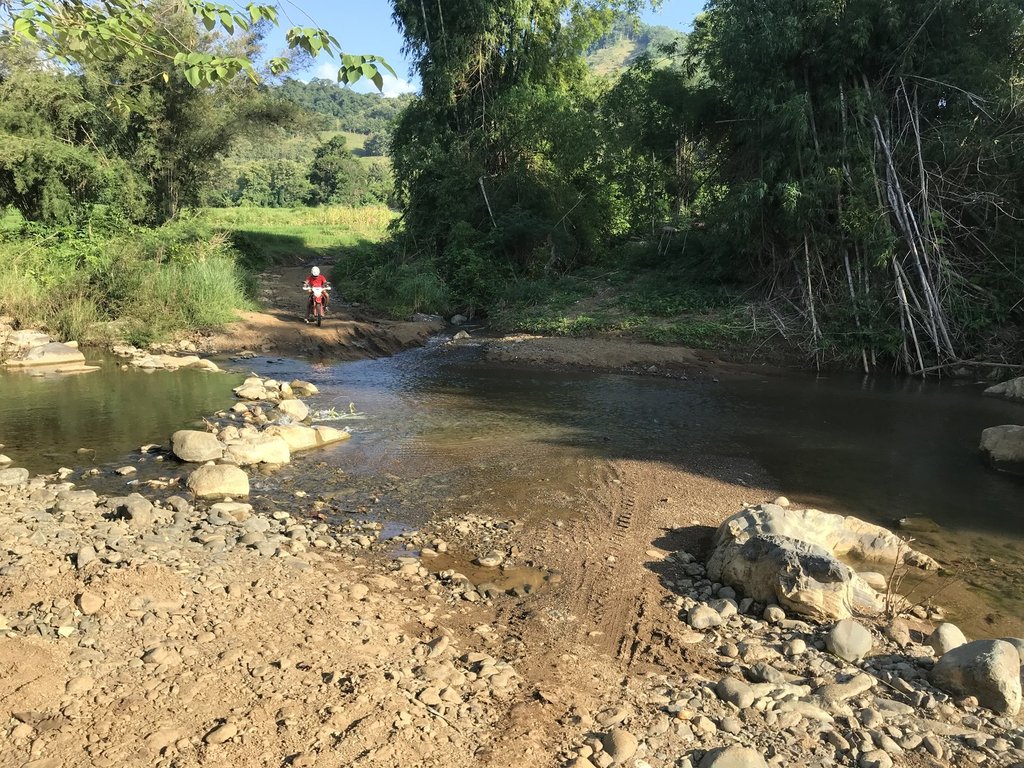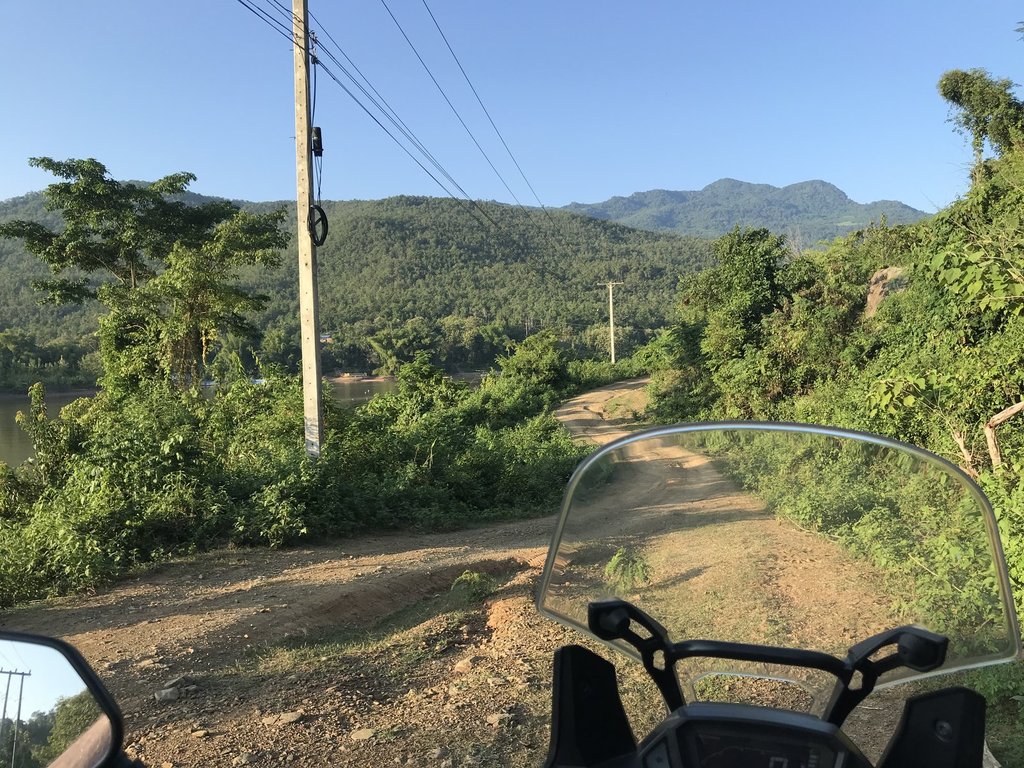 We made it back to Luang Prbang in good time. Grabbed a few sunset beers on the way back beside a rice field near the Krung Si waterfalls.
Overall it was a great trip. I had been riding to these places before but it was Hal's first time. Hal had a baptism of fire and passed with flying colors. Having gone from zero to over 1,000 kms of mountain roads, dirt tracks, dodging crazy drivers, beer Lao breakfast, rain and riding in the night. We covered off pretty much all riding conditions. He made it all the way with hardly a wobble. Got to see lots of cool places and got well of the beaten track at times.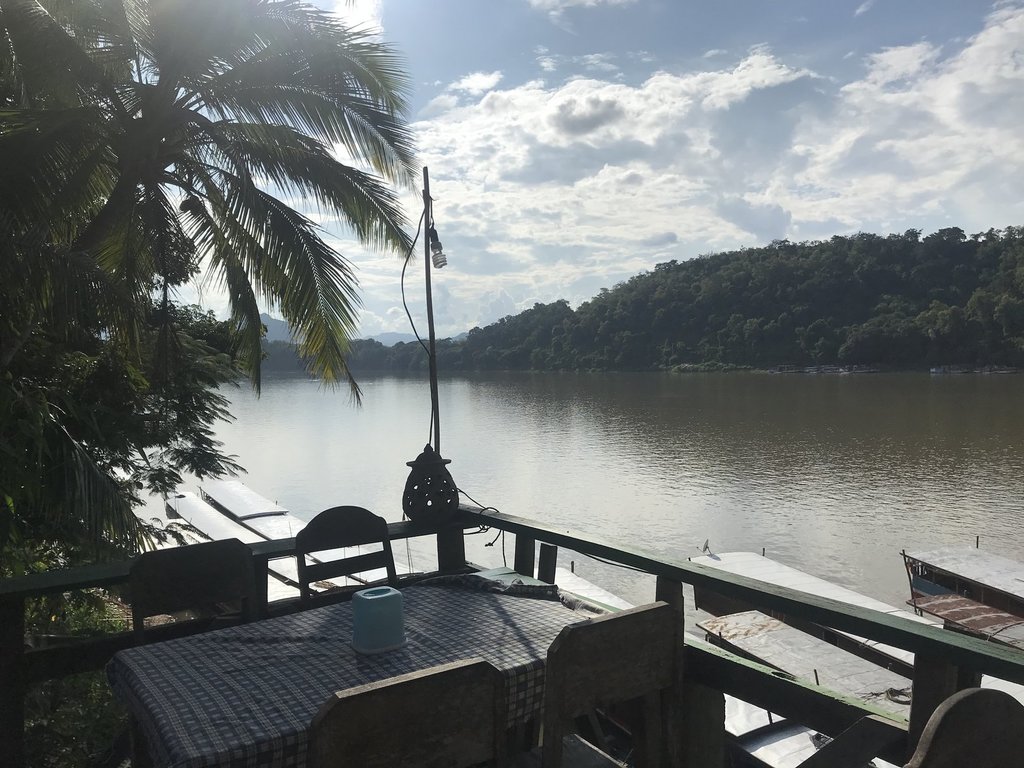 Last edited: