After Hsipaw, it was time for proper motorbiking. The village we planned to visit outside of Monywa was way down a dirt track, and more than an hour out of town, so it made sense to have our own transport, and not to be a burden to our hosts. I had visited Thar Bah Aye 18 months ago and at that time I'd been pillioned to the village by one of the locals ( see
Adventures in Monywa district - Pt.1 | Travel Blog
for an account of that ).
This time I'd been in contact with Zach from
Mandalay Motorcycle Rental
so I'd lined up a 125 Honda to hire: a proper motorbike

:?
Garrett had met up with a guide he'd met from a previous trip. At that stage this guy was a sai-car pedaller, but age was catching up and he'd now switched to a beat-up motorbike taxi. It was agreed that he'd pillion Garrett to Monywa, and that I'd follow. The "following" part of the plan turned out to be a big error, as the chinese motor in his bike was on its last legs and blowing more smoke than an old premix two-stroke!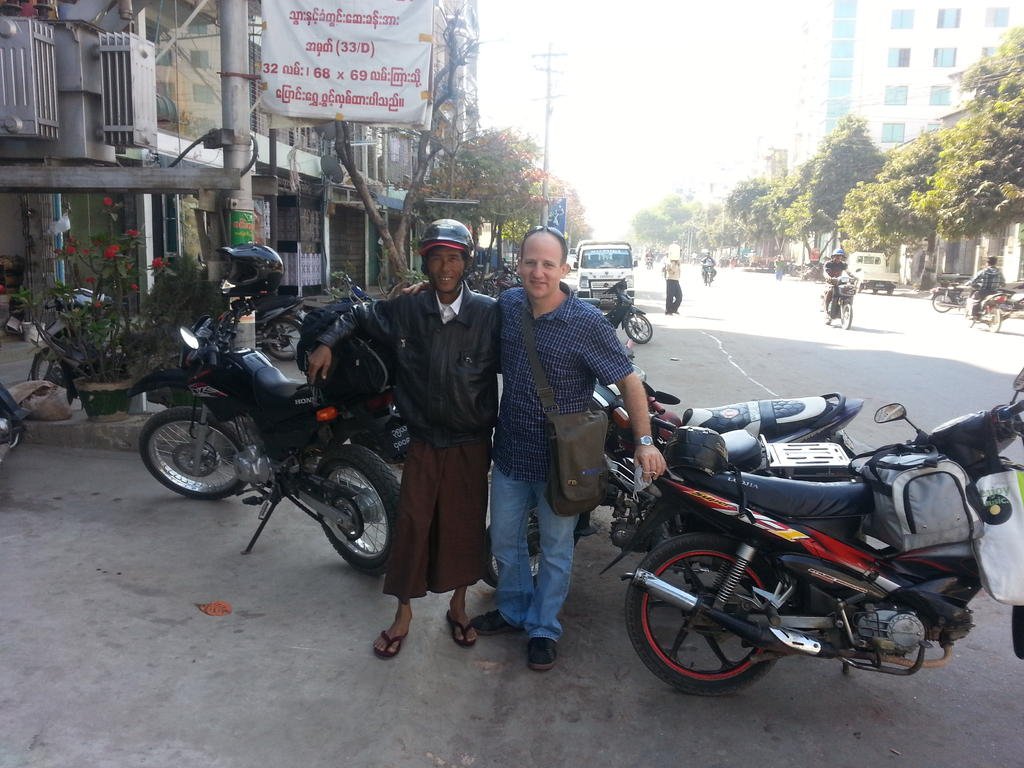 Ready to head off from Mandalay - My Honda on the left, the "smoker" on the right.
Some selfie indulgence...
What I should have done was to get a facemask - you see quite a few of them - and after a couple of 100mtrs of eating Mandalay dust you understand why!!
On the plus side, Zac had included a full-face motocross helmet in the hire, so I felt a lot happier than if I'd been wearing the more common skullcap-type helmets. And yes, the law requires helmets and its pretty essential to wear them to avoid unnecessary encounters with police!! ( as well as protecting your brain ).I had my IDP and my Australian license with me, but I was never asked for either.
The hiring process was quite simple - although unlike in Thailand, there's no option to purchase third party insurance, so best have some money in the bank just in case. You sure won't be able to skip the country, because, as in Thailand, you leave your passport as security. Zac made me a couple of copies of my passport and visa in case authorities needed them - but they were never called for in the places we went.
Zac outside his shop - mechanics next door, and some of his scooters for rent in front
After filling tanks [ Zac had stressed that the Honda needed "Octane" fuel, presumably fuel with a proper, or higher, octane rating

] , we were ready to go.
Setting out from Mandalay centre, we skirted the river and then the ride to Monywa on the Mandalay-Monywa highway was quite straight forward.
Here's the track:
View attachment mandalay-monywa.gpx
Not amazingly accurate, as I'd turned the accuracy down to conserve battery life.
One of the advantages of riding is that you get to encounter the unusual. We stumbled onto a Nat Pwe, by the side of the road. Apparently the Nat shrine had been constructed months earlier - now enough money had been saved for the community to do the dedication. I grabbed some video of the action on my phone - but the file is glitchy and so far seems only to play on my Galaxy NoteII and in MediaPlayer Lite. I'll try and upload a working version when I get time to clean up the file
From what I can gather, Nat dancers consume A LOT of drink and tobacco and go into a trance.. we would have had to stick around for the evening show to see that , and Monywa was many kms still to go.....
As we were riding along taking in the countryside, we were overtaken by a speeding Landrover. This was soon followed by a motley assortment of open-top vintage/classic , mainly British, sports cars. It turned out this was the Road to Mandalay rally ( see
Classic cars in the Road to Mandalay rally: week 2 - Telegraph
) . I was torn between considering this was pretty cool and thinking what a bunch of would-be colonialist wankers as they sped down the road past thatched villages with no electricity or functional schools - but who's to say they aren't making all sorts of unknown contributions to ordinary Burmese citizens?! What I do know is that by the time we got to Monywa, most of the good rooms had been booked up ( maybe by the rally?). We ended staying at the Shwe Taung Tarn - which was just OK, if you discount the 18 mosquitos that had to be swatted before the room was habitable.
The next day we headed out to the village , guided by a local. Now I have a track, so you don't need a guide to find it any more

View attachment track to Tha Ba Aye.gpx
When you load this into Google Earth you see a patch of bare ground at the end of my journey, but these days that ground is covered by a fully functioning library, created by Ashin Sopaka, who was born on the spot! His is a pretty amazing story - check some early parts of it here :
The Peacewalker on Vimeo
But these days he runs a library, delivers computer and English lessons, and encourages surrounding villages to do similar developments. In this work he is helped by international donors, which has also allowed him to provide solar powered lighting to the whole village of 180 houses.
Children and adults alike use the library
Volunteer librarians
The village really is an example of a poor rural community - plowing is done by oxen, with just a few diesel engines to drive threshing machines etc. It's probably not accessible easily in rainy season either - but the people are happy, friendly, and behind the monk's library project - they built the library space themselves from the ground up, including sawing the posts from logs, by hand. I was welcome to stay overnight.... I did have to give a speech though ( it was not optional

) to a packed audience, translated by Ashin Sopaka.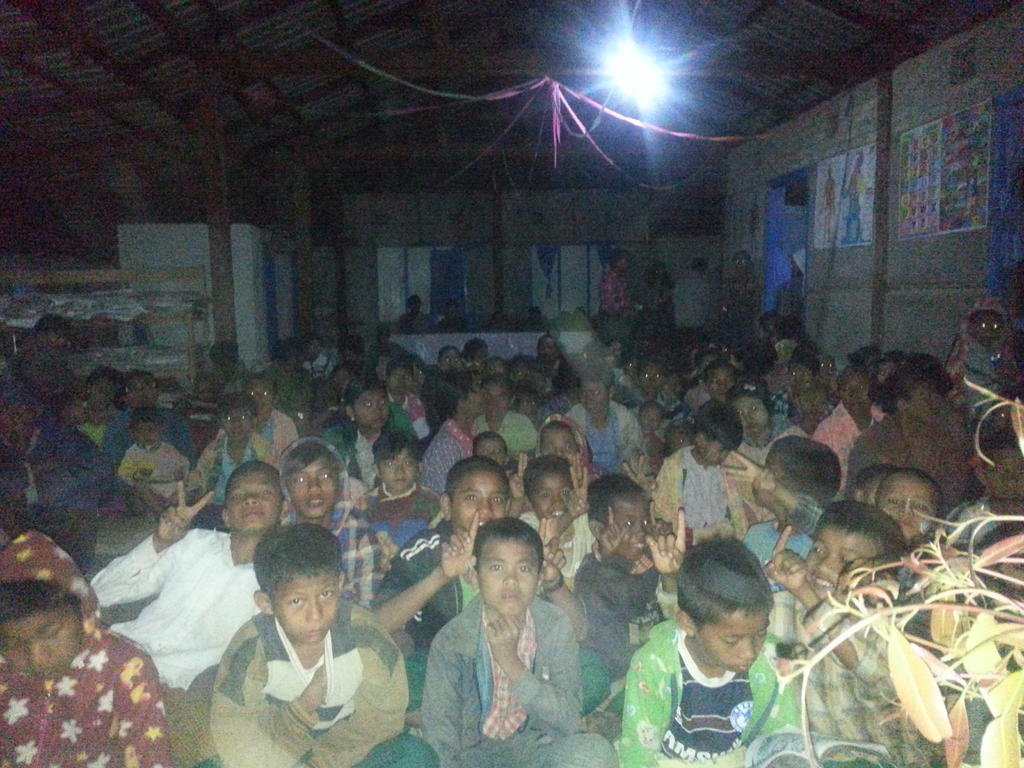 However, I
really
request that you DON'T just turn up at the village unannounced, now that I have put it on the map, so to speak. If you are really interested in helping the village, or even better, other nearby villages, I can put you in contact and you can take it from there.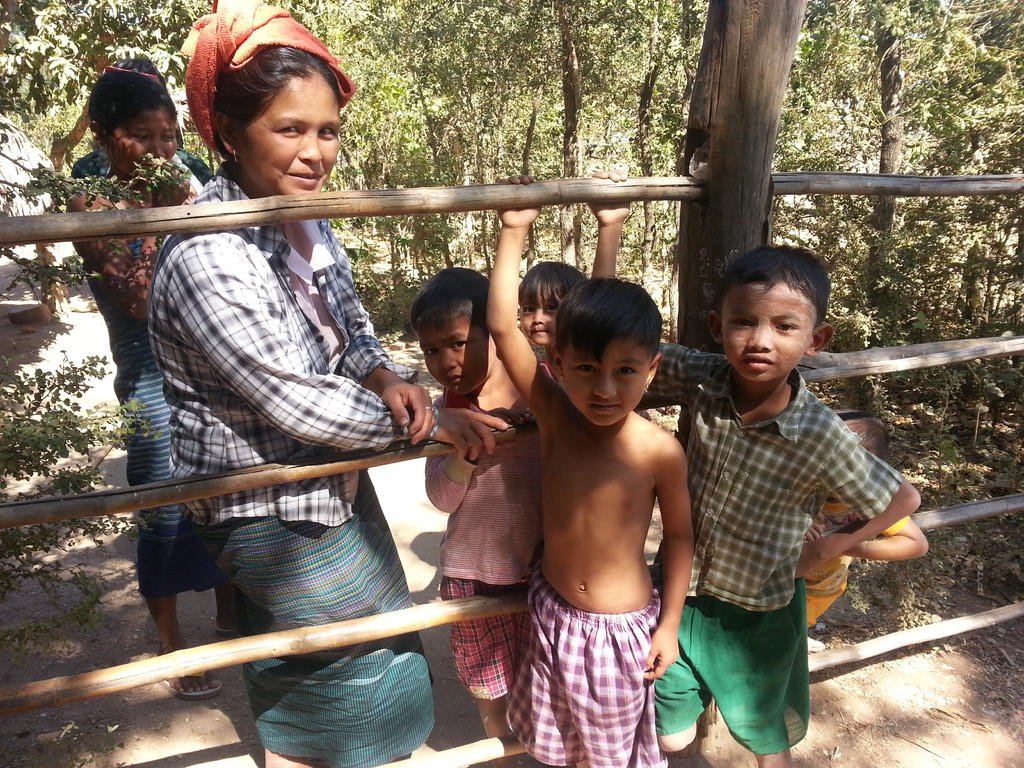 Back to the motorcycling side of things:
The bitumen road section is quite good, though very busy until you cross the bridge over the Chindwin ( at which point there's a turn off to the left, towards the controversial Letpadaung copper mine ). There's a couple of proper service stations around this junction.
Crossing the bridge you may be stopped to pay a toll - I'm not sure how much, because I avoided being stopped
( not wanting to cause any confusion for the toll people having to deal with a foreigner

). This, by the way, was the only place there wasn't a motorcycle bypass lane. Elsewhere motorbikes go free. The motorcycle bypasses have walls about 50cm high - I guess to stop other vehicles trying to drive over them?
After that, it's very pleasant riding past sparce fields, dotted with Toddy palms.
Expect to encounter a mix of single-cylinder diesel trucks, buses, trucks, lots of scooters and bicycles ( sometimes two in parallel joined by sticks between ), oxen carts, and some brand new Toyota SUV's. Make allowance for radically different velocities of all the vehicles. In particular, realise that the single cylinder trucks/tractors, cannot accelerate or brake very well at all!! Expect diesel fumes, smoke and dust!!: in the dry season anyway.
Off the bitumen, expect lots of sand, dust, and ruts ( see pic below). The dust is of the bulldust variety: incredibly fine and in places deceptively deep!! Try to keep the power on, and your shoulders loose ( hard for this old highway rider , especially with only 125cc of power on tap). I managed not to cause any damage to the Honda with a fall, but only just. I think I'd have felt better with a 150 or 175, ideally. 250cc would be overkill and cause you trouble by being TOO fast.
Before heading back to Mandalay I also rode out to a spirulina-filled crater lake. Definitely worth a visit, though the road is shocking, and caused my young guides to break a chain on the return journey as they "powered" up a hill. Amazingly, I did not have to abandon them , because I found the toolkit on the Honda had most of what we needed. The circlip on their chain had come off, followed by the plate - maybe it had been off for awhile - then the burst of 'power' up the hill, cause the joining link to bend and come out. The miracle was : all the parts were there in the bottom of the chain cover!!. Some quick work with my Thai-made multitool got the link straightened and back in place, and the Honda tool kit did the rest.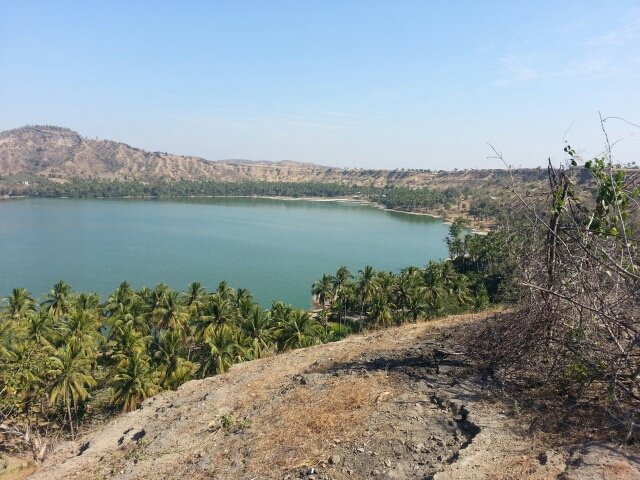 Twin spirulina crater lake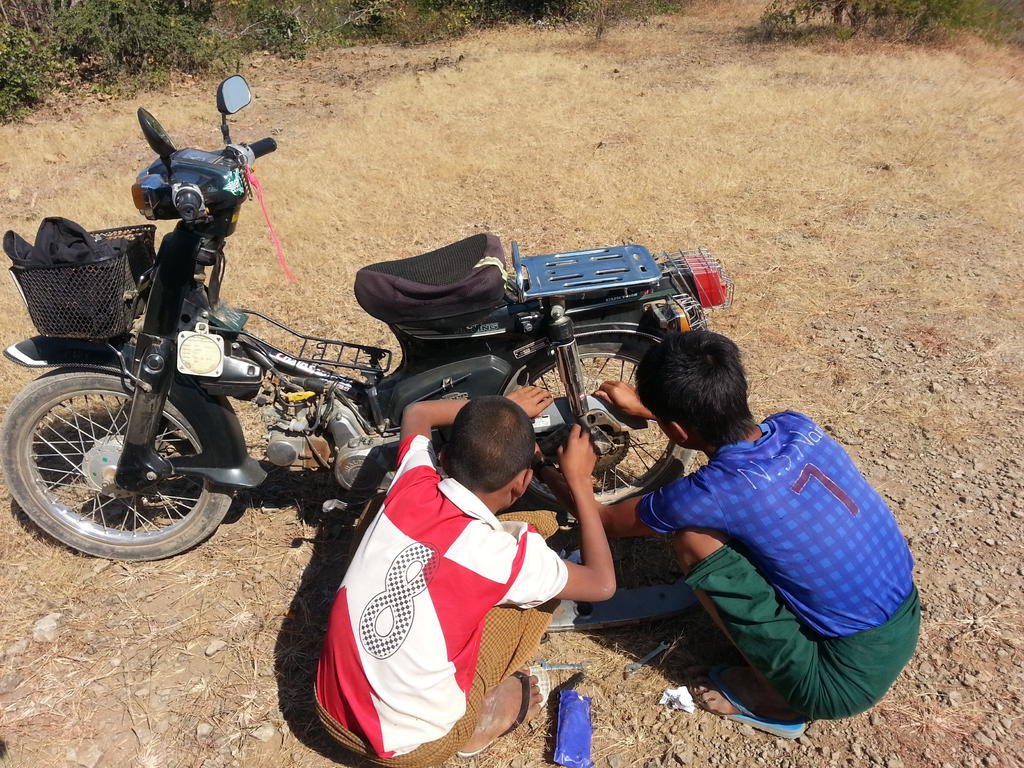 Chain repairs to the guides' bike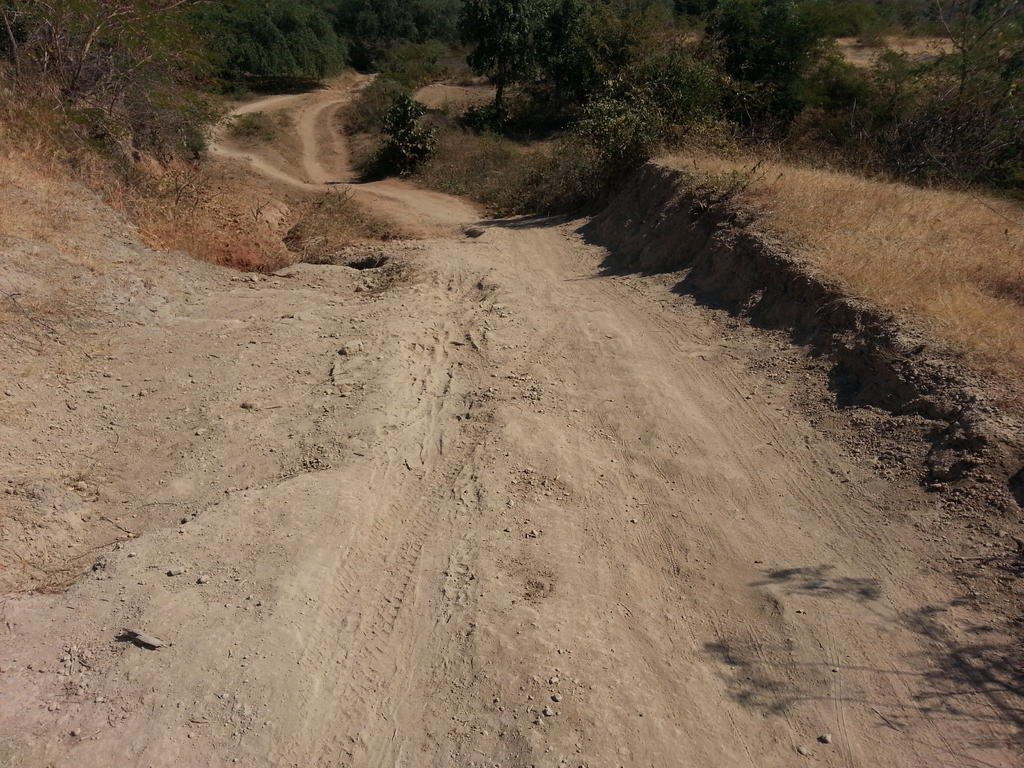 Typical road once you leave bitumen - this hill broke the guide's chain.
The track to the lake is pretty obscure: allow plenty of time for getting lost even with this track below. I decided not to ride down into the crater, due to lack of time, but it's interesting to see coconuts, pepper etc growing in such an arid area, and with sufficient time it would be a worthwhile ride to the lake edge.
Here's the track from the village to the lake and back down the road to Mandalay.
View attachment twin_lake track.gpx
The trip back to Mandalay was uneventful and pleasant
In summary, a good adventure, but slightly marred by a sinus and URTI infection that certainly wasn't helped by the dust and pollution in the air. Good service from Zac and the Honda, though I longed for another 50cc and a bigger framed bike.
I saw just how much progress the library has made and its impact on the village and surrounding area - and squeezed some exciting sightseeing as well!!
There's no better way to see a country than to explore on two wheels!!
Last edited: