Joined

Jul 1, 2012
Location
Bikes

Honda CRM-AR 250, Honda CRF 250-L, Suzuki V Strom XT 650 Honda XR250 Baja BMW F650GS
After a lengthy lay off it was good to get back in the saddle and get on the dirt once again and ride some of the great trails around Chaing Rai. I was planning on heading to Thoed Thai or Ban Hin Taek as it was formerly known but taking some alternative routes, i was still suffering from a bad stomach bug so we would see how long i would hold up.
The route overall was 175km taking a little under 6 hours, shown in red on the map below, i will post a GPX file for download at the foot of the post.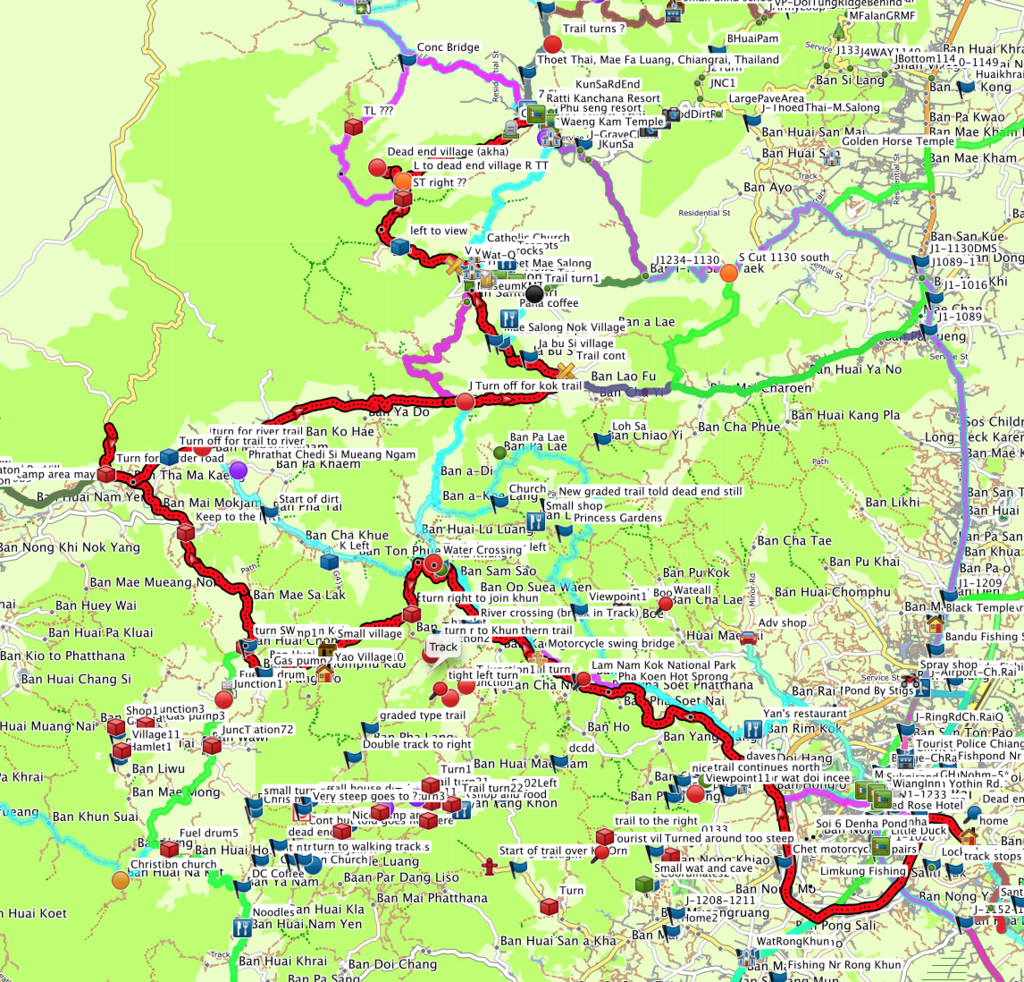 Chaing Rai's new ring road finally complete makes getting to the Kok river very easy.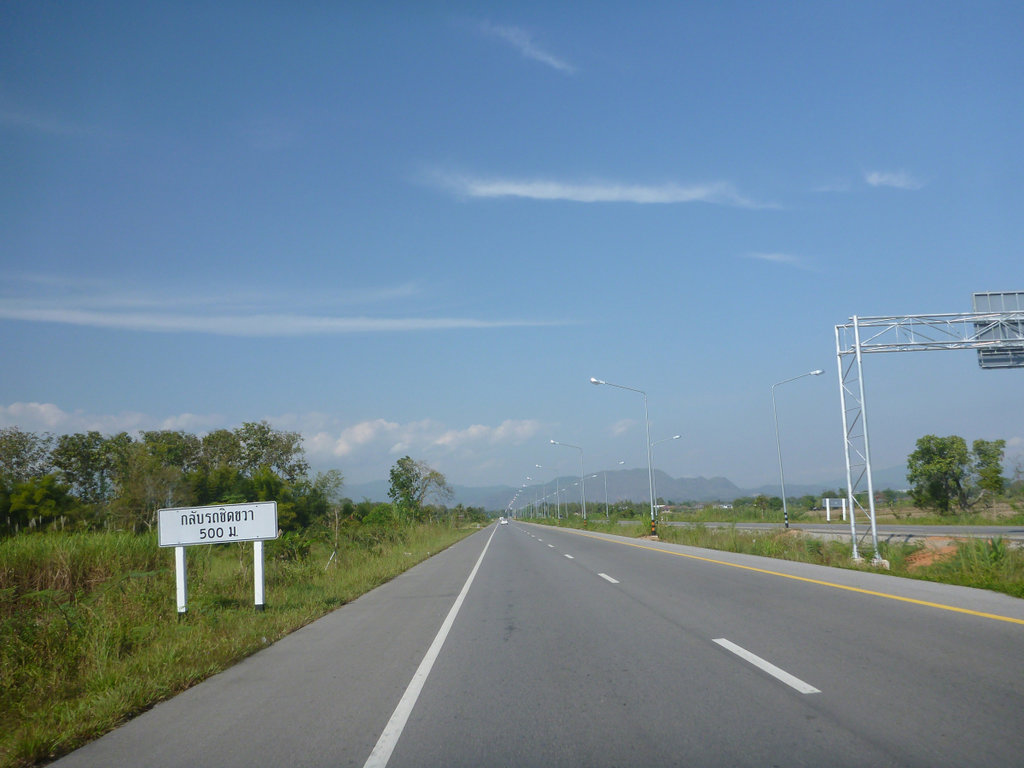 SAd to see the local farmers are already burning the fields, I guess they will never stop although local farmers are ploughing back in rice stubble so it's a step in the right direction.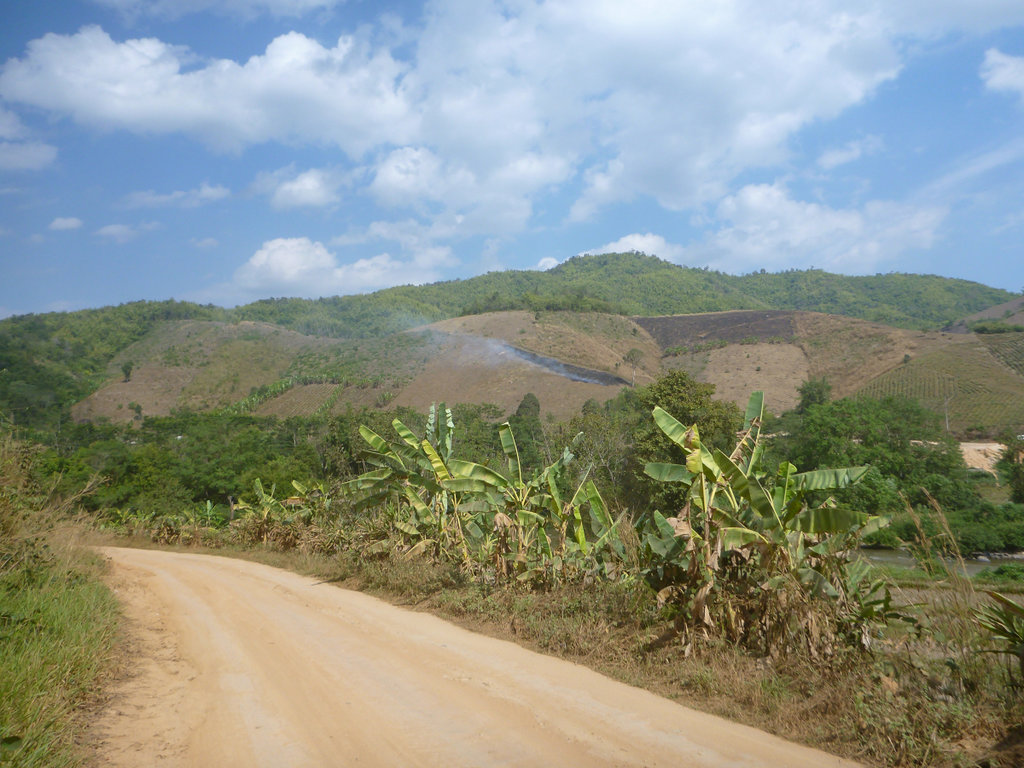 This crazy dude demanded his picture taken, the cheek of some folks.
The motorcycle swing bridge showing signs of wear and tear, since Singha Corp did a makeover.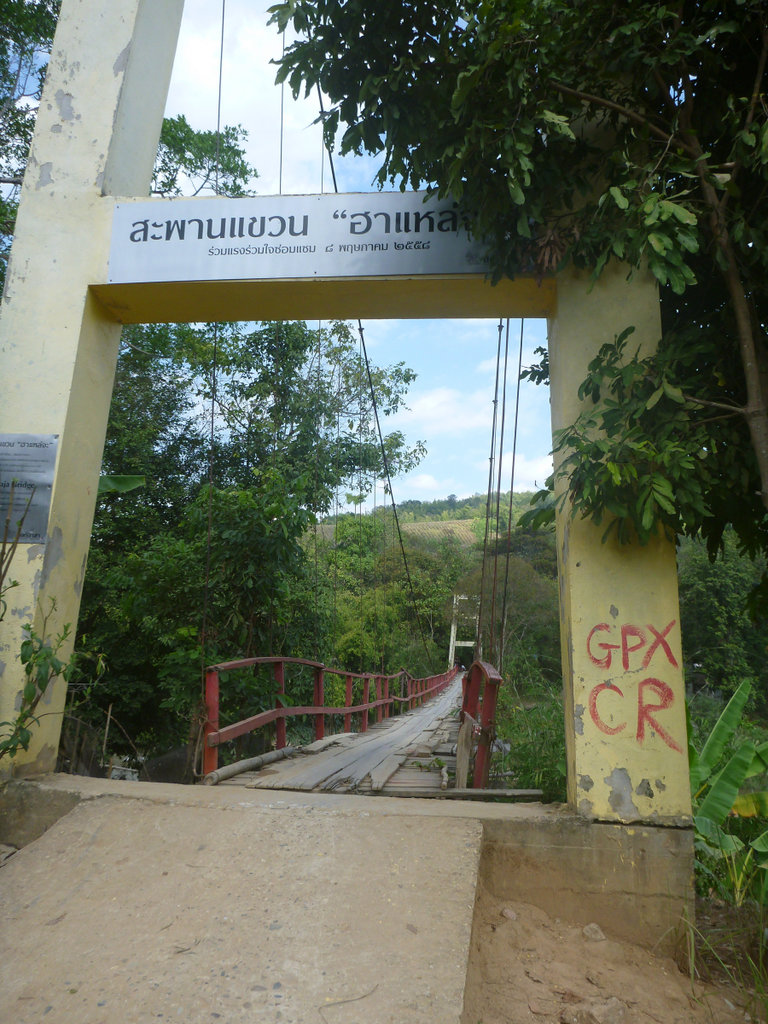 The bridge in the distance and the water levels at this point reasonably high.
I was expecting lots of mud after the days of heavy storms but so far all dry apart from the shaded sections.
Outstanding views from the south side of the river.
Apart from this truck no traffic until i reached the 3037.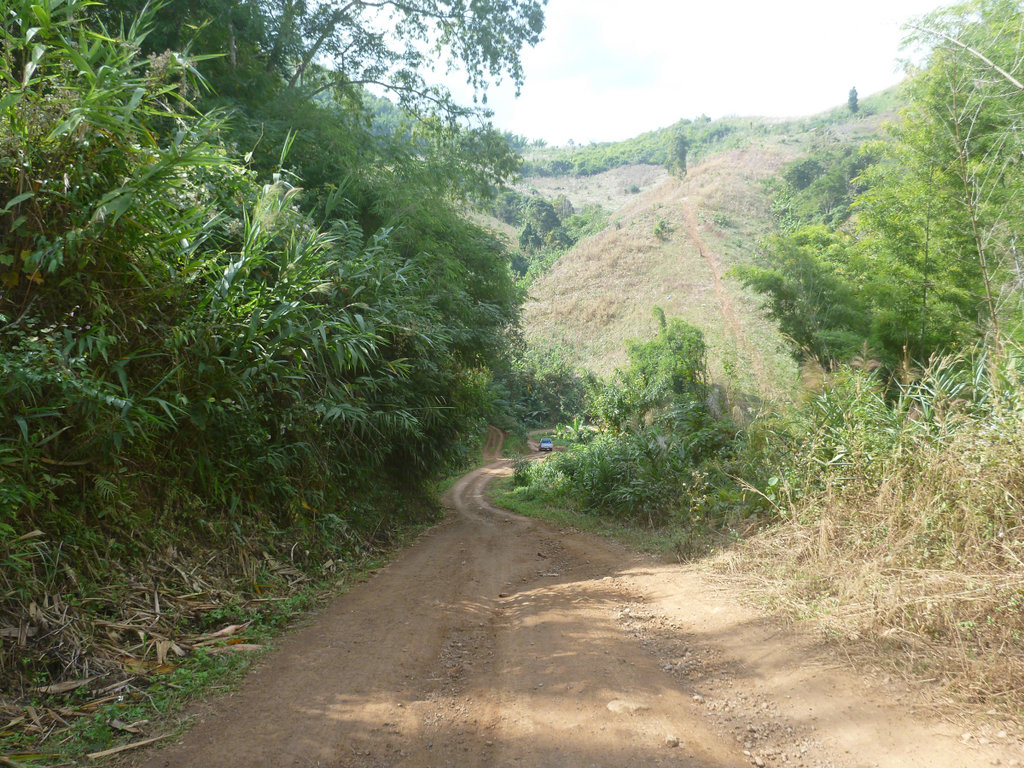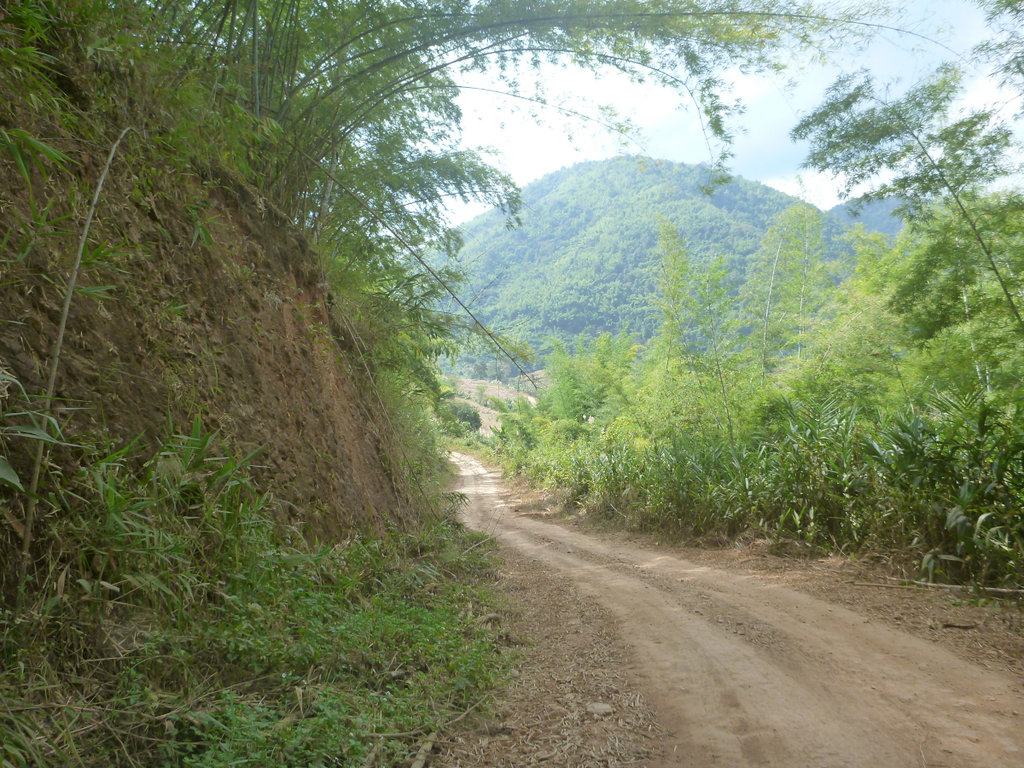 Perhaps one of the most scenic parts with huge karst outcrops tot he left as i approach the concrete bridge.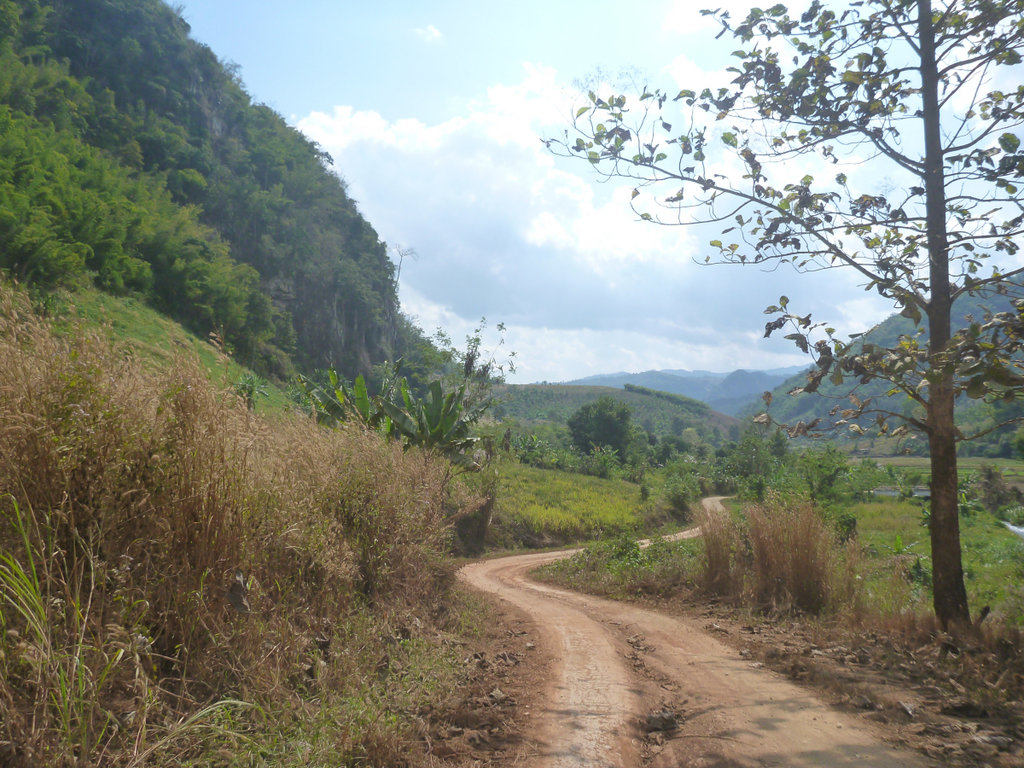 Over the bridge and decision time right along the Kok, now pretty flat and boring since it's been graded or left and the multiple climbs up to Chompoo village, left was to be.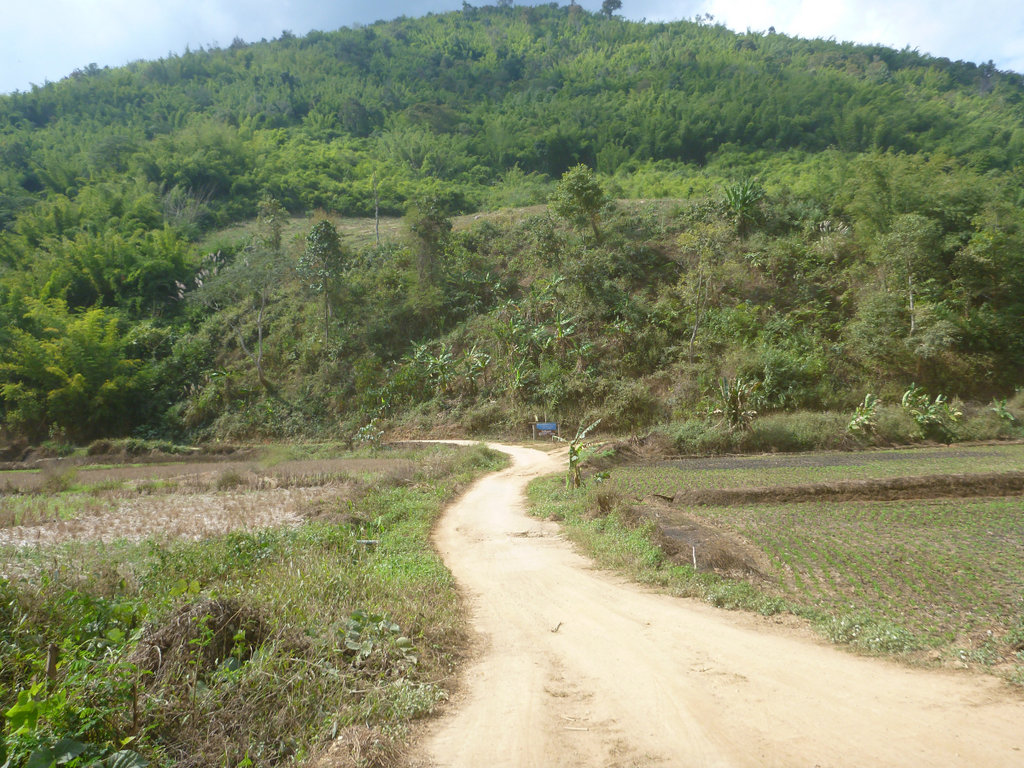 You pass through several villages of various minority tribes, some well kept, some absolute shit holes.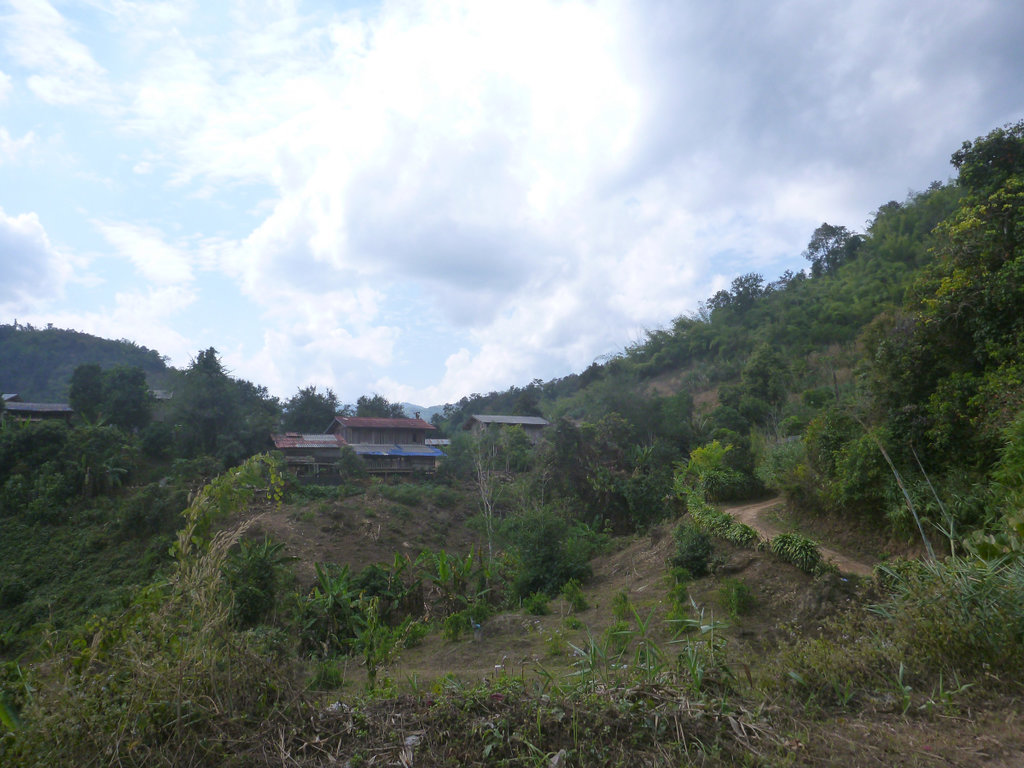 The start of the climbs, some grading being done so should be a breeze.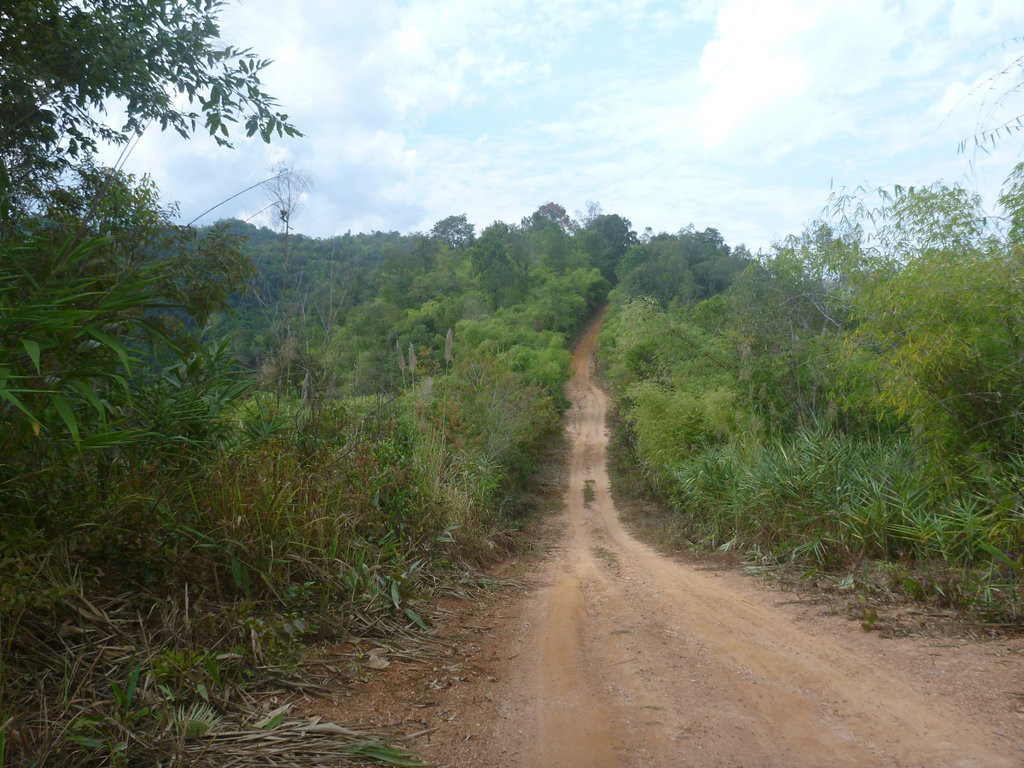 The old gal celebrating 27 years this month and still going strong.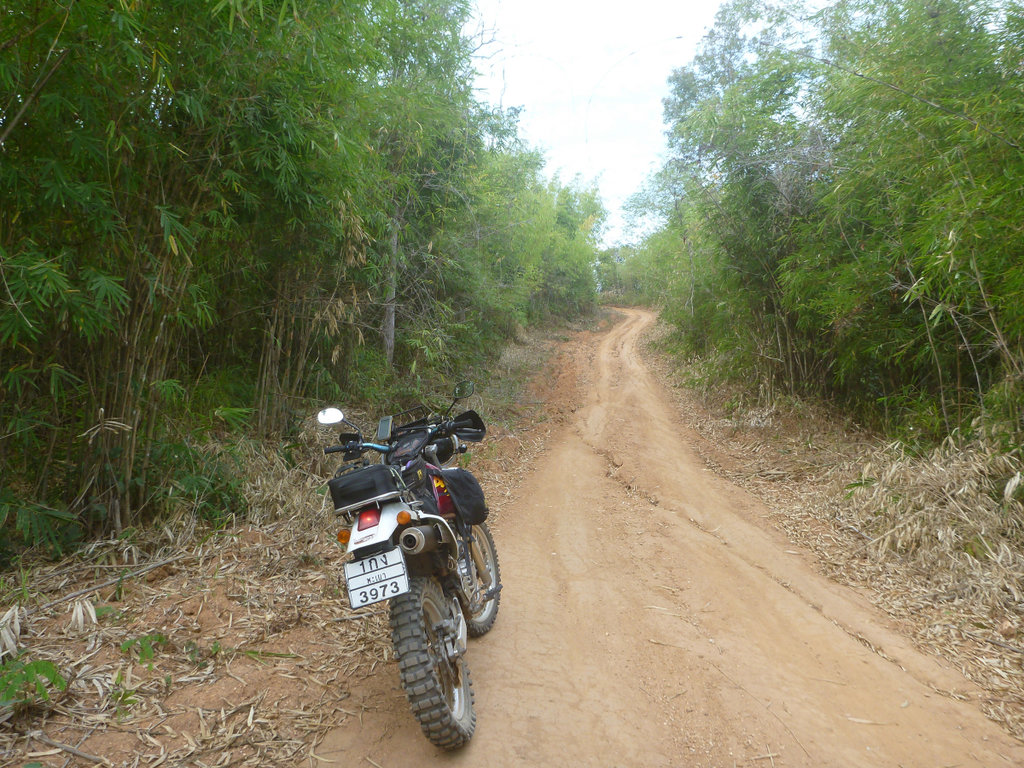 I was relieved to reach the top of the fist climb, often huge ruts line the skinny shiny riding line
Spectacular views from up here as well as wonderful aroma's coming from the fruit trees.
Smoke already masking the skyline.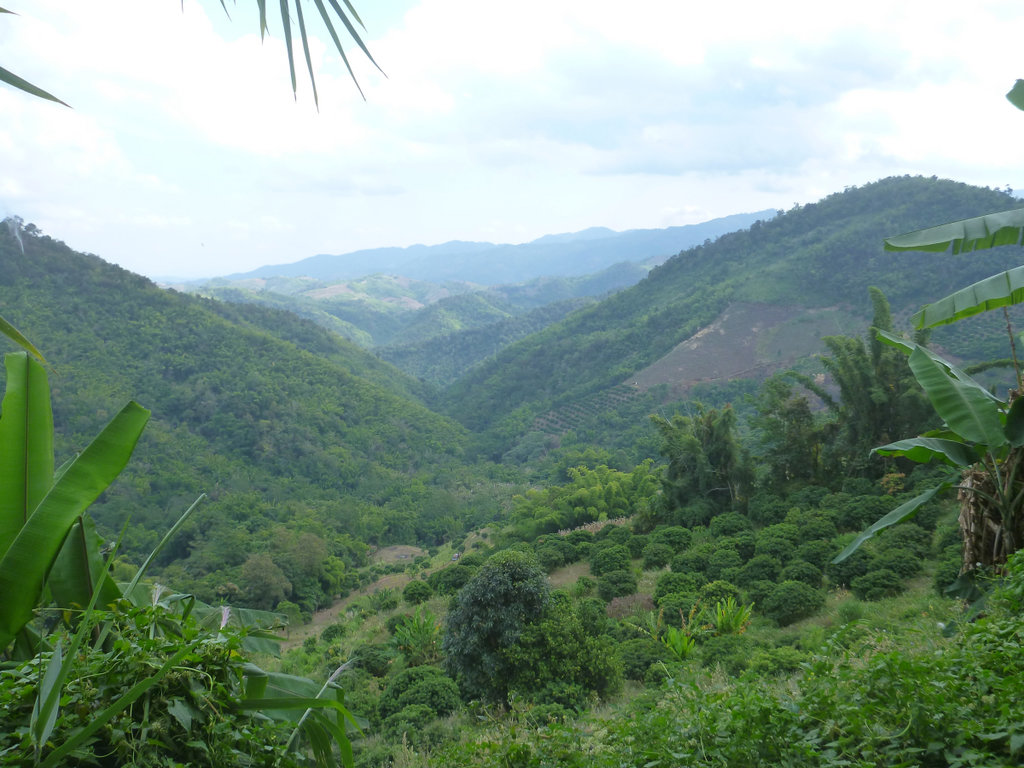 Breathtaking.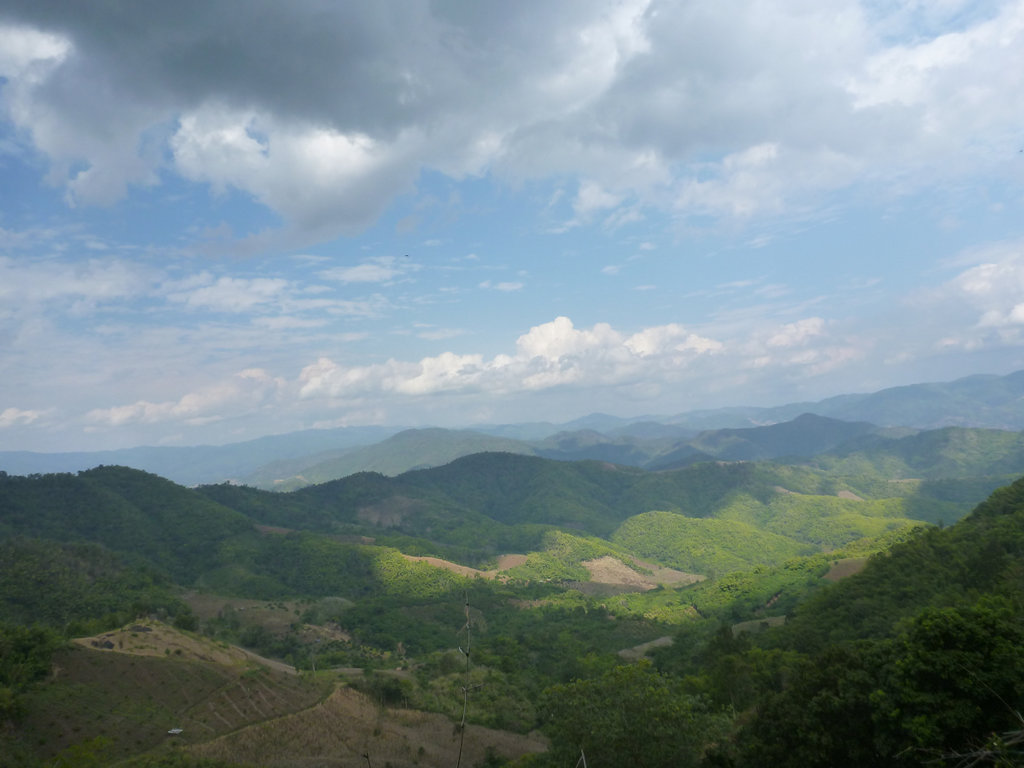 Doi Kad Phi park marks you are almost reaching Chompoo village and concrete.
Chompoo is a Yao village and this wat shows its Chinese heritage.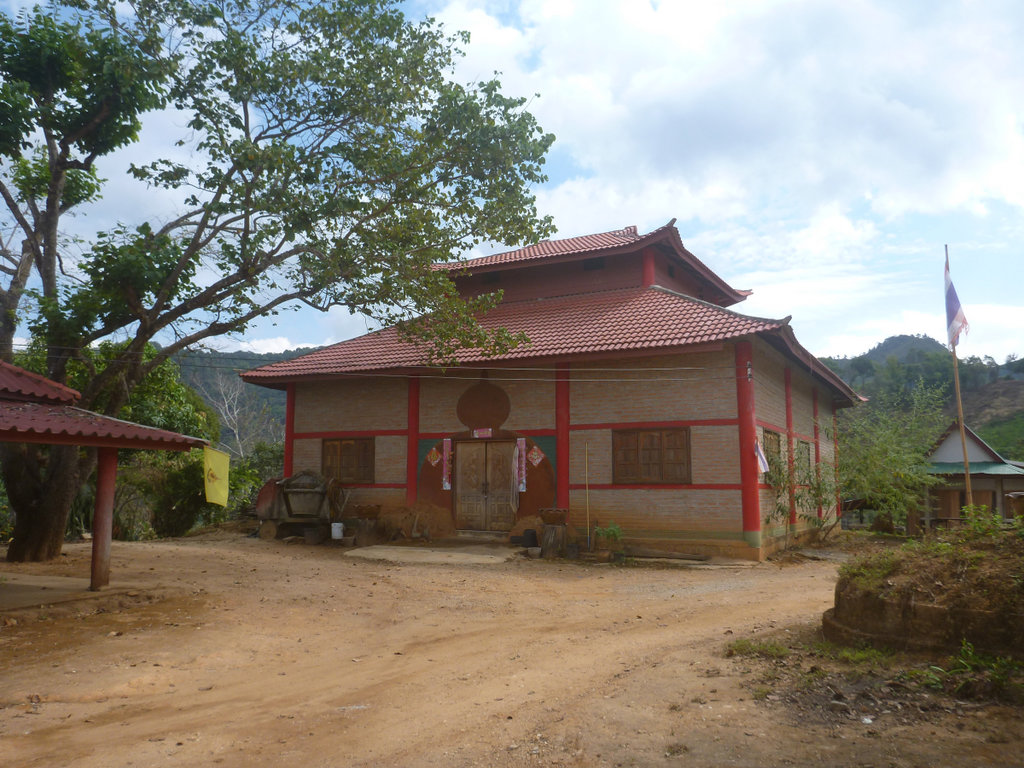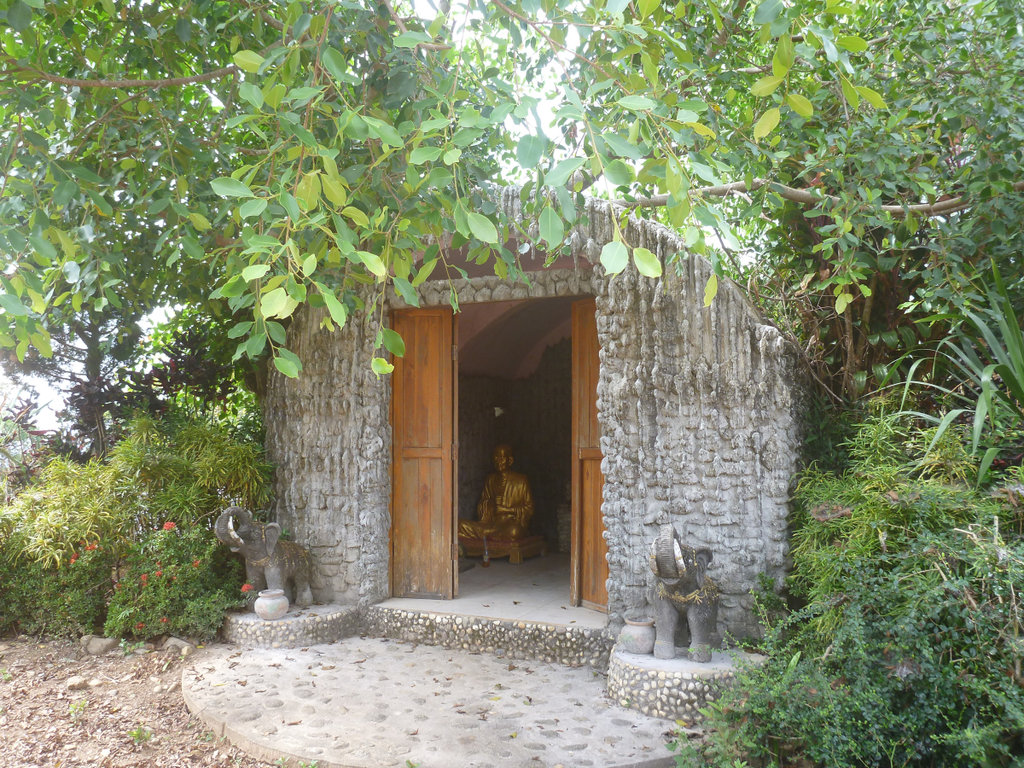 Numerous Chinese graves sites around this region, some of them pretty spectacular.
The cooler season brings out the best in the trees and flowers.
After a pleasant ride o the 3037 which is nicely paved at the moment, i decided to poke up to one of the many border points often these are unguarded and you can explore a little, this one is at N20.09039° E99.43689° and no signs of any life other than a couple a puppies defending the countries honour bravely
The border, pretty plain i wondered if the gate was unlocked.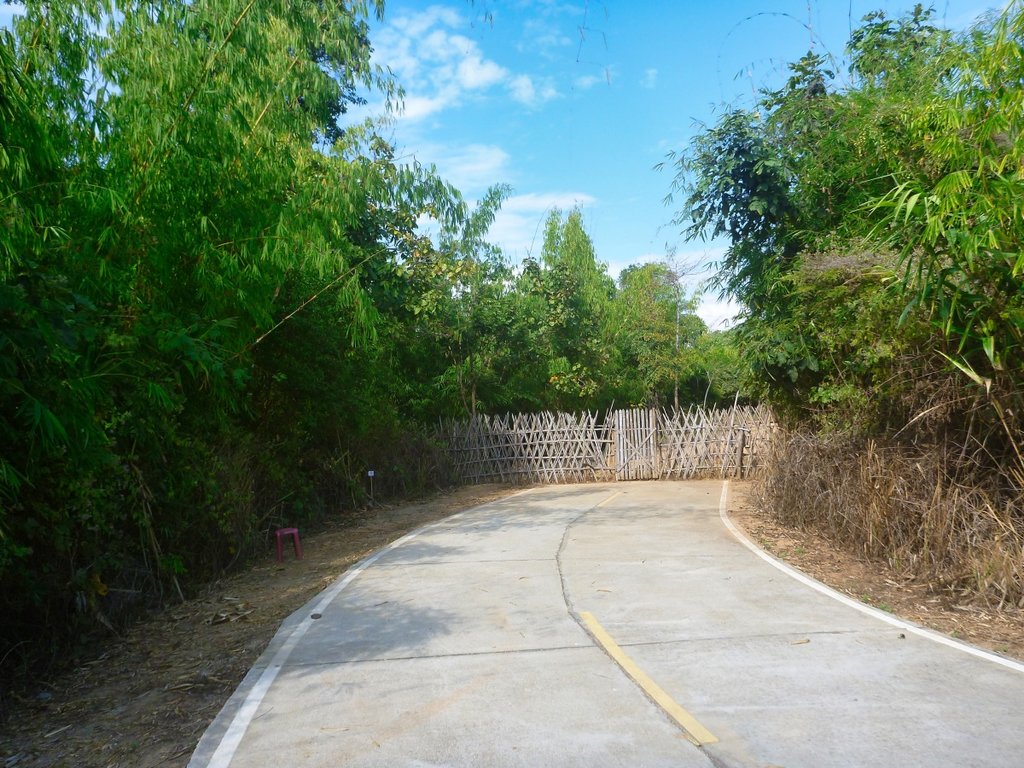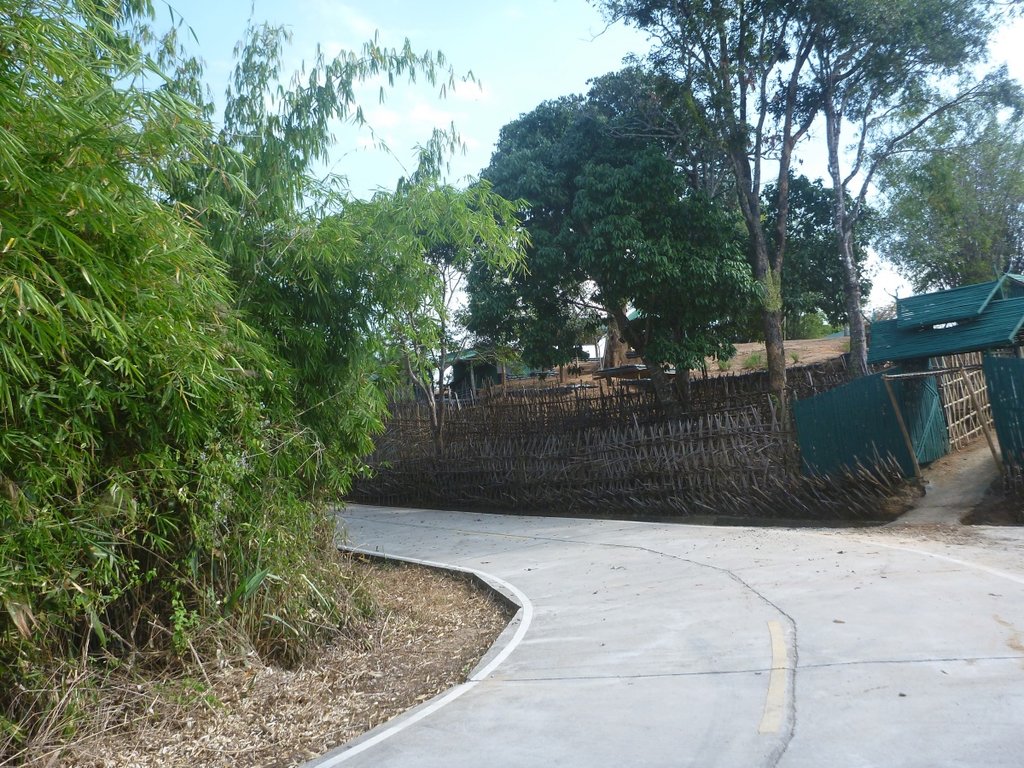 Those Punji sticks are purely for decoration i hope.
A short paved ride on the 1095 to my next dirt turn to Mae Salong.
The turn is at N20.11427° E99.67164°, be warned it turns quickly and steeply left a few metres from the 1095.
A beautiful although short trail that just keeps climbing.
Pretty much a single track i have never seen any pickup's along this trail.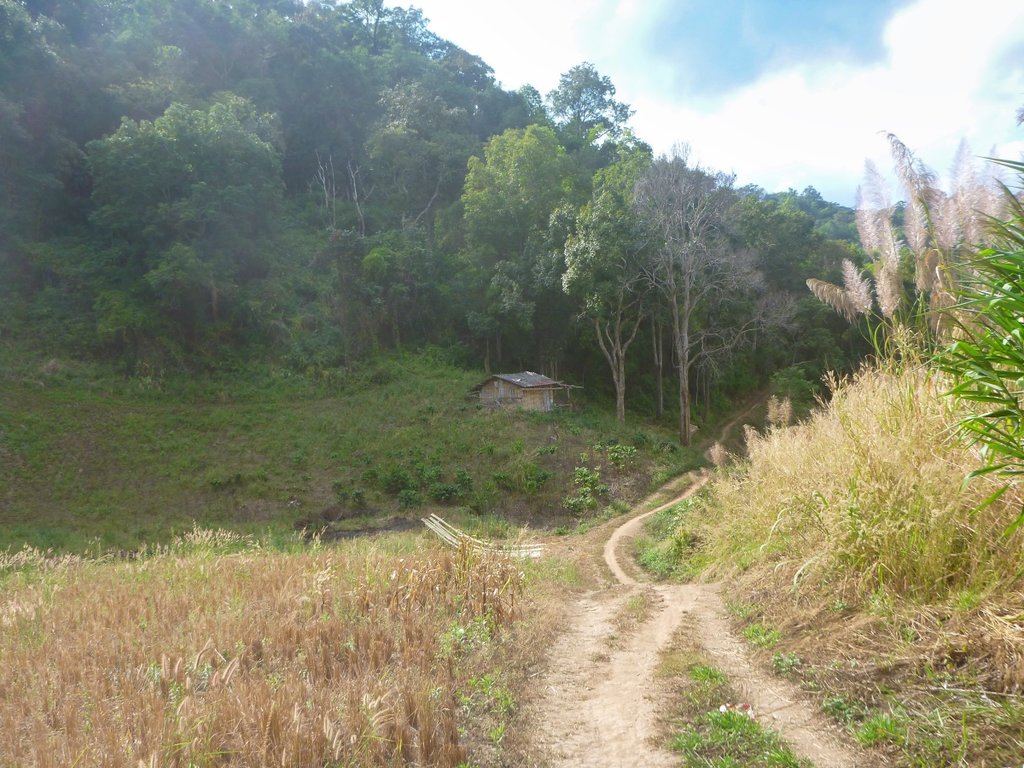 Reaching the very small Ja Bu Si village, from here its now paved to MS.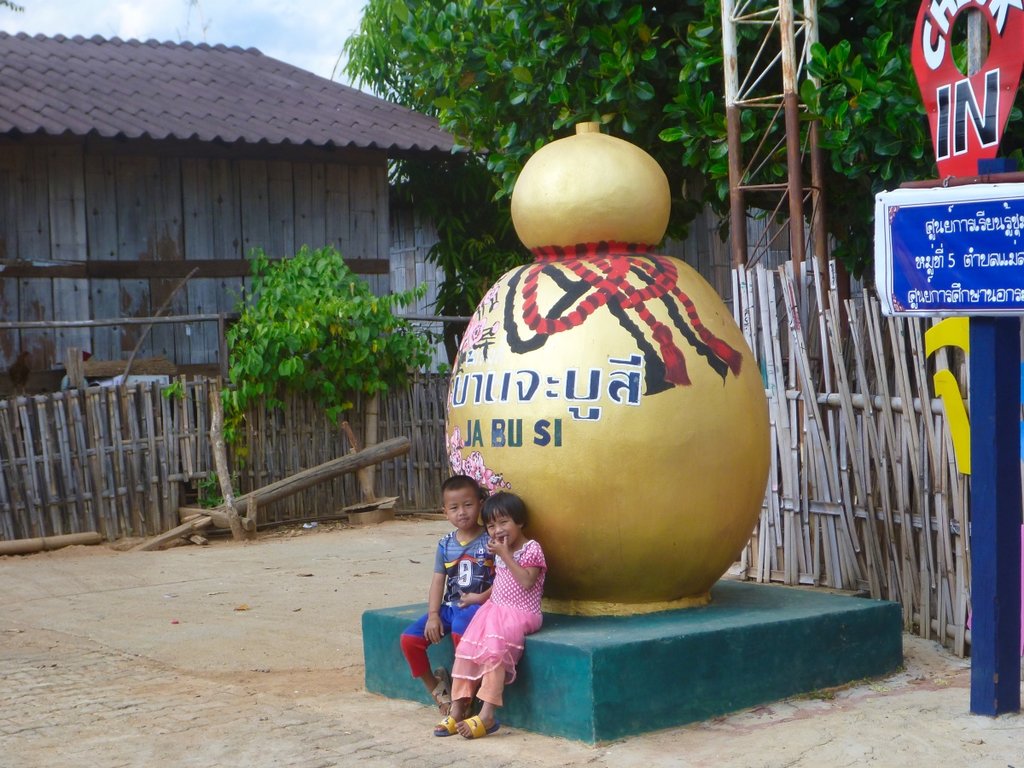 The Community Development area was open to ride in, a great place to camp but totally unused, what a waste of money.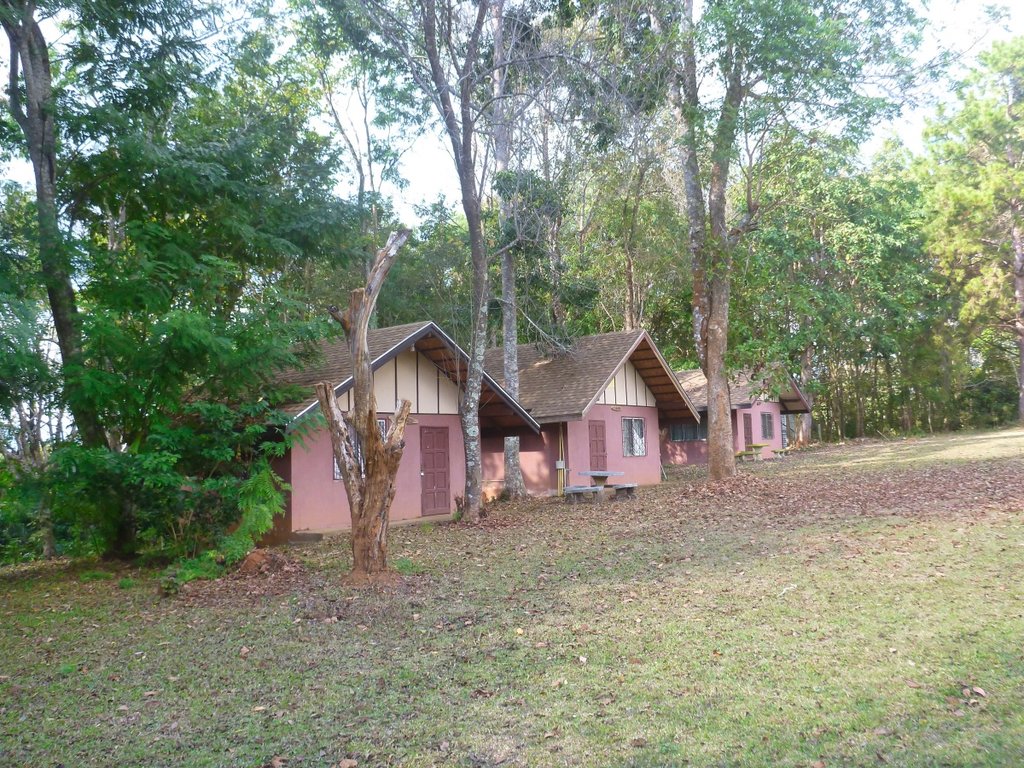 I shot more detailed pictures in an earlier post all the buildings are furnished but wide open, how bizarre maybe the spirits have a part to play.
Its located at N20.13164° E99.63804°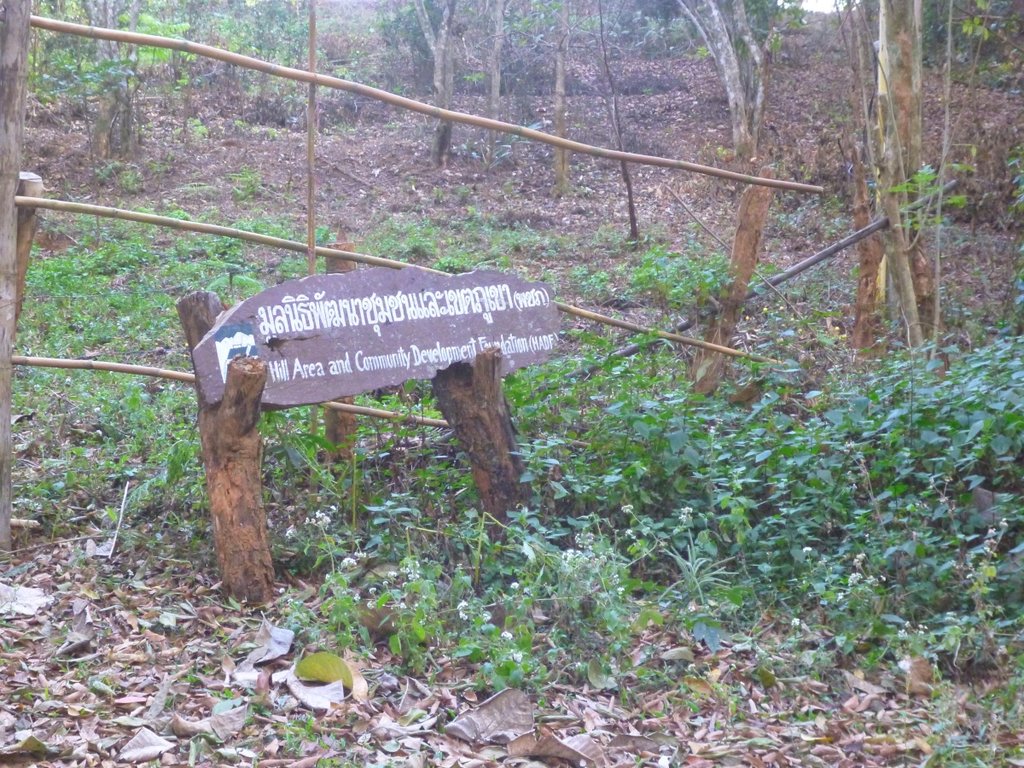 Quickly through MS and the hoards of Chinese and Bangkok tourists, nice to see a friendly welcome sign at the first army checkpoint on the trail.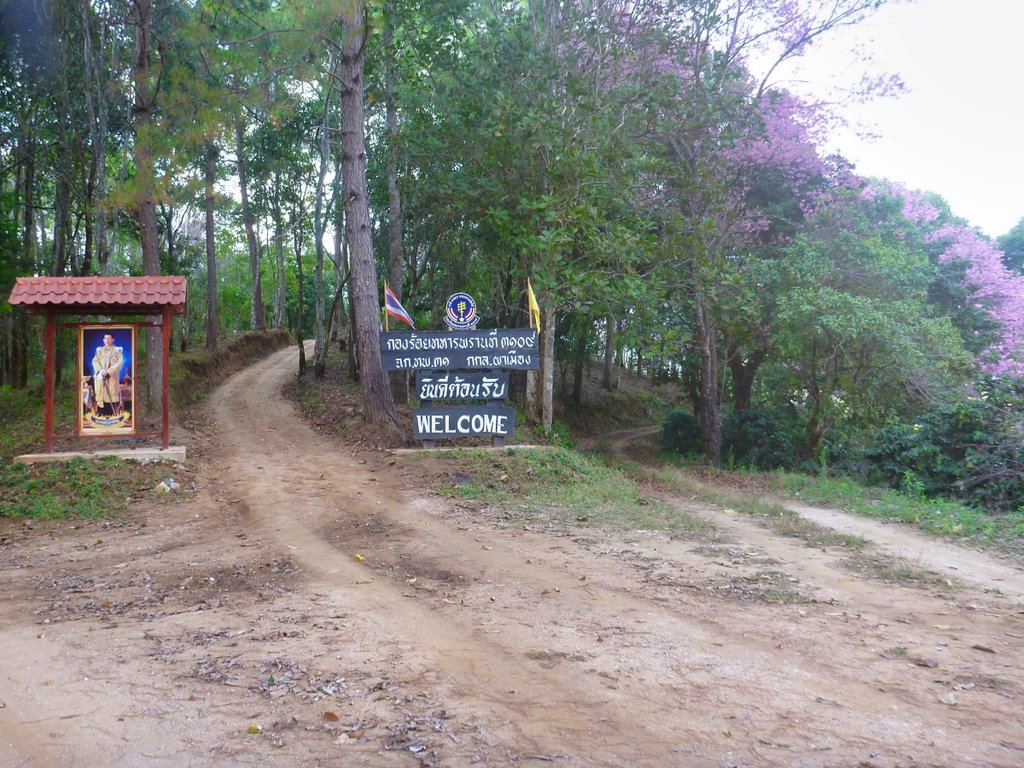 Unusually i had to wait at the check as a convoy of students coming back from a filed trip passed though, the checkpoint at usual unmanned.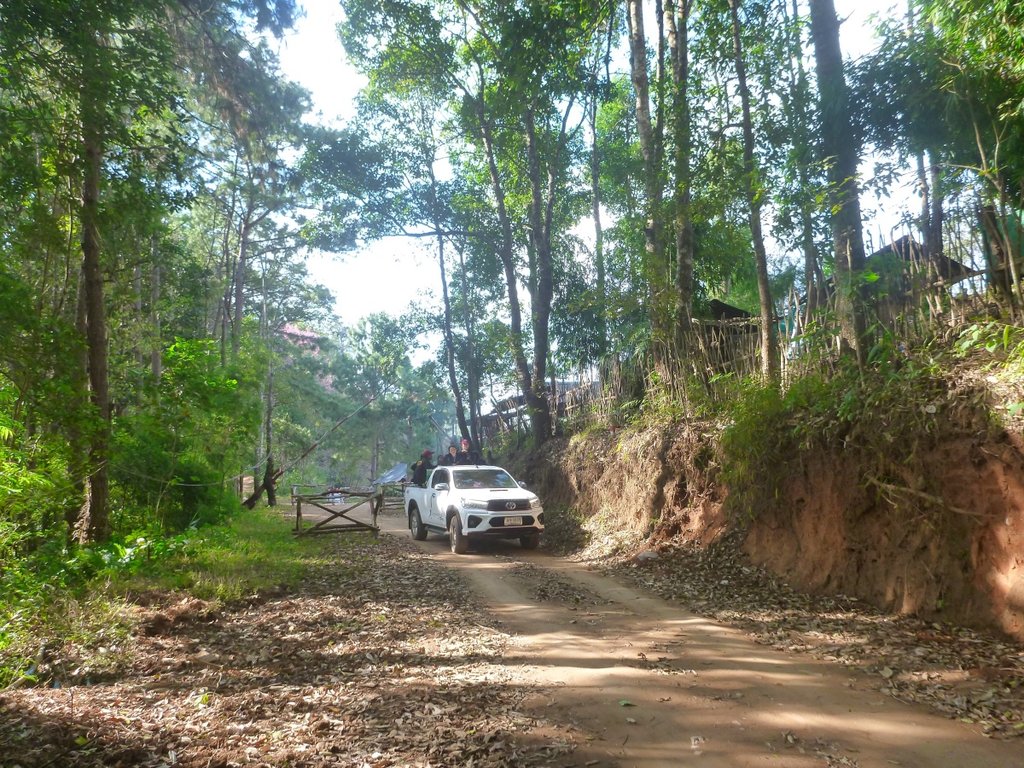 Again this trail boasts some amazing views, don't understand why it's not used more often.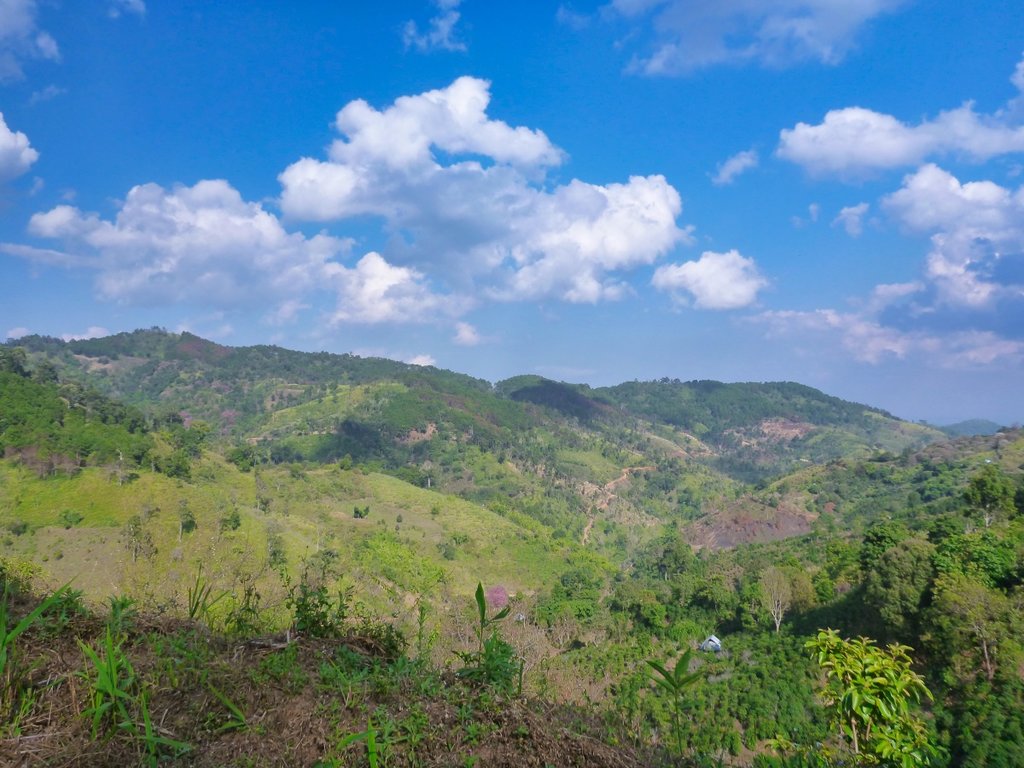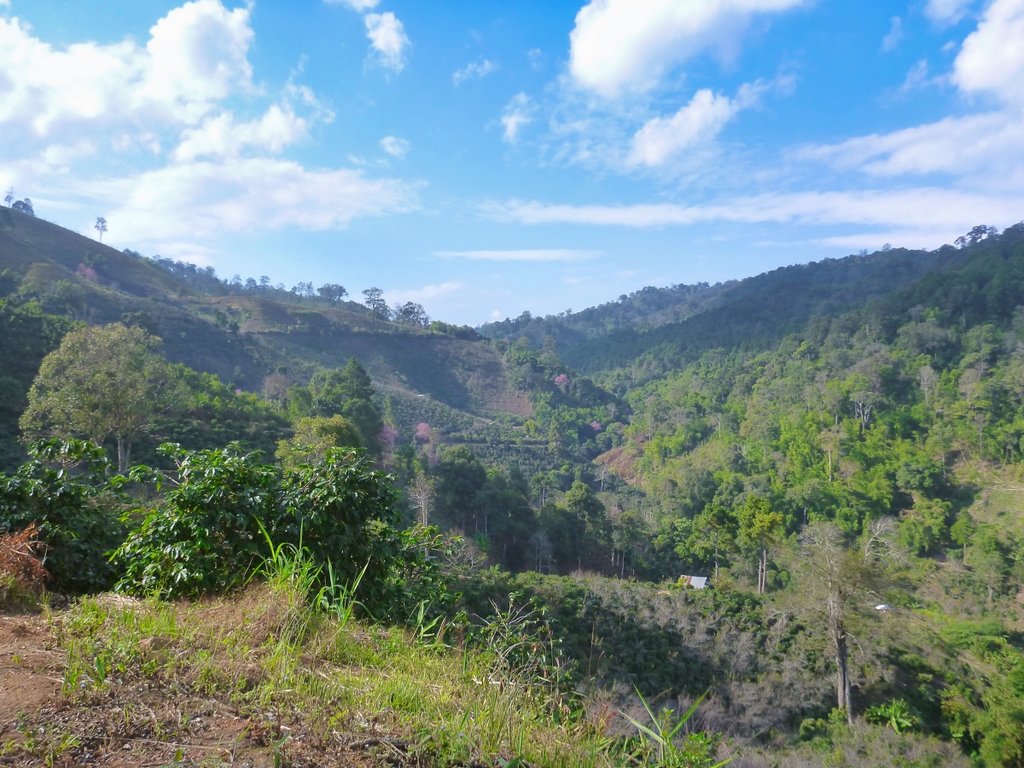 Would be a nice place to camp, the view from there is fantastic.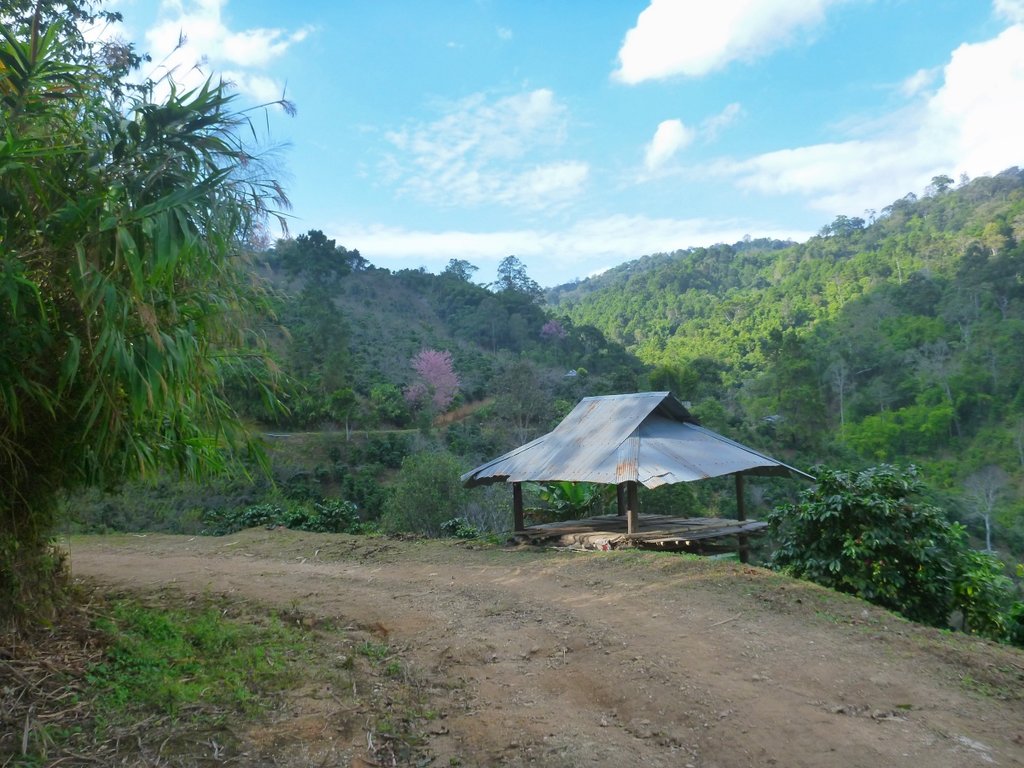 Usually, i ride this trail in the opposite direction, the rocky section marking the end of a steep descent, for me the start at TT i still prefer.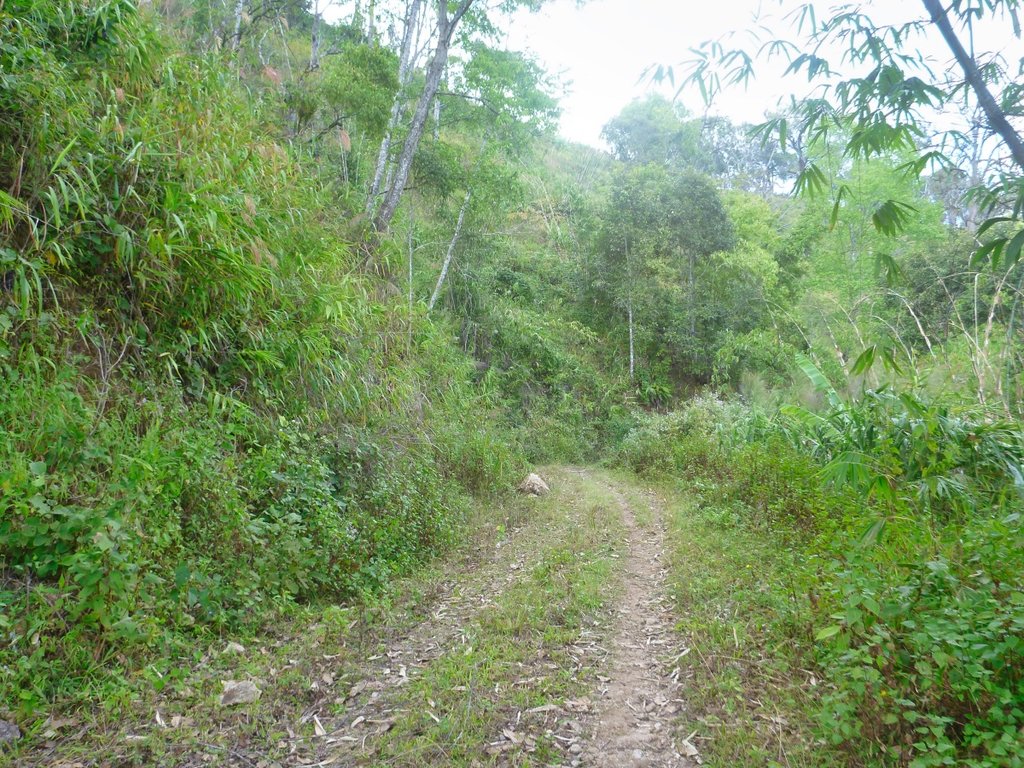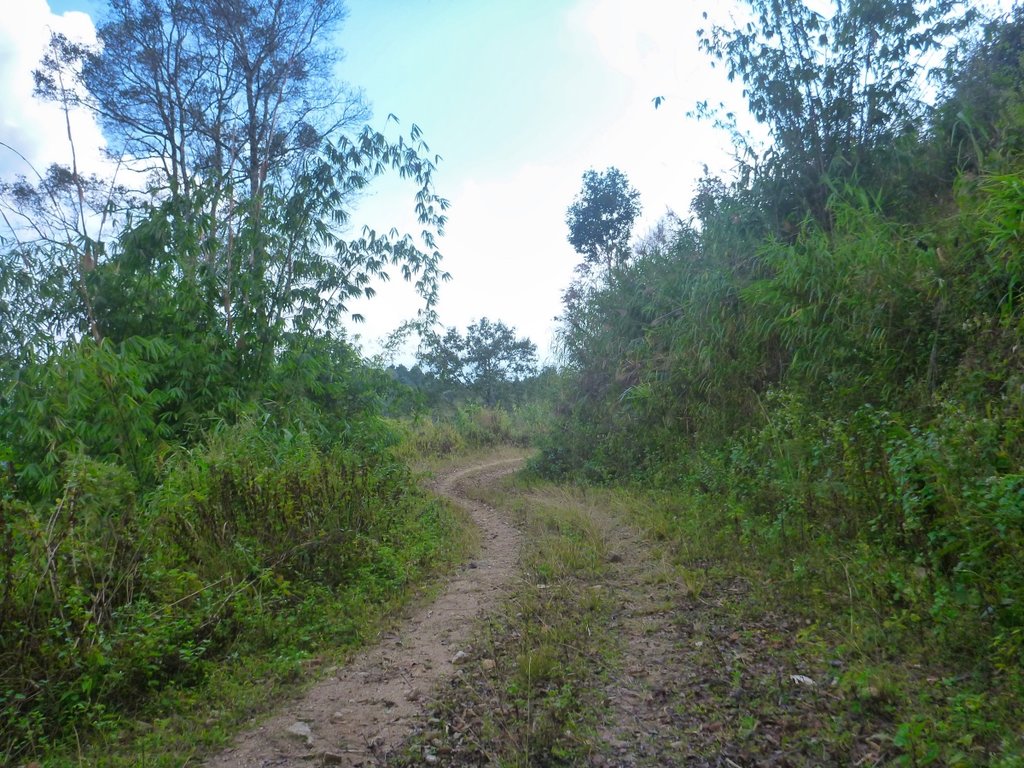 Purple appears to be colour of this season according to the trees in this region.
I approach a fork, I'm running on osm and it's not shown, left takes me to the border trail and left well who knows, in hindsight i should have stayed left, the best of the trail is in that section, but hey ho you have to try something new.
It was actually pretty nasty and covered in debris from the rains, maybe not such a good idea.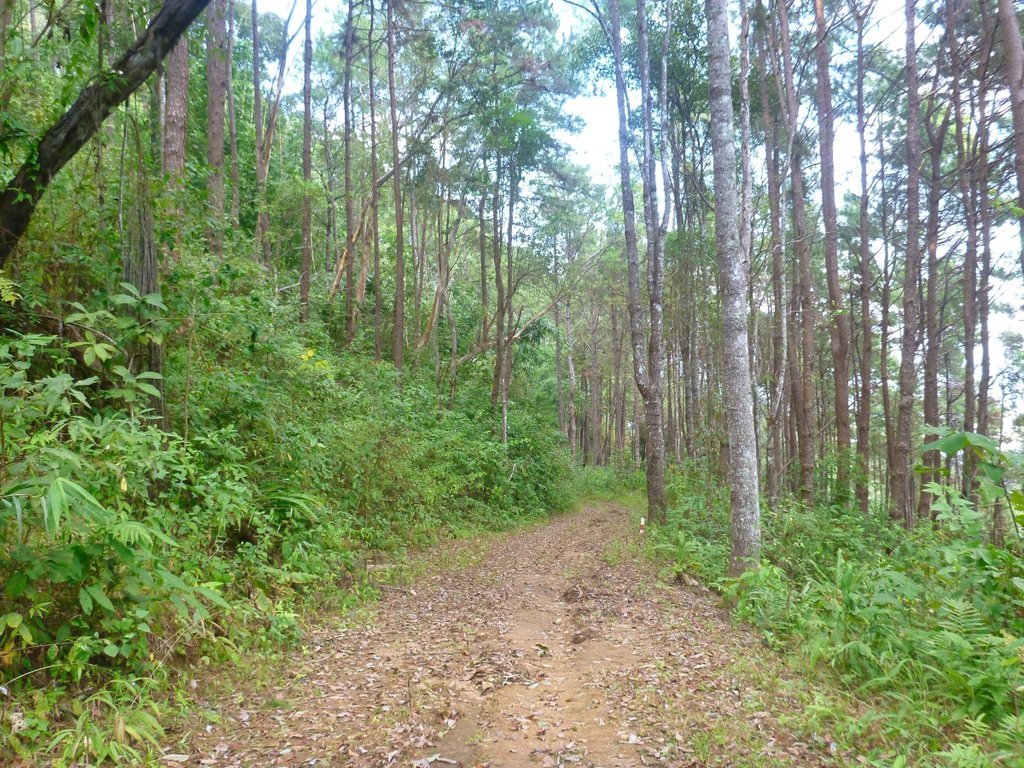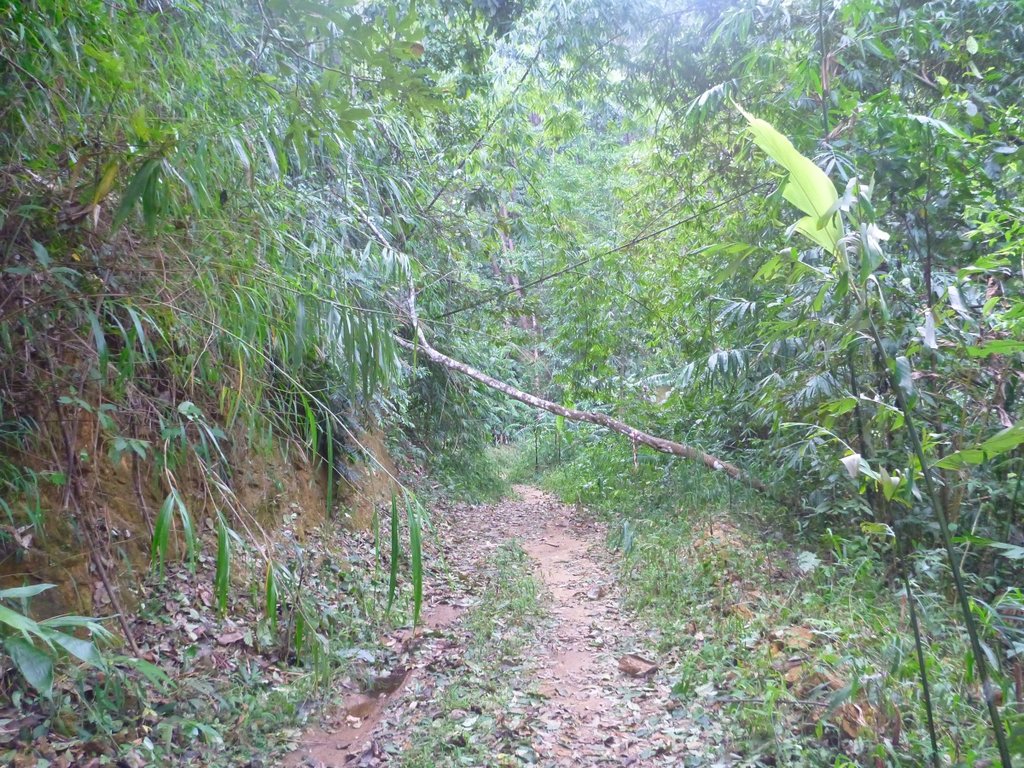 Basically too bloody lazy to haul the bike around it came out on a concrete and dirt road on osm.
I headed towards TT but thought well it must go someplace so turned back to check it out.
Terminated in this small sleep village, asking for directions either they didn't understand my poor Thai or didn't speak it, but anyways i could see no way out so it was the way i had came.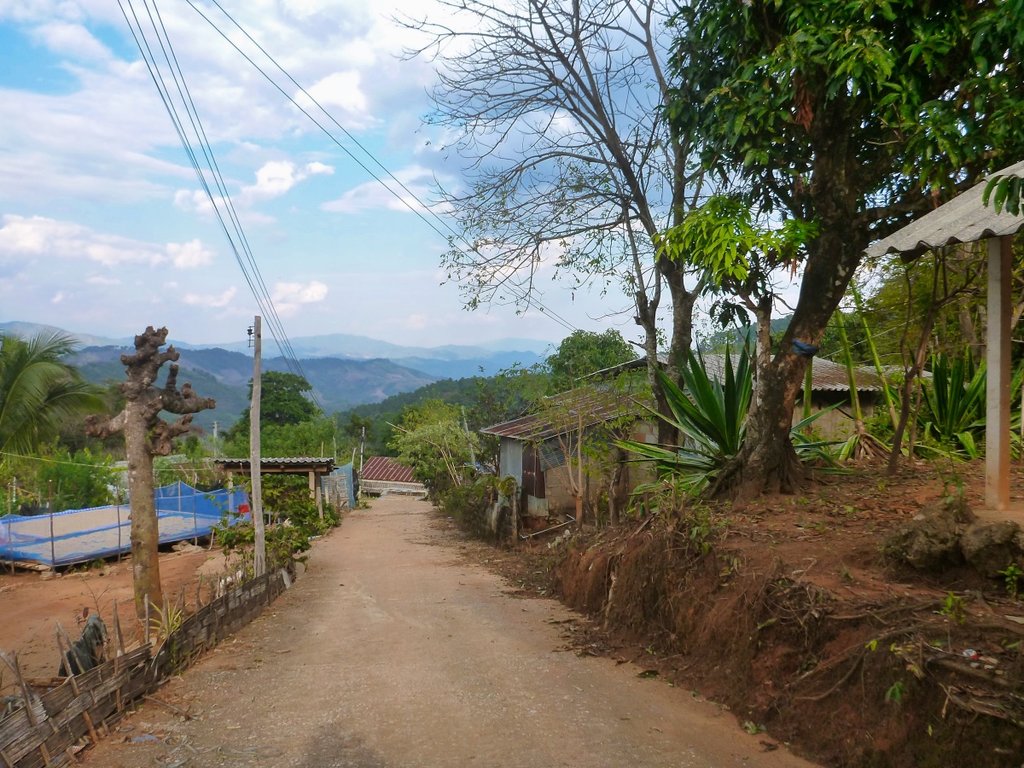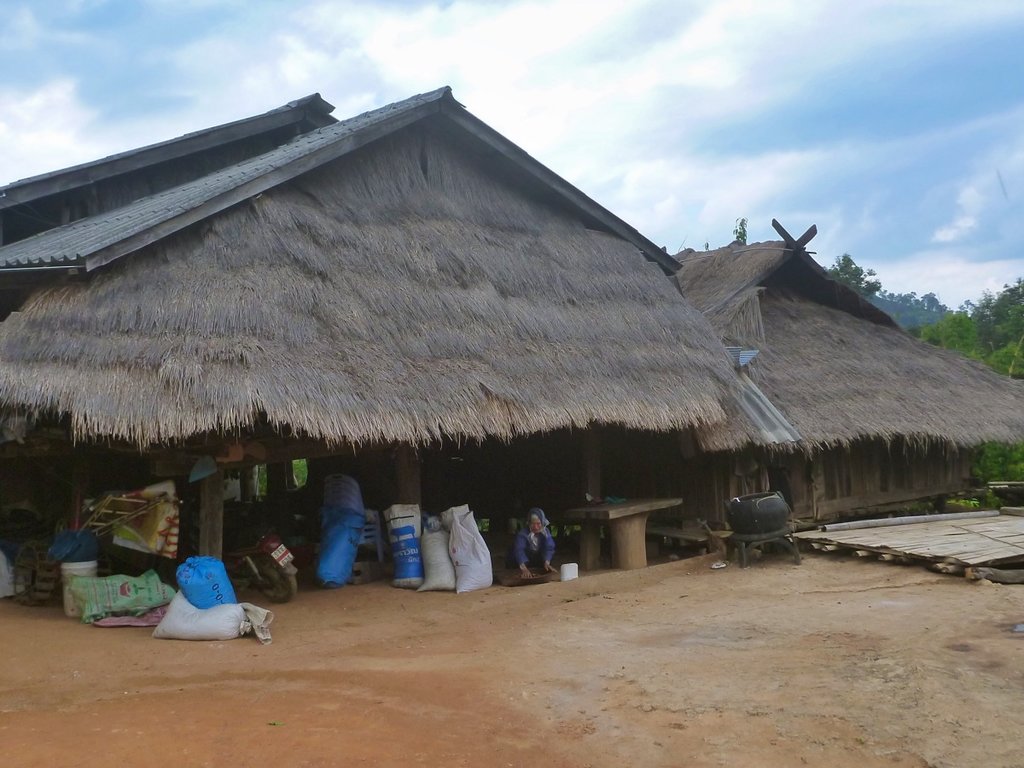 Turning back, the road a mixture of dirt and concrete was littered with small villages, all have coffee beans out to dry but not on the map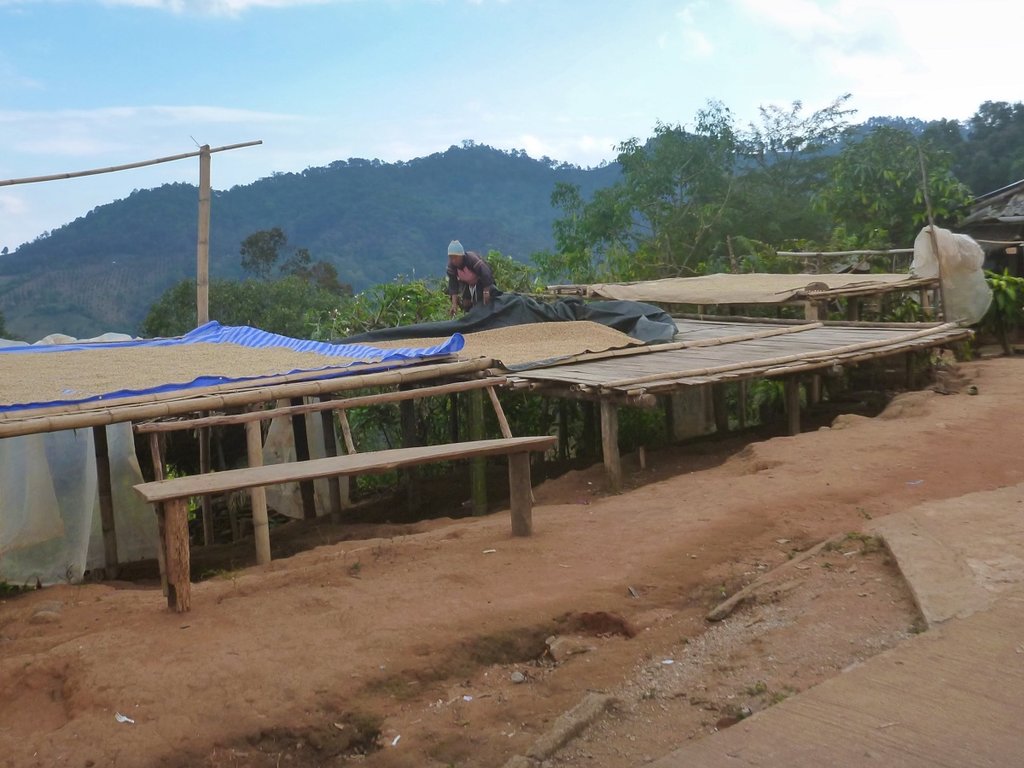 Typical church in most of the villages.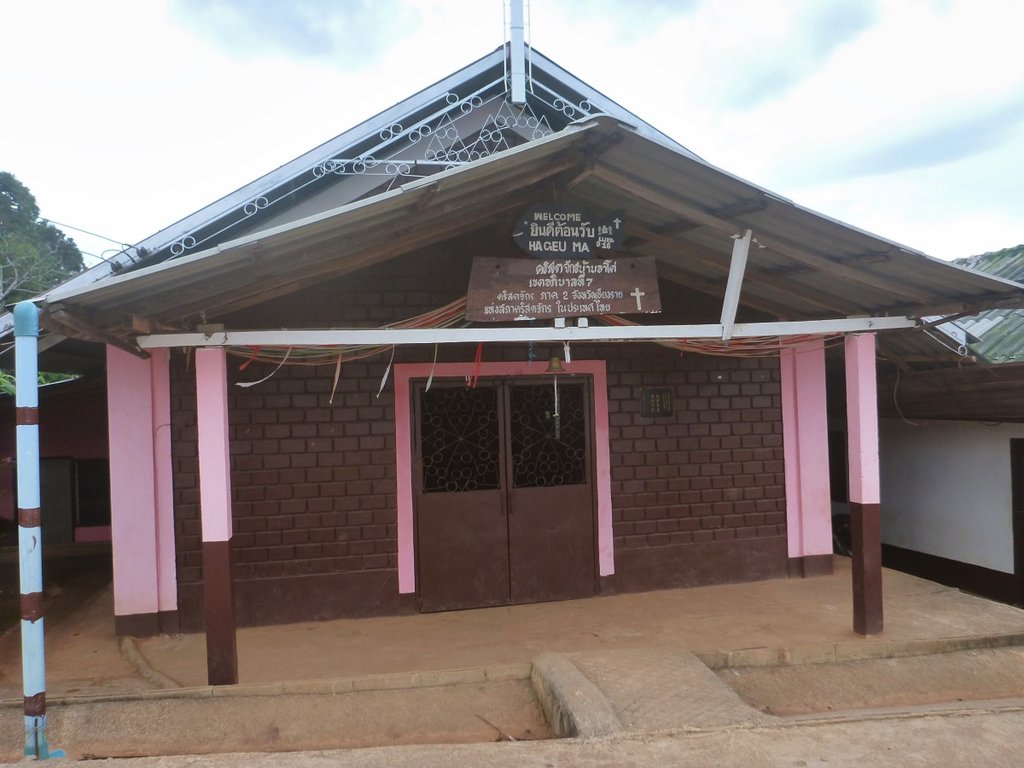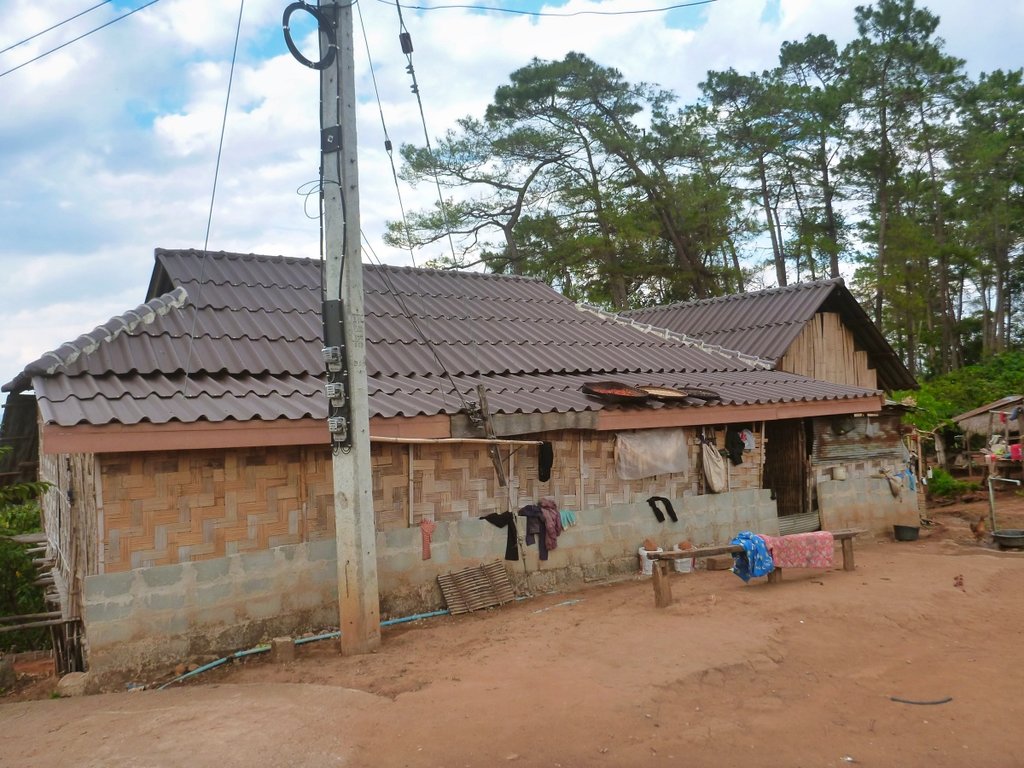 The power poles looked pretty new so they have seen the light.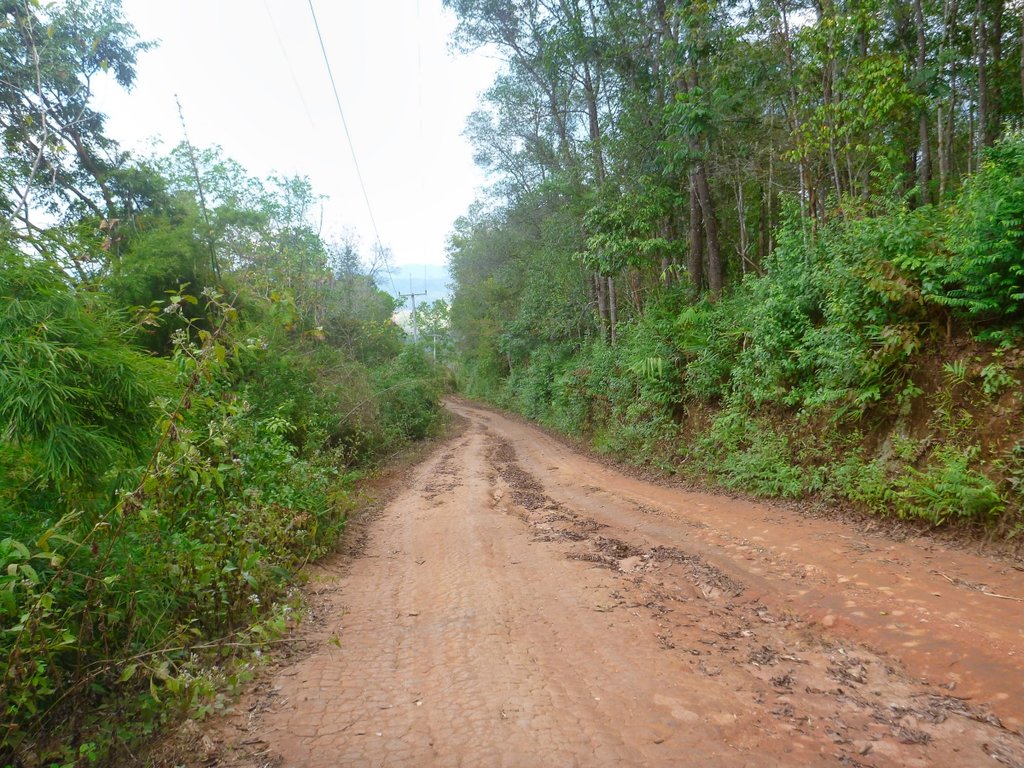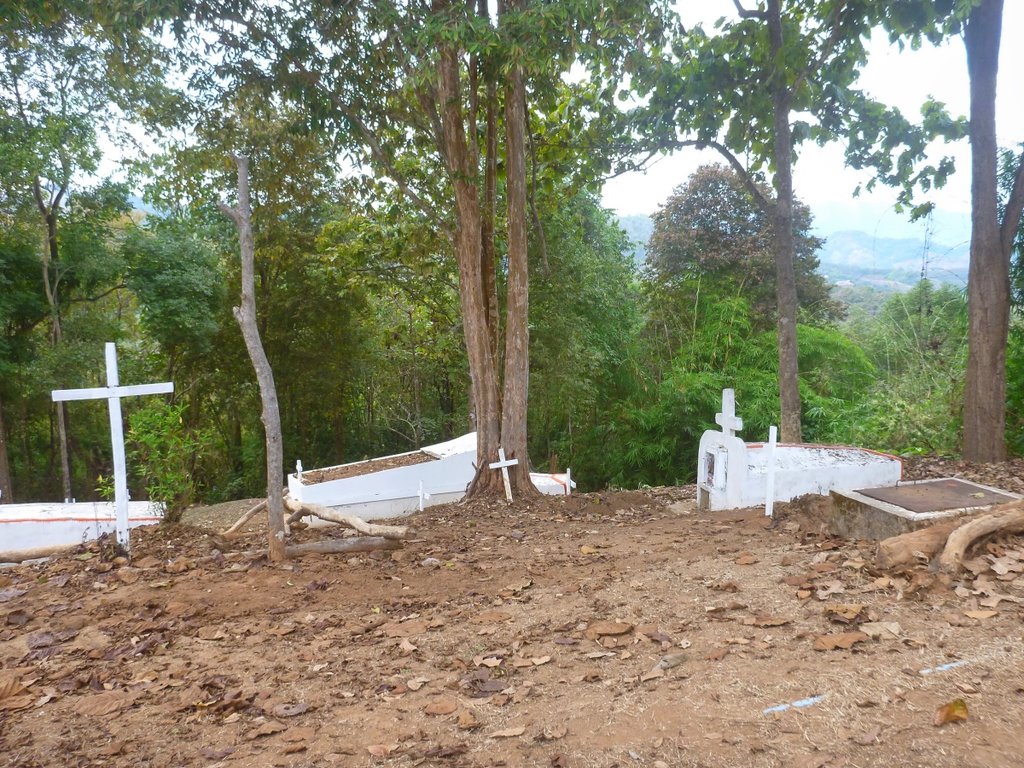 Arriving in TT way ahead of my predicted time scale and cursing myself for not turning back earlier. The road came out at Mae Fha Luang Hospital and conveniently enough a new 7-Eleven, with a nice looking restaurant which as I found later does not open in the evening, location N20.24997° E99.65168°
Arrived in TT, my normal bed for the night the Ratti Kanchana resort, had doubled their room rate for the high season i passed, the Phu Seng resort however, not quite so luxurious but half the price would do.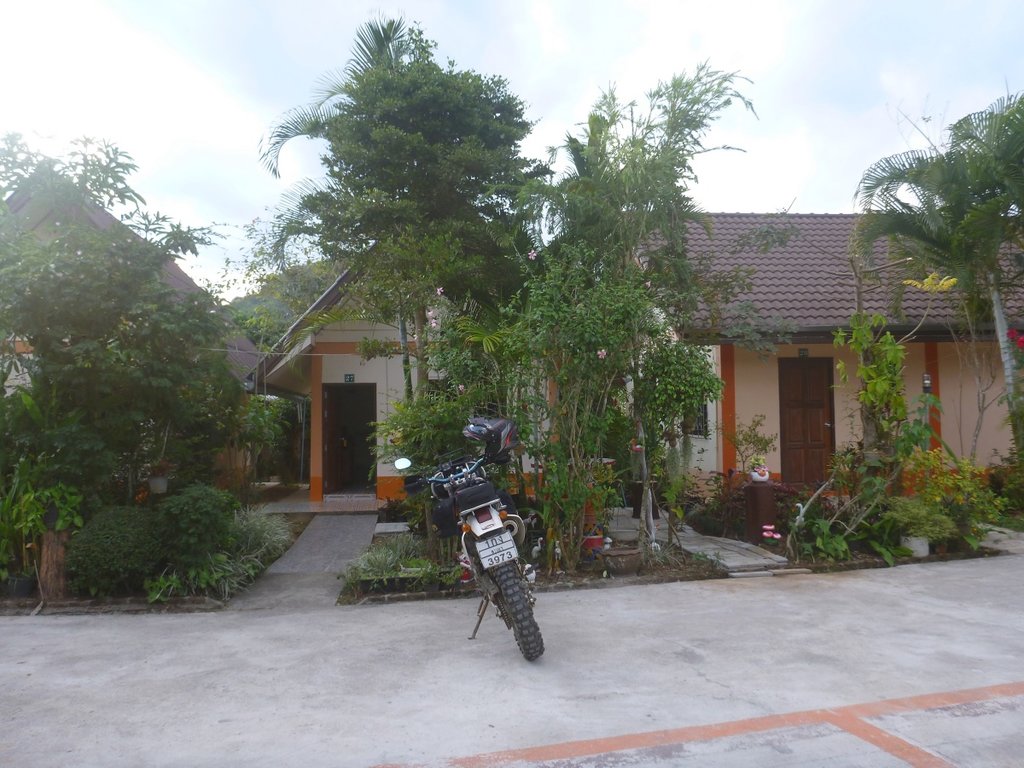 Grand days riding, I ensconced myself in the fat lady restaurant which always serves up quick tasty food, and a new bar right next door run by a very nice chap who speaks very good English, it was to be an early night as I was freezing my balls off cold beer and 12 degrees are good partners.
Fat lady place. N20.24498° E99.66165°
GPX file
GPX viewer