Joined

Jan 11, 2011
Location
Bikes

2007 KTM 990 Adventure Suzuki DRZ 400
10 day dirt trail riding in north east Laos PART 3
Some more stories of out Laos trail riding trip last week
Don looking more chirpy in the settlement after the effects of the Laos Khow wore off.
Traditional house in the settlement
Don on the suspension bridge east of Luang Prabang on that comes off the main dirt trail
Bigger photo of Don's GPS helmet antenna
Views south of Phanxay
Government GH in Phanxay (east of Luang Prabang by dirt trail) 40,000 kip
Rooms are ok no electricity after 4pm
Toilet was a little scary
Getting fuel in Phonxay - still a long way to Phonsavan by dirt trails
A jeep testing the river for us
Breathtaking views near Phonxay
One more amazing view
The burst canoe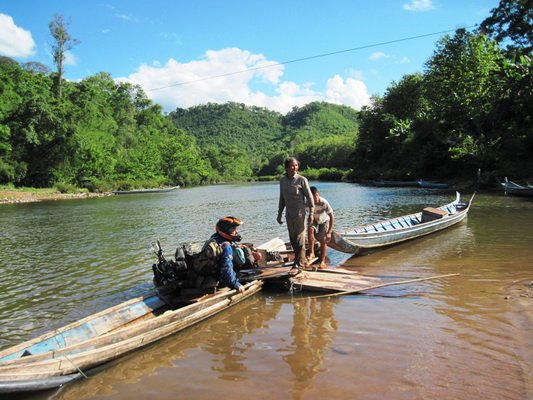 The Kong Keua GH in Phonsavan, 60,000 kip
New fancy hotel in Phonsavan , the Anoluck hotel almost opposite craters 200k & 300k kip rooms, looks very nice
Russian Mig fighters planes donated to the Laos airforce, now out of commission at phonsavan airport
Machine gun shells from the Vietnam war
Beautiful trails on the way NE to Xam Neua
Sam Neua Hotel had great value rooms for 100,000 kip (nicest rooms we stayed in)
Almost feels like you're in Vietnam when you're at Xam Neua's market
The old and the new in Xam Neua
Street food in XN
More beautiful dirt trails in NE Laos
Tailor in Viang Xay
Market in Viang Xay
Caves where the locals live in Viang Xay during the Vietnam War and would farm at night
Dirt trail south from Phonsavan
Alex trying to figure out how we're going to get this up the muddy jungle track
Happy camper
Jules Vintage bike rentals in Vientiane, Laos
Jazz Brick next to Jules Vintage Bike Rentals, great bar to relax in - Vientaine, Laos.
Don collating all the route and tracks in conjunction with his new laos GPS map
If you need a Thai immigration visa in Vientaine from the Thai embassy, Mr. Seng is a very professional immigration agent, saves you a day of hell.
Once through the border at Vientaine, Laos, back into Thailand , Alex and I stayed at the King Hotel in Loei, 500 bht great value
New racy tuk tuk in Loei, Thailand on the way back
Farmers market in Loei
The Lighthouse restaurant on the lake in loei, thailand has good food,farrang & thai style.
Hill tribe lady right at the Vietnam border at a locals-only crossing