Senior Member
Staff member
Joined

Aug 15, 2012
Bikes

KTM 950SER & EXC, BMW R90S & Dakar, MZ250, BSA B33, Norton 16H, Honda - 500 Fs & X, DRZs, XLs XRs CRFs CT110s etc
This was the weekly Ulysses Club Thailand ride on Friday 22 January 2021. The original plan had us doing the 1001 / canal road (4034) / 1414 / 107 / 1178 / 1322 / 1178 / 3002 / 1150 / 1001 / 4031 / Suspension Bridge / 118 - with a decision to be taken at the 1178 / 3002 junction as to whether to cut the ride short by 50 km or so and just blast back down the 107.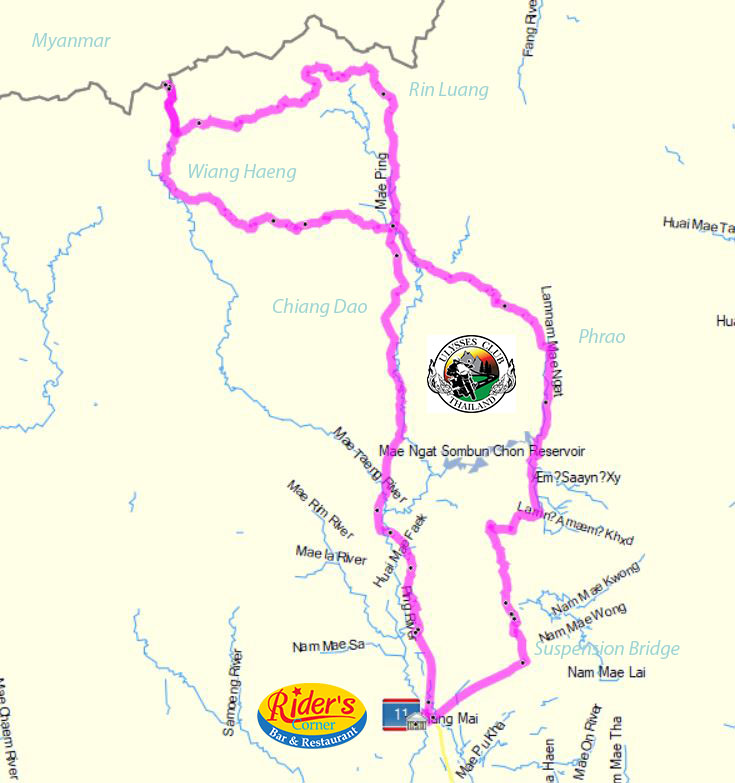 As it turned out, we arrived at that junction just before 4pm and a couple of weary souls pleaded their case for the shorter ride home - and the figure 8 ride became a figure 9 ride. We headed down the 107 and back across the 1414 and did the 4034 / 1001 into town. Having set out at 8:15am, we were out for 9 hours and 9 minutes, of which 5 hours 39 was riding time. Average moving speed for me was 63 kph, riding a CRF 250 on knobbies.
The ride up was cool... and Chiang Dao area was definitely cooler than anywhere else. We stopped earlier than planned, for a coffee at the Black Bear on the 107 Chiang Dao bypass.
Bikes at this stage - from the left. Honda CRF250 Rally - Deere; Royal Enfield 650 - Jae Tea; Honda 150 ADV - Dino; Honda 500X - Lachie; Kwacka Vulcan 650 - Andrea; Honda CRF 250 - me; Ducati Scrambler 803 - Glen and Honda 500X - Bert. We were joined up near the border by Eddie & Joy on a 500X and Neil on his Forza.
The 1322 is a lovely road, but it continues to deteriorate. There was a lot of left-side subsidence and the usual potholes and bumpy stretches.
A stop at the top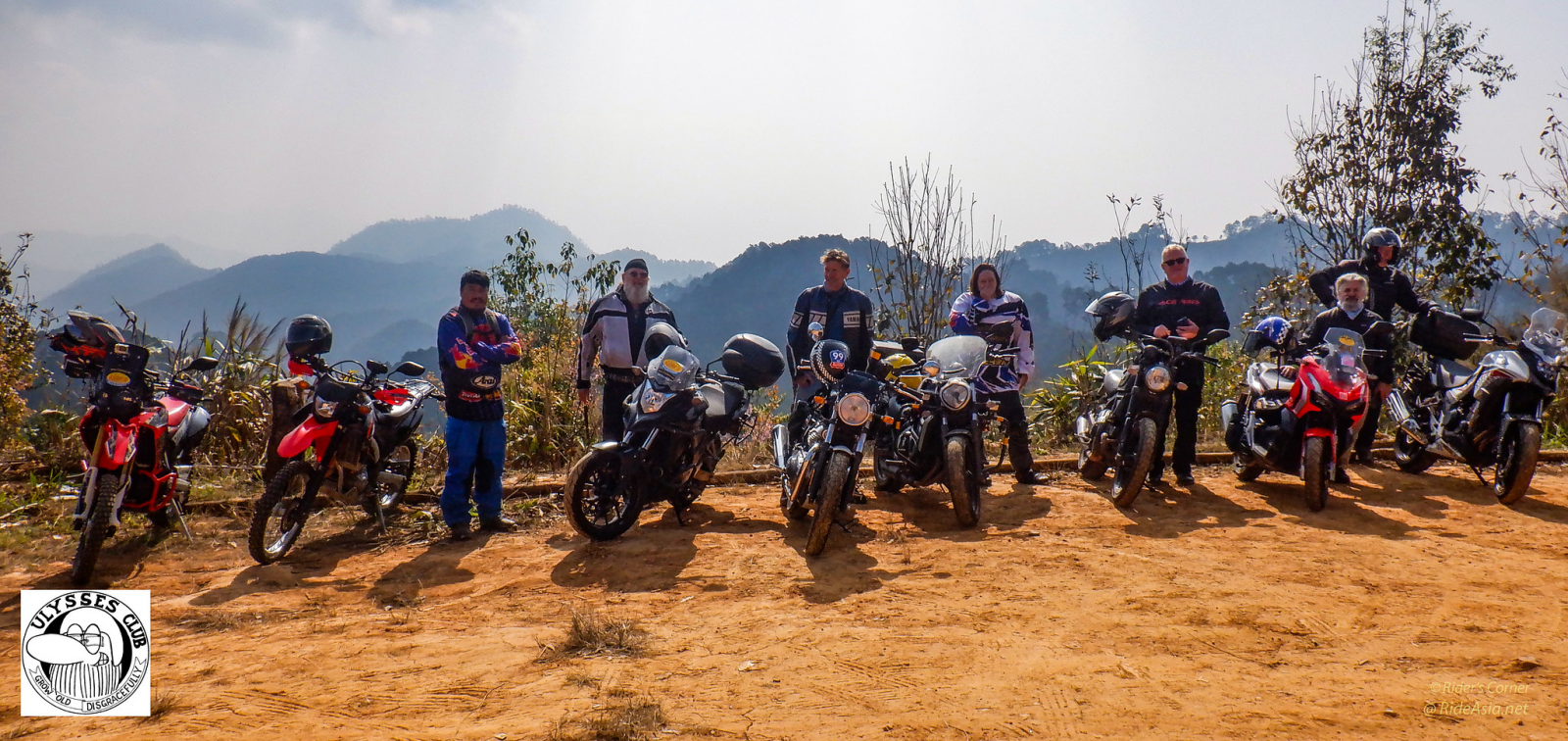 There's a bit of smoke in the air.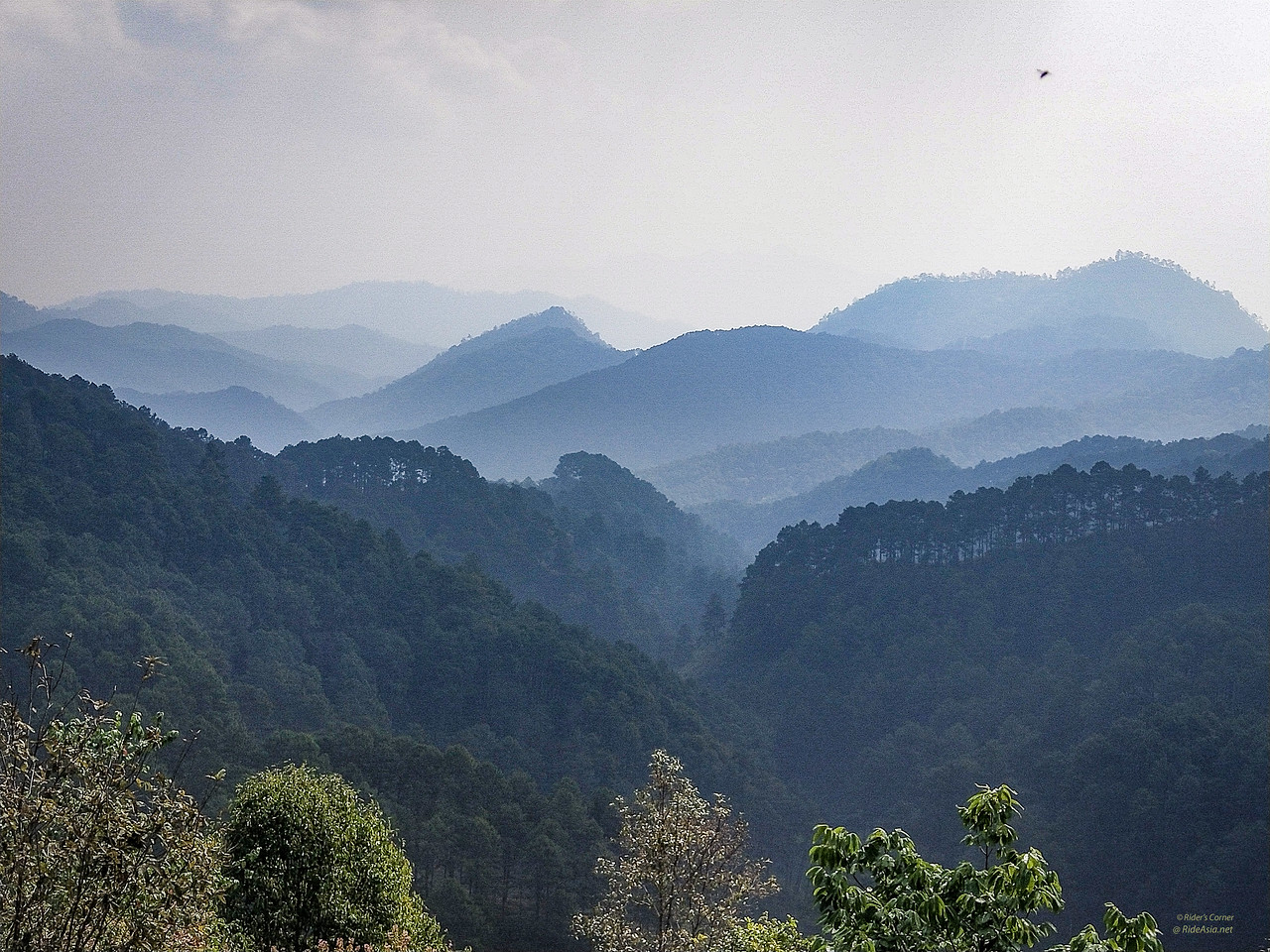 The people who run this teahouse are lovely and they have some nicely packaged local foods for sale. The green tea was free (but I left them 20 baht under the tray)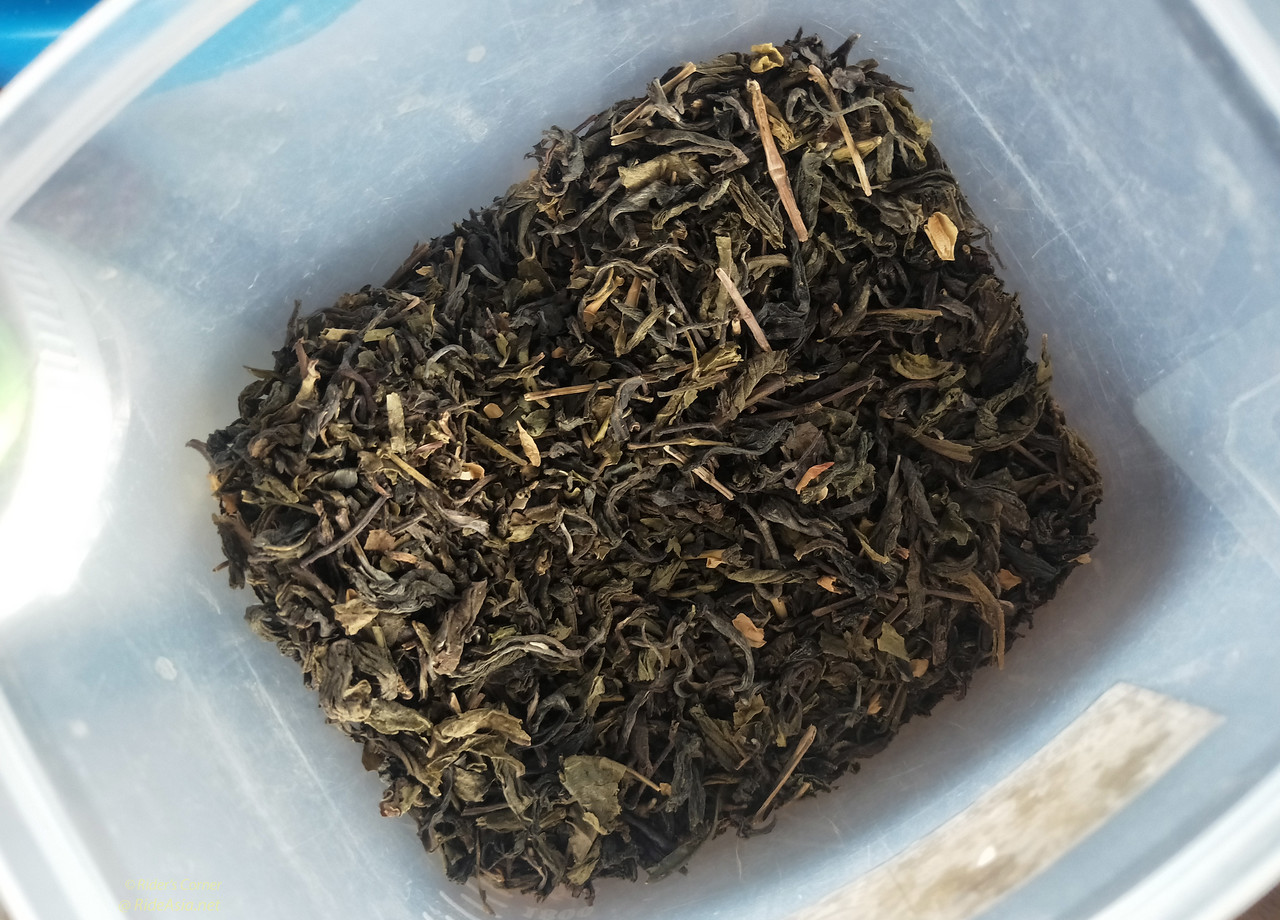 Sad to see birds on a chain
Looks to be a female Grey-headed Parakeet
We only got stopped once - this lot took a photo of the group and recorded one phone number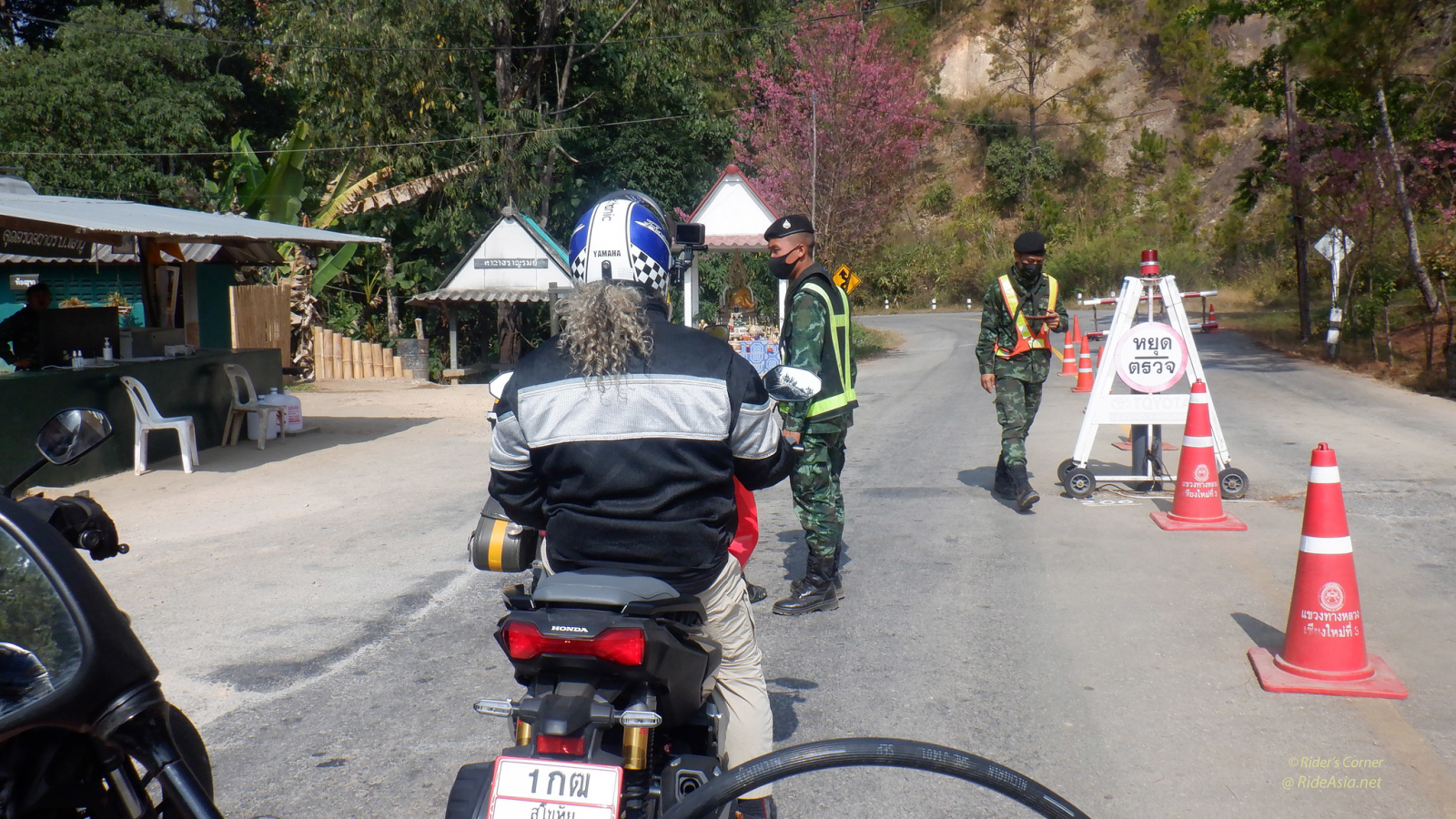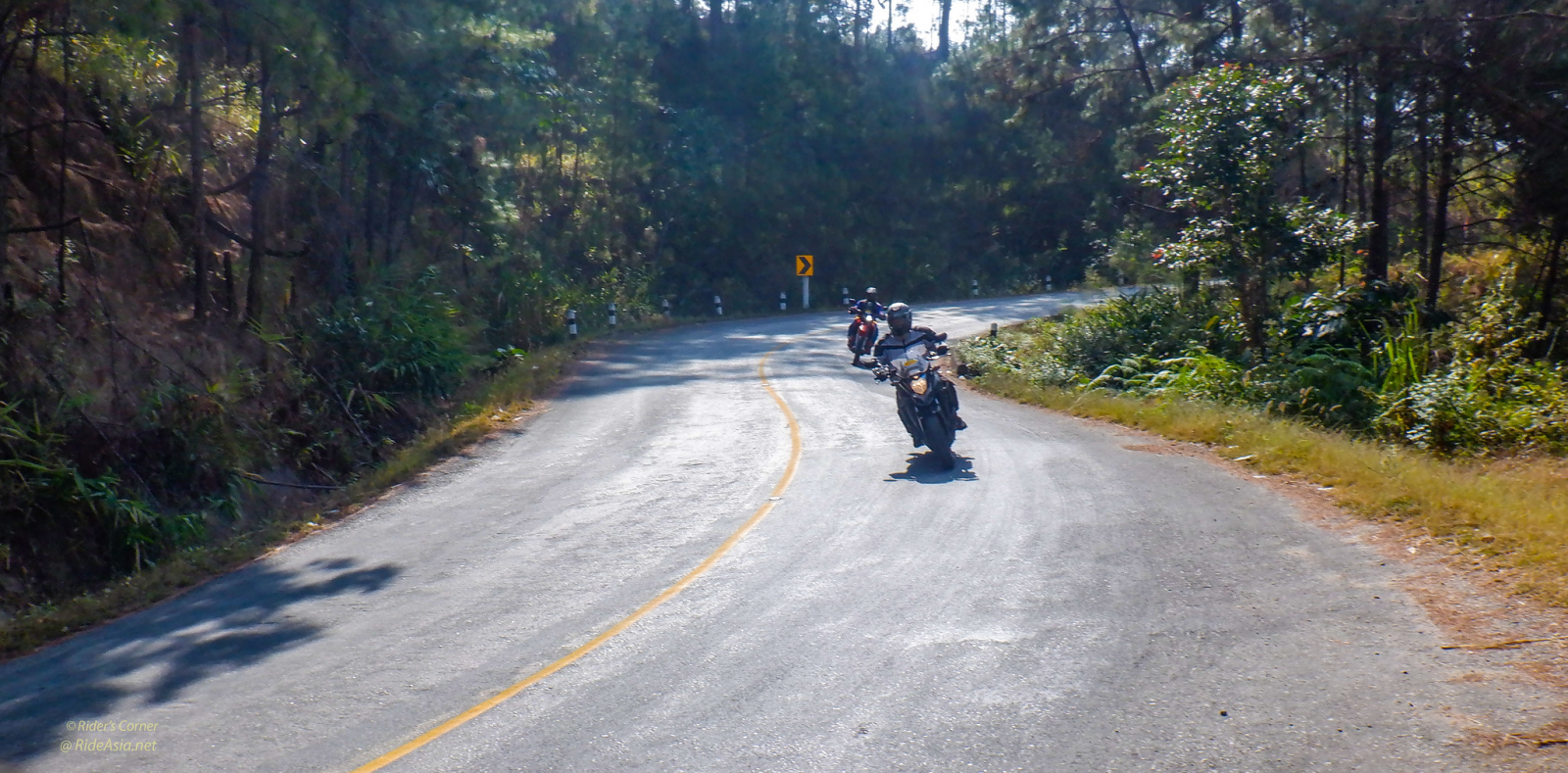 Its nice up in the pine forests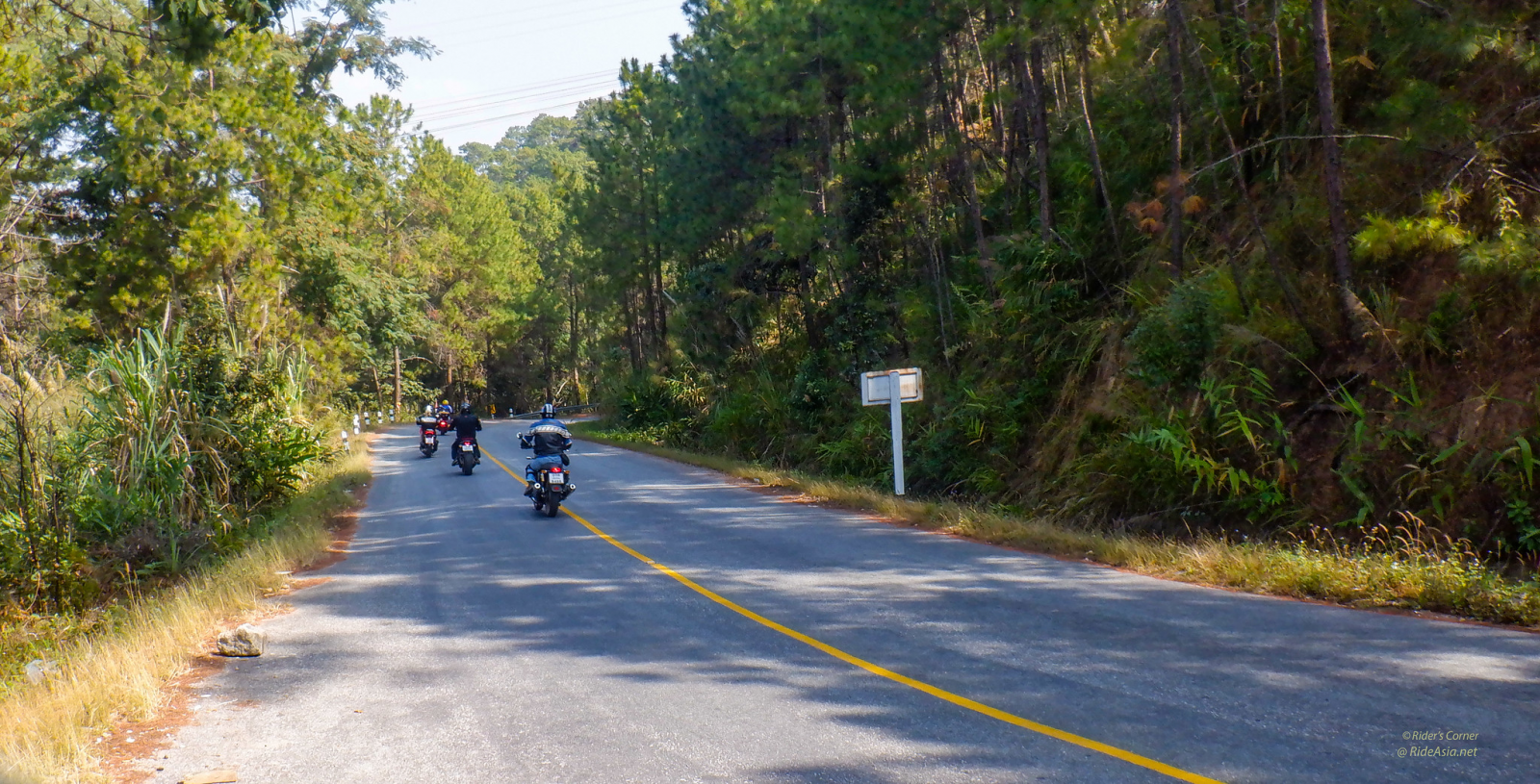 Drivers in Thailand never cease to amaze me. This was on a straight stretch of road.... but there's a corner just behind me, so maybe lost it and over-corrected a few times before arriving at the scene of his lament.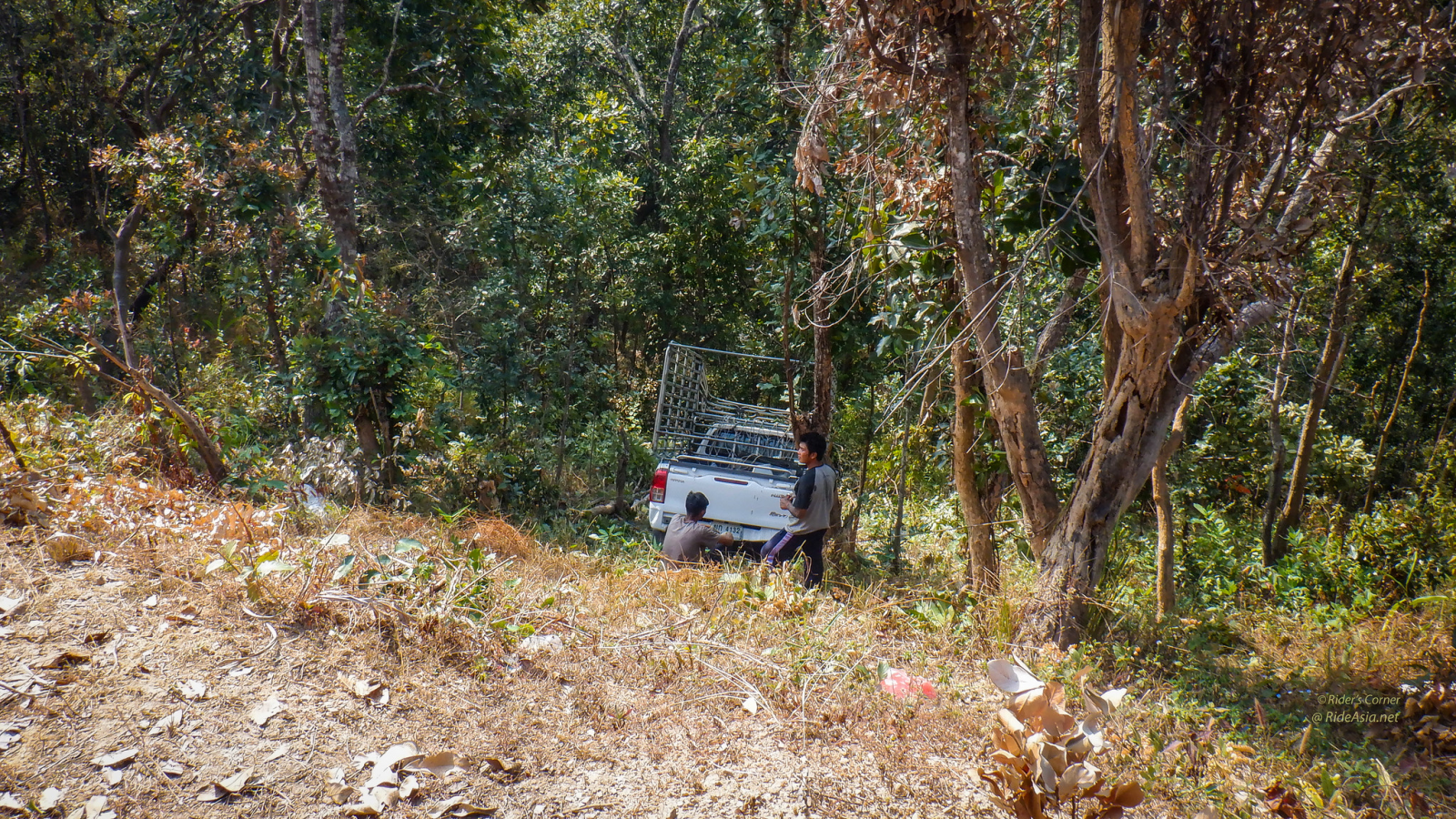 We saw another one on a straight road up at Piang Luang. There were three scooters parked on the road. As I went past, I noticed they were straightening out a bent basket, mirrors, etc. Yep - fell off on a straight, slow road.
Helmet? Nah... but, hey, she's got her Covid mask on, so she's safe. About 2 months ago, we got directed around a dead guy on the road - a Grab rider - dressed the same way. Had a Covid mask on, but no helmet. I'm guessing based on what I saw.... checking delivery address on his phone, ran into the back of a truck, fell off and cracked his skull. Dead. Hadn't even been knocked away from his scooter, which he was still astride. Didn't catch Covid though.....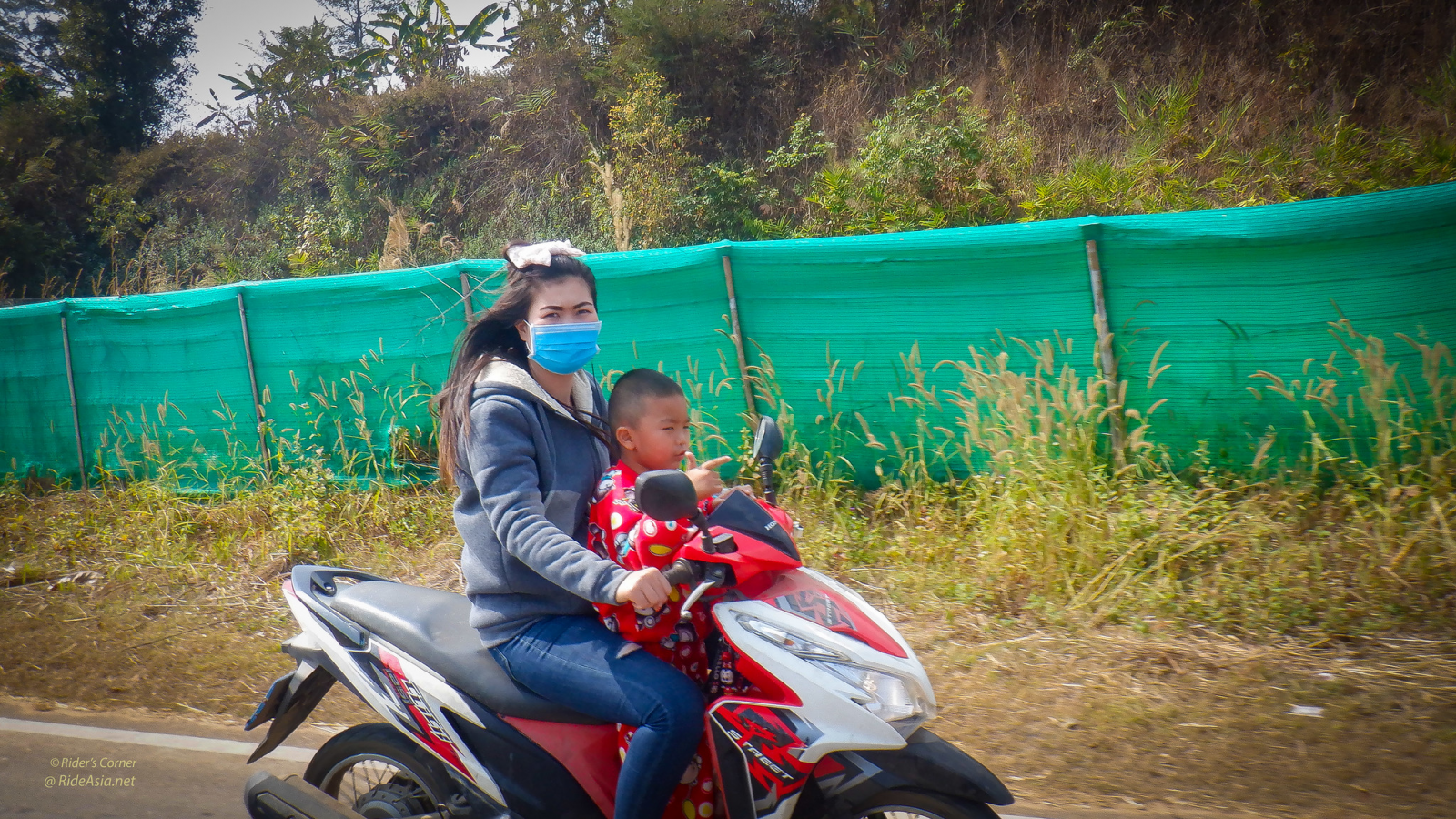 This lot were far less cautious - no masks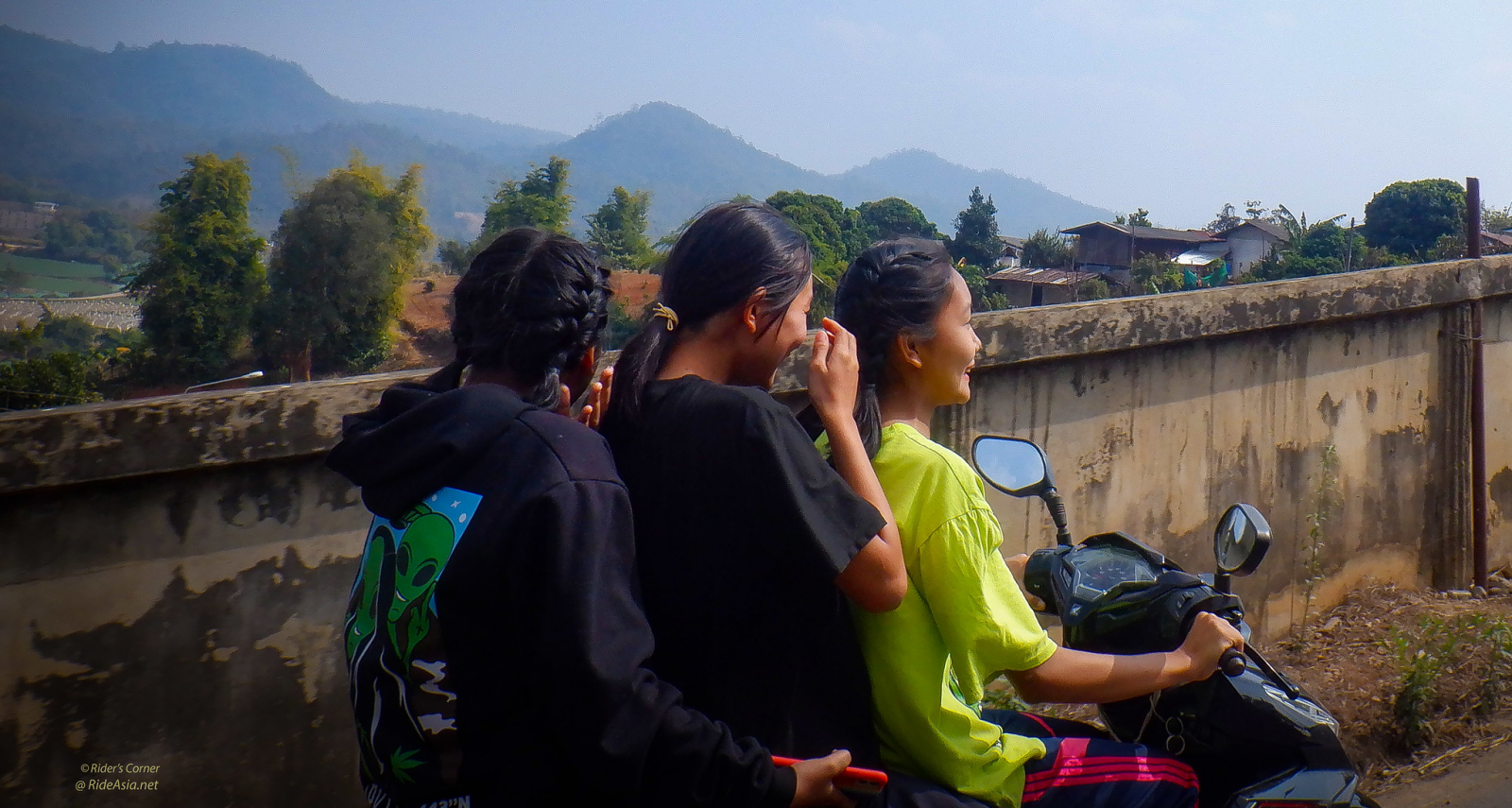 Funnily enough, the two passengers weren't hiding their faces - when they saw me with the camera, their first response was to brush their hair back.
As for this lot.... oh well, three masks out of four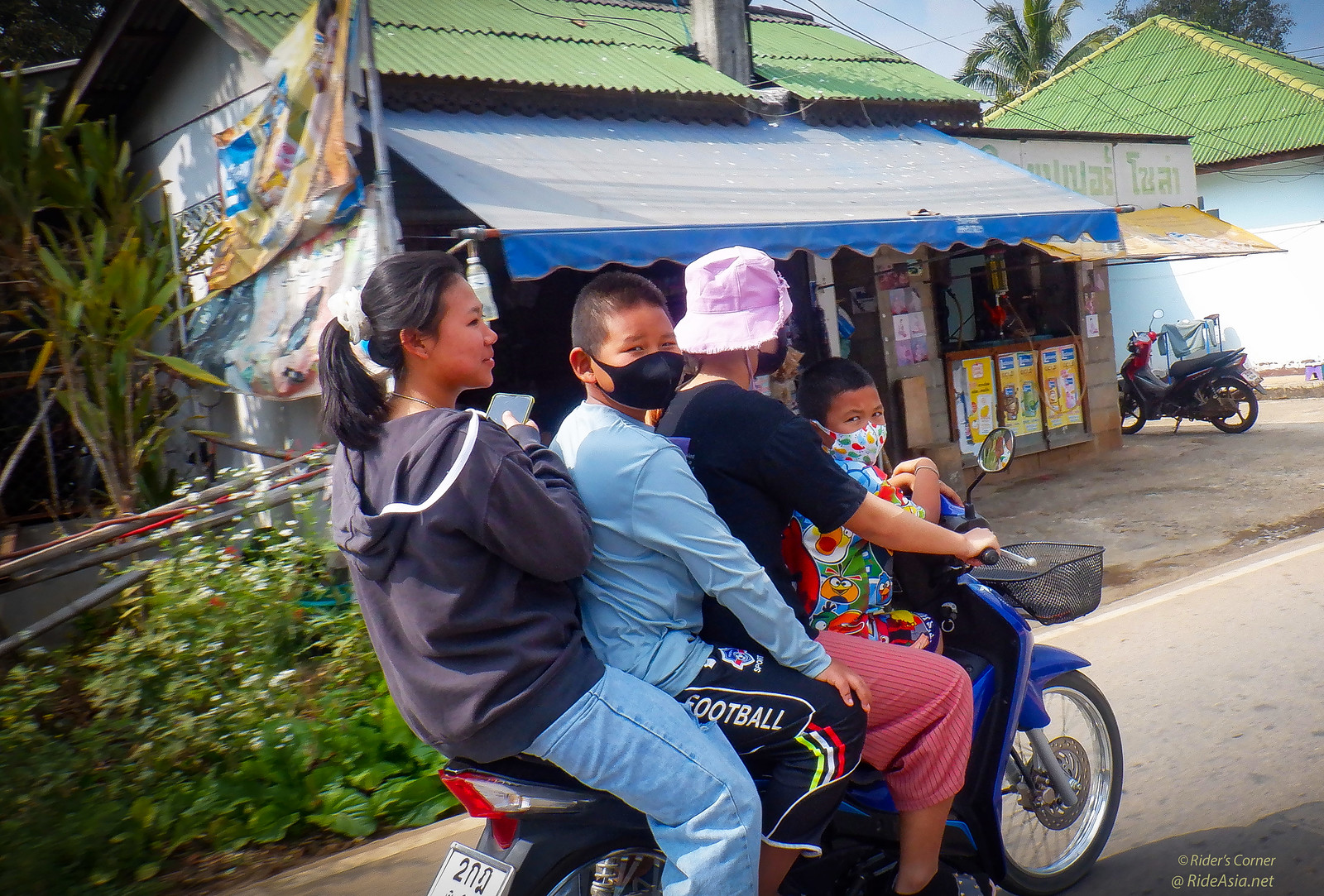 We did the usual stop for a photo at the former border crossing point - closed years ago
Then up the hill to the lookout over the Burmese army post
I've been there several times, but never seen soldiers camping up top before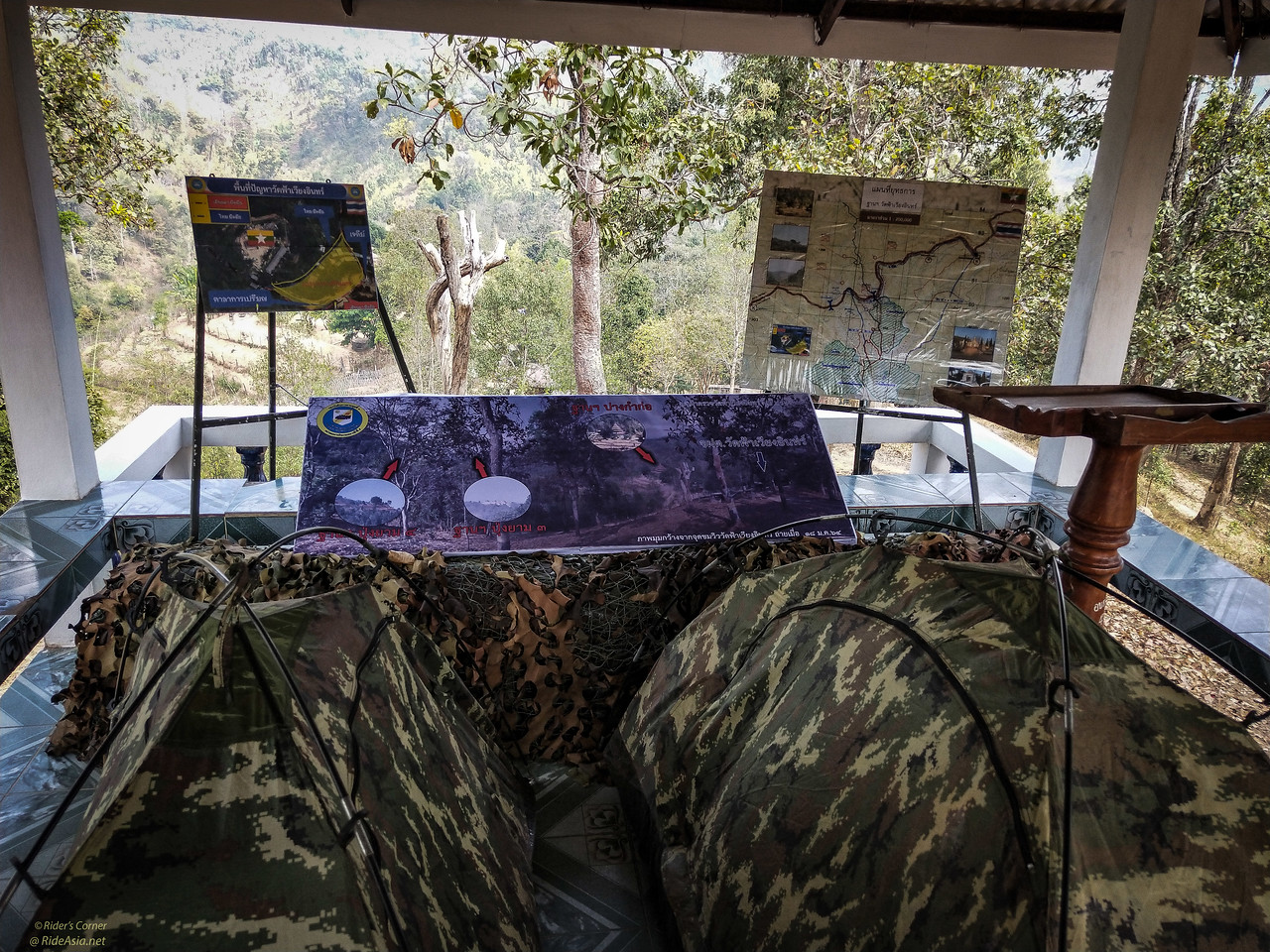 The shed below is in Thailand.... then it is Myanmar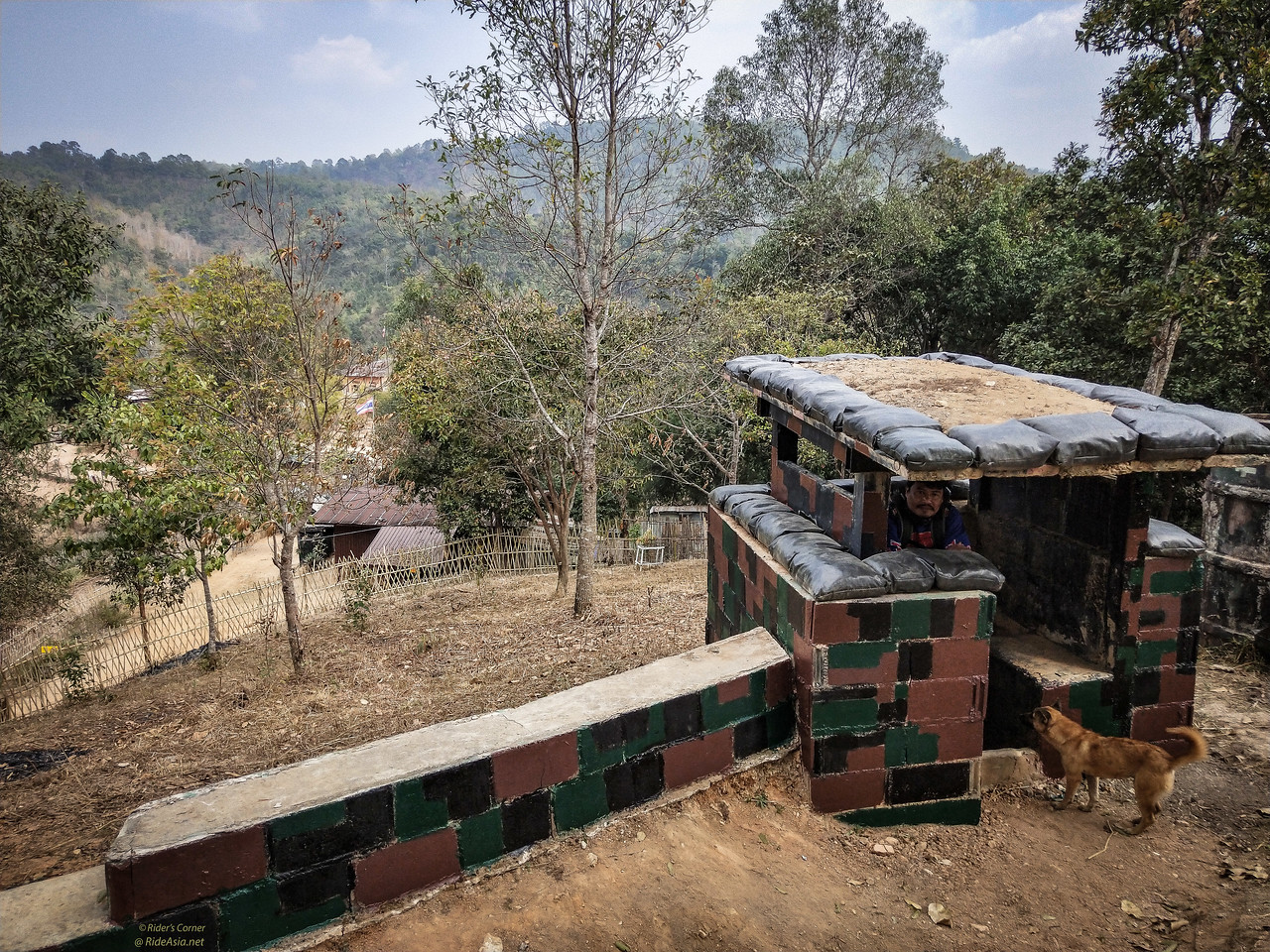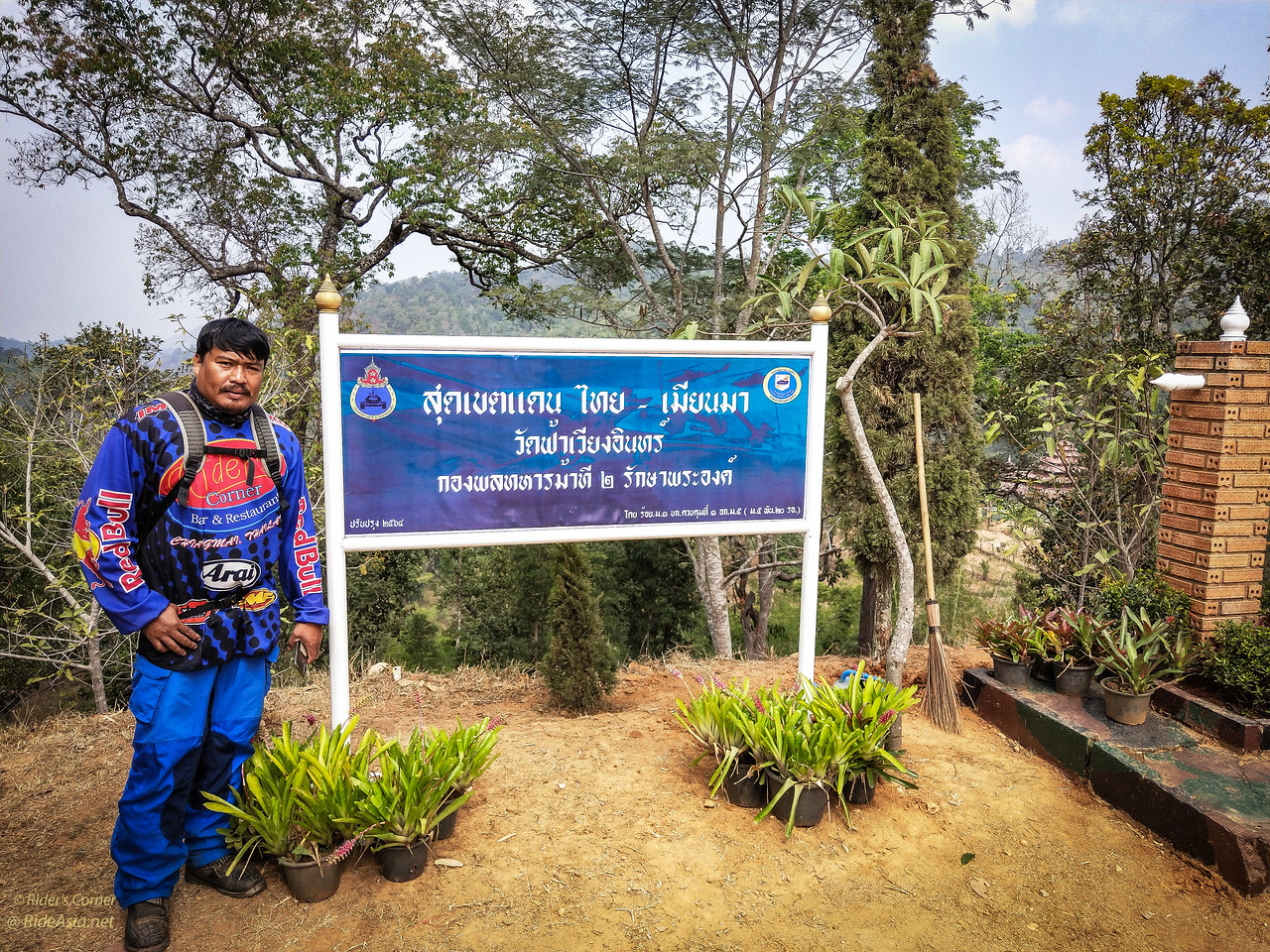 And with that, it was off to our usual haunt for lunch. The restaurant on the left as you arrive at the gateway over the road, entering Piang Luang, the Huen Kingkhala Resort... not that we've stayed there, just eaten at the restaurant a few times.
Looking the same way on Sept 11 last year. It was a bit more verdant then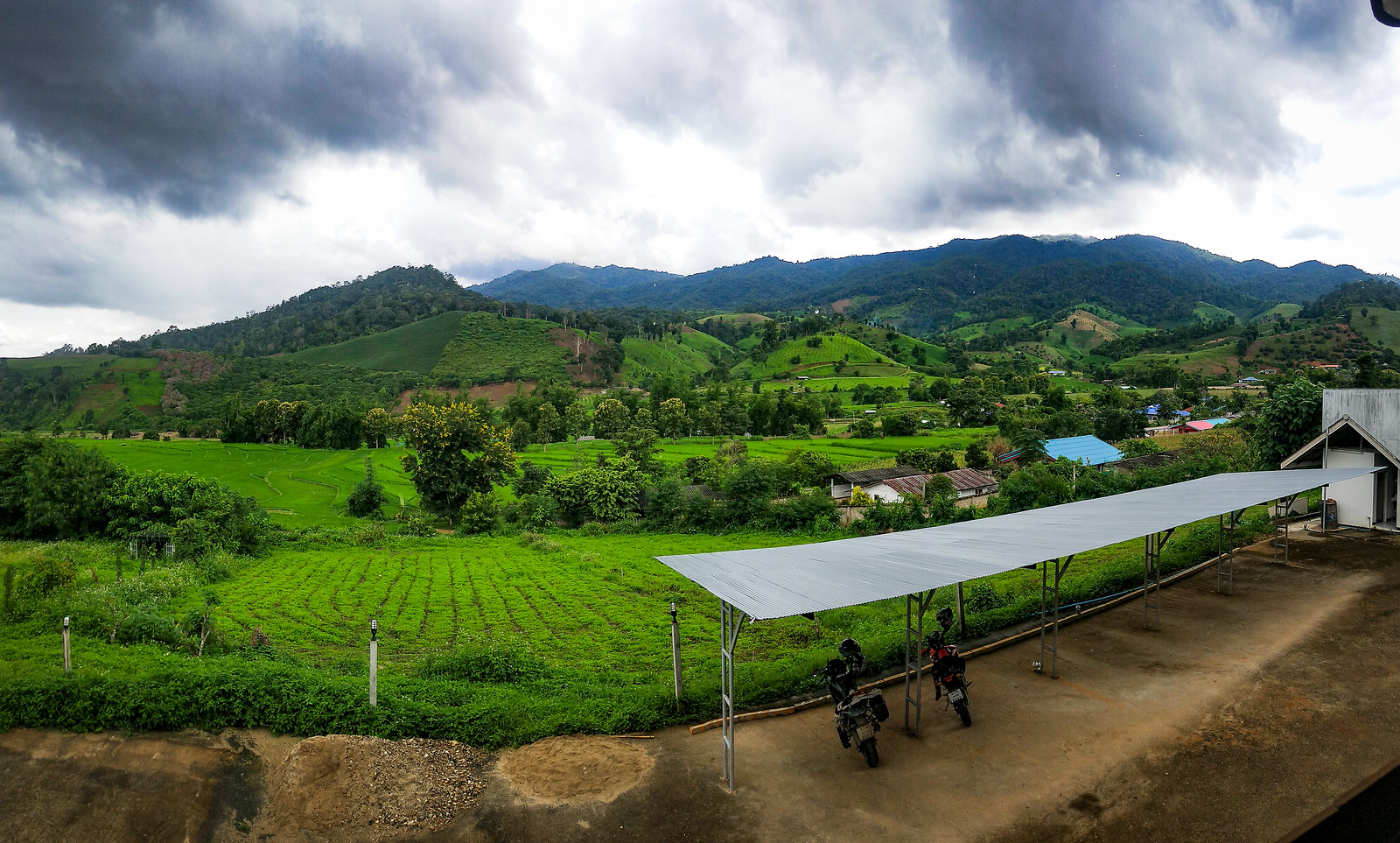 Only had the one....