Joined

Jul 1, 2012
Location
Bikes

Honda CRM-AR 250, Honda CRF 250-L, Suzuki V Strom XT 650 Honda XR250 Baja BMW F650GS
Apologies for the delay in continuing my trip report but I am in lockdown in Vietnam but just discovered I had a few more days to share in the darker reaches of my travel HD, so I hope you enjoy.
Today's ride from Mindat via mount Victoria was relatively short, but perhaps some of the most scenic so far of the trip and a twitchers paradise.
Another chilly start but the road crews already busy at work.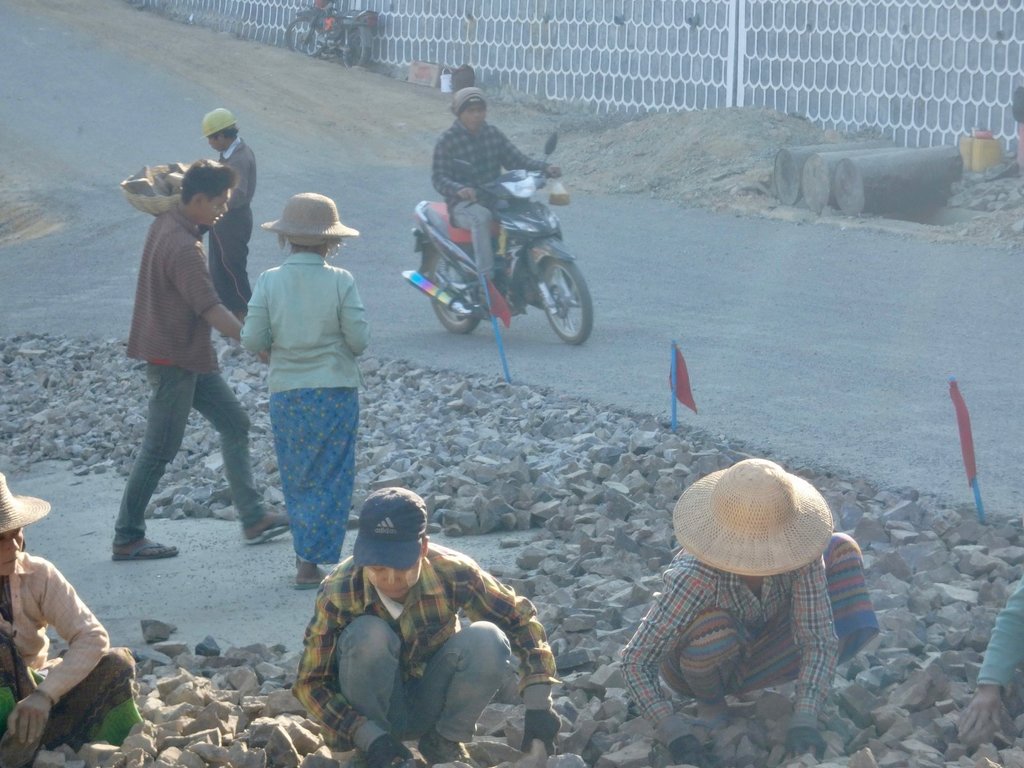 We noticed that generally, it was the young girls who place the rocks very careful by graded size, obviously a hierarchy in place leaving the unskilled do the hauling.
Have a waypoint for this place I will add later, it served great food and cheap cold beer.
The main roadway through town almost deserted i guess most folks still nursing a sore head from the previous night's festivities.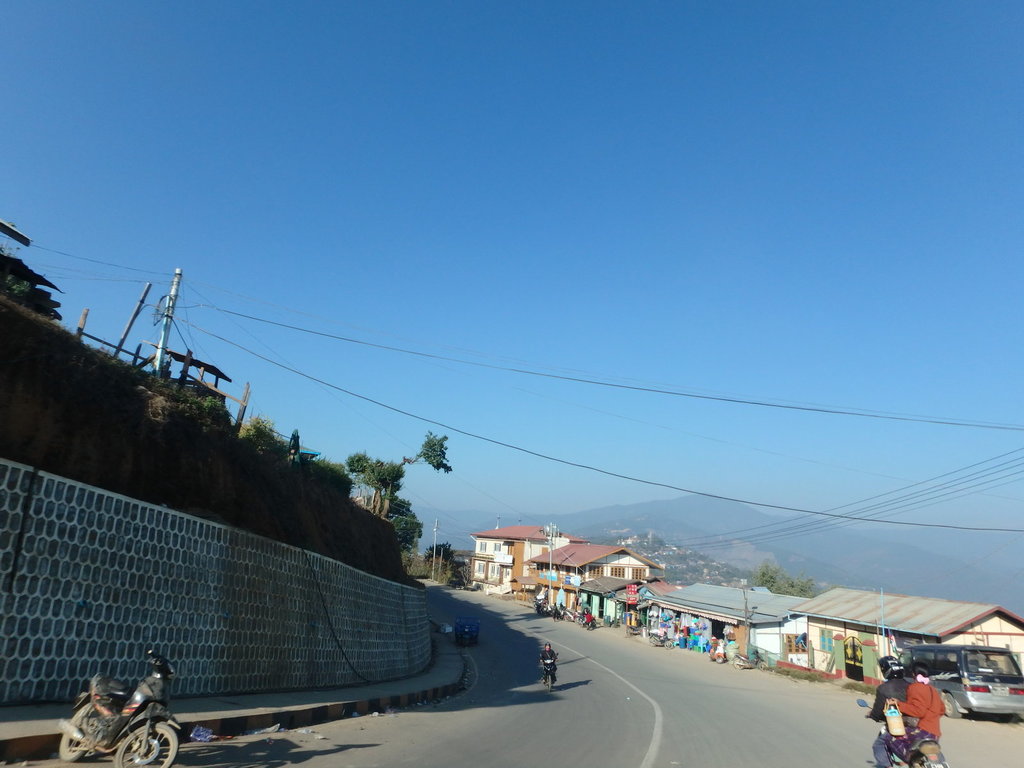 Soon out of town and the broken rocky roads we had become used to.
Quickly the mountains unfolded before us as we wind our way down to the river below.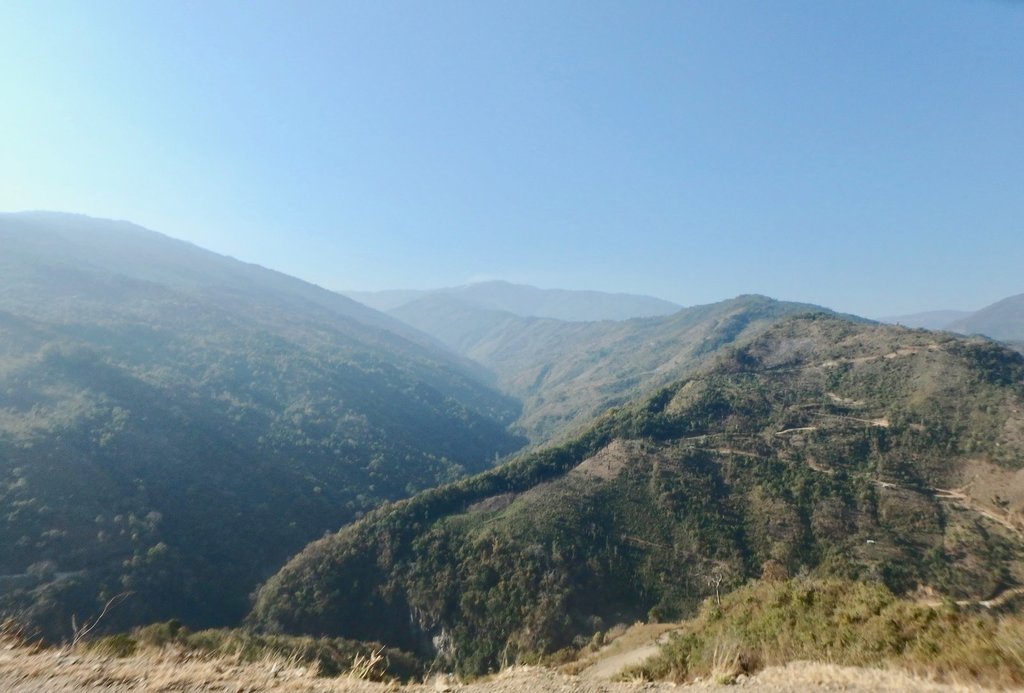 The ever present motorbike supermarket, this chap pretty well loaded.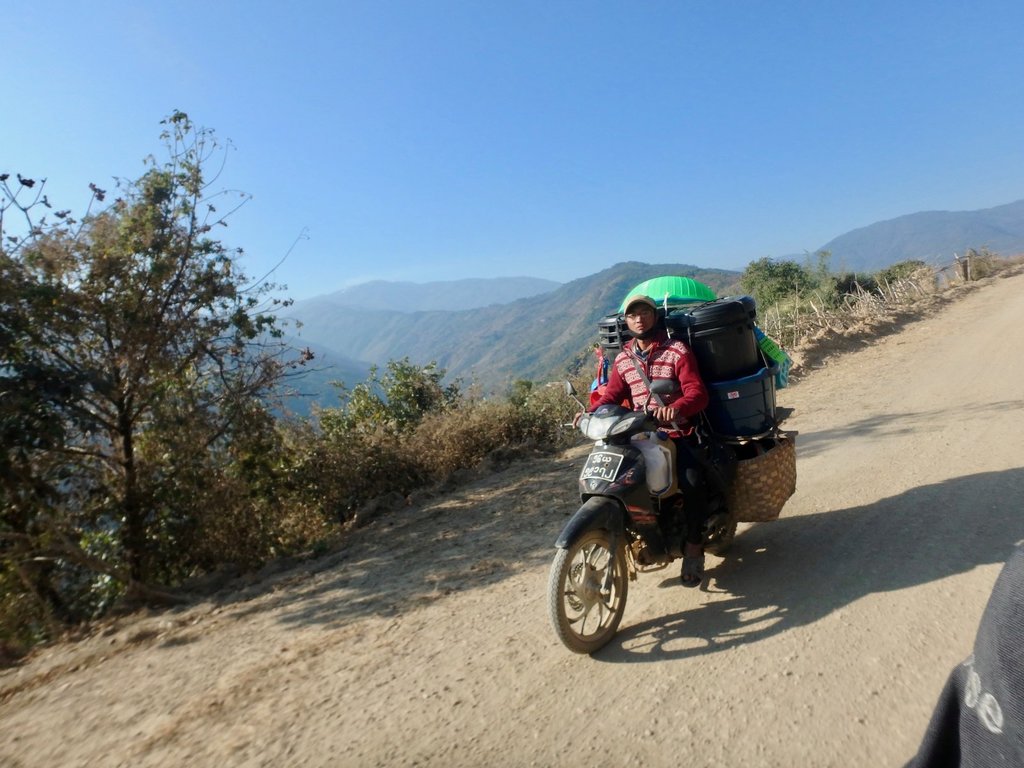 Nick wasted no time reading him in on our mighty 125's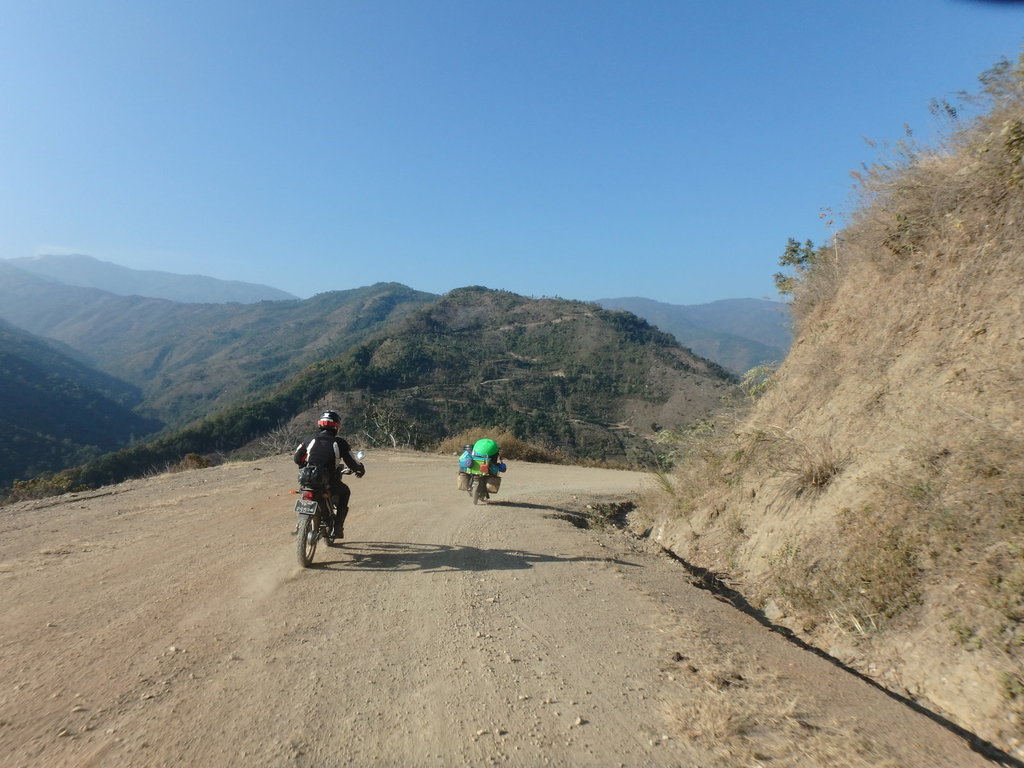 Nice new concrete bridge in place.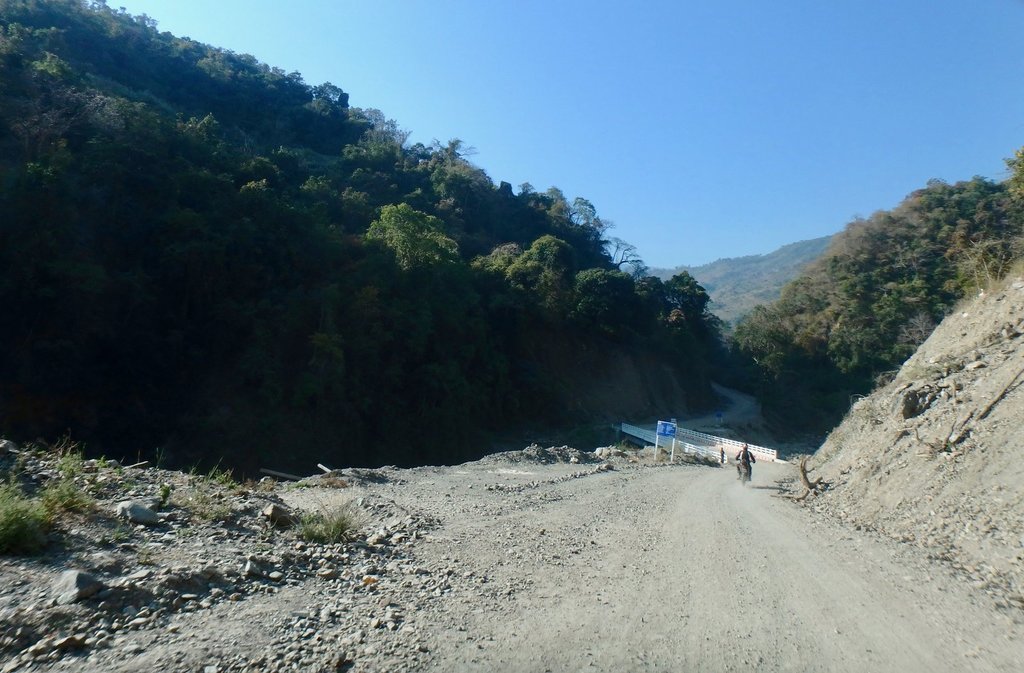 The older one, well its gone.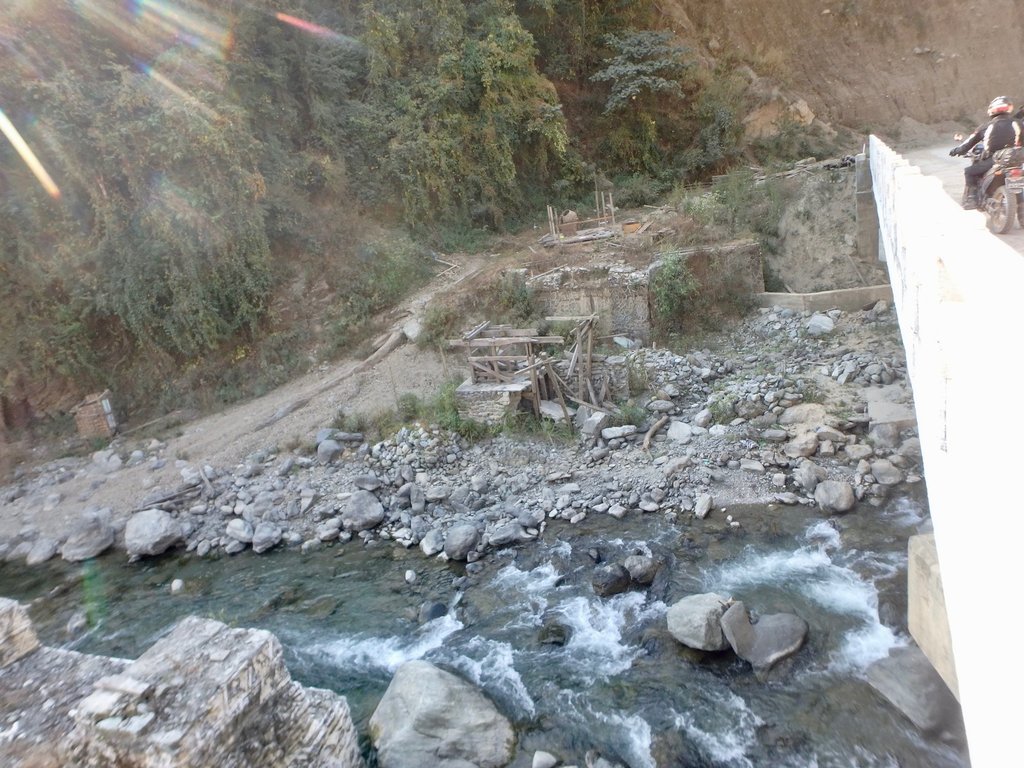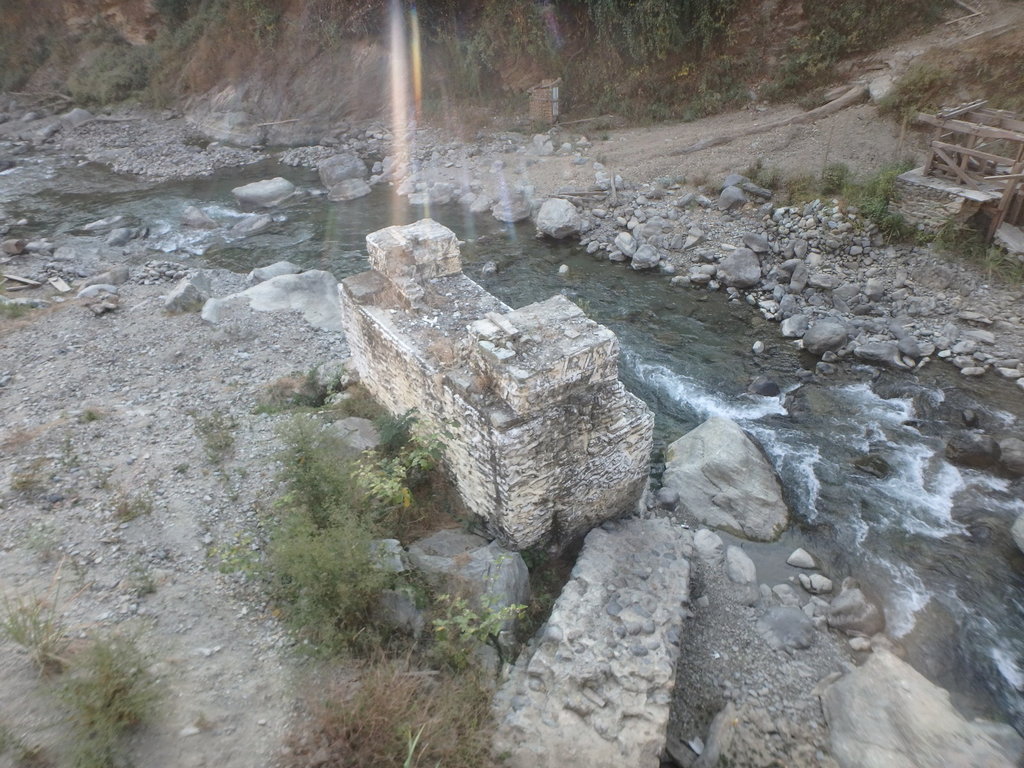 Sure signs roadworks ahead and possibly delays.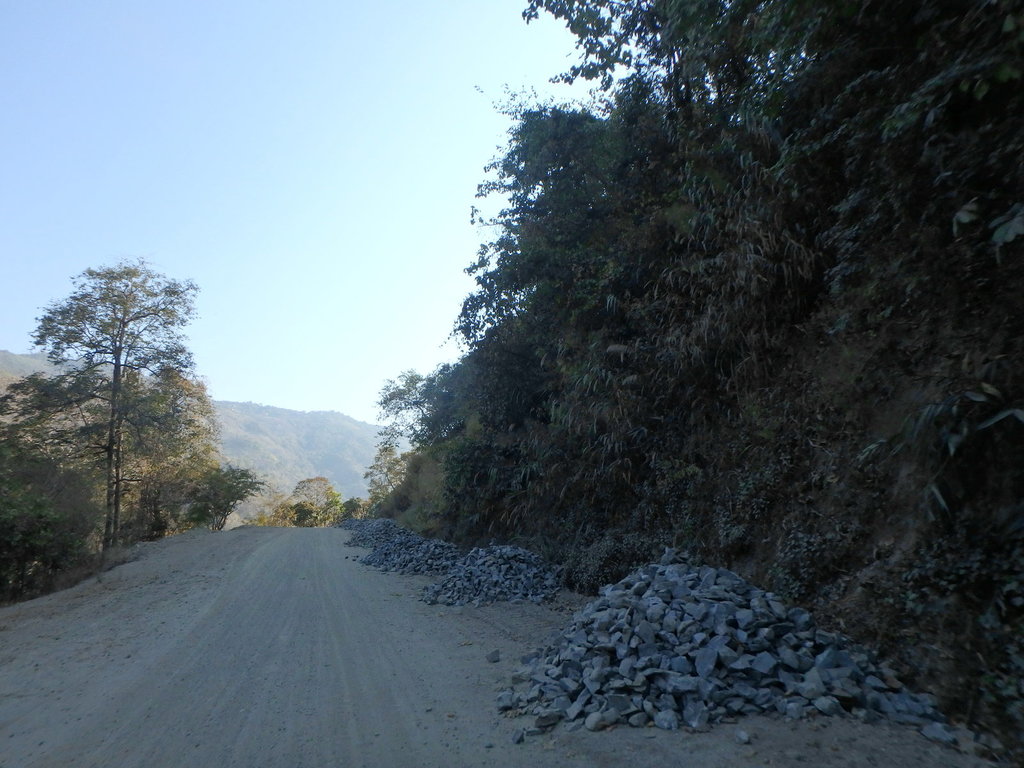 I doubled back to get a shot of this lady, who was clearly not well impressed by the attention.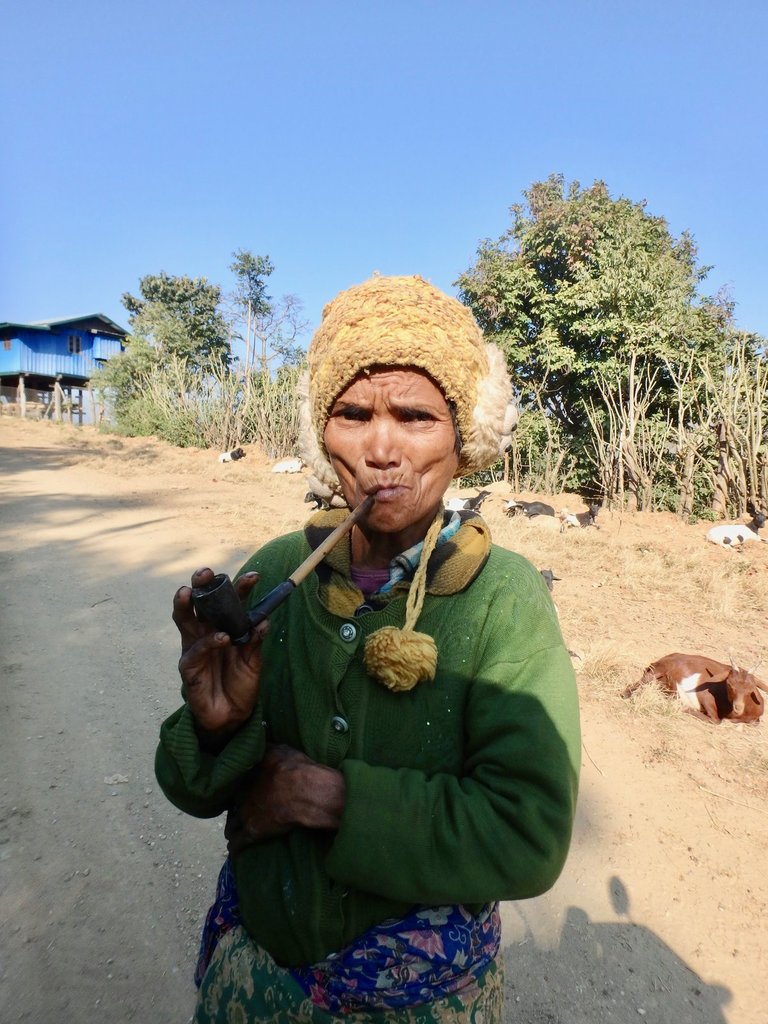 This young fella had that look in his eyes, whoop me or not.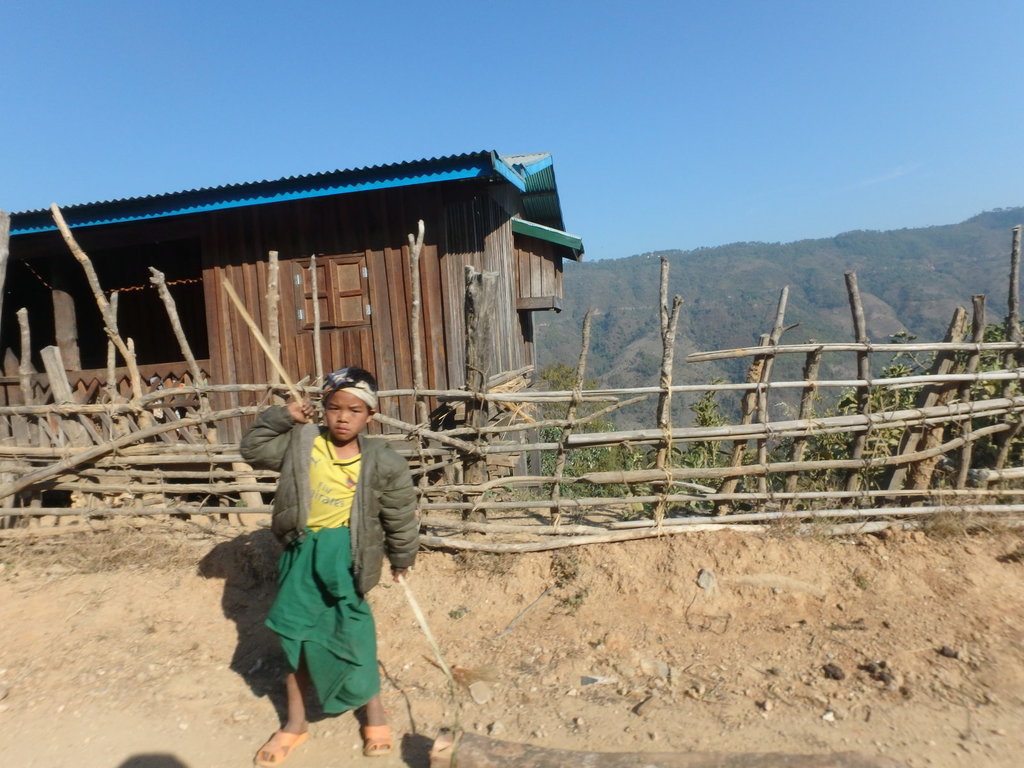 As I mentioned it was a relatively short ride to our next destination and was looking for a diversion to make the ride more interesting, I spotted a single track turn off, that would do nicely.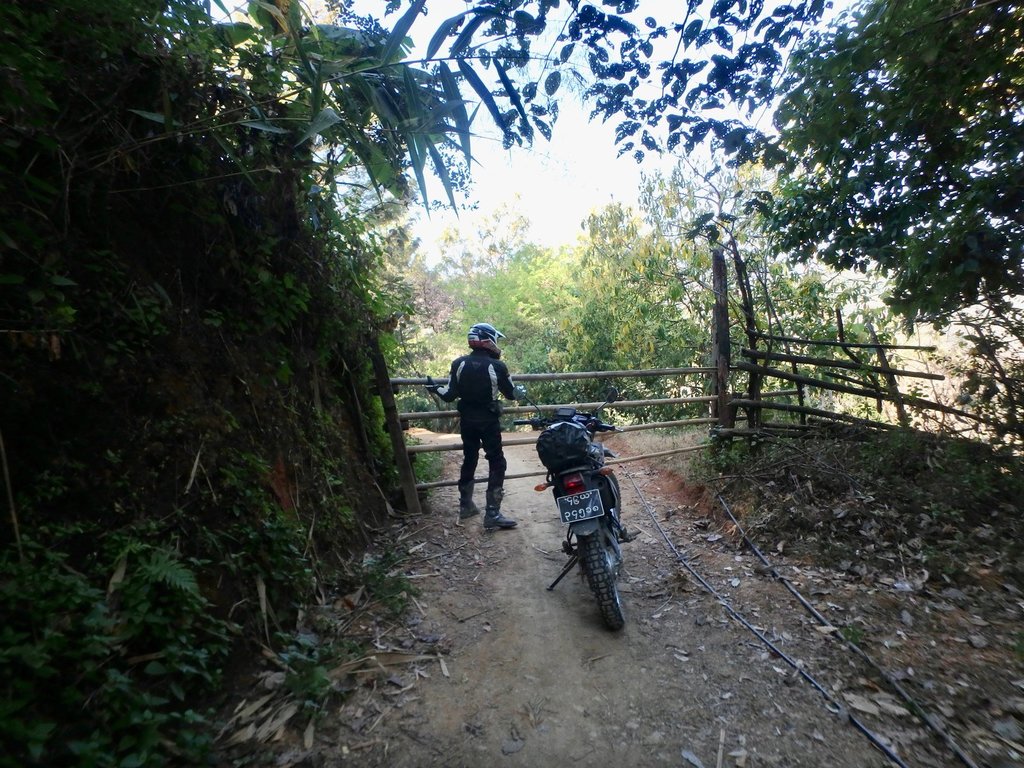 Amazing how much the Japanese contribute to projects all over SE Asia and may they continue to do so.
He was a little startled to see us as we rode by, on the return he a little happier.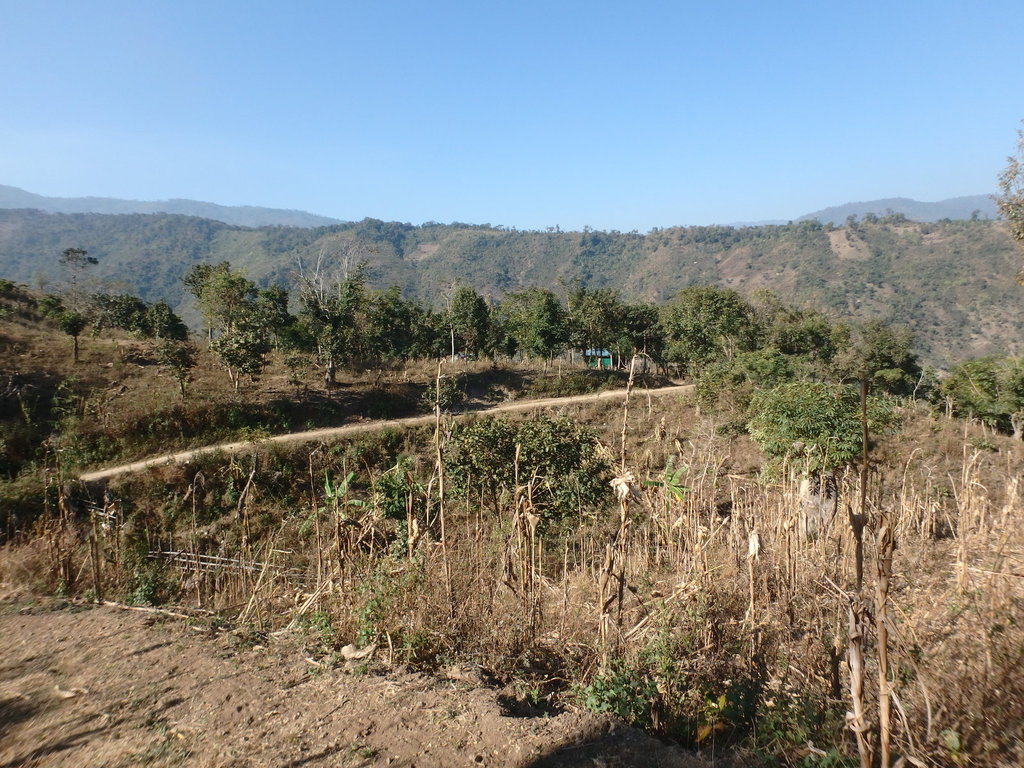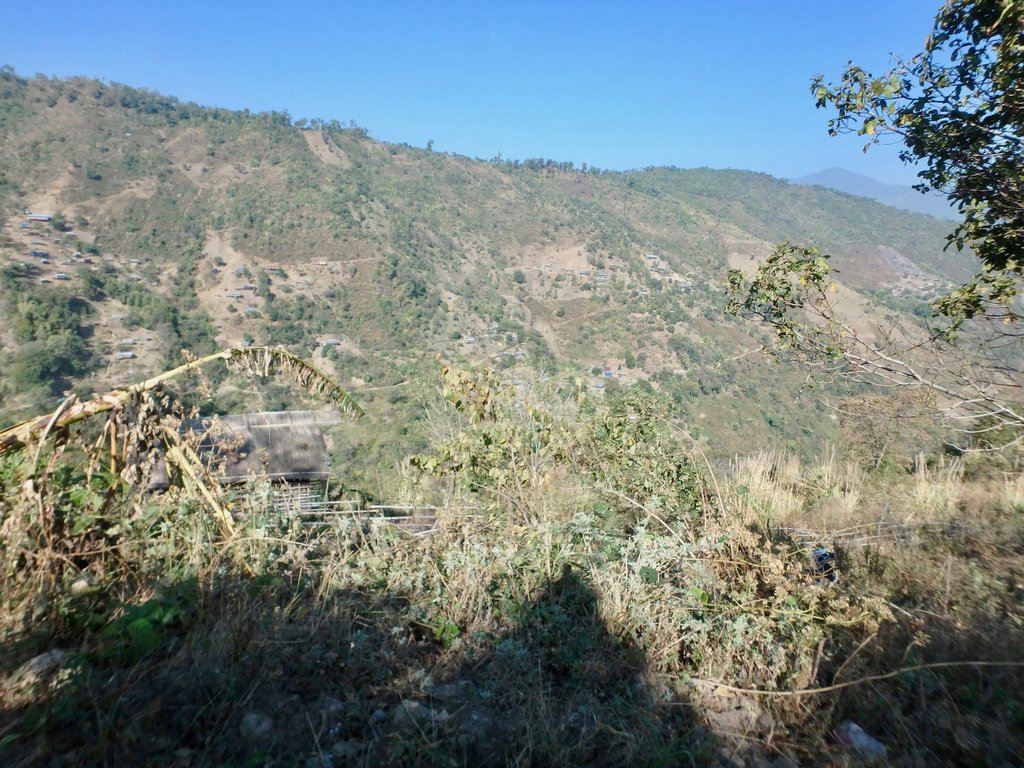 The trail zig-zagged down the valley to who knows where.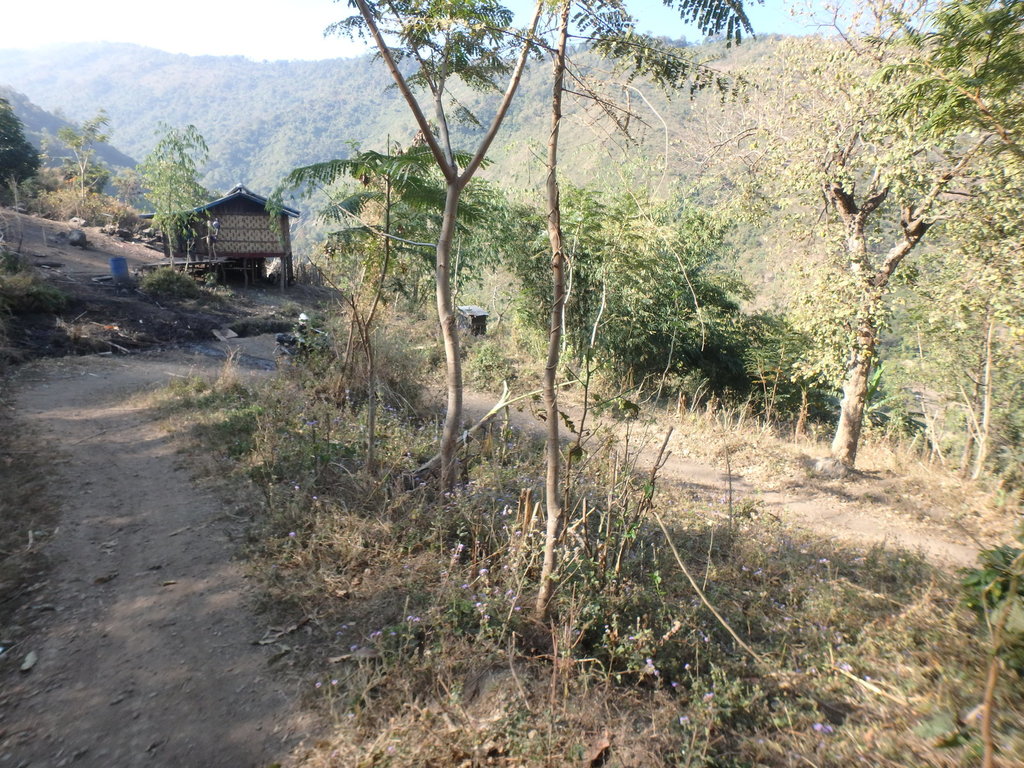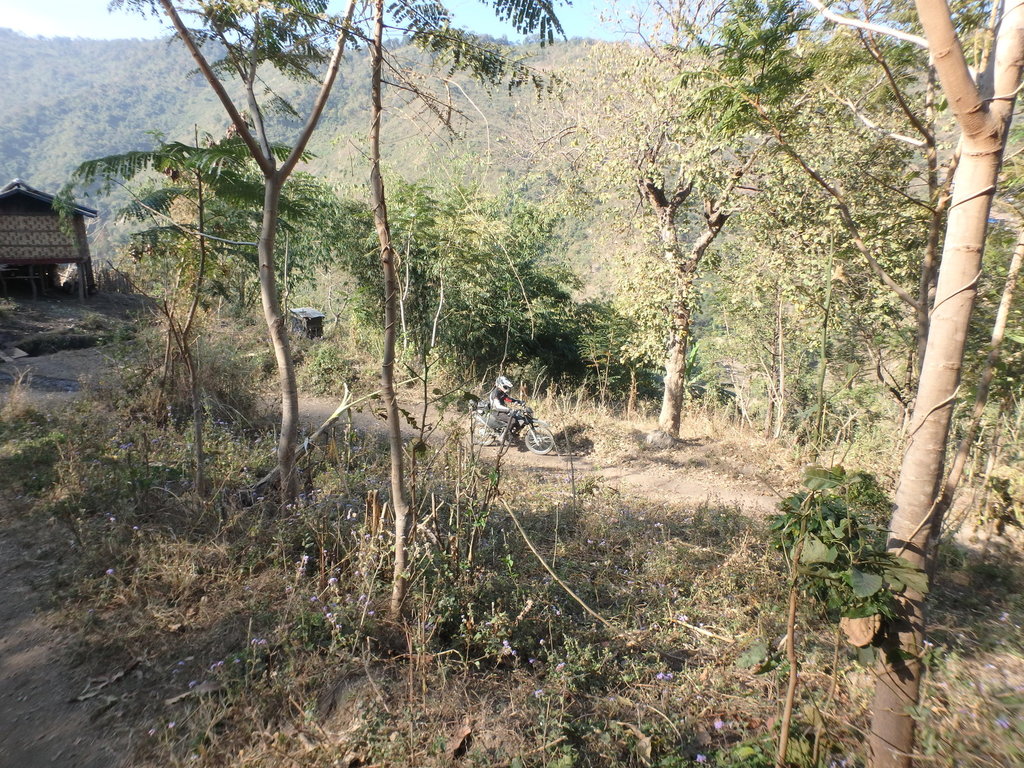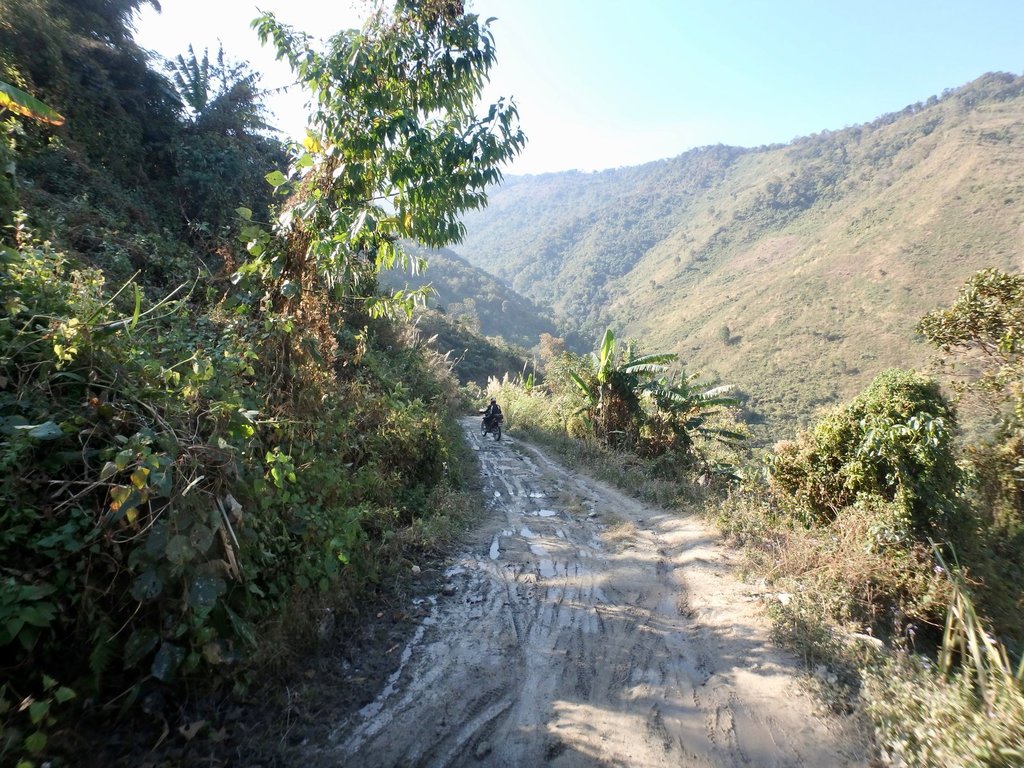 It was getting pretty steep as we headed towards the river below, coming back up on the fully loaded bikes would be interesting.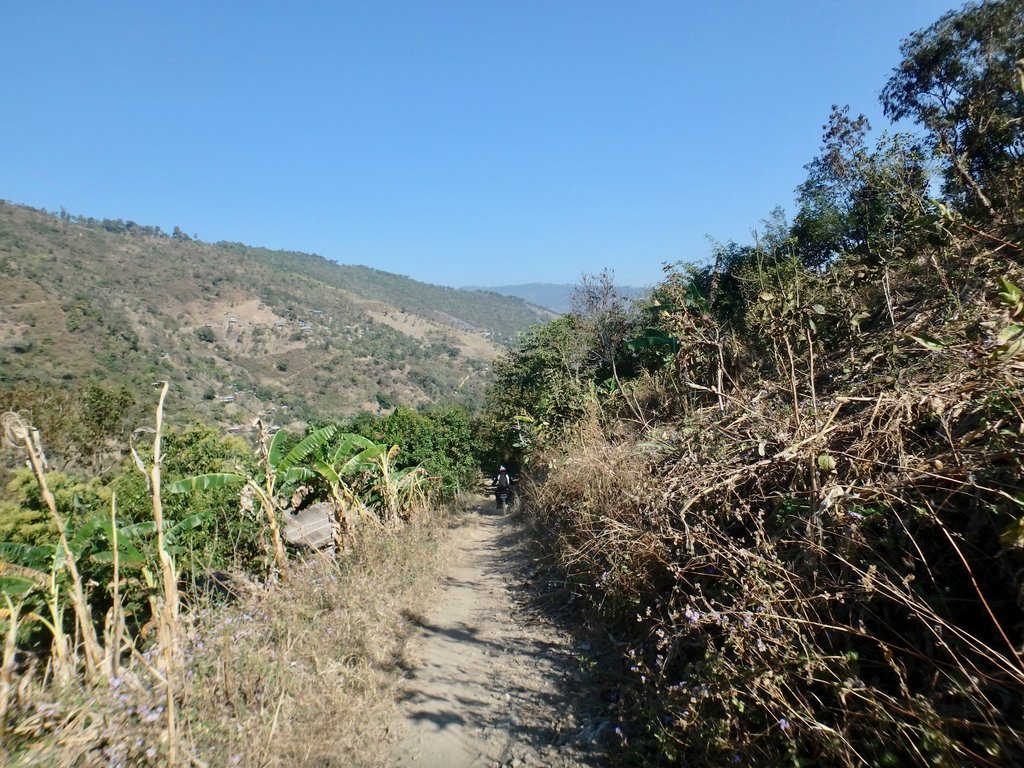 We came upon this impressive small swing bridge, what an effort to get materials this far to construct it.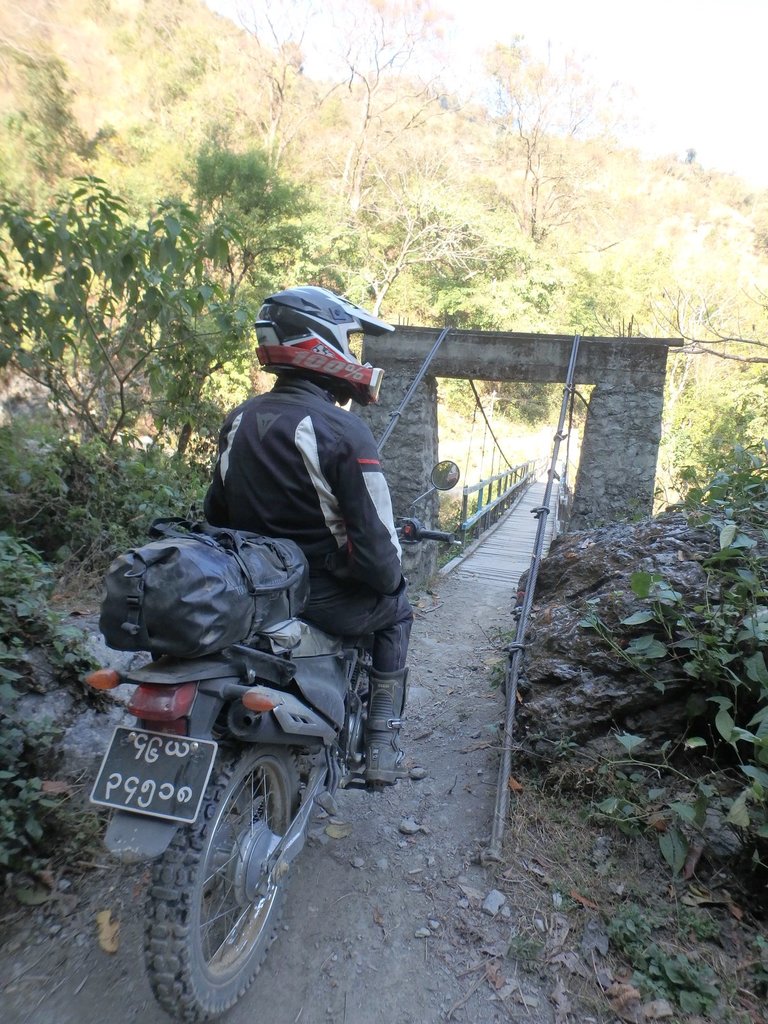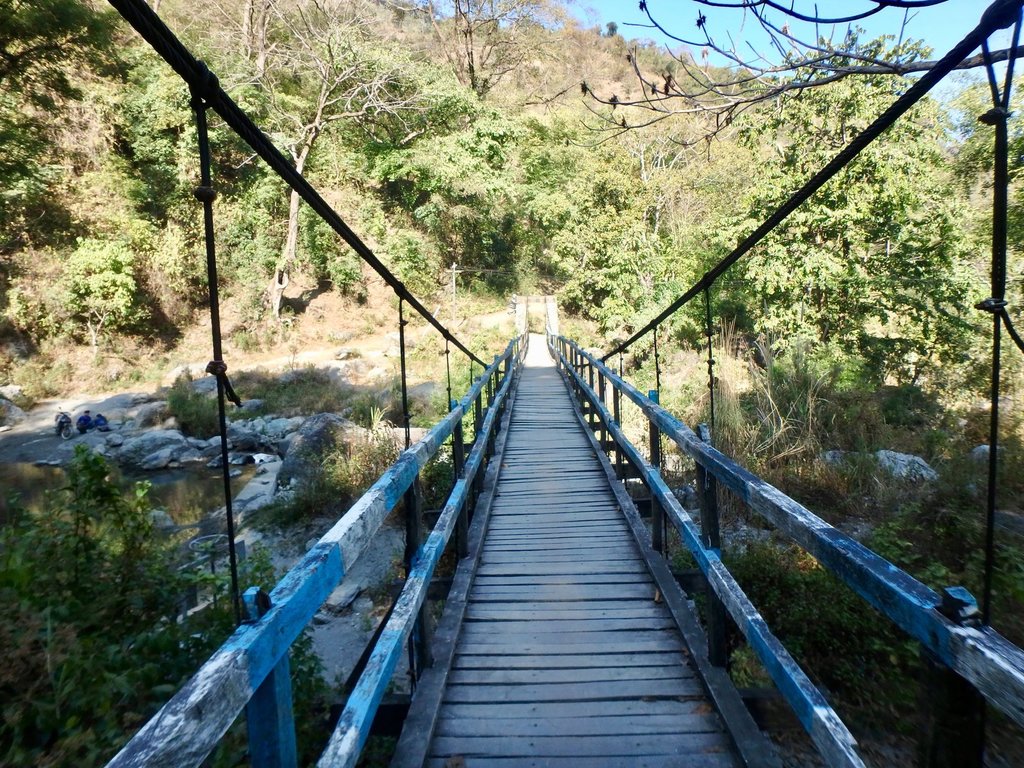 As all river do, it makes a good laundry point.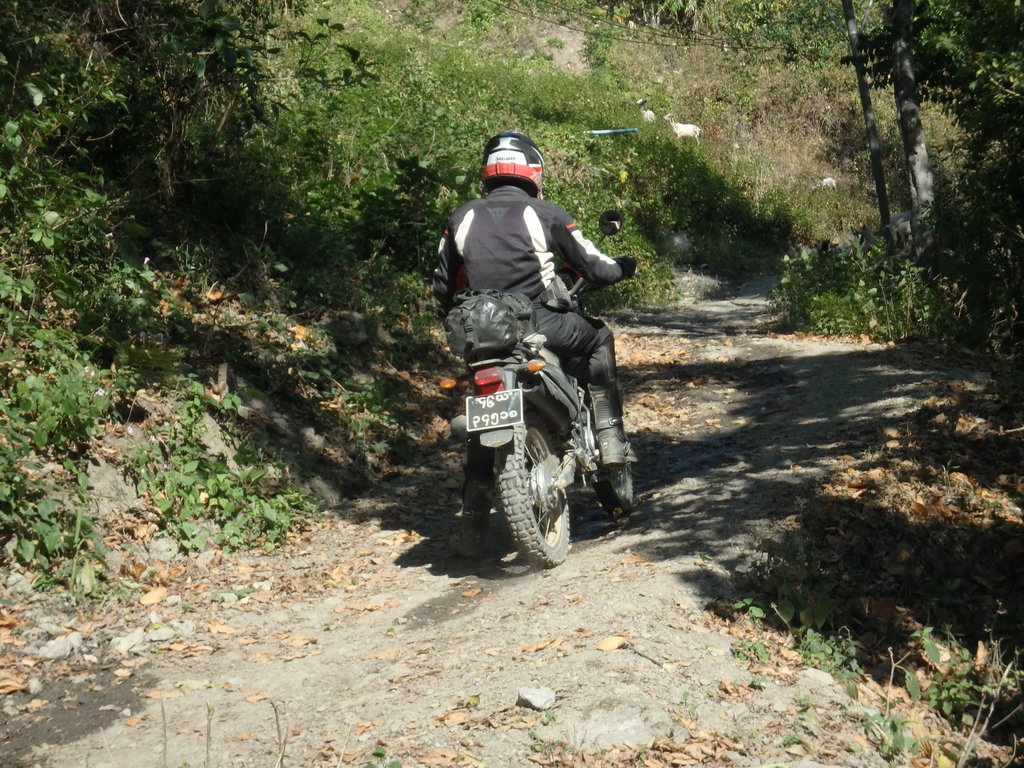 We came upon this very small village, people looked friendly enough.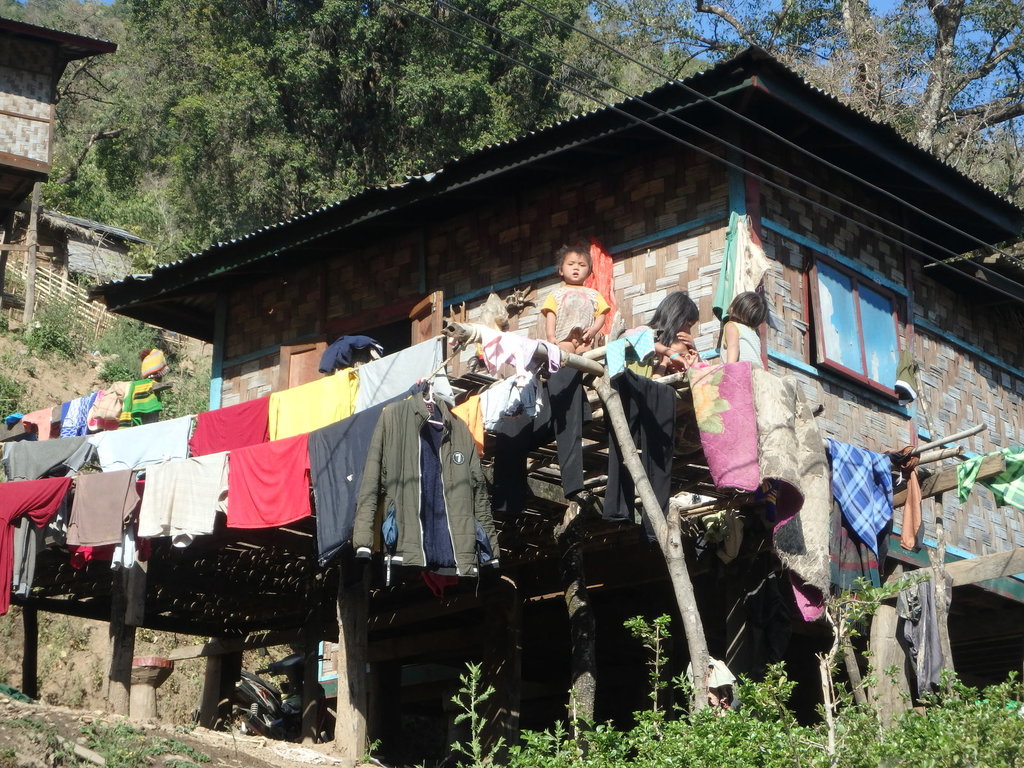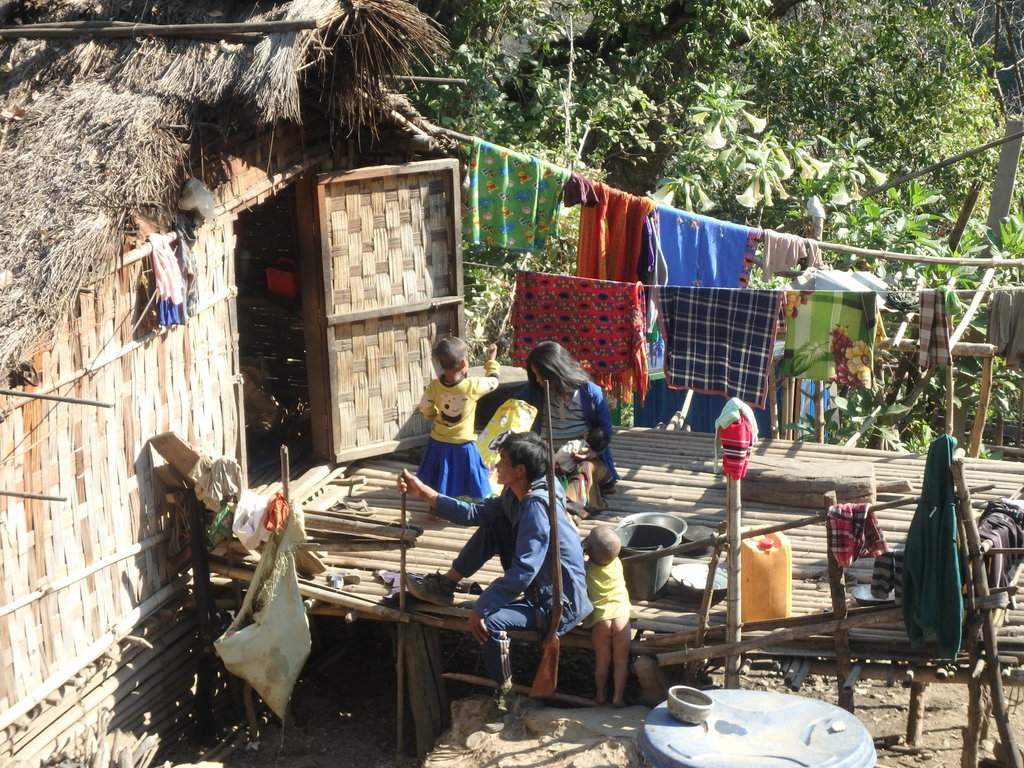 Local lady preparing root vegetable to dry in the sun.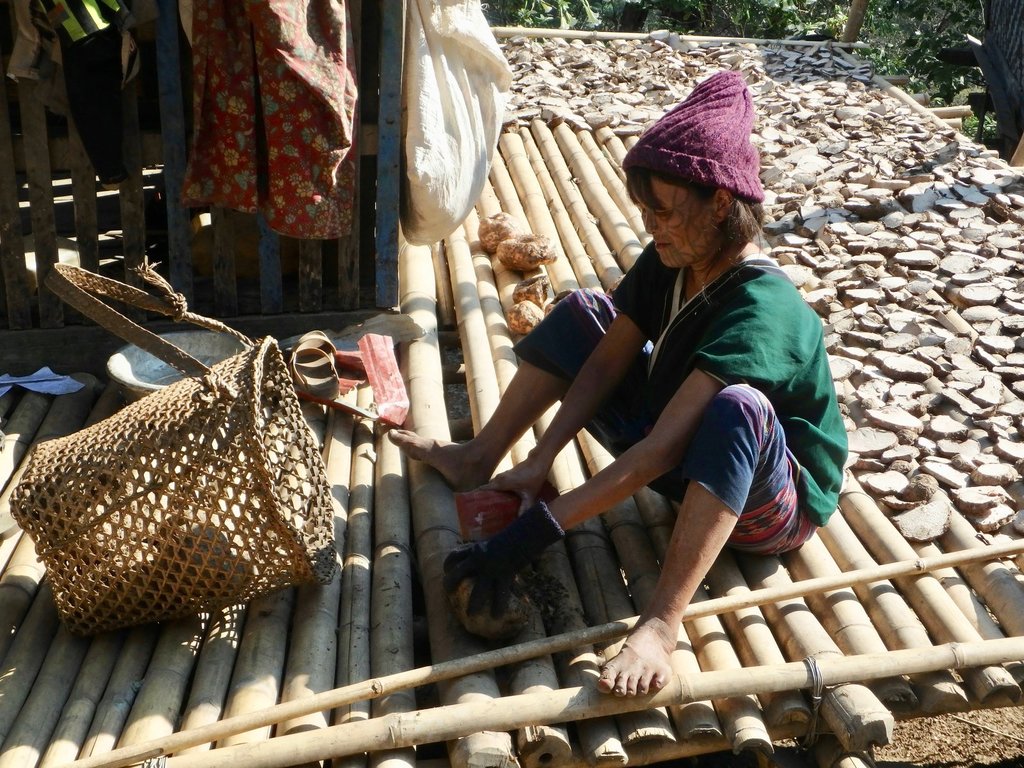 After a few minutes the locals slowly emerged, these guys interested in Nicks electric cigarette.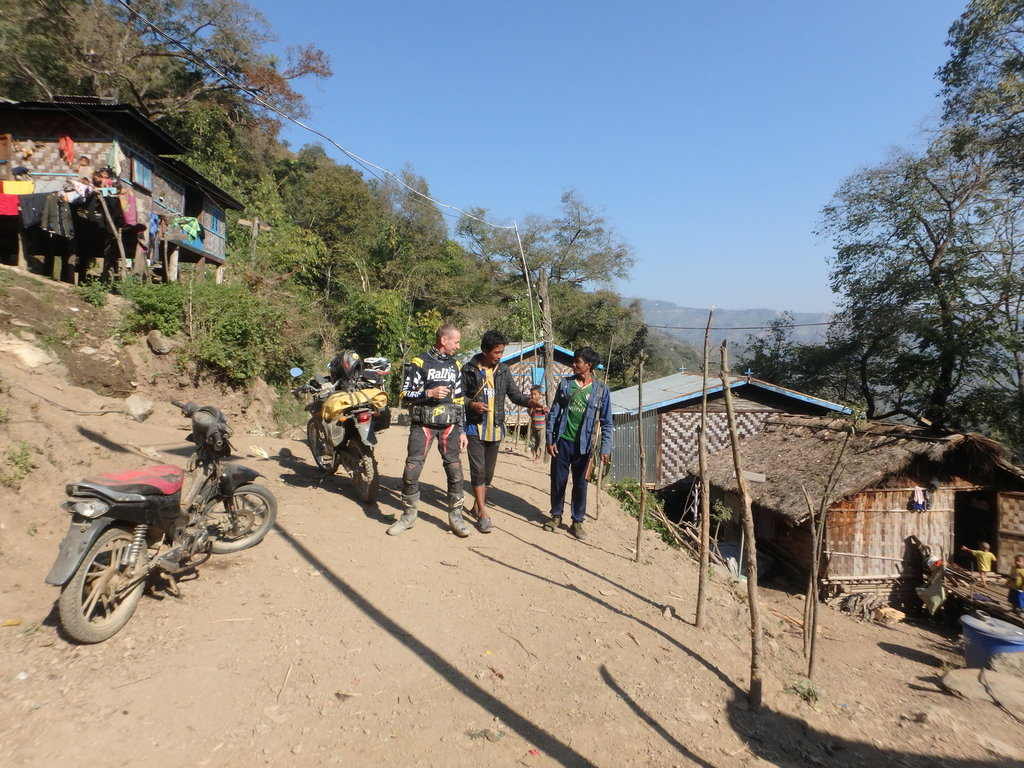 After lots of hand gestures and pointing a challenged was issued one of them cut a mark in a nearby tree and I was asked to try my hand shooting the single shot hand made musket.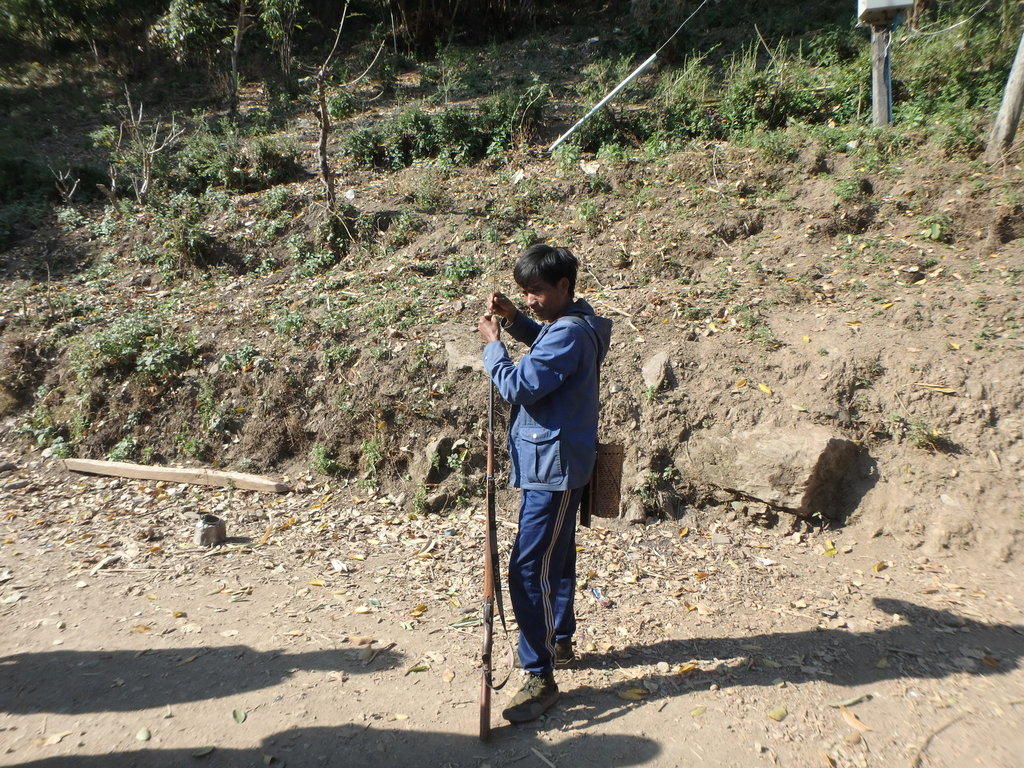 I was just off the mark by an inch, boy that thing had a kick lead fragments cutting my face in the backfire.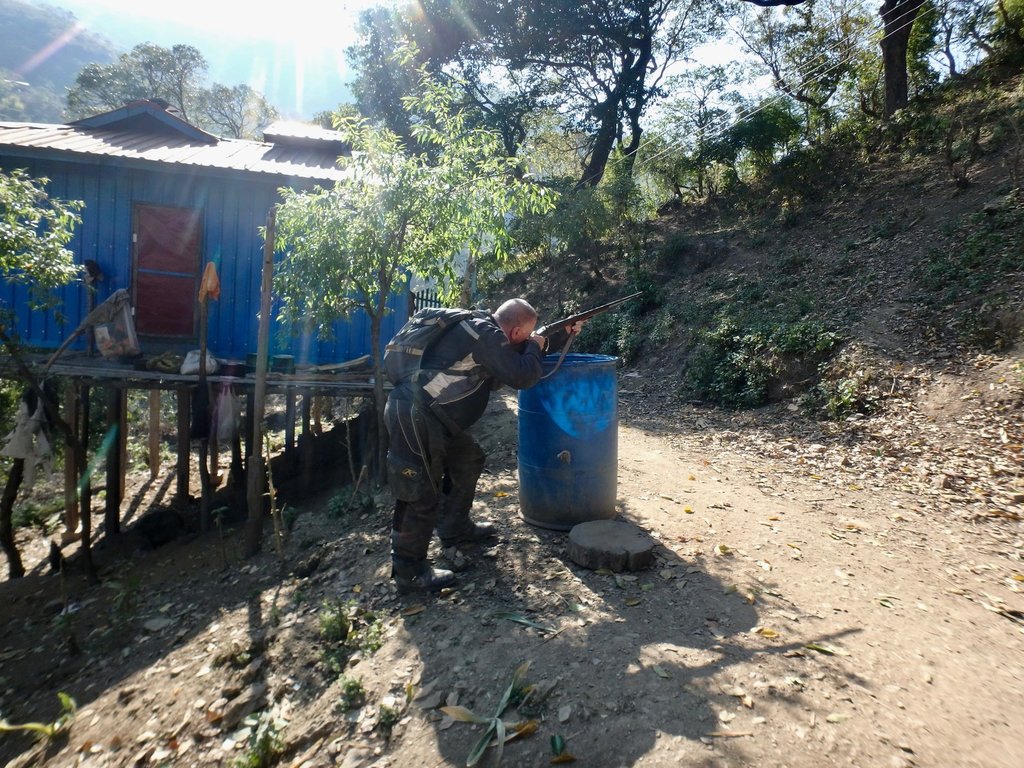 All the ladies here sporting the Chin tattoos on their faces, each minority has a different style to the other so you can tell where they come from by the tattoo style.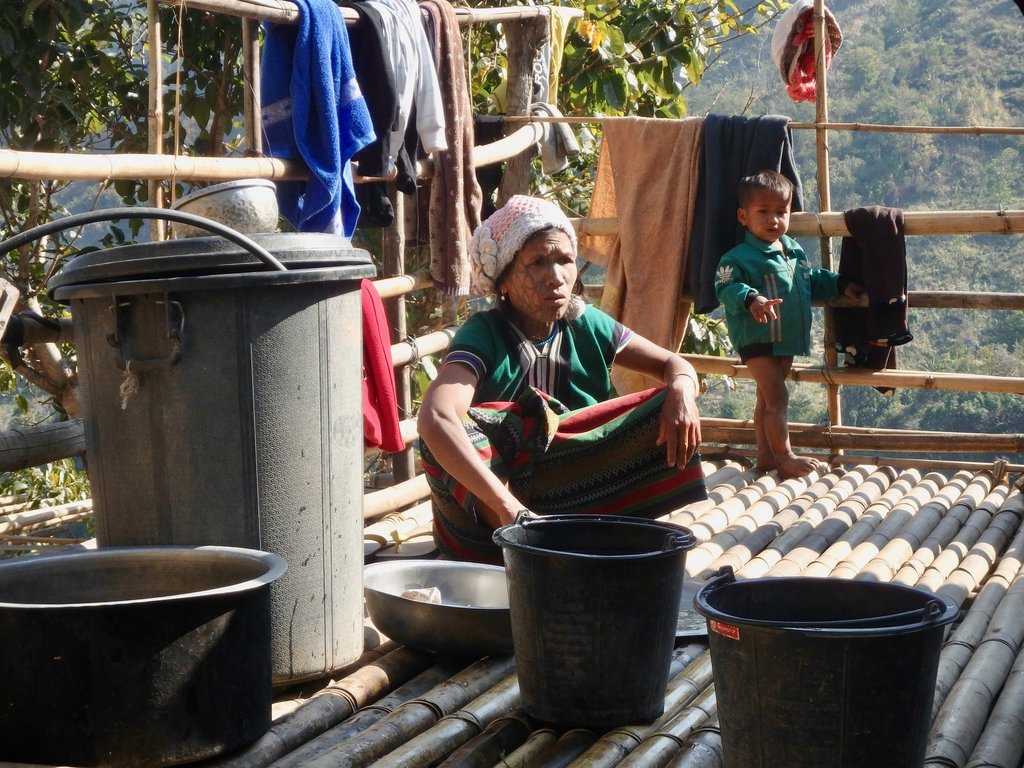 We would see many of these stone structures here, we are not sure of the purpose, some kind of burial site? Google can help maybe in my search.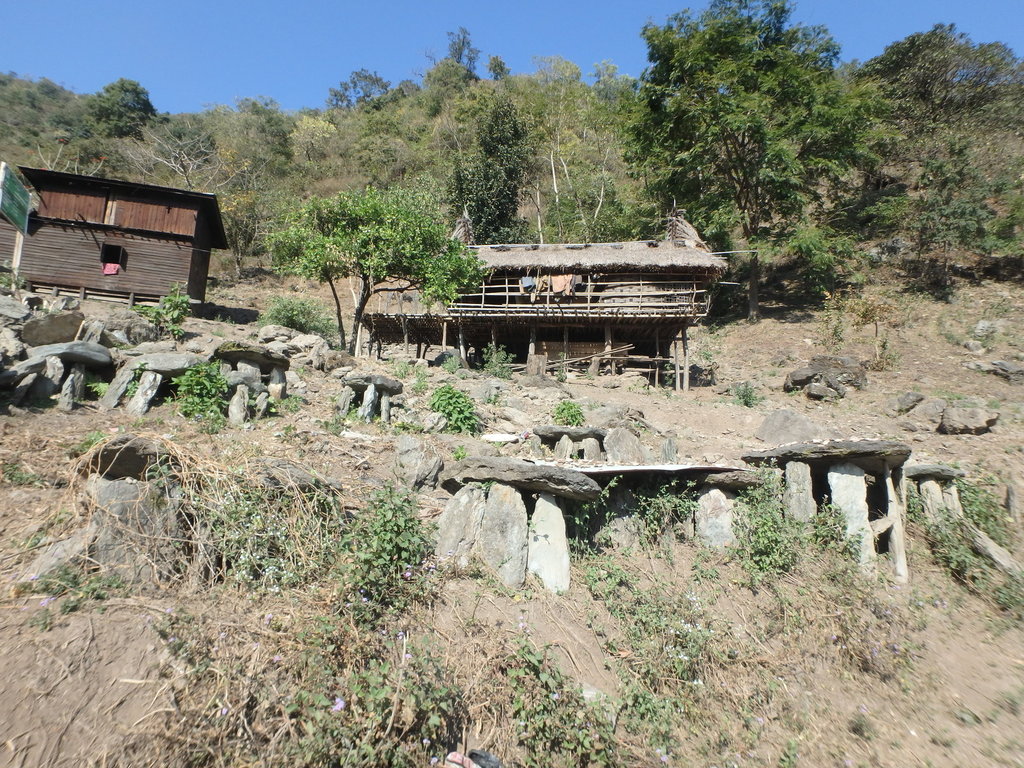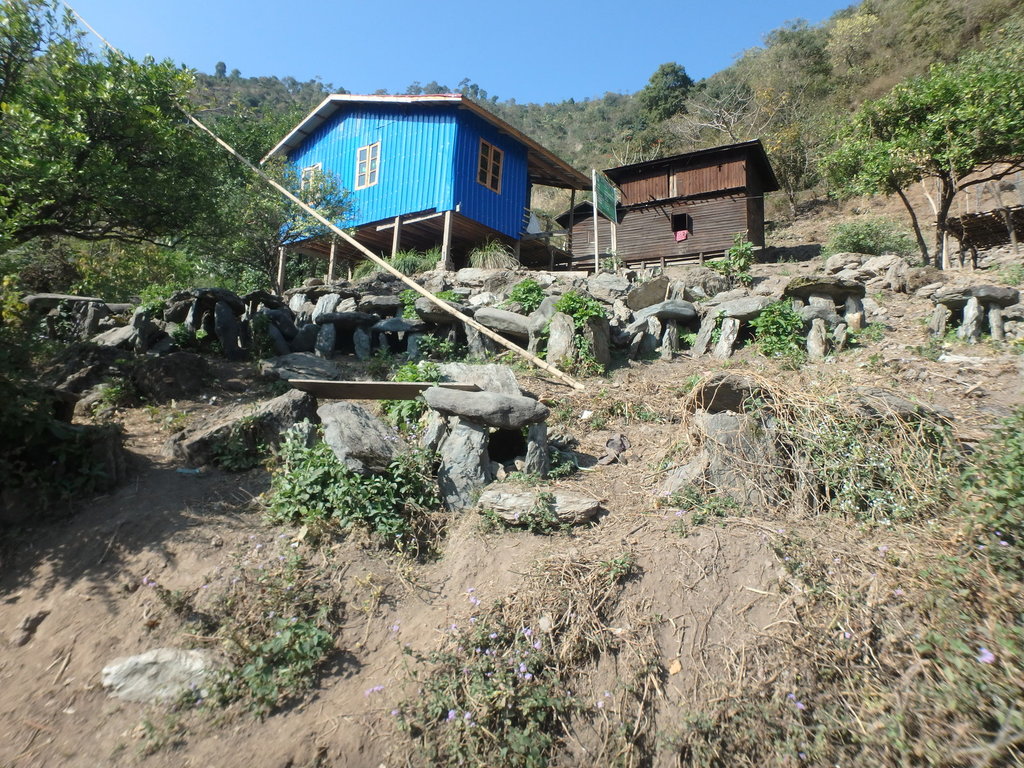 This group of youngsters tearing it up down the slopes, rather them than me, it was steep as hell down there.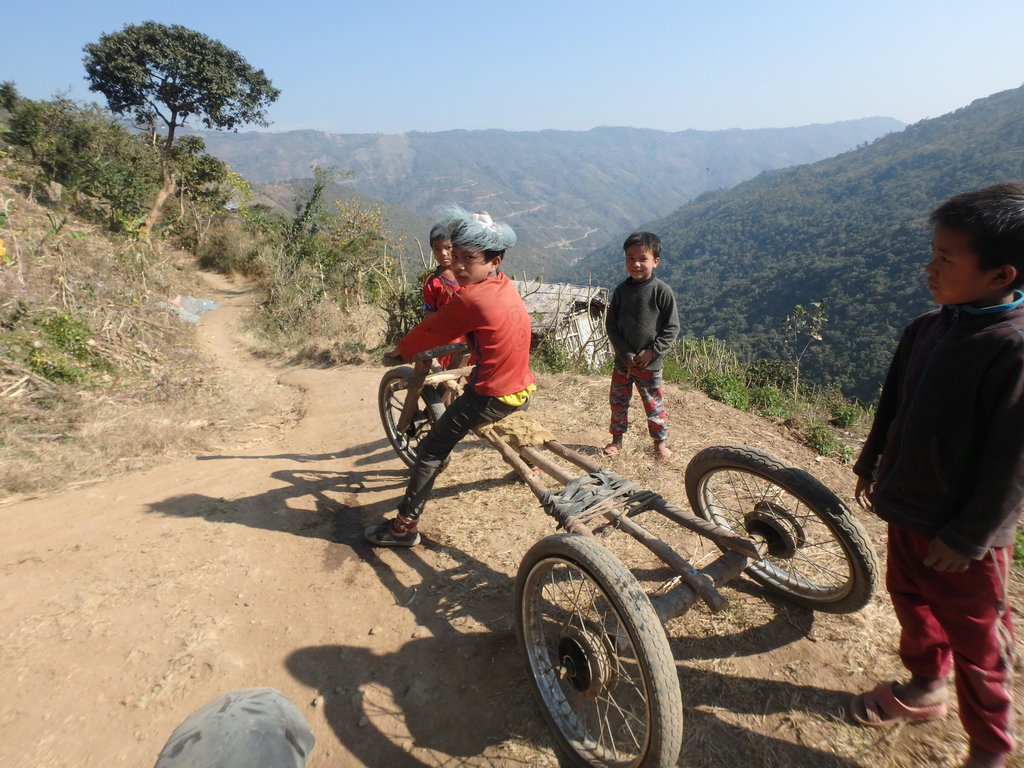 Yet more of these stone groupings.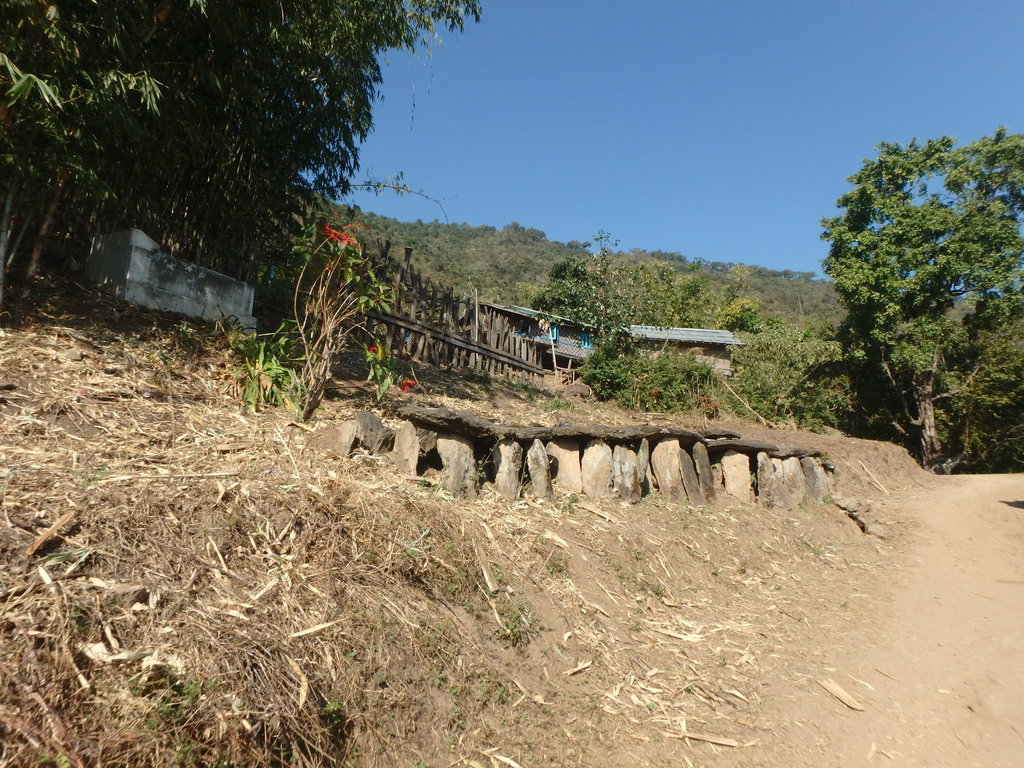 Many of the houses had animal bones adorning them I assume they follow some kind of Zoolatry religion.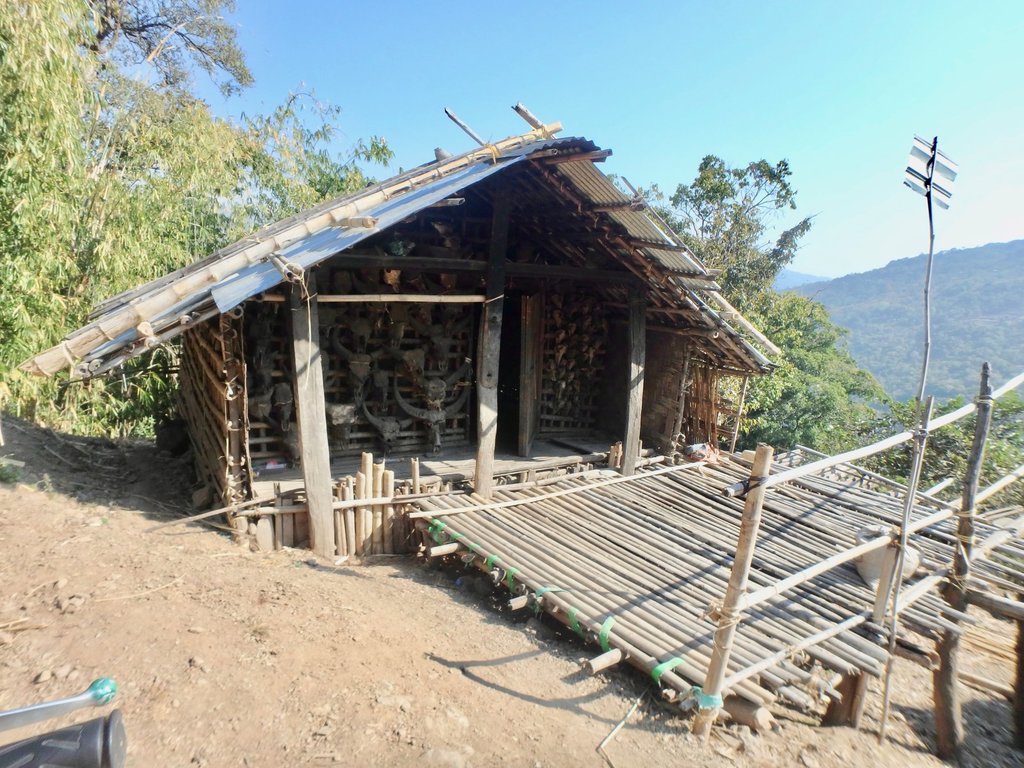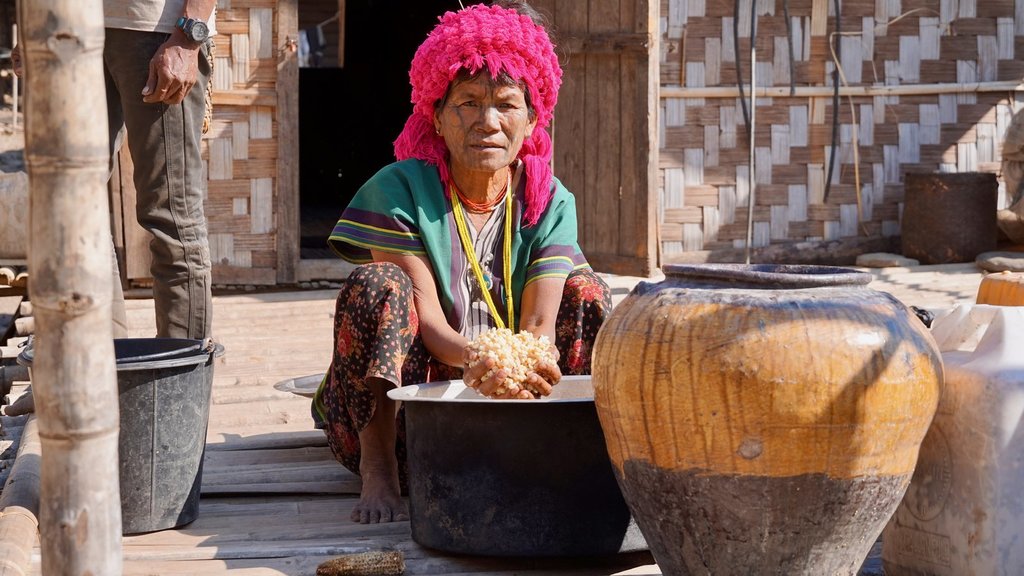 This old lady came out shaking a handful of what looked like animal bones at me, I hope it was for good luck!
Notice the leopard type tattoo spots on her neck, all the ladies here had the same.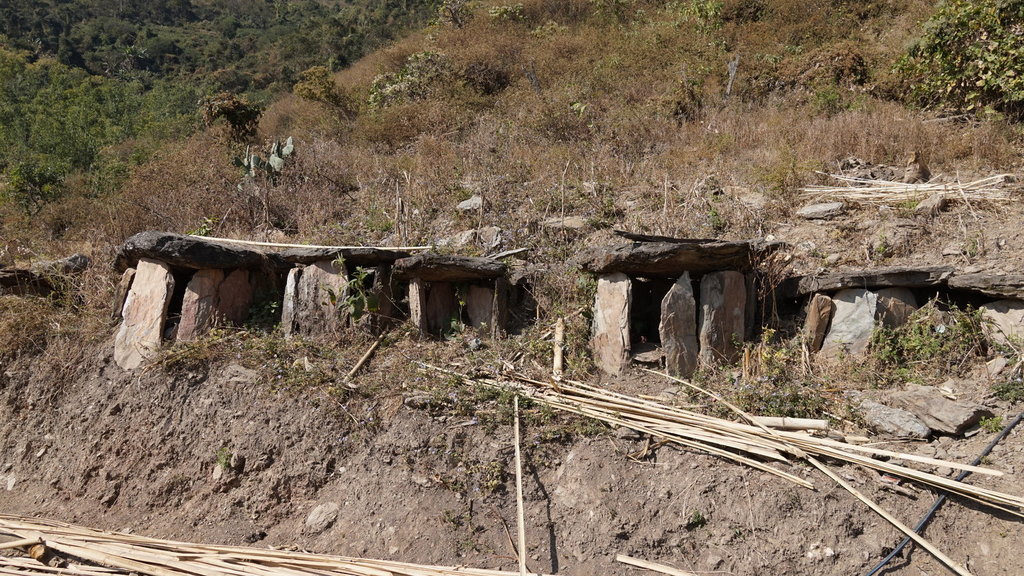 Well at least they are not human skulls.
They had a very small school so clearly some funding of some kind is given to these people even in the harshest of conditions.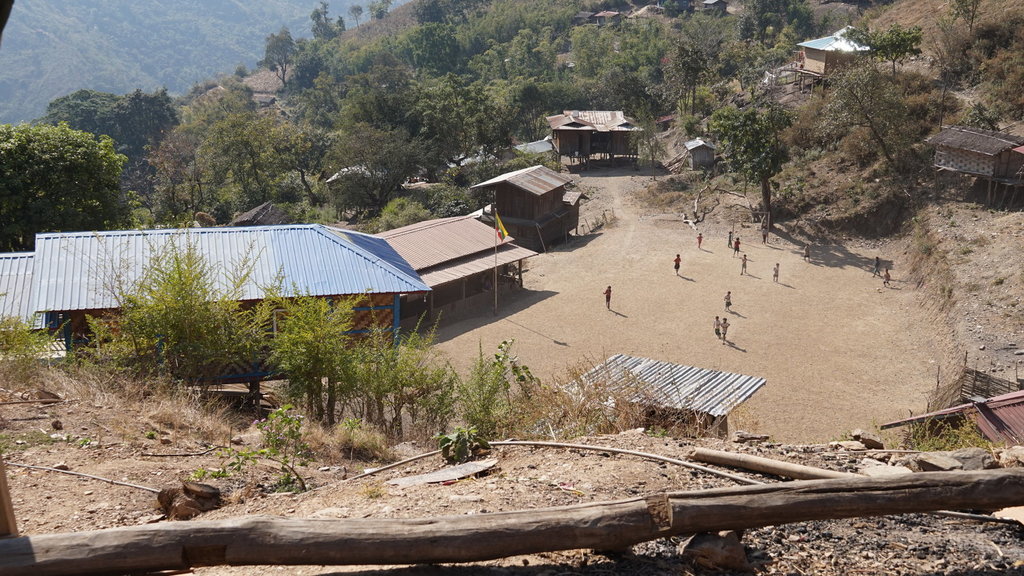 Knife at the ready
Pretty hard to get pictures of people here, all very scared of us.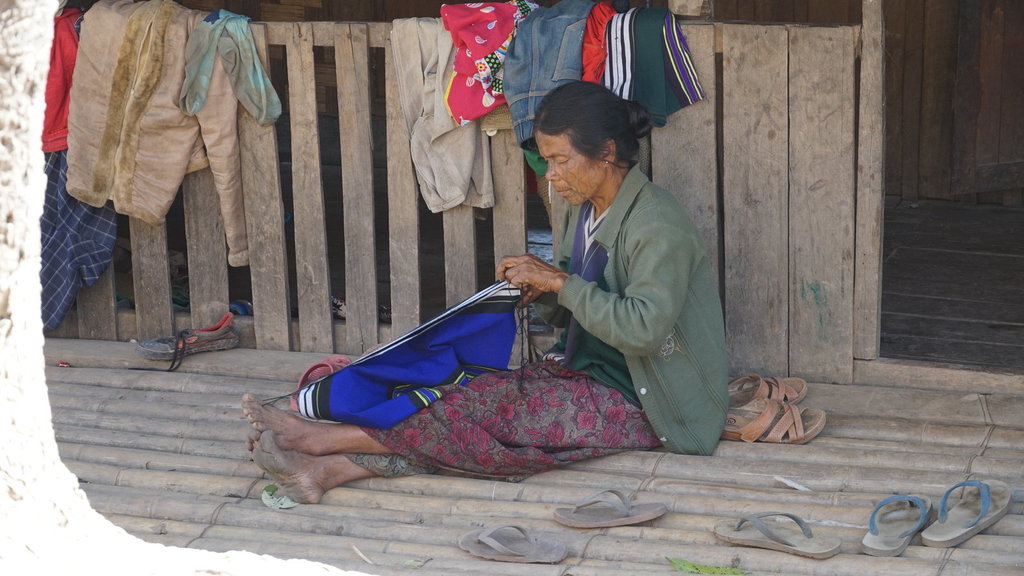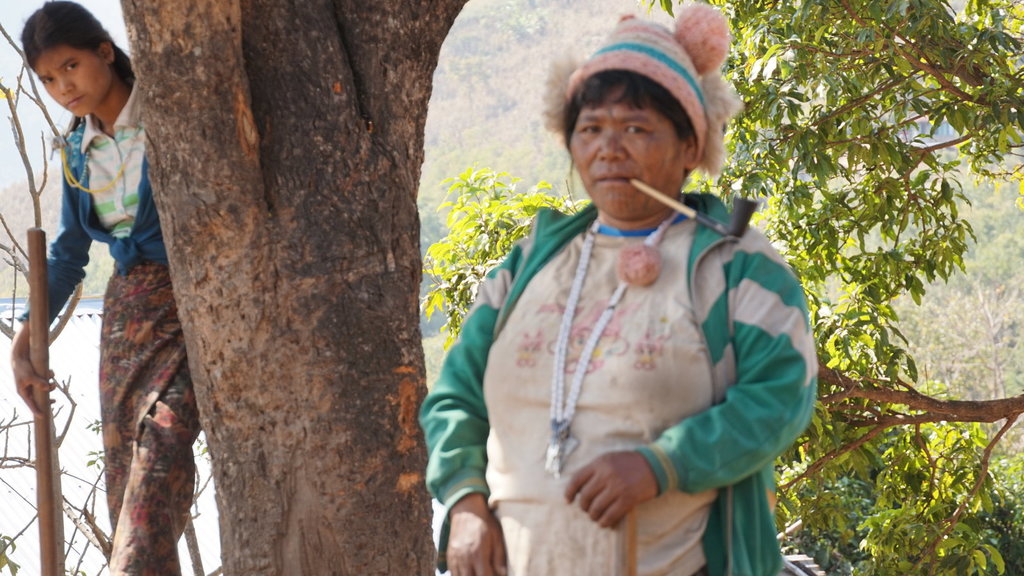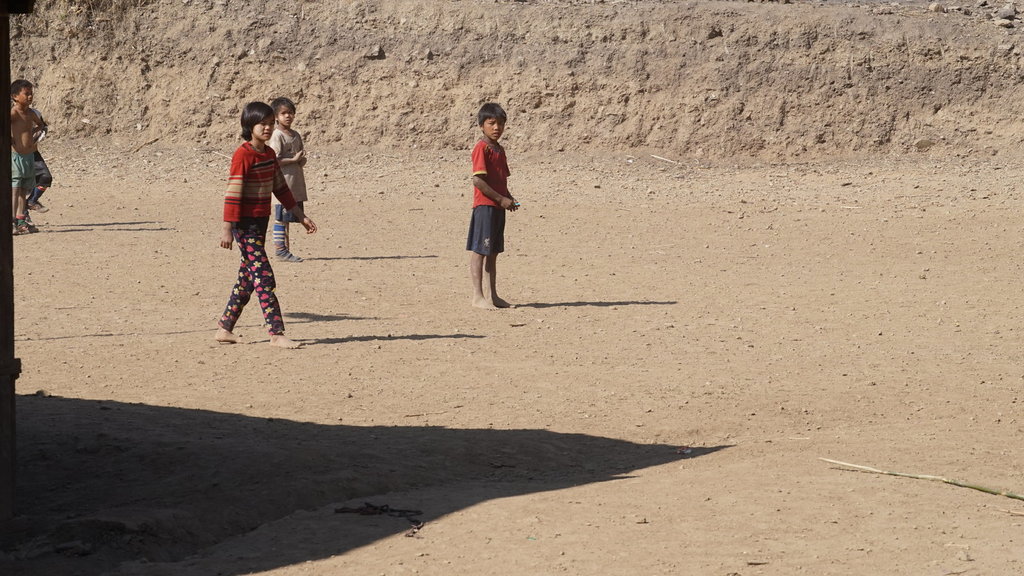 The village stretched out further along the mountainside but we decided to turn back rather than outreach ourselves.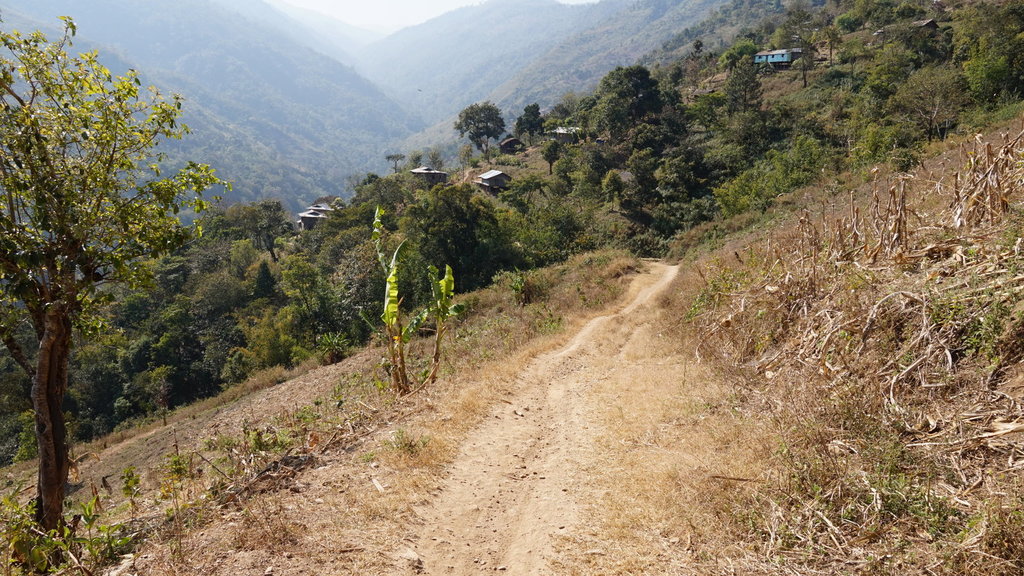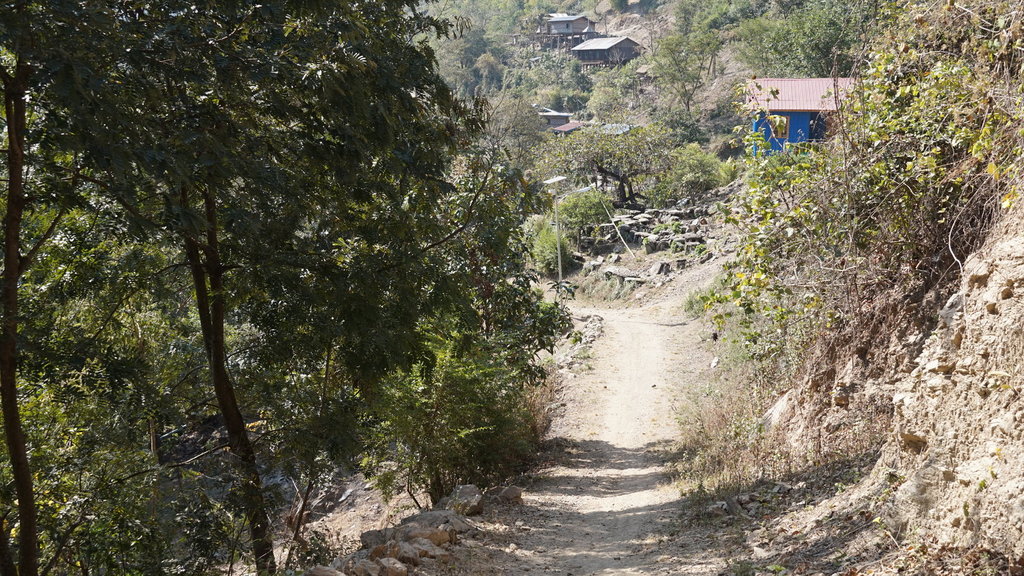 These guys absolutely slaughtered of the local hooch.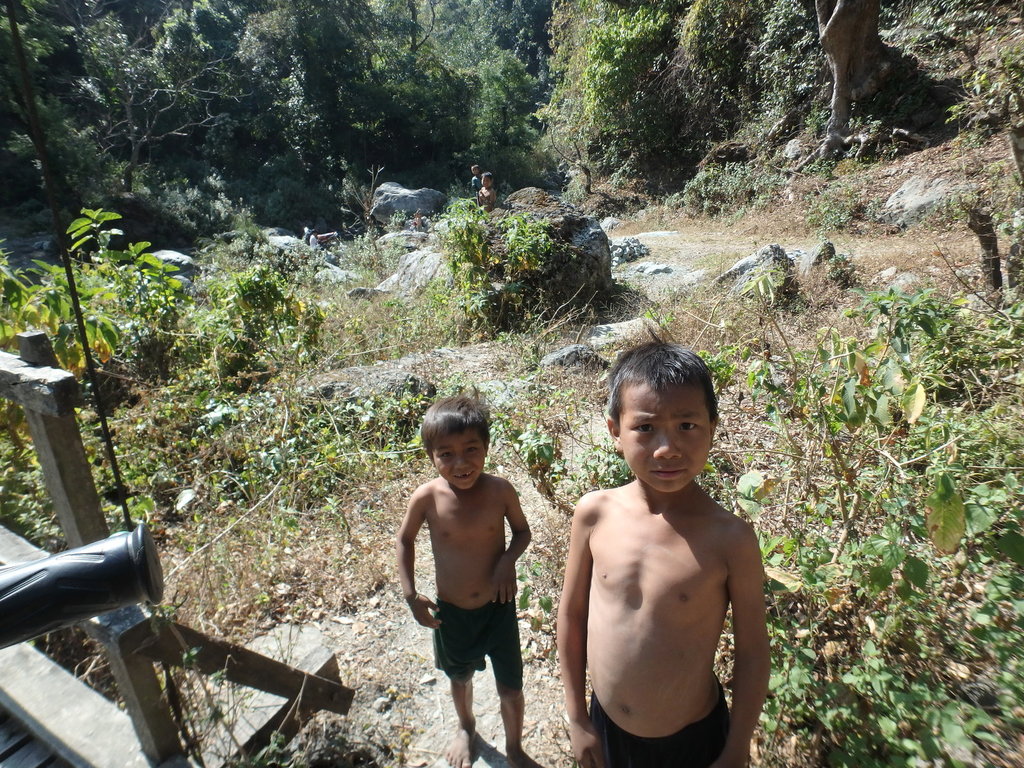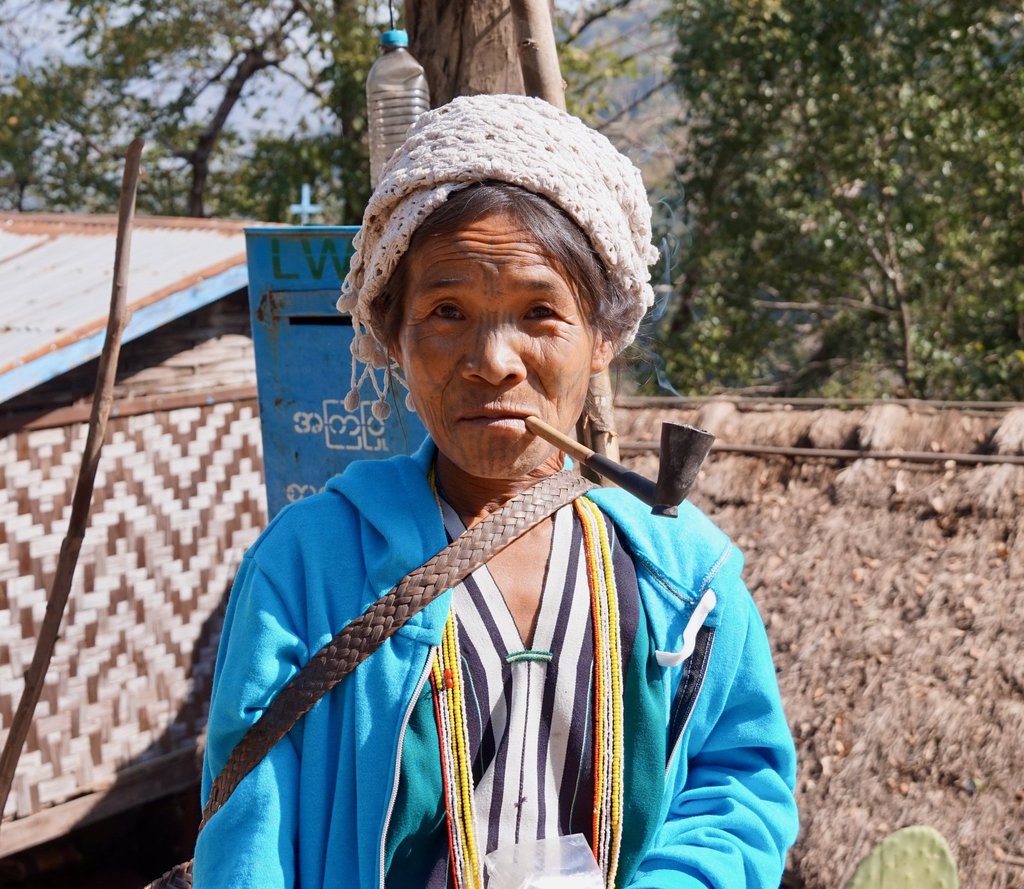 On the way out we stopped and unloaded some packs of sultanas and snacks we had for the grateful kids, but not until we tasted them first.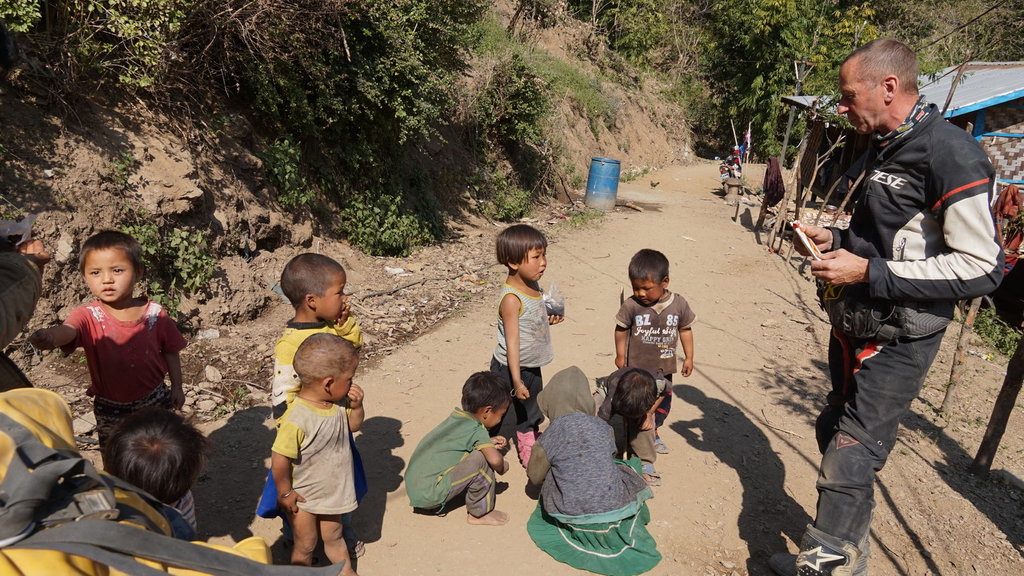 What a natural beauty.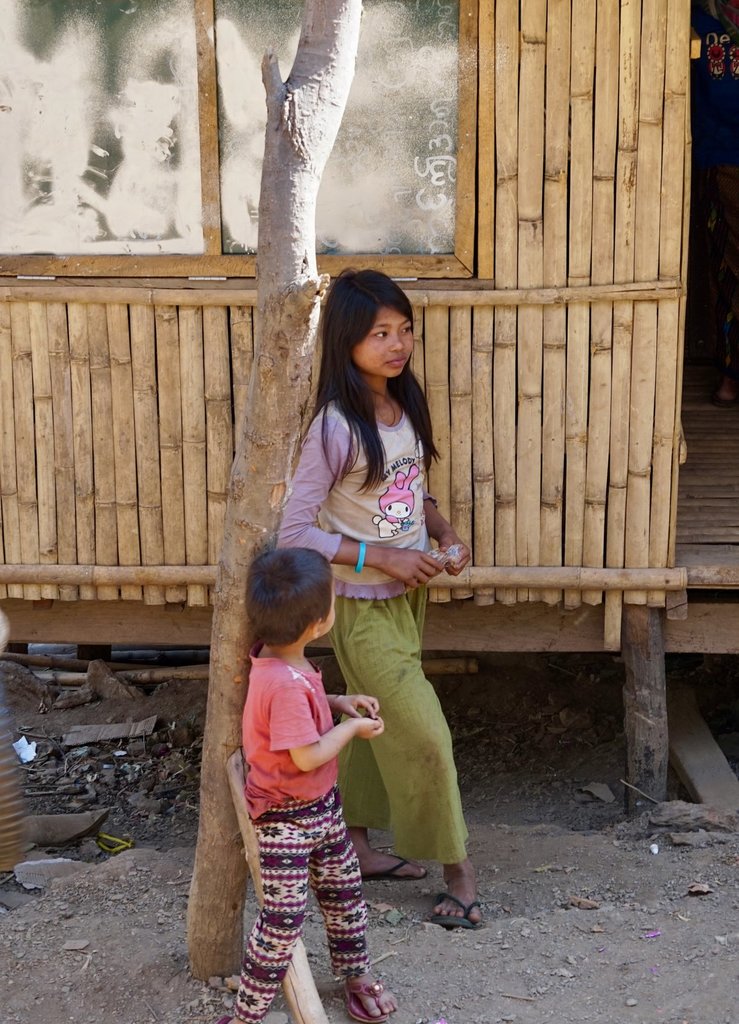 I imagine the young kids surrounding them are theirs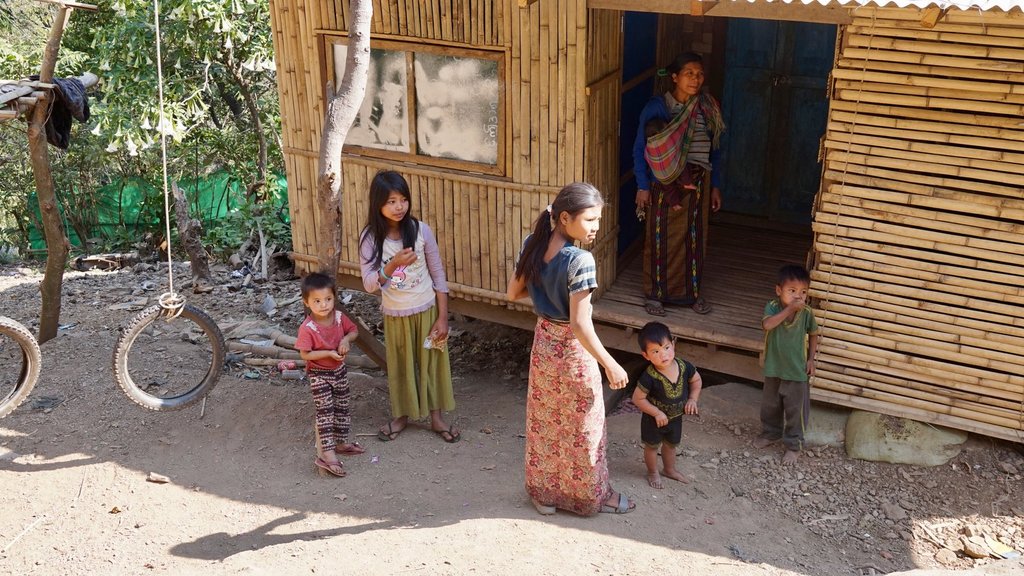 Think they enjoyed the snacks.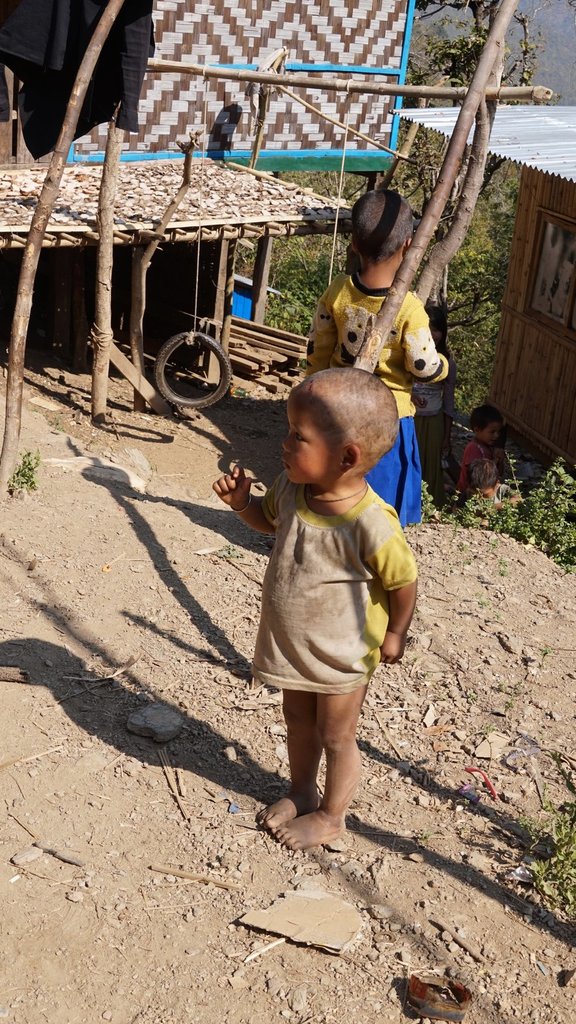 Back to the roadway.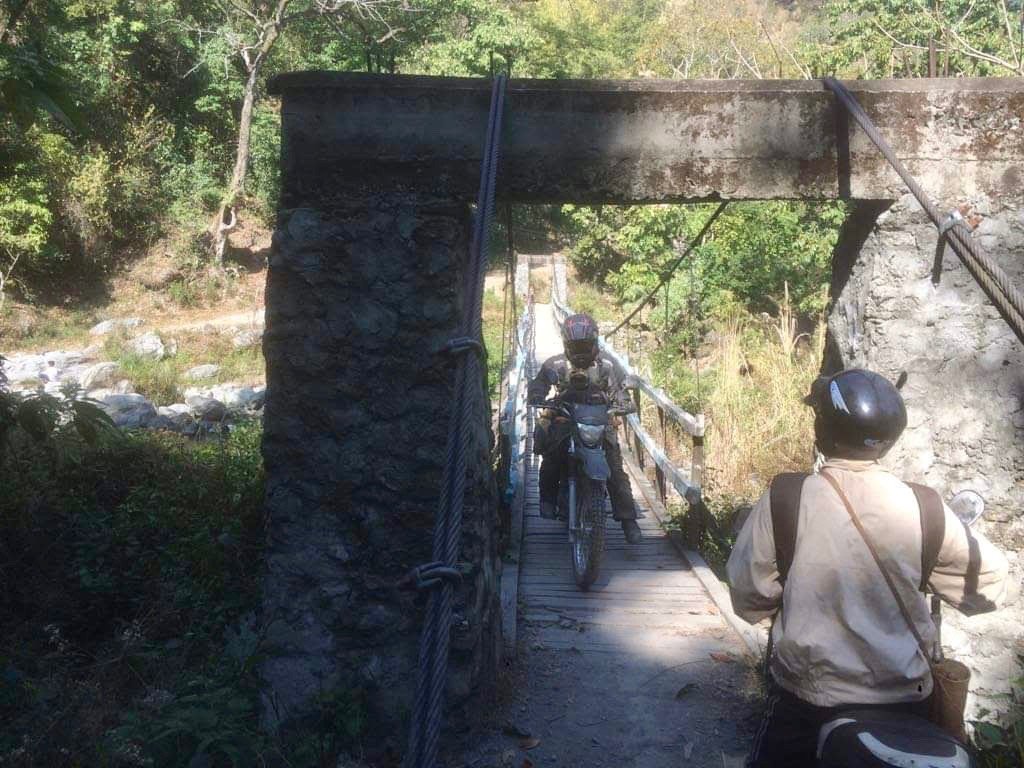 Flimsy homes perched on the roadside, even these had animal skulls on display.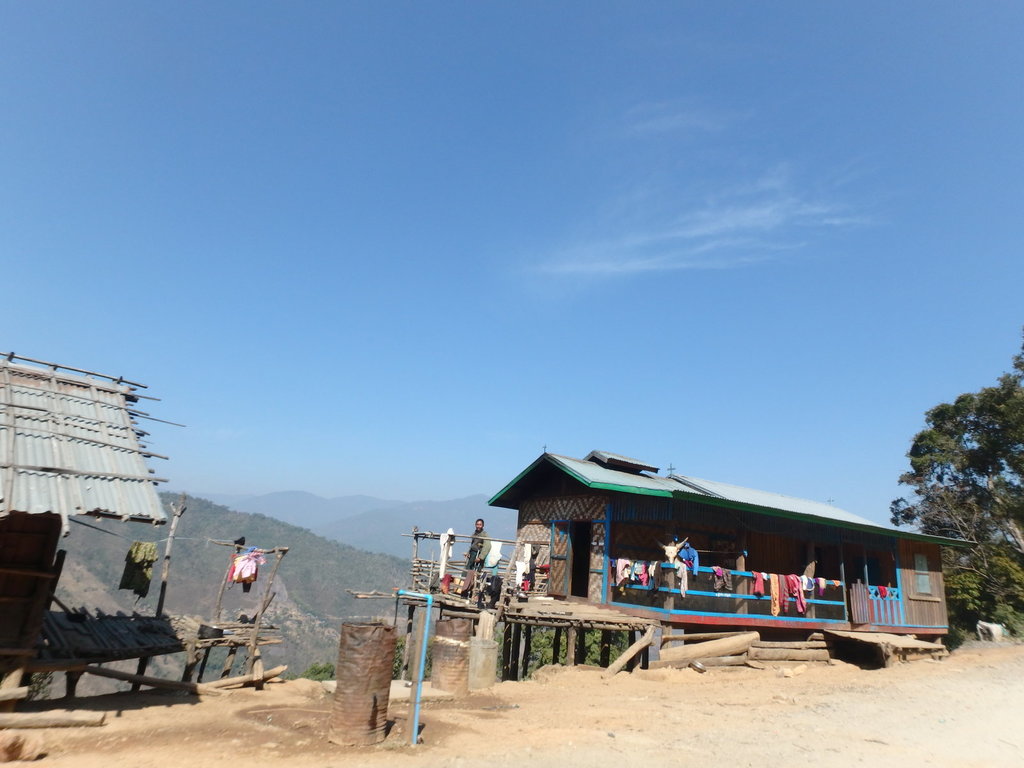 This according to the GPS was a GH, think we will move on.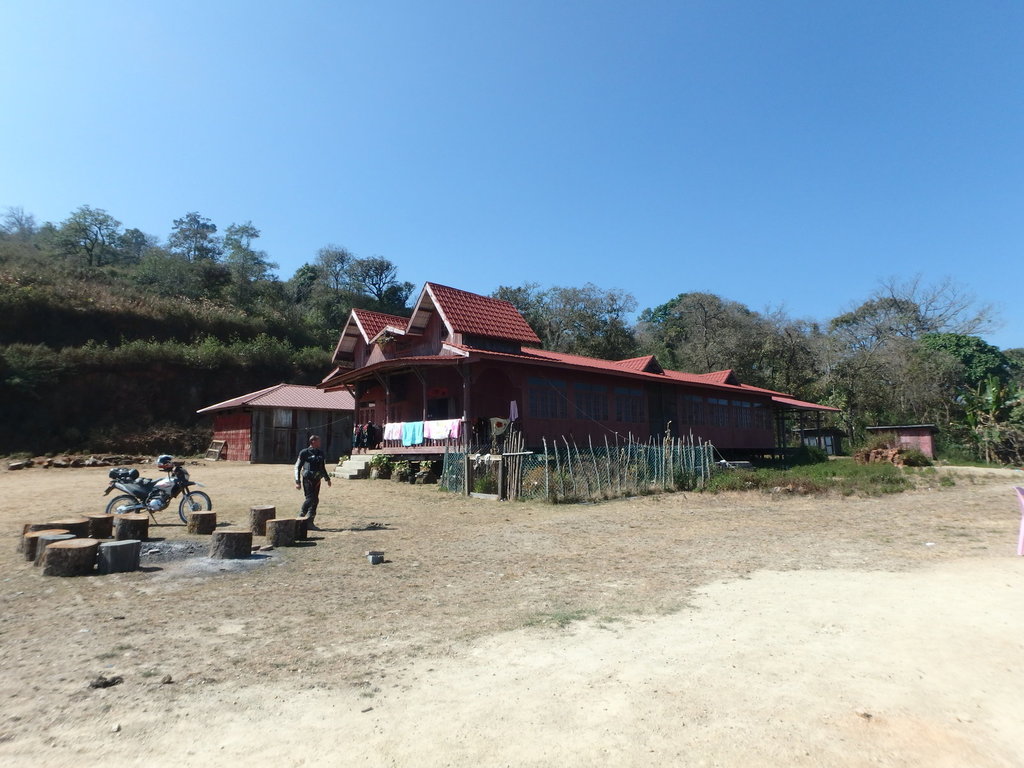 As we approached Mount Victoria area, the forest was amazing, totally untouched. Turn out it was a huge draw for bird watchers as we passed several buses full of twitchers.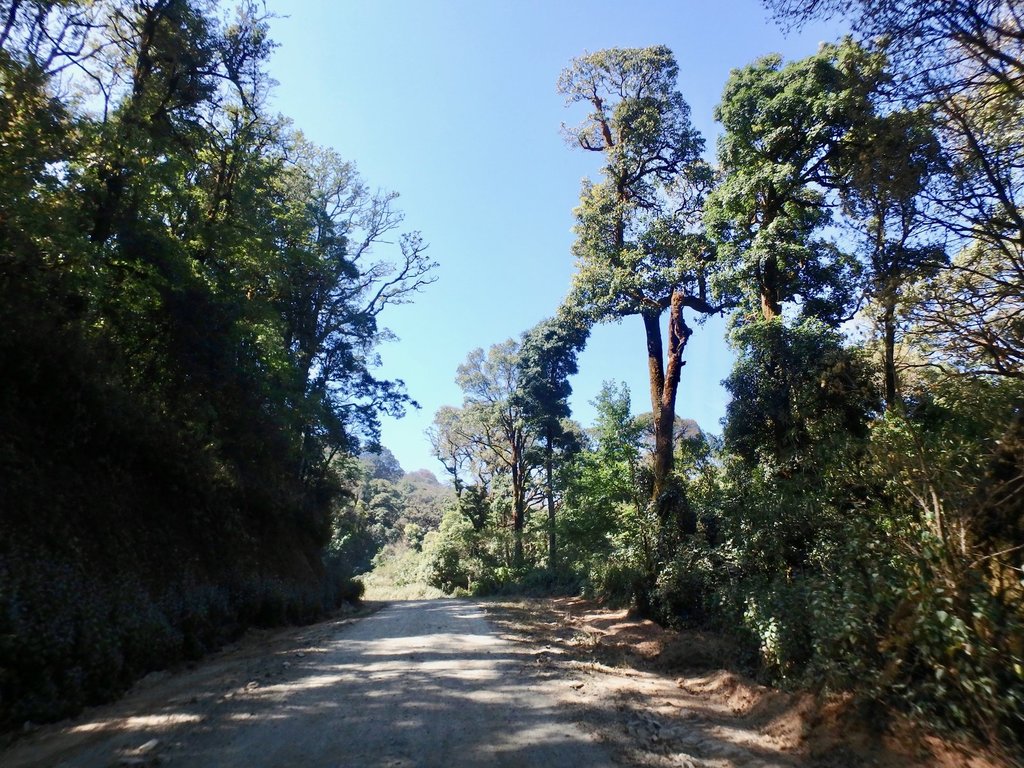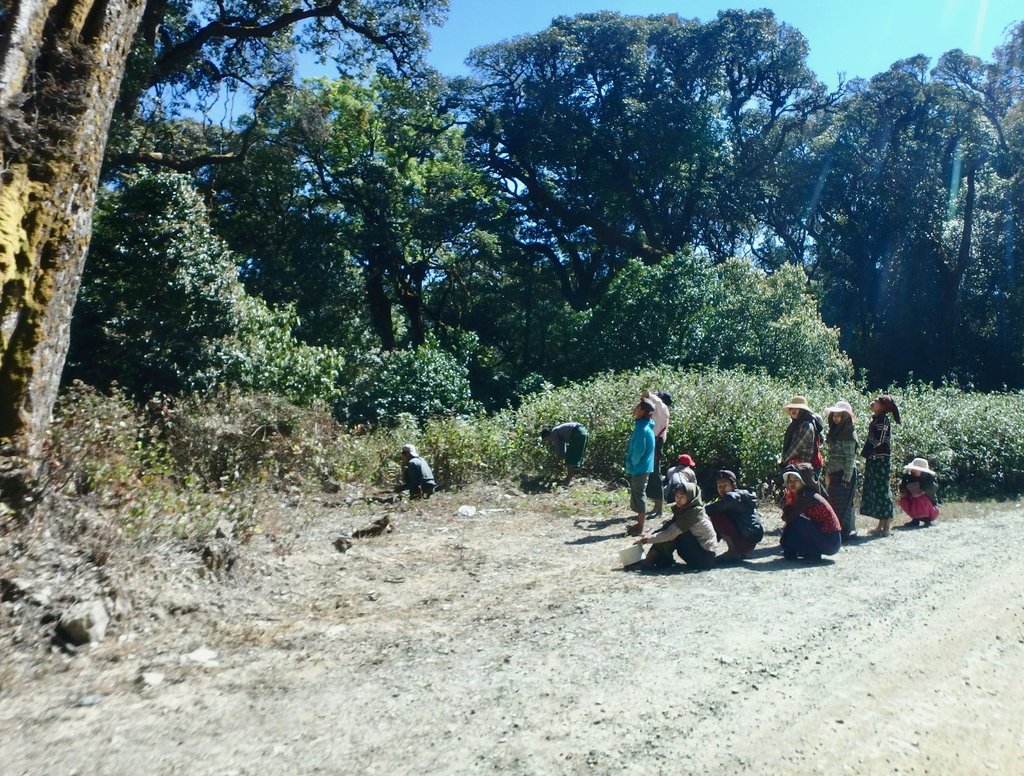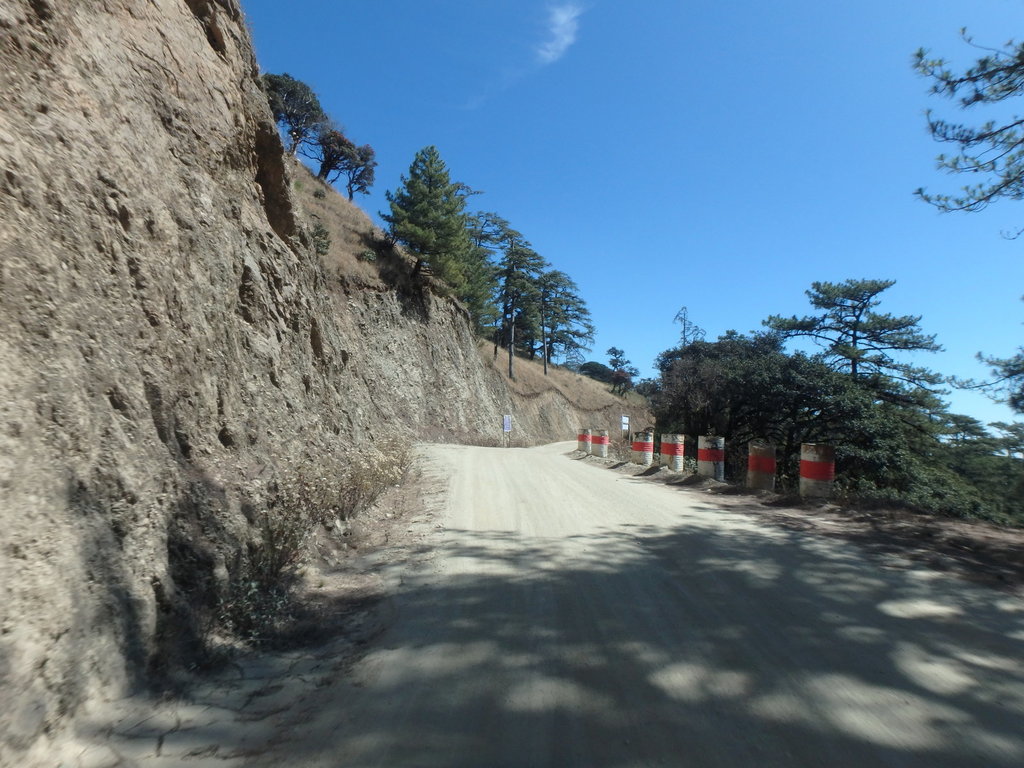 Lots of grading work being done through the forest area and the turn for Mount Victoria peak, hoards of tourists massed around the turn so we gave it a miss.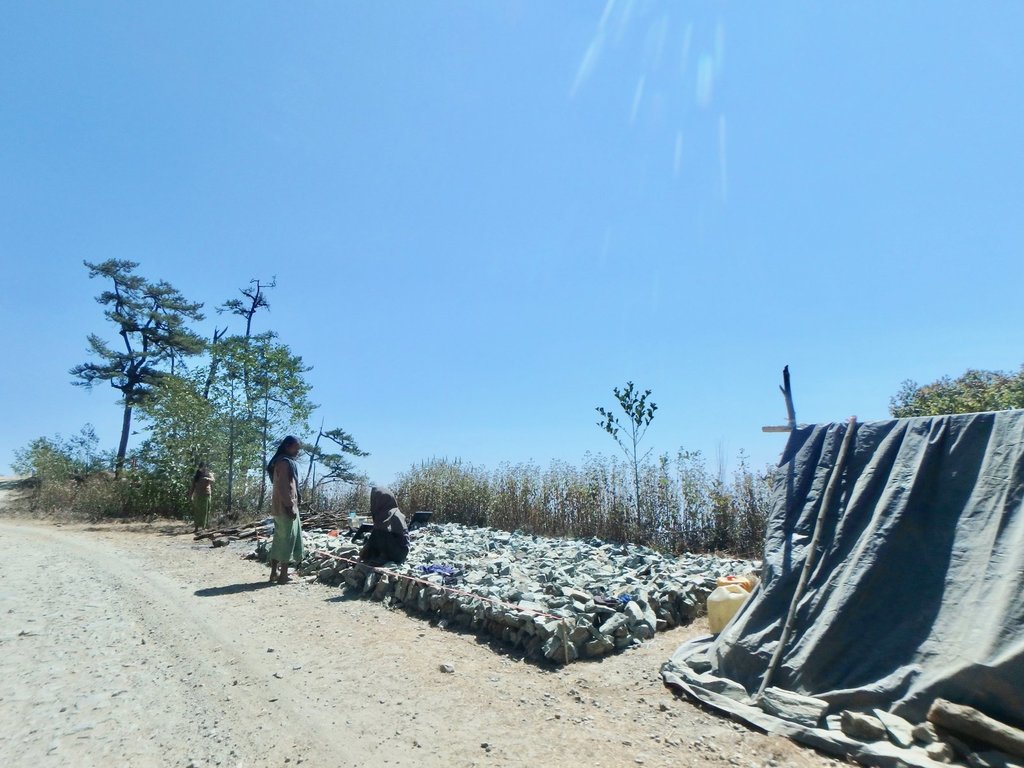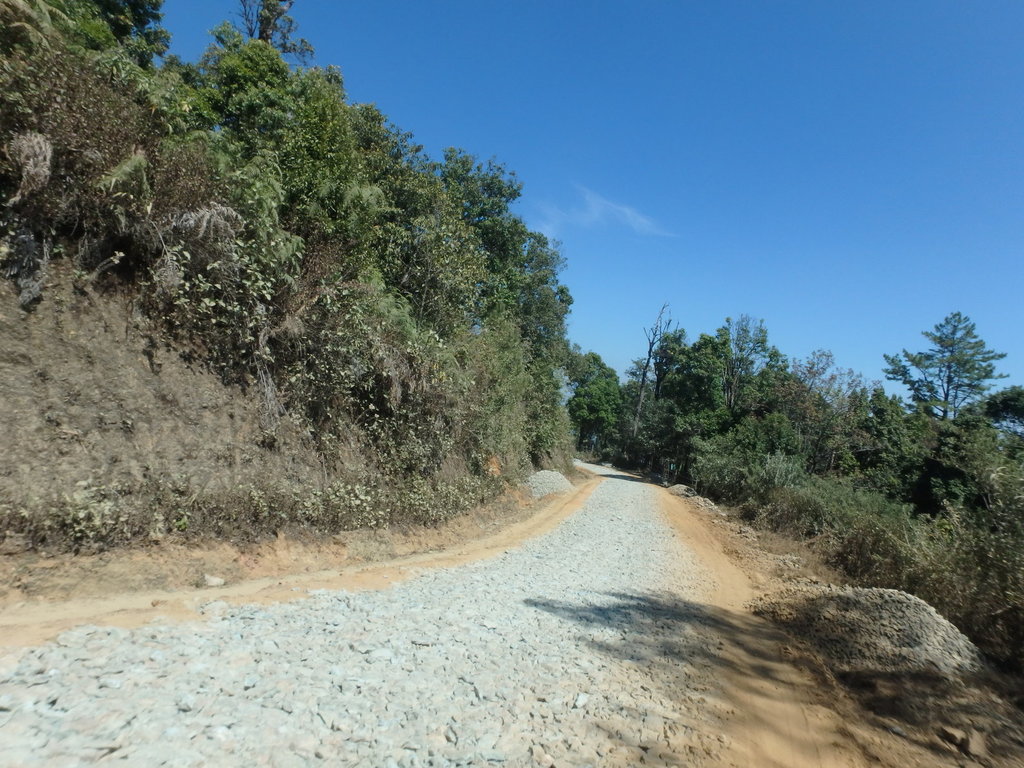 Pretty high elevation at this point, it must be incredibly cold for these workers in the evenings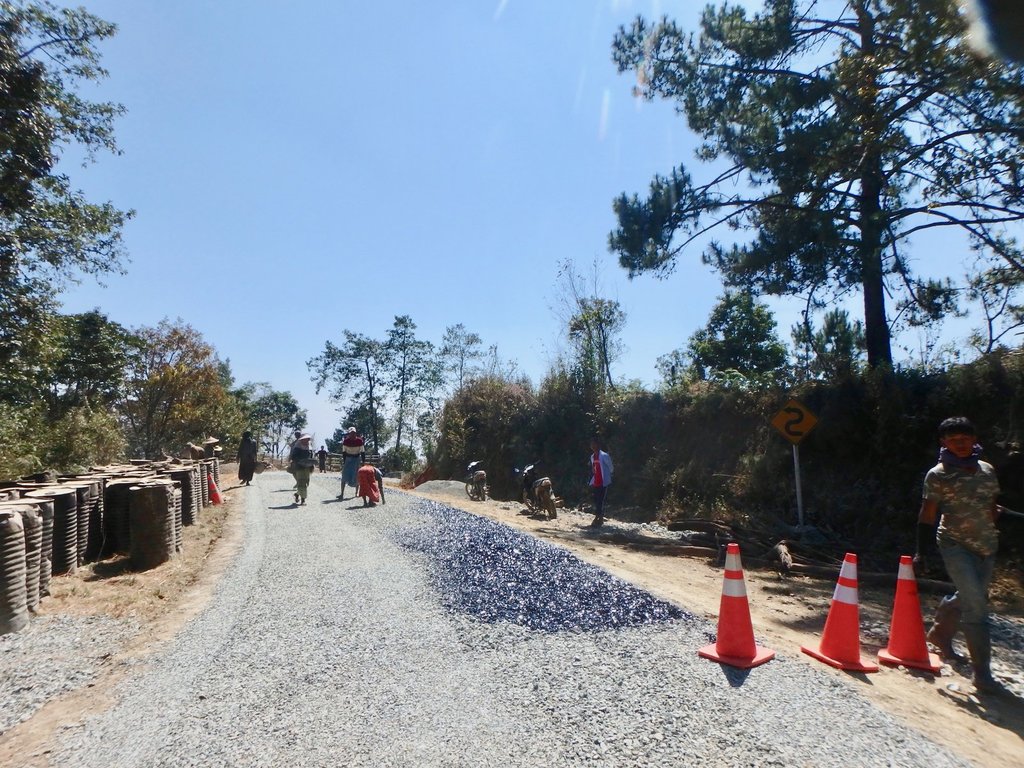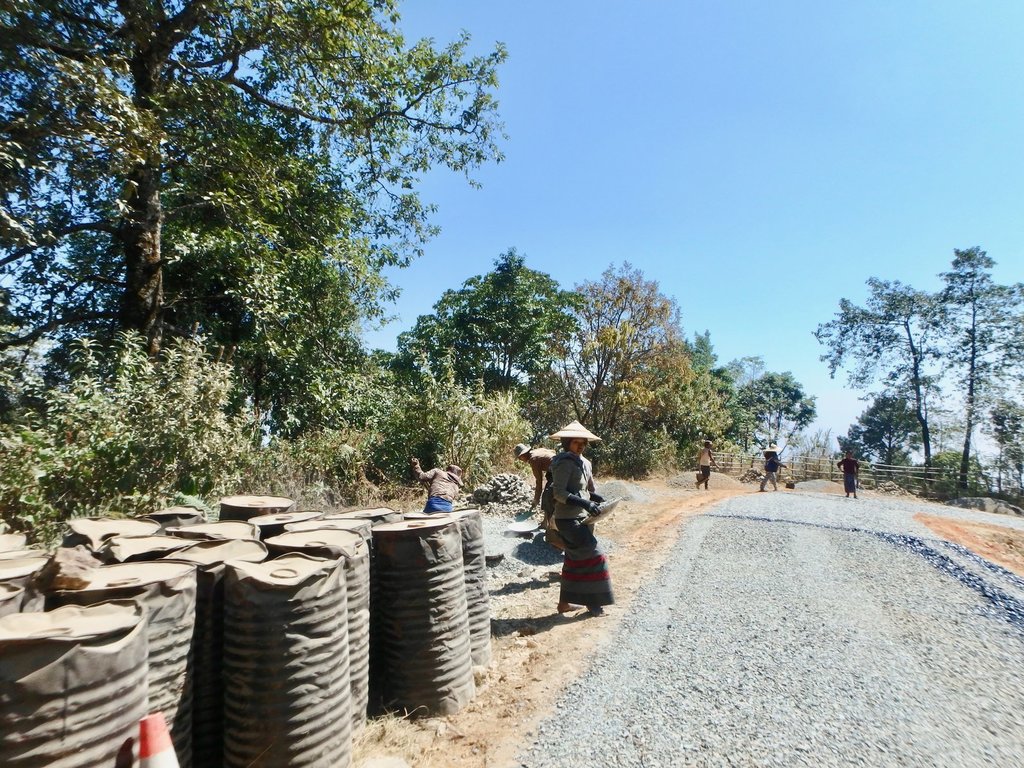 As we neared Kanpetlet this old house with a chimney, clearly some English influence.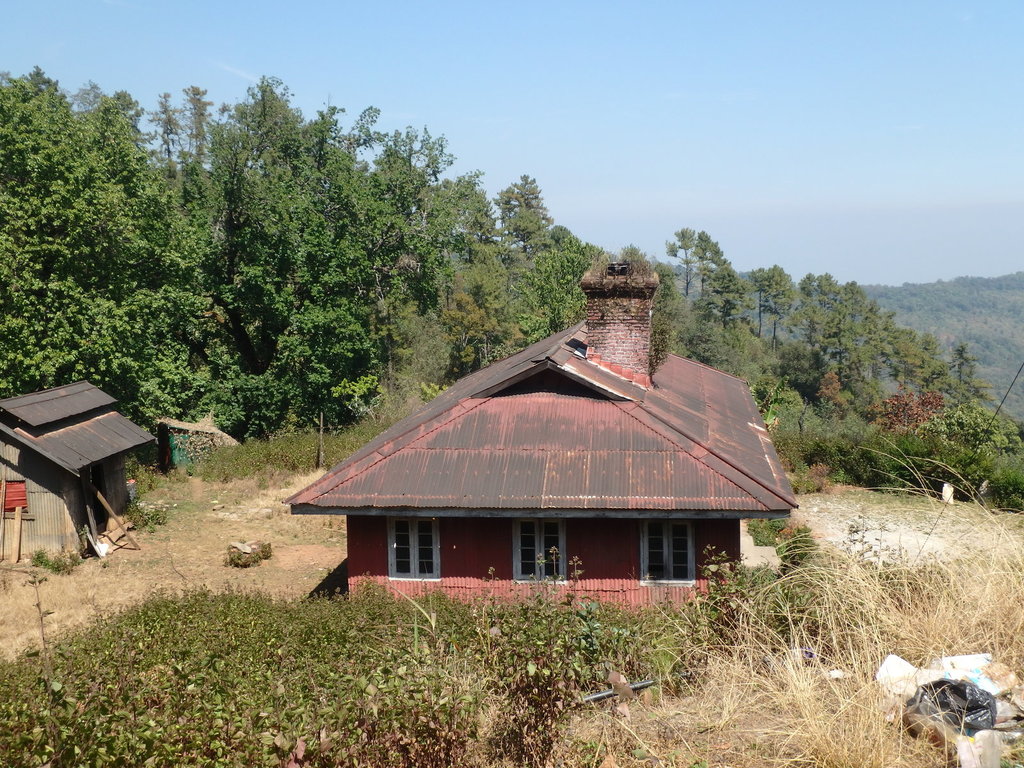 Kanpetlet turned out to be a strange place, where the well-healed people from nearby big cities come to enjoy the coolness of the mountains and with that come high prices, many of the places we stopped wanted $100 or more night.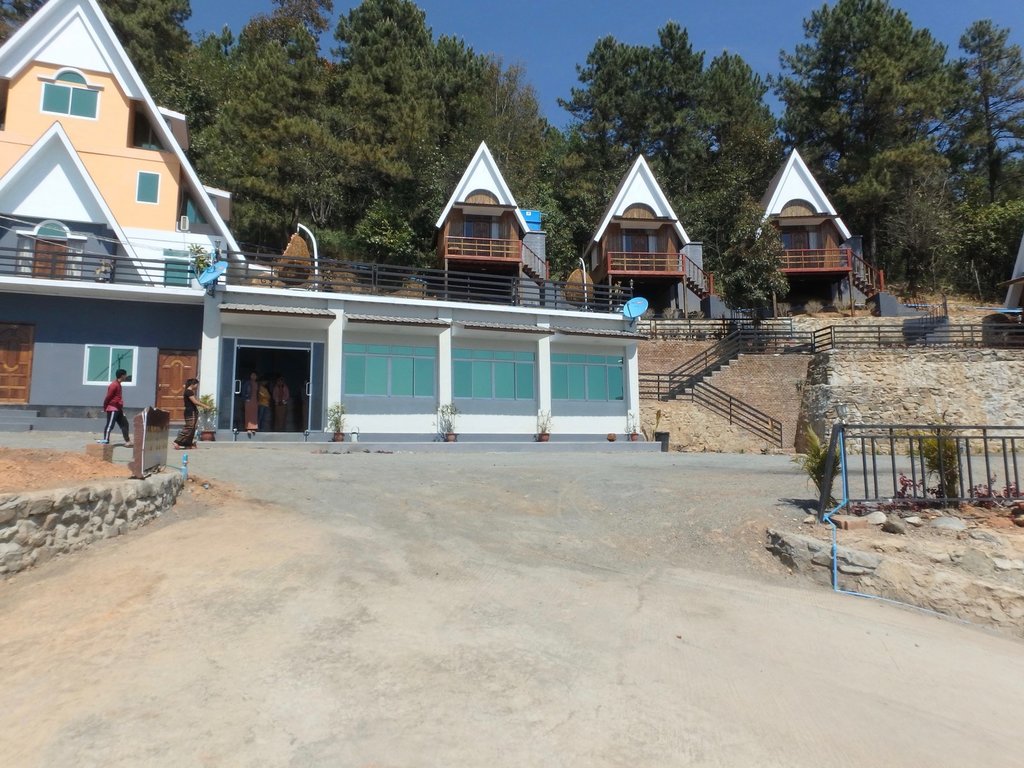 A local guy eventually guided us to this GH where we got two bungalows for $50 each.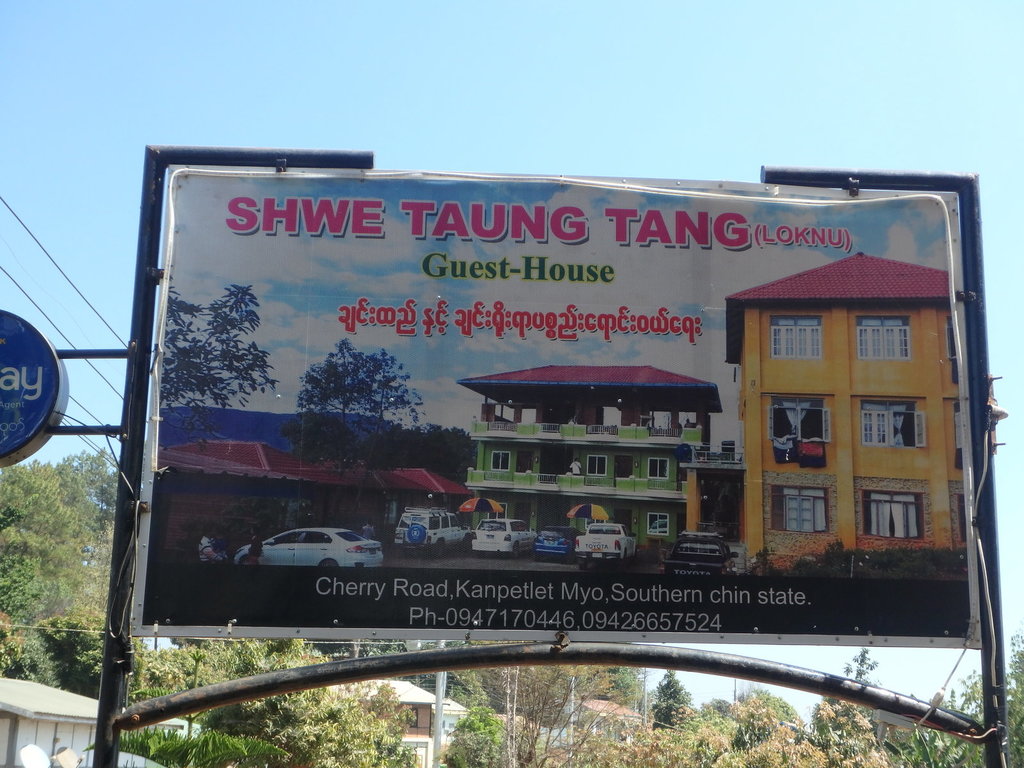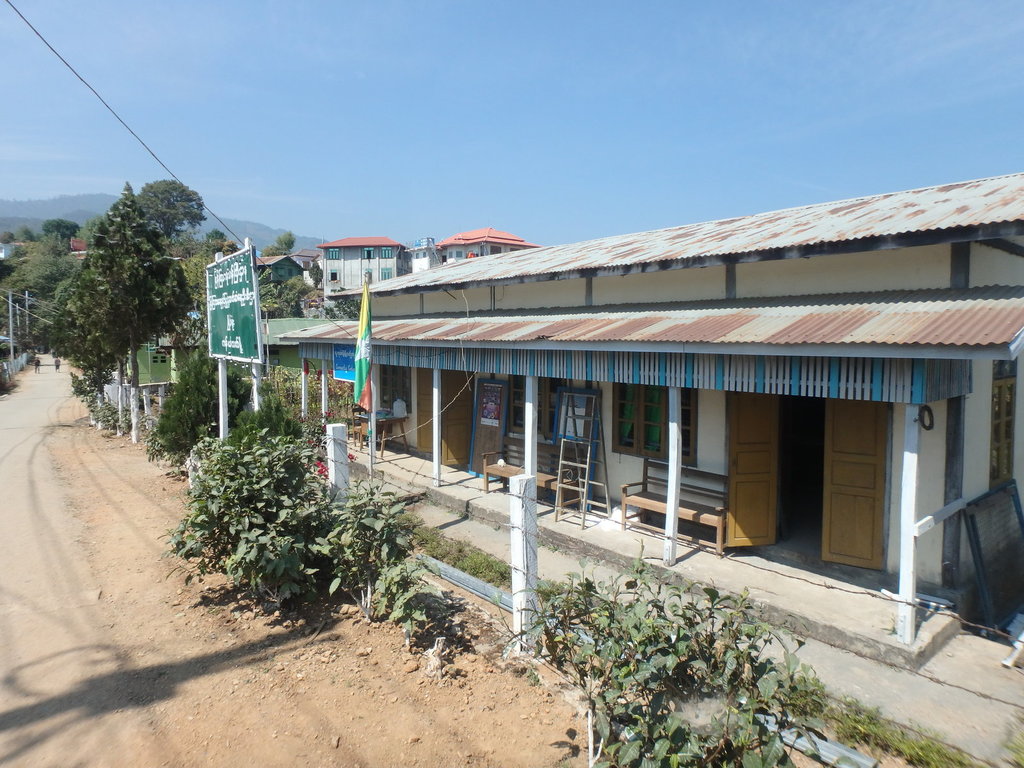 At least we had nice views.
Location N21° 11.531' E94° 03.916'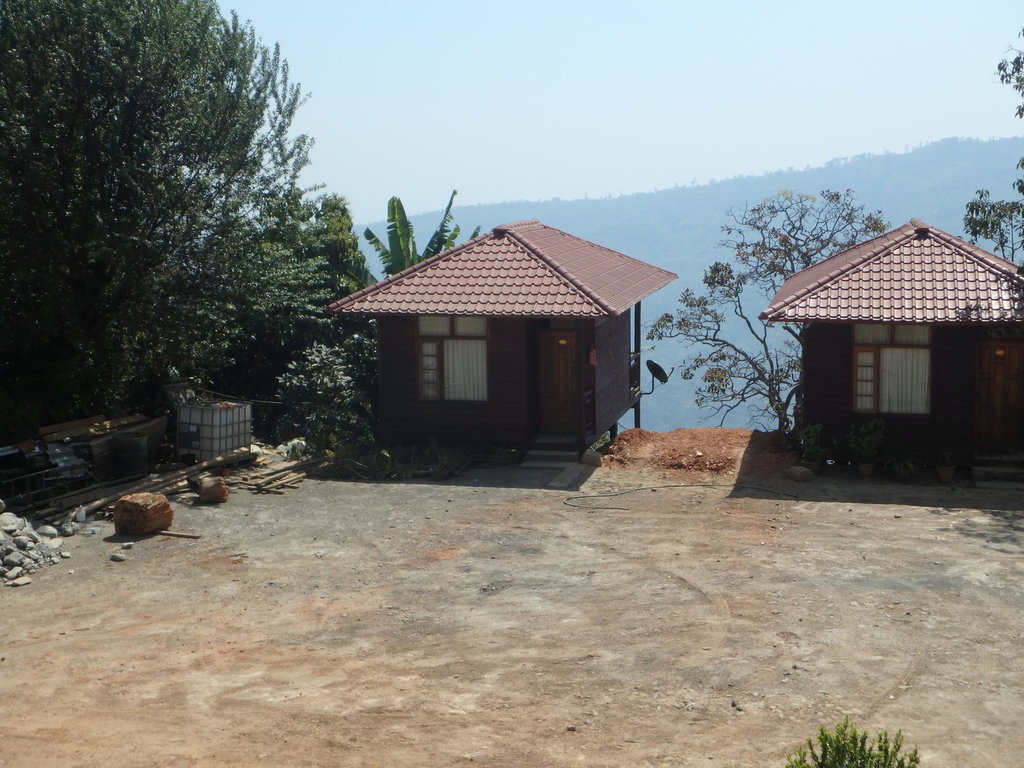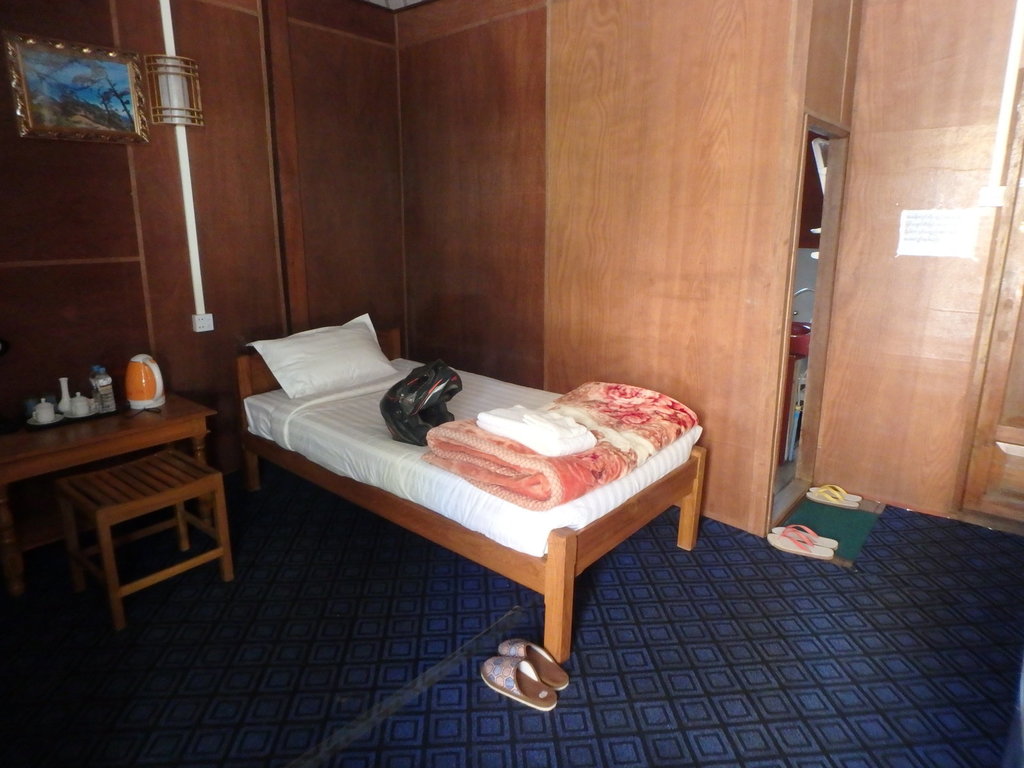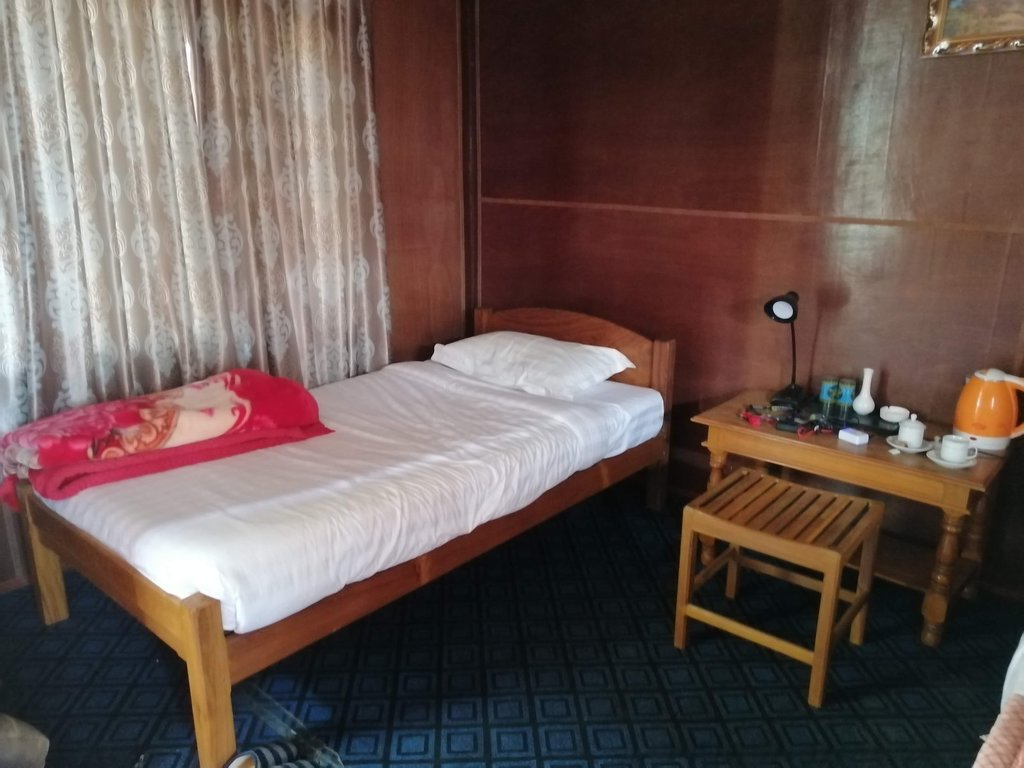 Slated floor acted as the drainage, very ingenious.
Kanpetlet a sleepy place not much going on in the town, definitely not a place if you enjoy and beer or two as we found out.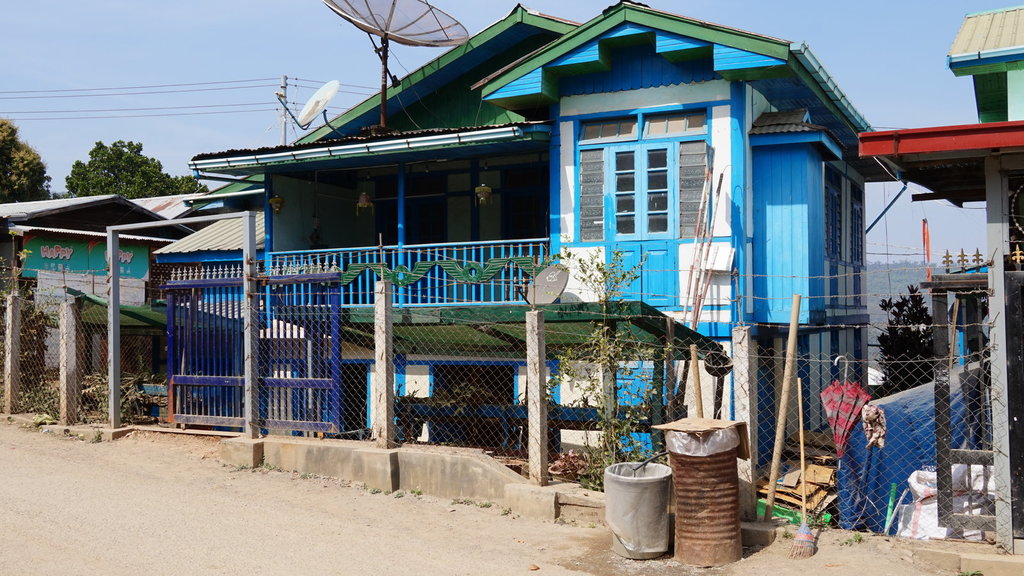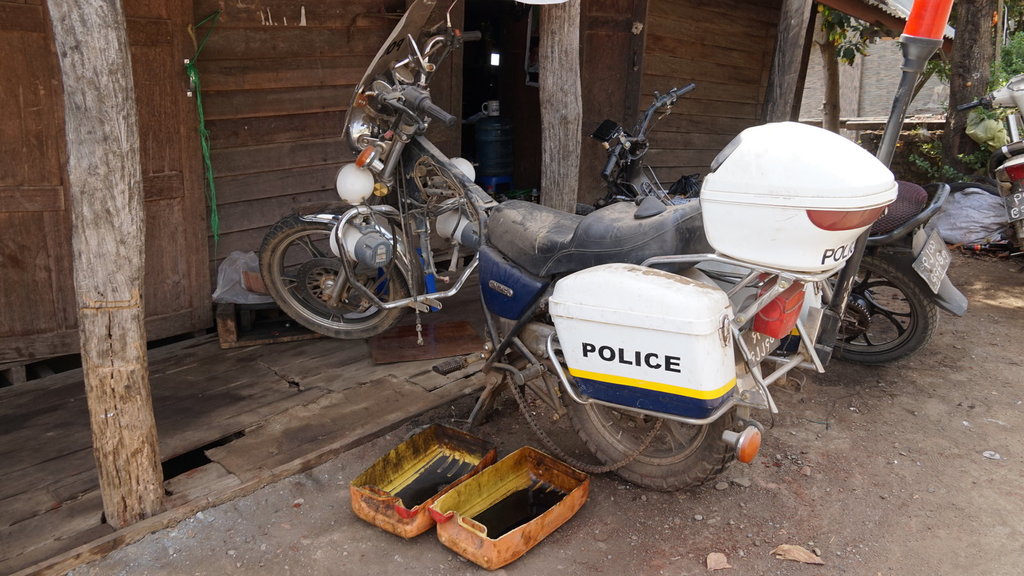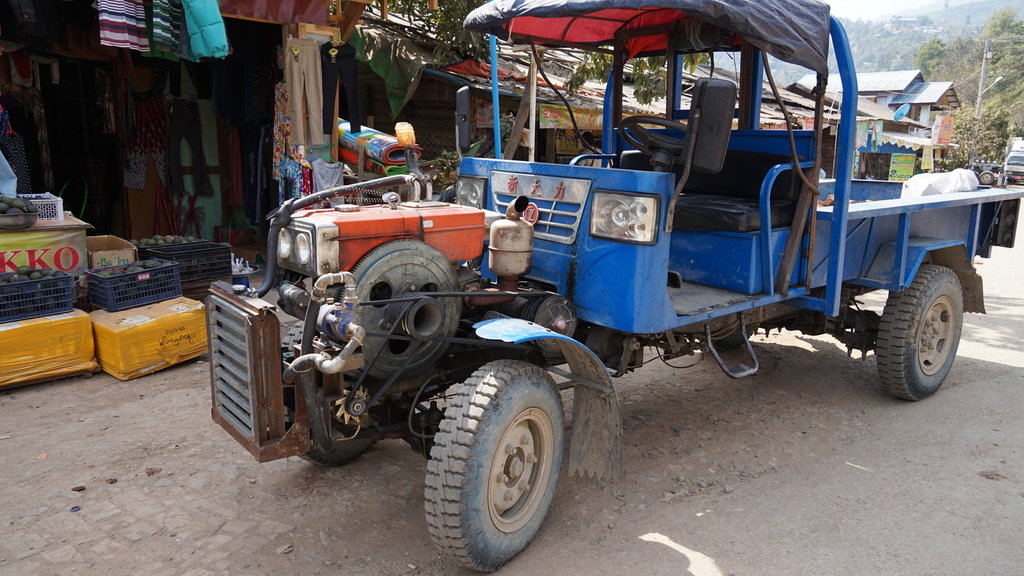 Dagon Jeeps a nice copy of the American Jeep.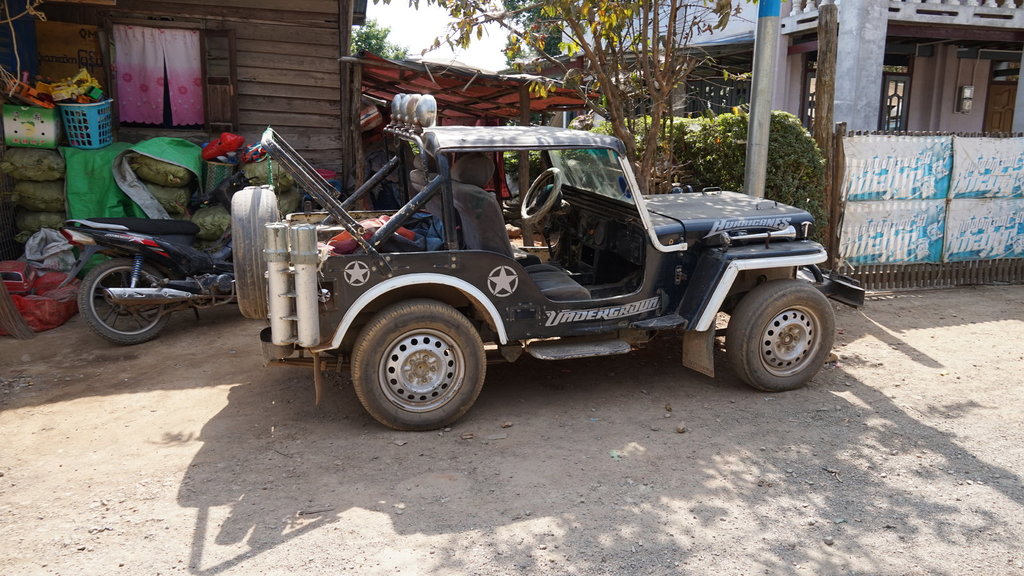 I can imagine in high season this is full of well do travellers remarking on the quaintness of the place.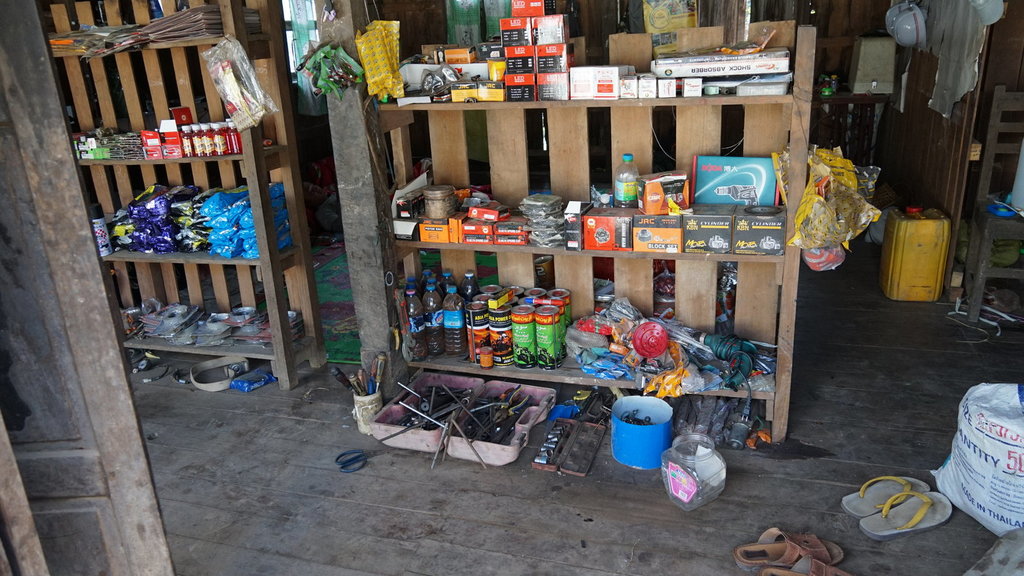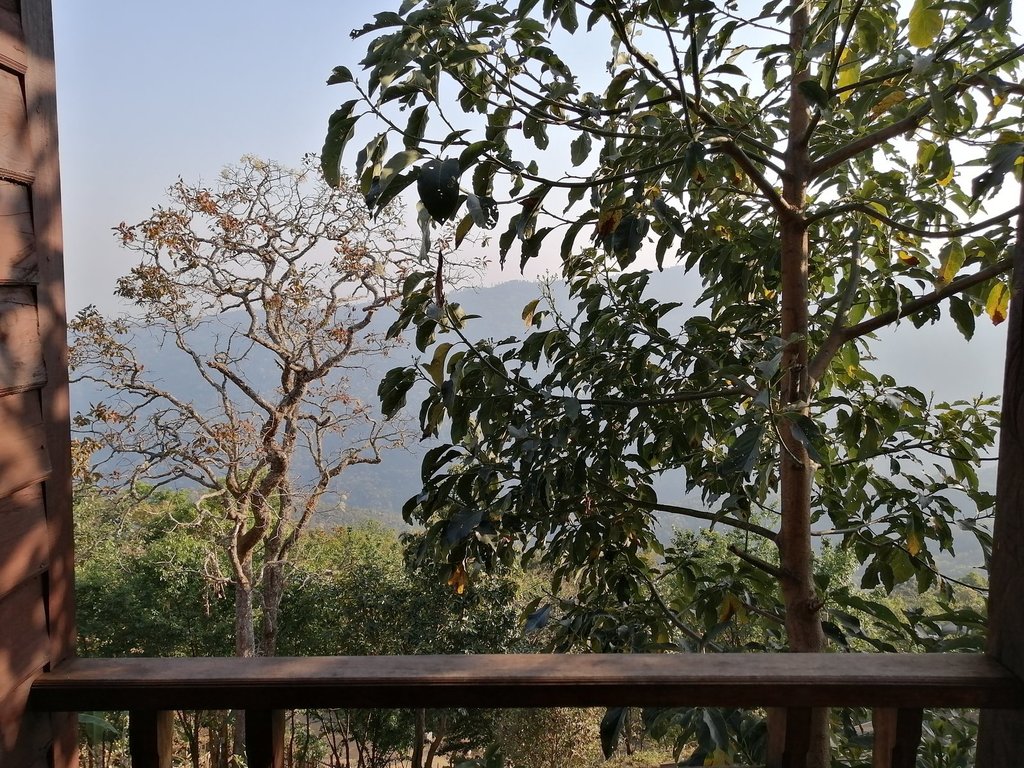 The Gh was a big place and full many of the rooms for Burmese people only.
Early evening brought out the locals for exercise.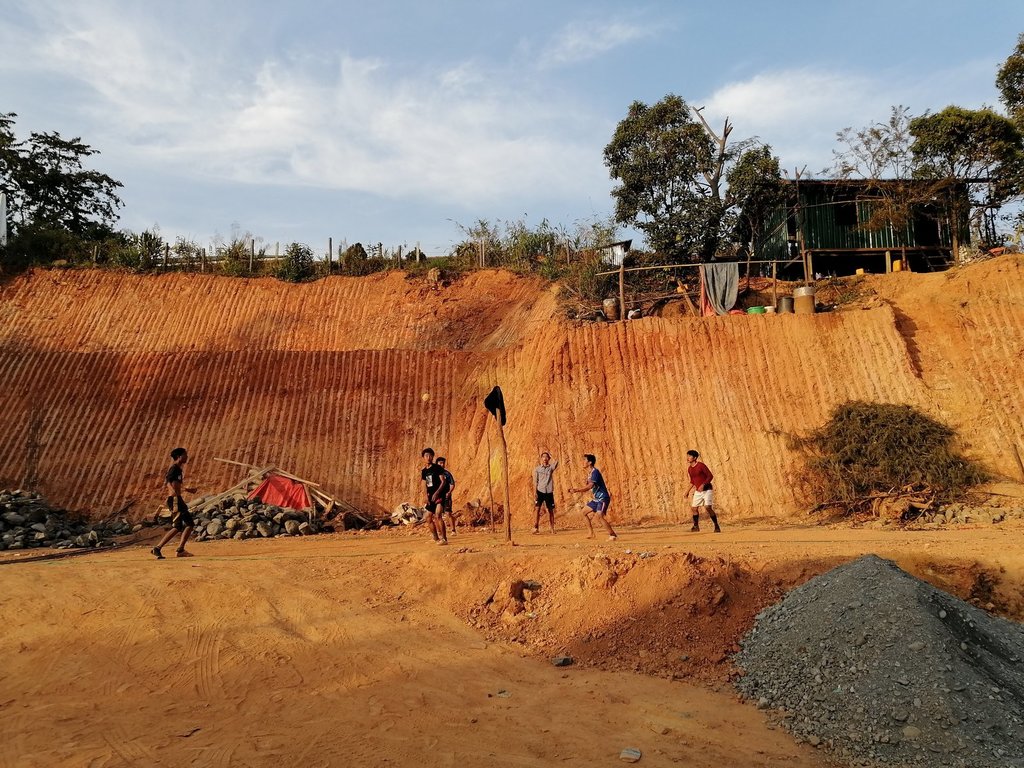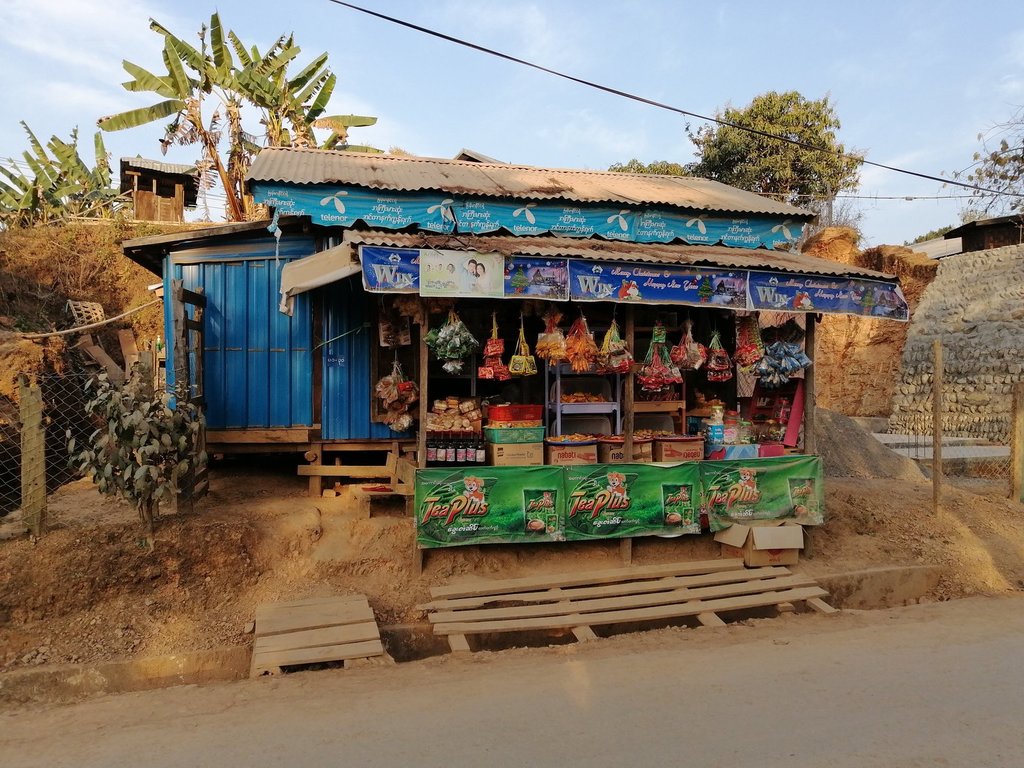 The main town a stark contrast to the expensive hotels up the hill.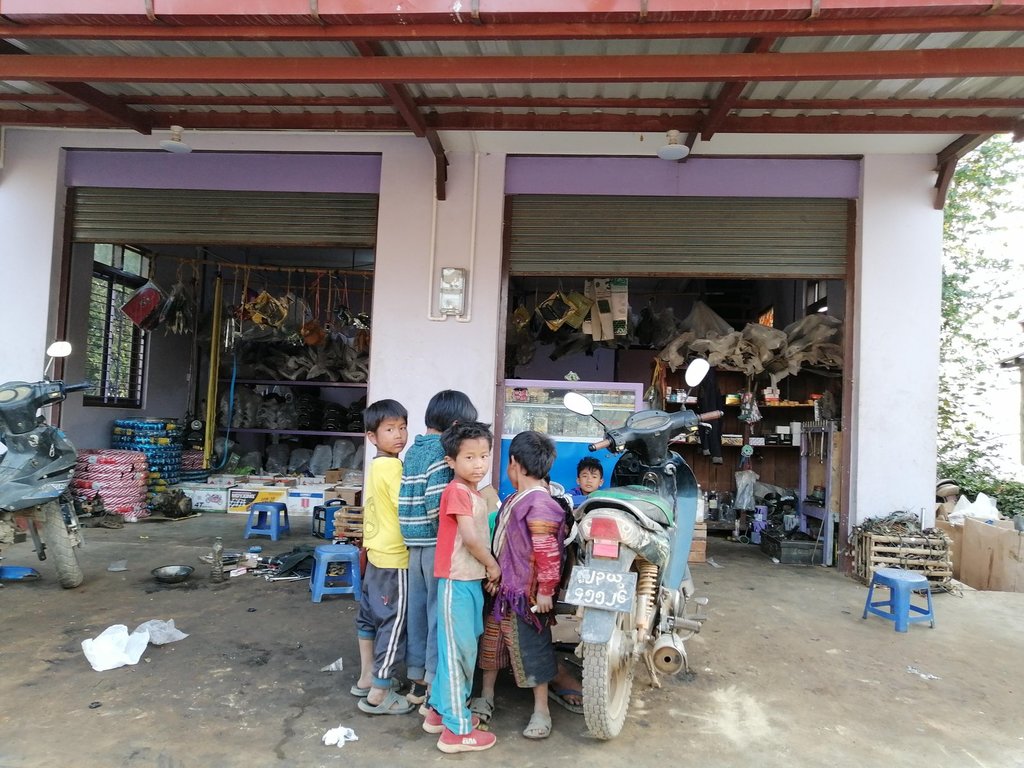 2WD trike with suitably beefed up suspension.
It was nice to see signs of Buddism after the days amongst the Baptists.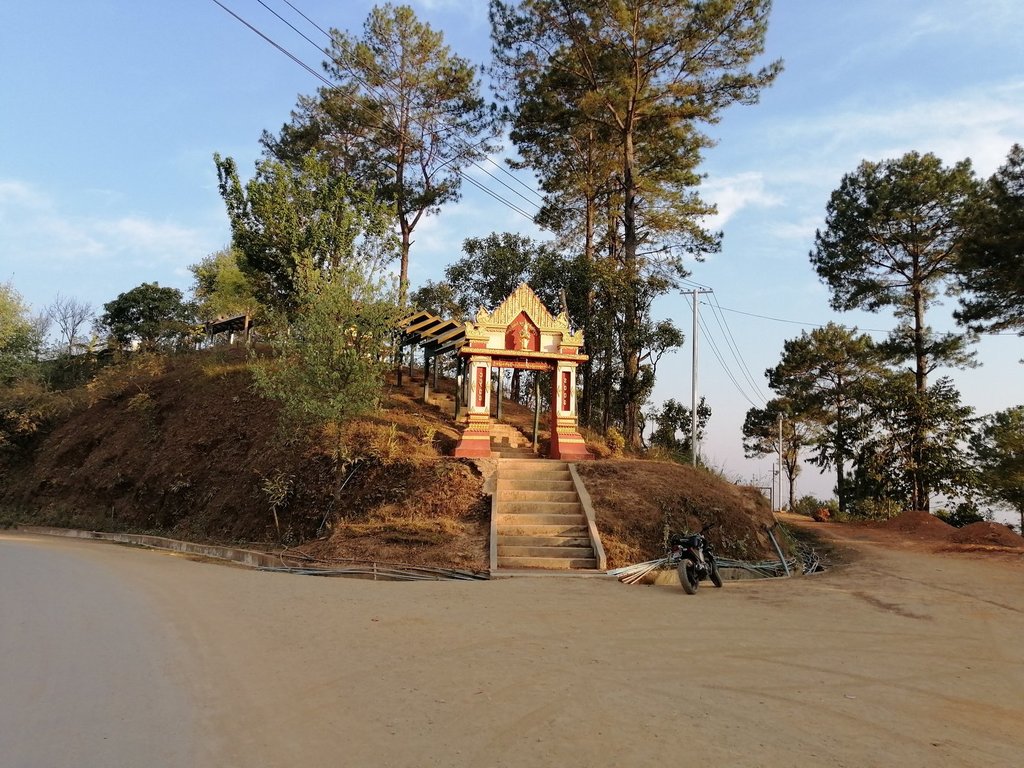 We found a restaurant serving traditional Chin food and more importantly cold beers. Below interesting footing arrangement laid in a similar way to the road crews.
Actually the food here was pretty good since it was the only place we could find selling food.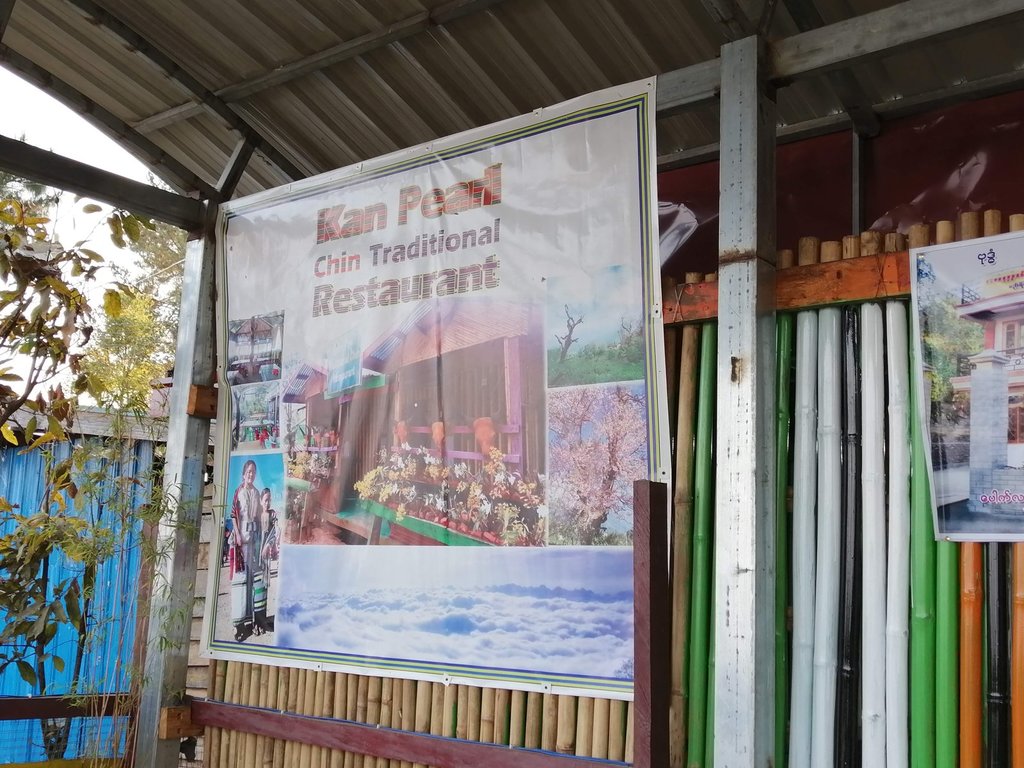 Suitably fed and watered it was back to the GH for an early night, in the morning we would consider plans to visit the magnificent town of Bagan.