Joined

Aug 11, 2018
Location
Bikes

Yamaha WR250-F / 450F
Living in Cambodia we are spoilt for choice when it comes to the sheer range of terrain to ride dirt-bikes. Great riding, history and a vibrant culture and people making riding here a unique experience.
It's hard to narrow down what trails I consider the best as there are too many to write down, but here are Kickstart's top 3 Tours that our customers generally go for.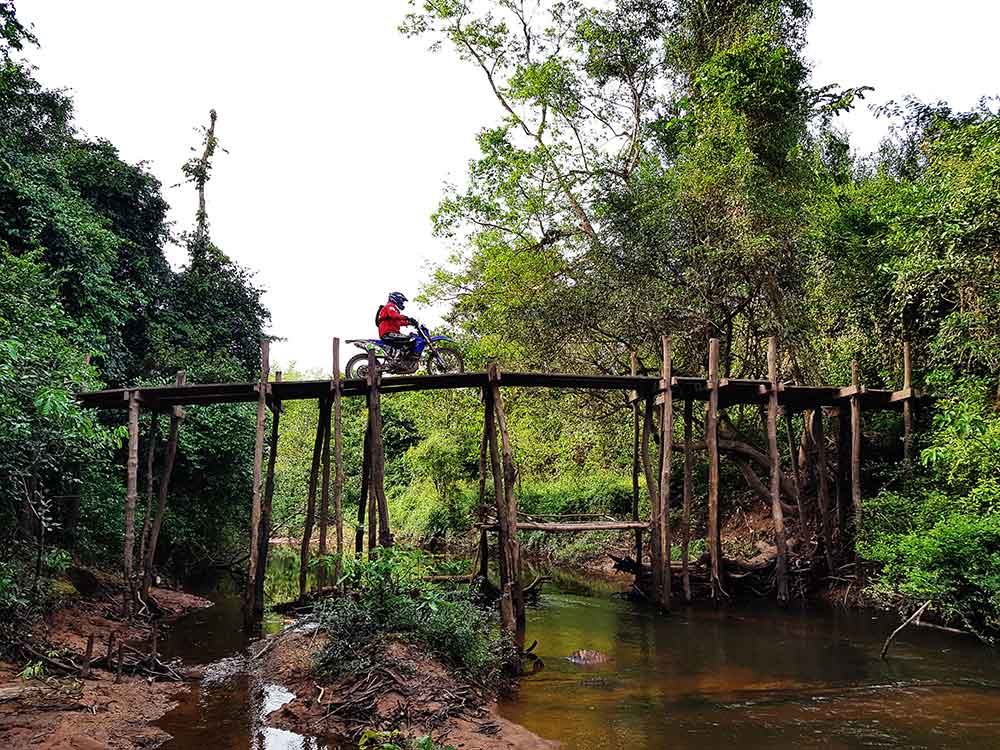 Cardamons Extreme Enduro: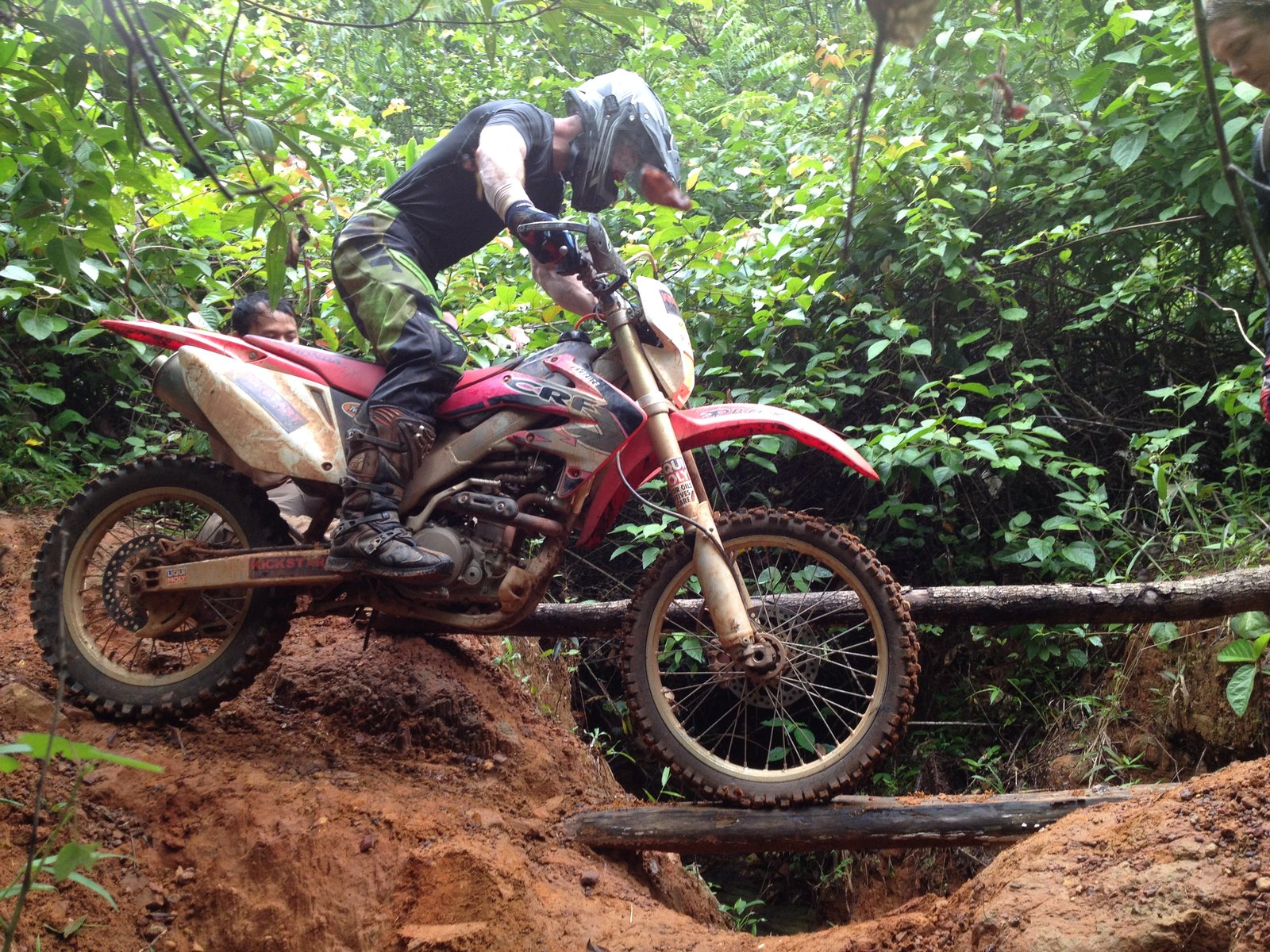 The Cardamon Mountains in Western Cambodia are remote and gnarly, with some of the toughest terrain Cambodia could throw at you. You need to be fit to ride these trails as they are grueling physically and mentally. The heat gets even the most seasoned riders, so progress is slow and steady. Safety is key after all.
Starting in Siem Reap we make our way across the great Tonle Sap Lake to Battambang, which is pretty much the gateway to the Cardamons. Thenthrough the mountains to either the coast or Kirirom National Park and then Phnom Penh over 6 -7 days. By day 2 and 3 you are up in the mountains and riding a mixture of windy red roads offering breathtaking views of the surrounding jungle, and great single track in the forest. If you come in the wet season even these parts can be challenging.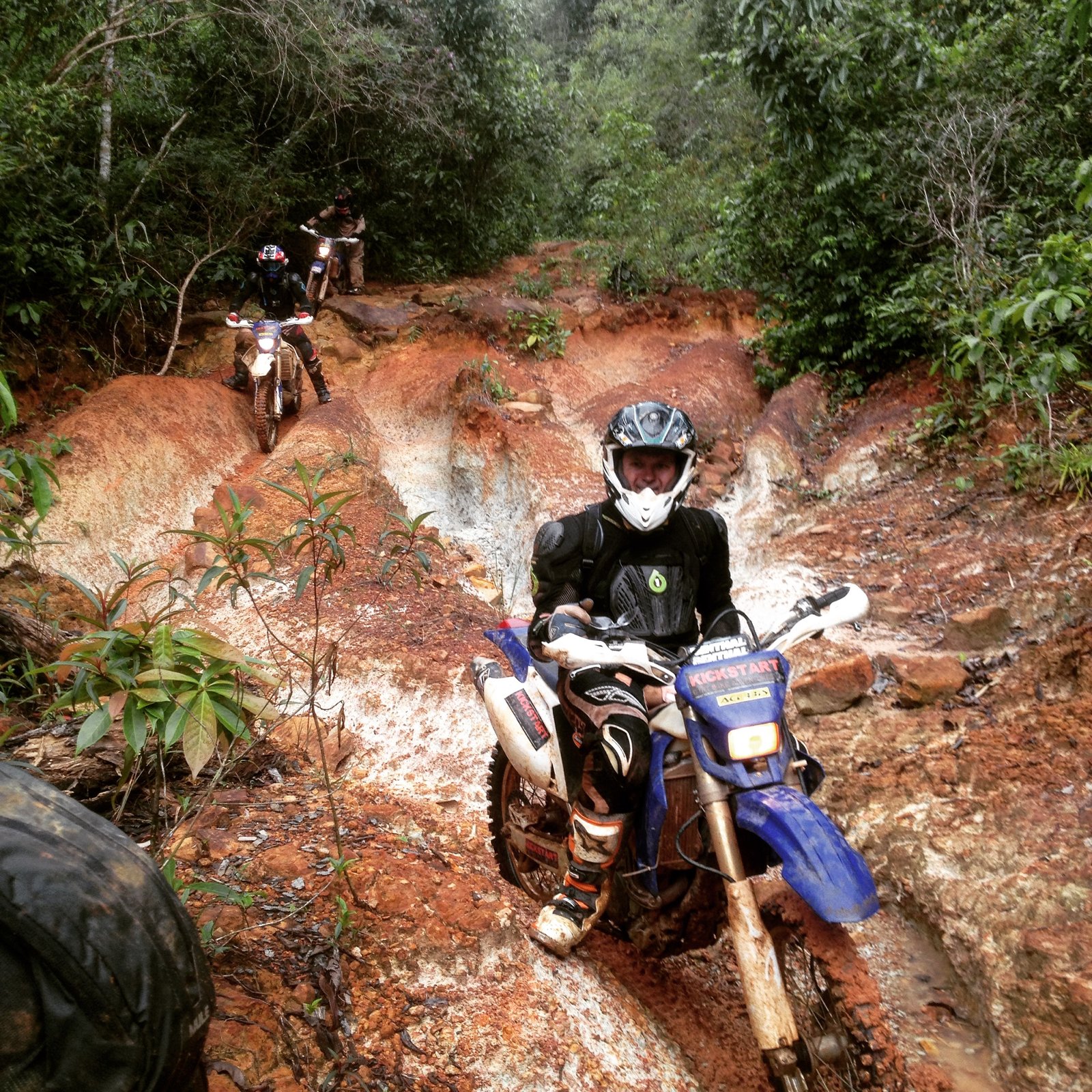 After stopping in the border town of Koh Kong for a rest day the real challenge begins. Starting off on red dirt; "the calm before the storm" so to speak, we soon arrive at the first river crossing. After this it is relentless for about 30km. It's like a computer game with all the different levels: "
The
water stage"
, "
The
f*@#!n slippery stage"
(which no one likes), "
The
rock garden stage"
, "R
uts that'll swallow you whole stage",
and then "T
he Bamboo stage"
which is the most grueling part with endless copses of Bamboo, a metre off the ground and in some places 30m long. If it's a wet year then you pretty much have to lie the bikes on the ground and pull/push them through. It's best if you come in a group to help each other out. All of these obstacles are interspersed with gnarly hill-climbs and descents, making this the true Enduro Rider's dream.
The rest of the tour is on similar terrain although not as challenging as day 4. As you near the coast or the Capital you start getting into more sandy, flowy single track. This tour is more suited to experienced riders, although intermediate riders who want a challenge often give it a go. Thanks to all the riders who joined us on this adventure last year.
(pictured Tom & Crew from the UK, Brendan & Cameron from South Africa)

Coastal Adventure:
This tour also ventures into the Cardamoms, but the "less Gnarly" part. Therefore, it is more of an intermediate/upper intermediate ride, but experienced riders would still enjoy this as there are options to take more technical routes and if you come later in the year conditions get a lot harder. The tour runs for 5-7 days depending on the route taken and the latter half follows the beautiful Cambodian coast.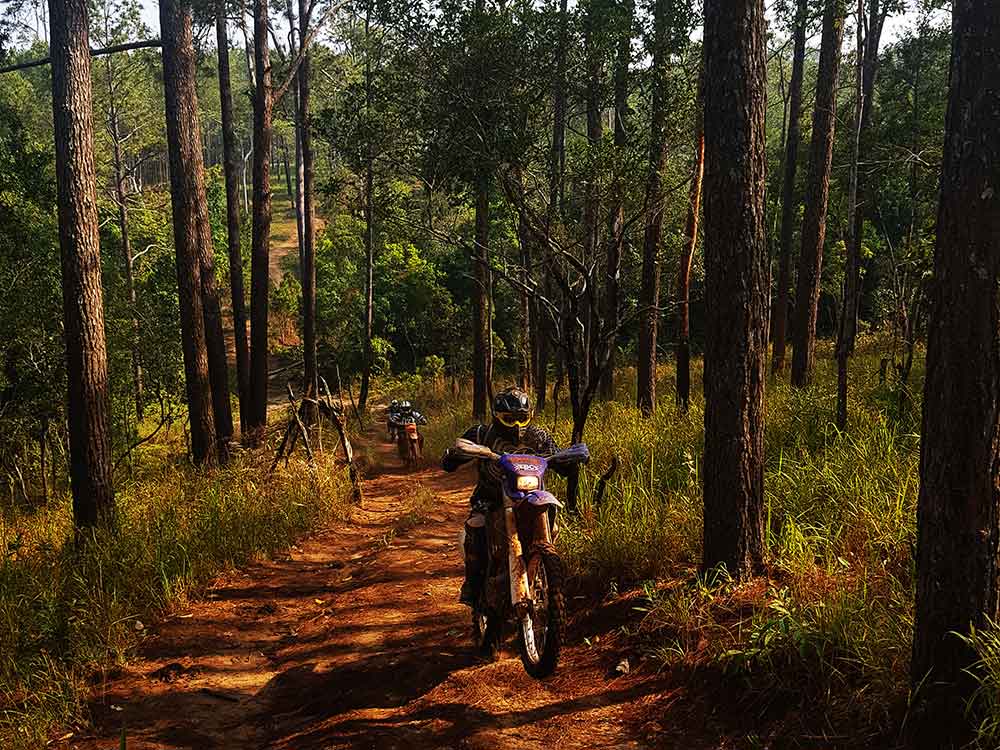 Starting in Phnom Penh, we head toward Kirirom where the fun really begins. Kirirom is a large national park with some great trails. You could spend 2-3 days there and have a blast! Covered in thick pine trees it's unlike anywhere else in Cambodia, in fact you could be anywhere in the world.
Numerous hills and fast flowy single track keep us occupied for most of the morning, before we head into the southern part of the Cardamons. Here you have the choice of a couple of gnarly descents or you can just head to the sandy single track. River crossings and some real boggy sections will keep you busy, before hitting the hills going into Chipat.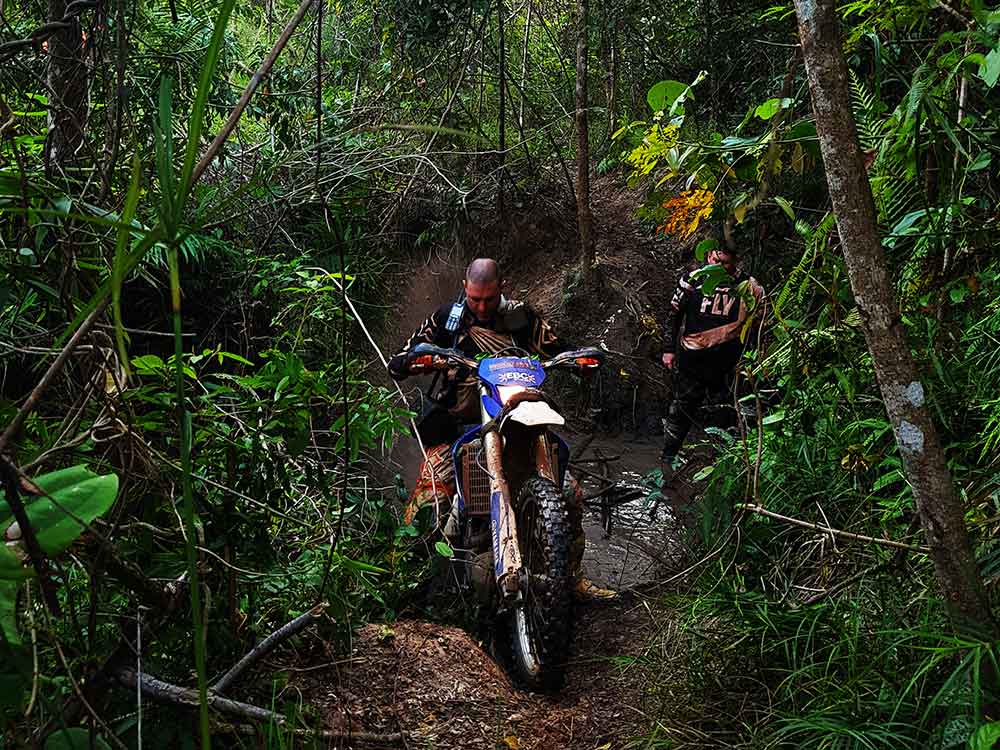 Then the next day it's more fast, sandy sections, with generous climbs and descents while we traverse some pretty remote country. There are more slippery sections with kilometers of hard packed clay, which is fine in the dry season, but in the wet you may as well be riding on ice. Even in the dry parts of the jungle are always under cover so the morning dew usually means that you're gonna go down. In the dry maybe once or twice but depending on your skills, in the wet you can be looking at 20 drops!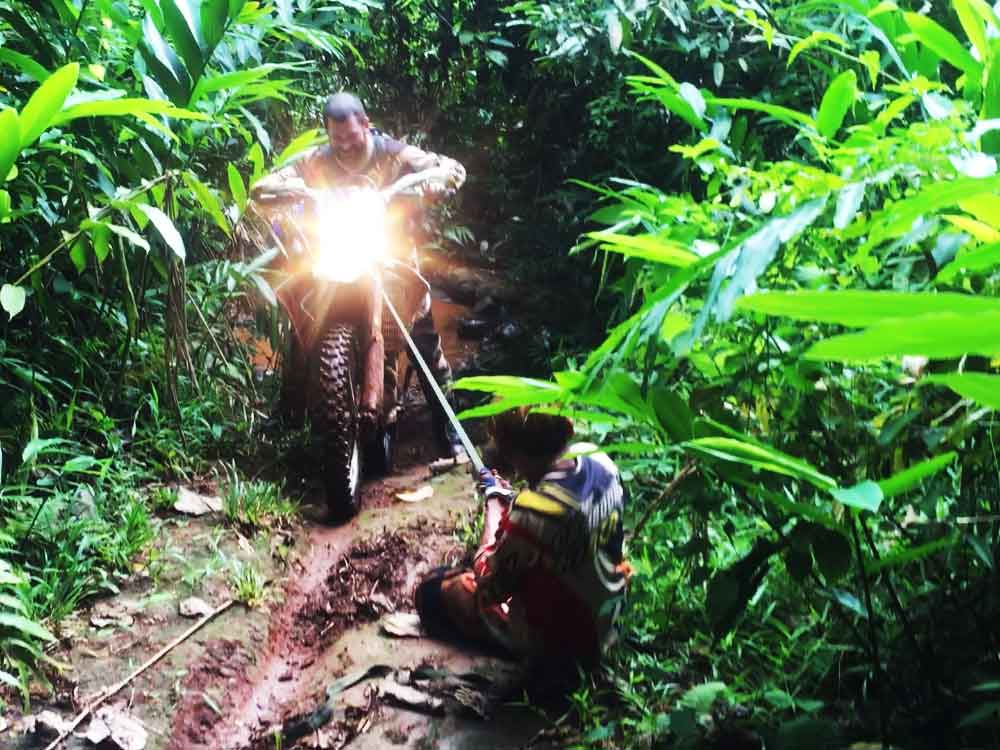 Finally, we head to the coast where the riding is a bit more relaxed: More sand, fire roads, and dual track. There's even a section where we can ride the trail tracks. There's time to chill at the beach and swim which is often much needed after being on the bike for several days. There are options to stay on an island off the coast.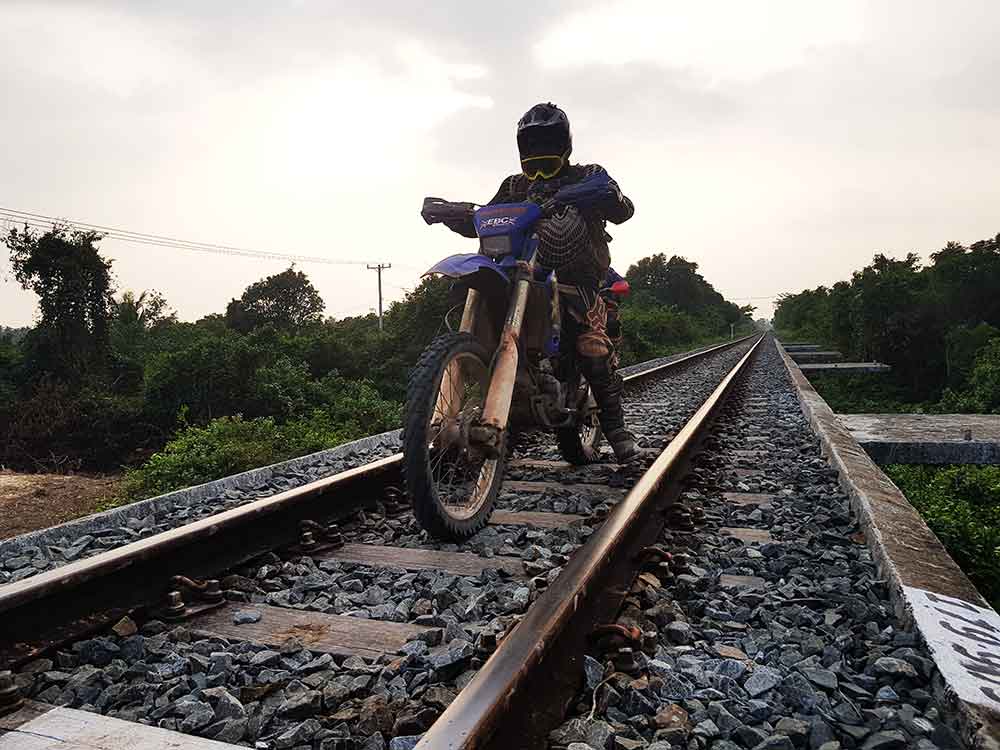 This tour offers the best of both worlds with challenging riding, but the chance to relax up if you need. Big Up all our customers who chose this adventure last year.
(pictured Brice & Crew from the UK, Ben & Crew from Australia)
The Tomb Raider: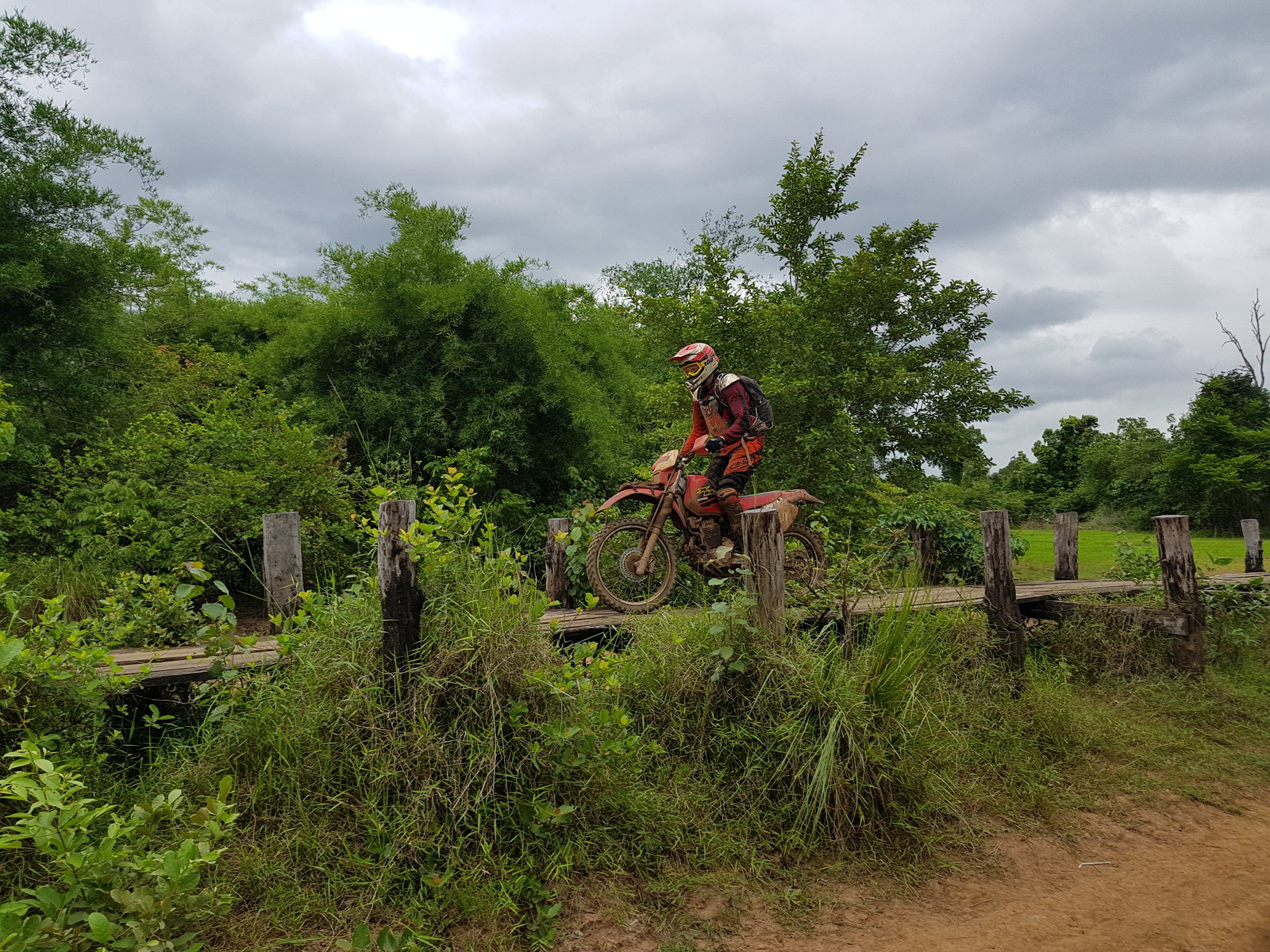 And last but not least, this tour is closer to our base in Siem Reap. If you enjoy riding and learning about history and culture then this is the tour for you. 6 days of great trails and ancient jungle temples, and remnants of the war make this an unforgettable experience.
The riding is a mix of fast sandy single & dual track through the forest with the chance to get up in the hills. If you're not used to sand riding then this can prove to be a real challenge. In the wet this turns to rivers of mud and endless bogs. There are some hills scattered about so we can incorporate a bit of technical riding for those that wish.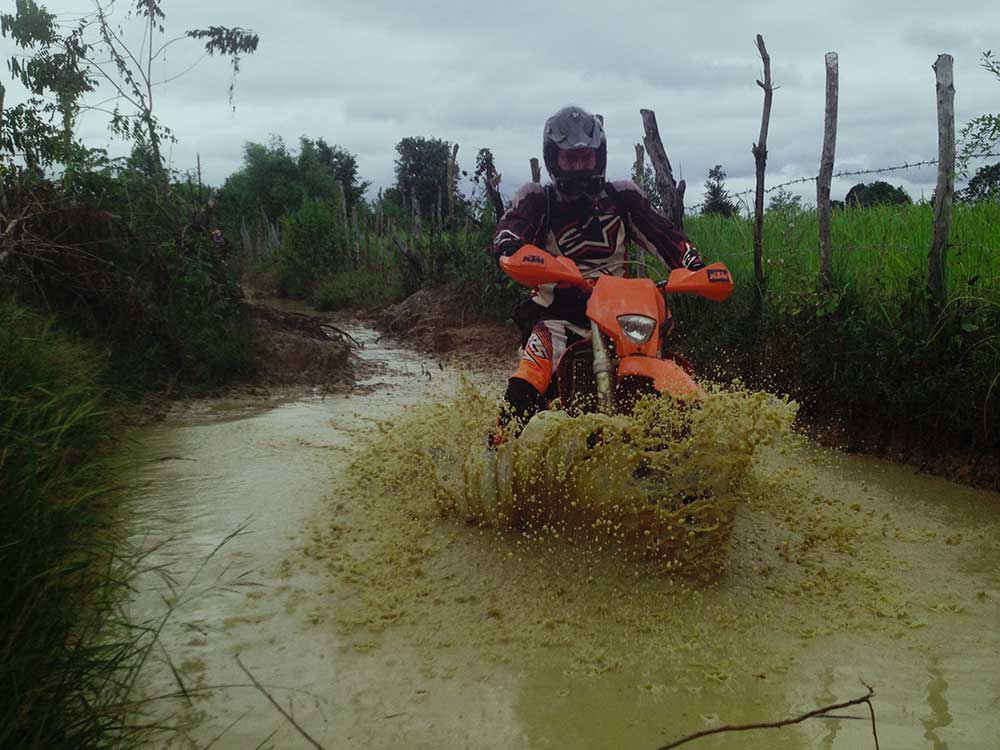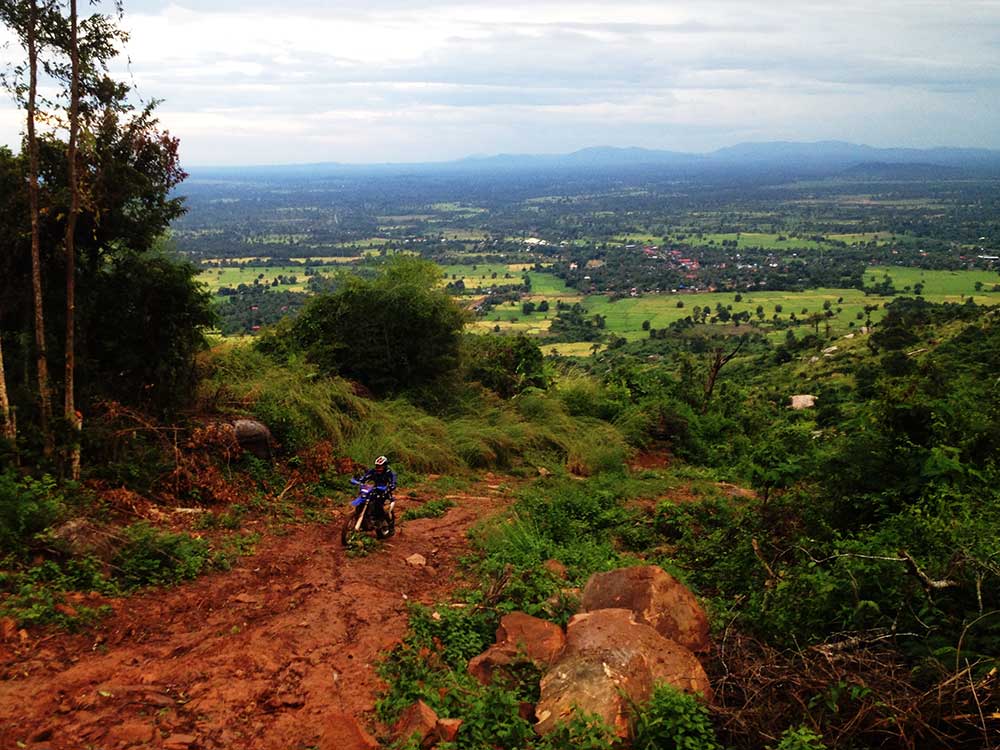 At the beginning of the tour we visit Anlong Veng where the Khmer Rouge finally laid down there arms in 1998. It gives you a unique insight to the country and its past and helps to put things in perspective.
F
or a lot of people what makes this tour are the temples in the jungle. Rocking up at a remote jungle temple is spectacular, you can imagine yourself back in the 19th century when Angkor was "rediscovered" It's like stepping back in time. You don't really see western tourists, especially in the more remote tourists like Preah Khan. And it's quiet, which is hard to find in Asia, just you and the jungle. What more could you want!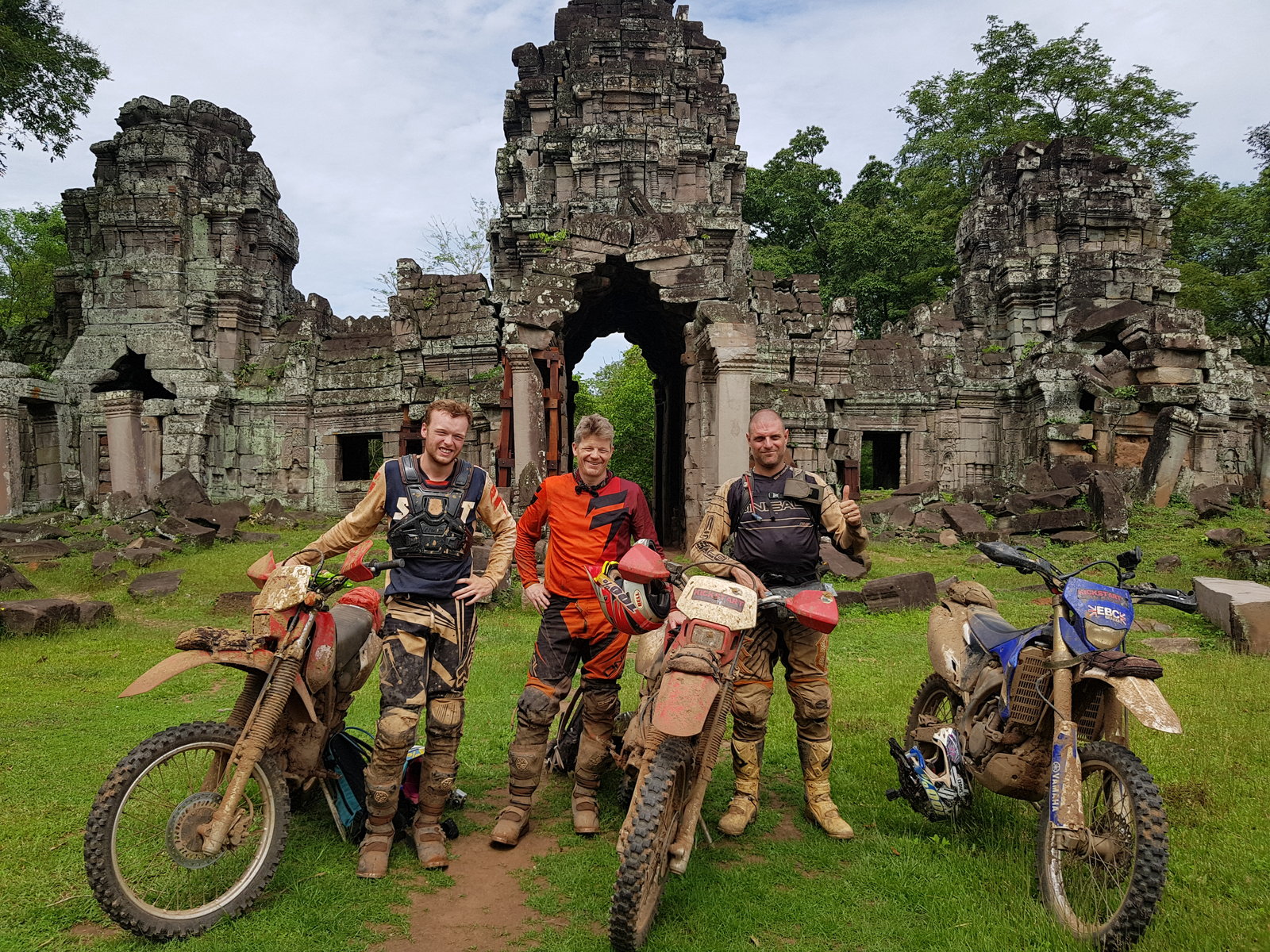 Thanks to all who came and shared the adventure last year!
If you love riding and want to experience something new then you can't go wrong with any of these three tours. If you have less time then, there are some fantastic trails around our Siem Reap Base, that would keep the most seasoned riders happy.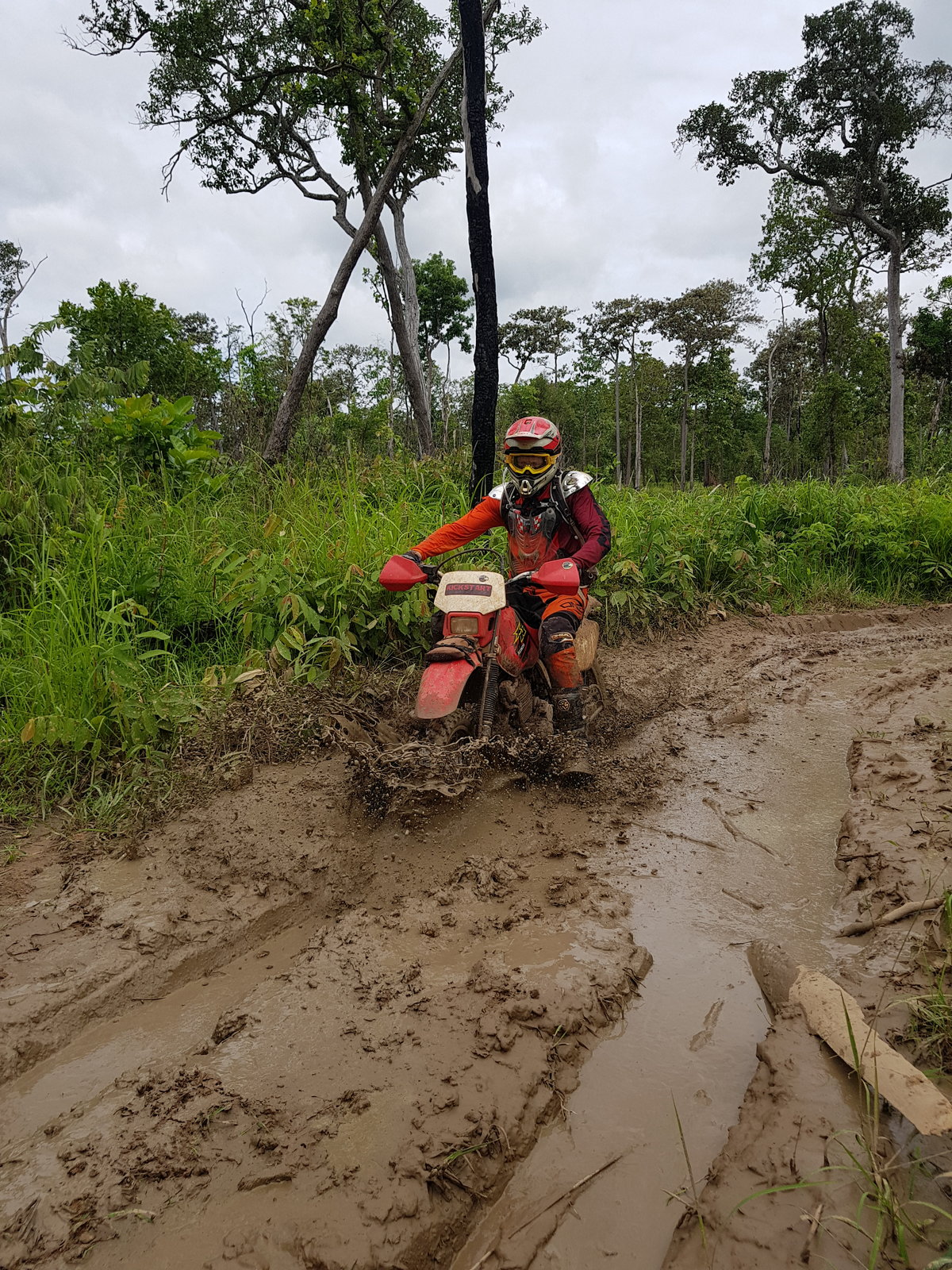 Many of our tours the best time to come is between November & July. After that then the conditions can limit trail accessibility. Checkout our different tour packages at
www.kickstartcambodia.com
. For more information on what we do, please contact us at:
dave@kickstartcambodia.com
A Big Thanks to Bob Kelly, for inviting us to the forum.
Safe Riding People!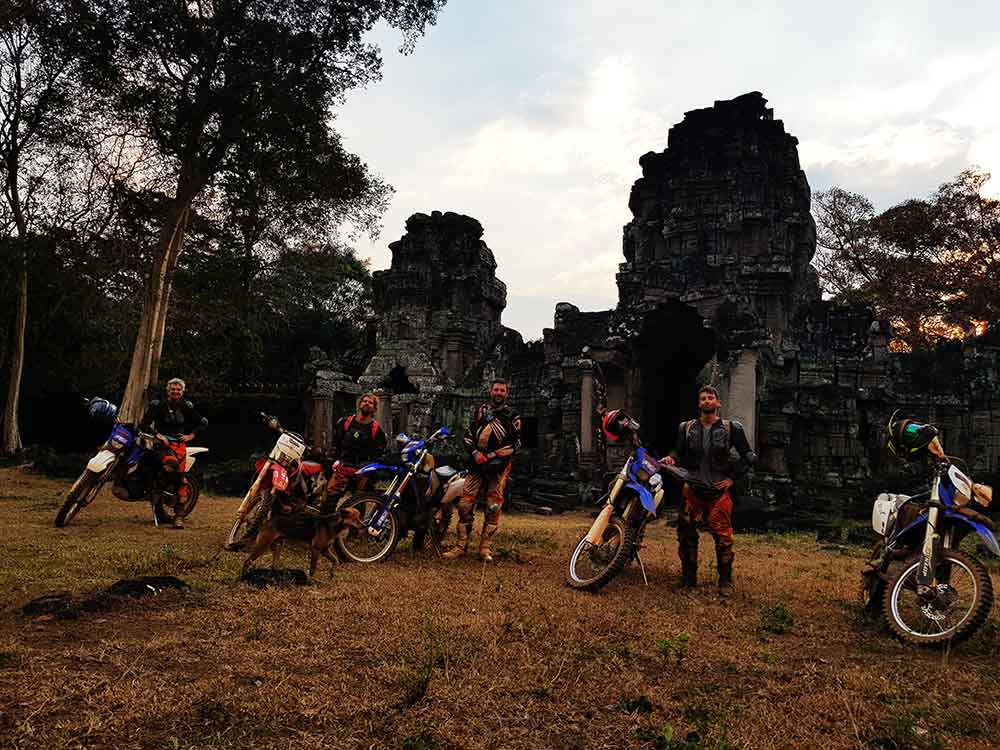 Last edited by a moderator: