Joined

Jul 1, 2012
Location
Bikes

Honda CRM-AR 250, Honda CRF 250-L, Suzuki V Strom XT 650 Honda XR250 Baja BMW F650GS
It was a very cold early start from Hakha, we needed to gas up and got well and truly shafted by some ladies selling bottle gas and charged double what we would normally pay, in hindsight we should have looked for gas the previous evening but hey ho, that's how it goes lesson learnt.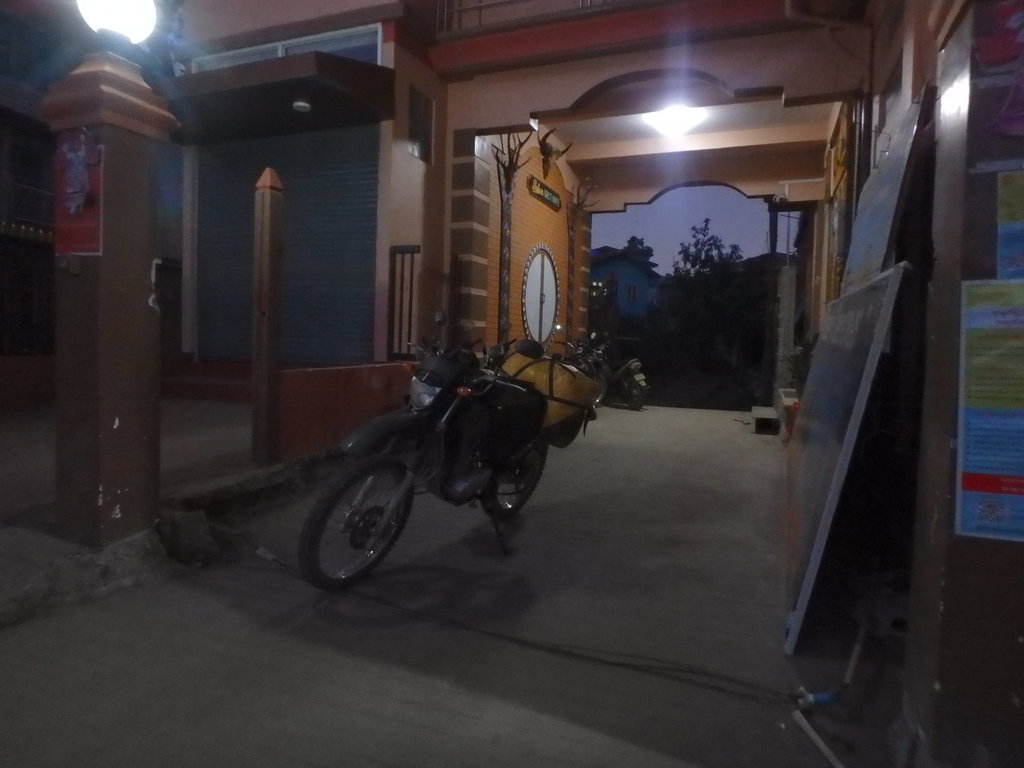 Even Dick Tupin wore a bloody mask..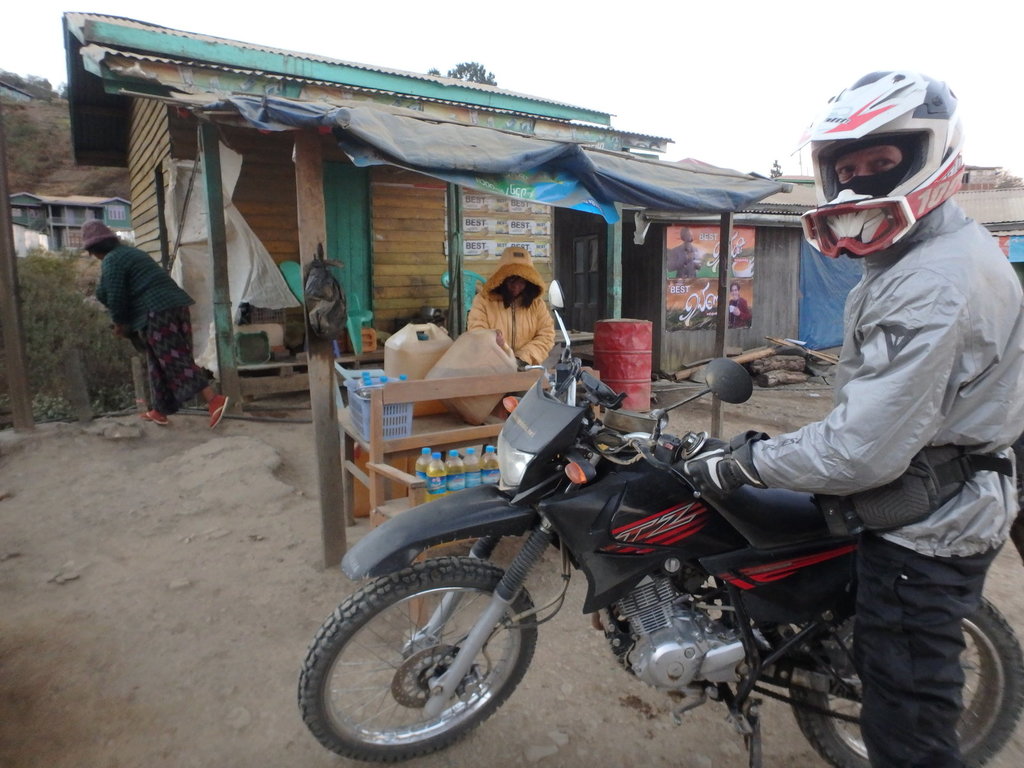 Lovely shots of the clouds hanging over the town.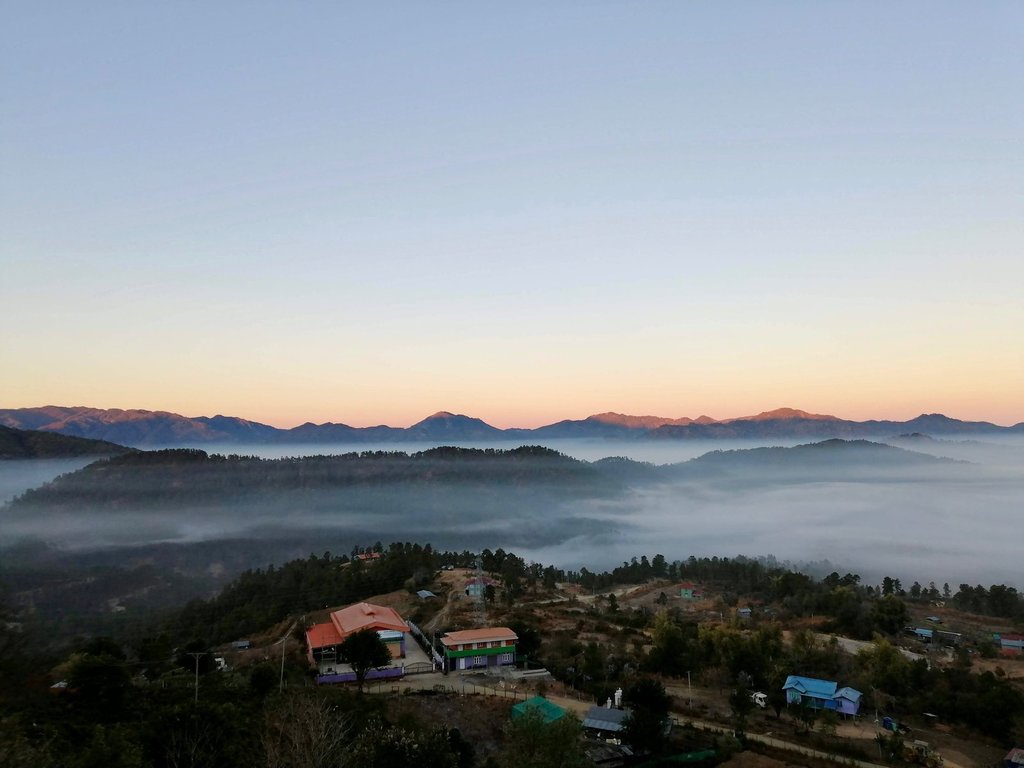 Wish i had a thermometer but Jesus it was bloody cold this morning and make matter worse we rode in the shade for the first hour or so.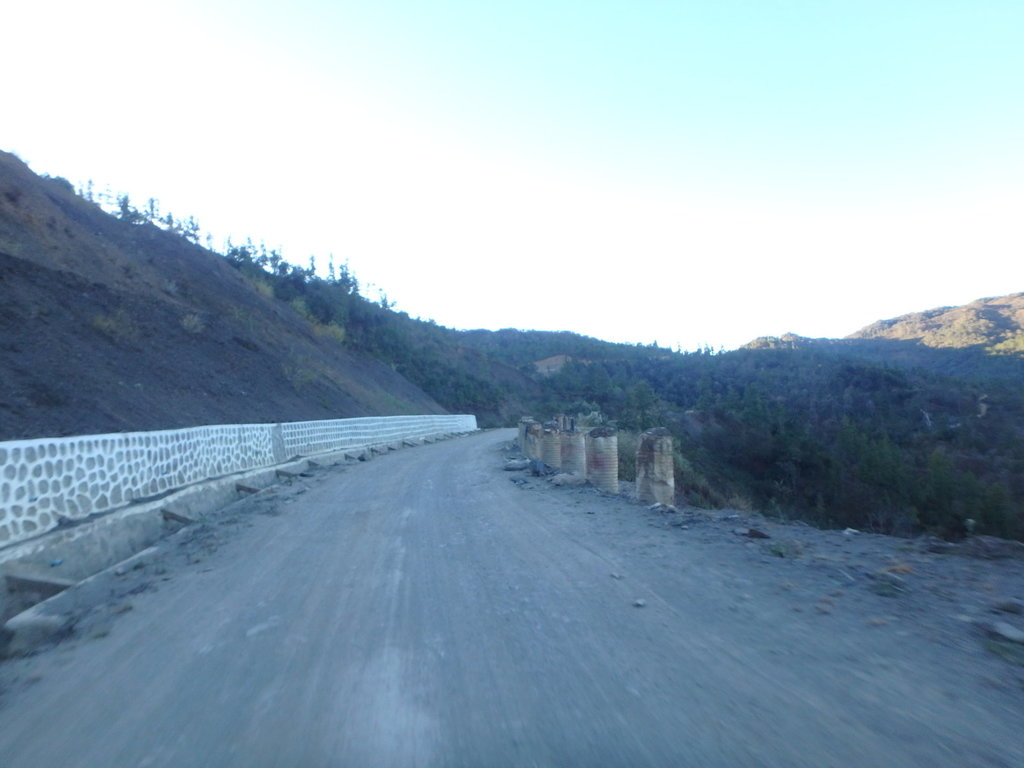 The road out of Hakha is getting upgraded but the pace is very slow, maybe by the time it's done it will need doing again.
Some early stretches concreted and have to say it was like a billiard table.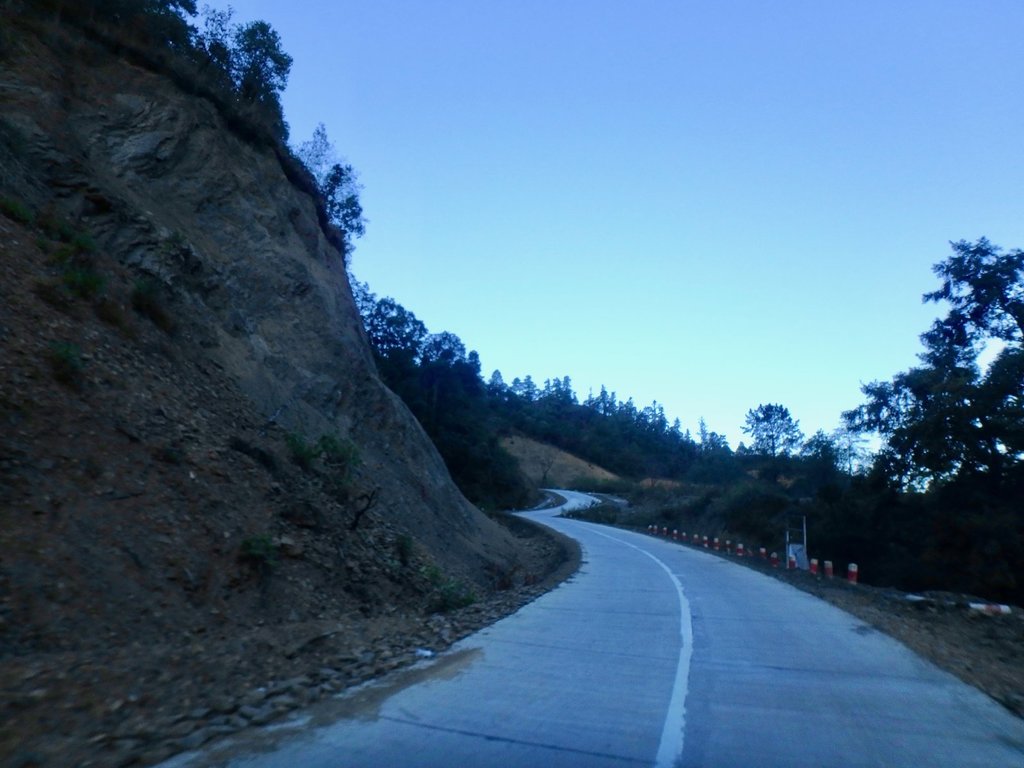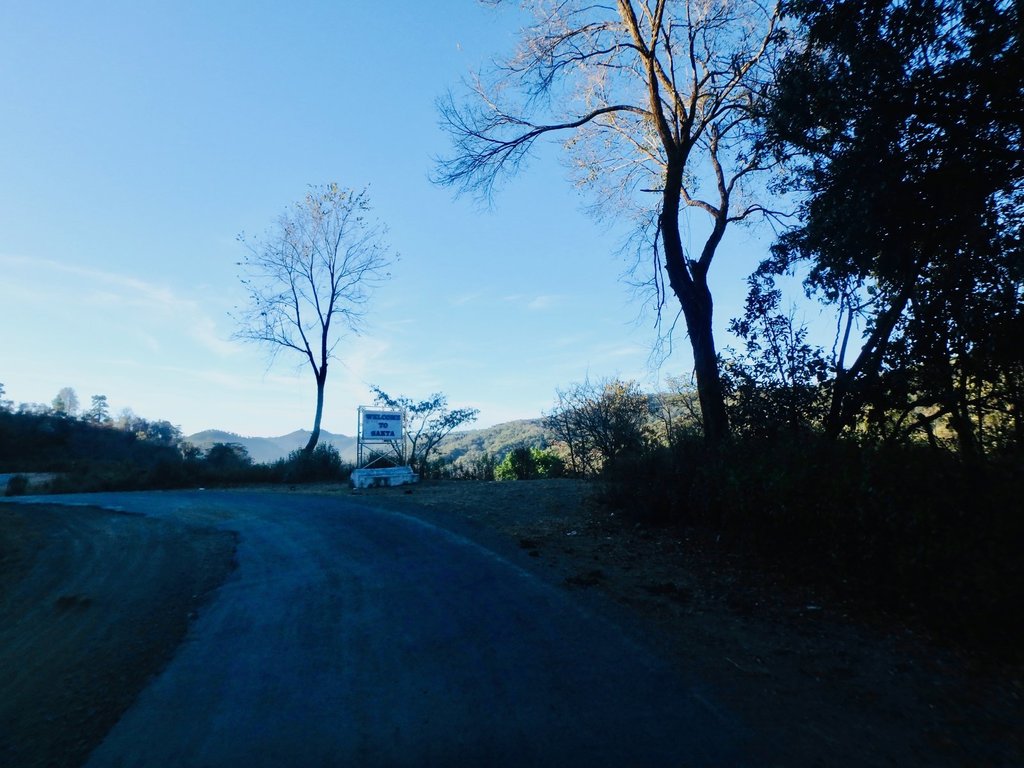 As soon as we turned into the sun we pulled over as our finger got numb, NIck more so as he had leather gloves, we basked for several minutes to thaw out.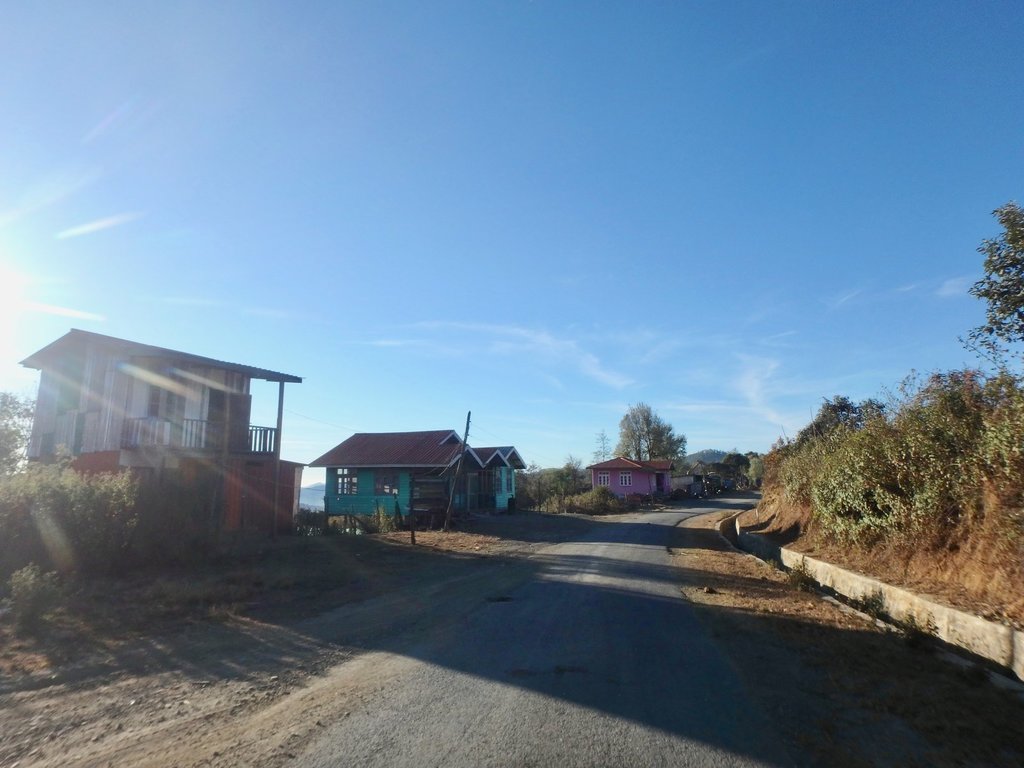 The first sign of life and a tea shop thank God, some hot tea and bread snacks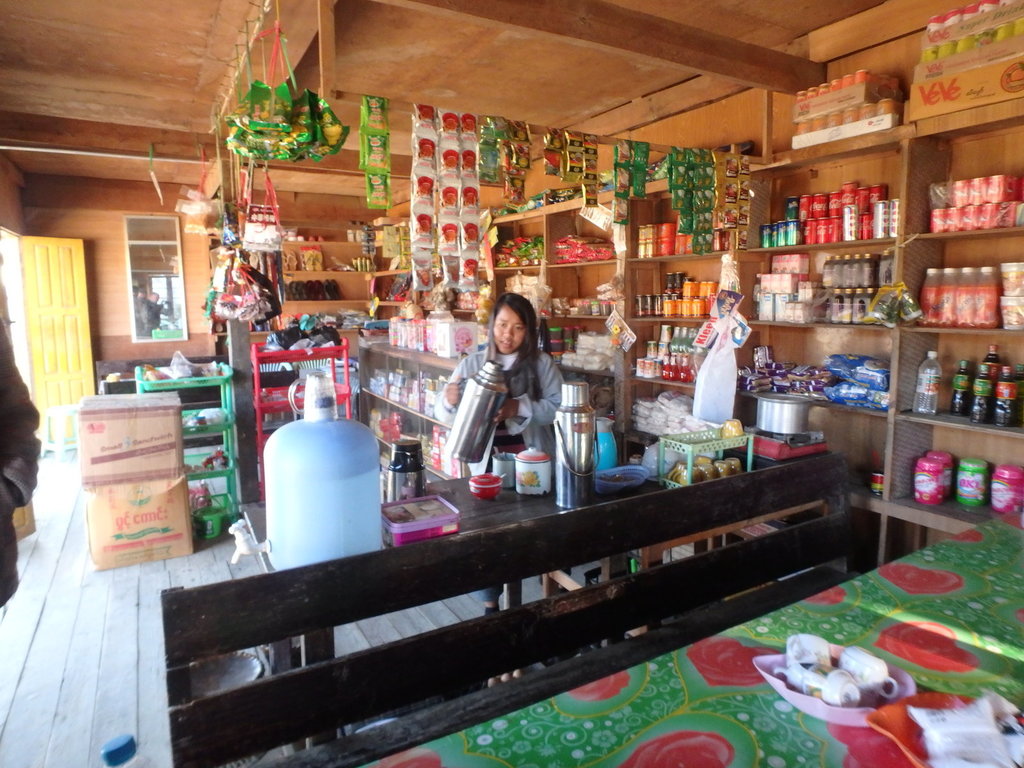 The owner thoughtfully put some stools on the street in the sun so we could warm up.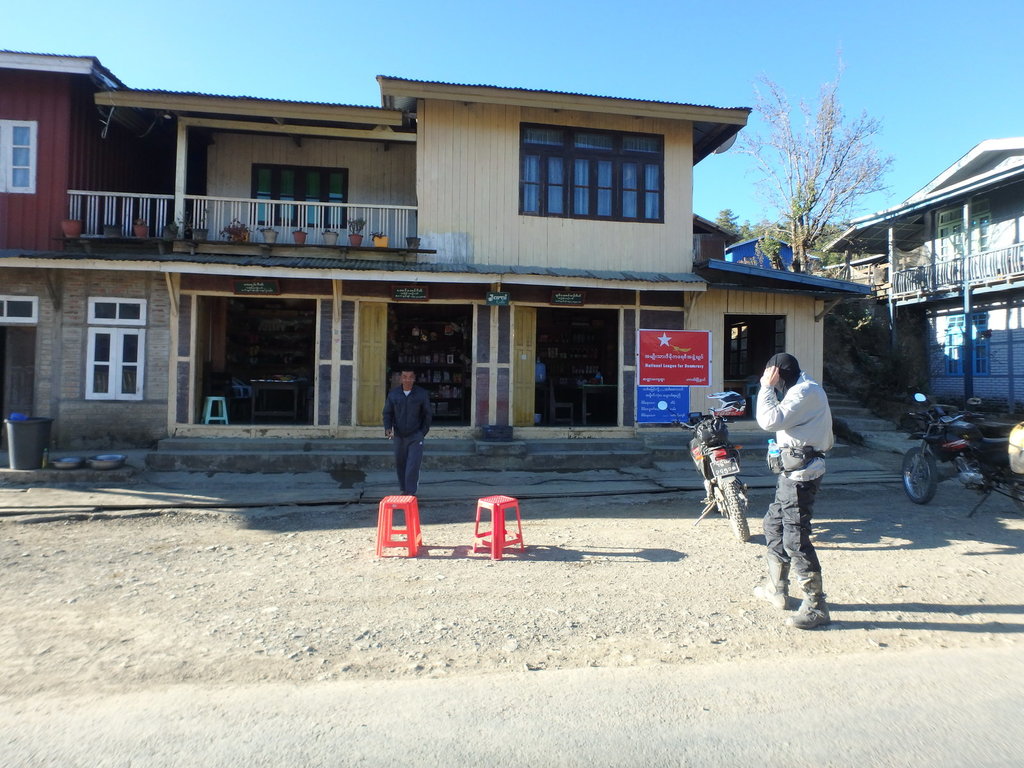 Some of the scenery today was absolutely amazing, pictures really do not capture its beauty.
Back into the shaded side of the mountains, we hoped we would make a turn in the sunlight soon otherwise it would be a long cold day.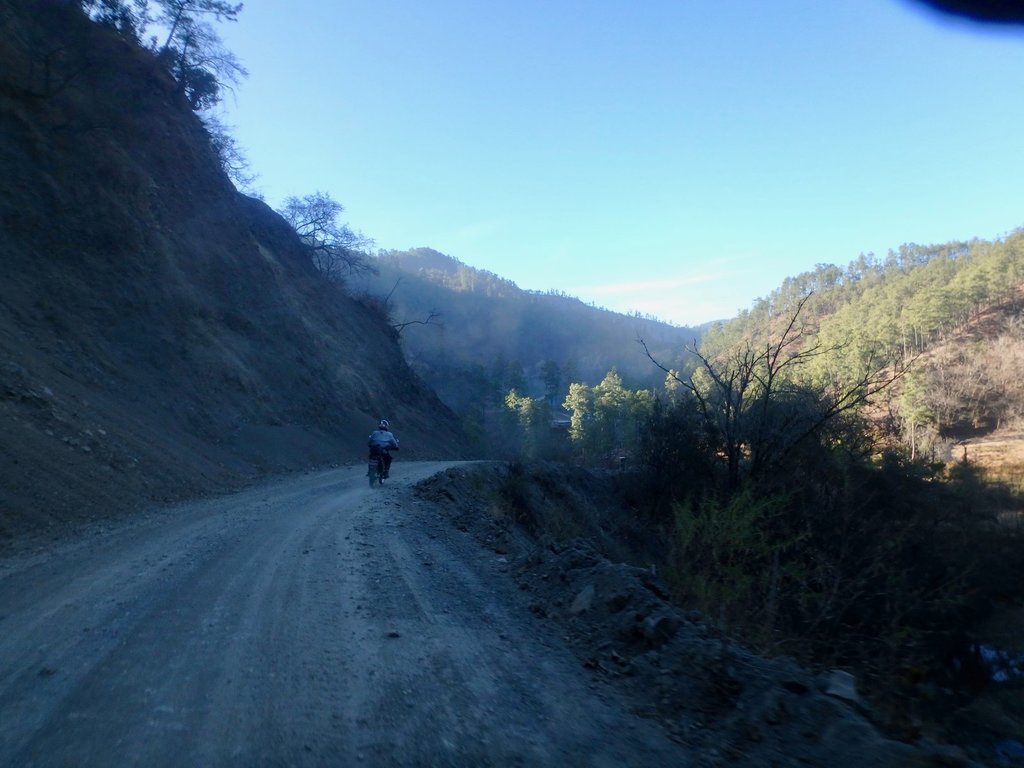 Finally sunshine and everything was good again.
Roadworks and landslides would punctuate the ride today, it's a long ride and some parts pretty tough, there is a bail point halfway at the New York hotel if you find yourself caught short.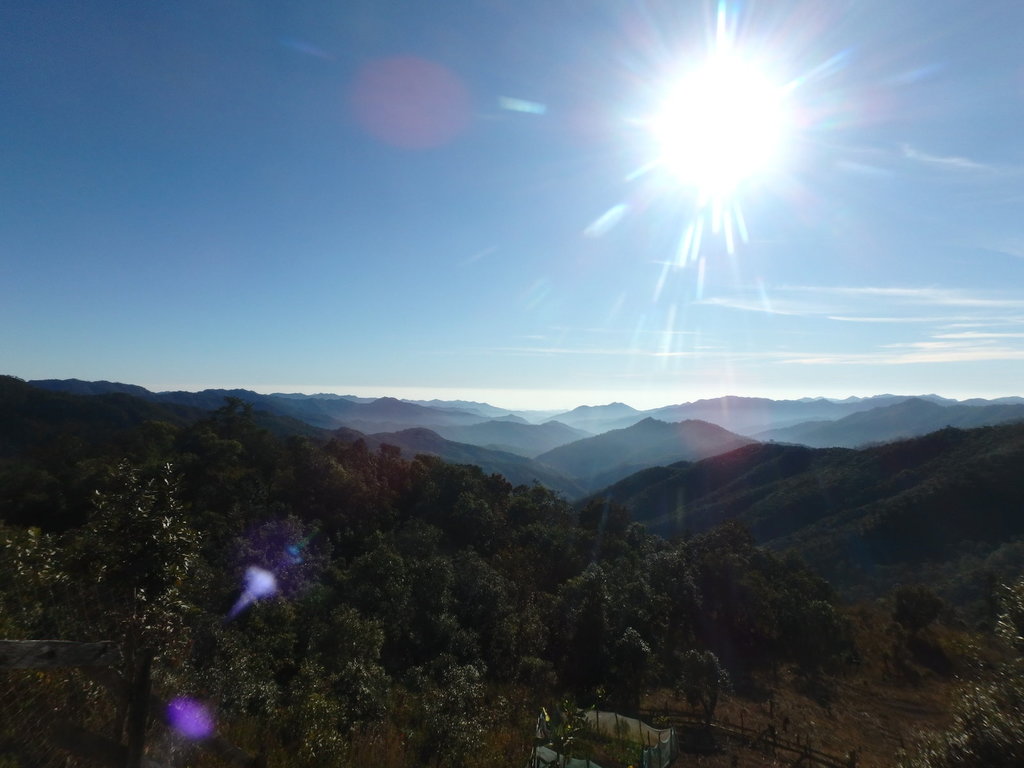 Kids chasing chickens, the simple life.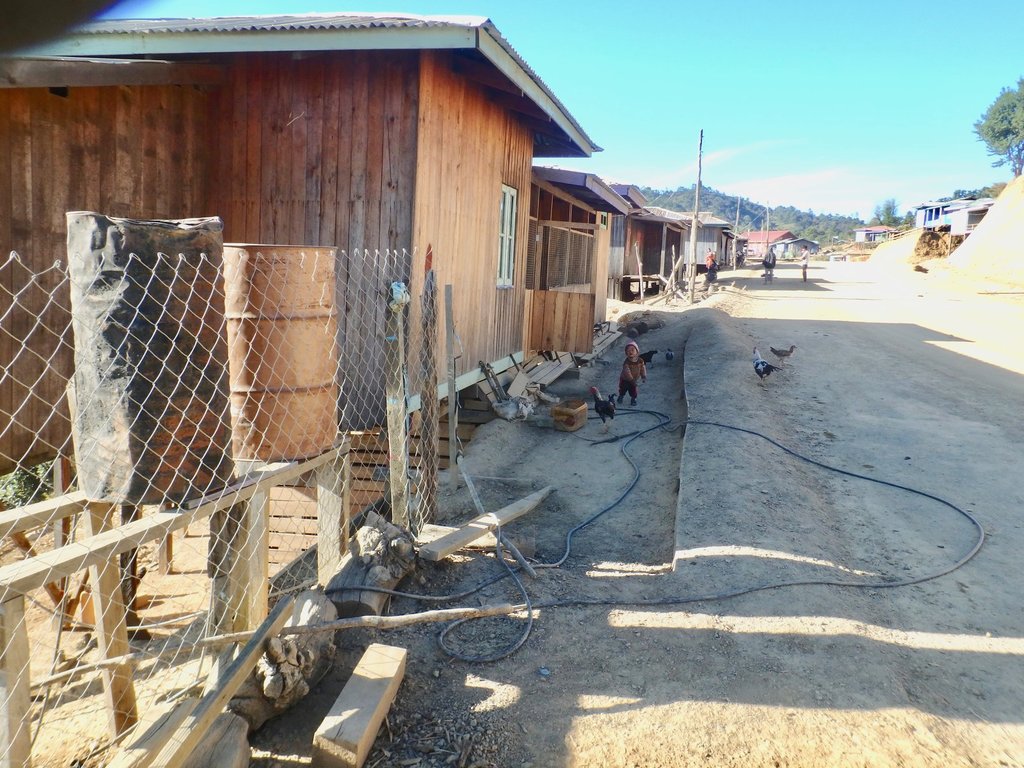 I tried unsuccessfully on must attempts to grabs some shots of the road crew ladies, most of them just teenagers and absolutely stunning.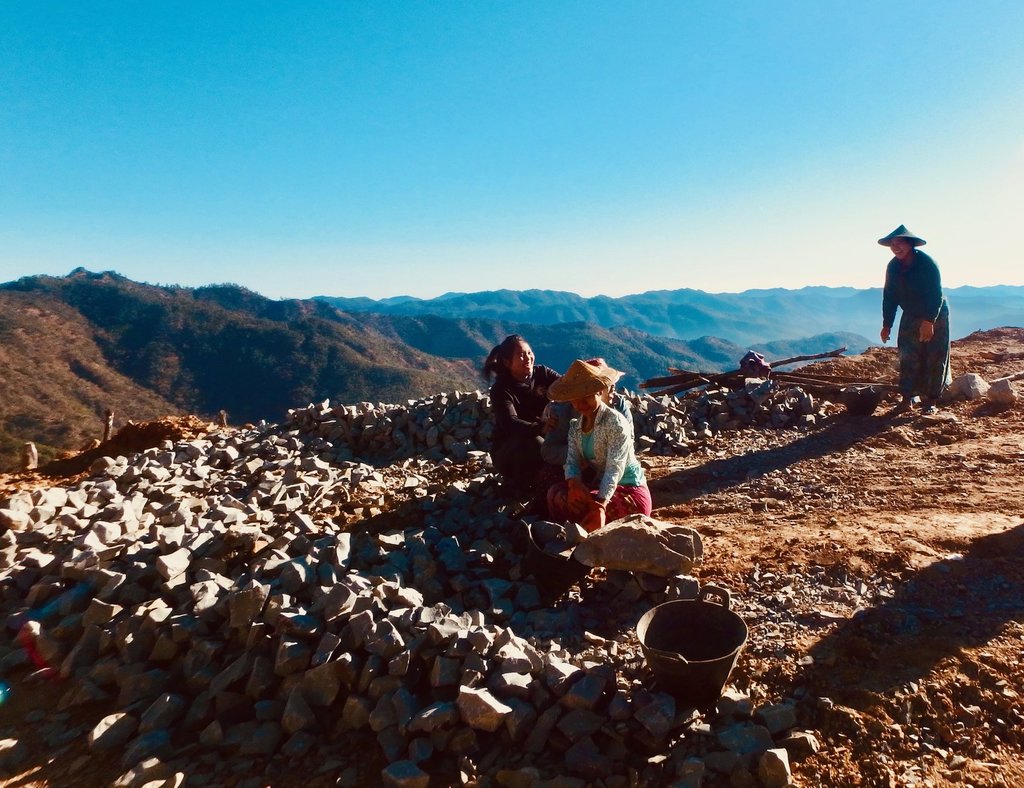 Was told by a local these young people work for 200 baht a day, what a pitiful existence.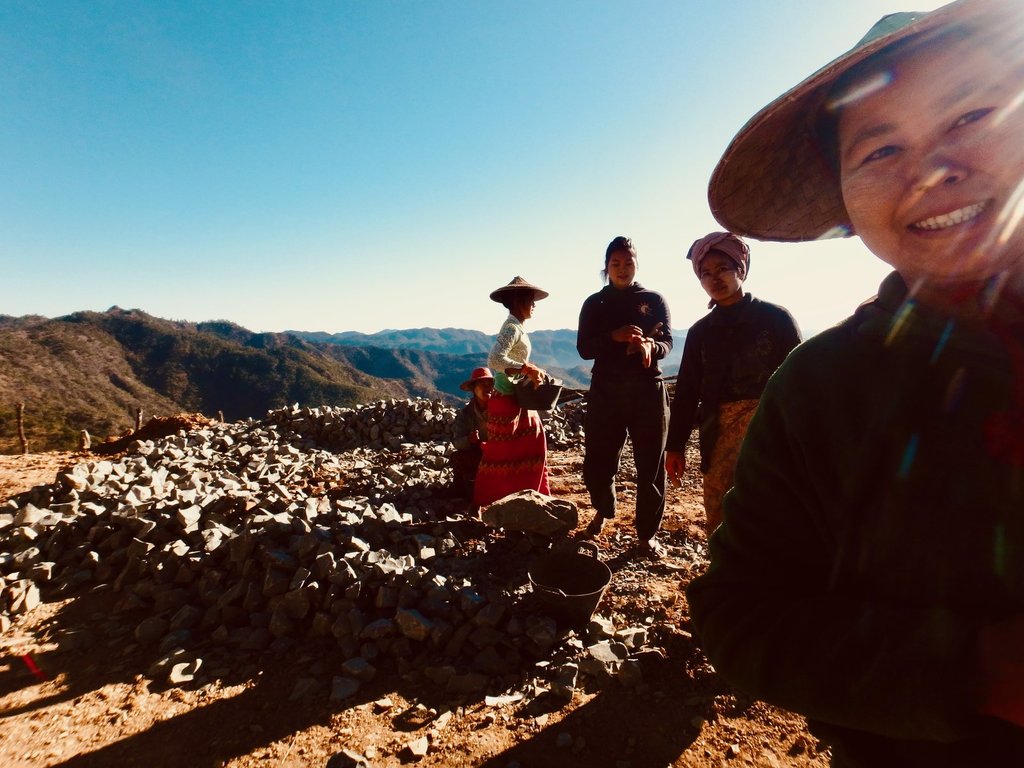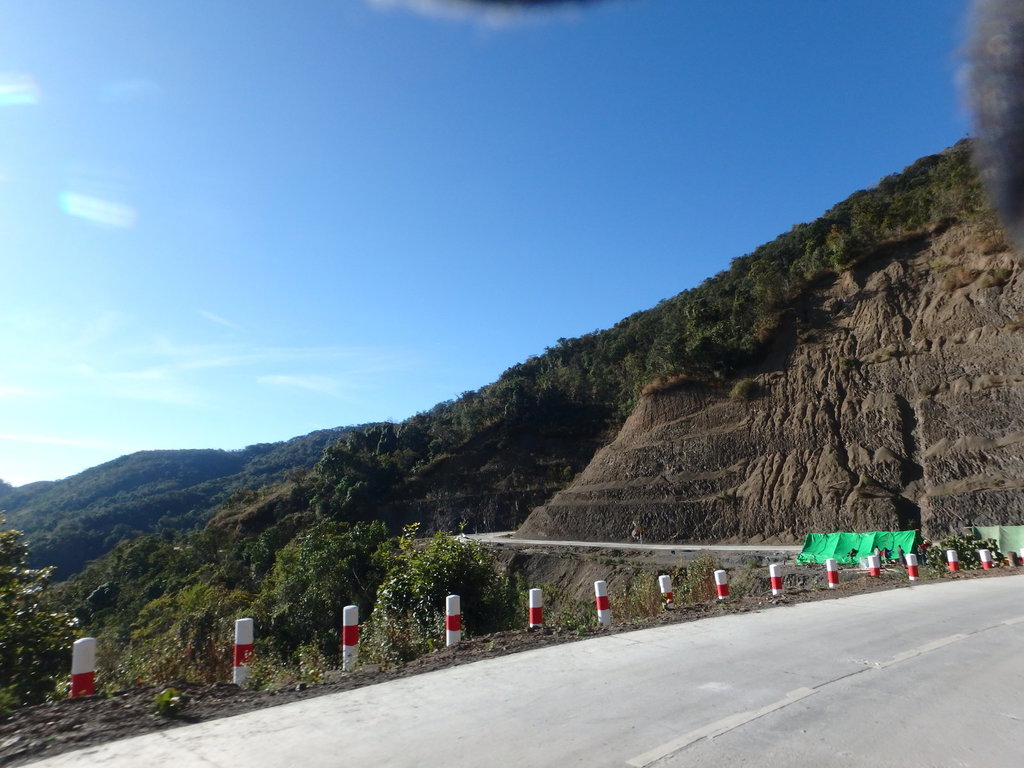 Landslides becoming the feature now.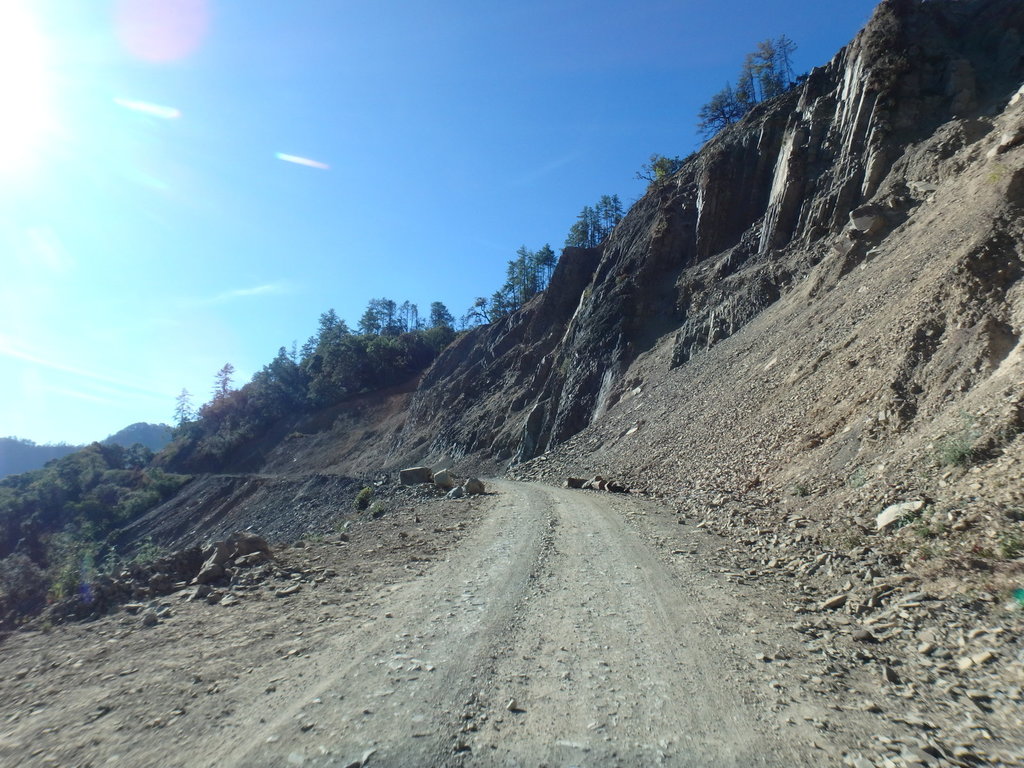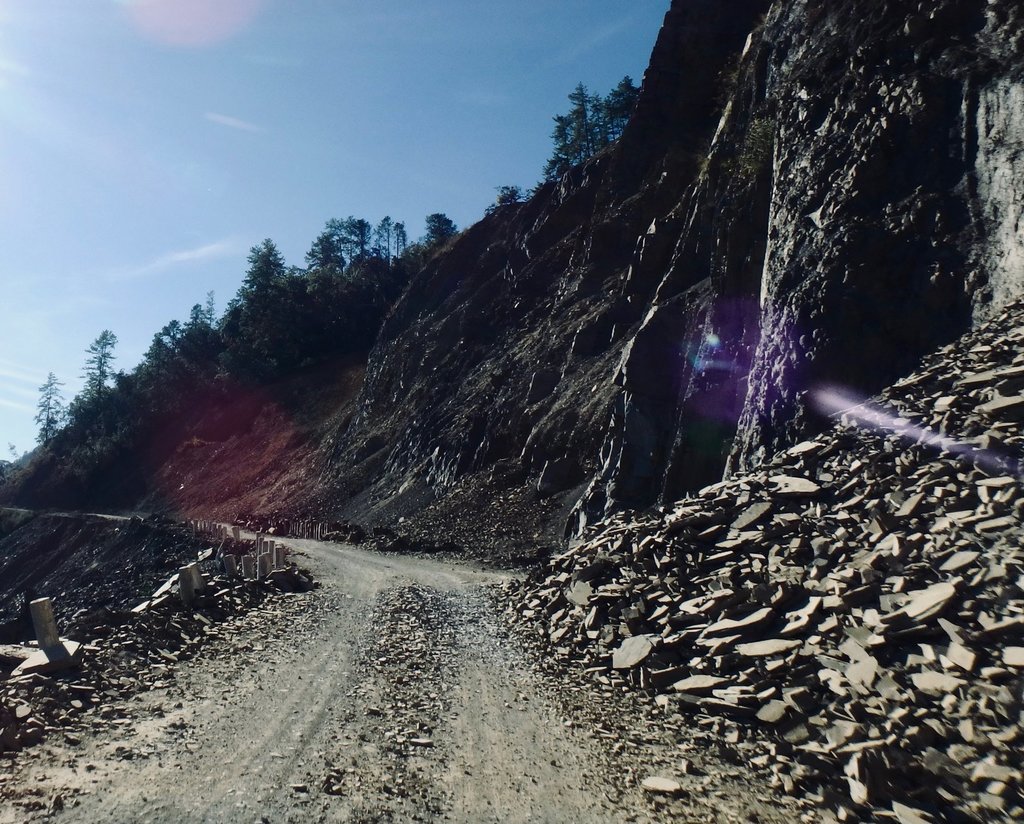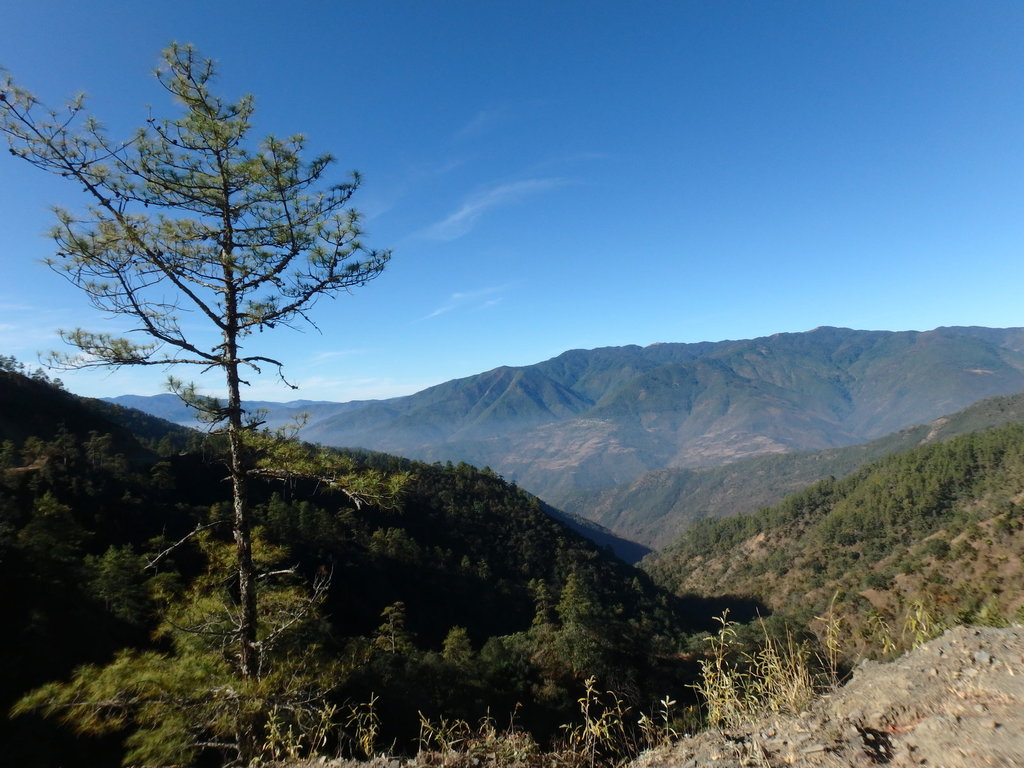 Villages off in the distance, no mapped tracks showing a way to reach them.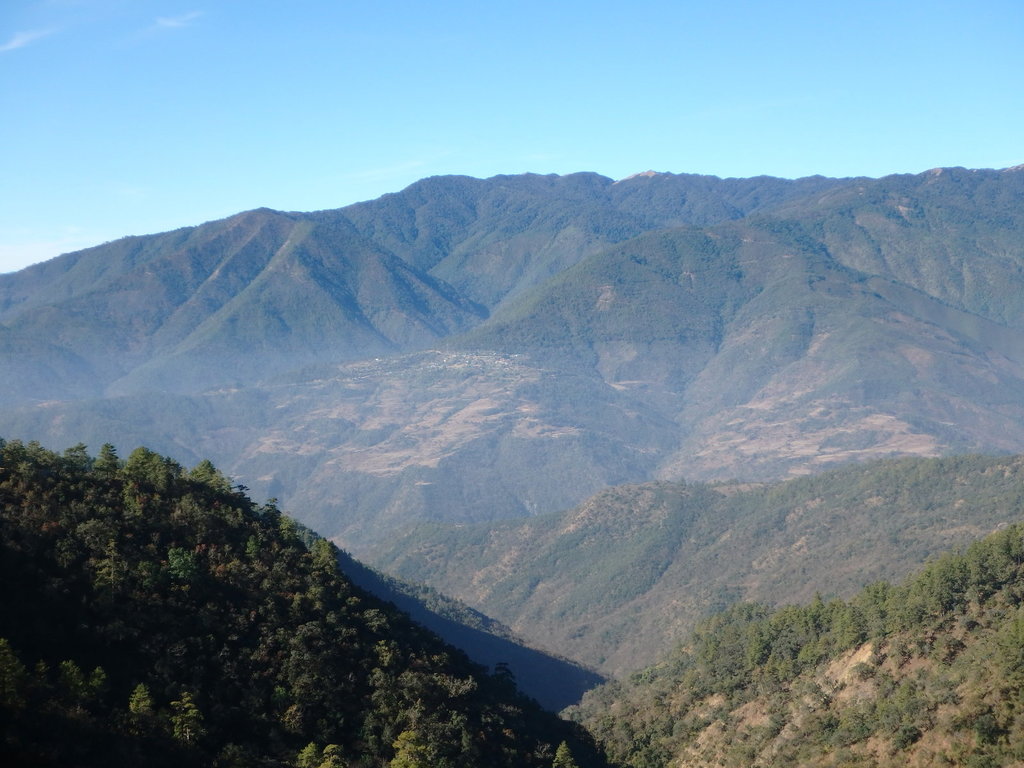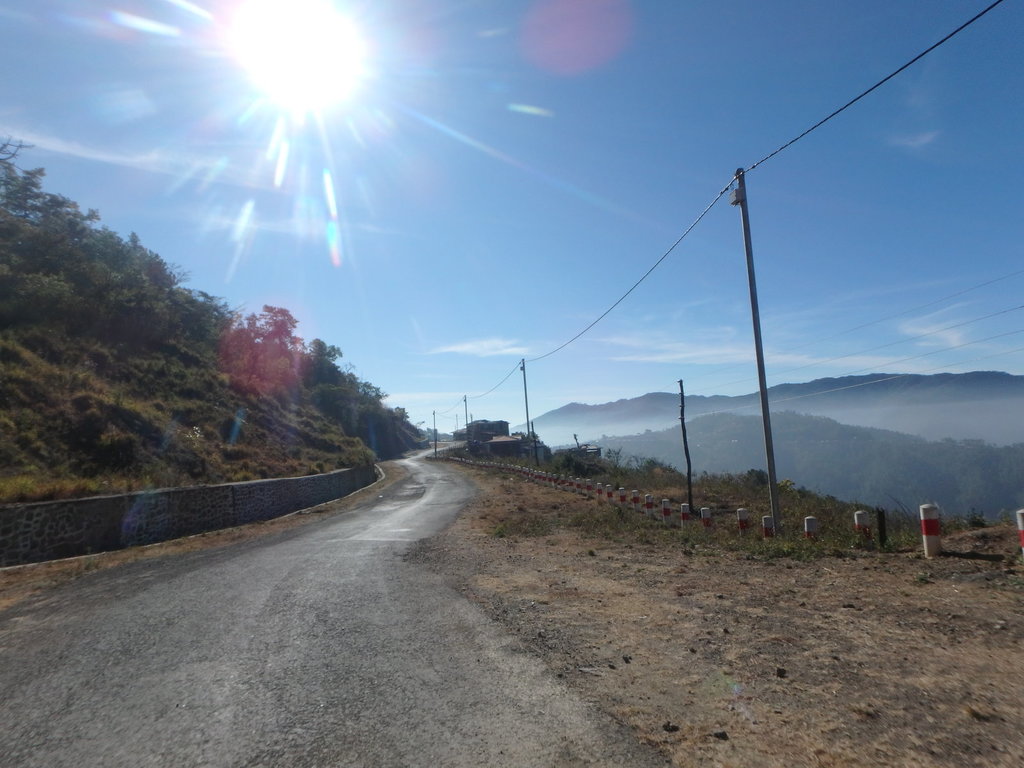 We reached the small village of Surkhua for a must needed tea stop, here you will also find the New York GH N22.25315° E93.63620°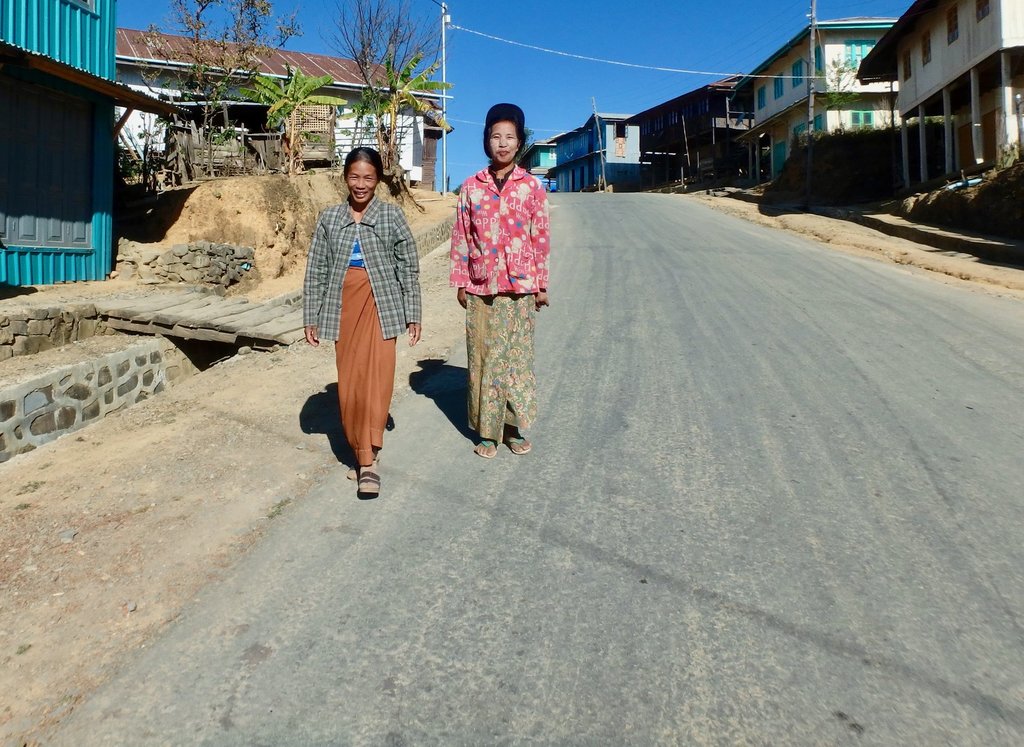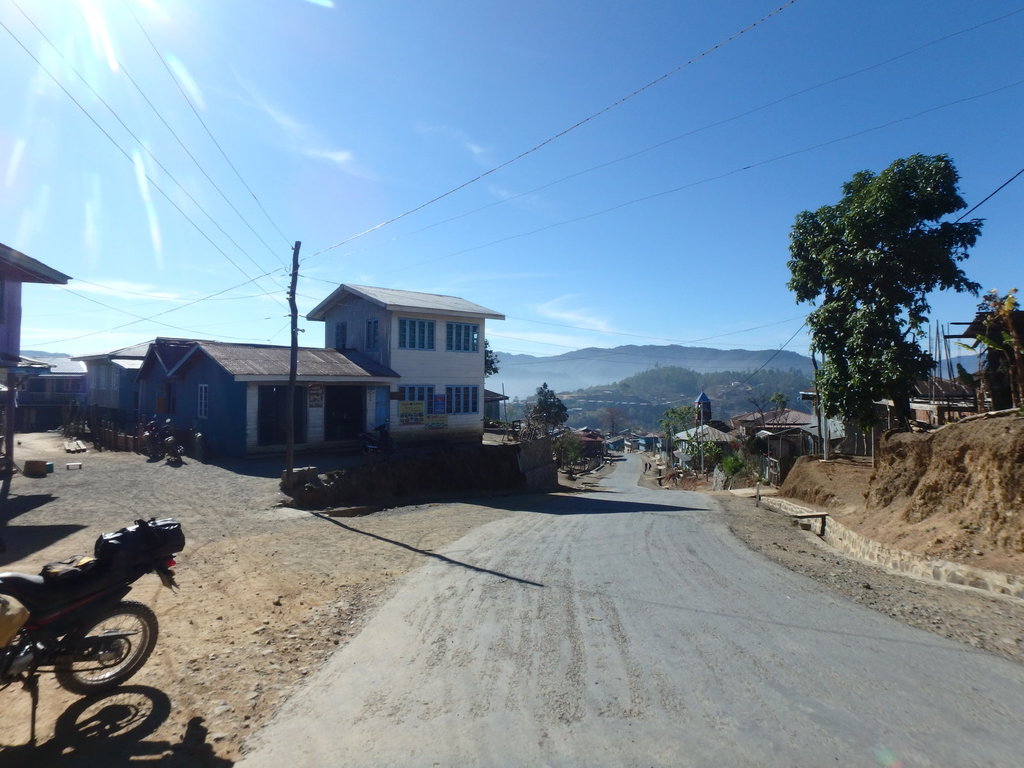 First weaving loom we had seen on the trip.
Another amazing little one-stop, best of all it had hot tea and coffee.
The local celebrity came to see us and immediately asked for money for beer
elevation was only 2000 metres today but felt double that with the wind chill.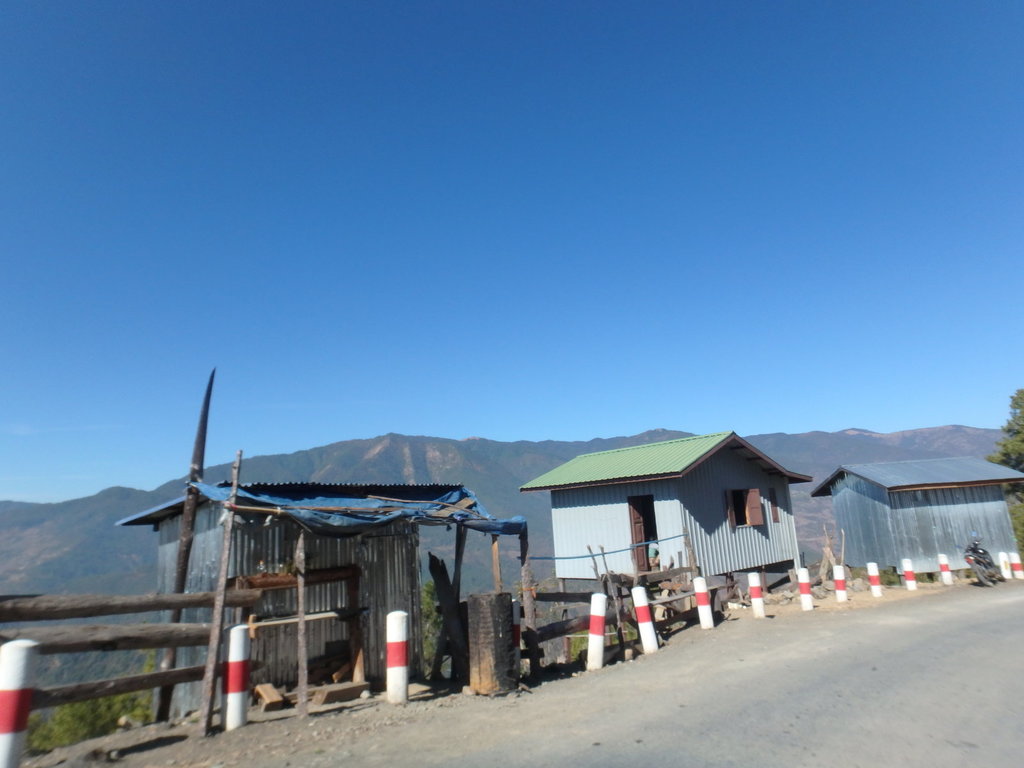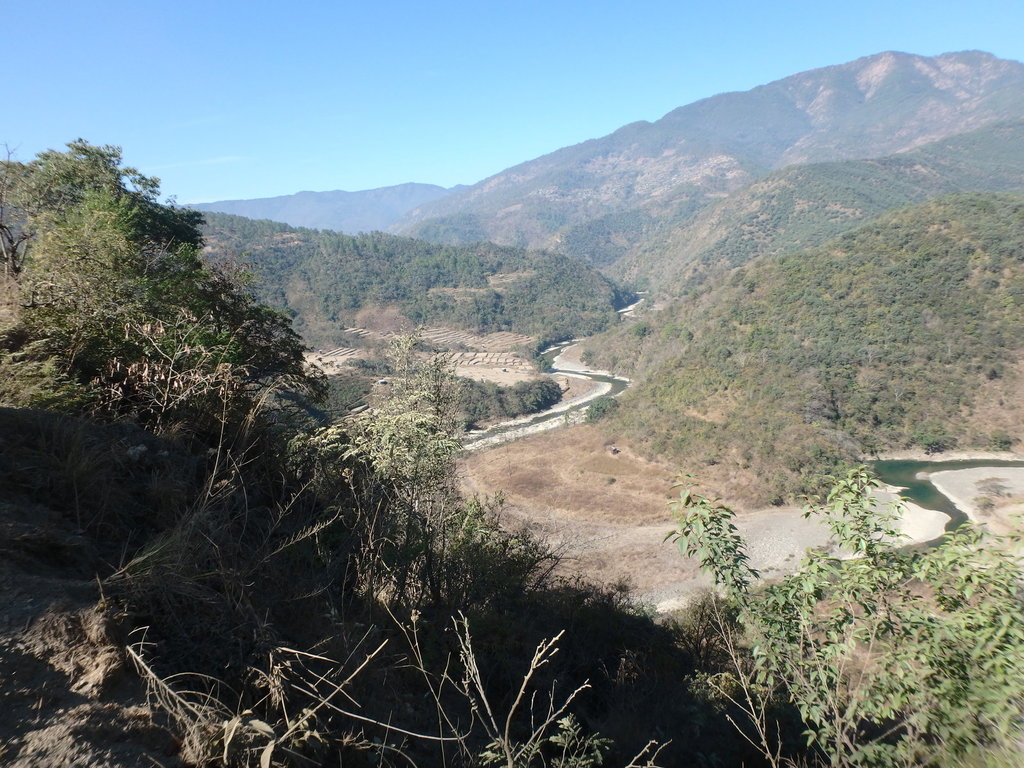 Terraced rice paddies hewn out of the mountainside.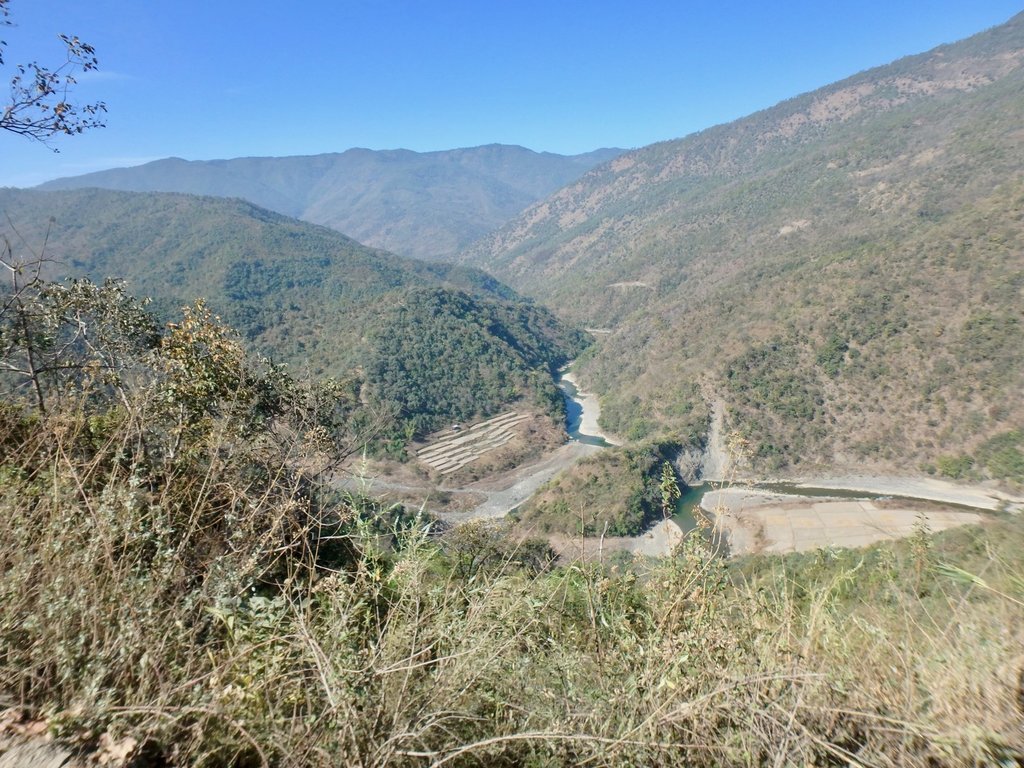 Brief glimpses of the trail ahead through the tree a reminder of twisty this route really is.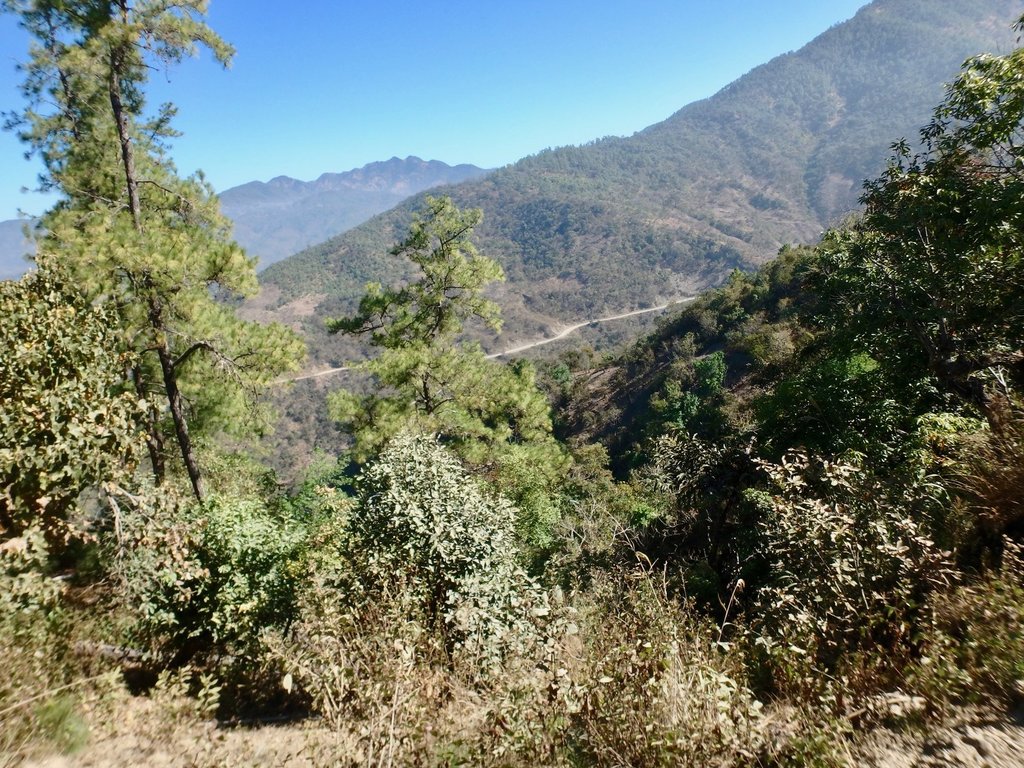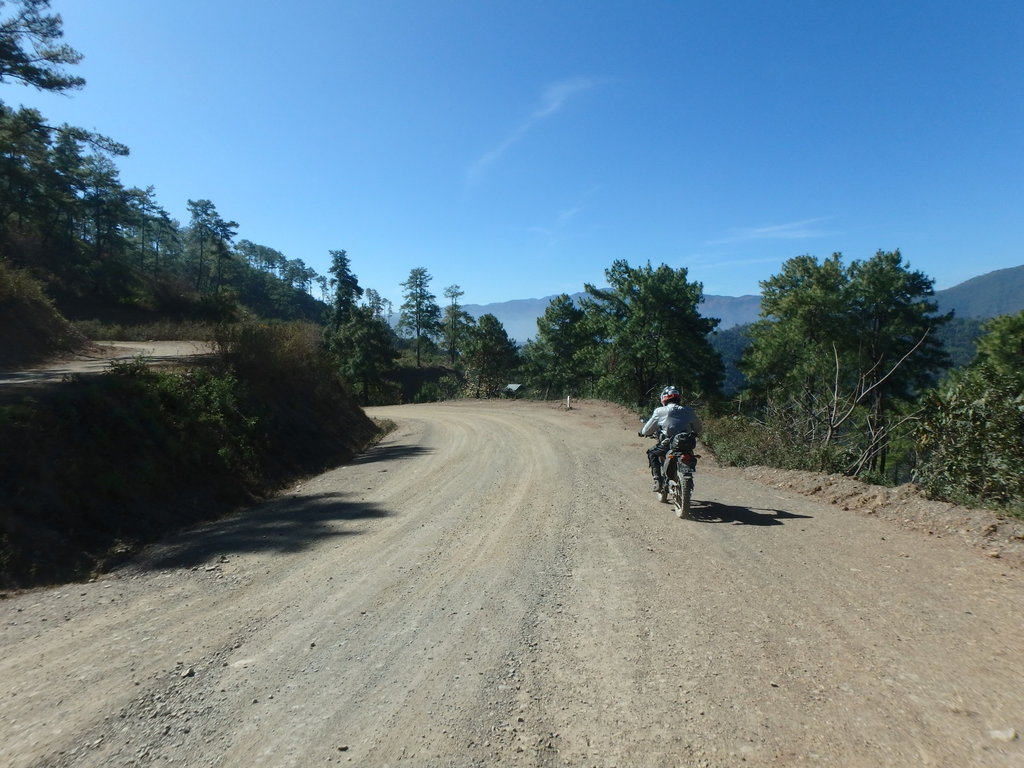 What a polite sign.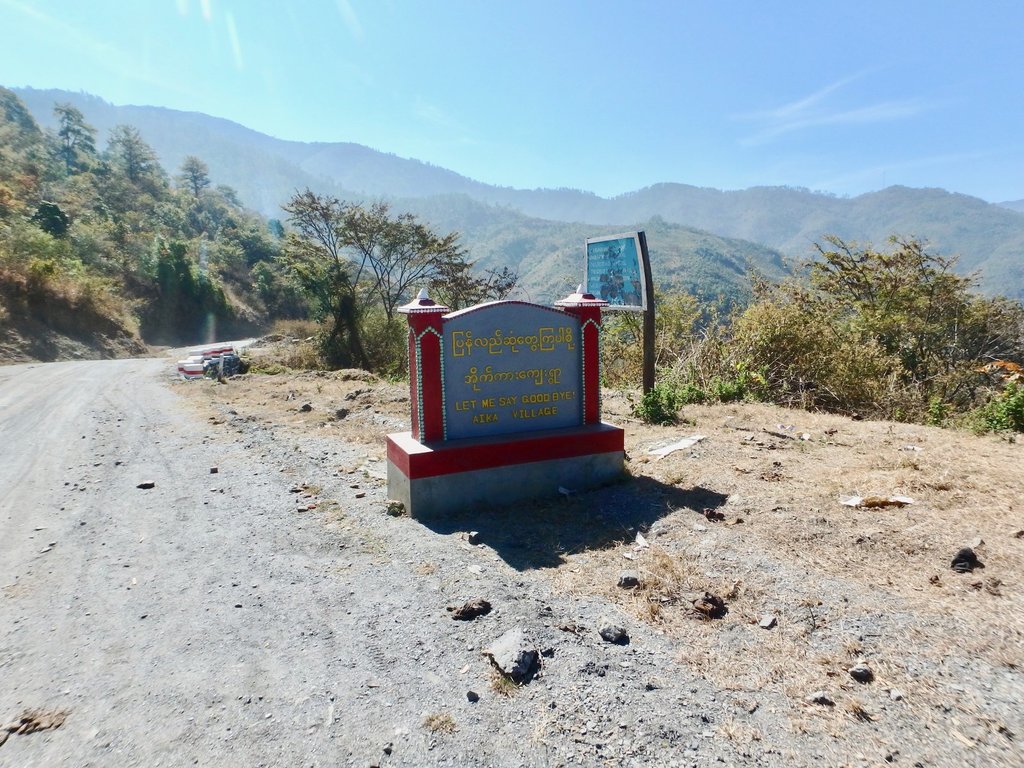 Village perched on the top of the mountain side ahead.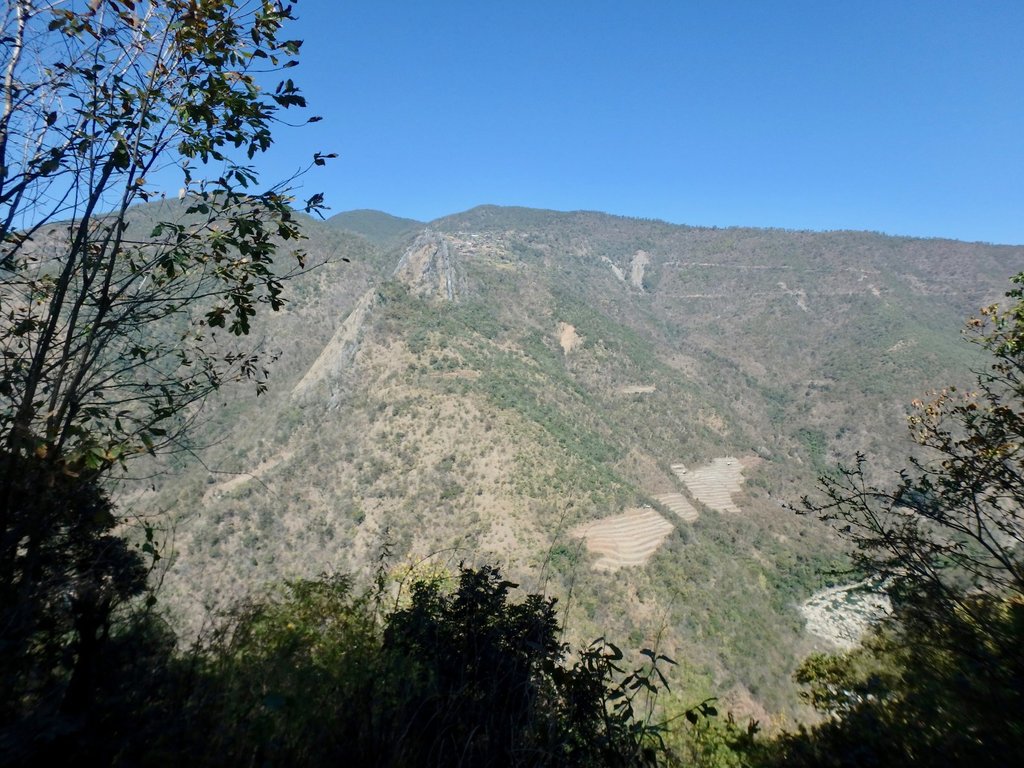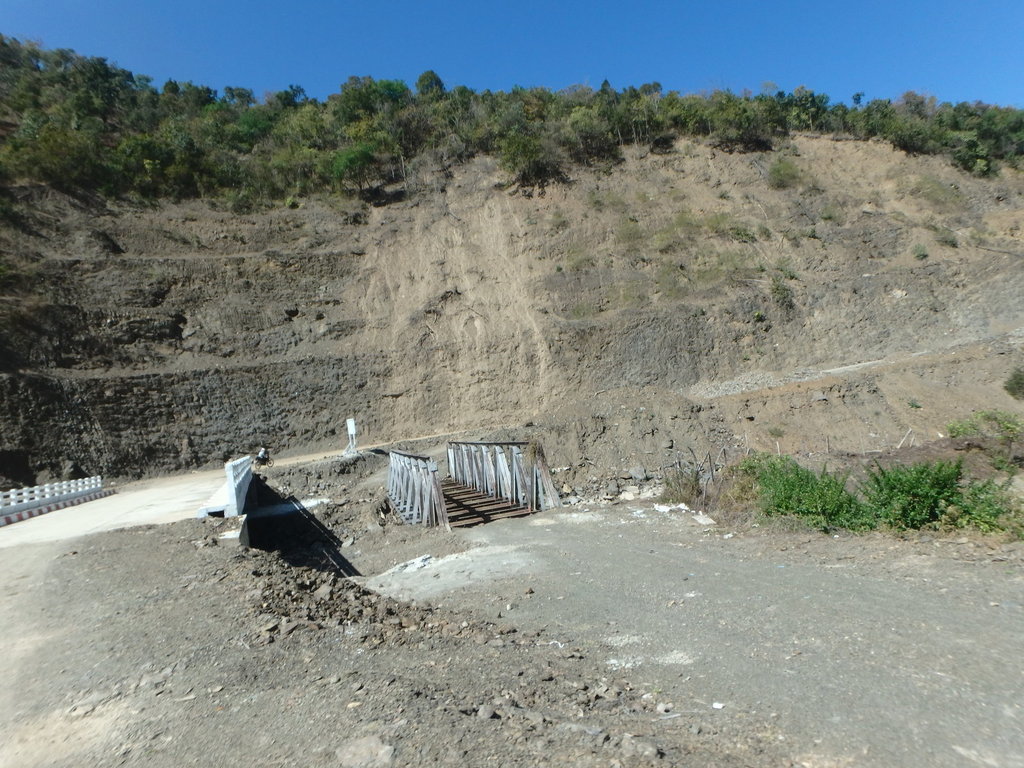 The mobile supermarket guys have a meeting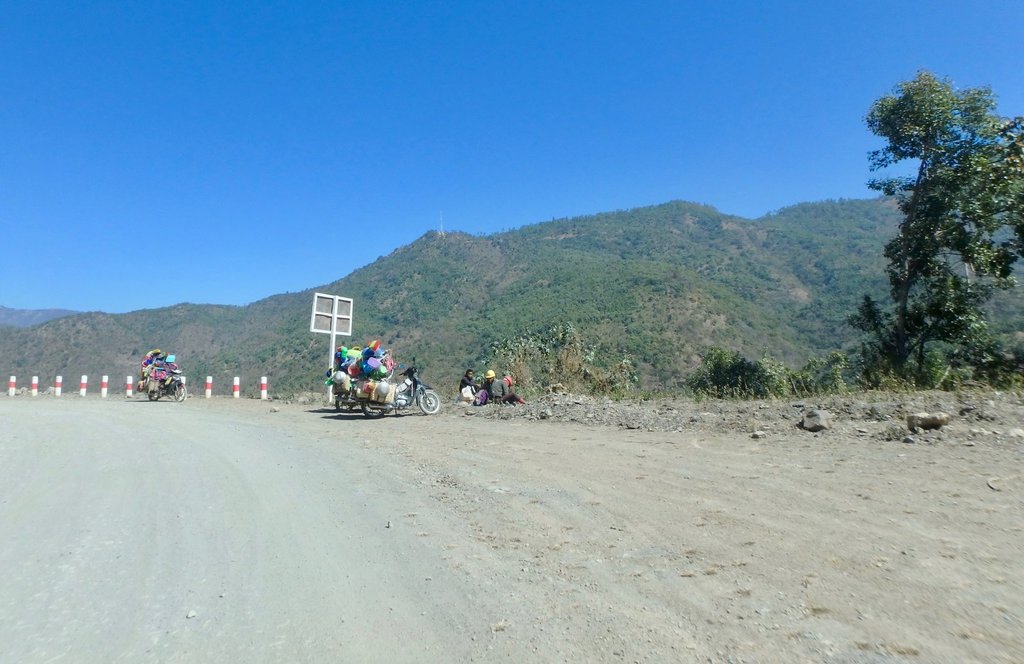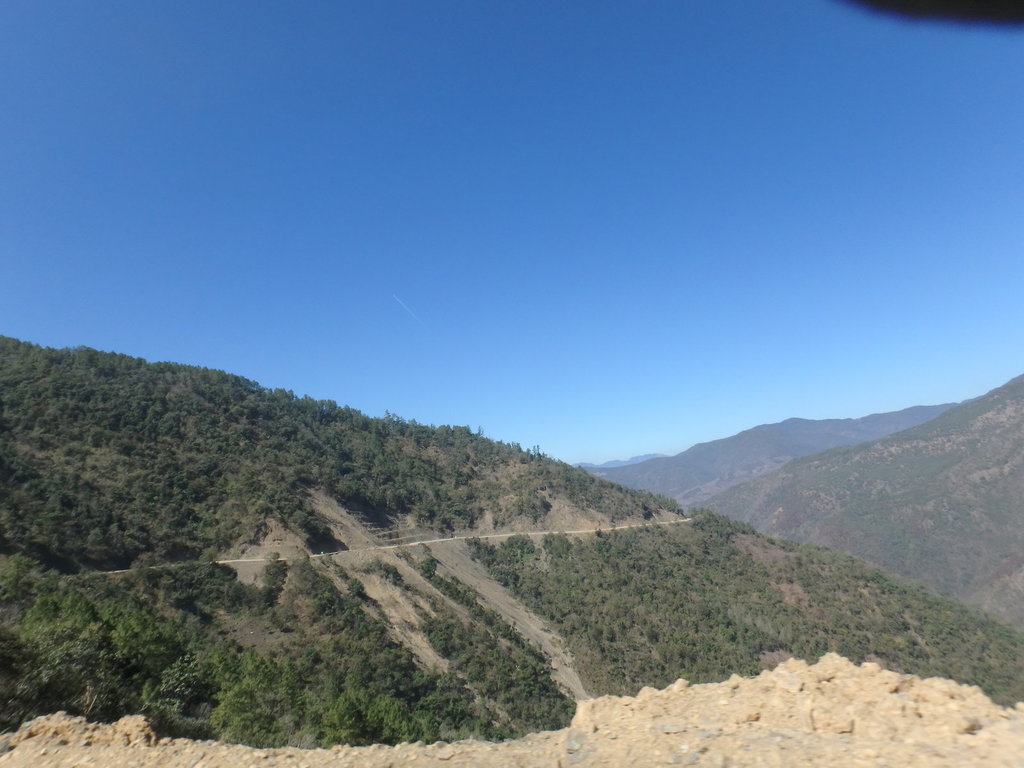 Headstones always along the route some of them in the purpose-built house for them and other memorabilia.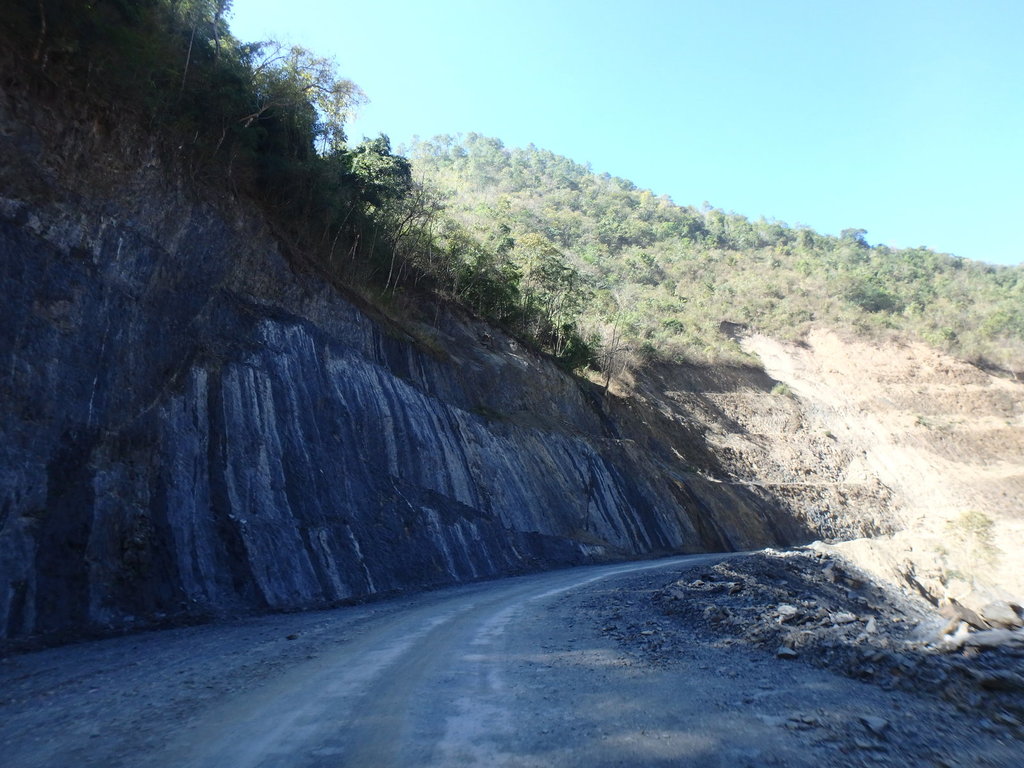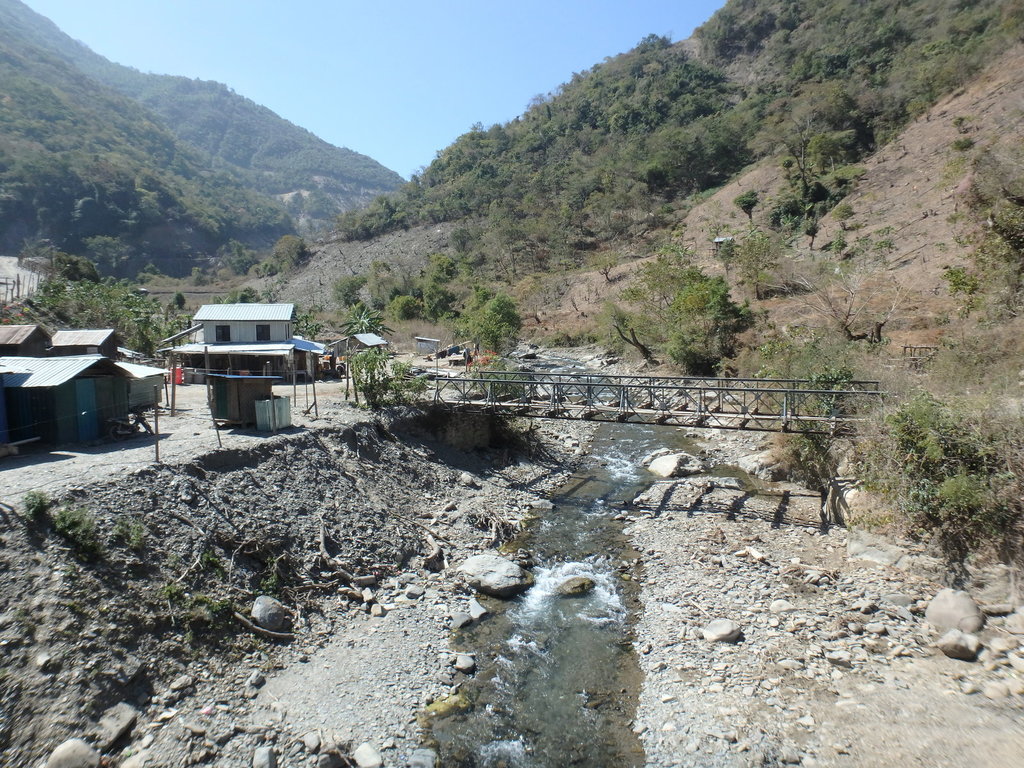 Another landslide delay, this would become a common occurrence.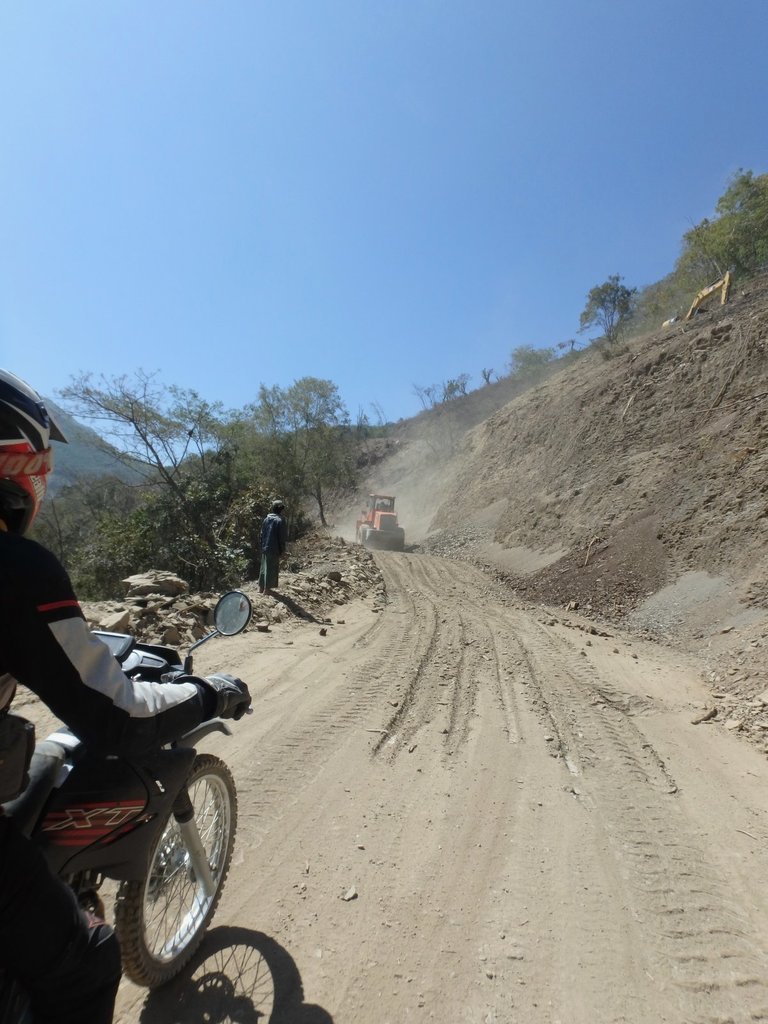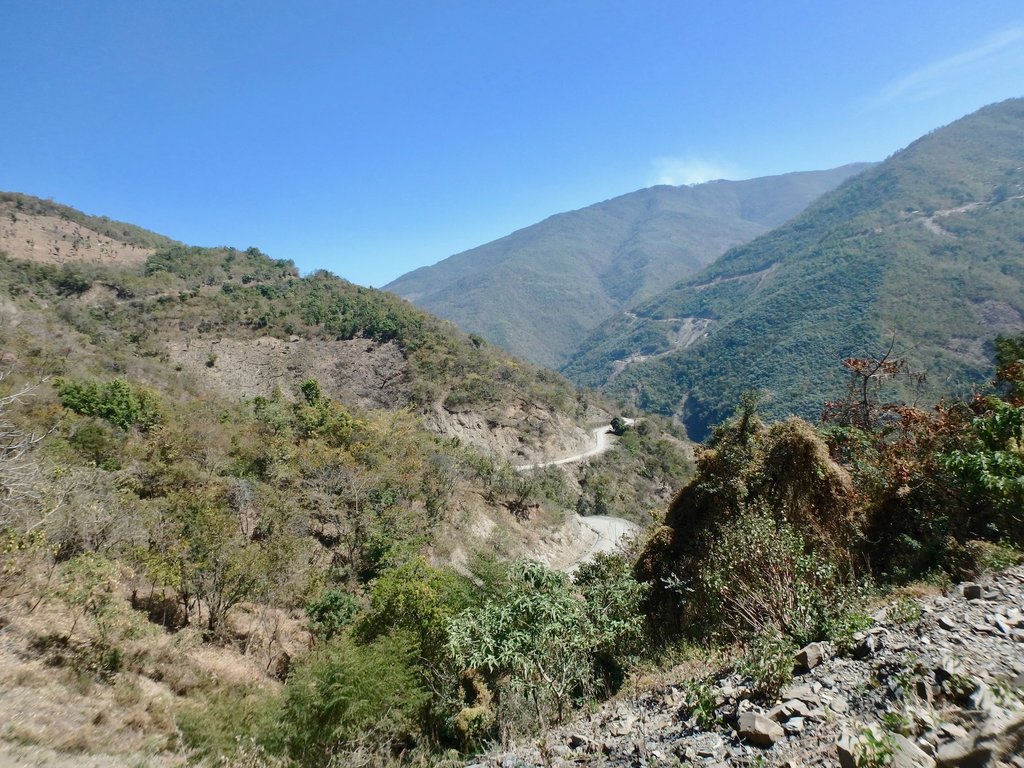 One small village had these eagles swinging on a lanyard, maybe a way to scare them away from taking small chickens and the like.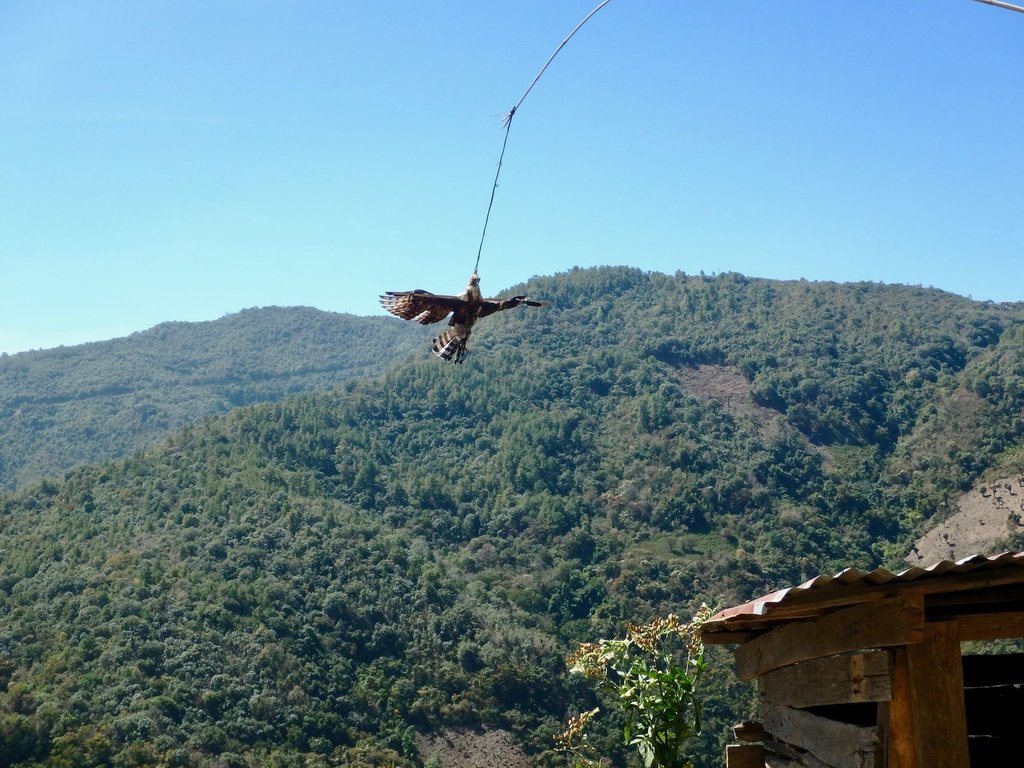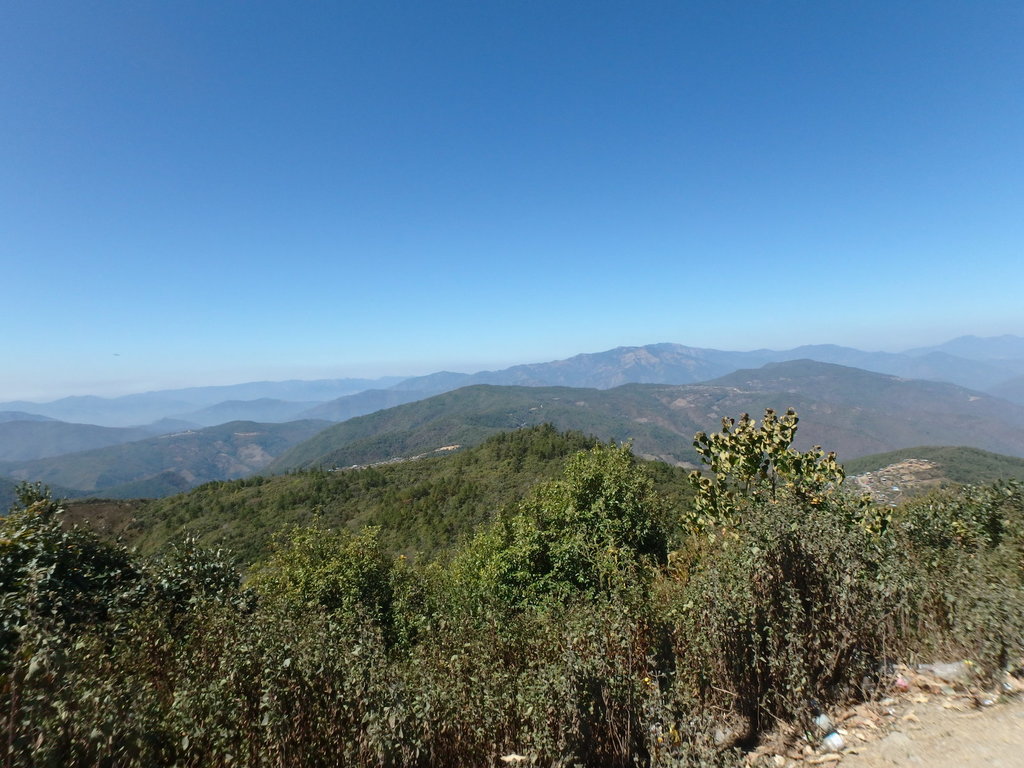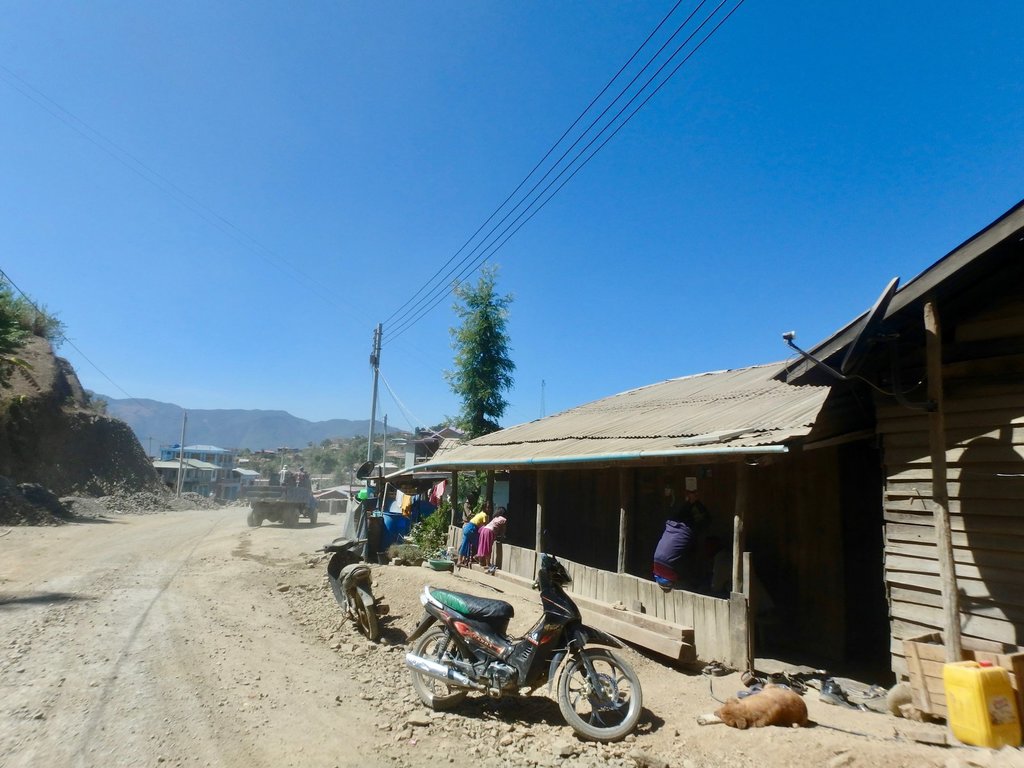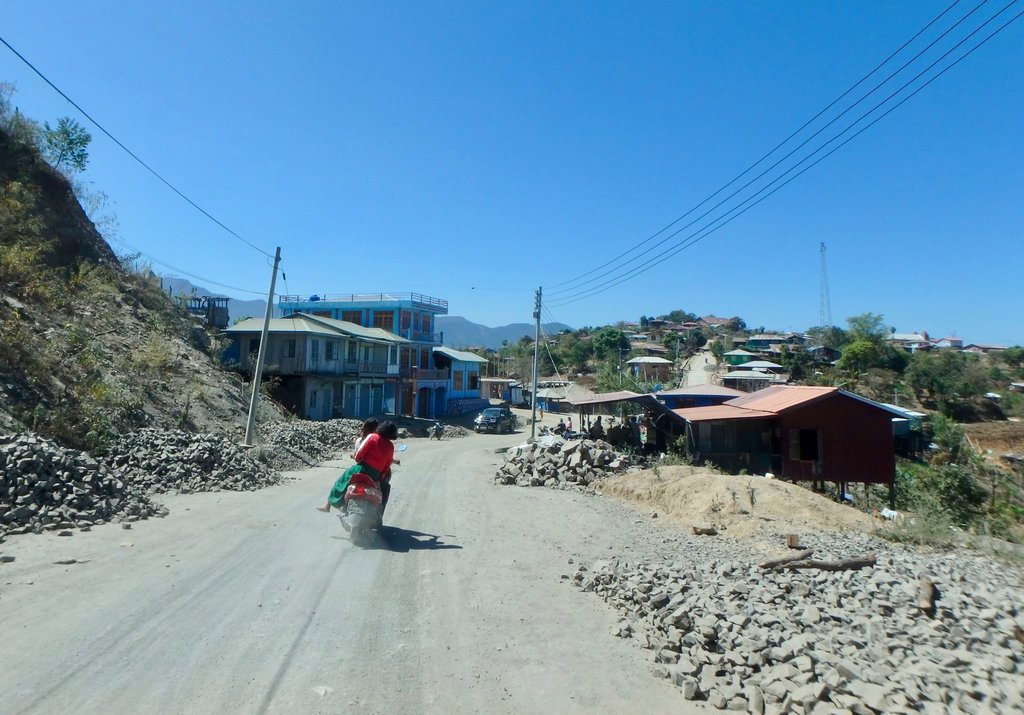 This was a busy junction in Rezua and several restaurants touting for business. N22.04874° E93.41305°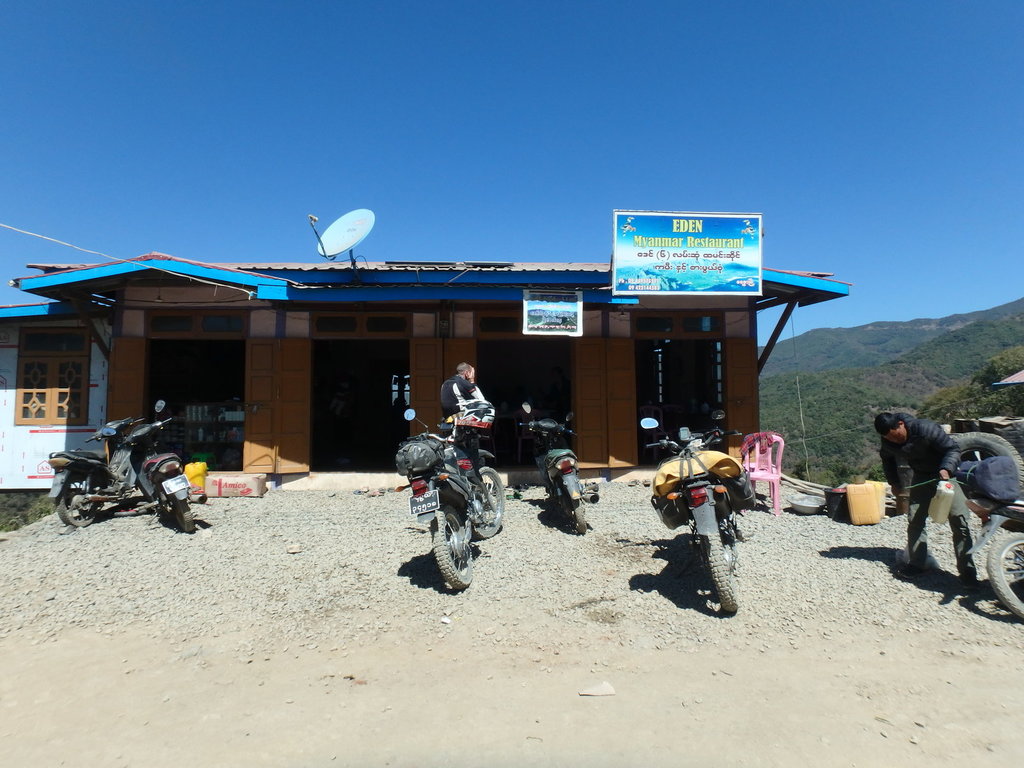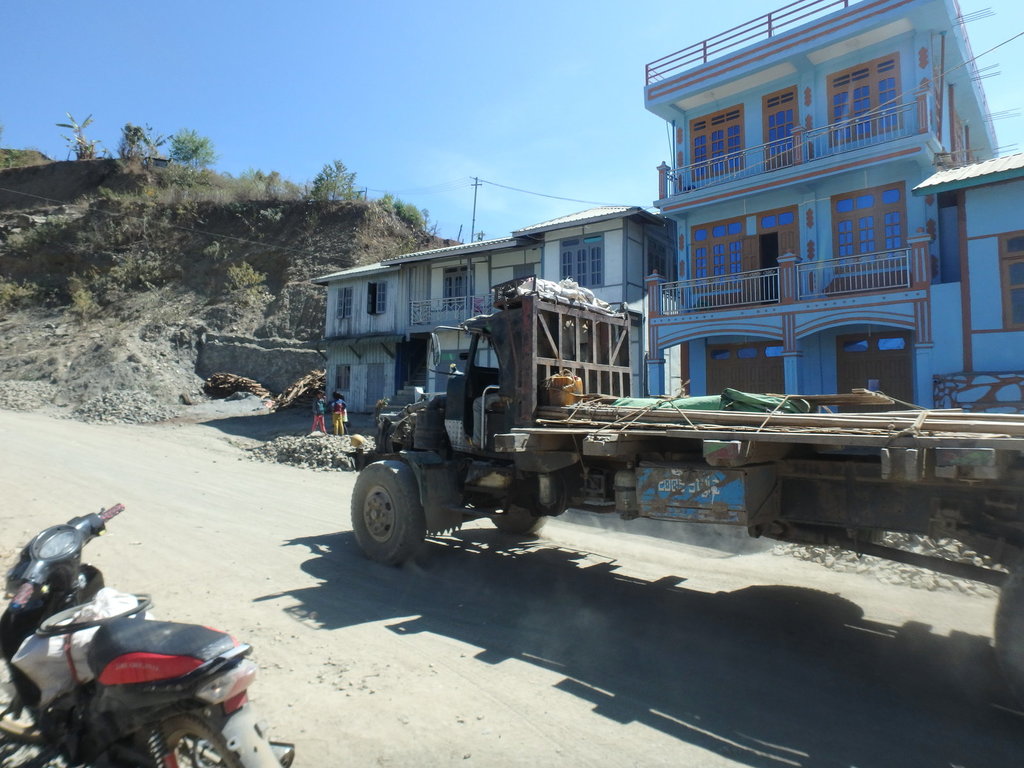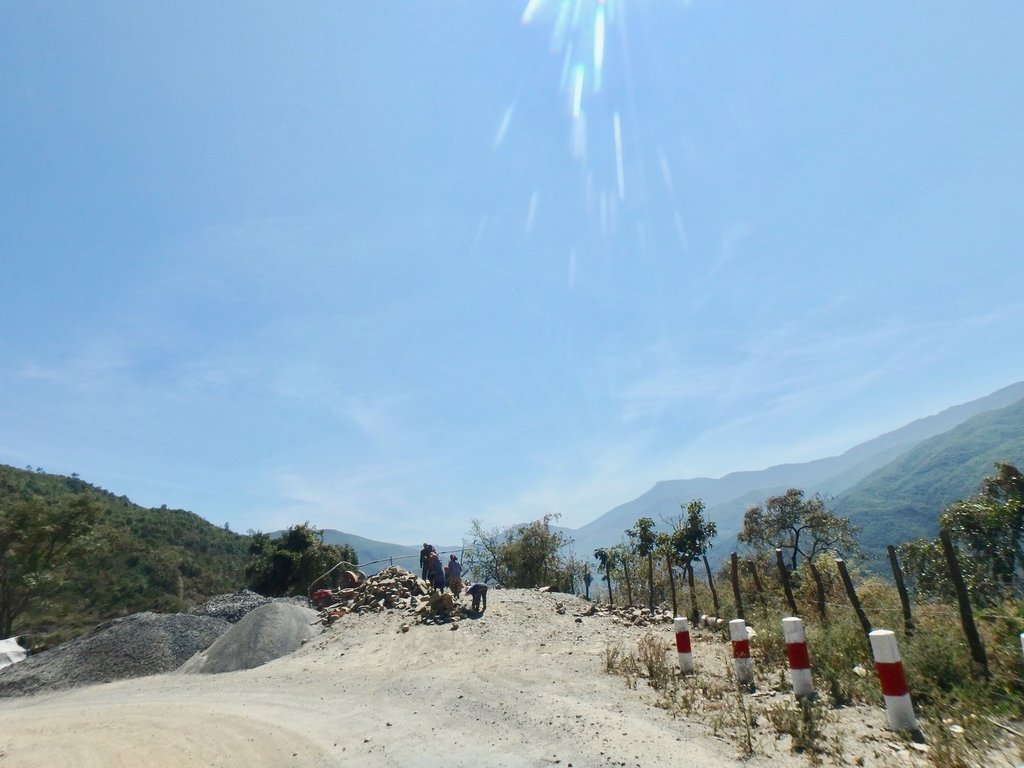 What an old work horse.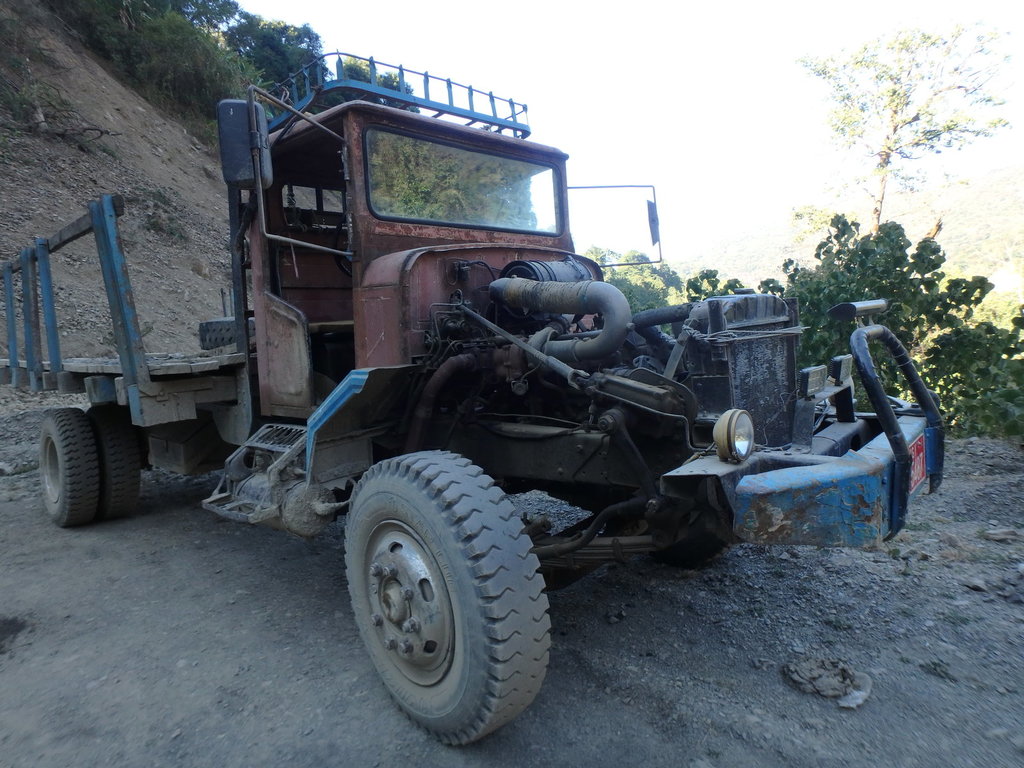 We reached Matupi in pretty good time, its a small town and only a few guesthouses, the newest the Neville was not worth the $30 dollars they wanted and we finally settled on the Her Mon GH, basic place, cold water showers but the owner was very sweet and even made some snacks for us as we had a few beers later and a nice breakfast too. $13 N21.61131° E93.43801°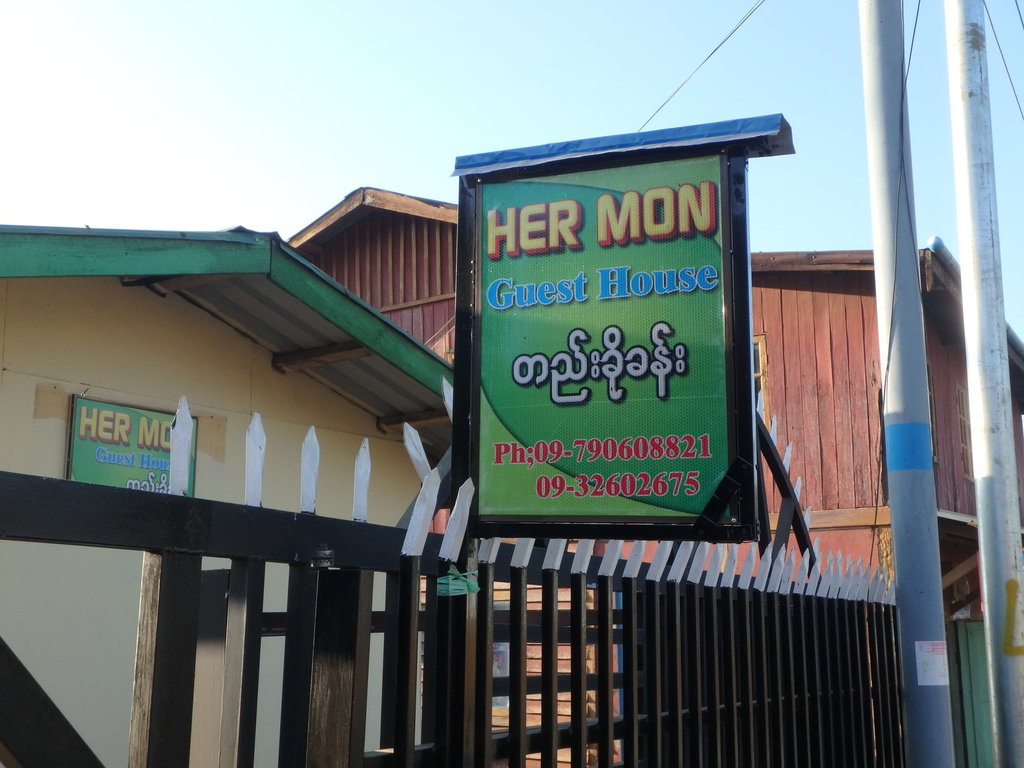 Turned out it was perfectly located across from the only place in town you could find a beer, what a result.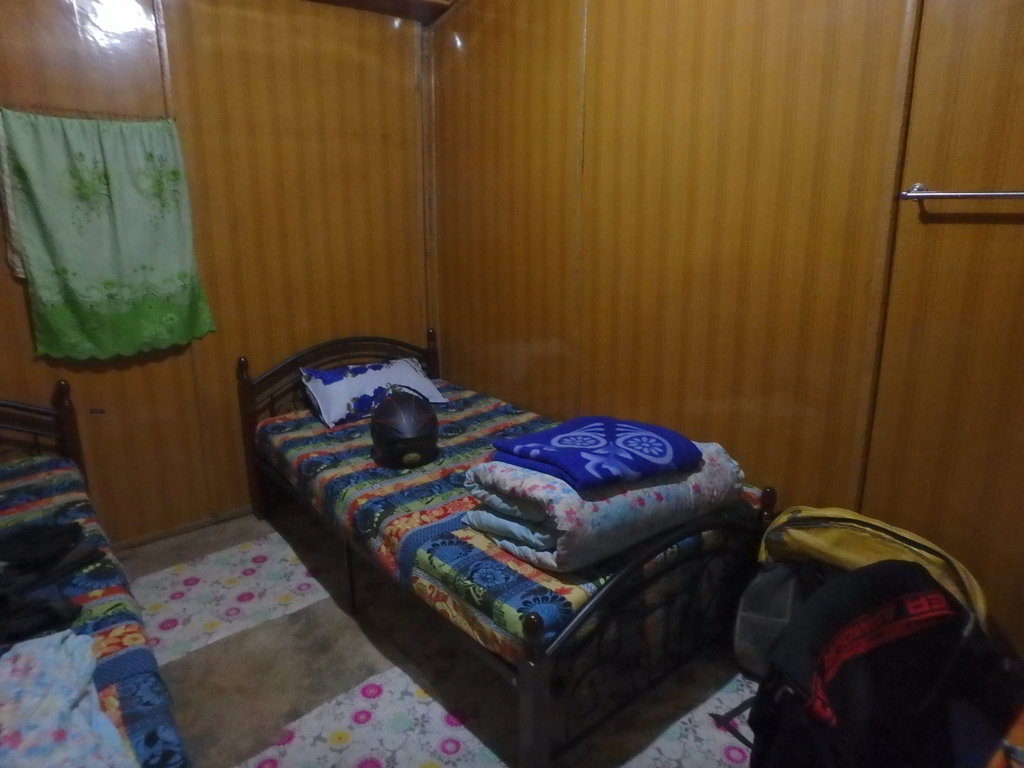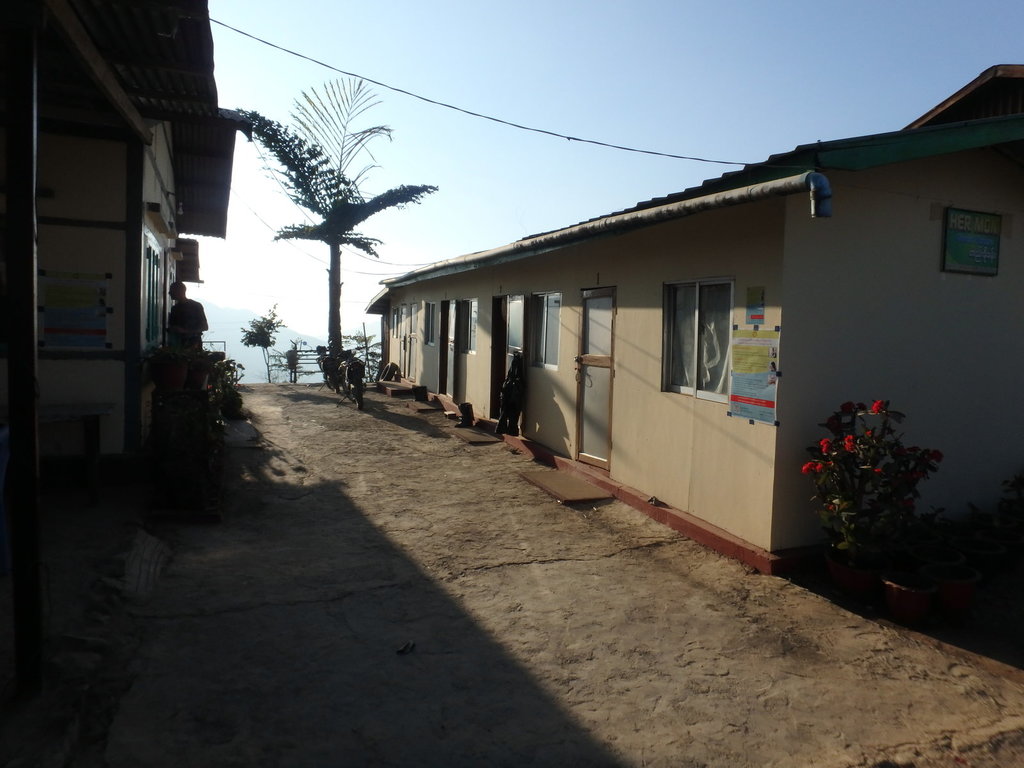 For a god-fearing place, this was a little odd, the shops selling Betal pouches had mesh across it, maybe they had a bit of a theft issue here.
We wandered the market in search of snacks, these fried onions delicious.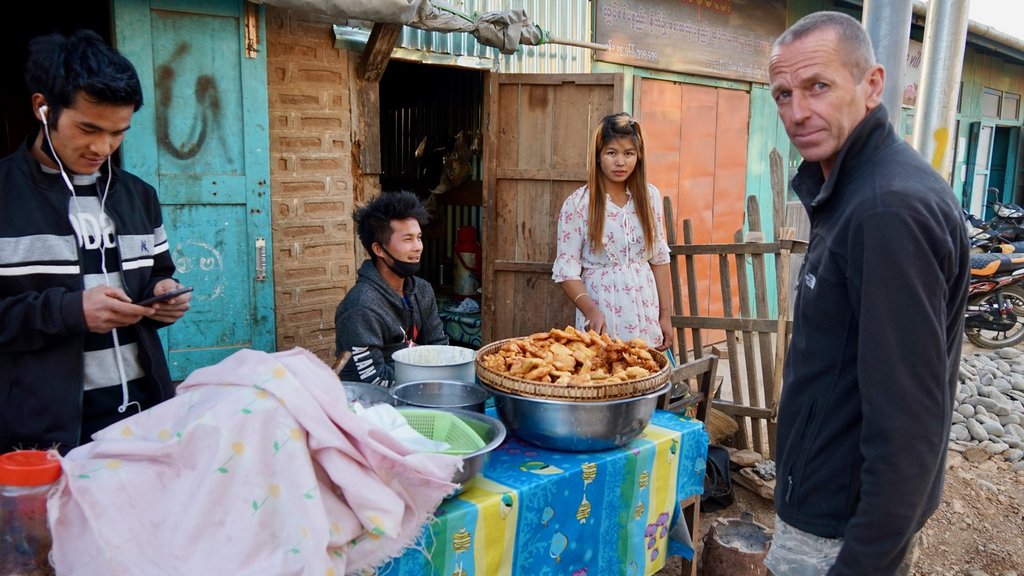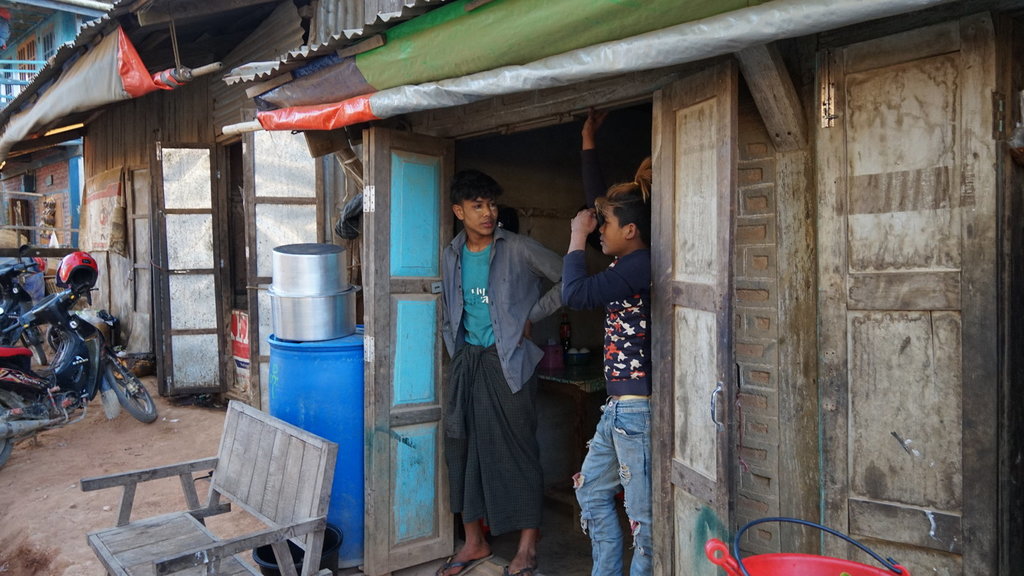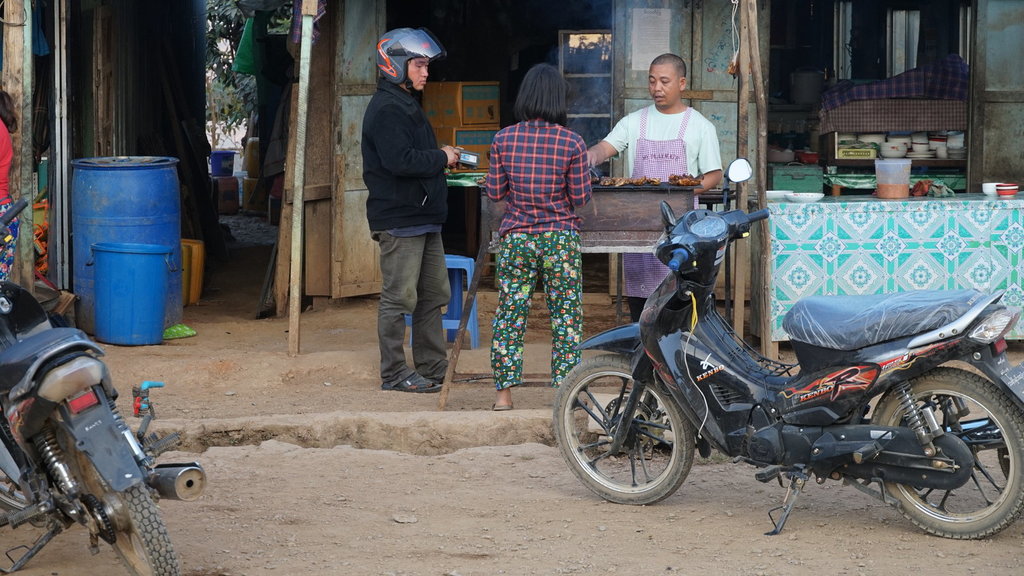 Water must be rationed they people stock pilling water to carry home or sell.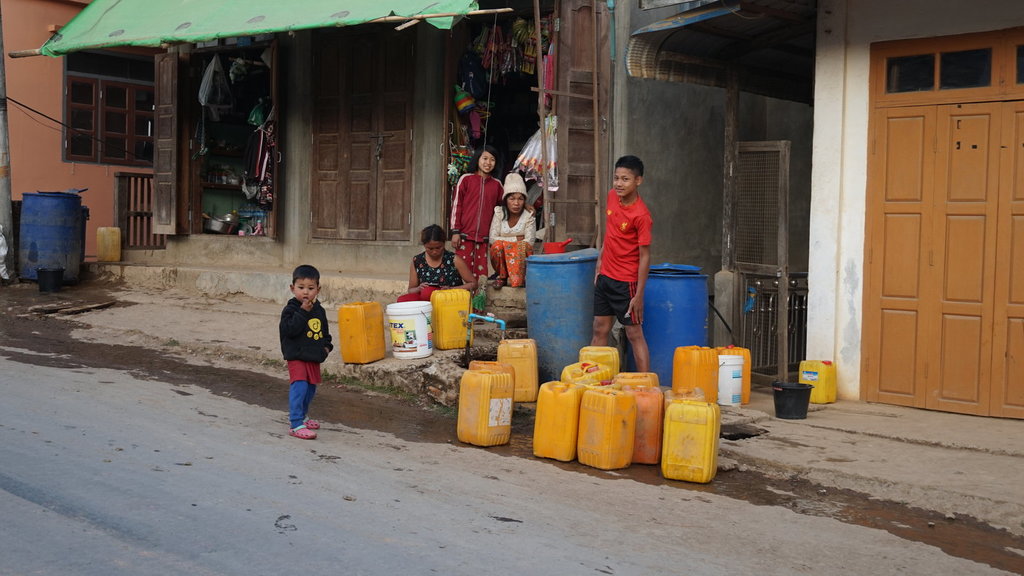 Don't see too many white faces I think, everyone smiling and the strange farangs.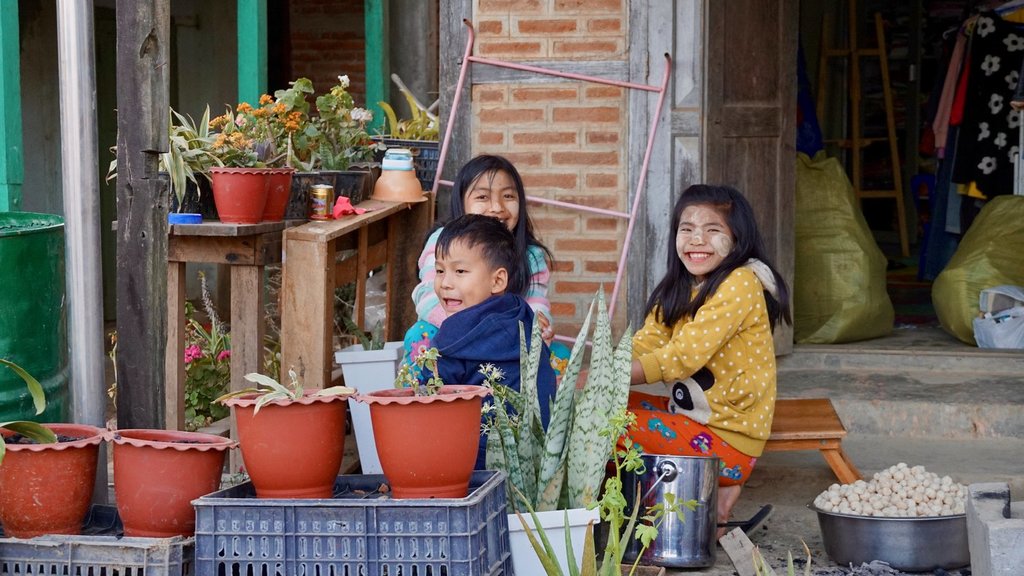 A little gem, just needs some TLC.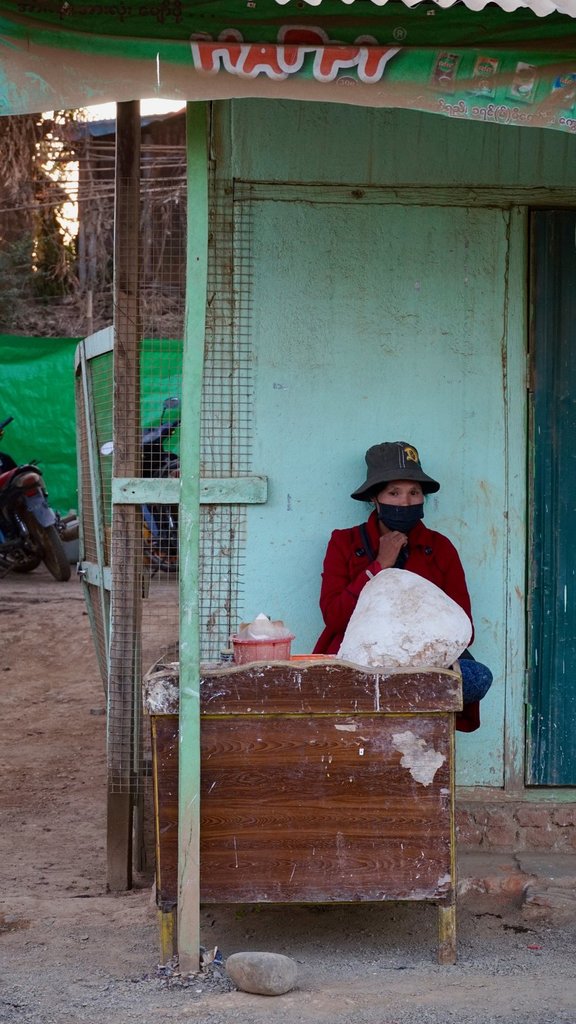 For a small place it was bustling, in the morning it would be buzzing.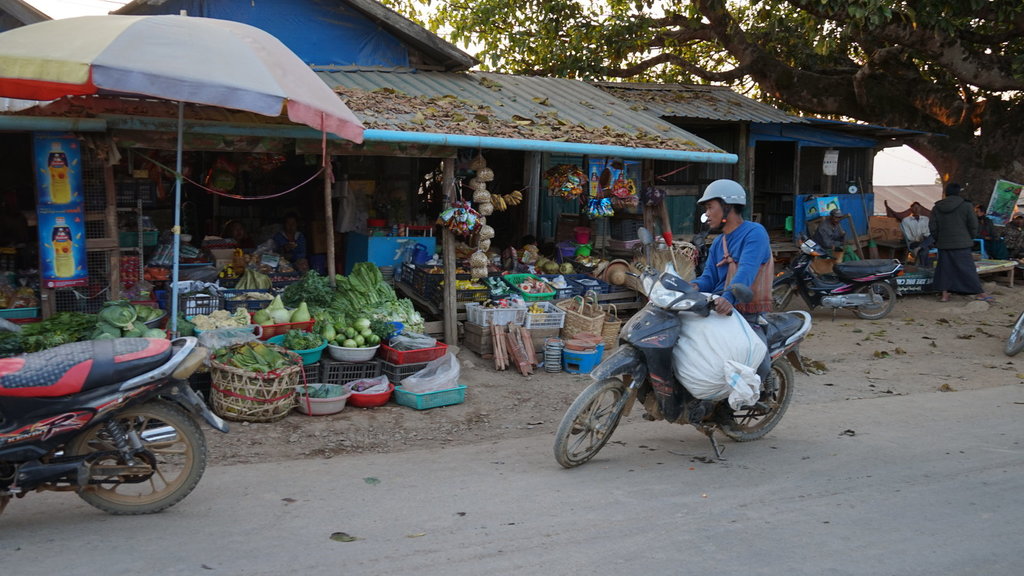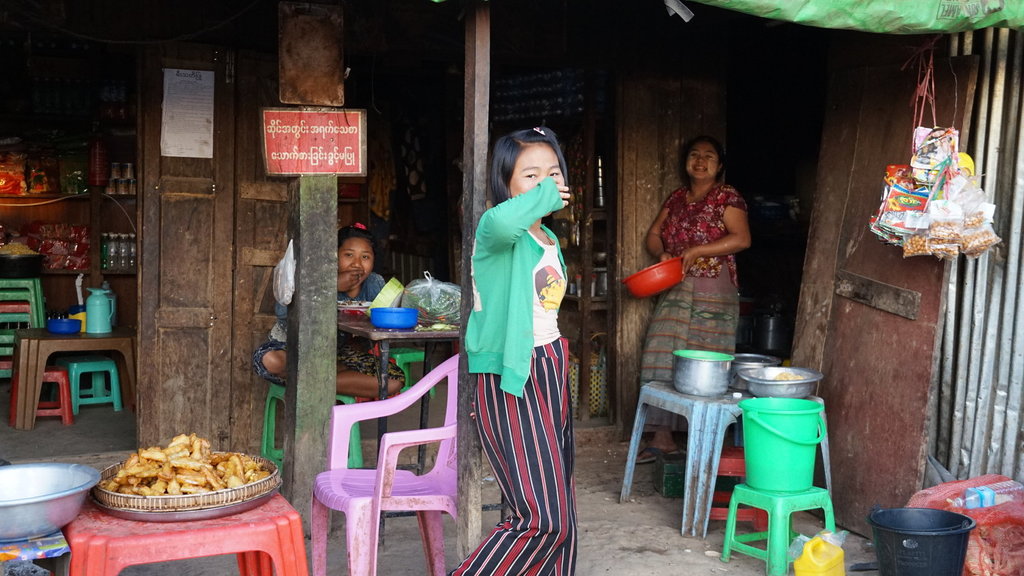 A store owner led us to the beer shop, again it had security mesh protecting it, how strange.
It was doing a brisk trade.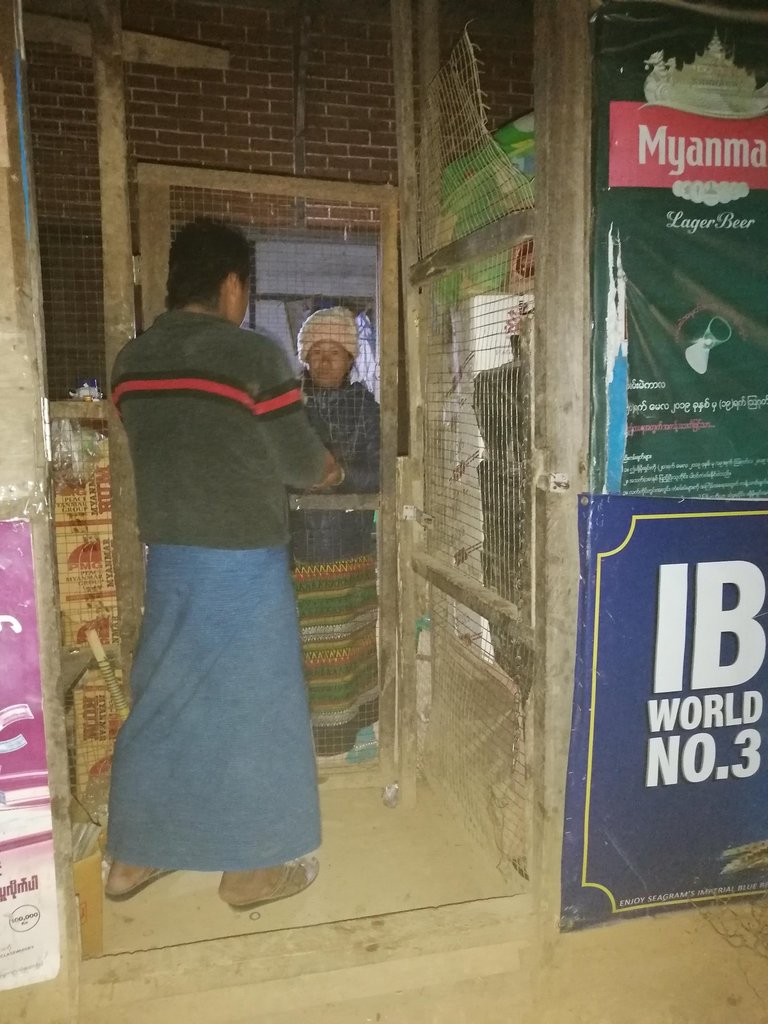 The Betel selling working OT in her metal cage.
A comfortable nights sleep thanks for several blankets, it was bitterly cold once again, a stroll around the market to see what we could see, theses road workers getting ready to light a fire for the tar drums.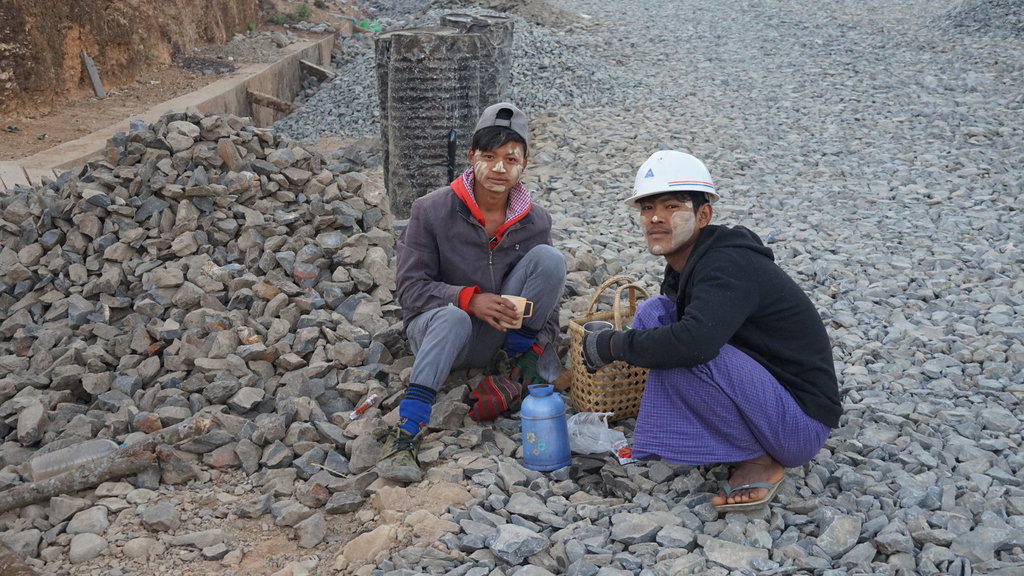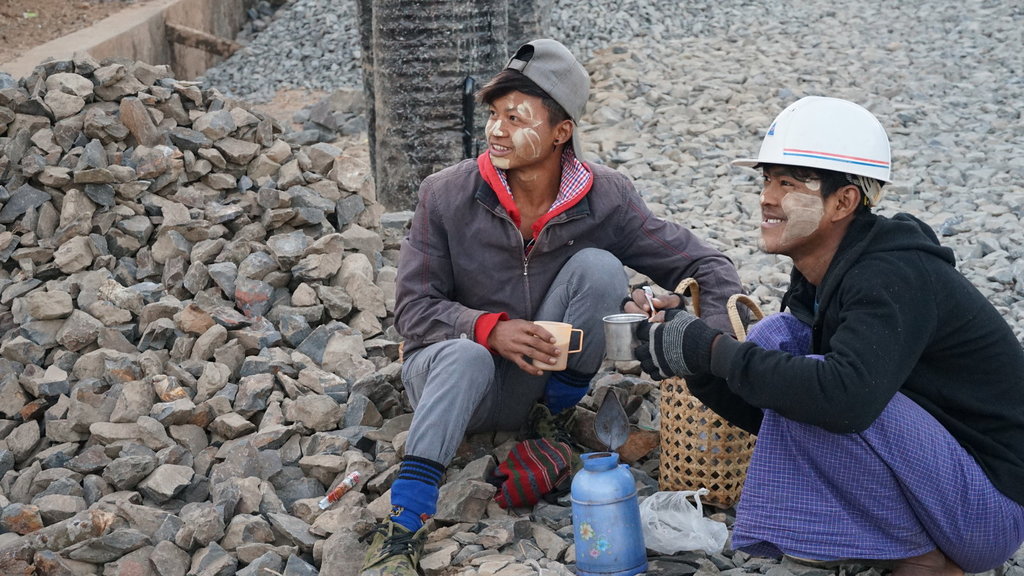 This guy rolling out samosa's and super sweet pastry fingers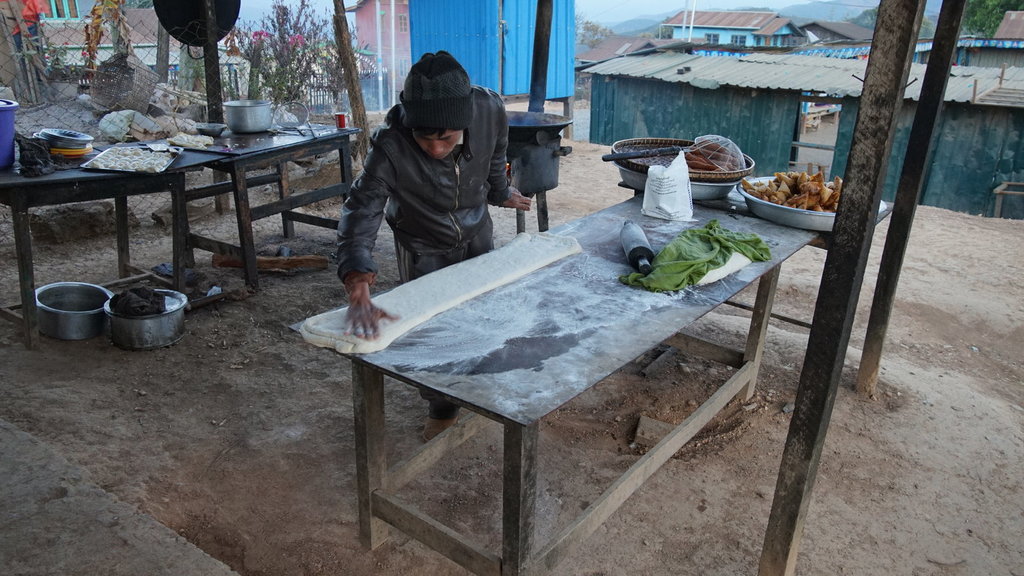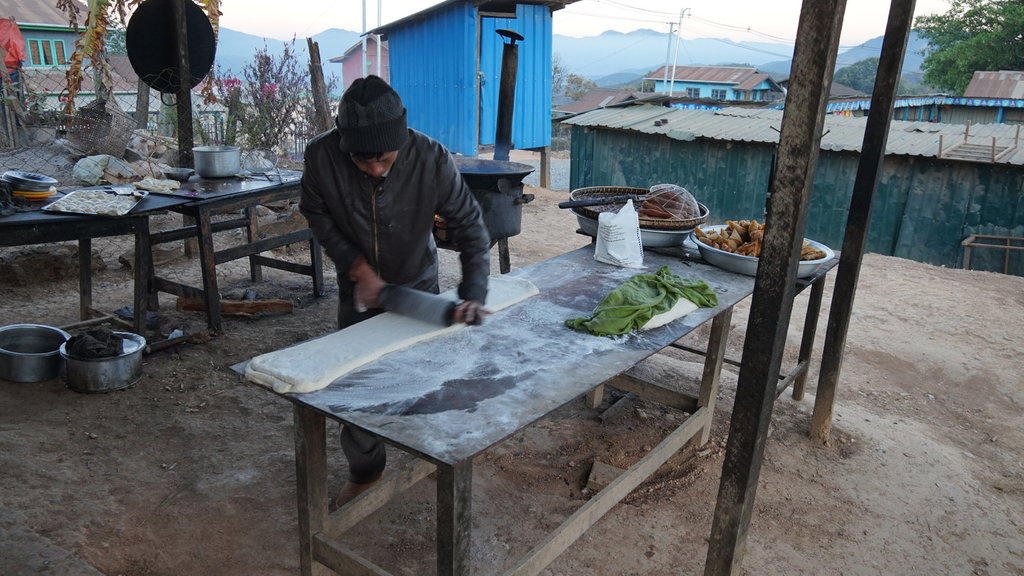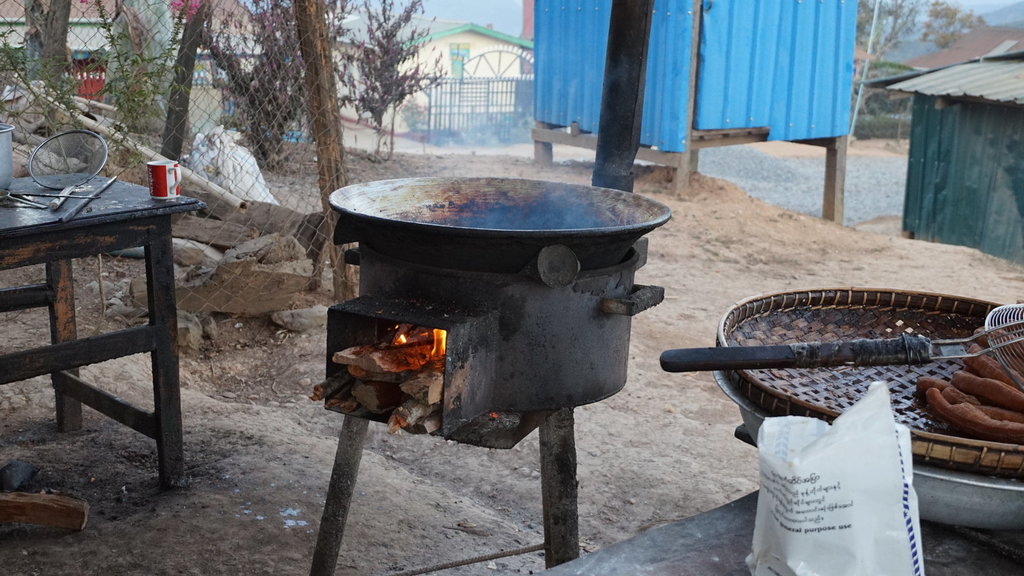 The market was small but amazing what a lot going on in such a small place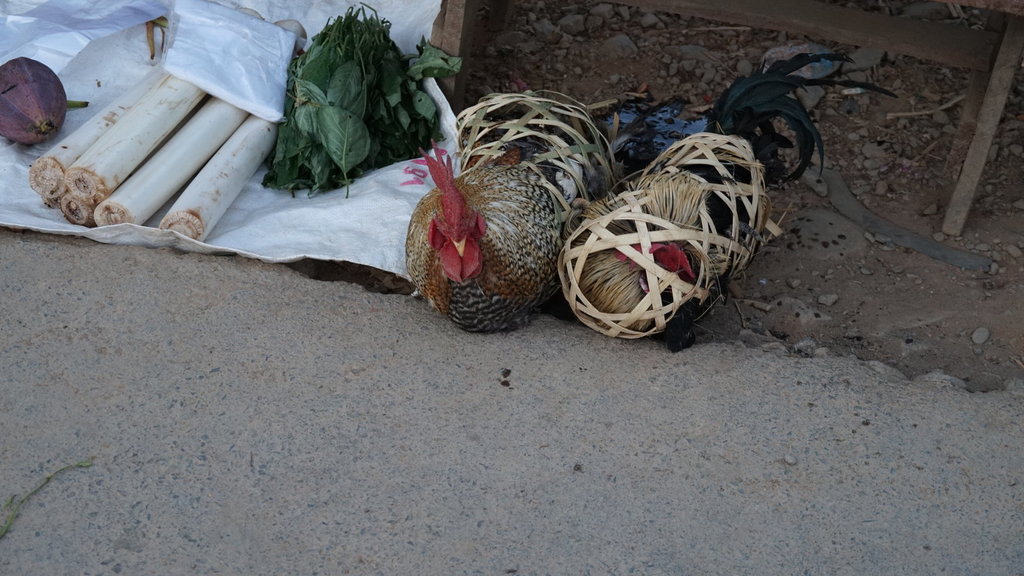 Everybody knows everyone in this town and the chatter between the ladies reminded me of Issan.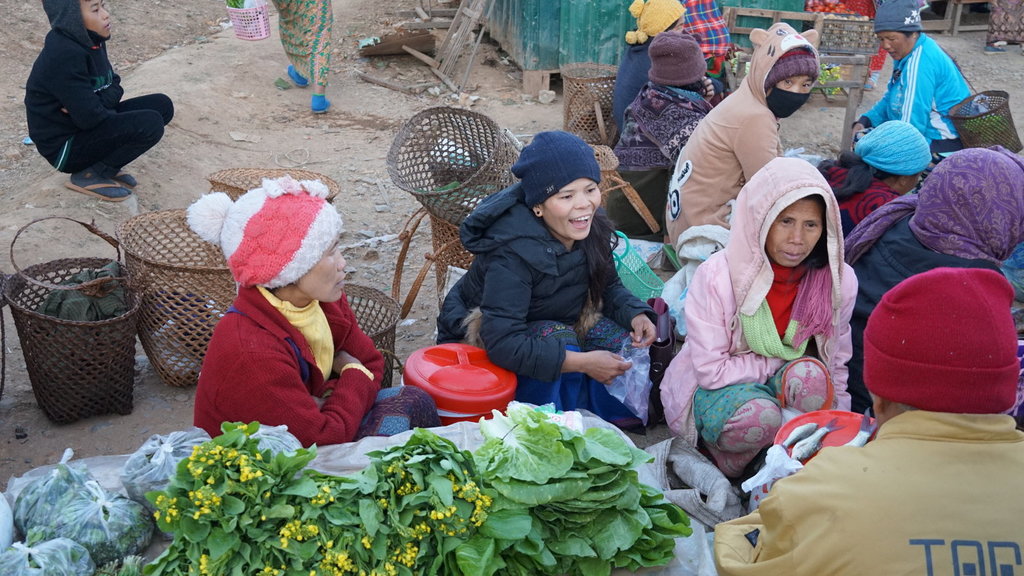 Again welcoming smiles all around.
Sure she was smiling inside.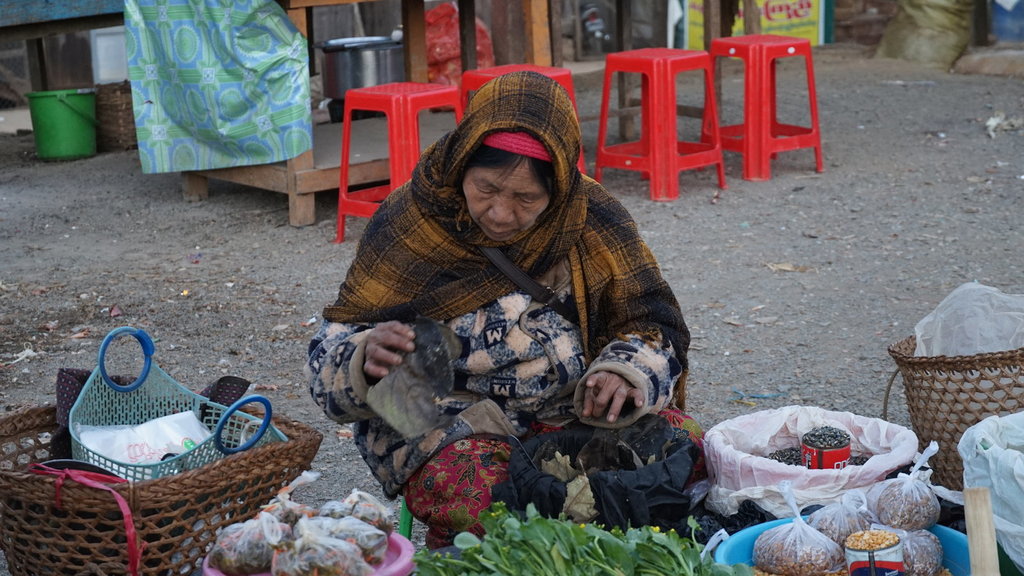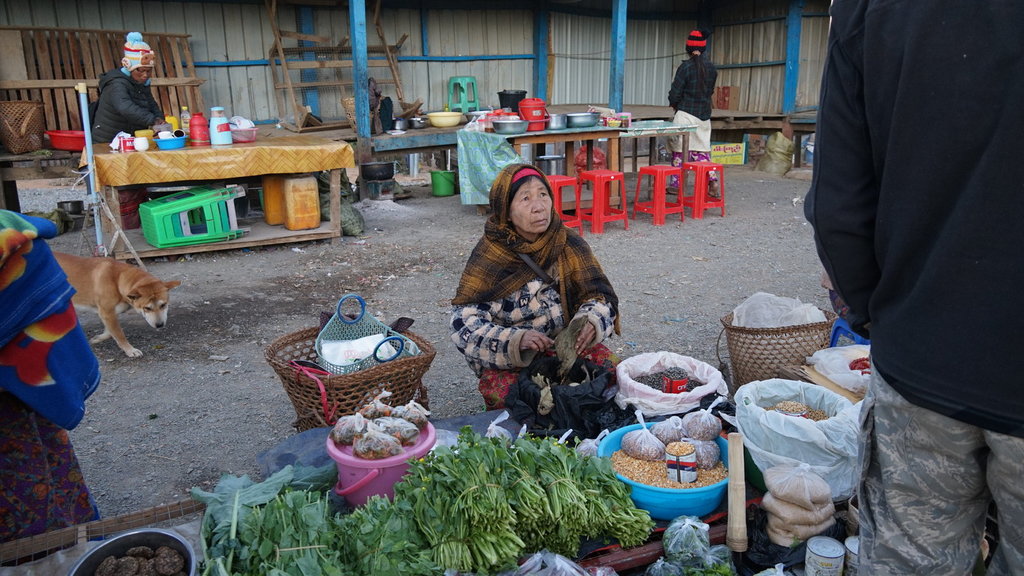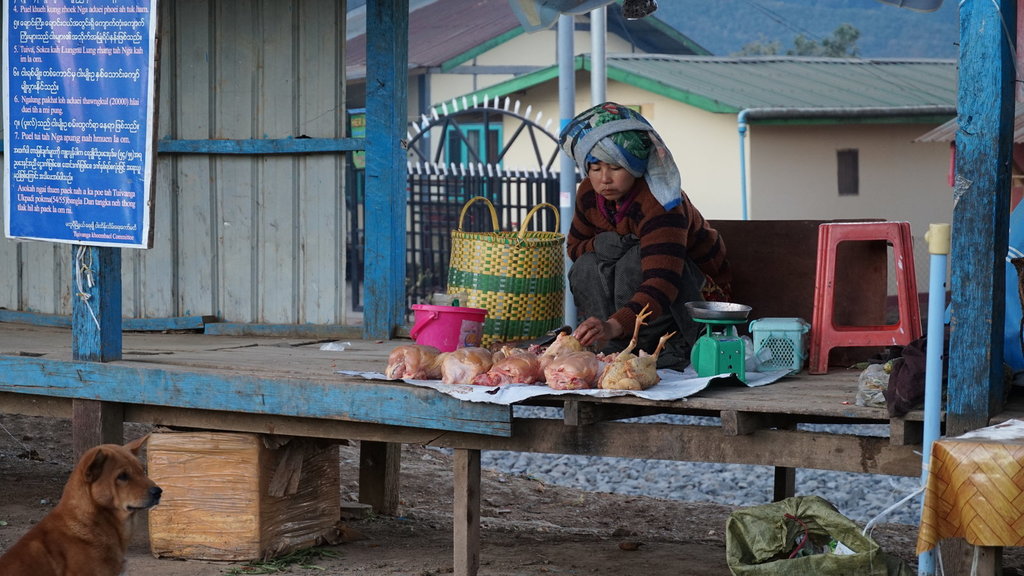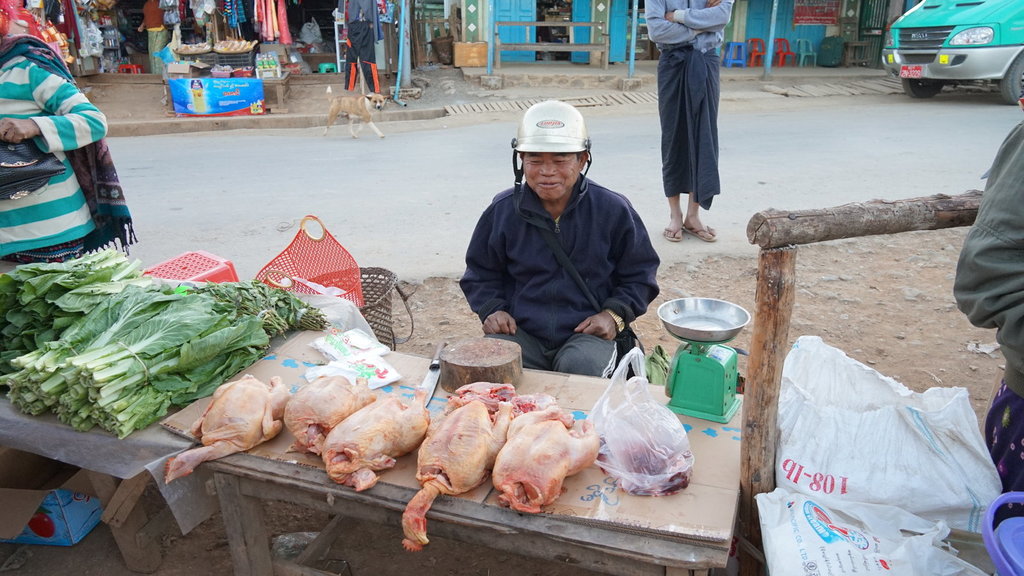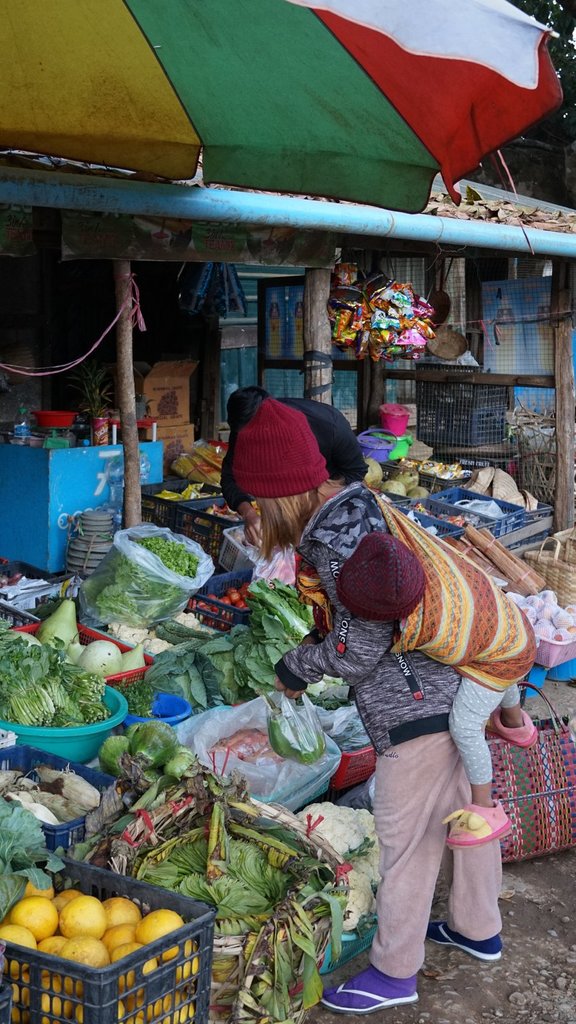 The dressed chickens for sale way bigger than we would see in Thailand.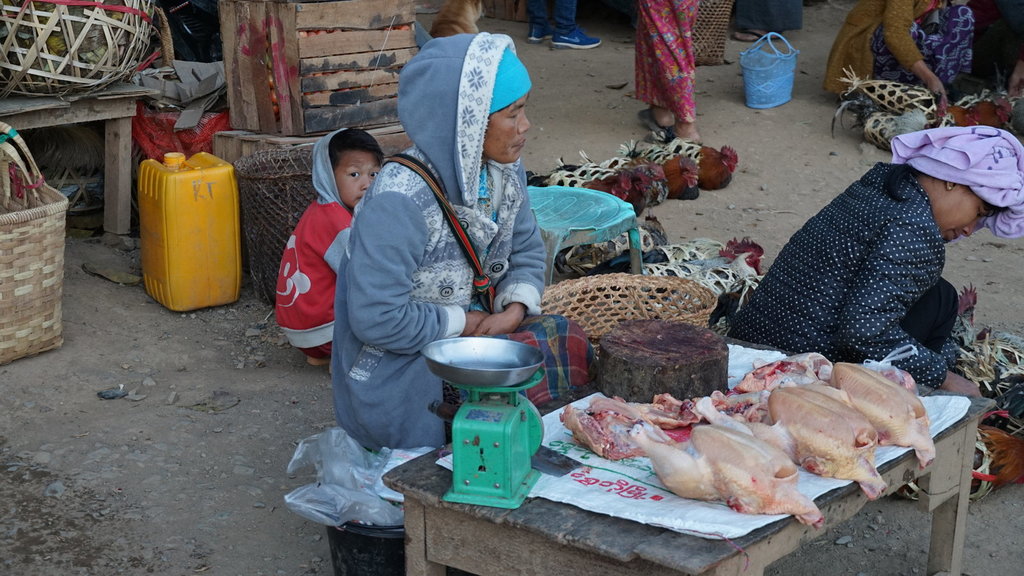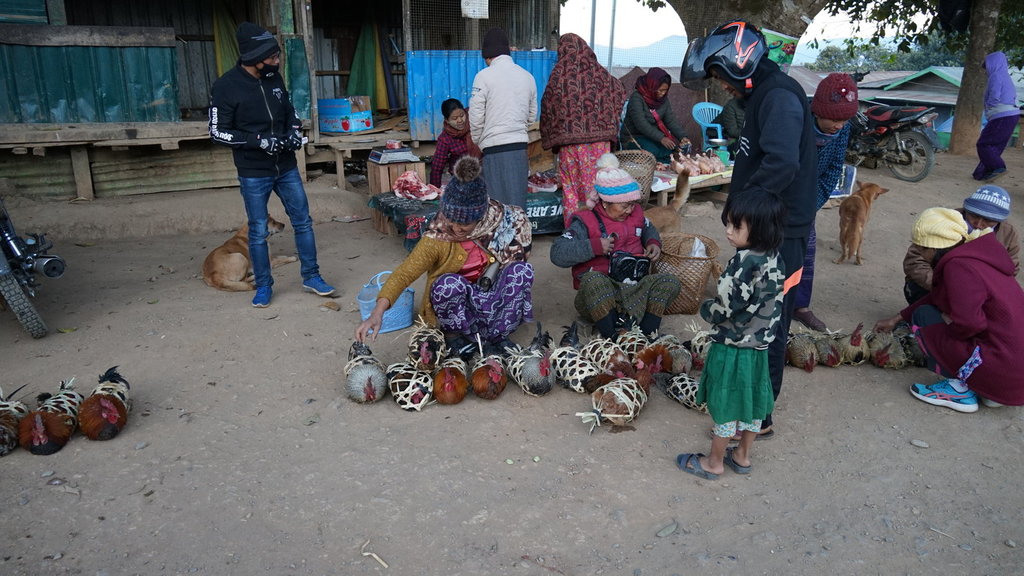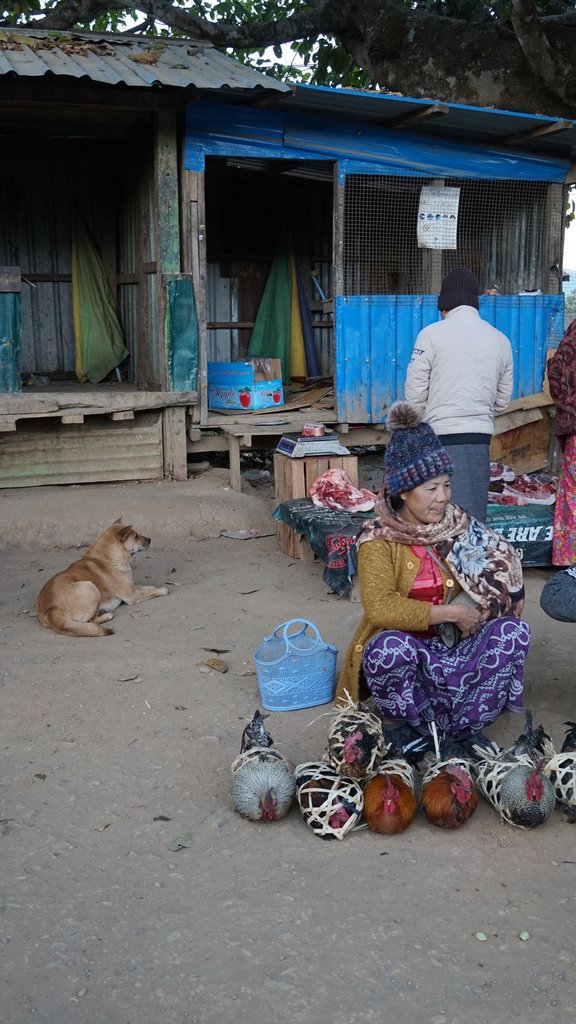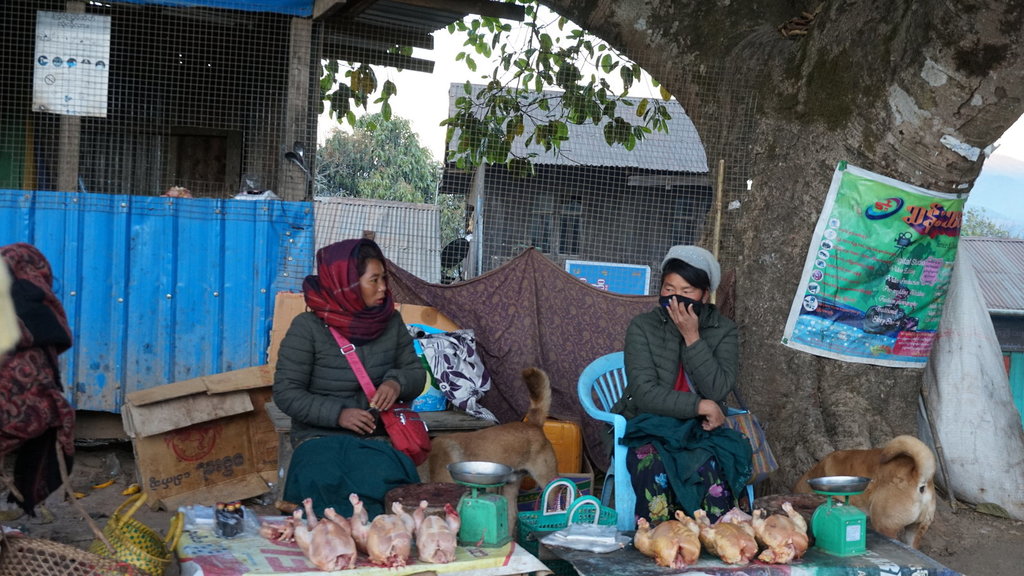 Not sure why it was only cockerels heading for the chop.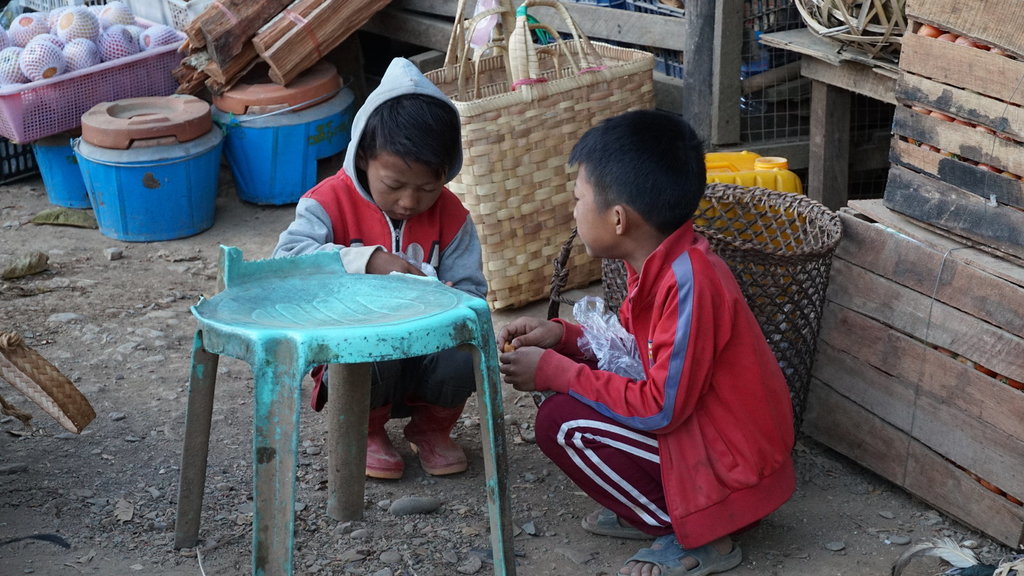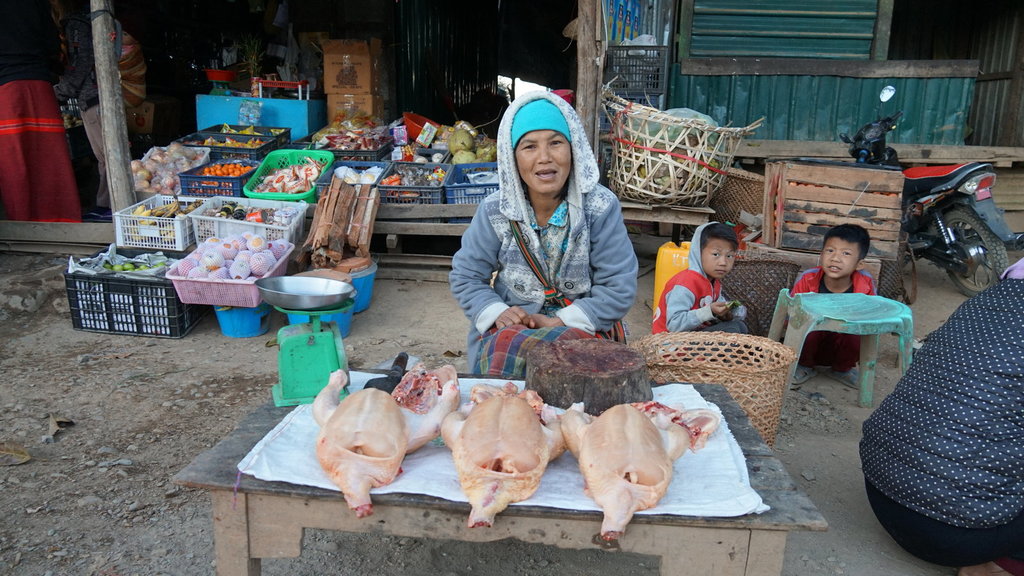 Anywhere you saw meat or fish for sale a line of dogs would hold vigil hoping for scraps.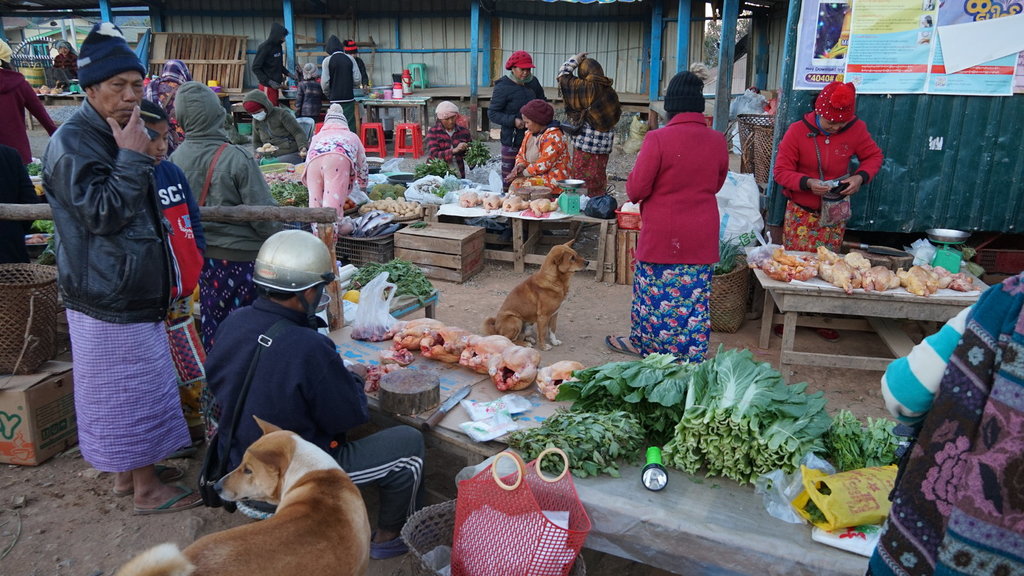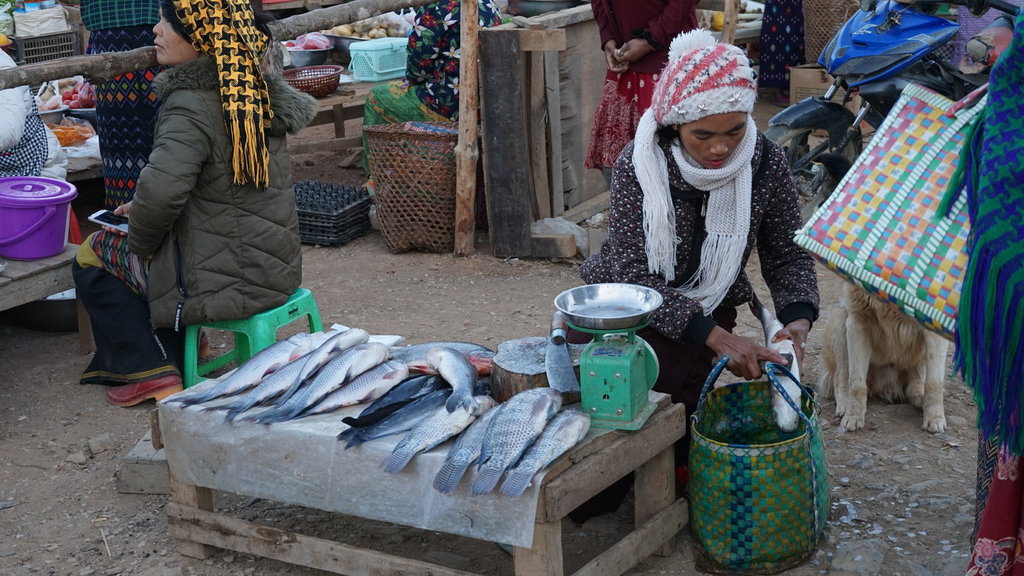 These things and absolutely dripping in sugar, no low carb diet here.
The tar boys fire going nicely, it was maybe the better job on these cold mornings
What a view from the GH.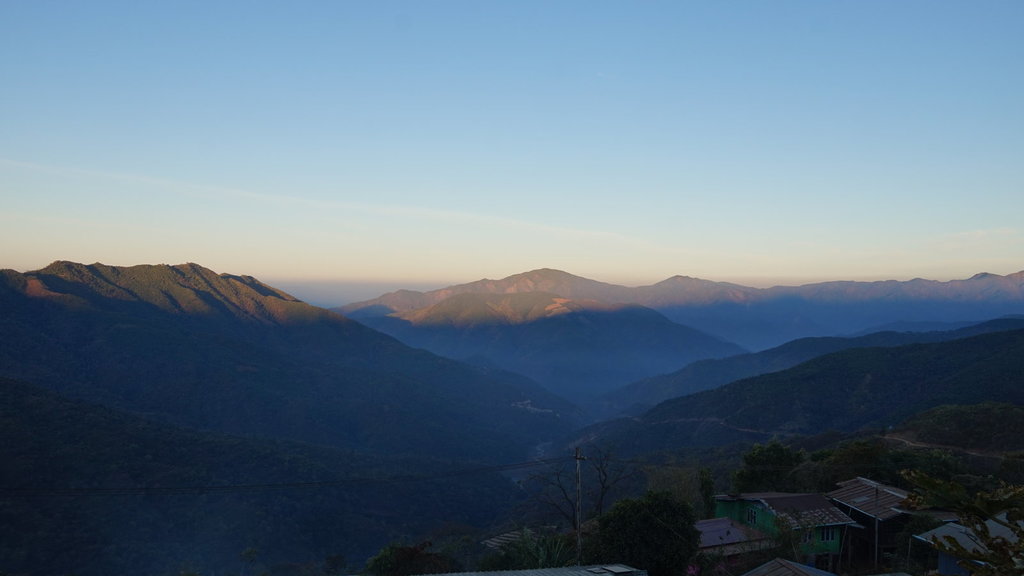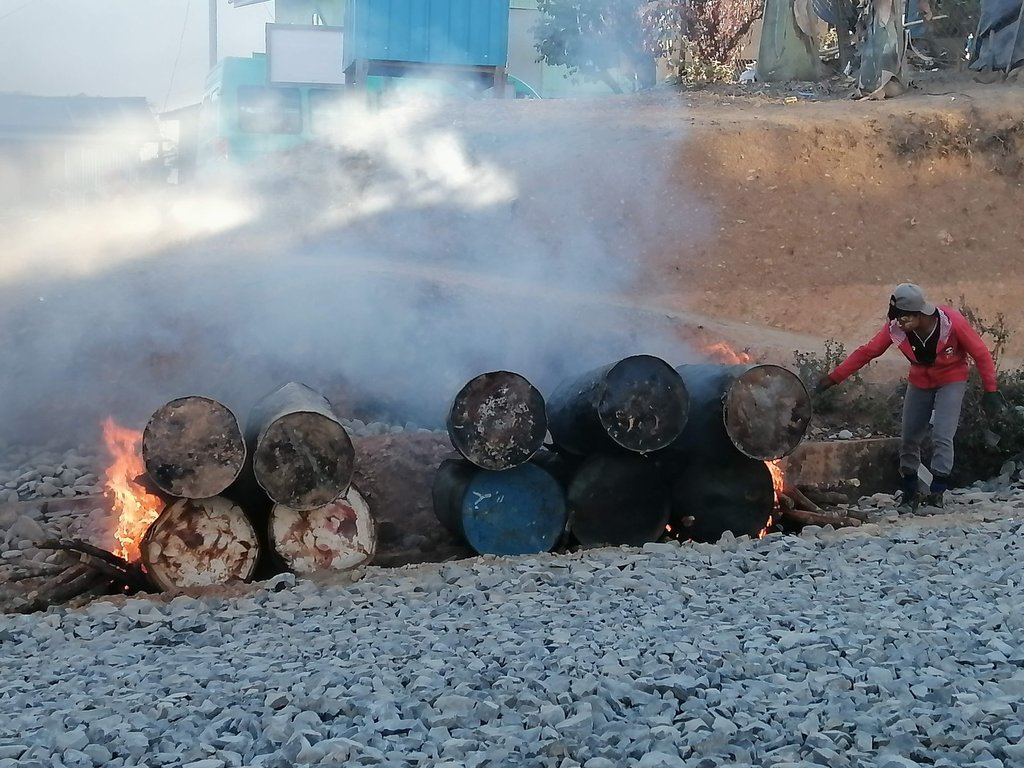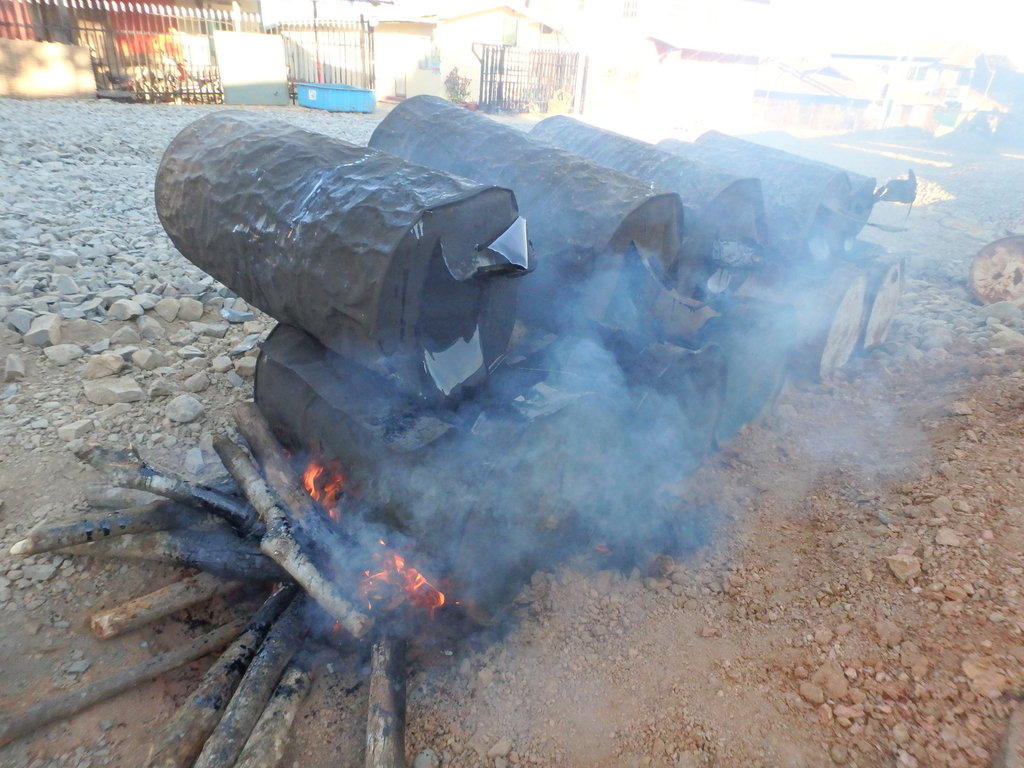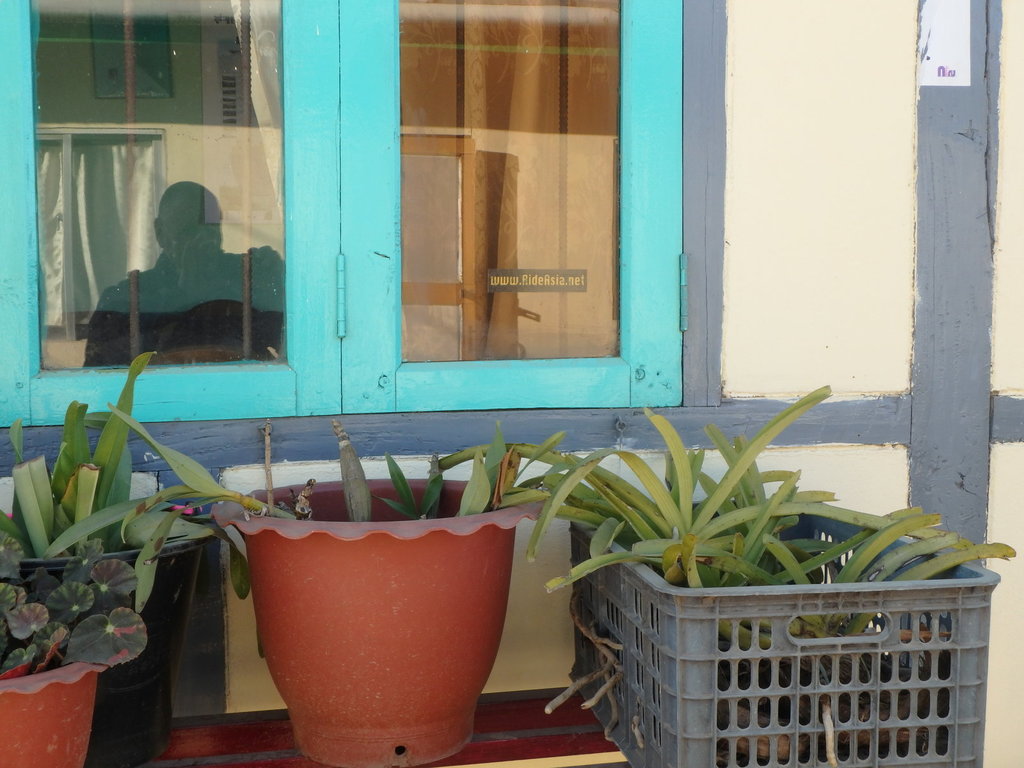 The road outside the GH was getting its final wearing course, as the workers skilfully laid out the graded chippings.
The lady in the teddy jacket was an absolute beauty but would no cooperate for the camera.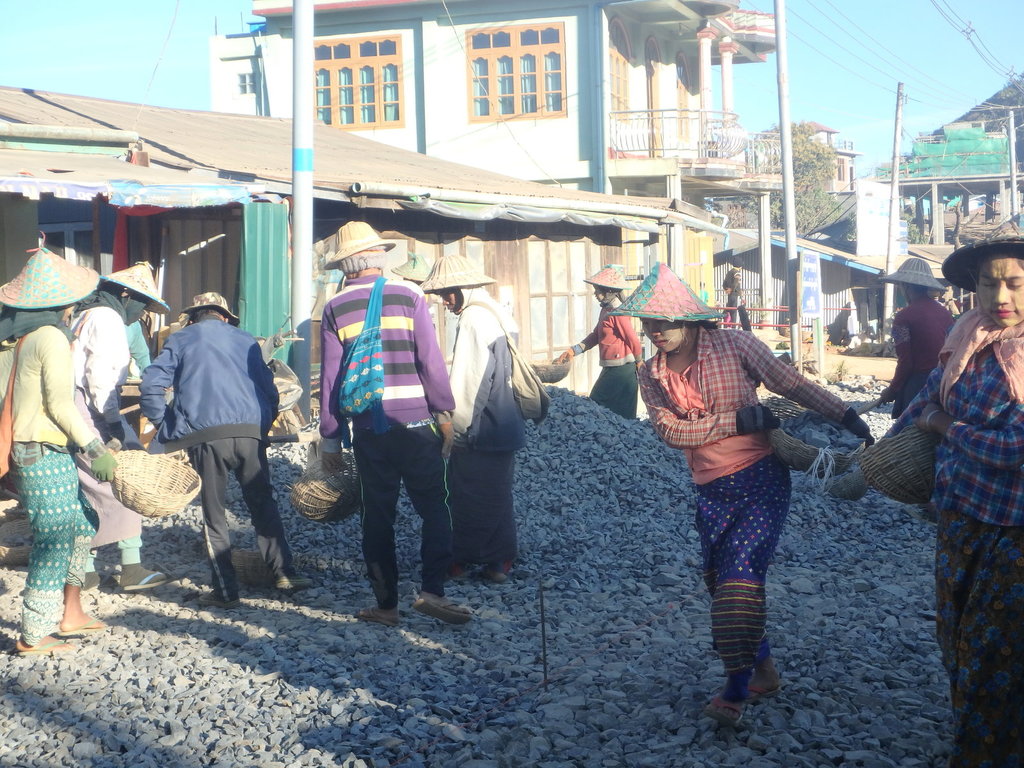 That was Matupi, a small but cosy place. Below the route only 272 km, looks easy, it isn't.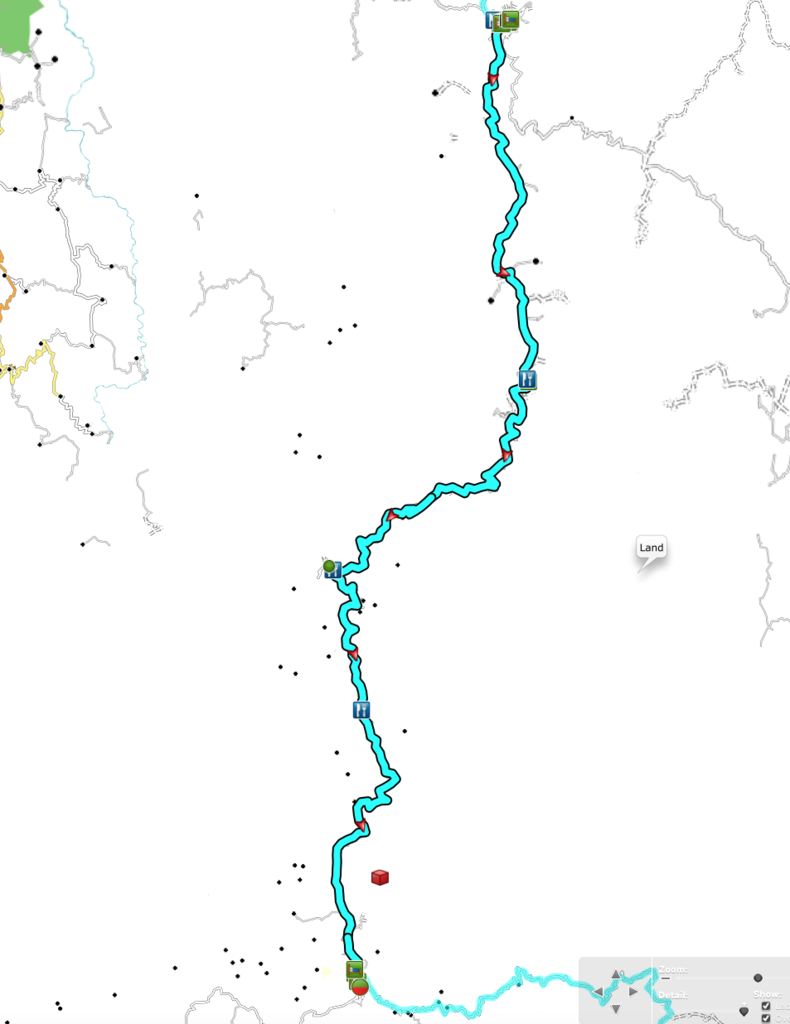 GPX viewer