Joined

Apr 2, 2012
Location
Bikes

Honda Rebel 500
The Mission was to retrieve Phil's little Qing Qi bike from its storage place in the mystical and mythical Shangra La and return it to Kunming.
Easy.
It was an offer too good to miss.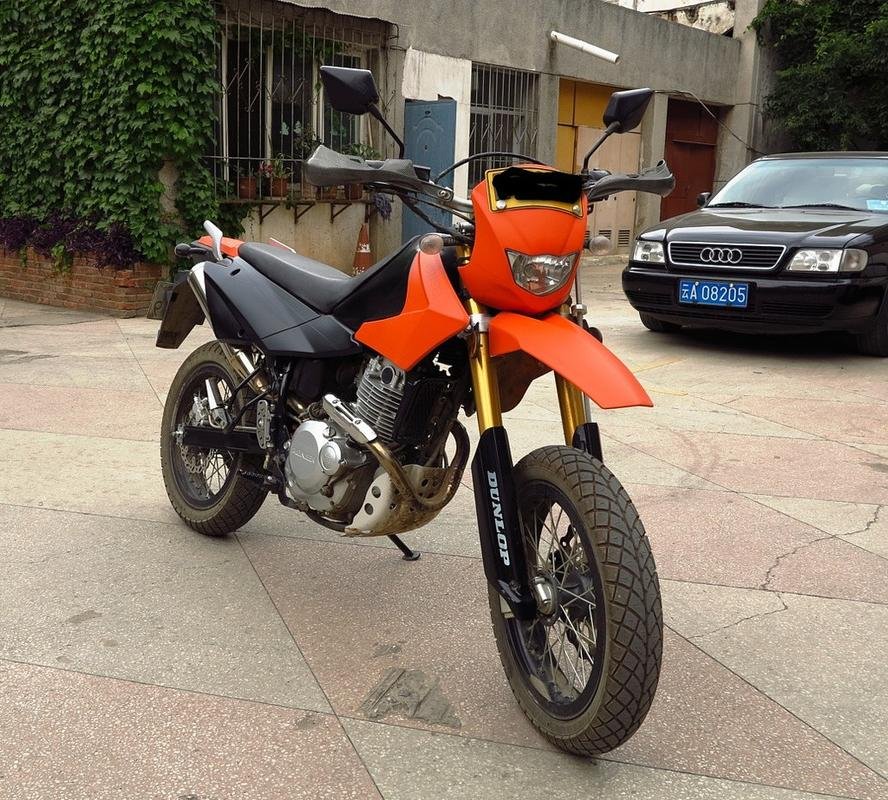 China Eastern have direct Chiang Mai to Kunming flights at a good price and I was on a seat on April 21st.
Late flight (I later heard that half the crew were late due to them shopping at Airport Plaza; gotta get those priorities right!),
dirty plane, no English instructions; not a good start.
Ok, now in Kunming. 35 minutes and 65 Yuan from airport to inner city hotel.
The taxi driver was friendly and helped me pronounce 'Shangralila' (with an extra 'li' in it).
And I heard 'Yinan' rather than 'Yunnan'.
I needed to stay in the city so I could locate the 'Active China' office, where the bike was eventually to be returned.
I had pre-booked the Yun Hua Hotel at 118 Dong Feng East Road because it was close to the 'Active China' office and it took ages to book in.
Like many hotels here, they demanded a substantial deposit on top of the room fee, which would be refunded at check-out time.
'Oh, here we go; this is going to be a hassle'.
No English spoken at Reception and all communications was done via their computer translator.
There are no restaurants nearby either and I was starving.
A box containing tools and spares was supposed to have been left at reception but the unfriendly and unsmiling staff had no idea about that.
This was not a good start but the weather was perfect and my tiny AM/FM set discovered the excellent local Radio NEWFM 102.8 station which
helped me make it through the night.
'Why do all the inmates here have to be so darn noisy and slam every door in their rooms throughout the night?
And why does my bed linen smell of cigarette smoke?'
22nd April
'And why do they all have to wake up so darn early and noisily and slam every door.
And why do the vehicles in the car-park have to beep heir horns until the vehicles are full?'
The complimentary breakfast had been devoured by the time I discovered the 'lounge' at 7-30 am.
However, I did discover a couple of rejected hard-boiled eggs lamenting in a bowl and they were my breakfast.
Back at Reception I noticed a box behind the desk with my name on it.
'Yes, that name is the same as the name in my Passport, so please give the box to me.'
That was a 20 minute process!
Ok, I had the address of 'Active China', so it would be easy to locate their office.
Another inmate of the Yun Hua took sympathy on me and kindly offered to drive me to the office; well, to where he thought it was.
An hour later we still hadn't located the office and I still had no idea where to return Phil's bike.
The office address clearly said '86', but that was a bank. So yet another young chap saw the anguish on my face and offered to help.
He was brilliant and patient and made some calls for me. We eventually found the office on the third floor of an office block.
It had to be #305 because it had a familiar looking sticker on the door. But the lane is #84, not #86.
Anyway, I now knew where the bike was to be returned and logged the GPS co-ordinates.
'Active China'
N 25.04246
E 102.72698
Mr Jah was riding New Zealand, so his sister (Xuke) booked a flight to Shangrali La for me and fed me many cups of Chinese tea.
Now I had the rest of the day to walk around and 'get a feel' of China.
First thing was that about 95% of the bikes are electric. Wonderful idea ... but deadly because a new-comer simply doesn't hear them approaching from behind on the footpath. They sure do help save the environment though. I have read that 700,000 Chinese die from carbon monoxide poisoning every year.
That's the population of Phuket Province .... twice over .... every year. And no-one wears a helmet.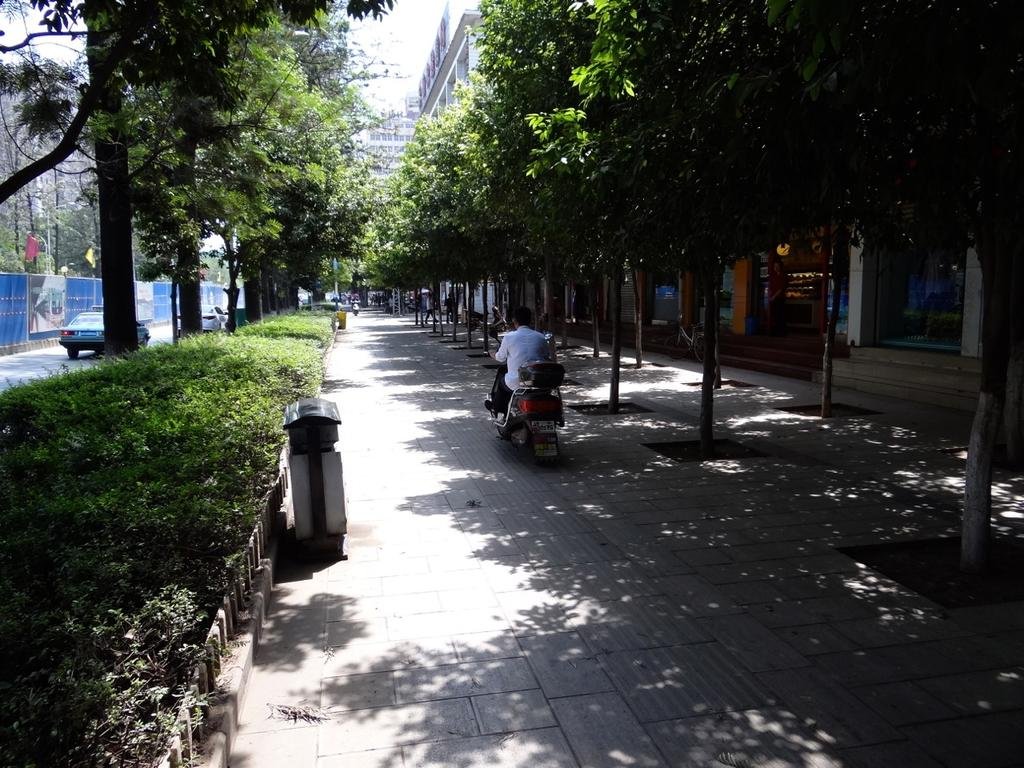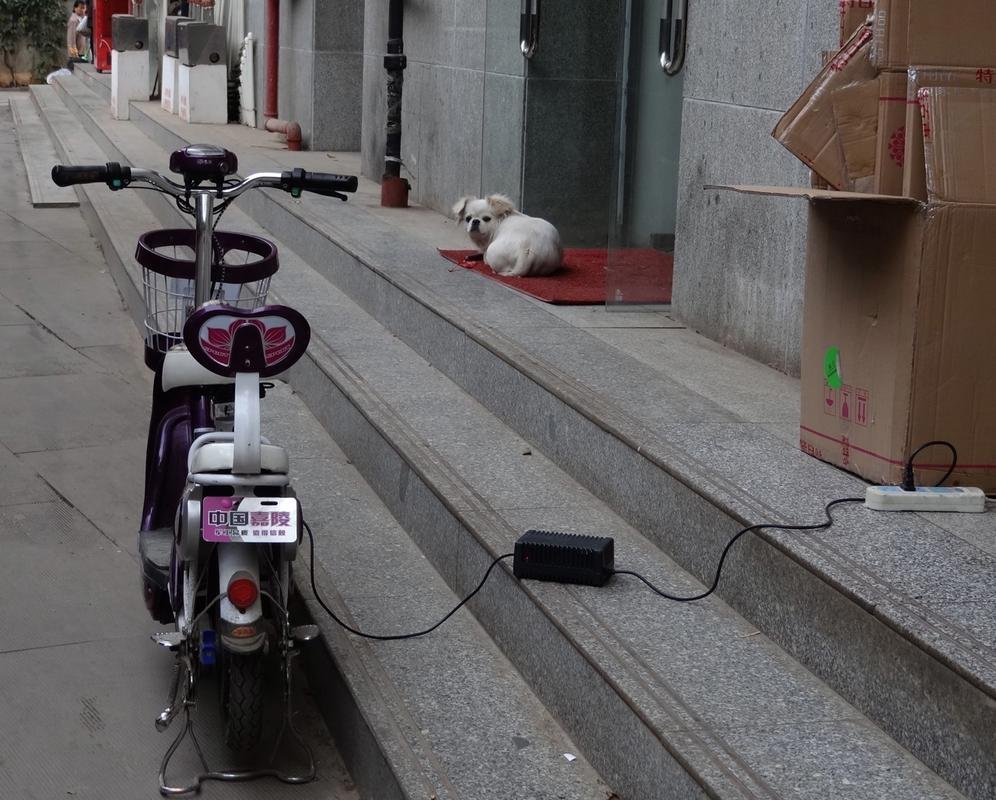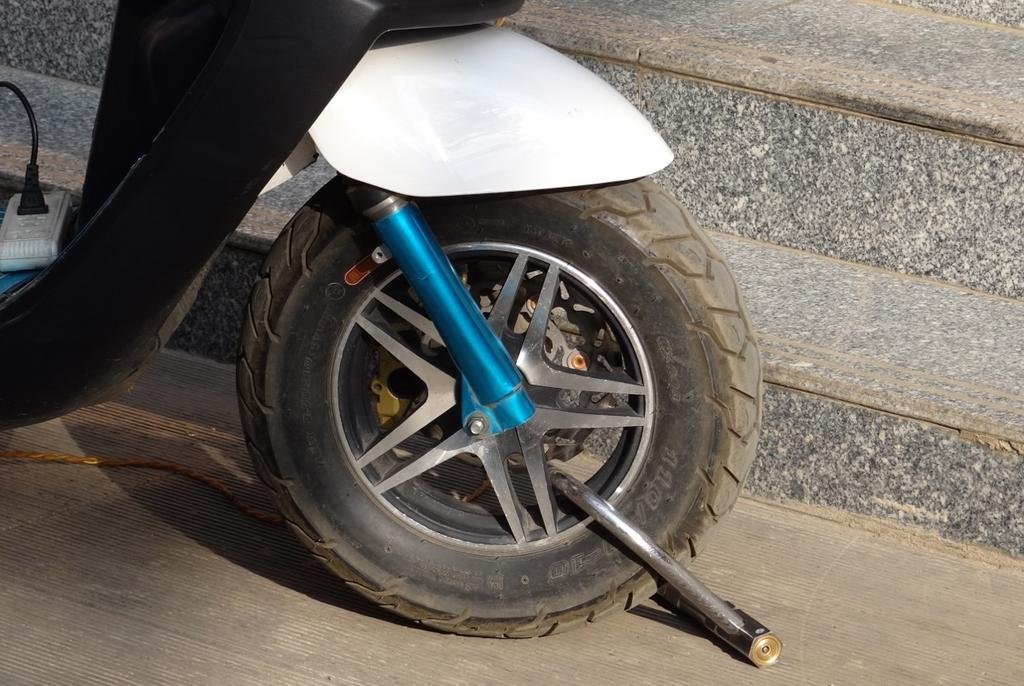 I tried to get a SIM card but was asked to pay a 2000 Yuan deposit!!! No way.
(10 Yuan = 48 baht)
That restaurant looks nice and I'm a bit hungry now that the nourishment from the hard-boiled eggs has been walked off.
No English, so I'll just point and smile and hope for the best.'
I went back to the Hotel for a late afternoon nap before the loud hordes arrived and, again, Kunming Radio NEWFM 102.8 helped me make it through the night.
23rd April
Ok, time to get out of here, up to Shangrali La and commence the adventure.
Just the slight matter of checking out and getting my deposit back.
My due refund was a significant 204 Yuan. I knew they'd fight tooth and nail not to give my full refund and they did.
Twenty minutes later their computer told me, 'Hairdryer in room broken must pay 50 Yuan'.
'Good try Smiley but look at my bald head; I need a hair-dryer as much as I need a cod-piece.'
'You drink water 20 Yuan'.
'Yes, I drank water.'
This whole checking-out farce lasted 40 minutes and I had to get to the airport and they didn't want to part with my deposit.
I eventually literally snatched 184 Yuan from Smiley's hand and walked outside to freedom.
Good riddance Yun Hua Hotel. I recommend this place; recommend you avoid it!
A quick sprint to the airport and a 65 minute flight up to Shangrali La. (Saw a bike fatality in the city; 'no helmet, no tomorrow'.)
Bumpy arrival through a snow-capped valley of rugged and beautiful mountains.
'Ahhh, this is better. This is why I'm here.'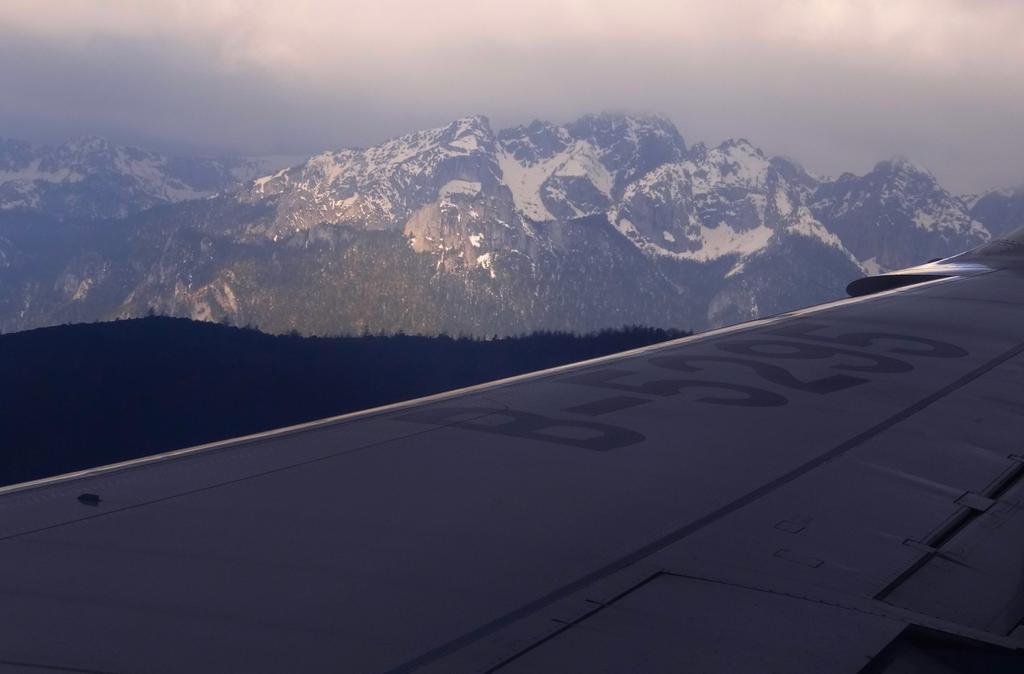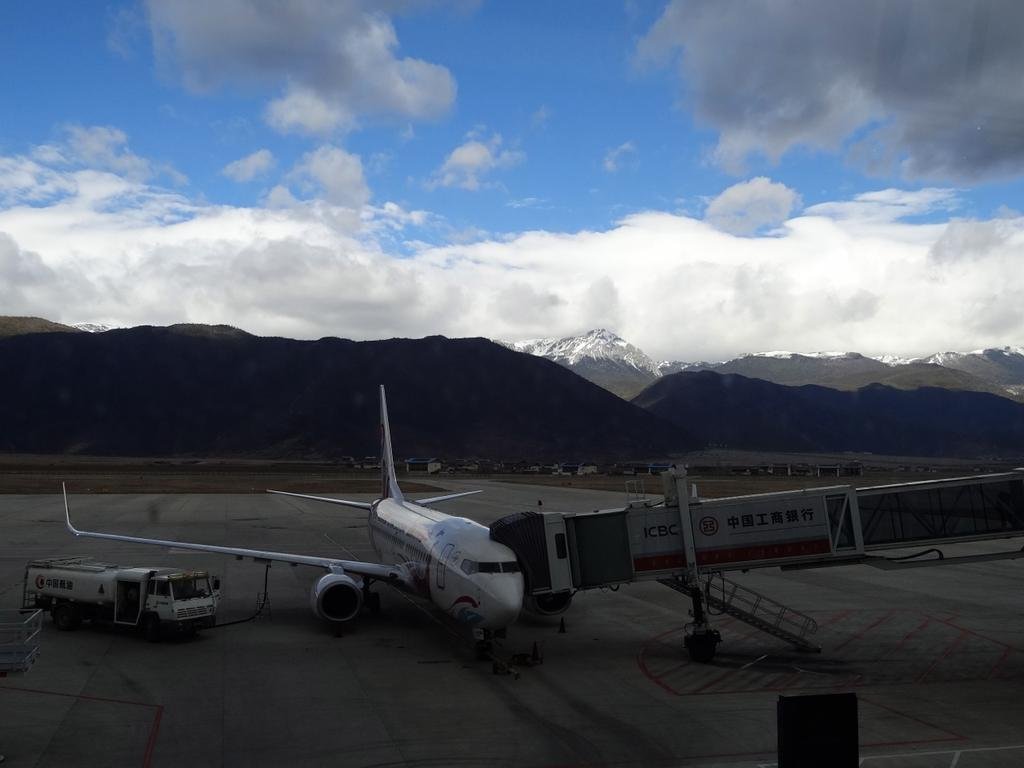 "Shangri La; so named from its original Zhongdian for marketing reasons. The'Shangri La' from Hilton's novel 'The Lost Horizon'
was a fictional hidden paradise whose inhabitants lived for centuries. Hilton never went to China but located his Shangri La in the Kunlun mountains.
Tibetans claim that the name 'Shangra La' was derived from their word for 'paradise' "Shambala" by Hilton."
I had a room pre-booked, so knew the address. However, in the arrivals lounge from the corner of my eye I noticed a chap holding a piece of paper with some familiar scrawl on it.
'Yes, that's my upside-down name!'
A delightful Tibetan man was waiting for me; Mr Jiang Chu would take me to my hotel and help me check in. This was not planned but greatly appreciated.
'
Struth, it's cold. Hold on mate, I'll put on my jacket.'
In my haste I put the jacket on inside-out; we both laughed at the upside-down name and the inside-out jacket scenario.
A nice way to arrive in a new place. Happy, friendly, smiling.
The Hotel was wonderful Tibetan style and all timber; the Gao Yuan Hong, walking distance to the Old City and the good restaurants and on the road out from town.
Easy, friendly check-in.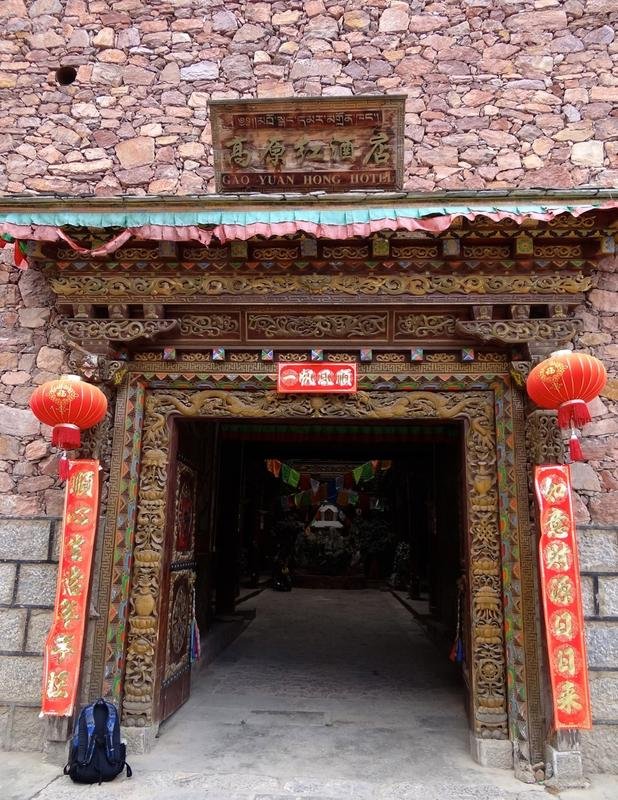 Gao Yuan Hong Hotel
N 27.81701
E 099. 70038
Then Mr Chu drove me to where Phil's bike was stored.
'Bloody hell, it's a mess. Does Phil know about this? Does he know it's done 7,560 kms'?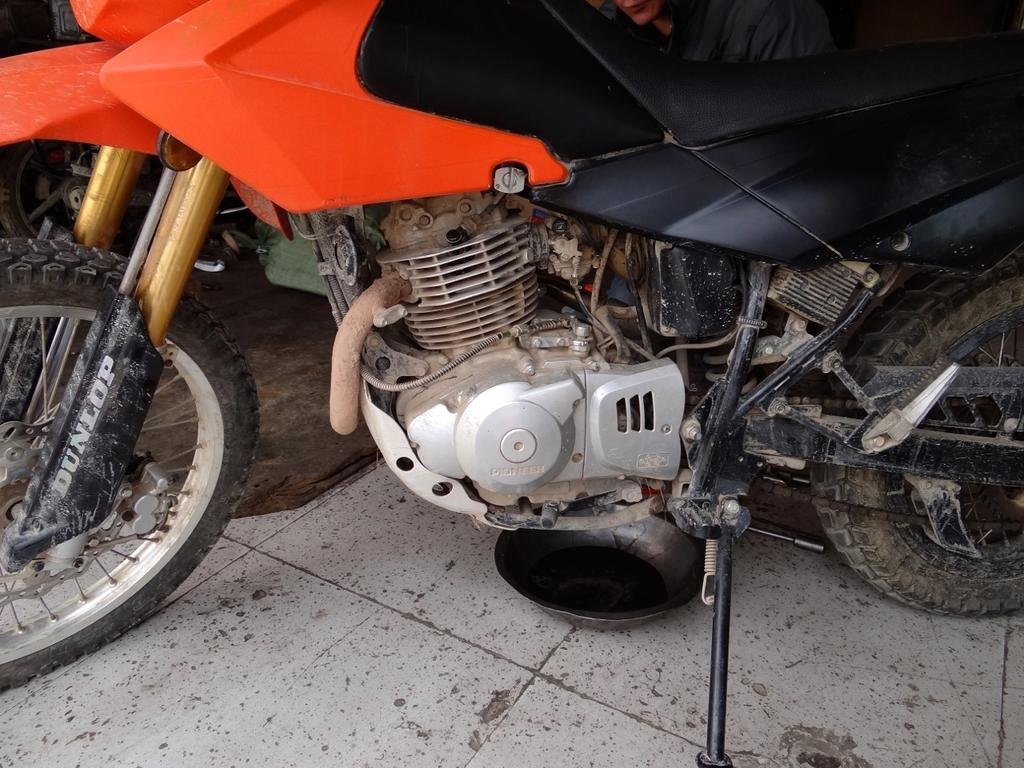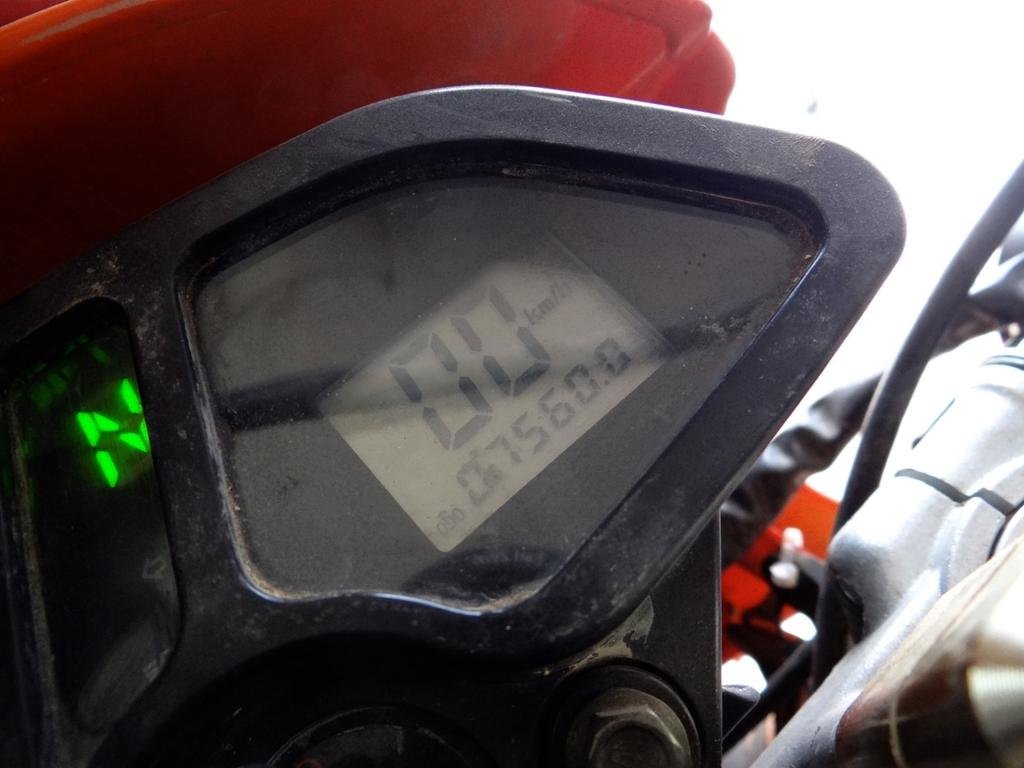 So we changed the oil, lubricated the chain, filled the tank (9 litres), put air into the tyres and tightened the very loose steering-head nut.
I took it for a ride but the steering wasn't right. So they tightened that same nut even more.
'OK, I'll live (or die) with it and get it attended to in the next city. I just want to discover the sites of this wonderful looking place.'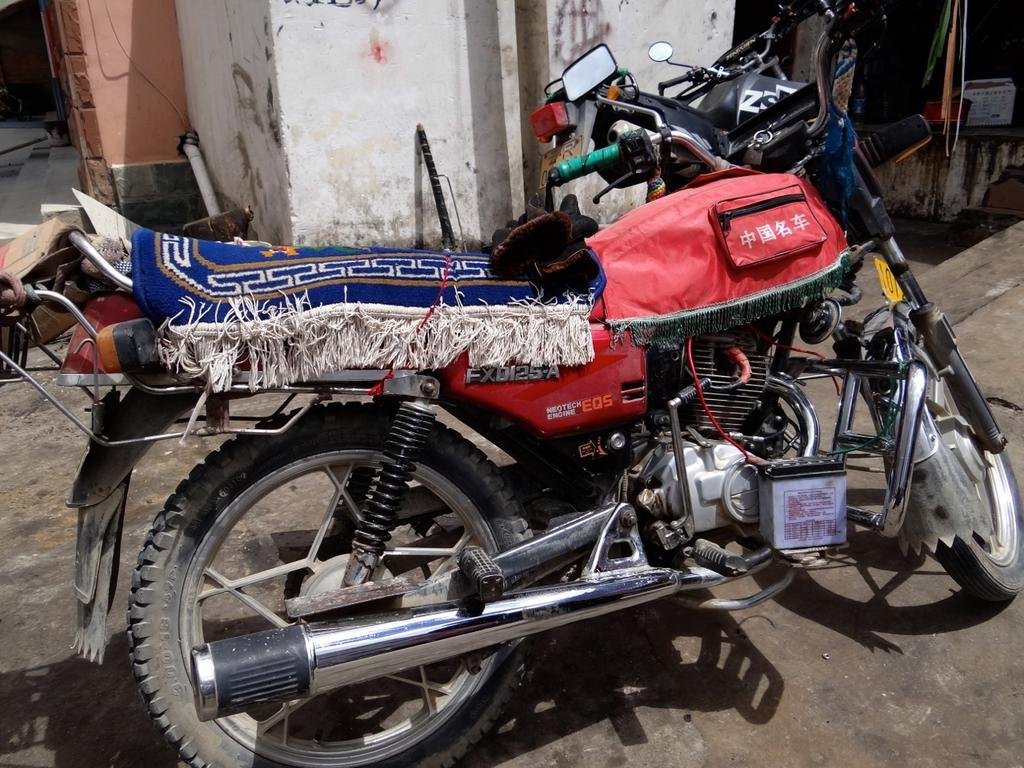 Mr Chu escorted me to a very good dumpling restaurant; one which would become a 'regular' for me during the next few days.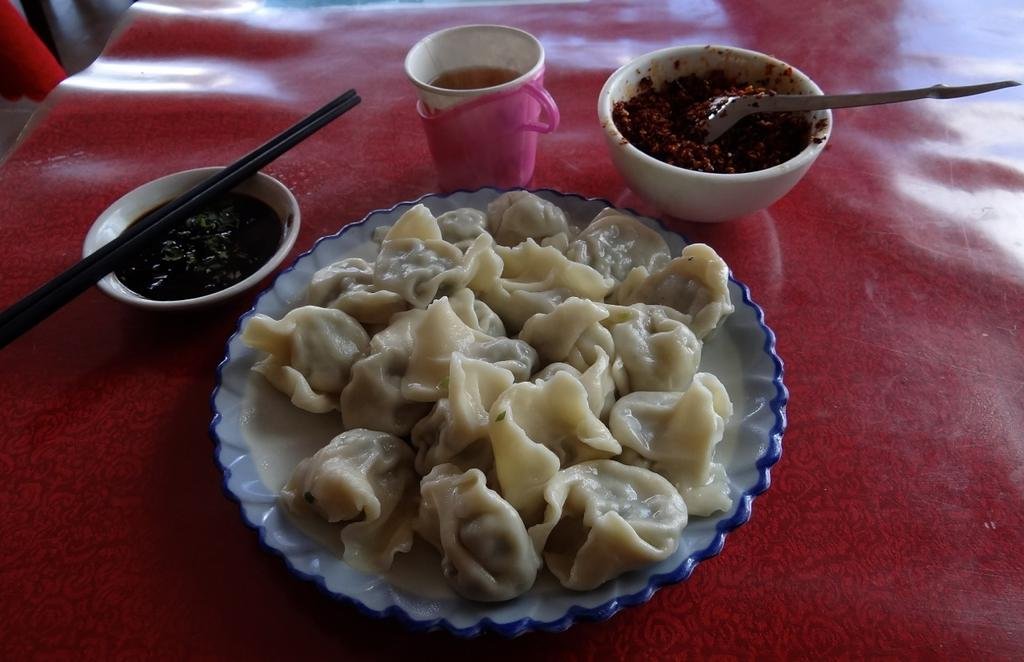 Back to the Hotel and I was allowed to park the bike next to the Reception desk. Now to walk around a bit.
Easier said than done! Maybe it was the chill in the air or maybe I had re-damaged it somehow but my right knee (wrecked more than 4 decades ago in a football incident) made walking extremely difficult and painful.
'Don't be a wimp. Persevere. It'll warm up and you'll be ok eventually.'
I limped down to the Old City and marveled at its charm. This place could be renamed 'Yak City'.
I saw my first Westerner today! But this 'Old City' is rapidly expanding into a New Old City, with dozens of new retail opportunities being built and opened to cash in on the tourist trade.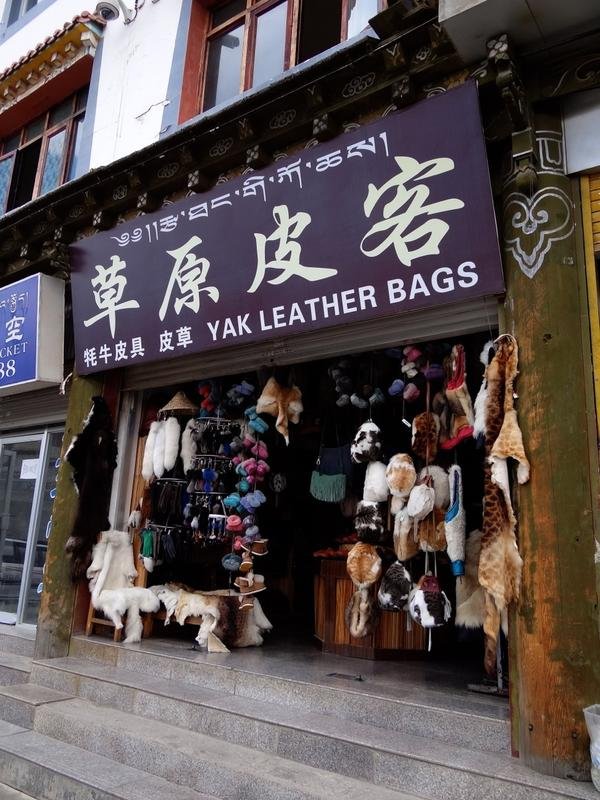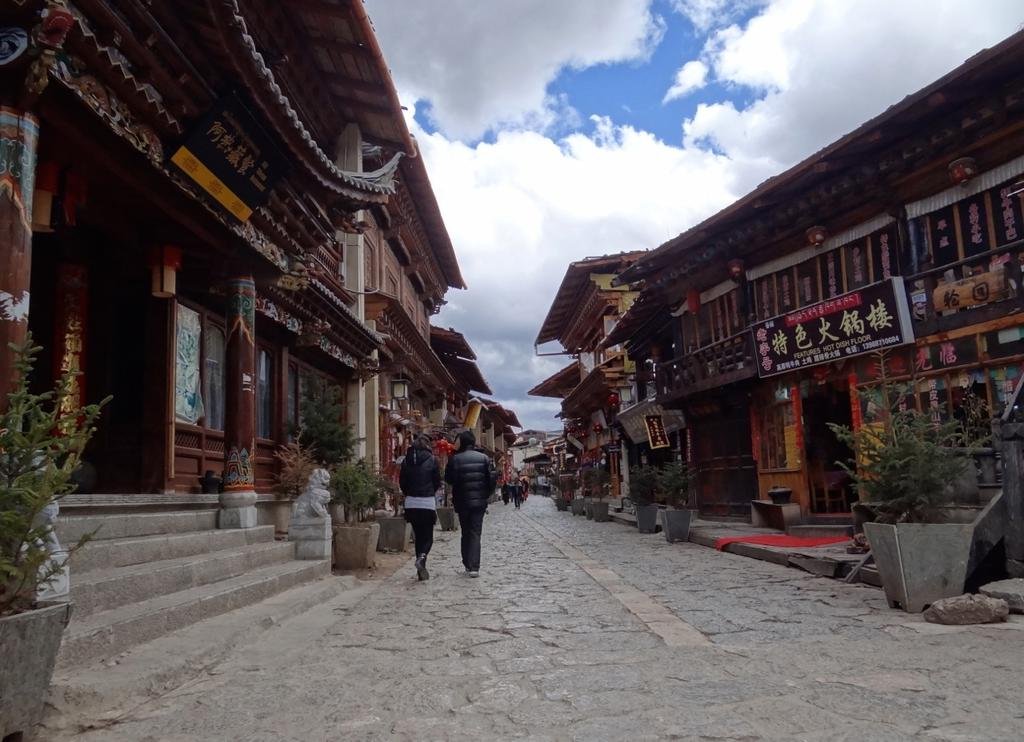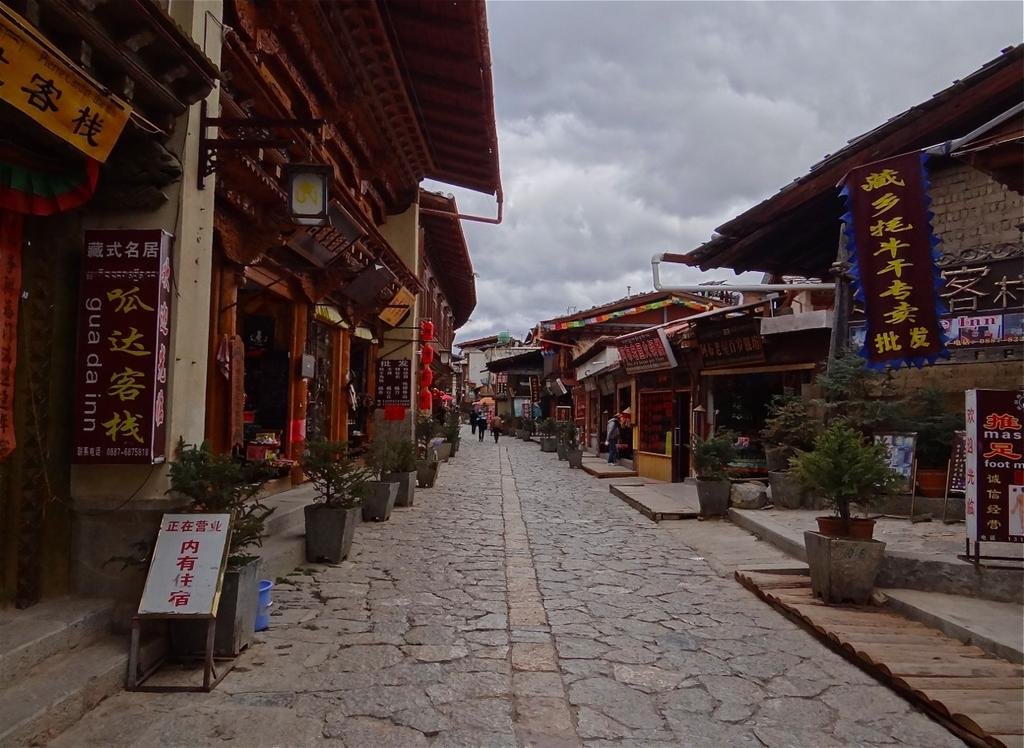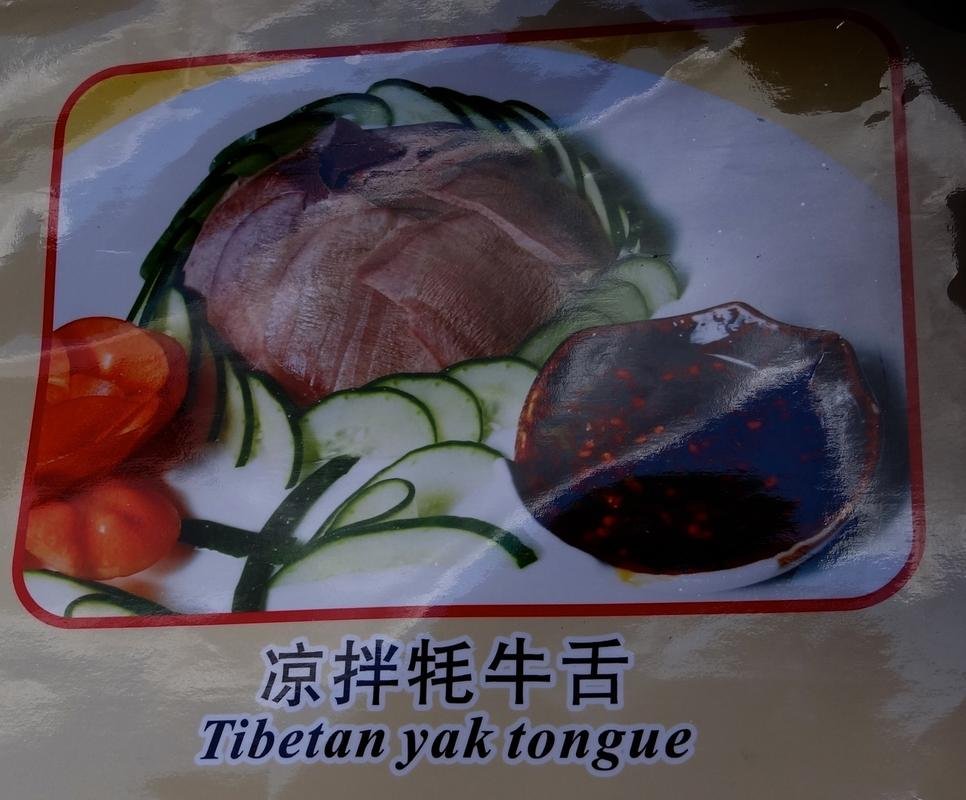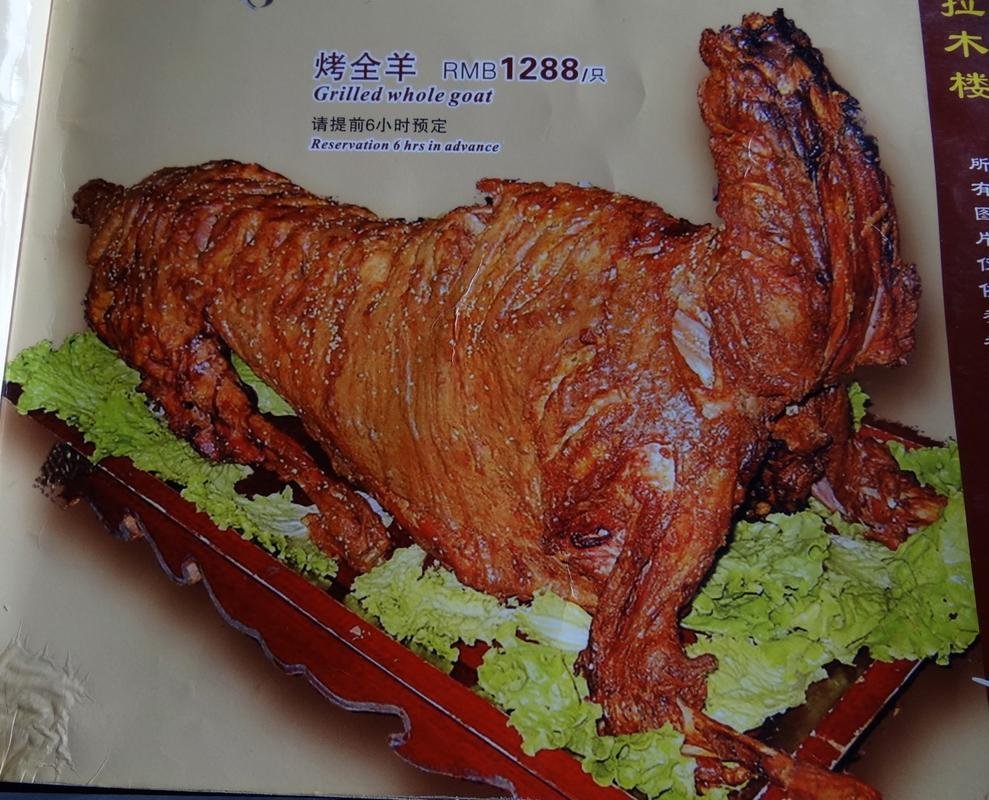 I called into a magnificent restaurant in the Old City and ordered a spicy dish which was actually sprinkled with saffron!
Only customer there, which usually worries me.
Potala Restaurant
N 27.82650
E 99.71723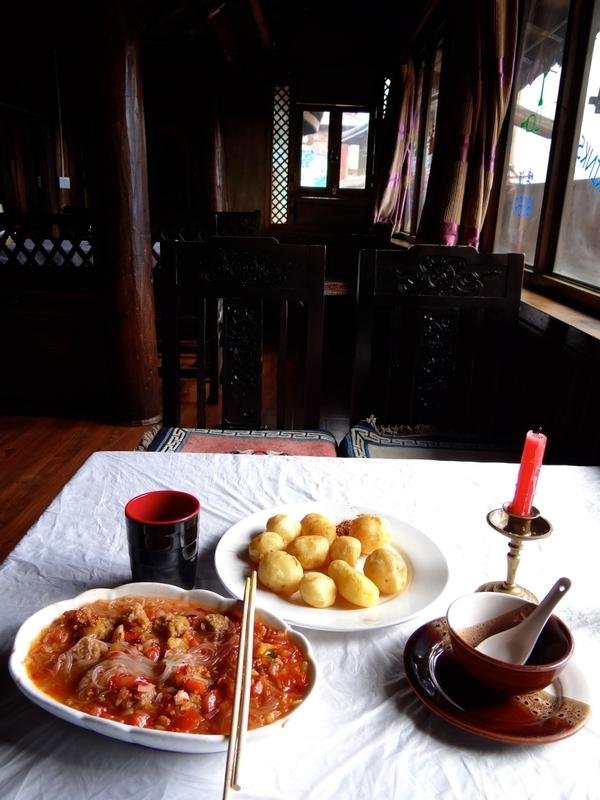 A bit cold for the staff, so they improvised a heater.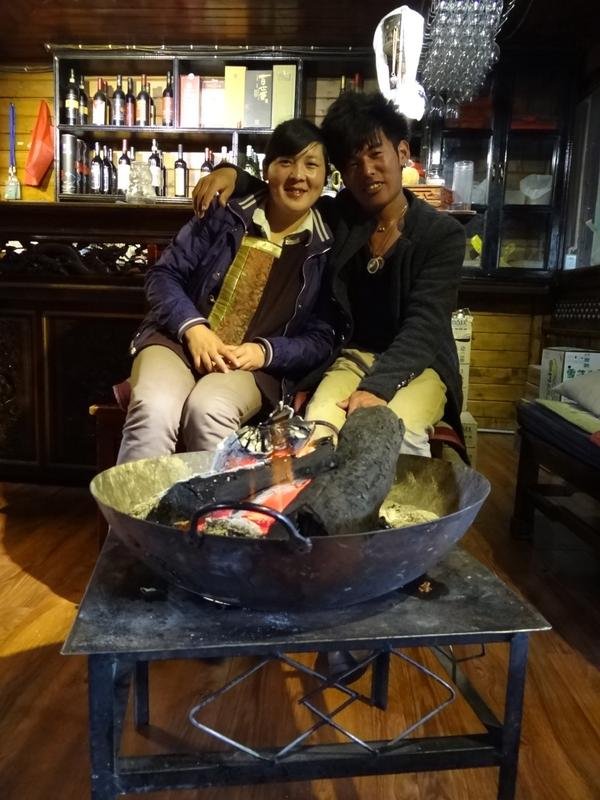 Sated, I continued my hobble around the Old City.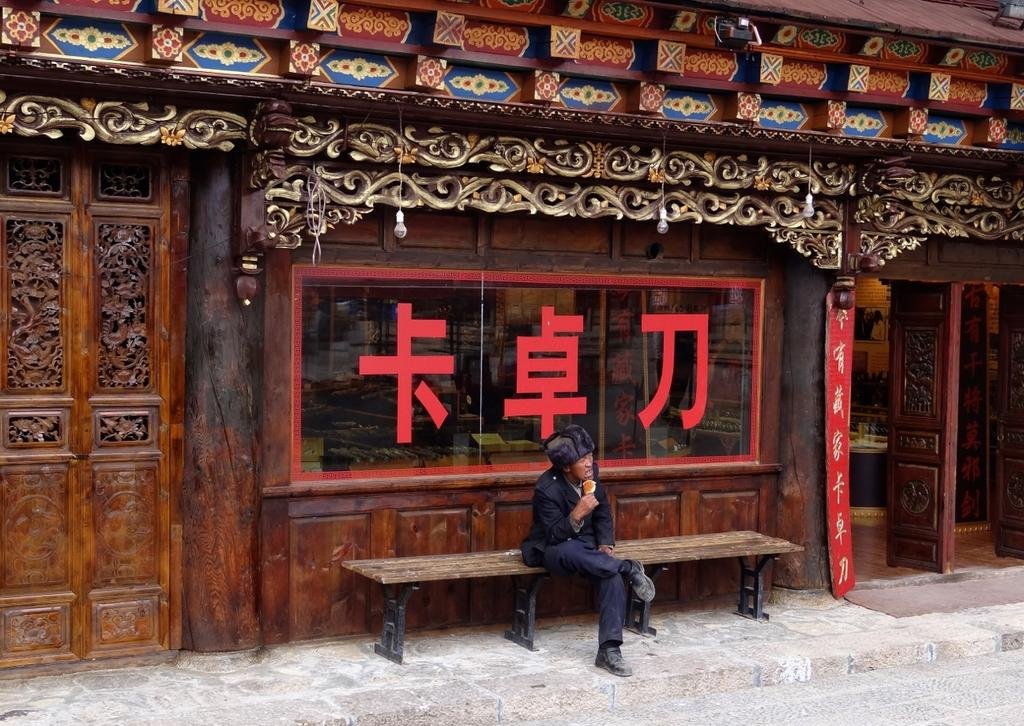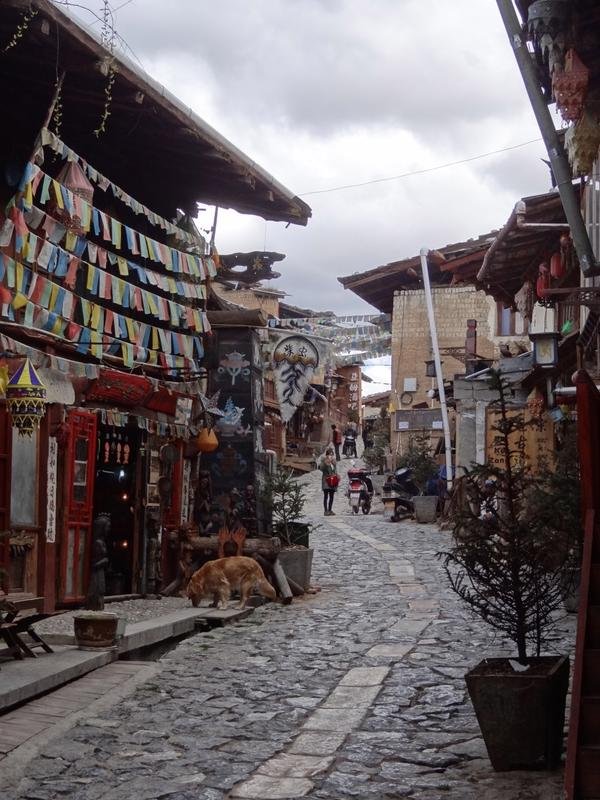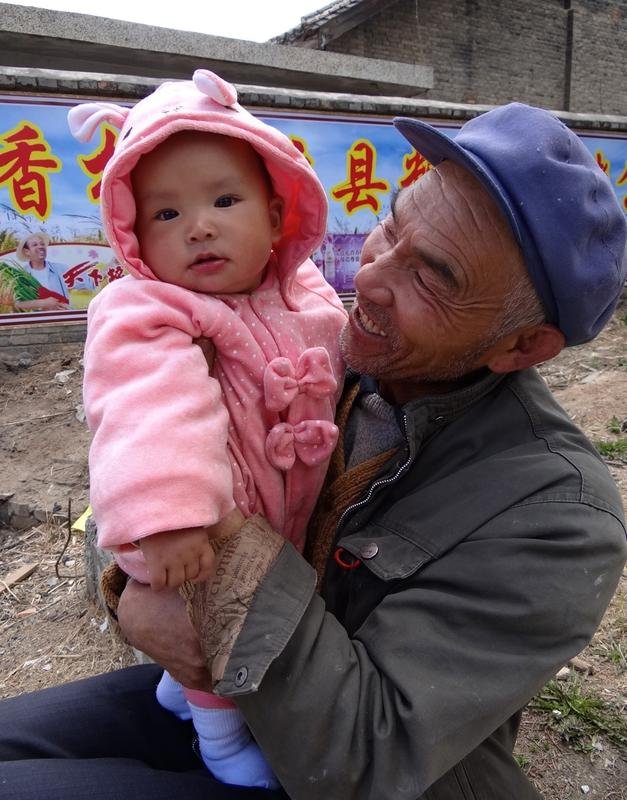 The lovely ladies at a Pharmacy sold me some analgesic spray, which actually eased the knee pain for the next few days.
But I had to 'wobble' before applying.
Then I discovered the wonderful Yak Restaurant, which has Korean, Chinese and Western food.
And excellent Snow Beer.
'I'll just sit at a window table and self-medicate for a few hours.'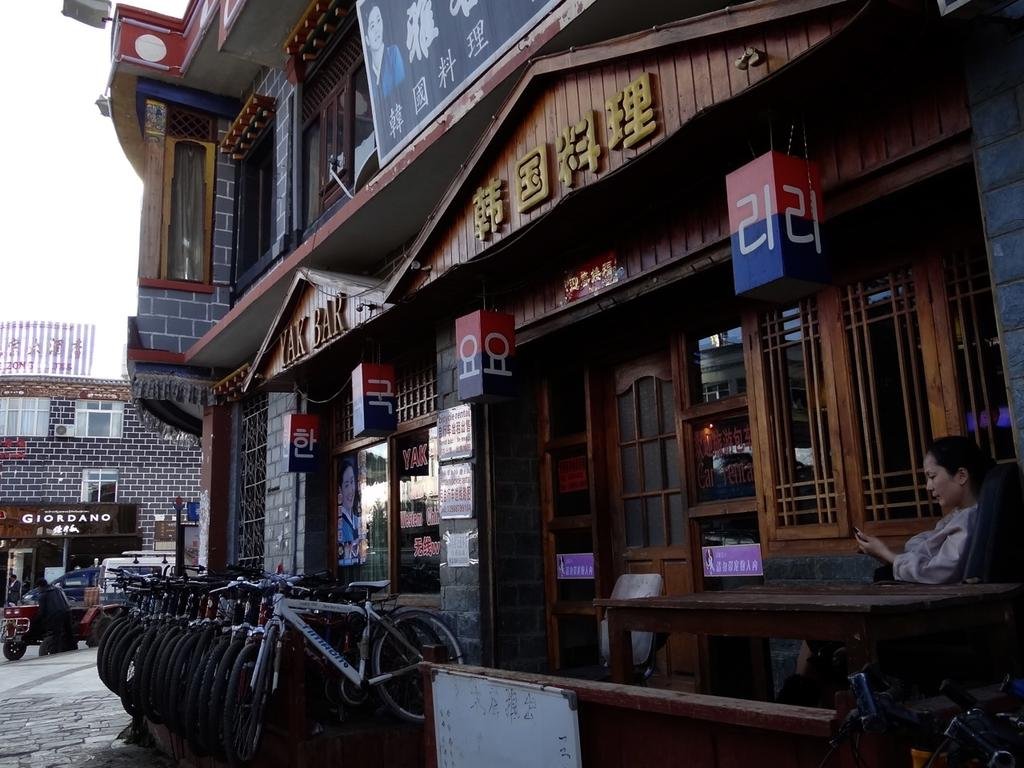 I'm liking Shangrali La. Sort of a Central Oz character to it, but with snow. I was keen to ride out from town and explore.
But first a good rest in a friendly and quiet Hotel.
24th April
I decided to ride towards the snow and headed towards the 'East Peak' area.
Luckily, Phil had warned me about the cold, so I was well prepared.
What a wonderful place, so full of charm and character and contrasts, with a vibrant mix of ethnic groups and Tibetans.
'I could live here; it has everything.'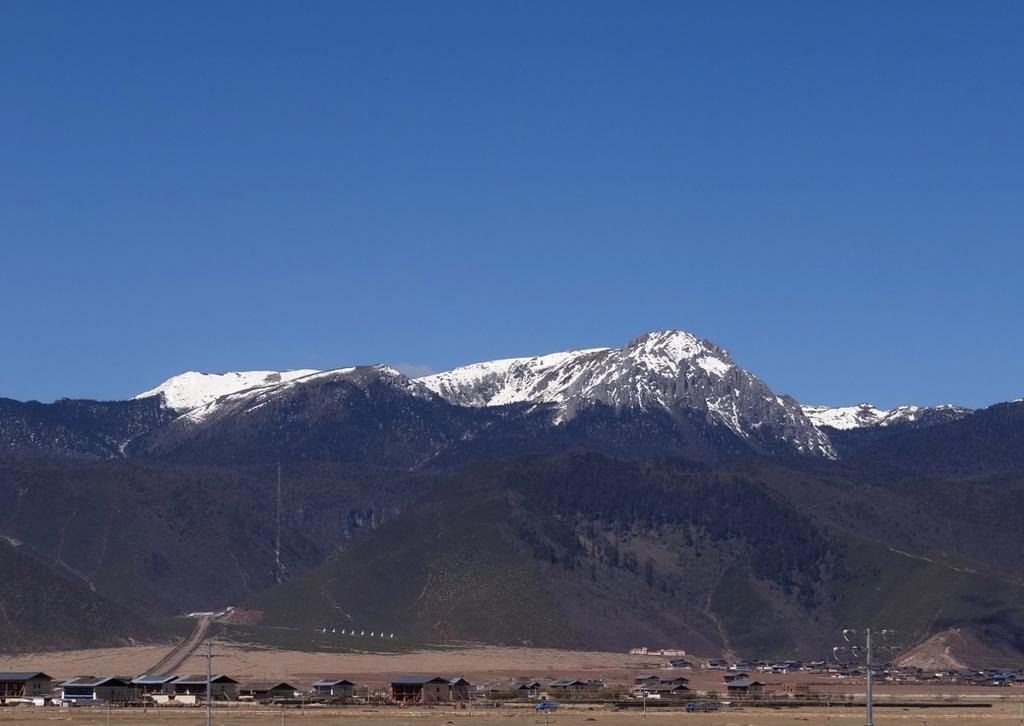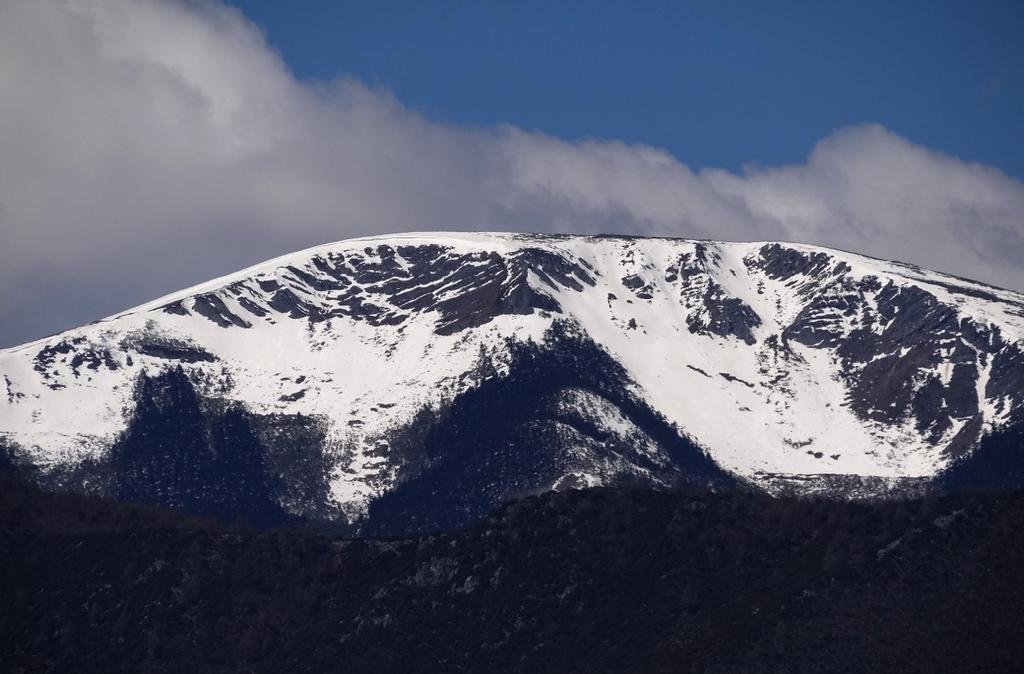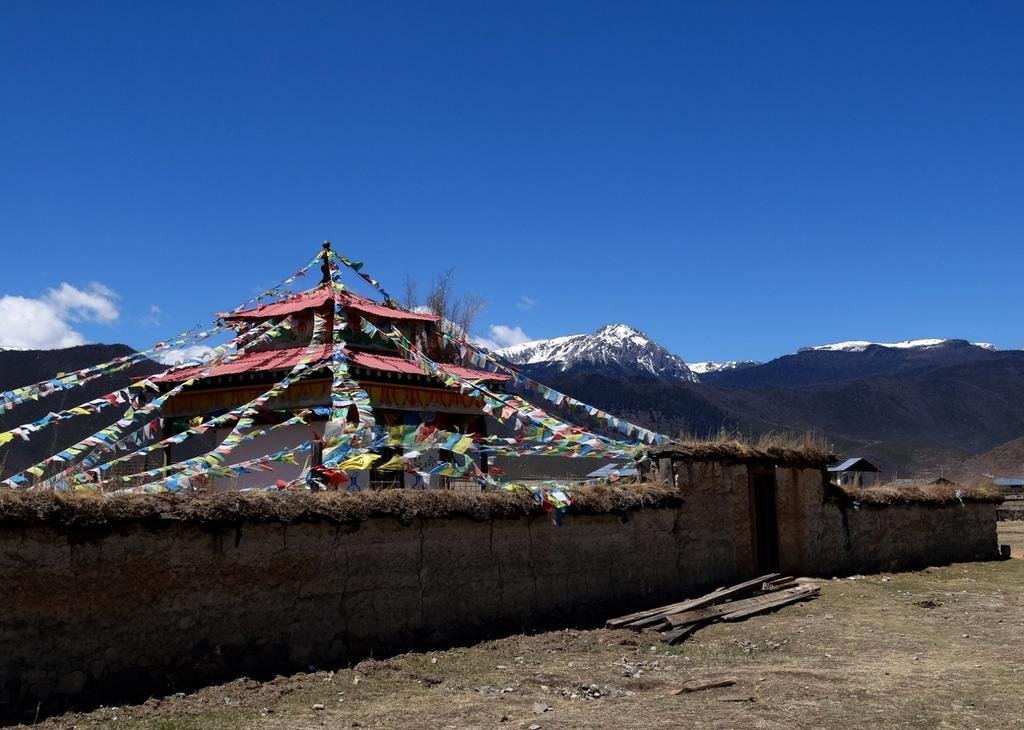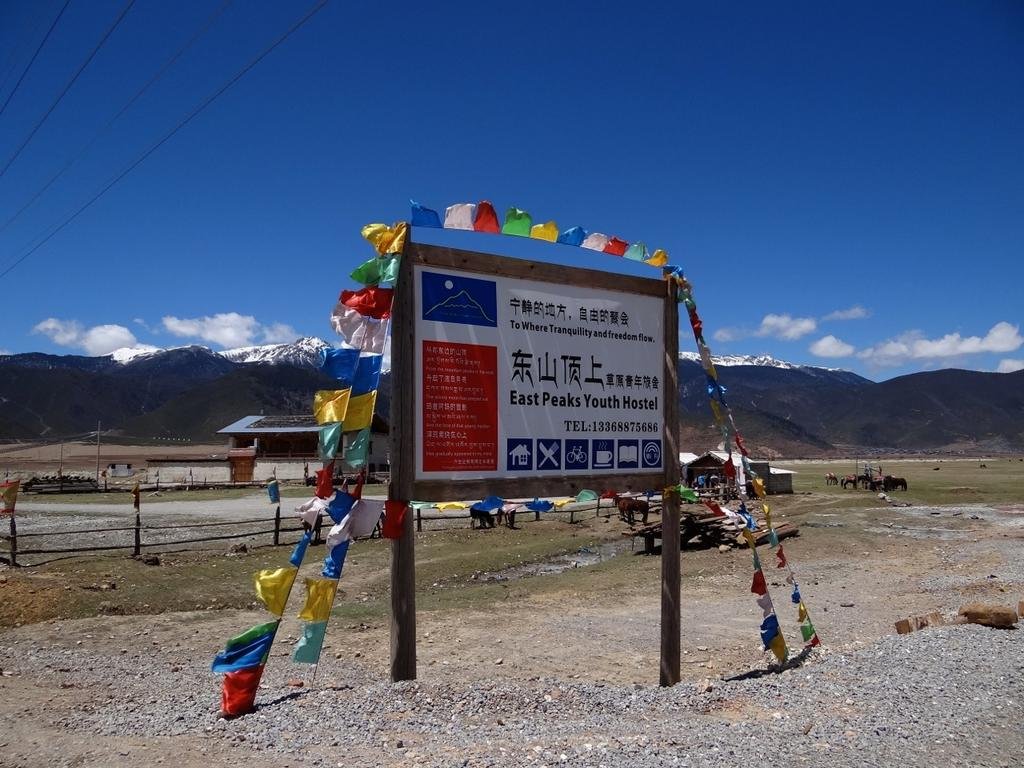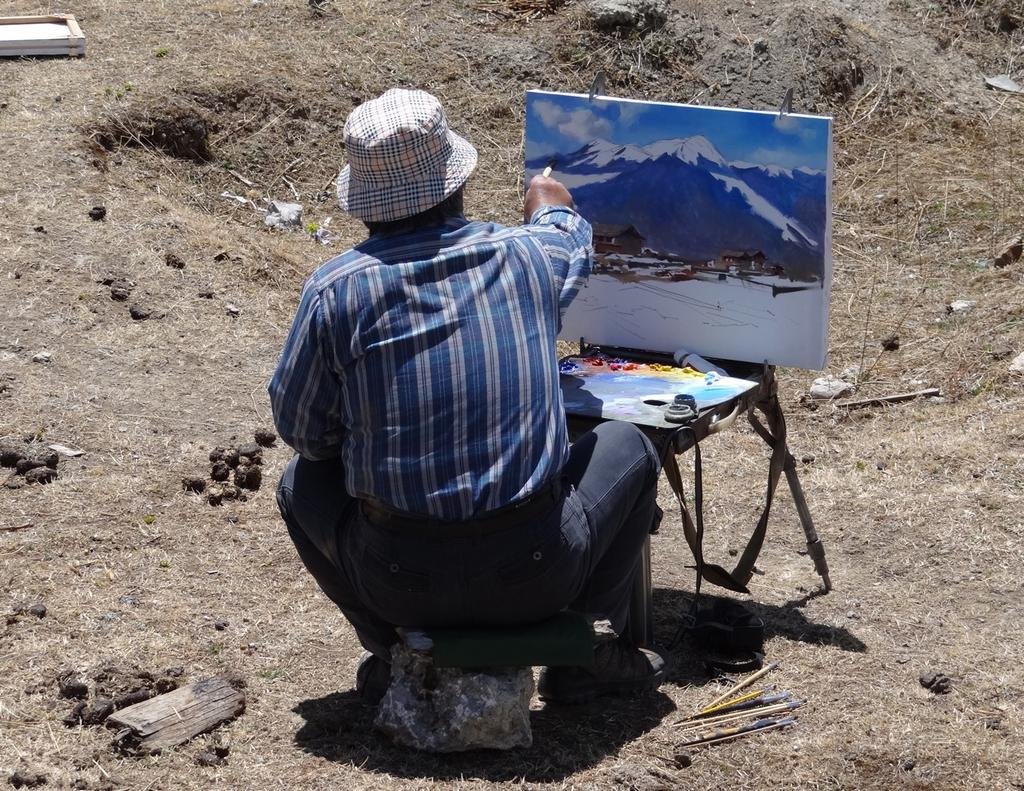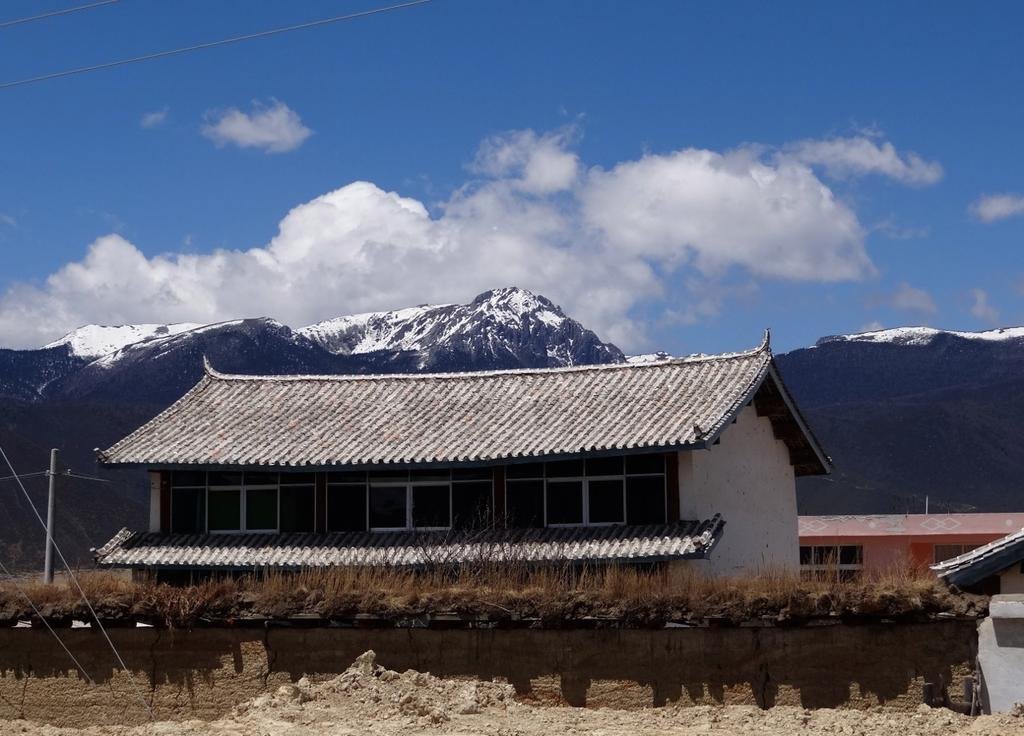 A new Ski Resort has recently opened east of town on Shika Mountain!
A massive new school being opened soon; lucky students with those views.
(Tempting an old retired chalkie to come out from retirement!)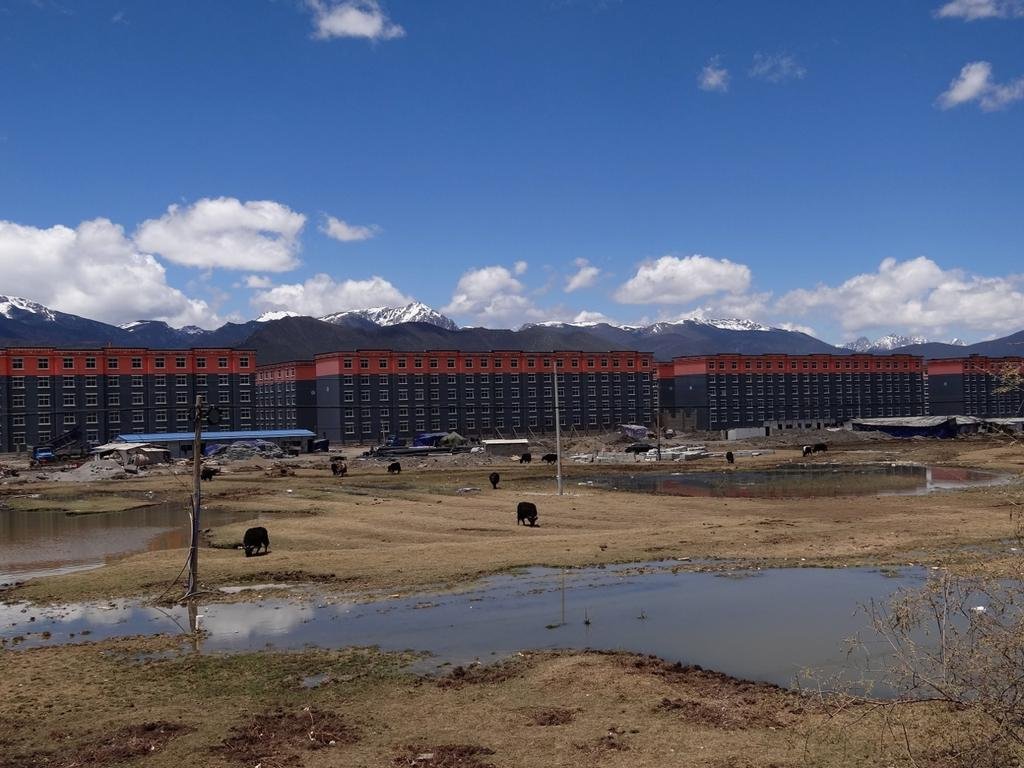 The area from the town centre to the mountains is under rapid development.
Anyone with a Chinese partner would do well to get some land there; it's going to boom.
Many new homes being built, most of them using glass windows to capture the sun's rays.
The altitude here is 3,200 metres.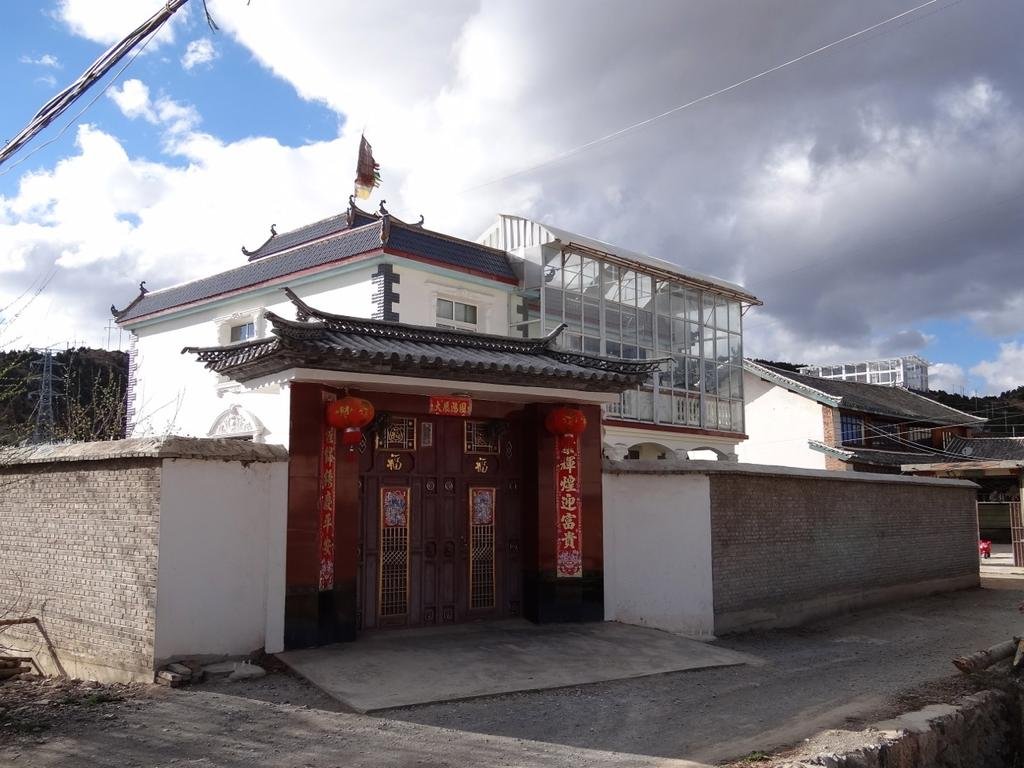 Rode around town for a couple of hours 'taking it all in'.
The QQ wouldn't always start and it wouldn't always be possible to park it on a downhill gradient, so I had a new battery installed.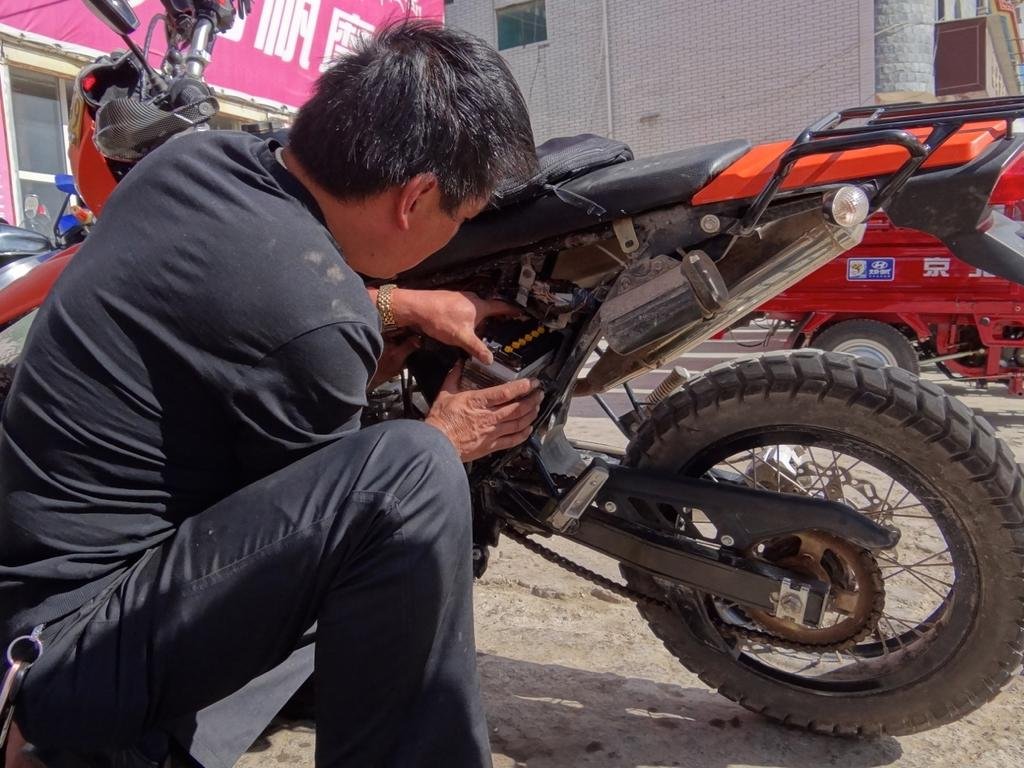 Riding around outside of city I noted many people walking. Some said they were heading to Llasa!
Also many Chinese touring on bicycles. Oh, the Yak Bar also rents bicycles, which is a good way of getting around town.
I needed to check re funds and was pleased that China Bank ATMs accepted my Kasikorn card.
A bit more of the local scenery.
A 3-wheeled taxi, freshly painted.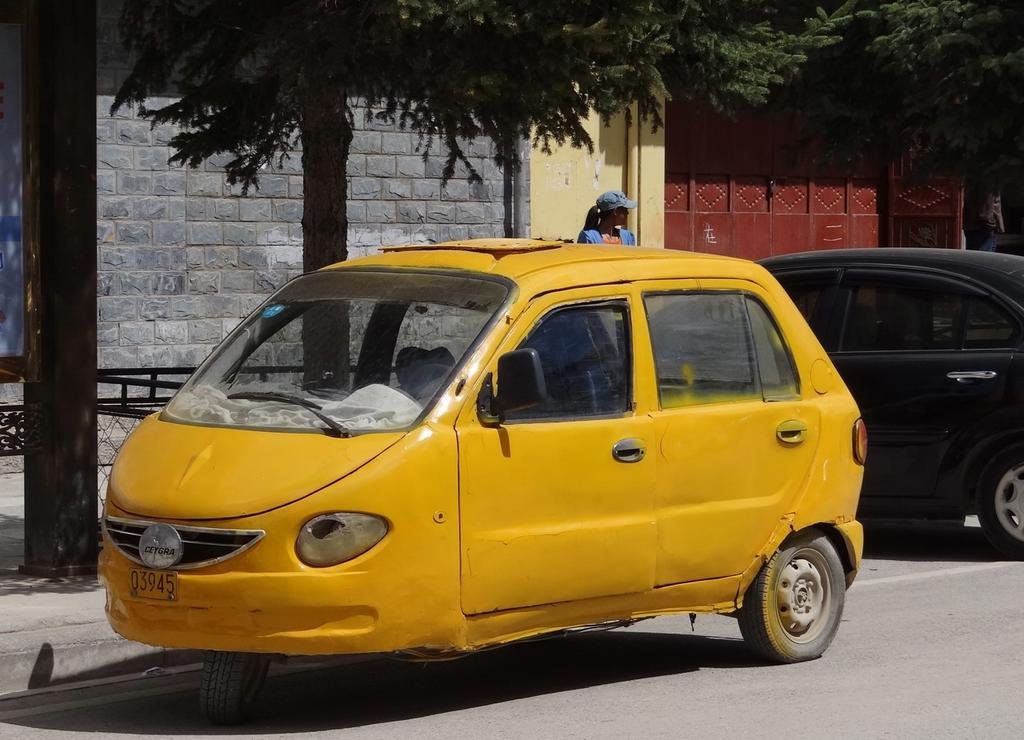 I left a deposit on this salubrious plot of land.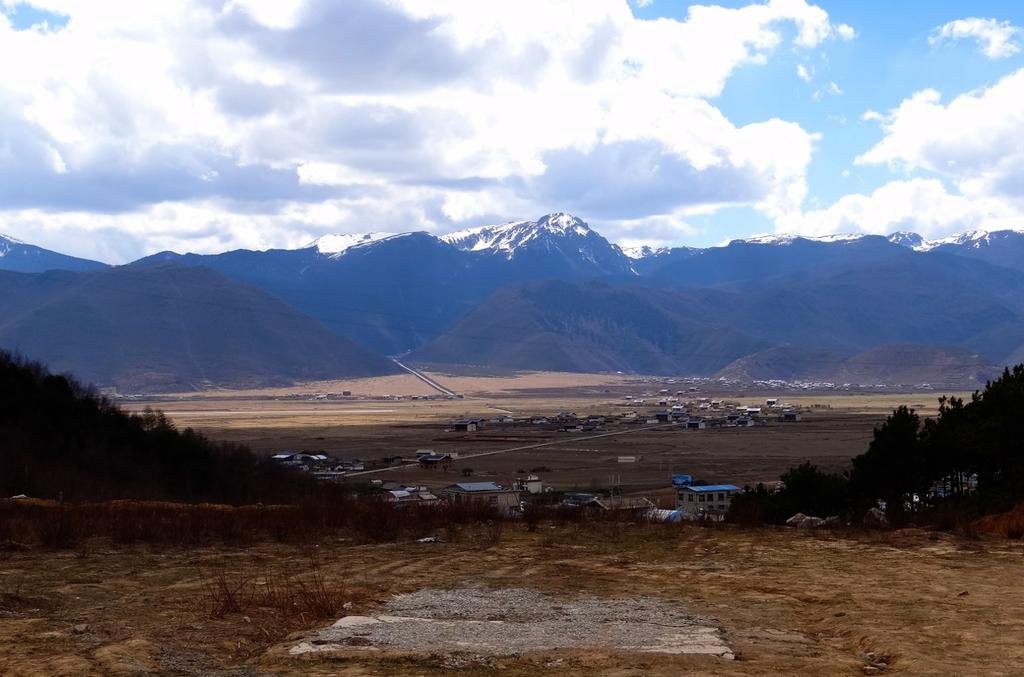 The very thriving and modern new Shangrali La.
First Yak sighting.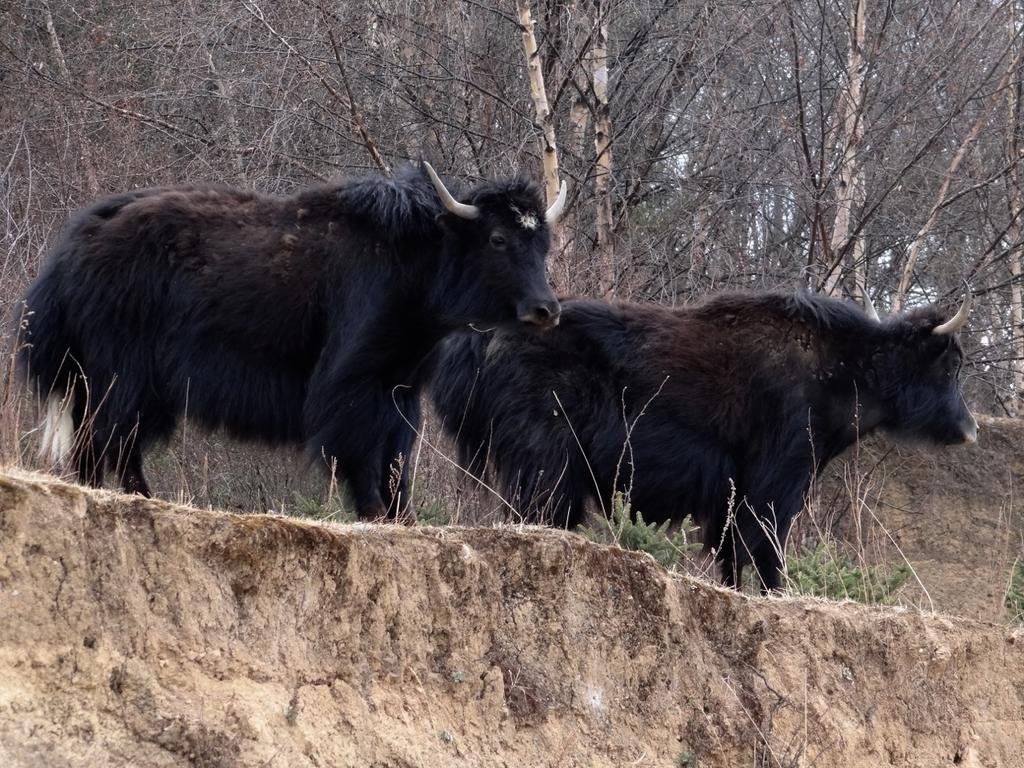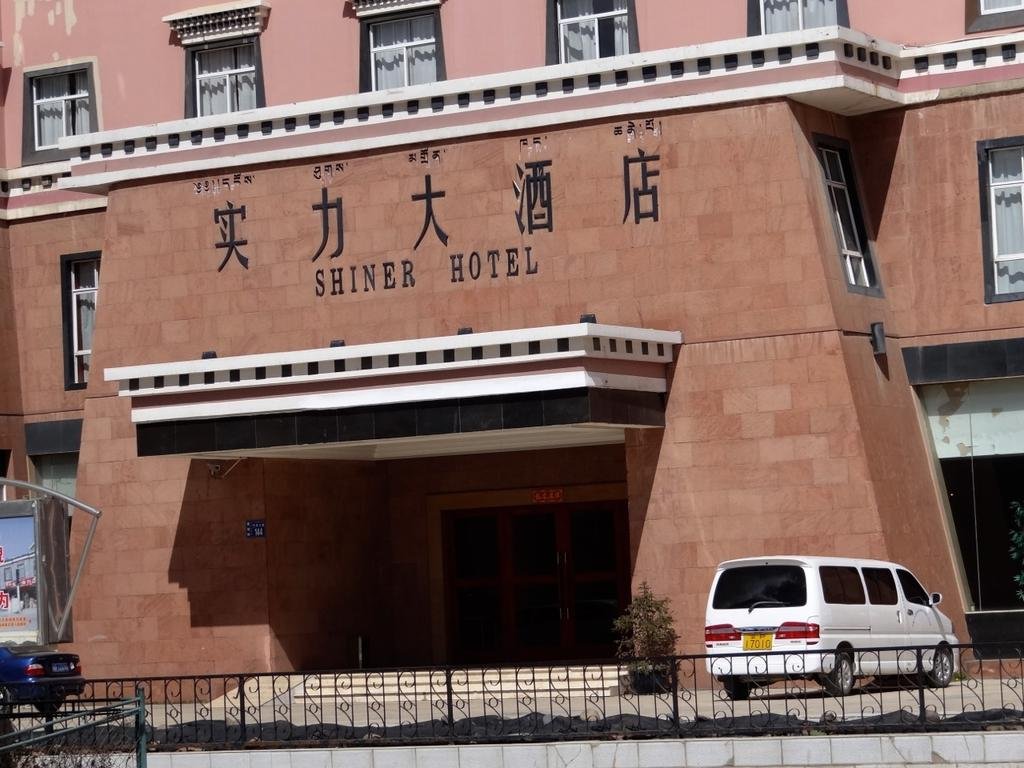 The Museum for things Tibetan.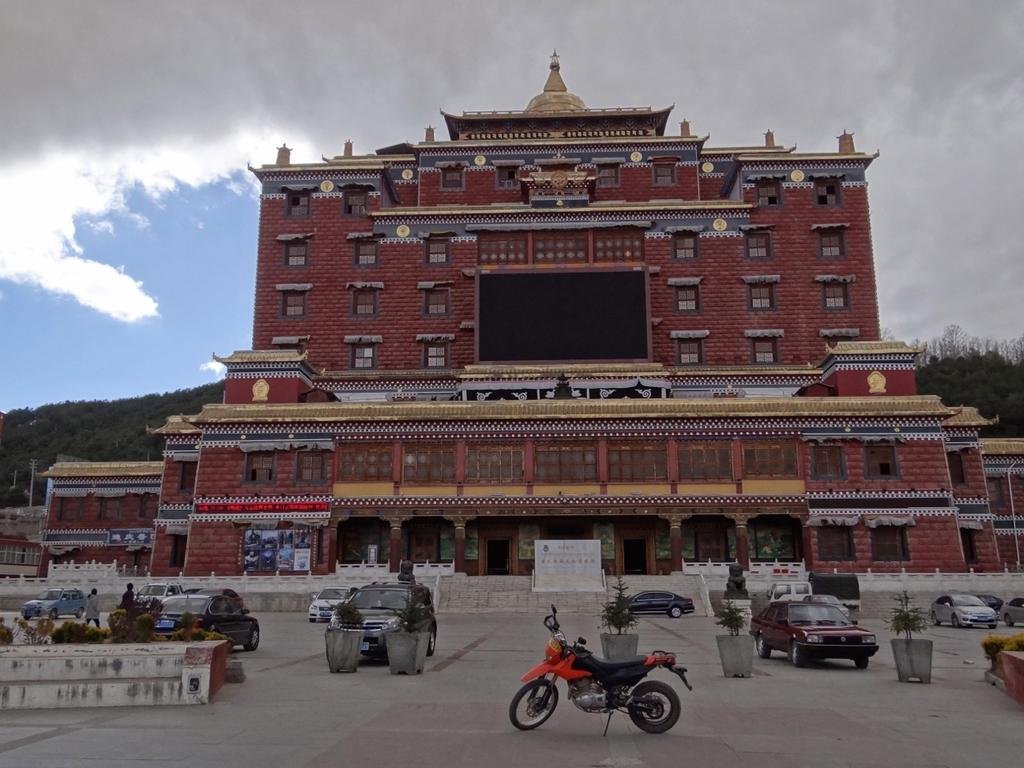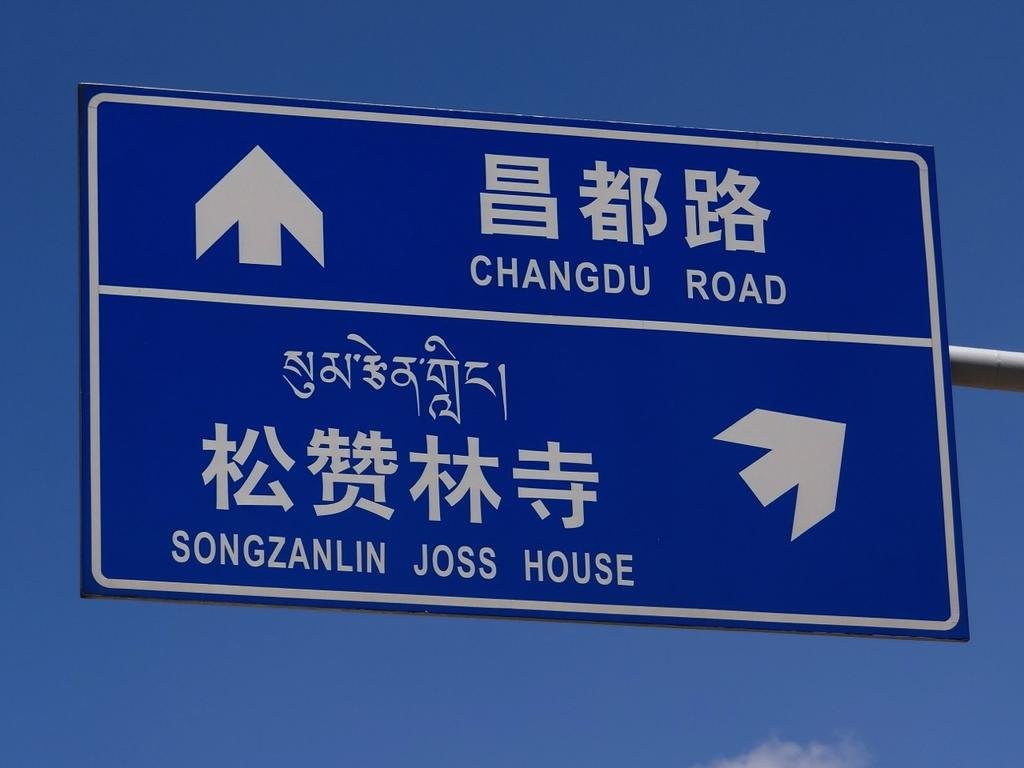 Back to the Yak Bar for more meditation, medication and good food. They have a wood burner heating the room and I need to self-medicate again. They also have WiFi.
During the meal I was thinking of what is needed to fully enjoy what I am attempting.
* a reliable, strong dual-purpose bike of up to 250cc (CRF would be perfect)
* self-sufficiency with Internet and phone access (I must upgrade!)
* an English to Chinese script dictionary
* an English language map
* sunnies and/or tinted helmet visor
* lip balm
I'll add to this later.
Two grilled mackerel, 2 Snow beers, vegetable pancake = 120 Yuan.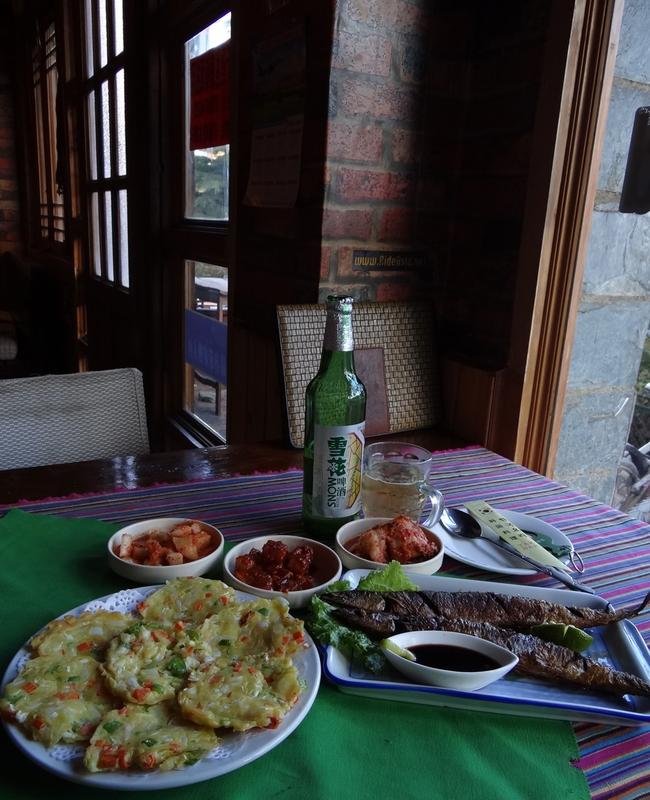 It's not dark here until after 8pm, so plenty of time to explore.
25th April
Another good sleep.
Cleaned the bike and fitted the Air Hawk.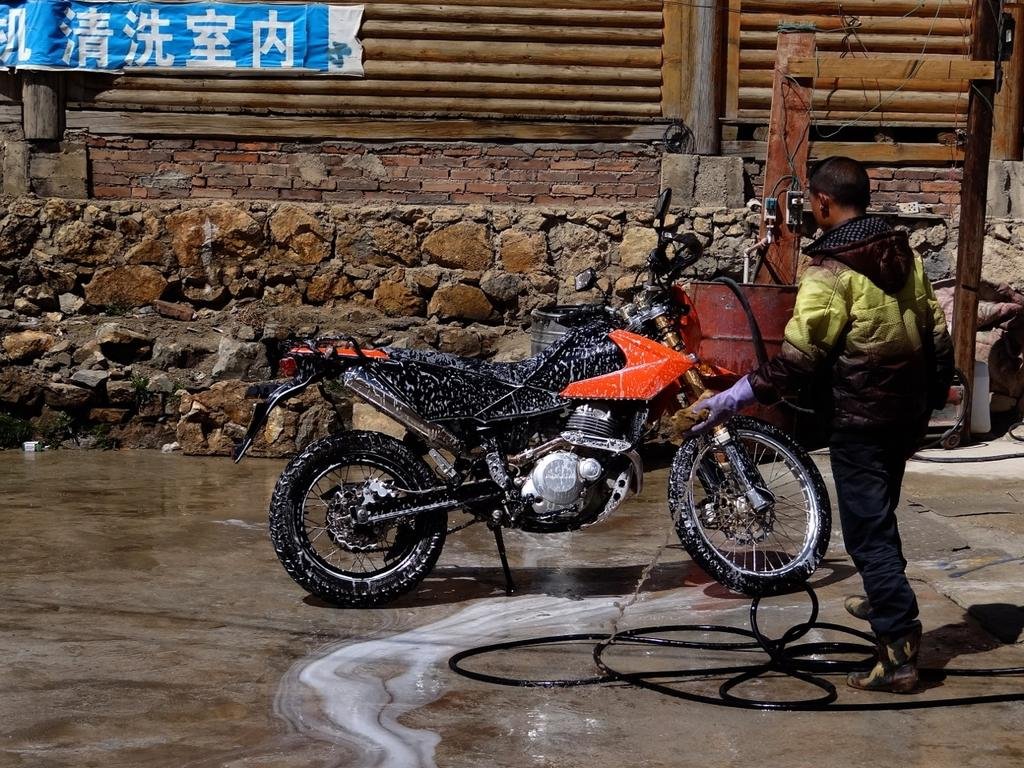 Back to Wang Dumpling for Brunch. Strangely, their large plates cost 14 Yuan and their small plates 12 yet each contained the same
number of dumplings! I take note of such things!
'
Wow, these sure aren't self-conscious people when it comes to volume when talking!
Why whisper when I can yell; even if it only across the table? And the smoking! Everywhere. Everyone.
And the spitting! Maybe I'll get used to it but it's a bit hard to swallow. Sorry.'
I rode around town and found a corner vantage point from which I could enjoy the vibrant street scenes.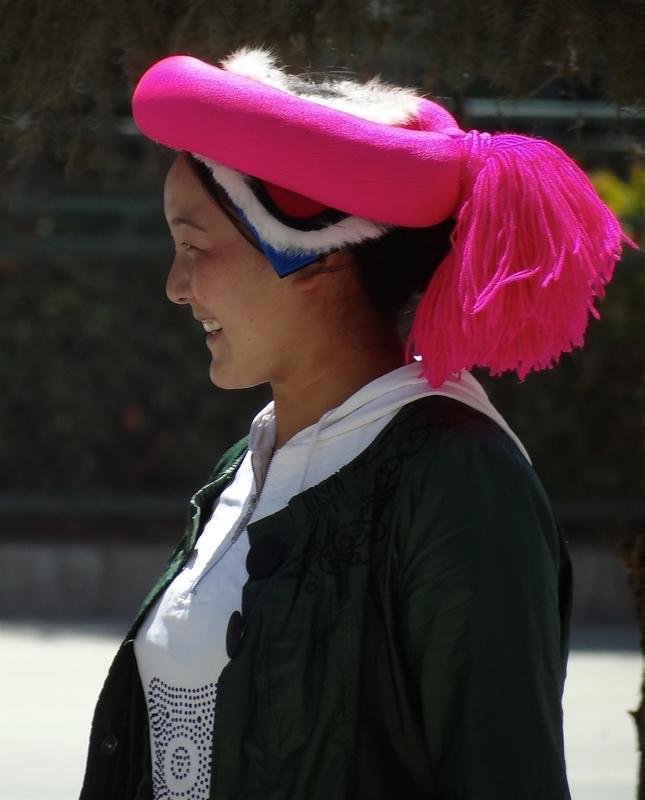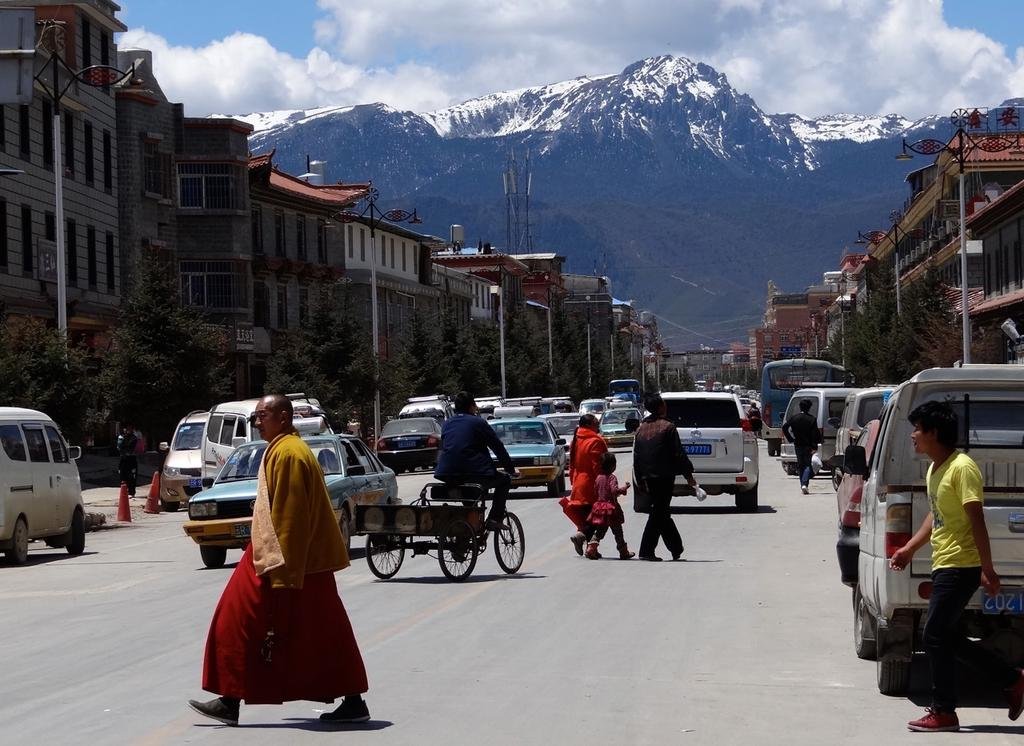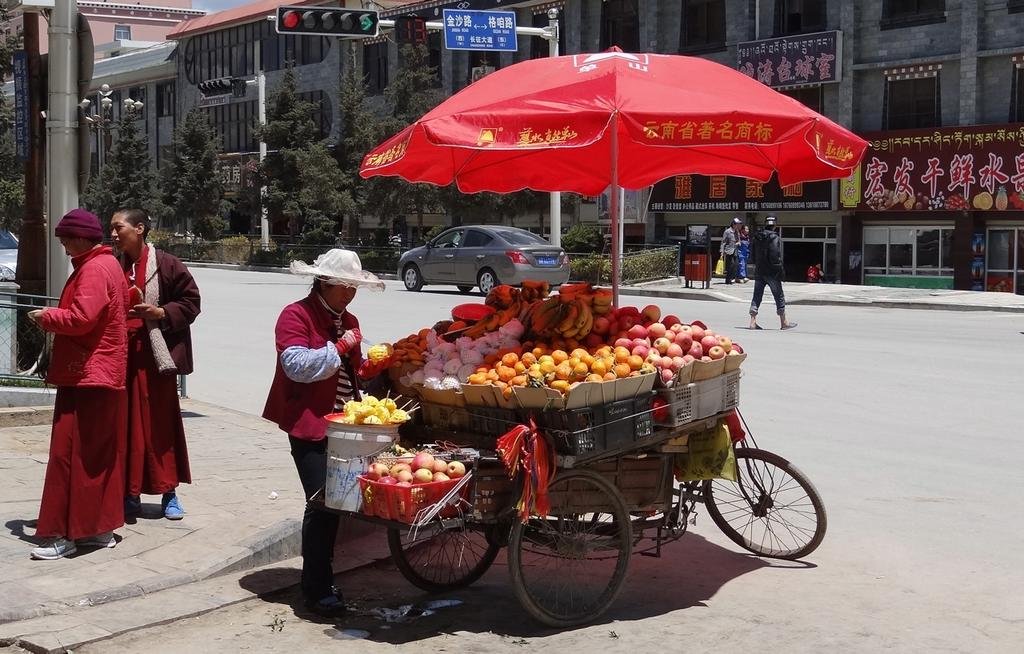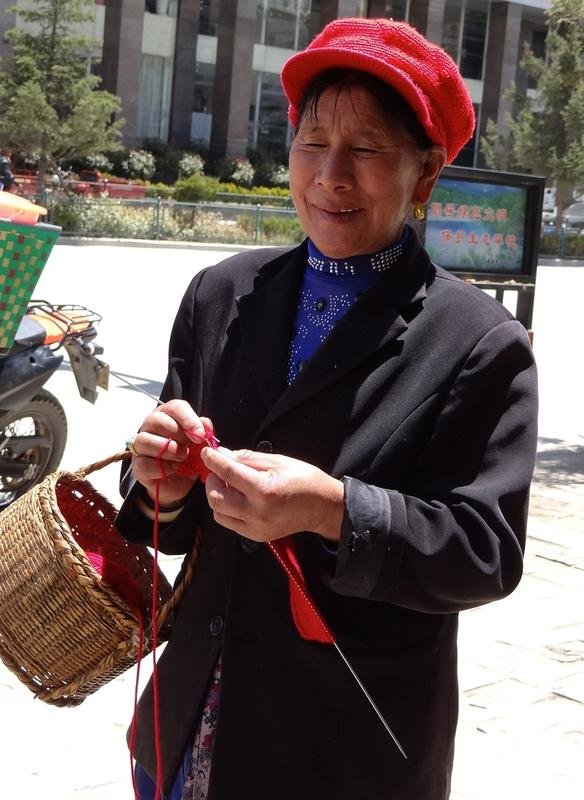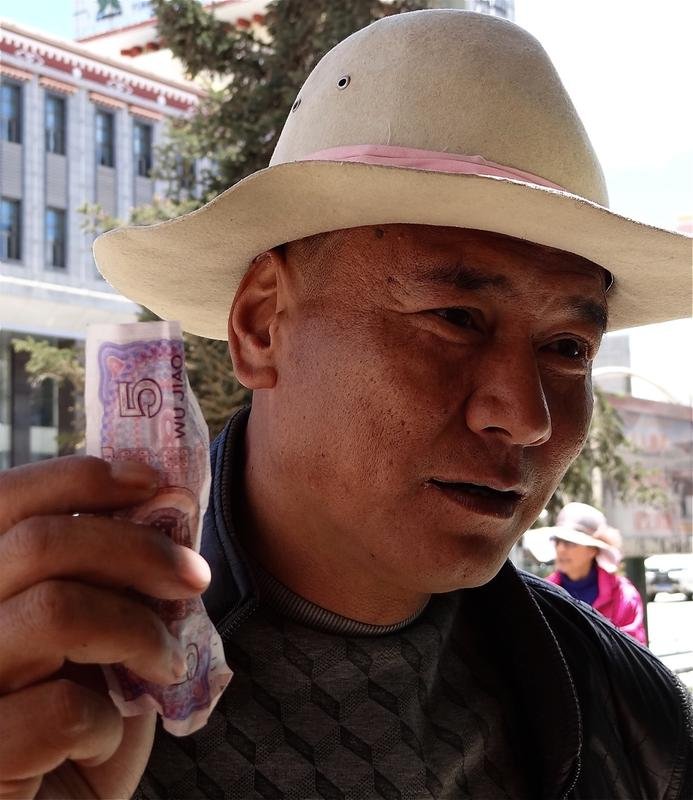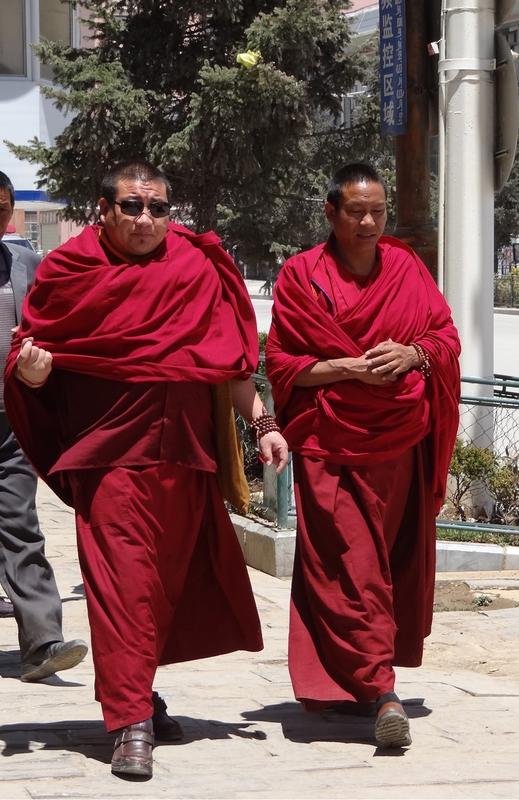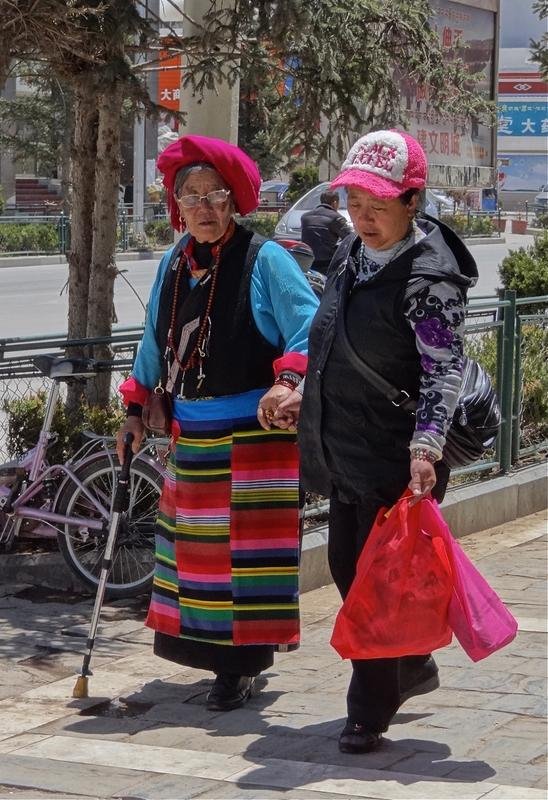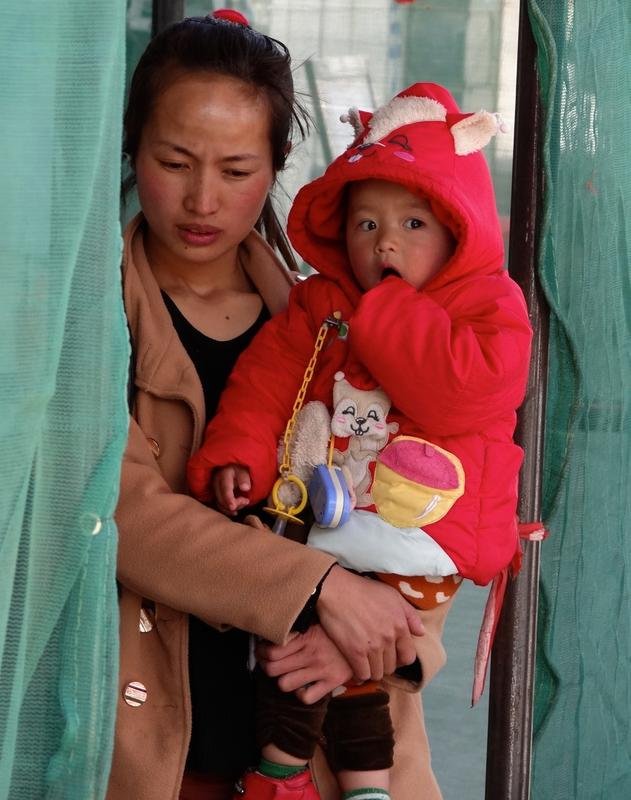 Back to the Old City area and into the wonderful Sakurakin Cafe for hot chocolate and home made (on the spot) apple pie!
Perfect. Natalie Cole singing her heart out and Bob Marley, Jimi Hendrix and Beatles posters adorn the walls.
Excellent place.
N 27.81799
E 99.70300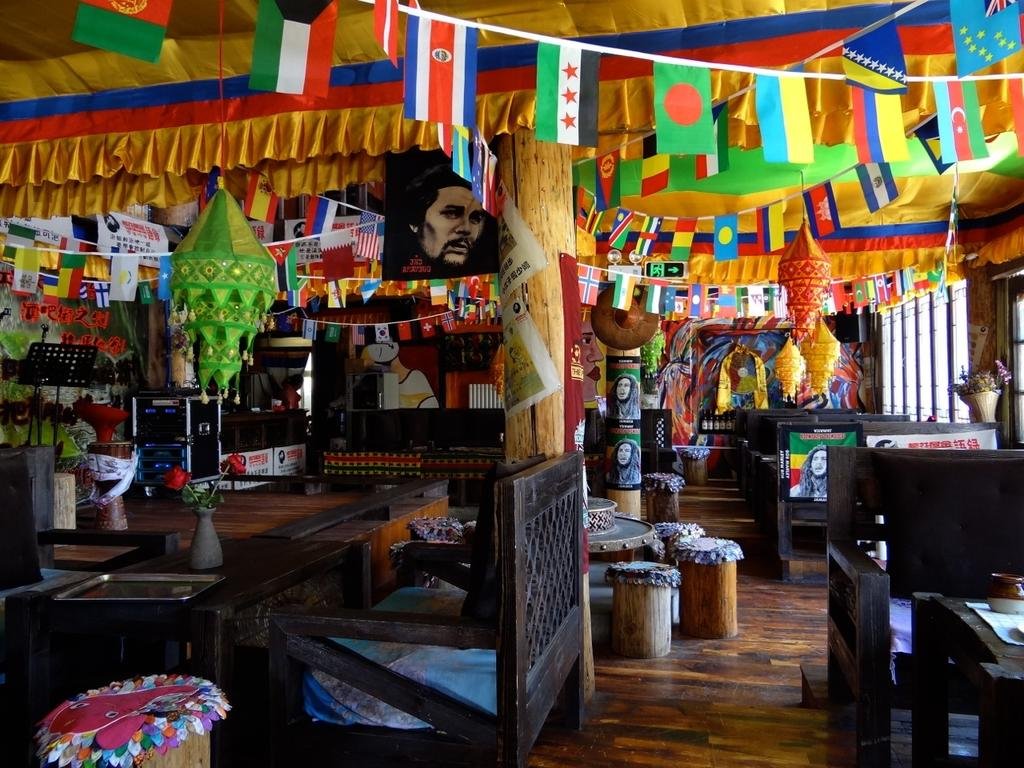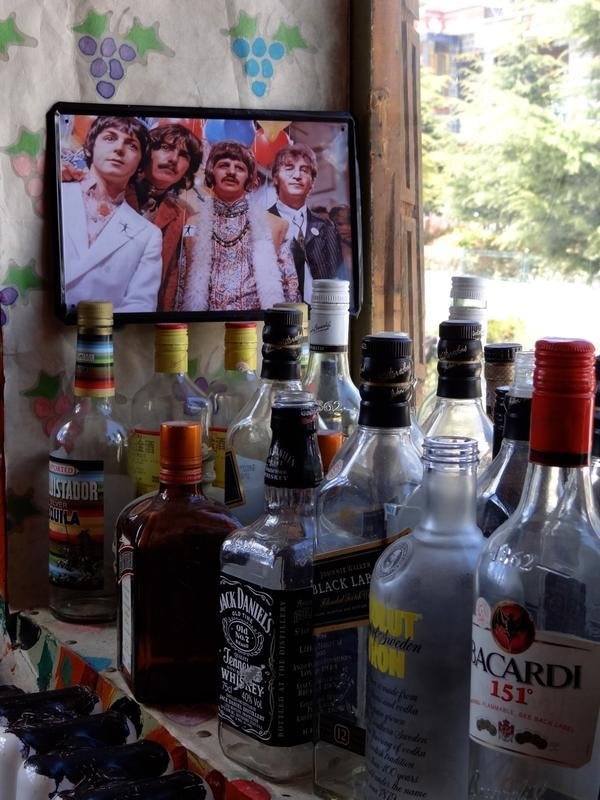 Knee much better; I can almost walk!
But I'm here to ride, not walk.
A bit of a limp around the Old City, where I noted a couple of Guest Houses.
Back to my room to pack for tomorrow's ride towards Lijiang and another good sleep.
(continuing)
Last edited: