Joined

May 25, 2019
Location
Bikes

Honda Africa Twin, Honda CRF250L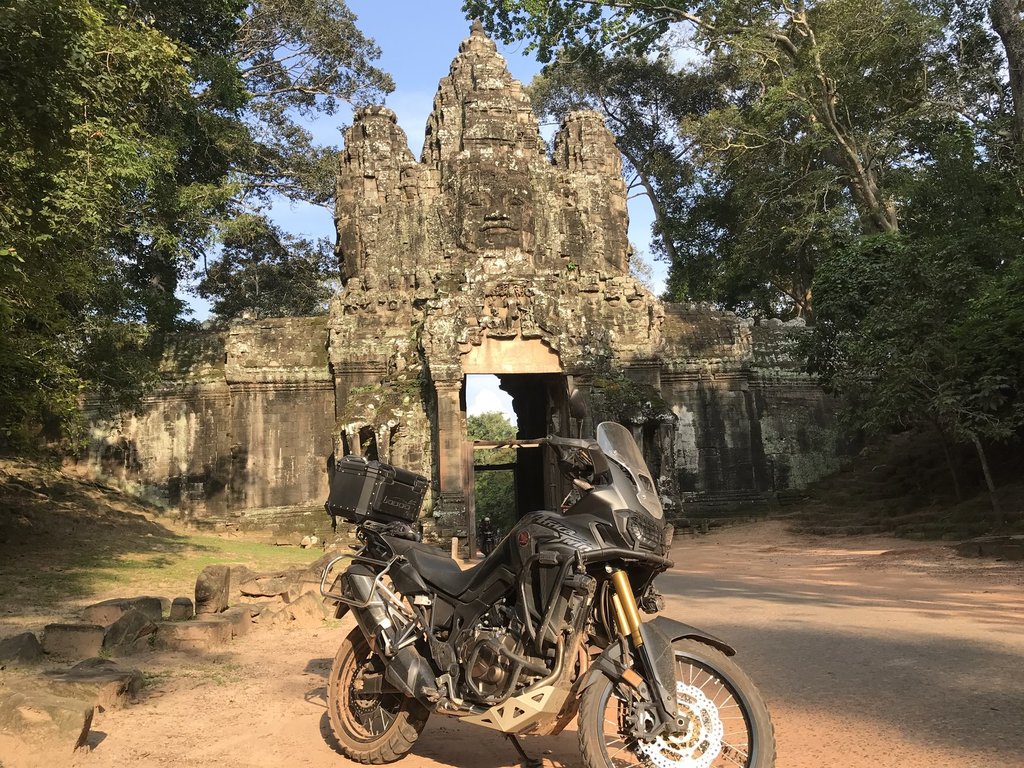 The kingdom of Cambodia offers some truly epic motorcycle adventures. Super cool riding experiences and hidden Khmer temples for the history buff. The Cambodian people are also some of the friendliest you'll come across and are very welcoming to the hearty explorer.
I spend about 3 weeks biking around the kingdom in September and October of 2019. I'm writing this report retrospectively in March of 2020 putting the coronavirus lock down period to good use by taking some time to do some long overdue trip reports. This was a great time to visit as the countryside was lush and green.
I have been to Cambodia many times over the last 10 years, but this was my first time riding my motorcycle there. My main objectives were to see some of the more off the beaten track temples that I hadn't been to before and of course to re-visit some of my favorite spots Angkor. Rather than just do hardcore riding every day, I just took my time to chill out and just soak up the atmosphere of the places I visited.
I haven't really includes too many pictures of the main Angkor temples as there are already plenty of them online. I've tried to keep it to the more out of the way sites. But I couldn't resist putting up some of my favorites, like the gates of Angkor Thom above.
Preah Vihear temple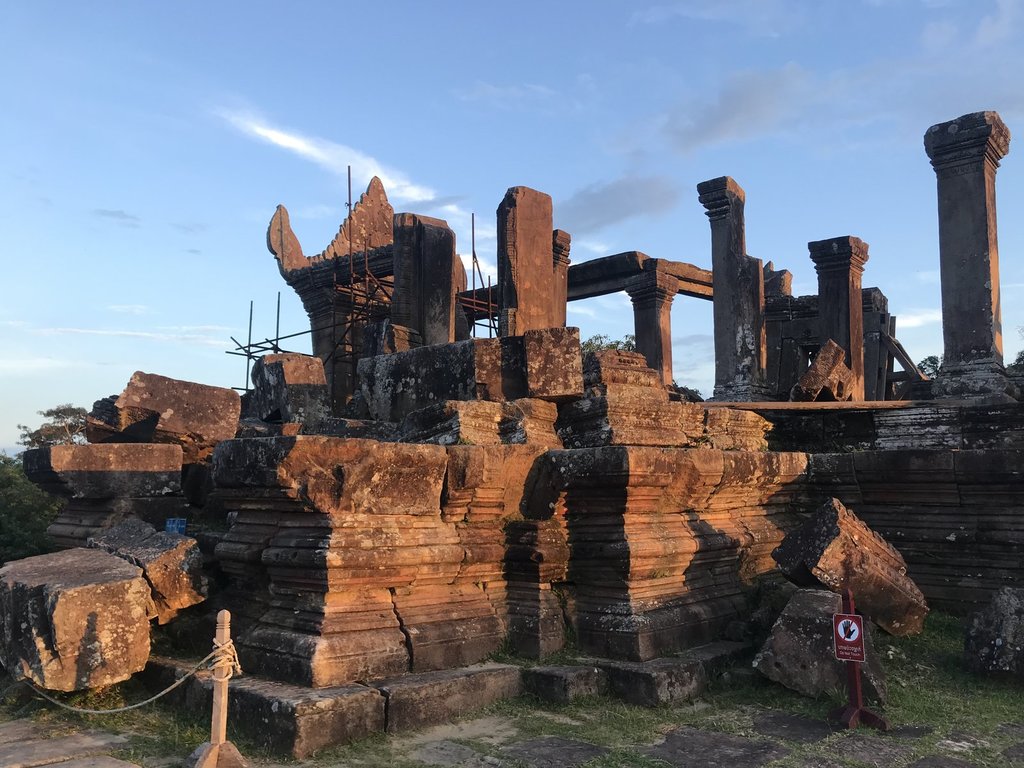 Prasat Preah Khan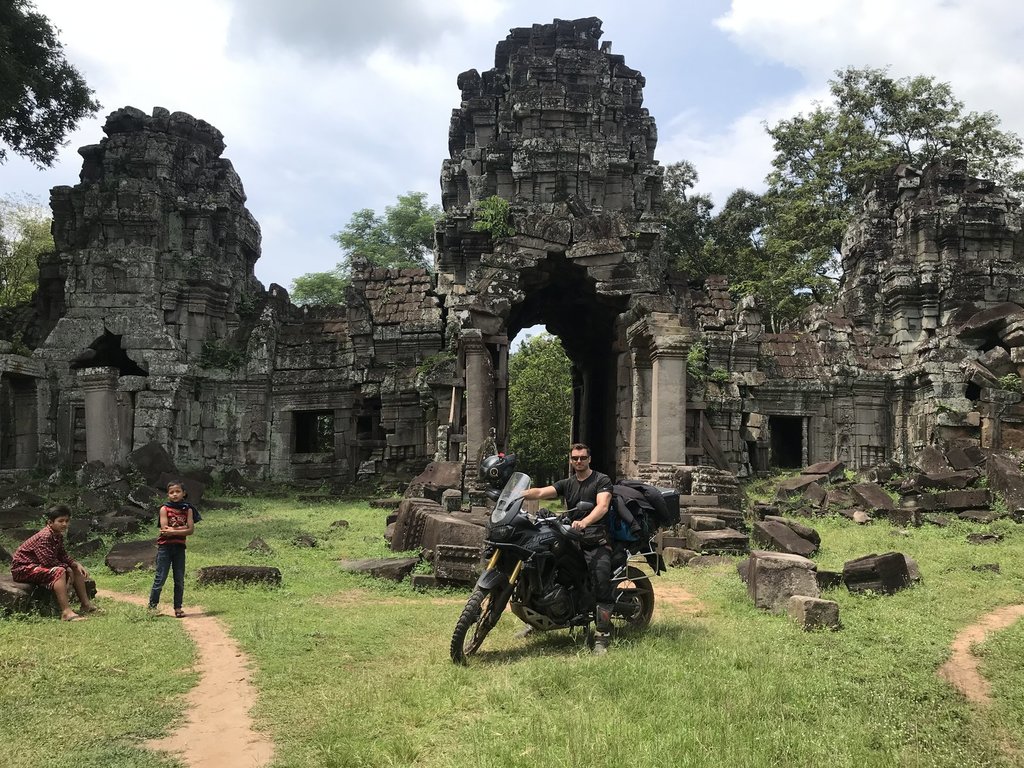 Clifftop viewpoint
Satellite temple of Bantaey Chammar
The journey begins
My journey began from Chiang Mai in Thailand, taking 2 days to reach the Cambodian border town of O Smach. The primary areas I visited were as per the very roughly highlighted map below. I didn't do it all as one clean loop, as I took some time in between to just chill in Siem Reap. This report will focus on some of the key highlights as opposed to a daily diary.
Rough trip overview. Sorry no fancy GPS tracking. This is how I roll : )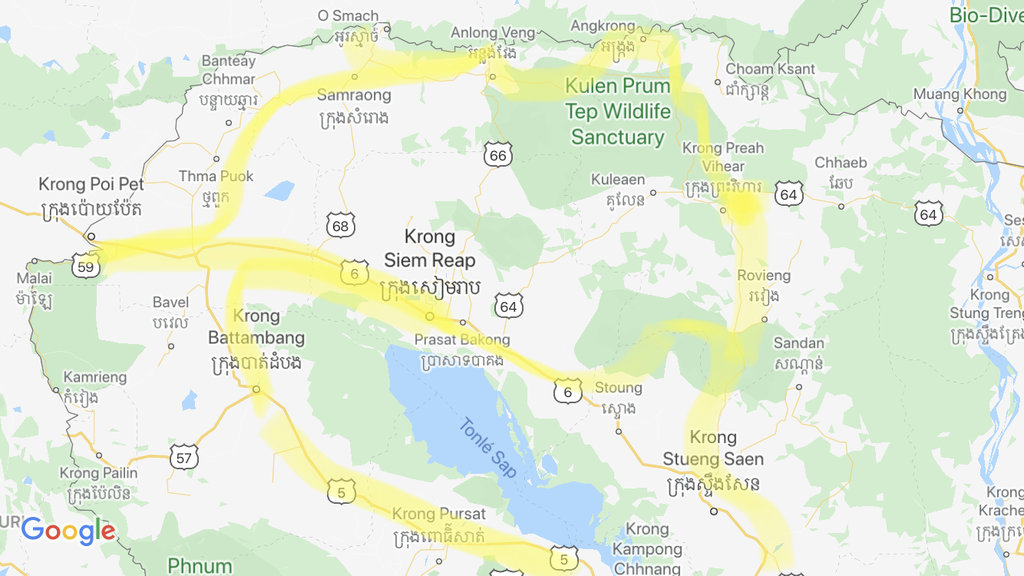 Food, accommodation and Language
Considering I spent a lot of time well off the standard tourist trail, I didn't have any issues with food and very few with communication. Around the border areas with Thailand most people could speak Thai, and I was surprised that in some of the random places I ended up, there's always be some lad that could speak English. Also, my 10 or so words in Khmer went down an absolute treat and the locals loved it. All the crucial phrases, such as "Hello", "thanks", "Cheers", "Bottoms up" and "beautiful girl" kept the smiles coming.
Food is excellent in the major cities. Regional towns it was fairly decent. I kept it to the basics when in the sticks as I didn't want to take any chances. I didn't bother trying any deep-fried scorpion.
I mostly stayed in smaller family run guesthouses. I can't remember the names of them, but accommodation is certainly not an issue in the vast majority of even the most random of Cambodian towns. My usual strategy for finding accommodation is to judge the book by its cover. If it looks crap on the outside, it probably isn't going to get any better on the inside. Always check the room first before handing over any cash. I usually ride around the town to scout it out and try to find a nice looking spot near nice restaurants. I make sure it has secure parking area too.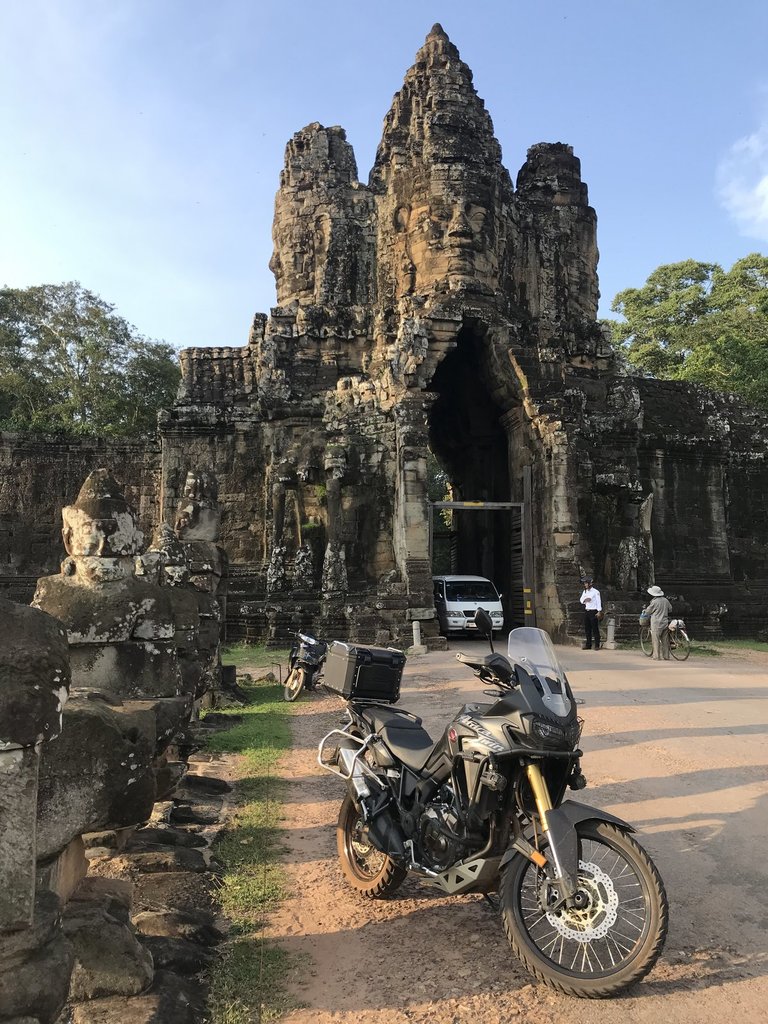 First evening in the kingdom
Made it over the border with zero issues. All the border staff were very friendly and helpful. No fees on either side other than the Cambodian visa.
Got lucky and found a restaurant that just barbecued a cow. Should go down well with a few Angkor beers
Then found a semi decent guesthouse.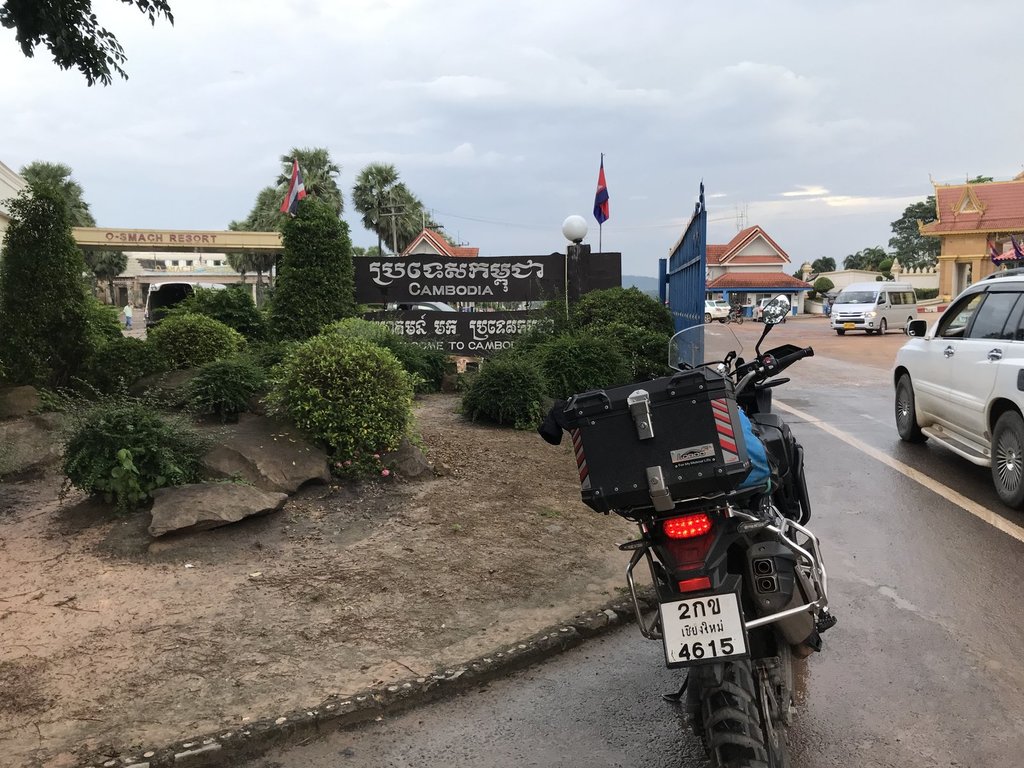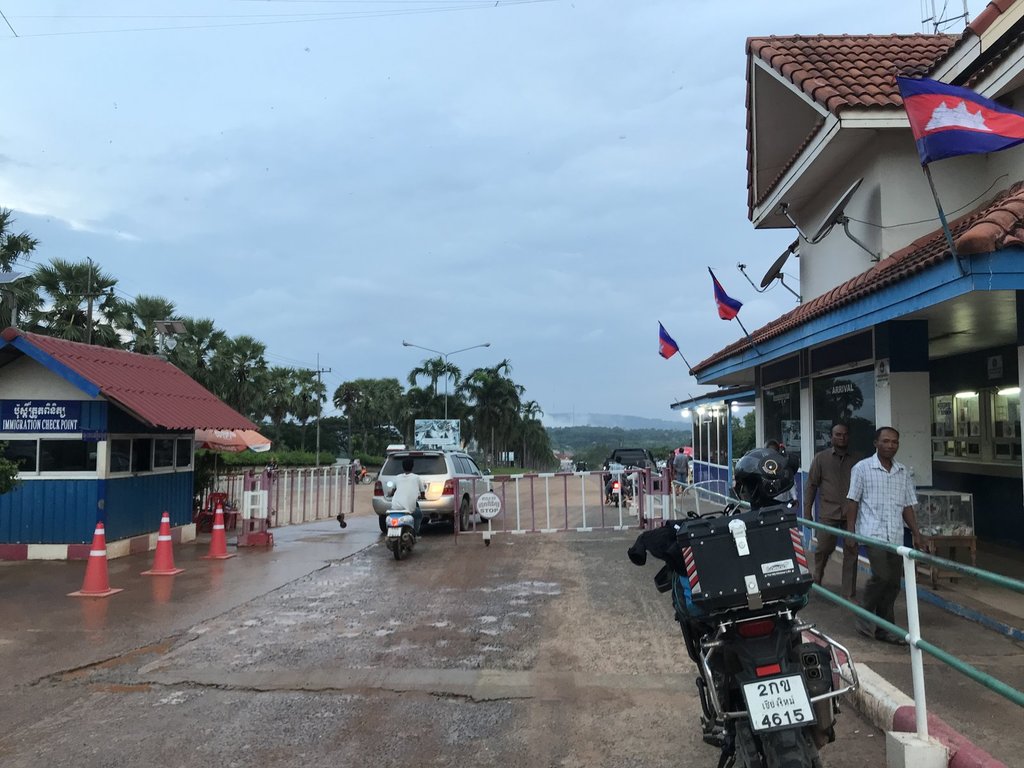 The first taste of Angkor
I was riding around looking for a spot for dinner when I saw this. A clear winner.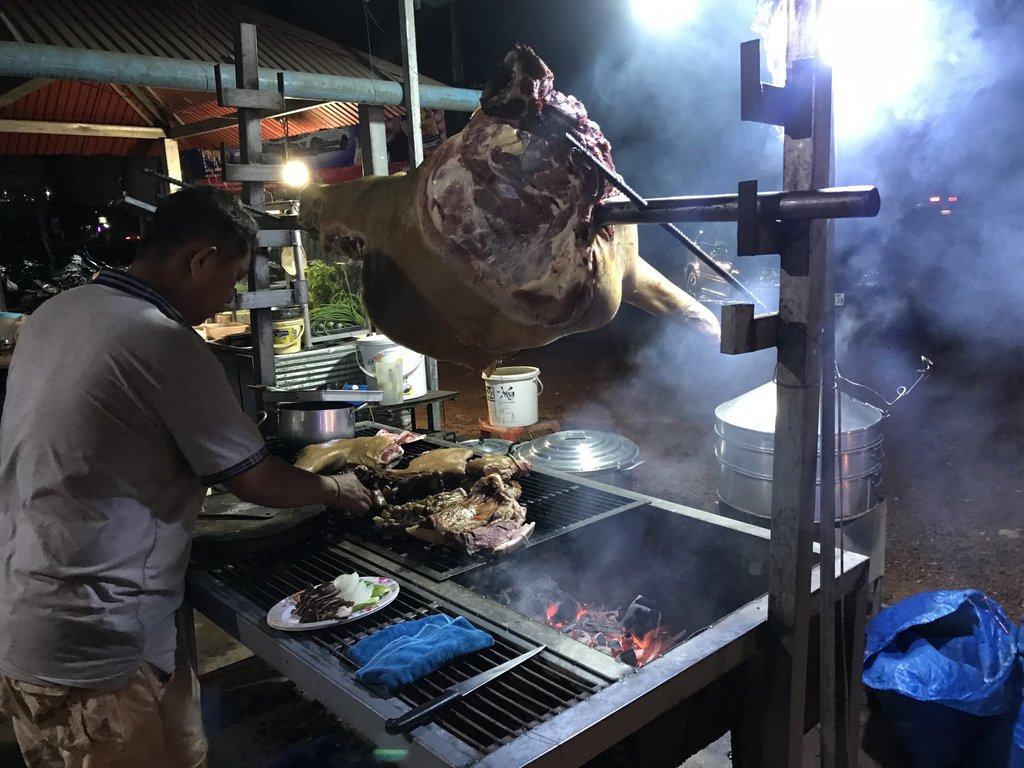 Pol Pots cremation site and clifftop viewpoint
I had a nice first day in Cambodia. Went to Pol Pots cremation site, then the cliff top viewpoint near the Choam border, then onto Bantaey Chhmar. I visited the main temple in the evening and decided to check out the rest the following day. It's nice getting to these off the beaten track places.
Points of interest
Pol Pot cremation site (at Choam border near Sangam Casino)
pol pots cremation site, dont ride into it, walk. N14.34277° E104.05778°
Ta Mok house and cliff view (about 55k from O Smack border)
Cliff view N14.34517° E104.08684°
The road out of O Smach (one of them)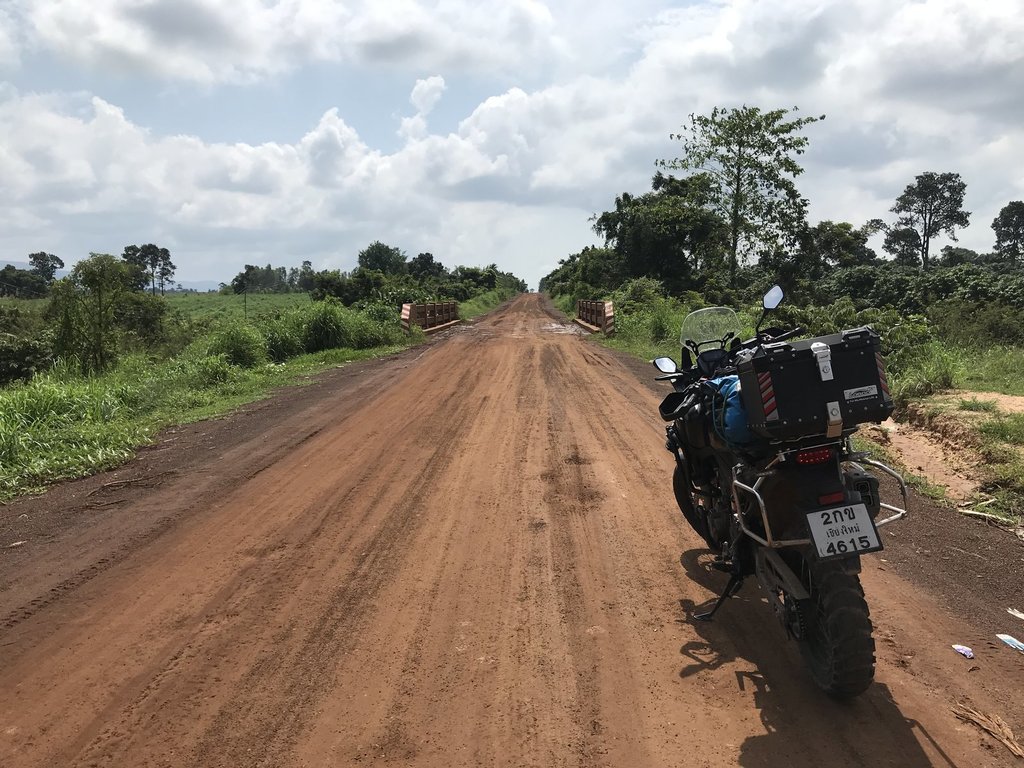 Pol Pots cremation site is very close to the Choam border. There's a substantial sized casino there too.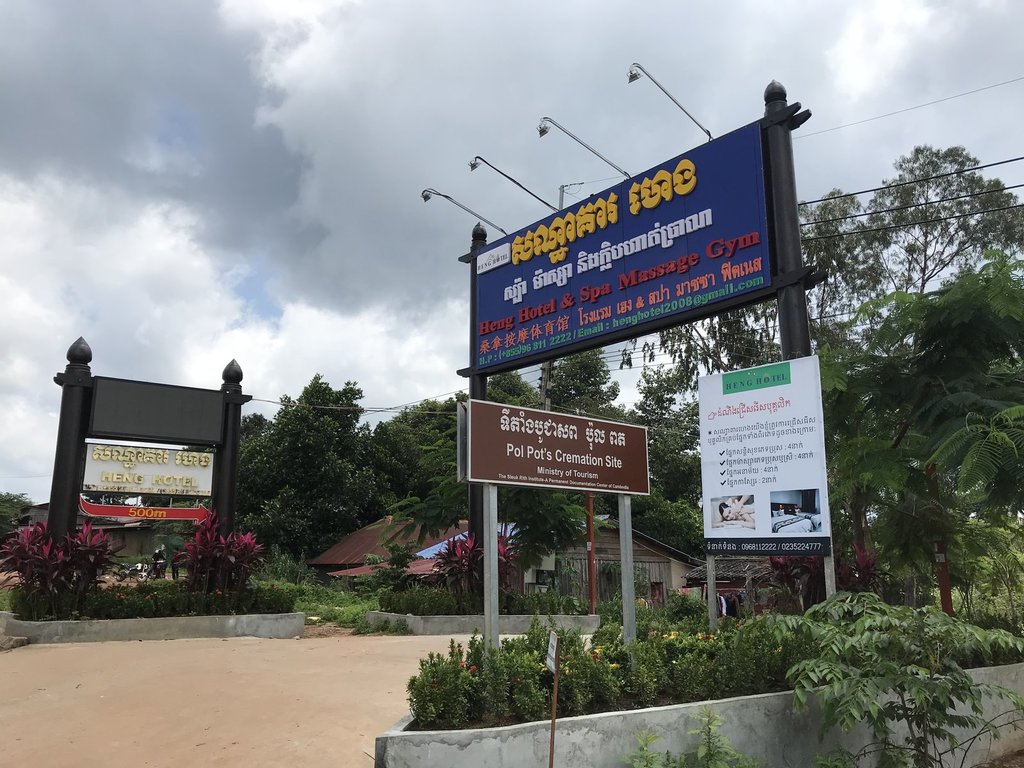 Not a whole lot to see to be fair
Nearby there is a really cool clifftop viewpoint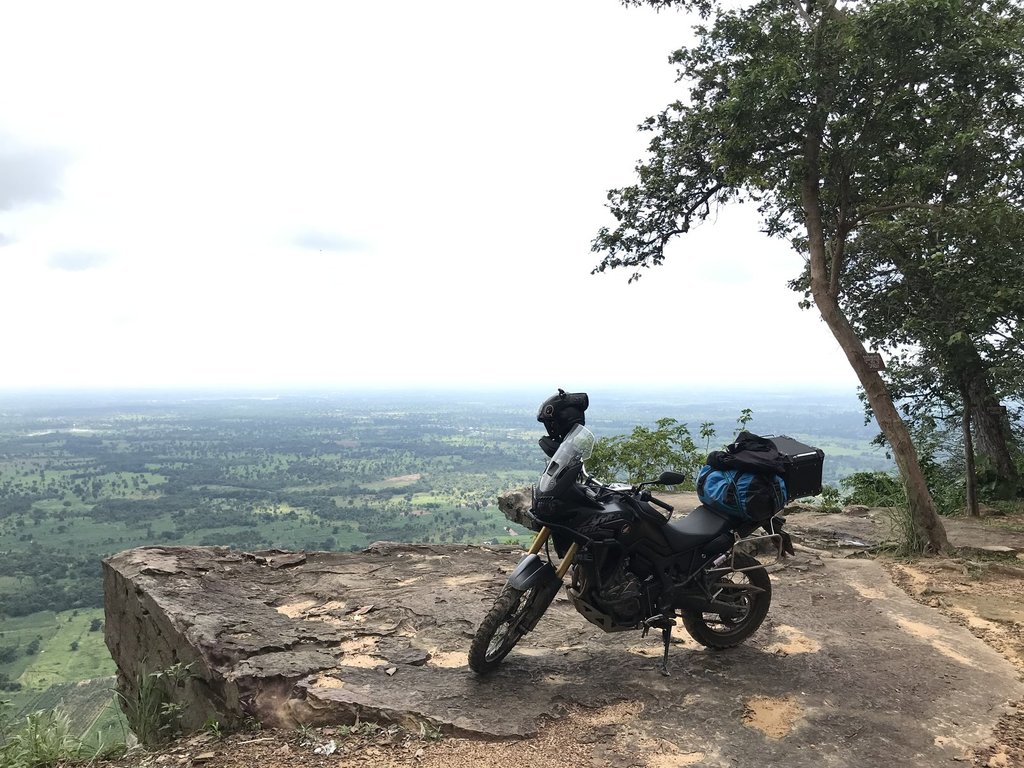 After chilling out and enjoying the view, I headed out on the main road to Bantaey Chammar
I got to Bantaey Chammar towards the evening time so I just checked out the main temple complex.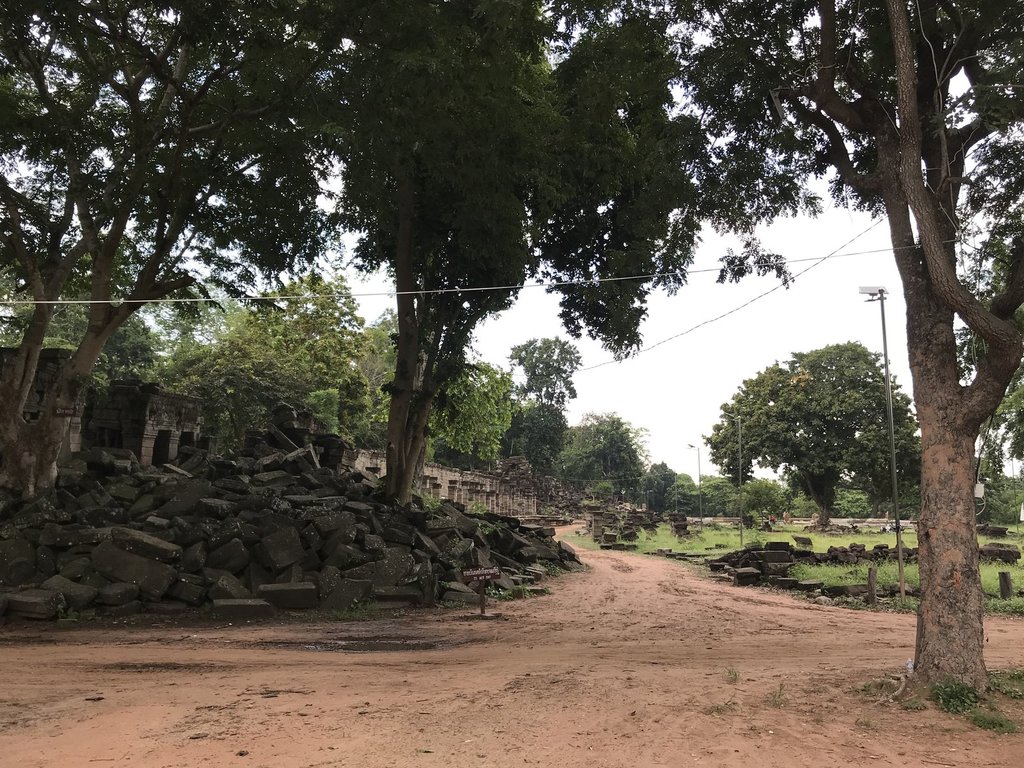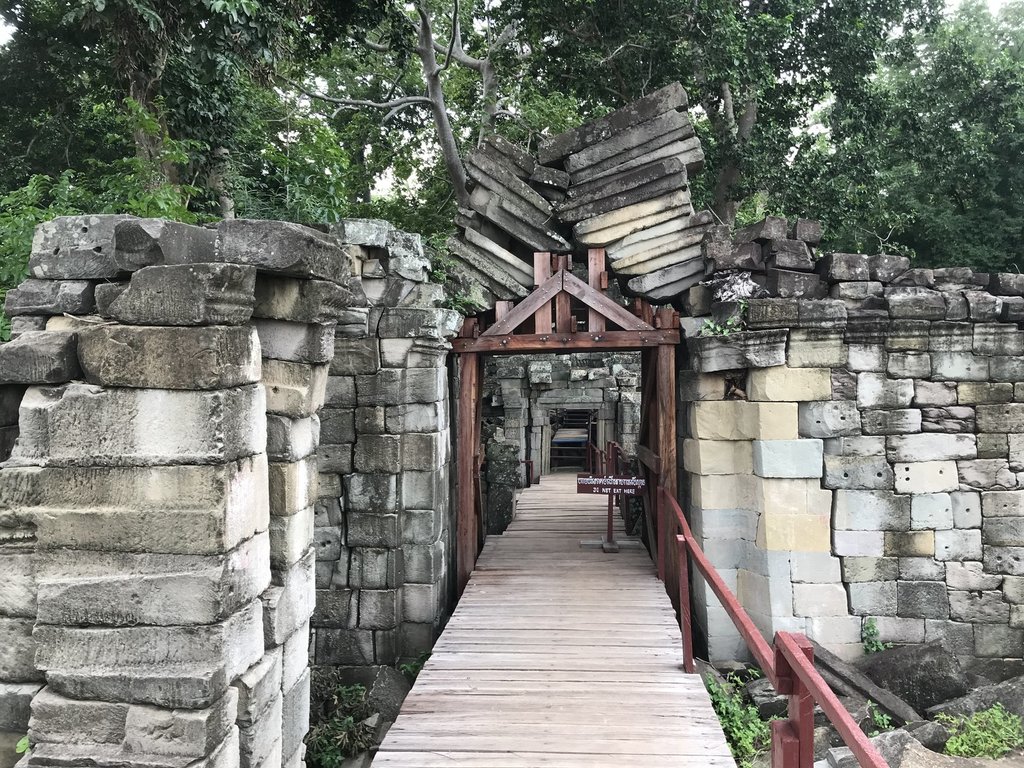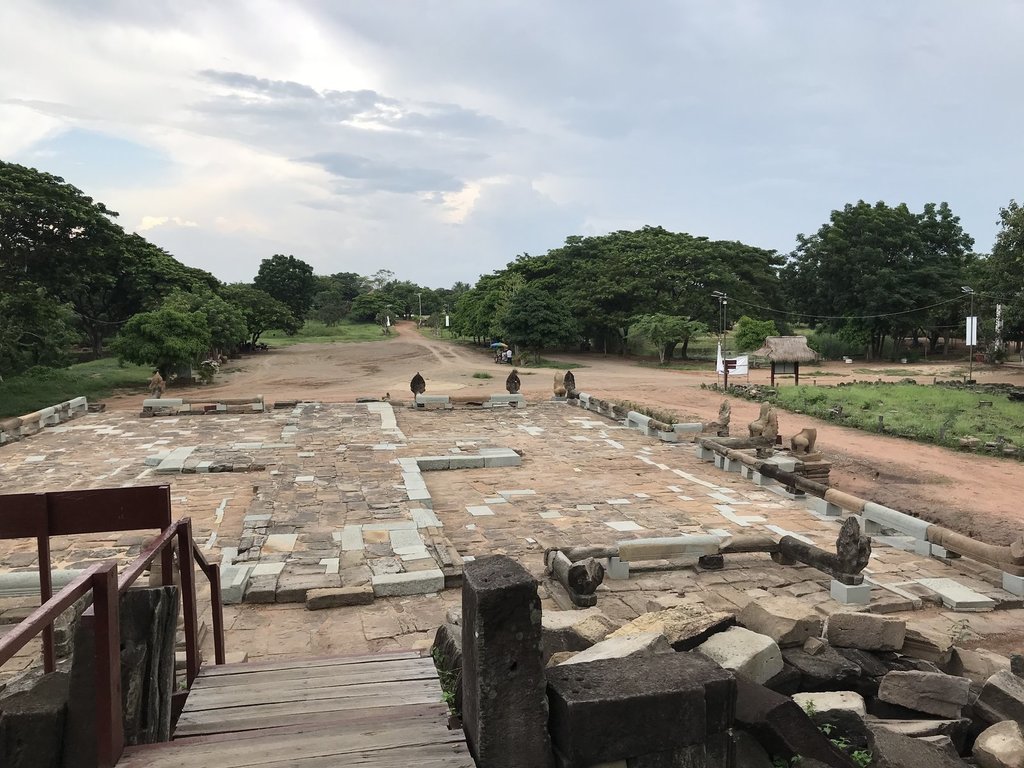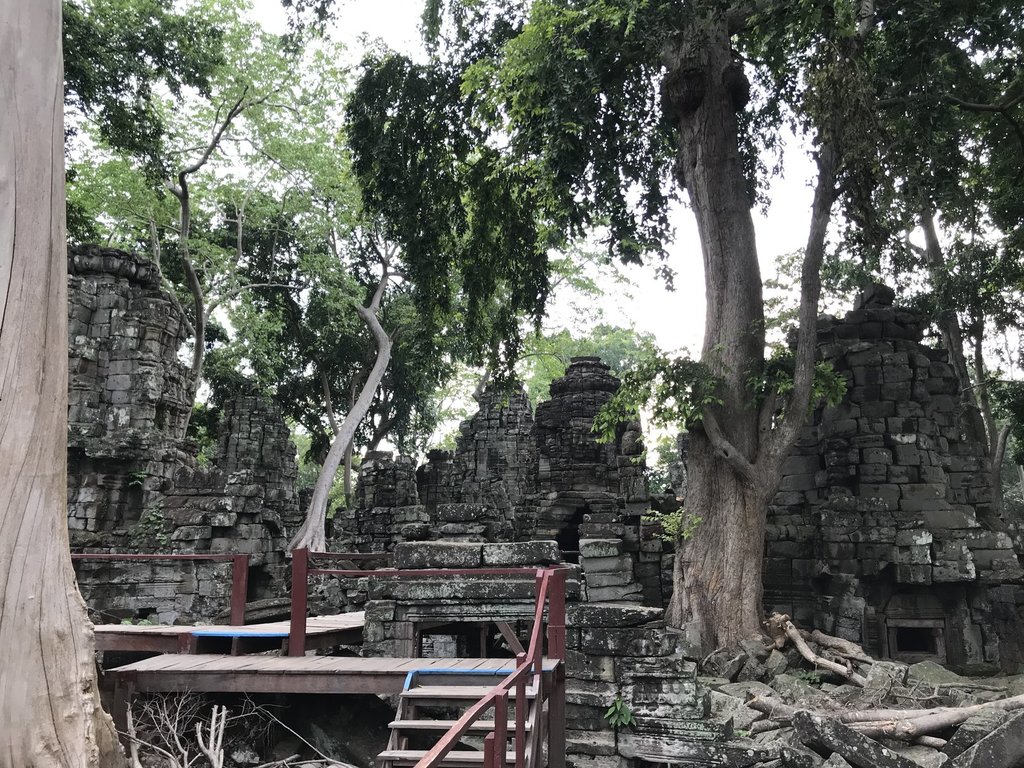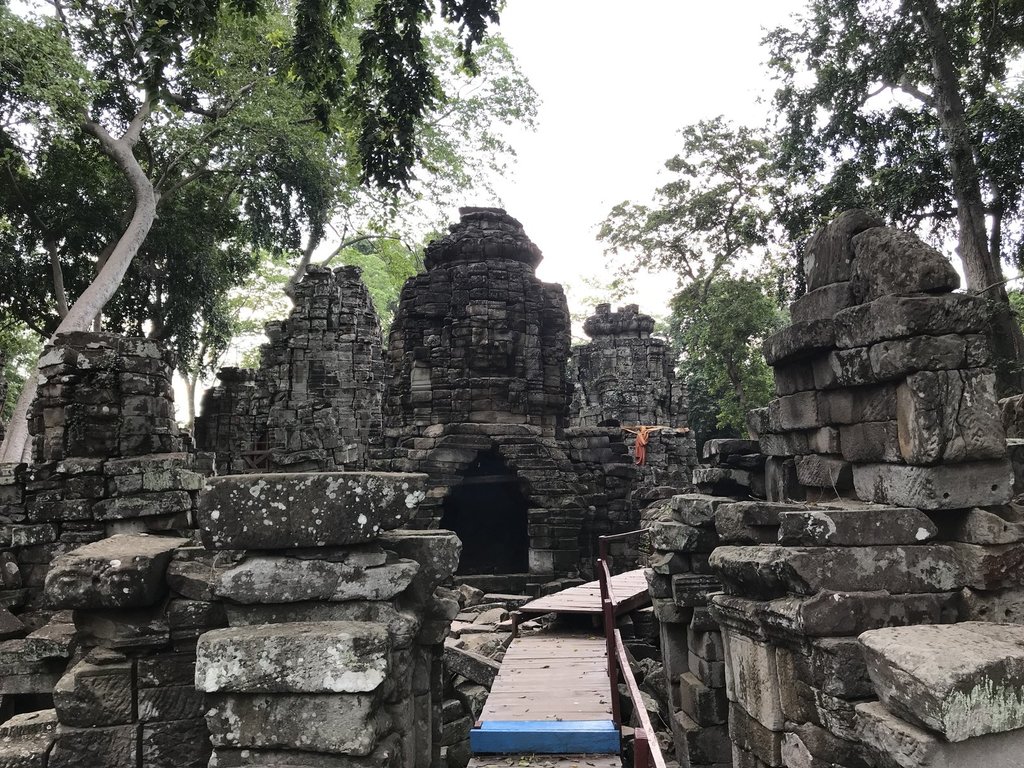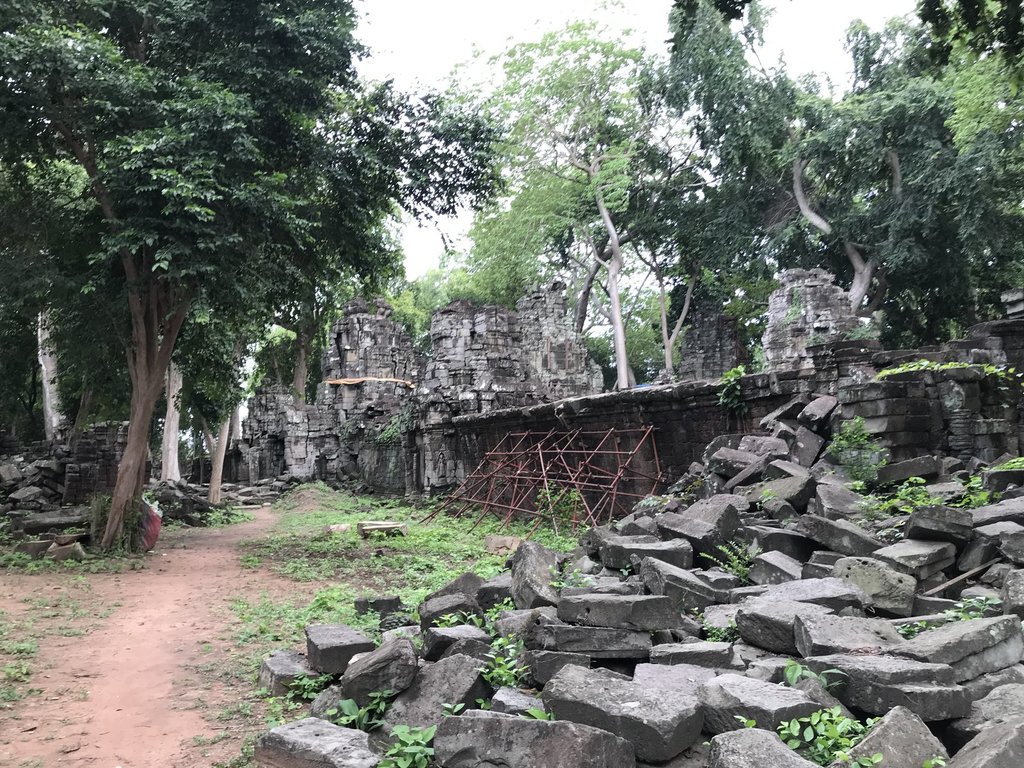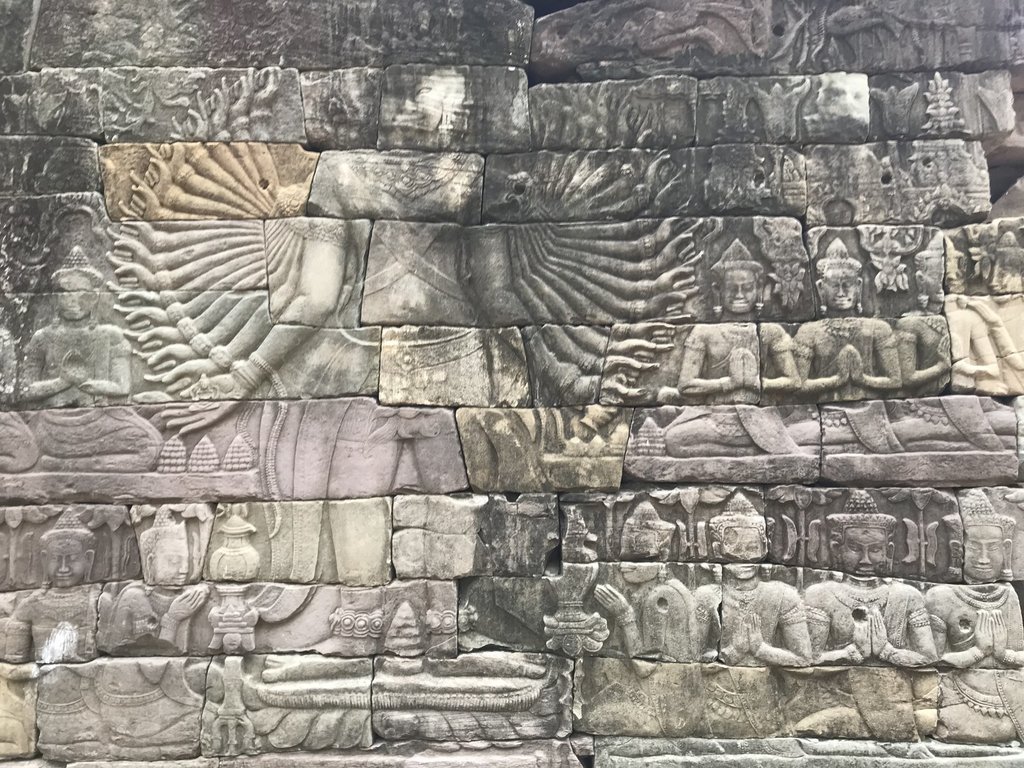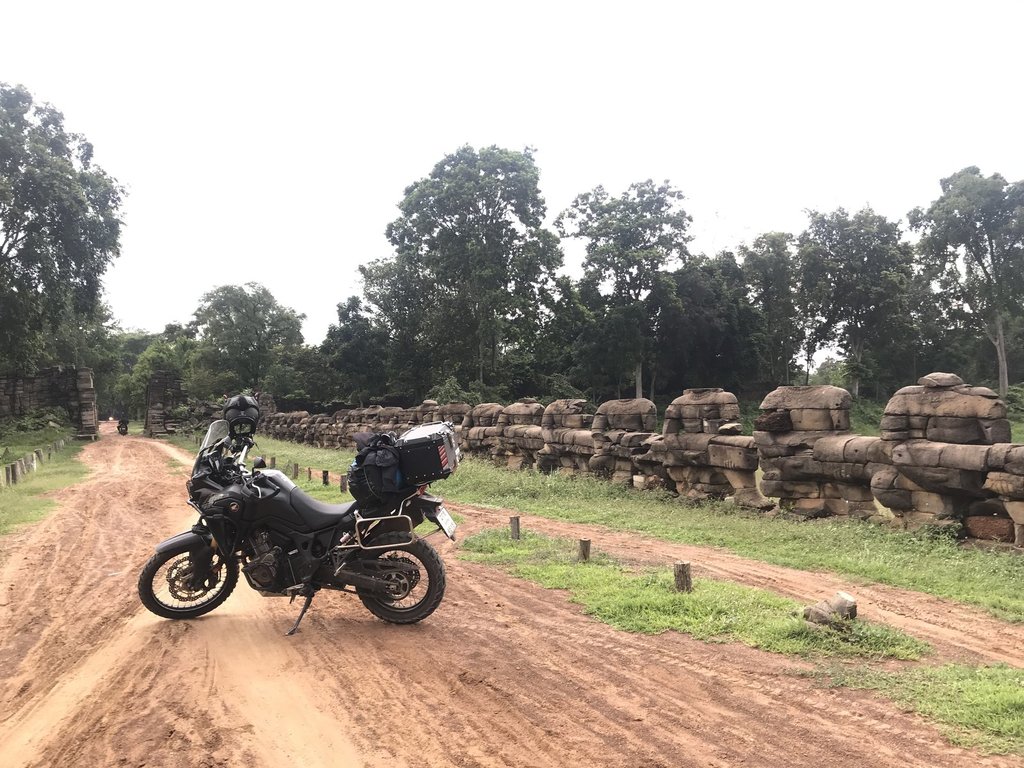 A few off the beaten track temples in Bantaey Chhmar...
I thought I'd check out this temple in the jungle. At first the track looked ok, but it soon turned super slick with mega puddles of red clay mud. I made it to the temple alright, but the way back was a different story. The journey would have taken about 5 minutes if it was dry but took 3 hours on the way back. A lot of slipping and sliding, my tyres were slick with mud. I had to pick up all 240 kgs of the bike many many many times. Certainly not the best idea in hindsight but I got a solid morning work out in the heat!
Interesting morning...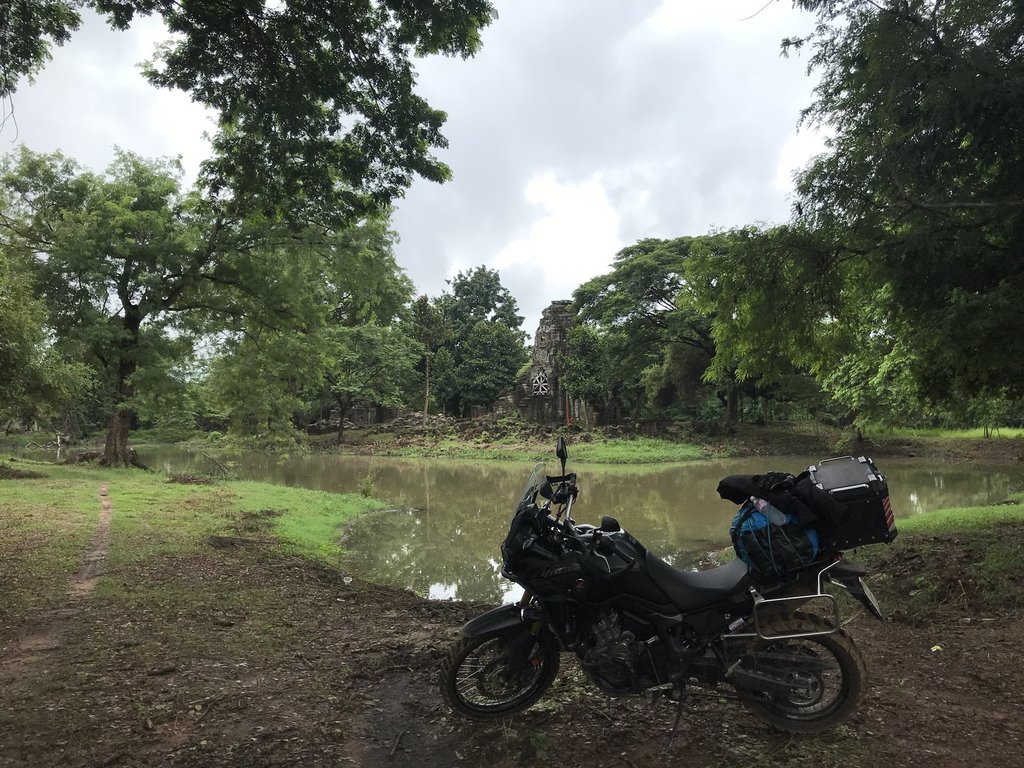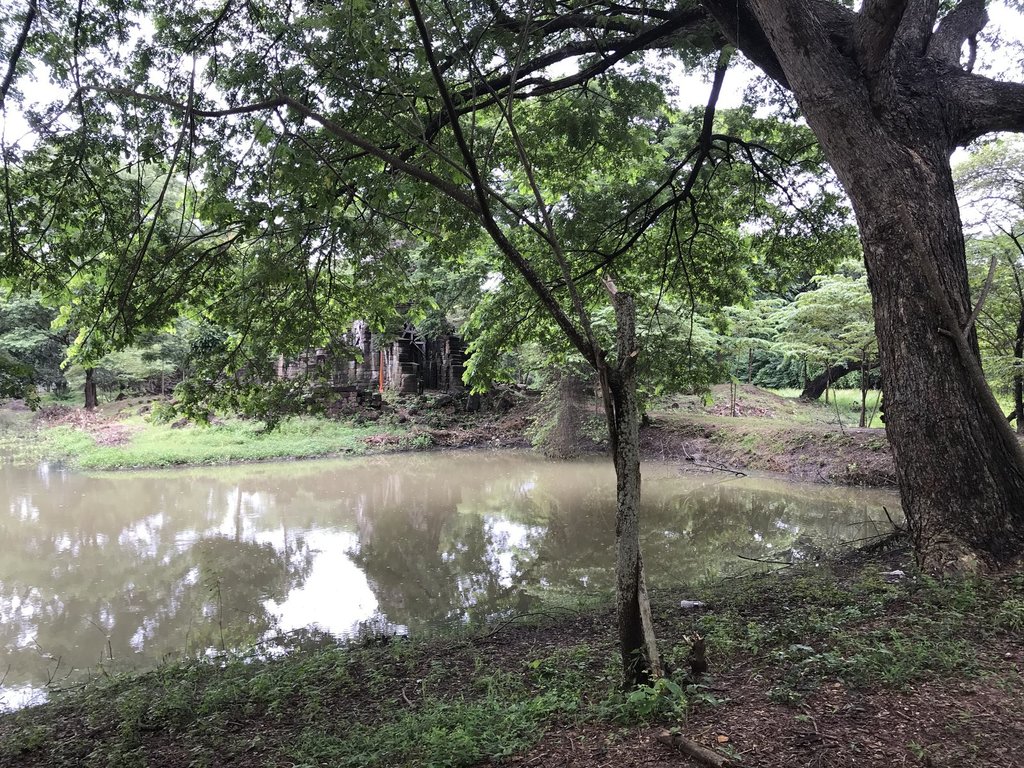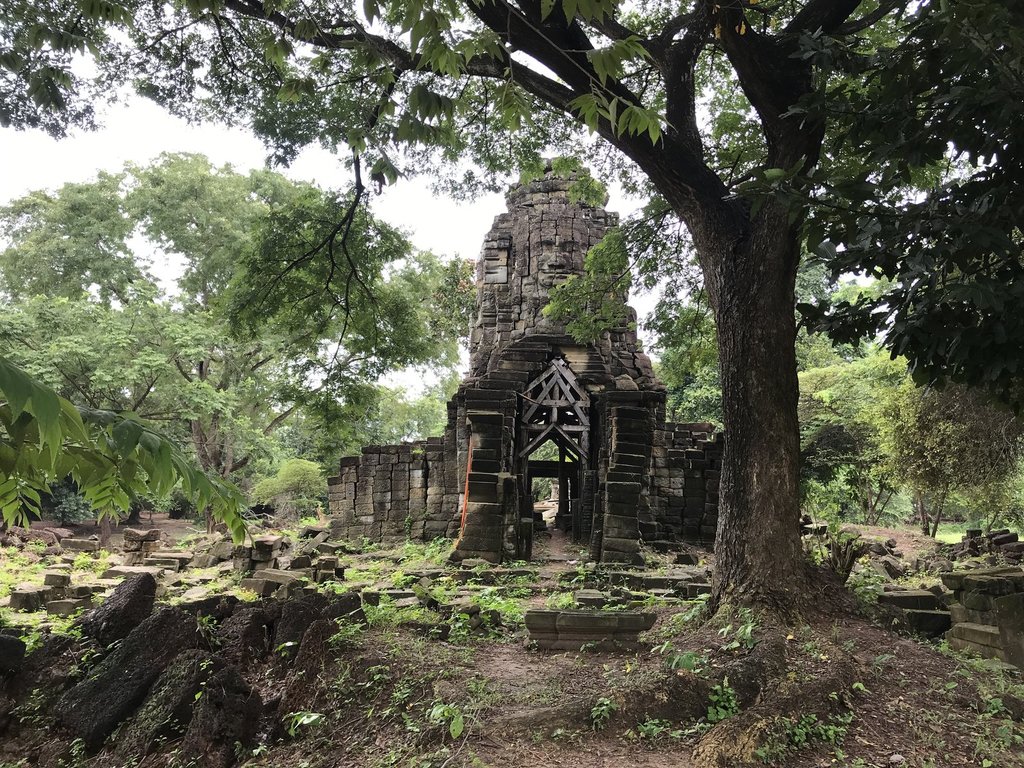 Cool hidden temples consumed by jungle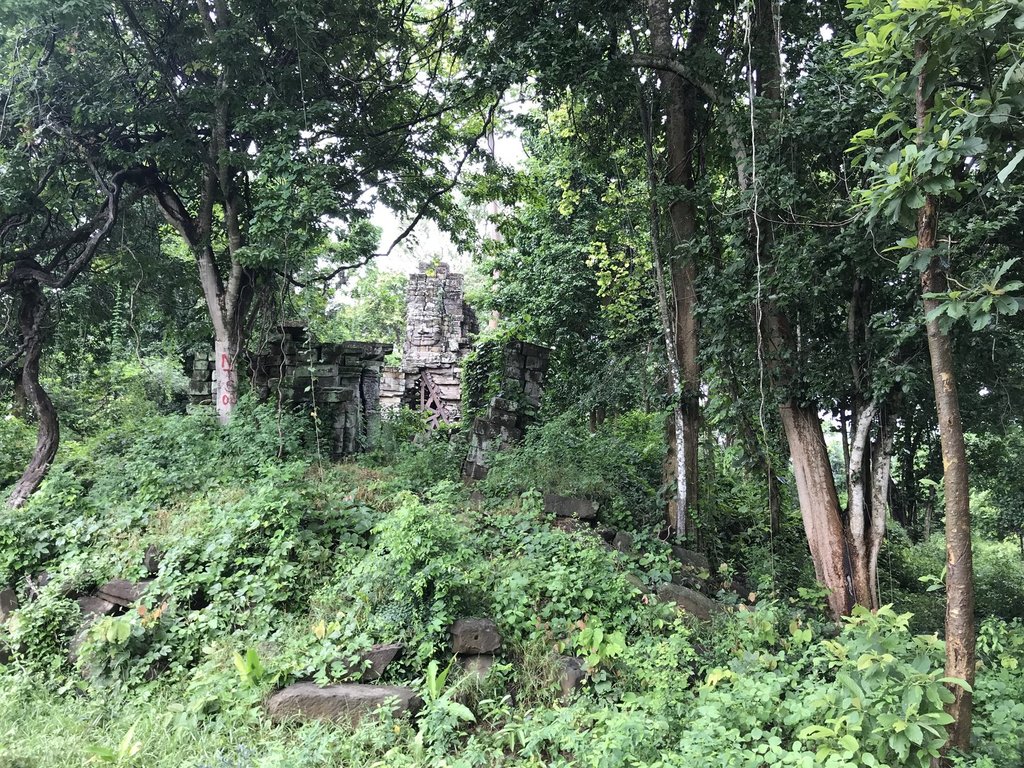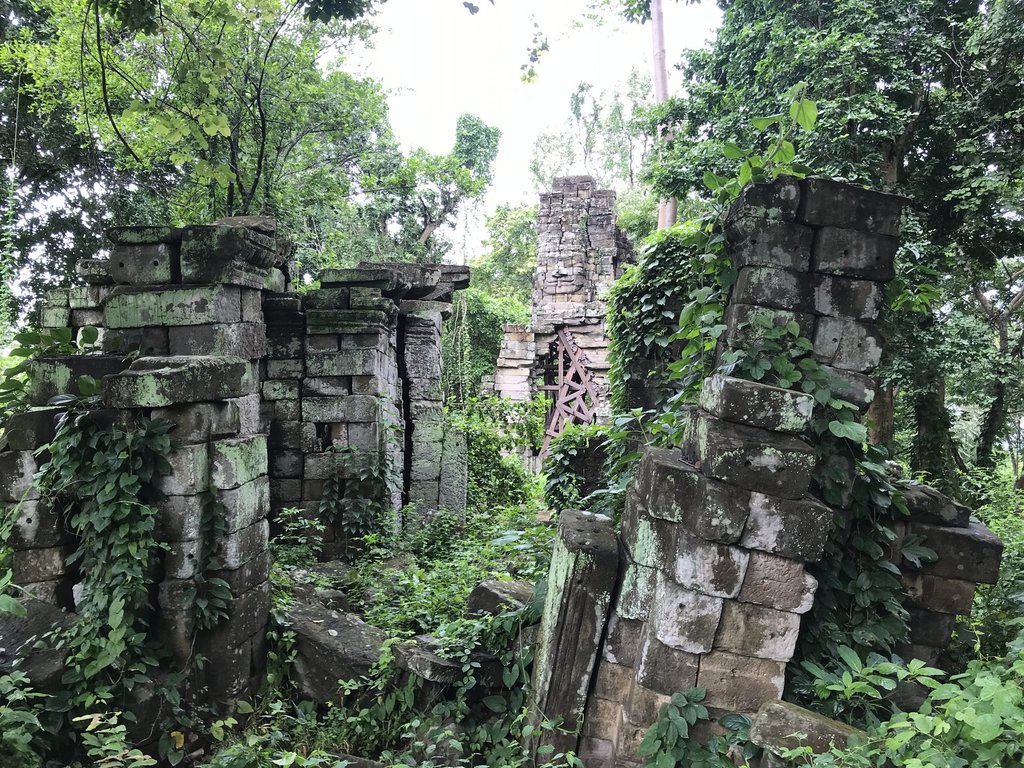 Deep Cambodian red clay. My deep tyre track and the lack of any other tyre tracks was an ominous warning sign of things to come....
That is as bad as it looks. Wheel spin central.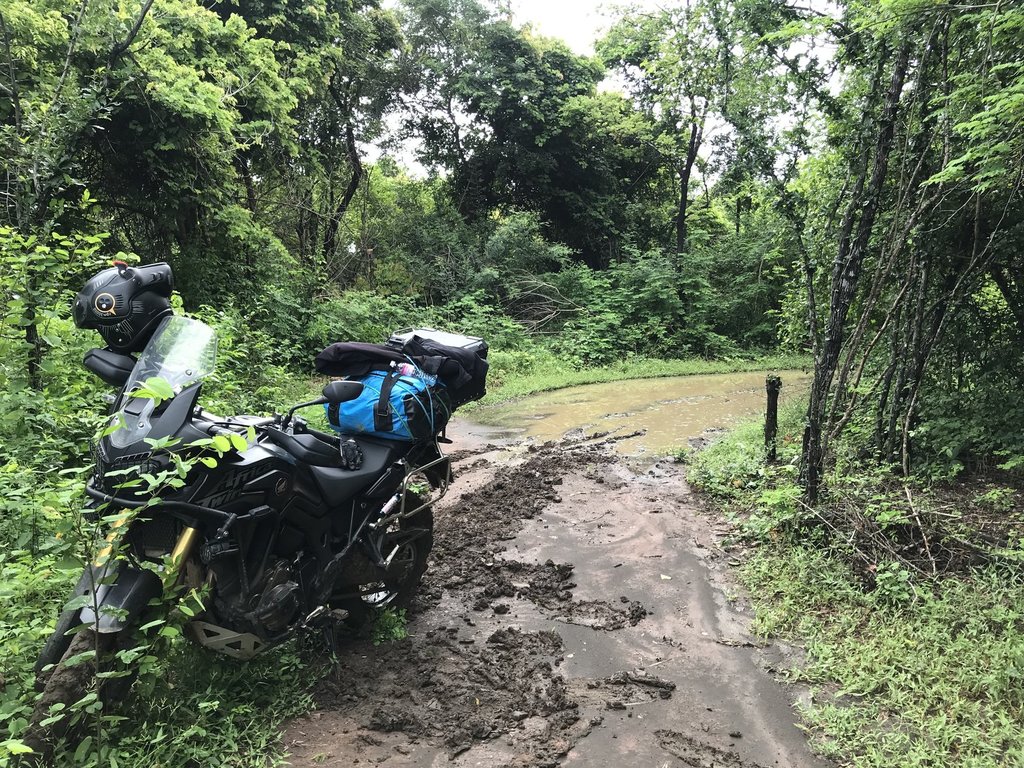 Well, I'm here now, might as well see this temple....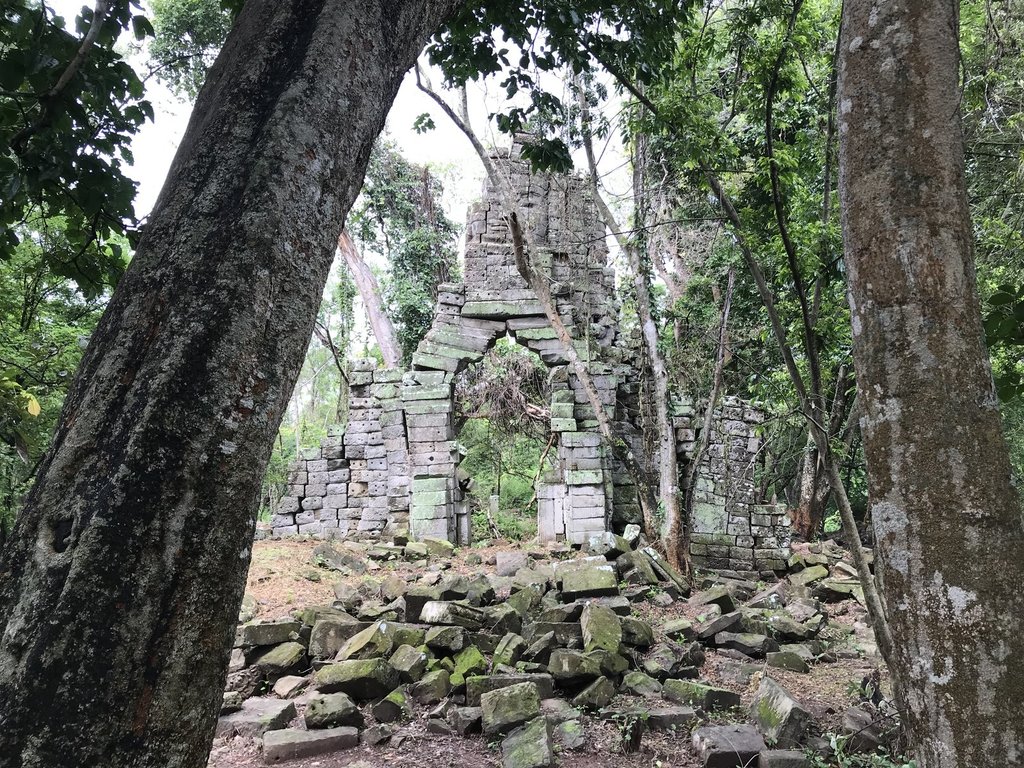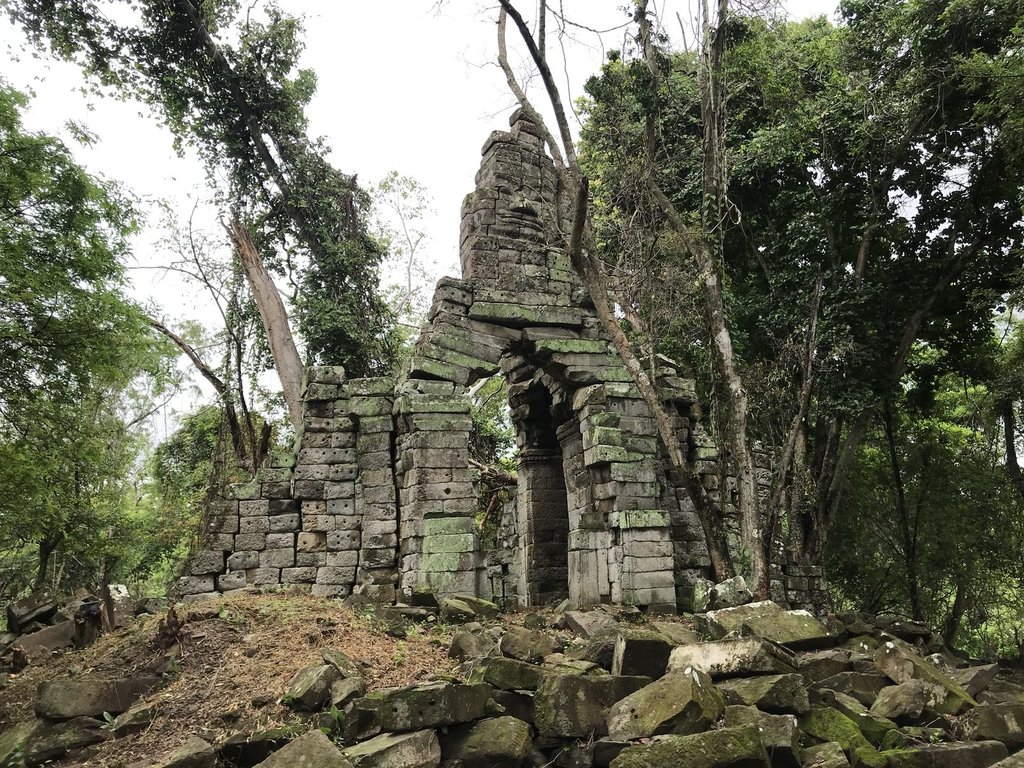 What would have taken 5 minutes to walk, instead took 2 hours to get the AT through. I got some workout from picking the bike up about 10 times. Slippy AF.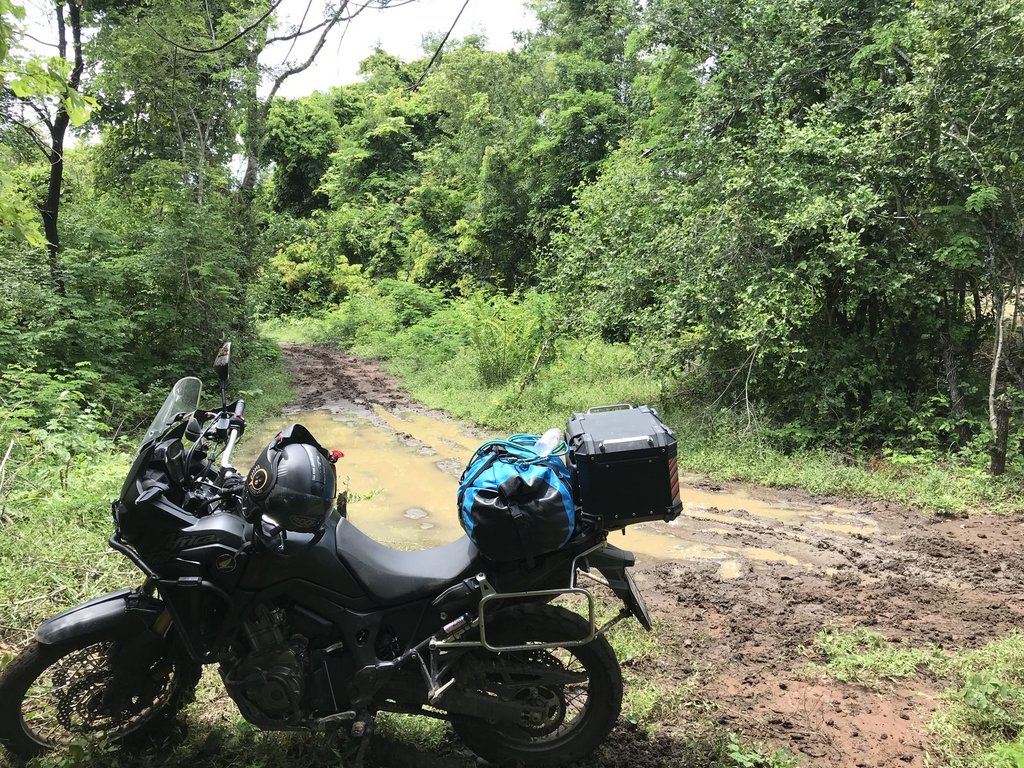 Poipet
I had heard the Thai/Cambodian border town of Poipet was a total shit show and scam border. So being a connoisseur of weird places, this was definitely on my to do list. The madness started about 10K outside of the town when the traffic and kamikaze manoeuvres commenced. Entering the town through a dust cloud was like a scene from the wild west. I rode down to the actual border where every scammer tuk tuk driver and his mother were waiting for some falang suckers to come though. Glad I had my own ride. I had a hankering for some pizza after a very long day's ride, so I headed for the Thai pizza chain, the pizza company. It was a godsend in fairness. After getting washed up, I had a chat with the guesthouse owner who diligently game me some local sites and activity guidance. I decided to check out the main casino that I had heard about. I take plenty of calculated risks where I think there's a high chance of a decent gain, so casino gambling isn't really my thing. I am however fascinated by the hustle and bustle of it all and enjoy the people watching aspect. So, I had a walk around.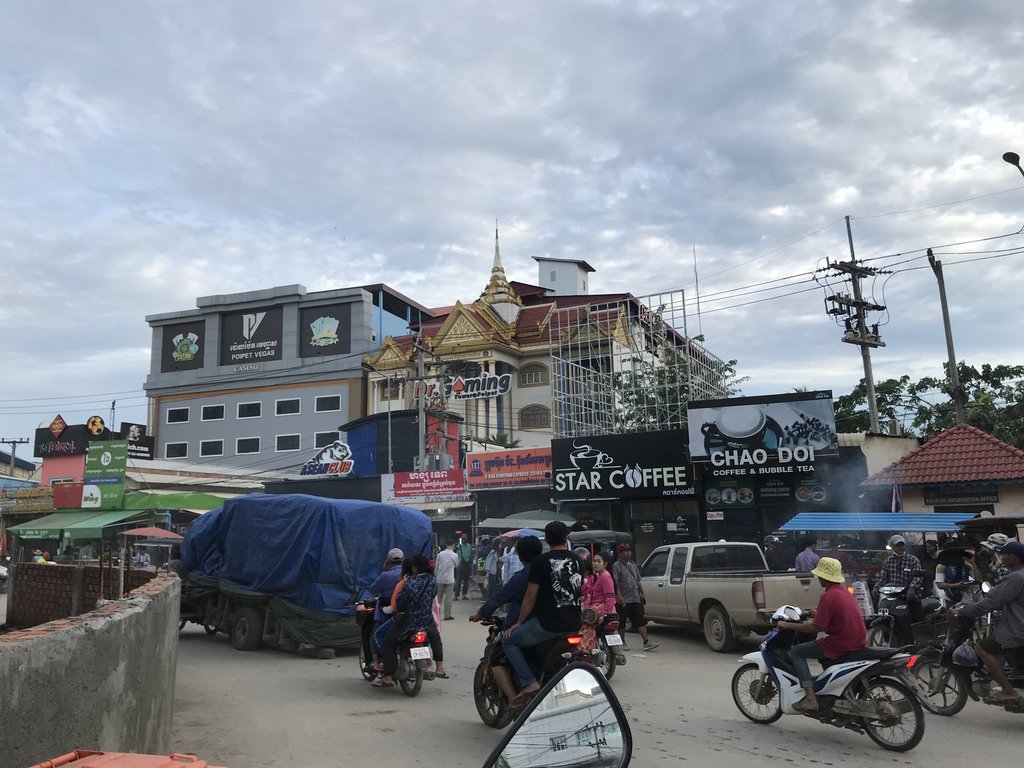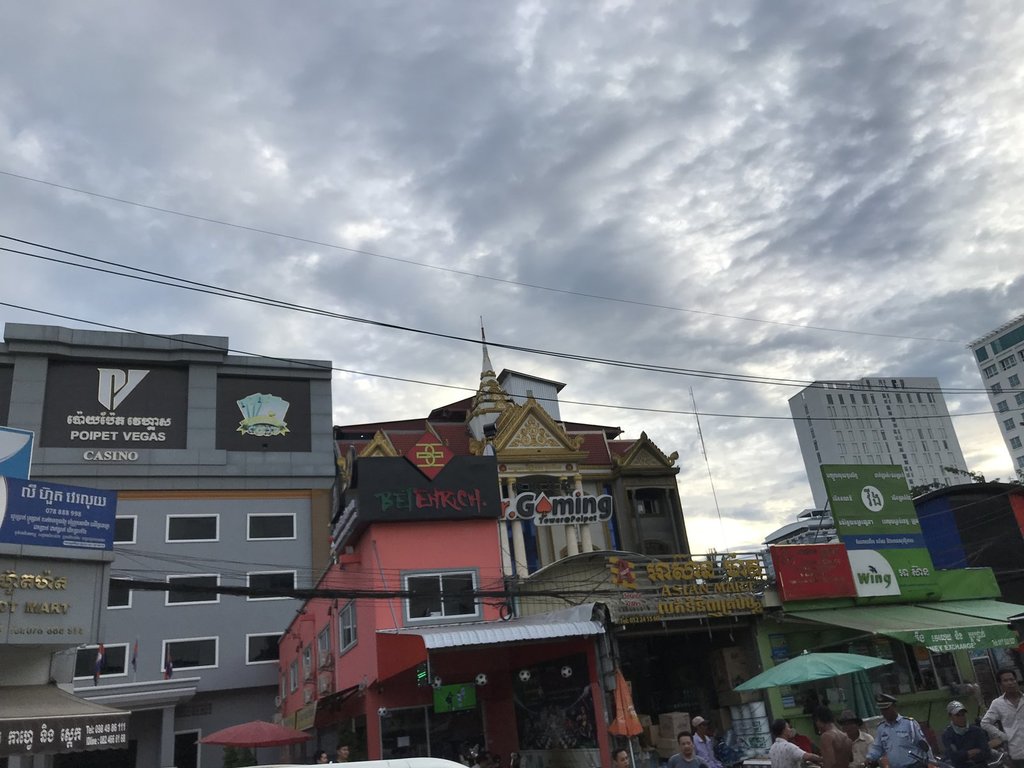 Battambang
Battambang is a lovely French colonial style town. Similar architecture style to Siem Reap and Phnom Penh but just isn't as crowded. It was a nice place to hang out and chill for a couple of days. There are some nice Khmer ruin temples to see along with a killing field memorial site.
I found a nice place for sundown beers and Thai snacks by the banks of the river. It was run by a Khmer/Thai family.
Points of interest
Killing cave
Ek Phnom Temple
Wat Samraong Knong and killing fields
Phnom Banan Temple
Secret Cave: (12°56′57.89″N, 103°08′11.15″E)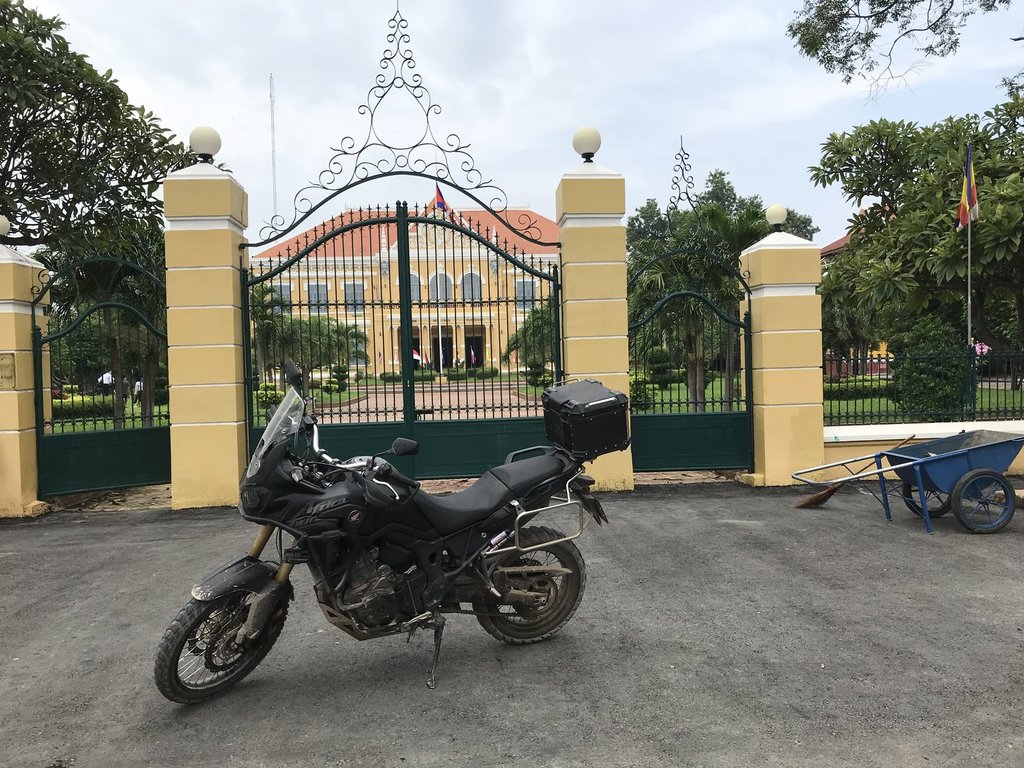 The killing cave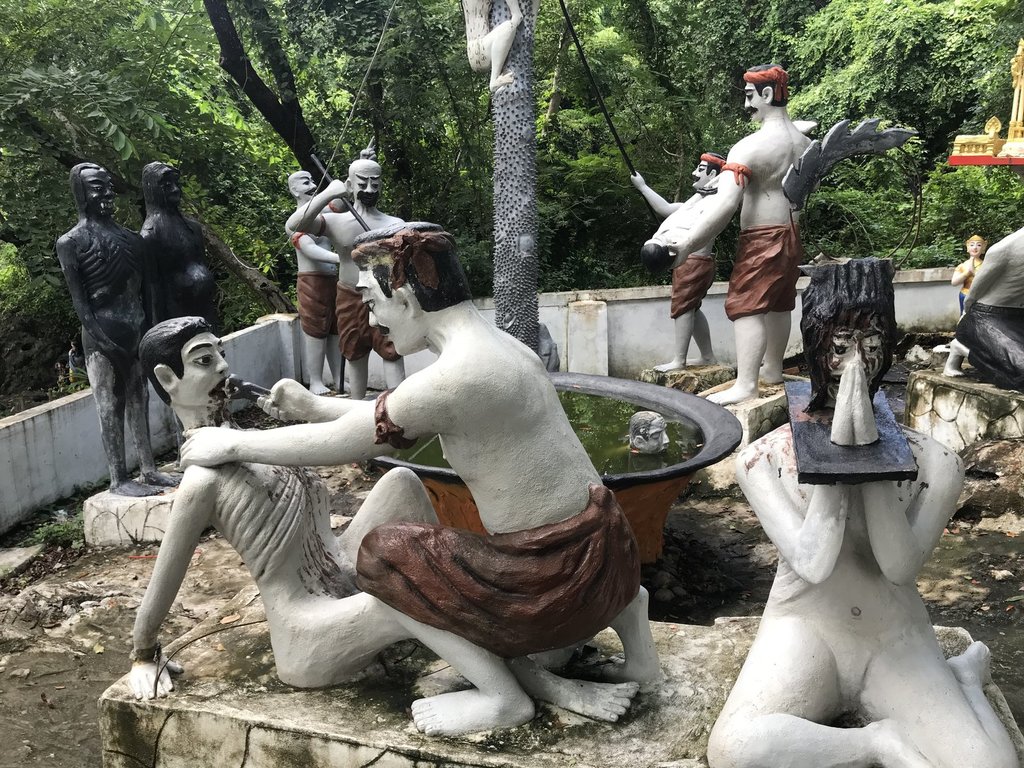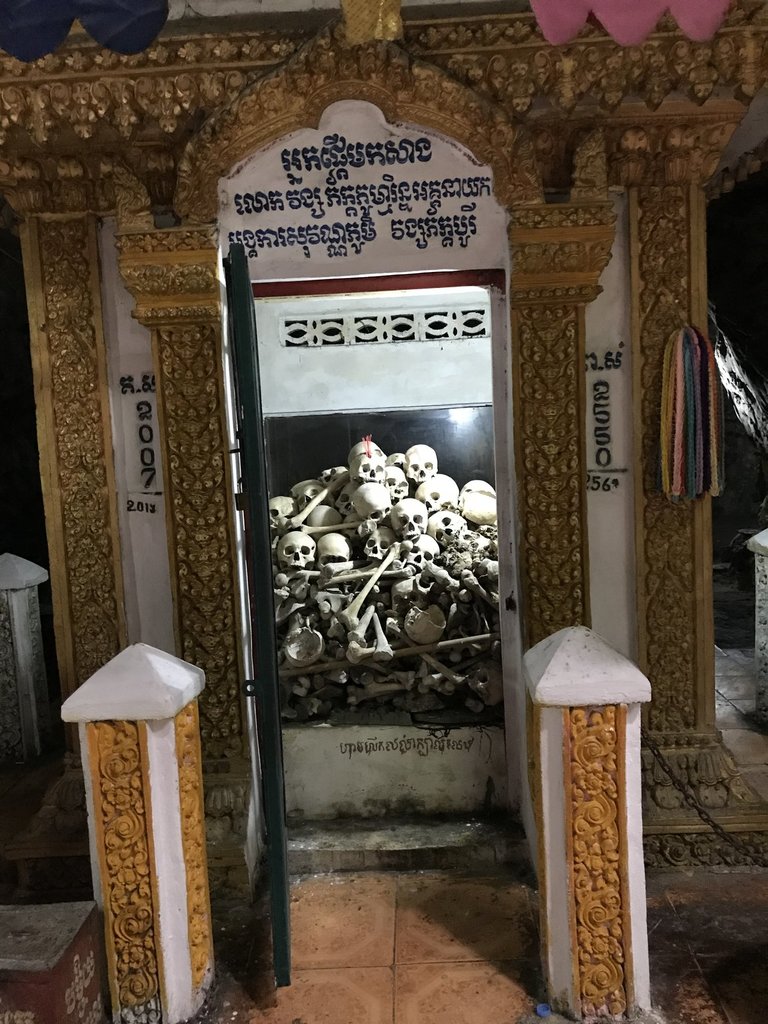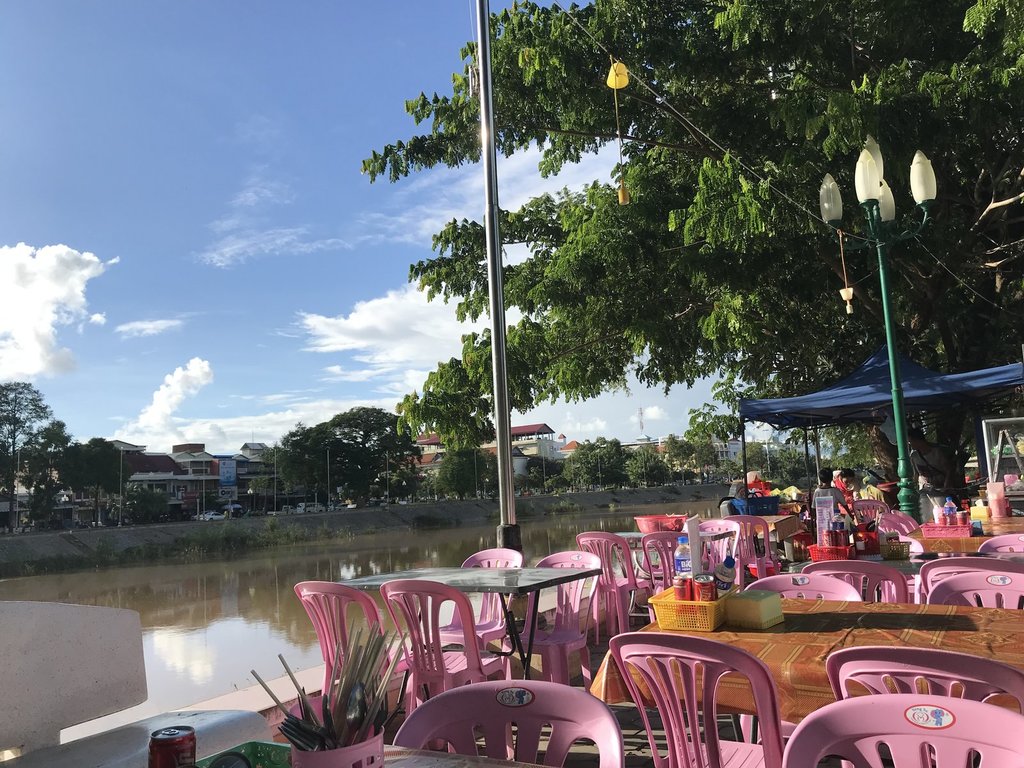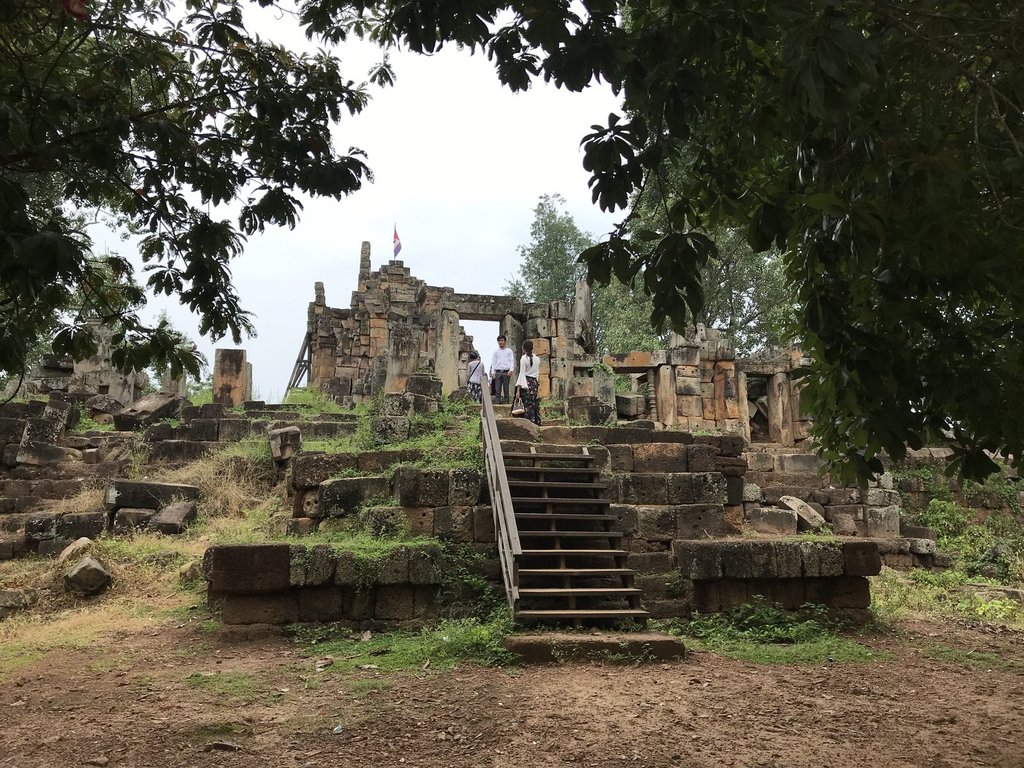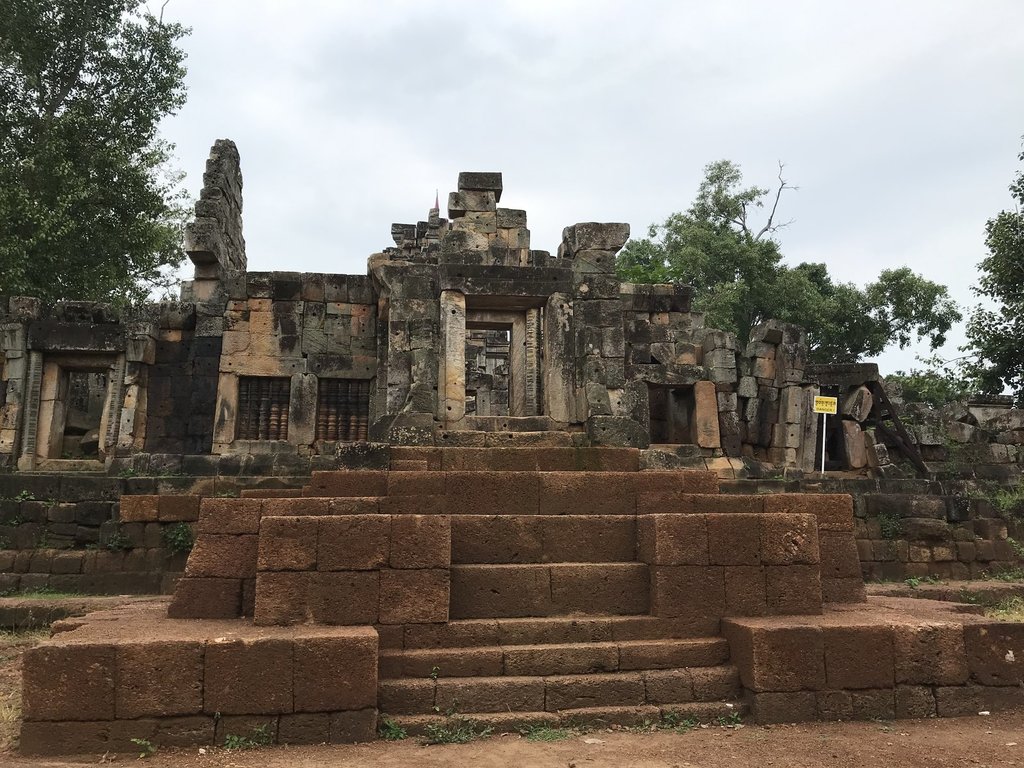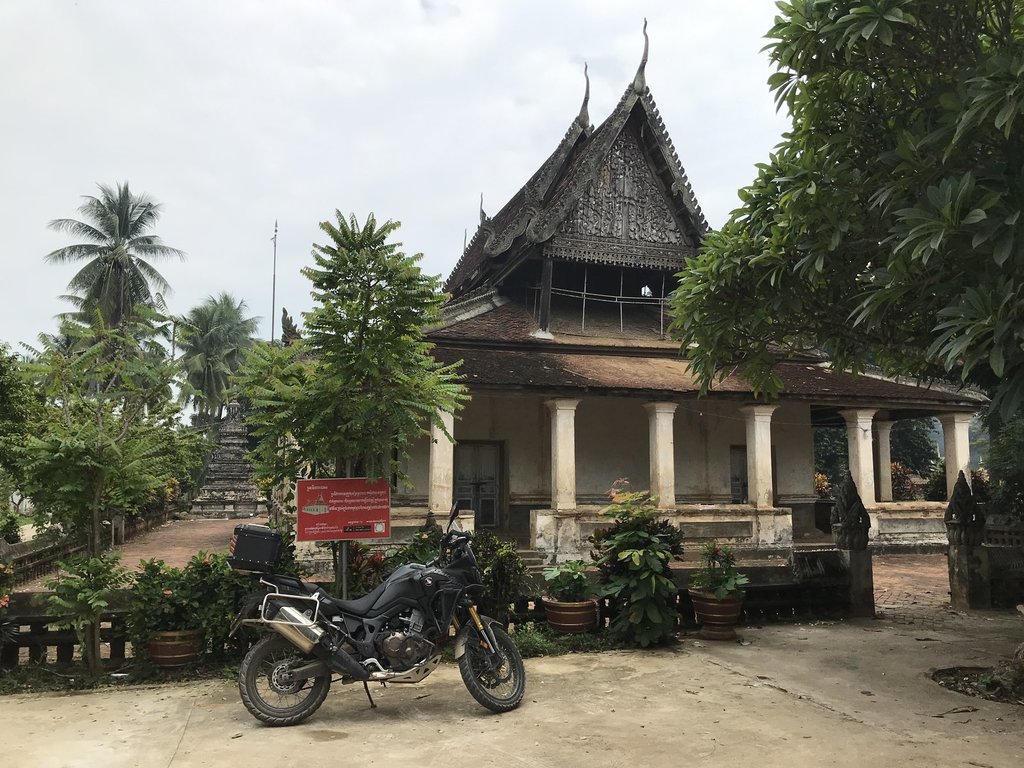 This was my guest house in Battambang. Nice spot with nice rooms and centrally located.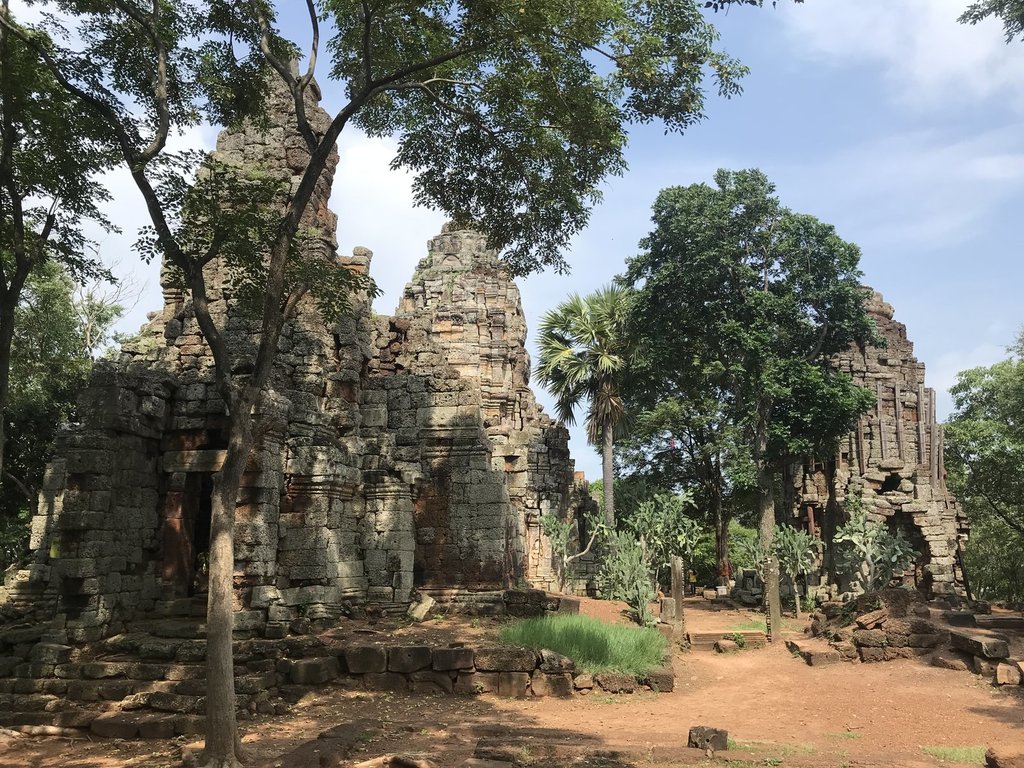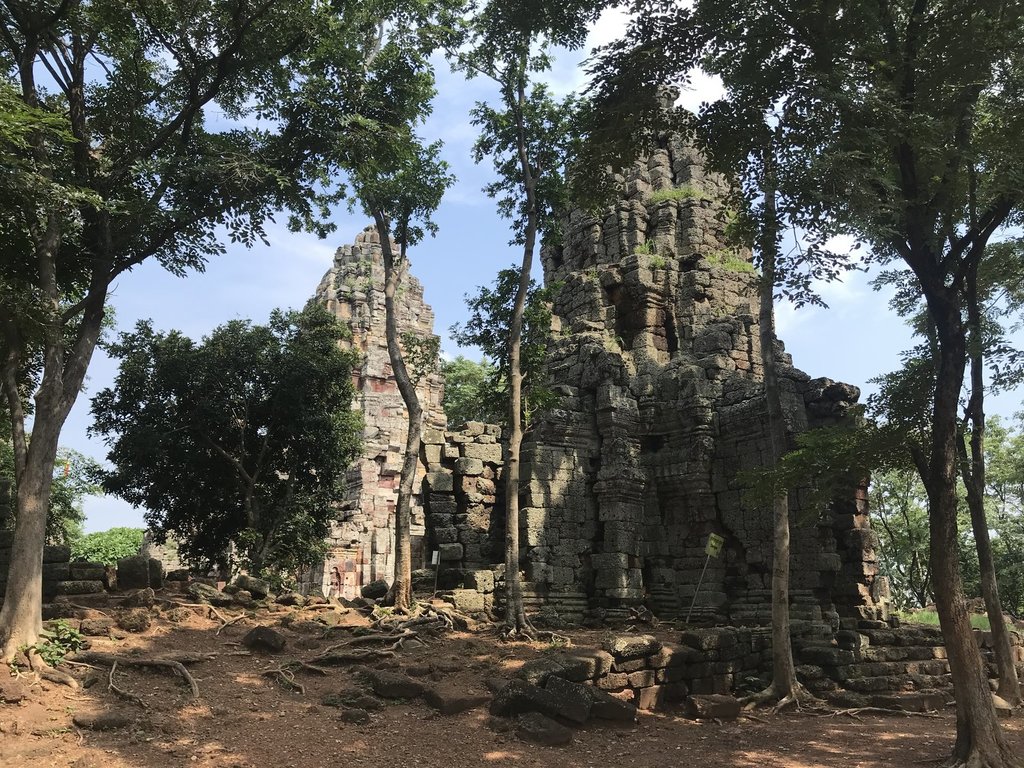 Sunset beers by the river in Battambang.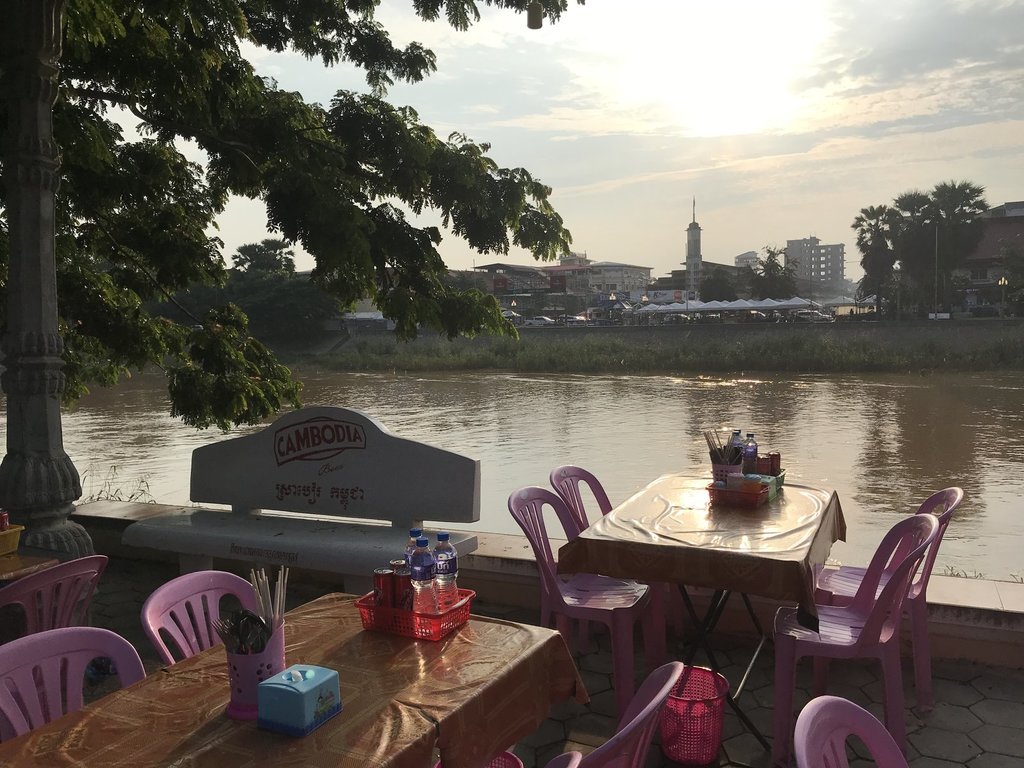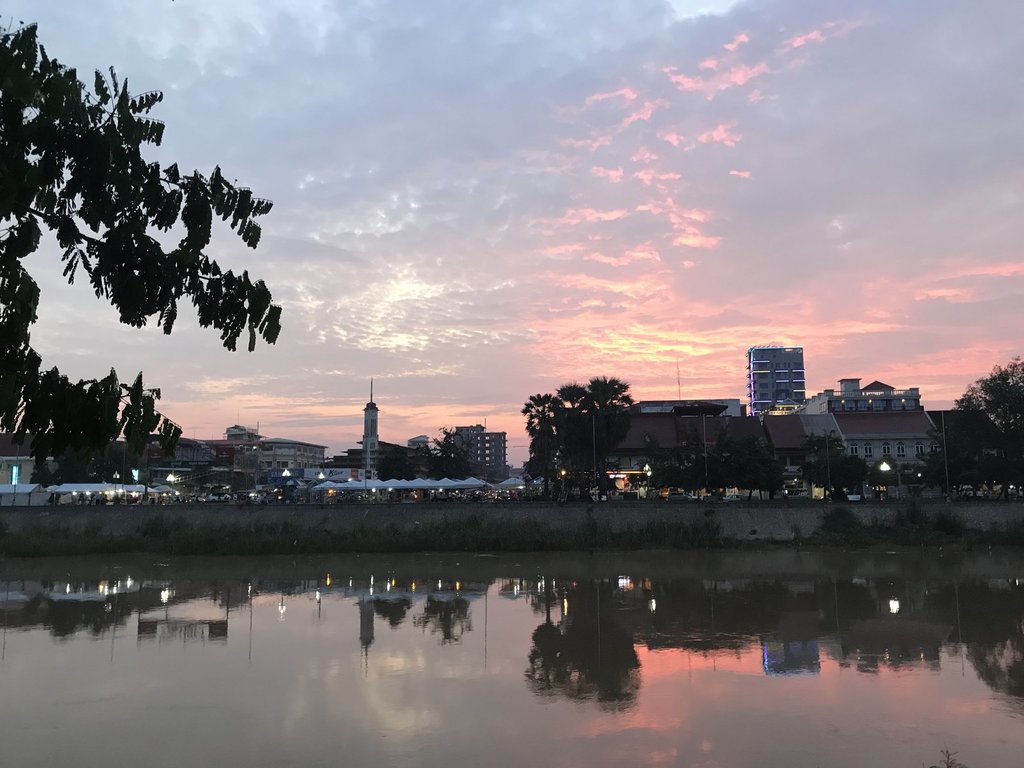 Phnom Penh
Kamikaze driving and chilling out by the Maekong/Tonle Sap river were the main themes to my visit to Phnom Penh this time. There is a great nightlife district which is perfect for getting through the Angkor beer. I was amazed to see how much the city sky line had changed since I was there last. There's a business district almost like a mini Canary wharf there now with some very impressive new buildings. My favorite area is still down by the river with the old French style colonial buildings. The old FCC or foreign correspondents club is the perfect spot for a few cold ones and to catch the sunset.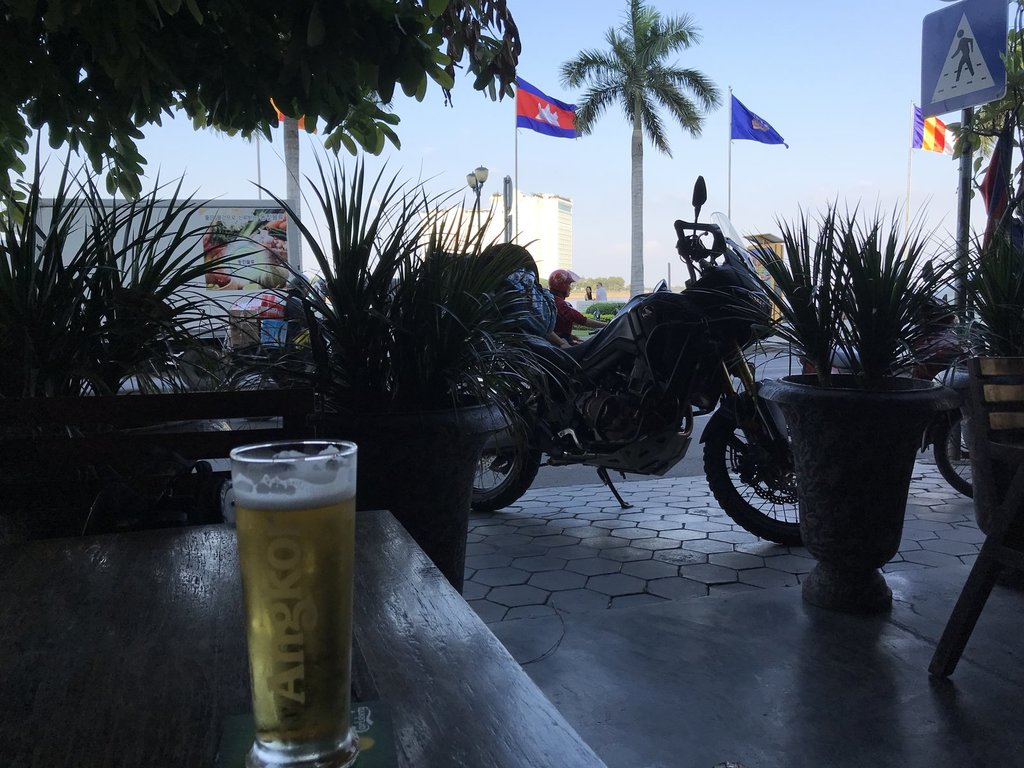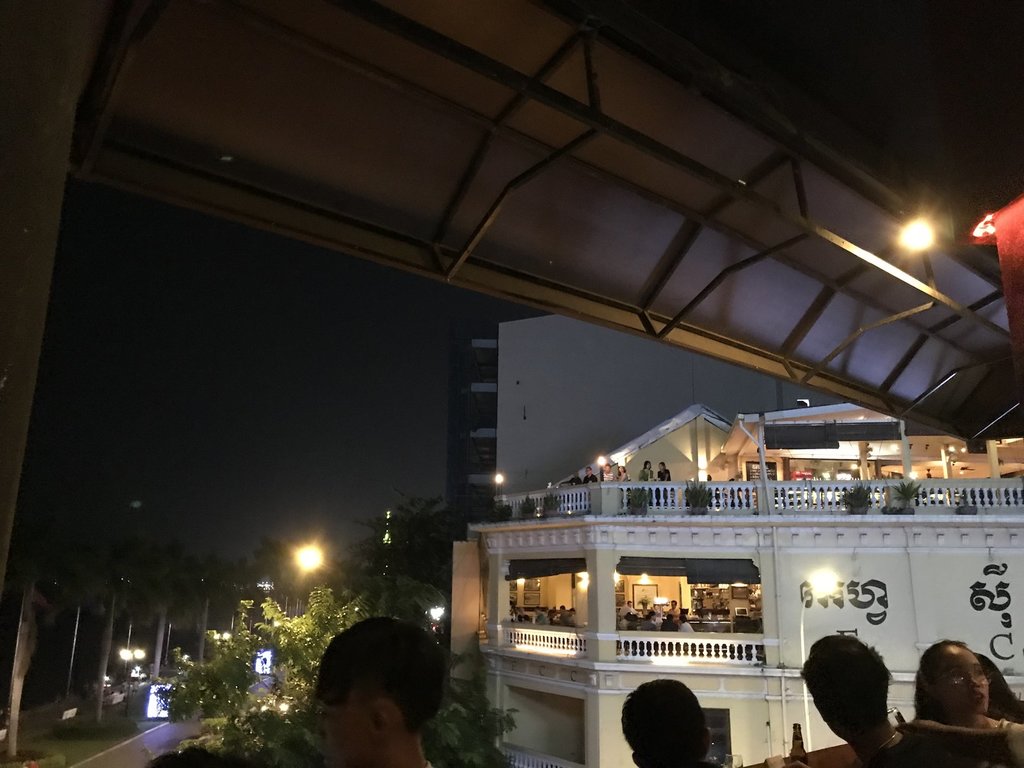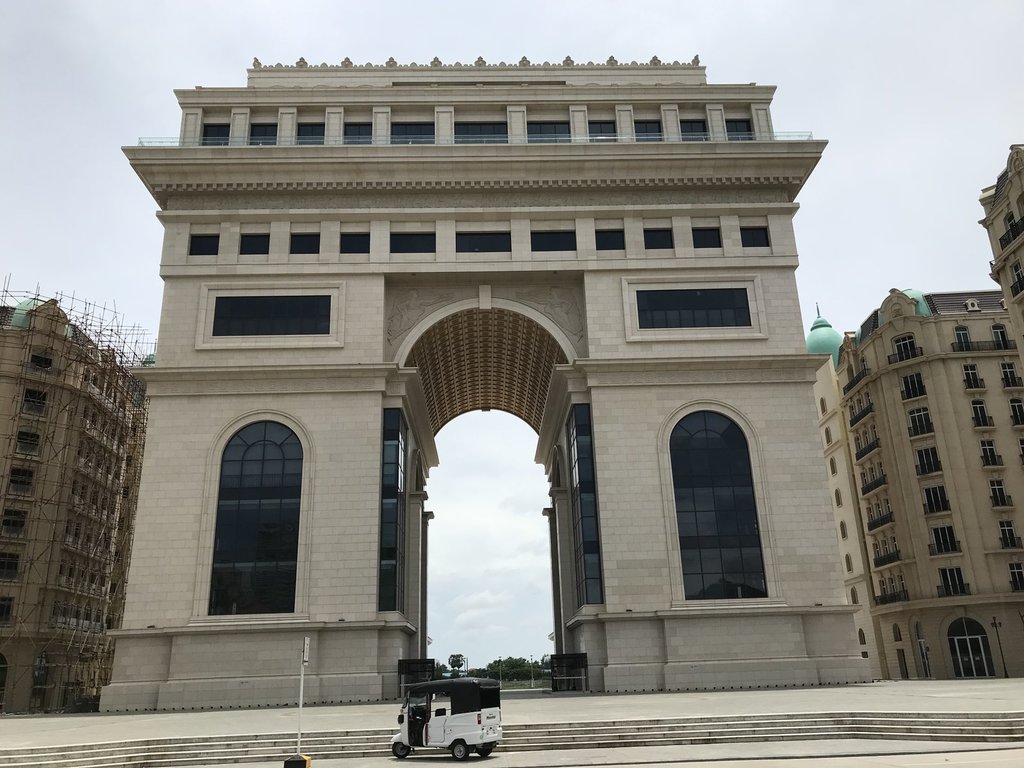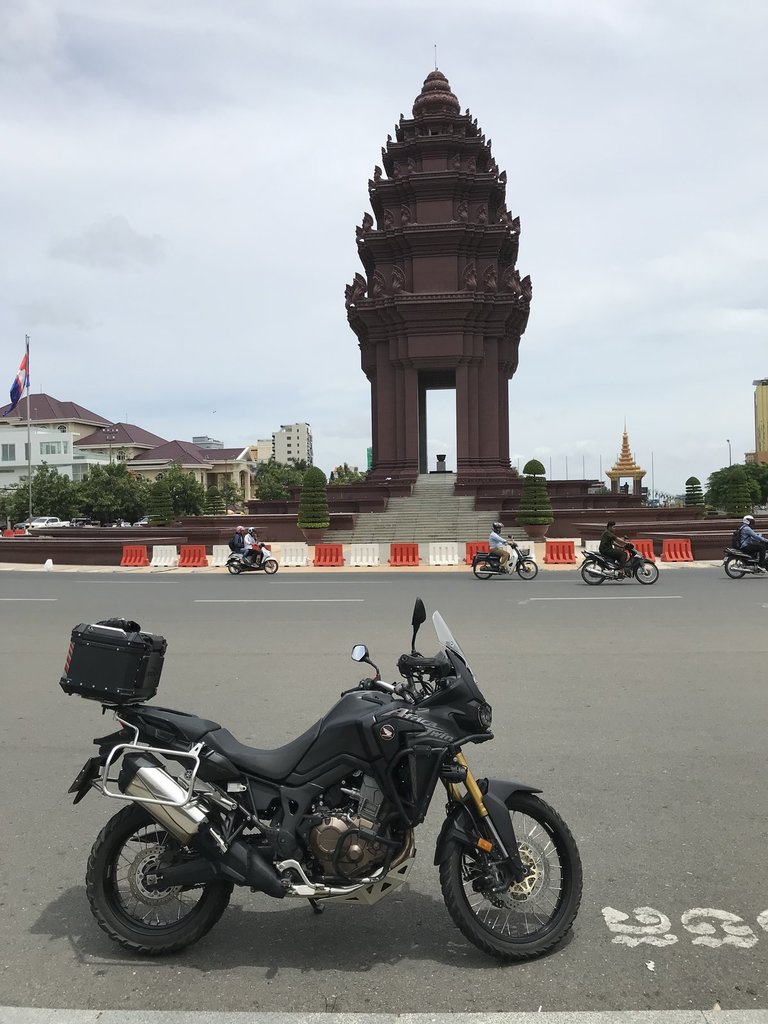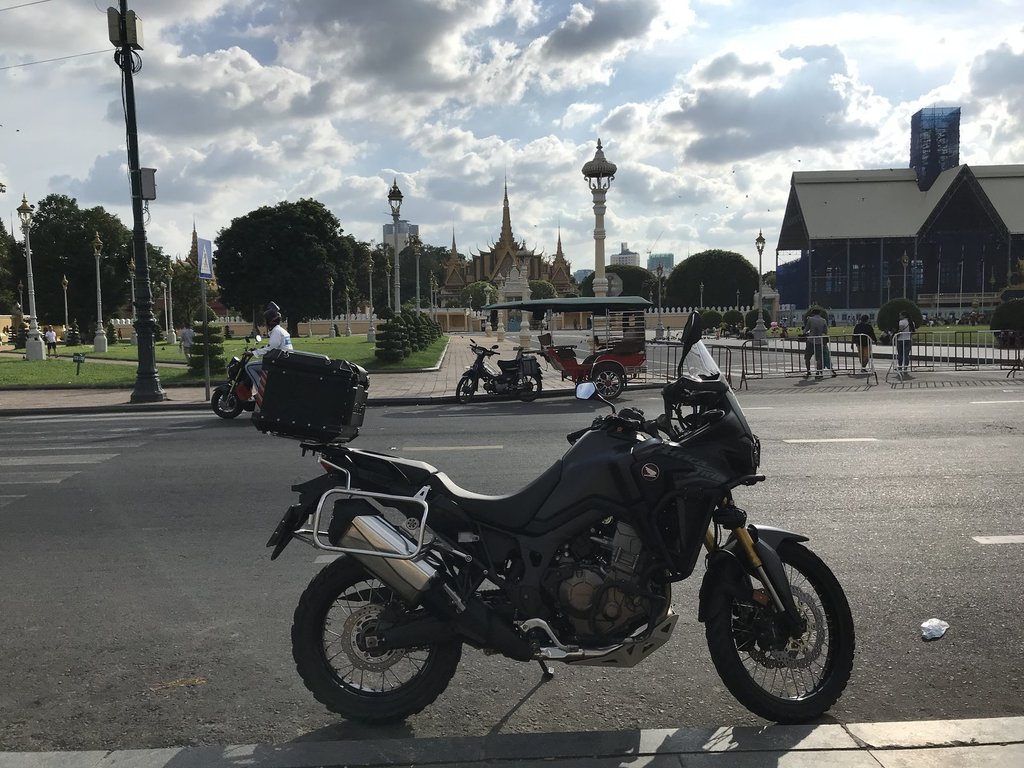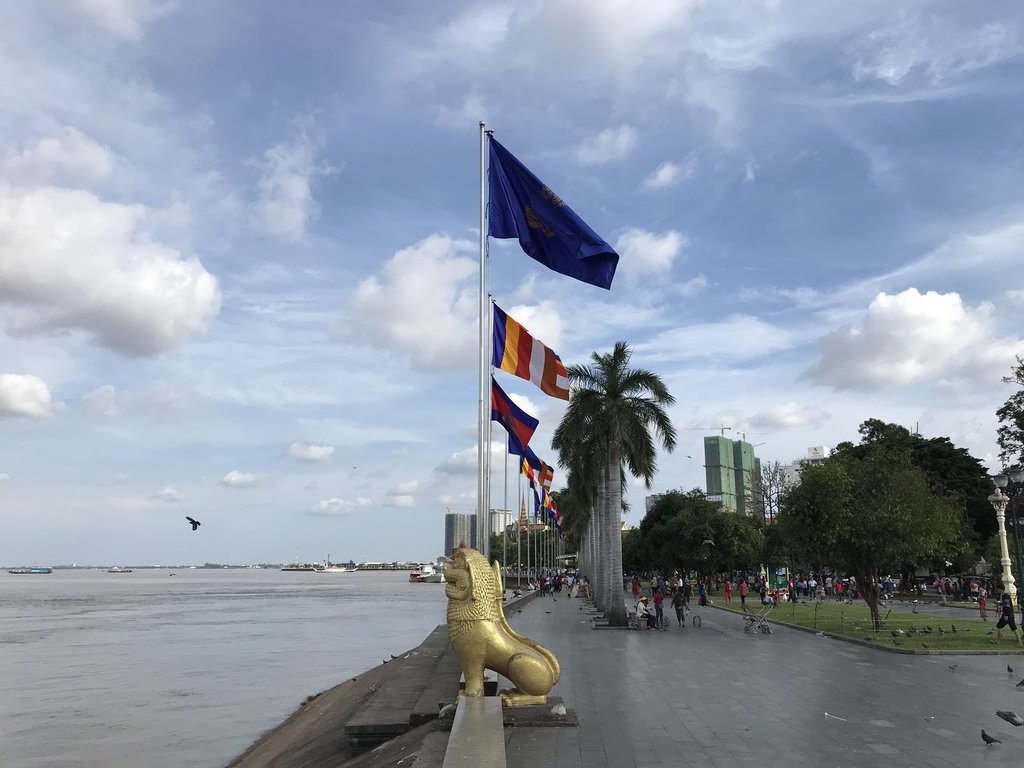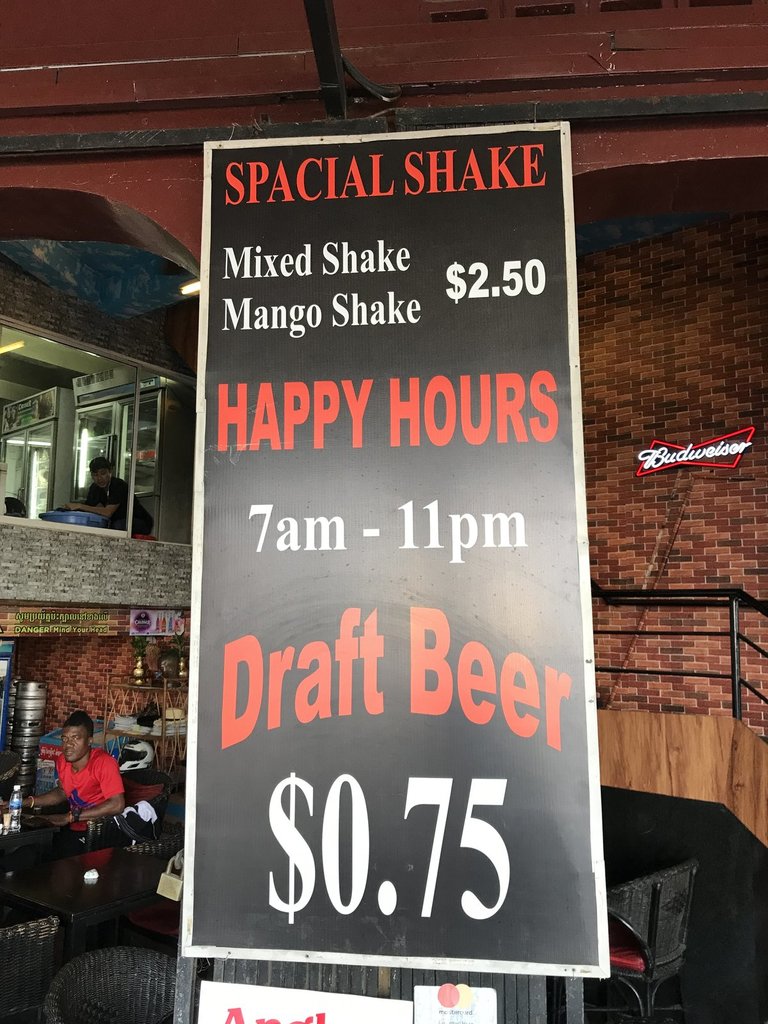 Perfect way to unwind after a day of Kamikaze traffic.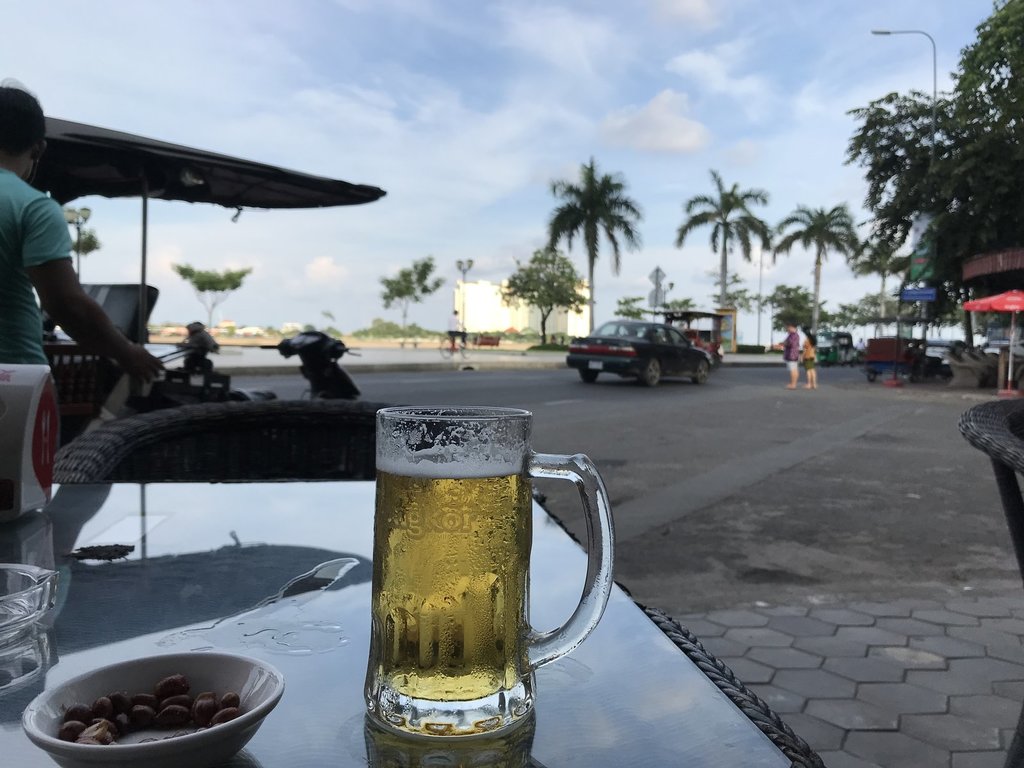 The Foreign Corespondents Club (FCC). A famous Phnom Penh institution. Inside there are some old pictures of back in the day.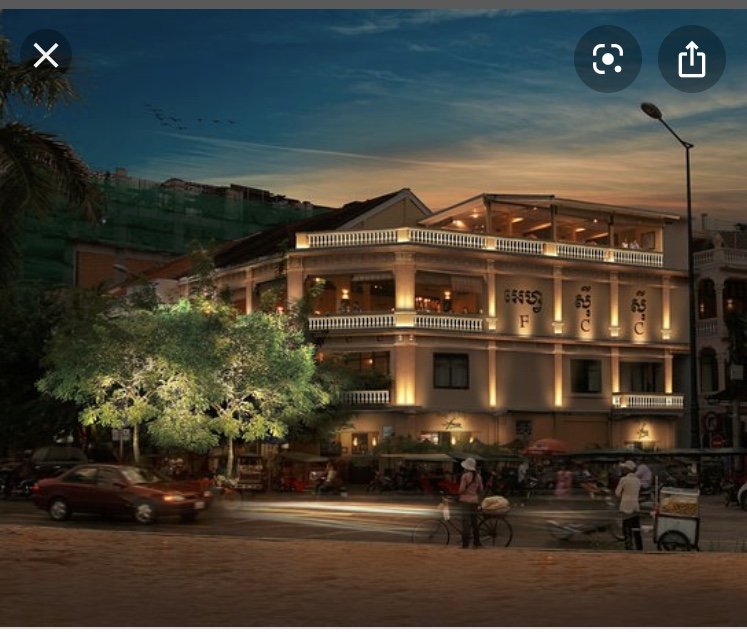 River views from the rooftop of the FCC.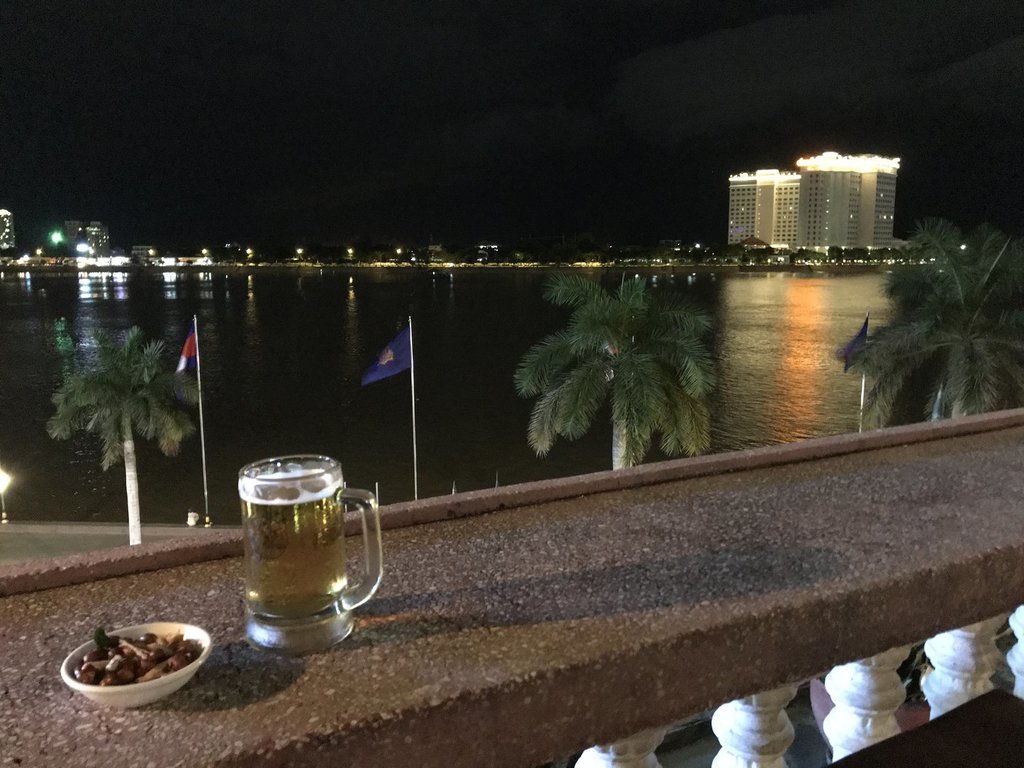 Up country remote temples near Pra Sombor and Preah Vihear
After Phnom Penh, I headed north. I spent 2 days checking out some of the beaten track temples in the Cambodian countryside.
More jungles and dirt trails out in the provinces. Thankfully the weather stayed dry and roads weren't that bad.
Sambor Prei Kuk – temple
Prasat Preah Khan of Kampong Svay
Kampong Thom town - decent town to stay
Plus many other satellite temples
Got some more VIP parking outside the remote temples.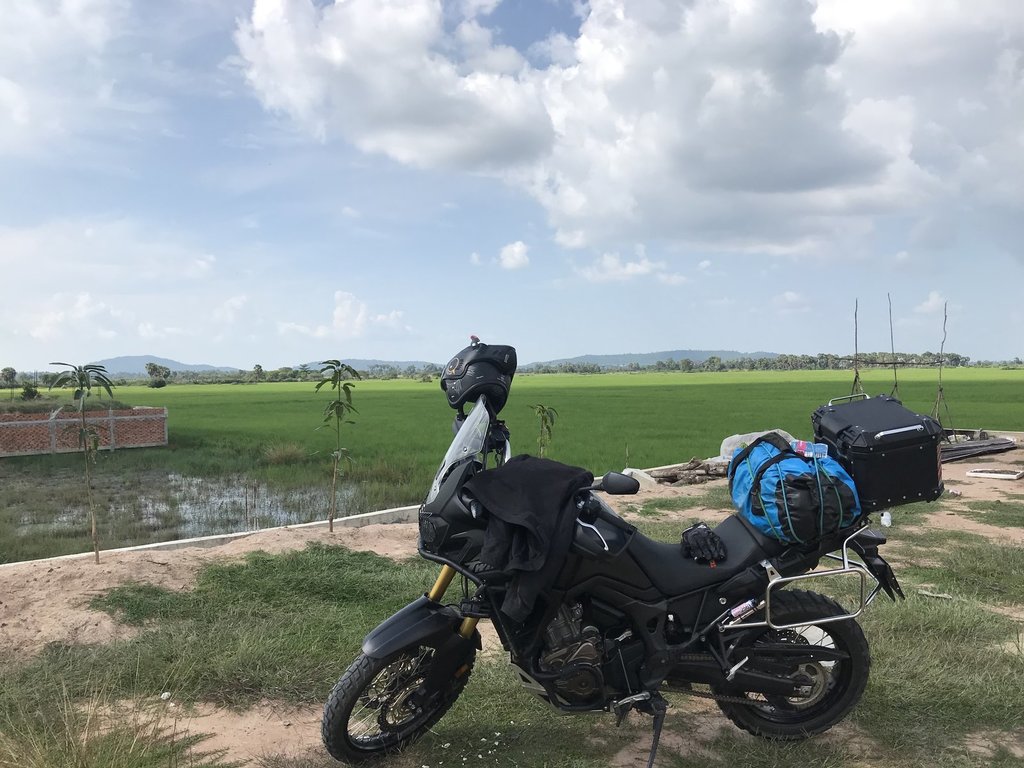 In and around Prasat Sombor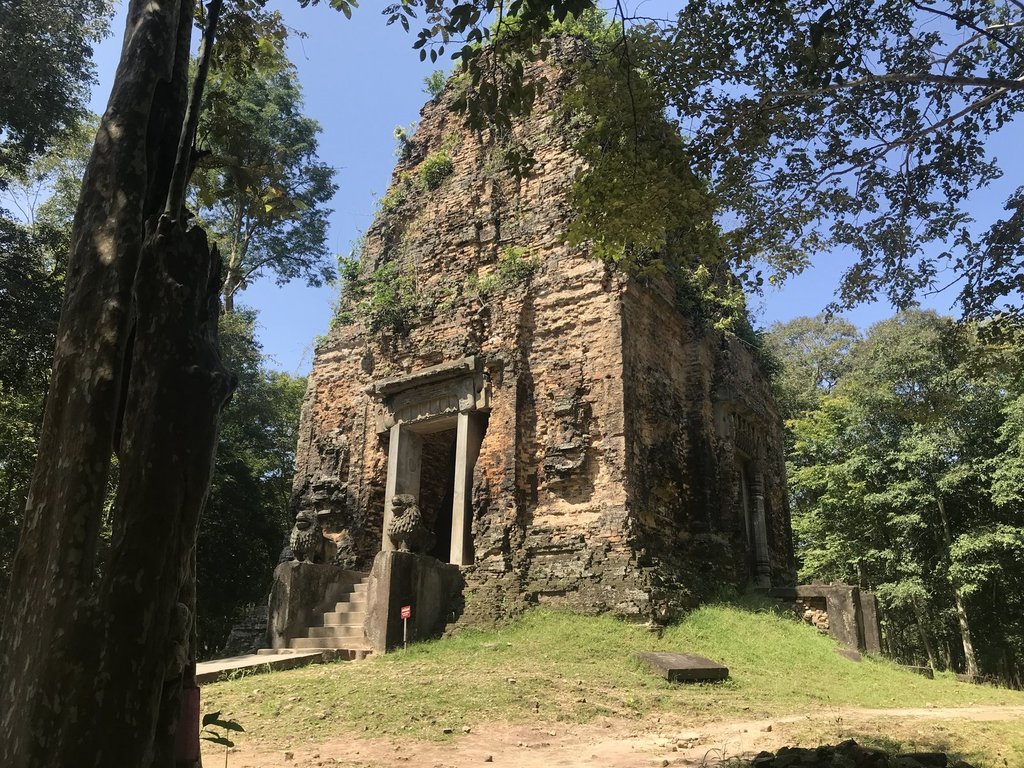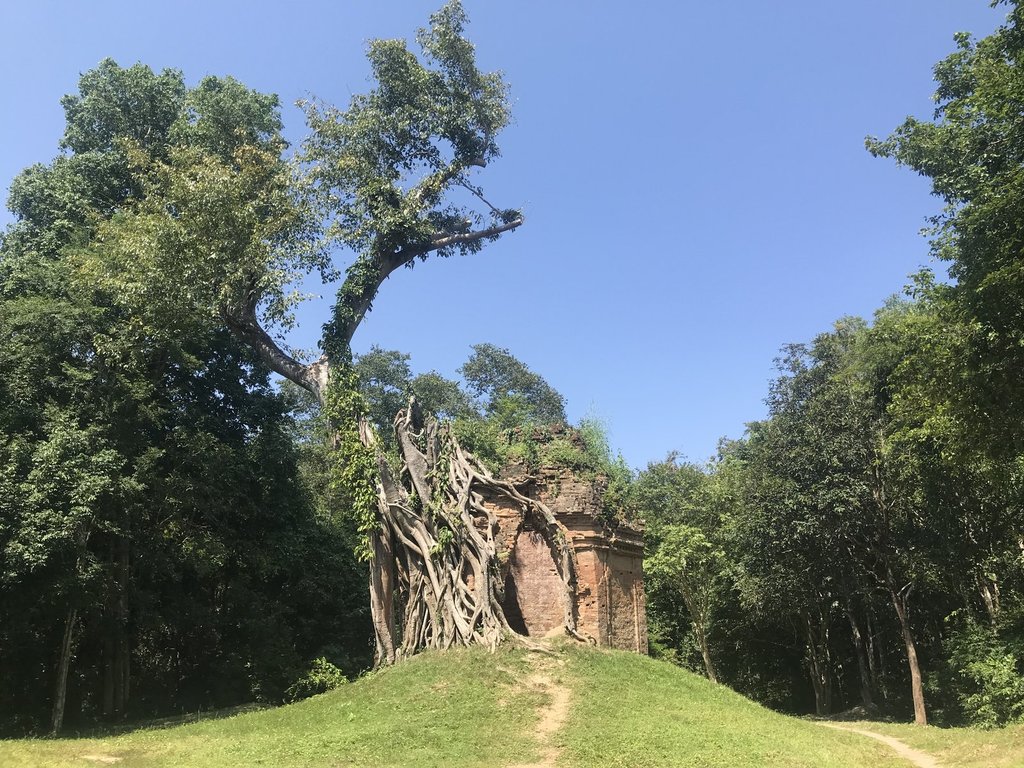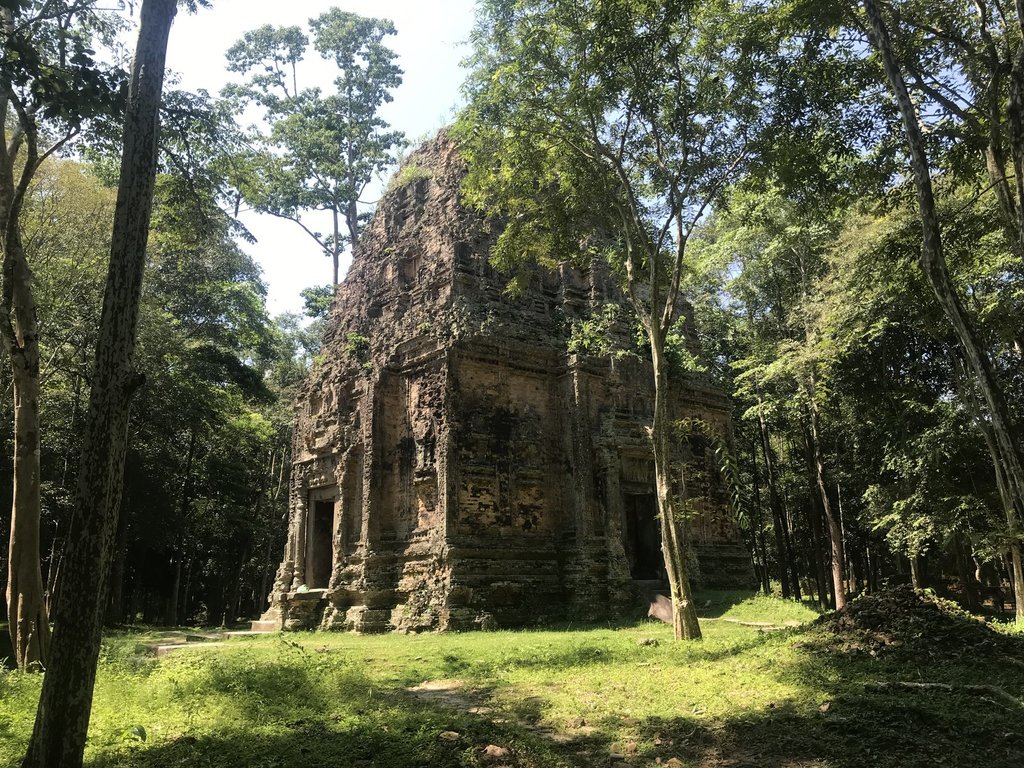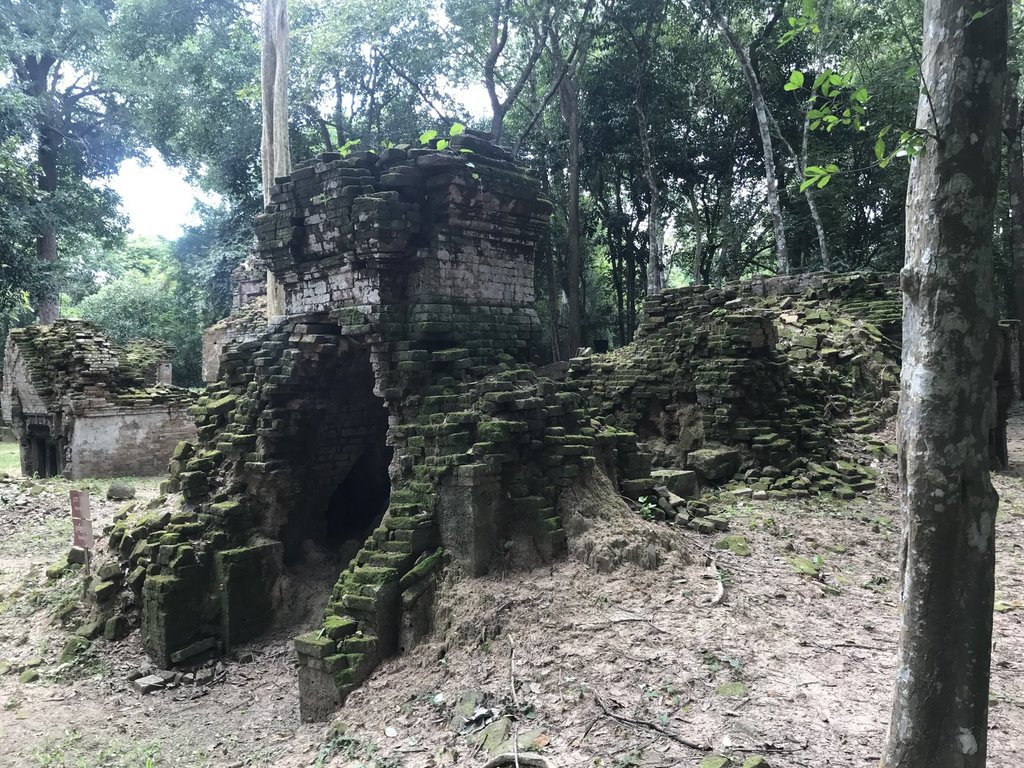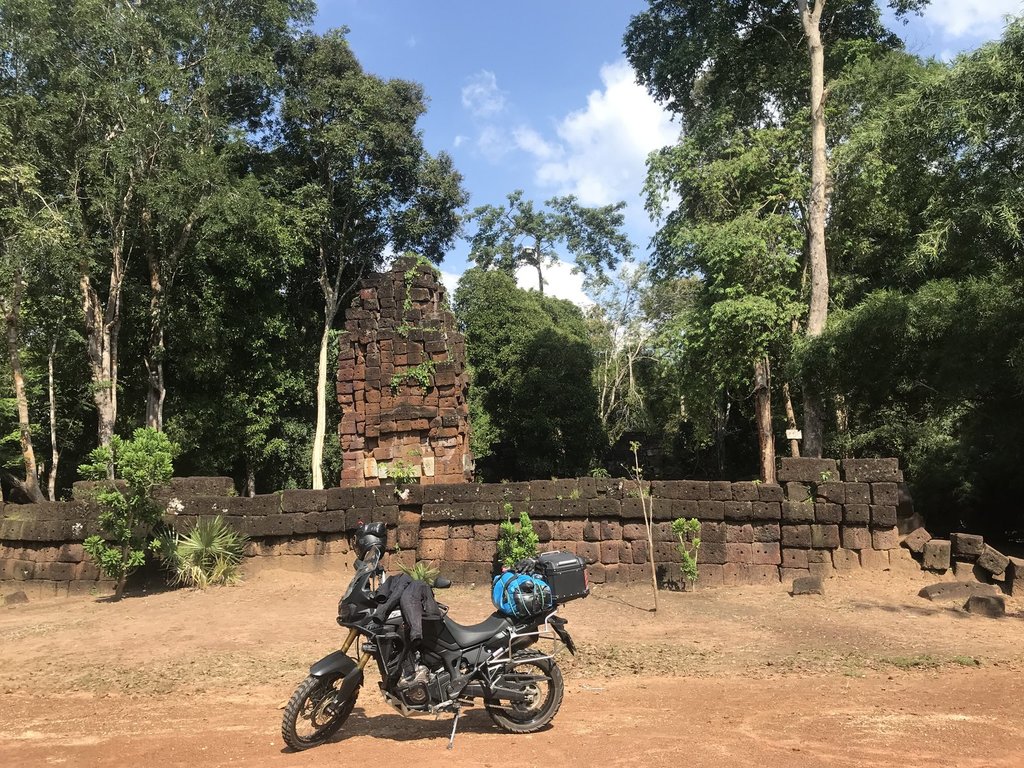 Prasat Preah Khan is a super cool temple in the middle of the jungle. Dirt roads in and out, which are in fairly good condition mind you. Its a fairly large sized complex with hardly any visitors. I pretty much walked around and had the place to myself for the afternoon.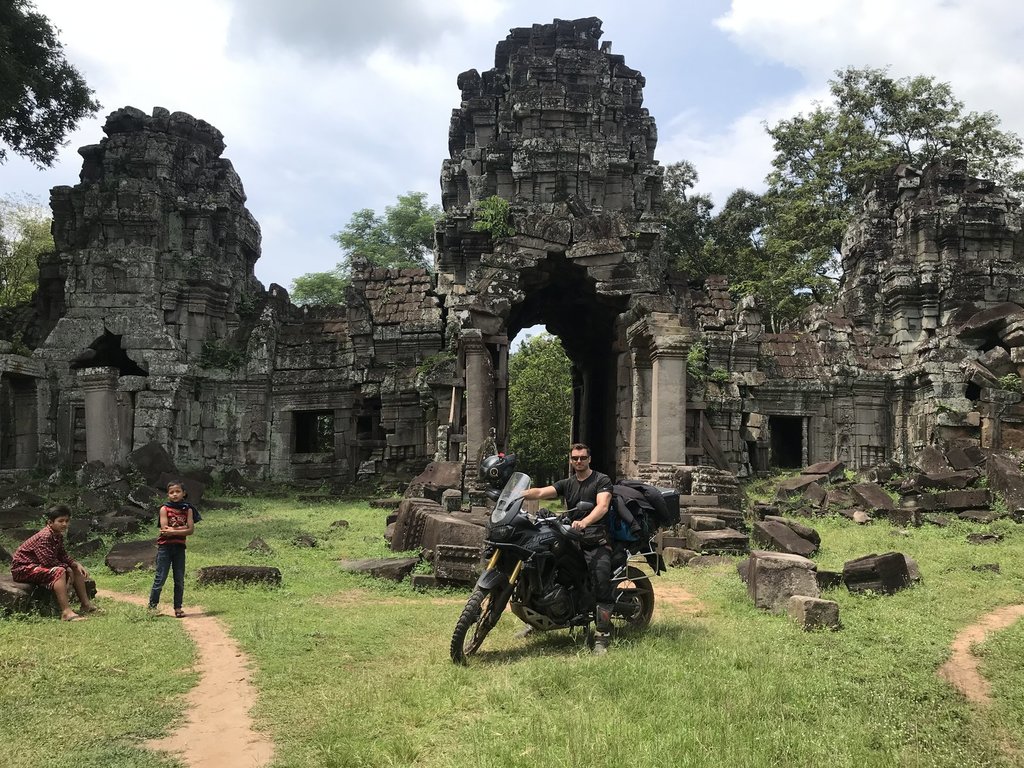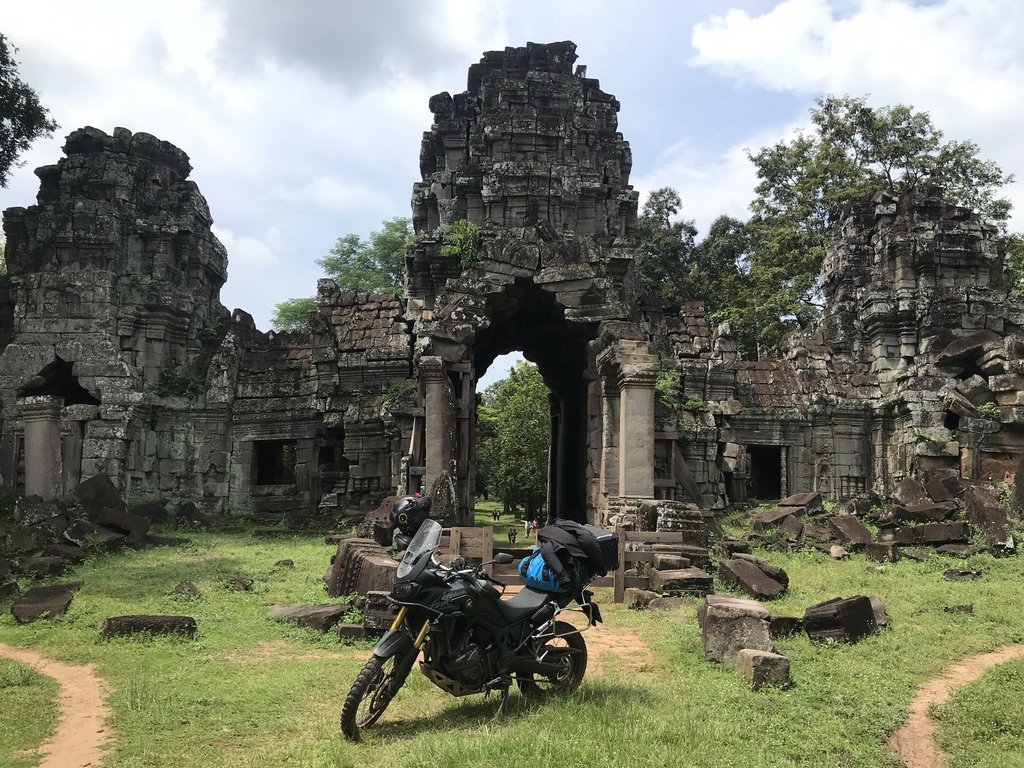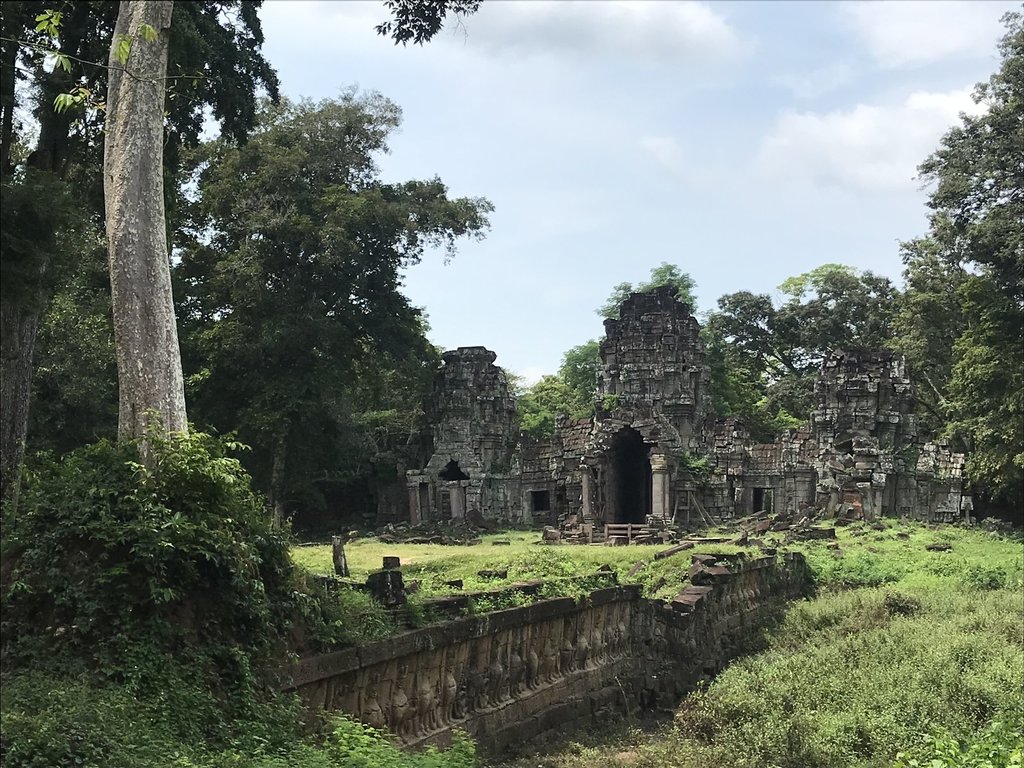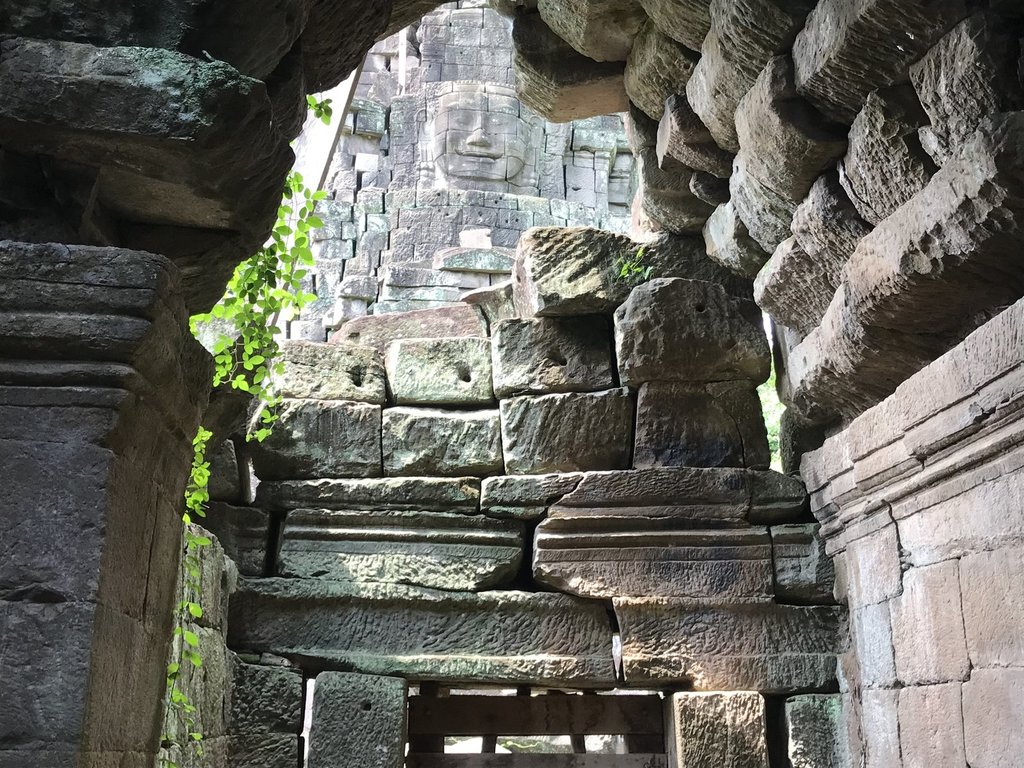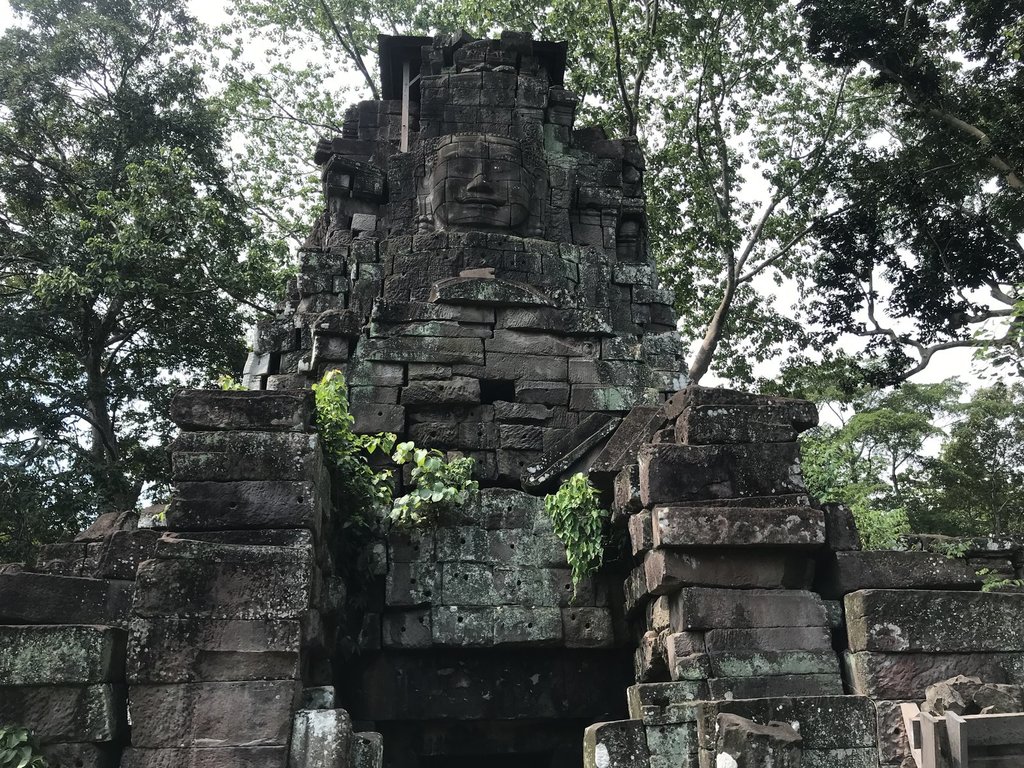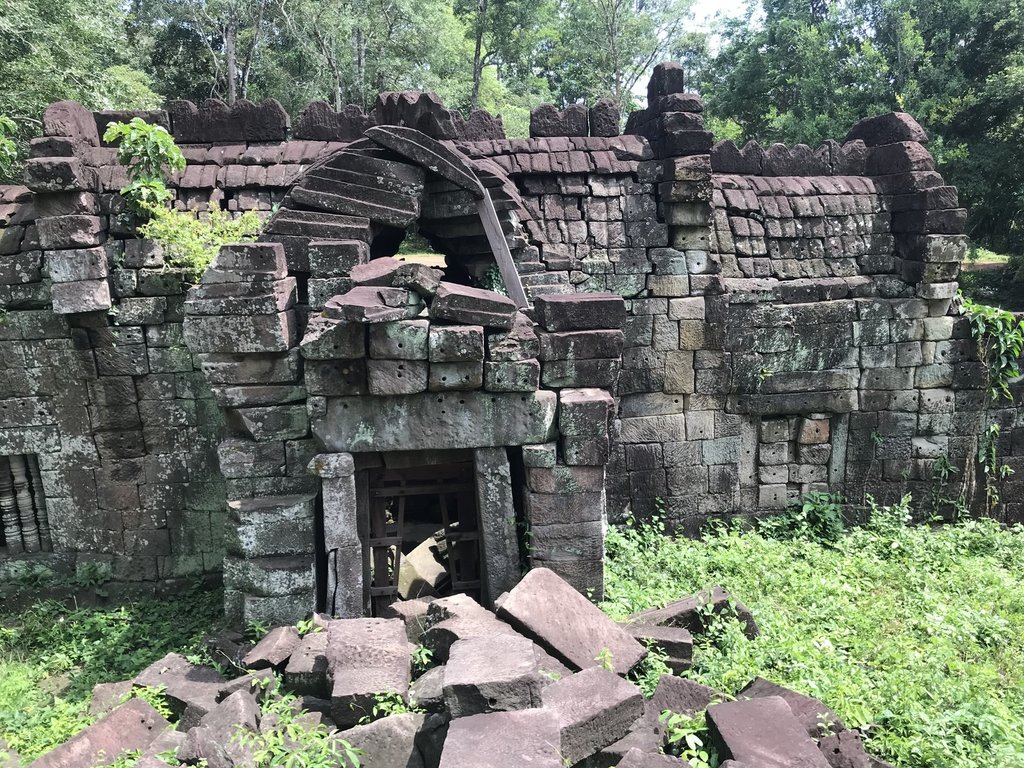 Slight mishap on the way home. Got a nail in the tyre and had to get the puncture fixed. Thankfully I brought spare inner tubes. I got the bike to a very professional bush mechanic who assisted changing the tyre at his impeccable garage... or something like that ?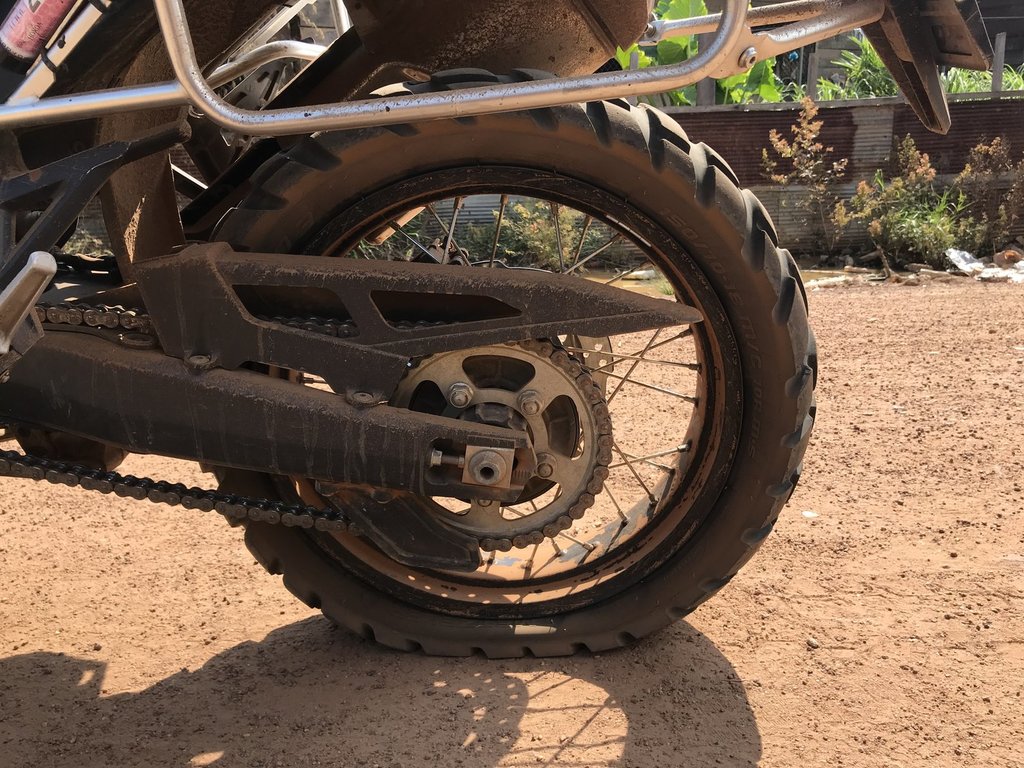 A well oiled operation.... or just oil and dirt on every part of the operation.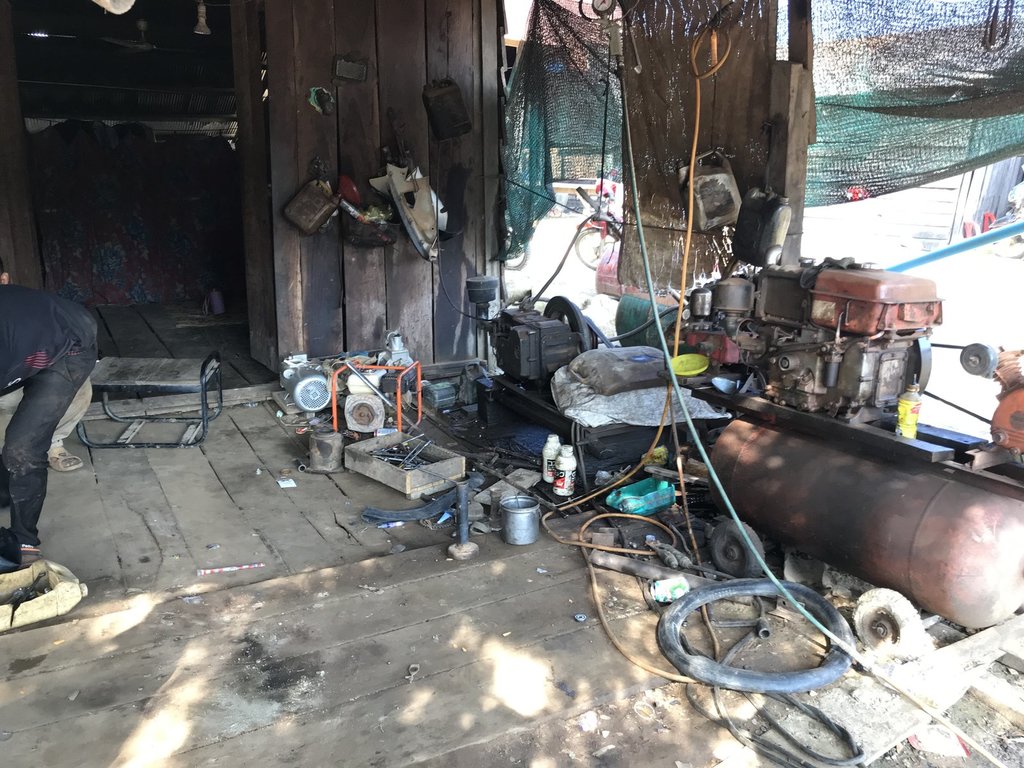 I had to back track 11km to the nearest town on a flat tyre. No repairing this. Thankfully I had a spare.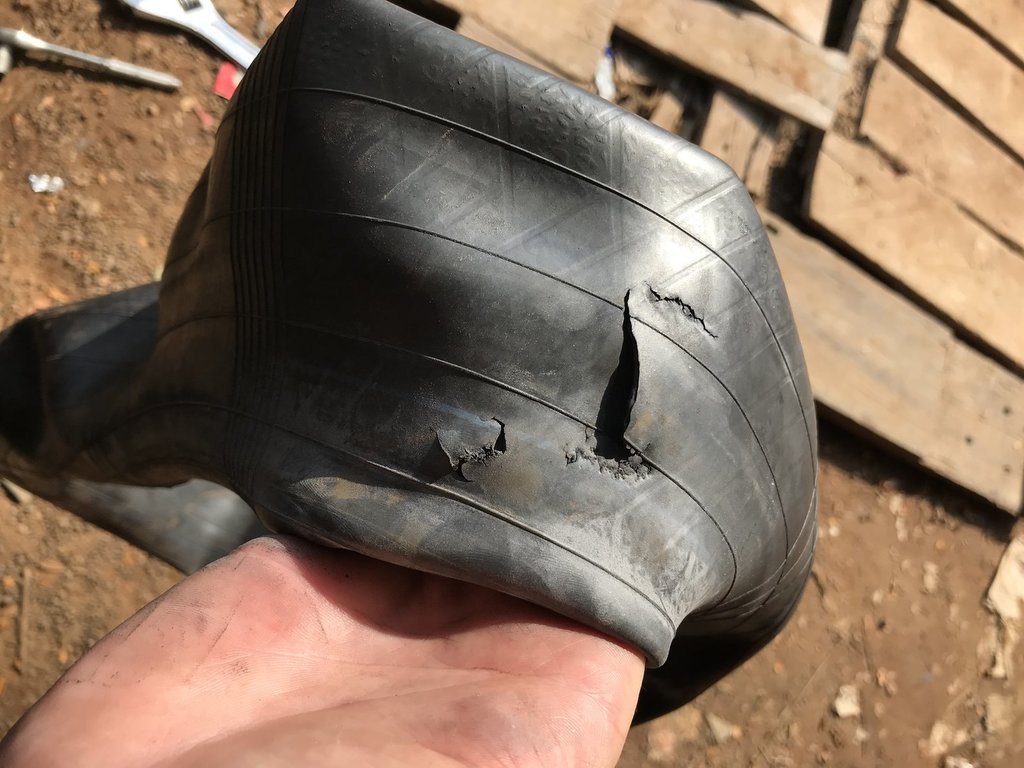 The consummate professional. Anyway got the job done and I was back on my way.
They tyre issue set me back a couple of hours in total. By the time I got back out to the main road to Siem Reap, the light was fading fast. It was also a public holiday and there was extra traffic on the main road. With Kamikaze drivers performing suicidal overtaking maneuvers, it was an action packed ride all the way into Siem Reap.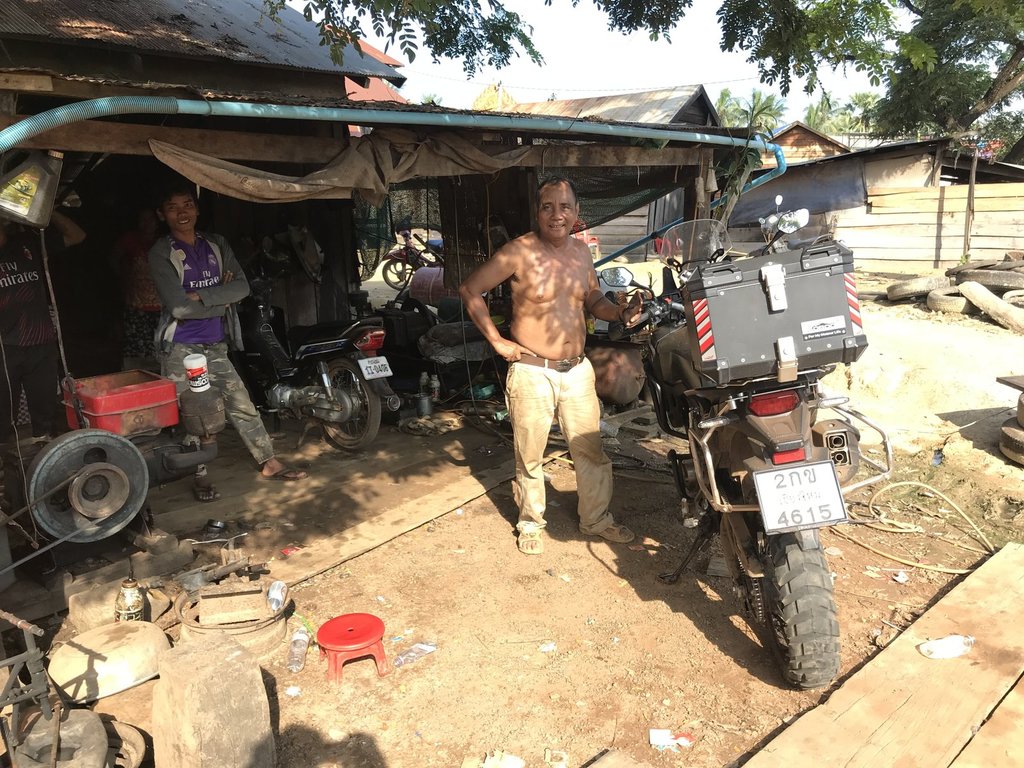 Siem Reap
Siem Reap is one of my all-time favourite spots. Since the first time I went there as a backpacker in 2008, I have been back many times. I know its probably fair to say its very touristy around the main parts of the town, but there are some really cool old school French colonial style areas and local areas too. I enjoy hanging out there and just taking my time visiting the surrounding temples. Despite the millions of tourists at the main temples, the outer temples just a few minutes away are not that heavily visited and are very impressive in terms of scale and intricacy. It's very possible to have the almost the whole temple to yourself if you time the visit right.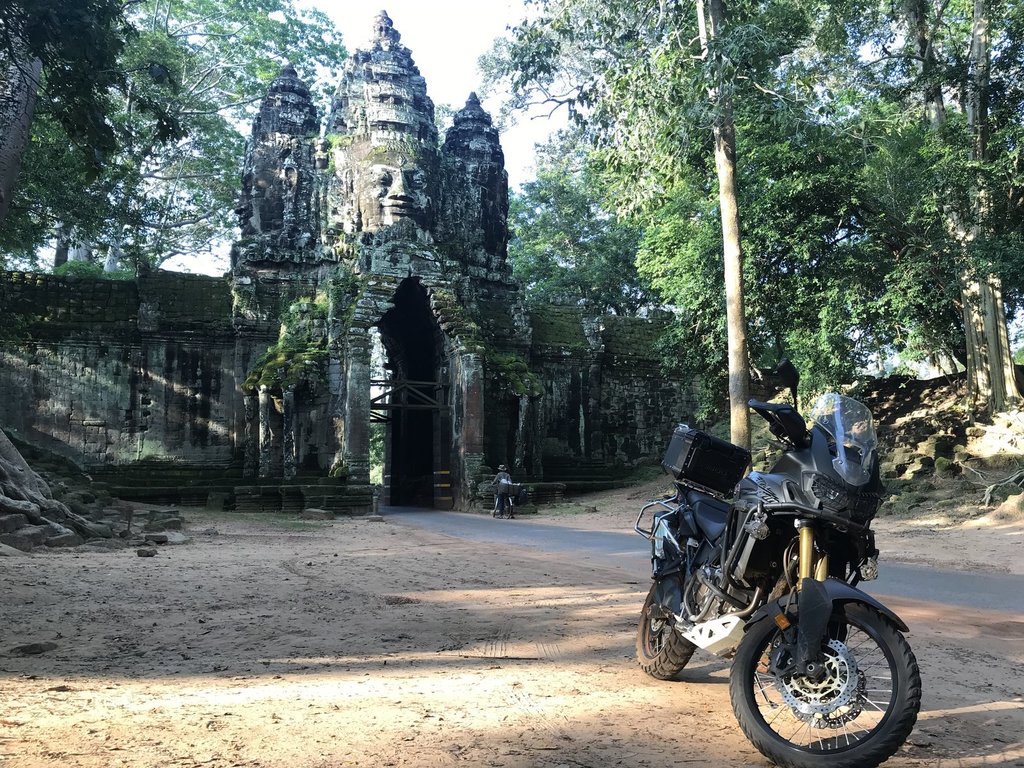 I spent a good few days chilling in Siem Reap and just exploring some of the outer temples around Angkor and of course revisiting some of my favourite big ticket ones.
Pub street is a famous tourist hub with lots of bars as the name would suggest and ram packed with foreign tourists. I don't know how the bars make any money from selling beers for 50 cent each, clearly, it's a volumes game. Obviously, I hit that one up a few nights. In fairness lots of Cambodia people go there for their night out these days, unlike back when I first visited in 2008. There definitely seem to be a lot more Cambodian tourists compared to years ago.
There is also the less known "Khmer pub street" which is virtually all locals. They have great restaurants/beer gardens and the staff are very friendly. At about $6 USD for a beer tower, you can't go wrong…. Or perhaps you can go very wrong lol. It's a great way to experience authentic Khmer cuisine, music, culture and of course chat with the locals.
I stopped at a shop to buy a beer in the Khmer pub street district. The owner who was outside drinking with his mates invited me over. By complete chance they could all speak English very well. Considering I stopped to make a purchase, he refused to accept any money from me despite us drinking there for a few hours. When his mates finished up and went home, he took me to one of the restaurants/beer gardens across the road. The beer garden was great fun, I was the only Barang (Falang) there so got great attention from the staff. No English going on there but thankfully nearly all spoke Thai. Turned out to be a very cool impromptu night out.
Aside from the main Angkor Wat there are countless other temples. These are great for soaking up the atmosphere and avoiding the crowds. It's possible to have a huge temple all to yourself sometimes. Great VIP parking at the door too! ?
Temples just outside Siem Reap on road 6 to Preah Vihear (you can find them on google)
Preah Ko
Bakong
Prasat Prei Monti
Chaw Srei Vibol (Road 66)
Good ol pub street. No trip to Cambodia would be complete with out a trip here.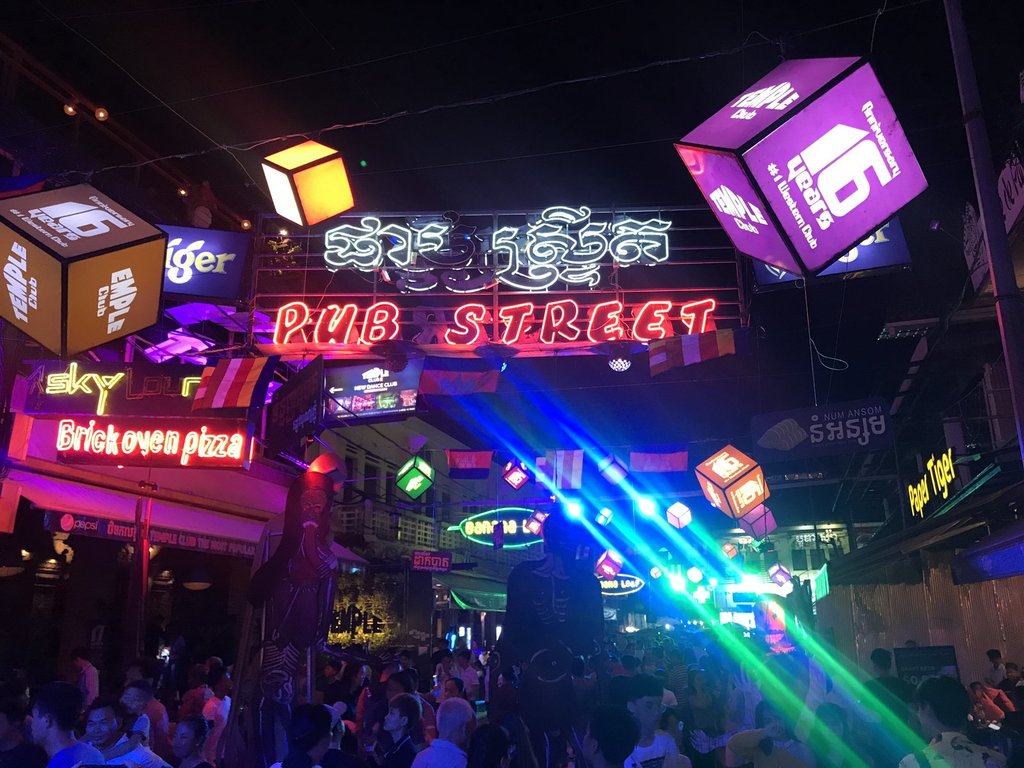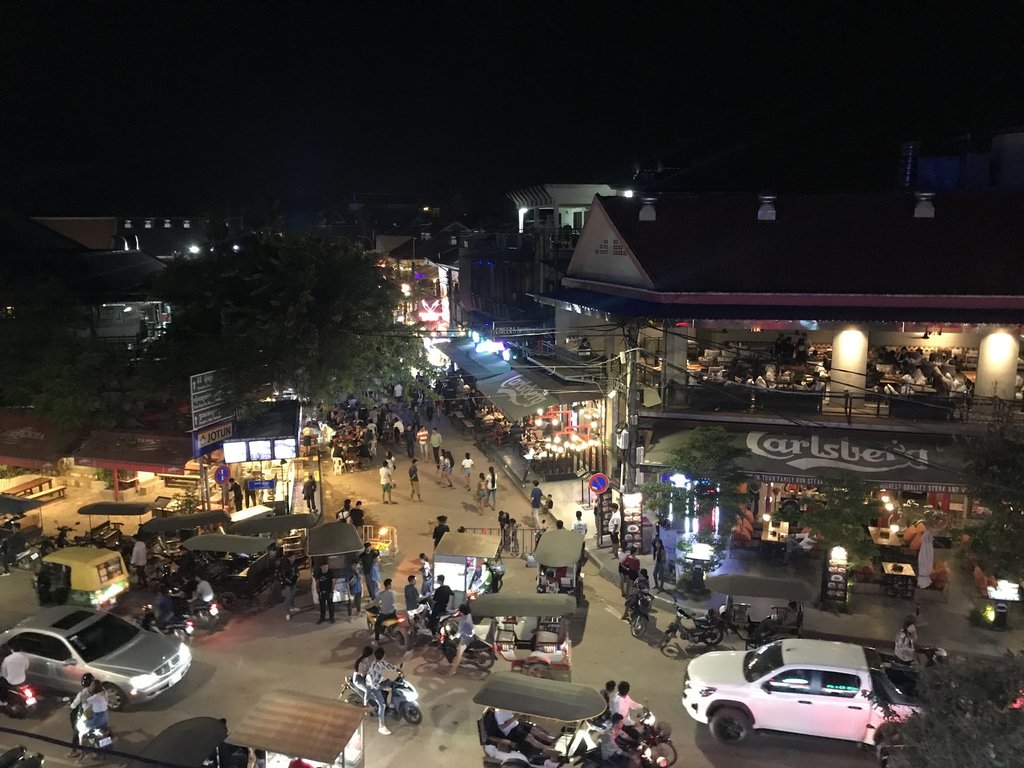 I really love the gates of Angkor Thom. There are a few of them that are out of the way of the busy temples. Its usually nice and quiet around them as none of the tour buses stop at them.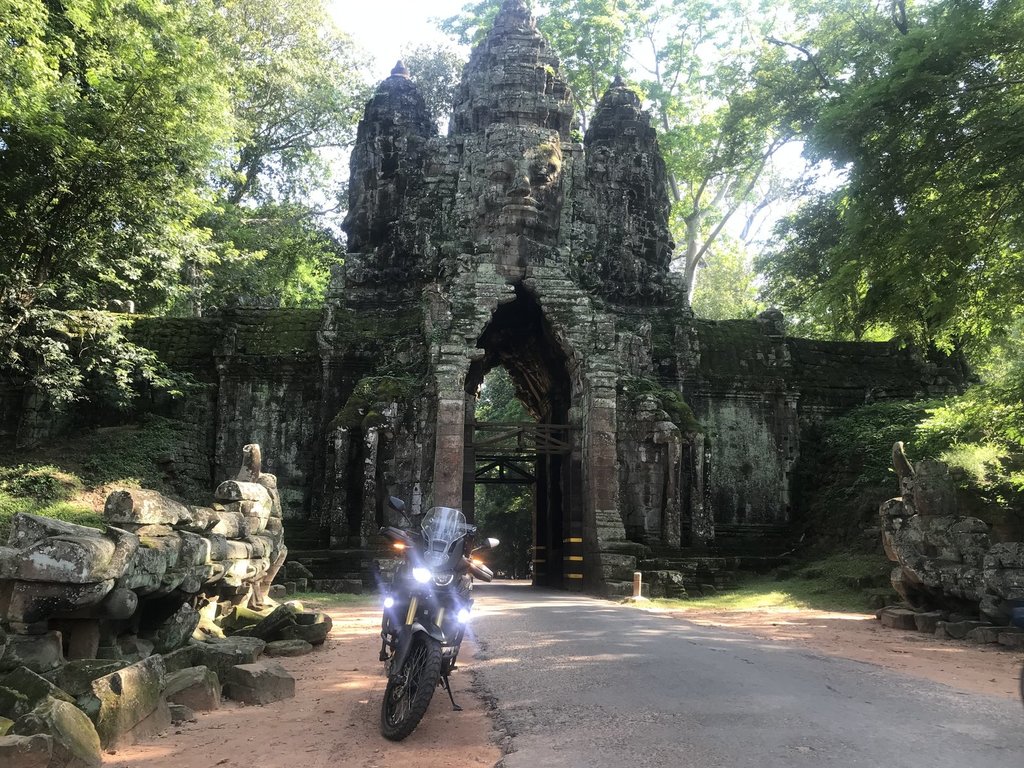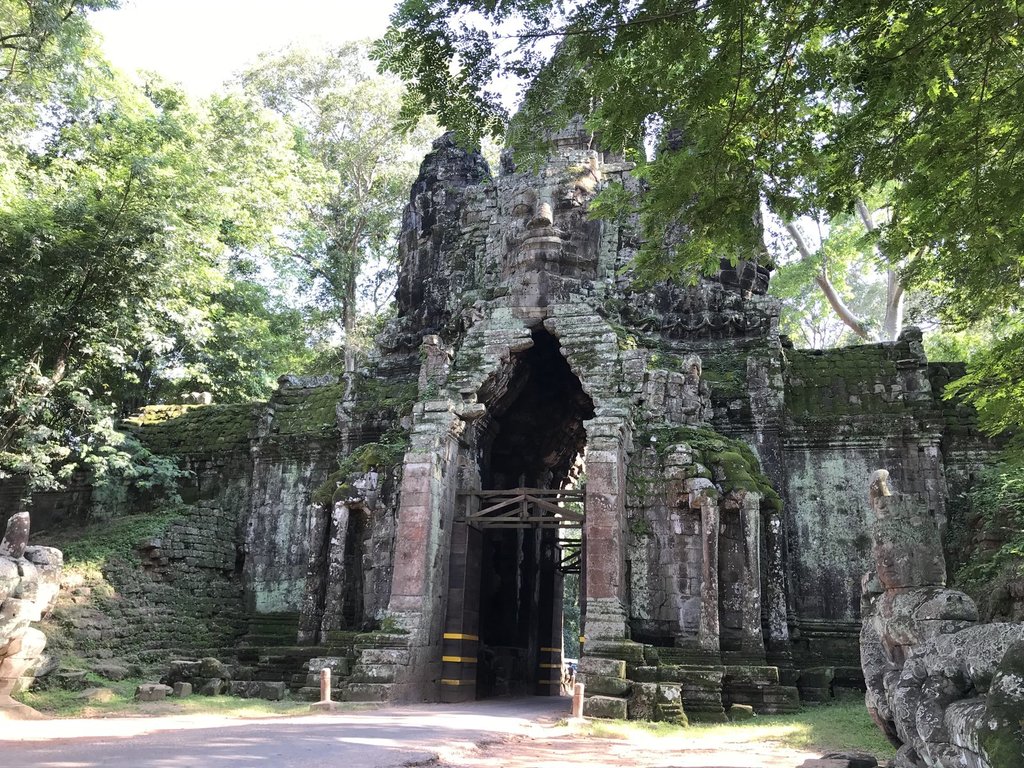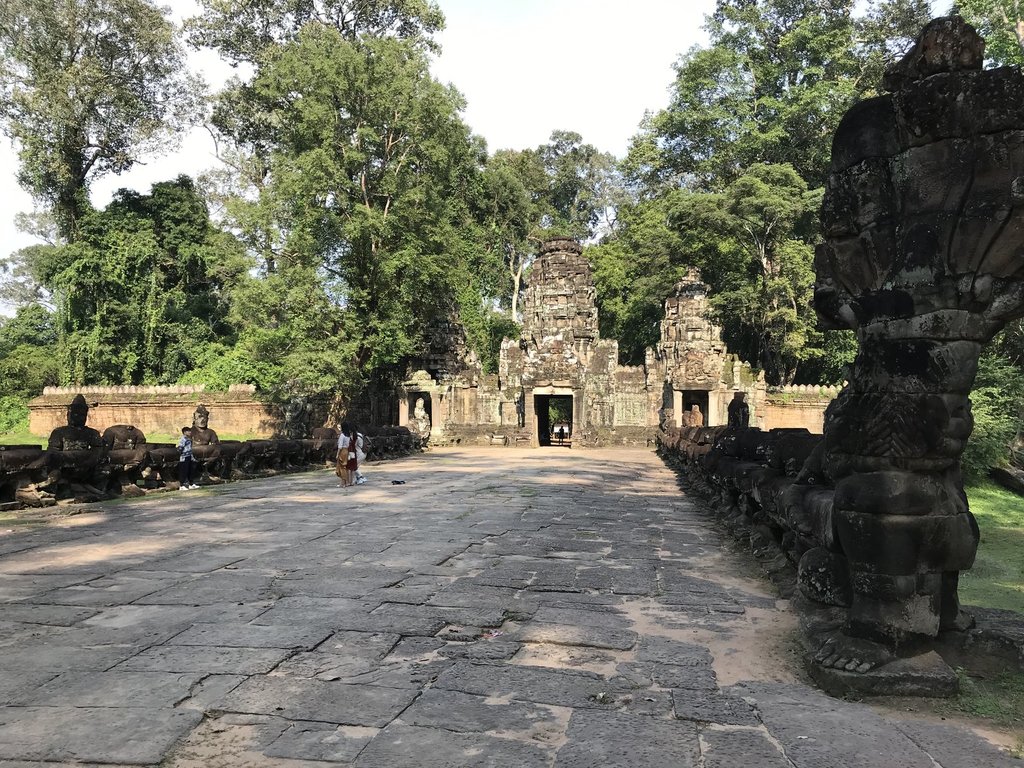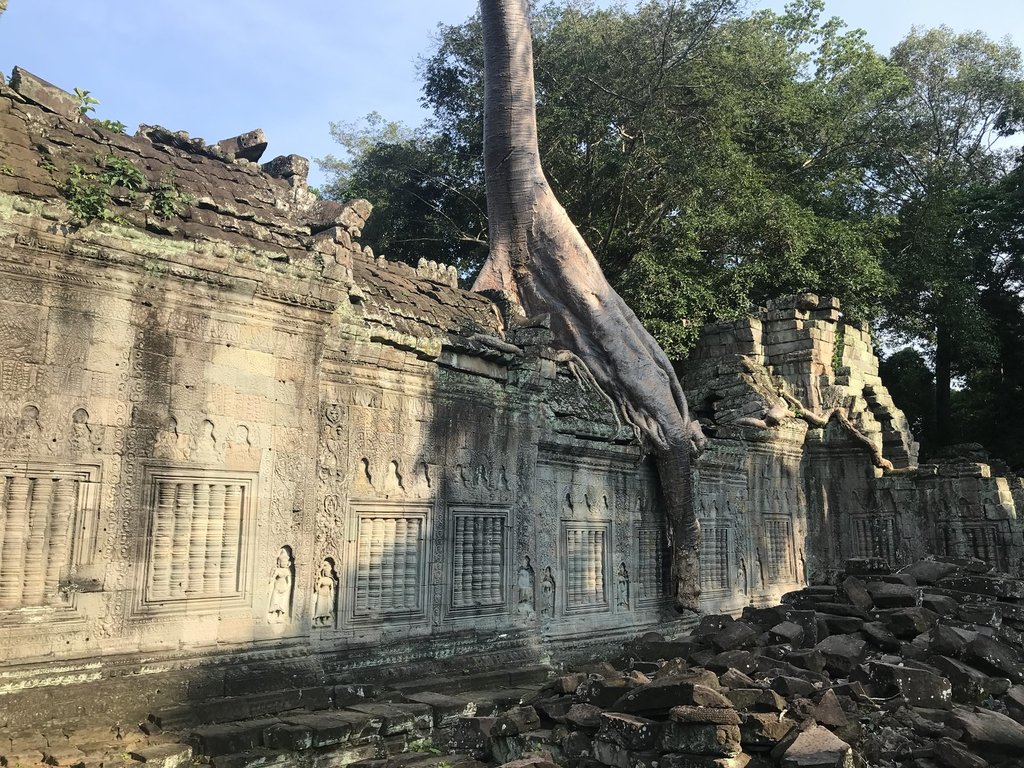 Preah Khan temple is one of my favorites in the Angkor complex. It absolutely huge and has cool tree roots growing through the buildings. Kinda like the tomb raider temple called Tha Phrom but no crowds. It's also way bigger and has cool entry causeways from both sides.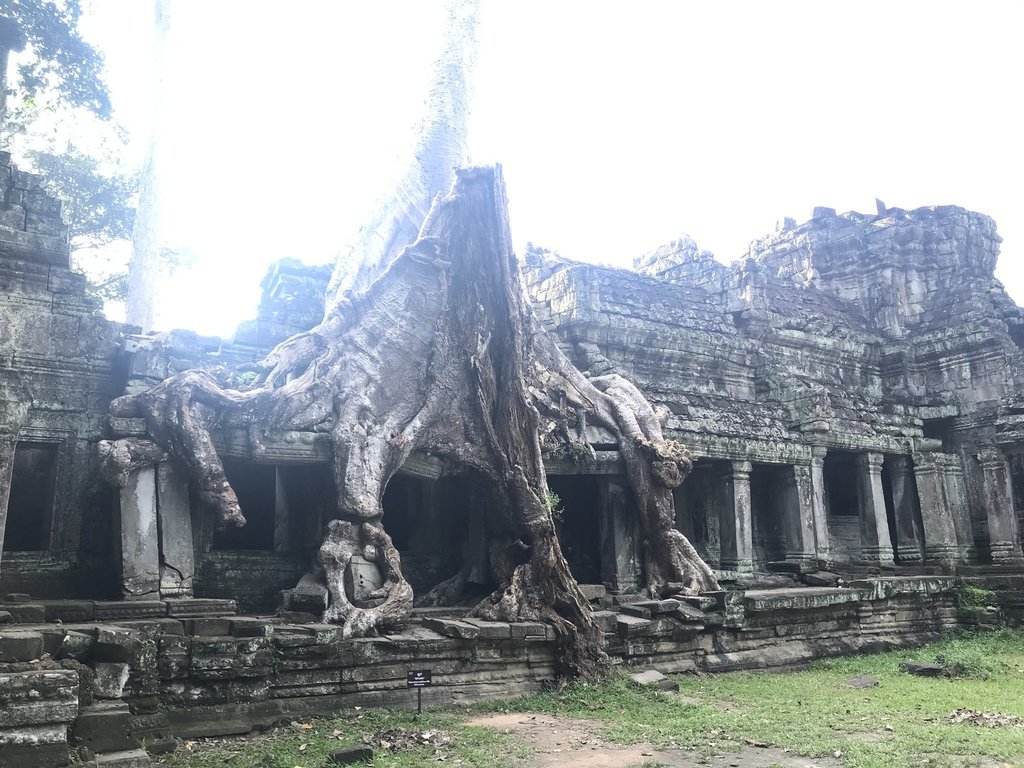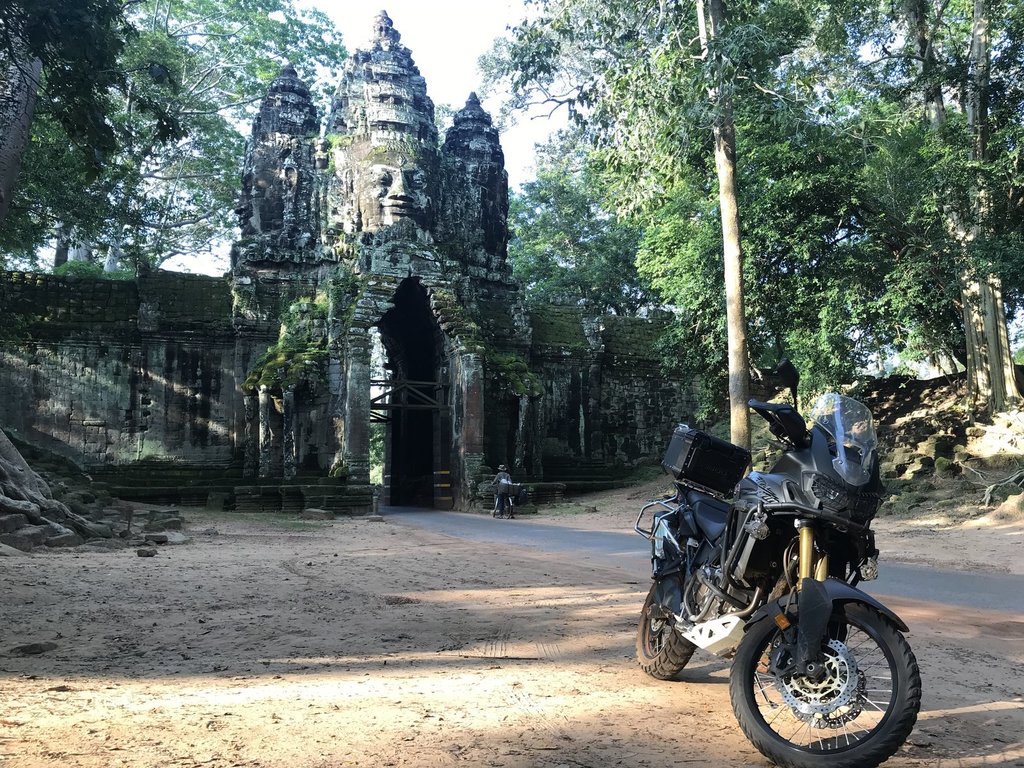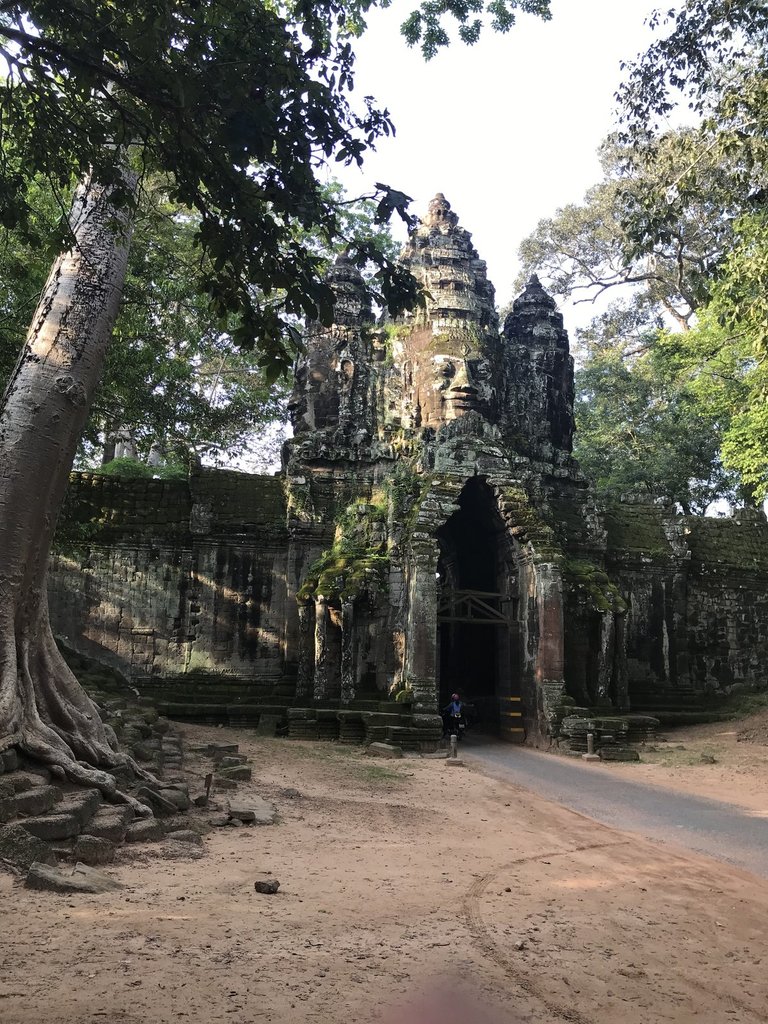 I just can get enough of those cool gates.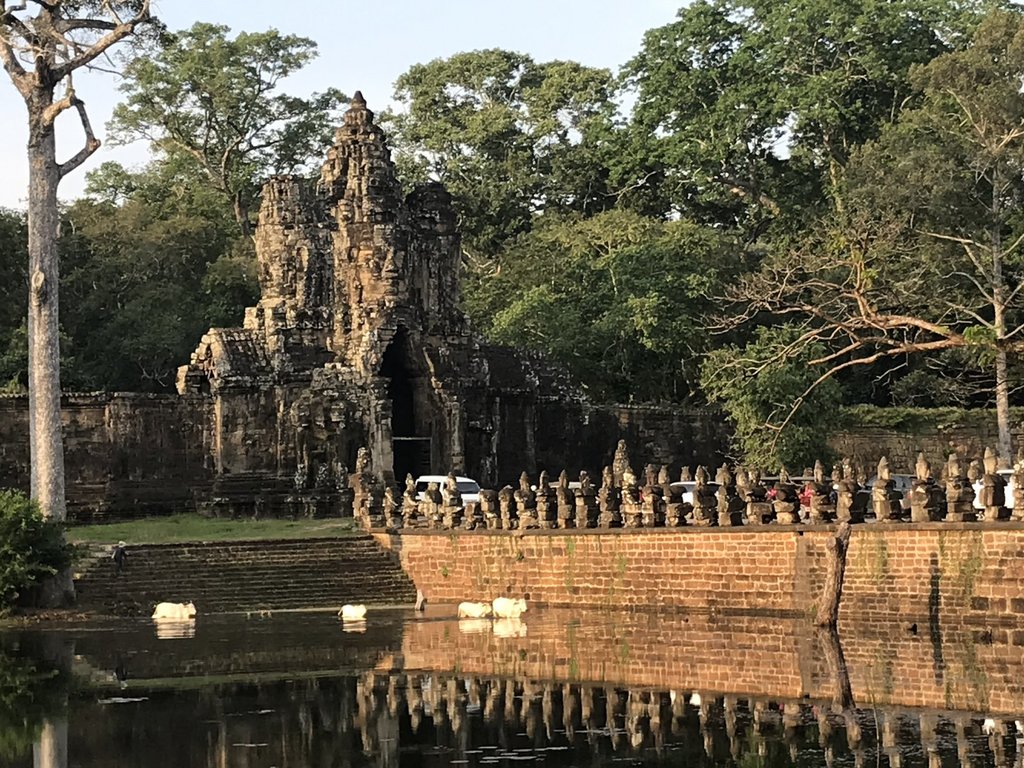 Charming old colonial style architecture around the town of Siem Reap.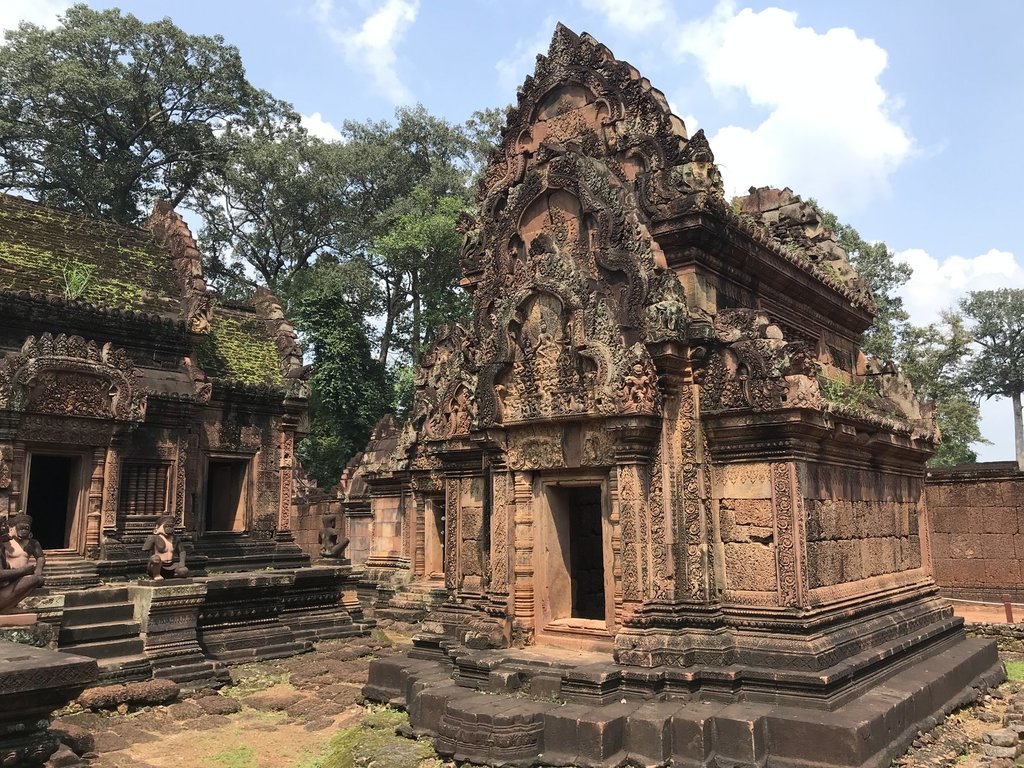 Bantaey Sri temple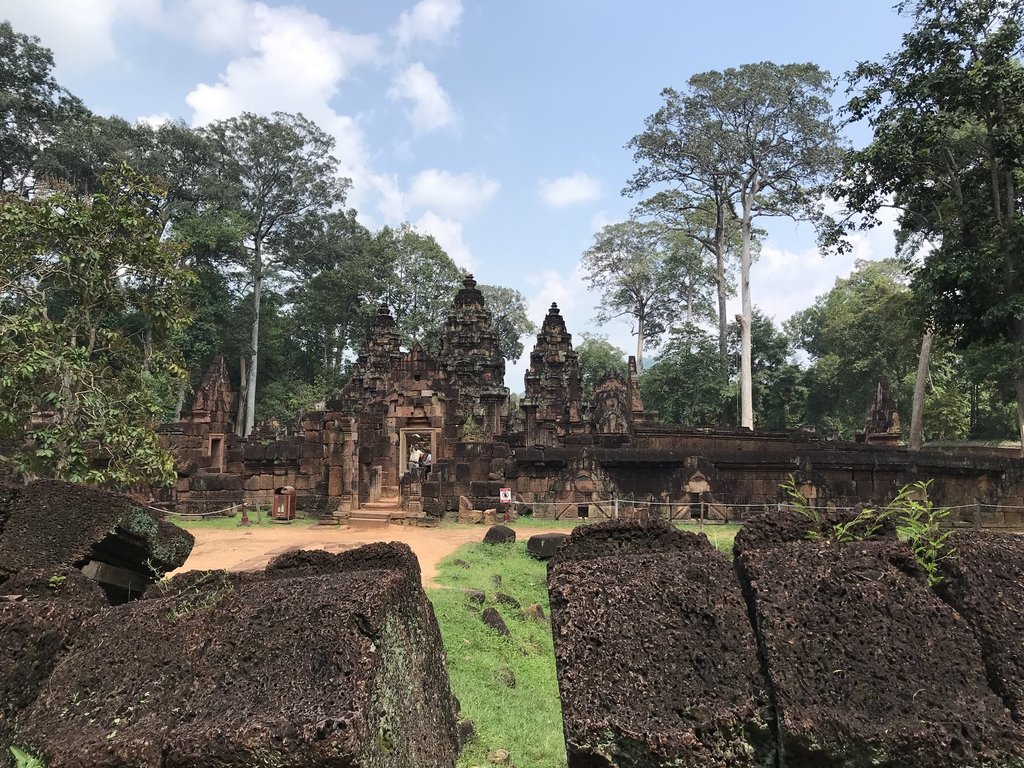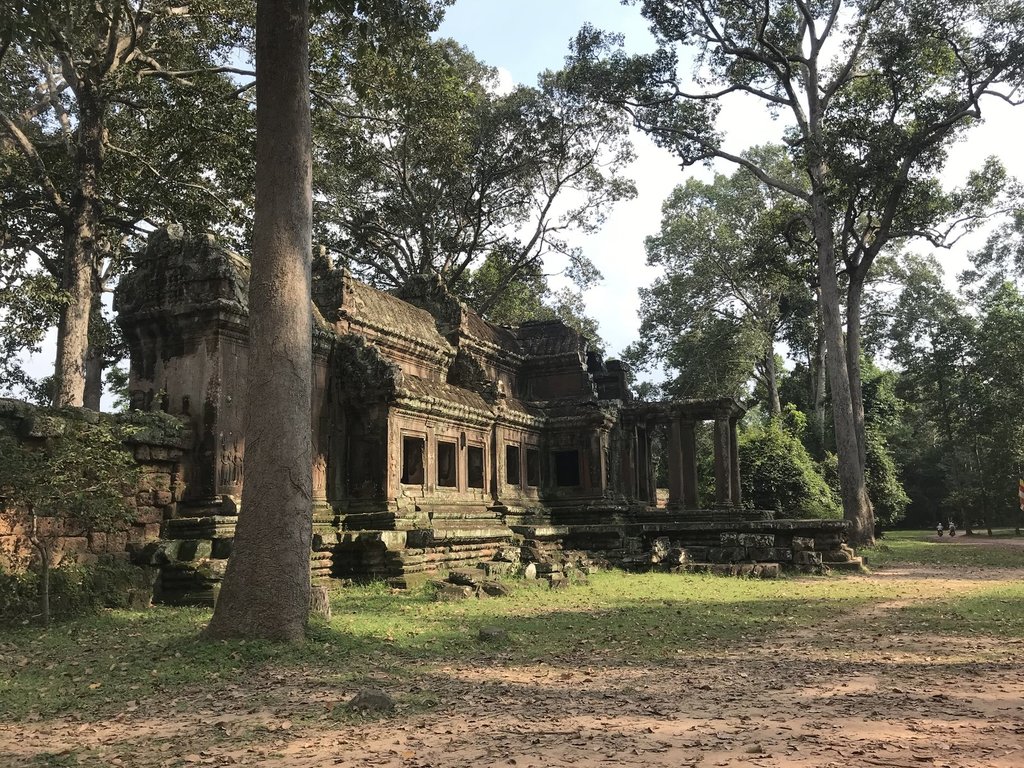 This is the back way into Angkor Wat. No crowds from this direction. There is only a small parking area out the back so no room for tour buses.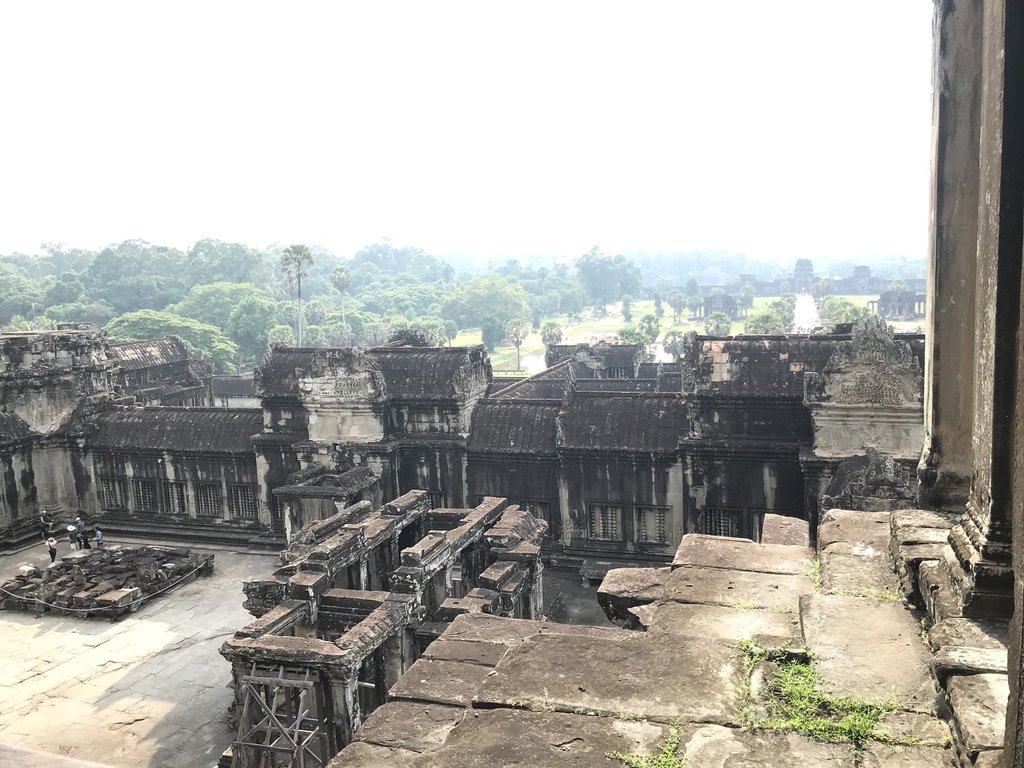 The Khemer lads have great decorating style. The traditional Apsaras (celestial nymph) adorns almost every inch of the walls.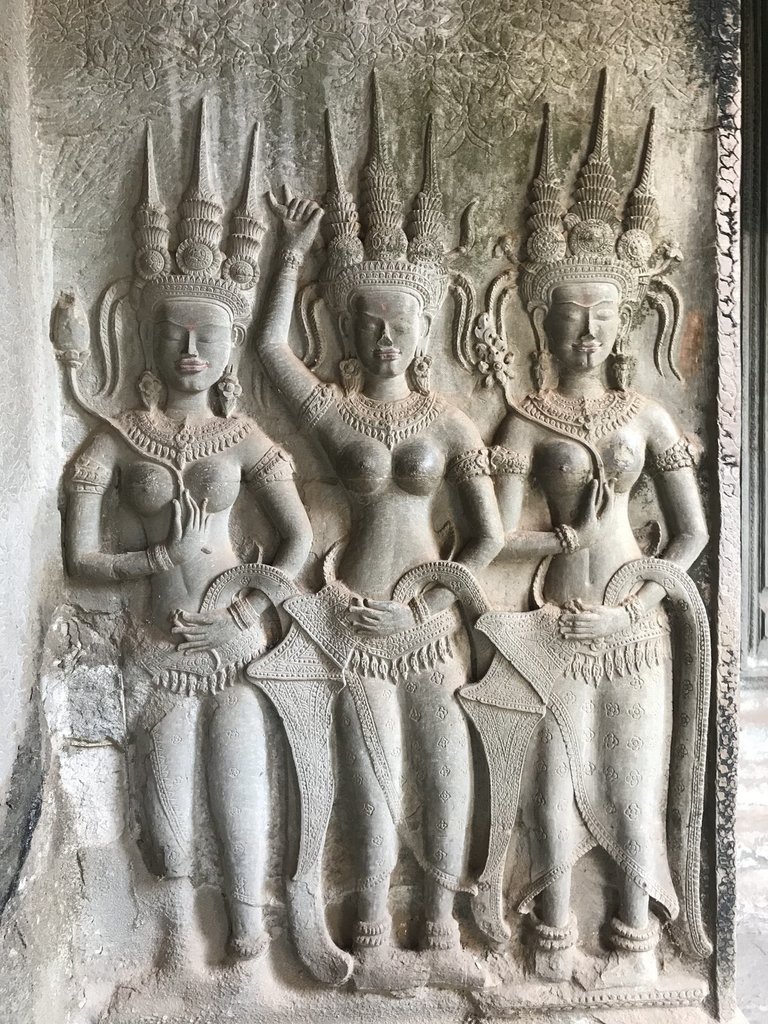 The classic view of Angkor Wat, slightly distorted by the restoration wok scaffolding.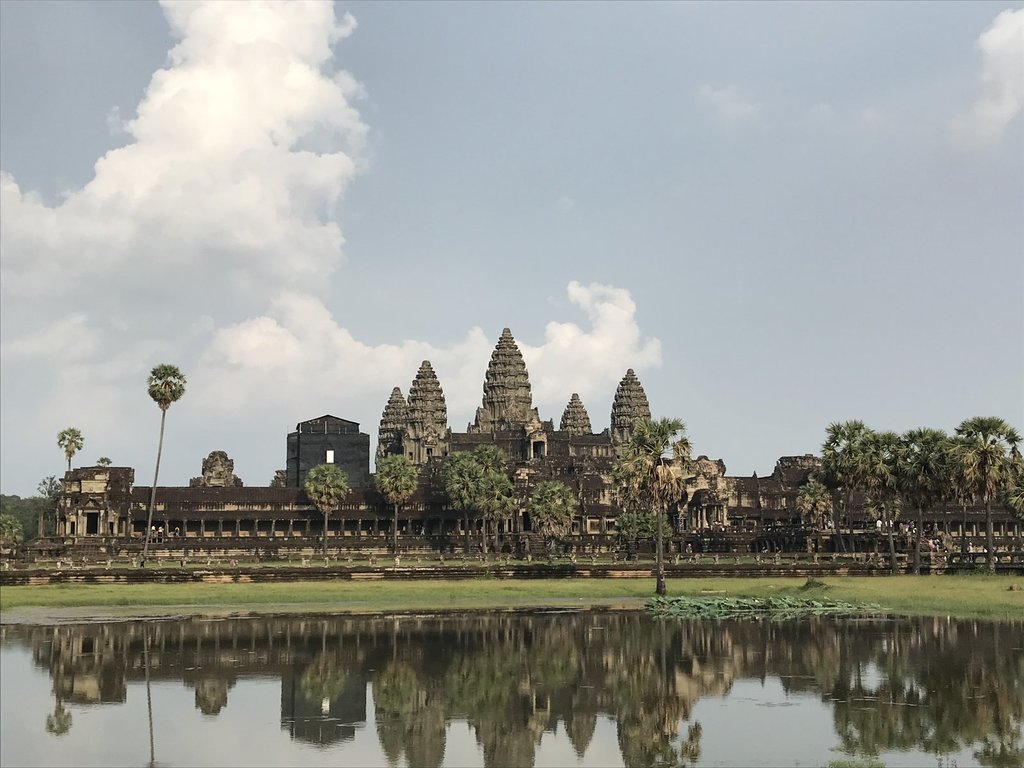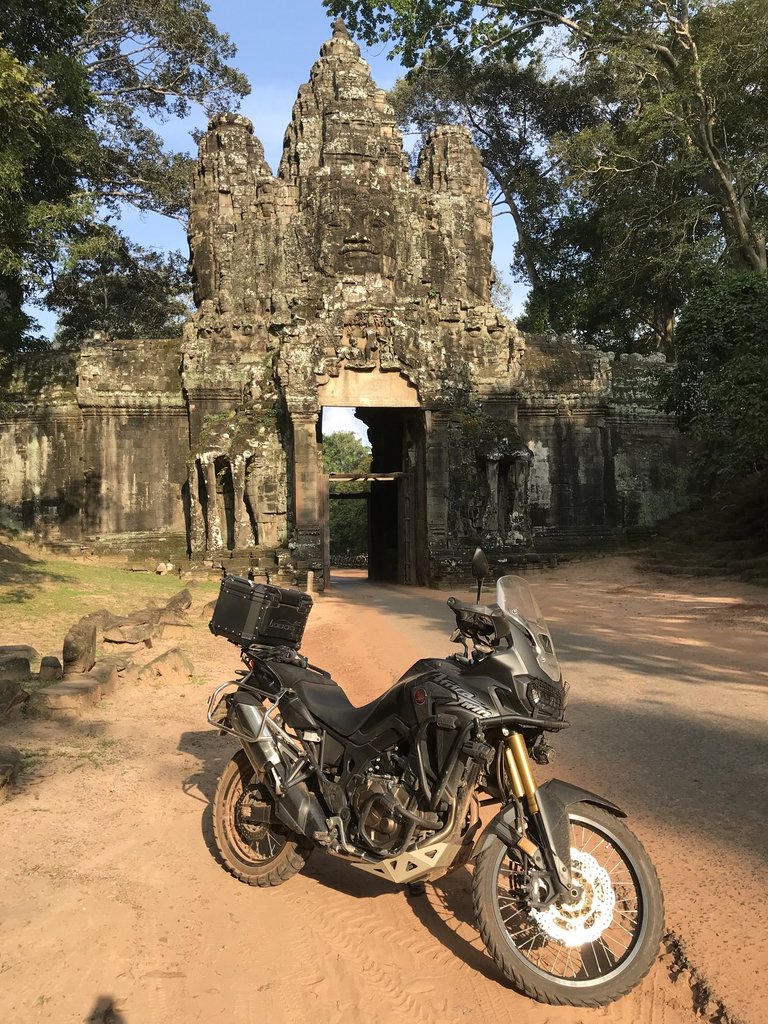 This is a view from one of my favorite temples. I cant remember the name but it is located behind the elephant terrace. Very big and impressive. You can climb to the top for cool views. It's not on the tour bus itinerary so hardly any crowds.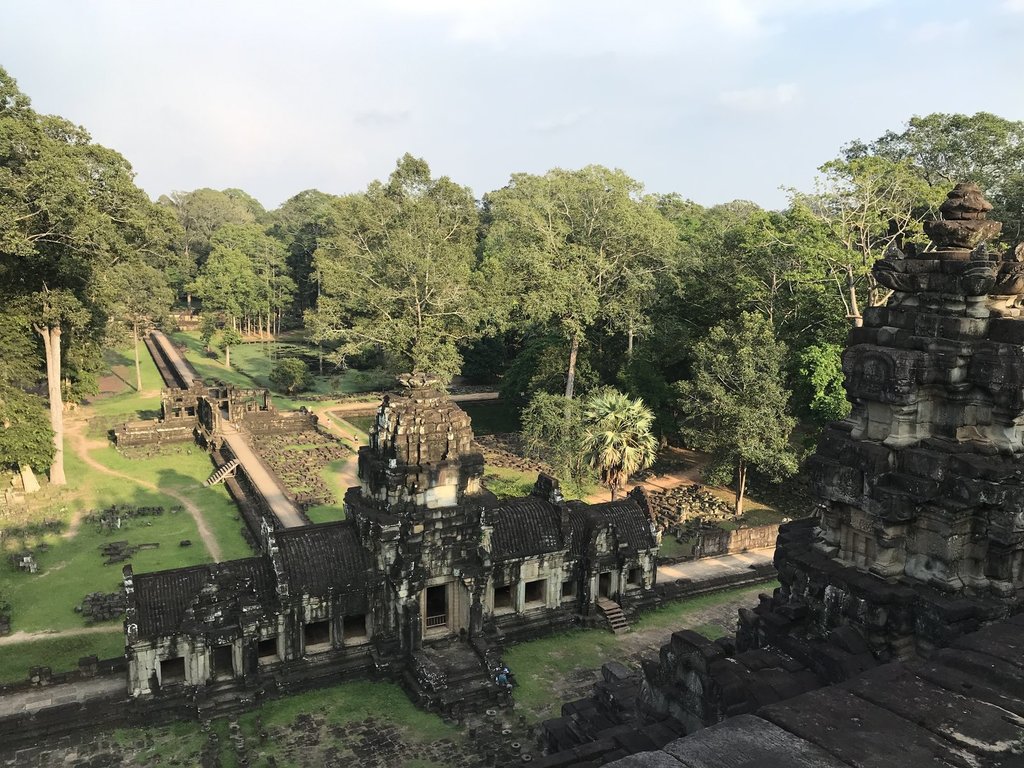 Bayon Temple toward the end of the day.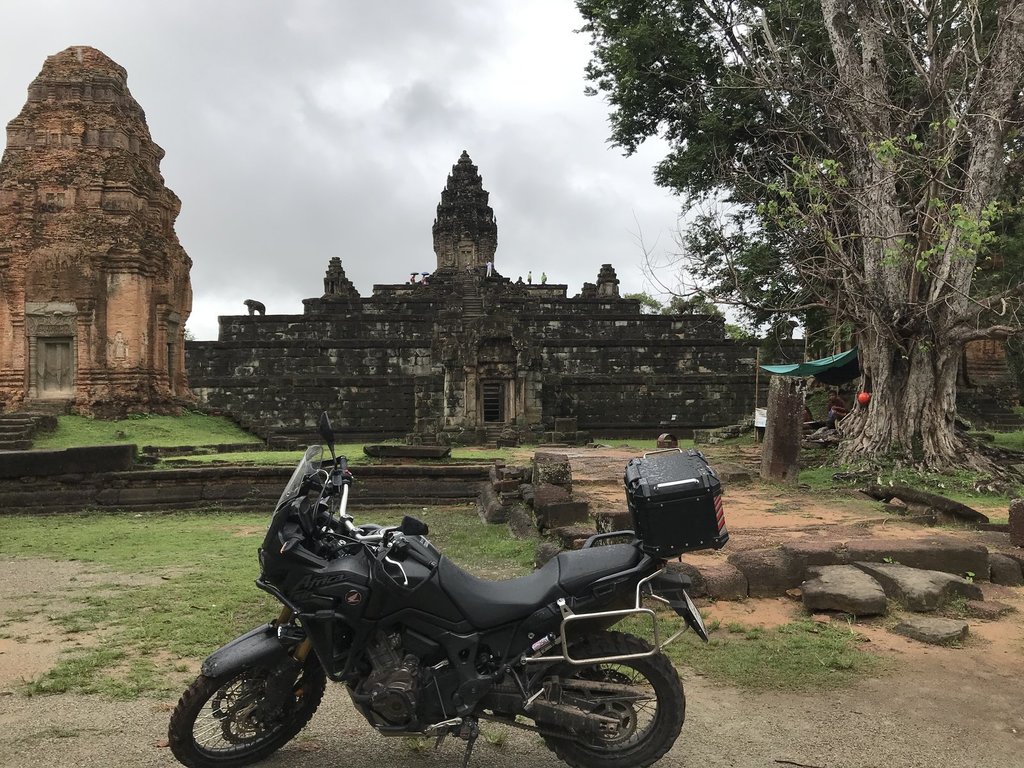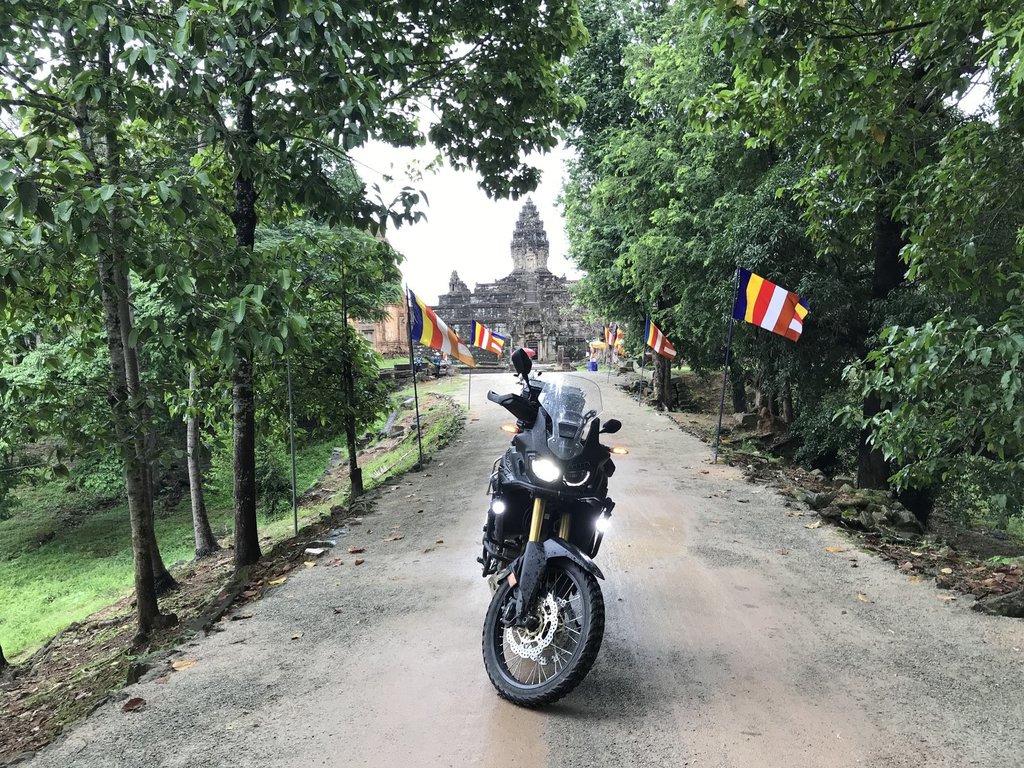 This is the entrance to another sparsely visited temple. VIP parking at the door.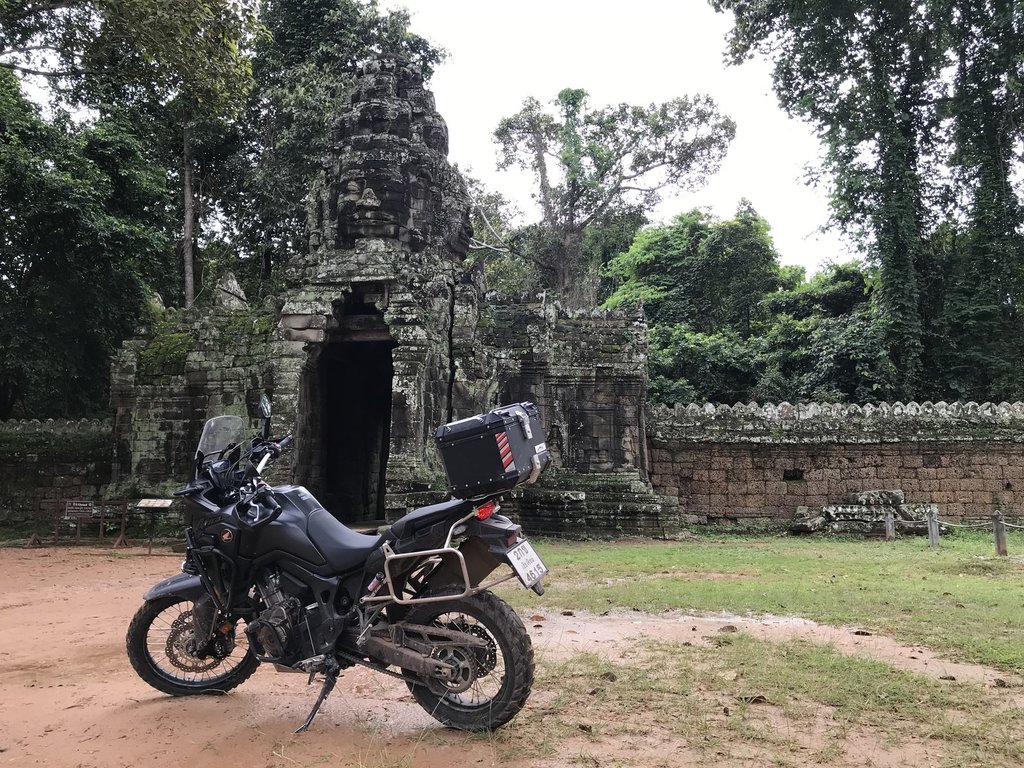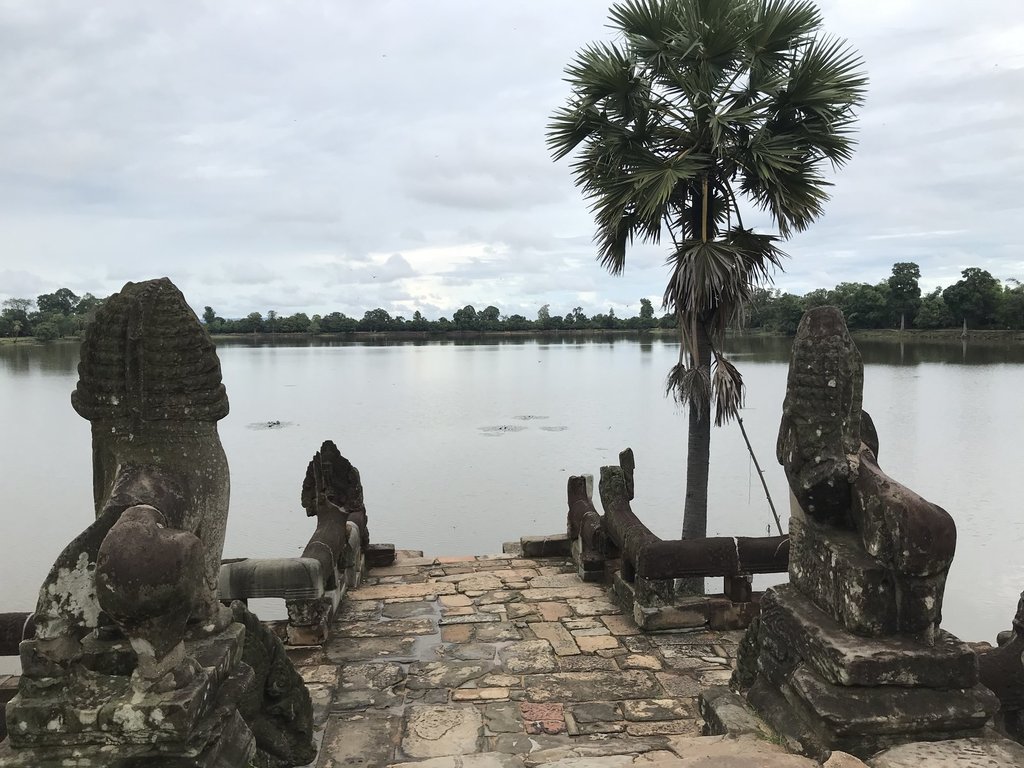 Bang Malea
I stopped briefly at the Bang Malea temple complex. This is a very cool temple with wooden walkways through it. It has not been fully restored which gives it a more natural appeal. It's like its frozen in time.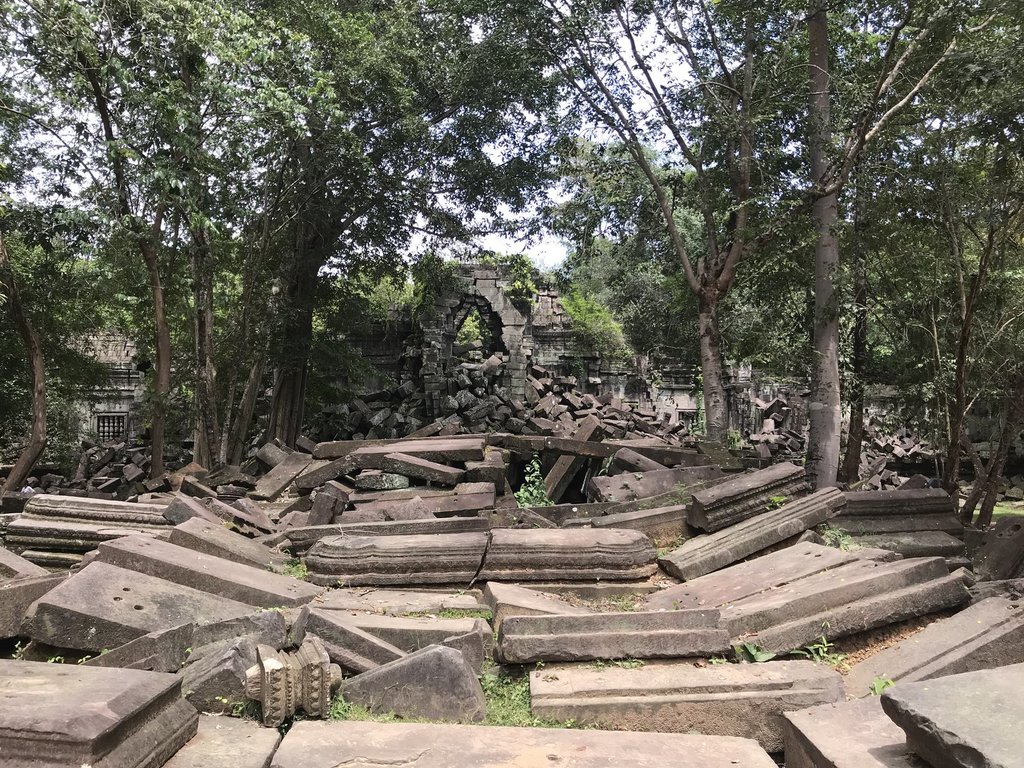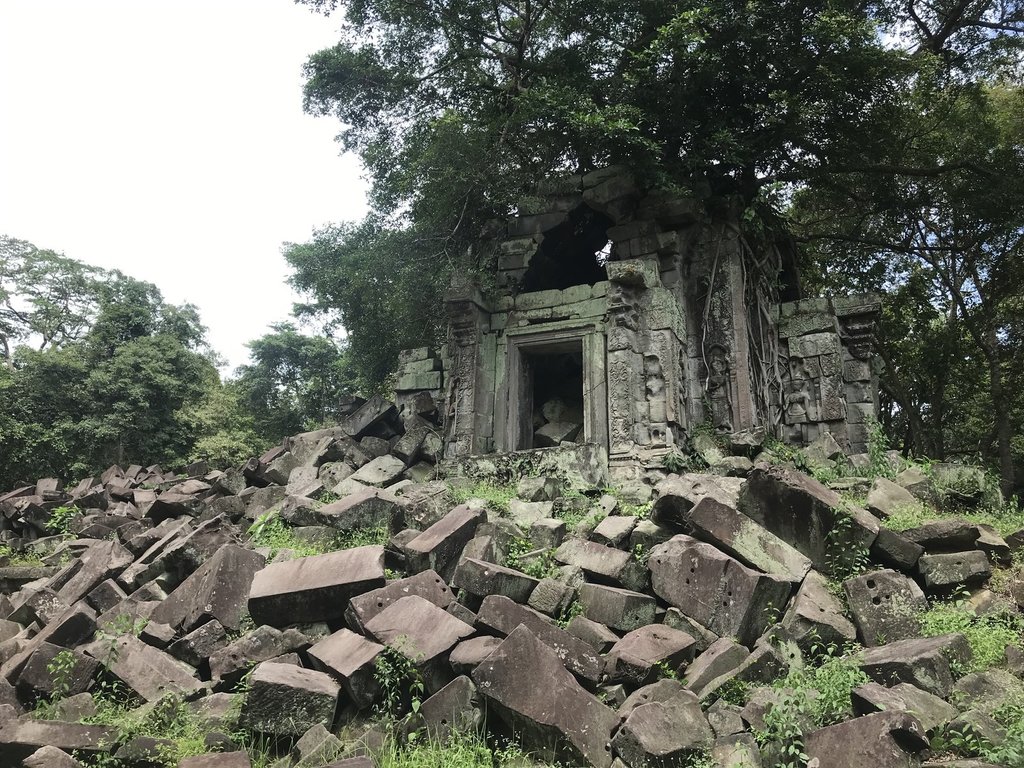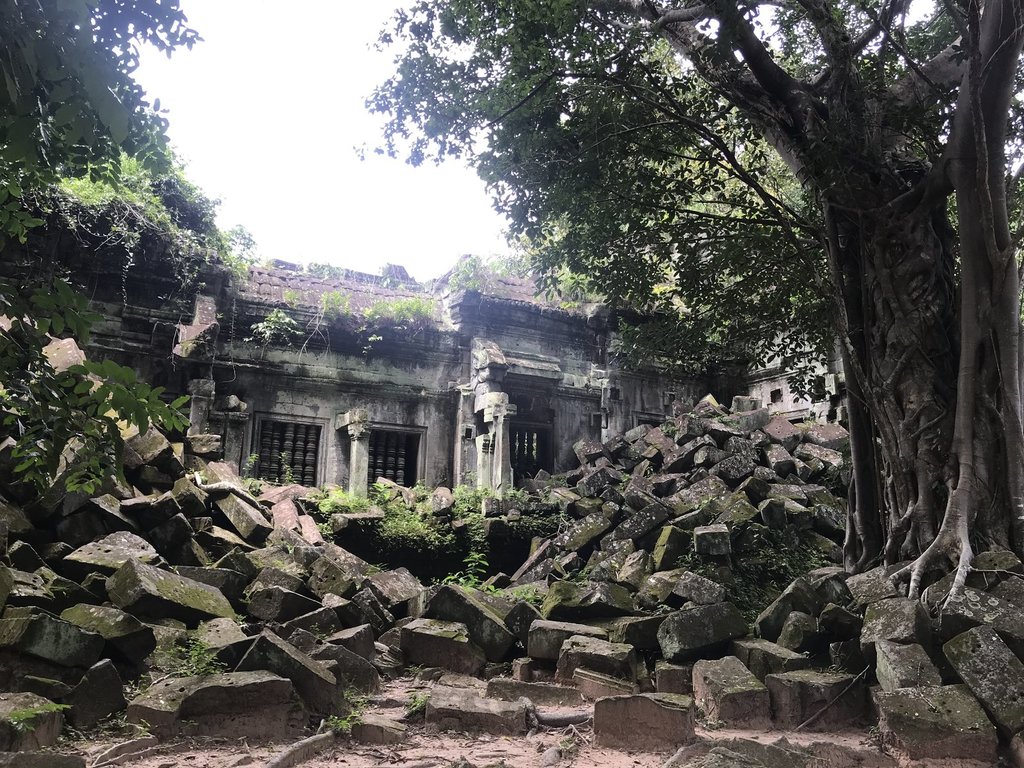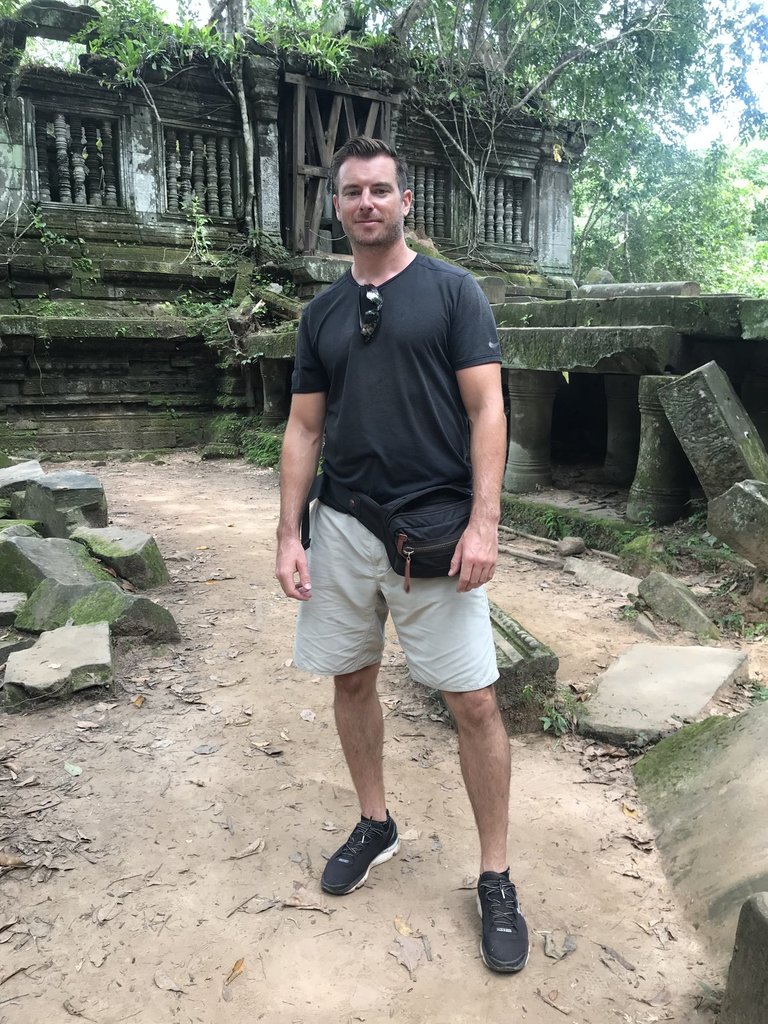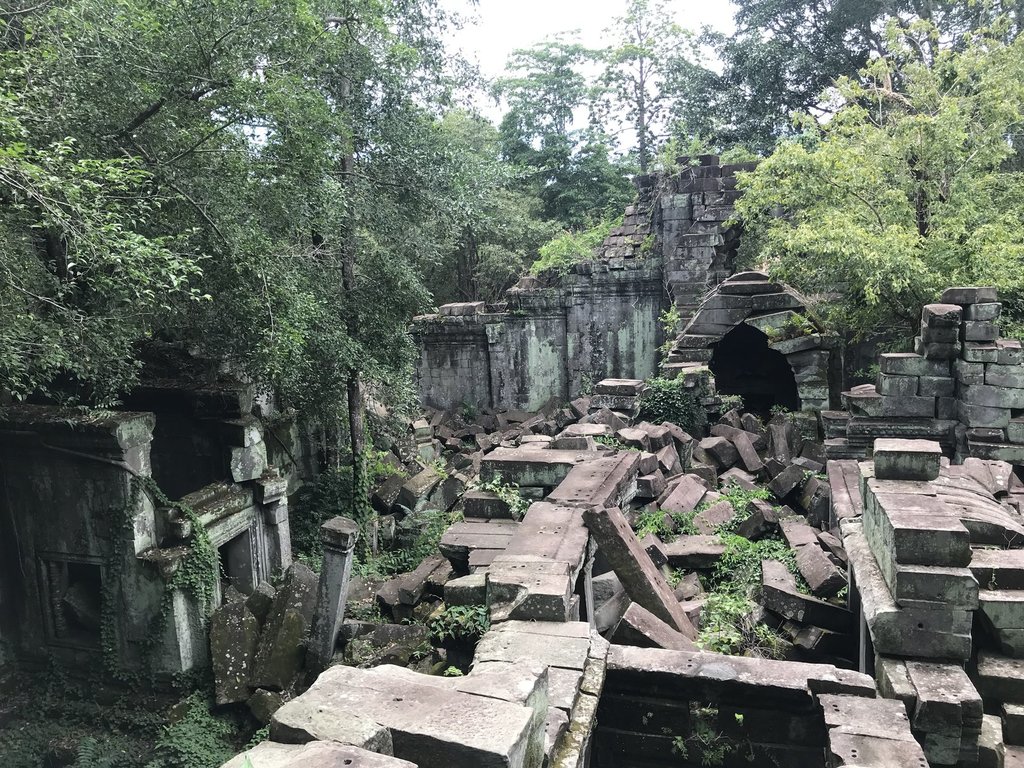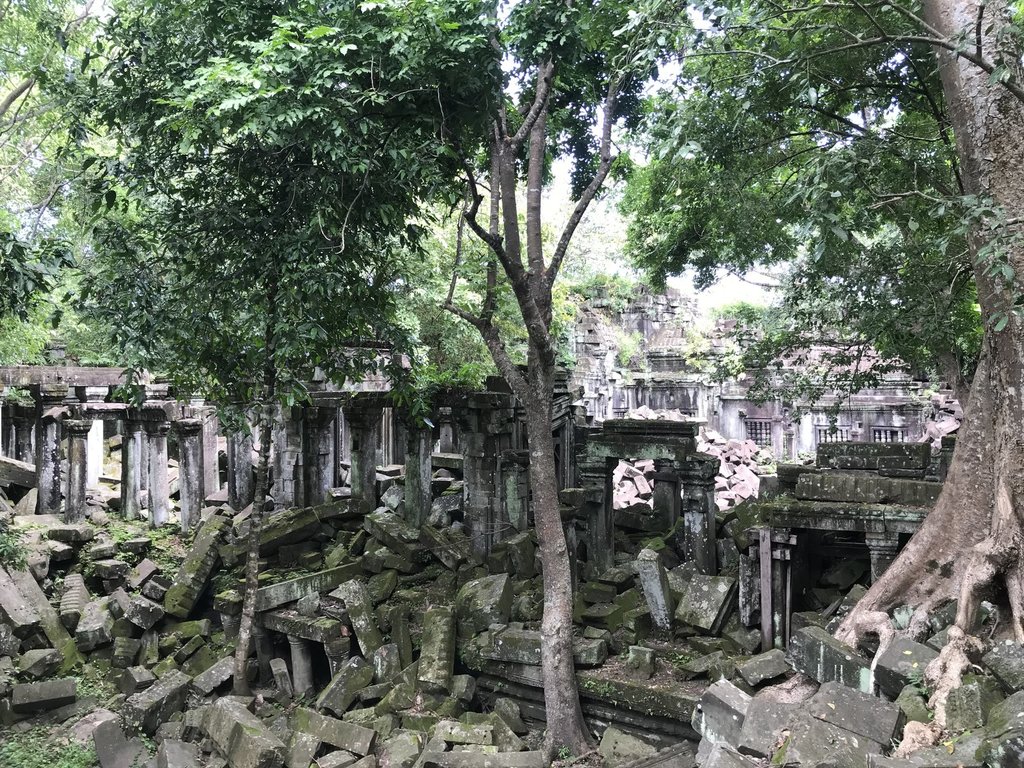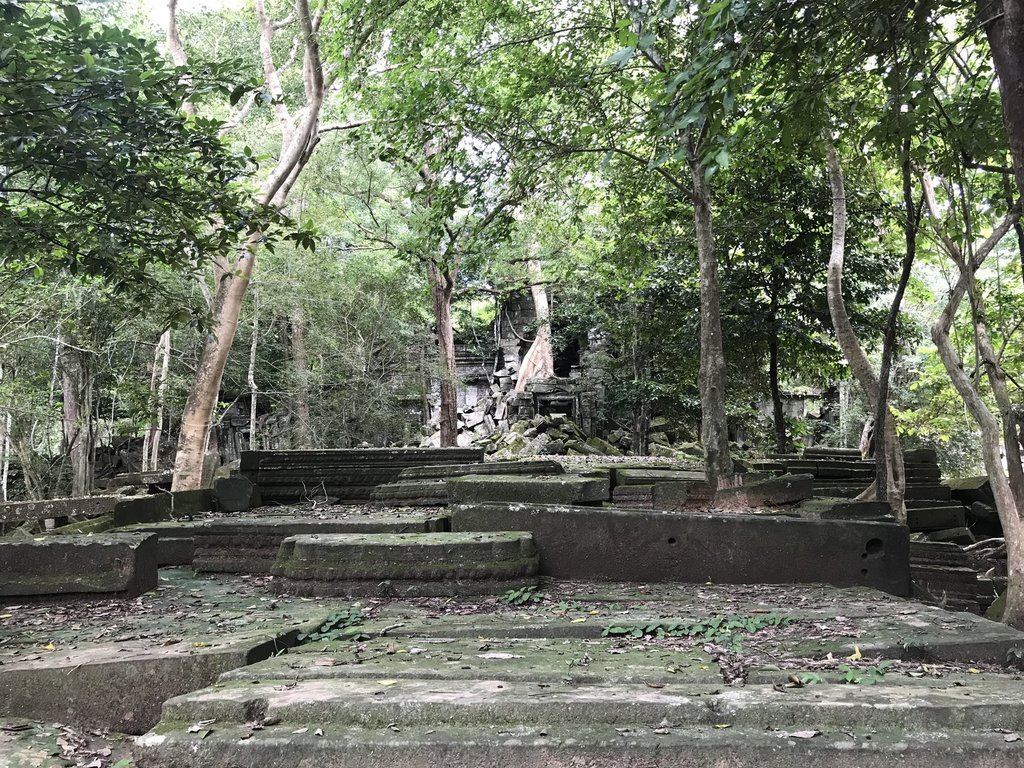 Preah Vihear
On my way back to the O Smach bored I headed for the town of Sra Am. This is the area where the famous cliff top temple of Preah Vihear is situated. This is a super cool temple and one of my favorites that I decided to revisit. It gets very little tourist traffic, but it is very impressive especially due to its cliff top aspect. It is on a disputed border and about 10 years ago was the site of conflict between Thai and Cambodian soldiers. It's much less militarized now then it was several years ago when I first visited.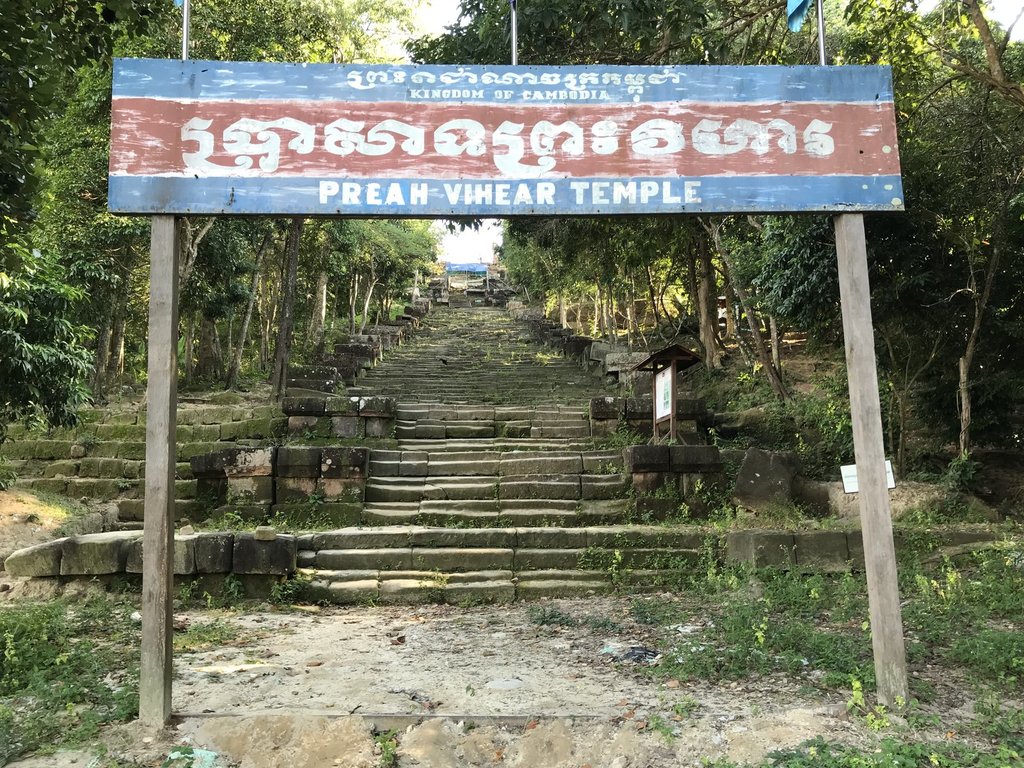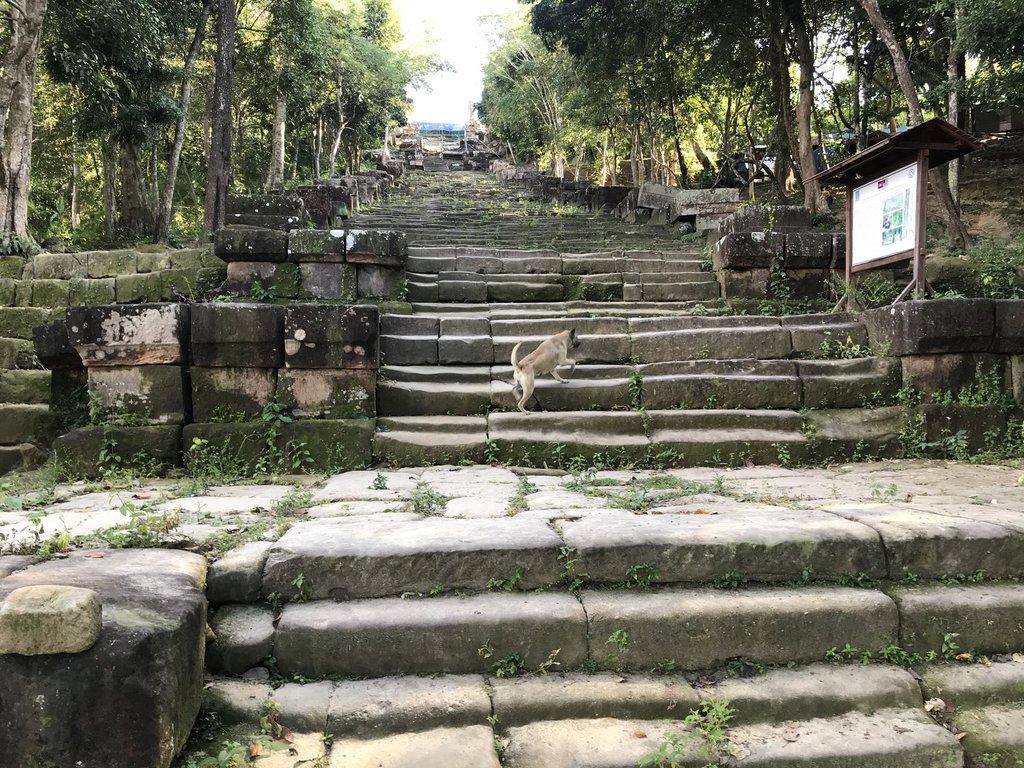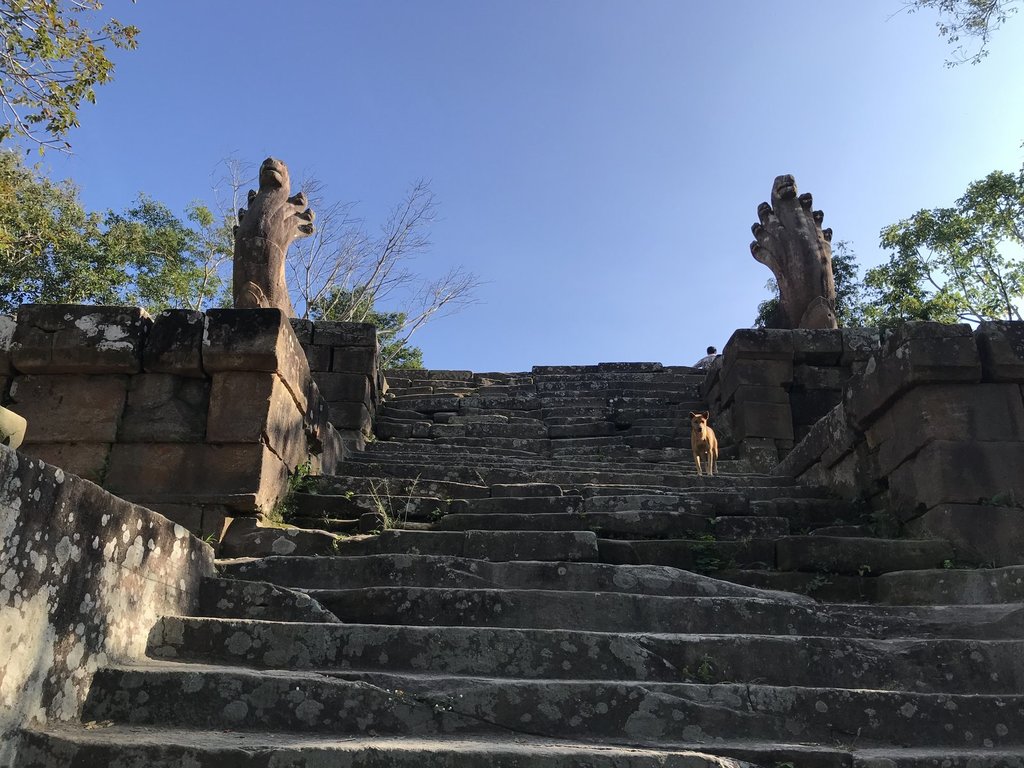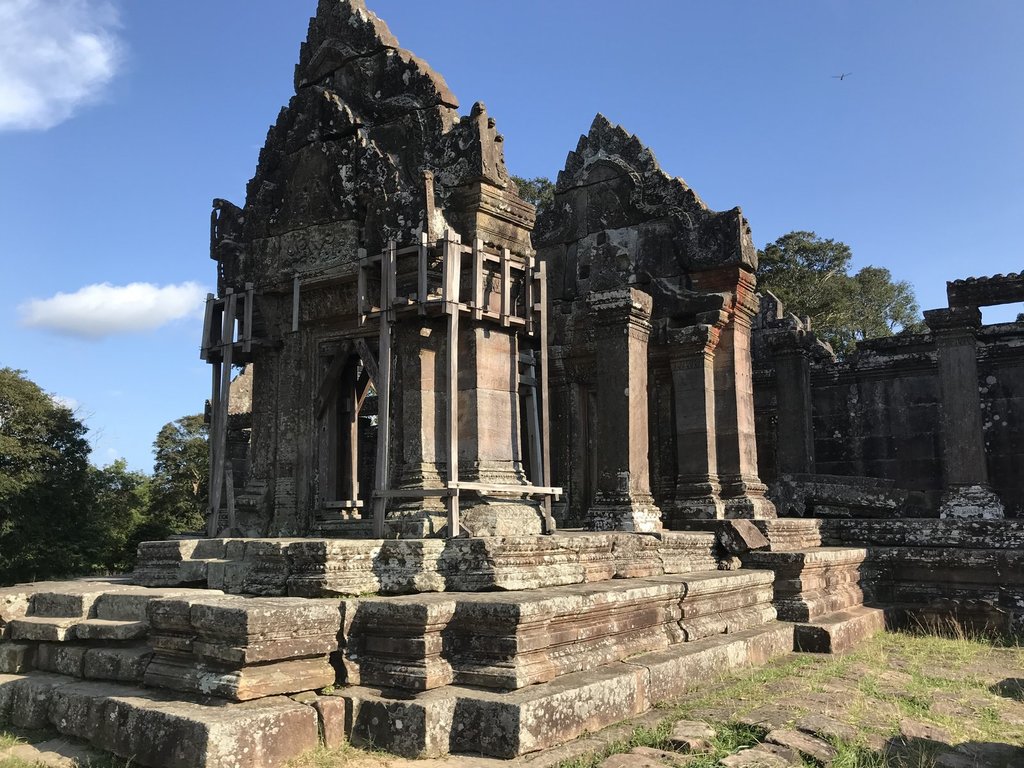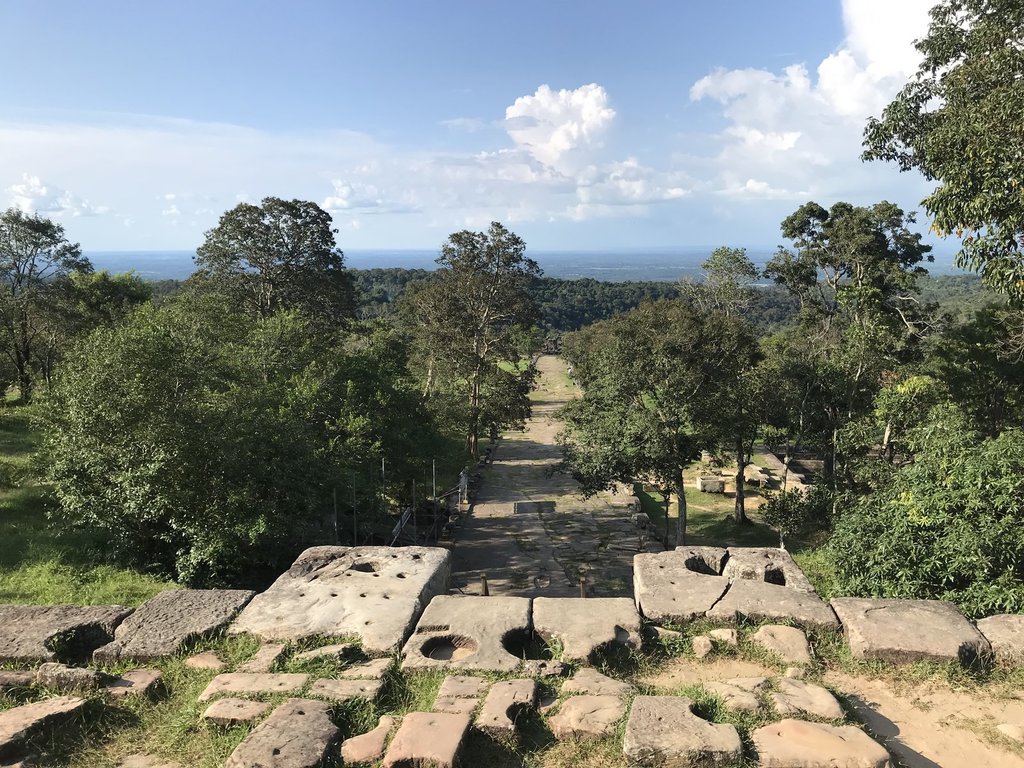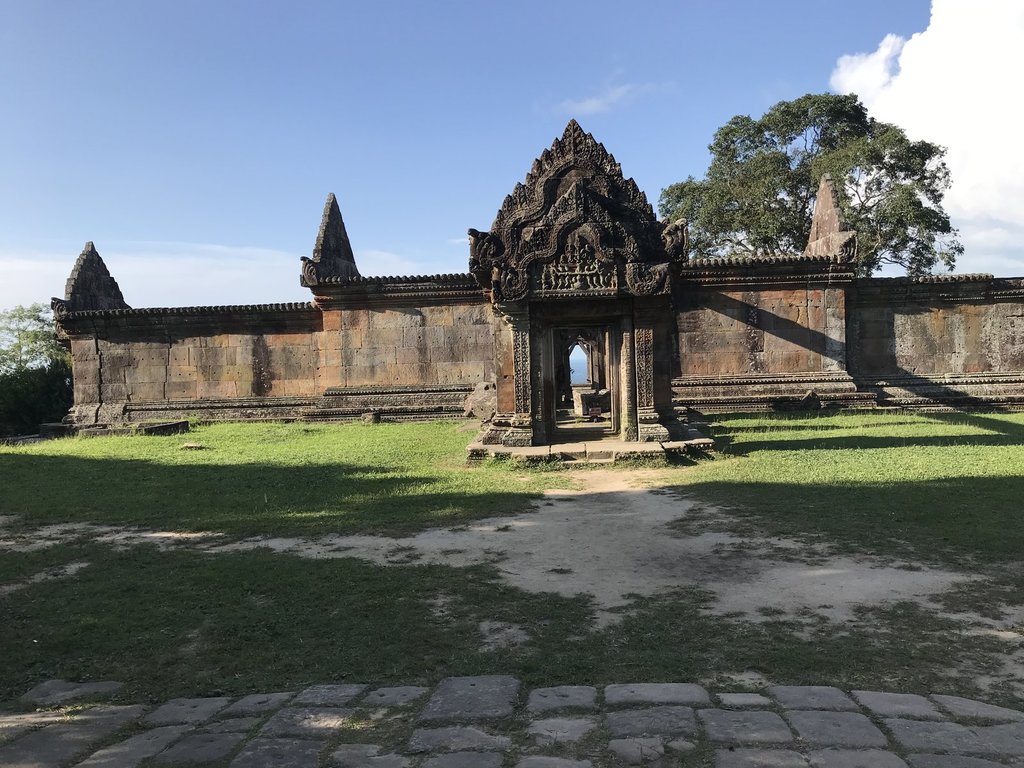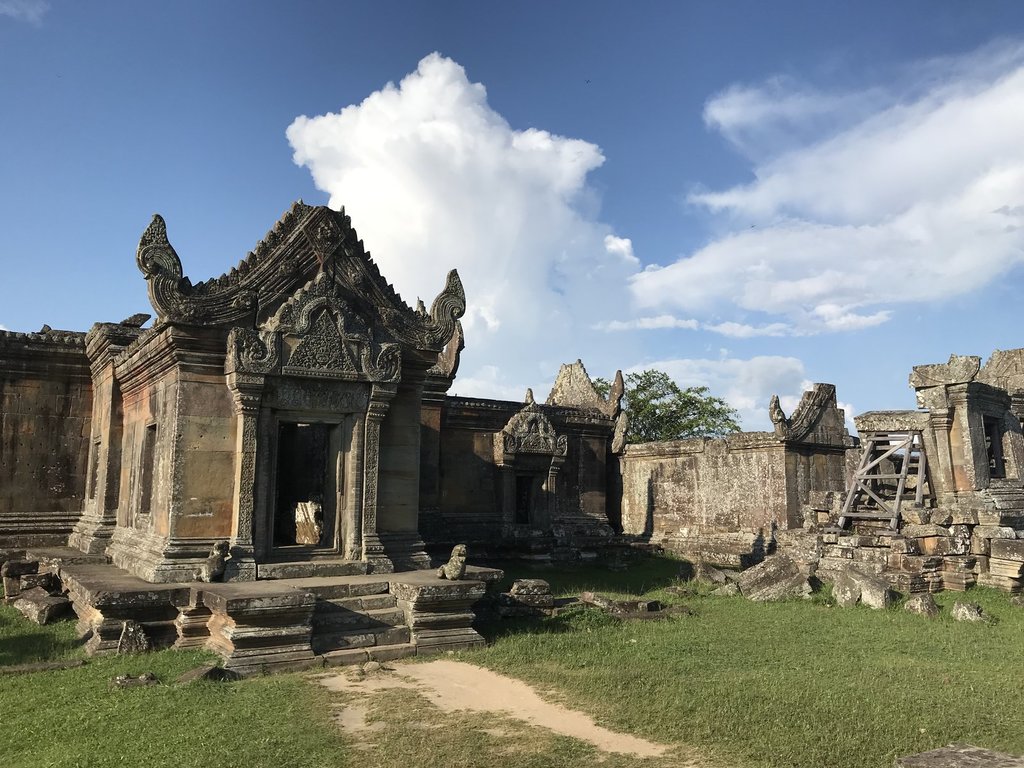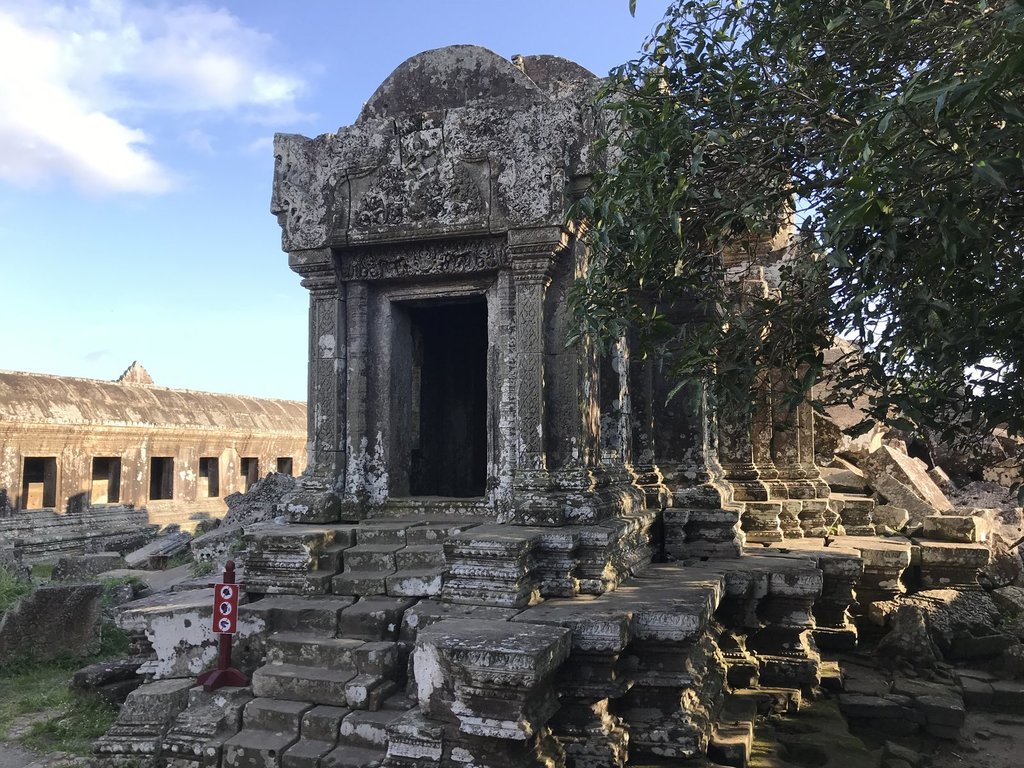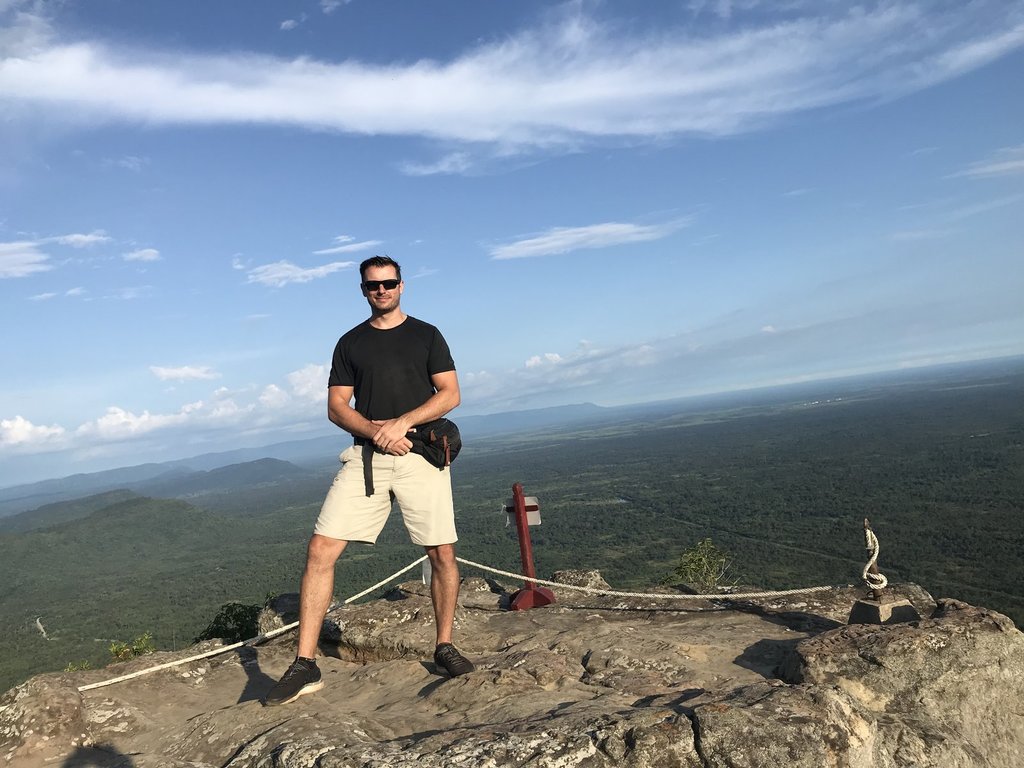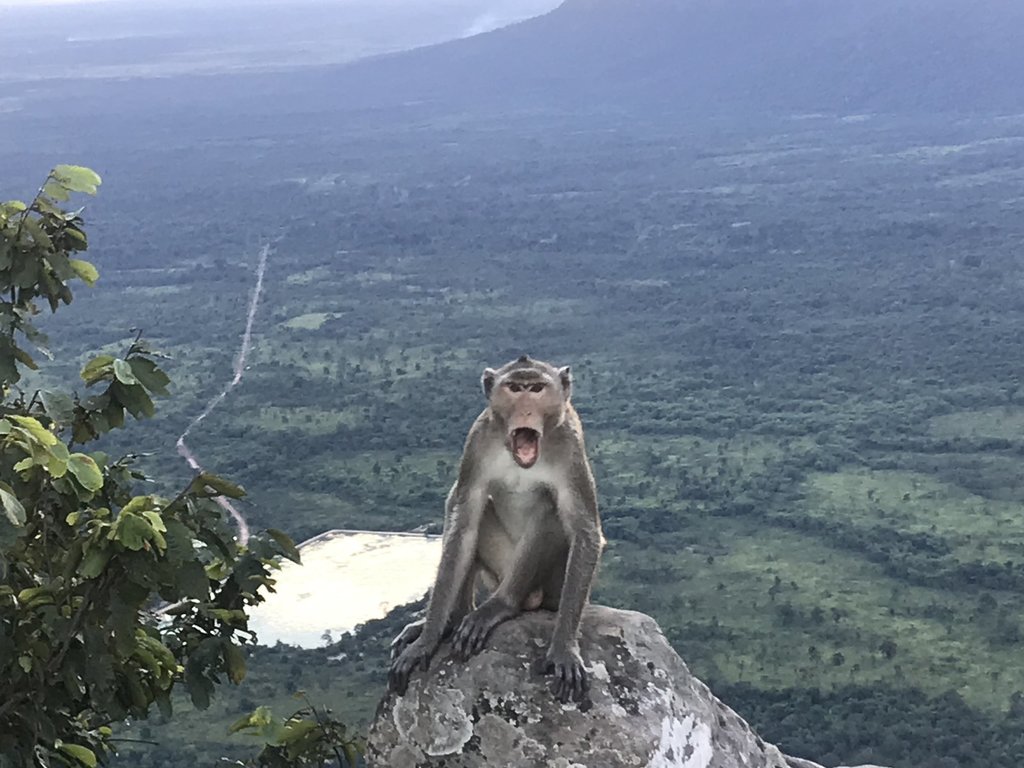 Conclusion
I visited countless other minor jungle temples too that are too numerous to mention. I really enjoyed the challenge of the difficult trails and the peace and quiet of the remote temples. The buzz of Phnom Penh and Siem Reap are great fun too. It reminds me why I keep coming back to Cambodia.
Last edited by a moderator: