Here's the groups recent exploits through Cambodia. The group only use small bikes and currently using the Honda Wave 110efi, the Wave At 110i, Wave 100S, Suzuki Fresh 110i, and Honda Dream 110. The bikes are slightly modified in terms of tyres, sprockets and suspension. Most also equipped with 12v electronics for gps and cameras etc.
We loaded onto the train at Bangkok and Saraburi to Surin. The bike and myself cost 800bt and was loaded on the front of the train, always good to help them load up. You'll need your green book at the station. Overnight in Surin then on to the border Chong Chom. No issues, quick smooth crossing until arriving down the hill on the right hand side where all the paperwork was scrutinised again as well as the tour itinerary. Make sure all the group stick together whilst they check your itinerary.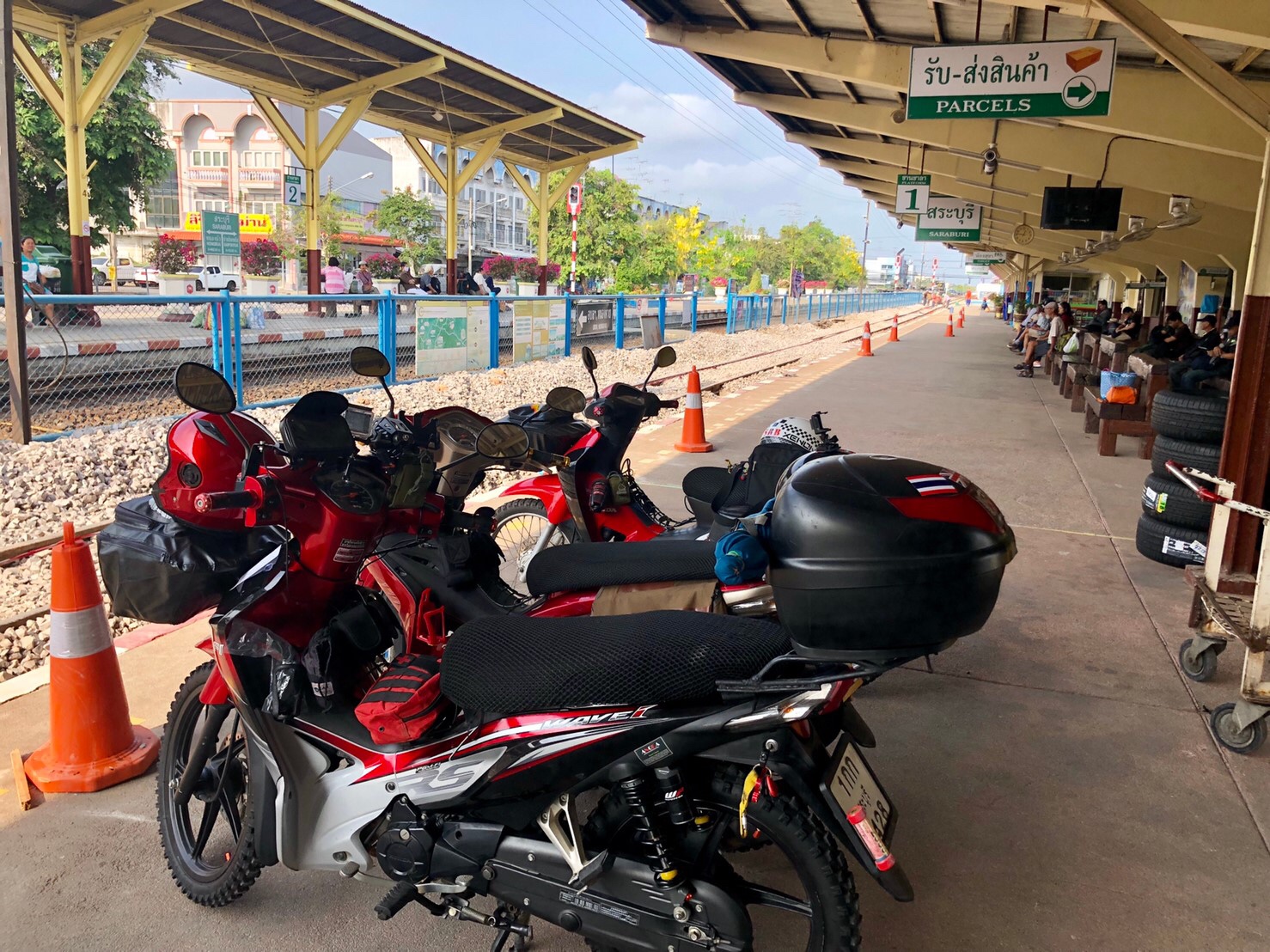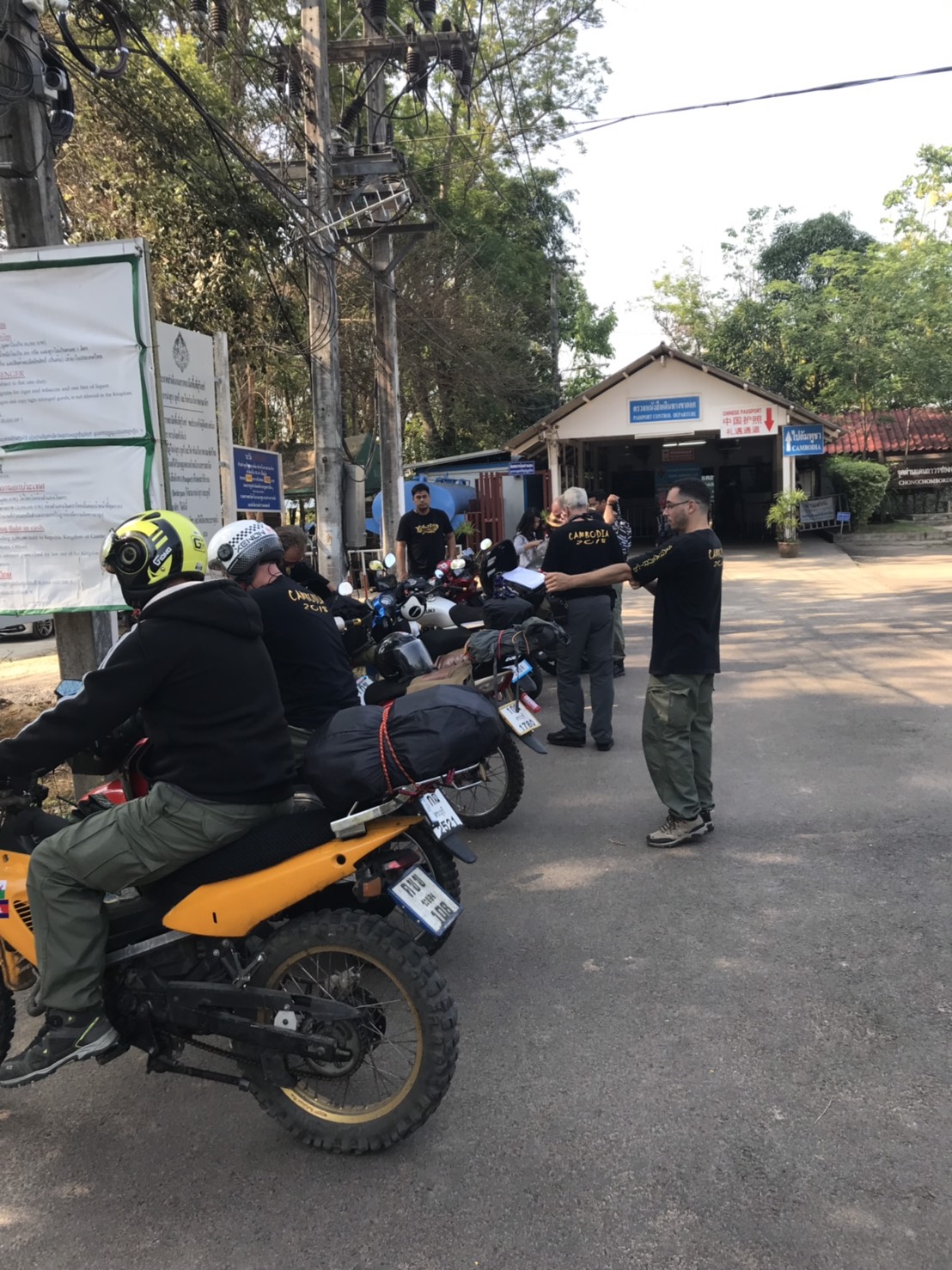 A couple of the bikes were requiring the paperwork associated with bikes being borrowed but no issues. However the Cambodian visa had gone up to 1500bt for some reason which raised a few eyebrows. Remember to keep hold of your paperwork your given.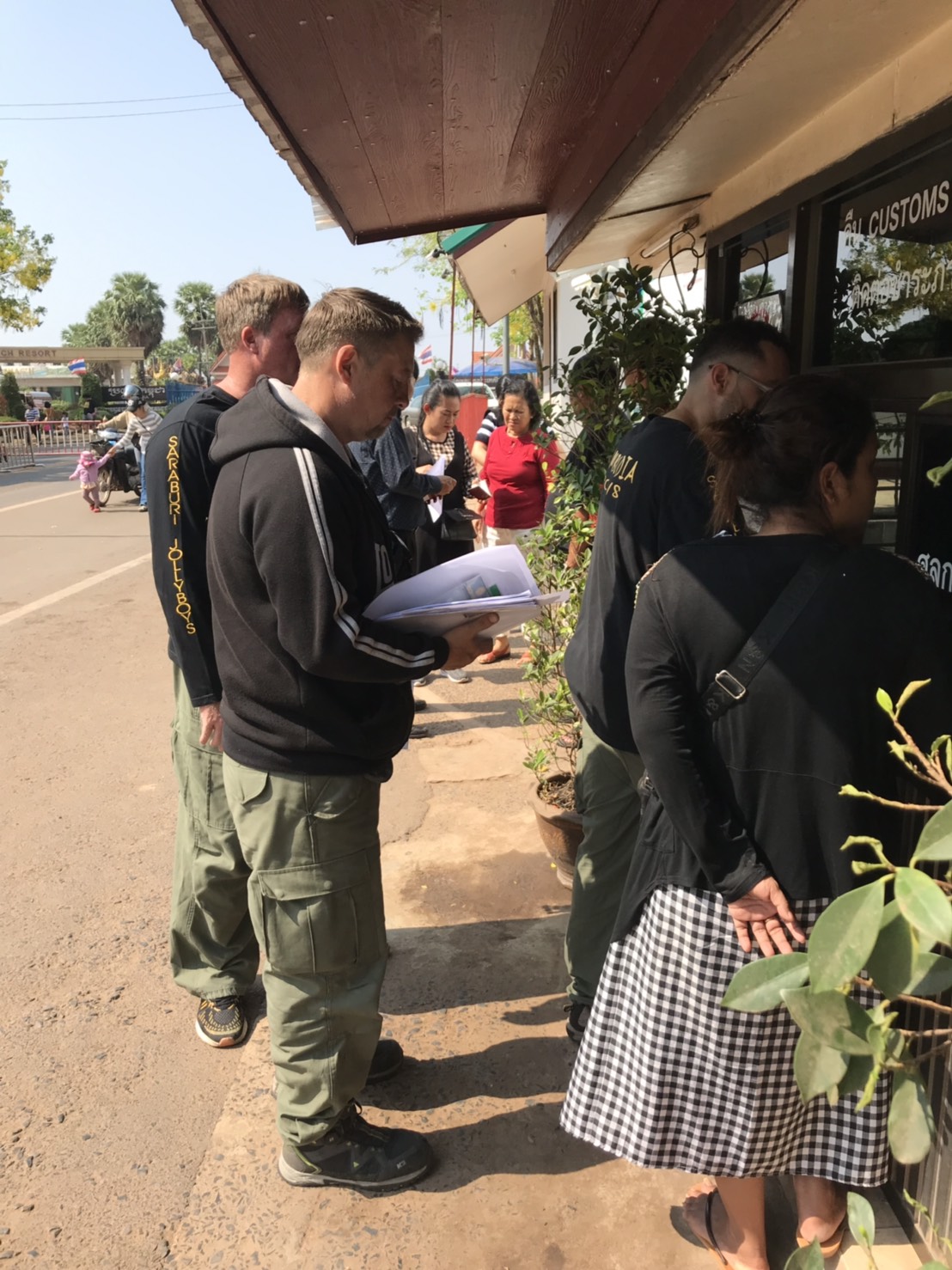 So on our way to Anlong Veng keeping off the main roads and finding the less busier B or track roads. Stopping off at the local businesses to refresh and replen water.
Overnight at Anlong Veng, which wasn't that interesting considering it was the hub of the Khmer Rouge. The next day was a rainy ride up through Preah Vihear to Strung Treng. There is a great burger restaurant owned by a German guy called Stung Treng Burger which is worth a visit. Not too much to see that day as the rain was pretty awful and kept us from our desired off-road route as there was a lot of water in the fields. However the next day we ventured from Strung Treng to Siem Pang North on the Nr7 then continuing NE on tracks to the small town of Siem Pang to visit the local secondary School. Luckily no wind so the dust kept low and riding was pleasant. There was some obvious road improvements going on but overall it was dust tracks and winding routes.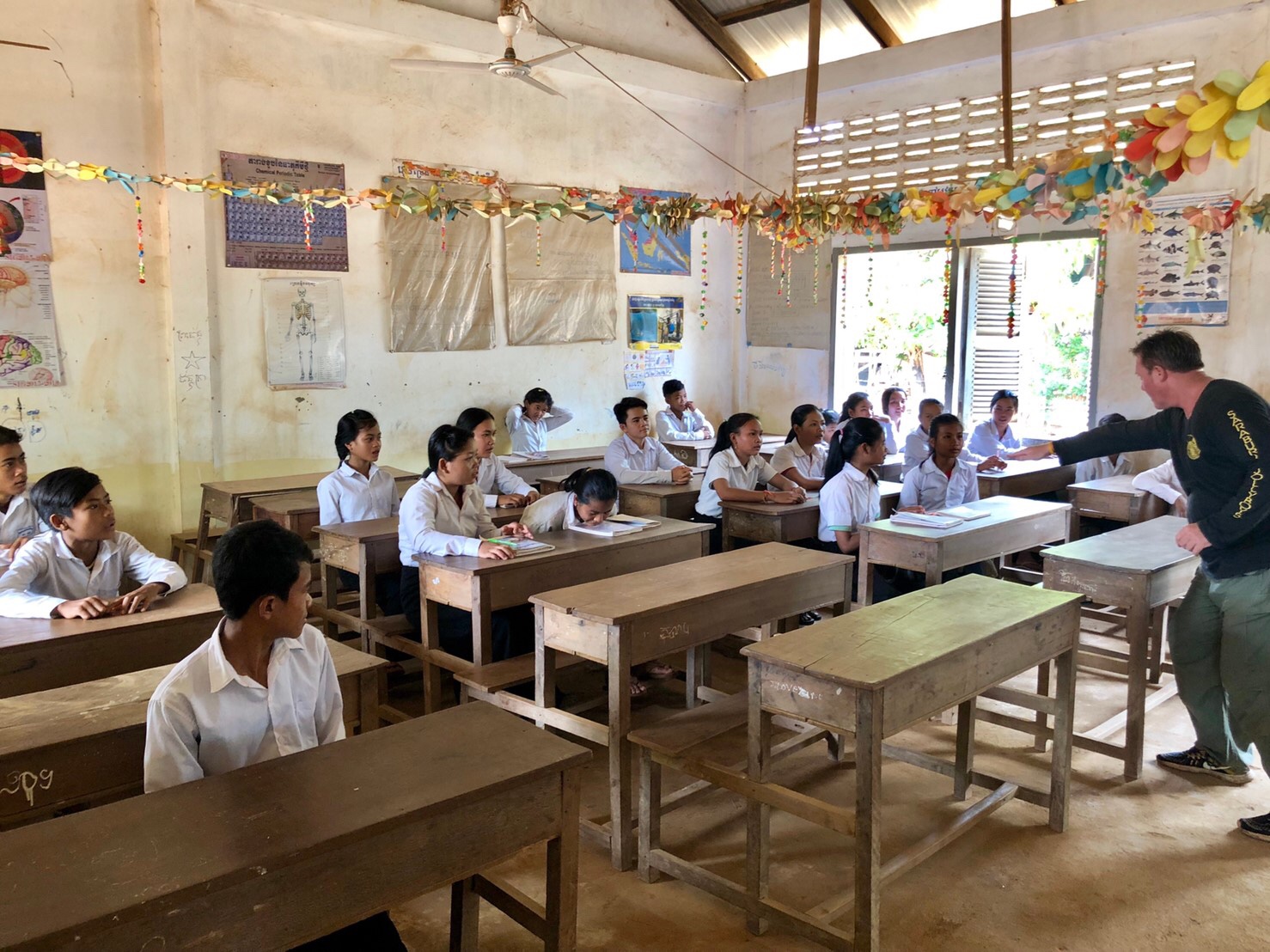 Impromptu class of English from Robert. Just before the footy where the internationals were beaten 2-1. The shame!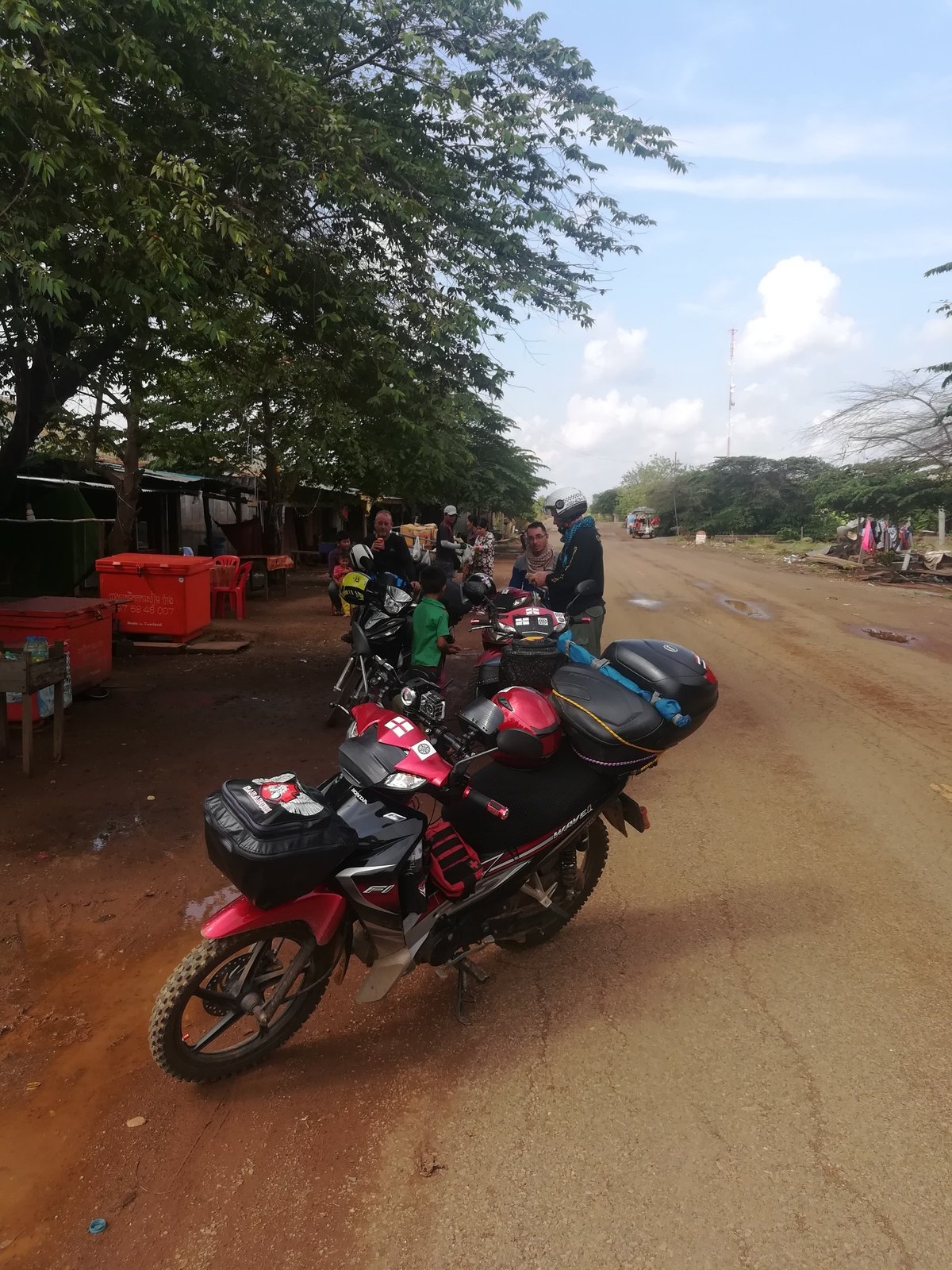 The teacher is dressed in the white and light blue striped top, all very tiny people in comparison to the foreigners.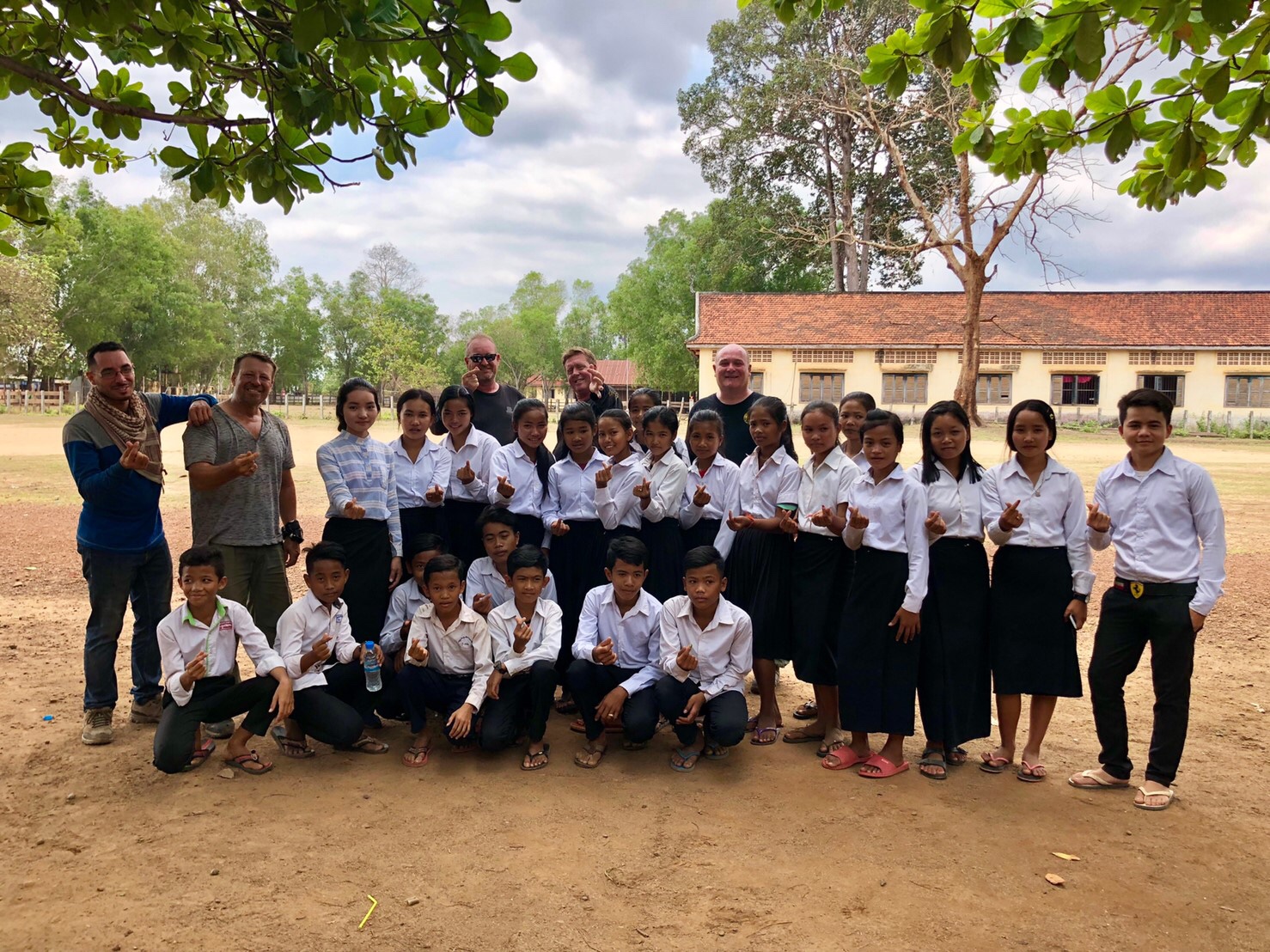 After the humiliating 2-1 defeat it was out for dinner with the school teacher and local military. It was a BBQ type of affair on a hotplate but very good, with a few Cambodian beers all went well and most slept well. Always advisable to put your lights on in the evening or you'll be off your bike.!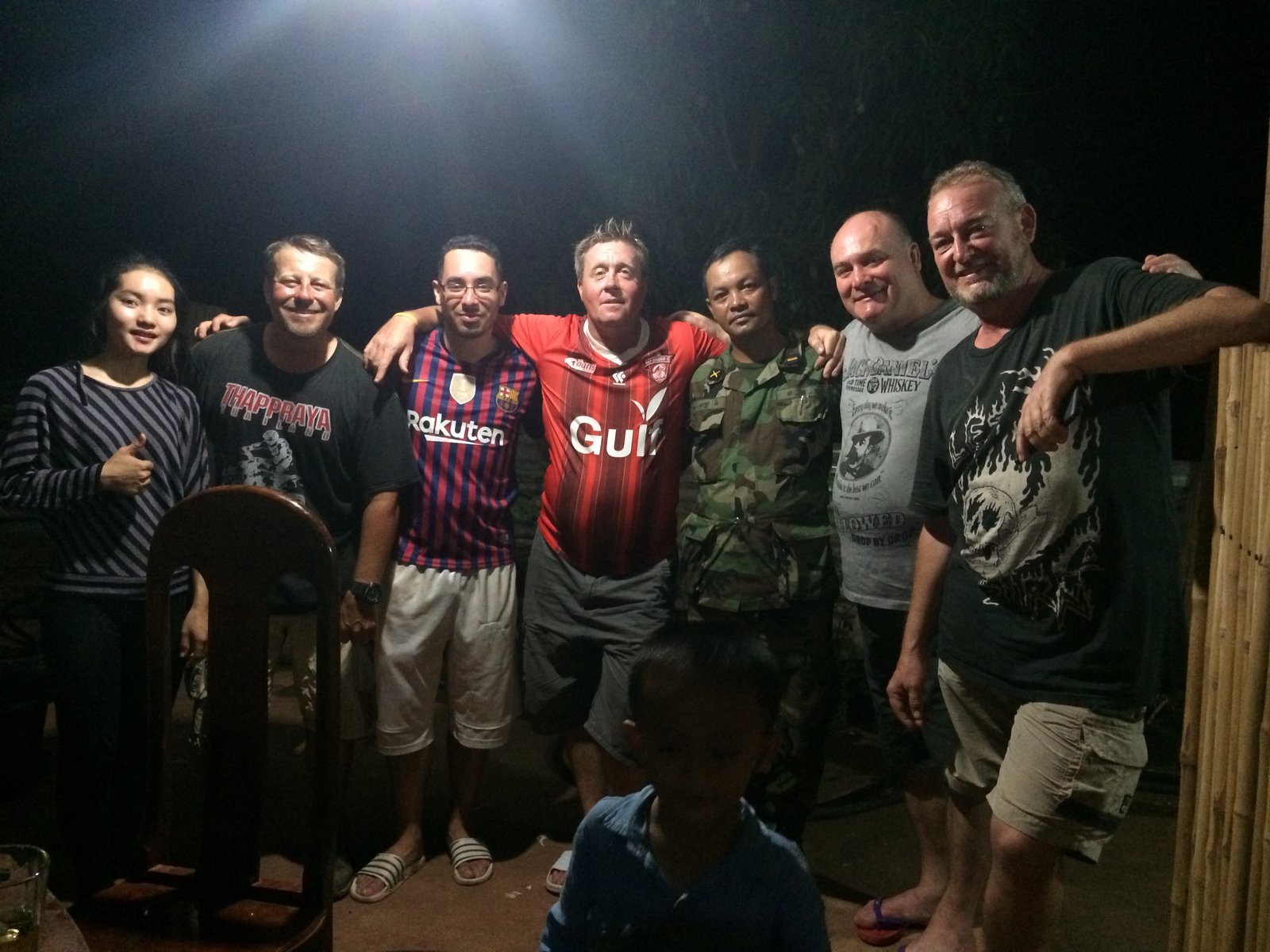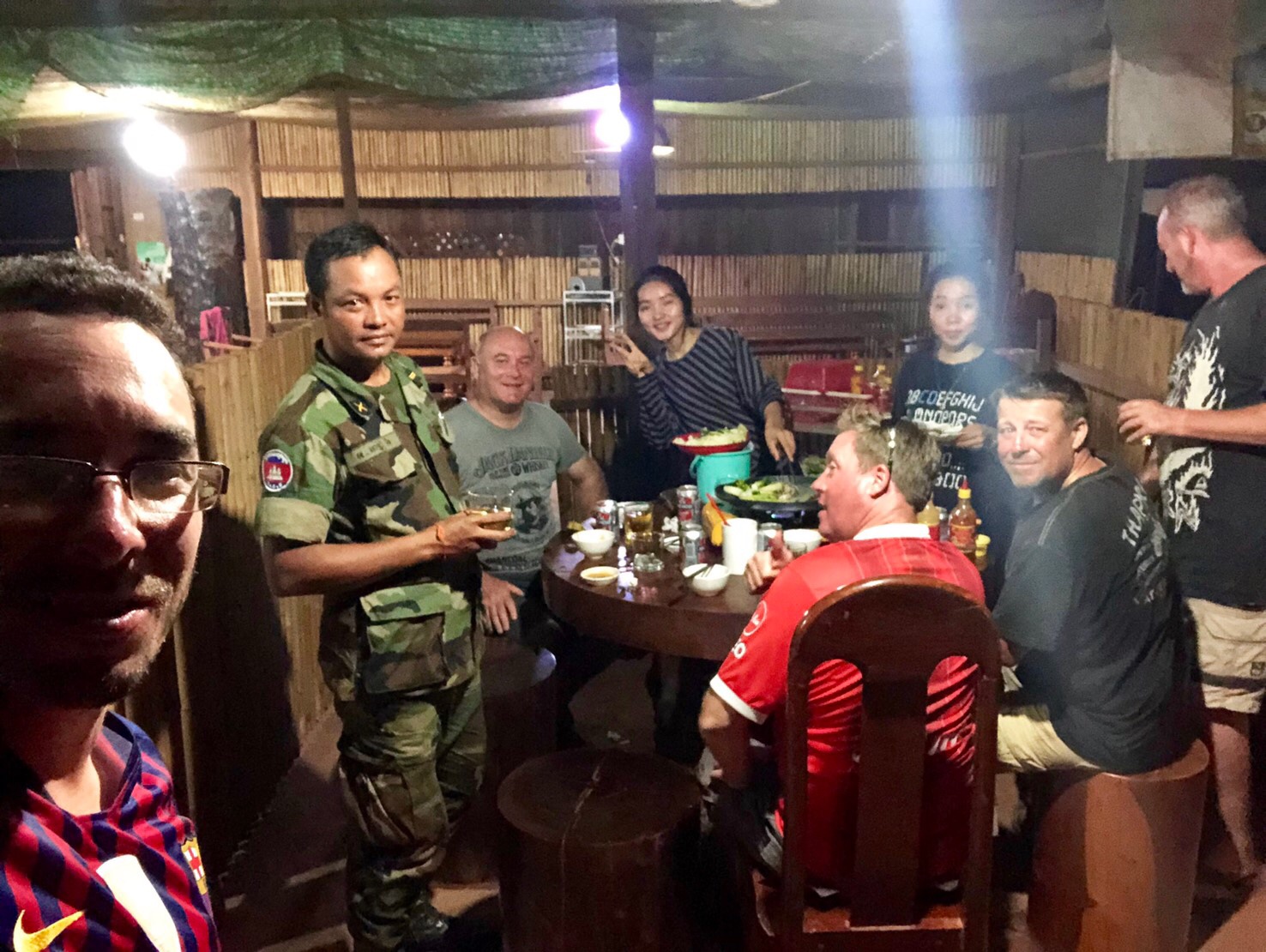 Robert taking a roll, mere flesh wound! Some good $1 whisky will take care of that!
The next day from Siem Pang to Ban Lung is quite a ride. On the gps it says 102km and a 2hr 26 minute ride...……..well that doesn't take in the 3 river crossings you have to do and the fact that from Siem Pang to Pa Kalan there is no road and only a track which at best takes a tractor in parts. The first village you will see is call Ban Chuntong which by the look of it had not seen many foreigners before. The kids screamed and we were looked at very strangely until we sat and relaxed with them. Giving out stickers etc as you will see in the pictures. A point on safety here, this area is littered with bombs and mines and its very advisable to stick to only the track your on and don't get tempted to find your own short cuts. As you ride through you will see mine clearing teams with their tents and trucks. Here we did not but further down we did. This village was extremely poor and was clearly inaccessible by truck or car so everything came in by tractor trailer or bikes.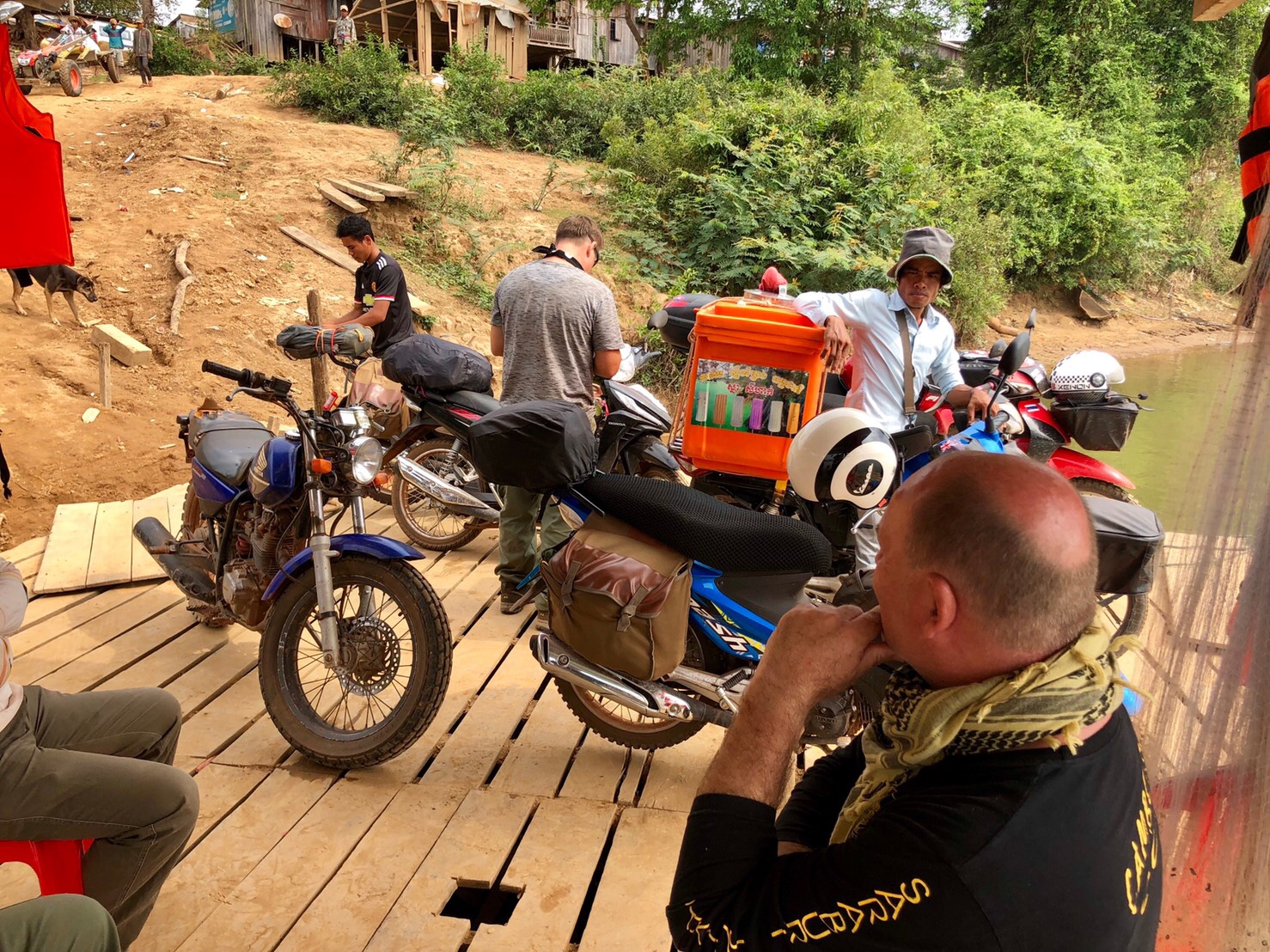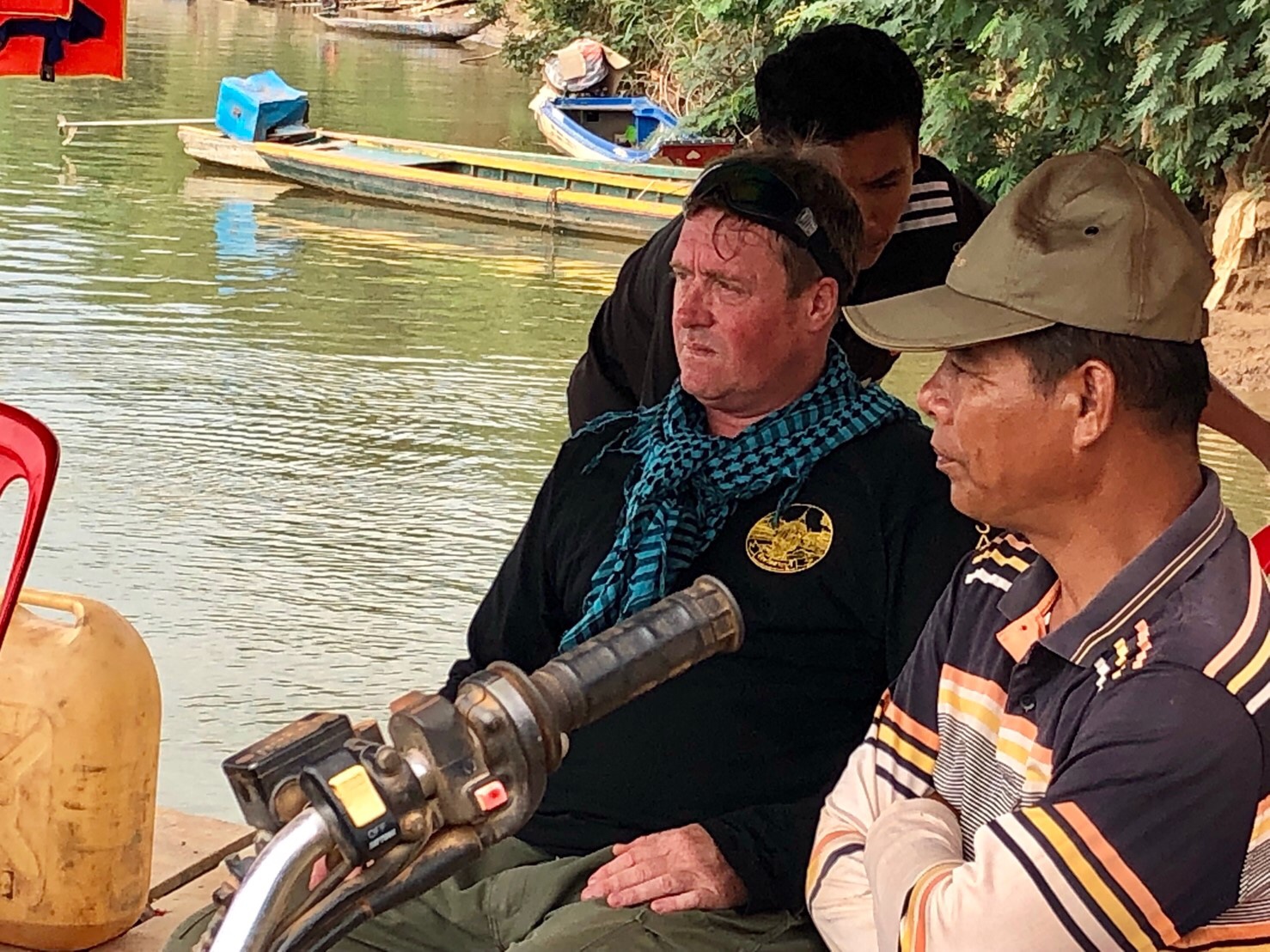 Robert still simmering after his fall...………..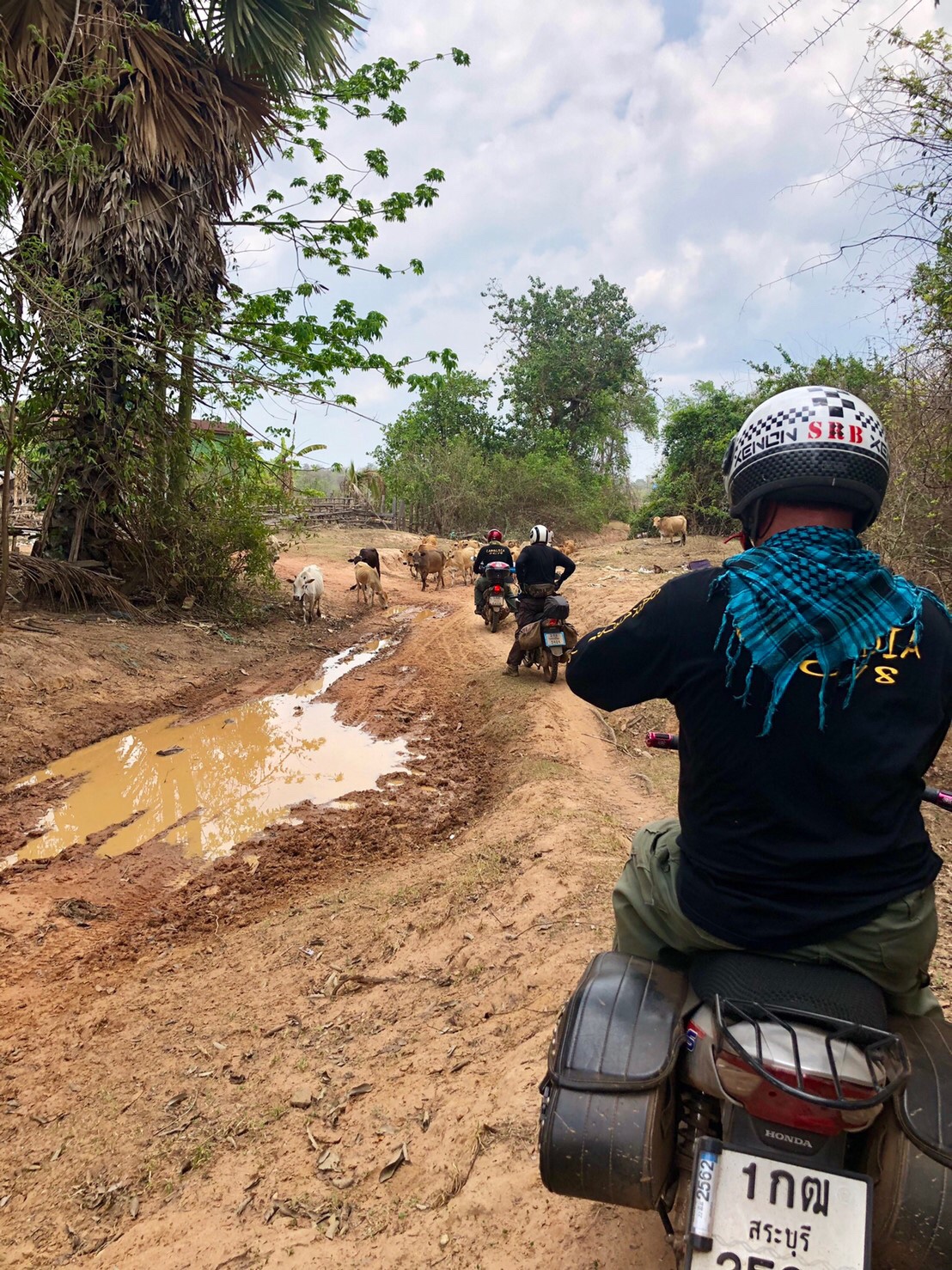 At this point there were so many tracks leading off that it was easy to get lost, after a recheck of gps the track appeared clearer and was none of the larger tracks but rather a smaller one disappearing between the trees to the extreme left.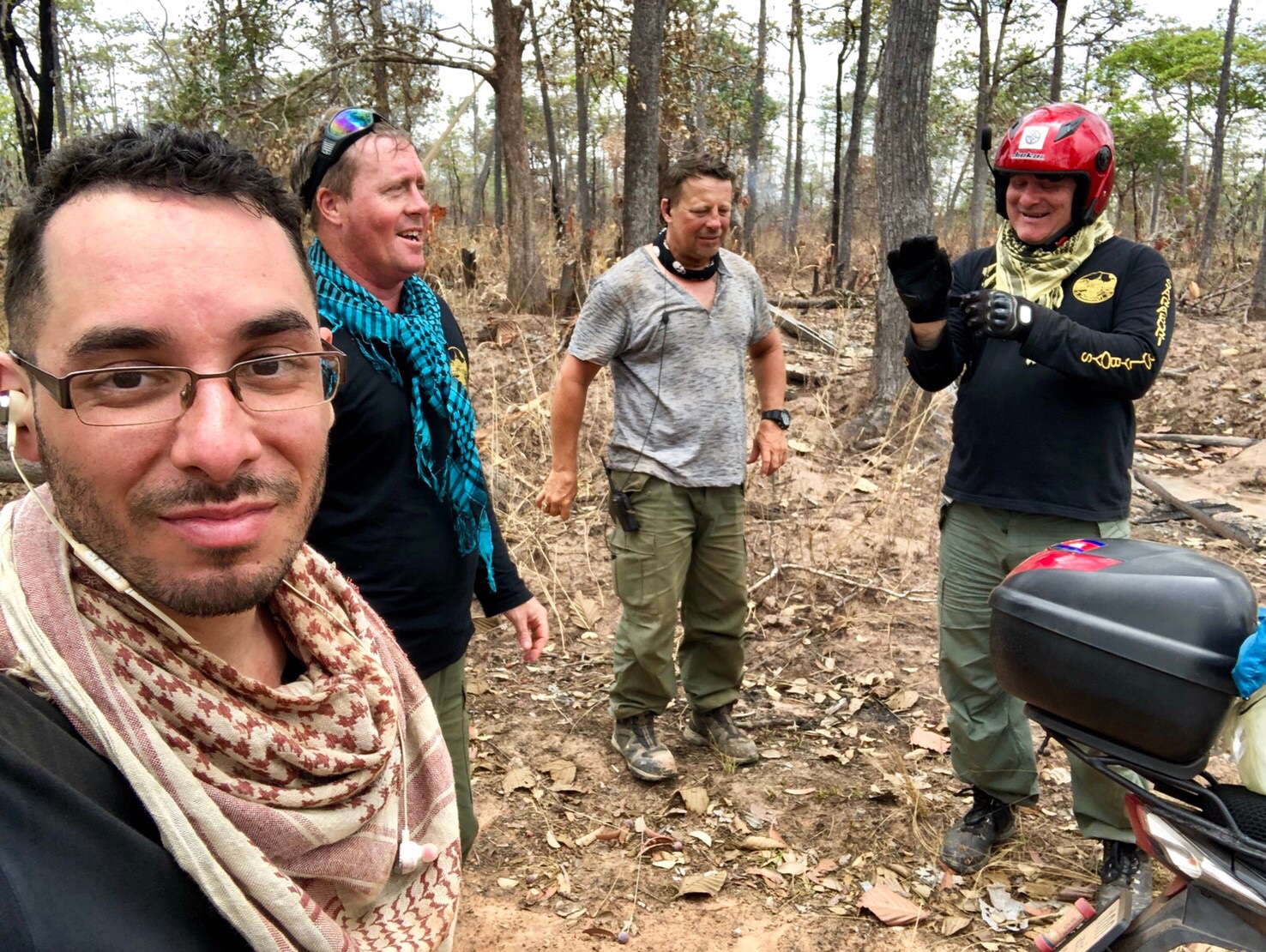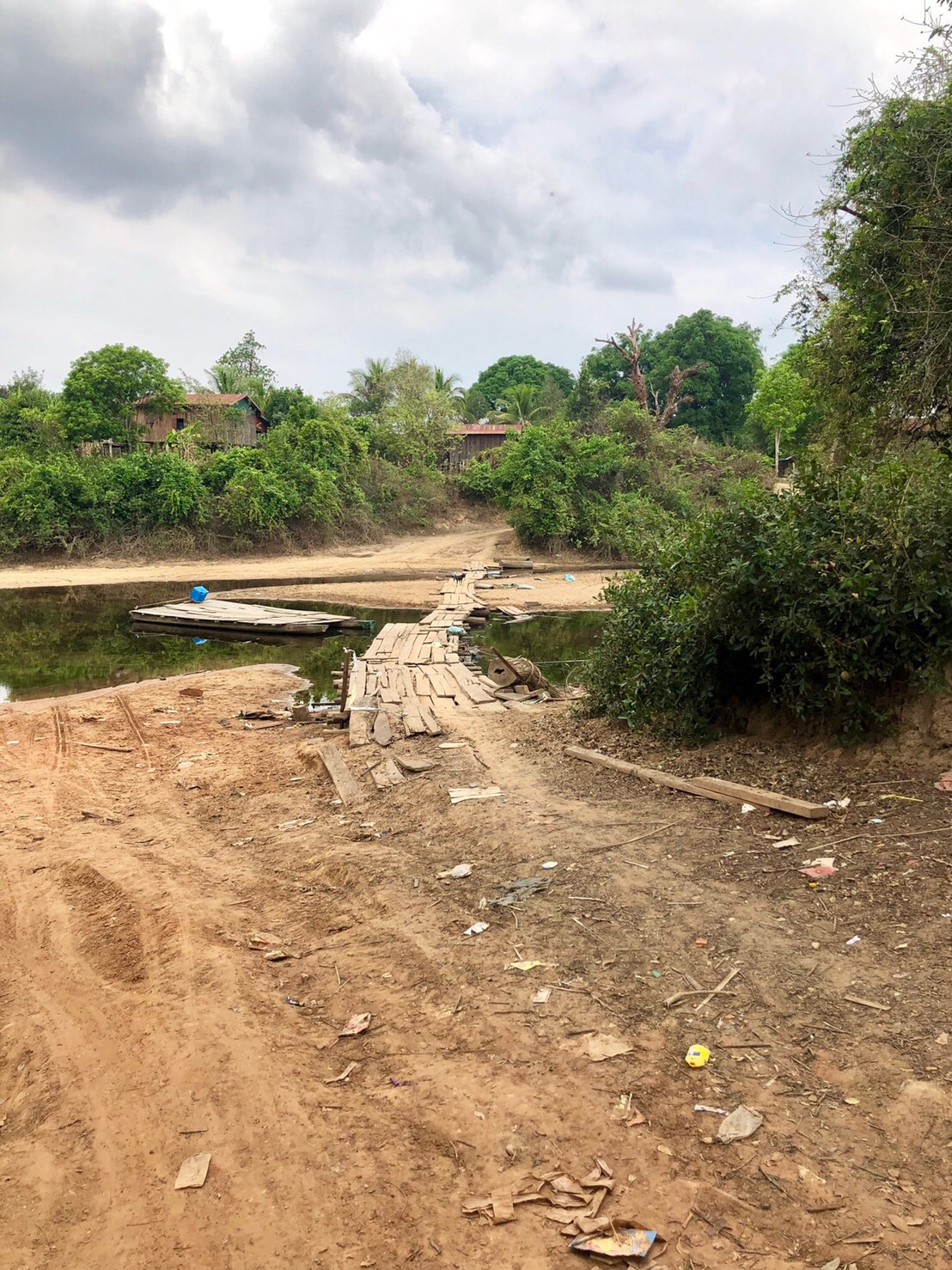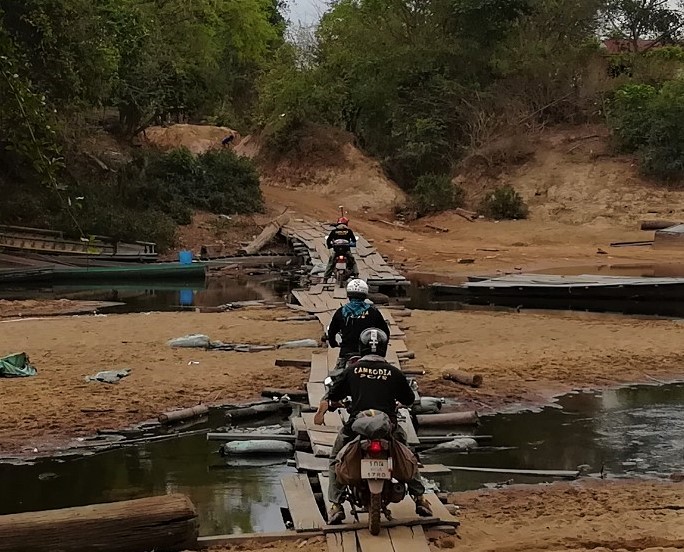 The kids, lovely smiles and happy with their embroidering and not a phone in sight.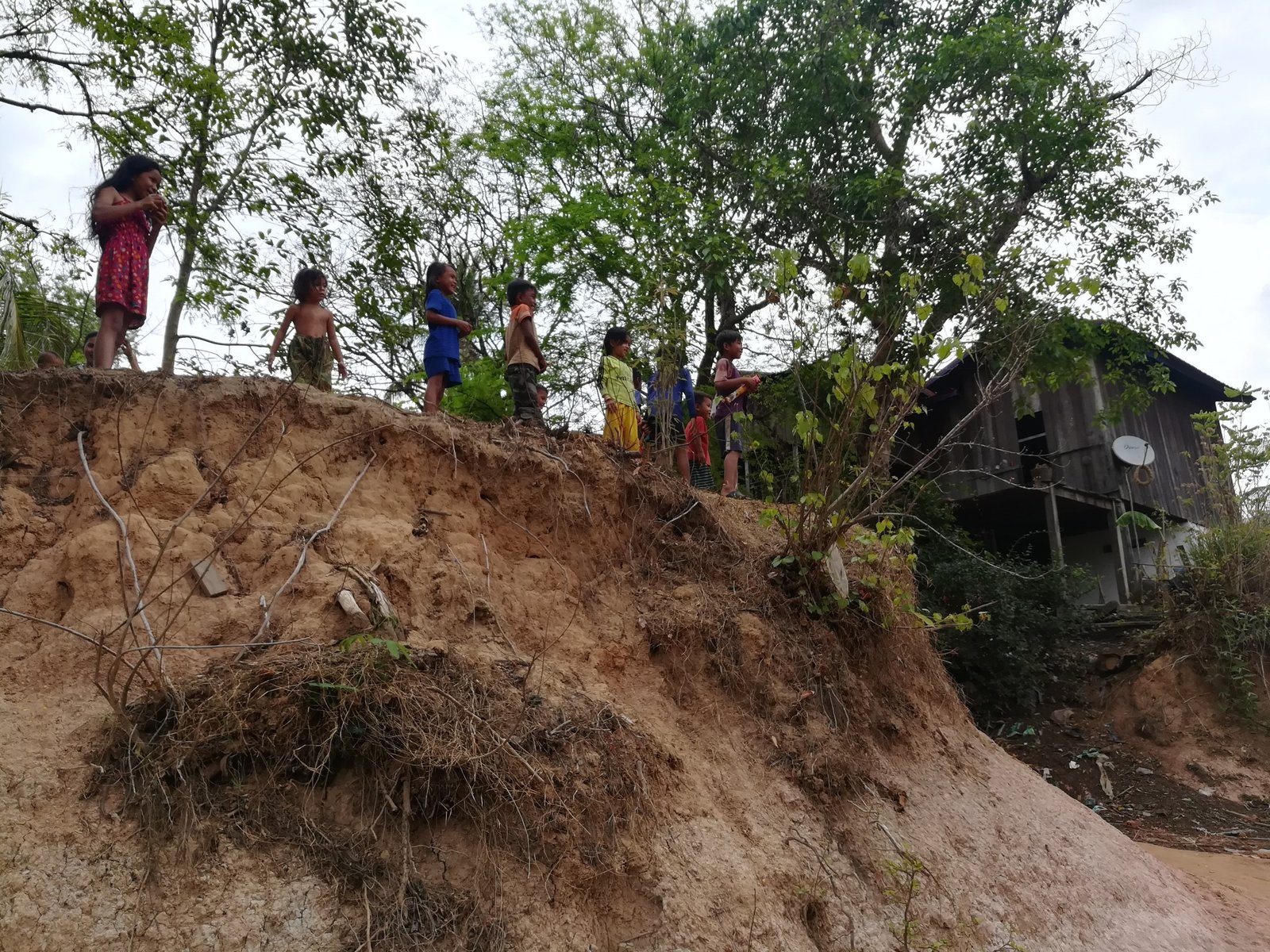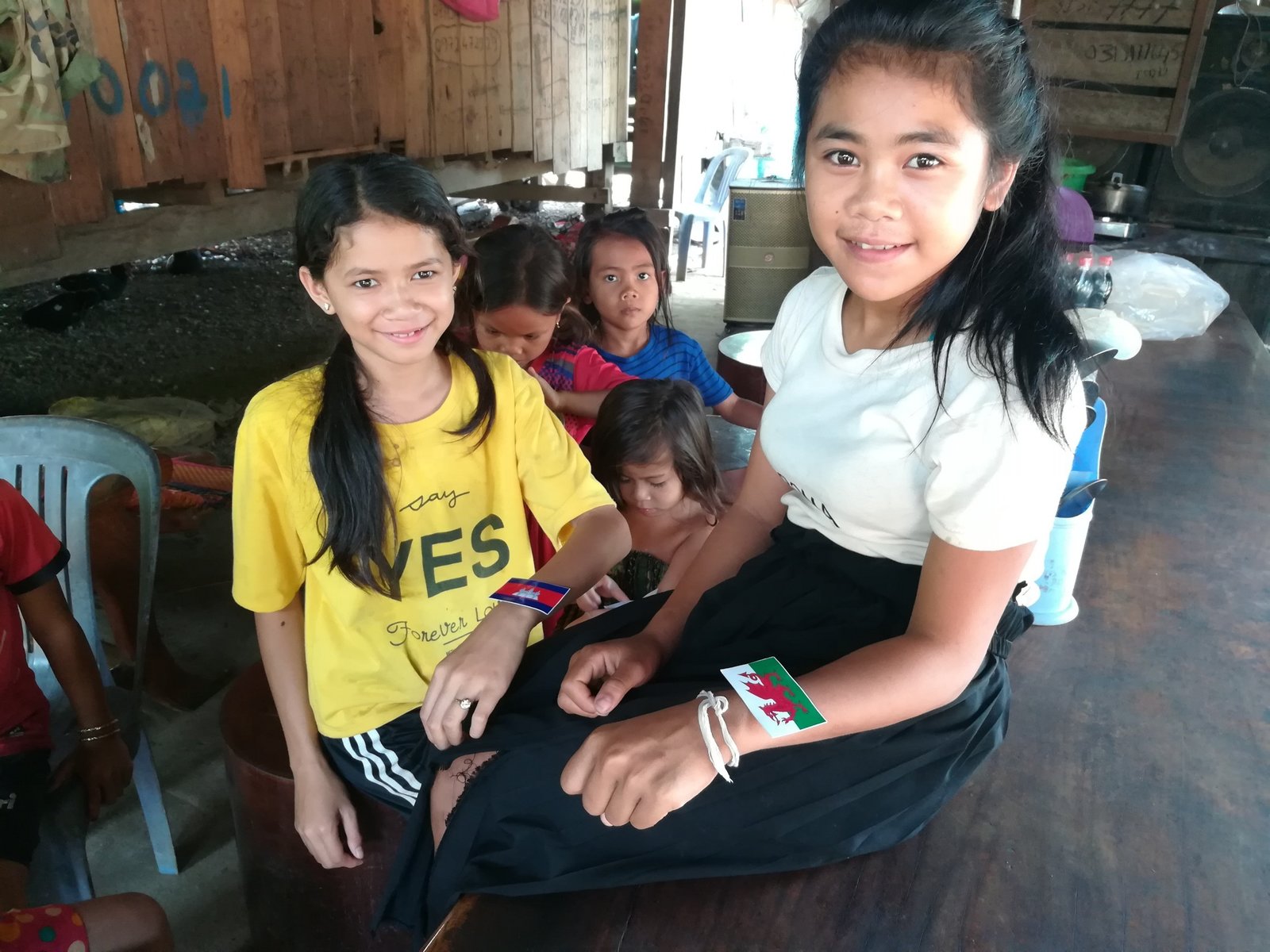 My favourite picture, what a cutie, she didn't know what to make of the foreigners.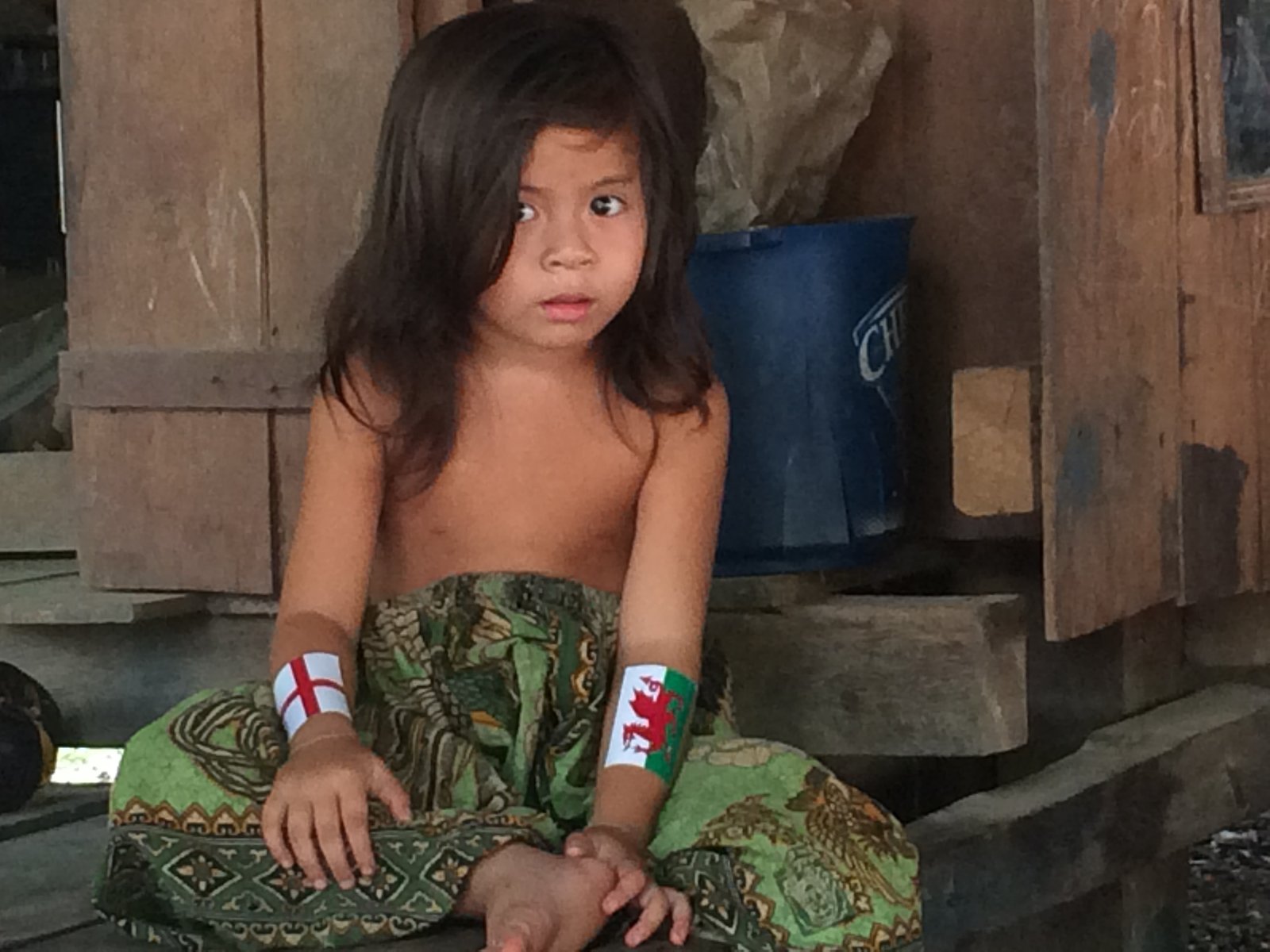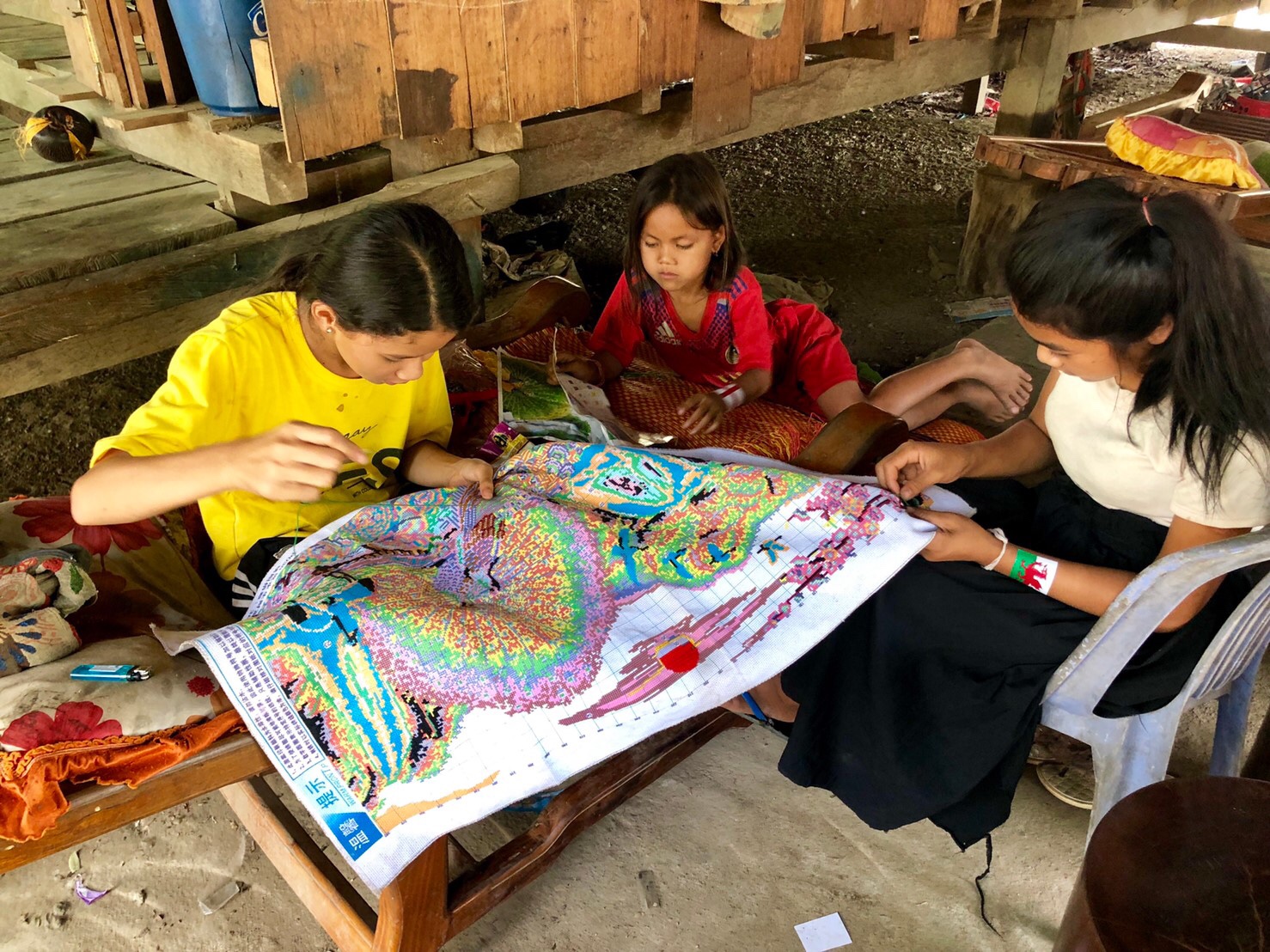 We watched the local trader turn up and get mobbed by the crowd for the basic items we take for granted, people just happy to have some new trousers.
However some of the locals looked less than impressed!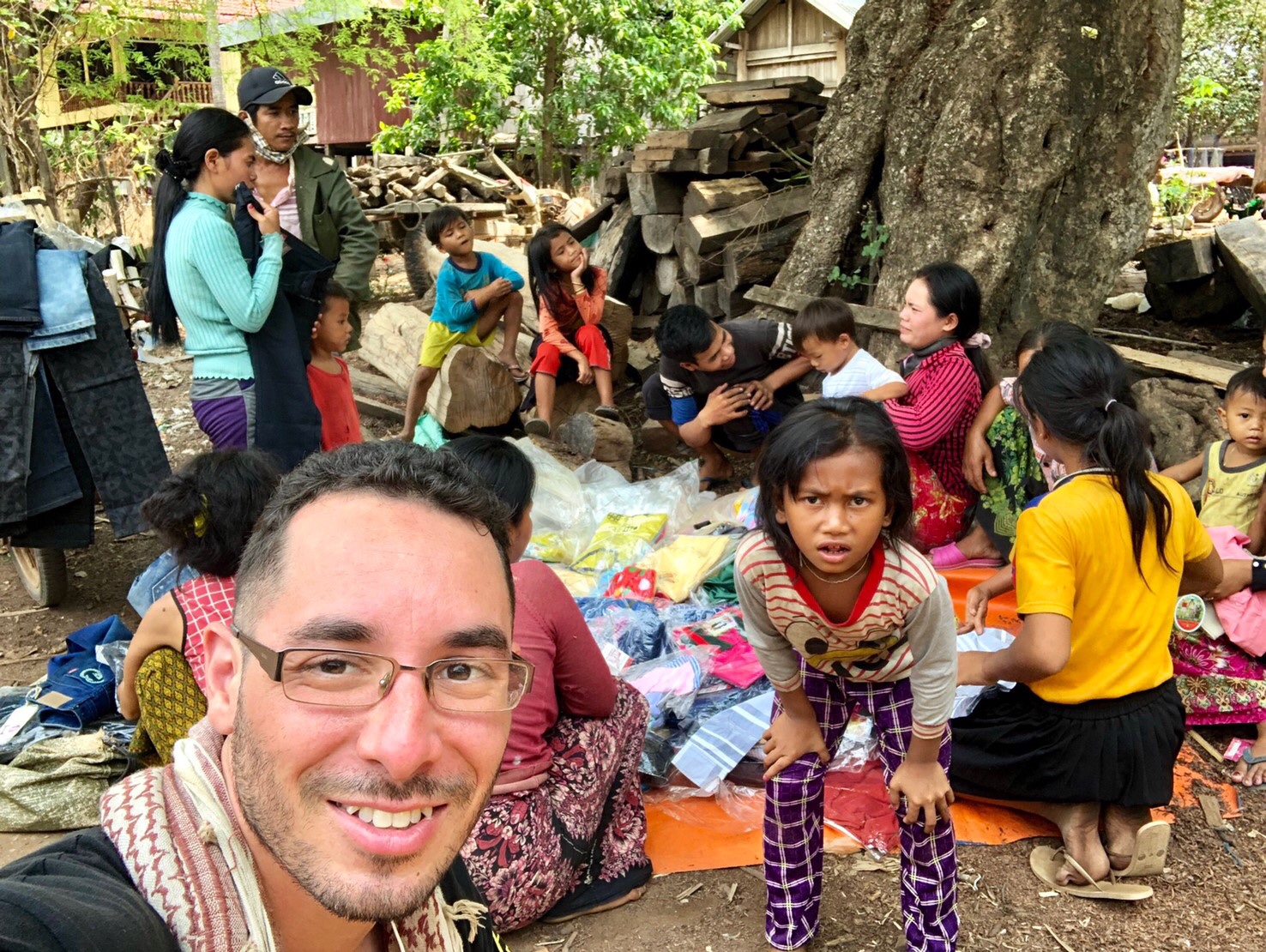 So onwards and to the final river crossing. The track was terrible to begin with but got better and went through watercourses, under fallen trees, though stream beds and across large areas of sandy track until we finally arrived at Pa Kalan. There a very wide river crossing which was a nice rest. Once across the track improved to a clay road thru to Ban Lung. When we arrived it was dusk, but a super ride taking us nearly 8 hours to cover the 102km.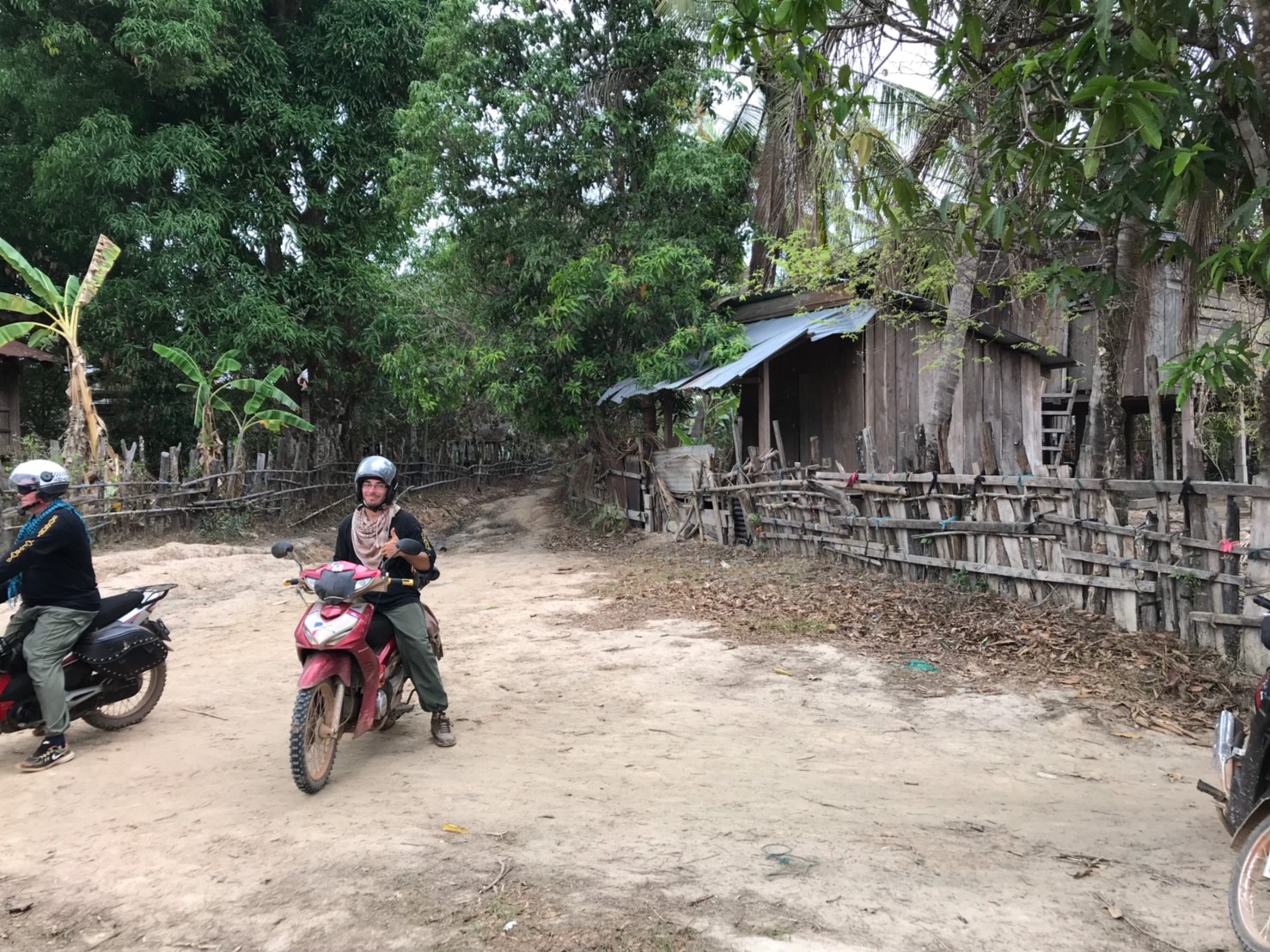 Ramon wearing his earpiece from the portable radio we all had. These proved invaluable in a larger group when it's easy to become spread-out and where in the jungle there can be several tracks all leading the same way and where it's easy to get lost. The battery lasted well over 10 hours and cost only 400bt.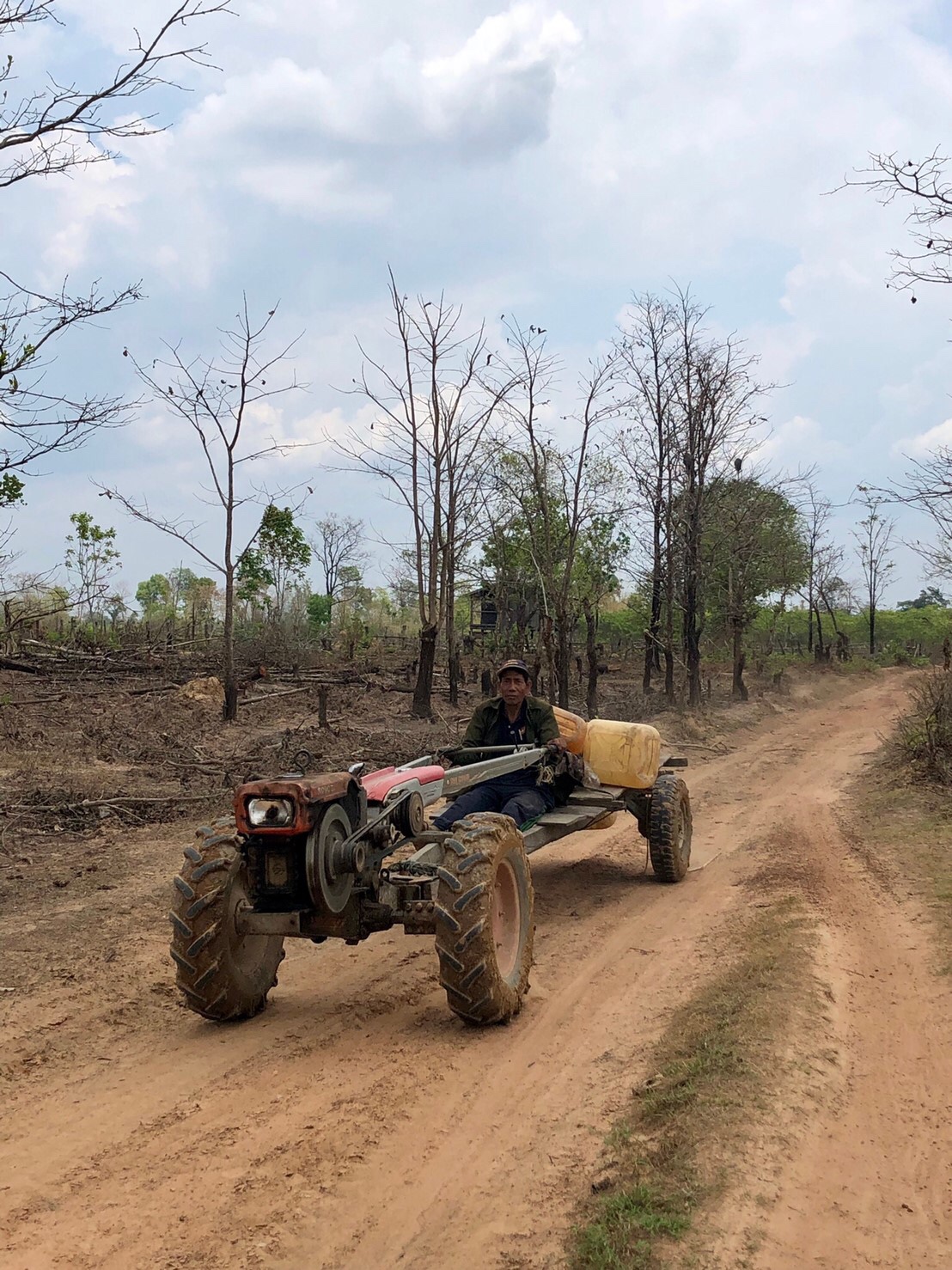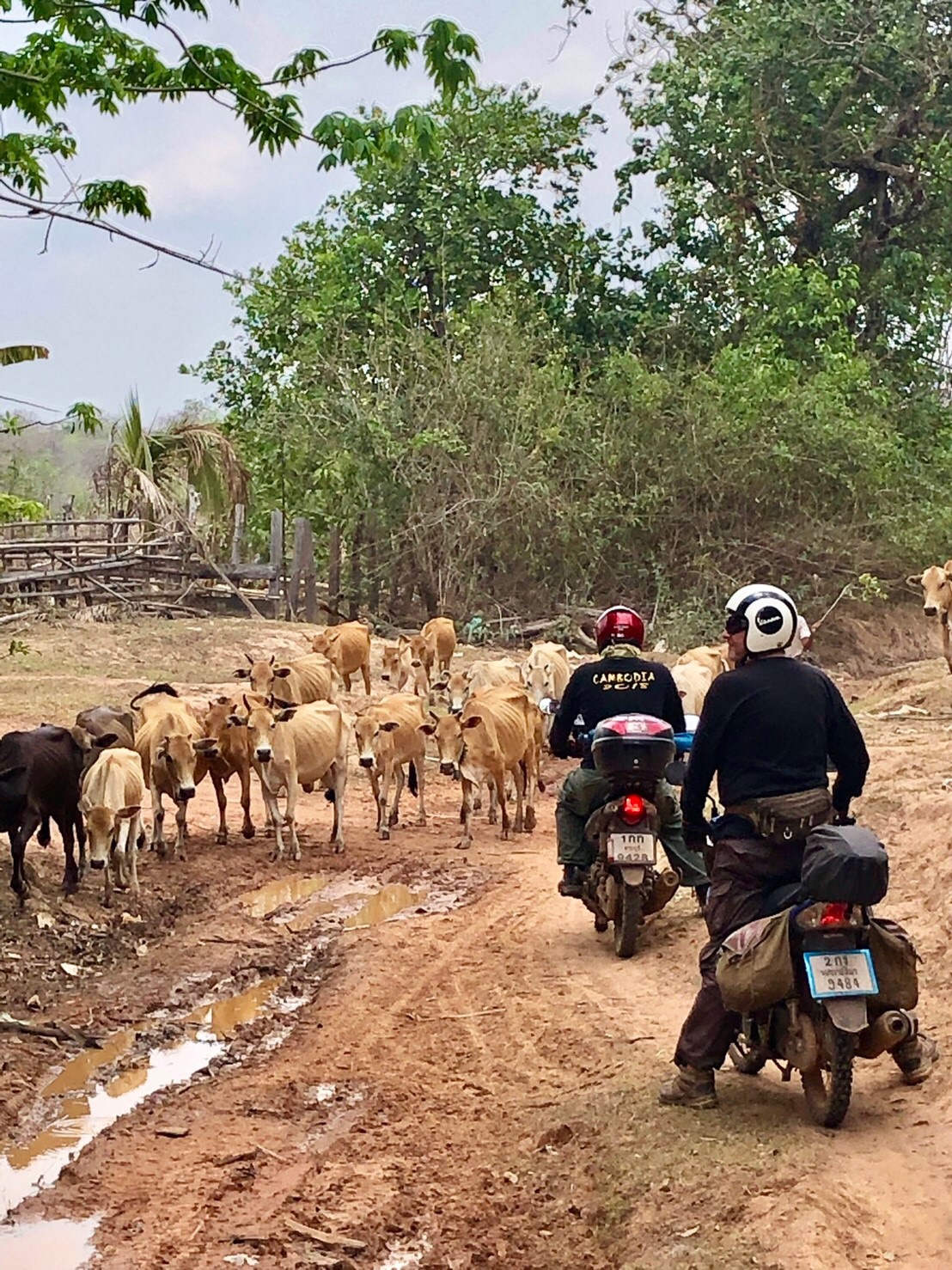 Look at the piece of wood they use as a table, probably worth more than my house!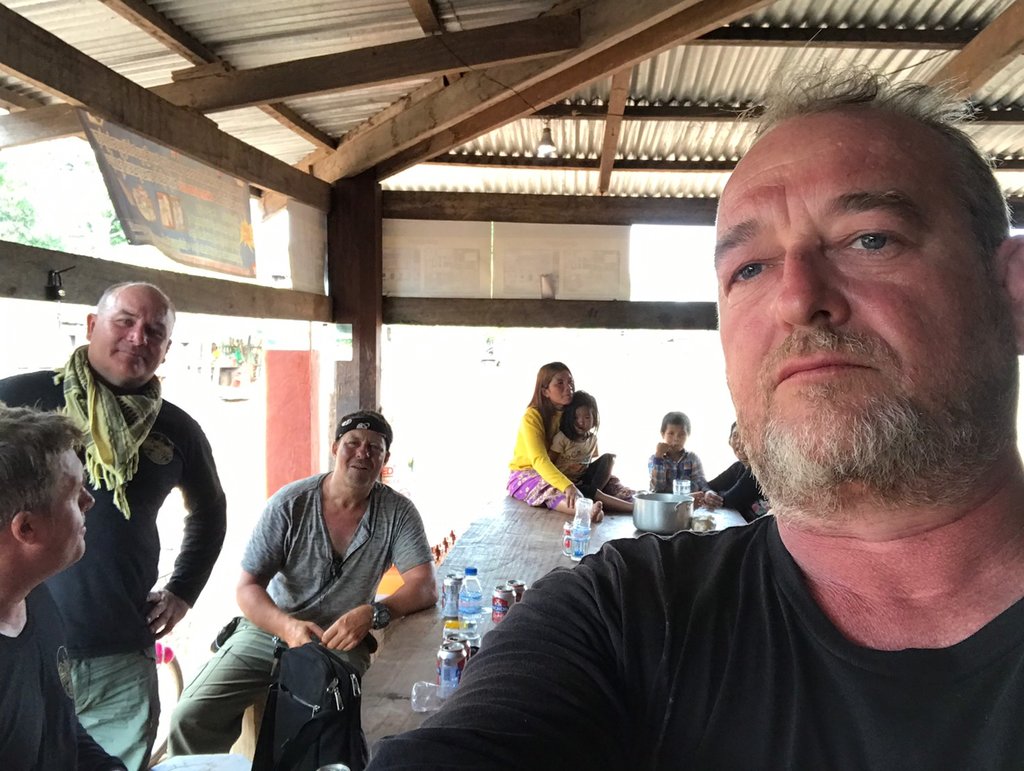 Richard Suzuki taking some battering offroad, but handled it easily.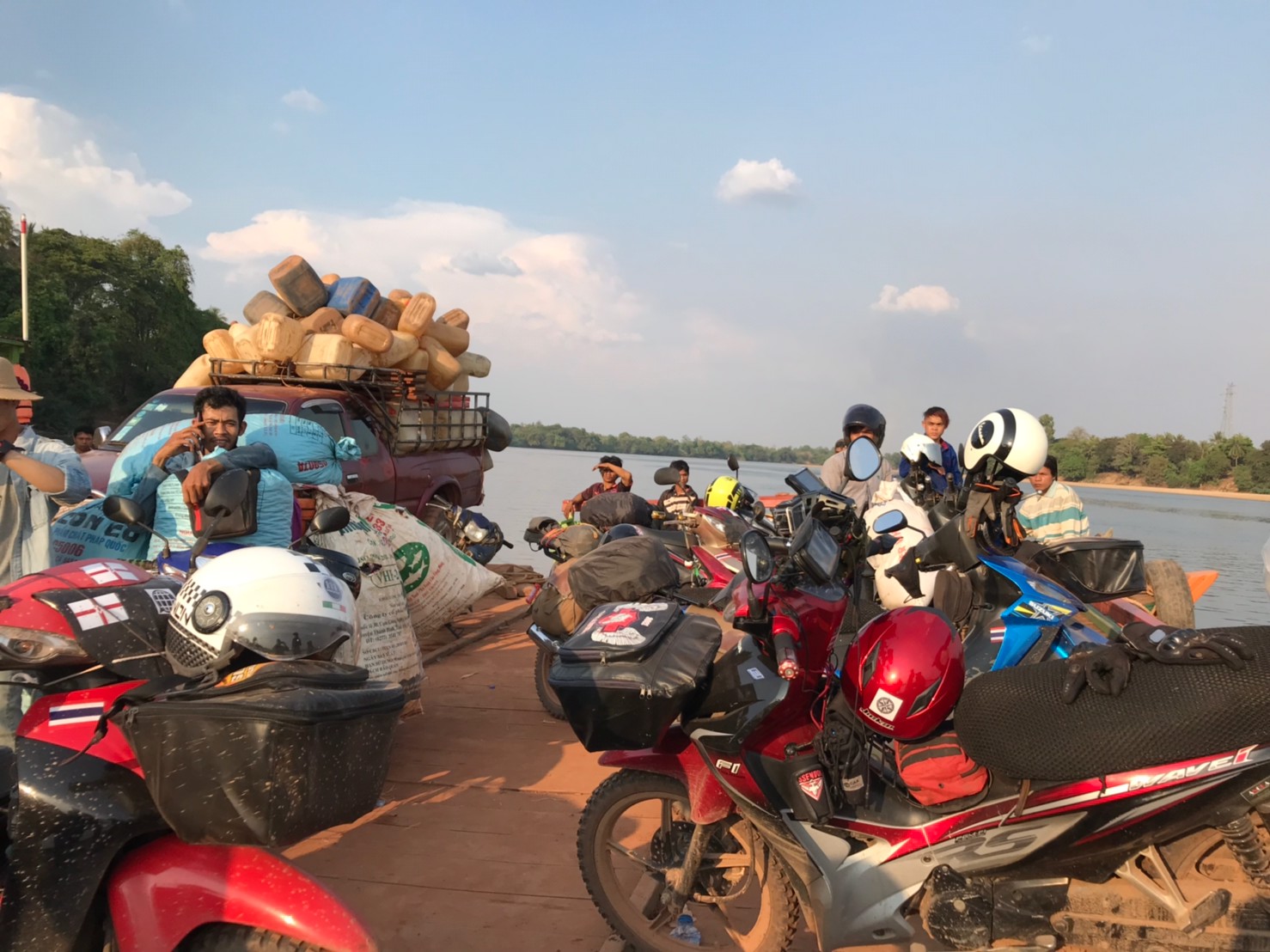 Cambodia 2019 Richard, Ramon, Domanic, Robert, local guy, and myself.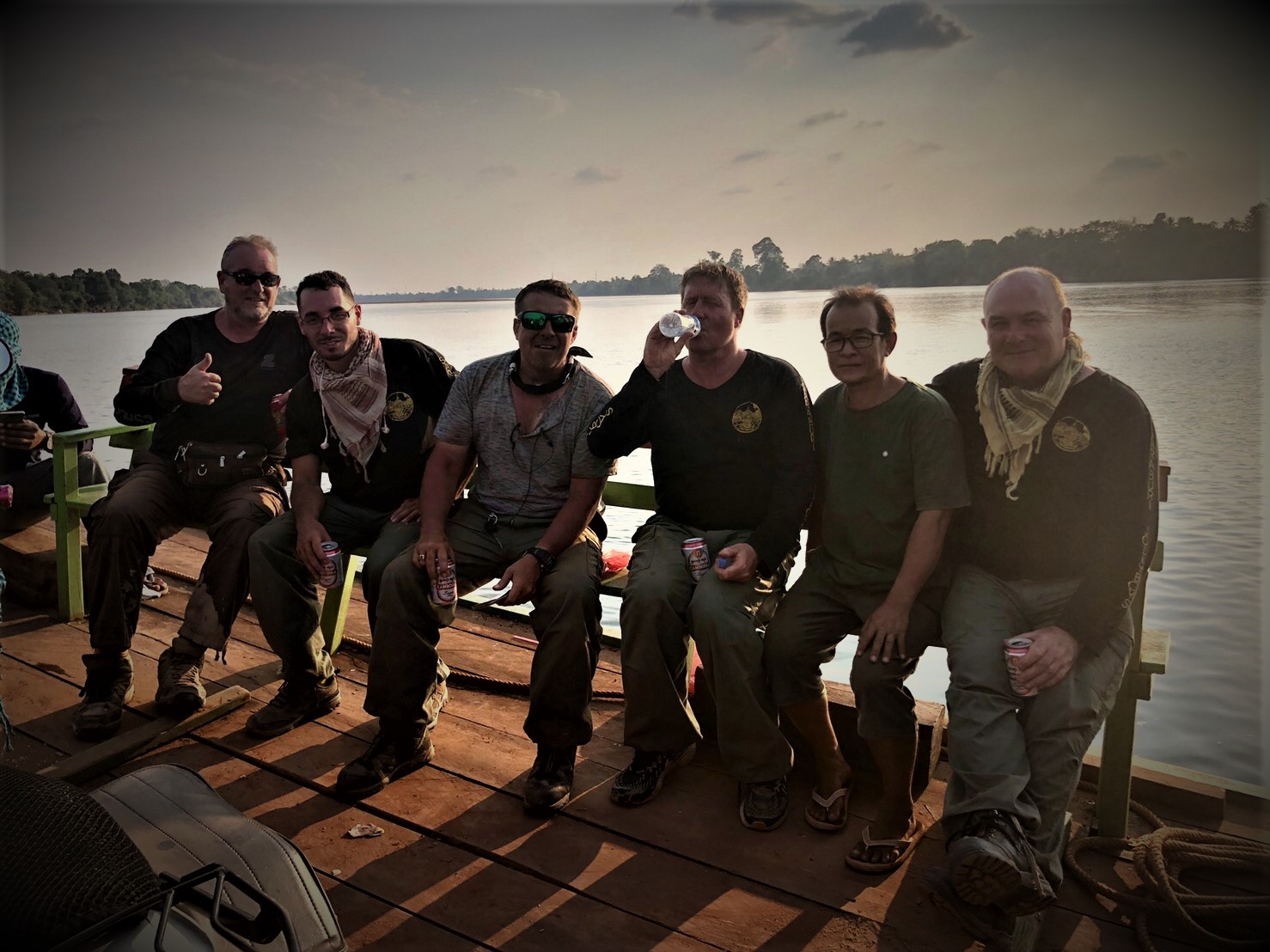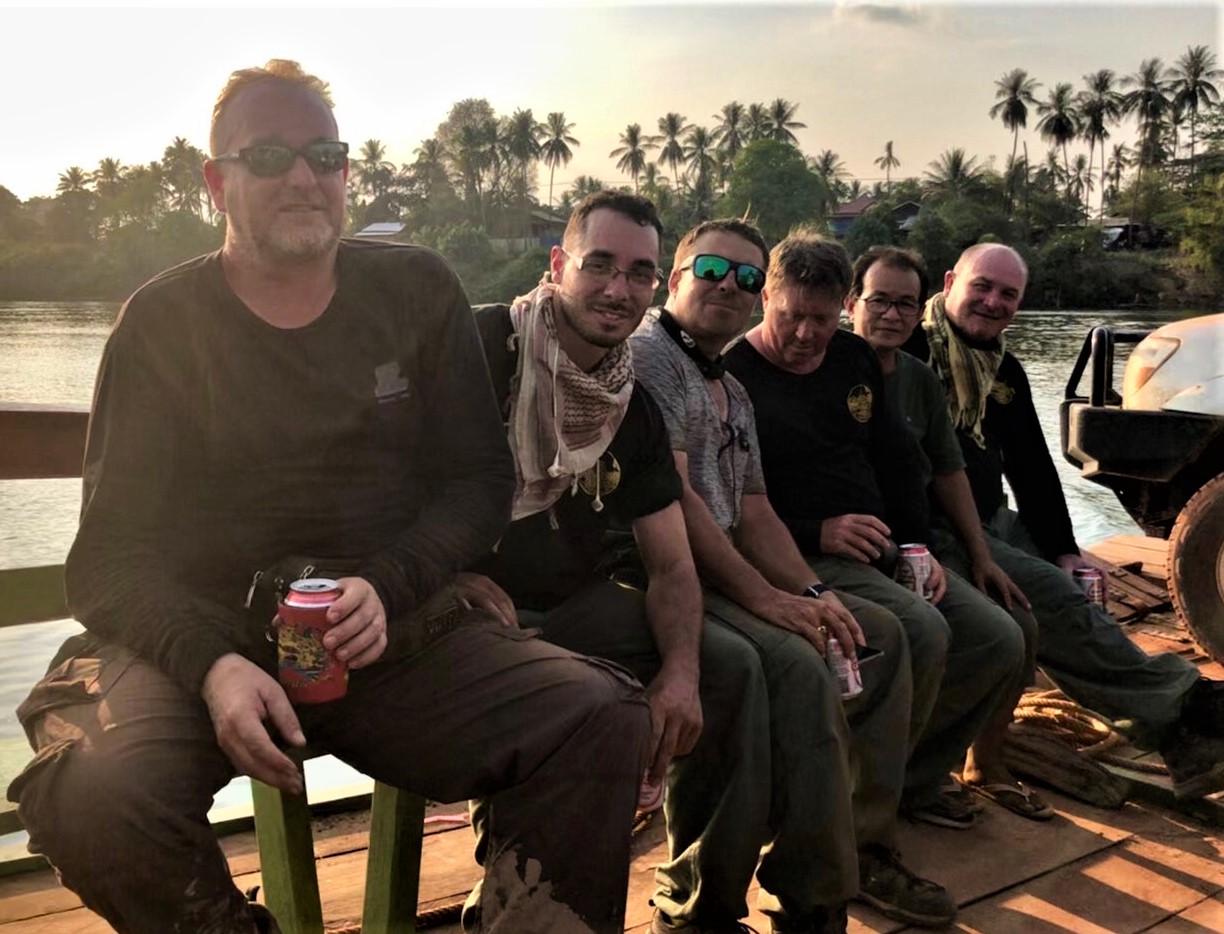 Last few km into Ban Lung for the evening and a hard earned beer and swim.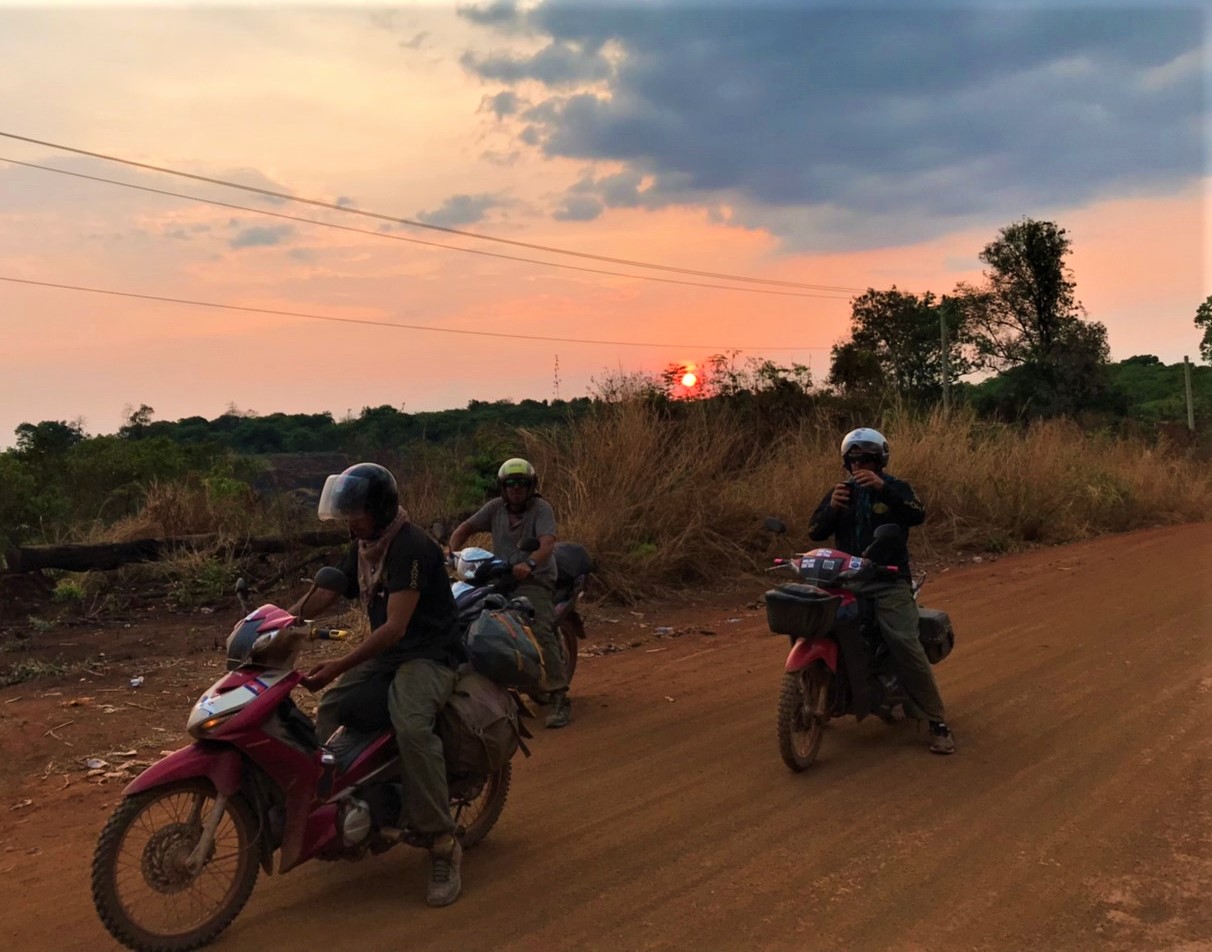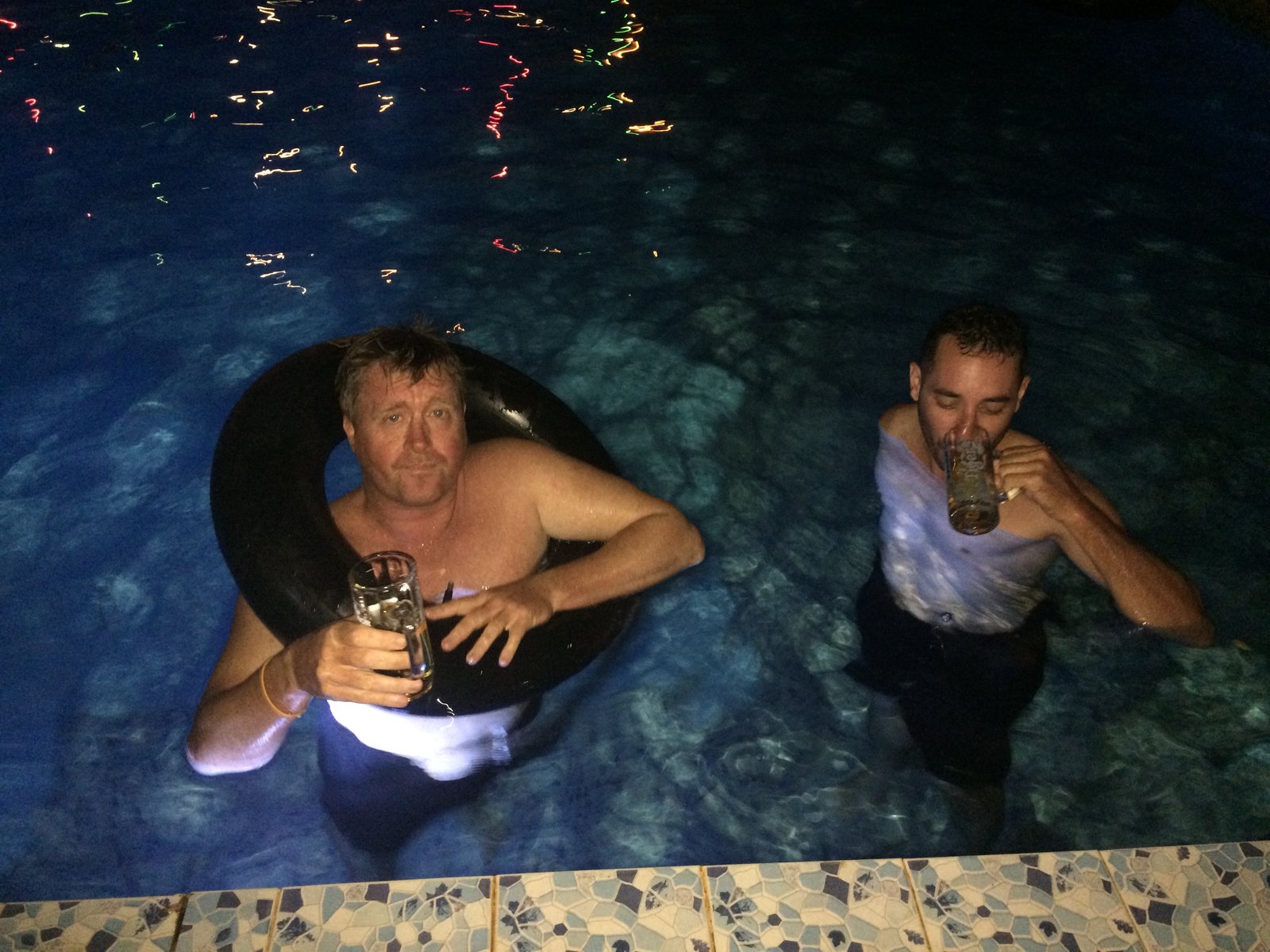 Last edited: