Joined

Jul 1, 2012
Location
Bikes

Honda CRM-AR 250, Honda CRF 250-L, Suzuki V Strom XT 650 Honda XR250 Baja BMW F650GS
Cambodia has long been on my radar, but my attention turned to Laos for many years and as Laos is slowly turning in a Chinese state the trails are rapidly disappearing, it was time to turn my attentions to Cambodia, fortunately for me, my mate Justin had been to Cambodia several times and we both had some free time and hatched a plan to make a tour.
Firstly I must thank
Sean of the Crossroads Restaurant in Nan
,
Dave Scott of Kickstart Cambodia, Paul Goddard of ProMoto
, both based in Siem Reap, their involvement will become clear as the story unfolds and finally
Alex (Bikesncats of RA)
for helping all the later pieces come together and saving my ass.
With my CRF 300L fully prepared I planned to ride down the 980 km stopping at Loei and meeting up with Justin who was shipping his bike down and flying into Surin where we planned to meet up before hitting the Osmach border point.
All packed and ready to go.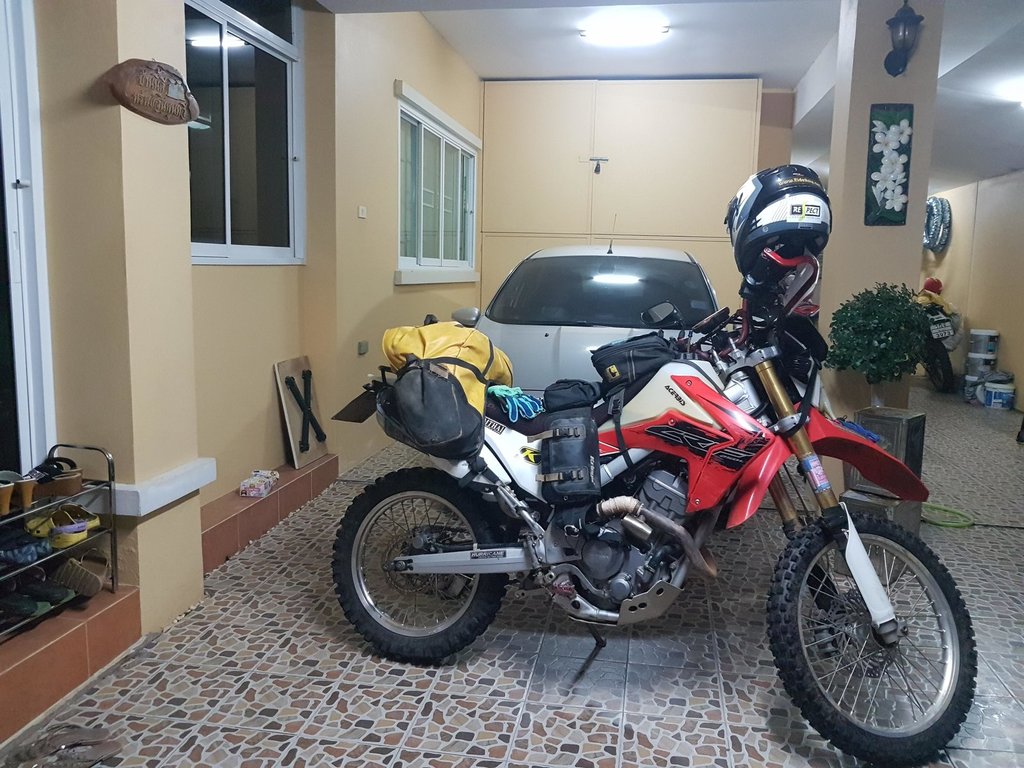 A couple of my mates decided to join me part of the way for the ride and we planned to stop for breakfast at The Crossroads in Nan.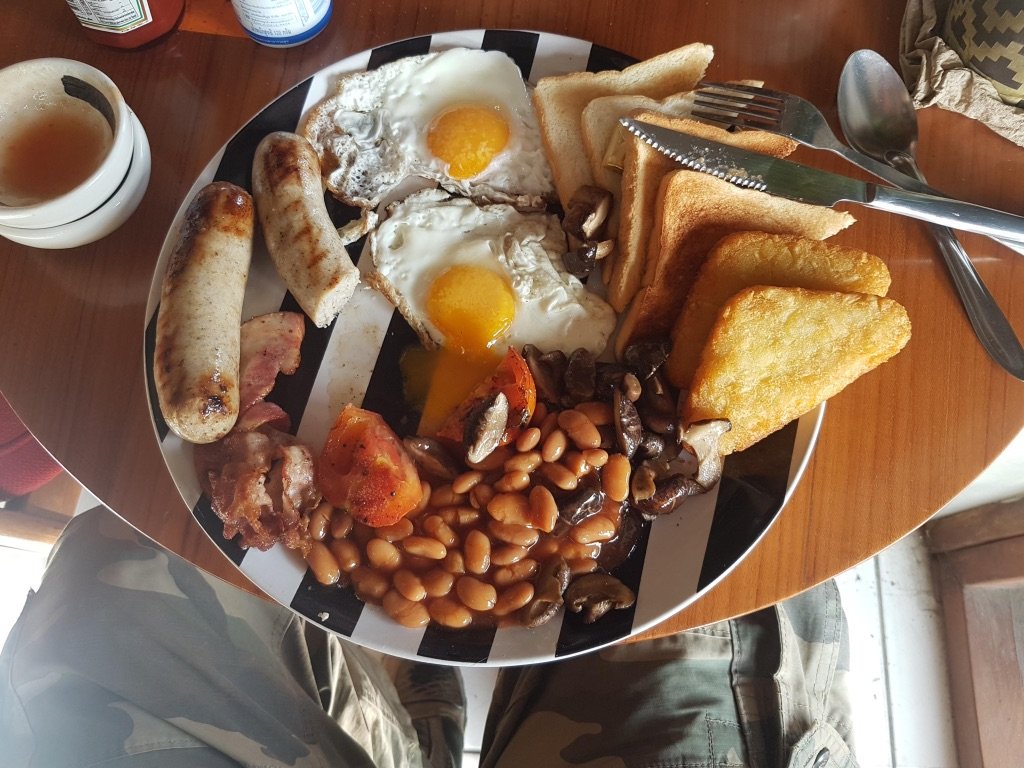 After a hearty breakfast it was off to Loei, or so we thought my bike was starting to splutter as if it had a fuel issue, when I pulled over it failed to start but would push start, thinking maybe it was an airlock the fuel cap was stuck fast when removed the issue remained. This continued for a few km and I then decided maybe best to head back to Nan and seak mechanical help.
Suddenly smoke spouting from the exhaust I pulled over, clearly my bike was terminally ill and I needed recovery, contacting Sean @ The Crossroads he quickly obtained a pickup to take me back to Nan.
We went to a local mechanic who said it would need parts from Bangkok and would take at least three days to arrive in Nan, this was not an option as Justin was already on his way to Surin for a meetup. Contacting the fool who did my engine upgrade in Chiang Rai (Boy Service) he told the Nan mechanic to simply put in a new spark plug and ride the bike back to Chiang Rai, what a complete tosser !!
Sean came to the rescue again and contacted one of the Al Capone MC club who was will to take me and the bike back to CR that evening, finally arriving home at around midnight it was time for a rethink.
My only option was to bring my XR 250 Baja into service and hastily pack for the mornings ride South, stopping at my local mechanic to grab what spares he had in stock and make my way to Loei.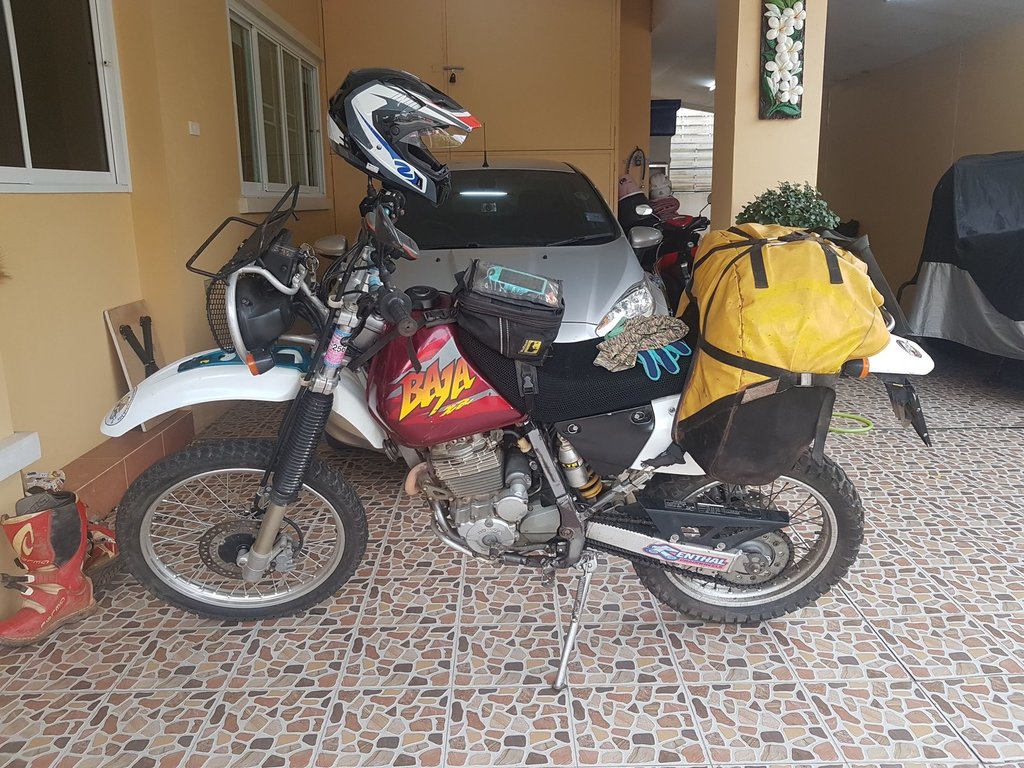 My XR is 25 years old but has been dependable but an air-cooled bike taking this distance was going to be interesting so I decided to take mostly the highway route to Loei, arriving at the Grand Muang Thong very late afternoon I was relieved that all the previous back luck was behind me but I was mistaken.
I had never ridden with my GL bag on the XR before and in my hast to pack and get underway, I failed to notice the silencer on the XR does not have a heatshield ( although I did have a spare one at home) I checked into my room with a strong burning plastic smell following me.
Yes, you guessed it my bloody bag was on fire !!!!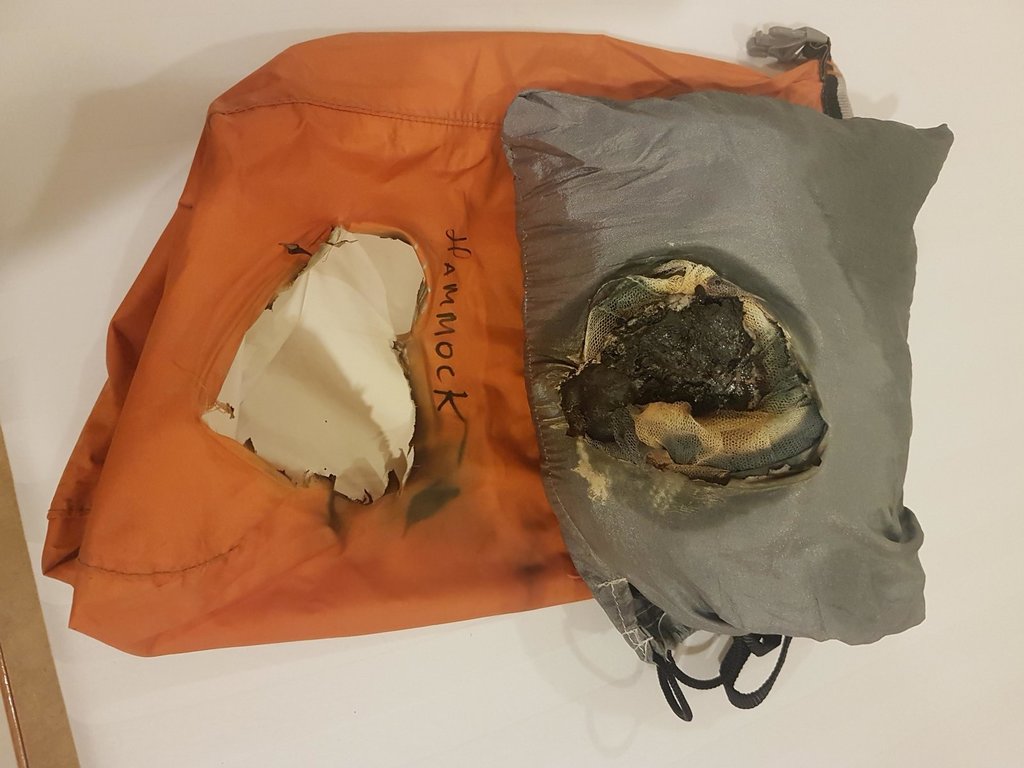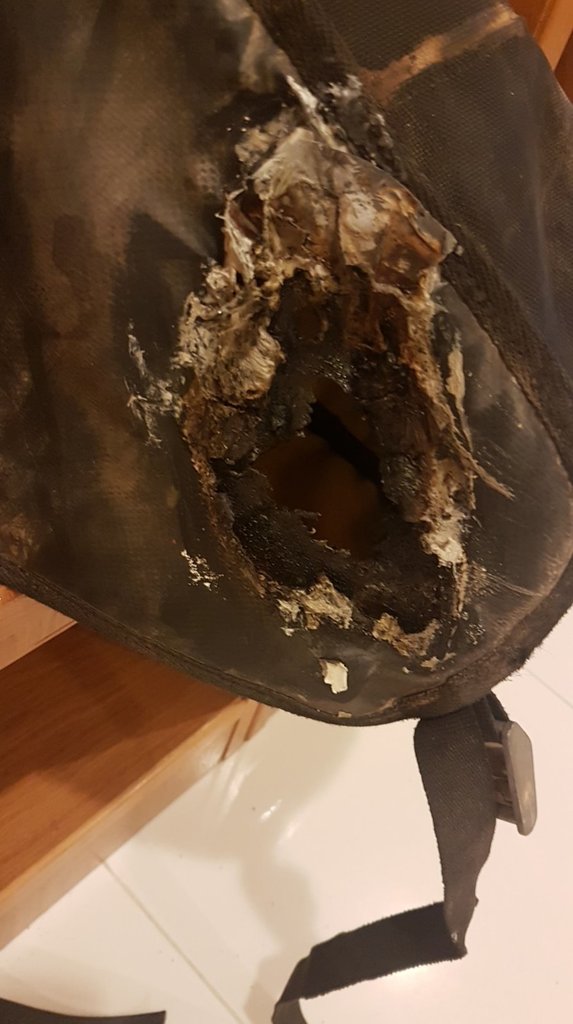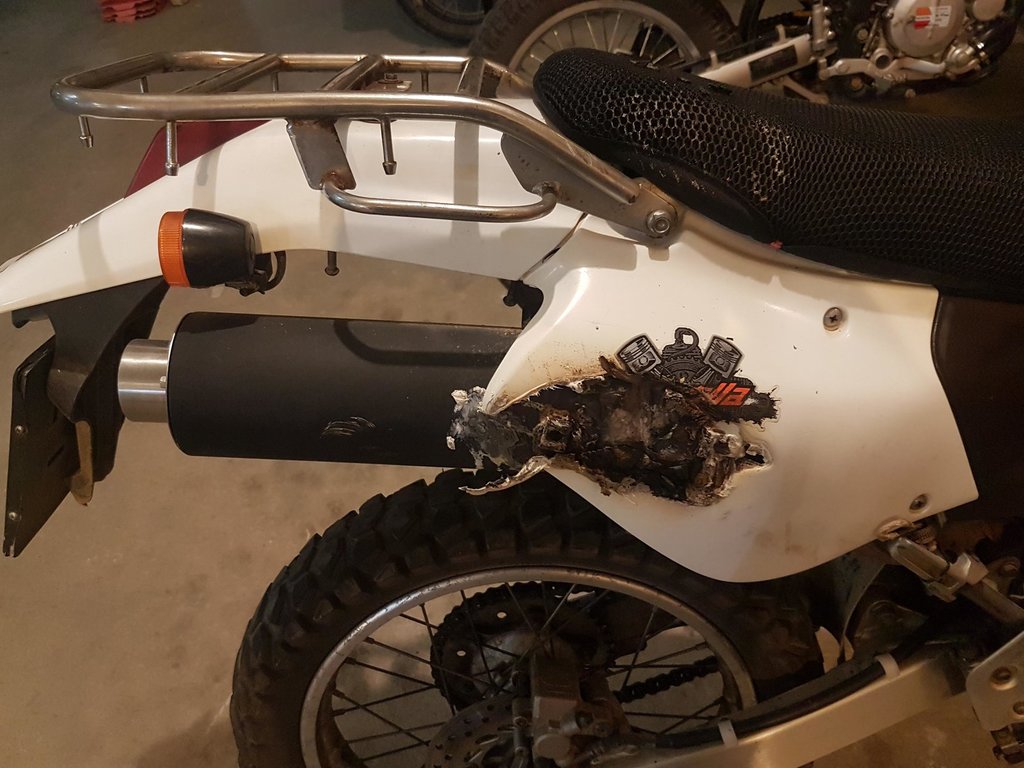 Fuck me this trip was becoming a test in more ways than one, my bag had a bloody great hole in it, my hammock was screwed and we hadn't even started to tour. That evening meeting up with Steve Coupland and my mates I considered turning back and calling it a day.
After several beers and some delicious food at the Loei Kabab Plus
Loei Kebab Plus
run by a local expat, it was time for bed and another rethink.
Not to be outdone waking early (not that I had much sleep breathing burned plastic in my room all night) I headed off for a solution for a heat shield problem, eventually, a Castrol bike point came to view, often a source for many an on the spot repair. This place was a bloody gold mine it had everything, honing machinery lathes you name it, the owner took a glance at the bike and it was quickly wheeled off into the bowels of the shop.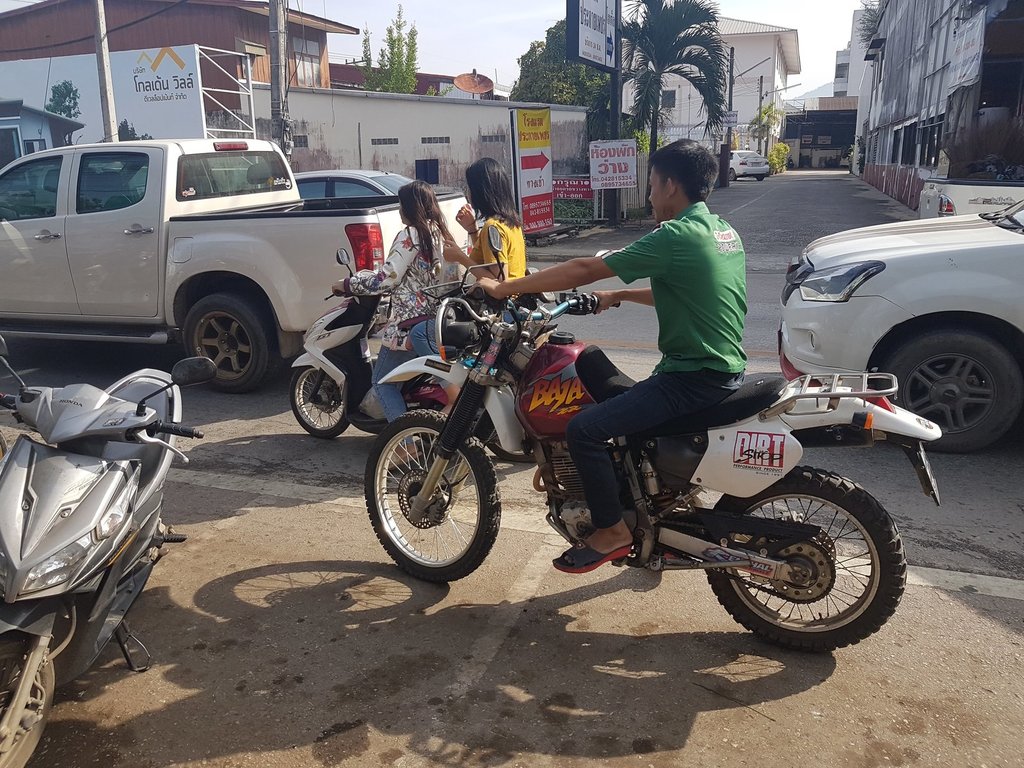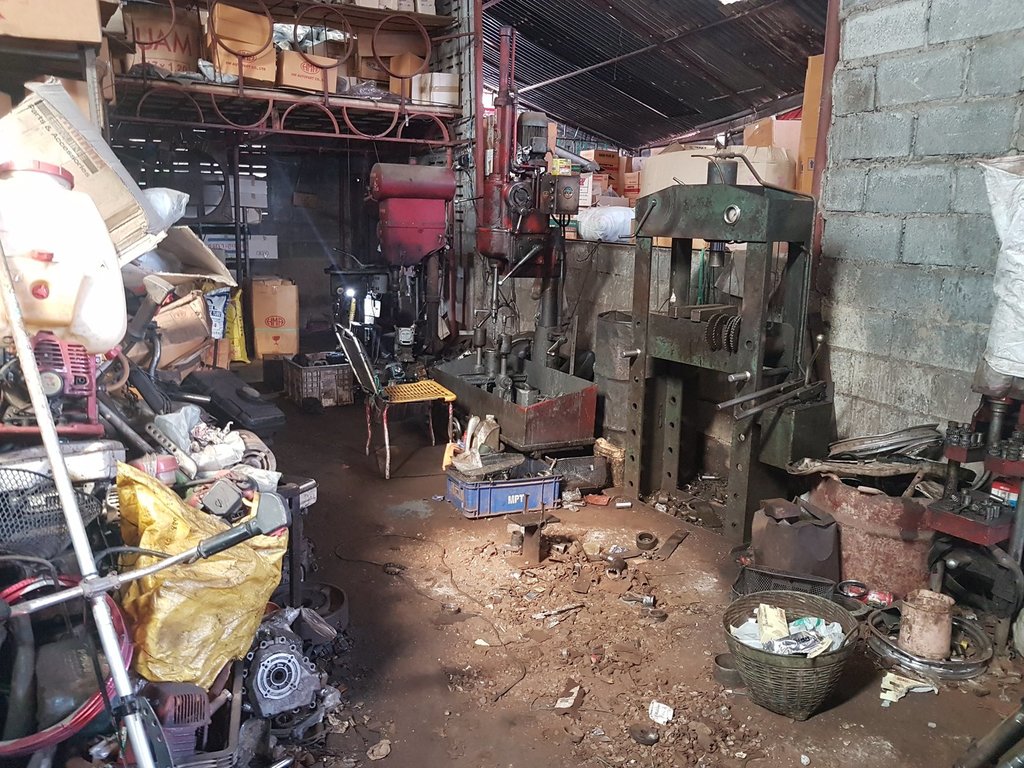 Not exactley beutiful but it did the job.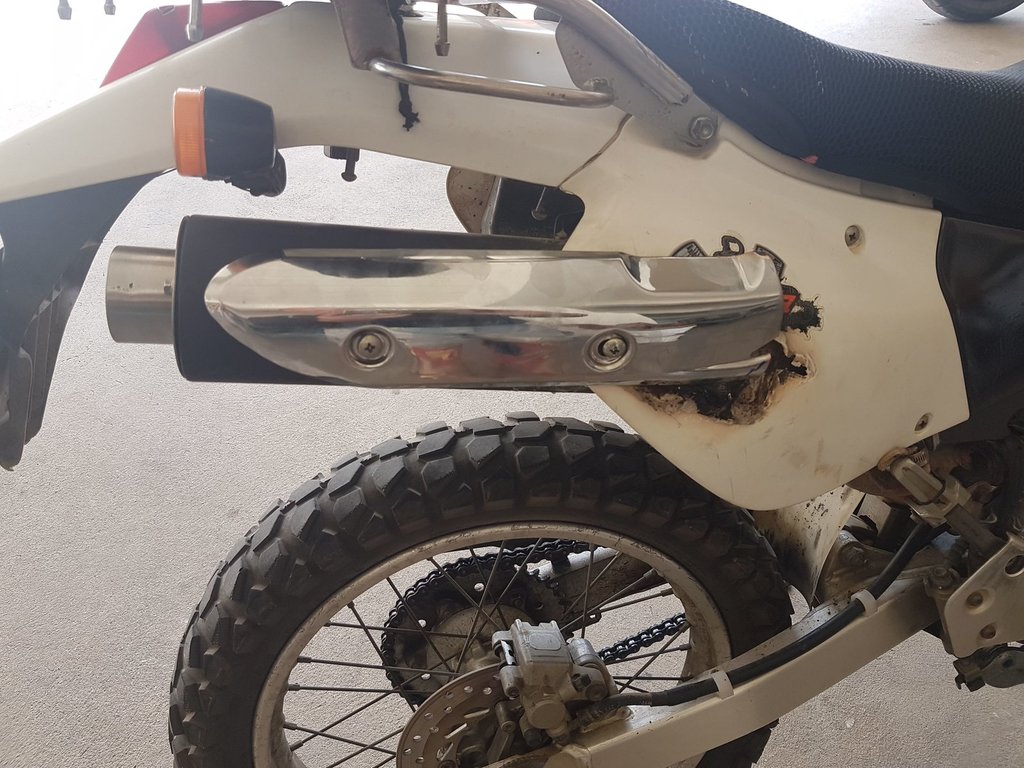 Soon after I found an army shop and snagged a new hammock, good to go and off on the road to Surin. Phew.....
Exhausted I arrived in Surin in darkness to meet up with Justin who as it turned out had his own issues, his bike had not arrived until later the same day, Justin wheeled my bike off with a new set of tyres I had already had delivered to the Gun Hotel whilst I scrubbed up and get them mounted.
We had a great evening at the Beach bar in Surin but my bed was calling me pretty soon and hoped all the drama was behind me.
Super comfy beds at the Gun Hotel N14.88705° E103.50108°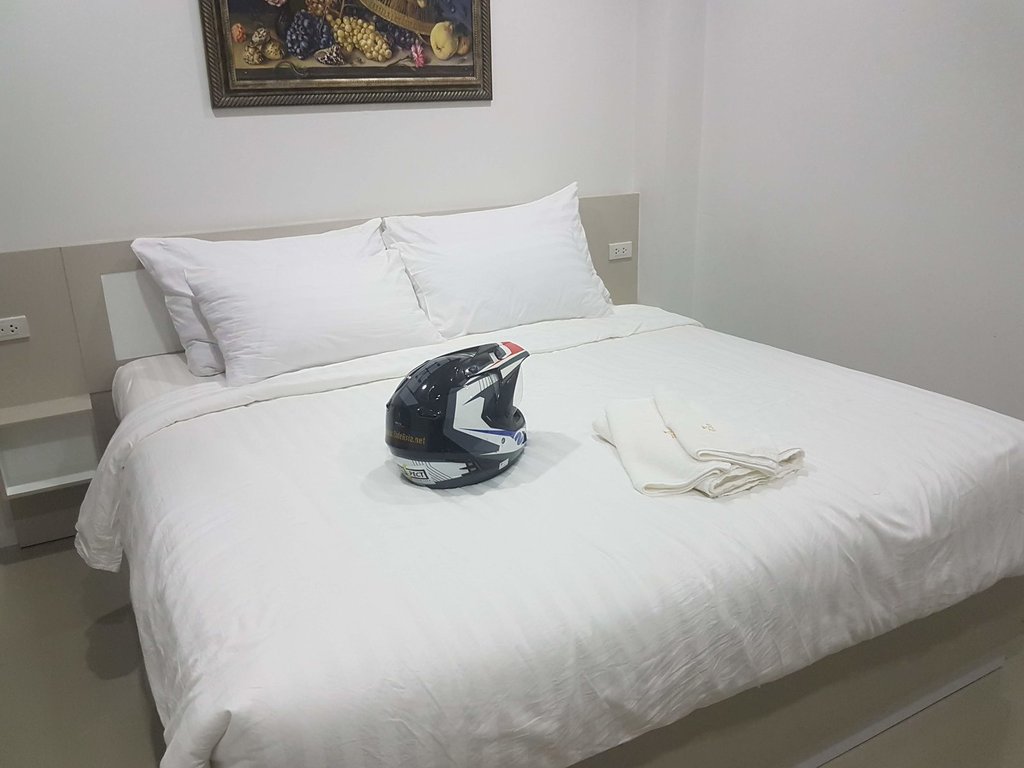 Finally the next morning the journey could begin.
Stay tuned the story continues...........