Senior Member
Staff member
Joined

Aug 15, 2012
Bikes

KTM 613 EXC, BMW R90S & Dakar, MZ250, Norton 16H, Honda - 500 Fs & Xs, DRZs, XLs XRs CRFs CT110s etc
We last rode this area two days before Christmas. Two months on, we found it very different. A large storm had been through and we got mightily blocked in many places.
So, Friday 26 Feb, three of us set off from Rider's Corner at 10am - having seen a road ride group off to Nan half an hour earlier. It was Justin, Deere and myself doing this dirt ride. Justin and I on CRFs and Deere on one of the newly-shod DRZs. Saw a couple of interesting bikes / cars on the way out of town. Gotta love the denim skirt on a motard look - especially with the coal scuttle helmet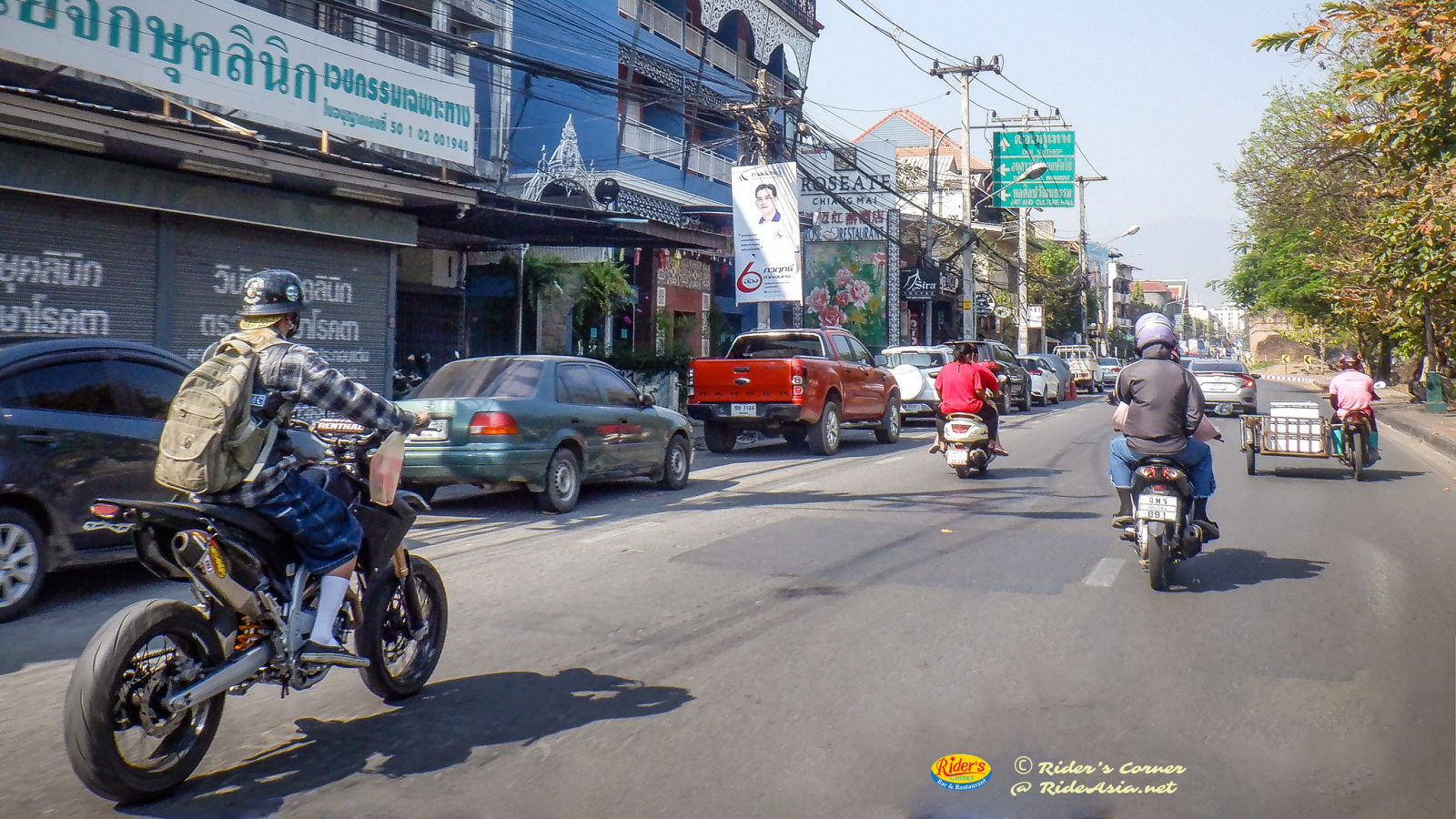 Even the scooters were faster than the Ferraris on the 1317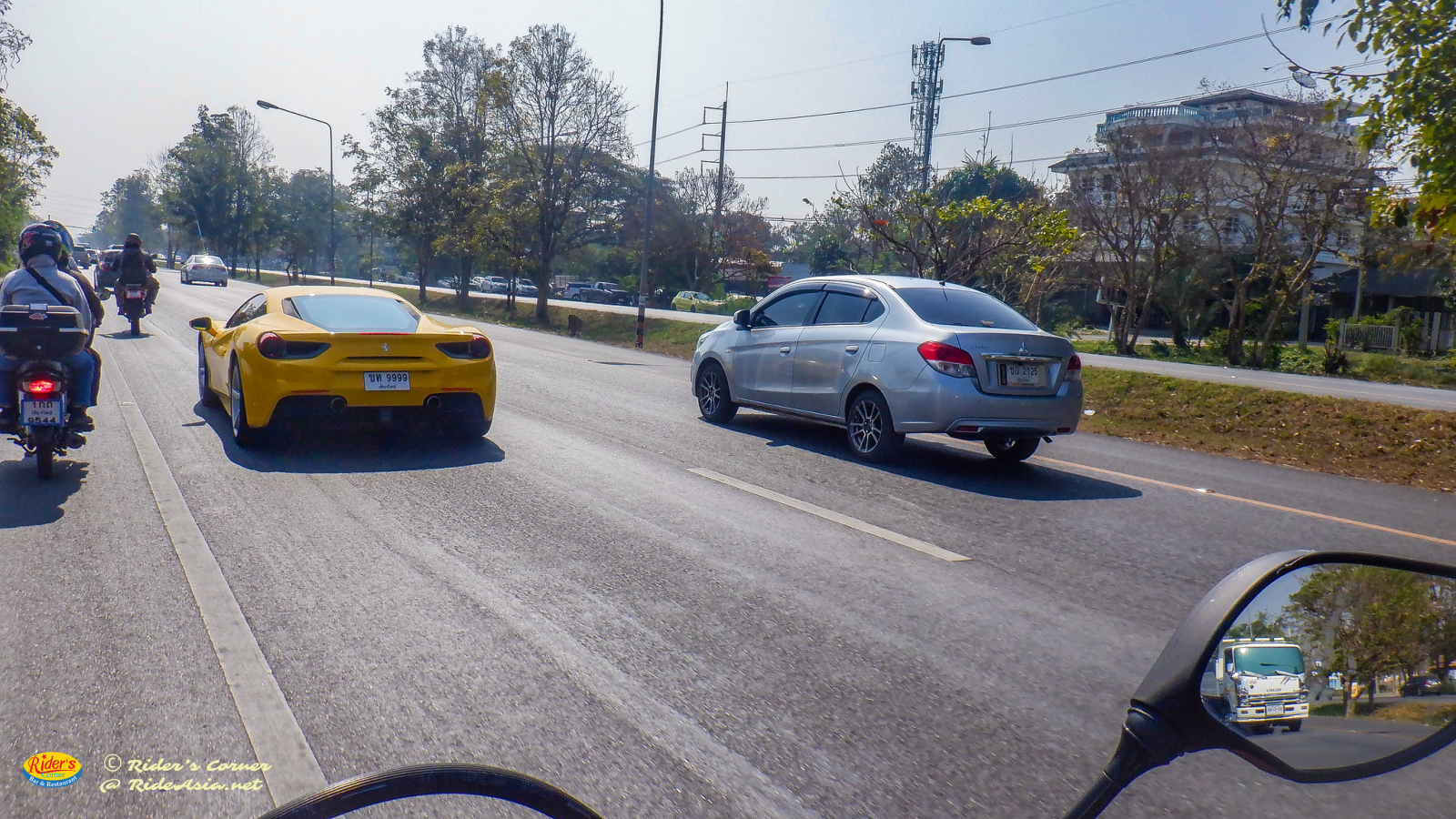 With Deere blasting off into the distance. Does look nice in yellow though, eh?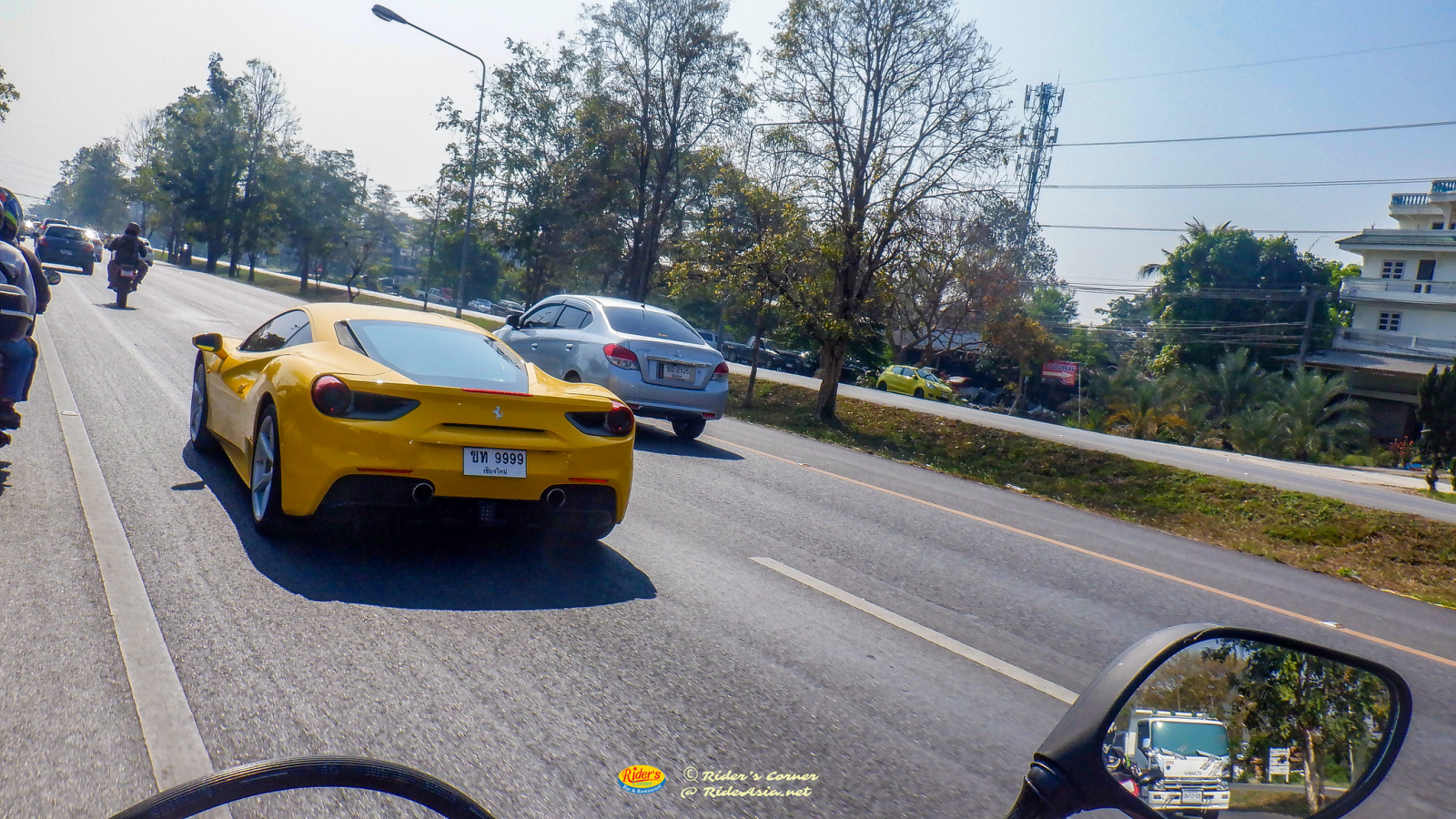 Could this be a Lamborghini?... raging bull and all
Onto the dirt - tyres down to dirt pressures and away we went. We explored a little way down a side trail. It's shown on the map as a dead end but I suspect it may go around the mountain. Another day, maybe.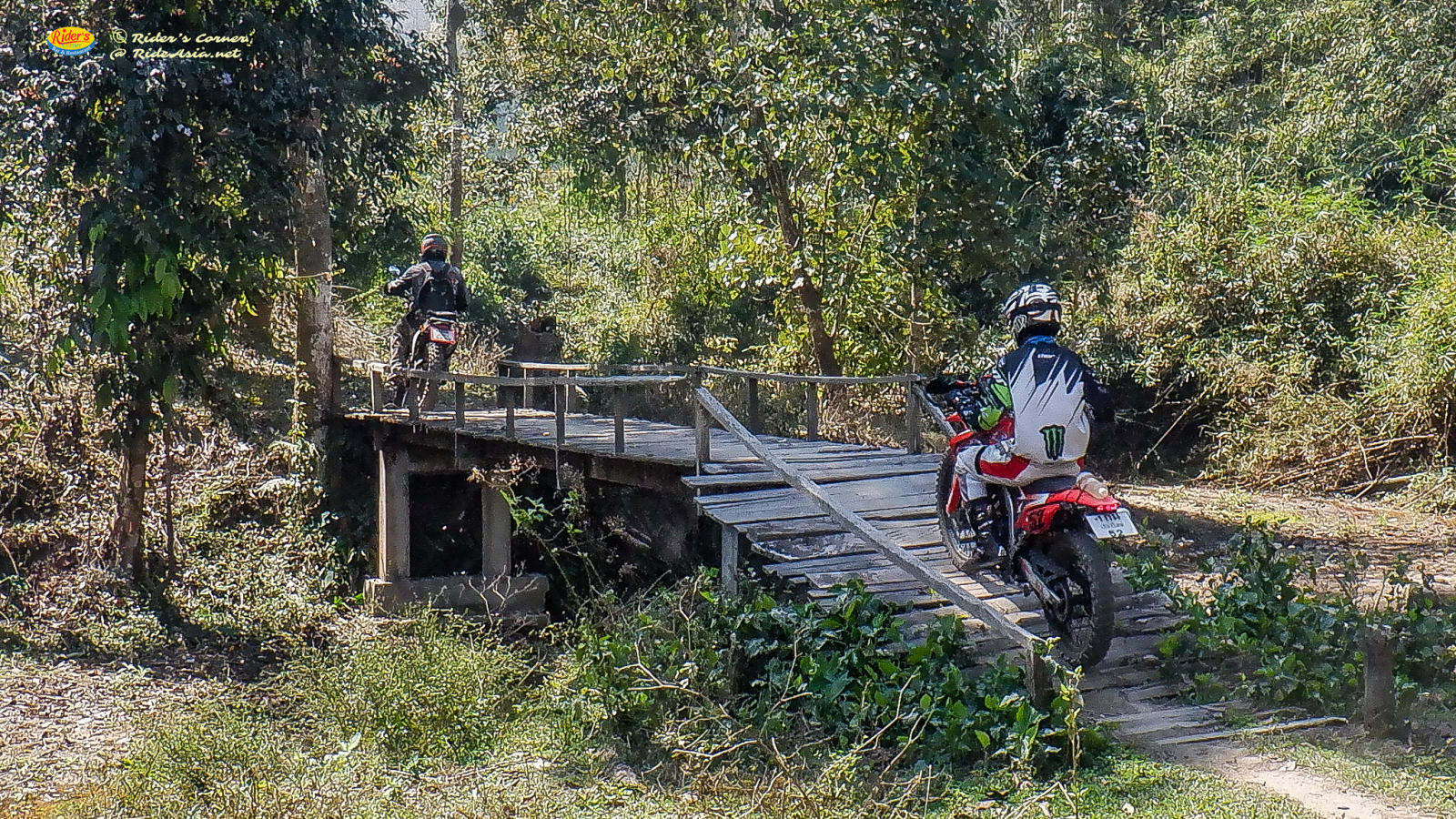 Back onto the trail we know....
Given the amount of leaf litter on the trail, I suspect we may be the only people using it at the moment
On the way up, we were starting to encounter blockages from a storm. No biggie... just go around - but there was no evidence of anyone else having gone around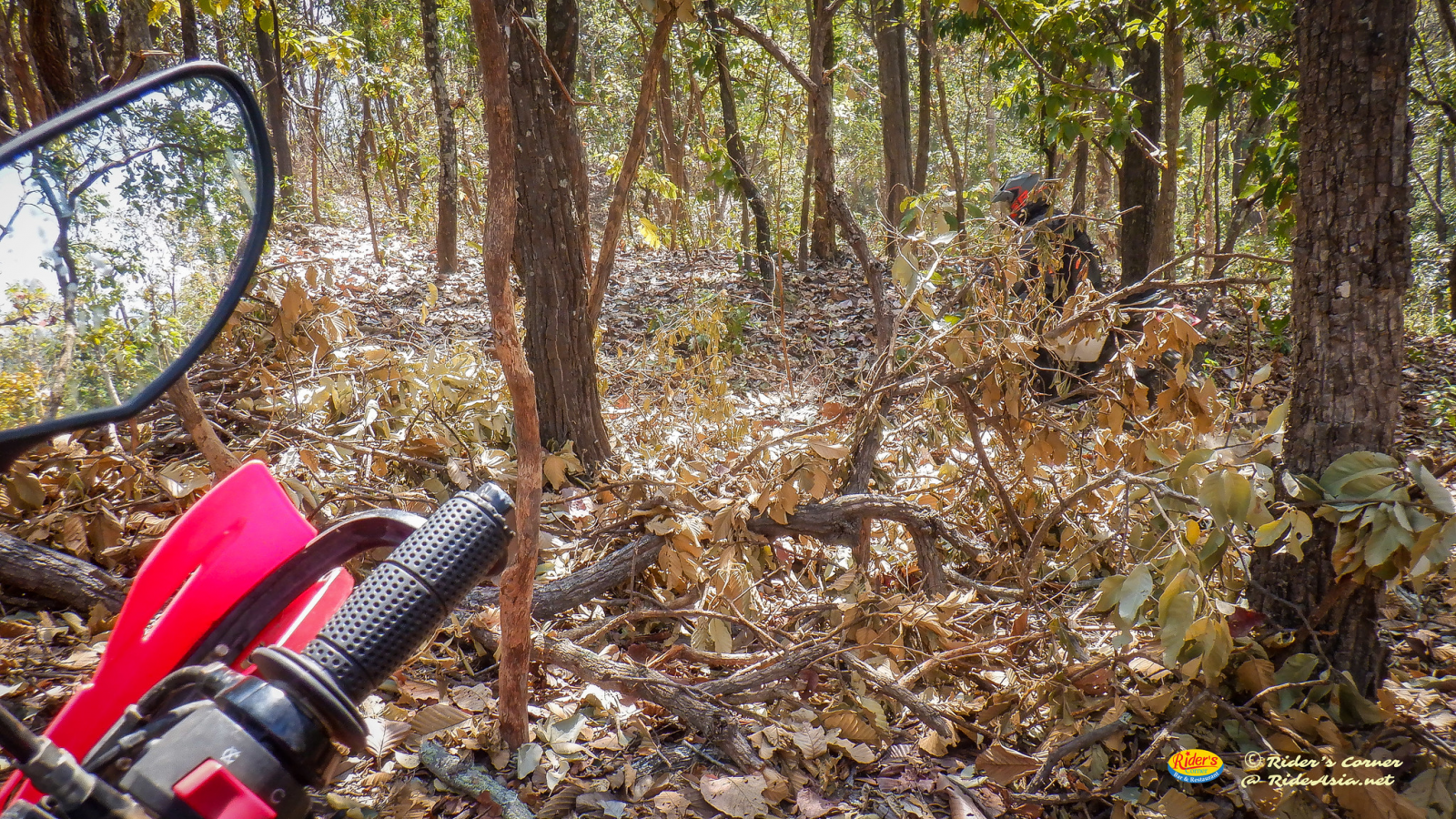 Its steeper than it looks, of course, but the CRFs were good for it. The DRZ made an easier meal of it though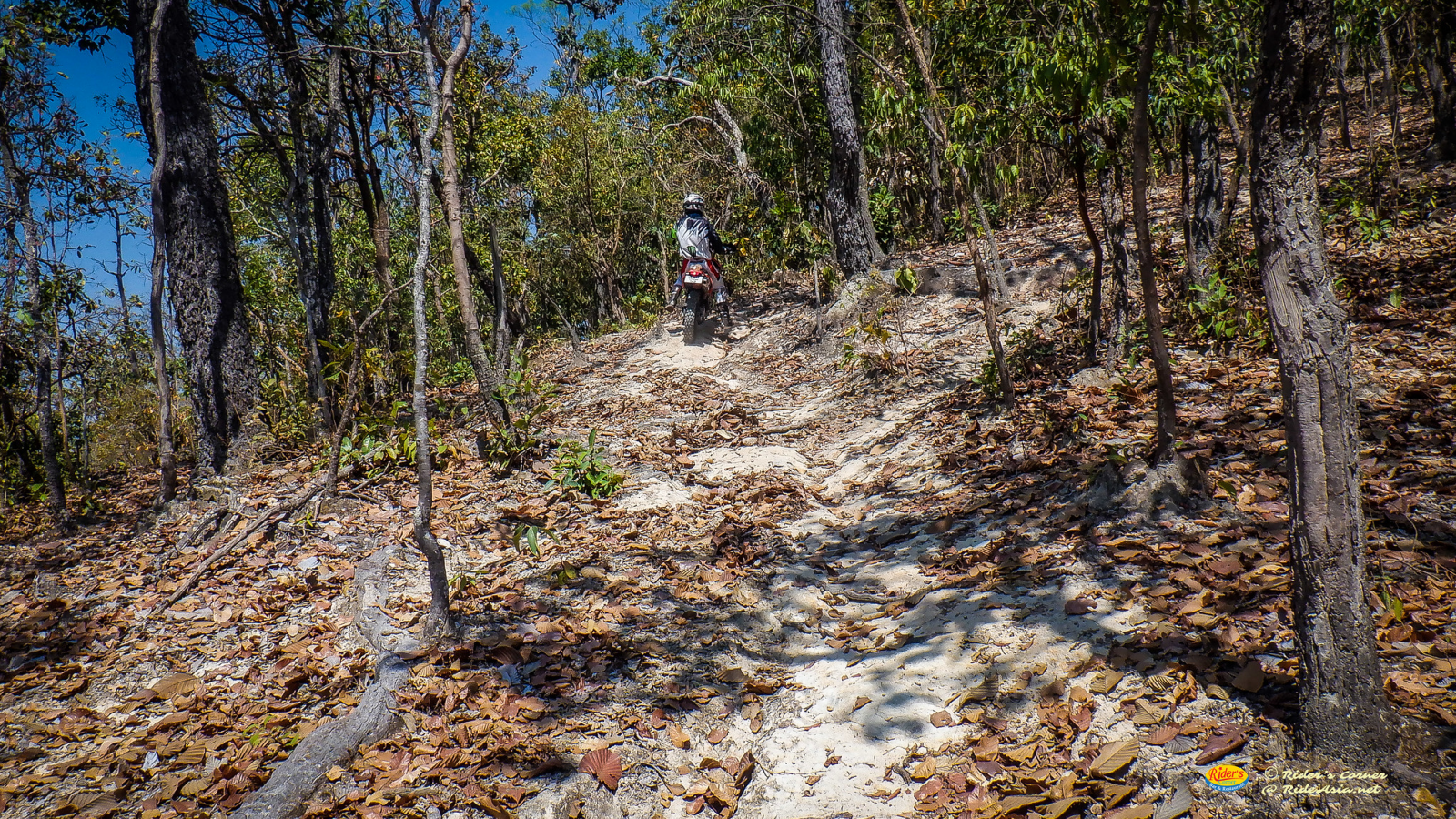 although you wouldn't know it, looking at the rider

Onward and upwards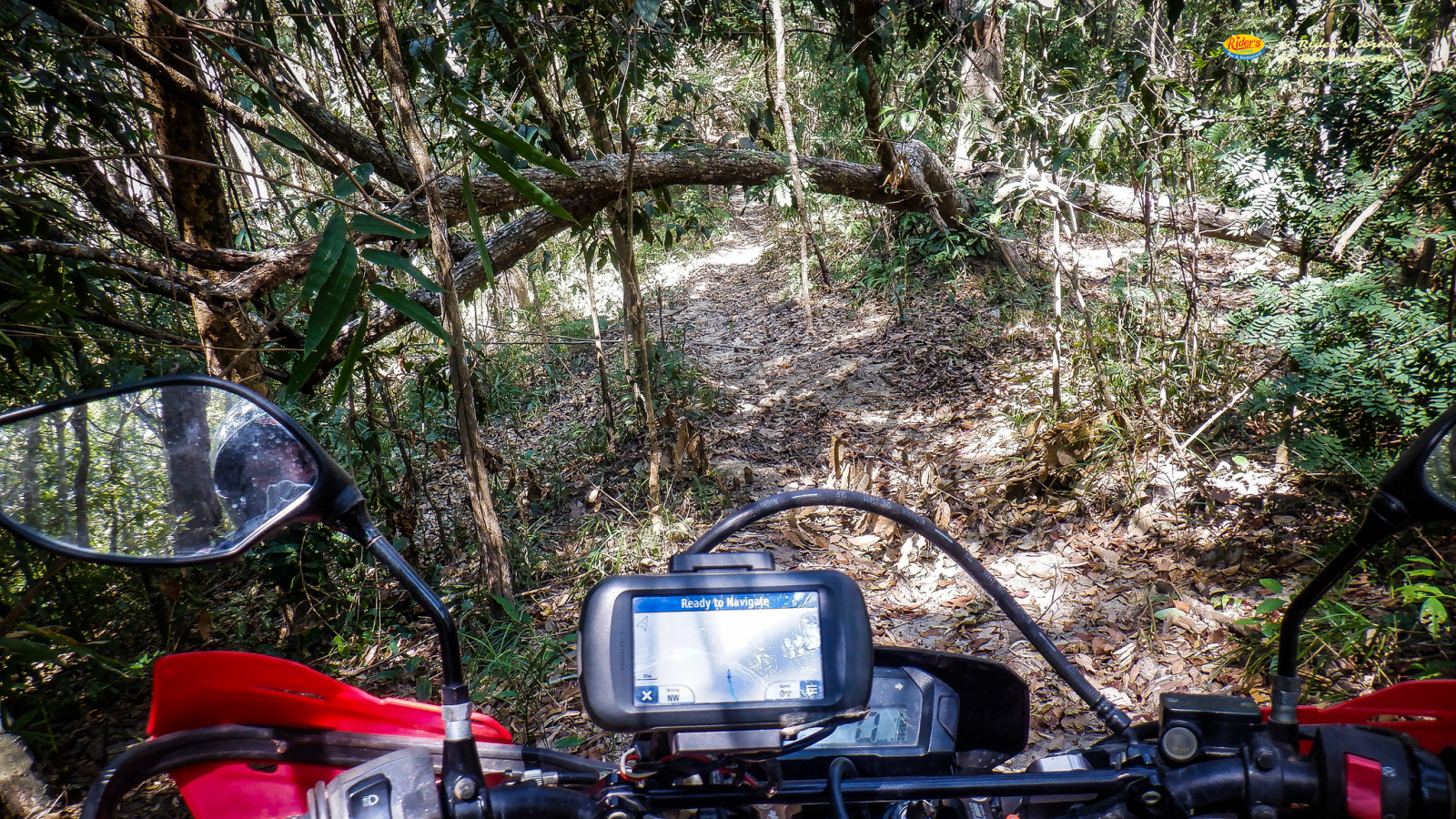 That got us through the singletrack into the small village. This time, the coffee shop was open. How much trade they do is a mystery... being at the end of a narrow concrete road to nowhere.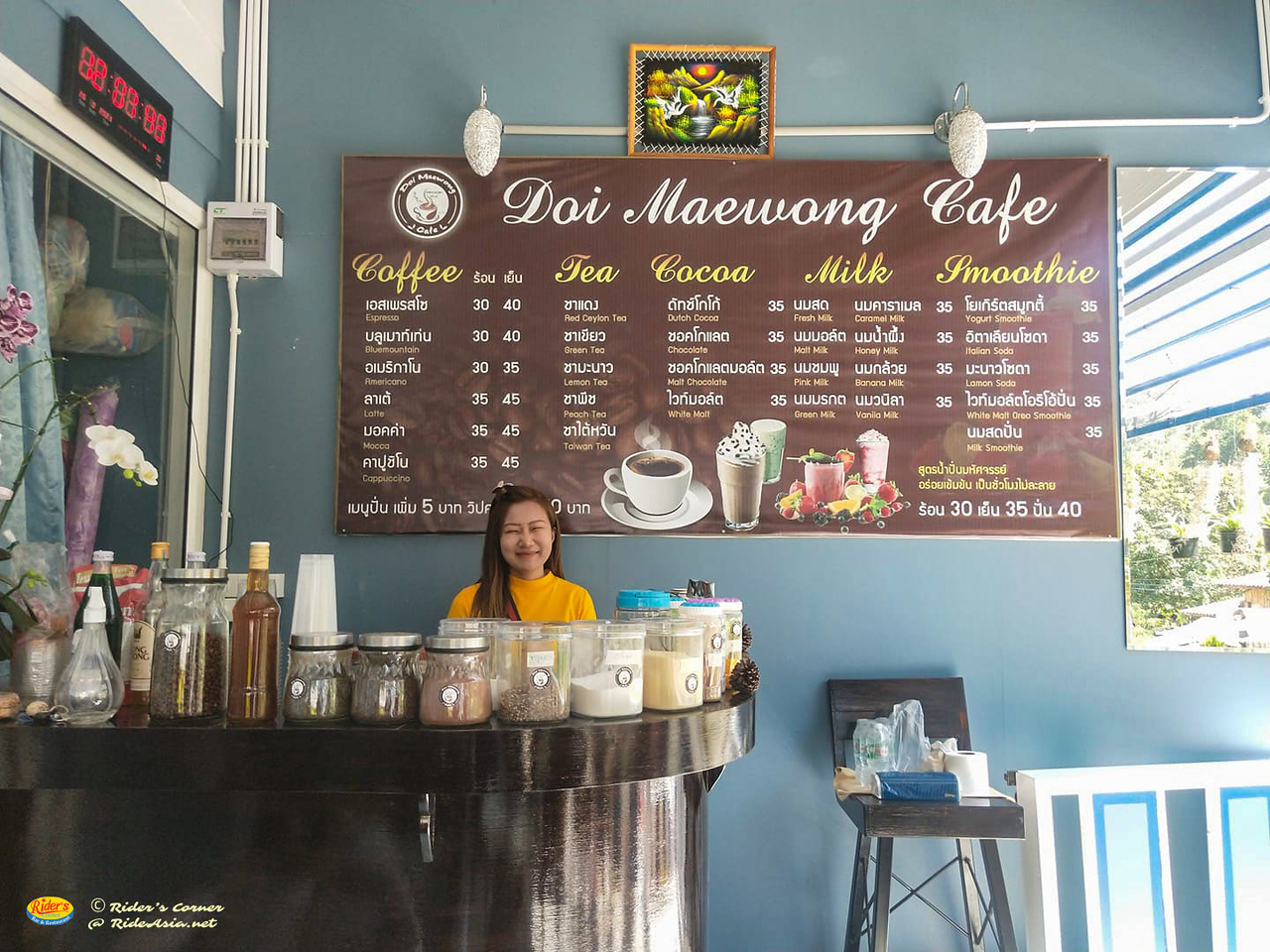 We headed out on the dirt towards Ban Pa Miang. That's when the fun began.
What's this? The source of Chiang Mai's smoke problem? Just cooking, methinks.... There was no sign of any burning until we got back onto the main roads. This was their lunch fire
With just a couple of km of dirt to go, we struck trouble
Two trees totally blocking the track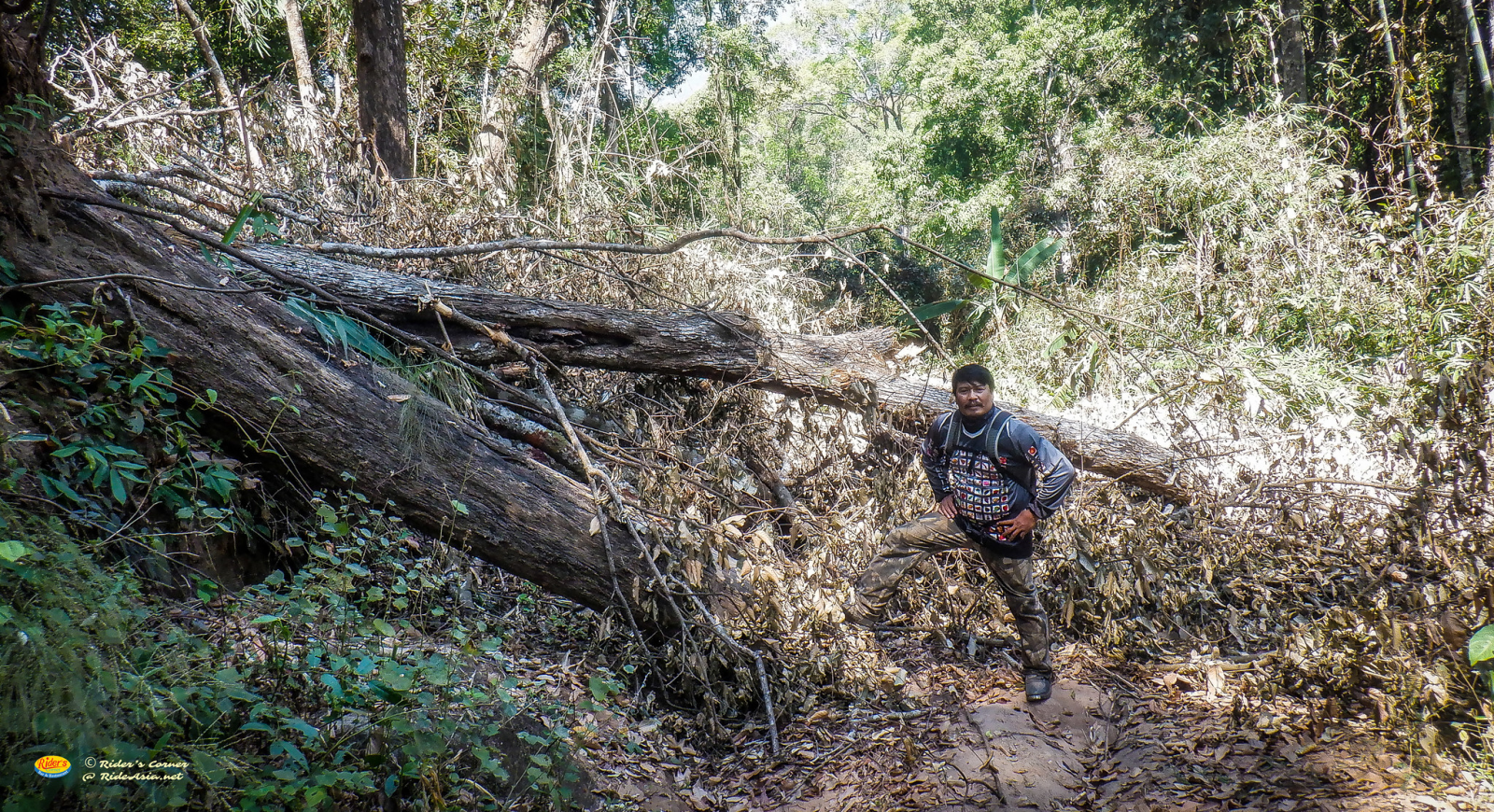 Too steep either side... so, u-turn - back to the last junction and go the other way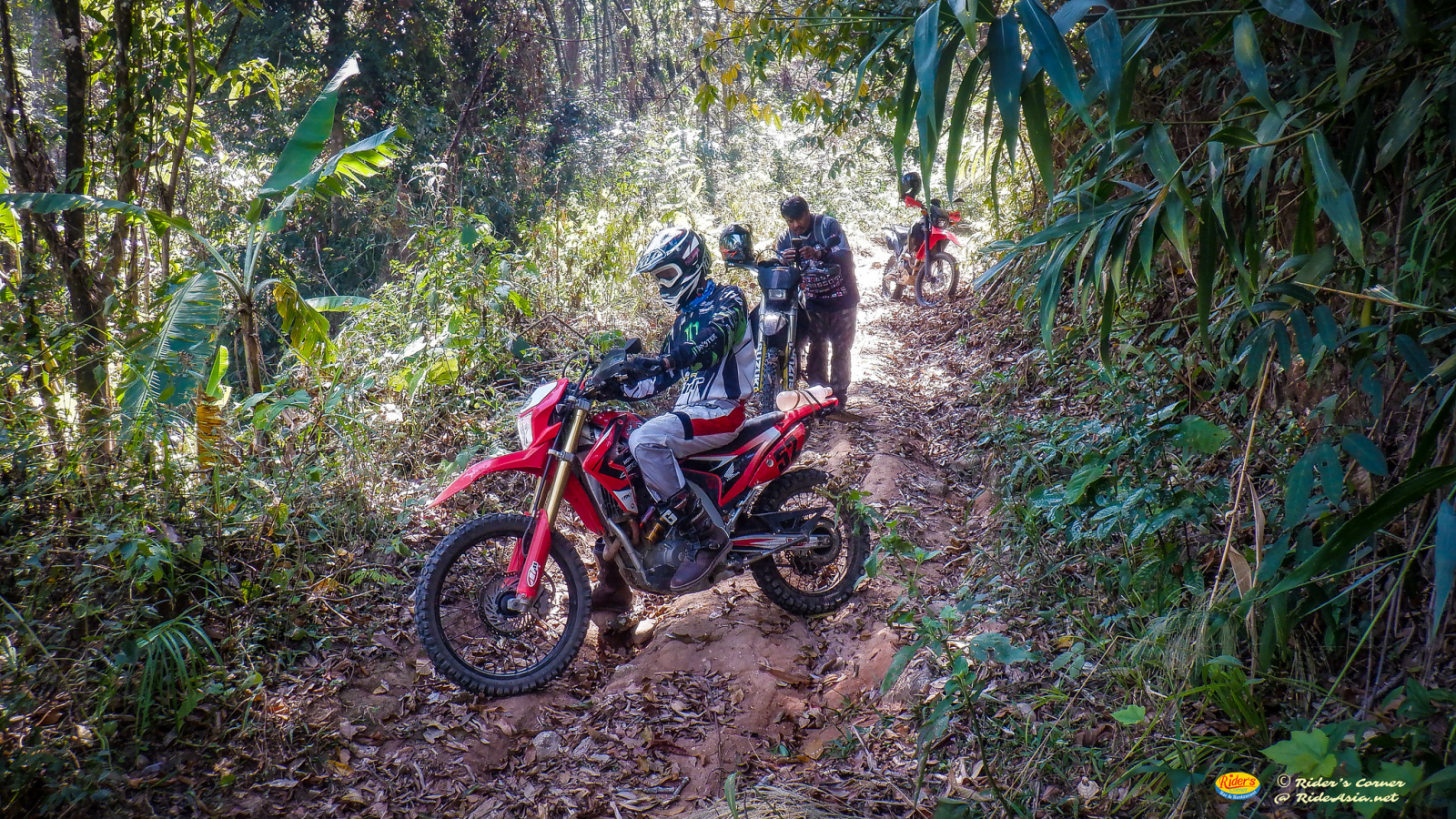 Look at that GPS. So near, yet so far
Plenty more storm damage. Must have been a real microburst - the damage was a narrow swathe - but, of course, the track swung around and crossed it multiple times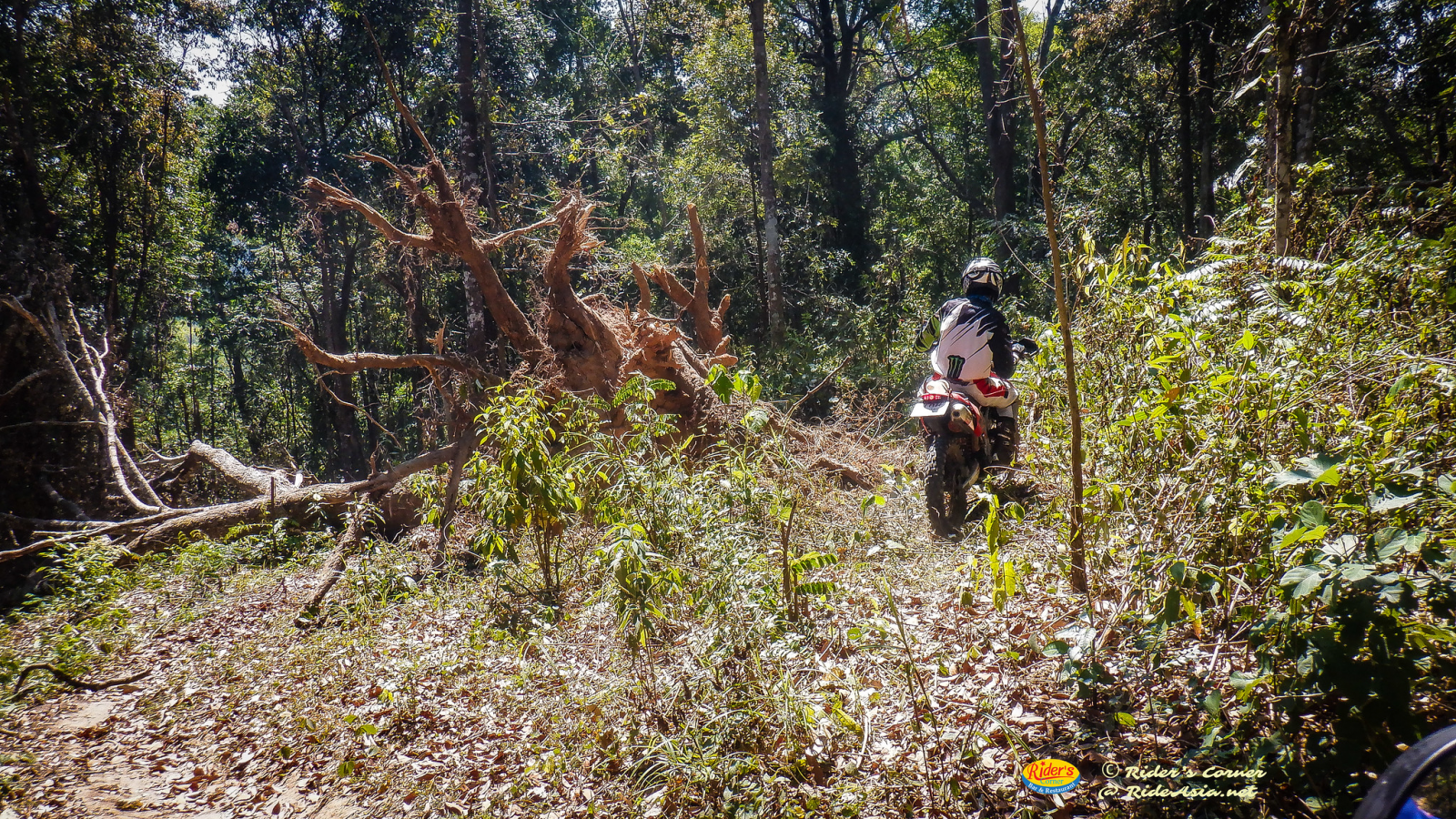 This gave us hope that someone had been through. Three branches had been trimmed from this one - which was in a prick of a spot
Being the elder statesman of the tour, I was quite happy to perform photographic duties whilst Deere assisted
Another multiple tree blockage. Do we go up, or down. Better to try up... it is an easier opt-out if it fails to work out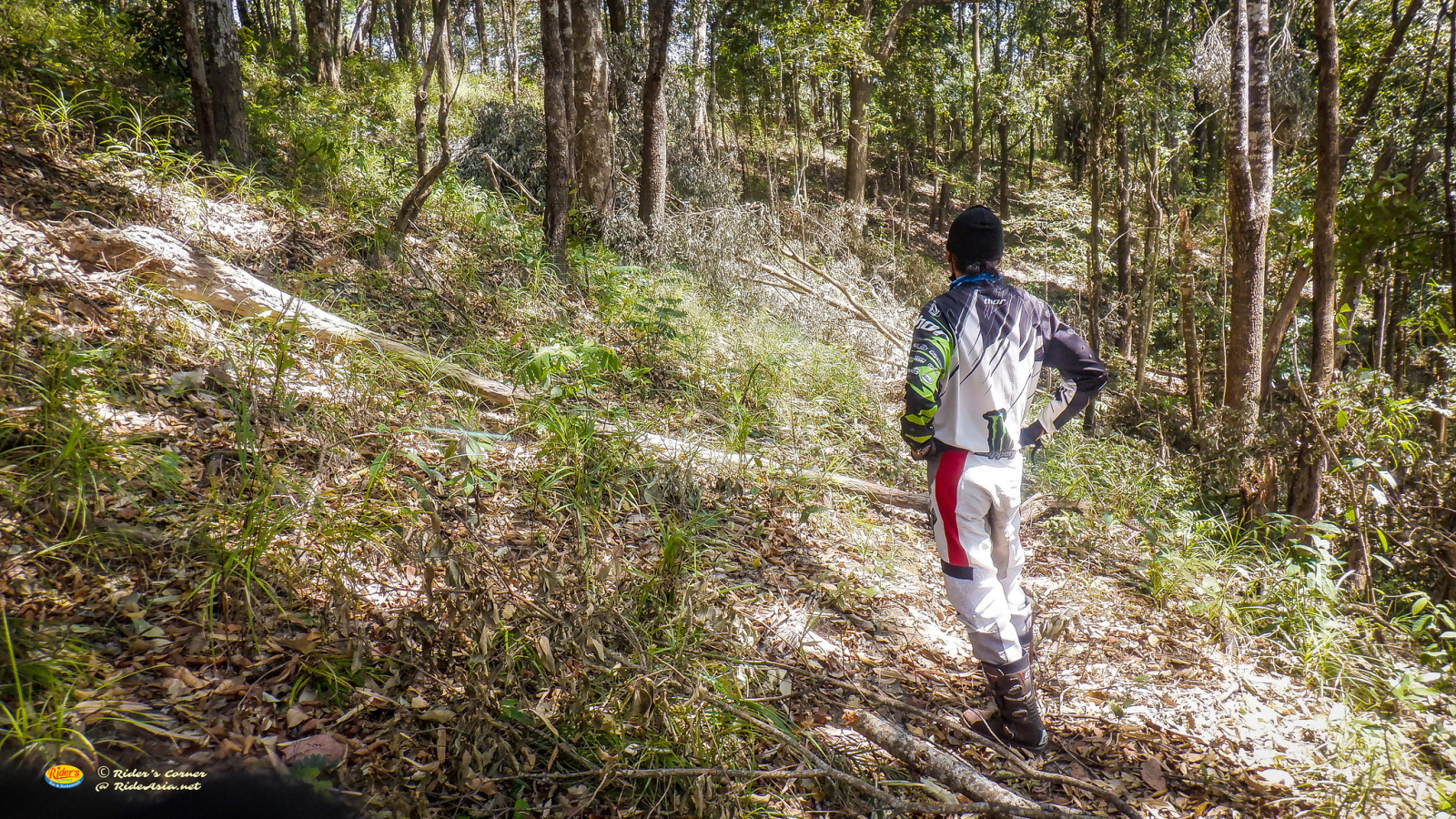 and up we go
That one had a fair bit of bush bashing in it before we regained the track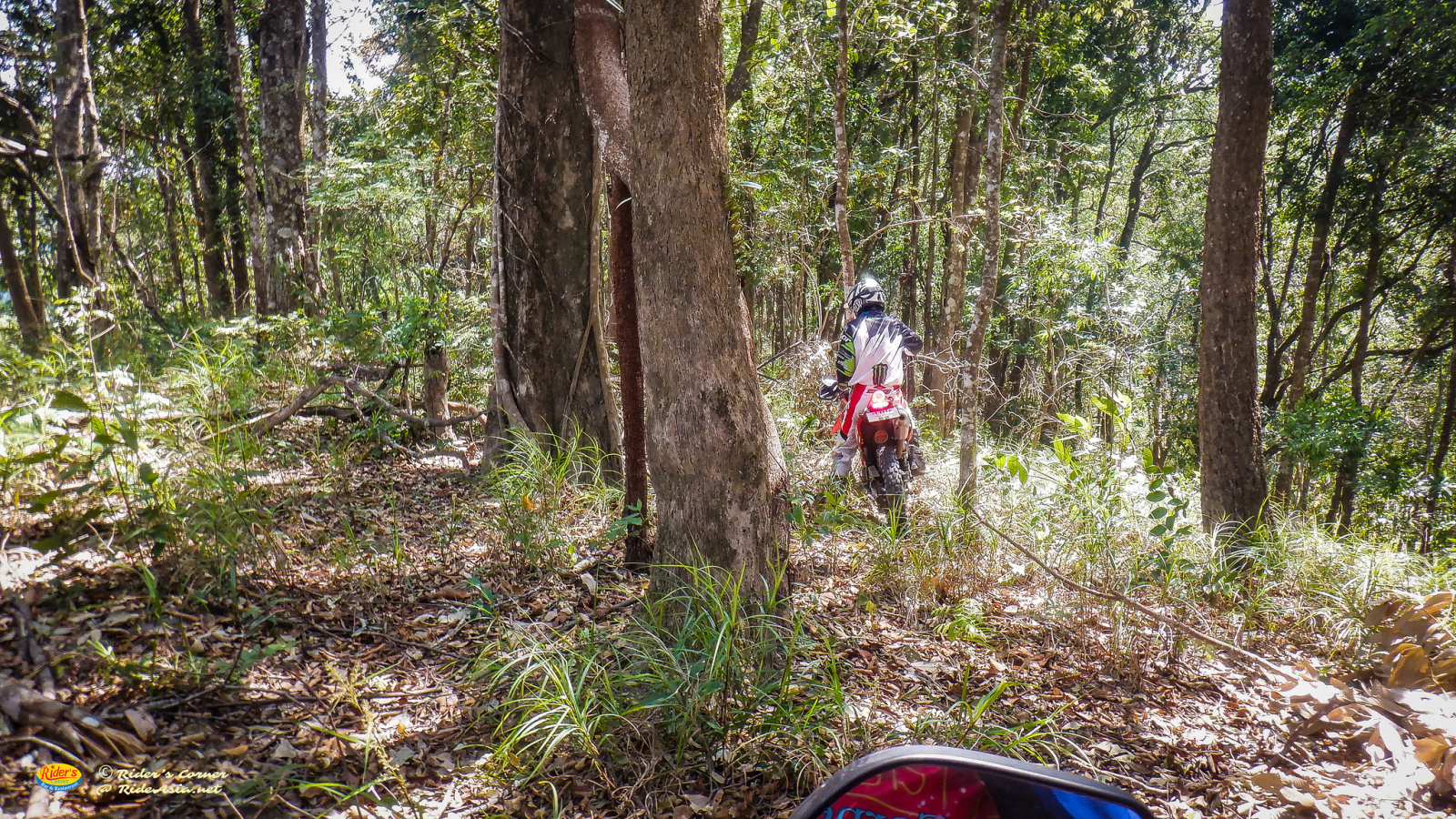 Its down there.... somewhere
Then it was into the bamboo forest. Eerie bloody places if you've never been in one. This one brought back memories of the bamboo forests in the tiger preserve on the Missing Link ride. Strange booming noises from the bamboo. Here's Deere, packing up again after cutting through a major blockage of the trail. It's a steep gully, about 50 metres deep - or at least that's what I could see - on the left. Don't go over... and I might add, Justin pointed out a hole on the track, covered by bamboo leaves...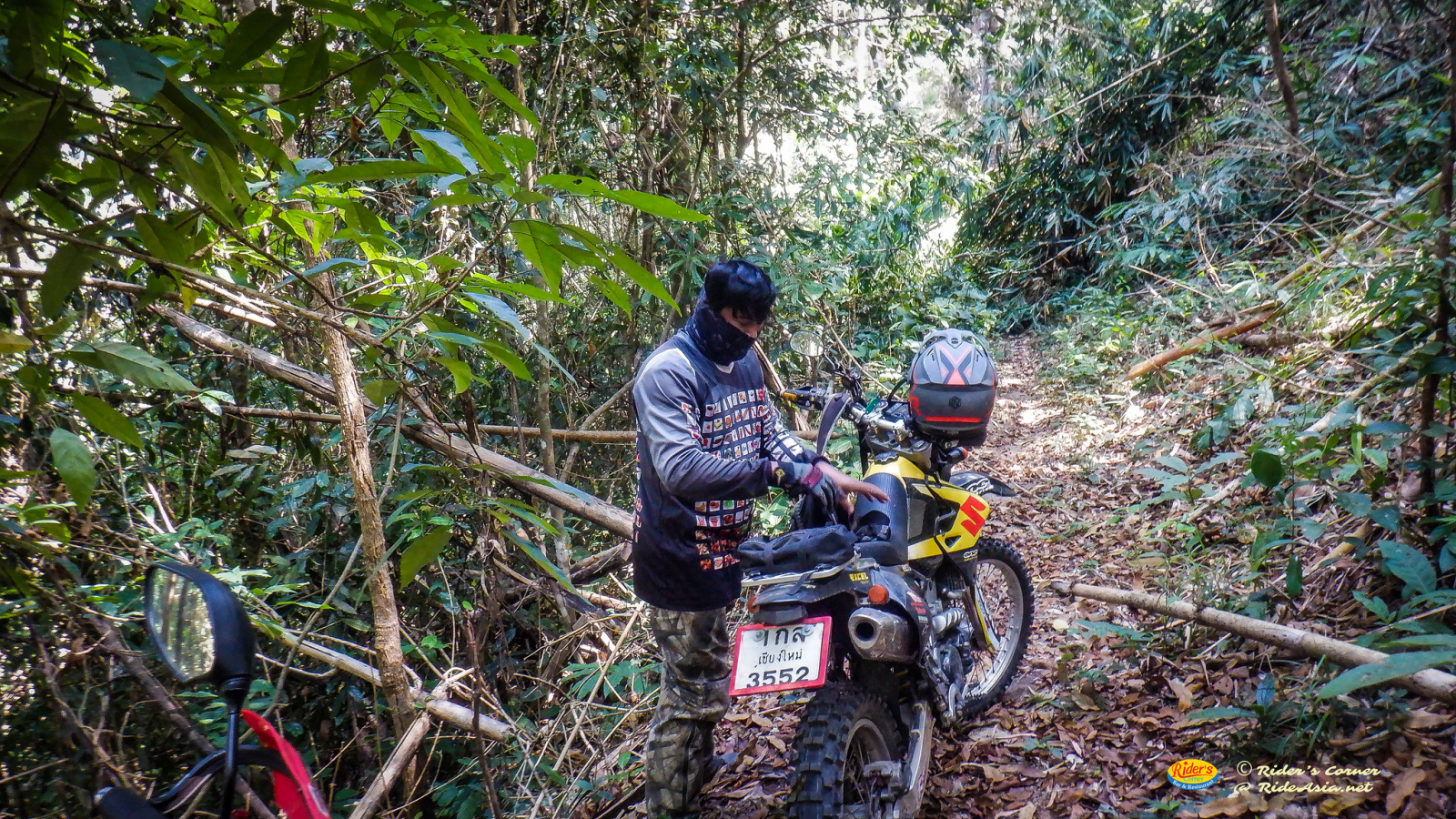 Guess who found that hole? Nah not me - the guy riding this bike.
Yep, the bloke who pointed out the hole, hit it. He was lucky (bet he says it was skill)... but he and Deere somehow averted a major situation, dragged the bike through and we were away again
Next time - bigger saw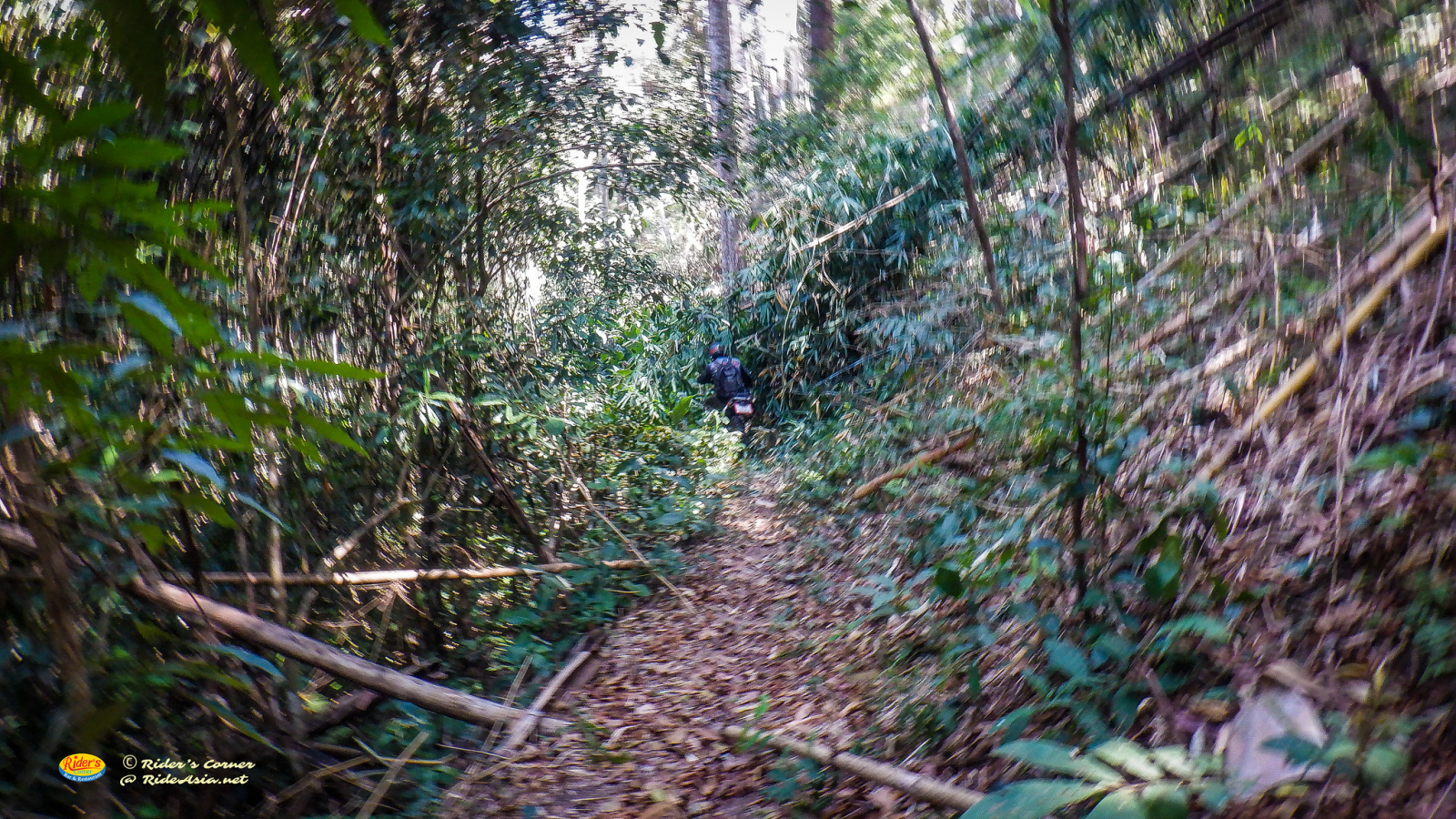 It was about this time I started thinking about a Leo. Makha Bucha Day or not......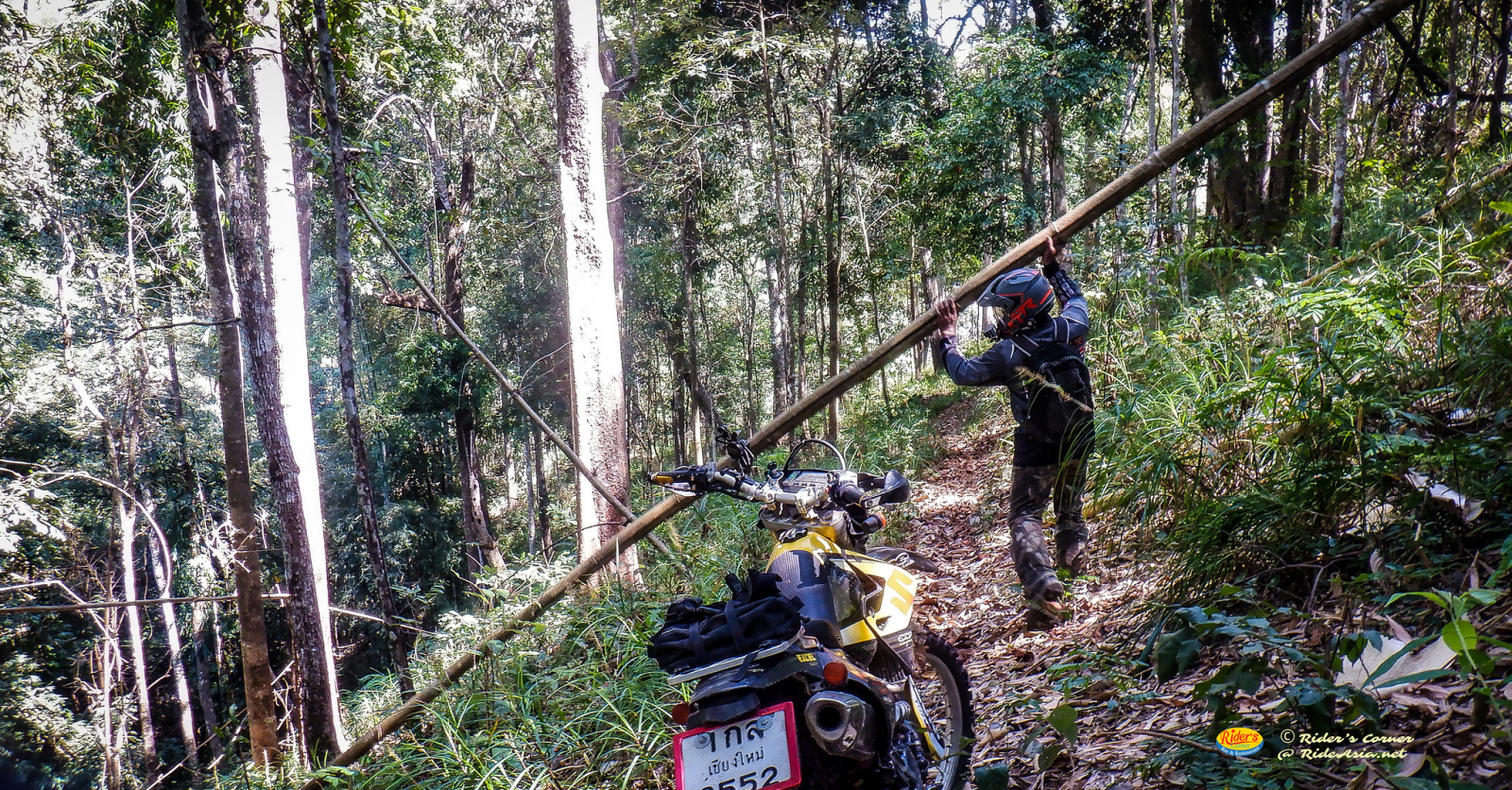 C'mon... move it or move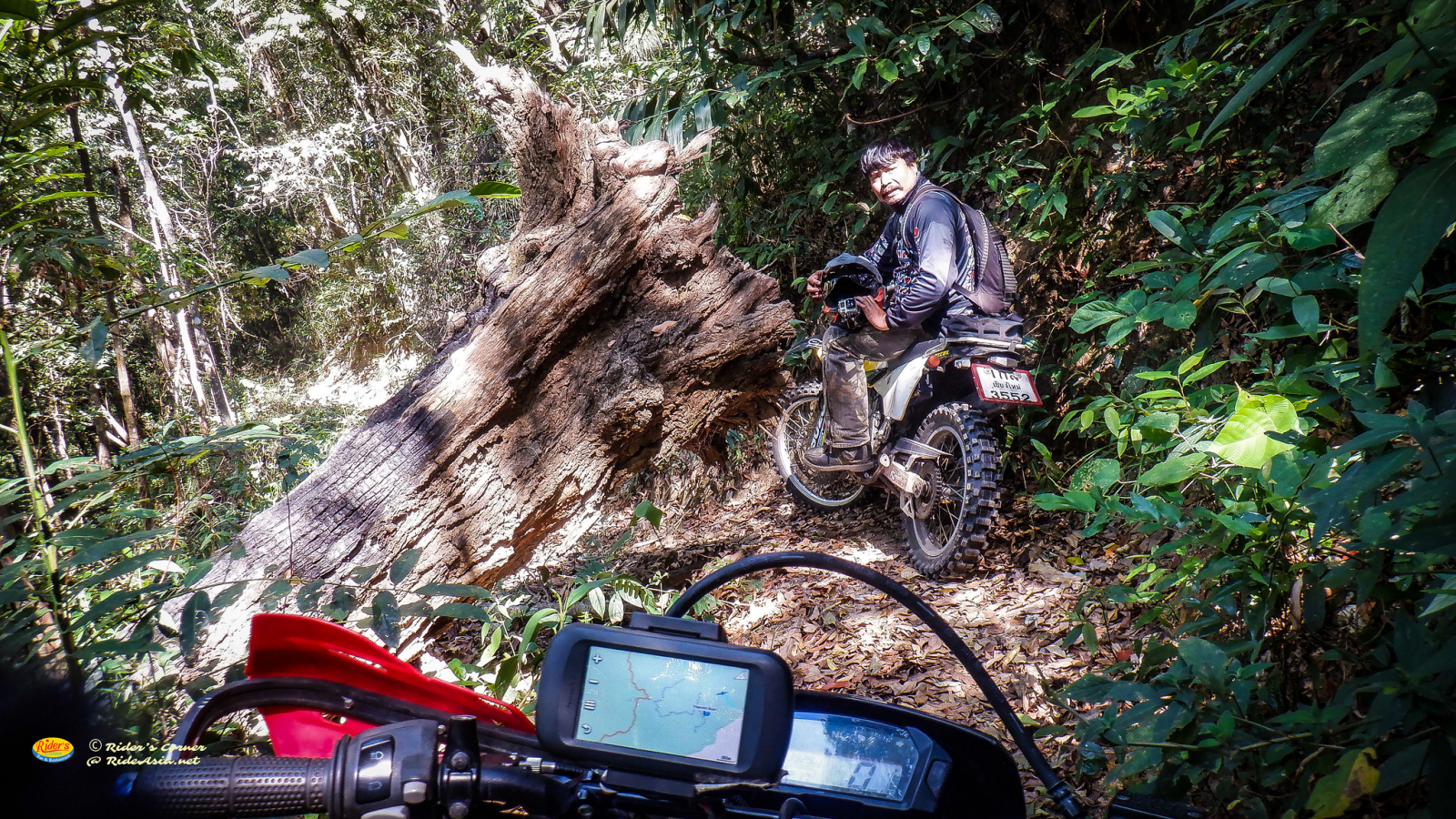 Sticker marks the spot.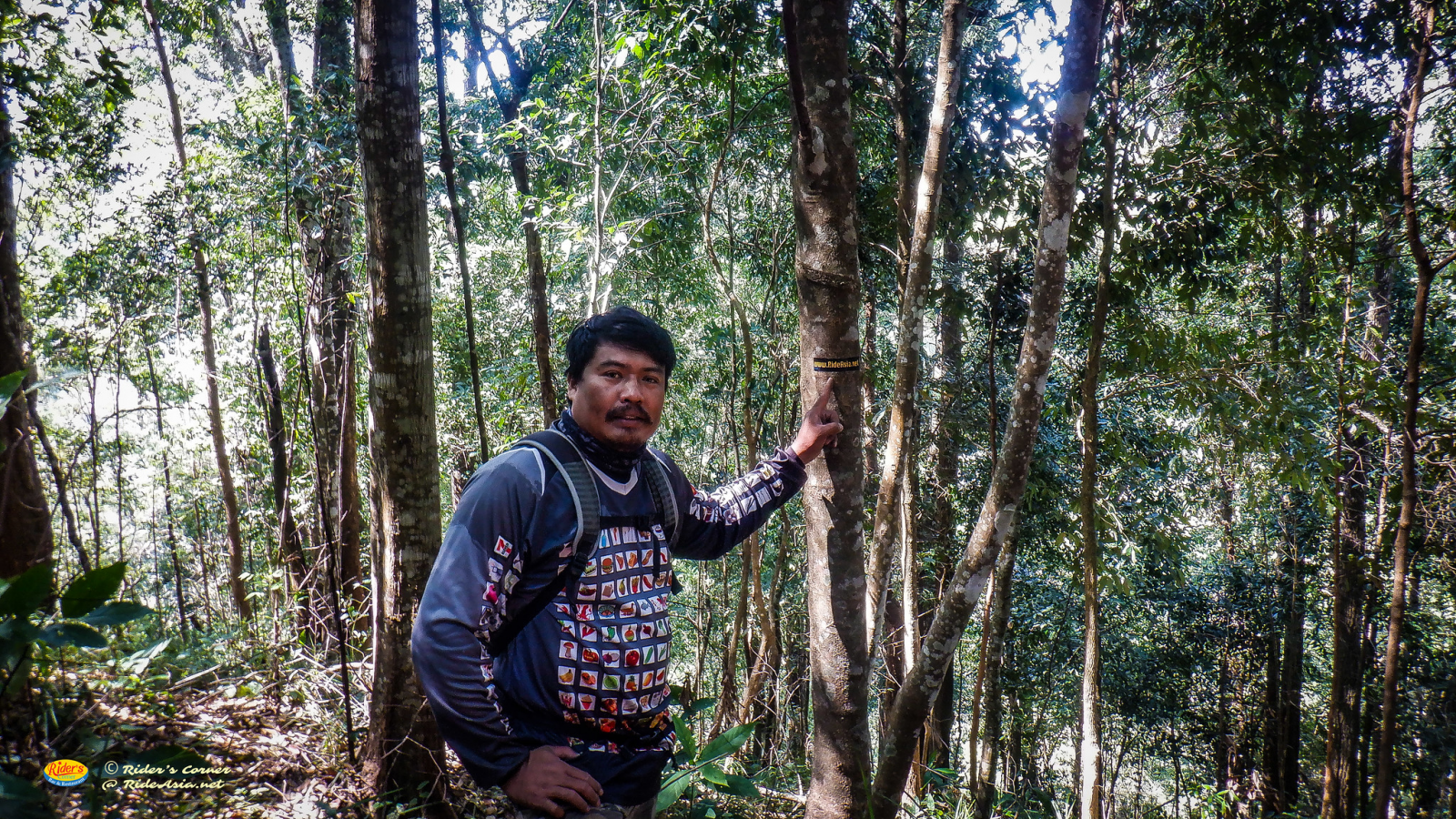 Yeah - that's where Deere got a flat front. We tried pumping... 0 psi. Oh well, ride it out. We'd have had levers and tubes if we'd planned this ride... but it was going to be a bitumen ride out to the Giant Treehouse, followed by a very short dirt loop back. With all the bitumen riders headed to Nan, we changed the plan on the way. Next time, we will have tubes.
Fortunately, we'd (well, OK, Deere) had thrown a set of Dunlops onto the DRZ the day before. Dunlops can be ridden flat - as they have a much stronger sidewall. He ended up doing about 30km on a flat front.
We stopped at a local food stall in Ban Ma Piang - and it is possible that Leos were procured, but I couldn't really comment on that. Interesting old Black Tea Roller in the village. Next time, I'll take a closer look at the label - see if the manufacture date is still legible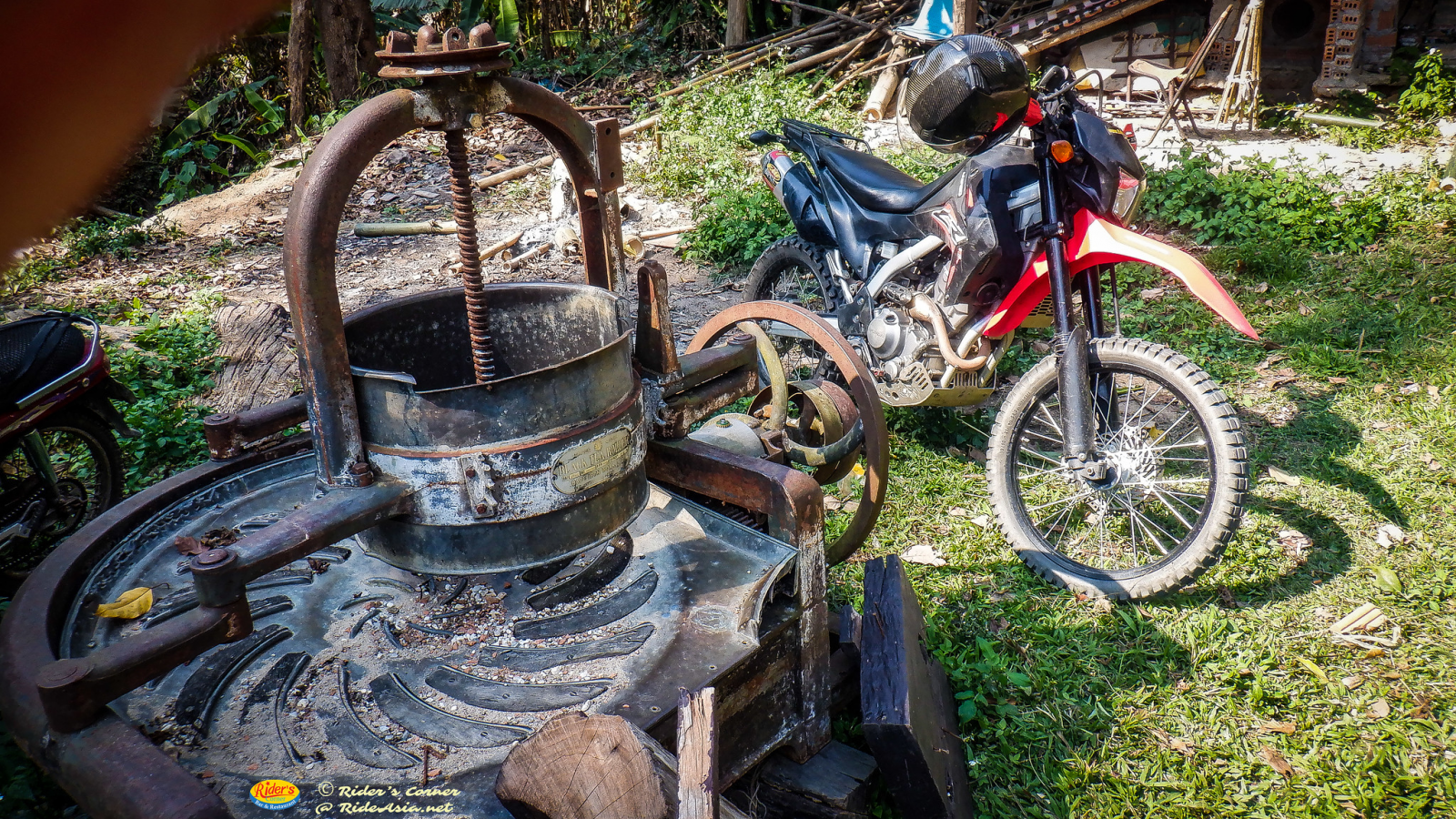 We'd hit the concrete again just before town - and we were starting to see long weekend tourists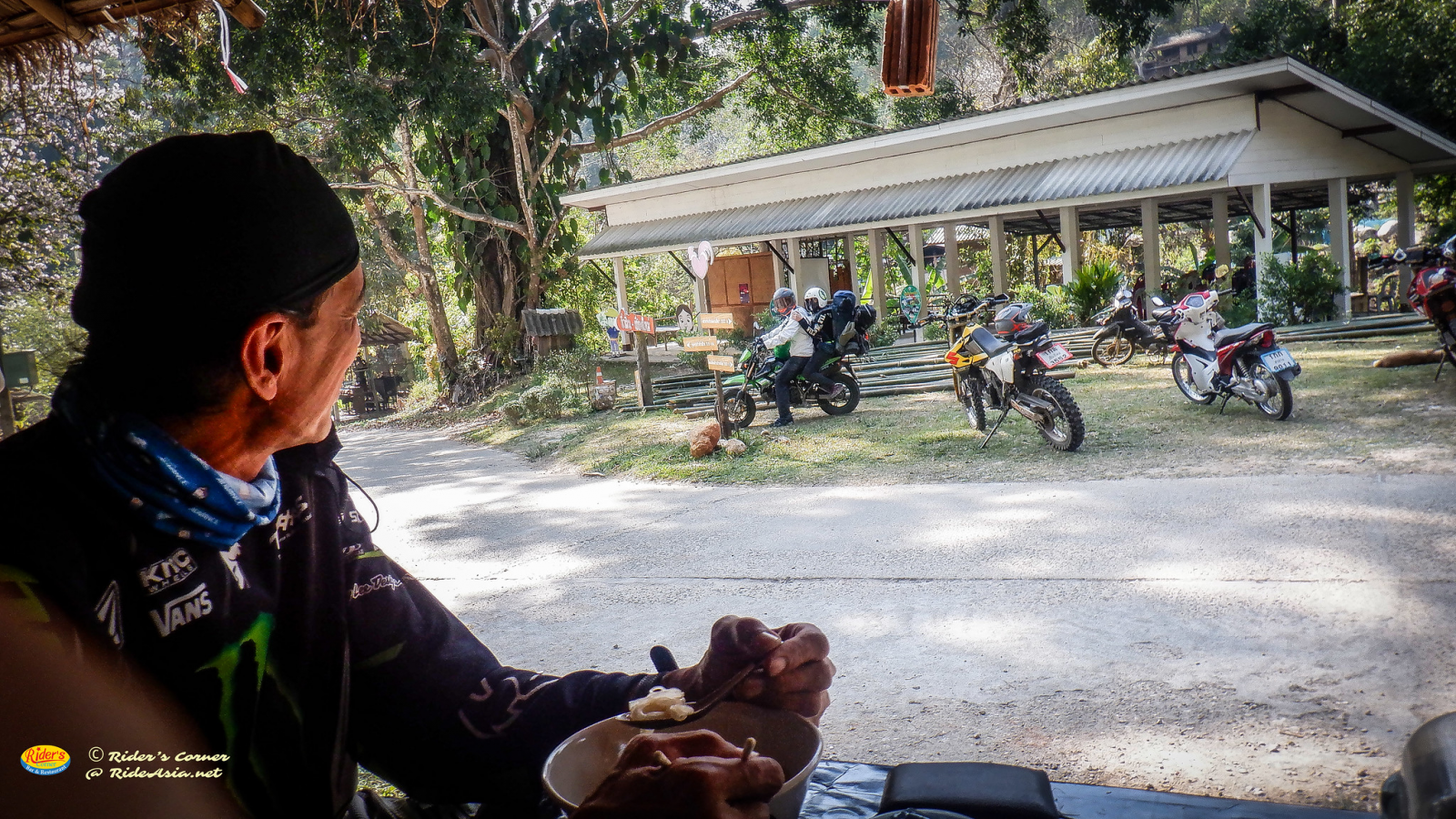 Let's zoom in on them. She's got all that crap on her back. Ugh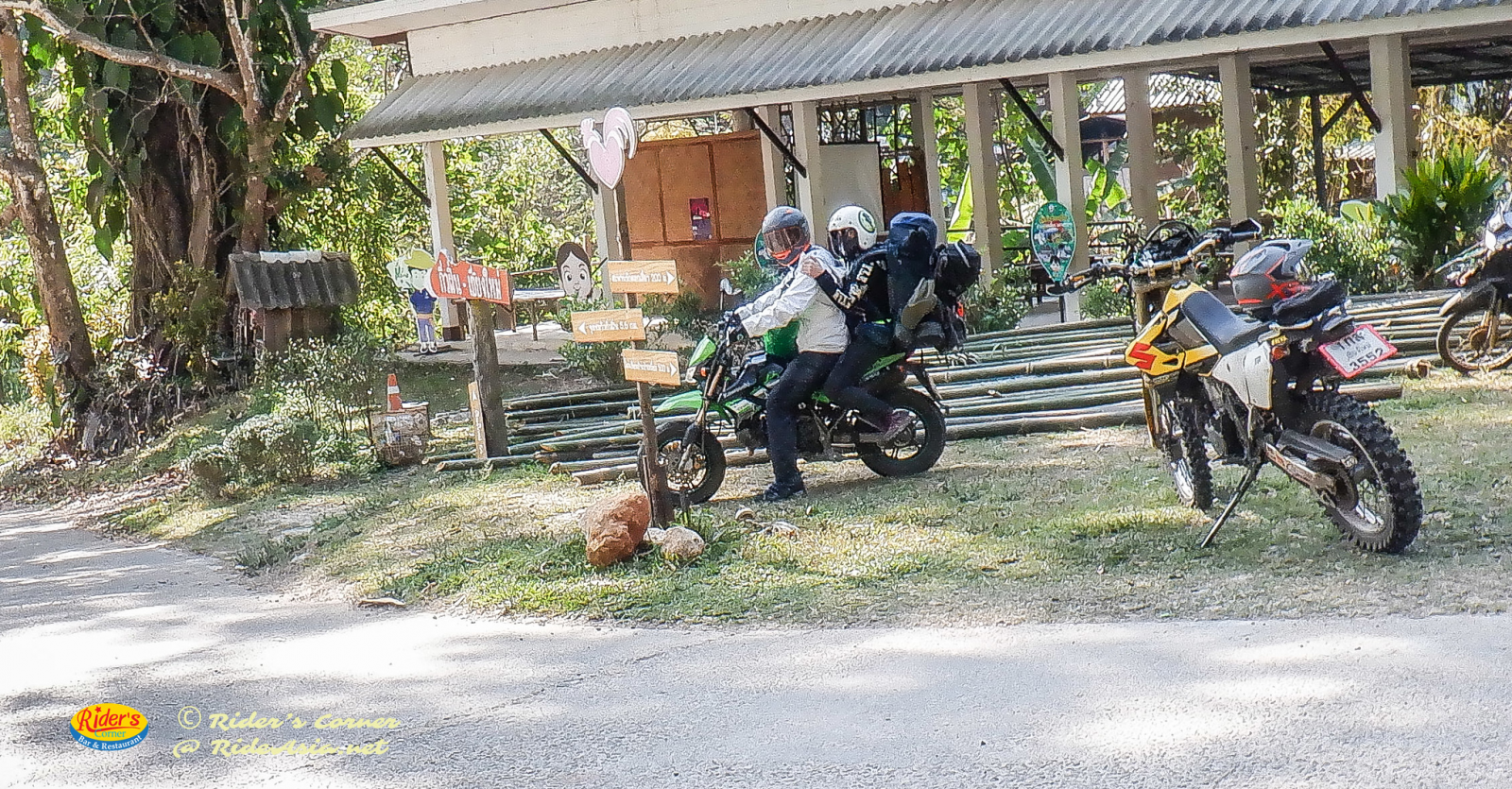 We did the photo op ride through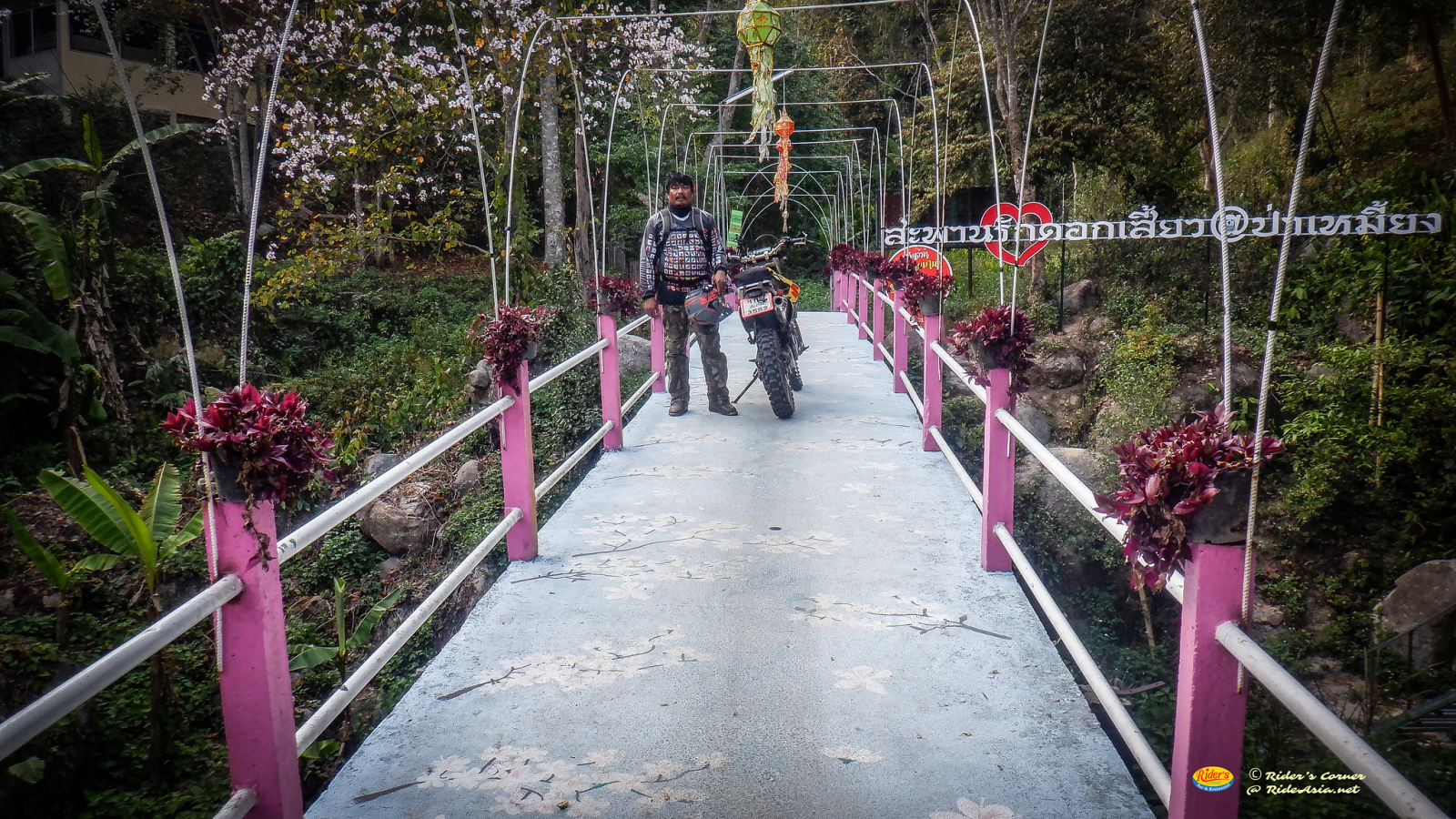 We'd seen this ambo come through whilst having lunch, then encountered him at one of the creeks.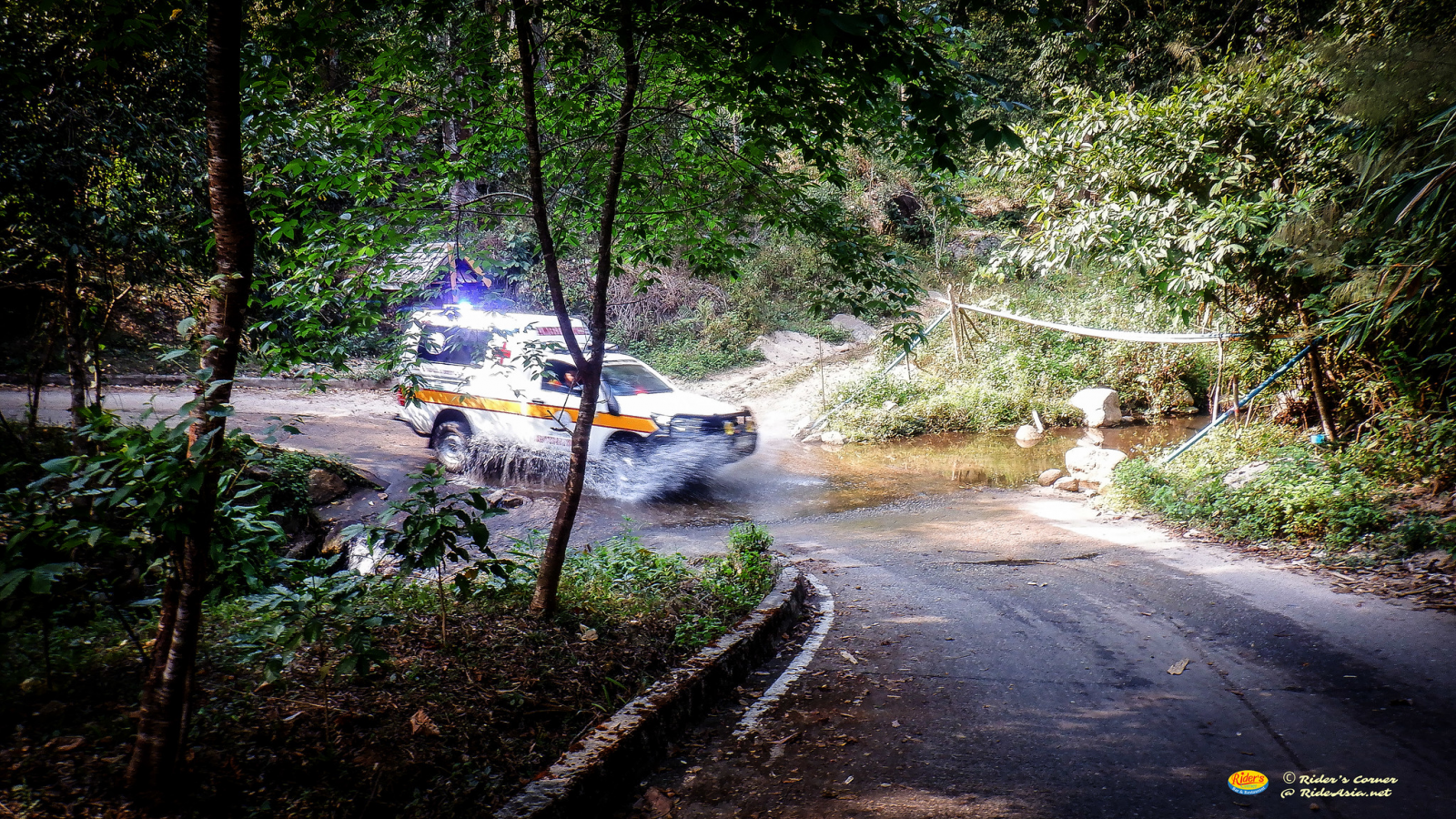 He was really getting into it. Up the road a bit, we encountered a Thai scooter group - using up all the road as they blasted down the hill. Then this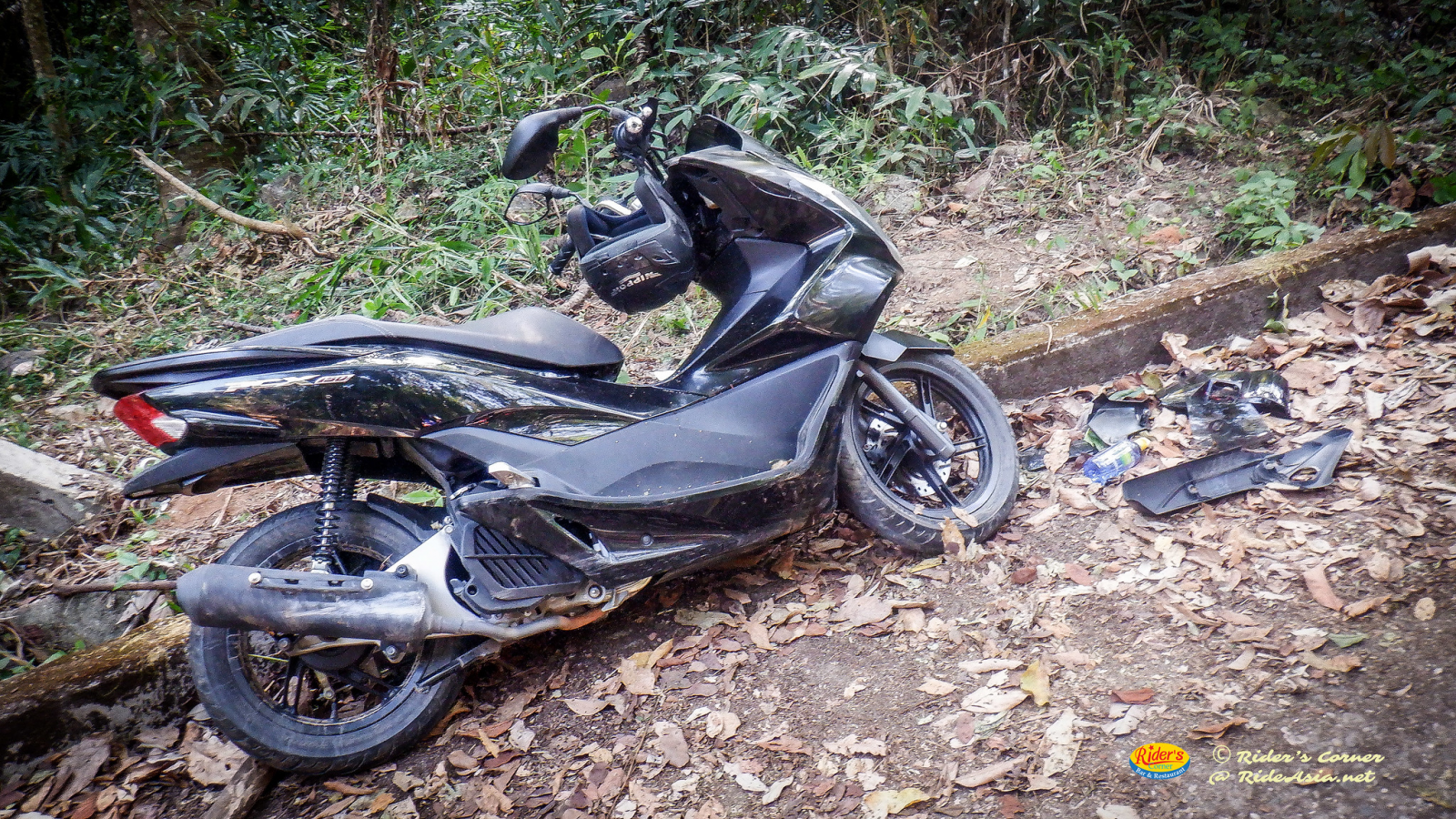 Either he/she or the bike had hit that concrete post on the left with some force. Poor buggers. Looked like a typical target fixation crash
Not long after - there was another ambo coming from the Chiang Mai side. Got there a bit late
Here's Deere, still enjoying 0 psi in the front tyre
Note the wire mesh in the road there. We've had tyre problems caused by that before too
This wouldn't have been possible on an IRC tyre. Their sidewalls are much thinner and it just wouldn't work - as we were to discover
We abandoned Deere and rode off ahead, to await him at the Ban Huai Kaeo service station. Birdspotting time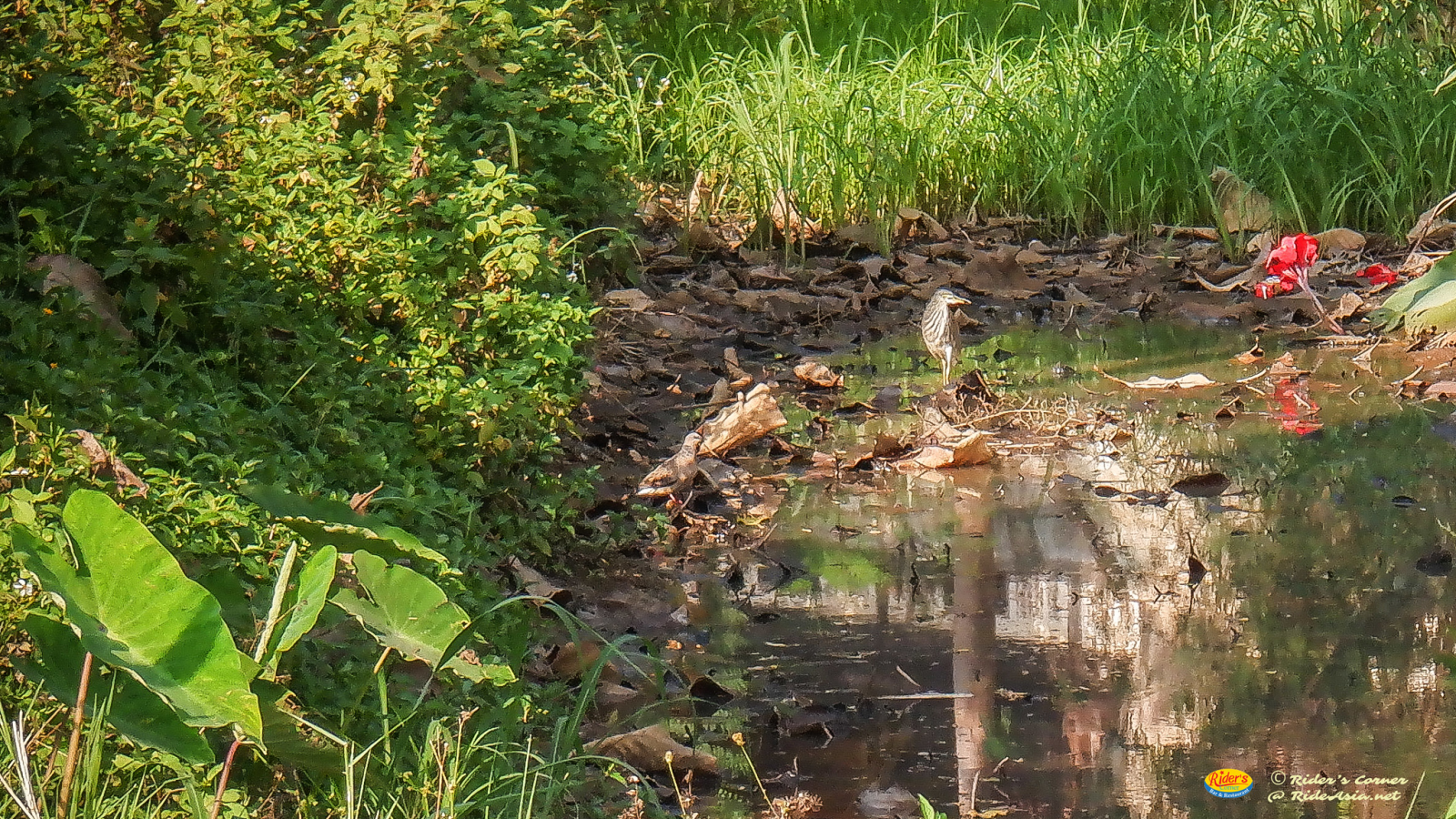 It turned out they didn't have air, but directed us to another local, back up the road a few hundred metres, who directed us to another local down the side street. Of course... a couple of old tyres nailed to the gate. That's the sign to look for....
Oh - and lots of bikes, of course
100 baht. Tally ho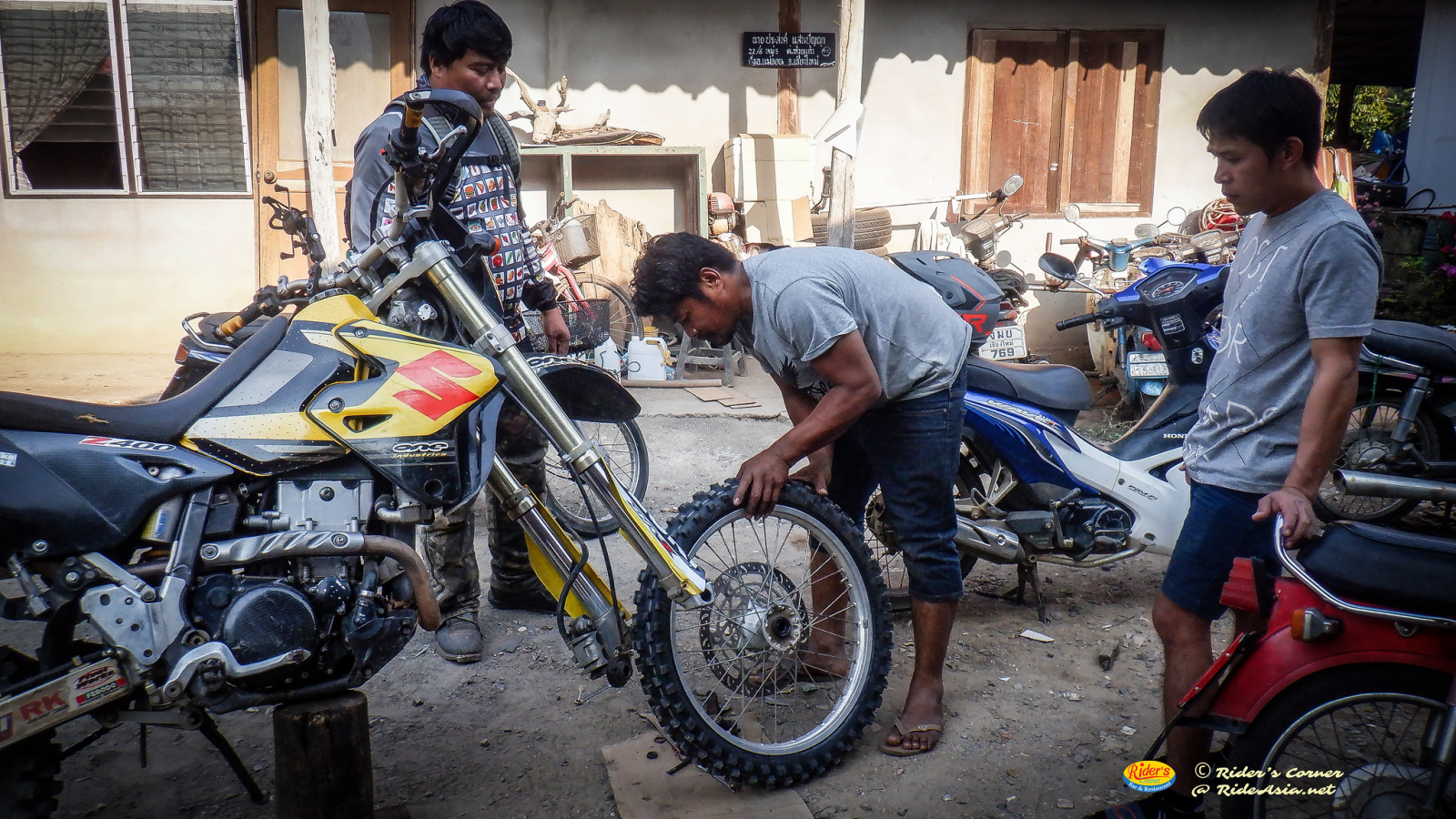 It was then a mad dash back into town. Justin peeled off at the ring road... and ten seconds later, Deere pointed to my rear tyre at the lights. Flat. He did the chivalrous thing and handed me the DRZ. I'd offered to go get the recovery truck... but he rode it over to the new 69 Tyres store in Tunghotel Road. Two new tubes and a new, ahem, IRC, front later, it made it home the following day.
Ride map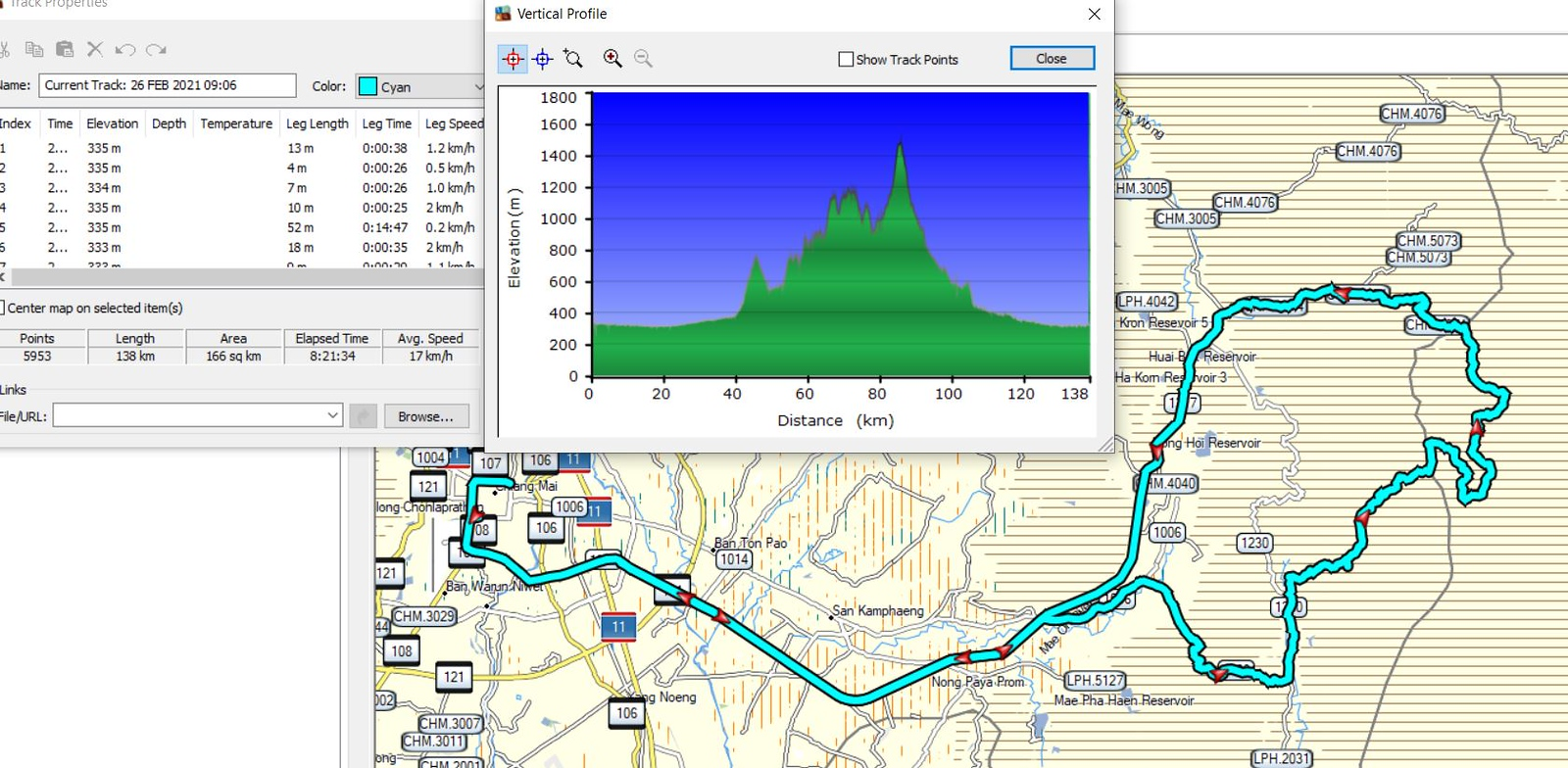 This is mostly dirt in this section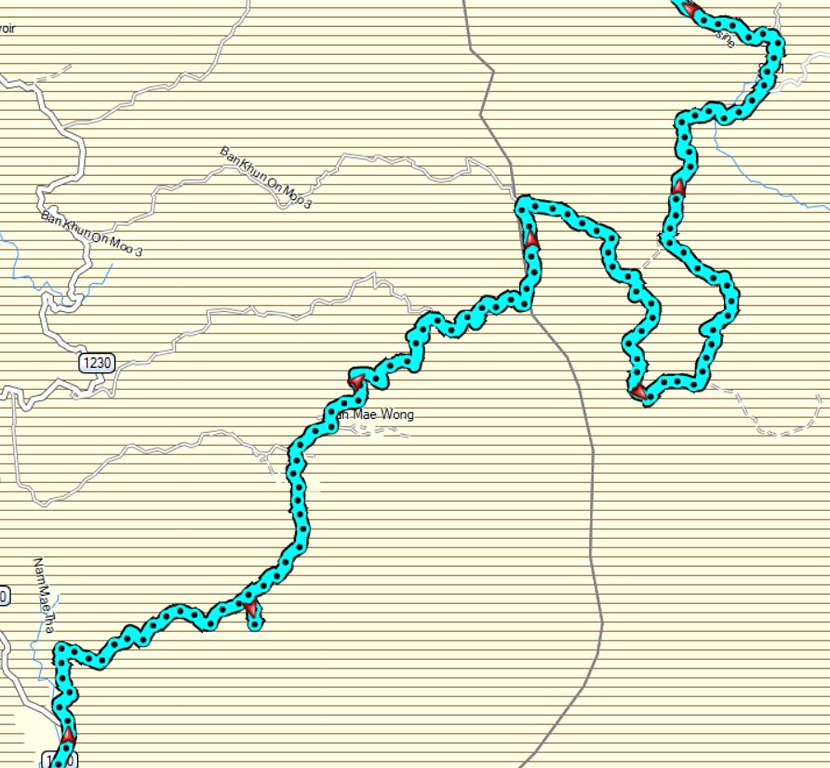 That little nub just to the left of the B is where the trouble really started