Joined

Feb 23, 2011
Location
Bikes

PCX - with custom valve caps
Here is some text to demonstrate the wonders of BB code that makes simple things happen
Big
Strong
Link
There are many useful editing functions (called BB code) in the icon menu at the top of the post edit screen. By writing some text, highlighting the text by dragging over it, then selecting the appropriate icon eg: Font colour or size, the highlighted text changes as per your instruction.
Sometimes, perhaps due to experiment or change of opinion, the style of your post can get a little messed up.
By selecting the cog wheel at the far right of the menu bar, you can Toggle BB code on / off

When the Toggle BB code is selected, the codes behind the changes mad to the post are visible.
A code can be deleted by removing the [ xxx ] and [ /xxx ] braced pairs and the original state of the texts will return when the Toggle BB code icon is selected once more.
BB code is also used for the insert of a gpx map file
After uploading a gpx file into a post & simply publishing the post, the gpx file is automatically assigned a GPX viewer button. The map that displays when the button is clicked, will center the 1st point of that gpx data in the centre of the map. Therefore some displayed maps show the start of the track in the middle of the screen, the red line heads off to the edge of the screen and the end of the track may be out of automatic visibility.
The automatically assigned GPX viewer button has BB code containing the file attachment number & a zoom level. The auto assigned level is 10.
If you wish to change the zoom level of a published gpx map, simply edit the post the gpx file was attached to and enter an alternative zoom level. Eg: 9 (zoom out one step) or 11 (zoom in one step).
This usage of BB code does not require the Toggle BB code to be selected to view the code.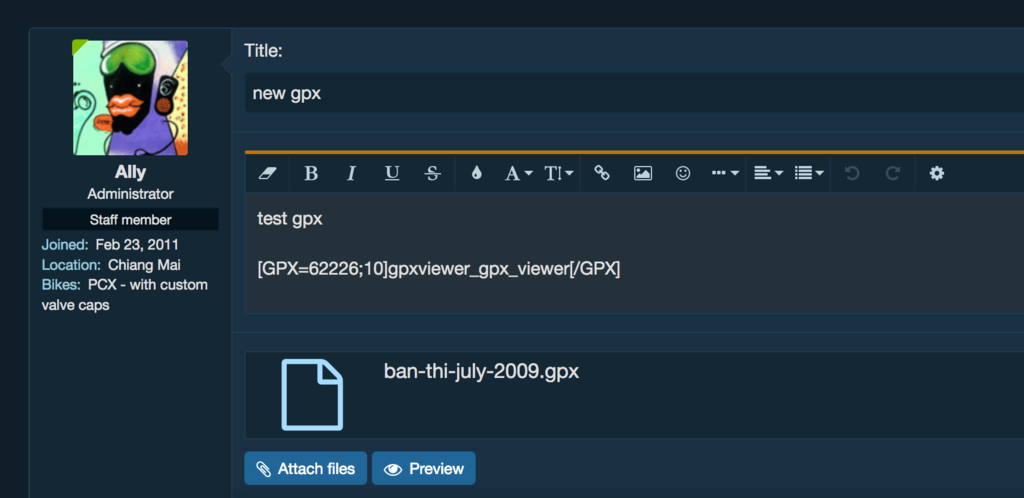 Hope you find this useful & please do not hesitate to discuss here further.