My name is Ha. now I am current a student. I am passionated about traveling. I have many friends coming from many countries like Korea, Japan, UK, Canada,,...
I am really upset when seeing some posts about tricks and traps that tourists meet in Vietnam
So I decided to write posts and share to travel forums to share some useful information for foreigner tourists.
I hope my post help you avoid scams and have an amazing trip in my country.
First, I share you about Ninh Binh motorbike rental, let's read the post carefully
You can see more information
here
I) A few small notes when renting a motorbike in Ninh Binh
When we rent a motorbike, there should be some experience and I think you should do that:
1. Never renting an old motorbike even though it's cheaper, I know many foreigners like Nouvo because it's cool, but I recommend avoiding it because it's "too old". Ninh Binh does not have many difficult roads, choose a common mortobike like airblde, sirius, wave.
2. Careful inspection of vehicles, especially brakes, horns and lights. Looking closely at the engine of the car, if you feel wet due to viscous flow or stinking gasoline smell, you should not hire
3. Keep motorbikerental documents carefully to avoid getting lost.
You can be pickled in crowded tourist places.
4. Remember to fill up the gas before you go to Trang An because there is no gas station here.
5. Tourist attractions are also 15 to 20 minutes away.Motorbike rental price in Ninh Binh is usually calculated by 24 hours = 1 day. The longer you rent, the cheaper the price. If you intend to rent a motorbike for a long time (more than a week), make an agreement with the rental store (fluctuating around 800,000 - 1,200,000 VND per month.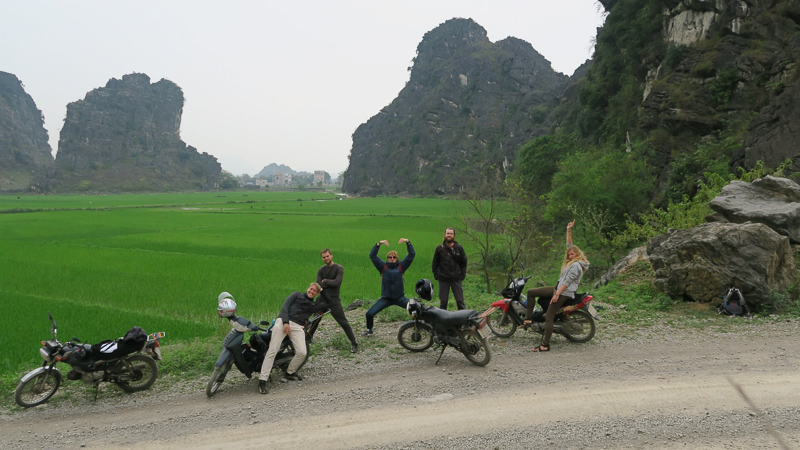 My buddies are so excited with motorbike
II) Tourist destinations by motorbike in Ninh Binh
Depending on the time you spend on the trip, choose the number of destinations to visit:
The church of Phat Diem
The church has the most harmonious combination between Western and Oriental architecture and is considered the Catholic Capital of Vietnam
Tips here: Parking here is free.Clothes are good because this is a sacred place
Dance Cave
Some note: Bring a bottle of water with you when you climb the cave.
Running straight to the gate will have a parking lot totally free of charge
Cuc Phuong National Park
Cuc Phuong is a ideal place for those who love the ecological environment, visitors here are immersed in the birds singing, the murmuring stream, the deeper into the garden the more visitors feel the quiet, the period magic of nature, the tranquility of the forested space.Chrysanthemum forest birds
NoteYou need to prepare: Forest walkers, hats, drinks, food, medical dressings, mosquito repellent ...To the national forest, you can enjoy attractive specialties including: mountain goat meat, grilled garden chicken, fried perch, sprinkled with rice wine of Muong Muong spicy sweet and sweet.
You should bring binoculars to comfortably see the distance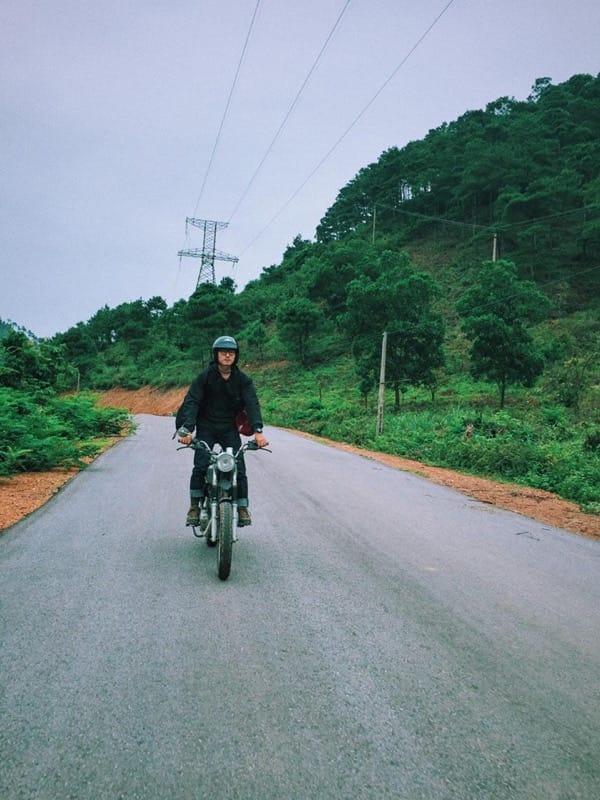 He is cool, isn't it?
III) Rent a motorbike at hotels in Ninh Binh
In Ninh Binh you can rent a motorbike at your hotel you are booking but not all hotels also offer motorbike rental service, so you can ask the hotel reception if you want to rent a motorbike
If the hotel you book doesn't have a motorbike rental service, you can contact the nearby motorbike rental shops. Some hotels have motorbike rental services in Ninh Binh: AIQ Hotel Ninh Binh: Ly Thuong Kiet Street - Nam Binh Ward - TP. Ninh Binh (0947.630.886) Thanh Dat Hotel Ninh Binh: 141 Tran Hung Dao Street, Ninh Khanh Ward, Ninh Binh (0379 350 000) Hoang Hai Hotel Ninh Binh: No. 28, Truong Han Sieu Street, TP. Ninh Binh (0914000829)
Last edited: