Joined

Oct 5, 2014
Location
Bikes

650 V-Strom
Nepal – The quintessential adventure riding destination……. or is it?
April 18 – 24
The ride from Pokhara to Muktinath was stunning in places with the Annapurna and Dhauligiri Ranges on each side of the gorge. After 3 days we finally made it to Kagbenni at an altitude of 2,800m, surrounded by 5 and 6,000m peaks. We found a good hotel with wifi, hot water and reasonable food and the views were simply amazing particularly watching the sunset over the high peaks. The next day was a day wandering around the Muktinath at 3,800m, the desolate moonscape like hills and valleys are due to extreme cold and low snow/rain fall caused by the 8,000+m Annapurna and Dhauligiri Ranges on each side catching all the snow and rain first. From Muktinath we took a little-known track that traversed old glacial moraines and across wind swept high plains deserts finally hand railing down the Kali Gandaki river to our hotel at Kagbenni. The next morning we left early to get to Lake Begnas south of Pokhara.
Following the Kali Gandaki River gorge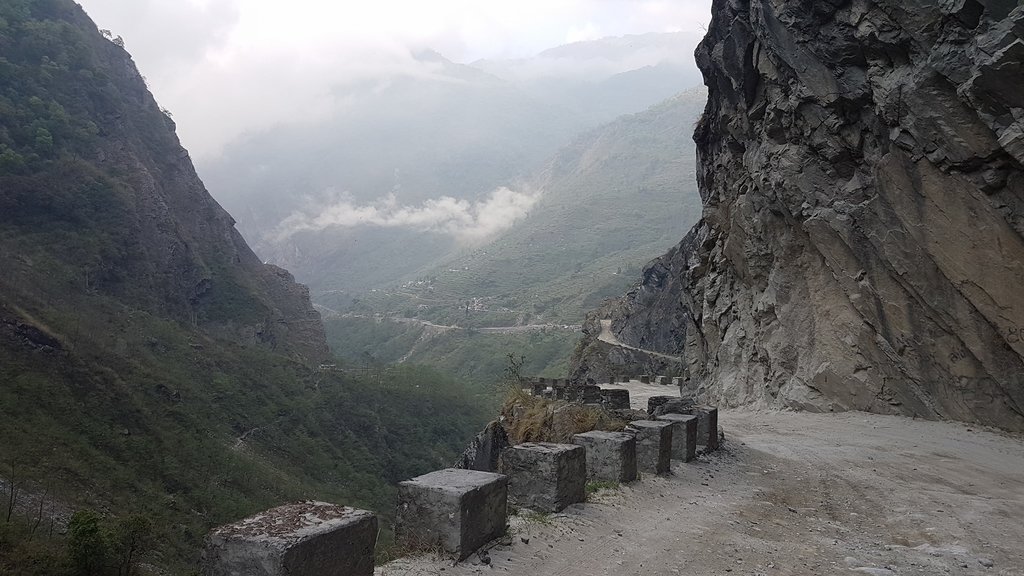 Finally some clear weather and beautiful mountains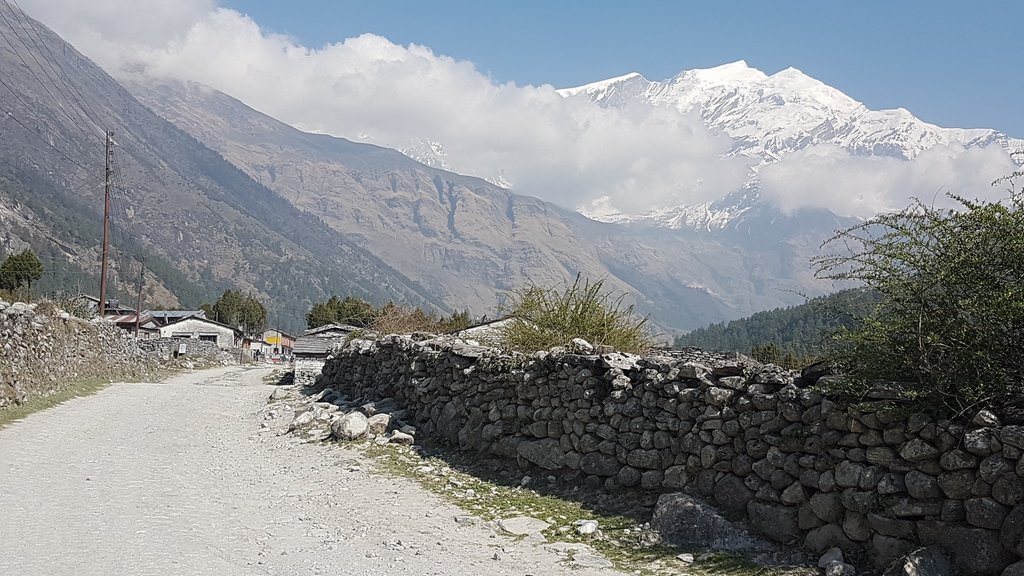 Incredible sunset over the big peaks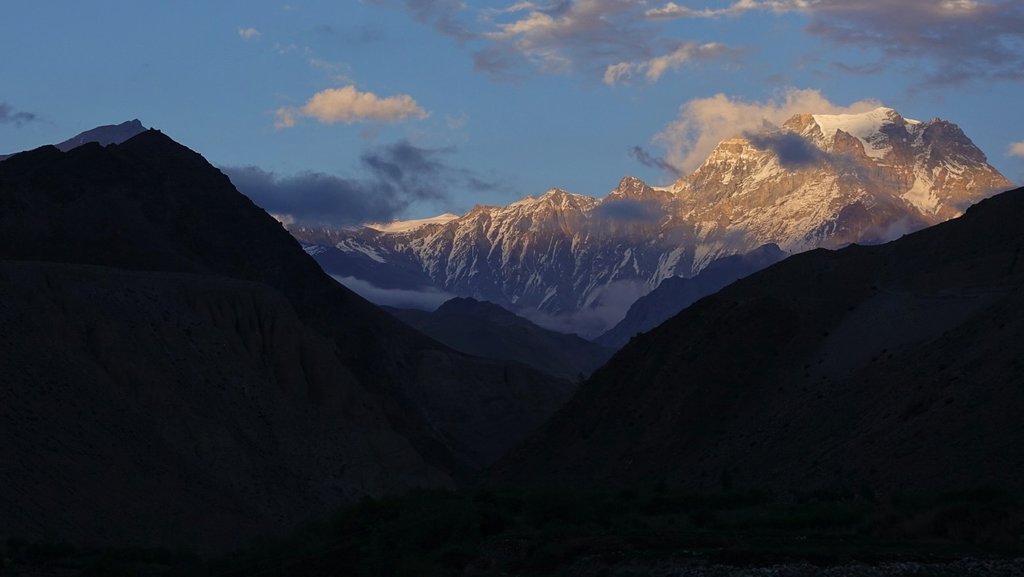 And amazing sunrise on the Annapurna Range
Looks like a beautiful day ahead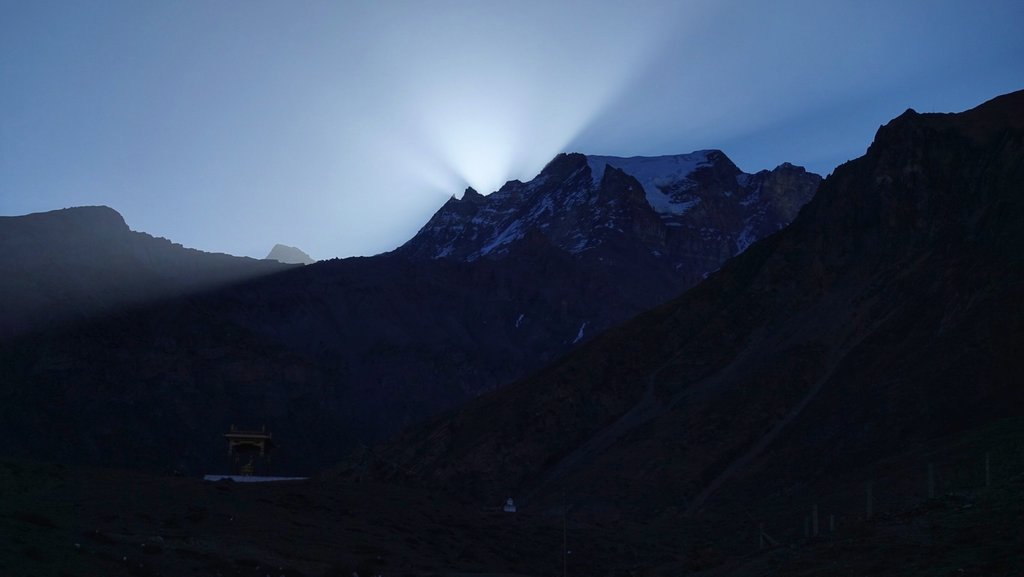 Stunning views of Dhauligiri 8,167 mtrs, 7th highest mountain in the World.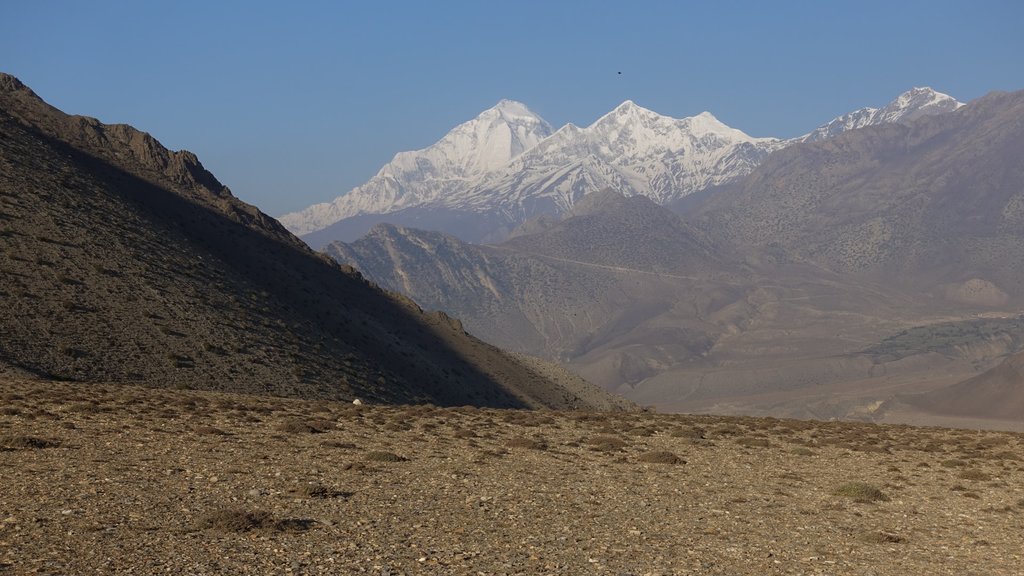 The surreal village of Muktinath
A moment to savour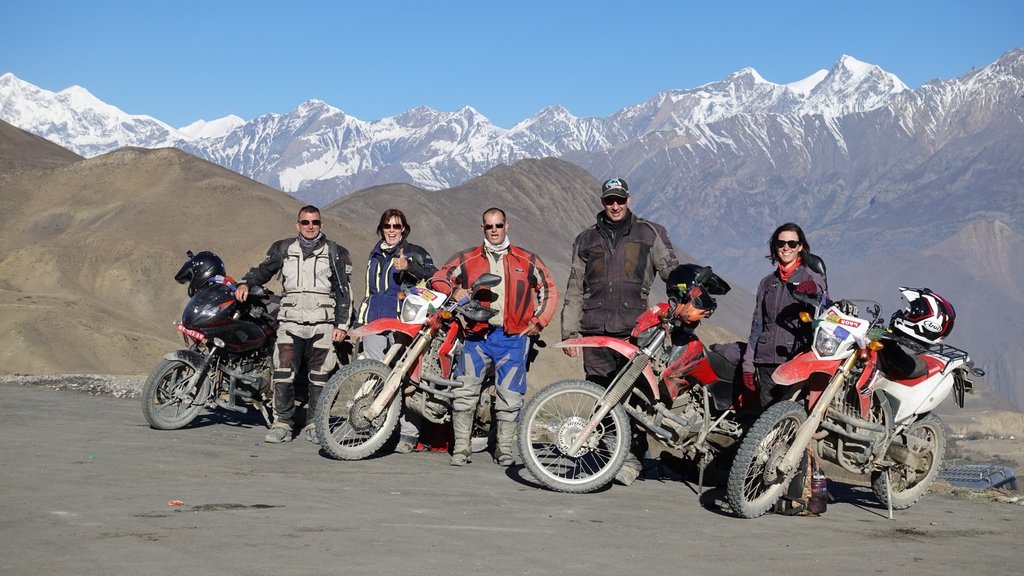 Spectacular scenery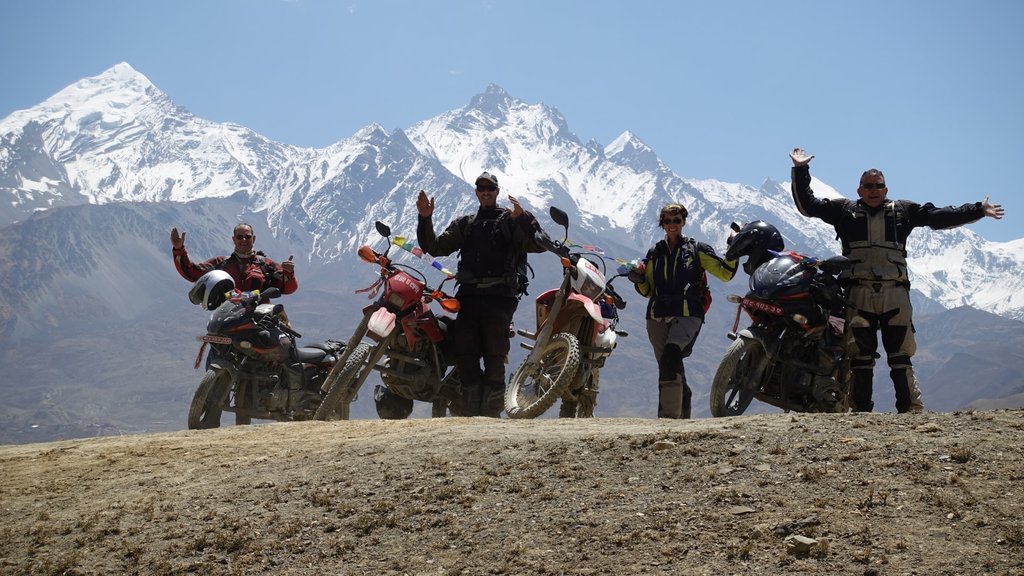 Kagbenni village looking south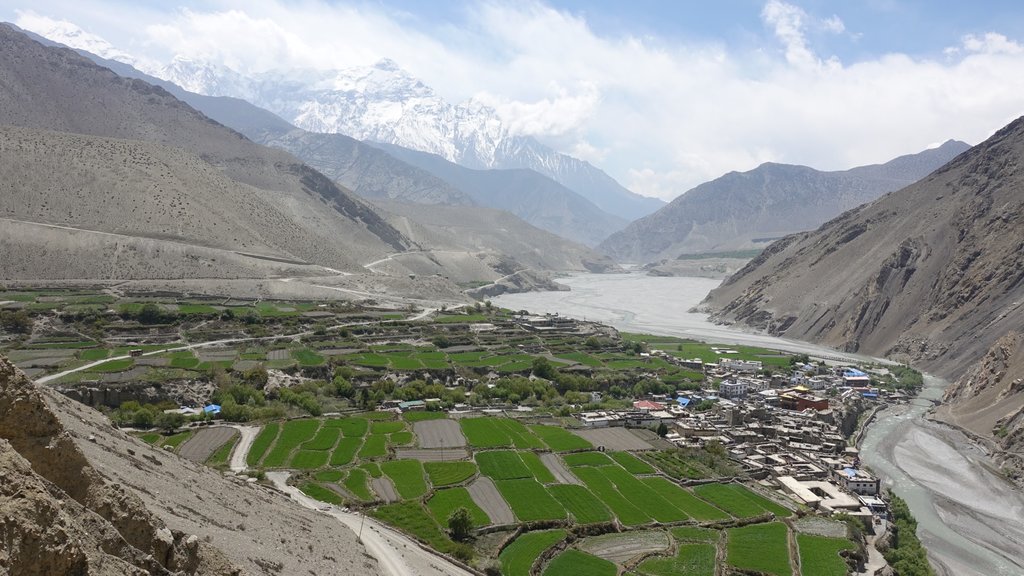 Kagbenni village looking north
The stark landscape of the lower mustang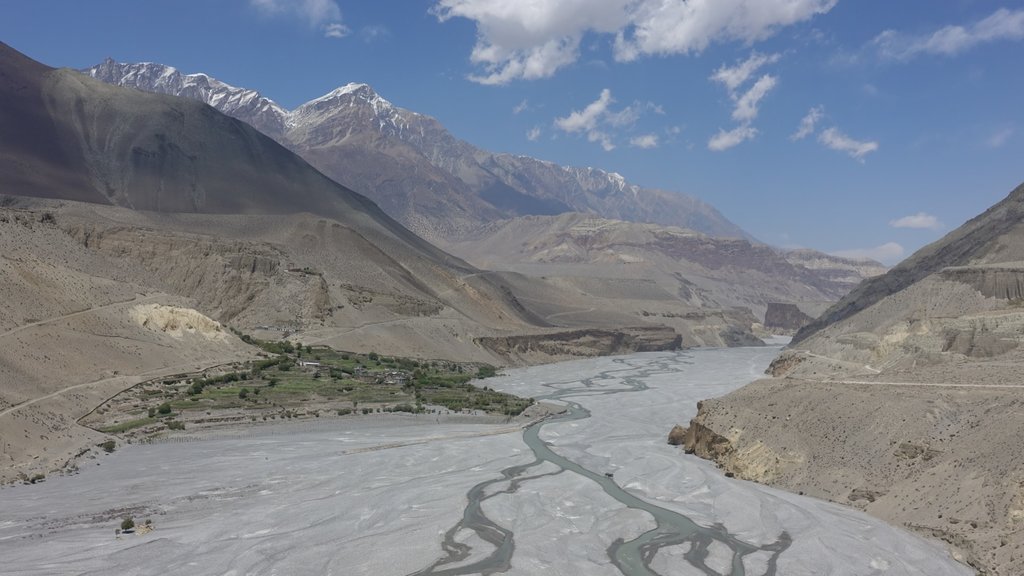 Dhauligiri 8,167 mtrs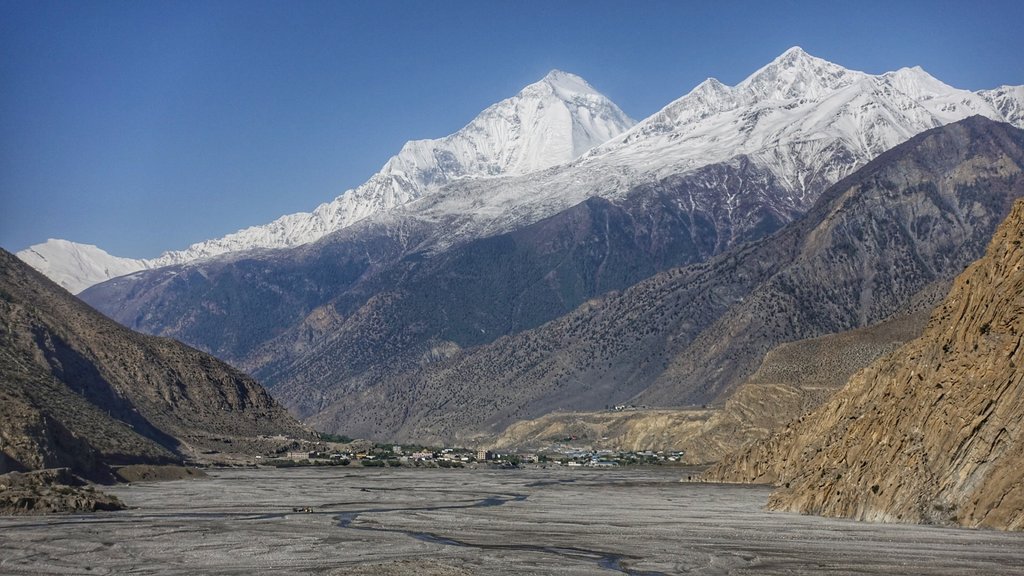 Our first swing bridge.
Kids making a fuss about the foreigners making a fuss about crossing a silly suspension bridge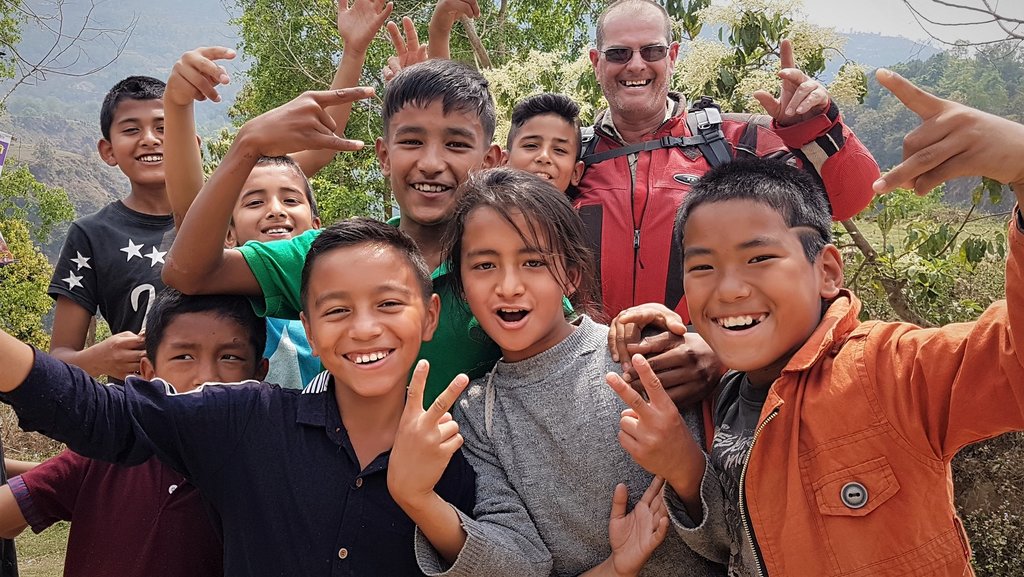 Badgaun Kaiya suspension bridge
350m long, 160m high and quite exhilarating
April 25 – 27
From our hotel at Begnas Lake, over breakfast, we watched the morning sun light up the snowcapped 7,000m peaks, albeit through the haze at a distance. It wasn't long after this and we were making our way to Gorkha on some nice roads with some great corners through the foothills of the Annapurna Range. Gorkha is the cradle of modern Nepal with a history of some 800 years where there is an ancient palace with bizarre rituals that are still practiced today. Such as slaughtering goats and dragging the bleeding carcasses all over the hundreds of palace steps as a purification and a blessing before butchering and selling the meat. Monkey gods and monkeys are watching you as you wonder through this medieval, macarb and mildly disturbing place that harks back to a more sinister time. However, some of the architecture, wood carvings and stone work are simply stunning which made it all quite a unique experience.
Sunset at Begnas Lake
Sunrise over Fishtail Mountain and the Annapurna Range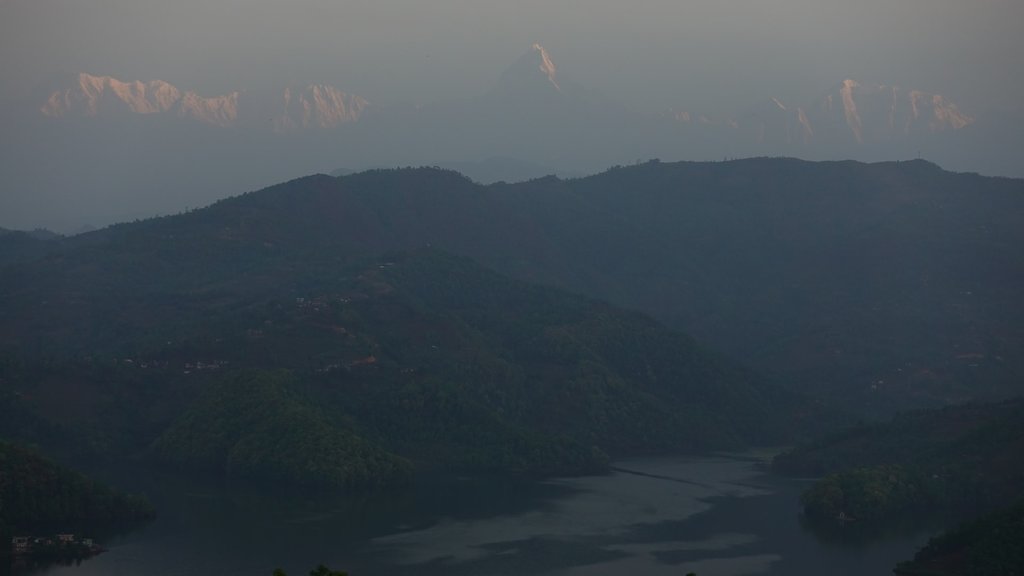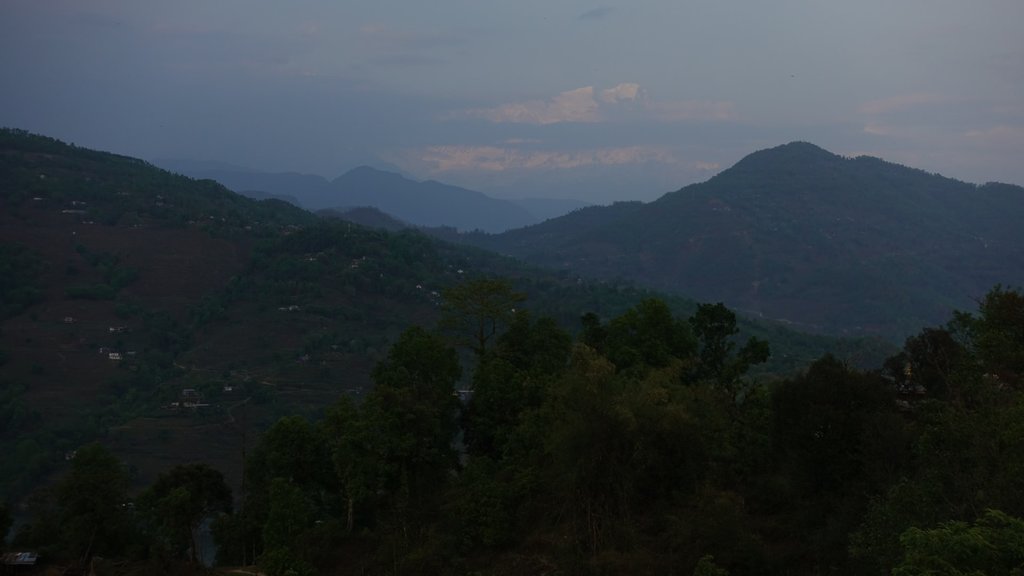 Tending the rice fields
Ghorka Palace monkey god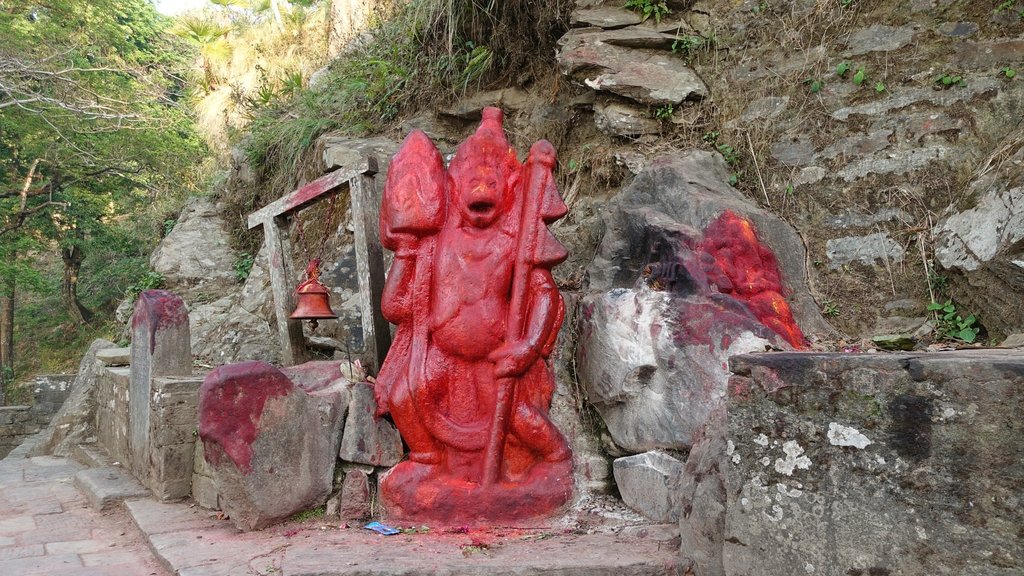 The bloodied palace steps, a disturbing place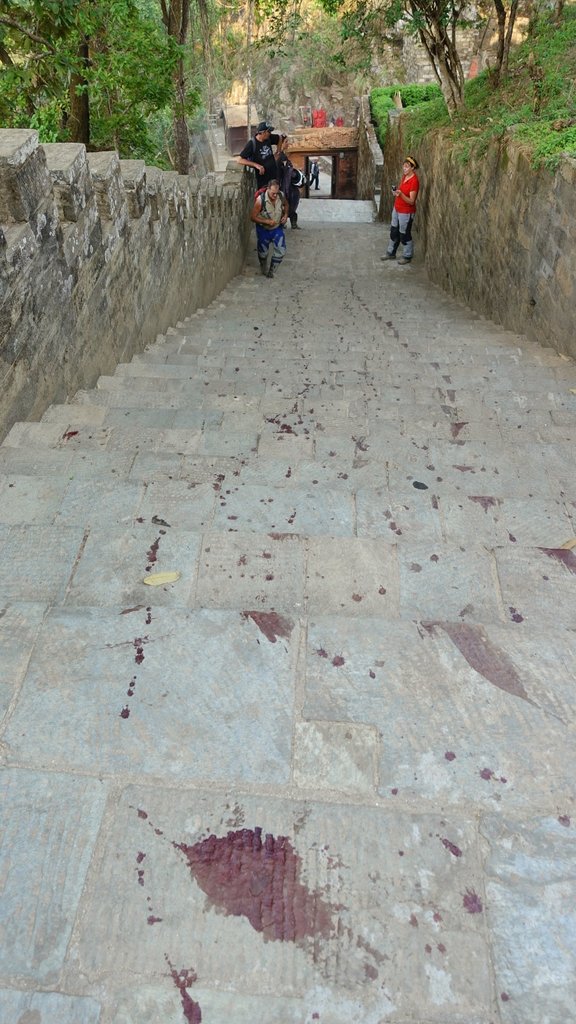 Stunning ancient wood carvings
April 27 – 28
We then headed up the Pasang Lhamu Hwy towards the Nepal/Tibet (China) border where another military controlled National Park check point wanted another $36US to ride the remaining 80 klm's to the border. No amount of negotiating made any difference, they wanted their money and were forthright about it. I decided I had spent enough so I decided to turn around and head back while my friends decided to pay the fee. There had been a few times in the past weeks where the social scene was fragmenting and deteriorating so it was probably time to head off alone anyway. So we parted ways and I spent 2 days heading up to another Nepal/Tibet border. After passing through 2 police and 1 military check point without being stopped things became weird, the next 30 klm's there were no vehicles, no people and deserted villages. Then it became obvious from the devastation that the whole area has been abandoned since the major earthquakes 3 years ago. I got as far as the Tibet border where the road had a high gate stopping any further access. Probably a good thing as the Chinese military had already taken a keen interest in my movements.
Tatopani almost a ghost town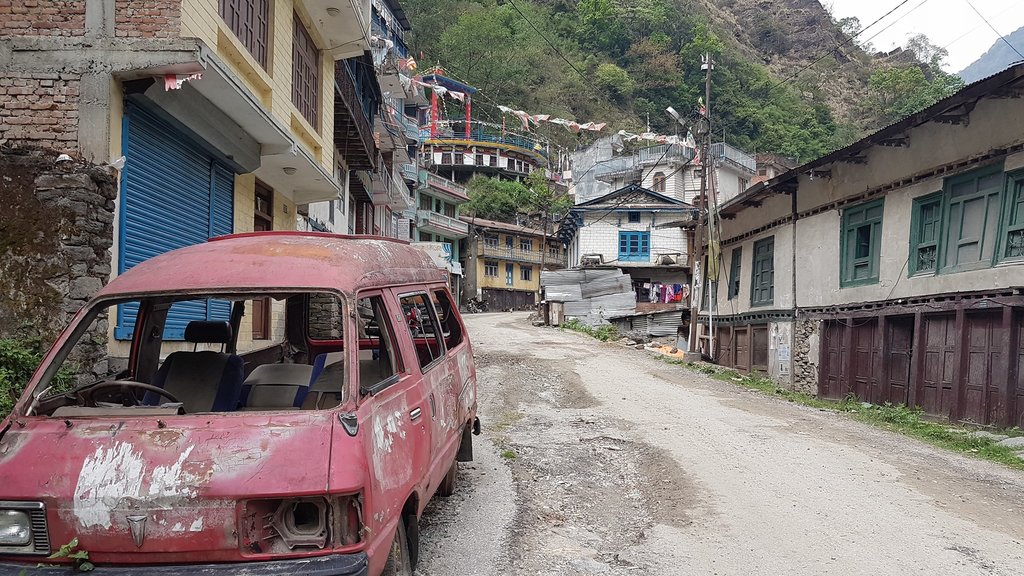 The abandoned Kodari village, Tibet (China) is on the right side of the river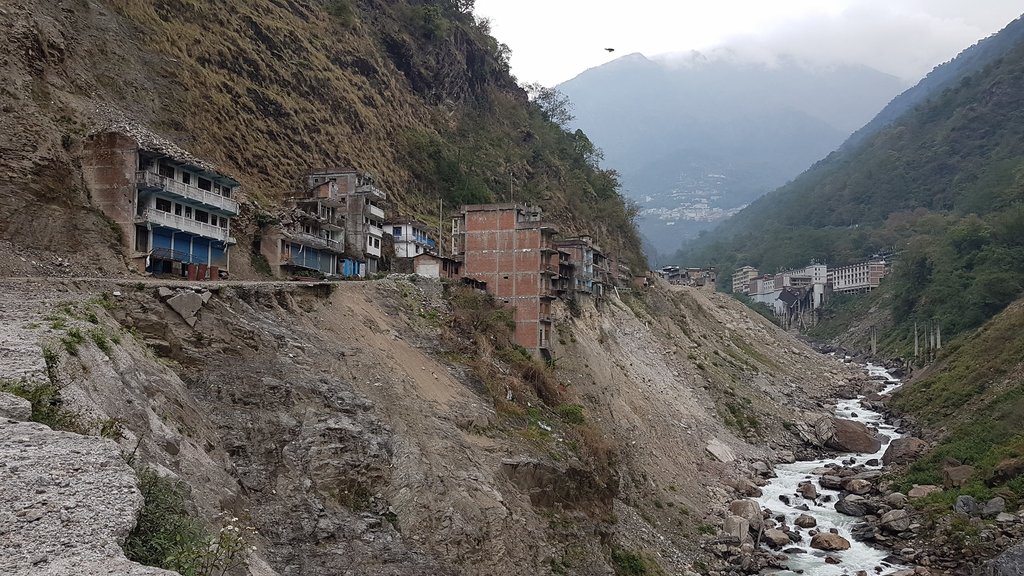 April 29 – May 2
After Kodari I ended up at Bhaktapur a beautiful 400-year-old village that provided quite a few photo opportunities along with a decent hotel, reasonable food. It was just a short ride from Bhaktapur to Kathmandu where I returned the bike, indulged in a few beers, half reasonable food and cleaned and packed my gear for the return flight.
Bhaktapur street scape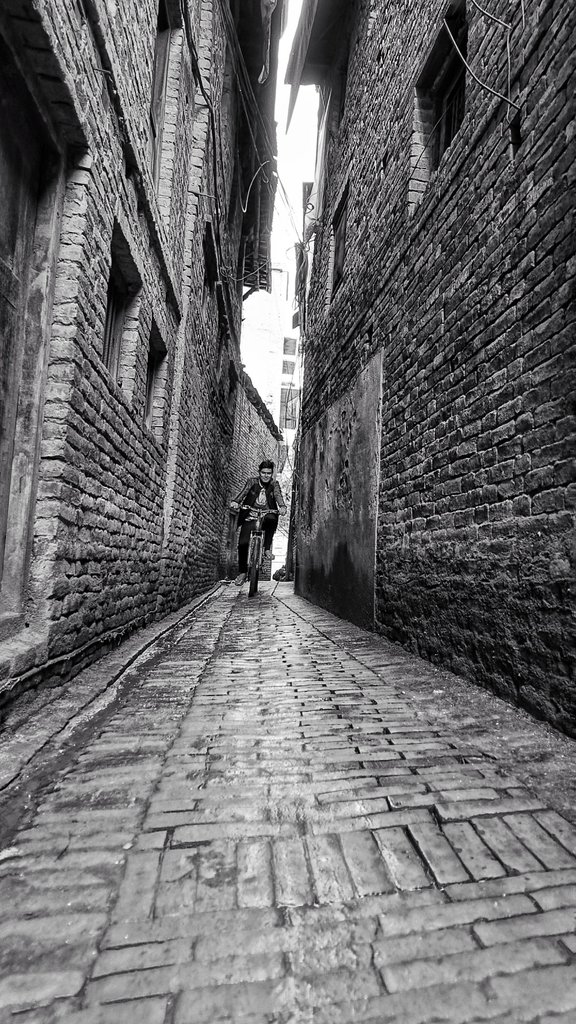 Nothing like having a chat and watching the world go past
This window has seen it all
And so has this tree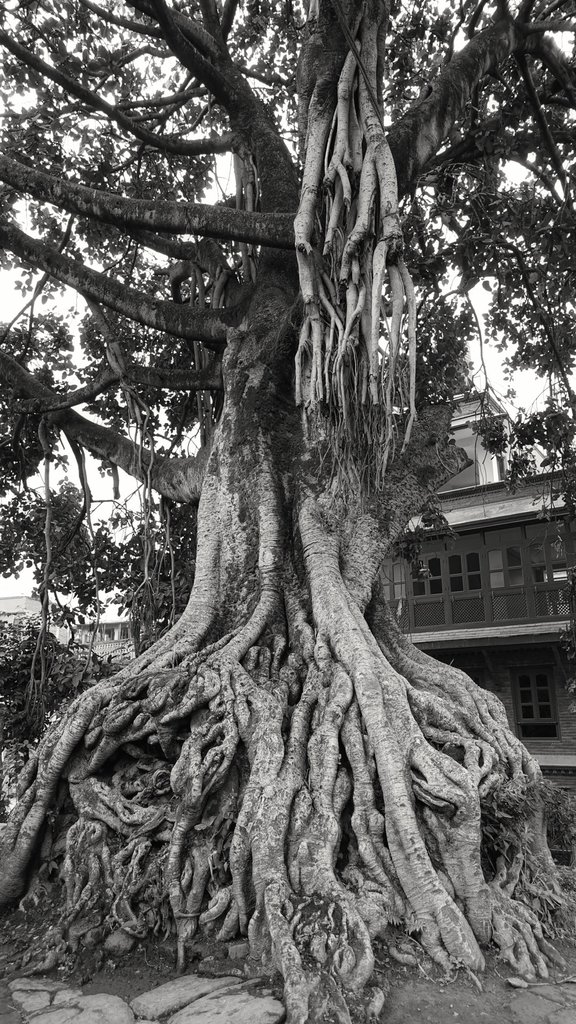 Final Review
I'm just going to be blunt and honest about my experiences on this trip.
Disclaimer – The opinions and views expressed in this report are based on "my experiences". My judgements and conclusions are based on decades of travel to numerous countries and living and travelling in southeast Asia for the past 5 years. If you've had a different experience in Nepal and do not agree with my views and opinions then that's exactly what you had, a different experience, it doesn't make me wrong and you right or vice versa.
Visa – Apply on line or on arrival, $40US for 30 days, $100US for 90 days.
Currency – Nepali Rupee or $US at popular tourist areas.
Trip Duration – 5 Weeks
Distance traveled – over 3,500 klm's
Total cost – $2,500US includes bike, fuel, food, drinks, accommodation and incidentals, excludes airfares and insurance.
Weather – We went in April (spring), we had 2 flash floods and storms nearly every afternoon for more than 2 weeks. We hardly saw any of the big peaks due to heavy air pollution and low-level cloud. It was surprisingly hot in the lowlands and down to single figure temperatures at night above 2,500m.
Bike rental – Pulsar (Indian made, single cylinder 220cc), $12US p/day, I couldn't afford the $70US p/day they wanted for a CRF250. I'm not even going to mention the name of the motorbike rental company I used to rent the bike. The clutch died on the first day, they reluctantly refunded my money for a new clutch but accused me of abusing the bike. The chain and sprockets needed replacing after the first week and they refused to refund the money that I paid. They were condescending, arrogant and unhelpful once they had our money.
Roads – Left hand side driving/ridding. Beyond the major tourist areas, the roads and highways are a mixture of some nice sealed roads but mostly broken up pot holed black top or unsealed and extremely rough roads with river and quarry rocks embedded in the mud and dust, cattle wandering around, garbage and even sewage everywhere. The dust and truck/bus exhaust smoke was horrendous, even wearing a mask it caused nausea, sinus/respiratory infections. Most drivers/riders were responsible and safe, some were on a death wish.
Hotels – Reasonable standard of hotels at popular tourist areas, $20US to $200US. Very poor standard in most other areas, $15US to $50US. Poor standard meaning intermittent or no - power, no wifi, no hot water, unclean/torn beds/linen, exposed electrical wires, broken lights, no TV, mold, insects, cracked/broken tiles, toilets, windows, run down, unmaintained etc.
Food – Boring and often dangerous due to poor food hygiene, preparation and a lack of refrigeration. Most of us suffered mild to severe diarrhoea and nausea every week!
People, culture & customs –
A mixed bag, some were friendly and helpful, others were opportunistic scammers. I was over charged for bike maintenance, parts, hotel rooms, food and other day to day items, dual pricing was common. Most people were indifferent or worked hard at being deceptively friendly to get to your wallet. Tourist areas were relatively clean, however, beyond these areas the garbage was appalling, roadsides and waterways are all used for garbage/waste/sewage disposal. It's mind blowing that they haven't sorted waste disposal in such a small country with 29M people that promotes itself as an environmental adventure paradise!
Would I go back to Nepal or would I have done it differently knowing what I know now? –
Despite the pretty photos and videos I will never go back to Nepal! All the issues I experienced have well and truly cured my illusions of Nepal! But if I was to advise someone who wanted to go then this is how you should do it. Take 2 weeks, fly to Pokhara, rent a bike from a company like Hearts & Tears bike rental and tours. Ride to Muktinath, enjoy the mountain scenery, do some of the back roads and some trekking, ride back to Pokhara and fly home. You aren't really missing out by not going anywhere else, in fact if you took the big mountains out of Nepal you would have absolutely no reason to go there.