Joined

Aug 13, 2013
Location
Bikes

Kawasaki KLX150, Honda Vario
Motorcycling in Indonesia Part 1: Live to Tell the Tale.
He hobbled into the hotel foyer, a picture of pain and misery. His board shorts, ripped and stained with a mixture of dust, dirt and congealed blood, didn't look too good either. His lacerated thigh peeped out from a bloodied porthole in the fabric. His forearm sported a lurid slough of gravel rash. It oozed quietly, trying not to spill blood on the newly washed tiles. He'd taken a divot out of his left palm and sported a livid graze on his temple. Other than that he was in perfect shirtless, shape; the epitome of young Aussie maleness, tall, taut, tanned and bullet proof. Or so he thought, until the ragged, unforgiving surface of a Kuta back street tore apart his cloak of invincibility.
A look of woebegone had etched itself onto his face and I could imagine what was going through his mind. His mate asked reception to call a cab to spirit them to a clinic and in a few minutes they were on their way - holiday ruined but surely wiser for the experience.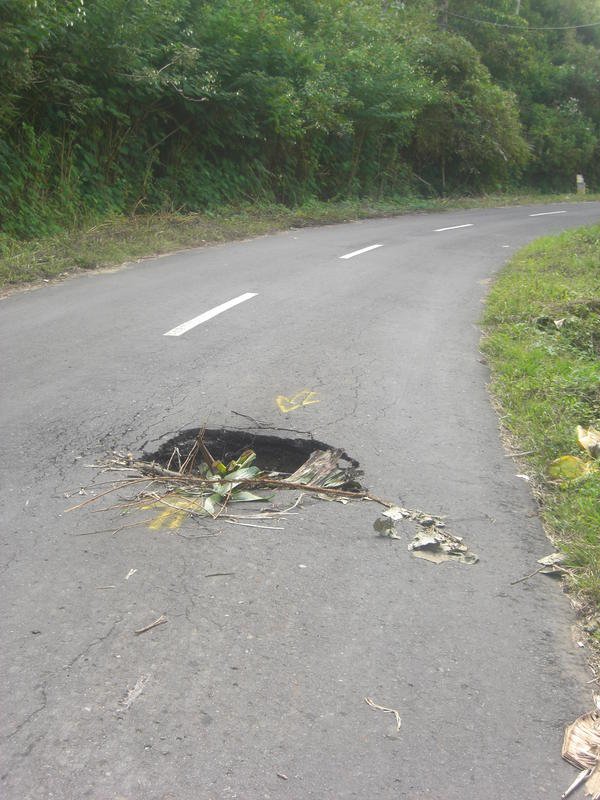 You can't say you weren't warned - see the yellow arrows and the foliage warning marker.
Unfortunately, scenes such as this are a daily occurrence in Bali. A lot of people, mostly young, but oldies too, seem to think that, once they leave Australia, they have an endless supply of "Get out of Jail Free" cards. Sorry to disabuse you friends, but life is not like that. If you do something stupid at home, such as riding a motorbike in heavy traffic, in unfamiliar surroundings when you've little or no experience, let alone a licence, or jump on a Harley after not having ridden since the year Bridgestone stopped producing the 350 GTR, then it's almost axiomatic you're going to end up in the brown stuff. Why would the situation be any different in Indonesia? It isn't, and the consequences of having an accident overseas are a lot more serious compared to if you were in Oz.
A glance at the Department of Foreign Affairs and Trade (DFAT) website,
www.smartraveller.gov.au/tips/insurance
reveals the following: each year DFAT assists 20,000 Australians who find themselves in difficulty overseas, 1400 are hospitalised, 1000 die and 30 are medivaced out at very high cost to the evacuee. Sounds a bit like a combat zone? Yes, but don't forget there are millions of trips made each year and, with the right preparation and attitude, you will return to home and hearth unscathed and be ready to front up for work on Monday!
Now, before I continue, I am assuming that the majority of readers are experienced riders. However, please don't give up on me because I still think you can learn something from reading on, especially if you are contemplating a motorcycling holiday in Indonesia. To those readers who aren't experienced, or have limited experience, don't even think about riding a motorcycle in Indonesia. You can hire a car with driver for $40-$50 a day, depending on your bargaining skills. You will be ferried around hassle free. Sure, it's not motorcycling, but you won't get lost and you'll get back home with all bark intact and a swag of happy memories.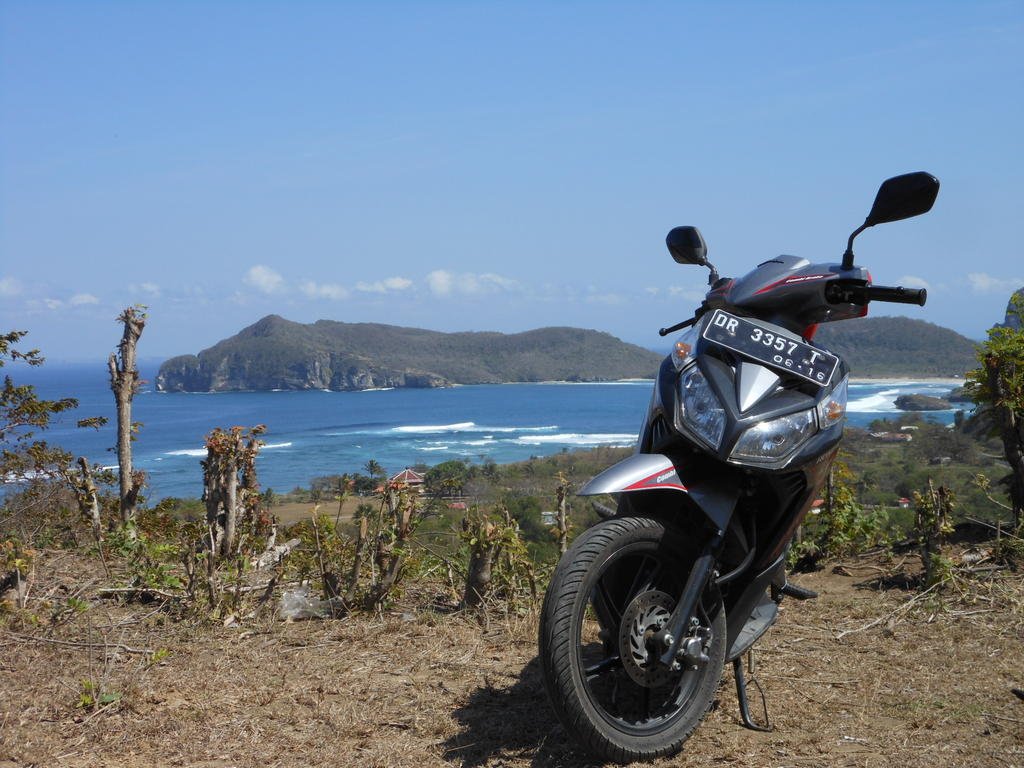 So, you've landed in Bali and want to hire two wheels. If you value your life bring your Australian helmet with you. The ones supplied by bike hirers may be from a bygone era. In any case, bike helmets in Indonesia are of dubious quality. They sell for about AUD$40 new so the universal rule, 'You only get what you pay for', applies. Of course, you will have your Australian licence with you and an International Driving Permit endorsed for motorcycles. You can purchase this at any state motoring organisation, such as the RACV. You will need a passport size photo and your Australian licence. The cost of the IDP is $33.50, it is valid for one year and it is issued on-the-spot.
Now for the interesting bit - travel insurance. Go to
www.smartraveller.gov.au/tips/insurance
and read up. Having done that, you've now got your smarts about you; you know that not all policies are the same, so you opt for the one that covers adventure activities, including recreational motorcycling. You've paid the higher premium, you've covered all bases, right? Hopefully yes, but you may still run into some problems if need to make a claim and you haven't read the fine print.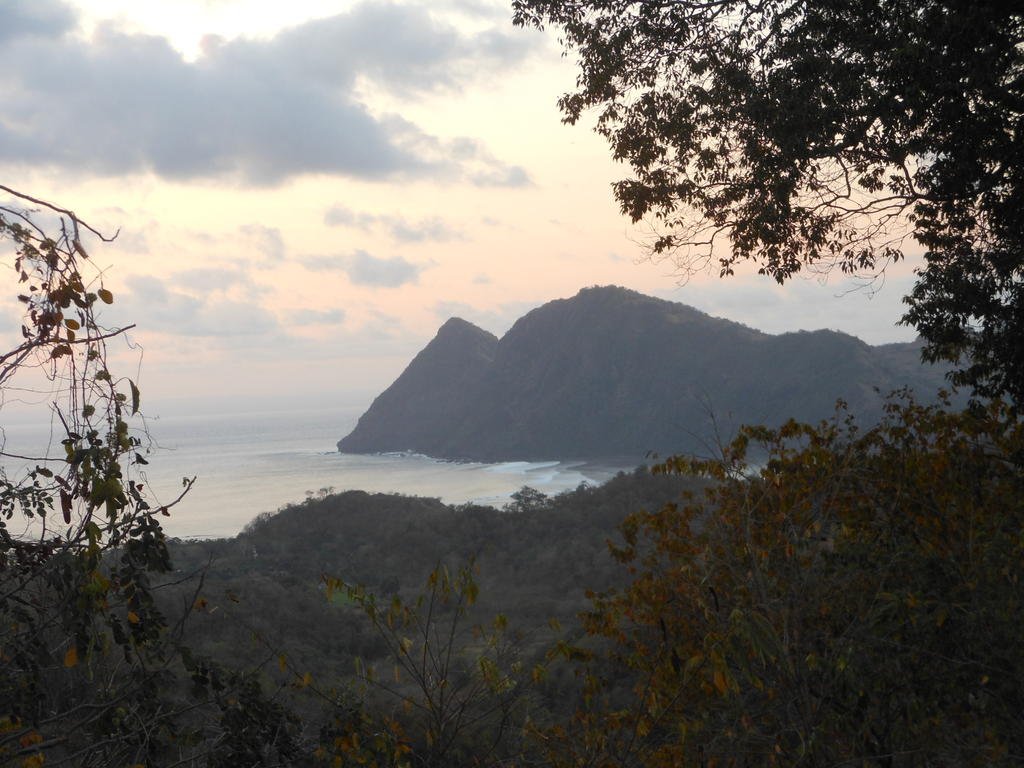 Let's imagine you sustain an injury, and need to make a claim. You will be asked for documents such as a copy of the Hire Agreement made when renting. Details of the Hirer's insurer may be required. Certainly copies of your Australian Licence, your IDP and a copy of any police report will be expected. You must also supply receipts for medical expenses and if you are hospitalised you must contact the Insurer immediately. The cardinal rule is: read the fine print - know what you are covered for and what the loopholes are. For example, if you were riding pillion and were injured, generally the policy states you are covered but, they may ask for a copy of the guy up fronts licence. This is an important point: there are many places in Indonesia where the
ojek
, or motorcycle taxi, is a popular way of getting around. You want to have a few drinks and decide to leave your hired bike at the hotel and take an
ojek:
smart thinking. But, before you get on ask to see the guy's SIM (licence). If he can't show it you, take a licensed cab instead.
So, how do you go about hiring some wheels? In Bali, as you walk around, you will be approached by owners who hire out their bikes on a casual basis in order to help accumulate the IDR500,000 they have to find each month to pay the bike off. So, if you take up one o thfese offers, where does that leave you? I would suggest, basically without a leg to stand on. The guy will be unlikely to give you a written hire agreement. He won't even want to see if you have a licence. All he'll ask for is a copy of your passport and he'll want to know where you're staying.
My advice is to only hire from a registered vehicle hire business. Google 'motorcycle hire Bali' and you will have a large number to choose from all offering scooters and bikes from between $5 - $8 per day - less for extended hires. Insurance may or may not be included in the hire cost - it is important to check this and any excess payable in the event of an accident. Remember too that insurance will only cover damage to the hired vehicle, not to other property or persons. This is what makes having an accident something you want to avoid like the plague. When you take delivery of the bike make sure you are given the STNK. Indonesians call this "the stenker". It stands for, "Surat Tanda Nomor Kendaraan" - what we call rego papers. Carry them in your wallet, not under the seat of the bike.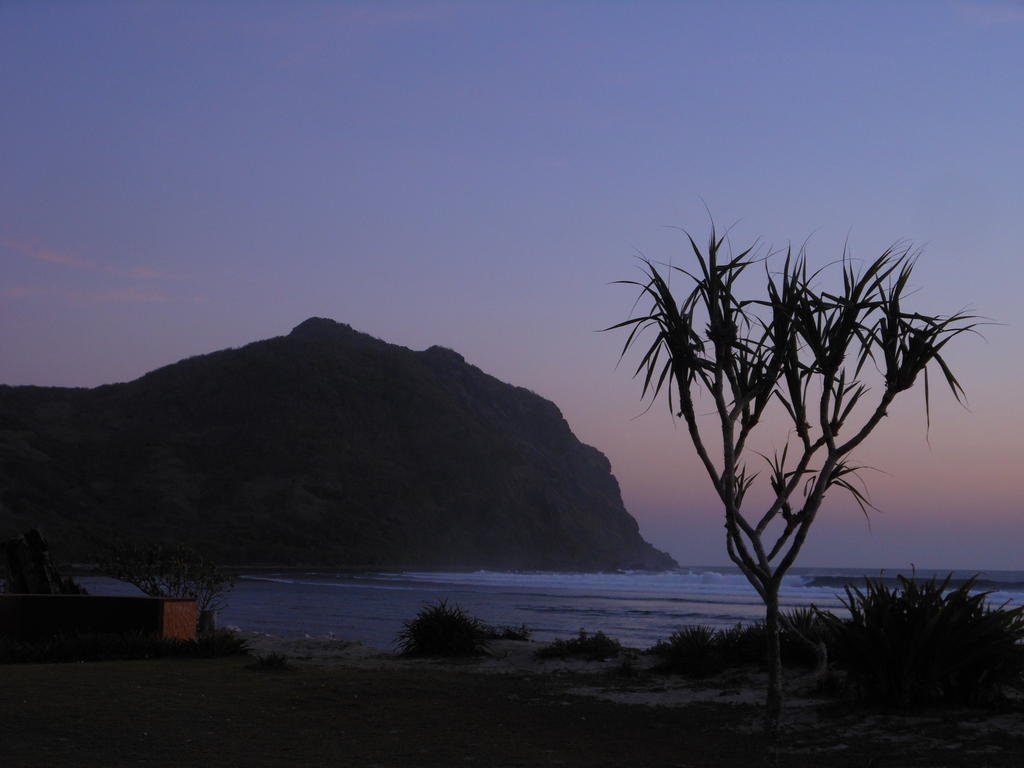 So what happens if you do have an accident? In a nutshell you'll very likely be paying for it unless the other driver was drunk or unlicensed or was in some way outrageously out of order and there were independent witnesses who are prepared to support your case. The logic seems to go something like this: 'if you weren't in the country then the accident wouldn't have happened so, ipso facto, it was your fault.' Another piece of twisted logic goes like this: 'you have a car and I have a motorcycle therefore you should have avoided me because you are bigger and can do more damage.' But this only works between Indonesians. Basically, if you get involved in a scrape you are likely going to have to pay, the logic being you will only be in the country a short time and it will be impossible to get redress through the court system. Fortunately, the cost of minor repairs is very little so matters are generally resolved amicably between the parties involved. I shudder to think what it would be like to be involved in an accident where someone was seriously injured. Each situation is different but some Indonesian friends have advised that for your own safety you should report immediately to the nearest police station.
Be that as it may my advice is this. Be ever vigilant in traffic and in populated areas. Ride according to the conditions - slowly, safely and sensibly at all times. Do this and the chances of you having a serious accident are very slim. And remember: travel insurance is a minefield and even though you've bought a policy that supposedly covers you for personal injury, that coverage could be voided in a number of ways. Read the fine print carefully. Ask what the procedure is if you hire a bike and have to make a claim. Ask what documentation will be required to process the claim and ask for the answers in writing.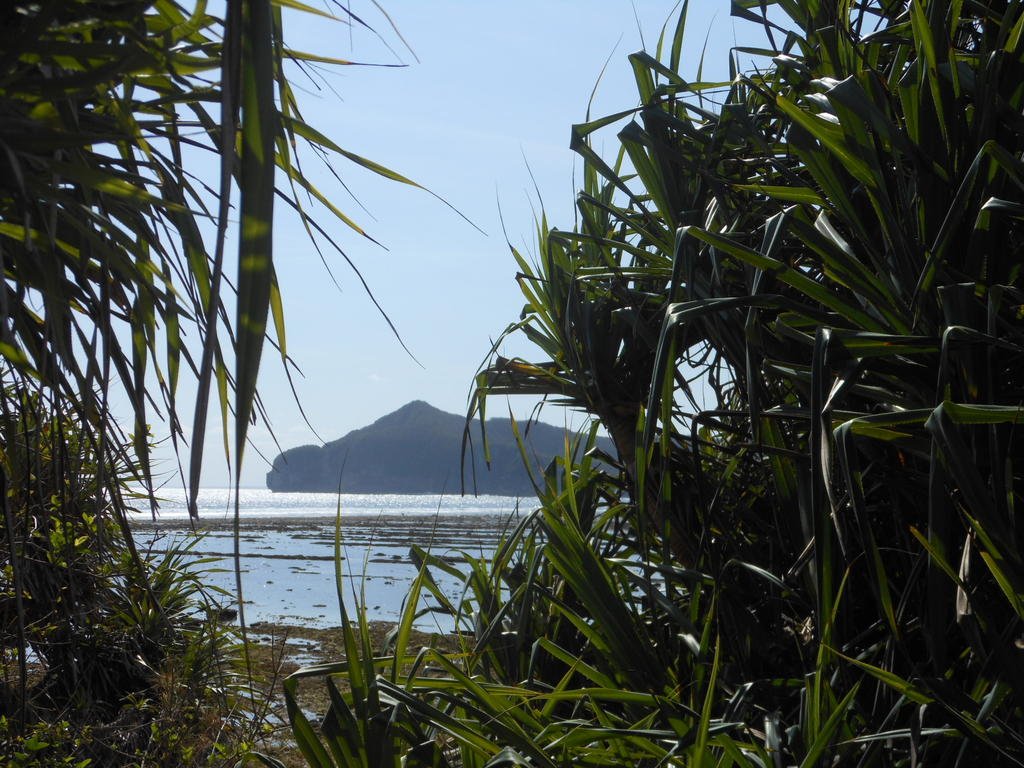 By this stage you're probably thinking, 'This is a pain in the arse. I'll just get a policy that covers motorcycling and make sure I don't have an accident.' And that's what I'd be thinking too. I have heard that, just to be on the safe side, some people who have had accidents have suffered concussion which has scrambled their short term memories so much so that they forget all about motorcycles. Their last memory is of leaving the shopping mall via the wet, slippery stairs or stepping into one of the many open man holes that make walking around Indonesian cities at night an adventure activity. I knew a bloke who came off a bike and the treating doctor refused to believe him. Said he'd obviously tripped over a boat anchor while walking along the beach at night. Lucky he had insurance wasn't it?
All up think like this: When I ride at home I ride defensively, sensibly. I don't expect to have an accident every time I throw my leg over the seat. When I'm in Indonesia I'll take these good habits and attitude with me, but I'll be extra vigilant in the transition period whilst I adjust to the unfamiliar surroundings and new road culture. Go with this approach and you will be fine. But, unfortunately, if the heavy hand of fate has a sticky ending in store for you all the wisdom and experience I can impart will not help you avoid the drunk driver who forces you off the road no matter where you're riding! So, "Selamat Jalan." Have a safe trip and enjoy the ride!
NB: I forgot to mention you drive on the left in Indonesia.