Joined

Jul 18, 2011
Location
Bikes

Kawasaki Z800, Yamaha Mio
My view from yesterday's press conference at Central World (originally published on
Wroommm!!
)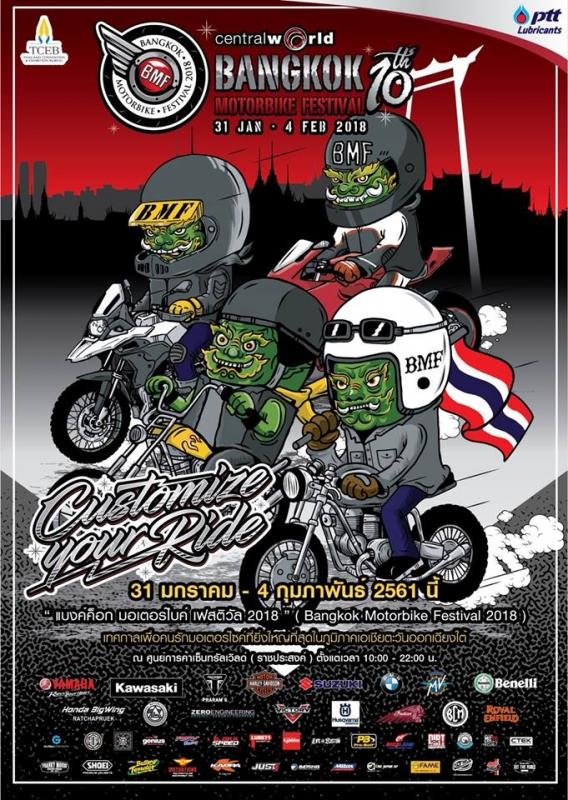 Always something to look forward to in the New Year, the 10[SUP]th[/SUP] Bangkok Motorbike Festival was announced yesterday at Central World. It was clear from the scale and tenor of the press conference that the organiser, Cycle Culture Show, has shifted up a gear for 2018 for the biggest motorcycle exhibition in South East Asia. The show is supported by the Thailand Convention and Exhibition Bureau (TCEB) and will take place from 31[SUP]st[/SUP] January to 4[SUP]th[/SUP] February.
Among more than 90 exhibitors there will be 16 motorcycle manufacturers represented from Asia, the USA and Europe and 40 equipment and clothing brands. In total they will occupy 10,000 square metres of Bangkok's flagship shopping mall. There will be a custom bike zone located outside, at the front of Central World, together with areas for entertainment, food and drink and parking for more than 500 motorcycles. Inside, the ground level will be dominated by exhibitors and there will be a vintage bike exhibition on the third floor.
Running with the theme,
Customise your Ride
, the festival will showcase the skills of custom builders in Thailand and bring in contemporaries from Japan, UK and USA. While they will be competing for the show's award to the best custom bike builder, the main objective will be for them to share ideas and techniques and to grow together.
"Customisation is in the DNA of the Bangkok Motorbike Festival," explained Cycle Culture Show Managing Director, Nattapon Trinathy. "Whether you ride a sportsbike, a dirtbike or a cruiser, motorcycle riders tend to be highly individualistic and express it by changing their machines with custom parts to make them look better, sound better and go faster. This year the custom show is the pinnacle of the
Customise your Ride
concept, but throughout the Festival there will be suppliers of parts, equipment and clothing to enable every rider to express their own styles."
Khun Nattapon continued, "The increased scale of the 10th

Bangkok Motorbike Festival reflects growth in Thailand's market for motorcycles with engines of more than 400cc. Last year saw a 20 percent increase in new registrations to 29,500 and we expect similar growth in 2018 to around 35,000. The Festival itself has been creating increasing sales revenue for exhibitors and we expect the number of bikes sold to rise from 529 in 2017 to more than 650 this year. In total we expect motorcycles, equipment, parts and clothing, to generate 750m baht in sales revenue for our exhibitors. Entry is free and we are expecting 700,000 visitors over the five days."

The event sets the tone for what promises to be a landmark year for Thailand's motorcycle industry. Organic growth will be boosted by sport, as MotoGP comes to Chang International Circuit in October and more Thai riders, like Apiwat Wongthananon and Nakarin Atiratphuvapat graduate from the Kingdom's burgeoning national championships to the world stage.
Wroommm!!
will be bringing videos, interviews and news from the Bangkok Motorbike Festival when it opens in two weeks from today, on 31[SUP]st[/SUP] January.